AdWords ad extensions are almost like the food buffet I go to at the Bellagio in Las Vegas.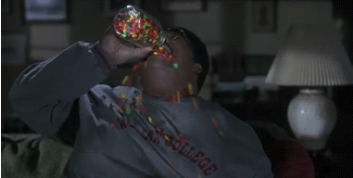 The more I can add to my plate, the more I feel like I'm winning.
And while that's almost true, you might find that certain AdWords ad extensions are better for your body Google Ads account than others.
Let's dive into it.
Get brand new Google ad strategies straight to your inbox every week. 23,739 people already are!
What are AdWords ad extensions?
While the name almost gives it away, AdWords ad extensions are "additional bonuses" you can add to your text ad to have it take up more real estate space on the Google search results page (SERP - search engine results page).

But beyond that, AdWords extensions give your potential visitors more channels and paths to get closer to their goal.
Whether that be calling you directly from the ad, going to a certain URL on your site, checking your reviews, downloading your app, finding your address, or more, ad extensions help not only your visitors with more info, but they also help you with the following:
Can increase your click-through-rate
Can increase your quality score
Can increase your average ad positions
Can reduce your average cost per click
The biggest reason for this is that the more ad extensions you use, the bigger your ad can get, and therefore, the higher the chances of a click.
It's also important to note that ad extensions are now part of the quality score calculation.
Where to find your ad extensions
At the time of writing this article (which we'll update if things change), there are currently 15 different ad extensions between AdWords and Bing Ads available.
This number can change at a frequent rate, depending on what Google and Bing decide to roll out.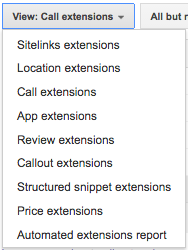 And to find them within your AdWords account, you'll want navigate to the Ad Extensions tab within your AdWords interface.

In addition to the manual ad extensions, AdWords also has 6 automated extensions and some manual expired ones that aren't available for everyone. Here's what those are:
Consumer ratings
Previous visits
Seller ratings
Dynamic sitelink extensions
Dynamic structured snippets
Social extensions (ended in 2015 and #14 on our list)
Drop-down extension (ended in 2014 and #15 on our list)
Let's take a look at what the different types of extensions, what they do, and what they look like.
Different types of ad extensions
1. Sitelink extensions
These are the most common ad extensions and have been around for the longest time. They allow to showcase additional links within your ad.

Adding these to your ad allows your ad to take up more real estate space and increases the chance of a click.
In addition, if you take advantage of sitelinks (and other ad extensions) and your competition doesn't, then your ad can take up twice as much space compared to theirs.

With regular sitelinks, you can also add descriptions to them so your one ad turns into what looks like five ads (regular ad + 4 extended sitelinks). Here's a look at two sitelinks who have descriptions:

The great part about sitelinks, is that it allows your visitors to go directly to a specific part of your site, instead of going directly to the homepage, and then having to navigate from there.
You'll commonly find sitelinks used for different product categories on eCommerce stores, or FAQs, About Us, Contact Us, when it comes to lead generating advertisers.
Here's an example of creating a "Contact Us" sitelink with a description: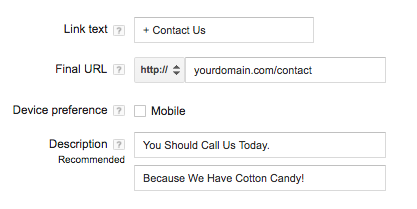 Just like other ad extensions, you can also schedule the days and times they should show alongside your ad.
This is especially useful if you want to add a call extension, but only have it show when you're able to answer the calls and remove it when you're not able to.

Another cool thing to note is that you can use sitelinks for specific promotions you have going on and then schedule them with start/end dates to automatically be enabled and removed when needed.
2. Location extensions
These extensions help you show your address alongside your ad to people who are nearby in proximity.
If you have a lot of foot traffic or multiple locations, then this is another ad extension you can add to direct people to find what they're looking for (your address), directly in your ad.
It also helps make your ad look bigger.

Because our office is located maybe less than one mile from this specific Ford dealership, Google is letting me see their address too.
To take advantage of this ad extension, you'll want to have a verified address through Google My Business.
Google will then send you a code to confirm you own that address, and you can link your Google My Business account to your AdWords account to take advantage of it.
Word of Caution: It's tempting to add location extensions because it takes up additional real estate space on Google.
But if you go out to people because of your business (let's say you're pest control or you're a home inspector, etc), then you may have some people think that they need to come to you - which could hurt your conversion rates.

So when you're getting ready to launch a location extension, make sure you listen to phone calls and potential drops in conversion rates as we've seen this happen before.
3. Call extensions
Pretty straight forward with this one.
You can add a phone number to show up alongside your ads as this can help people call you directly from your ad without having to click on it.


The cool thing about call extensions is that you can add in your own specific call tracking number, and any call you get from it would be considered free since Google won't charge you for a click.
You can also opt-in for having call tracking within Google AdWords so you can see which keyword and ad was responsible for that call (a call conversion).
To do that, you'll want to add a Google forwarding number inside your call extension configuration.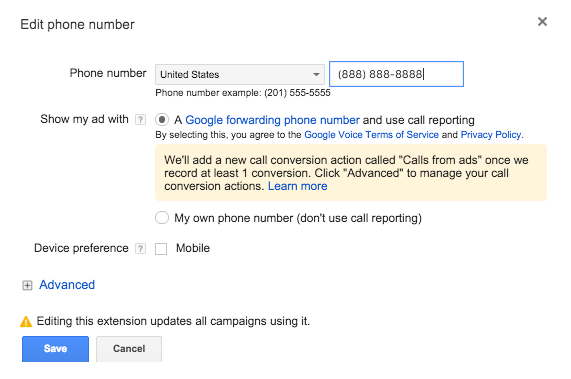 Keep in mind that this will have Google charge you an average cost per click when someone dials that phone number though.
Even if you don't normally accept calls, adding a number to your ad and landing pages/site has shown to increase phone leads and conversion rates.
If phone calls and phone leads are important for you and you'd like to get more, then check out this article on getting more phone leads we wrote on the different things you can do within AdWords and on your landing pages.
IMPORTANT NOTE: One important thing to keep in mind here is geographic granularity.
If you're targeting bigger areas, then consider breaking down your campaigns to smaller geo areas so you can use local area code phone numbers in your ads. This could help increase conversions a good deal.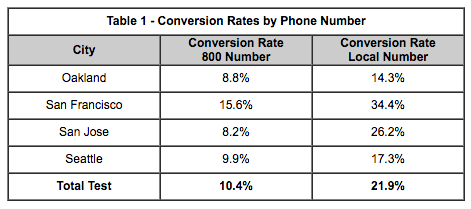 4. App extensions
If you'd like to showcase your iOS or Android app alongside your ad text, then app extensions will be perfect for you.
As the name implies, app extensions allow mobile searches to download your app and hopefully use it in the future as well.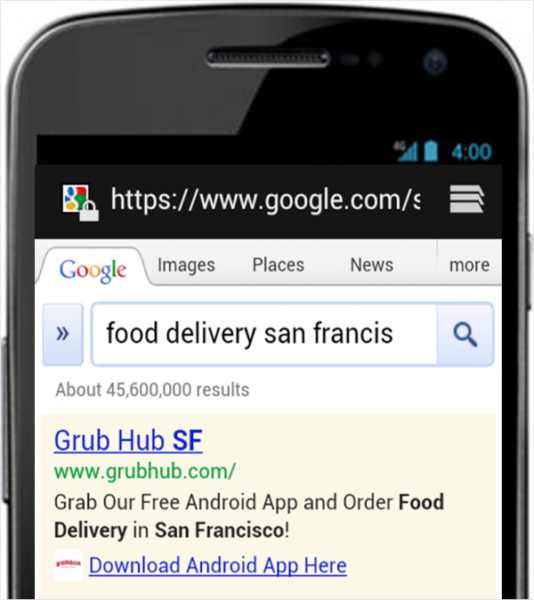 Since not many companies have dedicated apps, you might find that the goal of having app extensions is not to get more app downloads.
But to boost your credibility and stand out by having higher conversion rates from your regular ad headline clicks.
5. Review extensions
Do you have a positive mention from a credible third party source?
If so, then review extensions could help you continually improve your ad and conversion performance.
By either paraphrasing or using an exact quote, review extensions can give your ad a little more credibility.
But be warned, many review extensions get disapproved because they're not credible (and because most advertisers try to fabricate them themselves).

6. Callout extensions
Being one of the newer kids on the block, callout extensions give you an additional non-clickable line of ad text to highlight benefits and features (or whatever you want).

As you can see in the example ad above, the callouts are showing one benefit and two features.
You can decide on almost anything you want to highlight to beef up your ad and hopefully impress your visitors before the click as well.
7. Structured snippet extensions
Also a newer kid on the block, structured snippets allow you to take advantage of an additional line of ad space by showcasing information from any of the following categories: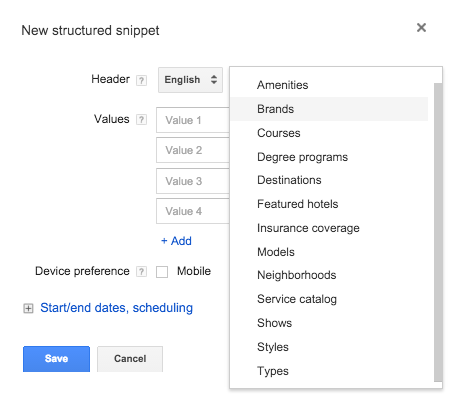 Now even though you might be a retailer, airline, or hotel, you can still take advantage of structured snippets by specifically using the Types or Styles categories.
Here's what they look like alongside your ad on Google:

8. Price extensions
Price extensions are for all advertisers who want to showcase the pricing along with popular services or products.
They're only available on mobile devices, and definitely take up a decent portion of real estate space.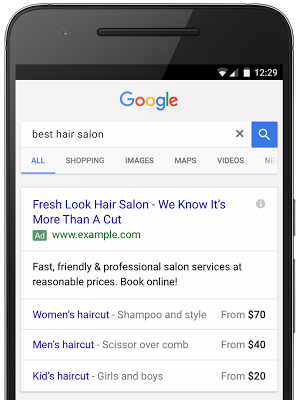 You can add price extensions at the account, campaign, and ad group level. This will help you drive down to the ad group level and get even more granular with the help of single keyword ad groups.
9. Automated extensions report
While not being an actual AdWords ad extension you can control inside of AdWords, the automated extensions report allows you to see data from third party consumer and seller ratings (if you're eligible to show them).
Here's a look at what seller ratings for retailers look like:

Here's a look at what consumer ratings look like:

For more information on how to take advantage of these third party AdWords ad extensions for yourself, you can take a look at this for consumer ratings and this for seller ratings.
You can also opt out (if you have bad ratings) by taking a look at these two forms from Google (here and here).
10. Image extensions (Bing Ads)
I'd be crazy to not include something that Bing Ads doesn't copy from AdWords (just kidding, they copied it from AdWords).
So in this case, it's the image extension.

The image extension works with all types of Bing Ads accounts (you don't have to be an eCommerce account).
You can simply upload an image you want or your company logo to showcase alongside your ad.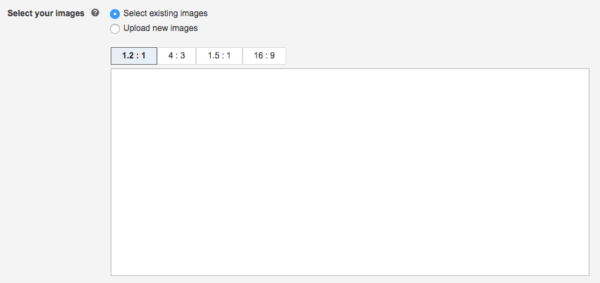 11. Previous visits
Just a rare as some of the most legendary Pokemon, Previous visits it's not something you can control.
But if you're "lucky" enough to have them, they'll appear like this:

12. Dynamic sitelink extensions
Dynamic sitelinks are created based around reading the intent of the visitor's search term.
So if you're not using manual sitelinks, the dynamic sitelink extensions can take over and show instead.
In addition to that, if Google sees that many visitors are organically going to your "Store Hours" page, then it can use that data to add in a sitelink that points to domain.com/storehours.
13. Dynamic structured snippets
The DSS ad extension is like regular manual structured snippets, but in this case, it ads in landing page information for you automatically.

Ad extension granularity & why it matters
As you've been reading this post, you may be thinking that it makes the most sense to use as many ad extensions as possible.
And while you're definitely correct, you'll want to granulate and split test ad extensions as much as you granulate and split test your ad groups and keywords.
This will help you continually improve your ad performance and also be more specific with the rest of the keywords and ads that are triggered in conjunction with your ad extension - not to mention it helps improve your quality scores too.
Over to you…
Most companies are taking advantage of some of the available AdWords ad extensions, but are you taking advantage of all of them? And in the right way?
If you are, how have you tested the granularity and specificity of your ad extensions to match your keywords and ads to see if it improved your quality scores?