Running Google mobile PPC ads has quite a few benefits and a potential to boost your results.

Mobile-centric AdWords campaigns have become quite easy to setup and run, but if you've avoided them until now, that's should change.

Below you'll find statistics and case studies that will give you a fresh view at revenue opportunities you may be leaving on the table. Some are simple and some are game-changing, so buckle up.

Get brand new Google ad strategies straight to your inbox every week. 23,739 people already are!
Mobile Usage and Behavior
1) About ¾ of the world's population now uses a mobile phone.

There are now 4.92 billion global mobile users, according to the yearly Digital in Global 2017 report from We Are Social. The rate of growth for this statistic increased by more than half compared to the previous year.

Statista forecasts this number to be over 5 billion by 2019. The overall trend is clear: mobile phones are now irreplaceable parts of daily life for most people around the world.

2) More than 90% of the world's Internet users go online via a mobile device.

That same We Are Social resource reports that the world's Internet users aren't that far from being fully mobile.

Here's how that compares to the overall population: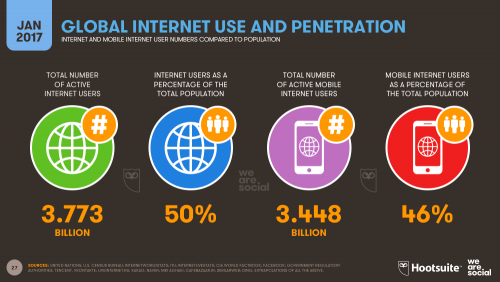 3) Mobile's share of web traffic is up 30% year-on-year.

The majority of this increase is coming from the world's developing economies. This is the breakdown by device: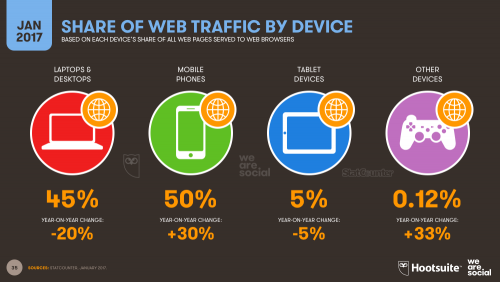 4) Positive brand experiences in mobile are likely to result in recommendations.

All of this growth in mobile Internet users presents a huge opportunity for brands: 89% of people are likely to recommend a brand after they've had a positive experience with them on mobile.

In a world where we're heavily relying on reviews and word of mouth to make our decisions, this is a blessing.

Mobile Search
5) 50% of B2B search queries today are made on smartphones.

Desktop usage among B2B buyers in US is still strong, but the impact of mobile is definitely growing. The Boston Consulting Group also expects this figure of 50% to grow to 70% by 2020.

6) 70% of smartphone users who bought something in a store first turned to their phone for information about that purchase.

Let's be real, most of us turn to our phones when we want to know pretty much anything. It's also interesting that over 60% of shoppers find it important or critical to view in-store inventory online.

7) 42% of all mobile brand experiences involve search.

If you want to create a mobile experience around your brand (and I sure hope you do), this is the stat for you. Give yourself a head start by showing up where your audience wants to see you the most—when they're searching for something, with a chance that it's happening on the go.

8) People who click on a Google search ad before heading into a store on average spend over 10% more.

Did you get that? If they've clicked on your ad before they've gone into your store, they may spend more money than if your ad hadn't interfered There's a chance they're doing this on mobile, so huge points to ads in Google search here.

And not just that...

9) 76% of people who search on their smartphones for something nearby visit a business within a day.

Want to be that business? Show up in search. Better yet, give them directions on how to find you and call you, too.

10) 35% of people who searched on their phone spent more than they expected in the store.

This is even better than the number 8. Imagine this: they're looking for something, they found you, what you showed them was the best thing of all the other things they found, and then they went into your store.

And then, they spent more money than they thought they would. I call that a win.

11) When people are actively looking for something on their phones, they're more than twice as likely to make an in-store purchase than if using any other device.

2.3X, to be exact. Search behavior and purchase intent go together, so well that it's crazy not to show up in that search.

Which brings me to...

Mobile Commerce
12) 35% of online purchases happen on mobile.

A study by Criteo reports that 35% of online purchases in the U.S. happened on mobile devices in Q2 of 2016. They also noted this was the first time ever that the leading retailers saw at least 50% of their sales generated by mobile phones.

Here's how mobile commerce has grown year-on-year by country: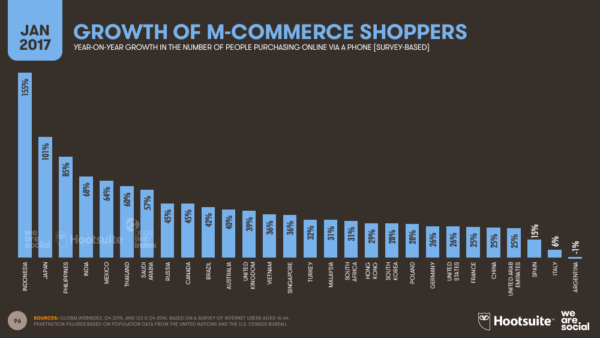 13) Users prefer researching on mobile and purchasing on desktop.

Mobile commerce has changed the way users behave. When in store, 82% of smartphone users turn to their devices to help them make a product decision and mobile shopping-related searches have increased by 120% in the last year, as a review of Google data shows.

People still tend to switch to desktops to complete their transaction. According to Appsee, 37% of mobile users still said that while they used their mobile device to do research, but they still went to the desktop to make the purchase.

14) Pre-purchase research is driving mobile conversions up.

Research conducted by Nielsen, xAd, and Telmetrics suggests that almost half of the users they surveyed rely exclusively on their mobile devices for pre-purchase research.

Even better, 30% of smartphone users and 25% of tablet users have immediate needs and purchase within an hour.

15) Shopping cart abandonment rate is 78% on mobile (vs 63% on desktop).

Not every statistic is all that great, though. While spending on mobile is increasing, shopping cart abandonment remains a challenge.

There's still a positive side of it. The same resource reports that retailers who retargeted users who abandoned their cart with shopping cart abandonment email saw conversions of 17.6% from these emails.

16) Mobile ad spend for 2017 is estimated at $143 billion worldwide.

This is twice the size of mobile ad spend for 2015 at $71 billion. Mobile advertising is clearly a good skill to hone, and it's still not too late to start.

Folks That Do It Successfully
Case Study: American Apparel
American Apparel is a fashion brand known for selling fashion basics like sweatshirts, jackets, dresses, and socks. Their audience is male and female aged 18 to 34, and they made it a top priority to reach this audience in a way that will accomodate their use of shopping across multiple devices. They wanted to bridge that gap and ensure a great on-the-go experience.
 
To achieve this, they used enhanced campaigns, location extensions, and sitelinks. They also set the mobile bid modifier at 100% to reach the on-the-go shopper.
 
The results were superb: they increased their mobile conversions rate by 100% and their CTR by 7%.
 
Case Study: 1-800-FLOWERS
1-800-FLOWERS is a flower shop that designs and delivers unique flower arrangements and gifts across the world, every single day of the year. They wanted to understand how their customers convert across devices, so they can correctly attribute the success of each dollar invested in AdWords and plan for future budget allocation

After they've started looking at cross-conversion statistics, they uncovered a 7% increase in overall conversions, 4% increase in mobile-initiated conversions, and 8% to 10% overall revenue from AdWords resulting from click-to-call.

Case Study: RadioShack
RadioShack is an electronics, accessories and services store with over 5,500 U.S. locations. For them, everything they do is about their locations, as there is a RadioShack store within 5 miles for about 90% of the U.S. population, and they knew it was something they needed to take advantage of.
 
They wanted to drive foot traffic to their stores and get a better understanding of how mobile impacts their business. Apart from creating easy and fast-loading mobile site, they added local features like store locator and click-to-call.
 
By adding sitelinks to their mobile search ads, they found that 36% of the clicks go to the store locator page on the mobile site. They also estimate that 40% to 60% of people who then used the store locator on mobile visited a store. They also reduced their cost per conversion by 5%.
 
Wrapping Up on Google Mobile Ads Stats and Studies
That's it. All that's left is that you take action, like, now.
 
Remember: the way people use their smartphones, and particularly how they search on their smartphones, tells a lot about what they want, where they'll go, and how much money they're willing to spend.
 
The best thing you can do is to show up where they want to see you, and mobile campaigns are what can get you there. You can get started now with our AdWords Mobile guide.