By now you've probably heard of the 4 Ps of Marketing. They've been around forever, everyone knows them and they work. BUT why practice traditional marketing that hasn't changed in 80 years? Do you want to stand out? Do you want to do better? Try the New 8 Ps of Marketing, an updated and expanded approach to the tired 4 Ps.
We're going to deep dive into the original 4 Ps but also give you 4 new pillars to add to your marketing campaigns plan so you can have successful, ROI generating campaigns that blow your competition out of the water.
So, let's jump right in and see where it all began…
To understand where we currently stand, we first need to have a look at why the 4 Ps of marketing was first created. Back in the 1940s, James Culliton, a Professor of Marketing at Harvard University, first introduced the idea of a "mix" in marketing. This approach made it clear that marketing wasn't just one facet but a blend of multiple elements the marketer had to put together.'
/marketing/4-ps-of-marketing/(opens in a new tab)
The same idea later caught the eyes of multiple researchers and marketing professionals until E. Jerome McCarthy presented the idea of the 4 Ps of marketing in 1960 in the "Basic Marketing: A Managerial Approach" book he co-wrote. This original concept was used entirely for the decision-making process, leaving out vital parts of a marketing strategy like people and personalization.
The traditional 4 Ps of marketing referred to the core elements of a successful marketing strategy:
Price
Product
Promotion
Place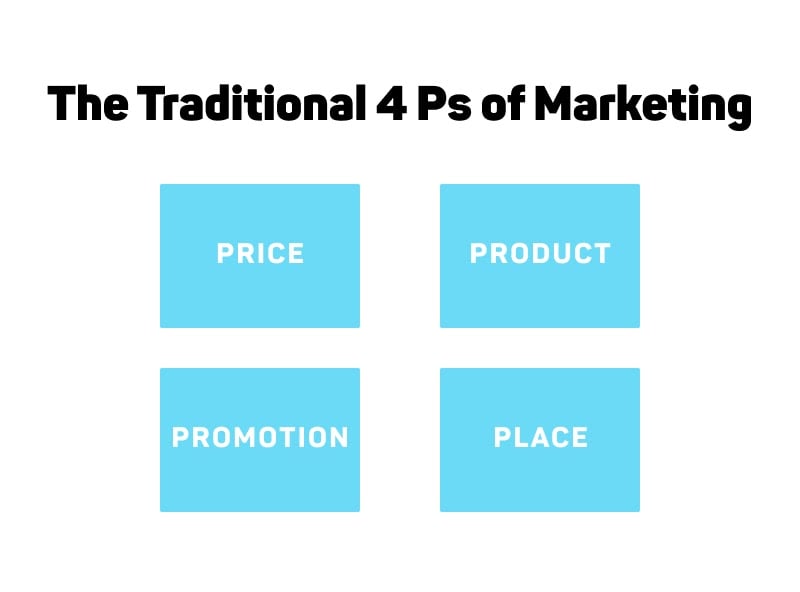 In present times, the 4 Ps of marketing model is used to guide the marketing process as you're placing a product on the market.
Beyond merely aiding the decision-making process, this marketing concept guides the entire marketing strategy by ensuring no elements are left out of your campaigns. When implemented in detail, the 4 Ps of marketing help you increase your sales, boost your brand awareness, and raise your profits.
All 4 Ps of marketing need to get a solid share in your strategy. To understand why every single aspect holds such high value, imagine taking one factor out. Marketing managers simply can't sell without set pricing points, promotion methods, places to showcase your product, and of course, without the product itself.
The Traditional Approach for the 4 Ps of Marketing
By no means should you leave the classic 4 Ps of marketing [Price, Product, Promotion, and Place] out of your strategies. With marketing moving every day towards an entirely digital world, we need to reconsider every factor.
Price
What is the real value of your product? How does the price compare to competitors? What discounts can be applied? Can a sudden price increase or decrease influence buyer decisions?
Price is one of the core elements of the marketing mix due to it being a direct representative of the value of your product. Without a solid pricing strategy in place you can't get the product's worth back.
Pricing is in art in itself as it involves understanding everything that went into the product's creation, market prices, as well as potential discounts and offers you can fit in. Unfortunately, far too few marketers manage to take into account all of these aspects.
You don't need to reinvent the wheel and come up with your own unique pricing points. Others have already done the research to find the best pricing methods based on human psychology. There are over 42 strategies you can use to price your product, including the ever-popular charm pricing where you remove the last digit and get a price that ends in 9, 99, or 95, making the product seem cheaper.
Digital advancements make it possible for brands to experiment with new kinds of pricing models. The "Pay what you wish" pricing where customers can give their own price before making a purchase. Gumroad is a popular website where creators sell their work at the price the customers decides: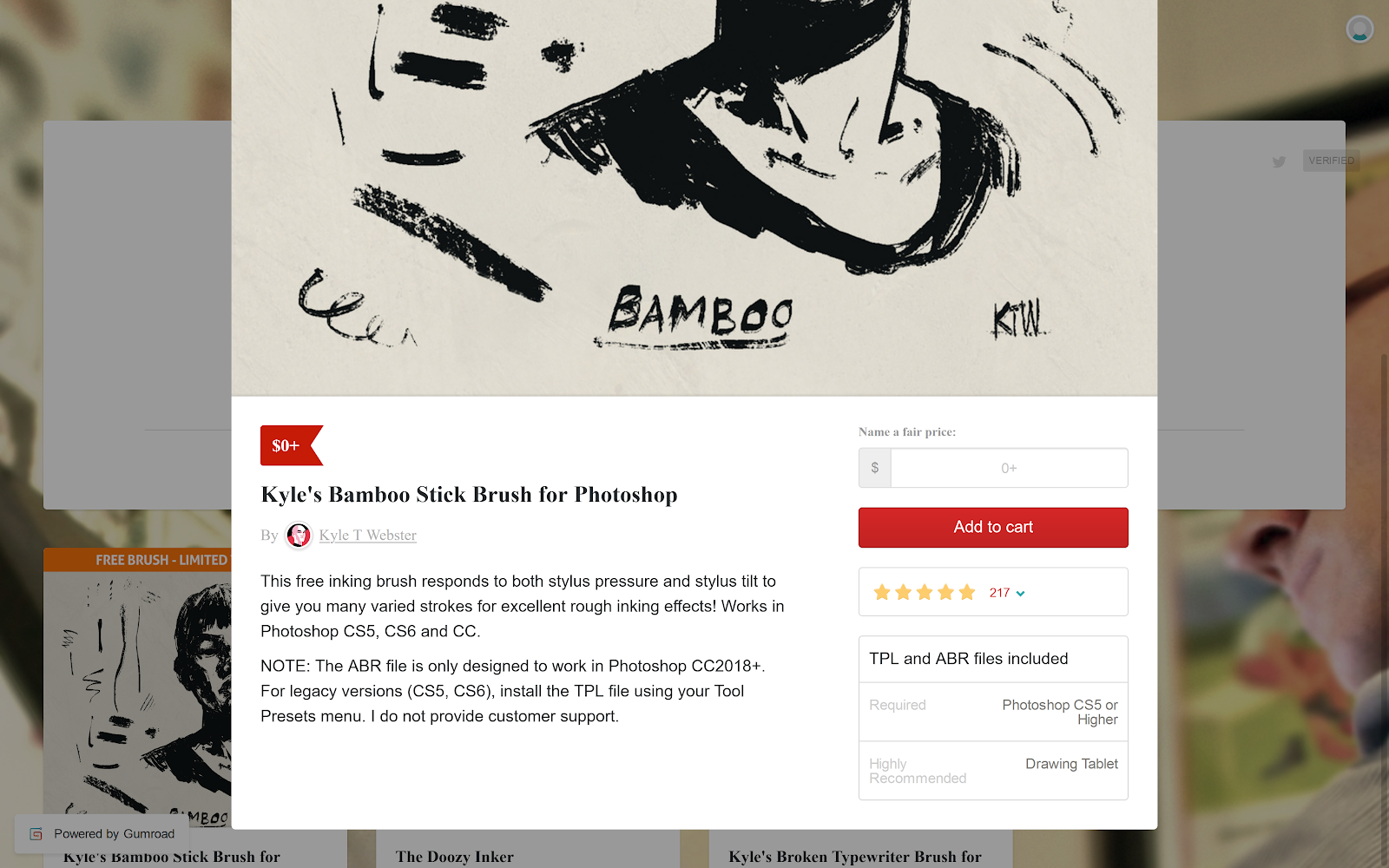 Along with the transparency of the web, it's also easier for us to analyze the prices of our competitors and make changes in real-time. On the flip side, buyers also easily compare offers in a matter of minutes so your efforts need to be doubled in an attempt to keep prices up-to-date.
The industry or niche you're in dictates the direction of your pricing points too. Large retailers like Amazon have the ability to change the price for their products every 10 minutes. Not to mention that AI advancements have made it possible for prospects to get custom prices based on their past shopping behavior and preferences.
So how do you choose the right price in a highly competitive market?

A/B testing multiple pricing schemes at the same time is never the way to go as you can't justify the price increase to customers who purchased your product at a lower cost. While testing is necessary, keep in mind that once you make a change, it's hard to go back.
In 2019, Netflix made the move towards its highest price increase until that time. The change was motivated by a need for the company to keep innovating. They needed to hire more people and invest in new technology, tools, resources, and partnerships—a promise they delivered upon.
To justify your own products' price, here are all the factors to take into consideration when pricing your product:
The real cost of your raw materials, employees, and other resources that go into the product research, development, and promotion process
How much your competitors charge for the same product [86% of consumers always compare prices before making a purchase]
What discounts you can apply while staying profitable
Pricing goals and profit margins you want to hit
How your customers will view your prices
Another issue not to miss out on is how people can pay for your product. One-off payments are common for daily goods but, depending on your business model, you'll also want to look into subscription payments, installments, and more.
For instance, SaaS companies have used regular monthly [or yearly] payments to create an entire business model based on pricing. Here's an example of a SaaS pricing structure that also involves discounts and several plans to choose from: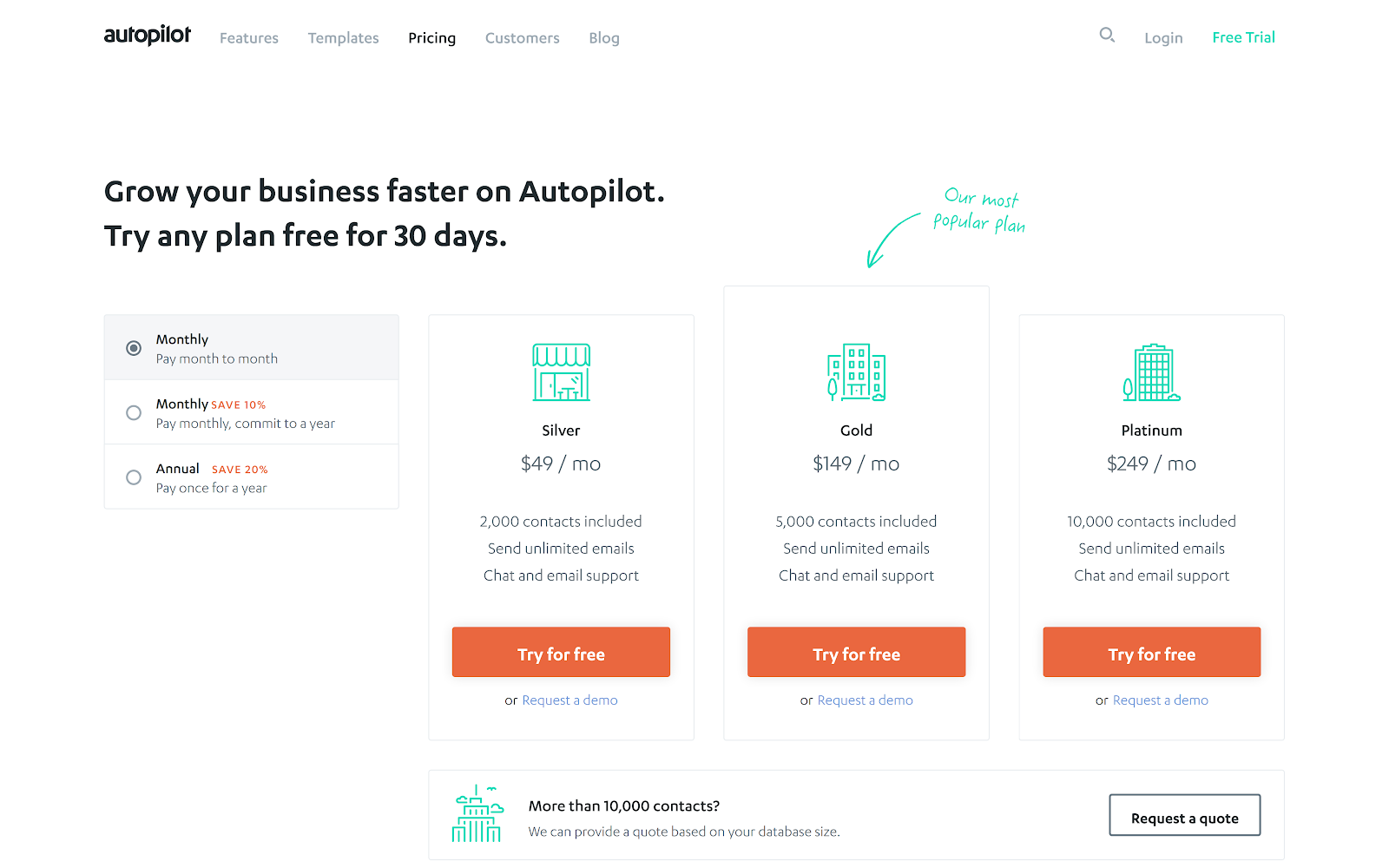 Product
How does your product differentiate itself? What customer needs do you have to fulfill? Can you tell if you're selling the right product? What can you do to improve your product and meet new customer demands? What extra services can you provide post-purchase? Are there any new product lines you can create?
Products are the main reason why marketing exists in the first place. Apple, ShipStation, TYME, Coca-Cola, Airbnb, and millions more are all products that were created to satisfy either a need or a want.
To meet target customer expectations and cater to their needs, you need to constantly develop your product and present it in an innovative light. From adding new features and improving the quality of your raw materials to creating a brand new product line, these are all steps you need to consider as part of the marketing mix.
Back in the old days, it was enough to have just one unique product, and you were set. Nivea had one classic cream for all skin types, Airbnb provided solely accommodation rentals, and Ferrari, well they sold just one car. Today, there are thousands of new companies created on a daily basis and they all sell multiple things.
The fight for gaining shopper trust has already exceeded all expectations. 59% of buyers would prefer to purchase new products from the brands they already trust. PwC found out that they're willing to pay more for considerably better customer support and welcome experience. Plus, a KPMG study discovered roughly 7 contributing factors to increasing customer loyalty: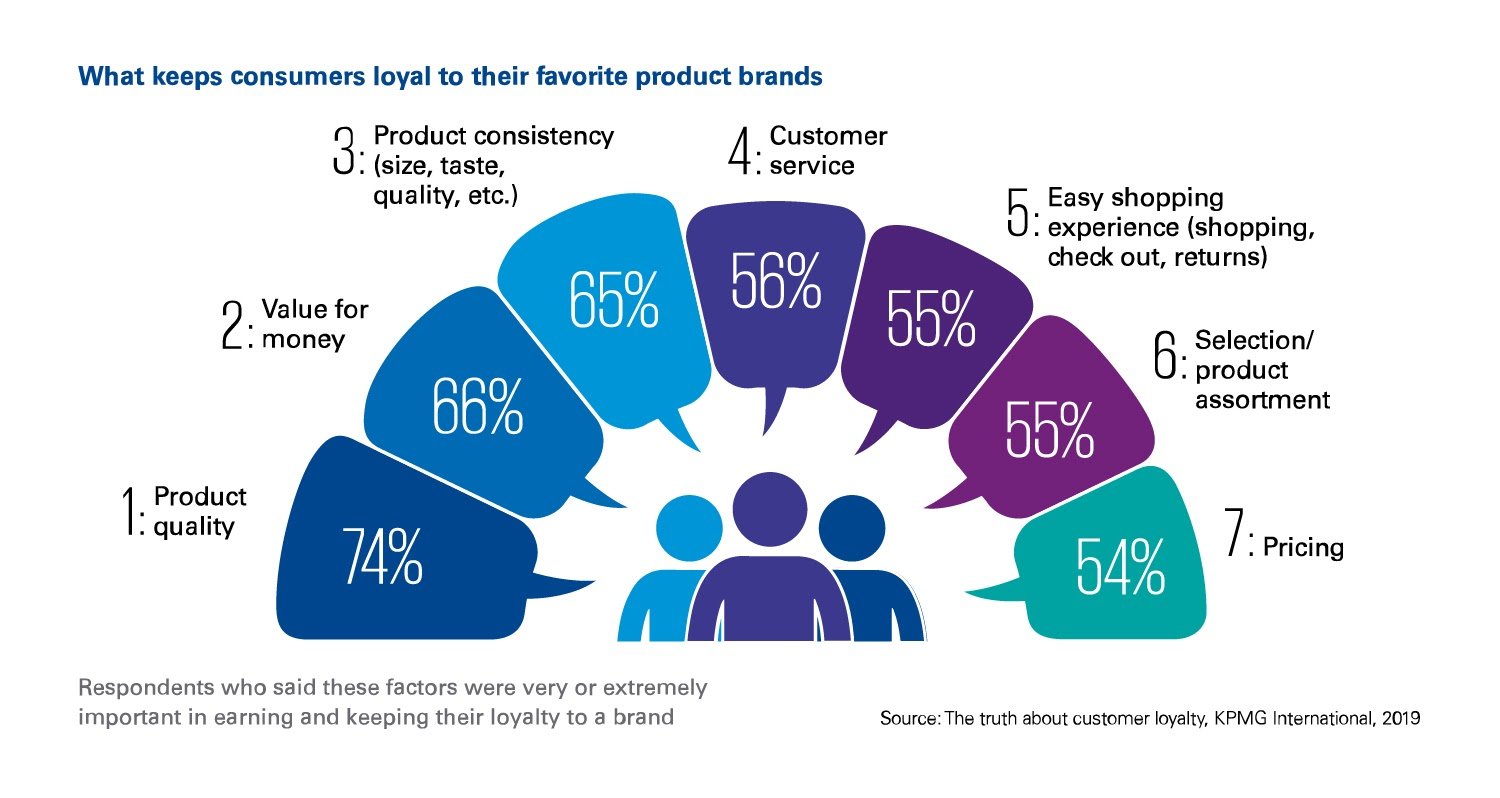 Taking all of these marketing concepts into account, superior quality, design, and any extra customer services have become a staple for differentiating between one brand and another.
What most companies forget is that their product is in part still their responsibility even after a sale is made. This means that the company is in charge of the after-sale processes too, including:
Customer support service and technical assistance
Returns policy
Warranties and guarantees in terms of product quality and included services
Product life-cycle management
With customer retention being more important and profitable than ever, you can't afford to skimp on your product efforts and include these in your digital marketing and marketing plan.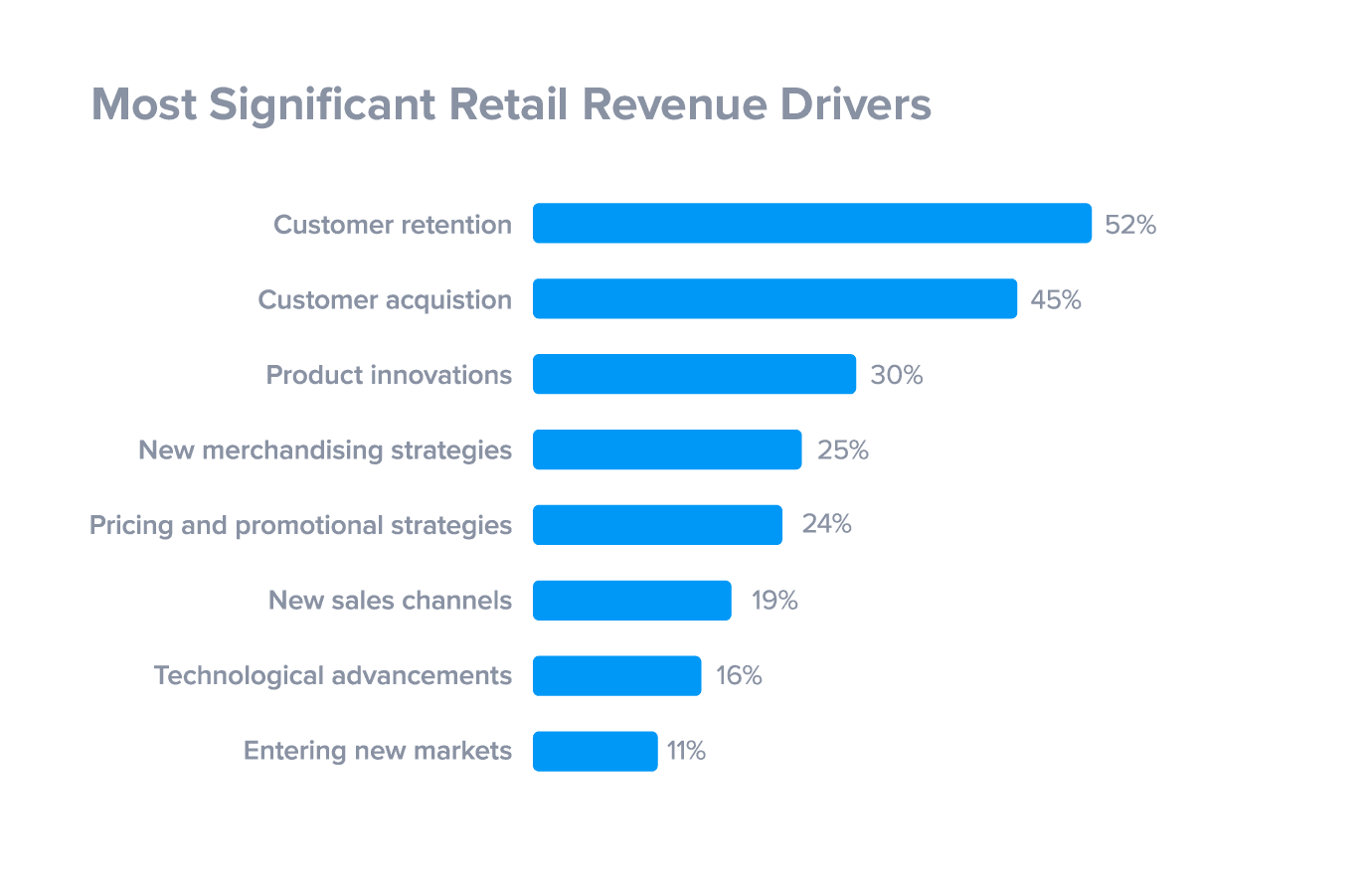 Now, how will you distinguish your product from the competition? Here are 5 key points to incorporate into your new product marketing strategy:
A need or want that's complementary to your existing products
Opportunities, extra features, variations, bonuses, and sizes your competitors have missed
Top-level customer experience and additional services
Adding an emotional value to the product
Better materials, designs, reliability, and general usability
Product differentiation, in particular, is a matter all new brands are racking their brains to nail. Some have already succeeded. Take blenders. They're present in most of our homes but only a few brands like BlendJet had the idea of making a portable blender instead and managed to score hundreds of thousands of sales on a monthly basis.
As another example, Autopilot is active in an increasingly competitive market of marketing automation software. They've set themselves apart by providing a highly-visual tool that's easy to use by everyone, not just tech experts and developers. Both of these companies saw an opportunity in an untapped customer problem others had ignored.
Promotion
Where can you promote your product? How do your competitors tackle promotion? What are the right channels to promote on based on where your target audience is? Do the promotions depend on seasonality? When's the best time to share your promotional messages?
Another one of the 4 Ps of marketing strategy is promotion. For years people have confused promotion with marketing. And this mistake is still being made as many of us fail to recognize that promotion is just a small part of the entire marketing mix.
The first thing business owners ask themselves after they create a product is "How do we let people know about it?". That's what promotion does to drive more sales, partnerships, traffic, and brand awareness.
In today's age, promoting a business is extremely easy. You've got physical and digitals ads, social media, blog posts, SEO, videos, podcasts, and thousands of out-of-the-box ideas to get your product seen.
The problem with this part of the four Ps is, people are skipping ads. They hate being advertised to when they don't have a need with as many as 65% of us skipping video ads.
So, how do you get people to respond to your promotion?
While a mix of ads and organic promotion attempts is needed, today's most successful promotion attempts and marketing communications depend on building trustful relationships with your clients. Get the right channels and timing and you're set for a 200% ROI growth plus lots of other perks that ads are able to provide.
Let's take Google Ads as an example to see how you can use this channel to promote your business while also creating long-lasting relations.
Every ad copy promises something. Once you fail to meet expectations or advertise false claims, 26% of people completely lose their trust in the brand: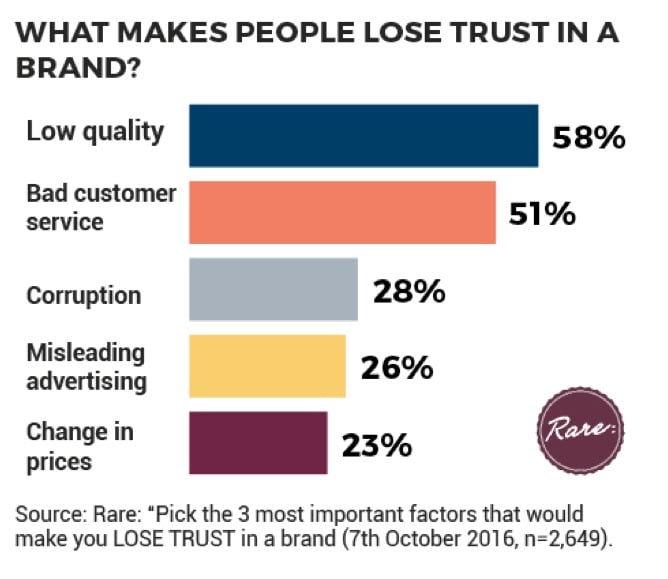 Behind any advertisement, promotional messaging, or claim should be an educational or useful message that's clearly established in your marketing plan too.
It needs to be backed up. Don't make a claim unless you can prove it.
Depending on search intent, people are looking to get guides, information, tips, or product recommendations. The latter has a transactional intent so keywords like "SSD laptop" or "stand-up paddleboard" are more likely to convert.
Most customers don't make instant purchase decisions. Beyond everything, they're influenced by past experience, friend testimonials, and online reviews. Especially when it comes to large purchases.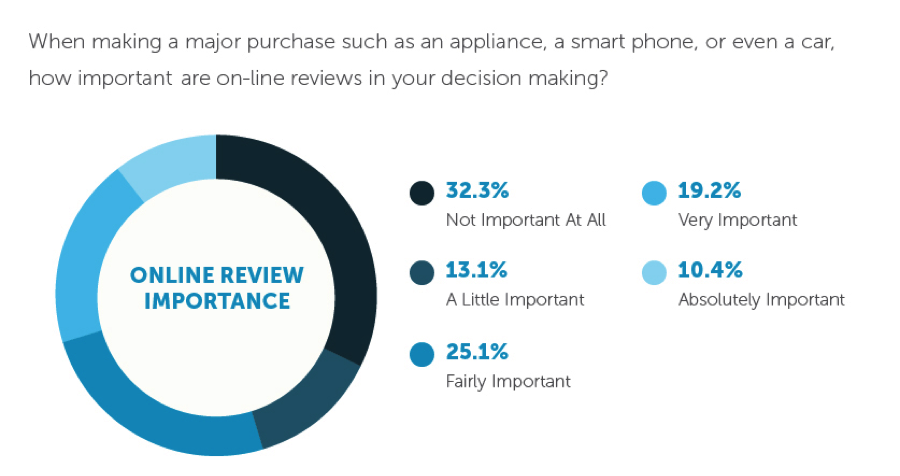 Every review you see on the web is the result of some form of customer experience. Whether that's a negative or positive relation a happy client had with a brand who was able to meet their expectations as well as provide product quality together with fast and accurate support.
This should show you why today's promotion attempts are all about creating solid seller-buyer relationships. A happy customer will be eager to give you a positive review, recommend your product to their peers, and even become a brand advocate. In turn, you'll earn the credibility of other consumers and brands you can partner with to consolidate your position on the market.
Place
Where will potential buyers find your product? Do they have a preferred place where they shop? What are the best distribution channels? What do your competitors do in terms of distribution, franchising, and market coverage?
Customer access to a product is being changed every single day. We've exceeded the switch from brick-and-mortar stores to eCommerce and are now looking to recreate the in-store experience in the digital world. Virtual shopping experiences that online viewing rooms provide will change the way people shop by offering the same in-store experience from their own homes.
In an increasingly competitive market, you'll need to get your product in front of as many eyeballs as possible. Here's why so many companies are dedicating large parts of their marketing budget to attending trade events, putting their products at eye-level in supermarkets, and creating large sales teams. This current era though is leaving many of these behind.
The modern age has brought more attention to choosing the perfect channels for product placement. Your target audience is literally everywhere on the web and, yes, almost any website can be used to place your product.
"Go where your customers are! If they spend time in associations, join their associations. If they drive the same highway to and from work every day, put a billboard there. If they spend 30 minutes a day on LinkedIn, be active on LinkedIn. But you have to know your customer. Buyer personas are helpful during market research, but you learn so much more by spending time with your customers – at conferences, on calls or Zoom meetings, grabbing coffee, exchanging texts, and emails. Spend a couple of hours a month with your top customers and you'll know where to go." – Kenneth Burke, Director of Marketing @Text Request
But with over 100 social media networking sites alone, how do you know where to take your products?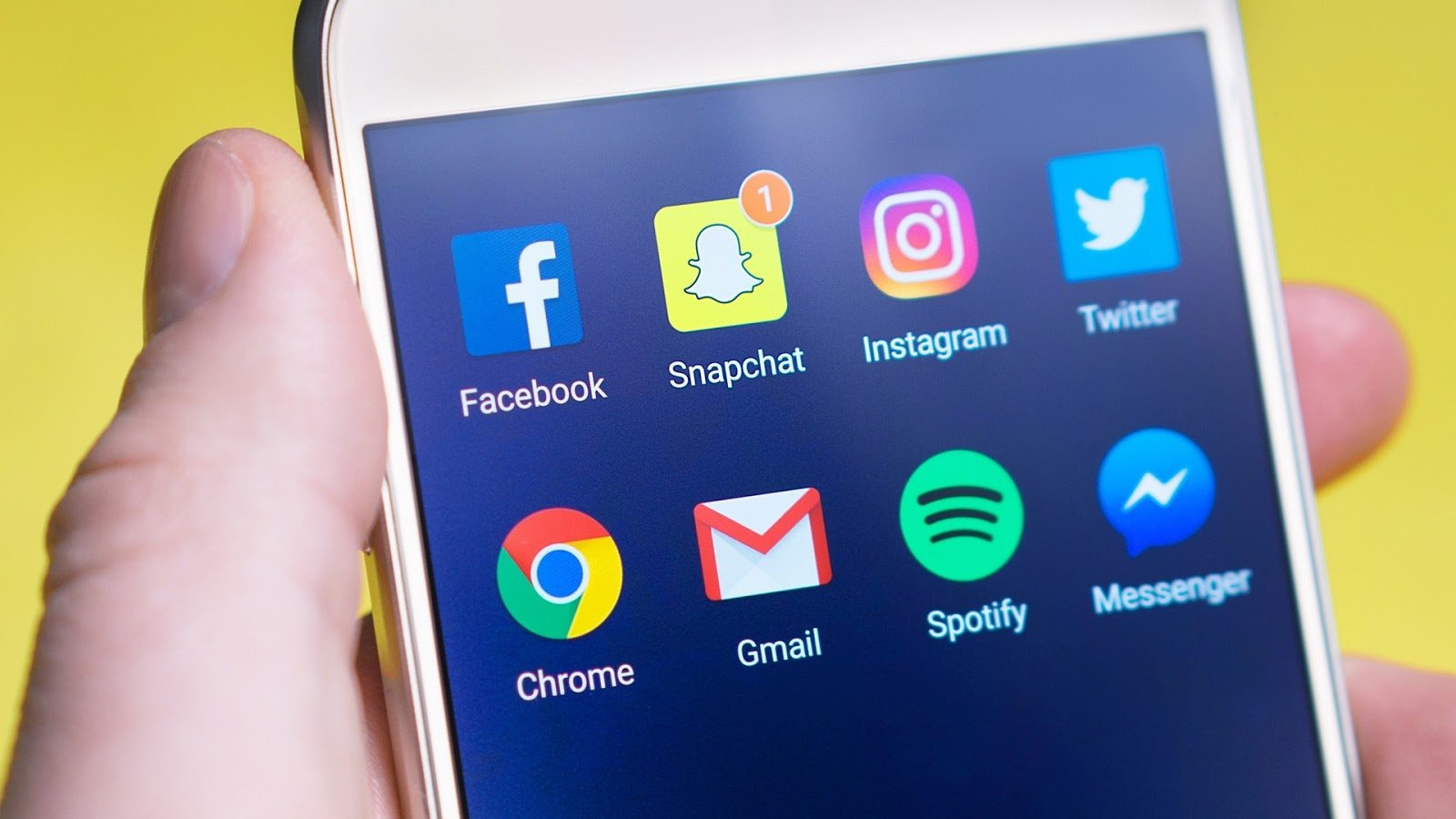 The best approach is to create communities and network with potential customers before you launch your business or a new product. Here are a couple of hands-on tactics that will help you find the best channels for product placement:
Take the extensive approach and test every channel one-by-one by being active in their groups
See what people are talking about and responding to in Slack channels
Analyze Amazon reviews, Quora answers, and Reddit threads to understand customer pain-points, language, and their way of thinking
Find strong representatives of your ideal buyer persona and see what channels they use, who they follow, and what's getting their attention every single day
Analyze where your competitors are – this is often the easiest option, but you might want to consider tapping into channels your competitors are ignoring
"You need to consider alternative channels when you're promoting as part of the 4 Ps of marketing. Specifically, communities. Social media marketing and SEO are great, but building community connections works best. The thing about promoting in these communities is that the most effective promotion channels require you to be an active member of the community. GrowthHackers, Reddit, Facebook groups, etc. They're all phenomenal places to build an audience and promote your content. If you spend 10 minutes a day interacting with other people's posts, you'll do well sharing your own piece once a week. If you do nothing but share your posts on there, you won't be able to reap the same benefits." – Maeva Cifuentes, Founder of B2B Content Marketing Agency @Flying Cat Marketing
Let's have a look at 3 companies with great product placement.
Flightradar24 on Twitter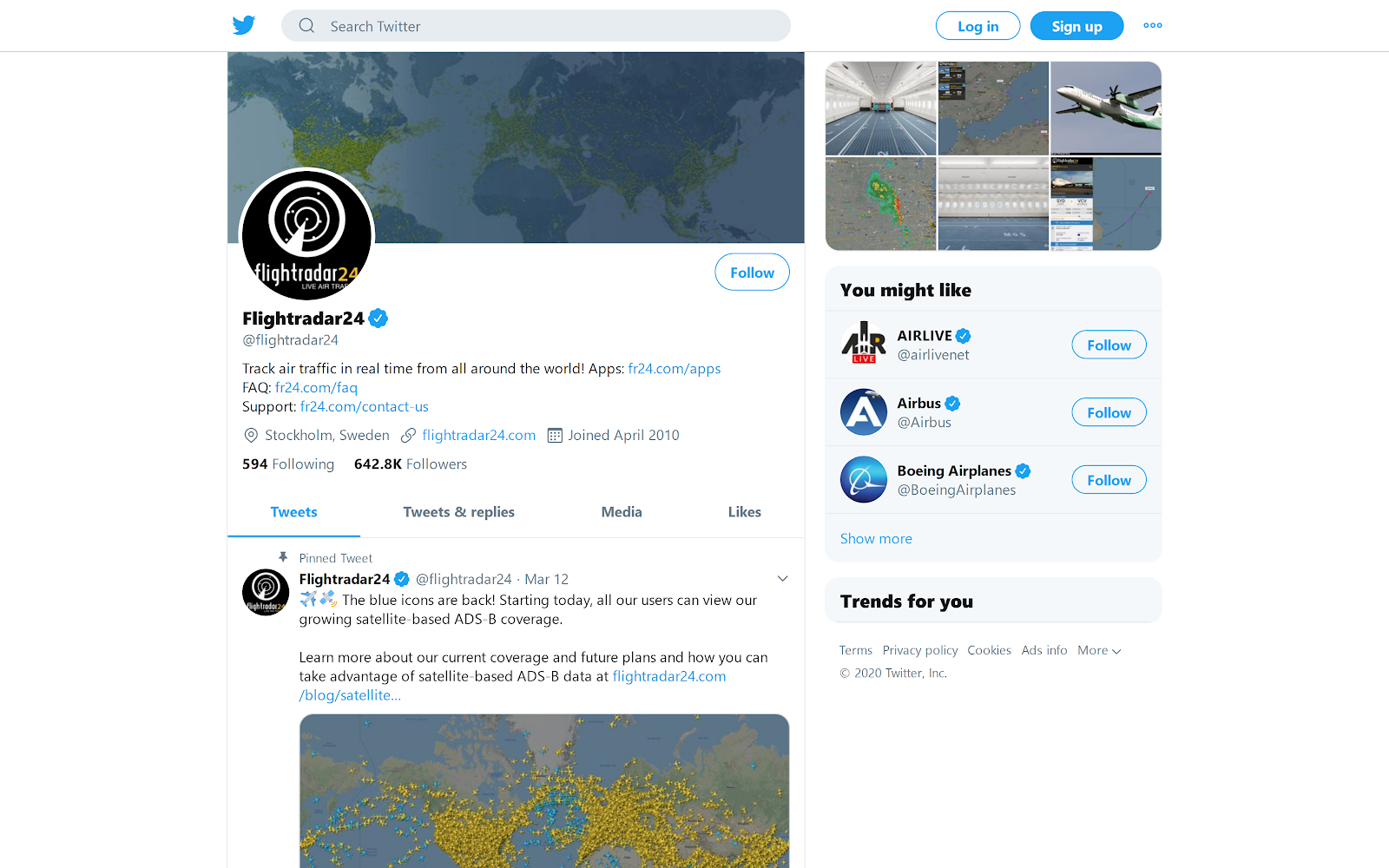 Twitter is a network that's now being used mostly for sharing news as soon as they come out, keeping brands connected with customers, and providing customer support. Tweets have a brief lifespan of just 18 minutes. But that's a perfect opportunity for Flightradar24 to highlight their most interesting flights, airline news, and interesting statistics that people seem so eager to get.
Blendtec's Will It Blend? On YouTube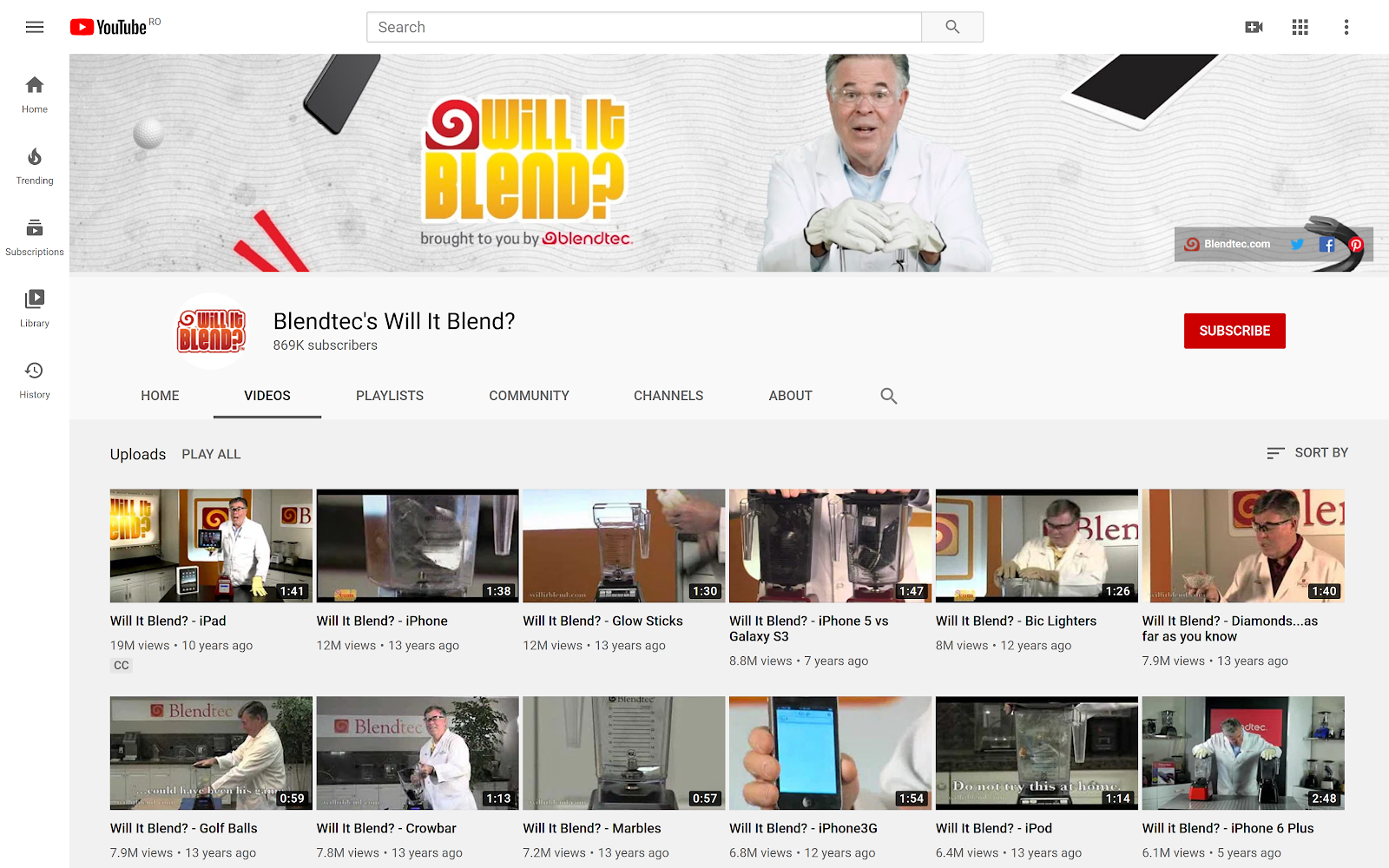 Blendtec managed to be the first of its competitors to tap into YouTube's powers by taking advantage of a channel where similar products haven't been promoted before. Especially in a fun manner like Blendtec does while also highlighting the quality of their product. The company did an amazing job with their research and realized that the top-performing videos on YouTube were entertaining ones. This led to the popular videos most users have seen at some point.
Chipotle on TikTok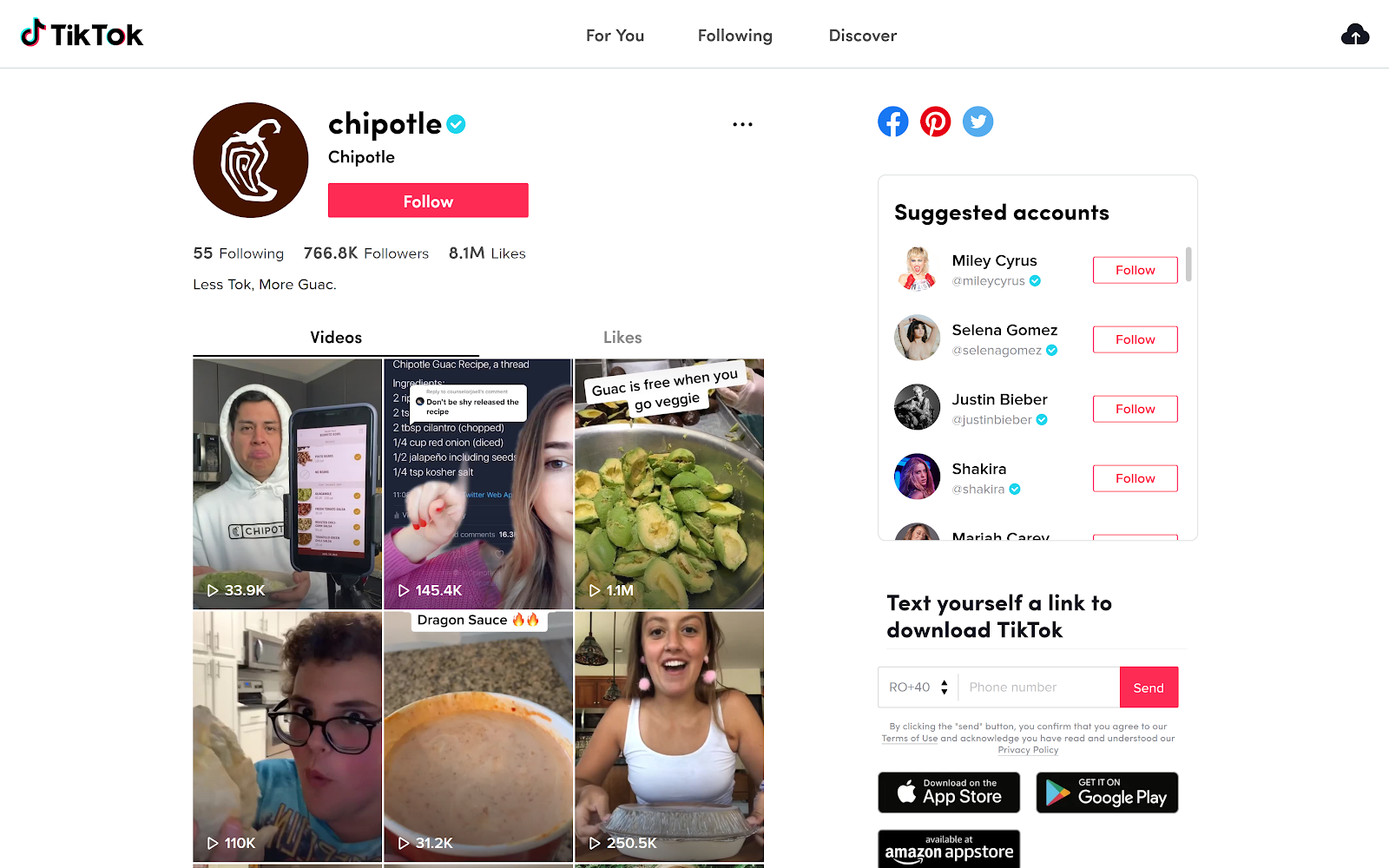 With 50.13% of traffic coming from mobile devices, product placement is moving towards mobile apps and short-form content you can create via apps like TikTok, Instagram, and Snapchat. Chipotle profited from this opportunity by reaching out to younger generations on a network that's mostly dedicated to them: TikTok. Note how they've also adapted their messaging and gotten users to talk about them through their own content.
The New Present of the 4 Ps of Marketing
Despite using the 4 Ps to their best extent, marketers noticed a lot of aspects that were missing from the marketing mix. That's how the 8 Ps have become a reliable reality with four new core factors [People, Personalization, Process, and Physical evidence] to take into considerations.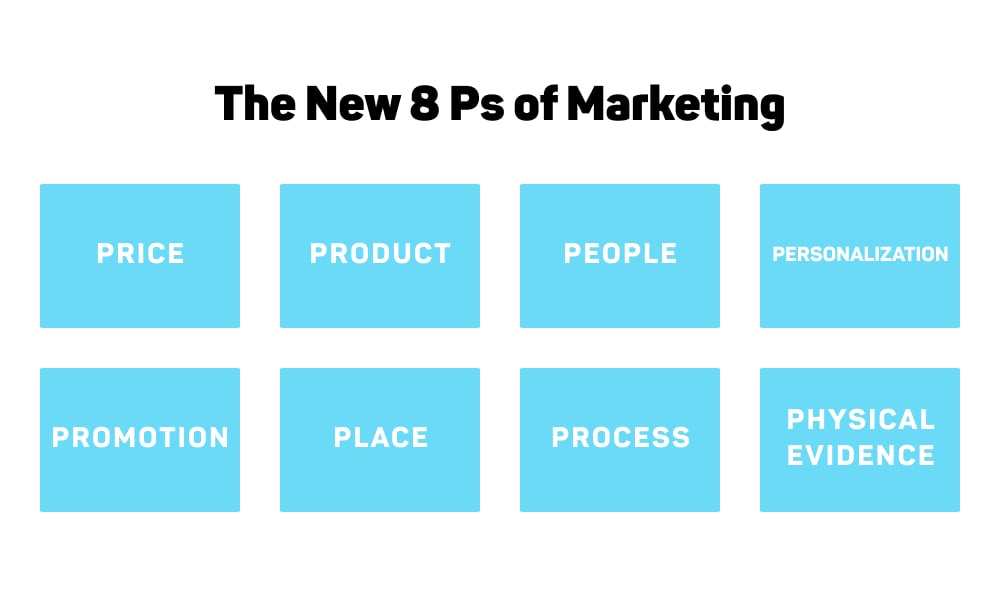 People
The most obvious factor that's been left out of the initial 4 Ps of marketing is the human element. People are the main drivers behind the economy, whether we refer to customers or everyone else that's involved in your business, including your employees, partners, and other stakeholders.
The relation brands have with buyers now holds a primary role in any marketing and digital marketing strategy. This trend was first noticed around 2014 when as many as 20% of marketers were already ready to capitalize on customer experience.
Why this whole buzz around customers? They make for amazing advocates that's for sure!
In an era where your customers have literally become your sales team, word-of-mouth marketing is influencing as many as half of purchase decisions. Companies can't just rely on customer advocacy alone.
Employee advocacy is a relatively new concept that companies have depended on forever. It involves turning to your employees as your first and primary brand advocates who can promote even a small business to their network. Along with their peers being more likely to purchase something your employees recommend, prospects research your employees' profiles to find more information on your product and, in particular, see if they also use it: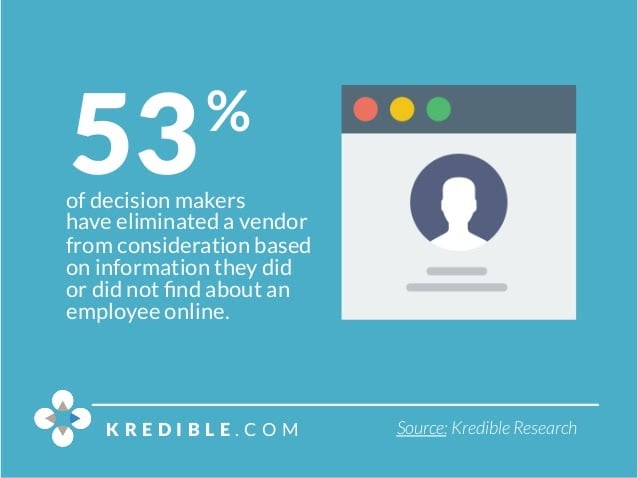 Personalization
Personalization wasn't an omnipresent factor in the marketing mix strategy before the digital era. It's still often overlooked as part of the four Ps despite being identified as a key marketing pillar by Ronald E. Goldsmith as early as 1999. But today's consumers are more than happy to receive promotional materials and offers that are customized to their past purchases and preferences.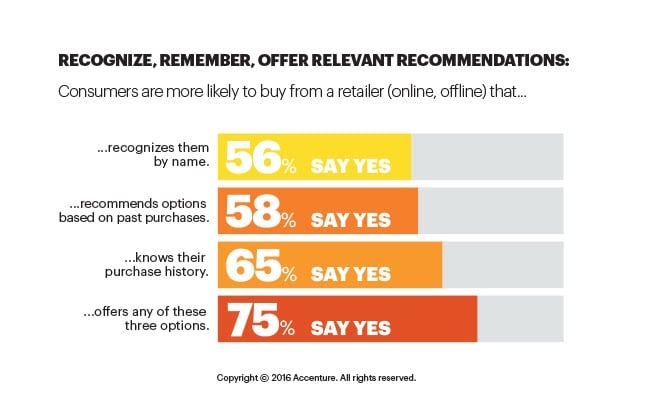 "Segmentation is crucial for you to gain more business. If you're a new company, appealing to the masses is not a successful marketing strategy as this requires a lot of advertisements and promotions which will eat up your capital. Find a niche and then personalize your product. I've created my website for industrial professionals even though I could have created it for anyone looking for a job. But I knew that the industrial professionals were an overlooked segment who desperately needed a platform like mine. With a little segmentation, I was able to grow my business to what it is today." – Chris Brenchley, Co-Founder, and CEO @Surehand
Where should you apply personalization?
Email marketing list segmentation
Custom eCommerce product recommendations
Smart segmentation for ads
New product development based on customer preferences
Custom video messages sent via email, social media, or during onboarding
Relevant content that is able to meet, exceed, and anticipate customers' needs
Options to create custom products with unique features and design characteristics
Process
Beyond where marketing managers showcase their product lies the delivery process. In other words, how the product gets to your customers, how you can create a worthwhile first-time interaction with your buyers, and how you're able to maintain these relations.
Often, the most common products aren't the best ones. They, however, do an amazing brand development job. This explains why for years on end brand awareness has been the #1 goal for over 80% of B2B marketers.
With everyone targeting the same endpoint, brand awareness is slowly acquiring an elevated interest in "process awareness" and storytelling. Customers will be able to know exactly where their product comes from, which steps it went through, and even who's touched an item. This helps organizations keep their social promises, gain customers' trust, and position themselves as an ethical brand.
Storytelling takes its turn to make all this visible to the public. Stories help companies create emotional impacts, develop awareness, and make brands relatable. Market research ran by Adobe found that the majority of consumers prefer stories over plain ads at any time: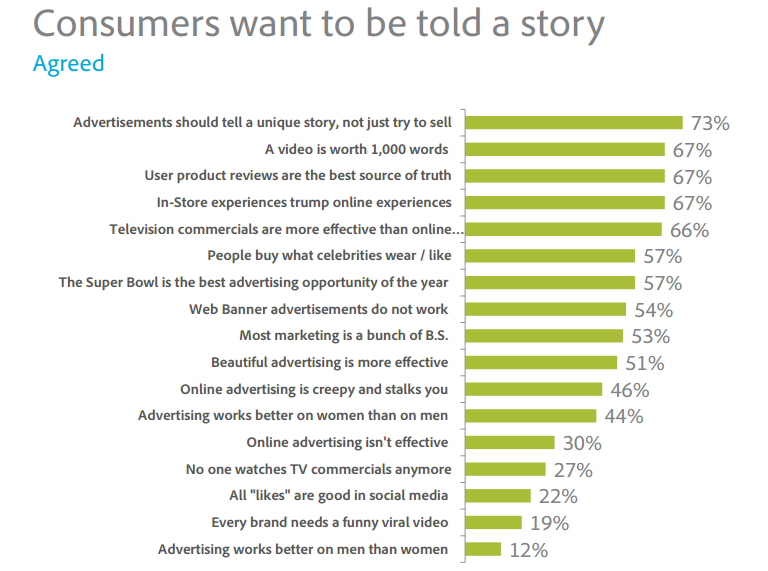 Rakka is a perfect example of a brand making full use of brand transparency and storytelling with their Transparent Trade policy which takes you through all steps your purchase was part of: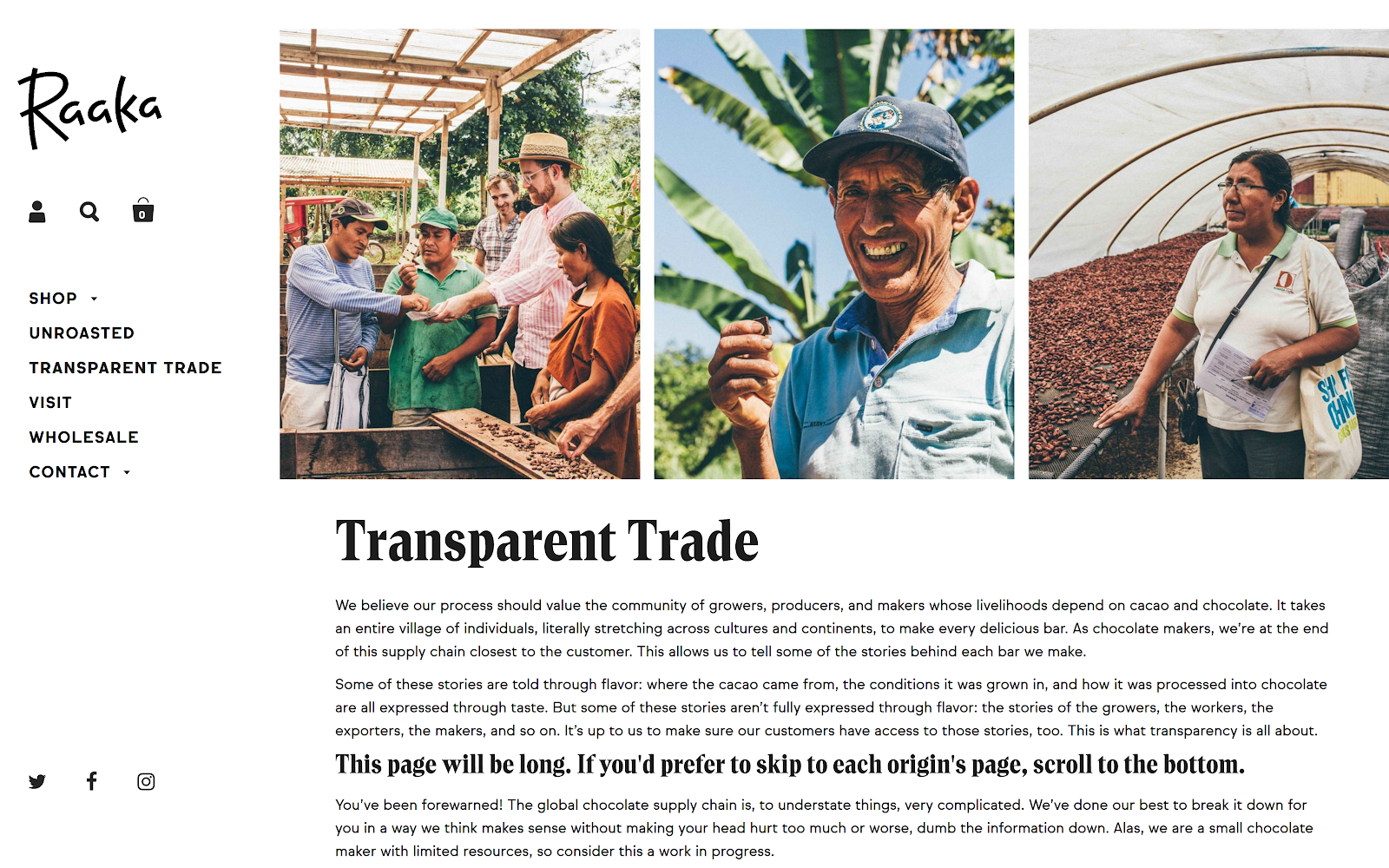 Physical Evidence
Everything you see on the product from the logo to its packaging and even the lights and shelves you choose to place an item on fall under this last P of marketing. 7 out of every 10 consumers agree that packaging can determine a purchase while simply changing the light colors in your store can increase attention, arousal, pleasure, and approach intention.
"Never underestimate the power of effective branding; it is the channel in which we
communicate the personality behind our business. The key to successful branding lies with consistency. As marketers, we must ensure that our promotional materials, packaging, even the ambiance of our stores, is communicated in a manner that is always consistent. This applies on a broader level (e.g. the values your company stands for should be portrayed in-store on a staff level) – right down to the finer details (e.g. packaging colors should never stray from your branded Style Guide)." – Sian Evans, Marketing Consultant @The CloudSitters Australia
When it comes to physical stores, everything from ambiance, smell, and even temperature can influence a purchase decision. With their online counterparts, it's aspects like color schemes, ease of use, menu, and accessibility that prevail. As many as 60% of consumers name website usability as being of top importance when it comes to design in a market where there's a competitor for every type of store: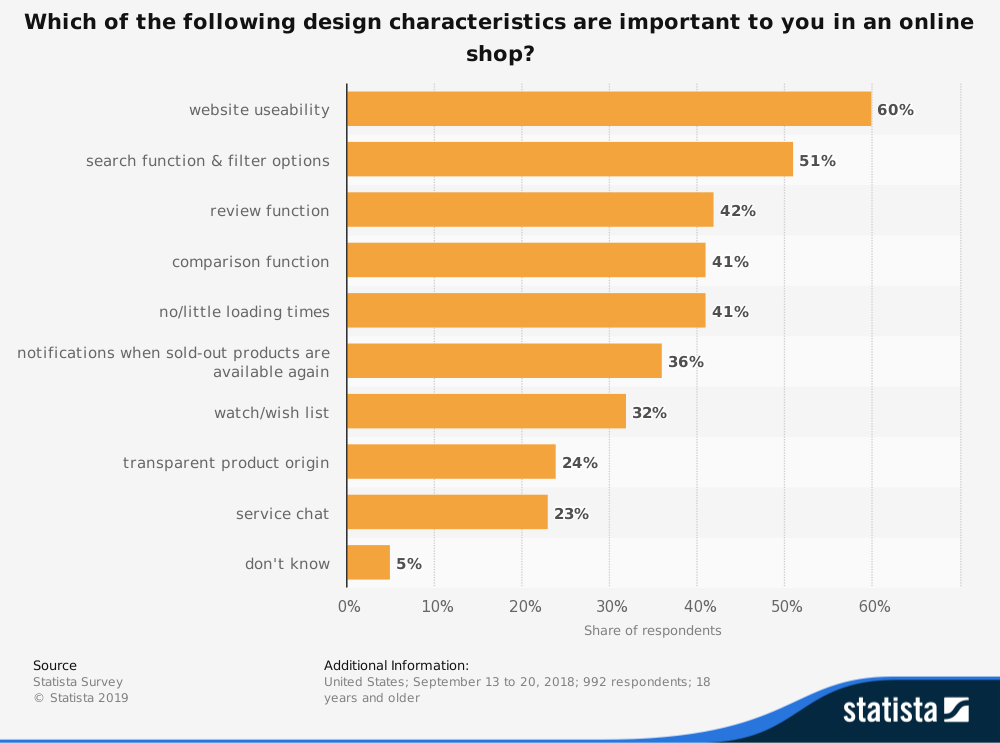 Key Takeaways
All of the traditional 4 Ps of marketing are strongly relevant in today's market environment. It's just that you need to adapt them along with the 4 new elements to an increasingly virtual world.
Consumers have remained essentially the same when it comes to their psychology. It's just their environment, ways of life, and outside influential factors that are now changing the way they browse and shop.
Despite all ephemeral trends, the 8 Ps of marketing will be relevant for many years to come. The catch is that every single brand needs to apply the eight factors in a customized approach that will consider their own goals, customers, and available resources.
While not everyone can afford an expensive branding scheme, 24/7 technical support, or blending iPhones for a weekly video series, the dangers of leaving out one of the core pillars of the concept of the marketing mix are greater. That is because you risk not putting any effort into the aspect that will make the difference between your brand and your competitors.
Remember that marketing and digital marketing are not dependent on one department alone. Everyone in your company including customer support, sales, and design can contribute to the marketing mix and bring their own knowledge and skills. So how will you incorporate all of the Ps of marketing into your marketing plan? Not sure? Let us take care of all your marketing needs!