Keeping up with your customers used to be simple. A local enters your store, purchases a product, rinse and repeat. Over time, you gathered information about them and used it to promote other products.
Now that eCommerce is at the forefront of consumer purchases, customer journey tracking is primarily online. That's not an issue, thanks to Google Analytics and other digital tracking tools.
But what if you sell both in-store and online? You see the sales coming in, but there's no way to attribute it to a particular marketing or ad campaign.
This is where offline conversion tracking is helpful. Let's review what this is and how you can use it to improve your campaigns.
Get brand new Google ad strategies straight to your inbox every week. 23,739 people already are!
What are offline conversions?
Offline conversions are actions consumers take outside of your website. For example, signing up for a trial offer through a pay-per-click (PPC) ad. Or making an in-store purchase using a Google ad coupon.
The goal is to identify all the touchpoints customers use to complete a call to action.
What is offline conversion tracking?
Offline conversion tracking is a method marketers use to identify sales, subscriptions, and other actions that occur outside of your website. Some examples of activities tracked include:
Enrollments in a course
Funded deals
Starting a paid plan after a trial
Phone purchases
UTM codes also help marketers track online and offline conversions. It makes attributing sales to marketing and PPC ad campaigns seamless.
The purpose of tracking offline conversions is to eliminate data gaps and guesswork. You'll know exactly which conversion processes begin online and end offline. And which campaigns are worth the effort and ad spend.
What are the benefits of offline conversion tracking?
By tracking offline conversions, you can monitor how consumers move through your sales funnel. This enables you to improve the customer's journey and even personalize it.
For example, if you see buyers using your email coupon codes to make in-store purchases, then it's a strategy worth keeping.
Using the data from offline conversions can enhance the customer experience and potentially boost your sales.
"When we tracked offline conversions by using Google Ads, our conversion rate increased by 20%."

—Stewart McGrenary, Director at Freedom Mobiles
Then analyzing offline conversion events can help identify keywords and targeting criteria that perform best. For instance, regions, days of the week, and times of day with the most engagement.
This way, you can determine the best time to reach out to specific groups of customers.
Offline tracking empowers you with better analytics for both online and offline channels. It's also easy to import using platforms like Google and Facebook.
How does offline conversion tracking work?
Offline conversion tracking is possible using Google Ads, Microsoft Ads, and Facebook Ads. And they all work similarly. Each provides a unique ID (Microsoft Click ID or GCLID on Google), which monitors clicks to your landing page from an ad.
For instance, a user clicks on your ad and later converts by signing a contract with one of your salespeople over the phone. That unique ID gathers information about the user, including their location, name, purchase, and the ad clicked.
It's also possible to do this using other methods, such as QR codes.
All this data goes into your CRM platform to track your qualified leads and customers throughout the buyer's journey.
Next, let's review the various offline conversions marketers track today.
Phone call conversions
If you sell services, then phone calls may make up a large portion of customer conversions. So not reviewing these numbers will severely skew your data. To properly track phone call conversions, you need a call extension like AdCallMetricsConversion tracker.
This sets you up with a Google forwarding phone number, then you specify the tracker in the extension (based on an ID). You can create Google Call Ads for each campaign, so you'll know how many calls each generates. It's then recorded as a conversion if the call meets a specified duration, such as one minute.
"The big offline metric we track is phone calls. We do this two ways. The first way is that all our ads have the call extension added to them. This allows us to know when anyone calls us, as well as if it turned into a sale. The second way is through website phone tracking. We added extra code to our website, which changes the number on our website when customers come through a Google Ad. We can then track any sales that originated with that call. Both strategies have it much easier to track offline conversions."

—Jeff Moriarty, Marketing Manager at Moriarty's Gem Art
In-store conversions
Sell both online and offline? Then you likely use PPC ads to drive foot traffic to your brick and mortar. If so, attributing in-store sales to online campaigns is key. One way to do this is through mobile QR and UTM codes customers receive online and use in your store.
If you're using Google Ads, it'll use mobile location data and determine whether they engaged with or viewed your ads before visiting your store.
But this method is only available if you have multiple physical store locations, and high click and impression volumes. Plus, you'll need sufficient store visit data that meets privacy thresholds (the specifics on this isn't public information, unfortunately).
"Offline conversions give advertisers a more holistic view of their marketing efforts, since we capture both online and in-store purchases. We do this by adding code to your site or app, so every time a customer completes an action, such as making a purchase or filling out a lead form, we store it. This even includes completing an email newsletter sign-up form."

—Ryan Fyfe, COO at Workpuls
App conversions
Your app is getting an influx in downloads. But where is this traffic coming from? You'll know if you're using offline conversion tracking to monitor app installs and in-app actions. Google empowers you to do this with both Android and iOS applications.
Set up app conversion tracking in your Google Ads UI. The actions you can trace include:
First opens
Downloads
In-app purchase
Events tracking
Not to be confused with in-person and digital events, such as webinars and live video. We're talking tracking events users perform when engaging with your content. For example:
Video plays
Link clicks
PDF downloads
Popup viewed
Image clicked to enlarge
Form field abandons
Scrolling down a page
Printing a page
Tying these to your Google Ads paints a clearer picture of all the touchpoints and actions users take before (and after) becoming a customer.
Can Google Analytics track offline?
The short answer—yes. In fact, it's a valuable tool for monitoring conversions across your digital marketing campaigns.
"Google Offline Conversion Tracking is a powerful advertising tool that allows businesses to better track both offline sales generated from Google Ads. It's a powerful tool that allows you to import conversions tracked in another system—such as your CRM or POS system—into Google Ads. Conversions can be anything from page visits and form submissions to phone calls, closed deals or walk in traffic."

—John Fordice, Analytics Lead at Hello Bonsai
There are two types of conversions Google Analytics tracks:
Phone call conversions and ad click conversions.
This is possible by importing conversion data from an existing source or uploading it from files or connections. So if you use platforms like Zapier, you can integrate it with Google Ads offline conversion tracking.
Next, let's review how to get started.
How to set up offline conversion imports
When someone clicks your Google Ads, what happens next? With offline conversion imports, you can closely monitor your customer's journey through your sales funnel. You'll need a Google Ads account and website enabled for tracking.
Plus, you must meet the following criteria:
Have auto-tagging enabled
Can edit the code on all your web pages
Can store a Google Click ID (GCLID) with the corresponding lead's info gathered from your site
Have less than a 90-day click-to-conversion window
Now, there are two steps to set up offline conversion imports:
Creating conversion actions in your Google Ads account
Enabling your site and lead tracking system to track those conversions
Step 1: Create or import conversion actions
Once you create your Google Ads account, log in and follow these steps:
Sign in to your Google Ads account, then click the wrench symbol at the top. Select the Measurements drop-down menu and click on Conversions.

Next, click on the +Conversions button.

Now, you'll see four options: Website, App, Phone Calls, and Import. Select the Import button.

A window will open, allowing you to import conversions directly from your Google Analytics, Salesforce, and third-party apps. But for this demonstration, we'll click the Other data sources or CRMs option. Then click Track conversions from clicks. Press Continue once you're done.

Now, it's time to input all the information about your conversion action. Start with the Category drop-down menu. Here, you can select from conversions like Purchase, Subscribe, Add to cart, Submitted lead form, and Book appointment.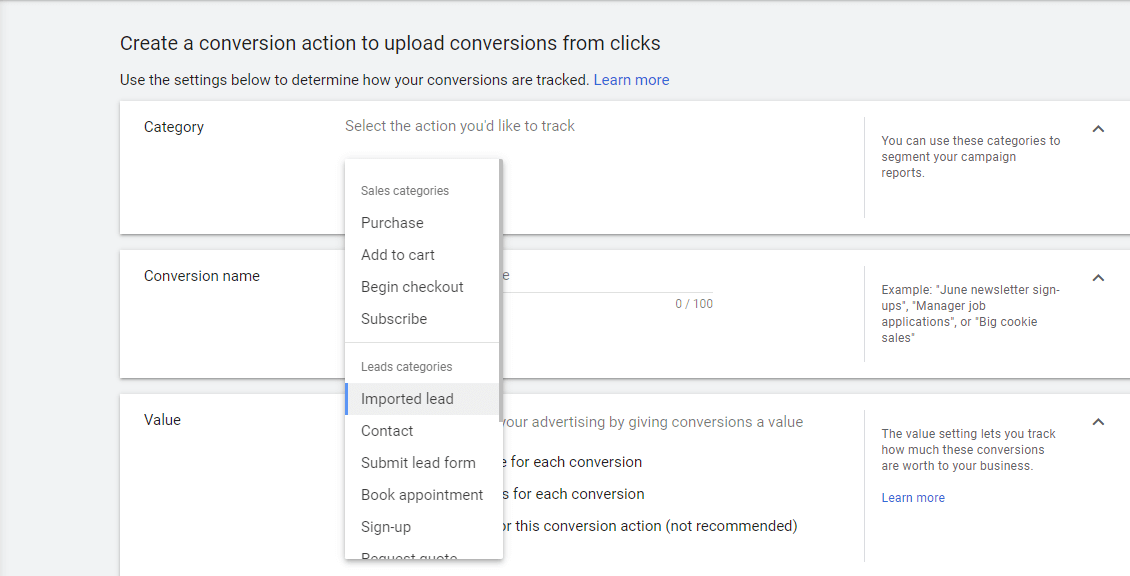 Next, determine whether the conversion value will be the same, unique, or not have any value (not recommended).
Insert the currency and amount of the conversion. Then choose how many conversions counts per click or interaction. For instance, you can select Every conversion if it's a purchase since each sale counts.

Then if it's a lead, sign-up, or another type of conversion, you can select One. Why does this matter? Let's say a buyer clicks an ad, then completes two different purchases at two different times. Both conversions will be recorded if you choose Every.
If you chose One, then when someone clicks your ad and inserts their information twice on your site, it counts as one conversion, not two. This way, your data doesn't inflate with misinformation.
Now, it's time to choose your conversion cycle's length. Your choices are between one week and 90 days, but you can add a custom number as long as it's within that range.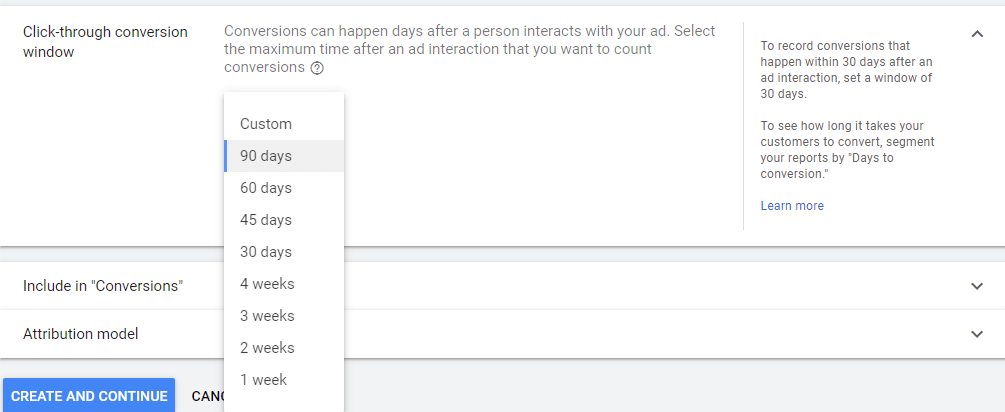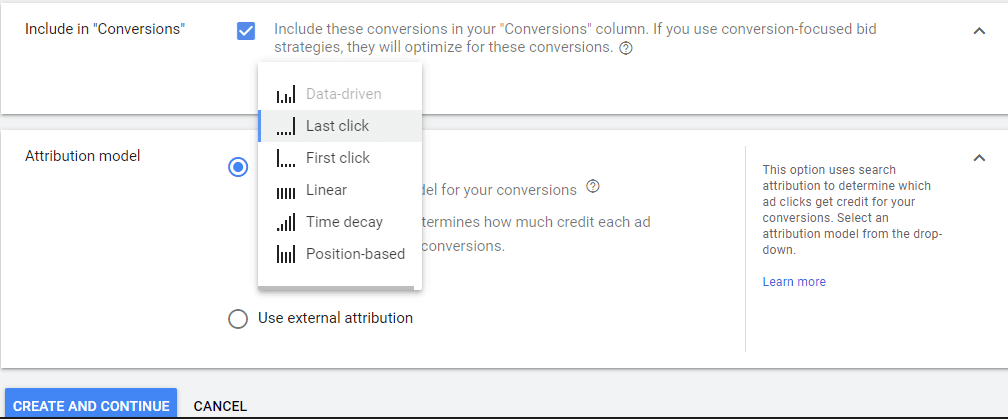 Select Create and Continue and you're all set. It'll take between four and six hours to track conversions. If you uploaded conversions, it'll take up to two days for them to show in your reports.
Step 2: Enable your site and lead tracking system
This part is more technical, so if you're not comfortable messing with your website code, then consider hiring an expert to do it for you. To perform this second step, you'll have to update each lead submission form page to add a hidden GCLID form field, so it enters your lead management system.  
Here's the script to add to each web page to store the GCLID:

Insert the highlighted line between your <form> and </form> tags. Next, you'll enter another script. You can either use the one below or create your own. If you use this one, update the "var gclidFormFields" line, so it contains the list of all the field IDs you made in step one.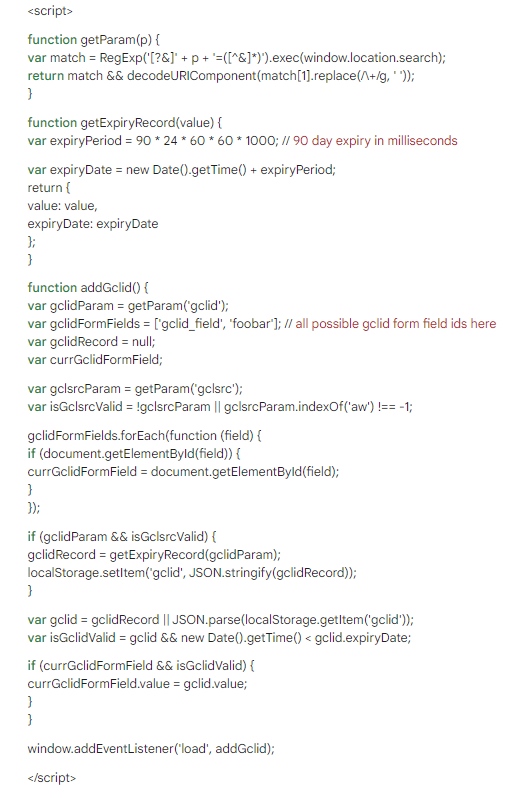 Add this script to each web page on your site. To make this less tedious, go to your webpage template and add it there. Or add the code to a global element, such as your page footer. This way, all your pages update at once.
Make sure to place the script immediately before the </body> tag.
Now, it's time to go into your lead management system to ensure it receives the GCLID value from the lead capture form. Some use Google Tag Manager to manage this whole process.
From here, you're ready to import conversions from Google Ad clicks using Excel, CSV, or Google Sheets.
Track your offline conversions like a pro
Monitoring your website traffic, engagement, and purchases isn't enough. If you pay for PPC ads, book sales calls, and sell in a physical location, then using offline conversion data tracking is critical.
With this data in hand, you can continuously improve your advertising campaigns. And prove why raising your budget is a solid idea.
So the next thing to do now is get started. If you're not comfortable doing it yourself, consider hiring an ad agency specializing in Google Ads and offline conversion tracking.
Ready to dial up the conversions from your Google Ads? Hit up our conversion rate optimization guide to improve your results