Holy. Crap.
We did it.
We hit $1 million in monthly recurring revenue (MRR).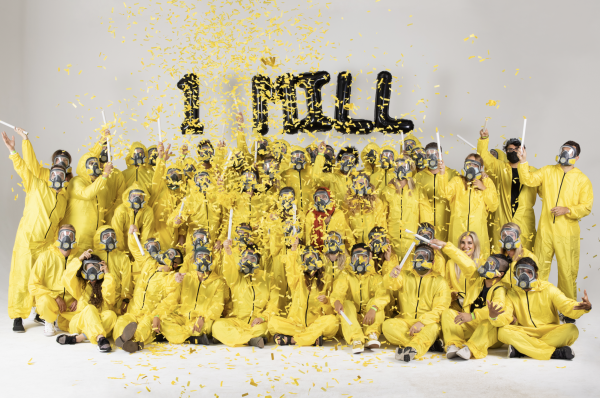 If you've been following our journey, then you know we've been keeping you in the loop since our first milestone of $100k MRR.
See the previous milestone updates here:
$100K MRR
$300K MRR
$400K MRR
$500K MRR
$750K MRR
We're now almost at $1.2 million MRR and it truly feels like our linear growth is becoming more exponential.
(*2022 UPDATE: We just hit 20 million MRR 🤯🤯🤯🤯🤯 updated blog post to come!)

It's a crazy milestone for us to hit, but it's even crazier to realize how we did it when I hear people ask how it all happened.
Some people ask me:
"When you look back at the past 5 years, did you expect to be here?"
The truth is, I didn't.
I feel like much of the first 5 years was just me being a human pinball and bashing into things while not really truly having a plan.
I can only look back and see what we've continually done since day 1.
Problem-solving and raising the bar.
If I were to name two crucial elements to our organic growth to this point, it would be those two things.
We always asked "Why does it have to be this way?" and "Is there a better way to do it?" and then we figured out how to make those improvements.
By measuring everything we do, like:
Percentage of quarterly client goals hit
NPS from clients
Internal Asana usage through their API (Asana even decided to write about us)
Systems audit trail and execution tracking
And those are just a few of the things we're tracking while continually adding new metrics to the list of things we keep an eye on.
So what are some of the highlights you'll learn about today?
We gave back and helped lift others up
We opened a new office and eyeballing more
We got 5 acquisition offers
We launched a brand new site
We got punched in the face by COVID-19
We strengthened our internal training
We focused heavily on leadership alignment
Ready to jump in?
Not so fast.
Watch how we celebrated our milestone first and the new goal we've set:
Get brand new marketing strategies straight to your inbox. 23,739 people already are!
How COVID-19 Hit Us
The lockdowns shook us and many of our clients.
Before the stay at home orders that started in March, we were hovering in the $800,000s. We dropped to be in the $600,000s because of the wave of pauses, discounts, and cancellations.
Our entire team of Account Managers and CRO designers were unreal. There was so much back and forth during this time with what felt like no end in sight.
Our Account Directors, Mitch, Matt, Graham, were also amazing at helping clients think of new ways to not just pause, but to also move budget to areas that would be more impactful for them so their business didn't dry up more than it should.
We also launched a continually updated resource of new coronavirus marketing strategies and tactics that helped our current clients and anyone else reading how to navigate the times in a more effective way.
It was a wildly stressful time that I felt like we handled incredibly well given the circumstances.
It was also an eye-opener for us to not put all our marketing eggs into the paid ads bucket, because we had no fluidity or wiggle room to change our client's marketing investment strategies.
Since then, our growth has accelerated quite a bit.
KlientBoost Giving Back (New Era of Philanthropy)
Okay, so I have a confession to make that may offend some people.
When we were about to hit our $500K MRR milestone, I was 100% certain that I would burst with joy and excitement.
I definitely had a jolt of happiness, but it was tiny.
I expected a much bigger emotion.
Before hitting $1 million MRR, I already knew how I would feel.
If I'm being honest, I was proud, but I wasn't that excited.
As cliché as it may sound, I've already fallen in love with the journey of what we do at KlientBoost.
I don't need a certain destination.
What now gets me pumped is how we're branching out and helping other organizations, people, animals, and communities.
2020 was the first year that we truly gave back.
The first thing we did was start a Black Lives Matter program, here were the quick details:
10 young Black women and men from the Long Beach/Los Angeles area
10 MacBooks and 10 iPhones given for free (exactly what I had when I started KlientBoost)
Paid dinners and transportation to and from to make sure everyone could show up
2 months of intensive learning and applying around copywriting, content marketing, paid advertising, conversion rate optimization, psychology, and sales
We partnered with the tremendous people at Our Own who helped us coordinate everything.
It was such a success that:
- Parents asked if they could join the program
- Friends of the students asked if we're opening up to more people
- We hired one of the students (planning on hiring more)
But most importantly, we opened the minds of young Black adults who may not have known that our world existed.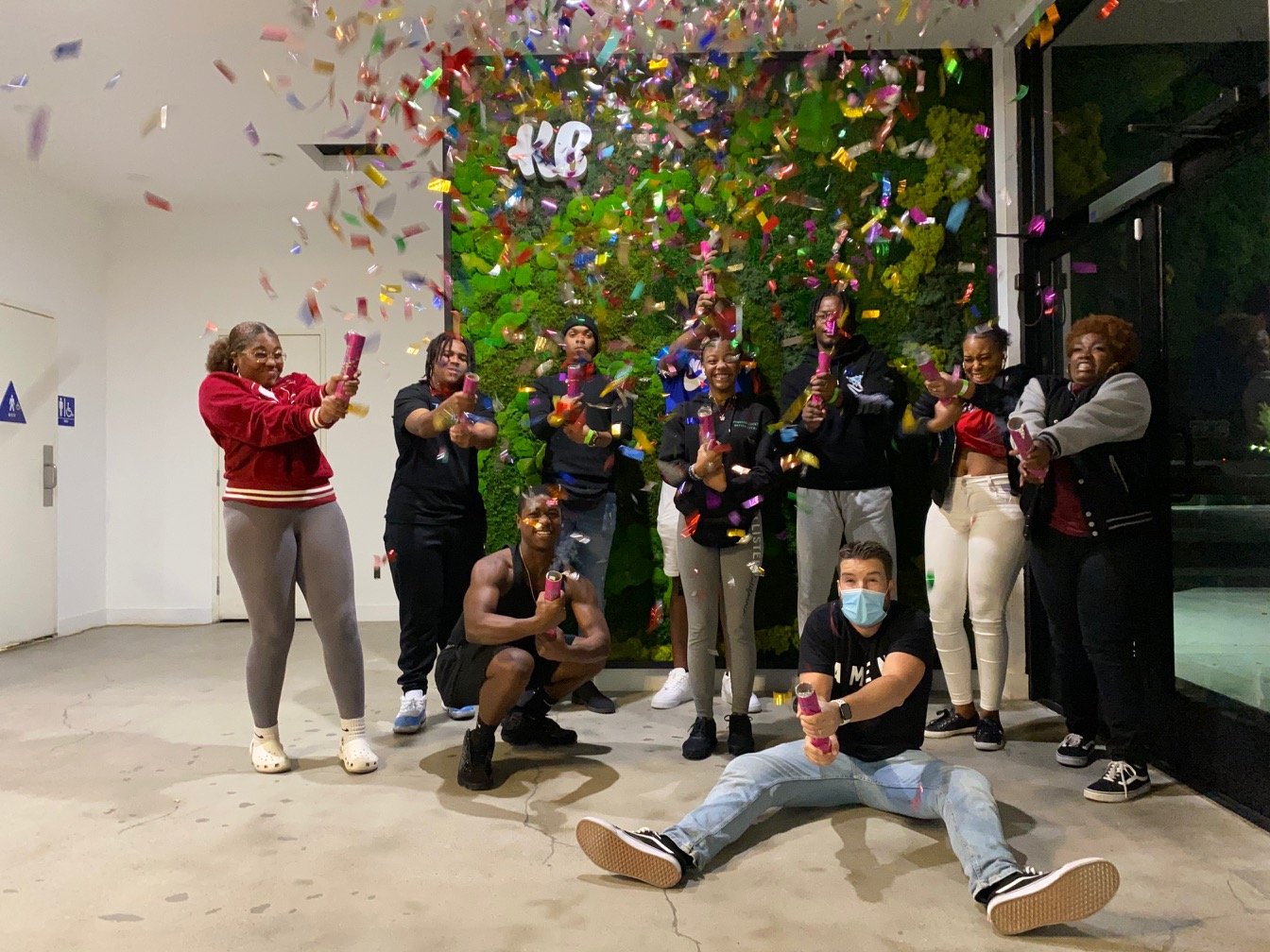 Here's some of the feedback the students gave:

Excited for what we'll do in 2021.
We also decided to forego the spending on insignificant small gifts that we normally do for our big Christmas party:
And give start a Toys For Tots drive with donations almost hitting $20,000.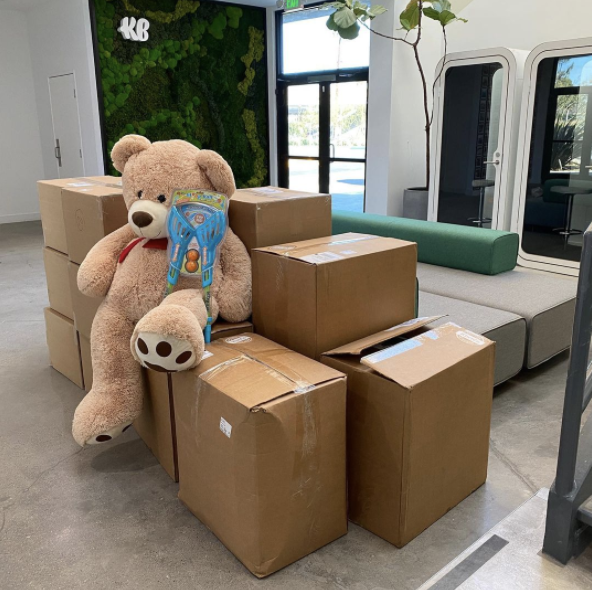 Third, we decided to offer our resources for free to help them create awareness and grow funds for breast cancer research.
We partnered with Moppet Books who will give 100% of the proceeds to breast cancer research via their Kickstarter campaign.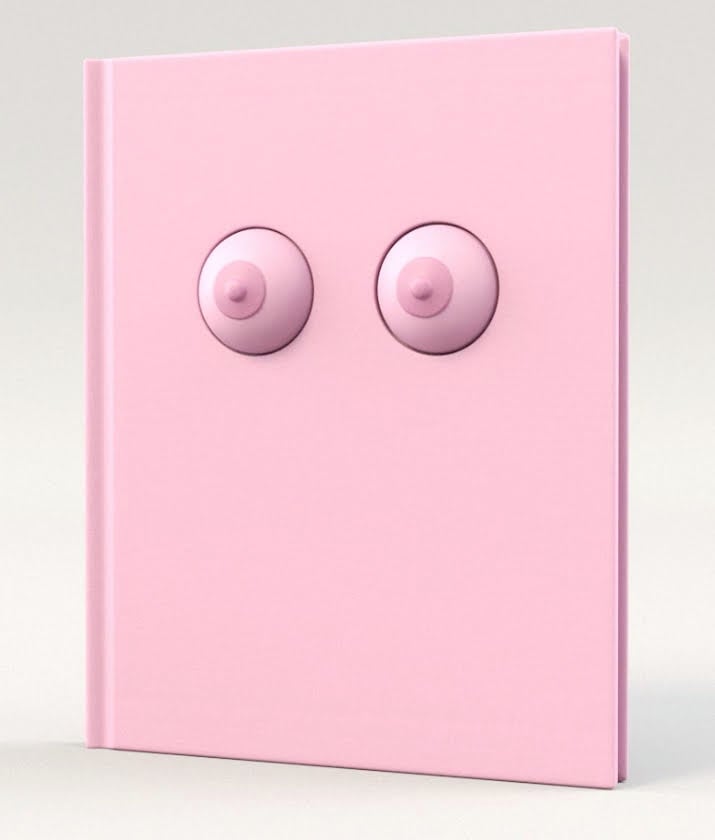 Hello RAWLAY (Raleigh, NC) + New Locations
Call us crazy, but we opened a new office during the pandemic.
Well technically everyone there is still working from home, but still!
We're almost at 10 people in Raleigh already and we plan on aggressively growing our East Coast team out there.
I am so thankful and impressed that Mitch, Courtney, and Cody decided to move their lives out there and help us maintain the strong culture we're already known for.
With the quick push to everyone being together virtually, we decided to continue to look for great talent to join the KlientBoost team and we're now looking at Austin, TX, and Europe as well.
You might wonder why we don't just go remote, and while we've been forced to, the culture we have here at KB is the #1 thing that stands out that every colleague mentions.
So that's why we want to continue to grow together, physically.
Five Acquisition Offers
Definitely something that has been more surreal than feeling real this year.
We were three weeks away (in an eight week process) from closing on being acquired before the covid lockdowns started happening.
The buyer wanted to put things on pause to see how the market/economy would react.
This was a blessing in disguise.
That bought us time to experiment with some of the things we've learned from the acquirer and we started seeing some pretty drastic improvements.
The latest offer we got was for $24 million dollars.
We politely declined as we believe we can hit a million dollars in monthly recurring profit and that would equal a pretty hefty valuation.
New Service Expansions
We spoke a little about this in our $750K MRR update.
I was struggling big time with deciding whether or not to launch new services under the "KlientBoost umbrella".
I knew we've built authority in the paid advertising and conversion rate optimization space, so adding new services might dilute that authority.
But after looking into other options of building new brands, websites, sister agencies, etc - it all came down to what was easier for the client.
And that was to build everything under the KlientBoost umbrella.
We now have a dedicated SEO agency team, a dedicated email marketing agency team, and a creative studio that's creating video and other marketing assets that accelerate the performance for our clients.
We plan on beefing these teams up quite a bit while also coming out with more new services based off of everything I experiment with through KlientBoost marketing.
How Can I Be Better For You? (HCIBBFY?)
Once we decided on changing our value acronym from P.A.R.T.F./F.A.R.T.P. to P.A.R.T.Y., I wanted to make sure that we act on the "Y" part.
The Y stands for "You".
It's a feedback reminder to always work on breaking ice and digging deep to find out what you can do better for your colleagues, clients, friends, and family.
So now, every month, I get coffee with all the people I interact with on a daily basis (8-10) and I simply ask them:
"How can I be better for you?"
This isn't a time for me to tell them what they can do better, their own team will tell them that.
It's an accountability focus that puts action in front of the person it matters most to.
The feedback we've been getting has been tremendous and it's such a simple thing to do.
And maybe even more valuable when most of us are forced to not physically be together.
Quarterly Leadership Summits
Leadership alignment has been huge for us in 2020.
Prior to this year, it kinda felt like everyone was riding their own horse. Or if there was agreement on what we're doing, some would pull in separate directions.
It was super frustrating to me.
So here's what we did instead:
We physically rent a massive Airbnb (last one was in Bel Air, CA) and have a private chef make us food (don't worry, everyone got covid tested first)
We then follow an agenda to discuss issues/problems, etc
Then we chat about systems to fix those issues (more on that in the next section)
We dive deep into talking about those systems and purposely over-communicate to lessen disappointment with the end product. The things we set in stone for each system are:
- Define the system in as much detail as needed?
- Who's owning it?
- What's the measurable that it's a successful system?
- When is it due by?
- What's the audit trail to make sure the system is continually run successfully?
We bond/have fun and play hide n' seek in a massive mansion
See it in action:
The Benefit of Systems
You know what's cool?
When you can do something that has a clear result, like offering new services to a client who wants to invest in them.
You know what's even cooler?
When you create a system to teach everyone at KlientBoost how to spot upsell opportunities to clients and build a pipeline of new service expansion revenue.
That's cool.
Since the beginning of Q4 2020, we've decided to start documenting everything at KlientBoost for every department.
This in turn has turned into trackable systems where we can score the execution of those systems on a monthly basis and make sure we don't keep stacking new systems on top of already poorly executed systems.
No one wants to feel like their business is a leaning tower of Jenga.
Think about how many things you might do today that you don't have clear documentation for.
Discovery calls, review calls, proposal review calls, client onboarding, kick off call, first campaign launch, check in calls.
Then there's recruiting, interviewing, hiring, team member onboarding, etc.
And that's just the tip of the iceberg for two different departments within KlientBoost
With just a glance, how do I know that everything I expect to be done is being done?
I wouldn't know unless we tracked all systems execution and reported it via Geckoboard on the TVs we have inside HQ.
Call me old school, but if you give me a link to look at from a reporting perspective, then I'll probably never do it.
I need it on another screen that I can see when I walk past it.
Financially Growing Up

Up until now, we've never had a person in charge of finances at KlientBoost.
It's how I've been able to get away with buying insanely stupid things.
Just check my bio: https://klientboost.com/about-us#johnathan-dane
So we hired our Director of Finances, Jonathan Nguyen. And the visibility and understanding of our finances have already increased so much.
The only downside?
He decided to not be called our "Director of Cash/Money" like I had hoped for.
Right Butts In The Right Seats

This year saw a lot of musical chairs to go in different career directions as our growth has unlocked new pathways for people.
It's something we never had the privilege to do much of in the past, but it's now something that definitely helps us retain our talent to a greater level.
Excited about it.
Feedback Loop Strengthening
We've quadrupled down on feedback requests (as you saw with the HCIBBFY meetings) with team members and clients.
We've been able to grow our NPS reply rate and we're introducing a new metric scorecard through the CSAT framework.
After chatting with Joey Coleman, the author of Never Lose a Customer Again, it made a TON of sense to not only continue to dig for actionable feedback (see a common thread within KlientBoost?) but to continue to raise the bar.
So we've decided to move a butt in an even better seat and will be having a Director of Client Success be solely focused to the first 60-90 day "Klient Experience" that our clients have with us.
Raised Prices & Increased Contract Lengths

This one is super simple.
We simply tested just upping our prices and increasing our contract lengths.
We now close higher total contract values.
You should try it.
Outbound + Promotion Ladder
If there's one (additional) thing I'm very proud of at KB, then it's that we go "full-ass" (vs half-assing something) on new things we experiment and try.
We decided to experiment with outbound sales, and well, the results have been pretty incredible: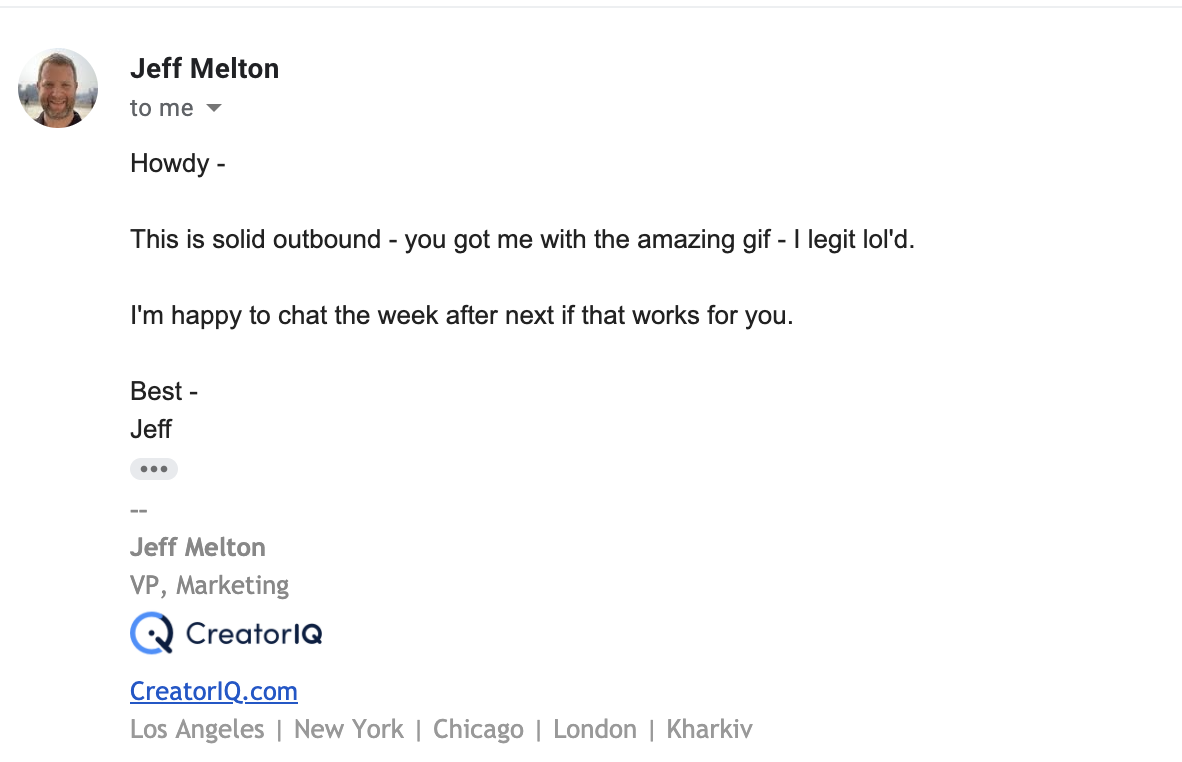 This is just one example of the nearly 100+ positive replies we've been getting
This is on top of the inbound lead engine we've built, averaging upwards of 20 proposal requests per day.
This team is led by our super talented Melissa Orellana, and it's also a great starting point for new people who are curious about the digital marketing world, but who lack the experience.
It allows us to hire for enthusiasm, curiosity, and personality, to then train them through our own internal academy to help them become better and stronger holistic marketers.
This solves some bigger issues we had (which is a great problem to have) around not being able to hire fast enough.
Now we have our own little talent development engine that starts with the outbound sales team.
New Software Upgrades To Kite

Last but certainly not least are the moves we've been making with our own marketing software, Kite.
Before this year, Kite was only able to analyze Google Ads traffic. But since then, can now help us oversee Facebook Ad performance as well as SEO performance.
This will help our internal team have more time for strategy and less time worrying about ad group, ad set, and ranking performance changes.
Excited to continually upgrade Kite so it does more and more for us.
See You At $20 Million ARR
That's the next time we'll be emptying Party City of all of its confetti cannons.
Appreciate you guys following along 💛