With all the different avenues within social advertising to wander down, you may have run into Facebook messenger ads before.
But with the long list of possible resources to invest in, you may have brushed Facebook messenger ads off as a low impact tactic.
However, this is a reason to lean towards Facebook messenger ads, not away from them. Using tools like Mobile Monkey and the like you can create logic-based rules within your ad campaigns.
These rules help create a more bidirectional and dynamically responsive ad campaign than you ever could before. As opposed to classic, unidirectional PPC text ads or Facebook image ads, you can now create actual logic trees for your ads to respond to within Facebook Messenger Ads.
Now add this on: What if I told you that you could tap into an audience of 2.38 billion of readily engaged users? Wouldn't you be first in line, ready to invest your marketing budget?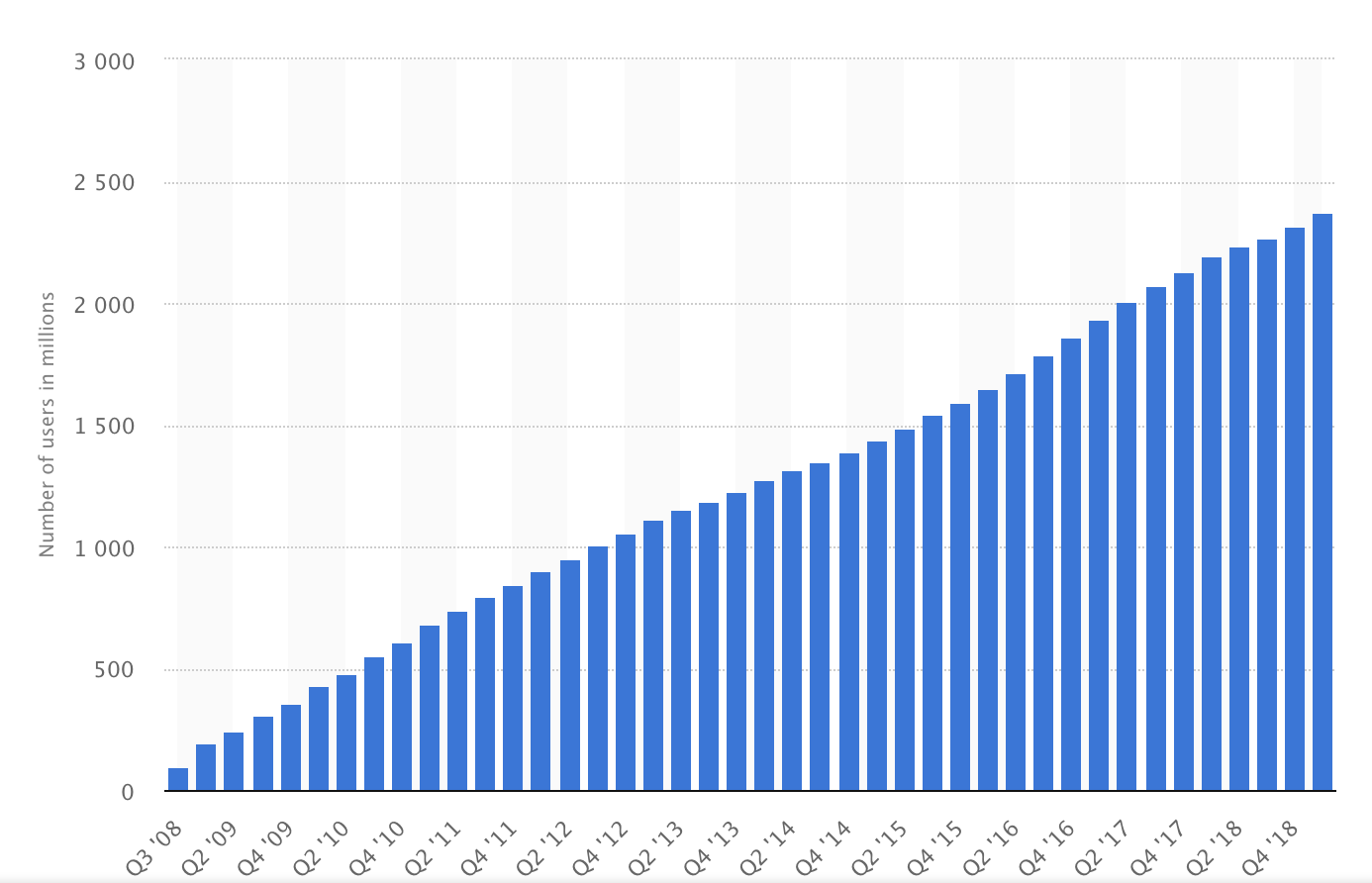 As of the most recent report, Facebook has 2.38 billion active users. But, as any savvy marketer knows, that doesn't mean if you throw some money at Facebook you'll automatically have a captive audience.
You have to work for it.
And working for it means sorting through the billions of active users to pinpoint your audience – and then connecting with your audience in meaningful ways.
The reality of this situation can be daunting; it might even diminish some of your initial excitement about finding such a large active audience.
But, don't worry.
With the help of strategic Facebook Messenger ad strategy, it's possible to sort through the muck and do exactly what you want: connect with consumers that are looking for help from a brand just like yours.
In this post, you'll learn about the different types of Facebook Messenger Ads, understand why Facebook Messenger Ads are such a lucrative marketing tool, and read about top examples of companies that used these types of ads to grow their business.
What Are Facebook Messenger Ads, Anyway – And How Do They Increase Customer Engagement?
To understand what Facebook Messenger Ads are, it's helpful to start with what they are not.
Facebook Messenger Ads are not regular Facebook ads, nor are they exclusively a Facebook chatbot sequence (although, you can use a Facebook chatbot as the destination of your messenger ad).
"Facebook Messenger Ads are a relatively recent ad development that helps you connect with your customers instantly. How? By allowing users who see your ads to initiate a text conversation with the click of a button."
To offer more clarity, there are a few different types of messenger ads. Let's take a closer look at what they are and how they can help you boost customer engagement.
1) Destination Ads
A destination ad shows up as a regular ad on Facebook. However, the call to action is designed to nurture cold leads instead of scaring them off with a hard ask.

Your Message Destination will determine what type of ad you're running…
Rather than seeing a call to action like "buy now" or "shop now," a user would see a softer call to action like "send a message," "learn more" or "get a quote."
Once the user clicks on "send a message," they will be redirected to the brand's Facebook Messenger inbox where they can engage with the brand via messenger.
For example, Haven Life uses this approach to provide life insurance quotes. When Facebook users see the ad, they can click "get a quote," and they are automatically redirected to the Haven Life messenger account: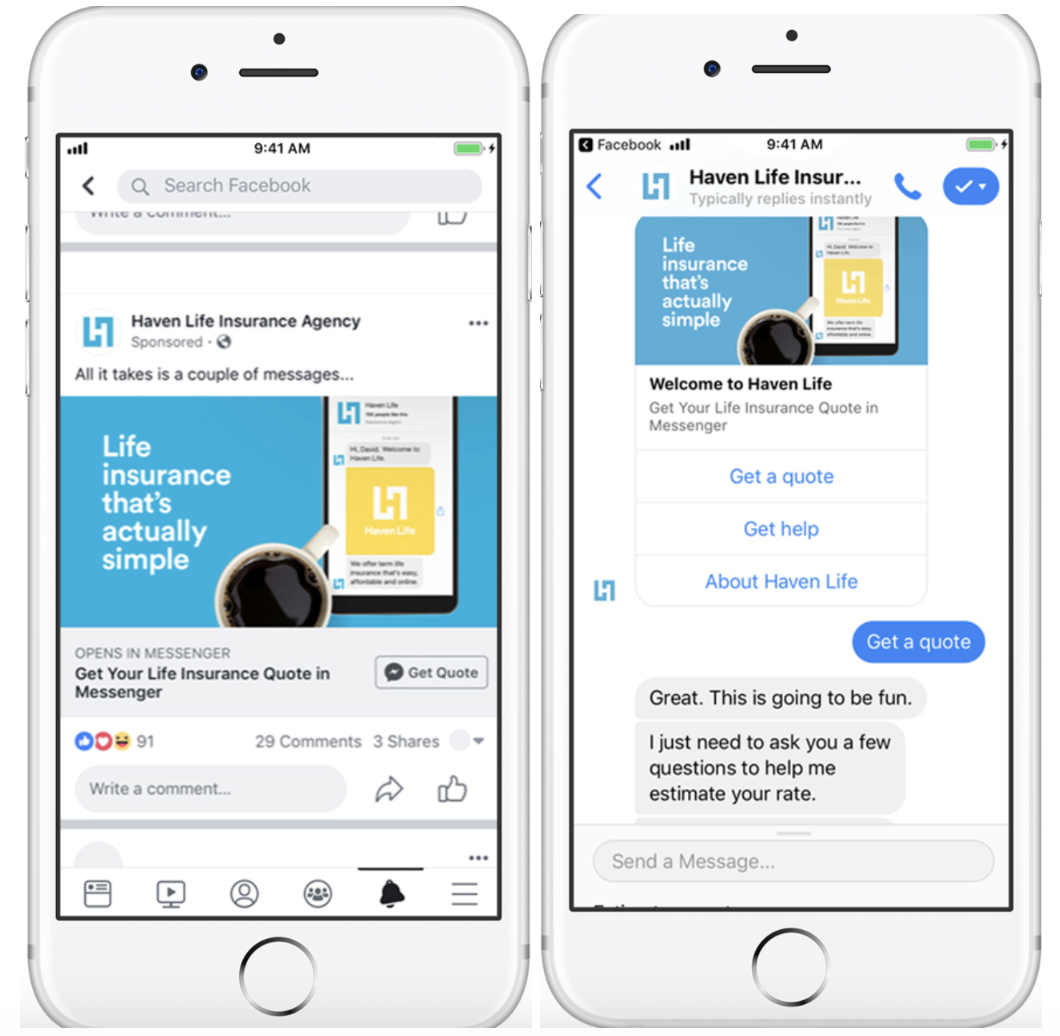 Haven Life Insurance destination ad – image source

But does it really work? According to Haven Life, it does. Haven Life saw a 12% lift in completed quote forms at a 23% lower cost per lead.
2) Sponsored Facebook Messenger Ads
Sponsored ads provide a way for you to deliver specifically crafted messages directly to a user's inbox.
In other words, when a user clicks on your sponsored ad, Facebook will send an offer directly to the user's messenger inbox.
For example, QVC used Facebook ads to promote its offers. QVC decided to incorporate sponsored messages into its remarketing strategy to see how the ads would affect the return on ad spend.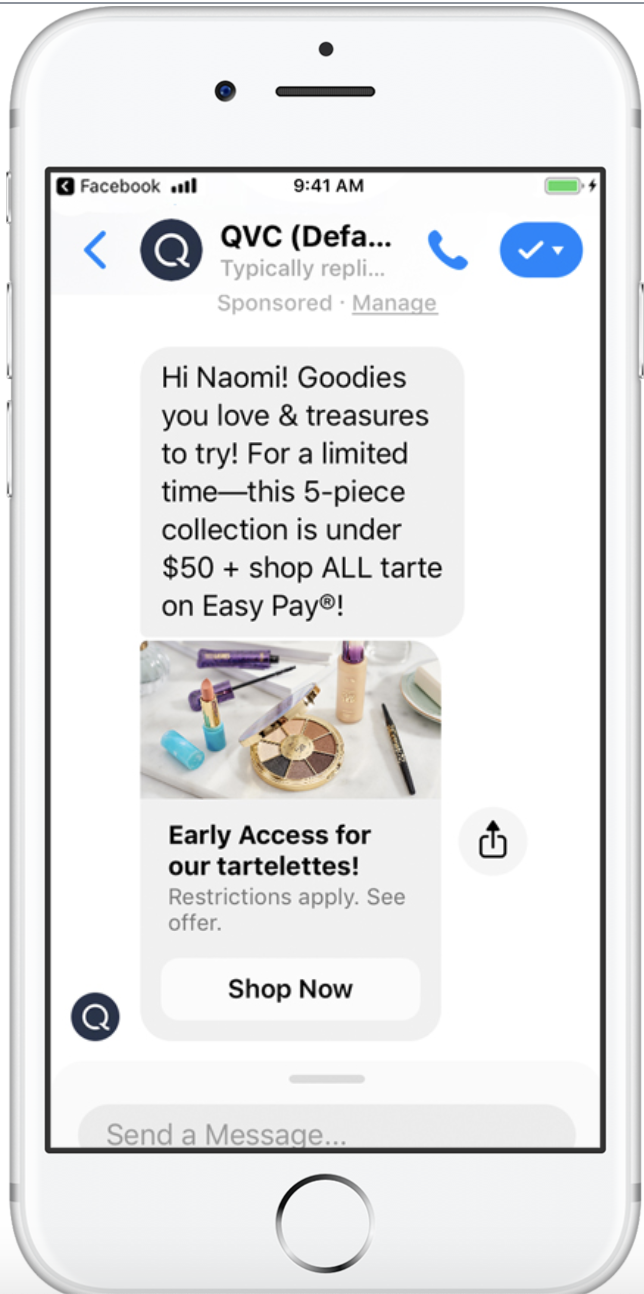 QVC sponsored Facebook Messenger Ad – image source

QVC's efforts resulted in a 5.3X higher return on ad spend with sponsored messages, compared to other Facebook ads.
3) Facebook Messenger Home Screen Ads
Another type of Facebook Messenger ad that comes in handy for many brands is the home screen ad. Rather than advertising on the Facebook feed, the opportunity to engage shows up right on the home screen of the target audience.
For this particular post, I'd like to get a bit personal.
Why? Because this type of ad is one of my personal favorite ways to engage on Facebook.
I often find excellent travel tips and products, help with fitness, and connections to services just by browsing my home screen on my messenger app.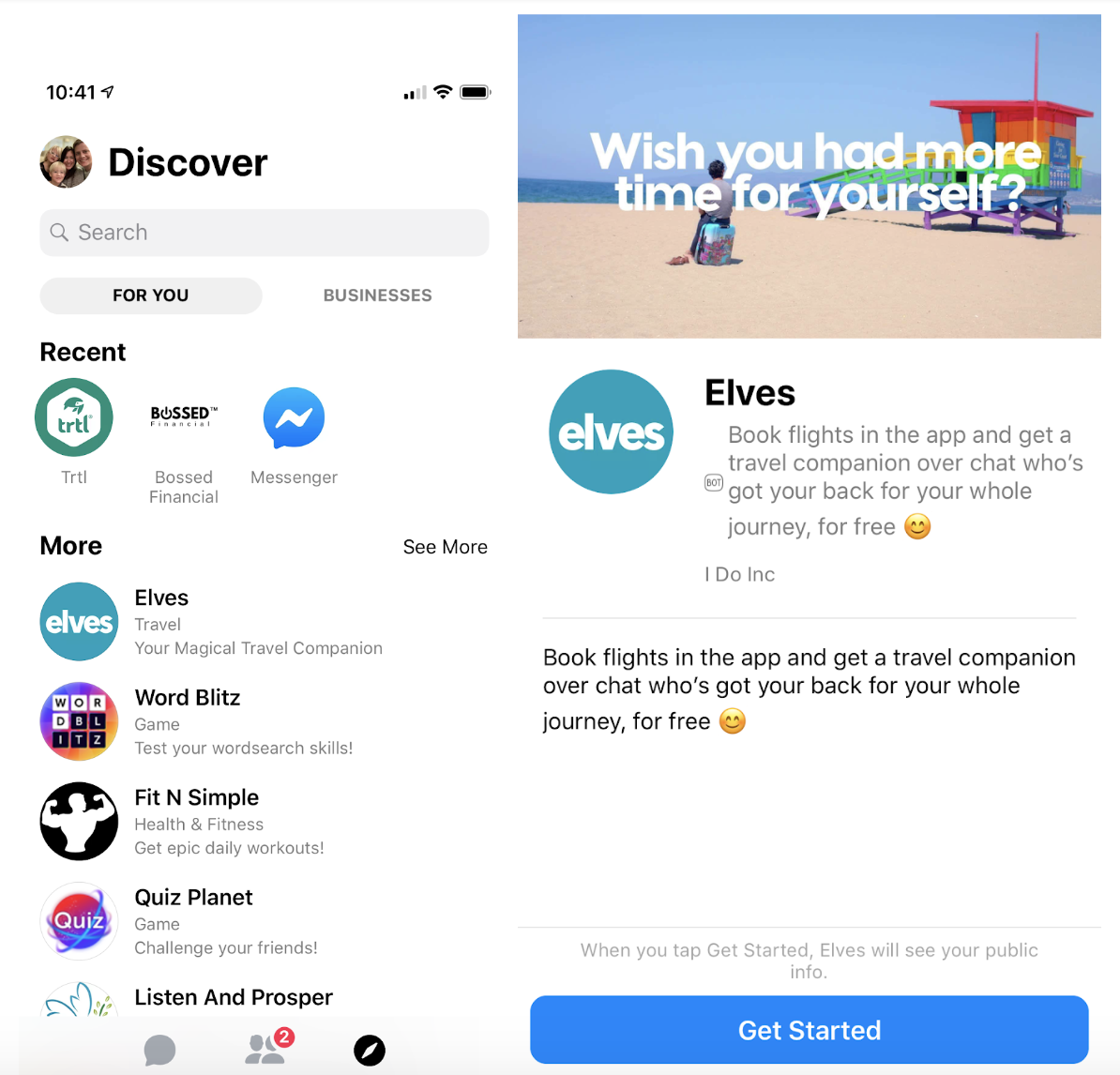 For example, I recently found a killer deal on a hotel through Elves, which is a brand I didn't know about before, but that was exactly what I needed.

Facebook Messenger ads are all about the right place and the right time

Now, I can't speak to particular numbers in terms of ROI for this Elves campaign. But, what I can speak to is that I was able to engage with a brand that offered exactly what I needed when I needed it.
If you're looking to get the most out of Facebook Ads, looking into these 3 different types of messenger ads is a great place to start.
Don't believe it? Let's look at some additional benefits of Facebook Messenger Ads.
What Are The Top Benefits Of Facebook Messenger Ads?
You're here, reading this article, because you're looking for effective and unique ways to connect with your target audience.
"And, it's true, launching a Facebook Messenger Ad campaign is one of the top ways to do just that. But, when it comes to launching a Facebook Messenger Ad campaign, you get so much more bang for your buck."
Here are some other benefits you'll get out of a messenger ad campaign, even if you weren't planning on it.
1) Facebook Messenger Ads Help With Customer Acquisition
While it's true that customer retention is the marketing cash cow, it's also true that you won't get very far retaining customers if you don't acquire them in the first place.
When thinking about using Facebook as a customer acquisition strategy consider the following:
72% of marketers use social media for customer acquisition.
53% of people are more likely to shop with a business they can message directly.
Facebook Messenger Ads can reduce cost per lead by 30x-50x.
Not only is Facebook a popular place to acquire customers, but it's also strategic and lucrative.
Human Society International is a perfect example of a non-profit that successfully used Facebook Messenger Ads to find new leads.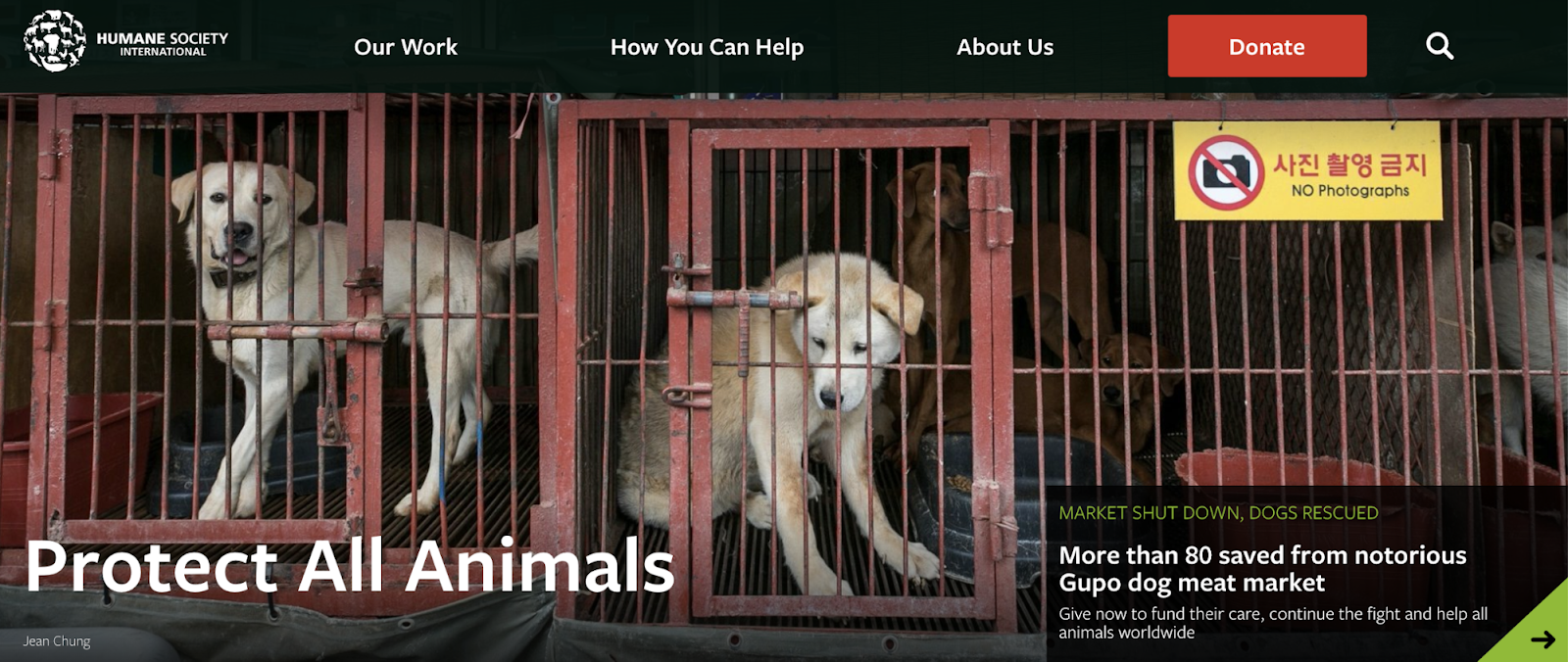 Don't tear up just from the ads, Sarah McLachlan isn't even playing yet!

Humane Society International encouraged people to engage with them via Messenger, sign their petition and, ultimately, generated new leads they could reach out to later for donations.
Results included:
53% started a conversation gave their email address when asked
30% of people who started a conversation clicked through to the petition landing page
cost per new lead was less than $1
Key Takeaway: If you're looking for new customers, but don't have a huge budget, Facebook Messenger Ads is the place to start.
2) Use Facebook Messenger Ads To Drive Brand Awareness
Do you have a great product or service, but it seems you, your employees, and a select group of friends and family are the only ones who know about it?
"No matter how awesome your brand is, if people don't know about you or connect with you, then you likely won't survive."
The social aspect of Facebook Messenger is the perfect way to show your audience both that you exist and what your brand is all about.
Kia Motors America launched a Facebook Messenger campaign in November 2016 lasting to May 2017 that not only resulted in a boost in brand awareness but also won them a DigDay Content Marketing Award.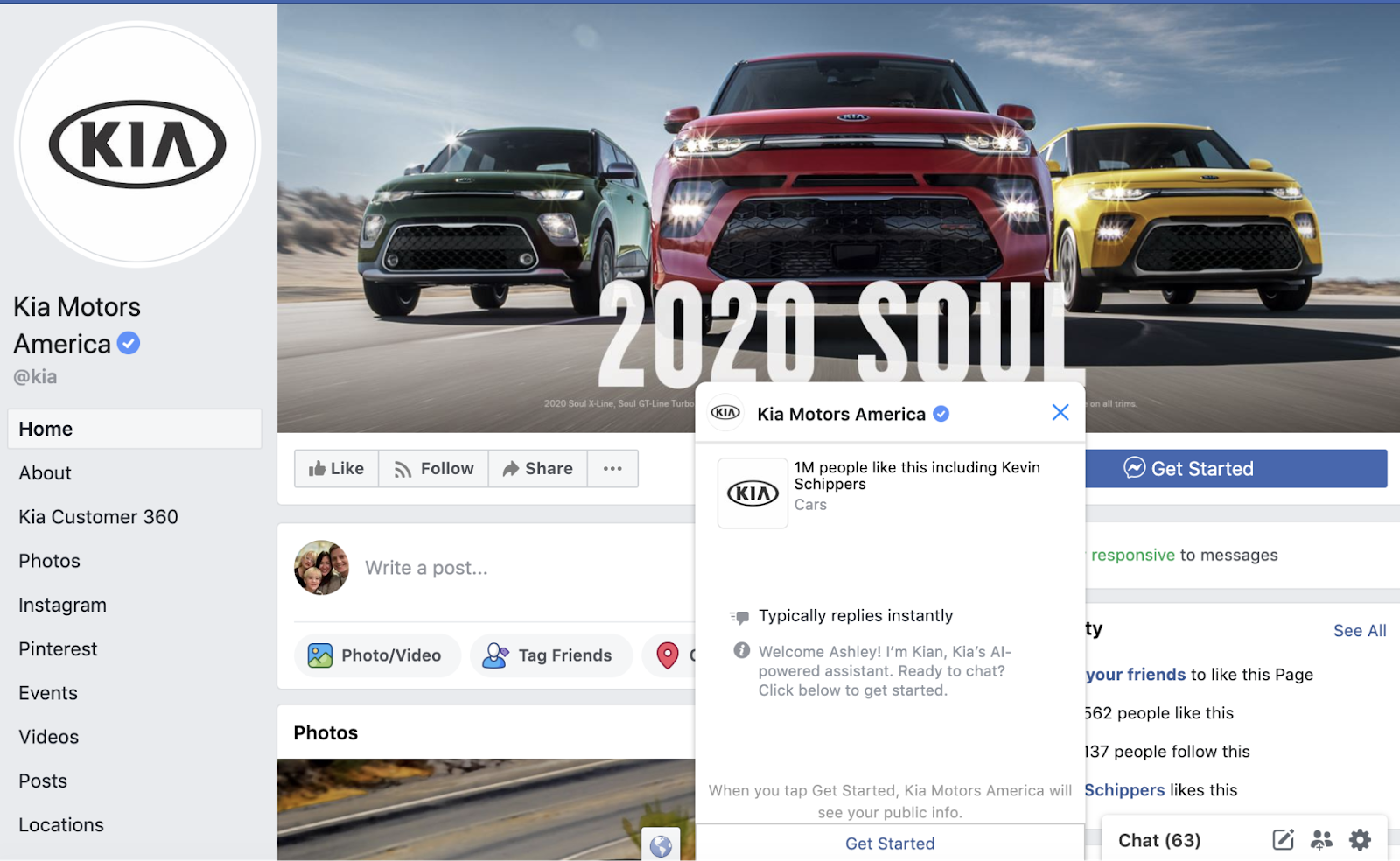 With the help of Facebook Messenger Ads directing users to a smart bot, Kia experienced the following results:
2X conversion rate on lower-funnel engagements (get quote, request test drive, inventory lookup, build & price) compared to the rate on the Kia website.
Over 850,000 messages sent.
33,000 unique users for the bot.
27 messages per person, on average.
And more!
Key Takeaway: If people don't know about your brand, create a messenger campaign that allows new users to get to know you via chat.
3) Facebook Messenger Ads Can Enable Transactions
Facebook Messenger Ads are a great way to nurture cold leads, but that's not all. As you can see from many of the results listed above Facebook Messenger can also enable transactions in a way that not many other marketing tools can.
Facebook reports that 20 billion messages are exchanged between businesses and customers via Messenger each month. Many brands use Messenger to foster engagement, acquire new leads, and promote excellent customer service.
But, brands like SharkNinja, Hyundai Auto Canada, blue2purple, and Darjeeling use Facebook Messenger Ads to pitch cold, hard sales.
SharkNinja, for example, used a series of Facebook marketing techniques including Ads In Stories and Messenger to promote sales.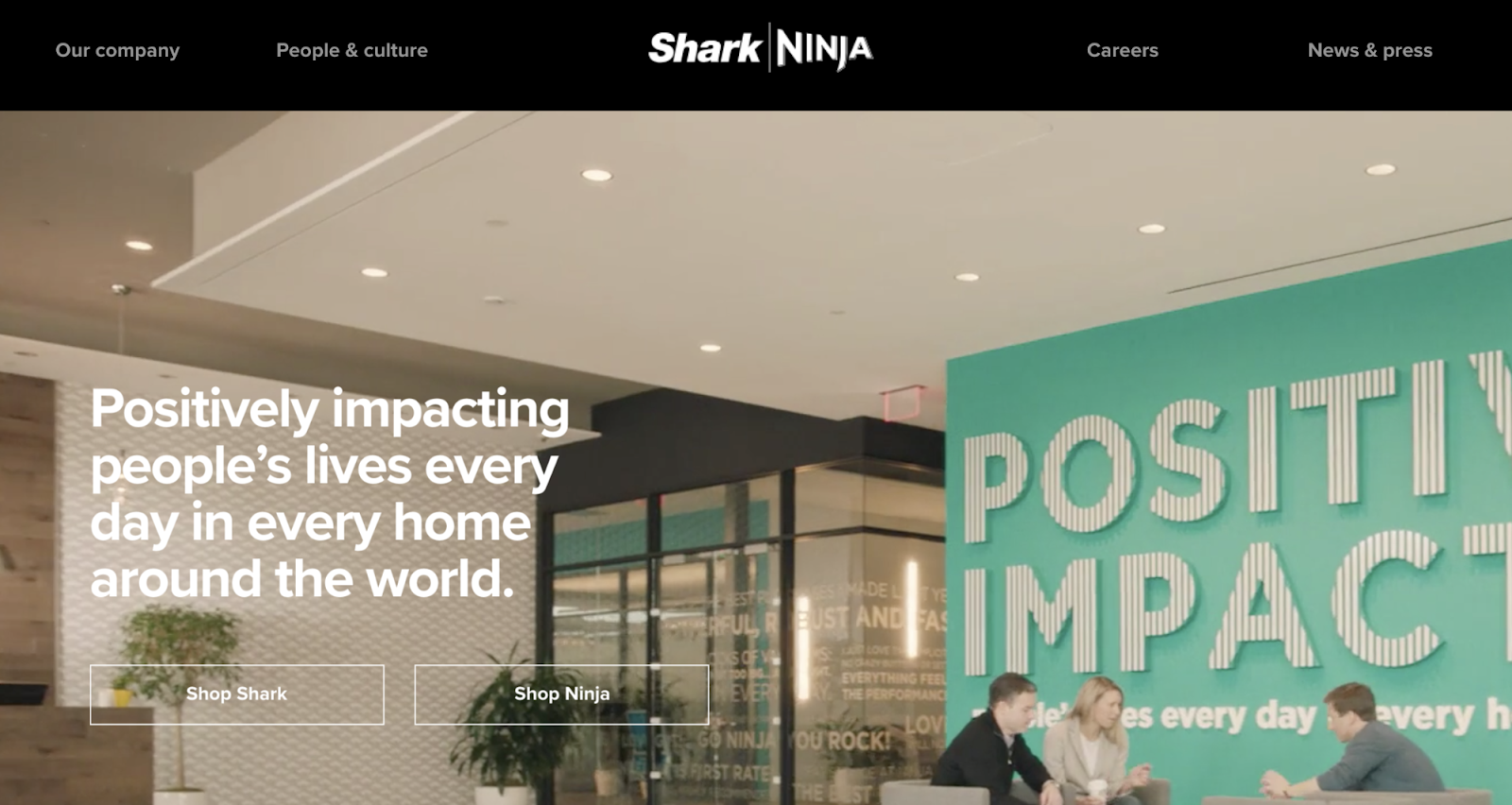 They do have "shark" in their name, so I suppose a killer instinct makes sense – image source

The campaign resulted in:
over 50% lift in visits to product detail pages
over 20% lift in adds to cart
more than 5% lift in purchases
nearly 10% lift in incremental website sales
Key Takeaway: If you already have strong brand awareness, people are actively seeking you out, and your audience is robust, don't be afraid to use Facebook Messenger Ads to ask for the sale. You can use Facebook Messenger to show off your products and to ask for the sale during the conversation.

Takeaways: Start Leveraging Facebook Messenger Ads To Boost Your Engagement
If you've been wondering how you can sort through the billions of Facebook users to find your audience, you're not alone. And the answer lies with strategic, targeted Facebook Messenger Ads.
Remember, it's worth it considering 1.3 billion people use Facebook Messenger. Heck, even my own 91-year-old grandpa uses Facebook Messenger.
It doesn't matter who your audience is, when you create a smart Facebook campaign, you can narrow your audience, reach people who are looking for you, and experience ROI levels that will blow your mind.
If you're interested in Facebook or Google advertising, but aren't sure where to start, don't worry. The team here at KlientBoost can help. Learn how we can help you.