Let's imagine you're getting ready for a road trip, and your main goal is to reach your destination without hiccups. Before the age of apps and GPS, you would have relied on a physical map (or maybe even print-out directions from the Internet). But now, you have access to mobile apps with tools and tricks that help you reach your destination much more smoothly.
Before the age of digital advertising, you might have also relied on analog tools to get customers to buy your products.
Think: well-positioned billboards, catchy radio jingles, and flyers personally handed to would-be customers. These days, however, the digital ad landscape requires a different set of tools, with Facebook being a primary destination as a host to 2.7 billion monthly users.
In the world of Facebook advertising, campaign objectives are the navigational preferences on an advanced directional app that get you to your destination in the easiest way possible. When you create a campaign on Facebook Ads Manager, the objective that you choose will determine the type of ad you need for the right audiences.
Making sure you can actually reach your customers through your ads is important, though building to be effective is key. The Facebook ad market is now more saturated than ever: according to Facebook's 2020 State of Small Business Report, more than 160 million businesses use the platform each month to reach their customers.
To ensure you can cut through the fray to successfully reach potential customers on Facebook, set your ad campaigns up for success by choosing the campaign objective that aligns with your business goals.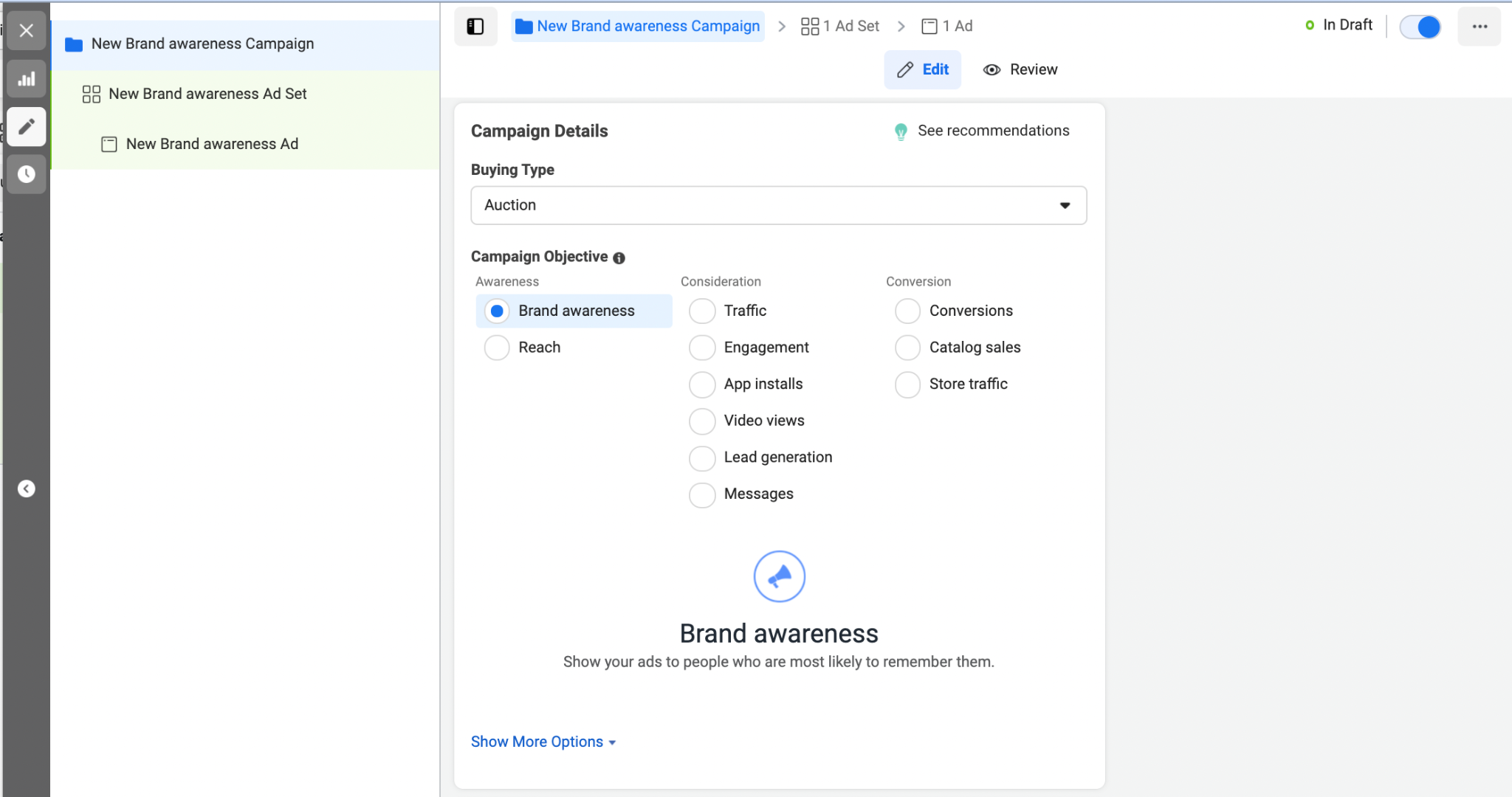 Launching a successful Facebook ad campaign starts from the very beginning: by choosing the appropriate campaign objective. With the right objective, the Facebook algorithm can work its magic to help you reach your business goals.
Now, let's get into the nitty-gritty about Facebook campaign objectives so that you can choose the one that will elevate your ad campaign.
Subscribe to our weekly newsletter for tips so good that we might put ourselves out of business.
What is a Facebook campaign objective?
You can find Facebook campaign objectives when you are creating a new campaign in Facebook Ads Manager. To get started running ads on Facebook, be sure to set up an Ads Manager account. The first thing you'll need to do is create a campaign from your homescreen.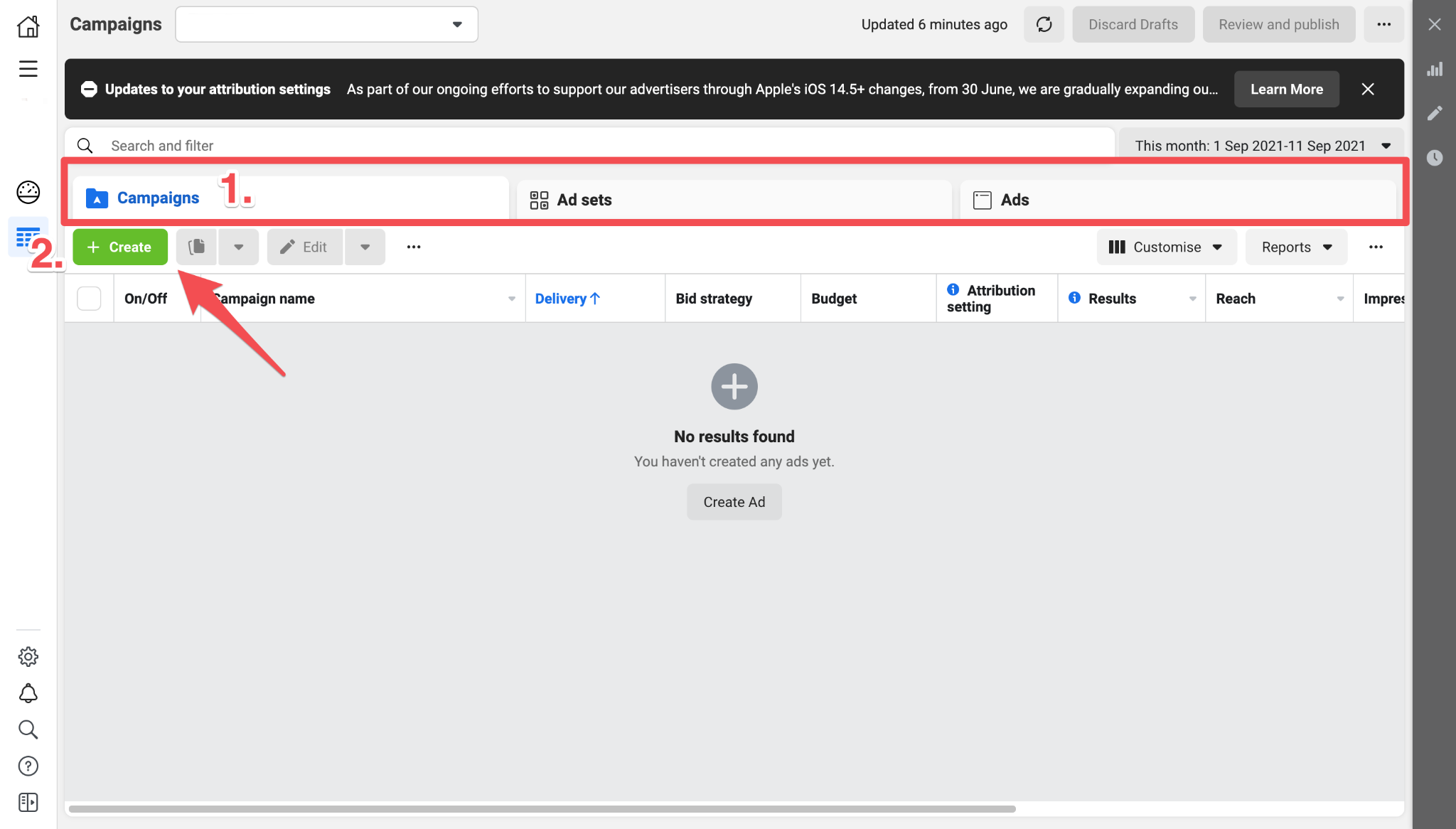 From there, you will be prompted to select a campaign objective from one of Facebook's three current categories: awareness, consideration, and conversion.
Note that Facebook is gradually implementing changes to their campaign objective categories in order to consolidate the 11 current objectives into 6 objectives. However, until the end of 2021, you'll still be able to edit and duplicate campaigns created with the 11 objectives.
How do Facebook ad objectives work?
There are three levels to the ads that you create in Facebook Ads Manager: campaigns, ad sets, and ads. As you continue building your ad, each level gets more specific to the different settings and features that your ads will include. You can only choose ad objectives at the campaign level, meaning that the objective will influence the ad set and ad levels.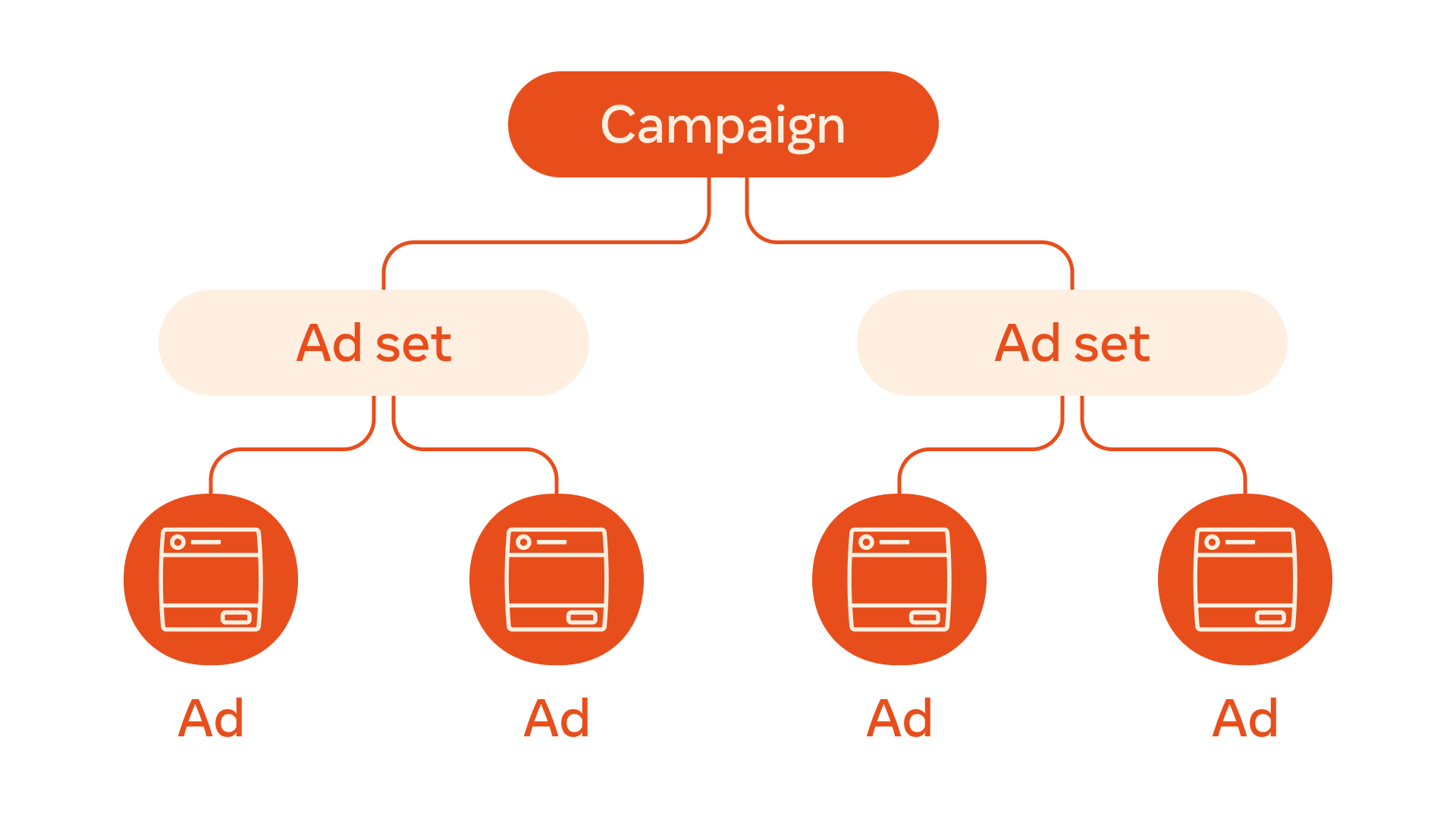 Ad objectives are meant to reflect the overall goals you have for your Facebook ad campaign. Currently, there are 11 objectives to choose from that determine different features available for your ads based on their intended results, such as different formats, placements, and optimization options.
How will you know which objective is right for you? Well, it depends on what you want to achieve from your Facebook ad campaign. When you determine your business goals and ideal results, you can choose the objective that aligns best.
Determine your business goal first
Before you choose one of the Facebook campaign objectives, you should zero in on exactly what you want to accomplish with your campaign. This is because the results you will get from your campaign can be costly, as eMarket reports that Facebook's ad revenue greatly exceeds user attention. However, Facebook is still an indispensable part of digital ad campaigns, with 91% of social media marketers advertising on Facebook, and Facebook ad spend poised to increase by 22% in 2021.
It's important to get your priorities for your Facebook ad campaign straight before choosing an objective, since campaign objectives will determine how your ads will appear to potential customers. To do this, consider what stage your audience is at in the sales funnel at the time of launching your campaign.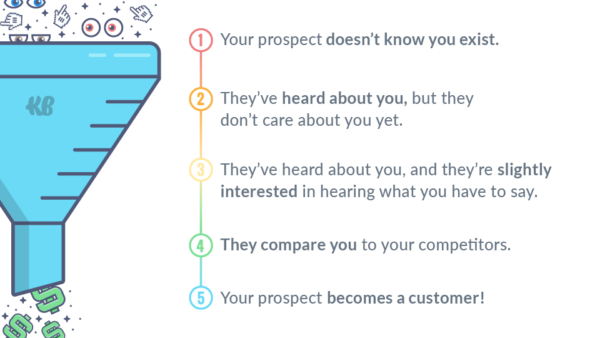 As you plan your ads with your target audience in mind, ask yourself:
Who is my target audience (i.e. am I trying to reach people who are new to my brand or product, or retarget existing customers)?
How do I imagine my target audience interacting with my ads?
How familiar is my target audience with my brand or product?
What should this audience know about my brand or product after viewing my ads?
For more tips, be sure to check out our guide on how to build the perfect target audience.
Your goals might change over time, or overlap with each other, depending on if you're introducing new products to customers or developing your brand identity,o, separate your goals within your brand strategy so that each Facebook ad campaign you run can be as specific as possible.
Choose the right Facebook campaign objective for your goals
After you've determined the goal for your ad campaign, you can choose the objective that is most aligned with the goal. Facebook ads are designed to be optimized according to your chosen campaign objective and use machine learning to predict people's behaviors based on their past actions. For example, if you choose the conversions objective, the Facebook algorithm makes it so that your ad is more likely to appear on the news feeds of people who have previously converted from an ad.
Let's break down the 11 different objectives available under Facebook's current ad objective categories, and how they might align with your goals. Remember, these categories will be consolidated in 2022, but will still touch on many of the same goals and features available to advertisers.
Awareness objectives
Awareness campaign objectives help you to increase awareness about your brand or product to people at the top of your sales funnel. Consider using awareness objectives when your target audience includes people who are not familiar with your brand, or people who you want to be aware of your new product offerings.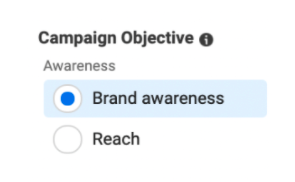 Brand Awareness campaign objective
The Brand Awareness objective will optimize your ads for impressions among people who are most likely to recall your brand. This objective is a good choice if you are attempting to establish your brand and boost familiarity among your target audiences.
For this campaign objective, Ads Manager will show you results metrics called "estimated ad recall lift," which is the estimated number of people who would remember your ad if they were asked within two days of seeing it. To gather best-estimated ad recall data, you would need to run a brand lift study, which would require a larger budget to be properly run and iterated.
You should use the Brand Awareness campaign objective if you want to build brand recognition and are ready to shell out the budget to gather strong estimated ad recall data.
Reach campaign objective
The Reach objective optimizes your ads for impressions from as many people as your audience and budget bounds allow. This objective is a good choice if you want as many people as possible to see your ads, even if they take no immediate action after seeing them.
You should use the Reach objective when trying to promote a product promotion or event, as it could push your target audience to become aware of your immediate offerings.
Consideration objectives
Consideration objectives are meant to give more information about your brand or product so that audiences can learn more about it. While consideration objectives may not result in immediate conversions, it is a critical part of the sales funnel, as 81% of retail consumers conduct online research before buying a product. So, use the available conversion objectives to help your target audience learn and get familiar with your brand and products so that they can turn into high-quality leads in the future.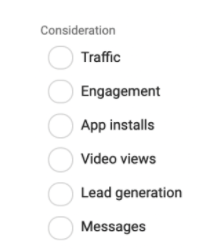 Traffic campaign objective
The Traffic objective will optimize your ads for link clicks or landing page views, depending on your choice of optimization for ad delivery at the ad set level. So, if your main goal is to drive traffic to your website so people can learn more about your brand or product from there, choosing the Traffic objective will help you accomplish that.
If you have a well-designed website with a strong product page or quality product posts that you want to direct potential customers to, you should choose the Traffic objective. Keep in mind that common barriers to a successful Facebook Traffic campaign are broken or laggy web links and websites that are not optimized for mobile, so make sure that your website is ready and working before launching a Traffic campaign.
Engagement campaign objective
The Engagement objective will show ads to people within your target audience who are most likely to engage with your ads through post engagement (likes and comments), page likes or event responses. You can choose the type of engagement you want to optimize your ads for based on your goals.
Use this objective if you want to boost your brand's Facebook presence, social proof post, or to get more responses to a Facebook event page you've created. If Facebook is a primary communication channel for your brand and you want to improve engagement with people via native Facebook features, then this objective is a great choice.
App Installs campaign objective
If you are looking to promote an app, the App Installs objective will show your ads to people who are most likely to download your app. Ads that use this objective will link to the app store so that people can immediately install your app.
In order to use this ad objective effectively, you will need to register your app with Facebook and implement the Facebook SDK so that you can accurately track and measure app event data in Ads Manager.
If your main goal is to get people to download and use your app, you can use the App Installs objective. However, you can also optimize the Conversions objective for app installs, so choose wisely depending on what your specific goal might be.
Video Views campaign objective
If you are running a video ad, the Video Views objective will show your ad to people who are most likely to watch the video. This objective will optimize to get the most plays for your video ad, and you can choose to show your ad to people who are most likely to watch for at least 2 continuous seconds, or 15 seconds or longer.
Though other Facebook ad objectives are able to support video content, this objective specifically optimizes your ads to be viewed by people in your target audience who are most likely to watch them for a given amount of time. Choosing this objective is good if you have captivating video content that informs people about your brand or product, or tells an interesting story about your product that you want to share. Before choosing this objective, ensure that your video creative is built well for the viewing period optimization you select.
Lead Generation campaign objective
The Lead Generation objective allows you to generate a lead form that people can fill out when they click on your ad. With lead generation ads, Facebook pre-populates the form with each respondent's contact information and sends their contact information directly to you. You can also customize the form with your own questions to better understand potential customers for your own business needs.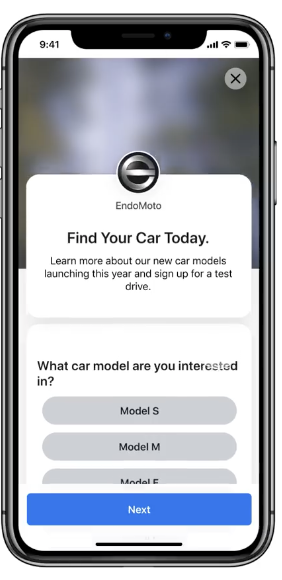 Once people have filled out your form, you can download the leads data from Ads Manager or connect your CRM system to Facebook in order to retrieve your leads.
This objective is ideal if you want to use Facebook as a platform to generate leads for your business, and collect further information on prospective customers if your website's lead form isn't optimized for mobile.
Messages campaign objective
The Messages objective shows ads to people who are most likely to connect with your business on Messenger or Instagram Direct based on their previous history. This ad objective is a good choice if you want to utilize Messenger as a customer relations platform, and have someone available to directly answer questions about your business and products in a timely manner. If you don't have someone readily available, you should set up instant replies or add answers to frequently asked questions to keep your Page's response rate up.
Conversion objectives
Conversion objectives help you to fulfill the final step of the sales funnel, and encourage people to take a specific action through your ads. You can use conversion objectives as a final nudge to get people who are familiar with your product to buy or use it. You should use conversion objectives to reach hot leads who are familiar with your product or service.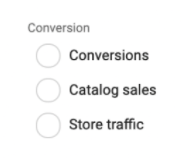 Conversions campaign objective
The Conversions objective will show your ads to people who are the most likely to take a specific action on your website. The most coveted action is making a purchase, though you can also use the Conversions objective to encourage people to add items to their cart or sign up for a newsletter.
To get set up in using the Conversions objective, you'll need to set up the Facebook pixel and install it on your website. However, given trends in conversion tracking that limit the pixel's efficacy, we strongly recommend also installing the Conversions API and configuring your events in Events Manager to effectively track the actions that people take on your website.
Once you've set up the infrastructure needed to run Conversion ads, use the Conversions objective if you want people to take a specific action on your website.
Catalog Sales campaign objective
The Catalog Sales objective will show an assortment of catalog products to your target audience. You can create a catalog on Facebook that can showcase multiple product videos and images to support Catalog Sales ads.
Use the Catalog Sales objective if you have an e-commerce business with an extensive online catalog of products that potential customers can shop through on your ads. If you've installed the Facebook pixel or SDK, you can use Catalog Sales ads to retarget potential customers by showing them relevant items from your catalog that are exact or similar to what they've already viewed.
Store Traffic campaign objective
If you have brick-and-mortar storefronts, the Store Traffic objective will show ads to people in proximity to the store nearest to them. The Store Traffic objective is meant to increase foot traffic and increase sales at your physical store locations.
To use this objective, you must manually edit and upload your store locations to Facebook Business Manager. From there, you can manually or automatically set a specific radius for your target audience around your store locations.
You should use this objective if you have multiple physical store locations, and want to encourage people to visit and buy products in-store.
More things to consider when choosing a campaign objective
Well, that wraps up the overview of Facebook ad objectives. As you can tell, there's a campaign objective for almost every advertising need you can think of.
Once you've identified the campaign objective that aligns most closely with your business-level goals, you can begin to fill out the other aspects of your Facebook ad campaign. The objective you choose will determine the placements and ad formats available to you, so be sure to plan your ad content with those considerations in mind.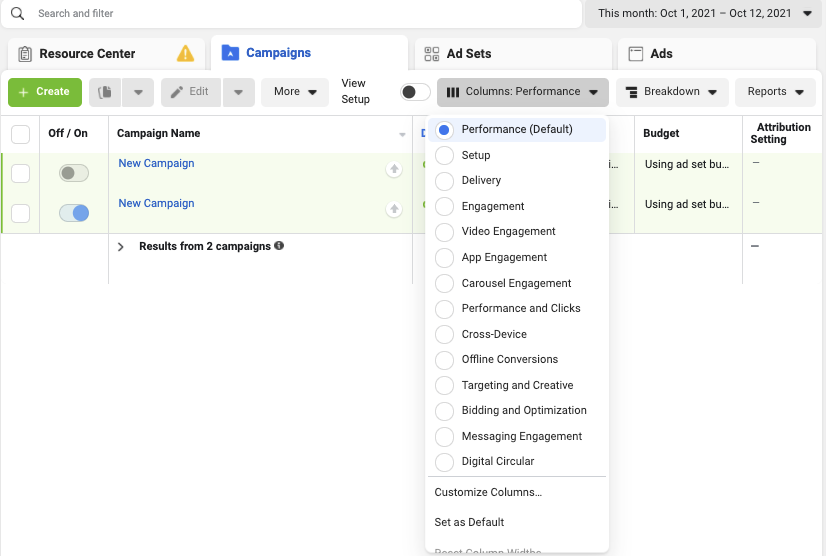 To make your campaign successful, also be sure to pay attention to the metrics available in your campaign, which will vary depending on the ad objective you choose. You can access key metrics directly from the columns on your Ads Manager dashboard so that you can keep track of your ad performance throughout and after the campaign.
Choosing a Facebook campaign objective recap
As you may have learned through this explainer, you need more than just a goal to get started on running a Facebook ad campaign. Choosing the right campaign objective in Ads Manager is the first step to setting up your Facebook ad campaign for success.
Now that you have the low-down on campaign objectives, feel free to save and refer back to this article to figure out which campaign objective might fit your business goals at the moment.
Want to learn all there is to know about how to run Facebook ads? Check out our guide on how to run Facebook ads for an overview.
Now, go forth and make your business goals a reality! Hop on over to Ads Manager and choose the right objective for your goals.