Running a successful Facebook ad campaign is similar to assembling a child's toy—there are way too many pieces, each crucial for the bottom line, with little directions on how to get started.
Are you running the right kind of ads? Are you targeting the right people? Can your target audience see your ads?
So. Many. Parts.
But if you want access to the 2.89 billion people who use Facebook, enjoy the ridiculously specific targeting, and enhance your organic reach, it's a job you need to take on.
What's more, Facebook advertising doesn't need to be difficult. KlientBoost is here to help.
We've created a step-by-step guide to walk you through everything you need to know, right from planning your first Facebook ad to Facebook campaign best practices to set you up for success.
Strap in. It's going to be a long ride.
What are Facebook ads?
Facebook ads are paid message advertisements businesses place on Facebook. Marketers use them to get their message in front of exactly the right segment of people—people who would be genuinely interested in your products or services.
The most important part of the definition of the word "paid."
Anyone can post on Facebook, but there is no guarantee specific audiences will see your message. Thanks to Facebook Ads Manager, you have full control of the social media platform's most powerful advertising and targeting tools.
Your audience is a critical part of Facebook advertising. In fact, they serve as the very foundation of your campaign.
When you advertise on Facebook, you target your ads to three audience types:
Saved audiences: You can target a specific audience's interests, behaviors, location, income levels, among other criteria.
Custom audiences: You can target people who are already familiar with your business. This can be your website visitors, people already on your customer list, or those who have previously engaged with your content.
Lookalike audiences: A lookalike audience involves creating custom audiences that act as your source audience. It includes people who match your target market but haven't yet interacted with your brand or content.
When you put up a paid ad on Facebook, you can target a particular demographic. Plus, you can get as broad or as specific as you want.
Types of Facebook ads
Advertising will never be boring with Facebook. Facebook gives you the flexibility to design your ads using various objectives, formats, and placements.
Let's take a look at the different types of ads you can run on the site.
Campaign objectives
You can use Facebook ads to achieve larger business goals and objectives that matter most to you. This includes awareness objectives, consideration objectives, and conversion objectives. Let's take a more detailed look at what each objective means
Awareness objectives
Brand: Introduce your company to a new audience.
Reach: Boost your ad's reach to as many people in your audience as possible.
Consideration objectives
Traffic: Drive traffic to a particular web page, app, or Facebook Messenger conversation.
Engagement: Expose your ad to a wide audience to increase the number of post engagement or page follows, encourage more people to claim an offer, or increase attendance at your event.
App installs: Get people to install your app.
Video views: Get people to watch your videos.
Lead generation: Attract new prospects into your sales funnel.
Messages: Encourage people to contact you using Facebook Messenger.
Conversion objectives
Conversions: Get people to take a specific action on your website, with your app, or in Facebook messenger. This can include short CTAs like 'Shop Now' or 'Subscribe.'
Catalog sales: Connect your Facebook ads to your product catalog, and show people ads of products they are most likely to buy.
Store traffic: Drive local customers to nearby brick-and-mortar stores.
Ad formats
Different ad formats connect differently with your target audience, but each does an excellent job in getting more people interested in your offering.
Additionally, each ad format has different design specifications and technical requirements. You have to keep the dimensions, file sizes, character limits, among other factors in mind, before designing your ad for maximum effect.
Image ads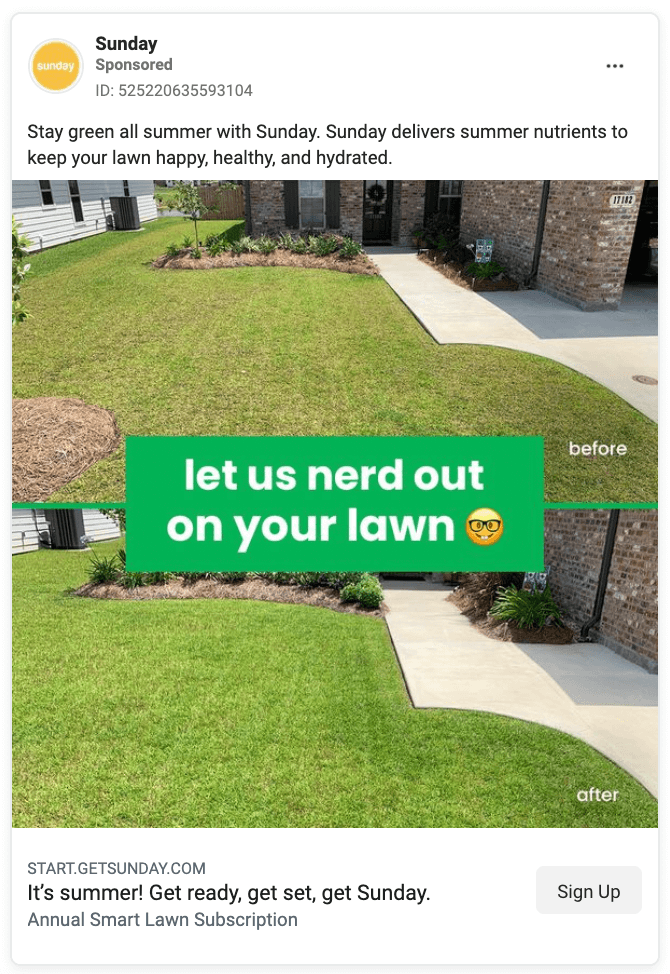 Image ads are the standard for Facebook advertising. They are easy to make and provide a clean format for you to promote your brand and products. What's more, a Facebook study found that photo-only ads outperformed other ad formats in driving unit traffic, so that's another advantage.
Image ads are best when you have a limited ad budget and want to promote your brand quickly. You can create an ad right from your Facebook page as a boosted post, or you can make one in Facebook Ads Manager if you want more granular targeting options.
Video ads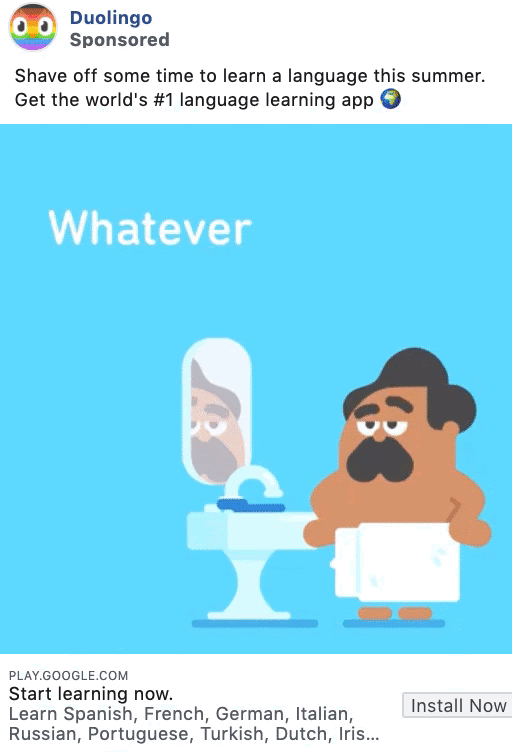 Video ads let you show off your brand or product and instantly capture the viewer's attention. You can run these ads in the News Feed or Stories, or have them appear as in-stream ads in longer Facebook videos.
Facebook video ads work well if you want to show your product's unique features or tell your brand's story. Be sure to add a clear call to action at the end, such as visiting a website or purchasing a product, before making it live.
Note: Video ads don't always need to use filmed video footage. You can create GIF-like graphics or animations too. Think Slideshow Ads.
Carousel ads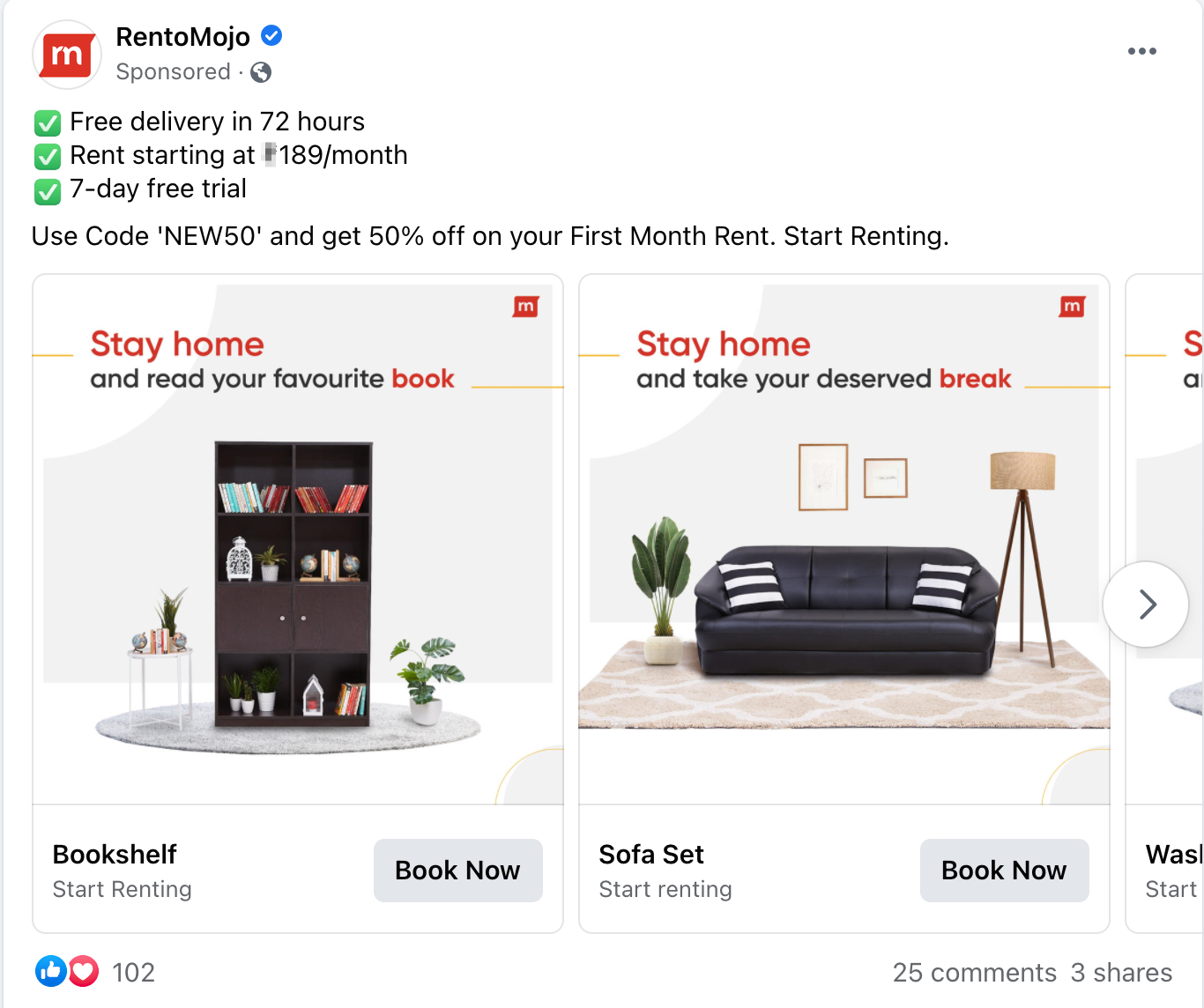 A carousel ad lets you add up to 10 images or videos in a single ad—each with its own link—to showcase your product or service.
You can use this ad format to:
Highlight the different benefits of a single product
Showcase several products in on ad
Use all the photos together to create one large panorama image
Explain a process or show a short tutorial
Users can scroll through the carousel by swiping left or right or clicking on directional arrows.
Collection ads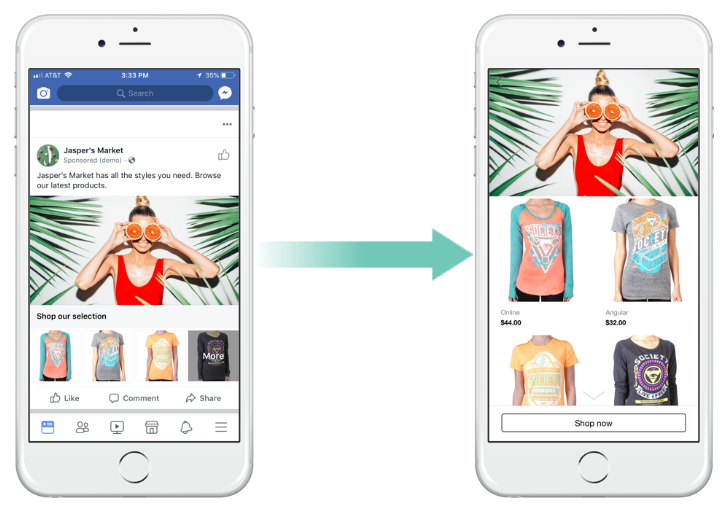 Collection ads are an excellent way to turn interest into sales. You can show off your product catalog while simultaneously offering an enjoyable browsing experience to users.
But these ads are a mobile-only service. They include a full screen and pair with Instant Experience, where you can add five images or videos that potential customers can click to buy a product or service.
Yes, you read that right. Customers can place orders without having to leave Facebook, making it easier for them to shop on the go.
Ad placements
The word "placements" here refers to the places where you can run your ads.
Depending on your chosen campaign objective, your ads can appear on Facebook, Instagram, Messenger and Audience Network. You can experiment placing your ads in different apps and styles to improve engagement with your target audience.
Feeds
In this case, your ad will appear to people scrolling through their inbox, desktop or mobile feeds. Each method below can help enhance your campaign reach.
Facebook News Feed: People accessing Facebook from their computers will see your ads in the desktop News Feed, while those using the Facebook mobile app or accessing Facebook through a mobile browser will see your ads appear in the mobile News Feed.
Instagram feed: Only people browsing the Instagram app can see Instagram feed ads. They will see your ad in the mobile feed when using the Instagram mobile app.
Facebook Marketplace: Your ads will appear in the Marketplace home page. They will also be visible to someone browsing the Marketplace in the Facebook app.
Facebook video feeds: Your video ads will appear between organic videos in video-only environments. Think Facebook Watch and Facebook News Feed.
Facebook right column: Your ads will be displayed in the right columns on Facebook. These ads are only shown to people browsing Facebook on their computers.
Instagram Explore: Instagram Explore is one of the more recent launches. Here, your ads appear in the browsing experience whenever a user clicks on a photo or video.
Instagram Shop: Your ads will appear in people's Instagram Shop tab browsing experience.
Messenger inbox: Facebook Messenger ads give you access to the 1.3 billion people who use Messenger every day. To create a Messenger ad, all you have to do is select Messenger as the desired placement. Alternatively, you can select Facebook feed too if you want the ad to appear on your target audience's feed.
Stories
A full-screen, vertical version of your ad will appear in people's stories on different platforms. Your choices include:
Facebook Stories: Your ads will appear in the feed of people using the Facebook app or website.
Instagram Stories: Your ads will appear in the feed of people using the Instagram app or website. Keep in mind, Instagram story ads will only appear to people browsing Instagram.
Messenger Stories: Your ads will appear in the feed of people using the Messenger app. These ads won't be visible to people using Facebook.
In-stream
As the name suggests, your ads will be displayed to users before, during or after video content.
Facebook in-stream videos: Your ads will be displayed in Video on Demand and in a select group of (approved) partner live streams on Facebook.
Instagram in-stream videos: Your ads will appear in IGTV video content uploaded by participating creators.
Instagram Reels: Your ads will be shown in the Reels tab on Instagram.
Search
Users will see your ads next to relevant Facebook and Marketplace search results.
Messages
Messenger sponsored messages will display your ads as messages to people who have previously conversed with your brand in Messenger.
In-article
Here the ad placement is Facebook Instant Articles, where your ads will appear in Instant Articles within the Facebook mobile app.
Apps
All your ads will be displayed to users in external apps.
Audience Network native, banner and interstitial: Users will see your ads on apps featured on Audience Network.
Audience Network rewarded videos: Users will watch your ads in exchange for a reward in an app. Think in-app currency or bonus items.
Oculus
Your ads will be displayed in the Store section of the Oculus mobile app.
Oculus Mobile App Feed: Your sponsored VR app or Oculus Event ads are shown as recommendations in the Oculus mobile app.
Oculus Mobile App Search Results: Your sponsored VR app or Oculus Event ads are shown in search results for targeted keywords in the Oculus mobile app.
So these are all the different ad objectives, formats, and placements you can try. Phew.
Pretty cool, right?
How much does it cost to run a Facebook ad campaign?
"How much do I need to pay for my Facebook ads?" is a burning question on everyone's minds. And while we hate to do this, the only true answer is: it depends.
According to an AdEspresso study, you have to consider the following factors to determine your ad campaign costs:
Timing: The hour, day, and month can affect your ad cost.
Ad placement: Higher competition spots are more expensive.
Target audience: Higher competition audiences are more expensive.
Bidding strategy: Whether you select the lowest cost or specific bid range.
Ad relevance: Lower ad engagement ranking, quality ranking, or conversion ranking can raise costs.
Still, to give you an idea, the average Facebook ads CPC (Cost-per-click) is between $0.5 and $3.5. Revealbot established these prices after analyzing cost data from April 2020 to April 2021.
Also, the average Facebook CPM (cost per thousand) was between $2-$20 in March 2021.
Evidently, Facebook ad costs are a bit of a rollercoaster. Precisely why there is no clear-cut answer, with all boiling down to how you choose to display ads.
How to run Facebook ads
Many people who give up on their Facebook paid advertising efforts do so either because they set up their account incorrectly or get mind-boggled by Facebook's endless ad options that they end up abandoning the campaign. To ensure this doesn't happen to you, here's a step-by-step of how to run Facebook ads.
Disclaimer: We're assuming you already have a Facebook Business Manager account. If you don't, you can learn how to set one up here.
Step 1: Set up your Facebook Ads Manager account
Facebook's Ad Manager is the starting point for running ads.
The Ads Manager is an all-in-one tool where you can create ads, manage when and where they run, and track performance. Think of it as a sophisticated dashboard that will give you an overview of all your ad campaigns.
You can't run ads through personal profiles. So you'll have to switch to your business Facebook page. From there, open Ads Manager and click on Go to Ads Manager.
Confirm your information on the ad account setup page, followed by entering your payment method. Save changes.
Your Ads Manager account is now up and running.
Step 2: Create your first Facebook ad campaign
Log in to your Ads Manager account.
You'll see a performance dashboard that will give you an at-a-glance summary of all your campaigns, ad sets, and individual ads, including how they performed for your Facebook page.
But since you haven't created an ad yet, this dashboard will be empty.
To create a new ad campaign, ad set, or ad through the Facebook Ad Manager, you have to select the corresponding tab on the top bar.
Since we want to create a new ad campaign, select the Campaigns tab and then click the green Create button.
Step 3: Choose your objective
Next, the Ads Manager will ask you to choose an objective.
Currently, you have 11 objectives to choose from (which we discussed above), ranging from general brand awareness to driving traffic to your ecommerce store to getting more installs of your app.
Pick a campaign objective that aligns best with your business goals for this particular ad. Click Continue.
Remember, you can pay per action for conversion-oriented objectives (sales), but you'll have to pay for impressions for exposure objectives (traffic, views).
Step 4: Name your campaign
Enter the name of your Facebook ad campaign, and declare whether your ad fits into any special categories, such as the economy, politics, or social rights.
You can also run an A/B test split test. To do so, click on the Create A/B test toggle bar.
Keep in mind the current campaign will be version A in this A/B testing. After publishing the campaign, you'll have to edit a duplicate version to test against it.
Select Next.
Step 5: Set your campaign budget and schedule
Name your ad set and select the Facebook page you want to promote.
Once that's done, set your budget and schedule. Decide how much money you want to spend each day on the ad campaign.
Facebook lets you set either a daily budget or a lifetime budget for your campaign.
Select Daily budget if you want your ad set to run continuously throughout the day. Facebook will pace your spending per day. That said, the minimum daily budget for an ad set is $1 and must be at least twice your CPC.
Select Lifetime budget if you're looking to run your ad for a definitive time period. Facebook will pace your spending over the time period you want the ad to run.
You'll have to set a schedule too—provided you want a lifetime budget for your ad.
Step 6: Create your target audience
Scroll below to start creating the target clientele for your ads. You can either create a custom audience or a lookalike audience here.
For the purpose of this blog, let's assume you'll select Custom Audience from the Create new dropdown. This will let you target Facebook users who are in your company's contact database, use your app or game, or have visited a page on your site that has a tracking pixel.
Choose the target location, age, gender, and language of your target audience. Note that under location, you can include or exclude cities over a certain size.
On the right of the screen, you'll see the audience size indicator. This will give you an idea of your potential ad reach. Keep an eye on it when making demographic selections to understand your ad's reach.
Remember, all the estimates you see on the page are just that—estimates. Don't think of them as guarantees.
Next, it's time for detailed targeting.
The best thing about Facebook Ads Manager is the myriad of ways you can target the right audience, which, in turn, will work wonders to maximize your ROI. After all, effective and detailed targeting is key to getting more business.
You'll see two fields to make your audience as specific as you want. They are:
Detailed targeting: Include or exclude people based on demographics, interests, and behaviors. You can get as specific as you want, so take full advantage here. For instance, you can choose people who have a laptop and mobile phone but exclude people who use Microsoft.
Connections: Include or exclude people who are already connected to your Facebook page, your app, or any event you manage. For instance, selecting "Exclude people who like your Page" will help you reach a new audience, while "People who like your Page" is more useful to, say, promote an ongoing contest.
Step 7: Decide your Facebook ad placements
After selecting your audience, you have to choose where your ads will appear.
Since this is your first Facebook ad campaign, it's best to select Automatic placements. Facebook will automatically place your ads across Facebook, Instagram, Messenger, and the audience network, ensuring you get the best results.
But if you have the experience and expertise and want to place your Facebook ads in specific locations, click Manual placements.
In the case of the latter, your placement options will vary depending on your chosen campaign objective. Generally, they may include the following:
Device type: Mobile, desktop, or both.
Platform: Facebook, Instagram, Audience Network, and/or Messenger.
Placements: Feeds, in-stream (during videos), stories, search, in-article, messages, and apps and sites (external to Facebook).
Specific mobile devices and operating systems: iOS, Android, feature phones or all devices
You can also set brand safety and cost controls to choose what types of content would be inappropriate to appear with your ad. For instance, you can restrict sensitive content and add block lists for specific websites, videos, and publishers.
Lastly, you can optimize your ad bidding strategy and bidding type, as well as add an optional bid control. Since this is your first Facebook campaign, it's better to start with the default options here.
Select Next when done.
Step 8: Create your Facebook ad
What do you want your ads to look like?
Choose your ad format, And then enter the text and media components for your ad. The format options shown to you will vary based on your campaign objective.
This step is also where you can get creative.
If you're working with an image, click Turn into Video to create a short animation. You can also create a slideshow ad using the built-in Video Creation kit. Just click Create Slideshow.
Use the preview tool to ensure your ad looks great for all potential placements.
When you're happy with your choices, click the green Publish button to launch your ad.
Congratulations, you're running your first paid advertising campaign on Facebook now.
Step 9: Monitor your Facebook ad campaign
While your ads are running, you have to monitor your ad's performance metrics to keep an eye on how the campaign is performing.
Here, you want to look into two places: the Facebook Ads Manager and your marketing software. Facebook suggests the following key metrics to monitor:
Performance — Results, reach, frequency, and impressions
Engagement — Page likes, page engagement, and post engagement
Videos — Video views, average percentage of video viewed
Website — Website actions (all), purchases, checkout, adds to cart, payment details
Apps — App installs, credit spends, mobile app actions, app engagement, cost per app engagement
Events — Event responses, cost for event response.
Clicks — Clicks, unique clicks, click-through rate (CTR), and CPC
Other settings — Start date, set date, delivery, bid, and objective
You don't have to use each of the above metrics—only the relevant ones. Use them to find aggregate data and get a bird's eye view of your campaign's performance.
Step 10: Set up Facebook reporting for your ad performance
Facebook lets you receive customized reports concerning your ad campaign via email. To enable this, following the steps below:
Open Analyze and Report on the above main menu.
Select Ads Reporting, followed by Create Custom Report.
Select and open a saved report.
Select Save As. Then name your report and check the Schedule Email.
Keep following the prompts to edit and confirm your reporting preferences.
While reporting on clicks and conversions from Facebook is crucial, you should measure your ad's full-funnel effectiveness through your marketing software. That's if you're using URLs with specific UTM codes.
Facebook ad specs
There are many aspects to successful Facebook ad strategizing. One of the most important ones is Facebook ad specs.
To create the best Facebook ads for your business, you have to remember the recommended character counts and view campaign objectives.
Image ads
Headline: 40 characters
Link description: 30 characters
Body text: 125 characters
Campaign objectives: All except video views
Video ads
Headline: 40 characters
Link description: 30 characters
Body text: 125 characters
Campaign objectives: All except catalog sales
Carousel ads
Headline: 40 characters
Link description: 20 characters
Body text: 125 characters
Campaign objectives: All excluding video views and engagement
Slideshow ads
Headline: 25 characters
Link description: 30 characters
Body text: 125 characters
Campaign objectives: All
Collection ads
Headline: 40 characters
Link description: NA
Body text: 125 characters
Campaign objectives: Traffic, conversions, catalog sales, store traffic
These details can change often, so make sure you're up to date before launching a campaign.
Best practices for a foolproof Facebook ad campaign
Here are some Facebook ad best practices to help you create ads that convert, reach more audiences, and ensure better outcomes.
Get some inspiration
Not all of us are creative, and that's okay.
You can browse the Facebook Ad Library for some quick inspiration. It's a comprehensive collection of ads currently running on the social media platform. What's more, you can use it to see what your competition is up to and understand what works for your target audience and what doesn't.
You can search by brand name to find current ads the company is running on Facebook and see how they are promoting their products. Then use these insights to inspire your own ads.
Besides this, there are tons of amazing Facebook ad examples and templates available online. So you'll never run out of ideas.
Lead with value
When you pay for something, you want to get the best bang for your buck. So it's super tempting to cram in as much information as possible in your Facebook ads.
Here's some advice: Resist.
When it comes to Facebook ads, it's best to keep them short and lead with value. Think about what your audience will get out of using your product and how it'll help them. Try to communicate this with your ad copy clearly and concisely.
TaskRabbit helps people hire others to complete personal tasks. But the value here is their target audience can manage to get everything done despite their busy schedules without getting overwhelmed. In one of their ads, TaskRabbit uses three statements:
"Getting everything done is easier than you think"
"Hire a Tasker instead"
"We've got chores covered"
Short, concise, and impactful. Exactly how you want your Facebook ads to look like.
Know your campaign objectives before designing creative assets
Do you want to increase sales using this campaign? Or do you want to create more brand awareness? Maybe you want more leads?
You want to ensure your campaign elements—from audience targeting to creatives to bid type—fit together to create a strong ad campaign. To do this, you'll have to Identify metrics that matter most to your business before creating your first campaign. This will help you make better creative assets that tie into your main objective.
Stay focused with one call-to-action
The best Facebook ads have clear goals. Without a clear CTA, Facebook users will see the ad, but they won't know what to do next. Your job is to tell them exactly that—where to click or what to do.
Also, you don't want to confuse the user, which is why it's best to stick to one call-to-action per ad.
Take a cue from Society6's ad campaign. In addition to a high-resolution image of their iPhone cases, their ad also has a prominent button ("Shop Now"). This encourages users to visit the website to browse and ultimately buy the iPhone cases.
Test your ad copy for campaign optimization
Running tests is an excellent way to improve your Facebook ad copy.
You can run two different ads simultaneously—each with the same image, but a different copy—to see which resonates most with your audience. Which ad gets more likes, comments, and conversions?
Don't worry, A/B testing is affordable too.
Using a combination of different ad formats to understand what clicks best with your audience is also possible. This will help ensure you put more money into what's actually working.
Install Facebook pixel
A common frustration with Facebook marketing is understanding whether or not your ads are actually working. Thanks to Facebook Pixel, this won't be a problem anymore.
The Facebook pixel is a piece of code you place on your website that allows you to track conversions, practice effective retargeting, and create lookalike audiences. You can find out whether your ads draw results, as well as which specific audiences and ad creatives those conversions came from.
It's essentially a connection point between your Facebook ads and your website.
Running Facebook ads recap
There you have it—that's how you run a successful Facebook ad campaign.
The Facebook advertising platform was designed for people with little to no experience with digital marketing. So whether you're a bootstrapped entrepreneur or an experienced businessman, you can easily run ads on the site to accelerate revenue.
Want more? Check out our Facebook Ads Manager guide to absolutely master Facebook campaign setup.
Why wait? Take the plunge, set up your account correctly, and launch a Facebook ad campaign to grow your business. You've got this.