Have you ever tried on an outfit that was... less than perfectly tailored?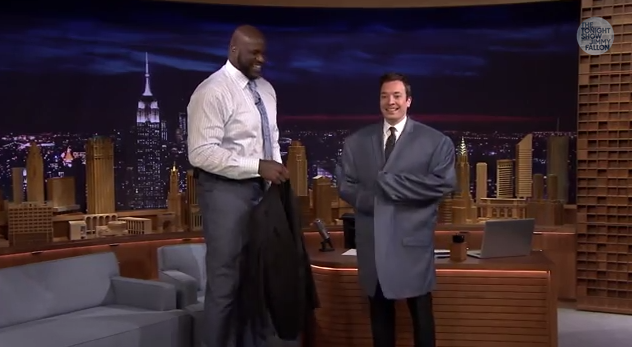 We each have our own unique fits, shapes, sizes, behaviors, styles, tastes, preferences… and the list goes on.
The same goes for our online experiences. When we go through our own conversion funnels, we experience different needs at different times.
And these individual journeys will vary from one visitor to the next.
That's why tailoring your user experience to each audience member can help you create the ultimate custom experience. Applying behavioral marketing can increase your conversion rates and ROI.

KlientBoost and BounceX have teamed up to bring your these four behavioral marketing tips to help drive more ROI to your business with your current PPC ad spend.



Get brand new marketing strategies straight to your inbox. 23,739 people already are!
Consider PPC Intent - Understanding Different Traffic Temperatures
Knowing where your audience comes from can help you better understand your visitors' various intent levels.
When you consider the various stages of the conversion funnel and match up the stages with the different traffic channels, you might get a conversion cycle that looks like this: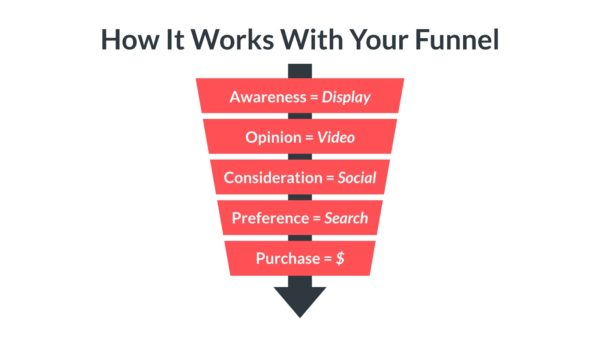 Knowing which PPC channels your visitors traveled from can help you gauge their intent level and tailor your landing page copy to their temperature.
For example, you can create calls-to-action (CTAs) to match the various intent temperatures of your visitors.
Here are some CTA offers that match up to different PPC channels and their respective intent temperatures: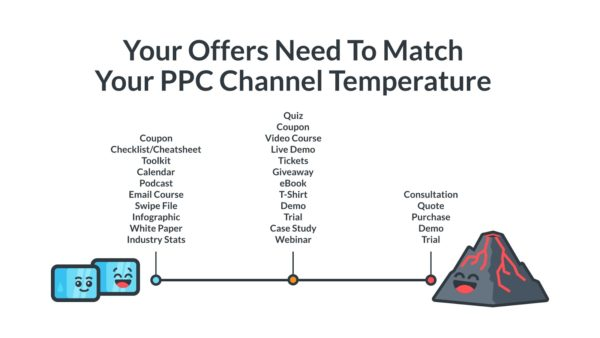 With visitor intent in mind, you can tailor your whole landing page to that one stage of the conversion funnel. This will keep your content relevant and valuable to your visitor.
This can ultimately help their chances of converting and ultimately becoming customers.

Digital Body Language - Studying Your Visitors' Actions
Understanding your audience's digital body language can give you major insight into your visitor's intent.
By examining the actions leading up to a conversion, you can look for opportunities to nudge visitors toward your conversion goal.
For instance, when Ryan Urban, CEO of BounceX, was asked in a Mixergy interview about digital body language and what triggers immediate action, he described the numerous amount of options:
"It could be someone watches a video. When this video finishes playing or someone pauses a video, that's part of digital body language.
"So, someone pauses a video right away, maybe there wouldn't be an action there. If someone paused it two-thirds of the way through, maybe there's an action we want them to take.
"So, maybe it's opt-in to email. If they're already on the email list, maybe there are other things you have to offer. Maybe you have some paid products."
By analyzing your visitor's digital body language, you can look for ways to prompt and assist them in moving to the next stage of the conversion process.

Extra Channel Support - Re-Engaging Your Visitors
These days there are numerous touchpoints that a visitor makes with your brand before converting.
According to Online Marketing Institute, it takes seven to 13+ touches to deliver a qualified sales lead.
According to Salesforce, it takes six to eight touches to generate a viable sales lead.
HubSpot recommends a mix of formats across at least five sales contact attempts.
Not only are there several touchpoints a visitor experiences, but there are also cross-device behaviors that your visitors undergo throughout their customer journeys.
Having marketing channel support in the right places, at the right times, and on the right devices can help you move your visitors along the conversion funnel.
BounceX's Exit Intent Technology is one way you can evaluate which channels to use next in reconnecting with your traffic.
Here's what mapping with Exit Intent Technology can look like: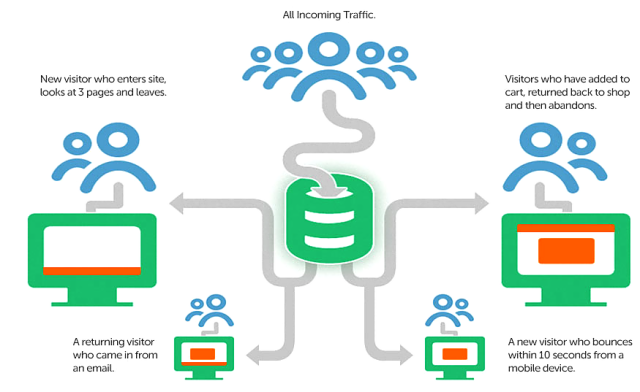 Exit Intent Technology is designed to pinpoint the exact moment your visitor loses interest and mentally abandons your site.
With this info, you can address their concerns with a specific PPC channel tailored to push them through the conversion funnel.

5 Behavioral Marketing Tactics For Re-Engaging Visitors Headed For The Exit
Some active items you can try when addressing your near-abandoning audiences:
Email: If you've been able to capture your visitor's email in the first place, they must have been attracted to your brand for a reason. Continue to nurture that initial attraction by offering something of value in a follow-up email.
Exit offer: If your visitors are abandoning your eCommerce shopping cart, offering something as they exit, like a discount or free shipping, could help to recapture the sale.
Exit popup: You can use exit popups on essentially any page of your site, so make the offer relevant to the content of that page.
Instant sweet deal: Offering valuable and relevant information as your visitors leave your landing page, like a free report, ebook, trial or download, can help to re-engage your visitor.
Retargeting: Depending on where your visitors are in the conversion funnel, retargeting visitors who have been to your site before can help boost their re-engagement level.
Incremental Revenue Gains - Using Behavioral Marketing to Increase ROI
With the right plan in place, you can match your PPC campaigns with behavioral marketing tactics to generate more conversions and sales.
When this magic happens, you can start to see higher sales volume, an increase in average order values and lower CPAs, all without increasing your ad spend.
Sound too good to be true?
Have faith. Behavioral marketing responds to visitor actions so you can tailor your campaigns to that visitor's particular experience.
It's people-based marketing. It's your chance to delight an anonymous audience member by winning them over on their terms.
According to a BounceX study conducted by Forrester Consulting, businesses that use behavioral marketing see returns of more than 11x their investment.
Raconteur further explained behavioral marketing as a people-based approach:
"Businesses have the ability to decode the intention of customers.
"Whether they are just browsing, have a high intention to convert or are returning customers, behavioral marketing and people-based marketing allow businesses to adapt digital experiences based on what each customer wants."
So it's all about the visitor in behavioral marketing. Use all that gathered data to support your visitor's experience in a relevant and valuable way.
Make your conversion funnel feel more like this:


Closing Thoughts on Behavioral Marketing
Knowing your visitors inside out before they convert can help you better understand their needs, behaviors, and desires.
When you've got these details nailed down, you can truly tailor your campaign to each unique visitor experience, which can help nurture your visitors down the conversion funnel.
It's about having all the behavioral measurements, characteristics and styles line up so you can create the perfect fit.