Now that you've spent all that valuable time, money and energy into courting your clients, the last thing you want to do is lose them.
Retention can be challenging for any company. It takes a lot of effort to not only keep your clients but keep them happy and engaged for the long haul.
After all, the most beneficial client relationships are the ones that have the highest lifetime value -- for both parties.

We've joined forces with AdStage to bring you our five secrets for keeping your client retention rate high.



"Are You Making More Money?"
Sometimes we can get stuck on the nitty gritty details, especially when it comes to PPC metrics.
Details like click-through rates (CTR), quality scores, and impression shares can make us feel like we have a decent benchmark measurement in place.
But do these stats really matter?
If your PPC campaigns aren't making you or the client more money, the person running the campaigns may be stuck in the weeds and not thinking about the bigger picture.
As simple as it sounds, asking your client "Are you making you more money?" can help keep you goal-oriented and focused on the bottom line. This question can also open up truths that can hurt and delight.
And if you can tie all those fancy stats to revenue streams to benchmark and measure the real success, and you look even better in your client's eyes.
We learned this from experience. We used to report on any metric improvements we could find, and then scratch our heads as clients would eventually leave.
The pattern was always the same, like a broken record. It didn't matter what we did unless we made them more money.

The 4 Phases of Client Retention
At KlientBoost, we found that these four "phases" were the best way to keep our stay on track and maintain long-term client retention:
Traffic
Conversions
Make more money
Scaling
The best part about clearly defining these phases is that it helps our account managers focus their efforts. Why worry about getting more traffic or more conversions if none of those conversions are making the client money?
Here's how our client retention phases break down:

Client Retention Phase 1: Traffic
Building a broader target audience and driving traffic to your client's site/landing page is a cornerstone of increasing conversion rates and ROI.
And while attracting a larger volume of visitors is an important thing, it's not the only thing. Reach the right kind of visitors is key during the traffic-building phase.
If you're running paid ads, your clients won't stay in this phase for too long.
Tip: Try our 5 PPC Secrets to help increase traffic from your ad campaigns.

Client Retention Phase 2: Conversions
Define and agree upon conversion goals so you can focus on the right things, like which CTA to use for each landing page.
Now that you have sufficient traffic, use conversion rate optimization (CRO) principles to encourage visitors to click your clients' CTAs. This phase typically takes longer than the first one, and you may need to test different CTAs to match the intent of the visitors.
Tip: Try starting with these three pillars of CRO strategy:
Customer understanding: Work with your clients to clearly define their buyer personas and what equals a quality conversion
Goal clarity: Define and mutually agree to your client's goals so you can work toward them together
Goal values: Monetize goals by placing a dollar value on each goal acquisition
Client Retention Phase 3: Make More Money
Measuring profitability against costs can help you gauge whether or not the revenue streams are worth your clients' expense. Earn your keep and stay focused on the bottom line.



This is where you have to clearly ask them for feedback.
And if you ask for feedback early enough in the client relationship, it gives you enough time to pivot to get better results.

Client Retention Phase 4: Scaling
Are your strategies repeatable and transferable to other PPC campaigns?
Making sure your tactics and strategies can work on a larger scale can make or break the longevity of your client relationship. Plan for the long term and make sure you're scaling for your client's growth.
This means that you need to learn how to use Display, Social, Video, and other PPC channels to your advantage.
Follow this and your client's business should be in tip-top shape, which means your client relationships are more likely to be healthy with longevity.

Develop Client Retention With Deeper Communication
Just because you're happy with the client relationship, doesn't necessarily mean your clients are happy.
Sure, you chat regularly and exchange personal stories. Maybe you even laugh at each other's jokes. Your client could even be making more money and things appear to be going swimmingly well.
But if your communication is shallow, your retention of that client could still be at risk.
Believing that you don't care about them is by far the top reason clients leave companies. Check out this chart: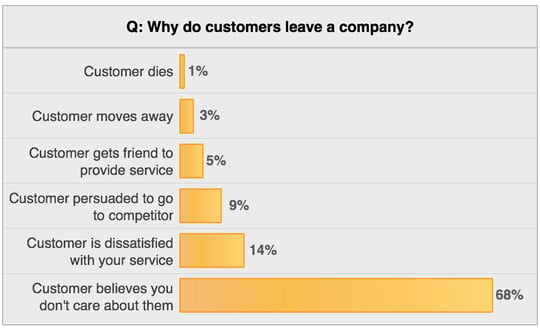 With 68% of clients who think this way, clients who are dissatisfied with your service or clients that are lured in by a competitor, are the lesser of your worries.
How to fix the issue?
Go deep with your communication. Take the time to really listen to your clients and dive deeper into more concerning topics and needs.

Five Levels Of Communication
According to Personal Success and Leadership Institute, there are five levels of communication:
Cliches: Typical, routine, often repeated comments, questions and answers given out of habit and with no real forethought or genuine intent
Facts: Information/statistics about the weather, the office, friends, the news, personal activities, etc. Requires no in-depth thinking or feeling.
Opinions: Includes concerns, expectations, and personal goals, dreams, and desires
Feelings: Having gone through the "wall of conflict" via applying the communication skills following, you both feel safe to share your deepest emotions
Needs: The deepest level of communication and intimacy where you feel completely safe to reveal your unique needs with each other
The takeaway?
When communicating with your clients, try to address their feelings and needs. Get to know what they need from you so they feel secure and like you care about them. HubSpot offers a great customer satisfaction guide to lead you in the right direction.
We didn't always do this at KlientBoost, but once we started caring less about the small talk and more about results, we were able to eventually have more meaningful small talk since we knew the client was happy and excited with what we're doing.

Speed & Pivots
Responding quickly to your client's emails, phone calls, issues, and requests will help them feel valued. The quicker you can adjust and carry out successful PPC campaigns with converting landing pages for your clients, the better your retention rate will be.
Not only is speed a factor, but flexibility and having the ability to pivot quickly when needed are also key.
This means using tactics like Single Keyword Ad Groups (SKAGs), geographic granularity, and multi step landing pages.
Here's an example of what a SKAGs campaign done right looks like: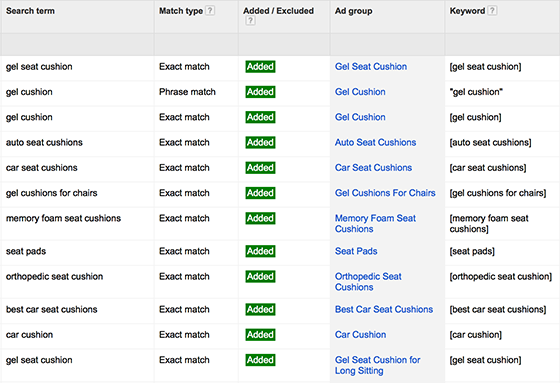 Here's an example of a PPC campaign that needs some SKAGs love: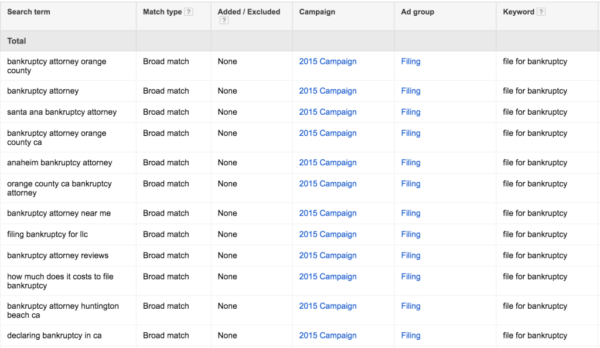 Boost specific keywords that are working the best, and decrease bids on those that aren't performing as well.
When you have your ad campaigns structured to the most granular level, you have the ability to act quickly.

Customer Feedback
Even with the deeper communication, you can still glean more information out of your clients to gauge their happiness level.
With standard feedback requests and audits, you have another format and opportunity to find out if your clients are truly happy.
Using feedback tools like surveys, questionnaires, interviews and forms can help you gather additional information about your client's customer satisfaction - information that may be different from your standard communication with them.
Your clients are likely used to communicating with you via phone, online chat or email. By presenting a new format for feedback, there's a chance that you can collect new, valuable insights.
Here's an example of a customer satisfaction survey: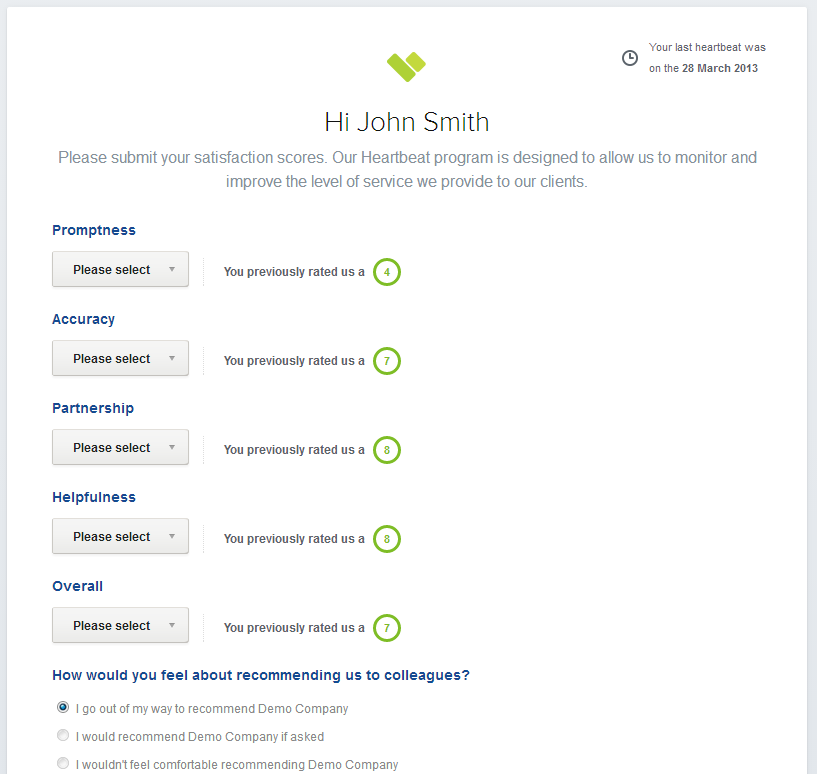 Help Scout's Gregory Ciotti gives us tips on how measuring customer satisfaction shouldn't be complicated and uses Net Promoter Score (NPS) as a measurement of customer loyalty: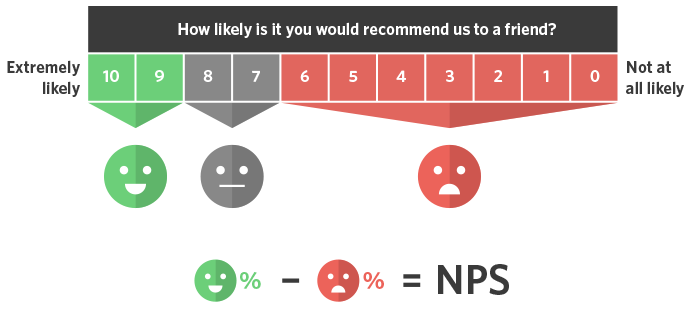 A tool we used to start measuring our net promoter score is Ask Nicely.

Audits
Scheduling regular audits with your client can also help you to do a status check on your agreed-upon goals in a formalized way.
By reporting on the progress of your accounts' benchmarks and sharing your findings with your clients, your audit process will appear to be organized, official, and well-considered.
And when your client believes that you put in special attention and effort into their accounts, they're more likely to believe that you care.
Similarly, one of our most important internal tasks at KlientBoost is to audit how we operate as a business.
By thinking of ways that you might go out of business, you start finding new ways to improve.

Client Retention Closing Thoughts
Keeping your clients engaged and attracted to your products and services after the honeymoon phase ends can be quite an undertaking.
With these five tips, however, you can keep the fire in your client relationships alive and your retention rates high.
You'll better understand your clients' needs, goals and profit margins. More importantly, you'll also have an indication on whether or not they're gonna stick around.
Finally, using your speed and flexibility to meet goals will allow you to give your clients the red carpet treatment, improving the chances that they'll become ideal clients with high lifetime values.
Now it's your turn to increase your retention rate... Good luck out there! ;)