Mobile apps. Instagram feeds. Physical stores. Your customers are everywhere.
And they expect more and more.
87% of consumers think brands need to put more effort into providing a seamless experience.
That's why omnichannel marketing is here to stay.
Read on to find out how to create a revenue-driving omnichannel marketing experience.
First, let's break down omnichannel marketing.
What is Omnichannel Marketi
Omnichannel marketing is a multichannel sales approach that provides the customer with a seamless shopping experience. The customer can be shopping from their cellphone, desktop, tablet, or even in-person and have a smooth experience.
Companies with strong omnichannel customer engagement can see a 9.5% year-over-year increase in annual revenue, compared to the average 3.4% increase with a weak omnichannel approach. Marketers with strong omnichannel marketing strategies also see a 7.5% year-over-year decrease in cost per contact.
Multichannel vs Omnichannel Marketing
Multichannel marketing means a company markets in multiple online channels (e.g. a web store, marketplaces, and social media), but the marketing is static. In other words, the marketing doesn't change based on actions either a lead or customer takes.
A company may use SMS messaging and email marketing. Still, they act essentially as separate entities with a multichannel approach.
Multichannel marketing also does not factor in that most people use many devices before completing a transaction. According to Google research, 90% of multiple device owners switch between an average of three per day to complete a task.
Omni-channel marketing provides touchpoints that work together across channels and different devices. That way, brands can engage potential customers and encourage more sales.
Google refers to omnichannel marketing as "ensuring marketing strategies are geared toward enabling customers to convert on any channel."
These channels depending on a company's business model can span:
Google Ad Network
SMS messaging
Social ad networks
Email marketing
In-person transactions
Your website
Amazon, eBay, and other third-party eCommerce stores
Capterra and other B2B review sites
Before omnichannel marketing experiences, each channel brands marketed on weren't meeting their full potential. They didn't take the full customer journey into account, resulting in less optimized campaigns and higher acquisition costs. With omnichannel marketing, content and offers are in place relevant to a lead's anticipated next step throughout their journey.
14 Ways to Build Omnichannel Marketing Into Your Customer Experience
Now that we've broken down omnichannel marketing, let's look at 14 ways to build a higher converting customer experience.
1. Pull Insights From Your Customer Data
Data informs all great marketing. Go through your customer data to understand who they are (demographics, age, gender, marital status, location, profession, etc.).
Consider:
Do specific buyer personas respond better to a given campaign?
Are they more active or convert higher on one channel?
How often do they buy?
Then factor in where your target audience is within your marketing funnel. If you see a specific bottleneck, start by refining your messaging and targeting. Then test behavioral marketing tactics.
2. Personalize The Buying Experience
Use geo-based targeting and other marketing segmentation strategies to connect with your target audience and increase your conversion rates further.
As you're seeing a positive ROI, you can personalize with one-to-one marketing experiences across channels. For B2B companies, this segmentation is account-based marketing.
Here's how we have one-to-one personalization on our website:
Clearbit Reveal data gathers specific company information and enriches our data.
With proof, our potential clients get a personalized experience from our customized landing pages to chatbot conversations.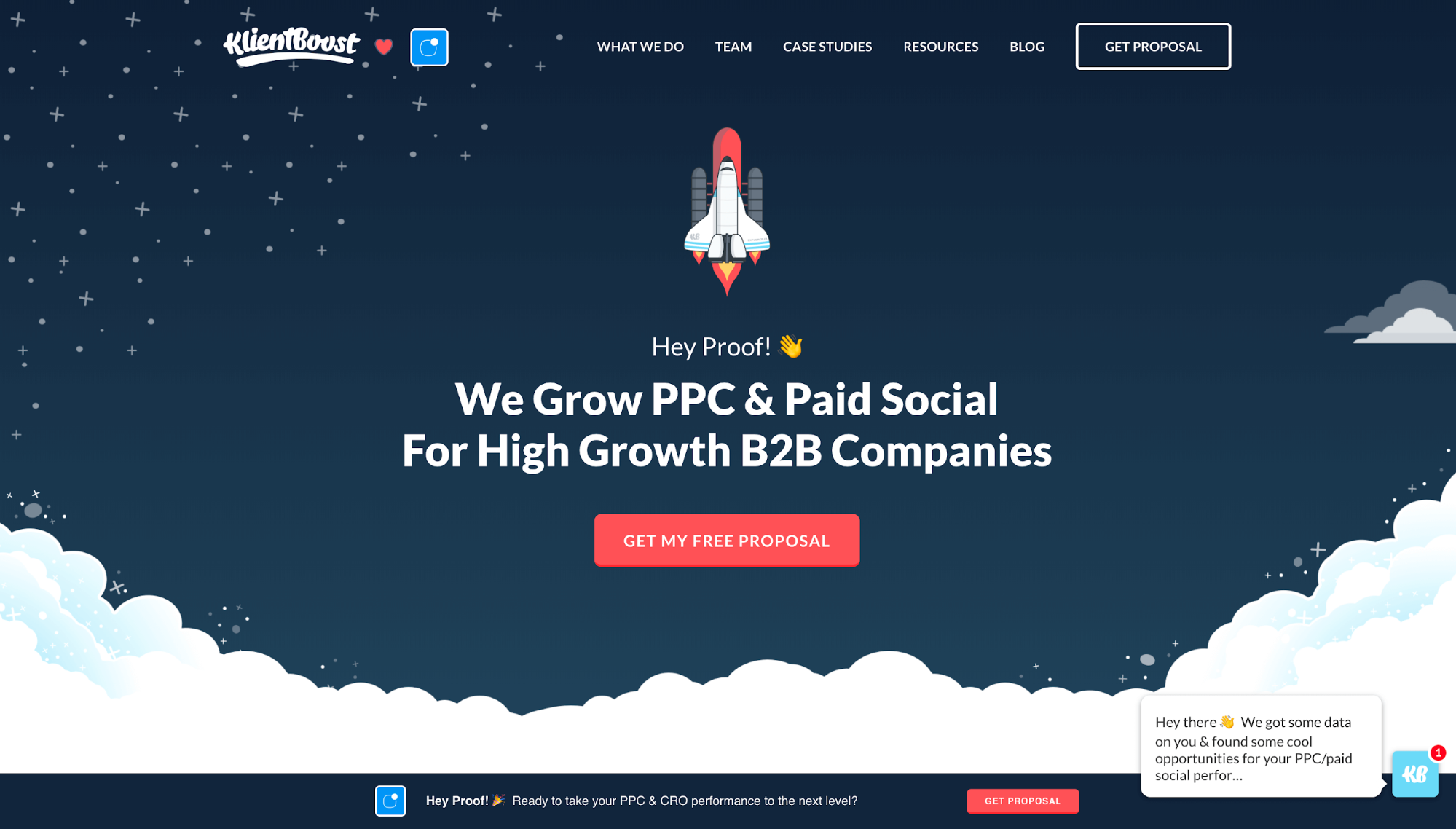 With one-to-one marketing experiences, we've seen an over 11% increase in proposals.
3. Track Micro Conversions
If you have underperforming ads, identify your micro conversions. Micro conversions are each step a potential customer needs to take to convert.
On our website, we look at the time on site for an audience based on the keyword targeted in an ad.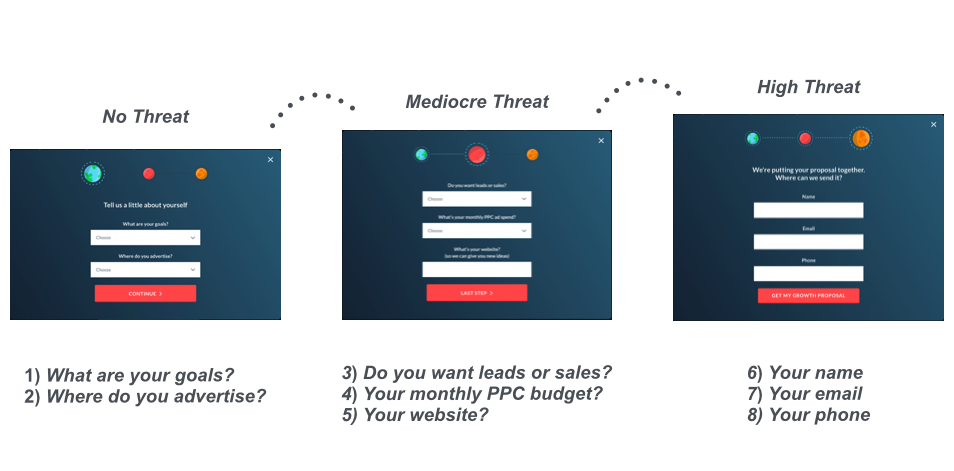 You can also track other micro-conversions such as:
The number of site visitors who engage with your website based on the number of pages visited in a session
Whether they opted into a white paper or newsletter signup
How far the average converting user scrolls down on your page using Crazy Egg
Le Tote, a leading clothing subscription brand, had micro-conversions happening on their site. However, tracking wasn't in place to keep their company top of mind and to help potential shoppers along the way. We linked their PPC ad campaigns to keyword-level landing pages, doubling their conversion rates in less than two months.
With these pages and remarketing across other networks like YouTube and Google Display, they saw a 263% increase in conversion rates.
Unbounce's Dynamic Text Replacement lets us create one landing page that can adjust to over 100+ keywords per campaign.
Here's what that looks like in action: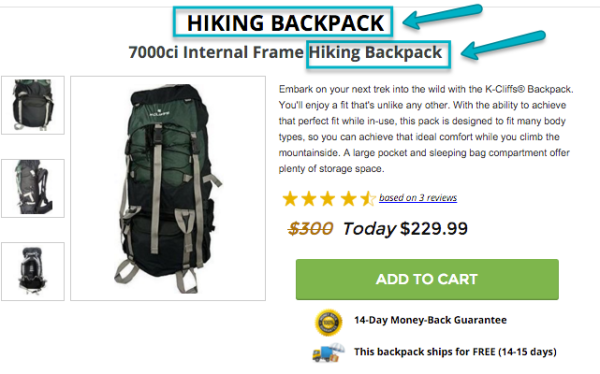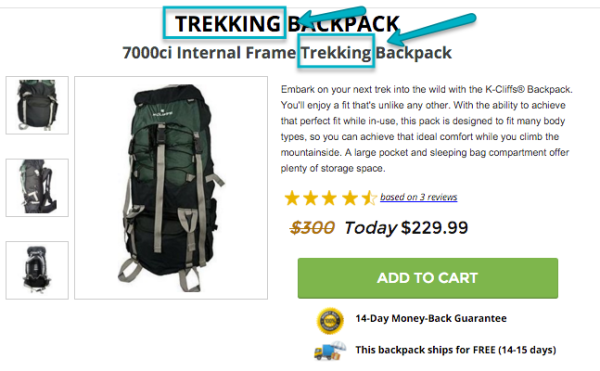 4. Walk In Their Shoes
As you know, not all consumers buy at the same time or place.
According to a BigCommerce study, Gen Zers in the U.S. spend 2-3X more shopping on social channels like Instagram than other generations. They also visit a brand's social channels 2X more than the average American consumer.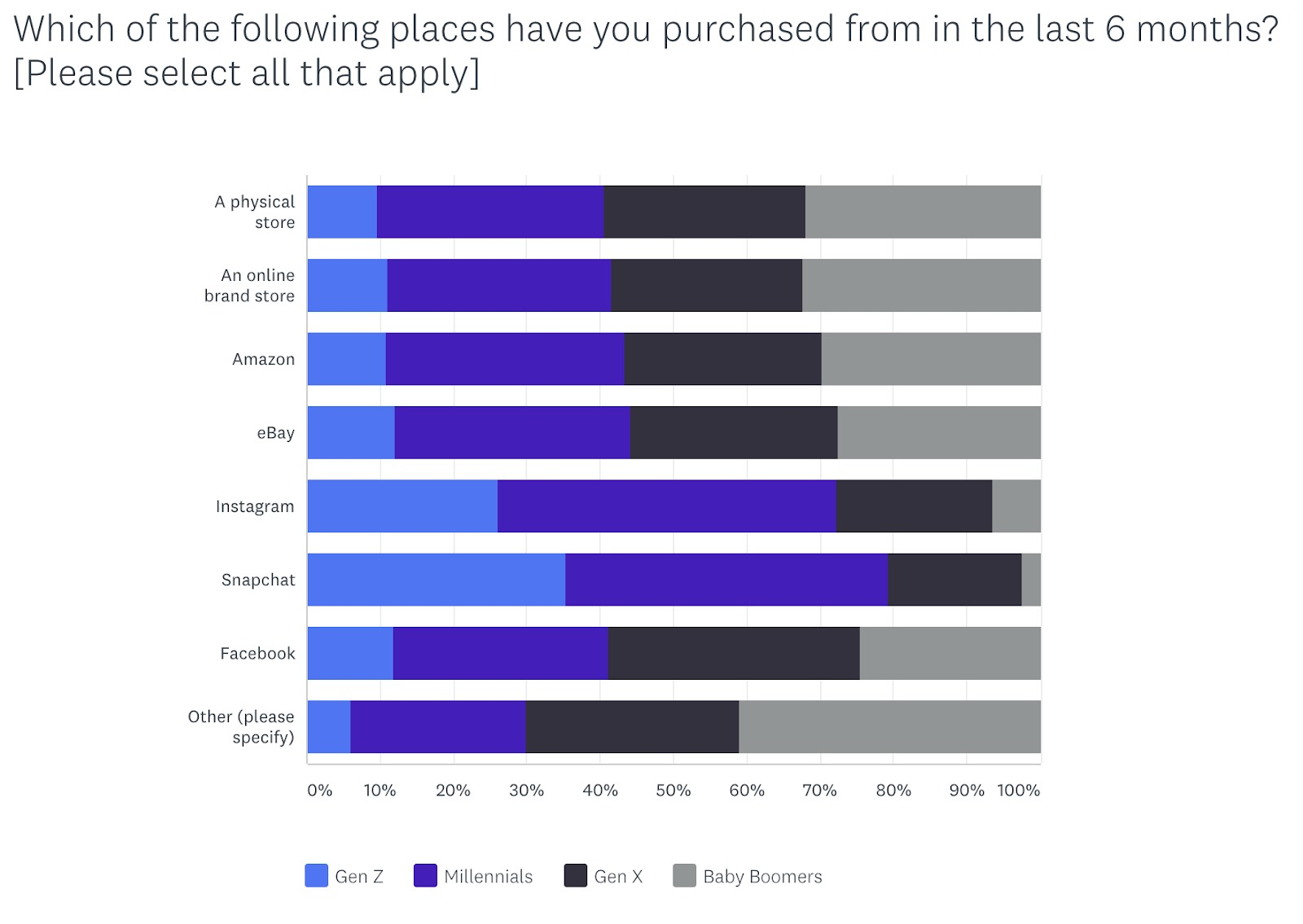 Separate research by Statista looked at what digital channels consumers prefer to receive updates and promos. Email marketing led the pack across age and gender.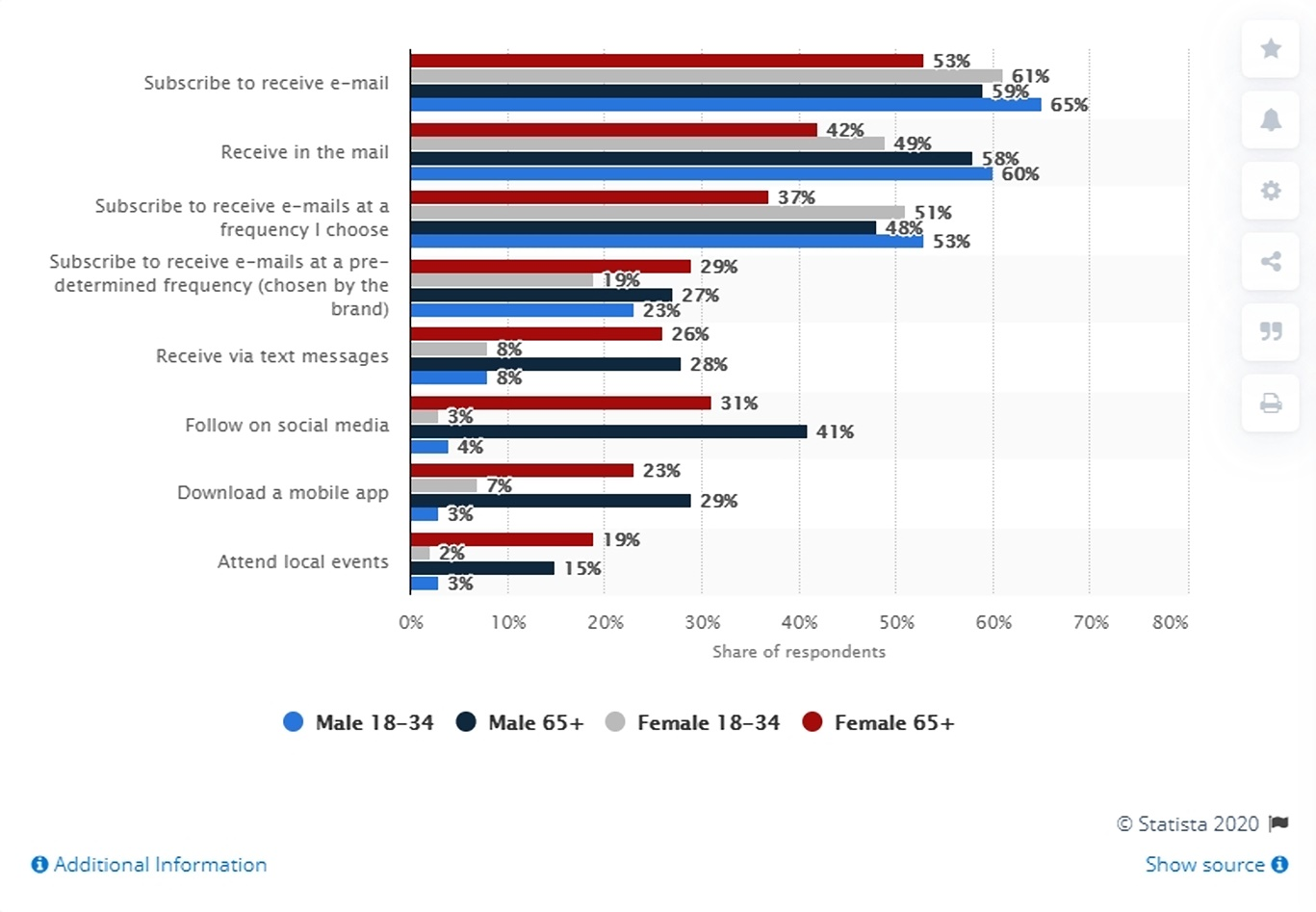 Bottom line: You need to know who your customers are and their preferred channels.
Put yourself in your customer's shoes.
Submit a ticket with your customer service. Take the time to complete a mock purchase. Go through all your channels analyzing your content as a consumer.
5. Create Channel Specific Goals
Establish channel level goals that point back to your overall strategy.
For example, you may find the bulk of your sales happen through Amazon. Your goal may be to increase your direct sales by x% over the next year.
Then you can make content for buyers across each stage of their buying journey. Brainstorm what materials you can deliver to help nudge shoppers closer to the point of purchase through PPC ads, email, blog posts, case studies, etc.
6. Give Shoppers More Options
Make last-minute impulse purchases and gifts easier by offering in-store pick up or expedited shipping options.

According to Salesforce, websites offering in-store order pickup will see 28% more revenue in the last five days leading up to Christmas, compared to store owners who don't offer this omnichannel experience.
Yes, shipping and inventory tie back to your omnichannel marketing strategy. If customers don't complete purchases, you can offer in-store pick up or even financing options in your cart abandonment email.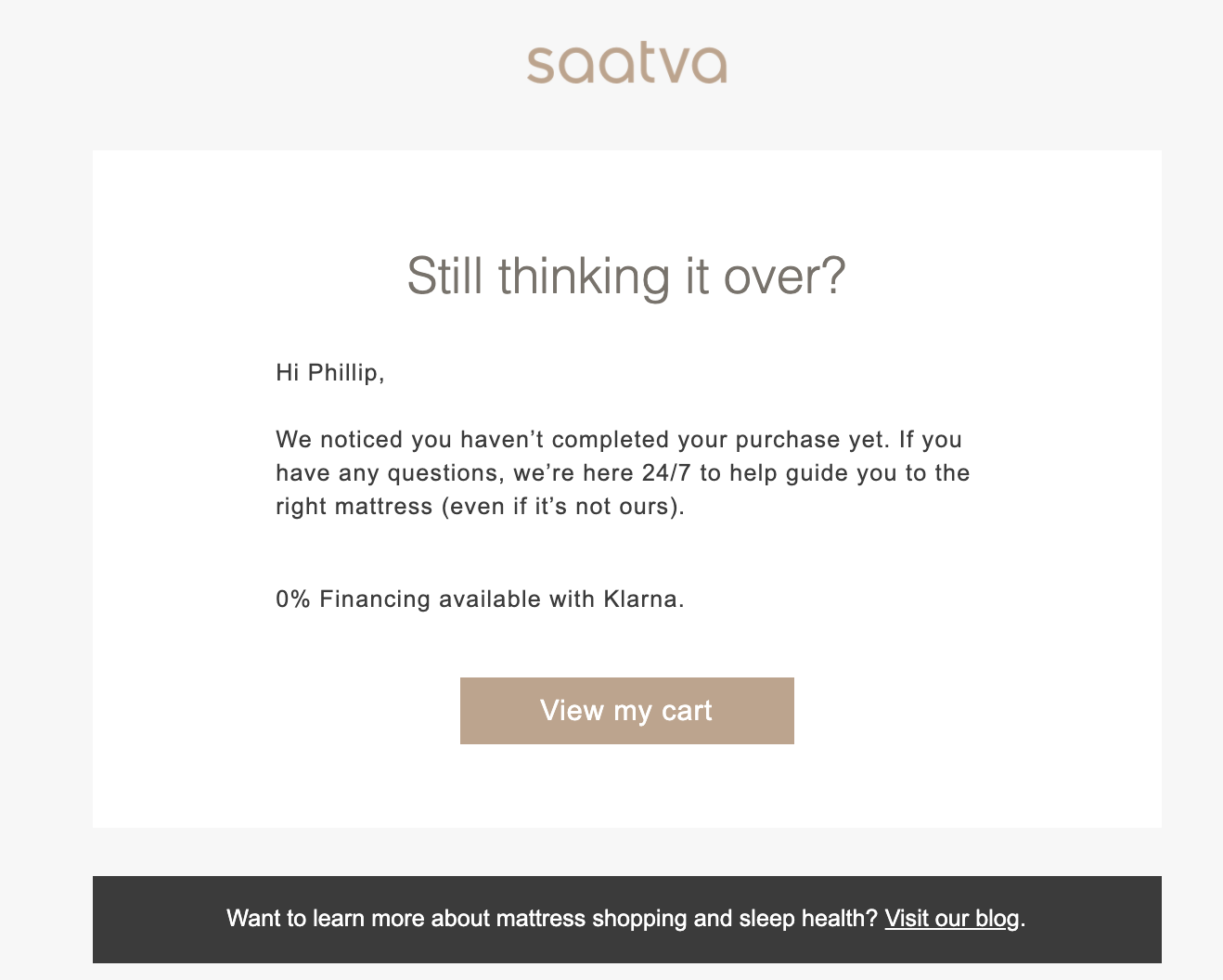 7. Drive Up Lifetime Value With Loyalty Rewards
Customers buy from brands that put in the effort to engage and build trust. Reward your regular customers and encourage customer retention by building a customer loyalty program.
Starbucks uses several channels to create a seamless rewards experience including their mobile app, email marketing, website, and in-store.
They also make redeeming easy. Loyal customers can redeem rewards and access their accounts across devices. That way anyone can find a Starbucks location near them on their website or app.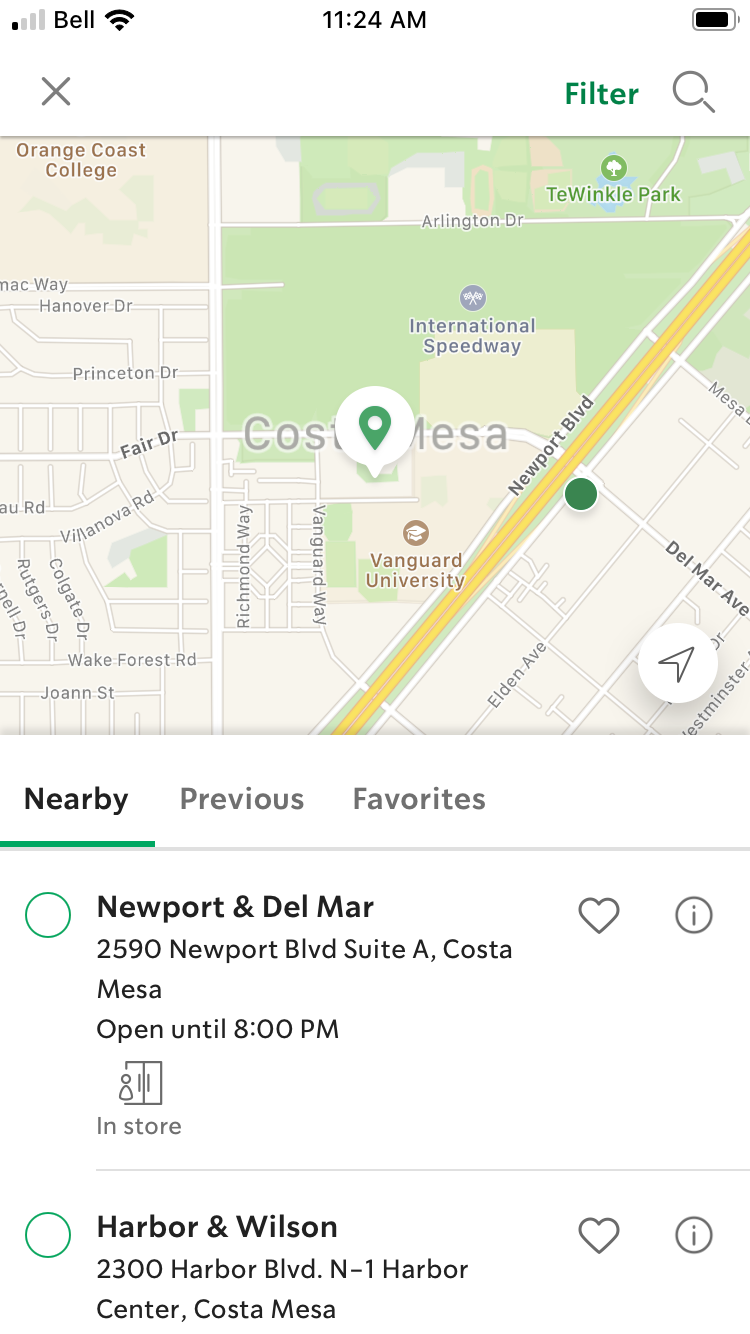 Then they can order online for grab and go pick up.
8. Arm Customers With Knowledge
A Forrester study found consumers use their mobile device to:
Research products at home (56%)
Check inventory availability while on their way to a store (38%)
Research products while in a store (34%)
Along with availability, you can provide item details on your product page—and even ways to preview your product.
LensCrafters lets customers upload a photo of themselves on their website and digitally try on glasses before buying.

LensCrafters also offer a digital quiz to help customers find the right pair of frames. The quiz lets shoppers answer questions in a Facebook-Messenger-style chat room. Then they receive product recommendations based on their answers.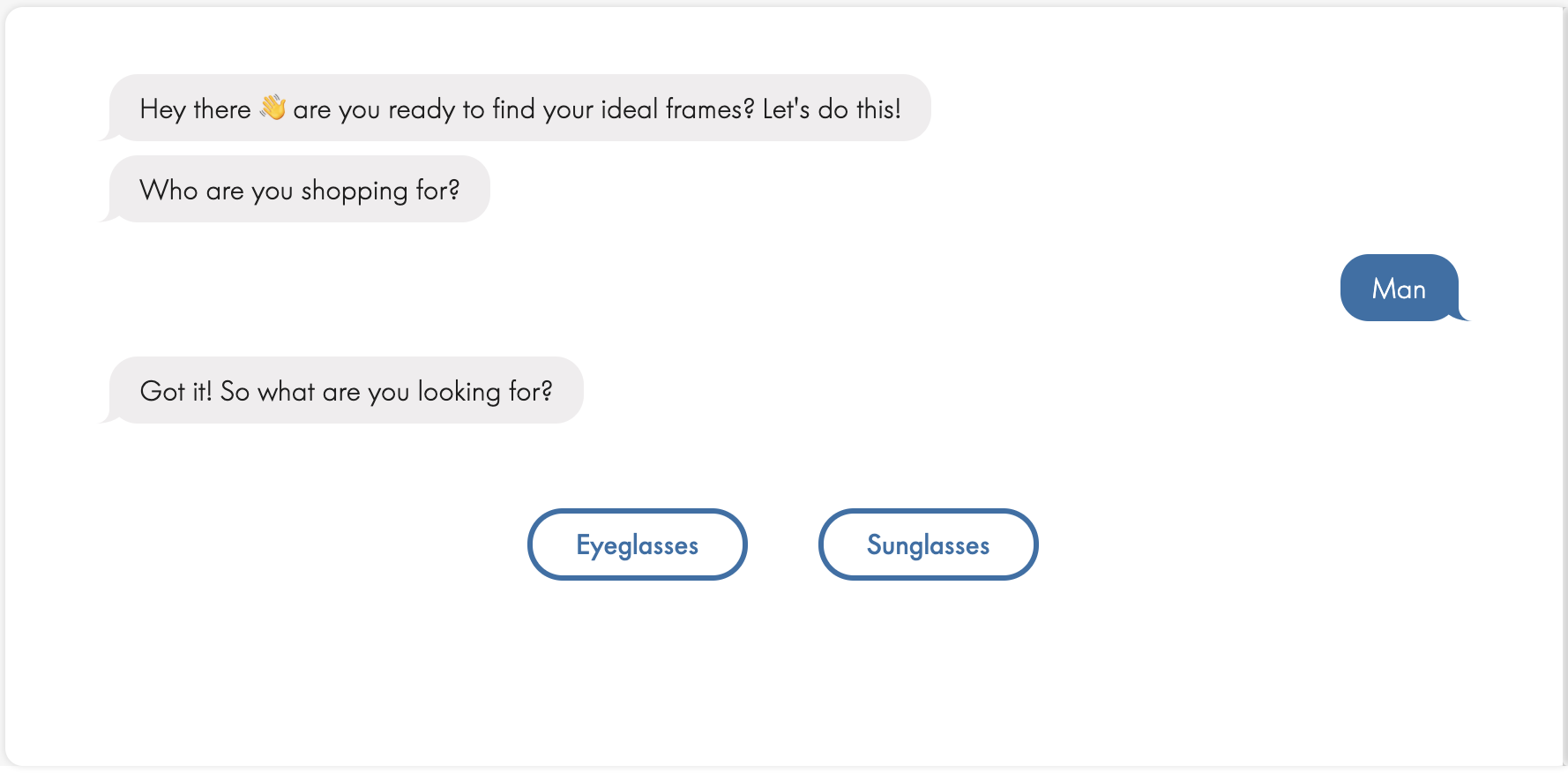 9. Set Trigger Points
Build offers into your marketing funnel based on specific actions taken by your customers to add lifetime value.
For example, Total Men's Primary Care sends out a text offering to schedule an annual physical when customers go back and read an older email they've sent.

To set up similar triggers, use a marketing automation platform such as Autopilot that provides both email marketing and SMS messaging.
You can also re-engage customers by asking for feedback like Lyft does via email.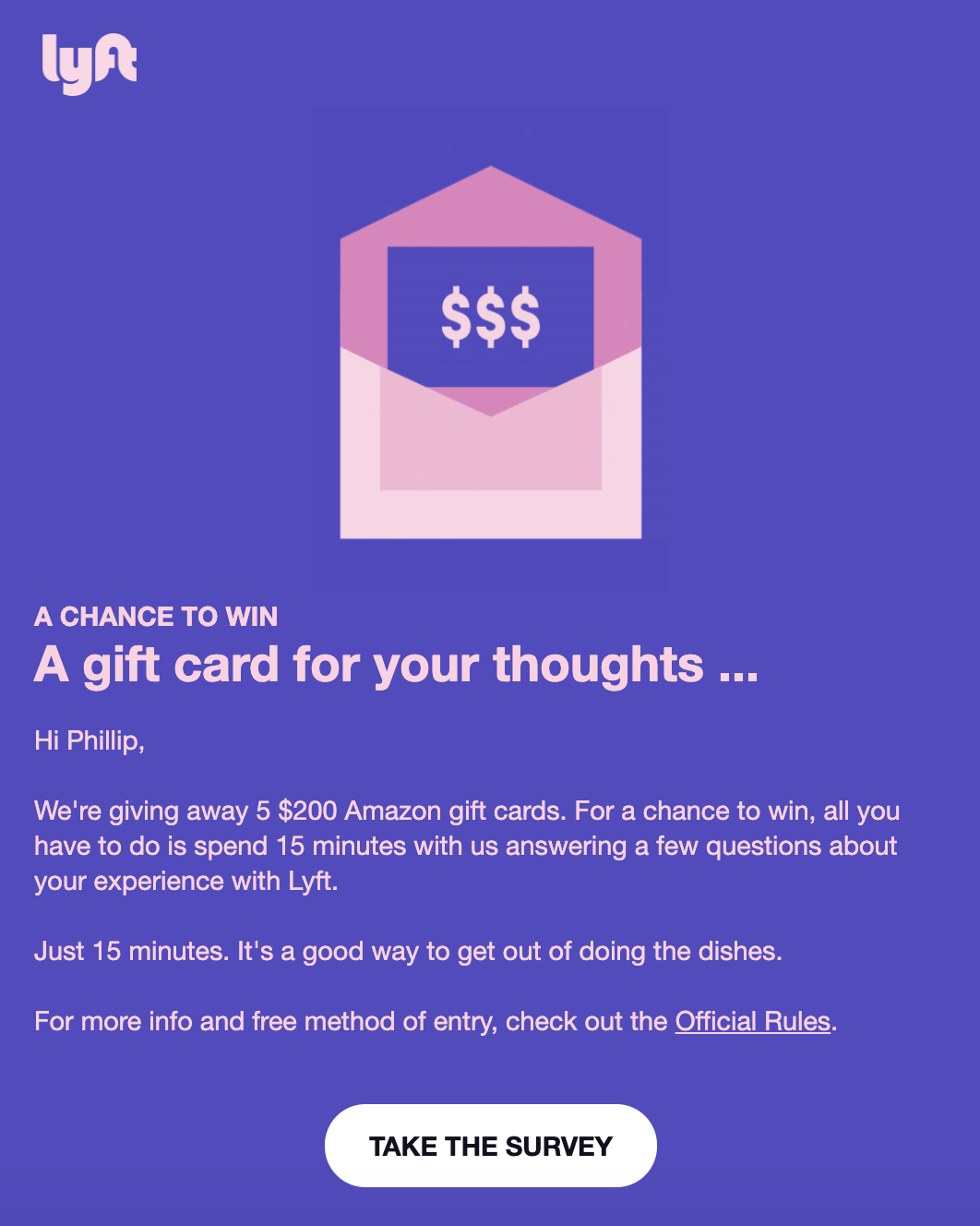 10. Pilot Omnichannel Marketing Campaigns
Start with one omnichannel campaign like the Camuto Group. One retailer that supply trench coats reported this feedback: "Customers who purchased from their store kept losing the coat belt."
In response, Camuto's marketing team launched a lost coat belt campaign.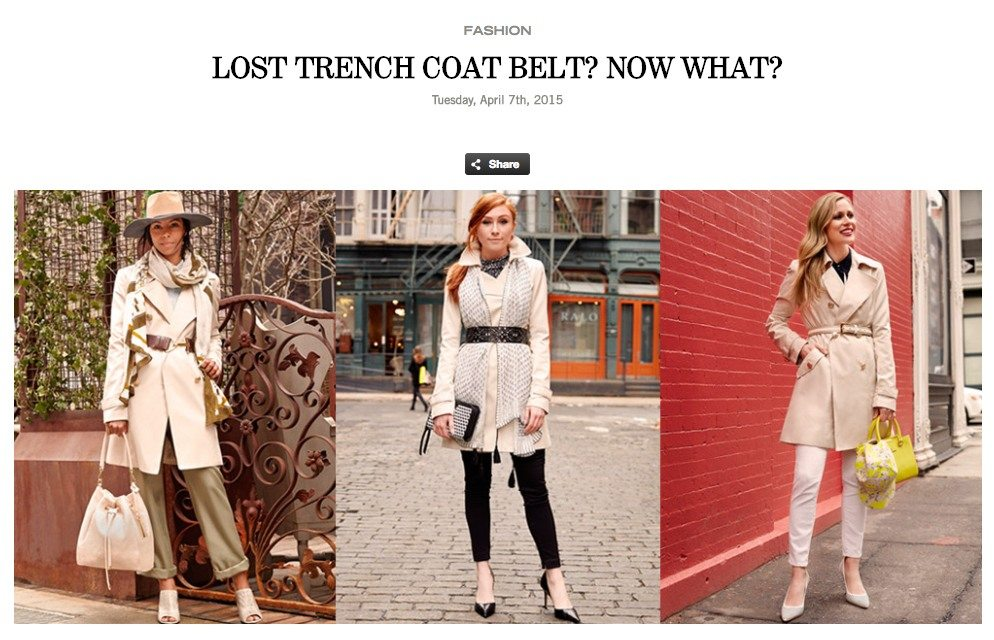 This omnichannel marketing campaign via email, social, web, and in-store included:
"Create a trench look" online sweepstakes
Stylish suggestions through photos on their site
Sponsored posts from fashion bloggers
11. Create Checkout-Friendly Social Posts
Brands can sell via organic posts and social ads on Facebook and Instagram. From this social content, you can give potential customers the option to view your product page.
To create shopping posts on Instagram your business must:
Be based in a country where Instagram Shopping is available
Own a business profile on Instagram; if you currently have a personal profile, you can switch your settings to business
Have your Instagram profile connected to a Facebook page; you can add or change your connected Facebook Page here
Keep in mind also you can only sell physical products on Instagram shopping posts.
Once you create a catalog, go to your settings on Instagram. Click "Business" and then "Sign Up for Instagram Shopping". Review and approval may take a few days to complete.
After you're approved, you'll have the option to turn on shopping under your settings.
Then you can tag up to five products in an Instagram post.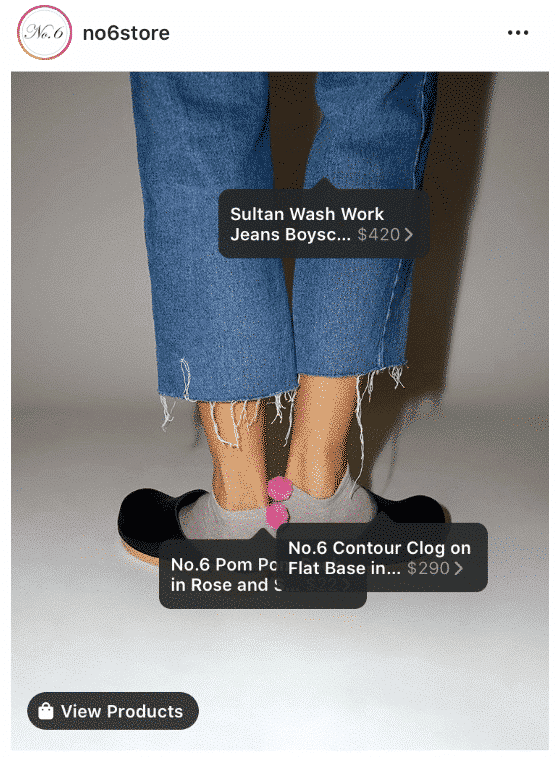 Instagram's checkout page feature is available for US-based businesses so users can buy directly on their platform. However, you can't capture any customer data on any direct purchases.
Instead, push Instagram traffic to your landing page so you can add a retargeting pixel to their browser or capture their email address.
12. Align With Your Customer Support
54% of millennials will stop doing business because of poor customer service. 50% of Gen Xers and 52% of baby boomers say the same. Stay on top of what your customers are saying to your support team through sentiment analysis platforms like Dialpad or by reviewing conversations documented in the support team's customer relationship management (CRM) system.
You may find recurring questions you can address in your content. Or a mismatch in customer expectations based on your brand's current positioning.
13. Enlist Influencers
Generate organic traffic on social media awareness through influencer marketing. Influencer marketing identifies key people with a social presence relevant to your audience, driving traffic from them to your brand.
90% of shoppers say they've discovered new products and brands via YouTube.
Help potential new customers by working with influencers to review your product. Look for influencers in your niche searching "x reviews" on YouTube. For example, a search for "headphone reviews" shows: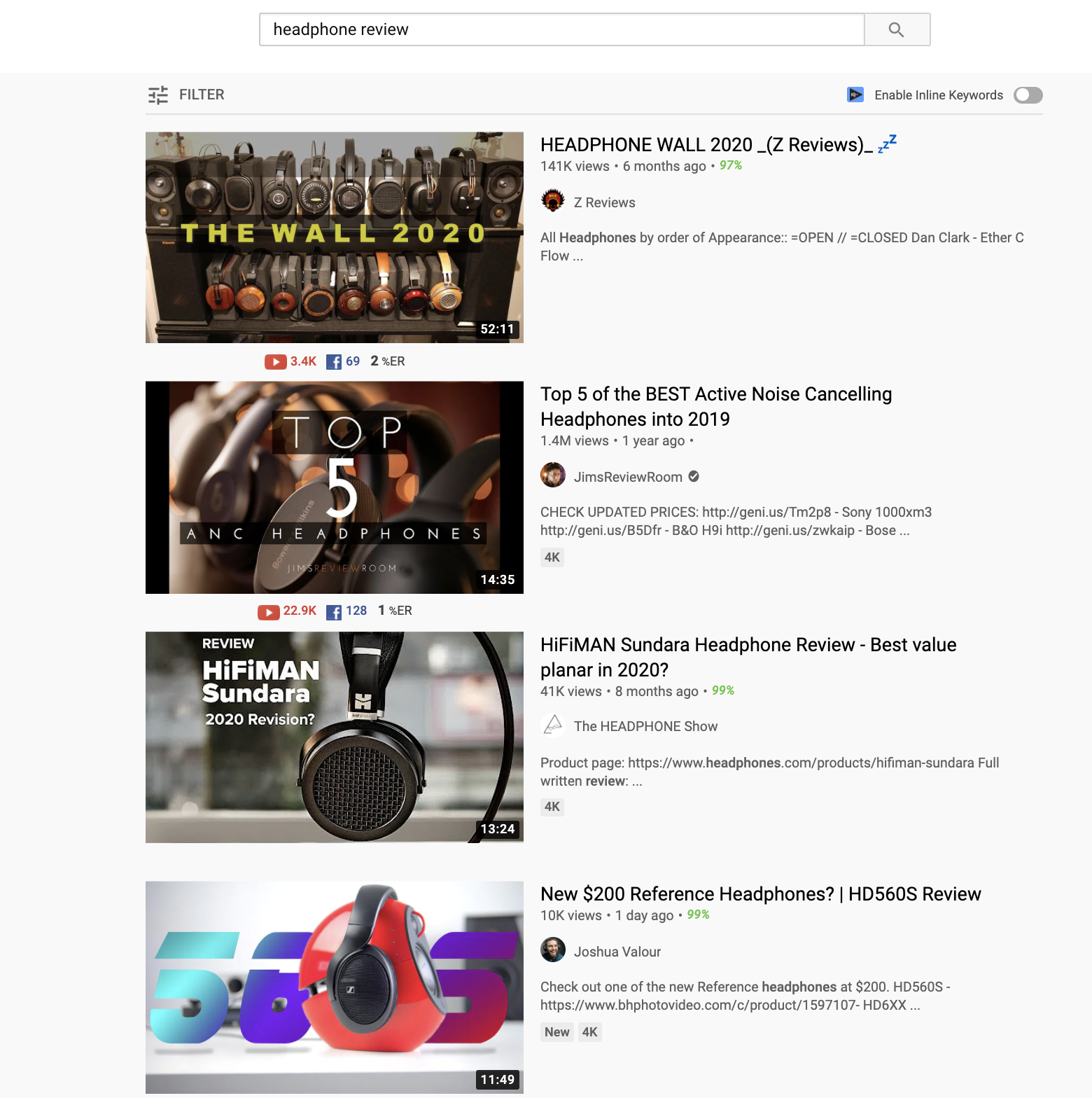 Then look at the video titles and watch to see the video's formats whether it's a top 5 headphones or unboxing.
Pepsico's Recycle Rallys aims to encourage recycling in schools. Around this program, Influencer Crafts by Amanda posted a Facebook video showing a fun way to repurpose a Pepsi bottle into a Fairyhouse night light. Over 400,000 viewers have seen the below video.
These tools can help you identify influencers:
14. Attribute In Your Analytics
PPC attribution can be tricky. You may have ads set up across multiple channels. But you need to keep track of where users landed from to see which channels are most effective for your brand.
Set up UTM parameters for all your landing pages to collect data.
For example, the normal link to this page is:

klientboost.com/omnichannel-marketing

With UTM parameters it may look like:

klientboost(dot)com/omnichannel-marketing?utm_source=facebook&utm_medium=social&utm_campaign=blogpromo
Here's what everything after the "?" in the URL means:

utm_source – the origin of the traffic; in the above example, it's Facebook.
utm_medium – the overarching channel where traffic is coming from such as social, email, or search
utm_campaign – the name of your campaign
To set up UTM tags, use Google's URL Builder.

Most purchases involve many marketing touches. Check for yourself in the Time Lag or Path Length reports in Google Analytics.
Wrapping It Up
It's easy to chase buzzwords or the next big thing everyone's talking about in marketing. However, as we've seen successful omnichannel marketing requires mapping a buyer's journey and then tracking the micro conversions.
Once you've identified bottlenecks and optimized core information such as your production details and ad copy, you can try multivariate tests of the hero image and headline.
In your email campaigns, simple tests can involve your subject lines, CTAs, or landing page forms. Then you can test more sophisticated strategies like automating email campaigns by buying cycle via a post-purchase bottom of the funnel email series.