Does your website have a traffic problem?
Before you answer, let me answer for you: No. You don't have a traffic problem.
In fact, most businesses don't have a traffic problem.
According to Bryan Eisenberg, however, every site in the world has a conversion problem.
That's not surprising when you consider that, on average, only 5% of marketing budgets are allocated for conversion rate optimization (CRO).
Most companies are so focused on getting visitors that they forget traffic is useless if they aren't getting sales.
That's exactly why we created this list — to show you 9 CRO tricks that you can implement quickly and improve your conversions today.
Are you ready?
Let's work some magic…

The Nine Conversion Tricks Every Marketer Needs To Know
Get Visitors To Make A Small Commitment
Increase Conversions With The Decoy Effect
Use Exit-Intent Technology To Increase Conversions
Use Logic Branching Surveys To Learn How Your Audience Thinks
Improve Your Site's Speed. (But Do It This Way.)
Match Your Message To Your Target Audience's Vocabulary
Personalize Your Content To Increase Conversions
Use Positive Framing To Persuade And Convert More People
Increase Conversions With Dynamic Text Replacement
Conversion Trick #1: Get Users To Make A Small Commitment
Would you propose marriage on the first date?

Hopefully not. You're much more likely to scare off your would-be spouse than get a "yes" to such a big question. But if you ask for a second date — a far lesser commitment than marriage, obviously — you'll have a much better chance of getting a "yes."
The same principle applies to your marketing.
When you get visitors to make a small commitment first, they are much more likely to make a bigger commitment in the future.
For instance, it's much easier to get a visitor to give you an email address than a credit card number. It's also easier to get a user to start a free trial than buy a membership.
Makes sense, right?
If your website only gives the option to buy, for example, you're forcing your visitors to make a bigger commitment. Some of them will need more time to make a decision.
But don't take my word for it.
In this example, Photoshelter, a web app that allows photographers to create beautiful websites, doubled their sales by simply adding a $1 trial to their sales page.


And Photoshelter is not alone.
There are tons of testimonials out there you can read about how websites increased their conversions just by applying this principle to their strategy.
Want to know the best part? YOU can get similar results.
All you need to do is follow the steps below:

Step 1: Identify The Critical Parts Of Your Conversion Funnel
Contrary to popular belief, CRO is not about tweaking a button color, changing landing page copy, or even following the recommendations professionals make.
CRO is about identifying the critical parts of your conversion funnel, and developing a hypothesis based on those results.
Continuing the example above, Photoshelter was able to double their sales because they discovered a specific pain point — their visitors wanted to test the product before purchasing. They also found that people who tested the product were more likely to continue using it.
Because of that information, they decided to add the $1 trial offer to their sales page.


You need to figure out what's stopping people from buying, and then start developing a hypothesis based on that information.
Even if you aren't offering a SaaS solution like Photoshelter, you can still create initial offers with smaller commitments based on what you learn about your customers.
For example, you might find that people are confused about what your product does. You could provide clarity by adding a video on your landing page.
This creates a smaller commitment — watching the video — so users are not only more likely to fully commit later, but they will also have a better understanding of what your product does.
If you decide to add a free trial, an explanatory video, or any sort of small commitment, make sure it's aligned with your most critical parts of the conversion funnel.

Step 2: Test Bold Changes
Once you've identified the most critical part of your conversion funnel and developed a hypothesis, it's time to start testing.
Yes, it might be risky to test bold changes to your funnel. But there's no better way to figure out whether your conversions will increase than doing that.
But what if you're not a SaaS or eCommerce solution? What if you're trying to generate leads with your landing pages?
Use something called multi step landing pages. The same logic applies.
With lead-generating multi-step landing pages, your goal is to make ultimately get the visitors' contact info, but all visitors would rather not give that information.
Instead, get them to commit with landing page fields that are easy to answer, which has a better chance of getting visitors to share their personal data.
Just like how Advanced Grass increased conversions 214%.


And how Namify increased their conversions by 311%.

Further Reading:
Conversion Trick #2: Use The Decoy Effect To Increase Your Sales
Have you heard of The Decoy Effect?
The Decoy Effect states that people tend to change their opinion about a particular product when two options are presented alongside a third option that is asymmetrical, a little bit uglier, or inconvenient.

Wikipedia explains it like this: "An option is asymmetrically dominated when it is inferior in all respects to one option; but, in comparison to the other choice, it is inferior in some respects and superior in others."
Let's go deeper with a real-life example:
Psychology professor Dan Ariely created an experiment with his students.
He asked them to choose a subscription from a magazine:
A) Online subscription – $59
B) Print version – $125
C) Web and print subscription – $125
The results?
16 students chose option A, 0 students chose option B, and 84 students chose option C.
As you can see, most of the students chose option C because it appears to be more convenient and more valuable than the other two options.
That's The Decoy Effect in action.
With the first round of results in hand, Ariely decided to perform another test. This time he removed the option C.
Here are the results:
68 students chose option A… and just 32 students chose option B.
The bottom line?
Always offer a superior version of your product. And when you can, pair your offer with less convenient options.
In case you're wondering how to do it, here's a solid process you can follow:

Step 1: Create Three Variations Of Your Product
Like Professor Ariely, you need to create two variations of your product (or service) that seem inconvenient, and one that is "convenient" for the visitor.
On the other hand, if you're selling a service, make sure to add a version of your product that is much more convenient or beneficial than the two other versions.

Step 2: Add A Visual Representation Of Your Three Variations
According to an article by Digital Marketing Philippines, the brain processes visual information 60,000 times faster than plain text.


That's why we recommend a visual representation of the three variations of your product. It doesn't matter if you're selling a physical product, digital product, or a service. This principle applies to all of them.

Further Reading:
Conversion Trick #3: Increase Your Conversions With Exit-Intent Technology
If the stat above sounds too good to be true, let me show you a couple of examples that will blow your mind:
When blogger Nikki McGonigal wanted to increase her newsletter subscribers, she added two sign-up forms to her blog. One on the sidebar:


And one in a lightbox:


She analyzed her results after seven months, and here's what she found:


The lightbox outperformed the sidebar form by 1,375%!
Crazy, right?
And Nikki is not the only blogger who is having awesome results by using this kind of technology.

More Successful Exit Pop-Up Examples
ProBlogger founder Darren Rowse was able to get 400 new subscribers every day after adding a pop over subscription form to his photography blog.


When Neil Patel experimented with exit-intent technology on his blog, he found that conversions increased by 46%.


And if that's not enough, WPBeginner's Syed Balkhi increased email opt-ins by 600% when he implemented exit-intent technology.
Now you might be thinking:
"Cool, exit-intent pop-ups work for bloggers. But what about eCommerce?"
I'm glad you asked!
Gr8tFires.co.uk, an online store that specializes in wood-burning stoves, was able to generate more sales leads by adding an exit-intent popup to their site.
More specifically, they offered an "installation calculator" when visitors tried to leave the store. This simple tweak generated 300% more leads per month.


"Got it, exit-intent technology works for bloggers and eCommerce websites. But what about landing pages?"
You read my mind!
YourMechanic, an online mobile repair service, found that adding an exit overlay to their landing page increased their conversion rate by 7.16%, which brought in tons of new customers every month.


The bottom line?
Whether you're driving traffic to a blog, an online store, or a landing page, you can dramatically increase your conversion rate by implementing exit-intent technology.
Here's a simple three-step guide to doing it the right way:

Step 1: Understand The Context
Exit-intent popups are not intended to annoy people. In fact, you give your visitors additional value with them.
How? By understanding the context.
For instance, if you're running an eCommerce website, you can offer discounts, contests, or special offers.
On the other hand, if you're offering PPC management, you can offer a free whitepaper or guide. This way you're providing value through your popups.

Step 2: Set Up High Tempo Testing
Popups work well because they can target all types of traffic. This also makes testing different offers easier and provides quick results.
The truth of the matter is that you can test everything. However, I highly recommend that you start with the following elements:
Background color
Copy
Call-to-action/Offer
Imagery
Research shows that testing variations of these four elements is likely to give you the most noticeable results.

Step 3: Choose The Right Tool
This step is really straightforward. Just choose one of the tools below and start creating your first exit-intent popup:
BounceX: This is the most comprehensive tool so far. It not only allows you to create beautifully designed pop-ups, but to display them based on user behavior. However, if you're on a budget, this tool is not for you.
OptinMonster: This tool offers useful functionality and works well with WordPress sites. You can A/B test your pop-ups and segment your customers with behavior personalization.
OmniKick: Formerly known as Growth Funnel, OmniKick offers multiple exit intent options, including interactive popups, floating bars, and inline forms without coding.
Picreel: Picreel allows embedded videos and has HTML/CSS editing on top of their great WYSIWIG editor.
There are quite a few other tools out there — many have specific functions or features that might be right for your specific niche. (Note: if you find a tool you like that isn't on this list, tell us about it in the comments!)

Further Reading
Conversion Trick #4: Use Logic Branching Surveys to Learn How Your Audience Thinks
Did you know that a typical business only hears from 4% of its dissatisfied customers?


This means that out of 100 people that aren't satisfied with your service, 96 won't let you know about it.
And that's a huge problem.
If your customers are not telling you what they don't like about your product or service, it's very hard to improve.
That's why it's so important to proactively interview and survey your customers to learn how to provide a better experience.
If you're wondering what tool to use to get this job done, check out our a guide, with reviews of 105 CRO tools.
Read this section to find a surveying tool that fits your needs.

Further Reading:
Conversion Trick #5: Improve Your Site's Speed. But Do It This Way.
Fact: A one-second delay in page response can result in a 7% reduction in conversions, according to Kissmetrics.

That means if your business is making $200,000 a month, a one-second delay could cost you $168,000 in lost sales every single year.
That's a lot of money no matter who you are (unless you're Apple, I guess).
As a matter of fact, Walmart found that for every one second of improvement, their conversions increased by as much as two percent.
Also, when Firefox reduced average load time by 2.2 seconds, they increased conversions by 15.4%.

This makes a lot of sense. As a fellow human, you know that we don't like to wait.
That's why you need to pay close attention to site speed optimization.
And although this might be a head-scratcher for some, it's simple when you know what to do about it.
Here are some best practices you should follow to increase your load speed:
1) Change Your Web Hosting
I know this is common sense for some, but it's surprising how many people still using a crappy web host OR a lousy web hosting package.
And since it's one of the most important elements to improve your site speed, I couldn't not include it here.
Before we move on, here are three tips to help you select the right web hosting provider:
Web Hosting Tip #1: Don't Buy From The Bottom Shelf
Low-budget web hosts (i.e. Bluehost, GoDaddy, Hostgator) are alright if you're just starting out. But if you're getting a decent amount of traffic, you need something more professional.
Web Hosting Tip #2: Choose A Host That Fits Your Needs
If you're running a WordPress website, use a WordPress-managed host like FlyWheel. (Full disclosure: that's what we use here at KlientBoost).
On the other hand, if your website gets heavy traffic, you might need your own dedicated server. Whatever the case, there's a solution that provides exactly what you need — and you can find it if you look.
Web Hosting Tip #3: Make Sure You Can Manage Your Files
Site speed optimization best practices require you to modify, add, and delete files on your server. If you don't have access to them, you'll struggle.
Now, back to your regularly scheduled site speed optimization tactics…

2) Resize Your Images
You need to make sure all the images in your site have an optimal size.
Here's a quick way to do it:
First, head over to Google.
Then, type in: Site:yourdomain.com (replace "yourdomain.com" with your actual domain)
Now click on "images", and Google will show you all the images on your site.
Look for images that are 600px or higher, and then check their file sizes in kb. (That's "kilobytes," not "KlientBoost" — we're not that famous yet.)
You can sometimes lower file sizes by up to 70% without compromising image quality with tools like TinyPNG for example.

3) Compress Your Site With GZIP
GZIP compression is one of the best practices for site speed optimization.
Basically, it compresses all your files so you can save bandwidth and speed up your website.
Yeah, it sounds scary, but for someone who understands development, it will be really easy to implement on your site.
You can also send this guide to your programmer: How To Optimize Your Site With GZIP Compression

4) Install Google PageSpeed
I could spend all day explaining you all the web performance best practices, like compressing CSS and JavaScript files or minimizing round-trip times (RTTs). But nobody has time for that.
Instead, I'll show you something better — Google PageSpeed, which automatically applies web performance best practices.
All you need to do is to tell your web hosting guys that you want it installed on your website, and once it's been up and running for a while, you can head over to GTmetrix and compare before and after scores.
Easy, right?

Further Reading:
Conversion Trick #6: Match Your Message To Your Market
As Copyblogger says:
"The most important element of copywriting that works is how well your message matches up with the way your prospective customers view things."
That's why it's vital that you understand your audience as much as you can. You need to figure out what they like, cherish, hate and admire.
When you know your audience at that level, you're able to create more compelling copy, and, therefore, your conversions can increase.
Even a single word change in your landing page can improve your conversions.
For example, GoCardless, a company that helps businesses get recurring payments, was able to increase their product demo conversions by 139% after switching their call-to-action copy from "Request a Demo" to "Watch a Demo".
Before:


After:


Incredible, right?
Remember: When it comes to marketing, the ones who understand their audience the best are the ones who win.
Here's a simple three-step process you can apply to improve your copywriting:

Step 1: Develop Buyer Personas
Buyer personas are semi-fictional representations of your prospective customers.

These personas describe the profile of your target audience and give you a clear understanding of how your customers think.
In this day and age, developing buyer personas is not an option if you really want to succeed.
We don't have space to explain how to create buyer personas in this guide. There are lots of resources out there to help you, however, including these guides:
Step 2: Identify The Words Your Customers Use To Describe Their Problems
As you develop your buyer personas, you'll find that your existing customers use a lot of the same words to describe their problems.
That information is extremely useful.
You can use it to create a list of the words and phrases your customers use repeatedly and incorporate them into your copy.

Step 3: Incorporate Those Words Into Your Copy
Once you've created a list of words and phrases, try to incorporate some of them within your calls to action, UVP (Unique Value Proposition), and even your content.
The more your marketing material resonates with your prospective customers, the more effective it will be. By incorporating the same words your customers use in your copy, they'll feel more attracted to you.

Further Reading:
Conversion Trick #7: Personalize Your Content To Increase Conversions
According to Triblio, marketers see a 42% average conversion rate increase by using personalized content.


If you aren't familiar with personalization, it consists of showing different content to your visitors depending on their interests, demographics, and location.
For example, let's say you run a marketing agency and want to attract three types of client segments:
Businesses in the food industry
Companies in the music industry
Companies in the technology industry
You wouldn't expect customers from these three separate markets to respond to the same copy, would you?
This is where content personalization comes in handy.
Tailoring content to your buyer personas increases engagement and, hopefully, your conversions by addressing specific needs and pain points that will resonate with your audience.
"But how can I personalize my content?"
Just follow these three steps:

Step 1: Segment Your Audience
You can create audience segments based on your website traffic to start personalizing your content.
You can either do this by creating individual campaigns with your PPC traffic, or by tracking which referrer URLs your buyer personas are coming from in Google Analytics.

Step 2: Sign Up With Your Favorite Personalization Tool
There are plenty of tools for personalizing your content.
You can start by checking out the guides below to see which one most resembles your business:
Step 3: Tailor Your Copy To Each Specific Segment
Once you have enough information about your target audience, you can start personalizing your content.
You can create different variations based on user behavior, demographics, and interests.
Here are some additional resources for strategically personalizing your content:
Further Reading:
Conversion Trick #8: Use Positive Framing To Persuade And Convert More People
It's no secret that people have a preference for the positive.


Think about it:
Let's say you're a patient suffering from a dangerous disease, and your doctor tells you that you need surgery. But not to worry, he says — the surgery has a 93% success rate.
What if you got the same speech, but at the end the doctor says that "7 out of 100 people die from this surgery"?
Even though your chances for success are the same, you're more likely to feel good about the surgery if the doctor describes the outcome in positive terms.
The same principle applies to marketing.
If you use positive framing to present your solution, people will be more likely to respond to your call-to-action and convert.
Here's another example. If you're marketing a weight loss system, you could say something like:
"90% of our customers lose weight."
That's way more attractive than: "10% of our customers don't lose weight."
Even though you're technically saying the same thing, people will react more positively to the first description.
But before you start changing your landing page copy, take these points into account:
Always Be Testing: Just because this technique worked for others doesn't mean it will work for you.
Simplify: Marketing can work better when you simplify things. If you decide to use positive framing, make sure to don't over complicate your message.
Start With Your UVP (Unique Value Proposition): Your UVP is the first thing people see when visiting your website or landing page, so you should start by implementing positive framing on that first.
Further Reading:
Conversion Trick #9: Increase Conversions With Dynamic Text Replacement
Did you know that 25% of PPC marketers drive all visitors to the same landing page, no matter what keywords or circumstances brought them there?
In most cases, that's a huge mistake.
Why?
Because, as these experts will tell you, your landing page is the key to higher conversions. When users search for a specific keyword on Google, they expect the message match to continue through the ad and onto the landing page.
The problem begins when you start to target several keywords, but you only have one landing page.
For instance, let's say you're selling a hiking backpack, so you create a landing page around that keyword:

However, you're targeting the following keywords:
hiking backpack
trekking backpack
camping backpack
In this case, your landing page might perform well for the keyword "hiking backpack", but it may not perform that well for keywords like "trekking backpack" or "camping backpack".
The perfect solution to this problem would be to create separate landing pages, targeting separate keyword searches.
But you and I both know that might not ever happen. Especially if you're targeting 100+ different keywords.
So instead, let's look at a much more effective way to do it: Dynamic Text Replacement.
Dynamic Text Replacement consists of automatically changing your landing page or website copy based on the URL parameters you use.
Taking the example above, you could use dynamic text replacement so when people search for "trekking backpack", your landing page displays that specific keyword, instead of "hiking backpack."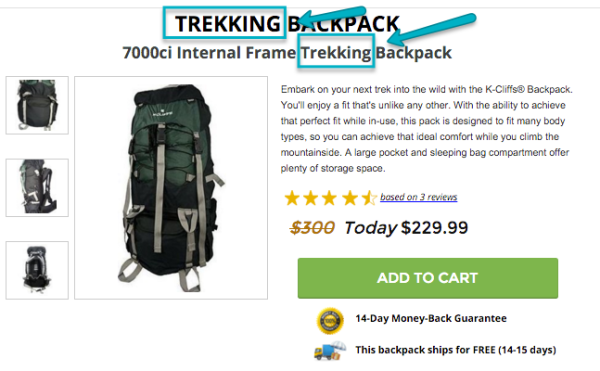 Pretty cool, right?
Here's how to get started:

Choosing Your Dynamic Text Replacement Tool
To implement dynamic text replacement, you'll need a tool.
Here are a few we use at KlientBoost for both websites and landing pages:
Unbounce: In my humble opinion, this is the best tool out there for implementing dynamic text replacement for your landing pages. Also, it's really easy to set up.

Marketizator: A conversion tool suite that allows you to dynamically change text, and then some.
It can even pull in the visitors' city and local temperature dynamically, so you don't have to manually edit your PPC URLs.

Custom/DIY: Developer Joel Clermont blessed digital marketers like us with custom code that can be used to dynamically change text via URL parameters or specific cookies. The code works throughout all websites and landing pages.

Your Next Steps
I won't lie to you. Conversion rate optimization (CRO) isn't easy.
In fact, it's a complicated, time-consuming, and often expensive process.
However, it's a strategy worth considering if you're serious about improving the return on your digital marketing investment.
By taking this approach, your blackjack game turns into a chess game. Now every move you make is strategic and leads to more predictable results.
You'll finally be able to stop guessing and start driving your business to a more lucrative future.
Doesn't that sound… magical?
P.S. Did you like what you read here? Gained some insight? Tweet and share this to your peeps to spread the wealth.