Ever wonder where Adele gets her sass?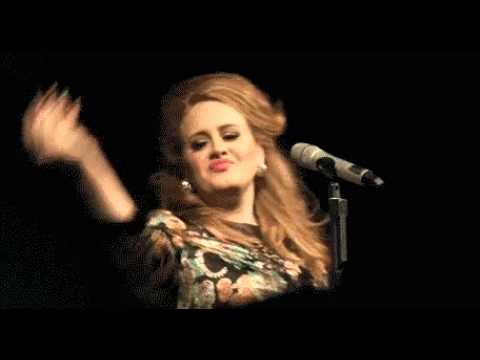 Maybe Adele doesn't use landing page SaaS tools to help her with her performance, but she does rely on usability testing tools to help her find out – is her mic working, how's the reverb level, what about balancing levels of the band, does the monitor have sound, where is that feedback coming from, is her wireless set working with her stage moves?
We all want to nail the perfect performance and drive our conversion rates to meet our sales goals. Usability testing can help us reach these goals and is the way to find out how users are interfacing with our websites and landing pages.
And there's tons of usability testing tools to help us – I found 77 of them.
The SaaS tools environment is ever changing with new tools being regularly released to market while older ones are being purchased by larger companies.
I compiled today's snapshot of useful usability testing tools for your convenience. Depending on your needs, you can check them out over nine categories:
User Experience
Eye Tracking
User Interaction: Heat Mapping and Click Tracking
Feedback
Recording
Speed
Accessibility
Readability
Recruitment
User Experience
Usability Testing Tool #1: Five Second Test by UsabilityHub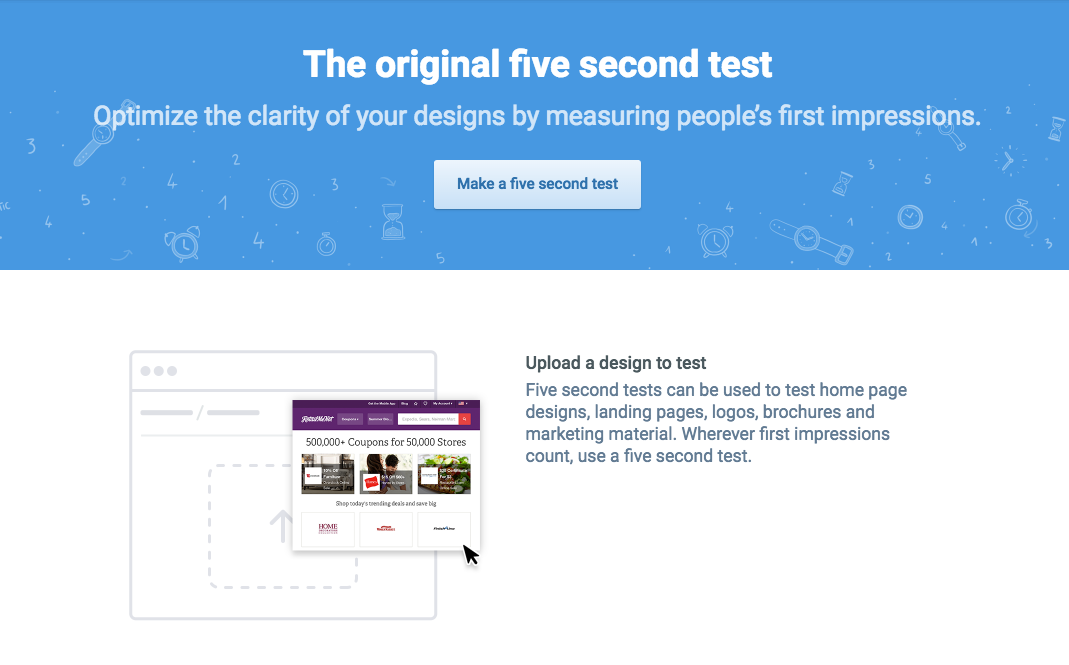 UsabilityHub claims "the original five second test" and even dedicated a whole domain name to the tool. Simply put, you upload a design to test, ask people what they recall (after those precious five seconds), and see how people responded.
The reports come in raw data or word cloud formats. On their website they also offer visitors the option to get paid for being participants, which means they can help with the recruiting process, too.
You can conduct many quick unmoderated remote usability tests.
A quote on their unique value proposition:
"Optimize the clarity of your designs by measuring people's first impressions. Uncover insights into what your designs communicate and what people remember within the first five seconds."
The cost – $99 monthly
Usability Testing Tool #2: IntuitionHQ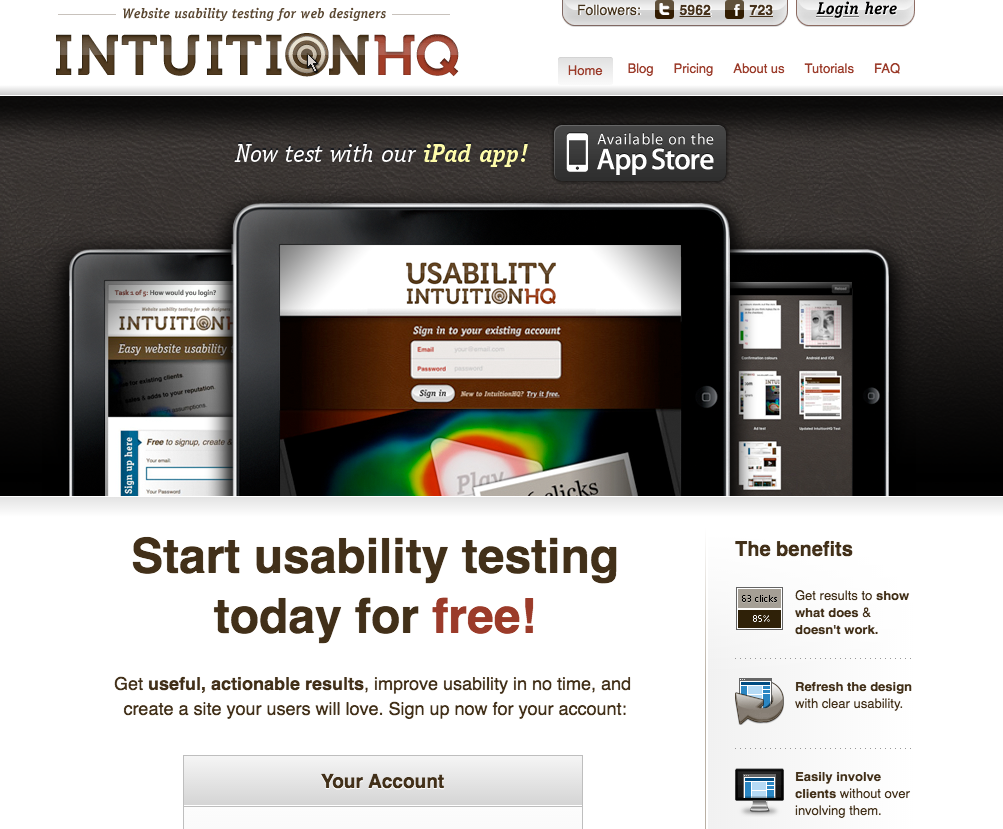 IntuitionHQ's usability testing is useful for unmoderated remote testing, broken down into just a couple steps:
Upload designs, create tasks and publish tests
Share your testing links and watch the results live
Reporting includes heatmaps, click reports and time spent on tasks.
The cost – free trial to start, which includes 350 participants, unlimited questions and 10 live tests. Beyond the trial, their pricing is based on number of participants, lives tests and iPad readiness (for dashboard access).
Usability Testing Tool #3: Loop11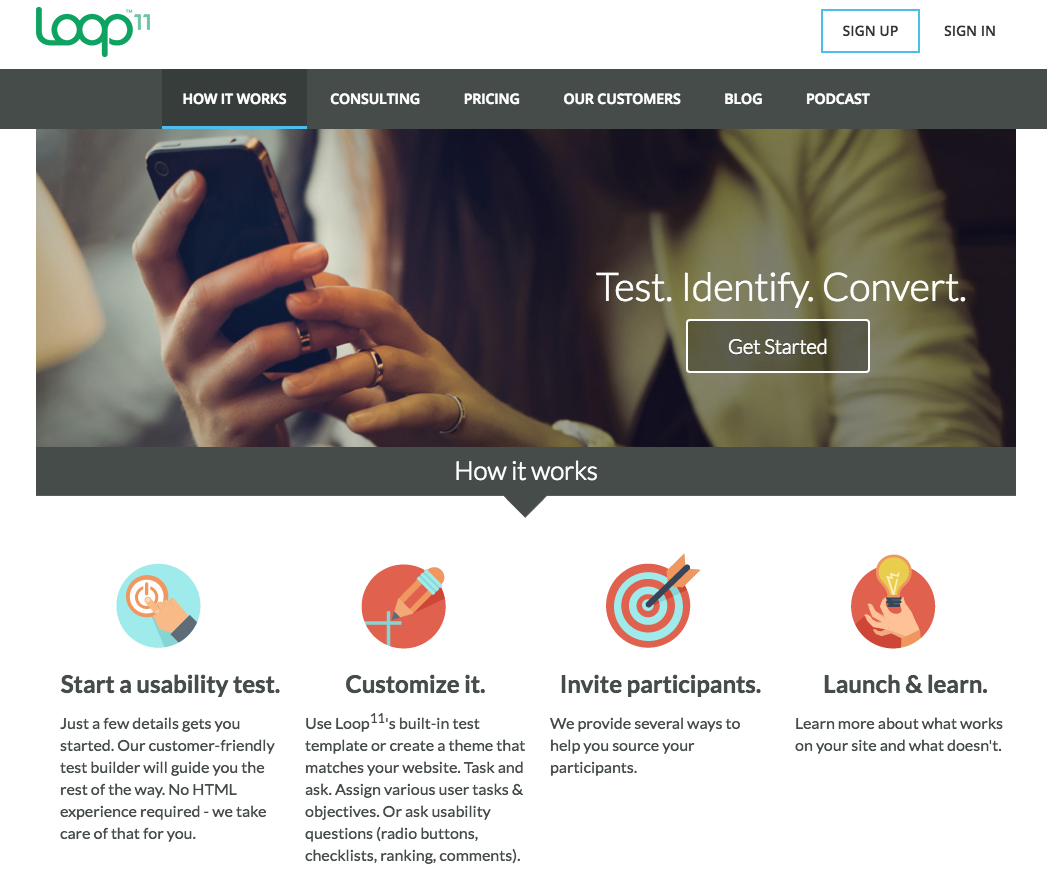 To build your user tests, you simply add two lines of JavaScript to the pages you want to track. You can use available templates or customize a theme for your tasks, objectives and questions. You can also choose your own survey groups, or they offer several ways to recruit participants.
Perks to using Loop11:
40+ languages
Heatmaps, clickstream analysis
Real-time reporting
Mobile testing
Wireframe and prototype usability testing
Accessibility user testing
The cost – $199 monthly for unlimited tests.
A quote from Ben Newton on their unique value proposition:
"Loop11 is the only usability testing tool that offers the combination of big data and user videos, thus enabling you to uncover the 'what' as well as the 'why'. This leads to true insights which make meaningful impact on your product development."
Usability Testing Tool #4: Lucky Orange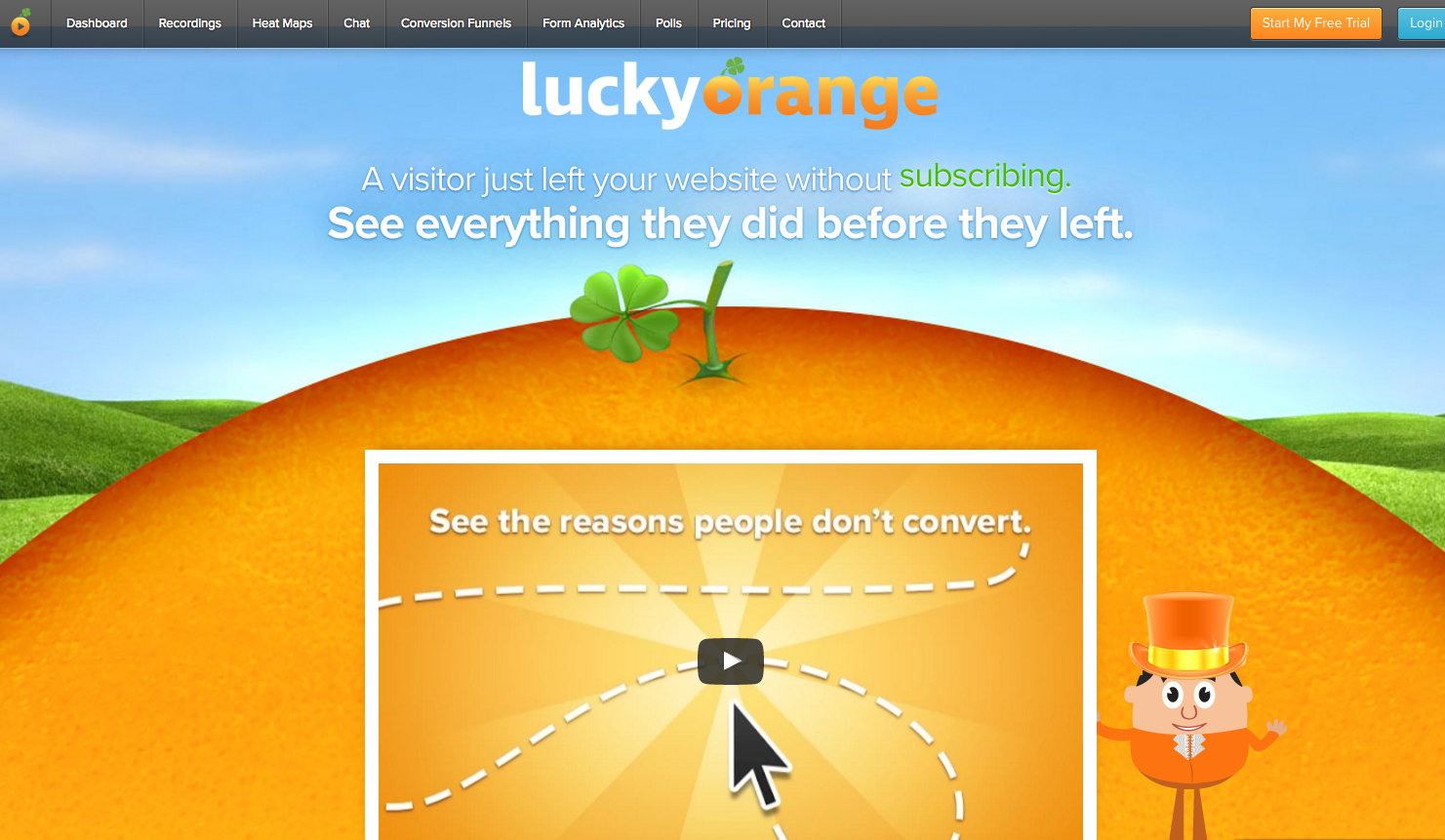 Once it's all set up, Lucky Orange automatically records your site every time someone visits so you can gauge why people are or aren't converting. The reporting comes in dashboard form where you can access heatmaps and conversion funnels. You can even set up live chats and find out in real-time which issues your visitors may be experiencing.
Content Marketing Manager & Community Builder Angi Bowman describes their unique value proposition:
"Visitors are engaging with your website each day, so why aren't your analytics tools giving you that same level of interaction? Lucky Orange's all-in-one conversion optimization suite now includes our new dynamic heatmaps, which pulls back the digital curtain and provides new insight on all of your visitors in real-time through segmentation, scroll depth, and elemental analytics and enables you to watch as visitors toggle menus, open popups, or move through forms – you can even see how users who completed a purchase or signed up interacted differently with a webpage than those who didn't."
The price – $10 monthly.
Usability Testing Tool #5: Mixpanel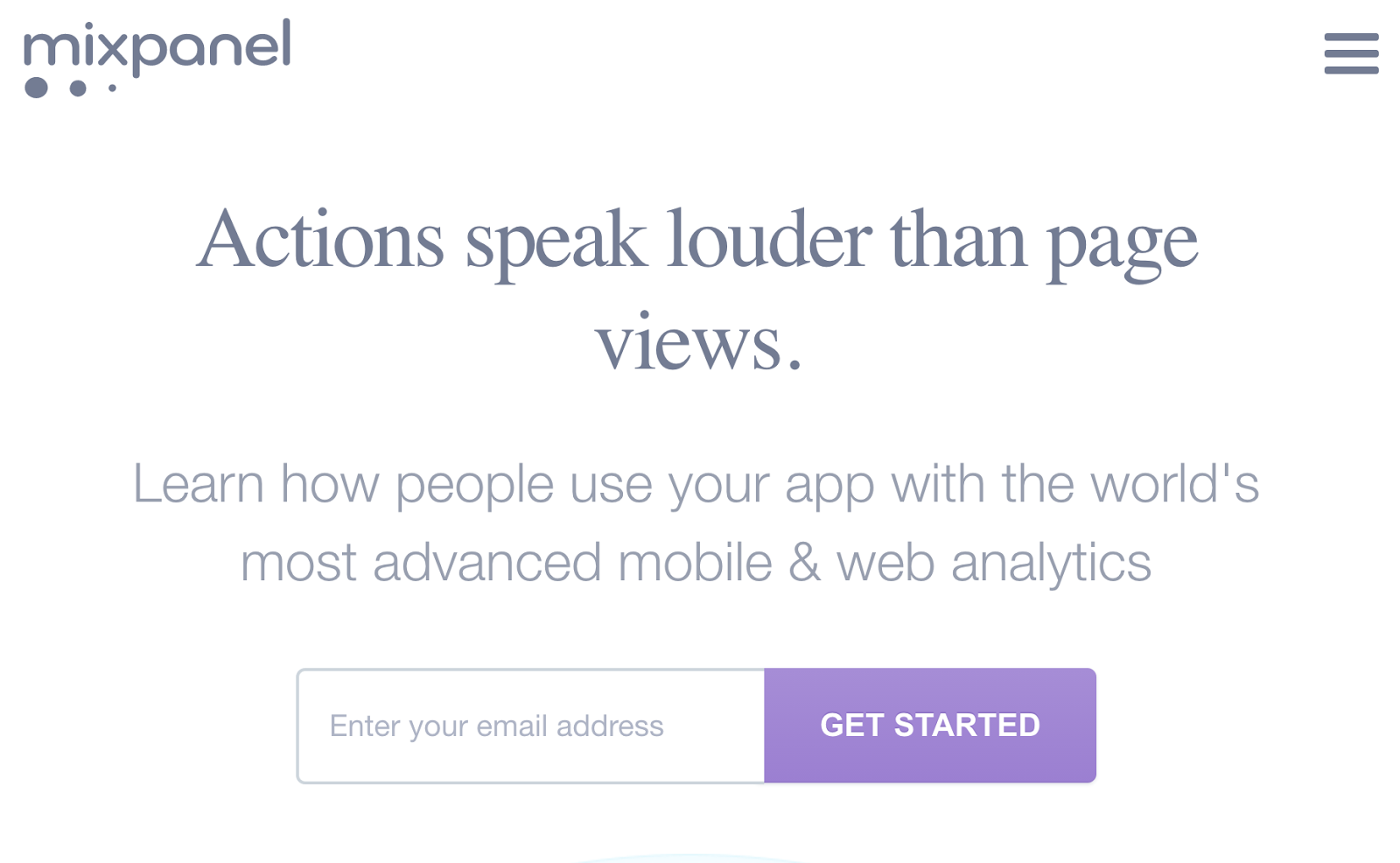 Mixpanel tracks the behaviors of your visitors and offers point and click analytics on both web and mobile. For mobile, they have an activity feed that tells you the timeline and path people that take while using your app. They even predict who will convert and who won't.
The tool will measure engagement levels, retention, funnels and allows for mobile survey conducting.
The cost – ranges from $0 to $999 annually depending on data usage.
Usability Testing Tool #6: Morae AutoPilot by TechSmith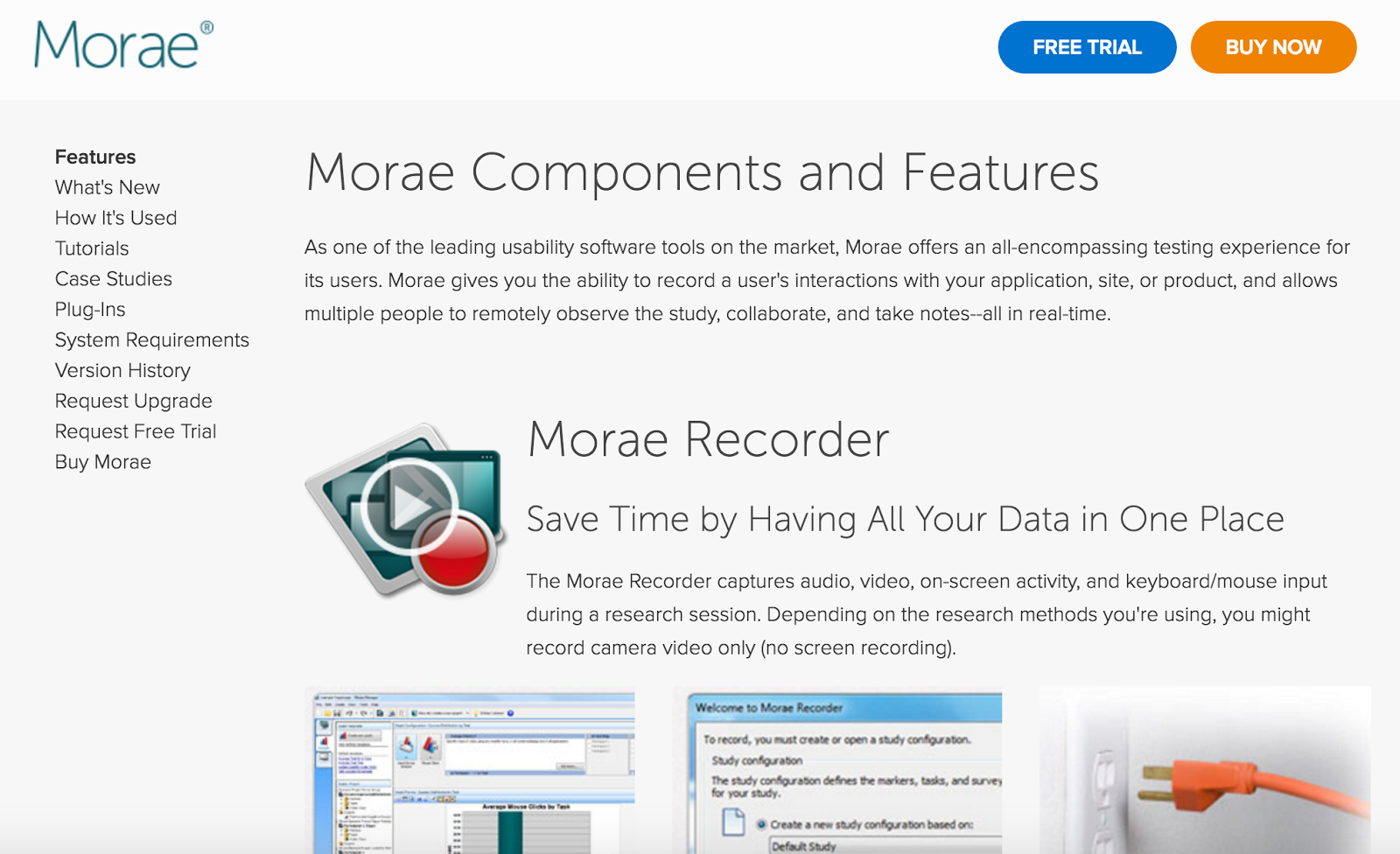 With Morae AutoPilot you can run unmoderated remote sessions that log tasks and present surveys automatically. You can also set up the Morae Recorder if you want your participants to be left alone, or you can use the Morae Observer if you want to watch closely and even chat with your participants before and after they take your usability tests.
If you want to take your usability testing to the moderated level, Morae helps you with market research, focus groups and in-depth interviews.
They also offer mobile device and hardware testing.
Morae's CEO, Wendy Hamilton, describes their unique value proposition:
"Morae helps you gain valuable insight about your product and removes the guesswork from your decisions. Record user interactions, analyze the results and instantly share them with anyone, all from within Morae."
The cost – $1,995 for the whole suite.
Usability Testing Tool #7: Notable by ZURB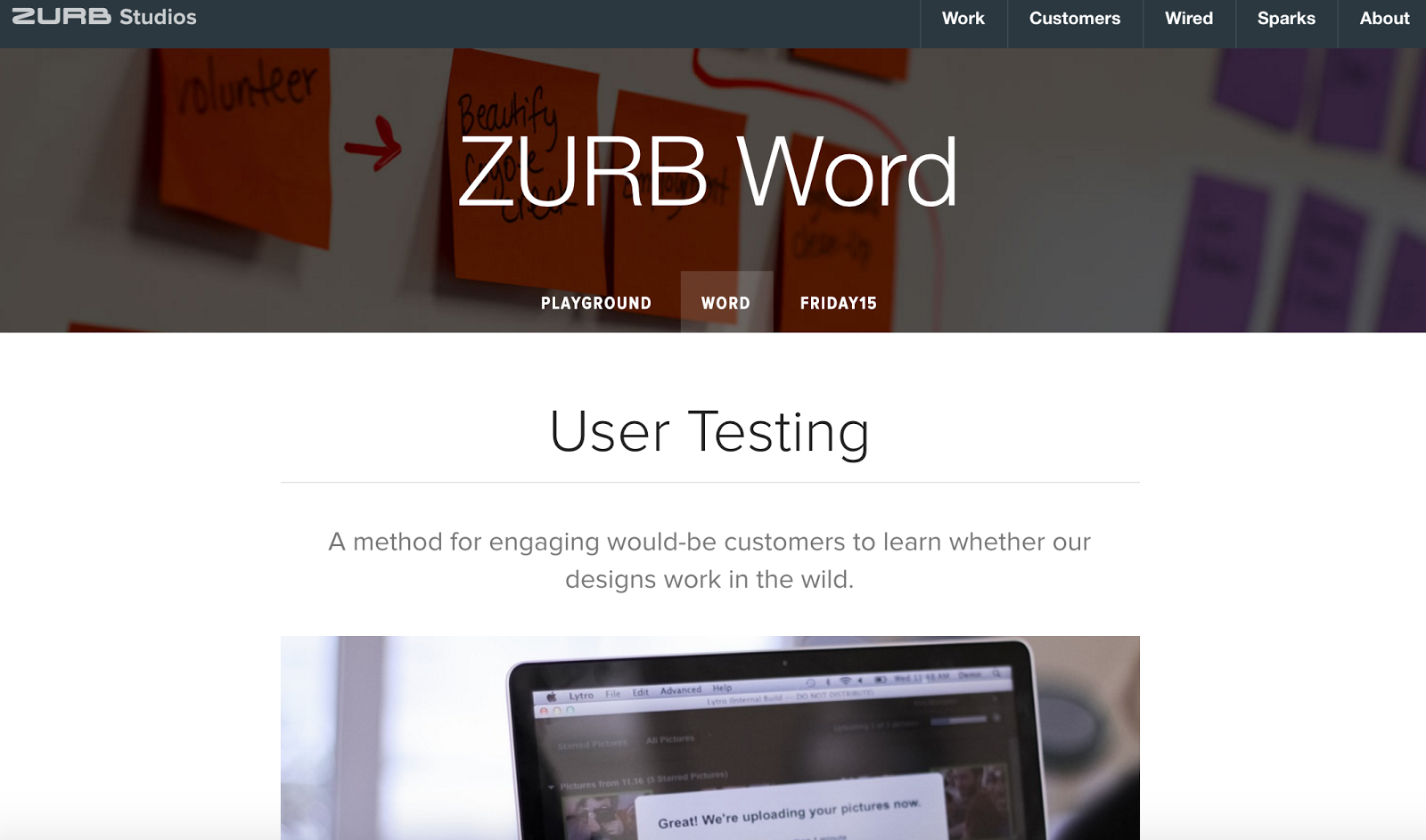 ZURB's Notable offers the ability to run various types of testing: direct observation in a lab setting, remote testing, direct observation in field study.
Their recruiting options – guerrilla, participant users, setting incentives, reusing participants, DIY recruiting.
Beyond their 12 usability tests like preference tests, click tests, or question tests, Notable also offers the ability to upload and test clickable prototypes, created by static images strung together by hotspots.
The cost – $20 monthly per user for full access to the Notable app.
Usability Testing Tool #8: Optimal Workshop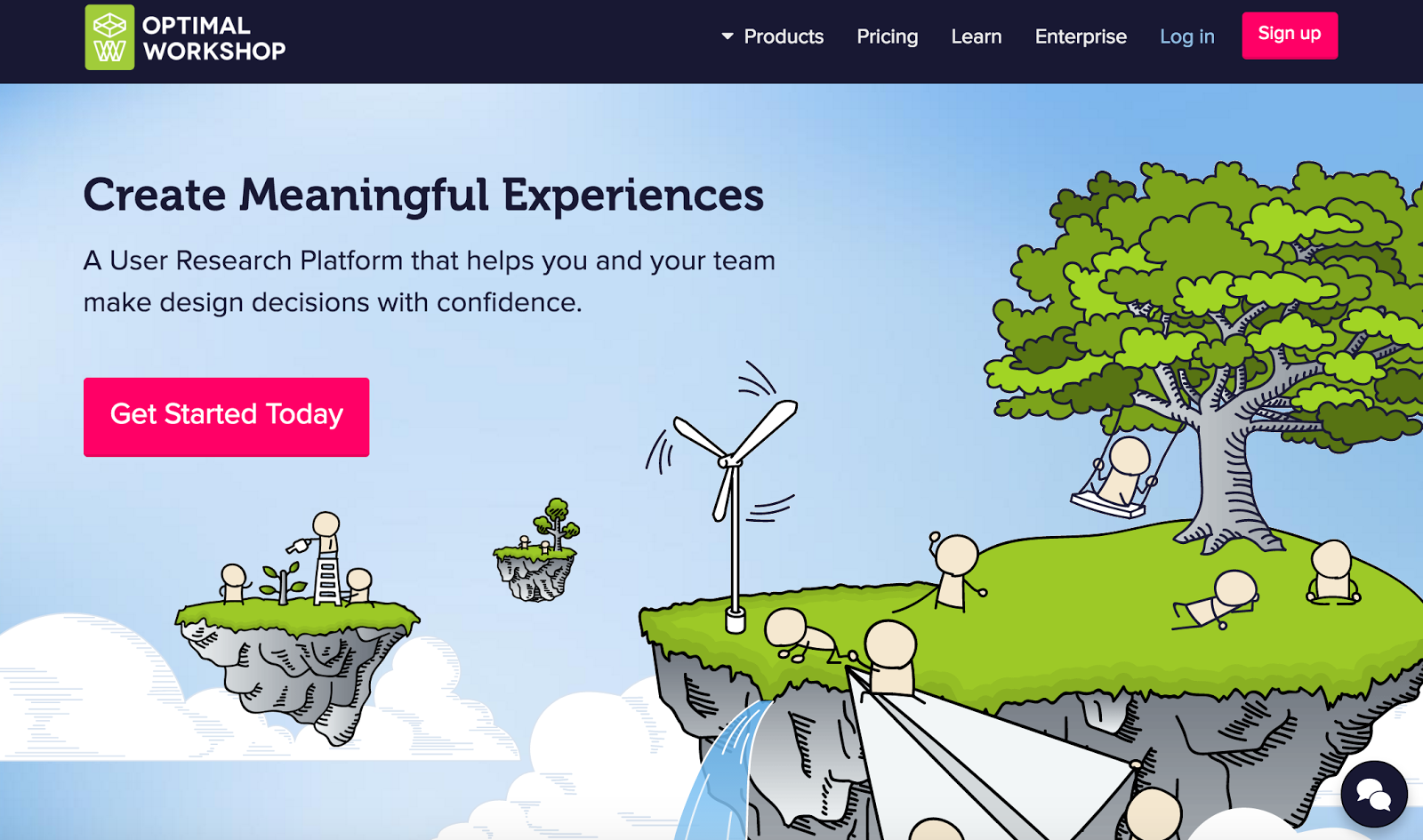 Optimal Workshop offers a whole suite of usability tools that help you up your game in website navigation, information architecture and understanding your first clicks. They help you recruit for both remote or in-person sessions and pull from a pool of 10 million participants globally (and in over 70 languages).
Their reporting formats:
Pie-trees – their tree testing report (aka Treejack) tells where users got lost in their tasks
Similarity Matrixes – this feature combines card sorting with participant's mental models
Heatmaps – click testing and first-click testing
Chord Diagram – makes sense of relationships in your qualitative research
Click Density Grid – a way to view click results on a colored grid
The cost – $166 monthly for the suite
A quote on their unique value proposition:
"Optimal Workshop is a user research platform that makes life easier for anyone trying to design things better. Their tree testing, card sorting, first-click, survey and qualitative research tools enable organizations, big and small, to test, benchmark and make evidence-based design decisions."
Usability Testing Tool #9: Outsprung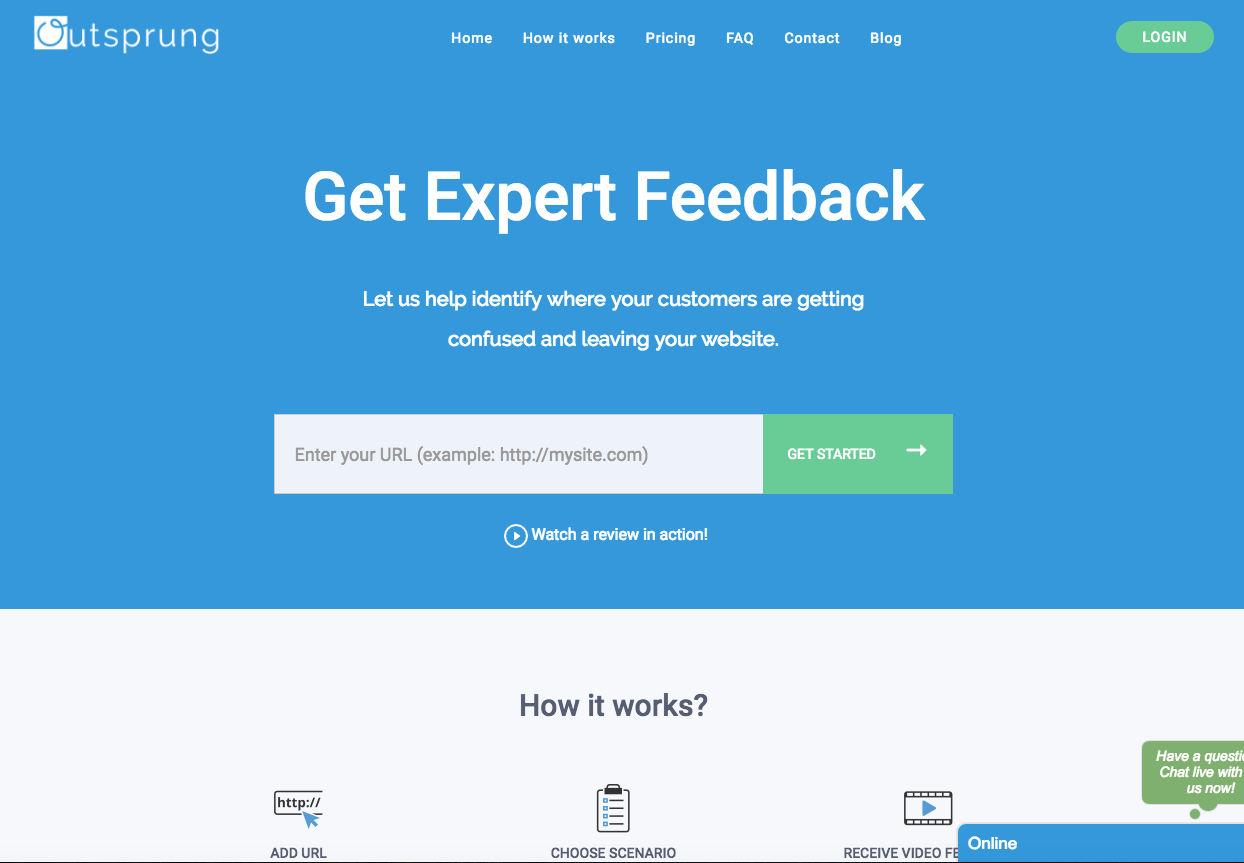 Outsprung allows you to input your URL, choose scenario and then receive video feedback from one of their experts. They deliver their feedback to you in a recorded screencast.
The price – $29 for a basic package of 10 minutes of testing and Q&A follow-up consultation.
Usability Testing Tool #10: Ovo Studios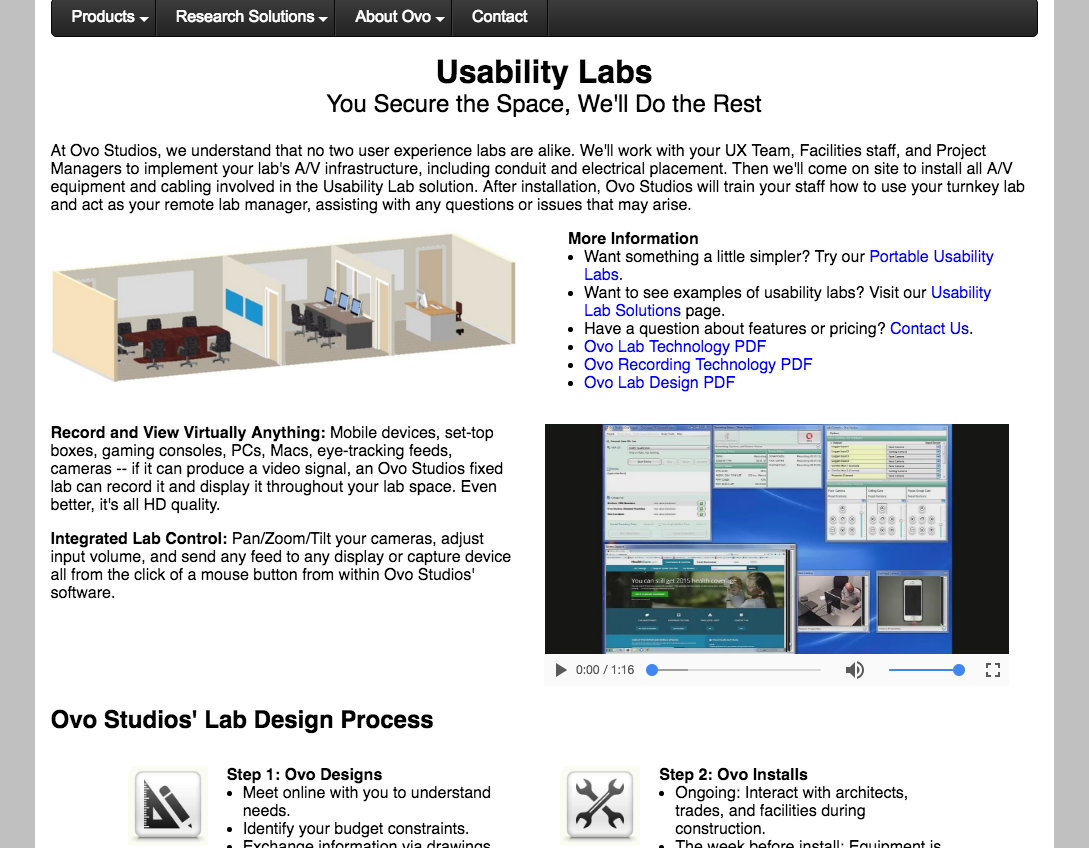 Ovo Studios offers usability solutions for the enterprise level and they even have labs, portable labs and studios that are ready to conduct testing in high volumes. They have the tech setup to record multiple inputs to stream to a team of observers.
Their solution called Ovo Logger supports almost any research methodology, where you can take real-time or post hoc notes, use transcribing features or view and log remotely across multiple observers.
The price – upwards of $3,000 depending on the scope of the project.
Scott Butler of Ovo Studios describes the firm's unique value proposition:
"Ovo Studios is a usability lab design and build firm run by usability professionals. Ovo has supplied fixed and portable labs with integrated software tools to product design, user experience, and usability professionals for eighteen years."
Usability Testing Tool #11: Peek by UserTesting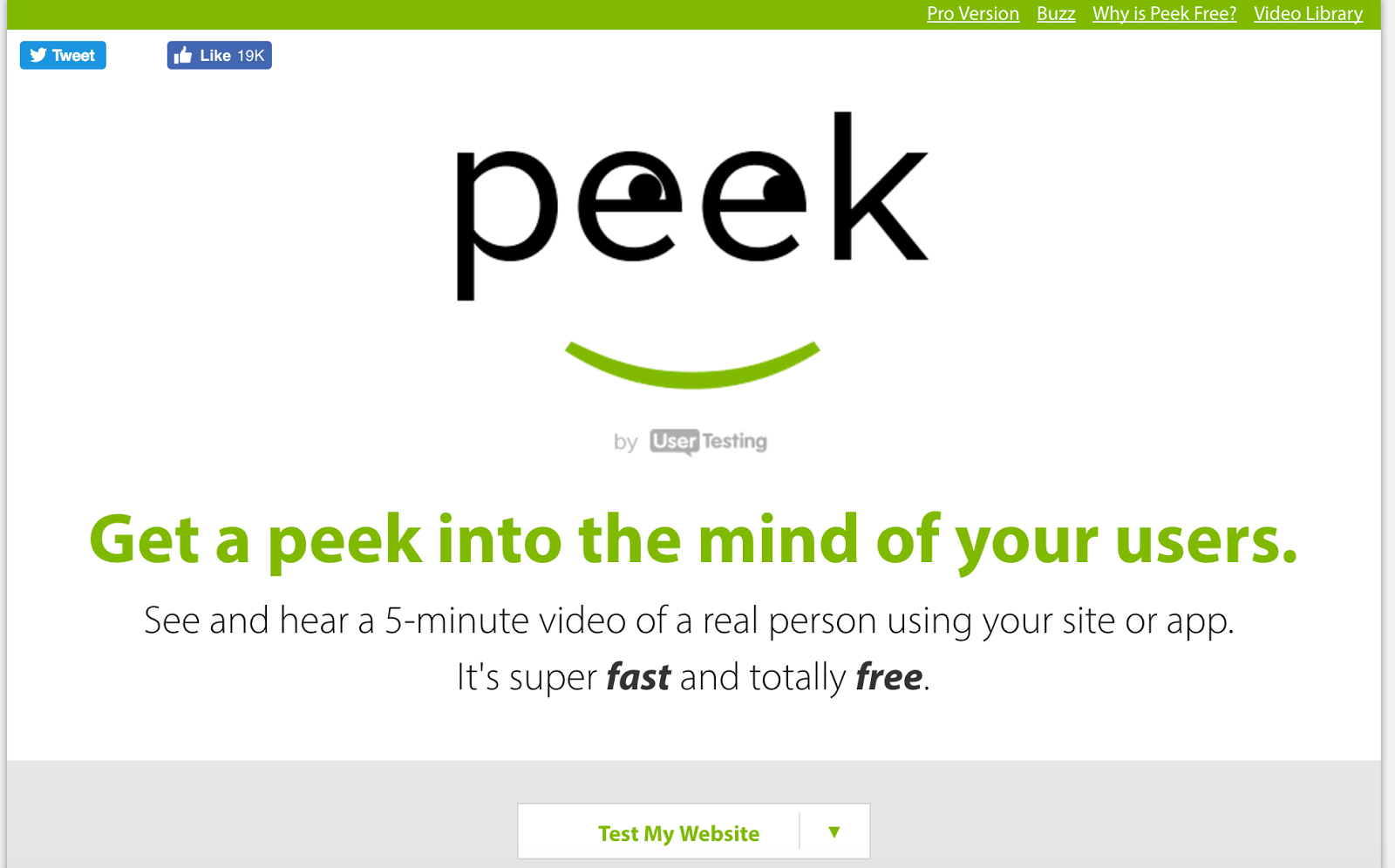 Peek is the micro version of UserTesting, created so more companies of any size can afford faster usability testing. The test length is typically five minutes, using random participants that follow a preset list of tasks.
The pros – it's free, and you get three tests per month. Additionally, you can run mobile usability tests.
The cons – there's no video editing or sharing tools, no comprehensive testing with moderated or focus group options, and no access to a research team that helps run tests and watch your vids. For the full blown version, opt for the UserTesting suite.
Usability Testing Tool #12: TryMyUI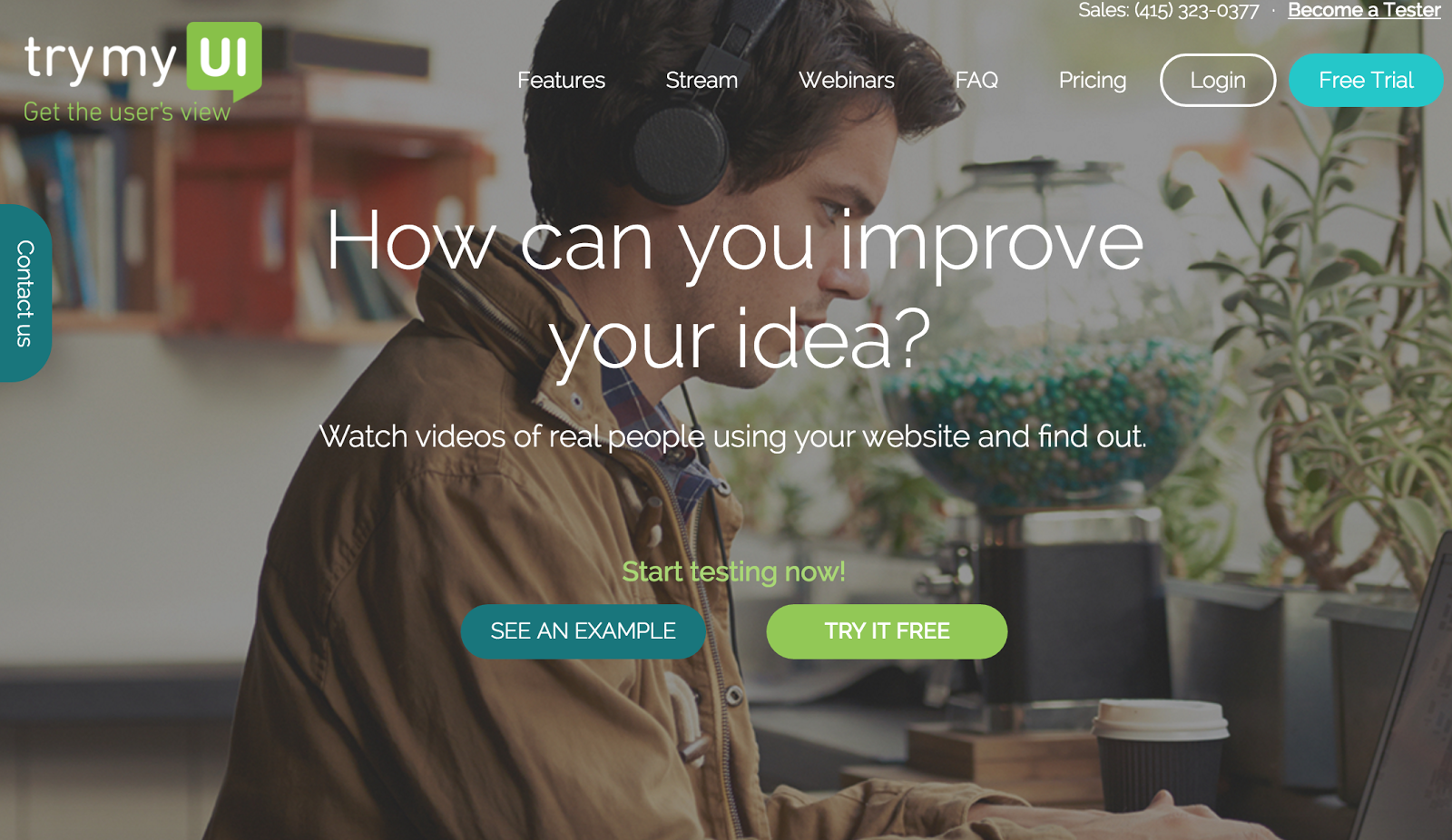 Their tagline is "get the user's view" and they offer it in three steps:
Set up your test – scenarios and tasks
Pick your target user – they have an expansive demographic pool to pull from
Watch the video – you can hear what your users are thinking and see where they get miss the mark
Features – remote testing, concept mapping, wireframe and prototype testing, impression testing, written survey, ability to use own users, and a mobile option.
The price – $35 per test or $299/monthly per team
Co-Founder and CEO, Ritvij Gautam, describes their unique value proposition:
"TryMyUI's UXDiagnostics, tool deals with identifying pain-points in the user journey across the tester pool, UXCrowd treats testers as an intelligent group of people to unearth which pain-points affected the most users, Collaborative Annotations allows you UX team to simultaneous annotate the insight points in videos and share them with each other and Highlight Reel lets you take those annotations, pick the relevant ones, and stitch them into a distilled reel of insights. TryMyUI is built for a whole product team to get user data, analyze it collaboratively and effectively communicate insights and actionables in a deadline driven manner."
Usability Testing Tool #13: UsabilityHub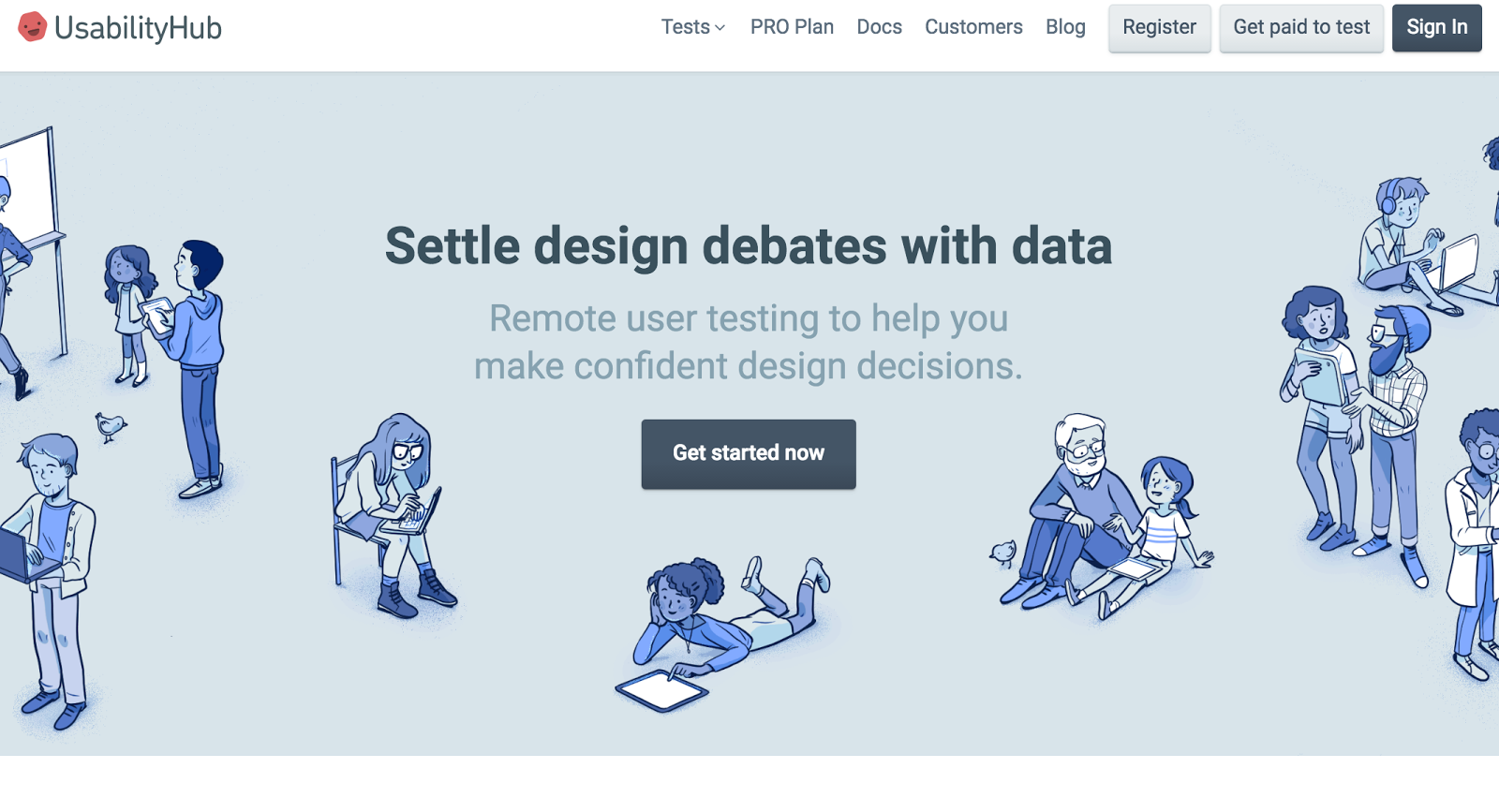 In addition to the Five Second Test, Usability Hub has an entire suite of tools available:
Click Test – this tool helps you understand first-clicks, click clusters and average click times on your page. You can upload a static image and give testers a task to complete. Heatmaps apply to mobile, mockups and wireframes as well.
Question Test – their survey tool allows for feedback in question/answer form. The survey results provide number of responses, average duration, raw data and word cloud reports.
Navigation Test – this test helps you hone in on best usability for sequences on your site. Upload your design sequence, call out hit zones, formulate tasks and check out the results. The reports show you how many users completed the sequence, where they clicked or fell off, and the duration.
Preference Test – the preference tool basically gives your users the chance to vote on variants.
The cost – $99 monthly for the pro version
A quote on their unique value proposition:
"UsabilityHub offers fast and affordable usability and customer insight surveys to help your team make design decisions with confidence. Recruit participants from your own audience, or get responses from the in-built panel of testers from around the globe."
Usability Testing Tool #14: Usability Tools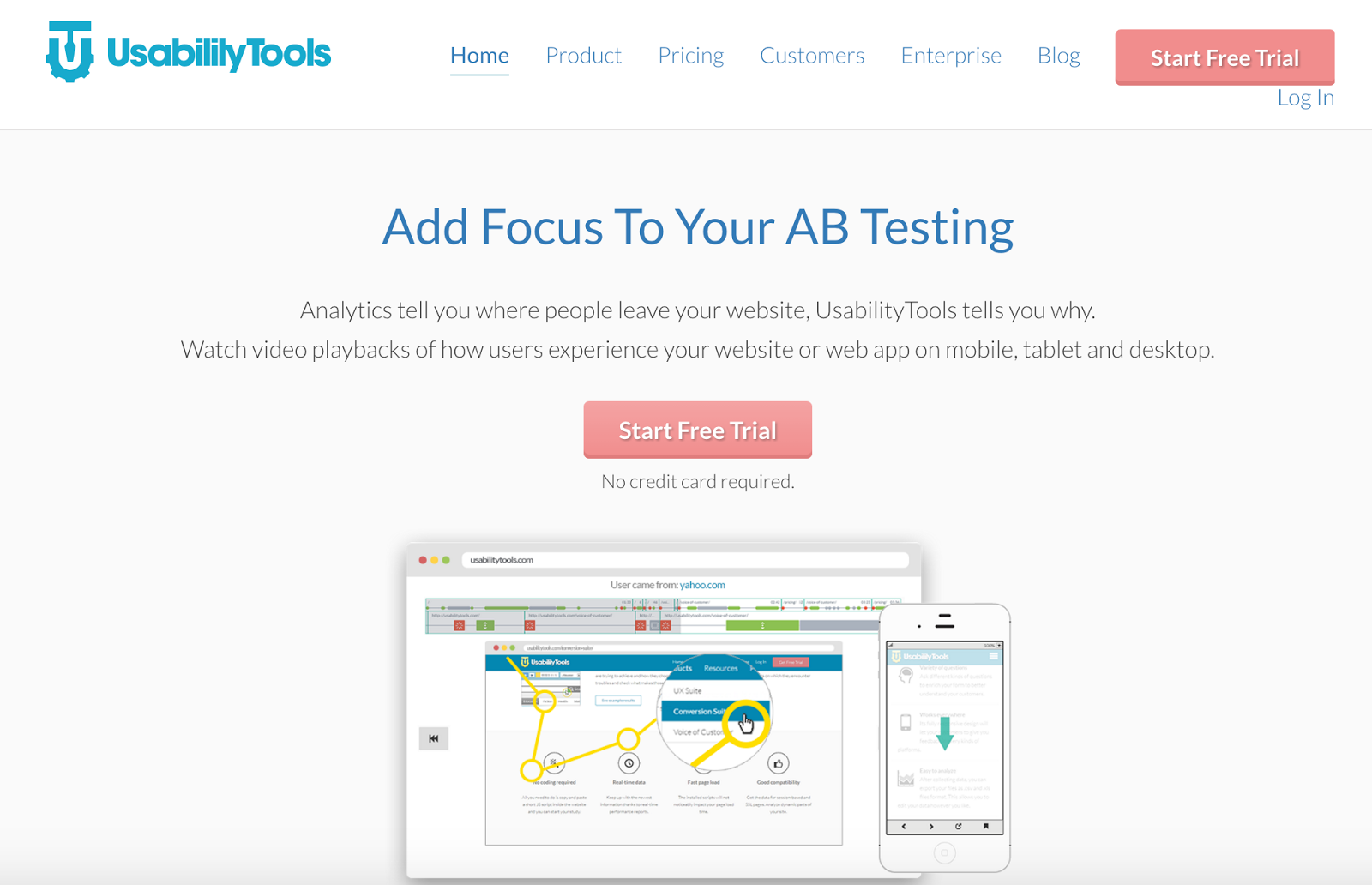 You can run unmoderated remote usability testing with Usability Tools. Their reporting comes in the form of heatmaps, form analytics, screenshot click testing and card sorting. The sessions can be recorded and you can easily sort through your results via filters.
And your recruiting process can be handled through their integrated research panel, where you can hire the respondents through their panel, or you can recruit participants yourself, send a link or even insert a pop-up on your site.
The cost – $29-$49 monthly for SMBs and high traffic sites or $300 monthly for enterprises.
Usability Testing Tool #15: UserFeel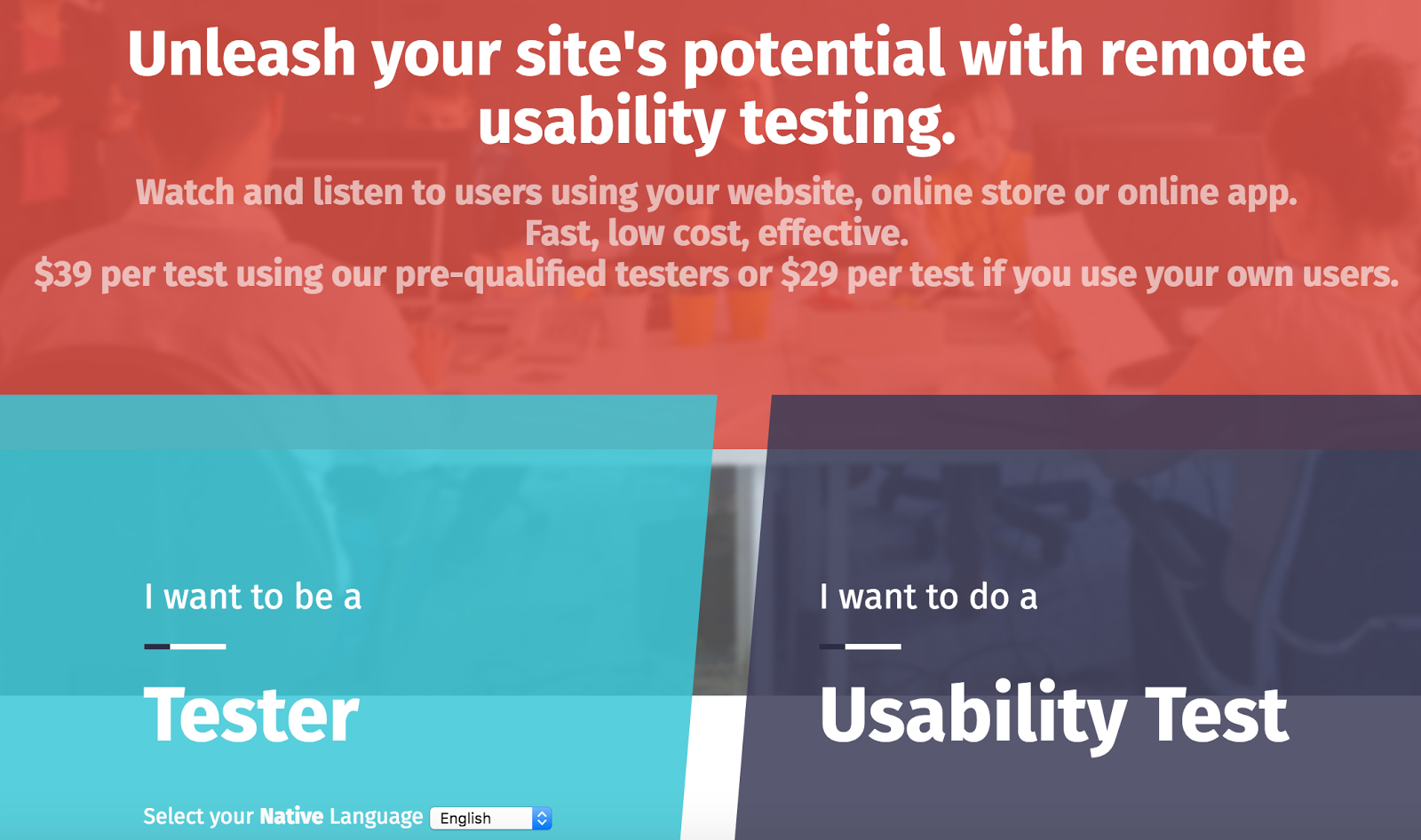 Right off the bat, UserFeel segments their website visitors into businesses that run tests vs. test-takers, which means they have an expansive pool of participants to recruit from.
UserFeel focuses on remote usability testing. They offer usability testing for multiple languages, and record testing participants through video coverage, voice-over commentary and recording mouse movements.
The cost – $39 per test to access their participants or $29 per test to use your own.
A quote on their unique value proposition:
"Userfeel.com is a remote usability testing tool that allows you to have 15-minute videos of users using your website or web app. Listen to their thoughts and watch their moves as they try to get through your the tasks you have set for them to complete. The idea is simple, but extremely revealing, leading to easy conversion optimization wins."
Usability Testing Tool #16: Userlytics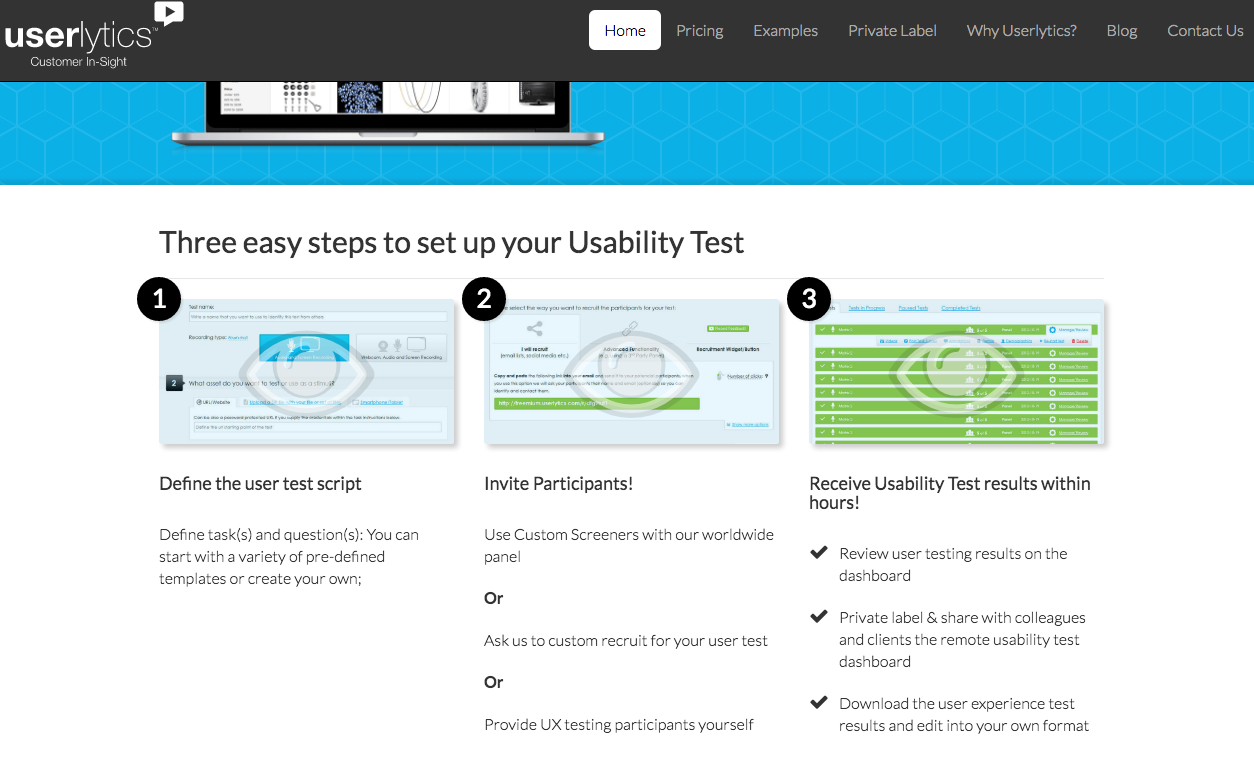 Userlytics provides customer insight in three steps:
Define the user test script, which can be tasks and questions. They have templates or you can create your own.
Recruit your own participants or Userlytics can custom recruit. They have a worldwide panel that screens participants for you.
Review your results within hours.
The price – $49 per participant for the Pro Plan. With this level, you get an advanced screener and they advise on testing scripts and exit surveys.
Userlytics's Alejandro Rivas-Micoud describes their unique value proposition:
"Userlytics is a remote user testing platform for analyzing the mobile & desktop usability of digital assets, in a scalable fashion. It leverages a worldwide panel of respondents, segmented through behavioral and demographic screeners. This Agile UX Testing platform combines task/question branching logic with 'Picture-in-Picture' based video capture (Respondents in their natural settings and what they do, see,
hear and say)."
Usability Testing Tool #17: UserTesting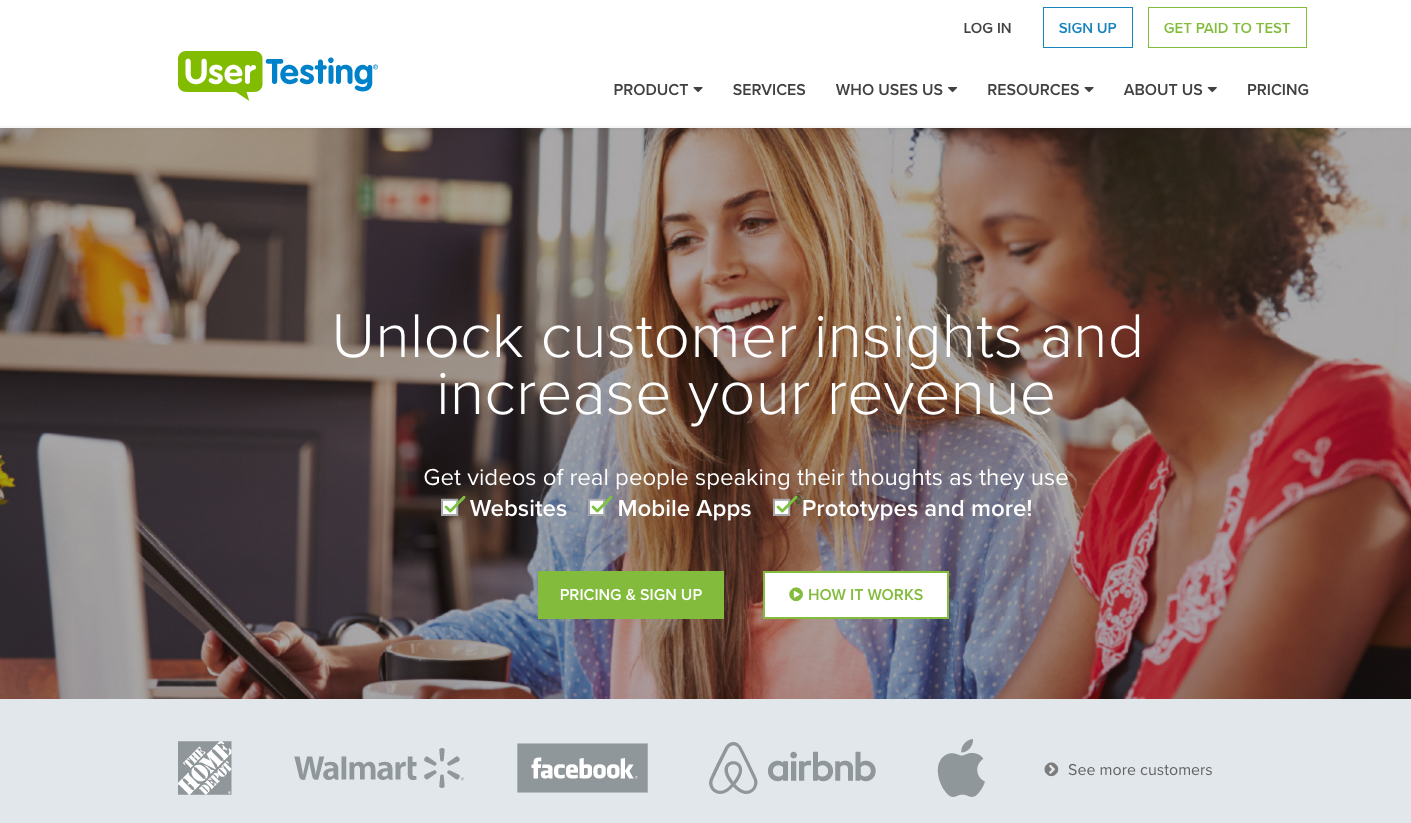 UserTesting offers the ability to test on any device, site, app or prototype. They do the recruiting of your target audience and perform detailed analysis with their own expert team of researchers. This is all part of their Pro Plan. In the Basic Plan you can watch videos of participants and test on any device.
The price – $99 per video for the Basic Plan and varied subscription prices for the Pro Plan.
A quote on their unique value proposition:
"UserTesting is the fastest and most advanced user experience research platform on the market. We give product managers, marketers, and designers on-demand access to people in their target audience who deliver audio, video, and written feedback on websites, mobile apps, and prototypes."
Usability Testing Tool #18: UserZoom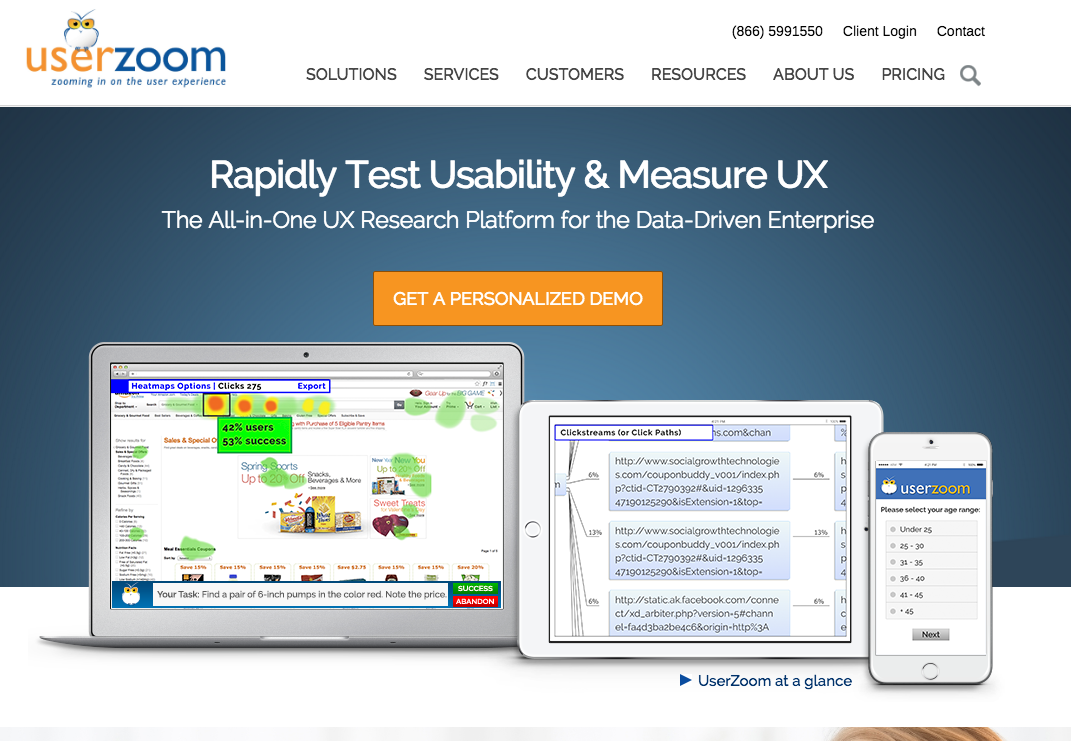 UserZoom offers a wide arrange of usability testing solutions to include: remote unmoderated, mobile, app, prototype, concept testing. They also have an international network to pull from in over 17 languages.
Their reporting format includes: card sorting, tree testing, screenshot click testing, and screenshot timeout testing.
Additionally, the features they offer include:
Team of researchers and data scientists to assist with creating your tests and data analysis
Video recorder that captures screen, face and audio
Same day results
Recruiting for your target audience
Integration of web analytics, customer experience and voice of customer
The cost – $24,000 annually.
CEO Alfonso de la Nuez describes UserZoom's unique value proposition:
"UserZoom provides an all-in-one Agile UX research platform for the data-driven Enterprise. Our cloud-based solution gives customers the ability to scale their User Experience research, rapidly test usability, and measure their Customer's Experience on web and mobile properties. We connect Enterprise businesses with their exact target market and empower them to conduct agile usability testing, collect real-world behavioral analytics and other UX related research."
Usability Testing Tool #19: Uxeria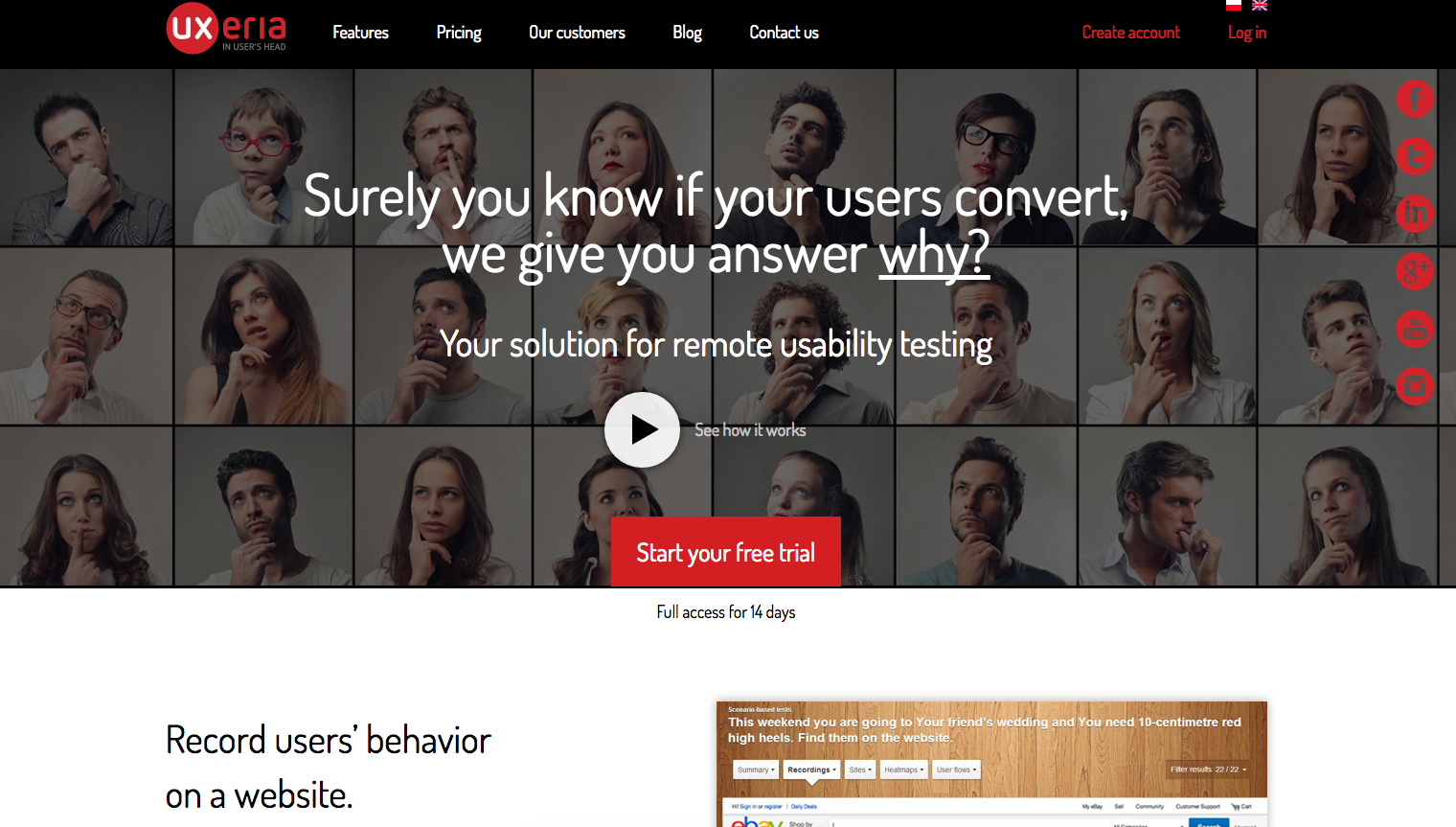 Uxeria helps you do it all – they help you create usability tests, recruit testers, prepare conclusions and create reports.
Their testing options:
Scenario tests
Click and comment
X-second tests
Questionnaires
Tree testing
Intuition card sorting, close card sorting and category card sorting
The tools they use in preparing conclusions:
Recordings
Website area and comments
Graphs, user flows, navigation tolerance diagrams
The cost – custom pricing depending on your needs.
Usability Testing Tool #20: UXPin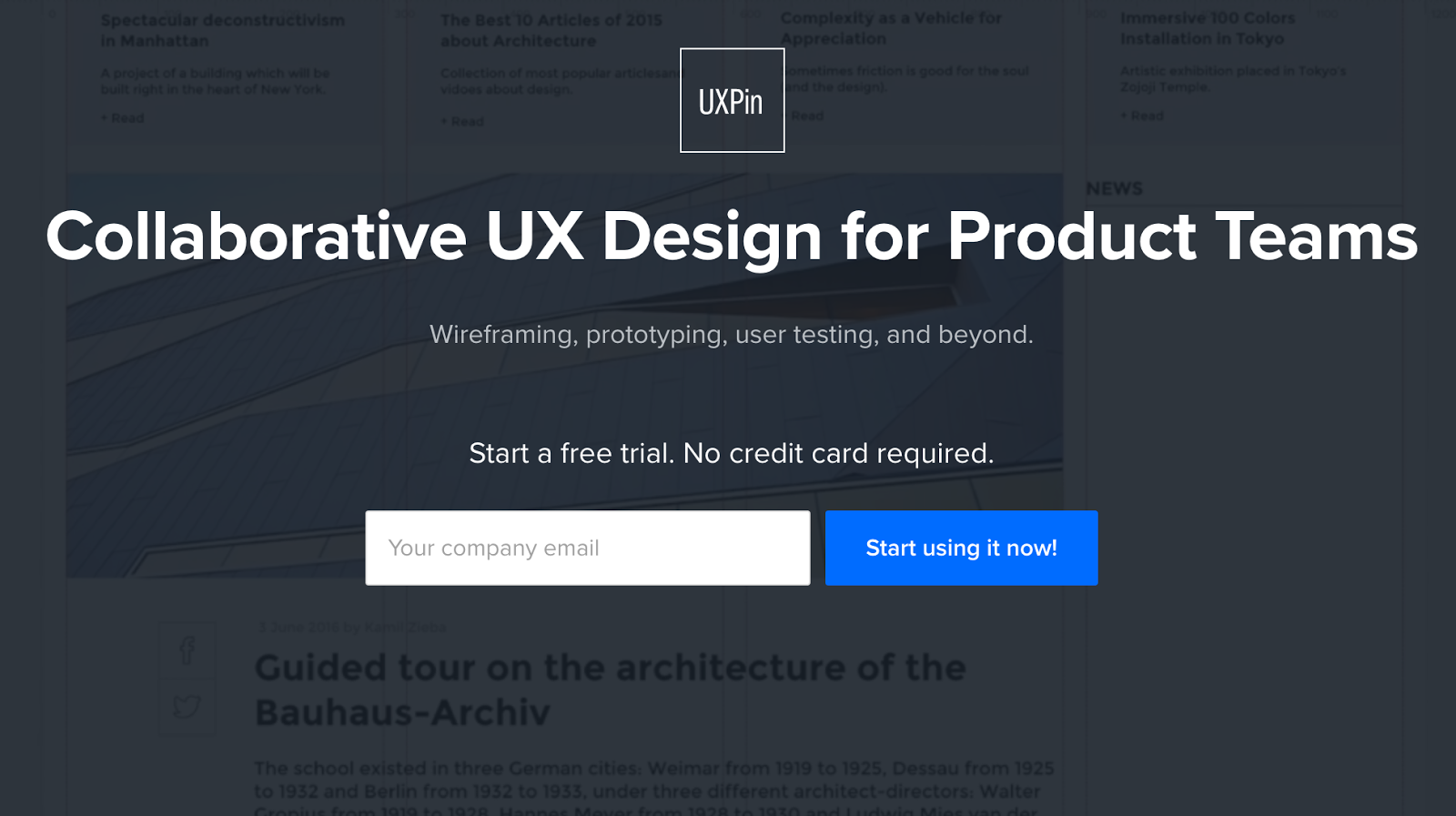 UXPin offers real-time usability testing, where you can create tasks, record clicks, screens and facial expressions. Good for testing wireframing and prototyping also.
The cost – they offer a free kit that includes five templates, or the usability testing tools come with their $99 monthly team package.
Caveat – their usability testing tools are relatively new and still in beta.
Usability Testing Tool #21: WhatUsersDo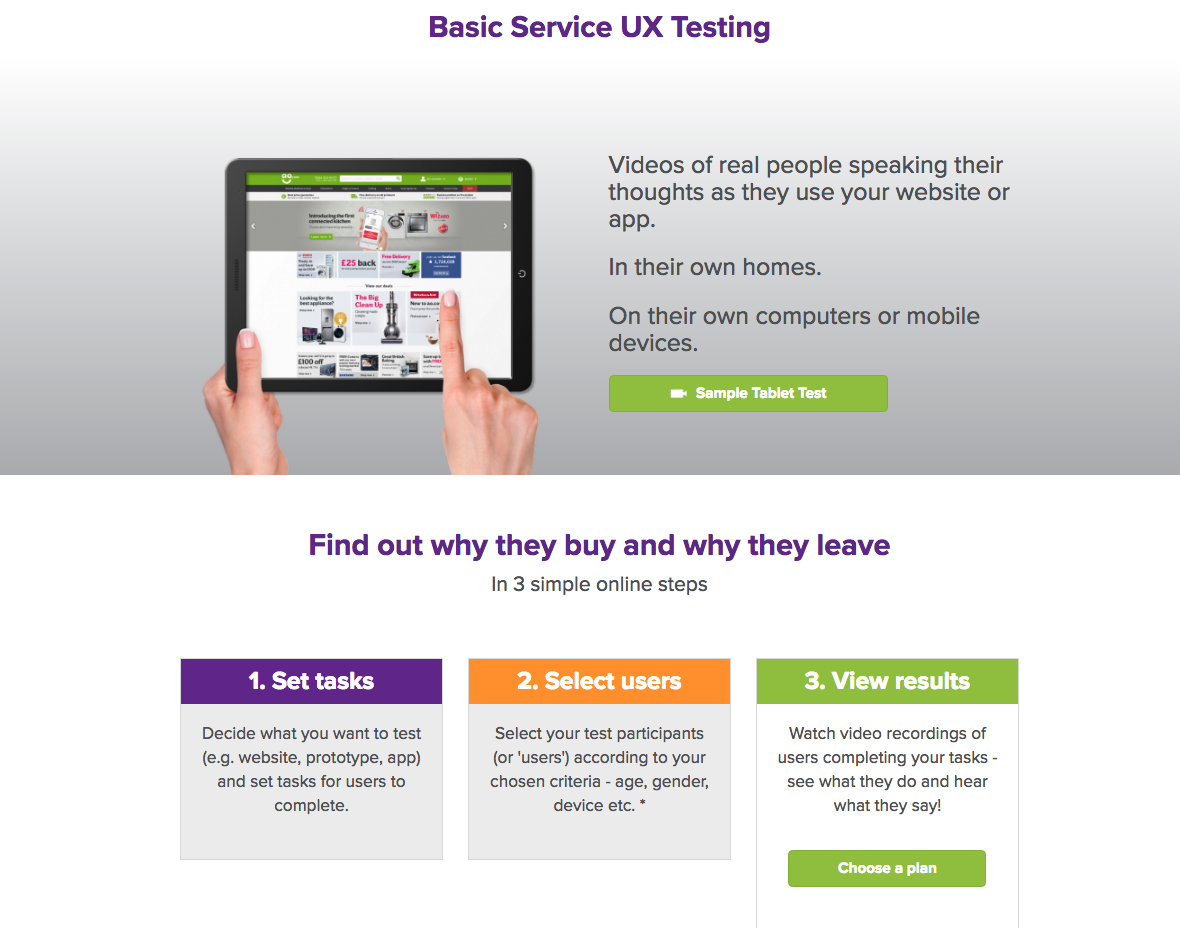 WhatUsersDo offers usability testing for all levels: those looking for a simple video capture to those looking for a full-service team.
You can get on-demand videos of users interacting with your sites and apps, which will help you identify bugs and conversion stoppers. You set the user testing tasks, recruit participants from a large pool of users and receive your videos.
In the full-blown version you can utilize their team of panelists and analysts.
Pricing ranges from $28 per video or $3,655 per full service project
"WhatUsersDo helps you understand the 'why' behind the 'what' of your customer data through user experience (UX) testing and optimization.

With access to over 30,000 people across Europe and the US, WhatUsersDo provides on-demand videos of real people engaging with your site, app or prototype on any device, speaking their thoughts as they do so.

These moments of customer insight can be tagged and shared within an organisation to drive UX improvement across key customer journeys, and help businesses understand their audiences."
Eye Tracking
Usability Testing Tool #22: Affectiva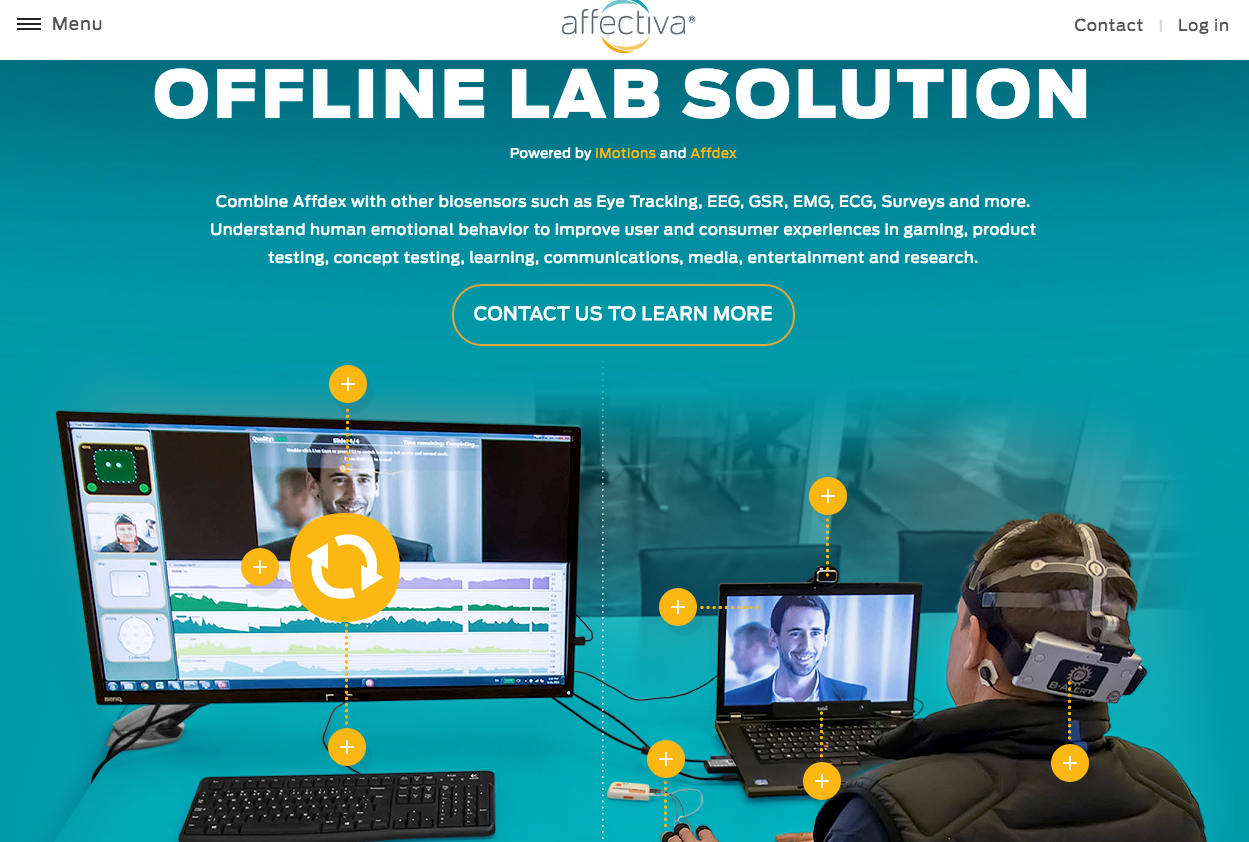 This takes eye tracking to the next level, where you can use webcams and device cams to monitor emotional engagement. Their main focus is the gaming industry, but imagine what it can do for testing website usability.
They have an offering called Emotion as a Service, where you send them your video and their experts will spit out highly accurate emotion metrics after analyzing participant expressions.
Their most comprehensive option is the Offline Lab Solution where they combine their testing technologies, which they call biosensors – eye tracking, EEG, GSR, EMG, ECG, surveys, etc.
Usability Testing Tool #23: AttentionWizard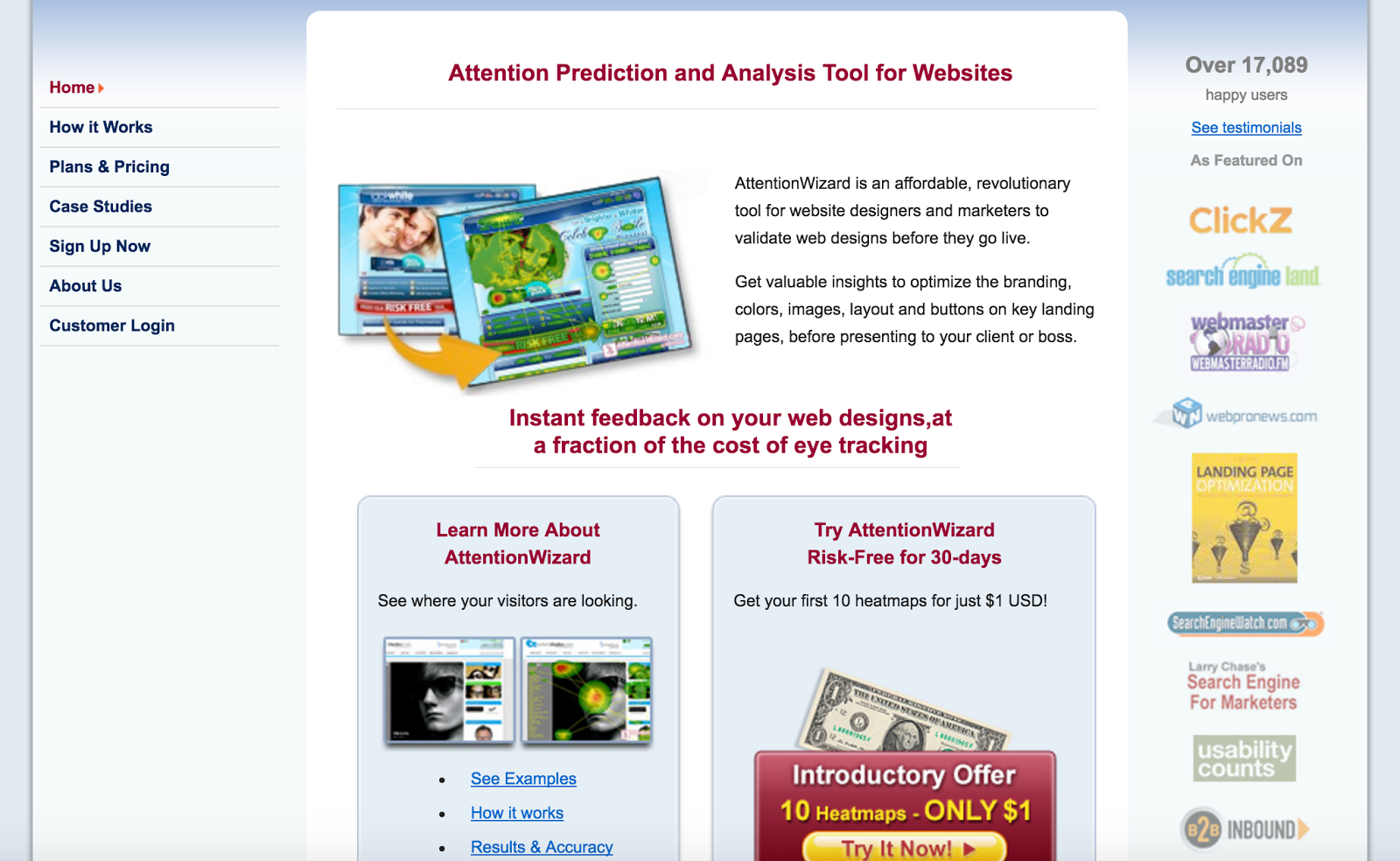 Rather than record where your subjects' eyes scan, AttentionWizard simulates human vision for your pages based on an algorithm that predicts what a real human would look at. They continuously test against actual eye tracking studies and consider features like:
Color differences
Contrast
Density
Brightness and intensity
Edges, intersections, curves, lines
Length and width
Letters and text size
Skin texture and human faces
Usability Testing Tool #24: Feng-GUI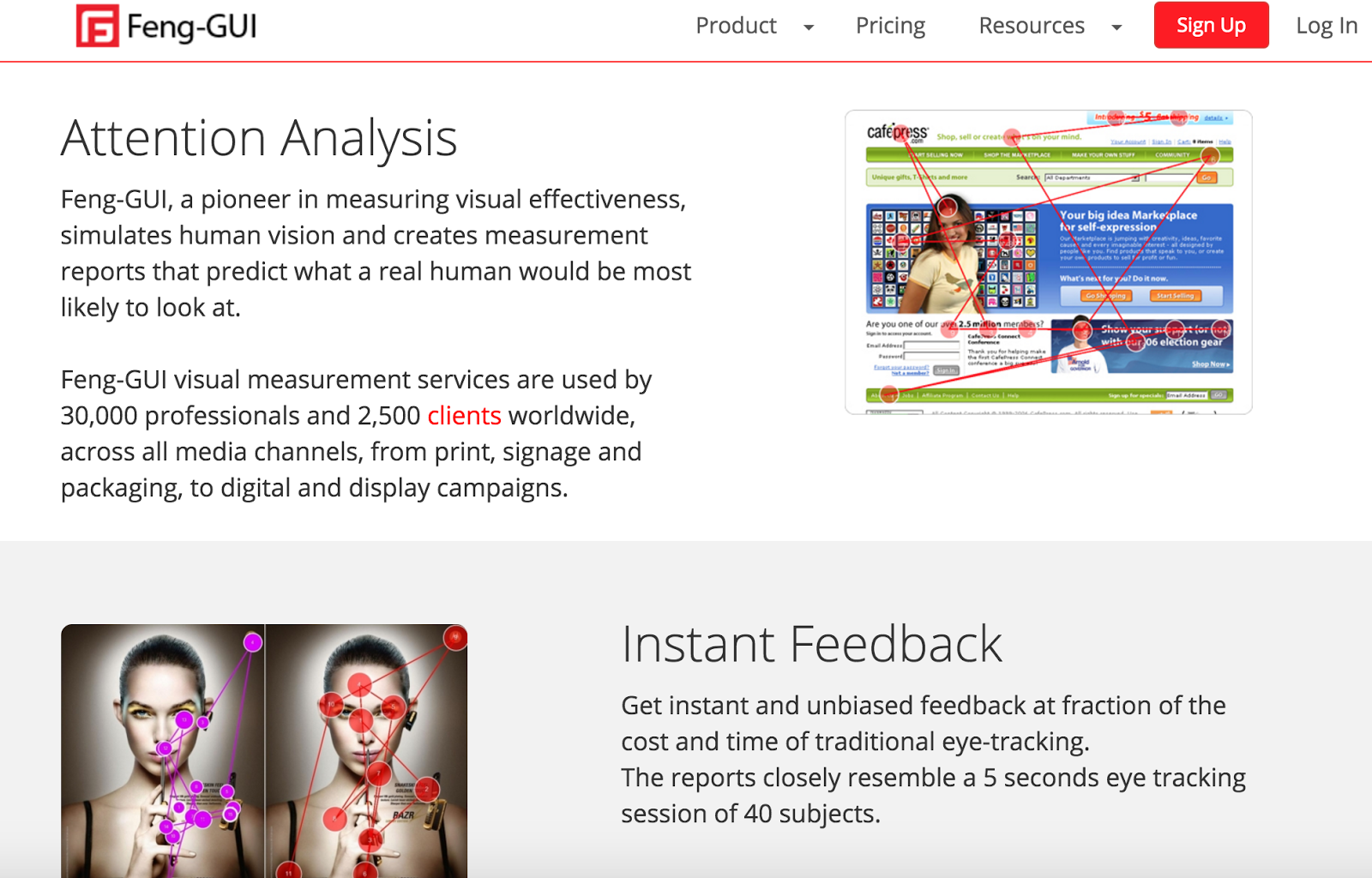 Feng-GUI offers an eye-tracking tool that measures visual effectiveness, which will help you predict what a real human will most likely look at. They also provide instant feedback and dish out reports that closely resemble 5-second eye tracking sessions of 40 participants.
Feng-GUI's Rafael Mizrahi describes their unique value proposition:
"Feng-GUI, a pioneer in measuring visual effectiveness, simulates human vision and creates measurement reports that predict what a real human would be most likely to look at. Instant feedback on your designs, at a fraction of the cost and time of traditional eye-tracking.

Feng-GUI has analyzed over 3.5 million webpages and ads for over 2,500 customers and 30,000 professionals around the world across all media channels."
Usability Testing Tool #25: Heat-map.co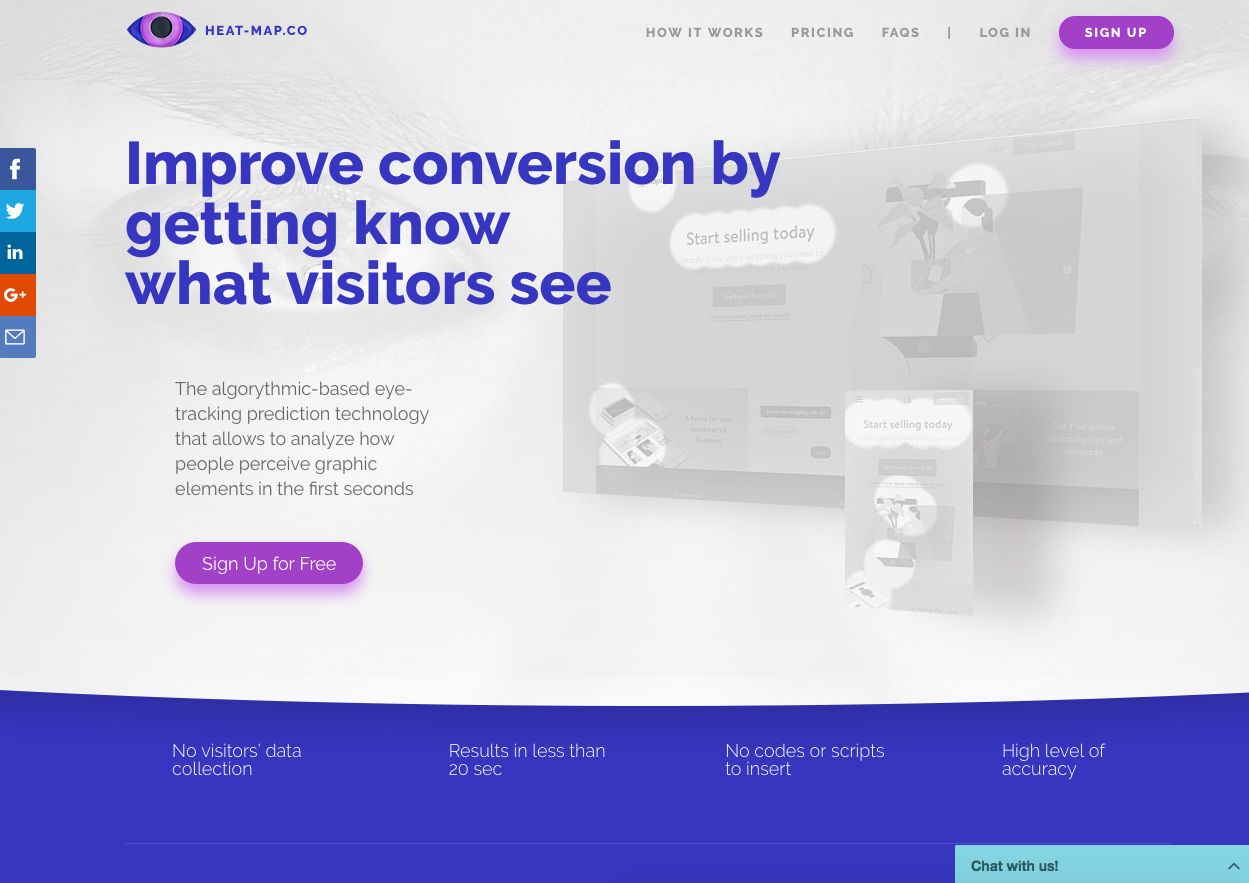 Similar to AttentionWizard, Heat-map.co doesn't require a code or script insertion to your site. Rather than collecting visitor data, the tool uses algorithmic-based eye tracking prediction to show you how people are assumed to see your site in the first seconds.
They provide attention heatmaps and focus vision reports that show where most eyes will navigate toward first. Pricing ranges from free to $79 monthly.
User Interaction – Heat Mapping and Click Tracking
Usability Testing Tool #26: ClickHeat by Dugwood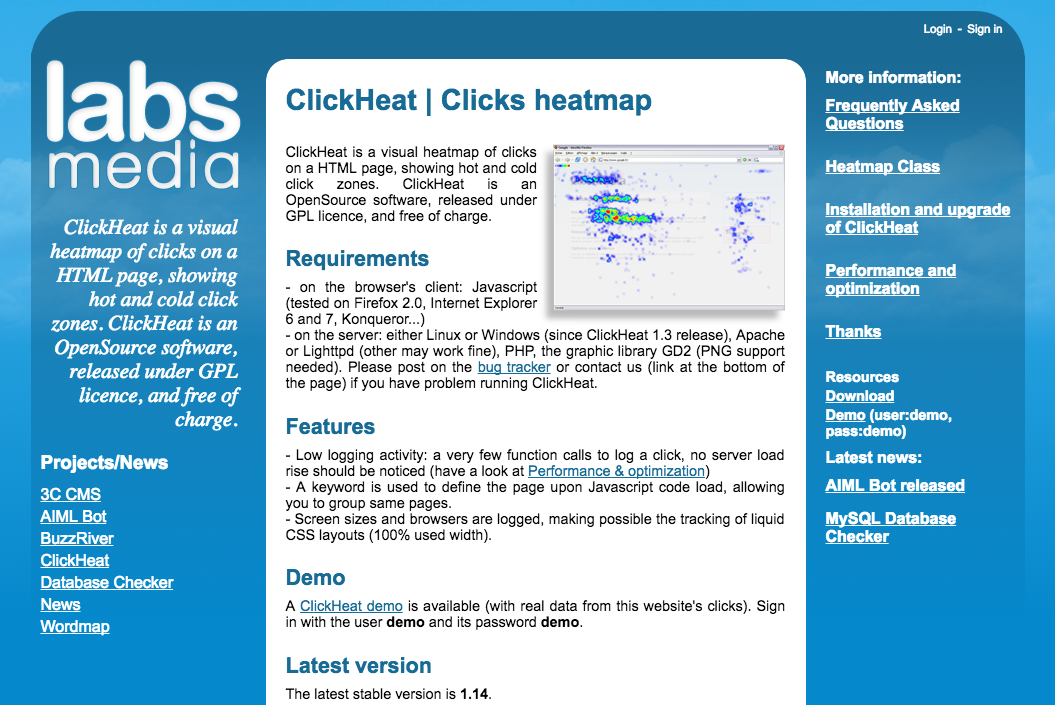 ClickHeat provides a visual heatmap that shows hot and cold click zones.
A quote from ClickHeat's Yvan Taviaud on their unique value proposition:
"ClickHeat is open-source and free software that tracks your visitors' clicks. It reveals the most clicked zones on your pages, helping you monitor hot spots and too small text/zones. For instance if your search box is often used, but too small in your menu, you may decide it's a good idea to enlarge your search form a bit. Or you can see that almost nobody clicks on a link that's too low on the page."
Usability Testing Tool #27: Clicktale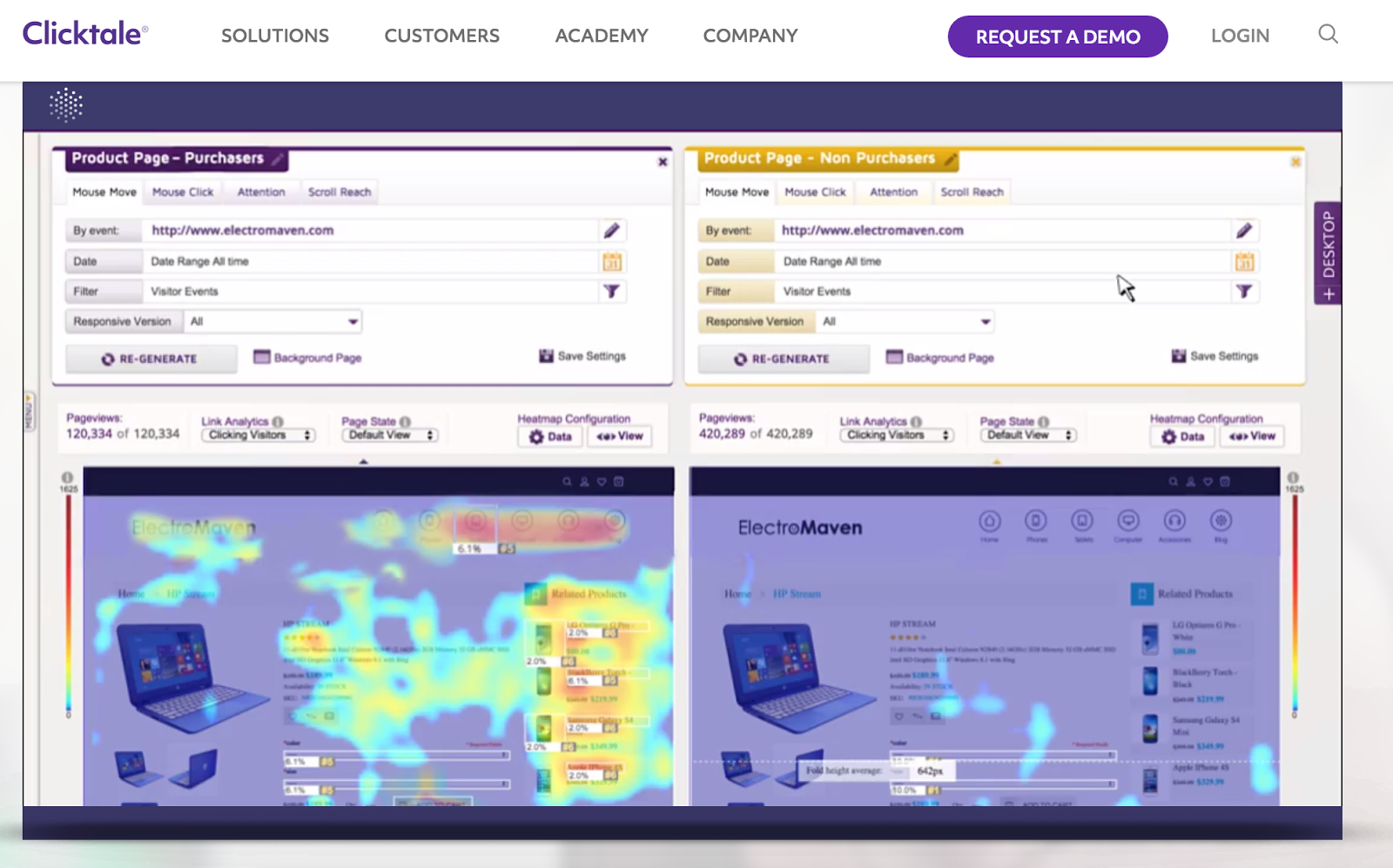 Clicktale is proud of their accuracy in producing "high-fidelity, data-rich desktop and mobile heatmaps to gain true insight into user intent." They also have a Mouse Move Heatmap solution, which shows precisely the elements where the mouse is hovered and moved.
Usability Testing Tool #28: Crazy Egg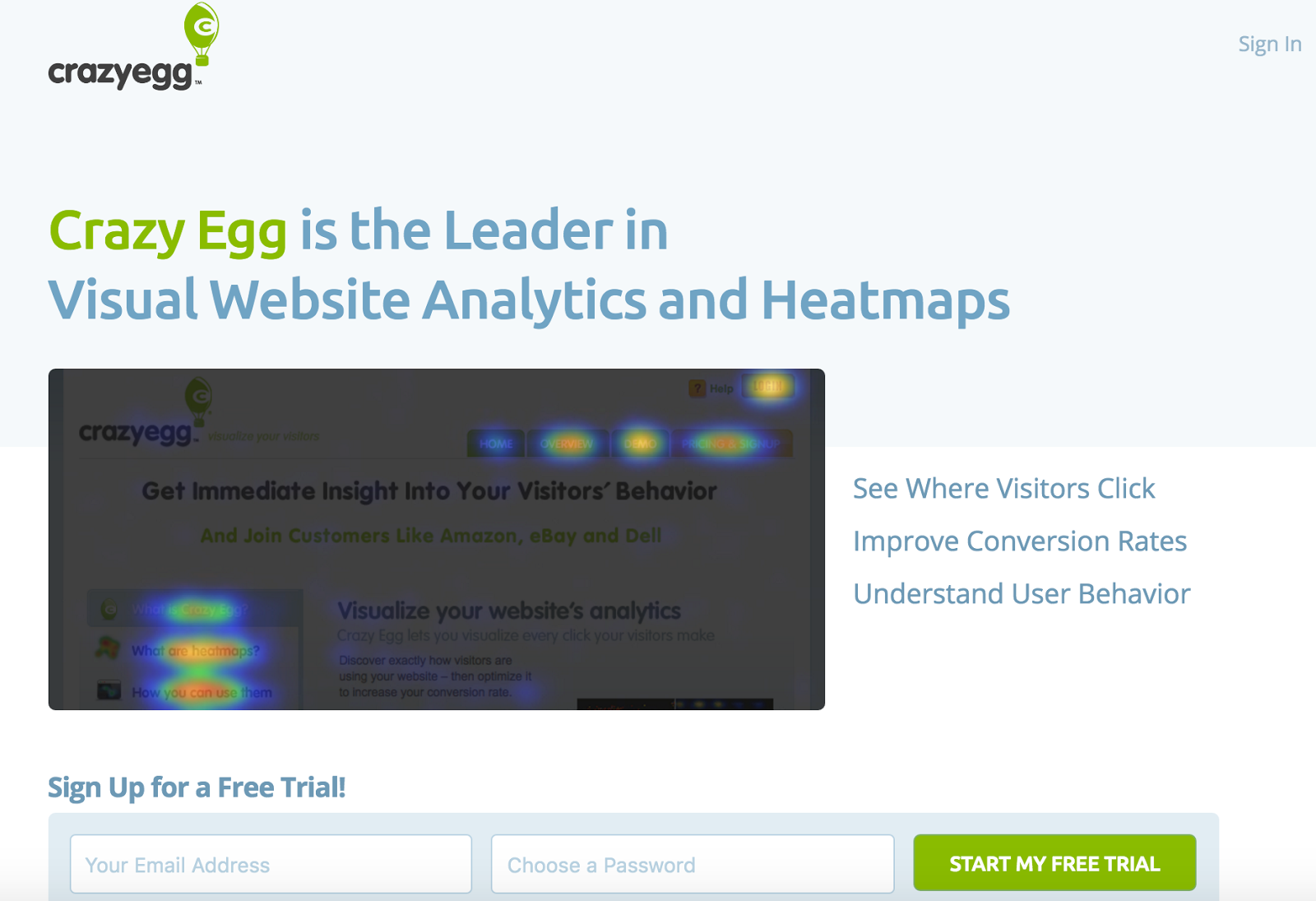 Crazy Egg is known for the heatmaps, which show you things like where people are clicking, how many people scroll down and where they stop, and where those people are coming from. First 30 days are currently free.
Usability Testing Tool #29: Heatmap.me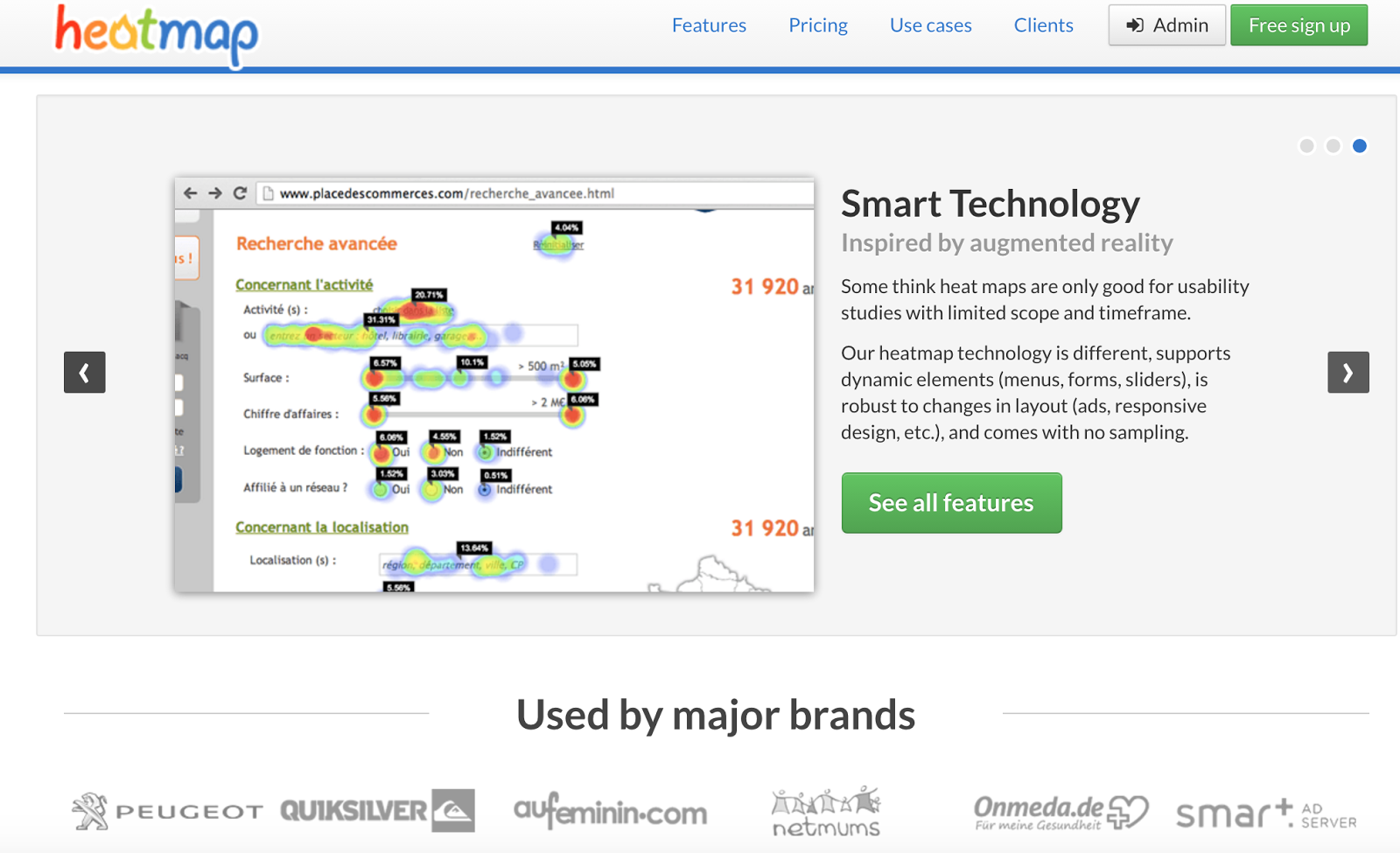 Heatmap.me captures user interactions from any location, browser or OS, and then sends the results to their servers in the cloud. You can view the reports on your screen right on your web pages by using a javascript tag. Pricing ranges from free to $200 monthly.
A quote on their unique value proposition:
"heatmap provides real-time analytics to help chief editors and marketeers understand in seconds which are their best performing contents and which are less attractive to users. heatmap is used to optimize the traffic flow on websites and significantly improve conversion rates of landing pages.

Forget about complex analytics reports, heatmap is designed for business users: inspired by augmented reality, it brings live data right on your pages while browsing. heatmap is compatible with most dynamic and complex websites, installs in minutes by placing a simple js tag, respects users' privacy, and collects big data without sampling."
Usability Testing Tool #30: Hotjar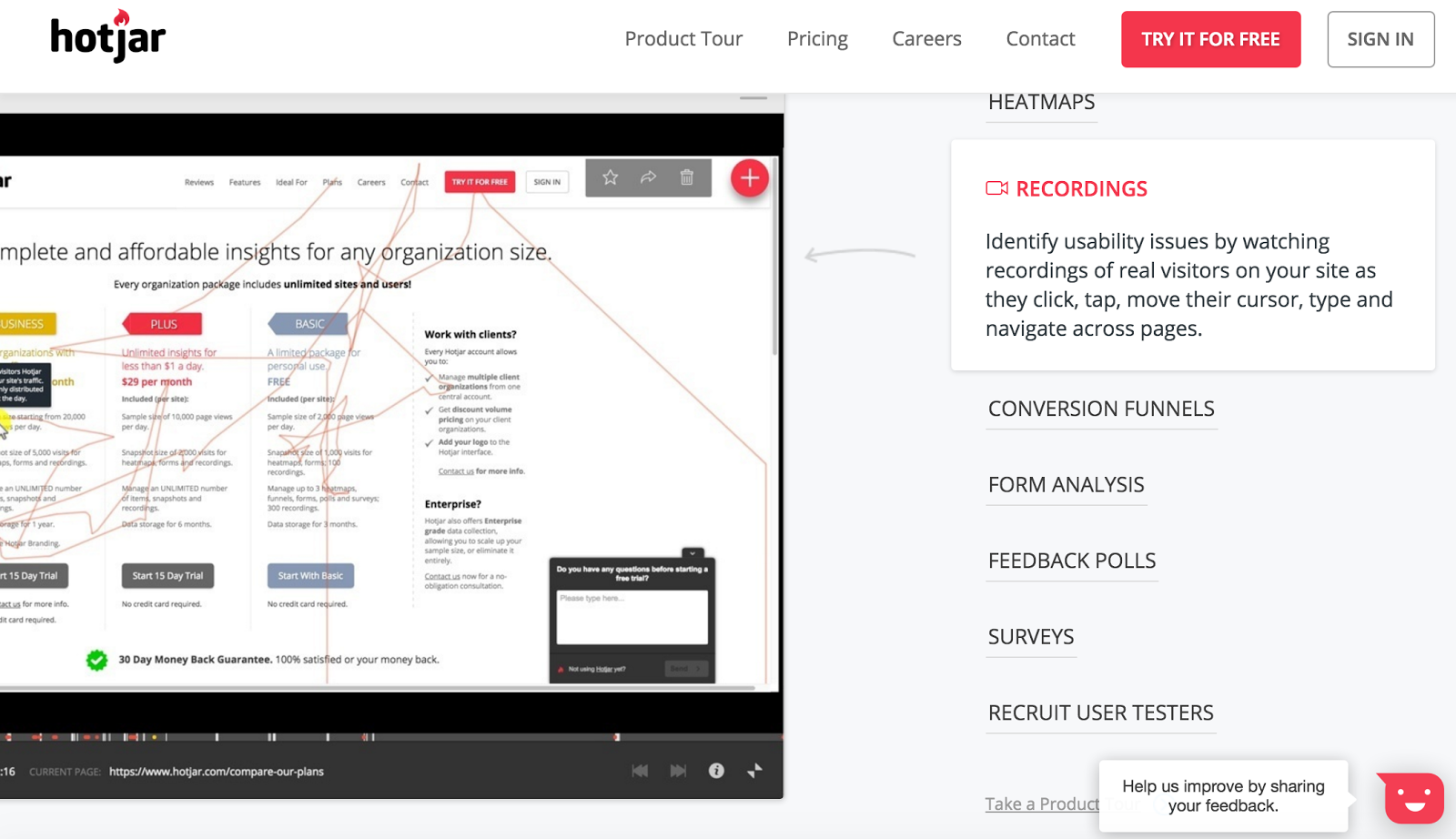 Heatmaps that measure clicks, taps and scrolling behavior. Recording capabilities allow for reports that show you where the mouse travels on the page, where your visitors click, tap, move the cursor, type and navigate.
Nick Heim of Hotjar describes their unique value proposition:
"Hotjar is an All-in-One Feedback and Analytics solution that allows you to truly see how visitors use your site, identify problem areas and make data-driven decisions on how to improve your visitor's experience."
Usability Testing Tool #31: Hoverowl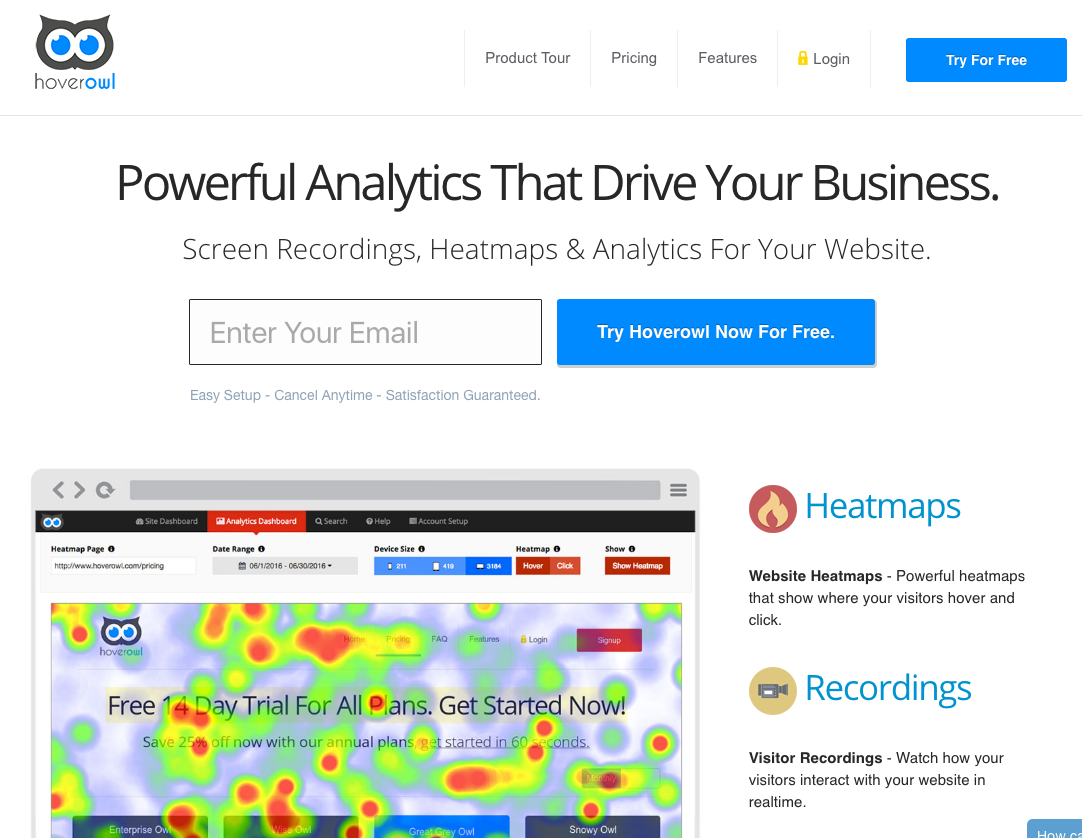 Hoverowl provides screen recordings, heatmaps and a visitor timeline for your websites so you can better understand how and why they converted. Pricing ranges from free to $99 monthly.
Hoverowl's Christopher Favaloro describes their unique value proposition:
"Hoverowl is the missing piece between analytics and why your customers don't buy. We provide powerful screen recordings, heat maps and true analytics that show buying behavior."
Usability Testing Tool #32: Koncept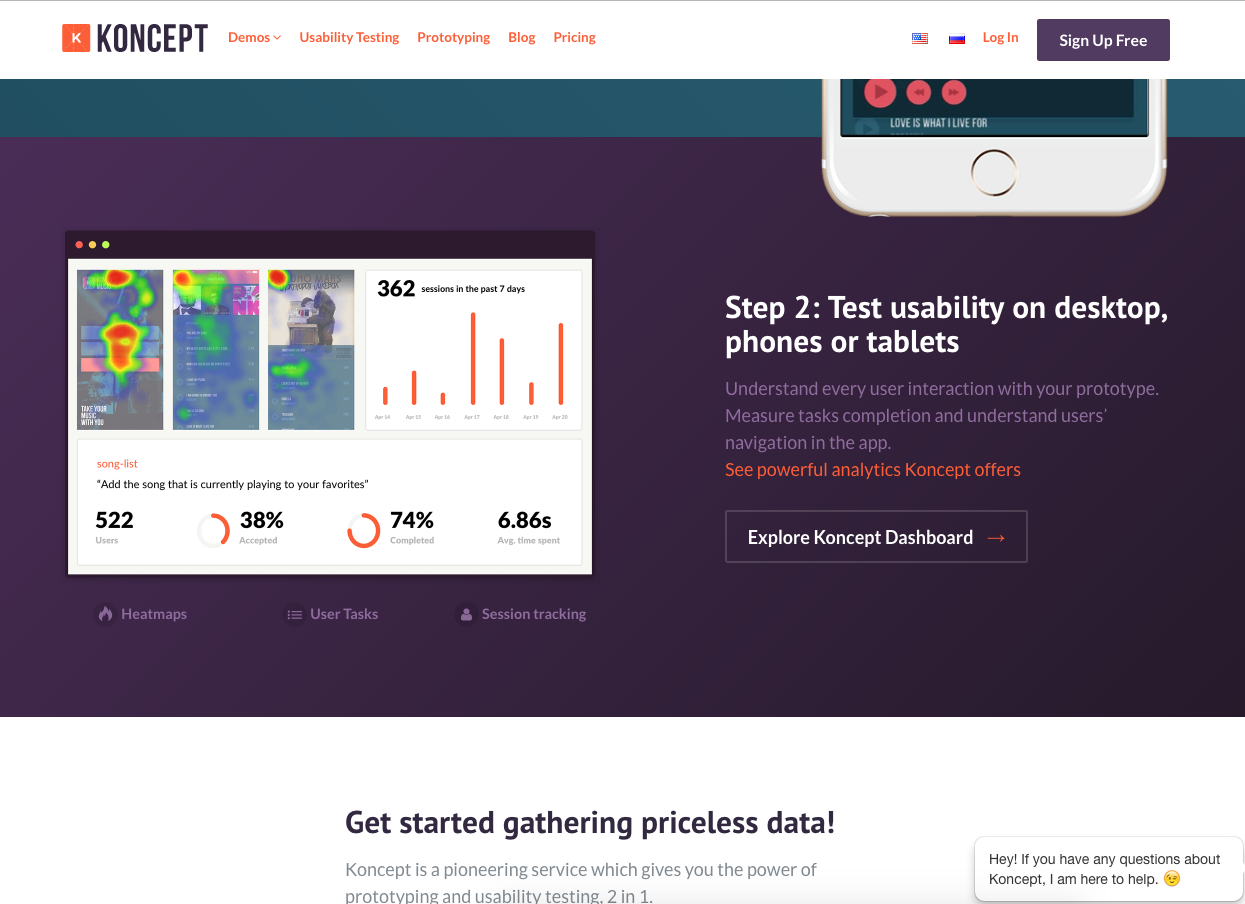 A combination of prototyping and usability, Koncept provides you the tools need to test usability on desktop, phones or tablets. Tasks are measured via heatmaps, user tasks and session tracking. Pricing ranges from $30 to $100 monthly (unless their sale is still running).
Milos Zikic of Koncept describes their unique value proposition:
"Koncept is interactive prototyping and usability testing tool. It helps businesses justify their decisions and understand how their users would interact with the solution they want to build and confirm early if their solution addresses customer needs."
Usability Testing Tool #33: LightedPages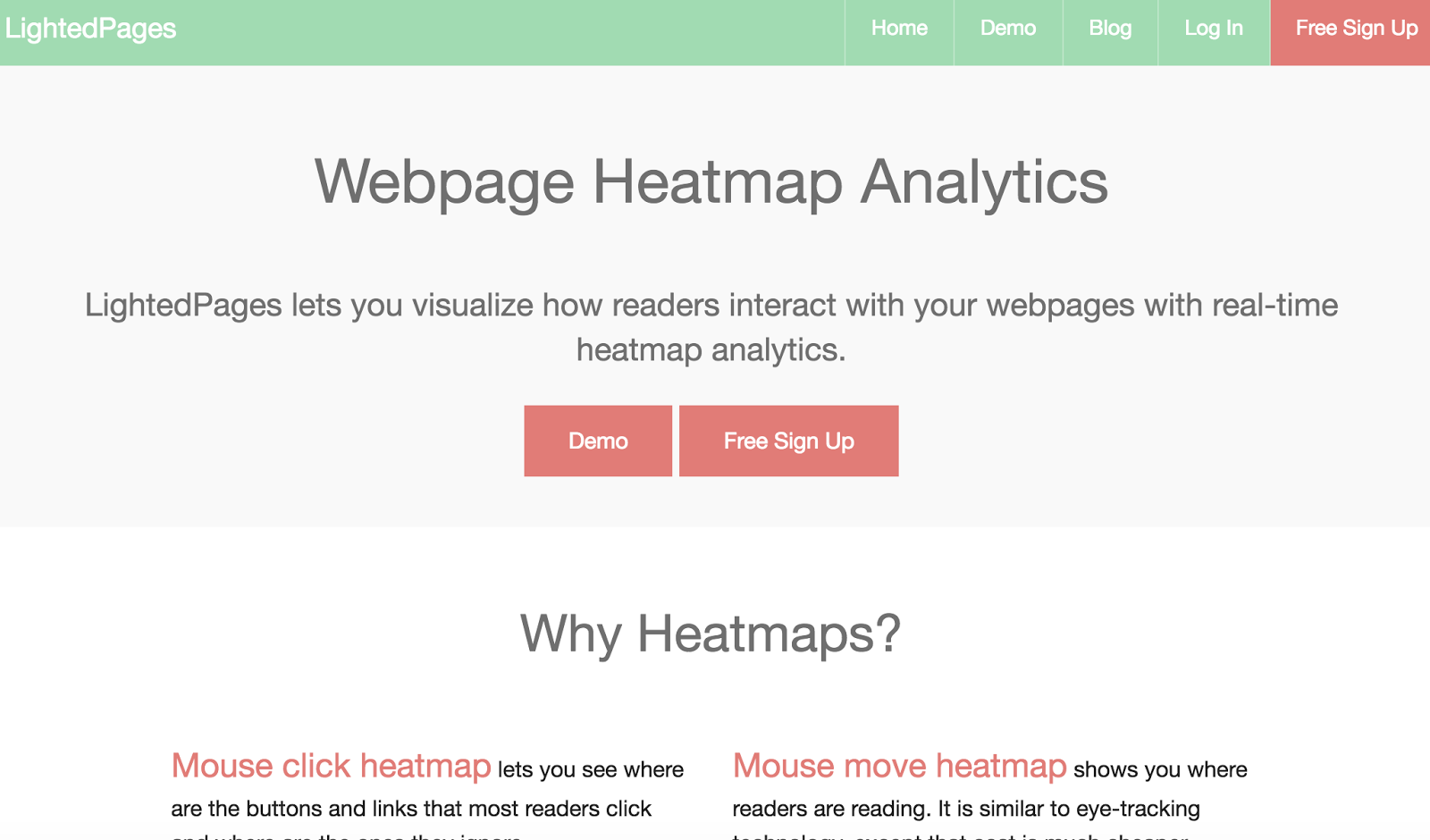 LightedPages offers four types of real-time heatmap analytics: mouse click, mouse move, focus, and scroll, to help you visualize your user's interaction with your page. It's free to sign up.
Usability Testing Tool #34: Mouseflow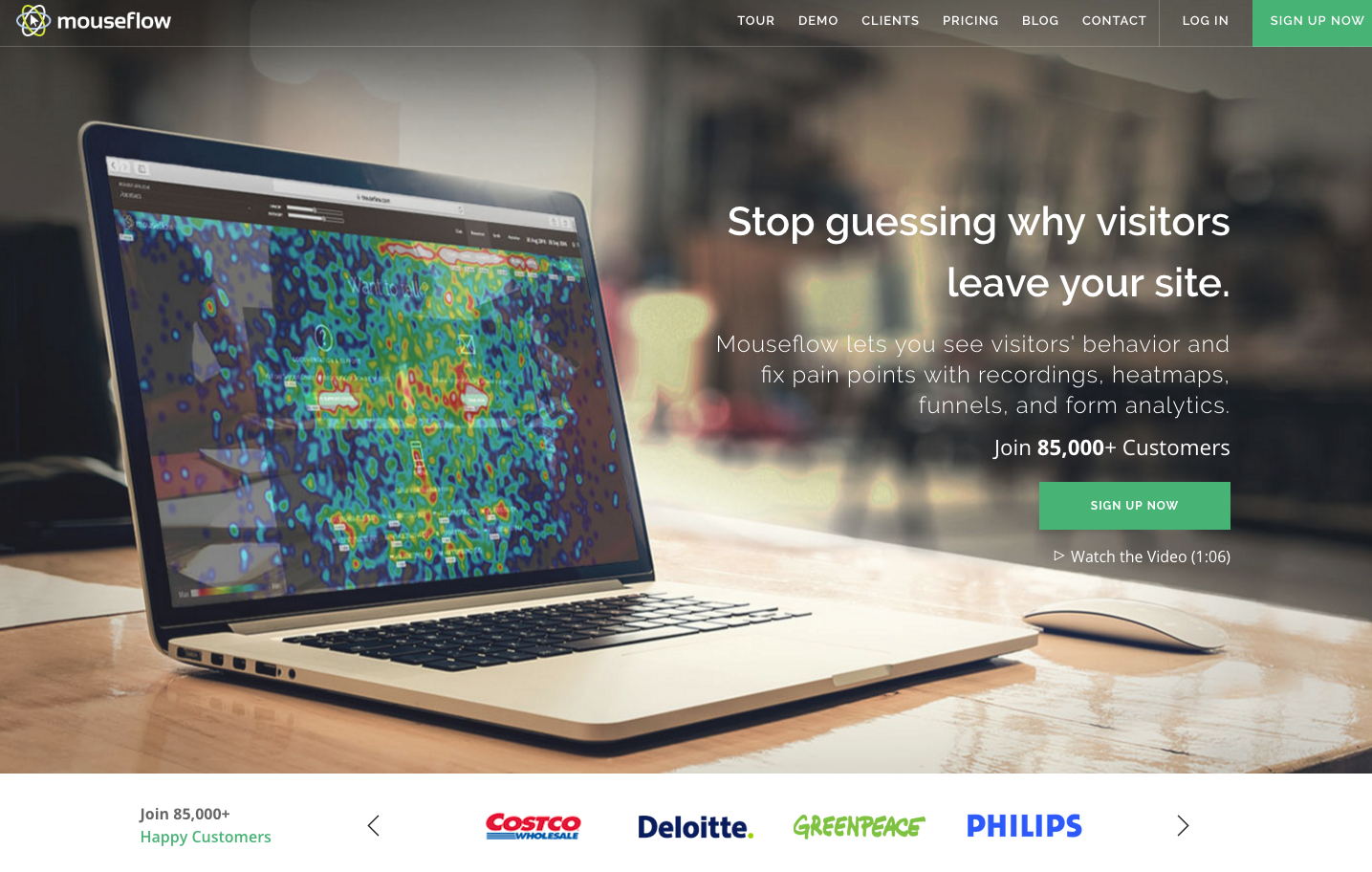 Mouseflow has the ability to show you session replays, heatmaps and even funnels where visitors exit their journey on your site.
Digital Media Manager Stefanni Becker describes their unique value proposition:
"Mouseflow is an analytics tool that gives users the ability to record their visitors' experience with their website to identify patterns and trends by tracking user activity. Key features like session replay, heatmaps, conversion funnels, and form analytics will help you track engagement, find out where users are bouncing, help you improve your conversion rate, and target your marketing efforts."
Usability Testing Tool #35: MouseStats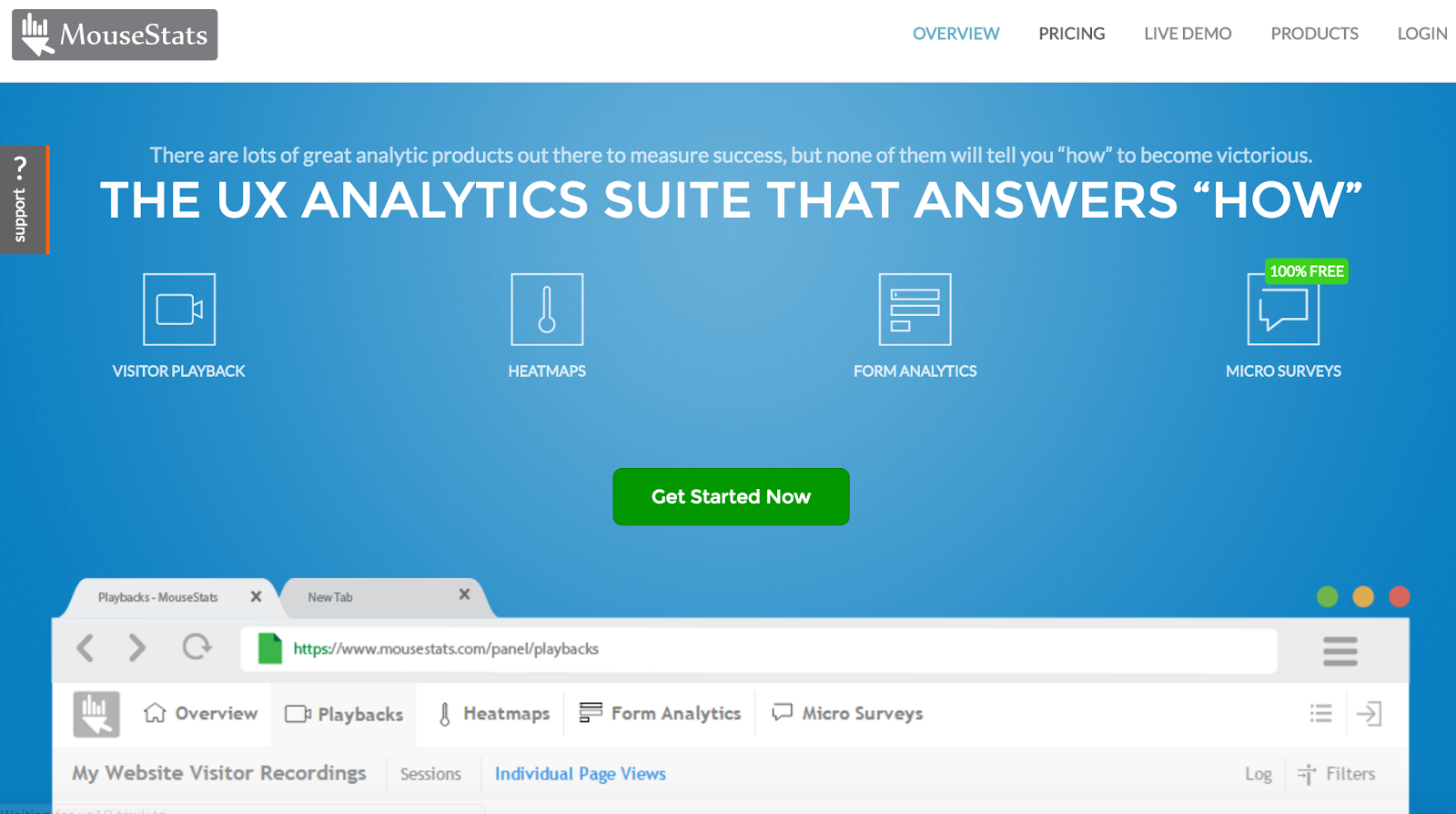 MouseStats allows you to playback recordings of your visitors and analyze reports like heatmaps (which cover move, click, scroll and attention heatmaps), micro survey responses, and form analytics.
Their form analytics, dubbed Field-Level Analytics, provide you with insight on why visitors drop off and ditch out before completing a form. Measurements for this feature analyze:
Drop offs
Time in fields
Content sizes
Correction rates
Unnecessary fields
Pricing ranges from $29 to $299 monthly depending on the number of recording sessions.
Usability Testing Tool #36: ScreenLab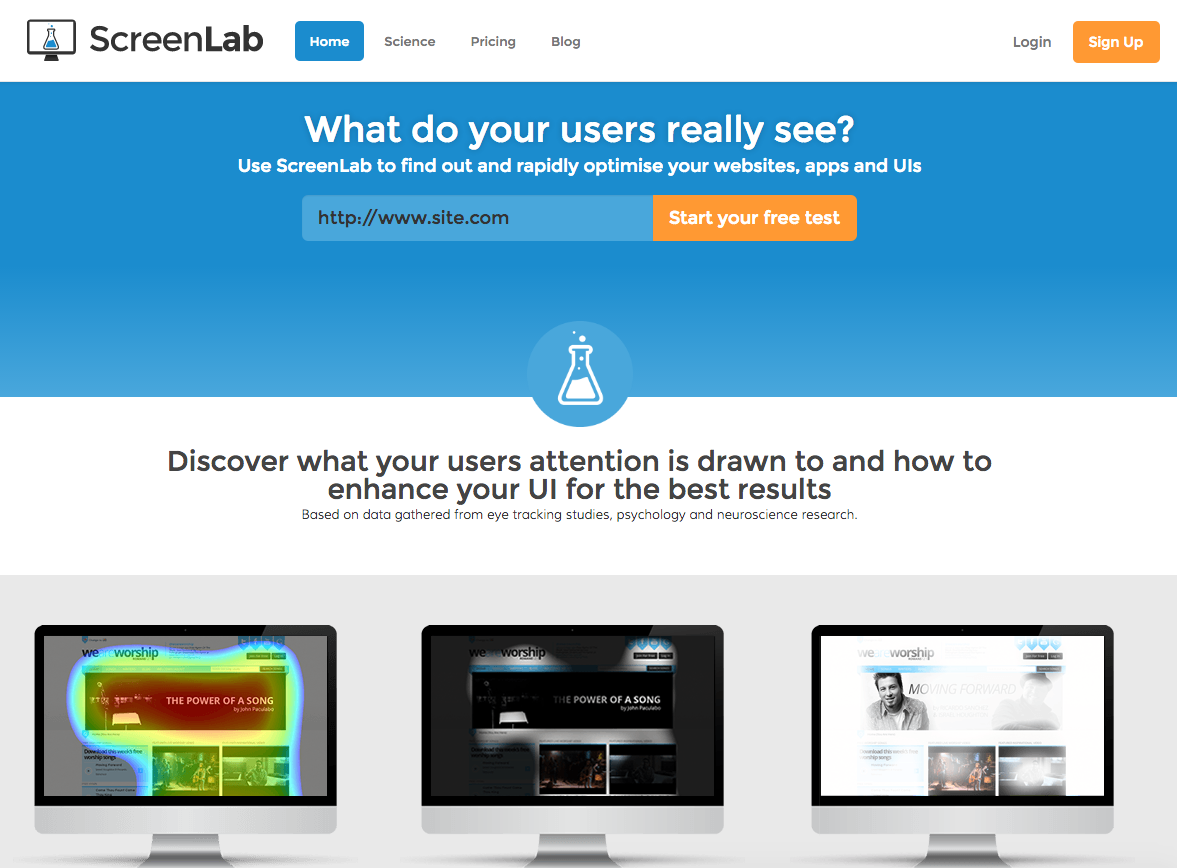 ScreenLab offers not only heatmaps, but also features they named Dark Zones and Focus Fog reports. Dark Zones reveals the content your users will see, so you can be sure to include your CTA in those areas. Focus Fog reports do the opposite and show you which areas you don't want to include your CTA buttons.
Additionally, ScreenLab offers tips on weighing opposite design concepts: flow and balance; impact and subtlety; and simplicity and info. Their pricing levels range from free to $199 monthly.
Usability Testing Tool #37: SeeVolution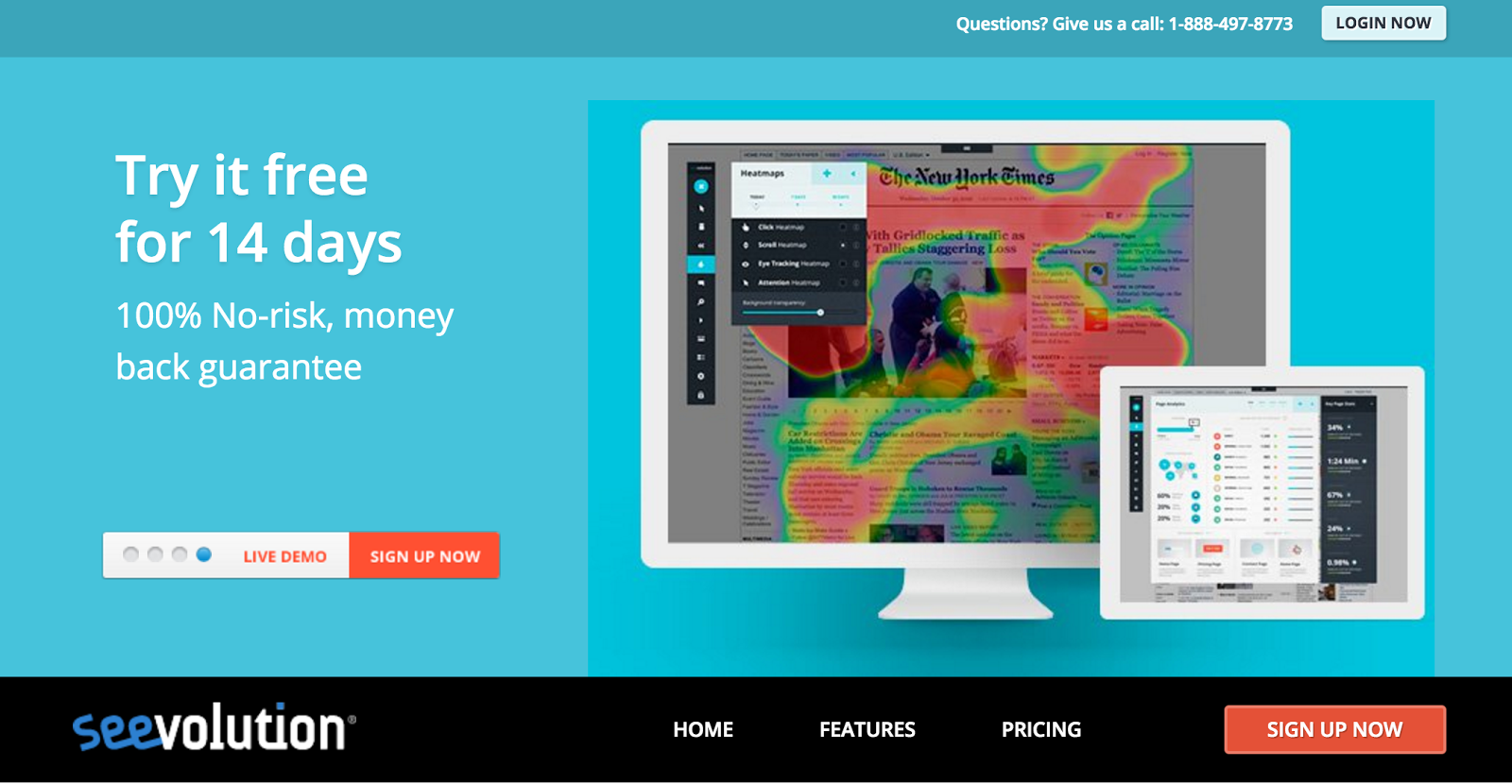 SeeVolution offers click heatmaps, mouse-move maps, scroll heatmaps, real-time analytics and plugins. Their features help you to find the fold, see your "dead objects" and optimize your image placement.
Their anlystics benefits in list form:
5 different types of heatmaps with advance filters
Trending links
Trending images
Form analytic
Session playback (Dec 2016 launch)
Prices range from free to $299 depending on the support level needed.
CEO Joseph Shemesh describes their unique value proposition:
"SeeVolution is the only heatmap analytic which uses overlay to present the analytic on top of the pages. The biggest advantage is that everything you see is a real-time data and it will still show accurate heatmap date even if elements changing locations or sizes."
Usability Testing Tool #38: Simple Heatmaps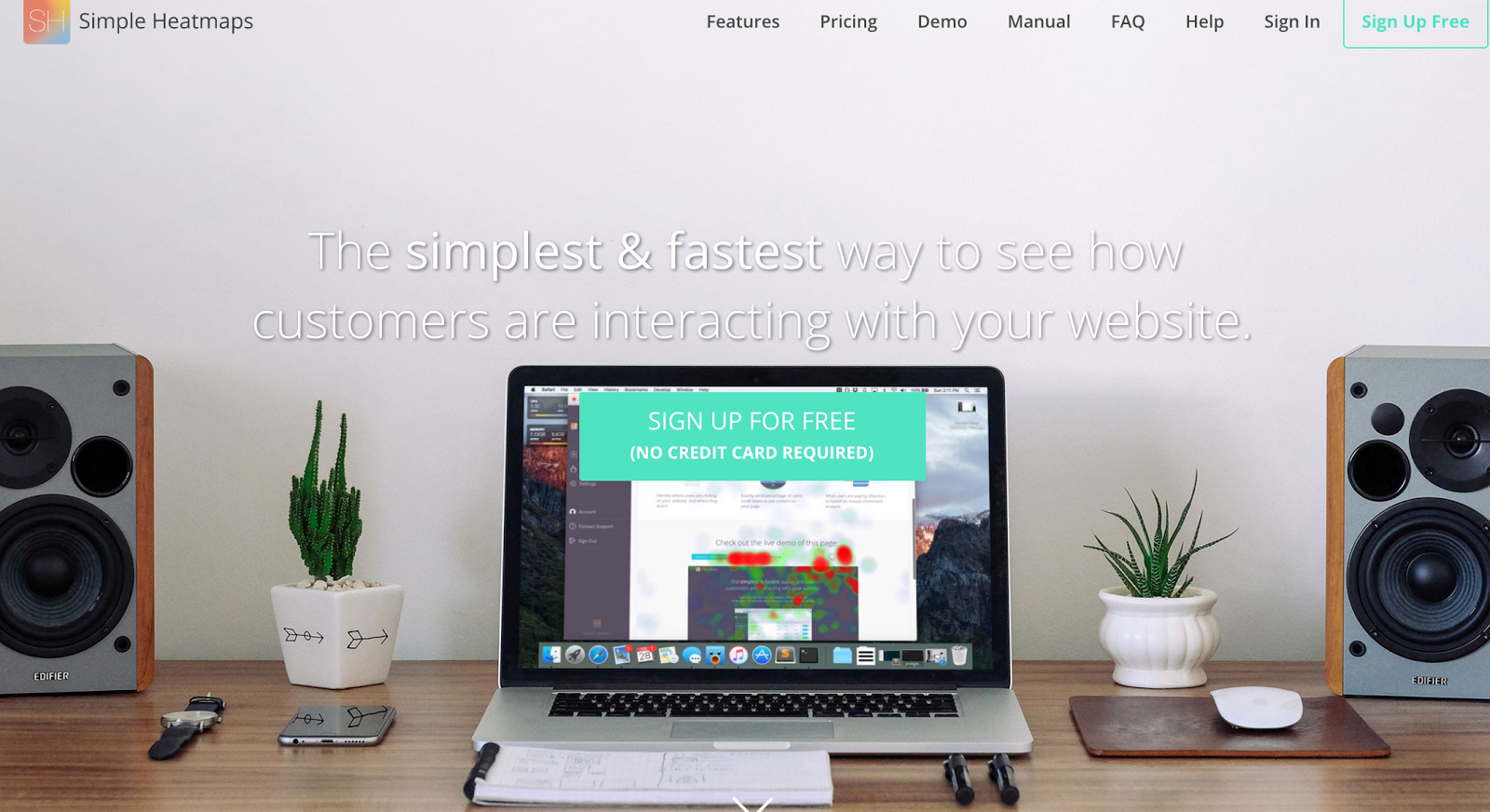 Useful on desktop, tablet and mobile devices, Simple Heatmaps allows you to track clicks, mouse movements and scrolls to identify and where your users are clicking and not clicking. Pricing ranges from $19 to $149 monthly depending on pageview volume.
Founder Nitin S describes their unique value proposition:
"Simple Heatmaps makes it easier than ever to understand how your website is being used. Using our visualizations you can discover what content goes unseen or fails to draw users' attention. Our unique platform provides powerful features like time range filtering and device segmentation to uncover better insights from your data."
Usability Testing Tool #39: userTrack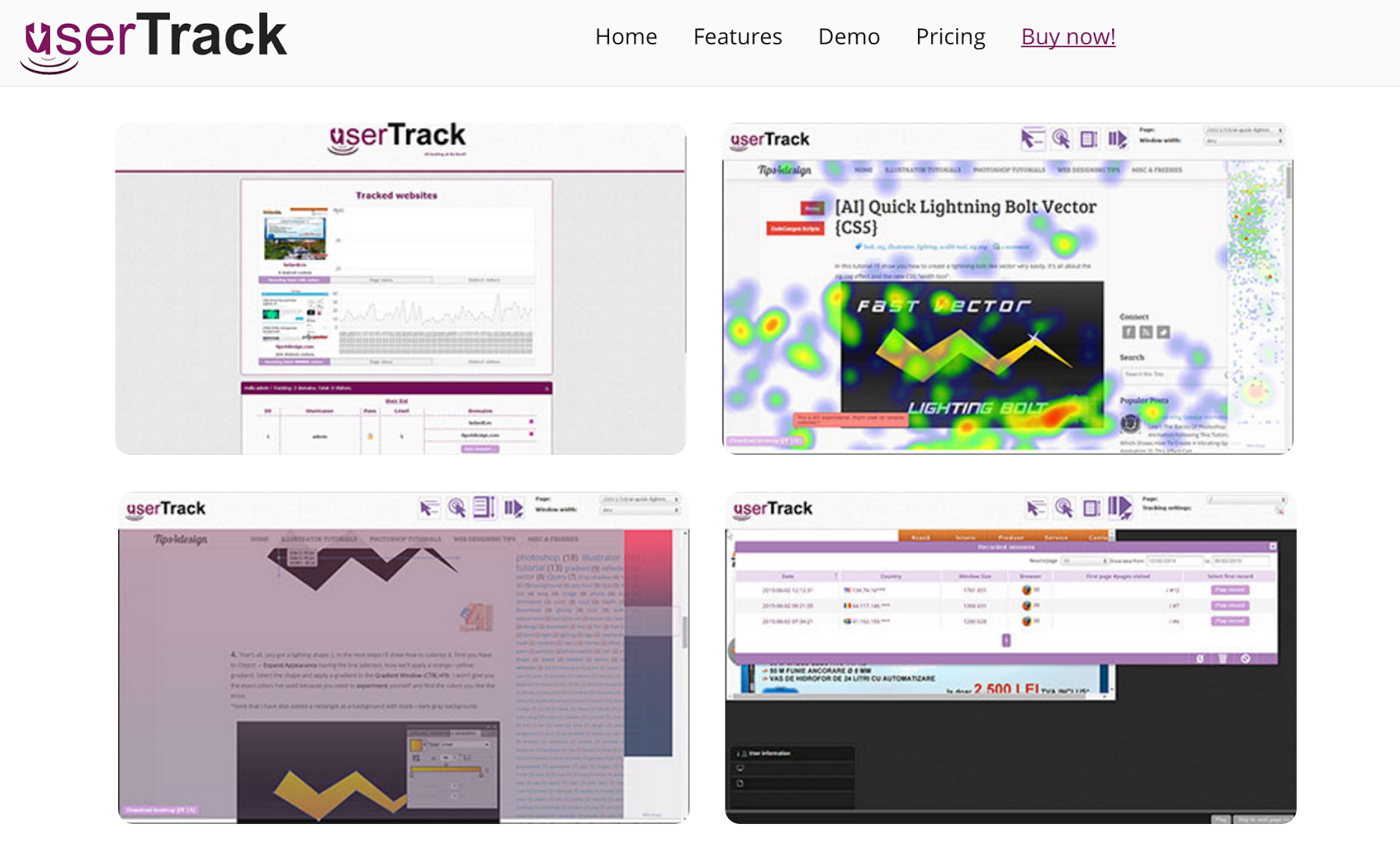 With userTrack recordings you can grab click heatmaps, mouse movement heatmaps and scroll heatmaps. Pricing is $37 for the standalone version.
A quote on their unique value proposition:
"userTrack is different. It's not a service but a self-hosted script, so there are no monthly fees involved and all data is stored privately only on your own server. Privacy and transparency are guaranteed. userTrack features heatmaps, scrollmaps, full session recordings, visitors statistics and much others. userTrack is regularly updated and new features are added based on your feedback."
Usability Testing Tool #40: VWO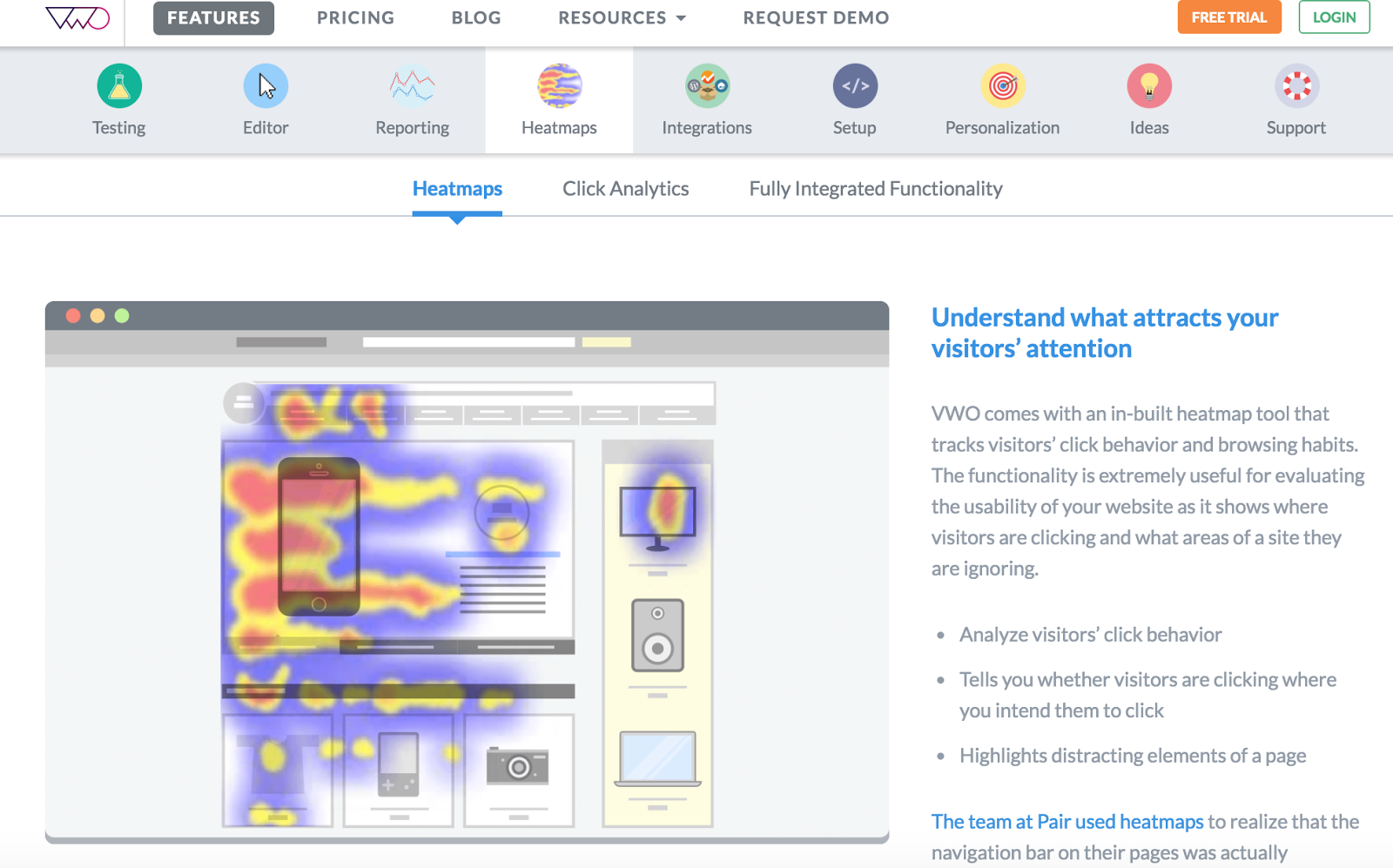 VWO offers heatmaps that tell you where visitors are clicking and reports that highlight distracting elements on the page. The click analytics show you the exact number of clicks at specific spots, which help to pinpoint user attention on your page.
VWO's Product Marketer Smriti Chopra describes their unique value proposition:
"VWO has grown from an easy-to-use A/B testing tool to a comprehensive conversion optimization platform that takes care of all your optimization needs. From tracking goals and funnels to conducting user research and finally creating an optimization plan that can be put to test, VWO has an out-of-the-box solution for each step in the conversion optimization journey."
Usability Testing Tool #41: Weelytics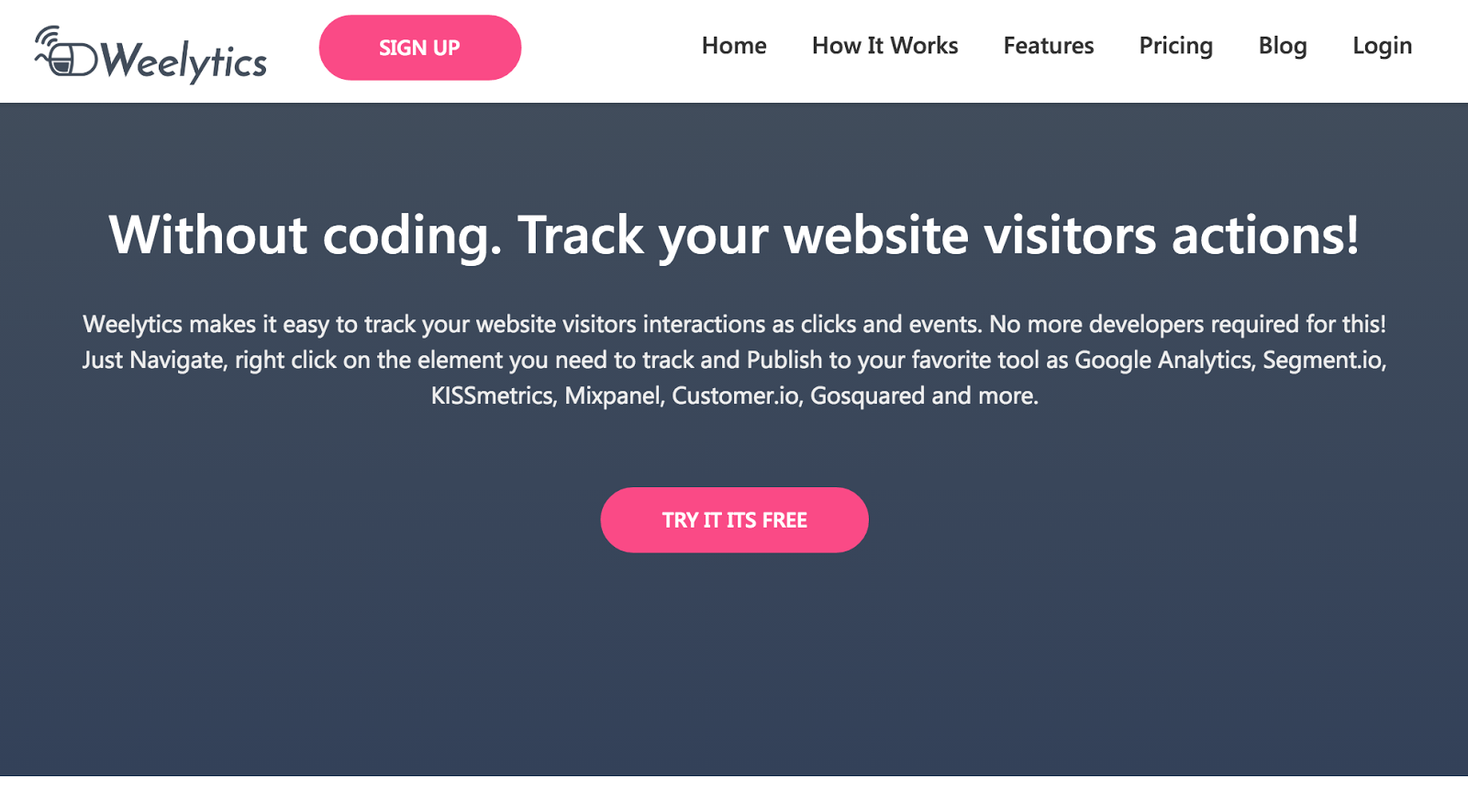 Weelytics created a way for you to track your visitor interactions as clicks and events, and without coding or the need to rely on your IT team. Not sure how the reports come out, but their pricing is based on click event volume ranging from free to $99 monthly.
Weelytics's Mohamed Hedi Lassoued describes their unique value proposition:
"Weelytics is the first zero coding web analytics tracking tool."
Usability Testing Tool #42: Zeerat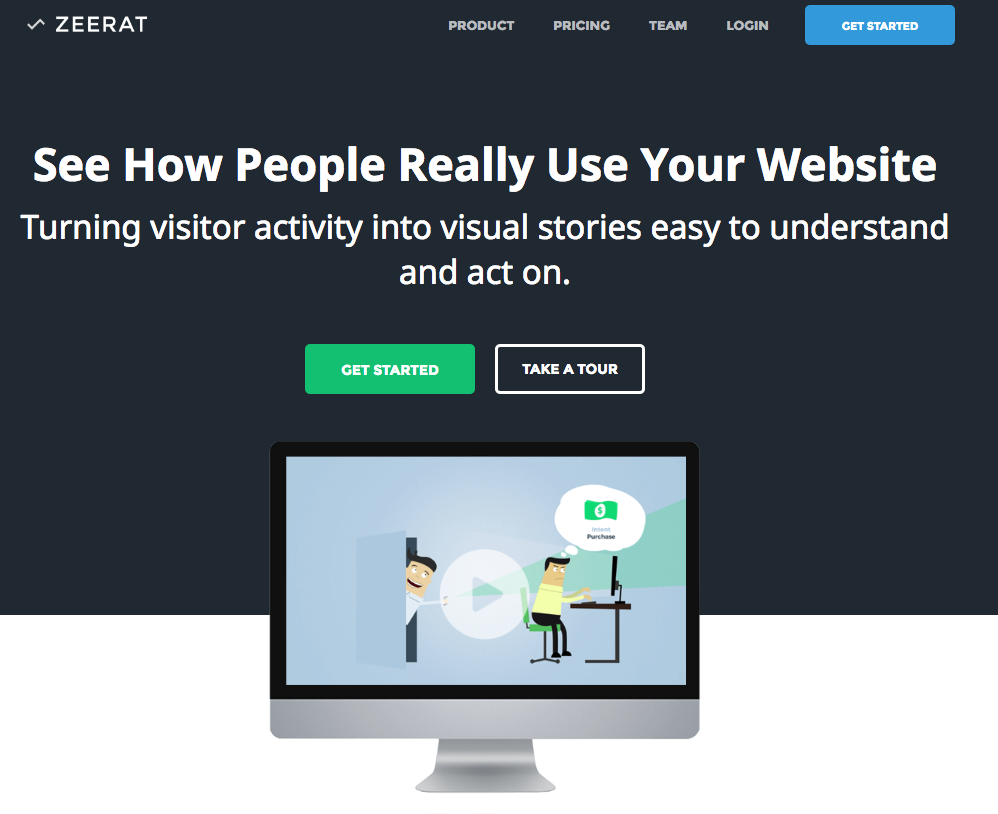 Zeerat's reports include four different types of heatmaps that show where people click and move their mouse, how far they scroll and where they spent most of their time on your site. There's automatic detection and tracking on your pages, and the tool is also mobile-ready.
Their features include capturing of:
Touch gestures: tap, swipe, spread
Mouse activities: click, move, scroll
Form actions: typing, time, drop
Pricing ranges from $40 to $800 monthly depending on number of recordings.
Co-Founder and CEO, Michael Repetny, describes their unique value proposition:
"Zeerat is like a camera for your website, it shows how people use your site with all the animations and dynamics, just as if you were looking over their shoulder. The unique feature is automatic event detection, which lets you search for specific "magic moment" within a session, so you don't have to waste time watching hundreds of visitor recordings looking for Insight."
Feedback
Usability Testing Tool #43: Criticue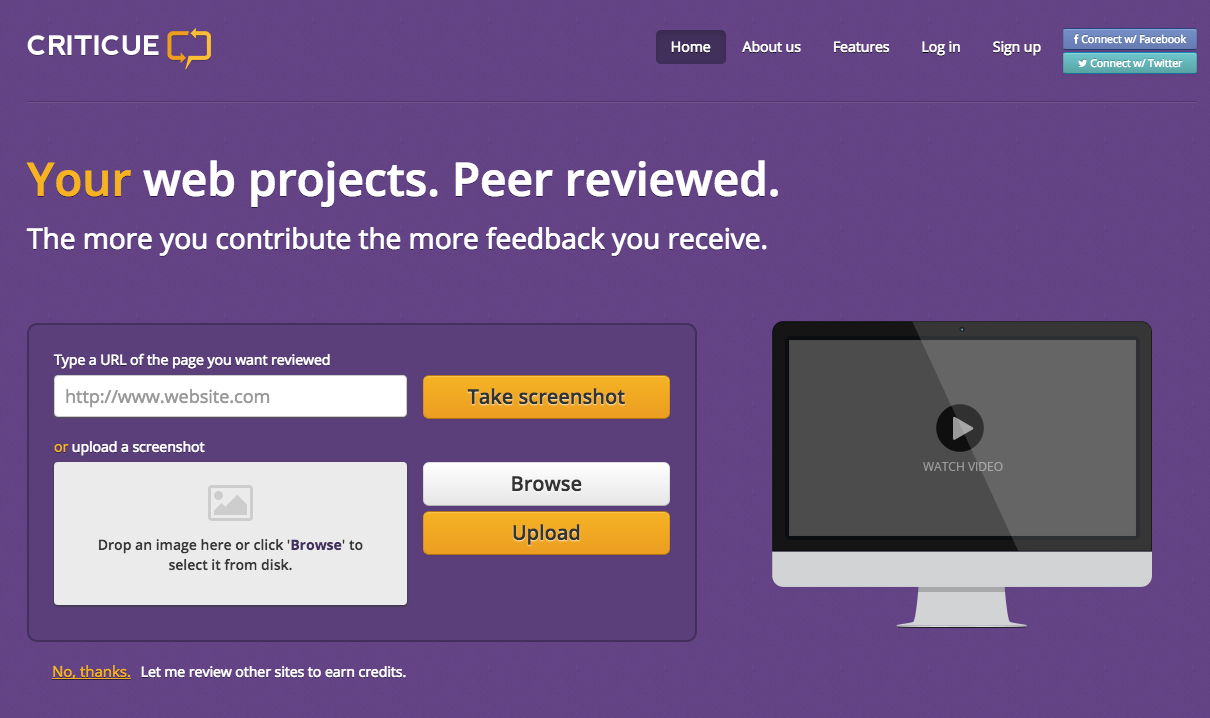 Criticue offers a solution for receiving peer reviews on your web pages. Input your URL or upload a screenshot. It's based on a network of evaluators and contributors, so the more you review other sites, the more feedback you receive.
Usability Testing Tool #44: iPerceptions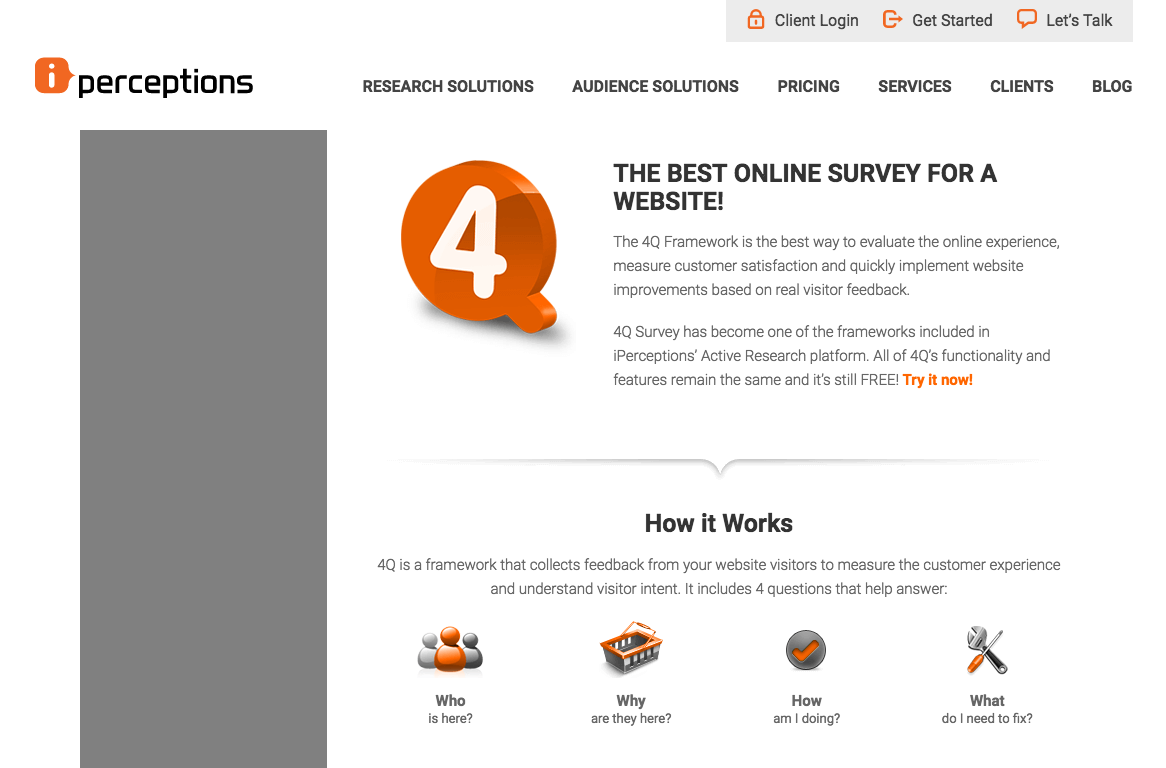 iPerceptions's 4Q Framework survey provides real-time feedback from your visitors. The tool measures online experience, customer satisfaction and it's free.
Usability Testing Tool #45: Kampyle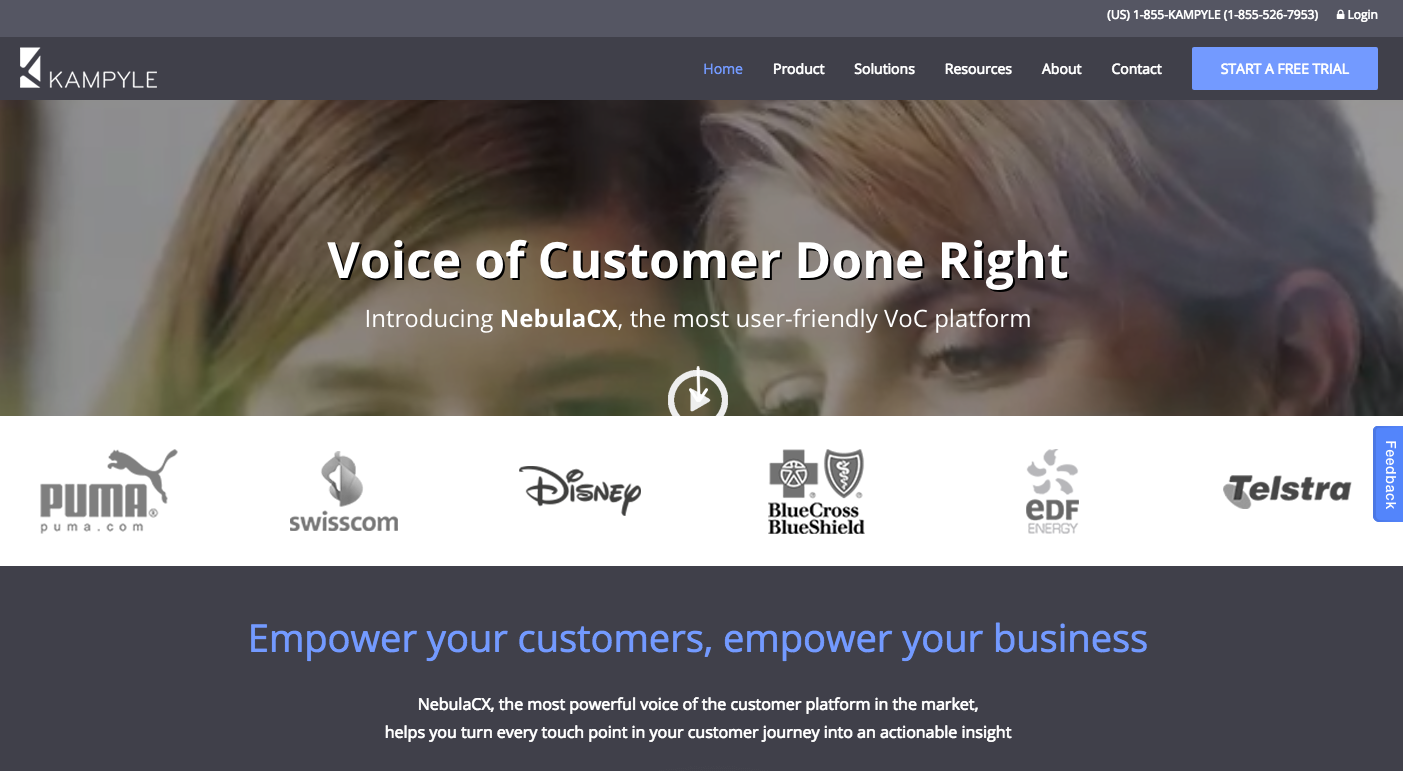 Kampyle provides a Voice of Customer (VOC) program, and they have a specific feedback forms for you to use in gathering customer insights.
Marketing Manager Michelle Burns, describes their unique value proposition:
"Kampyle's Voice of Customer platform was built from the ground up with a singular focus – to provide the most user-friendly, digital VoC solution for brands and enterprises globally. Kampyle is flexible and easy to use, allowing digital teams to quickly and effectively collect and analyze customer feedback across web and mobile channels."
Usability Testing Tool #46: Mobitest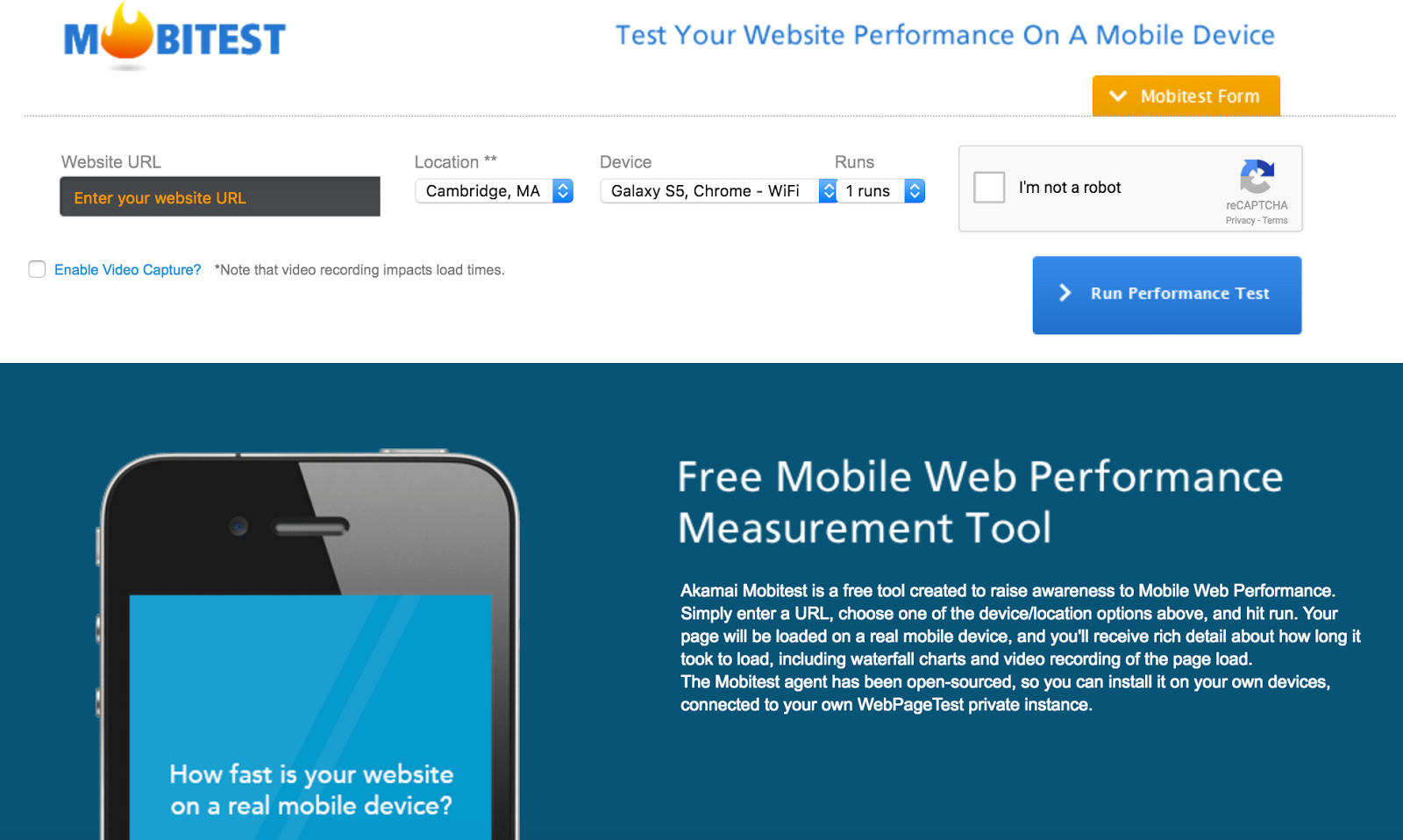 Mobitest offers a free mobile performance assessment. After submitting your URL, device and location, the page is loaded on a real mobile device and you receive feedback detailing load time, waterfall charts and video recording of the page load.
Usability Testing Tool #47: Qualaroo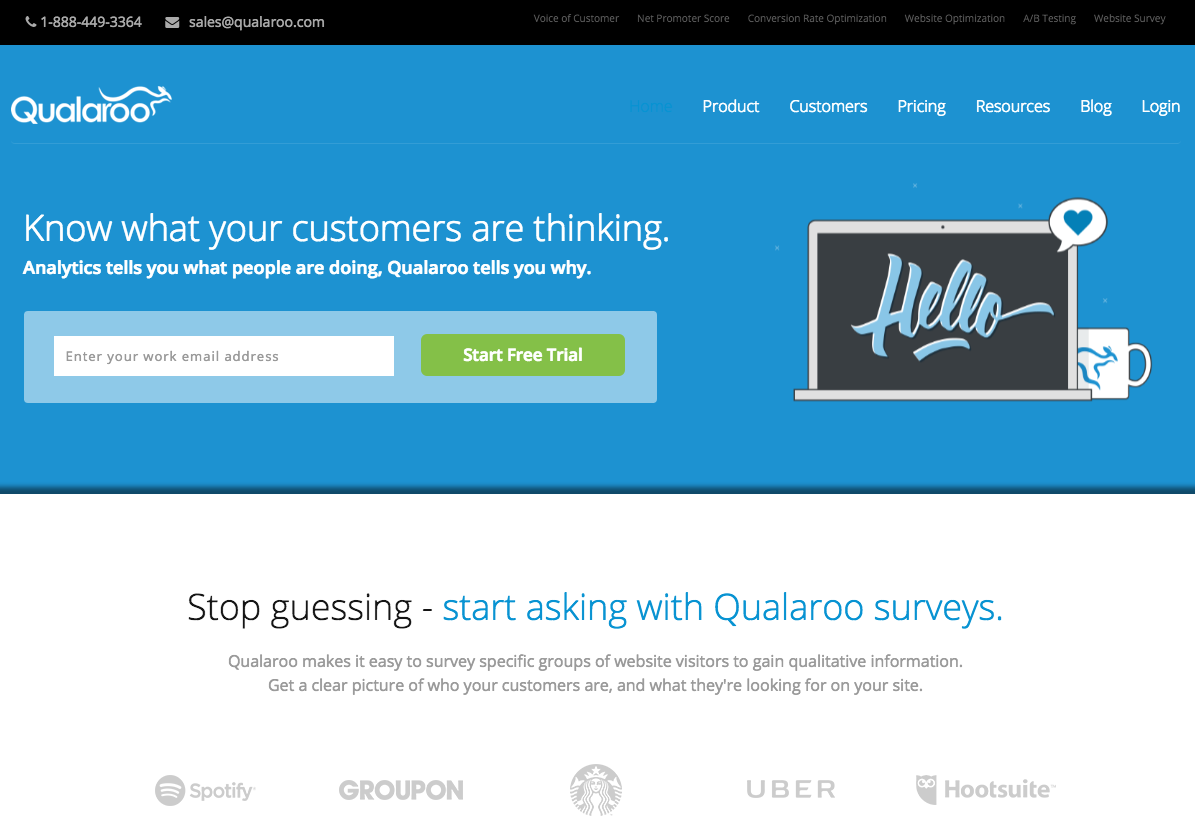 Qualaroo has surveys that make it easy to gain qualitative info from specific groups. Their most popular package is called Growth for $499 monthly.
Usability Testing Tool #48: Spur by ZURB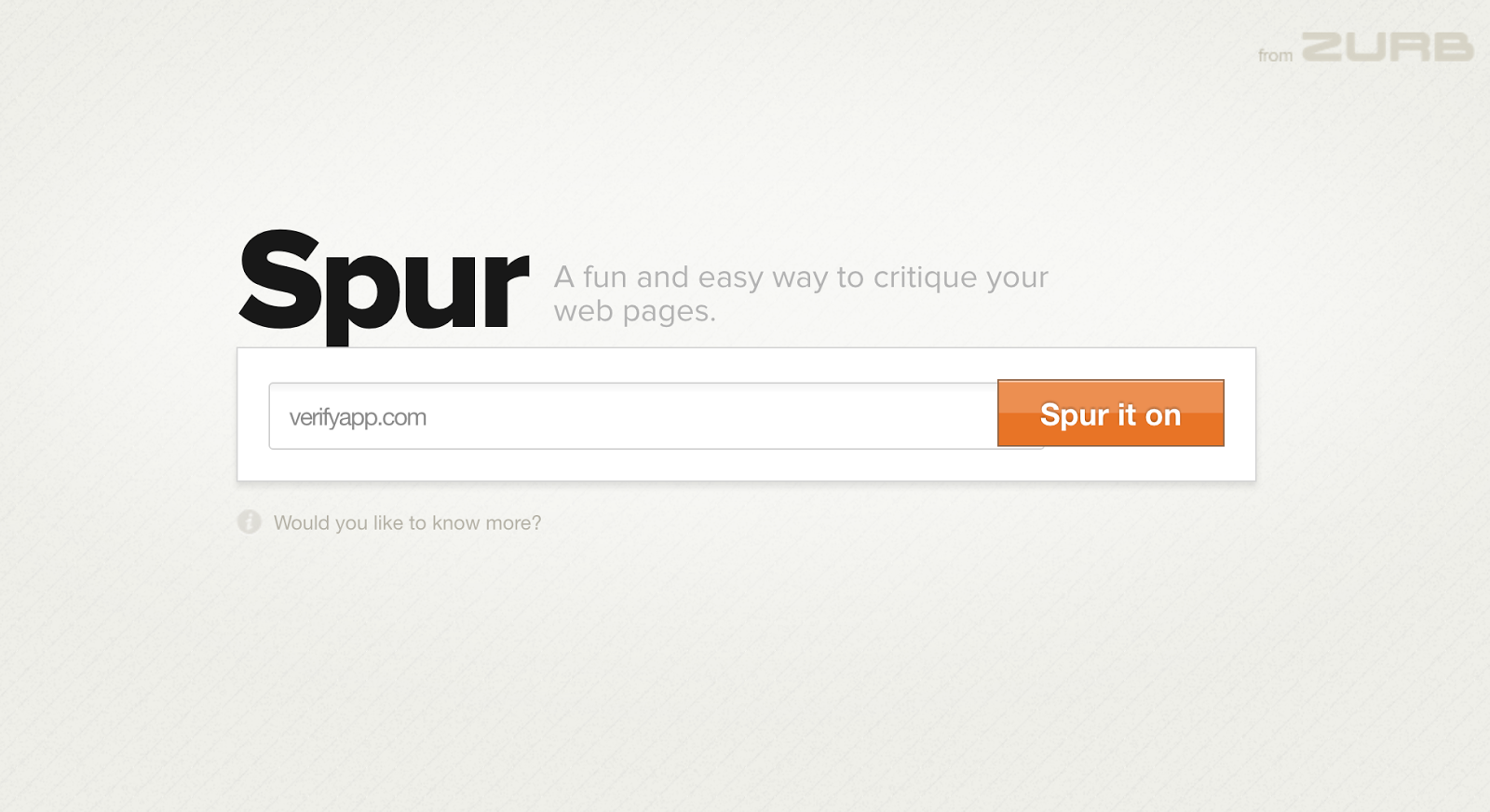 With Spur, you just enter your URL and receive a snapshot of your page with several buttons that provide insight on visual clarity. The cost for this one is free.
Usability Testing Tool #49: Usabilla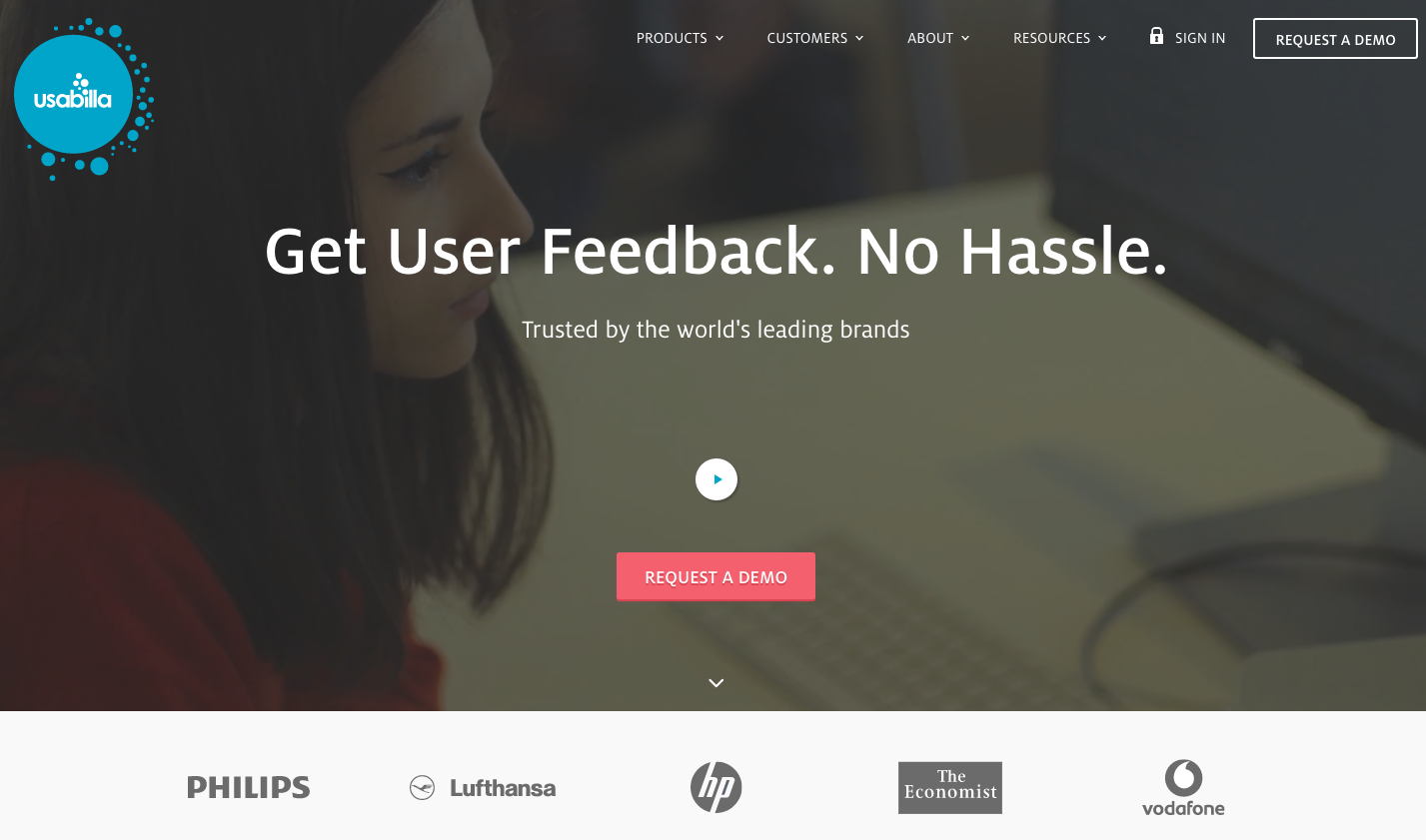 Usabilla offers VOC solutions so you can collect feedback across all digital channels. Targeted surveys and visual feedback allow you to collect valuable insights via mobile apps, email and websites.
Usability Testing Tool #50: The User Is Drunk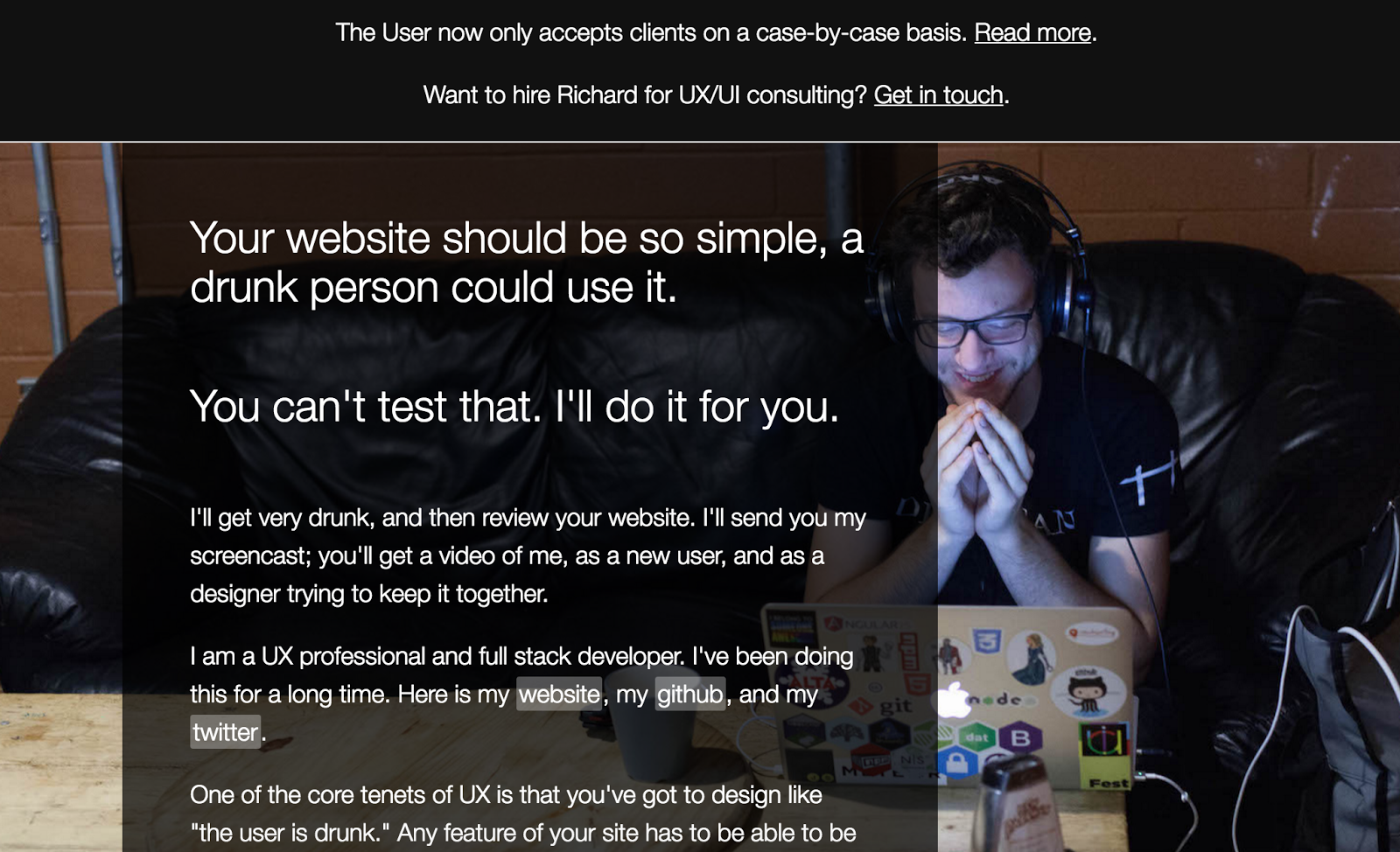 The name says it all. Richard Littauer set up the website while he was traveling abroad with some friends and started giving companies website UX and UI feedback while drunk. It started as a fun idea while traveling abroad and quickly turned viral piquing the interest of heavy-hitters like FastCo, Tech.co, Gizmodo, VWO, Hubspot.
The influx of requests got to be so large (along with his alcohol consumption) he had to ease up on the clientele list. However, he is still accepting both drunk and sober usability testing requests by contacting him directly.
He uses tools like ScreenMailer to take videos and QuickTime to record mobile reviews.
The pros – more info, more honesty, less time (5-20 mins per test).
The cons – you may or may not be enabling alcoholic tendencies.
The cost – varies per client.
Usability Testing Tool #51: The User Is Your Mom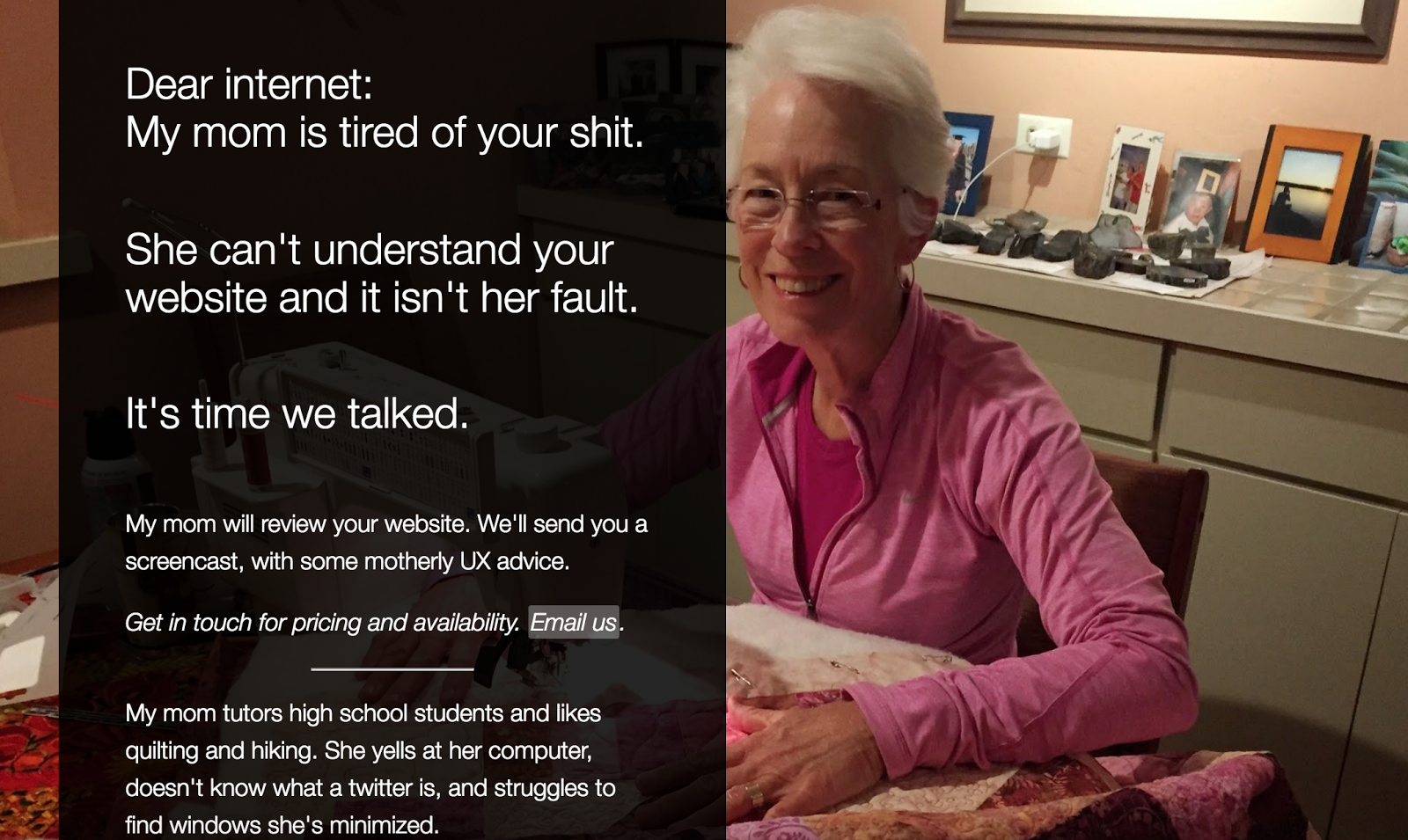 Yes, created by the same Richard Littauer and shared with his friend Scotty Allen – the name also says it all. Both Richard's and Scotty's moms evaluate the usability of clients' sites and provide feedback. Other moms are involved, too, to help with the client volume.
The mom user advantage – if your website can't be understood by the moms then you need to improve your usability and design. Simple as that.
The cost – $75 per review, depending on supply and demand.
Usability Testing Tool #52: UserEcho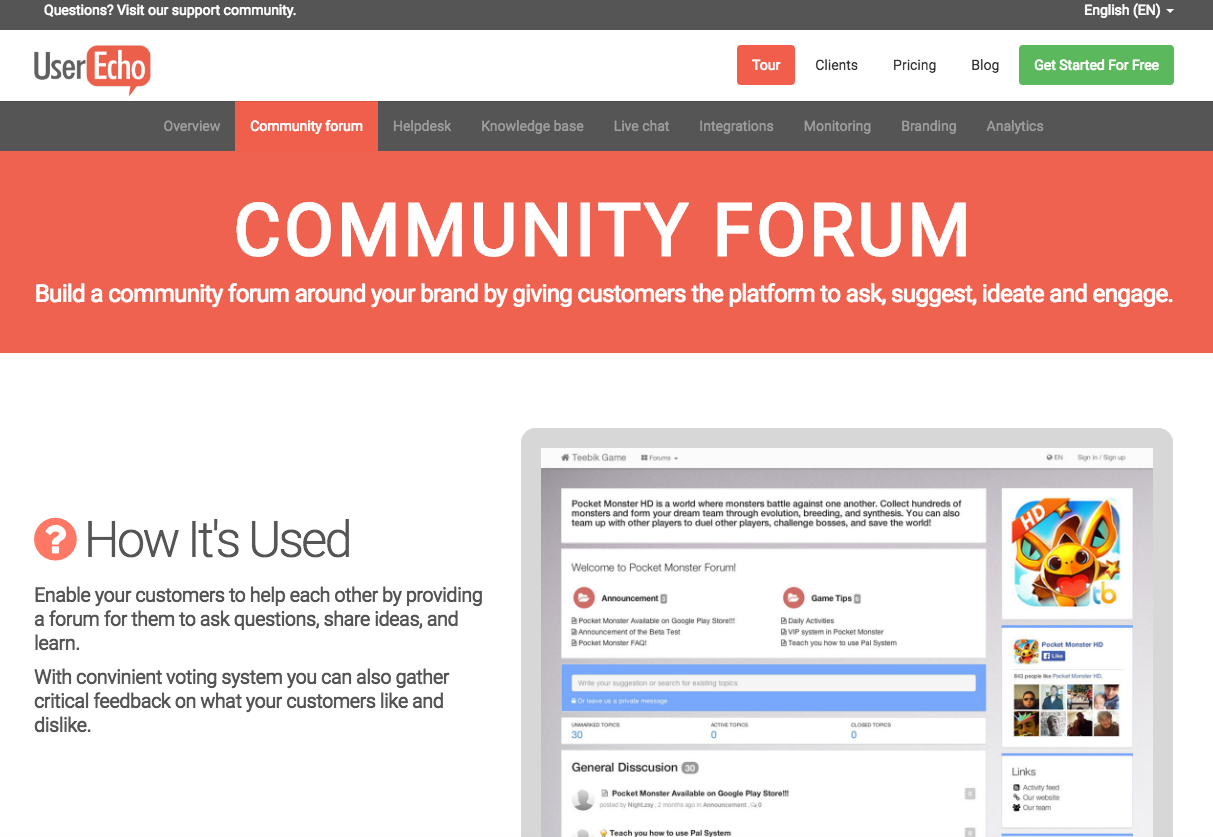 UserEcho has a community forum solution where you can give your customers the platform to ask, suggest, ideate and engage with your sites. Users can vote for features and you have the ability to organize your feedback community through categories and tags. Pricing is $15 monthly per agent.
Usability Testing Tool #53: VerifyApp by ZURB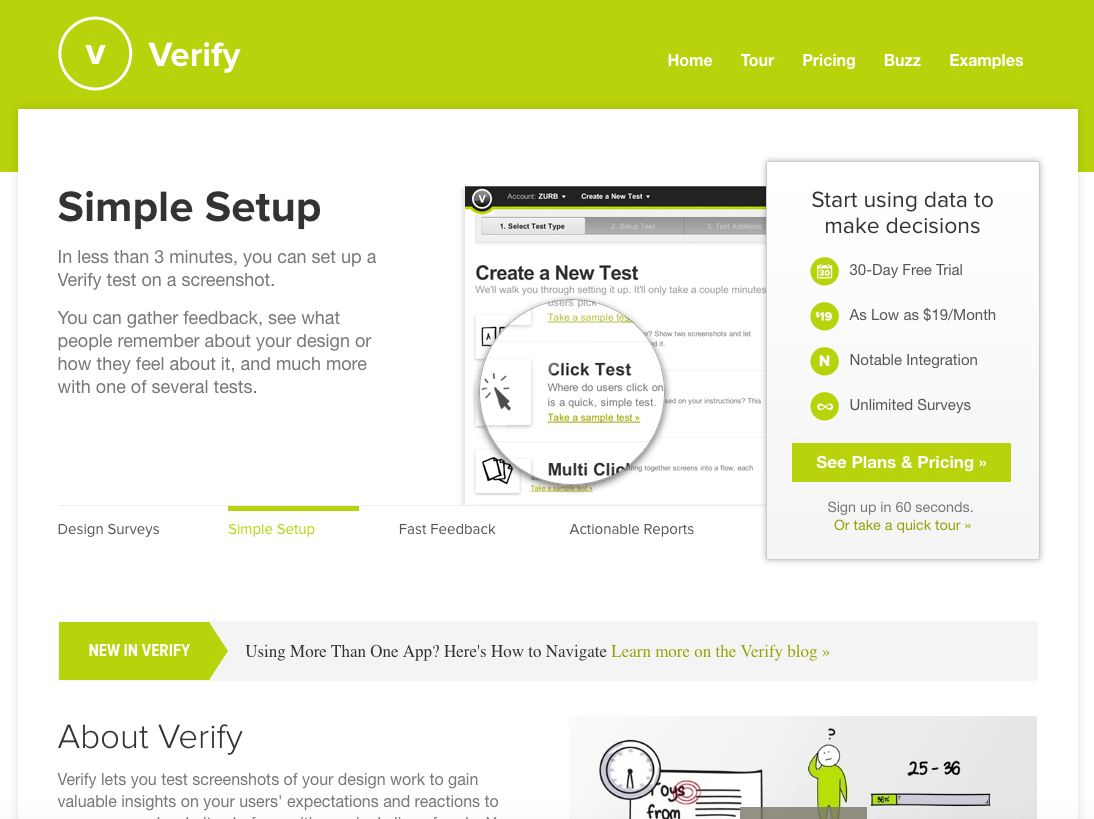 You can design surveys with VerifyApp that allow you to quickly collect and analyze user feedback on screenshots and mockups. The Plus version (mid-level) is $49 monthly for unlimited designs, Notable integration and demographic reports.
Recording
Usability Testing Tool #54: Camtasia by TechSmith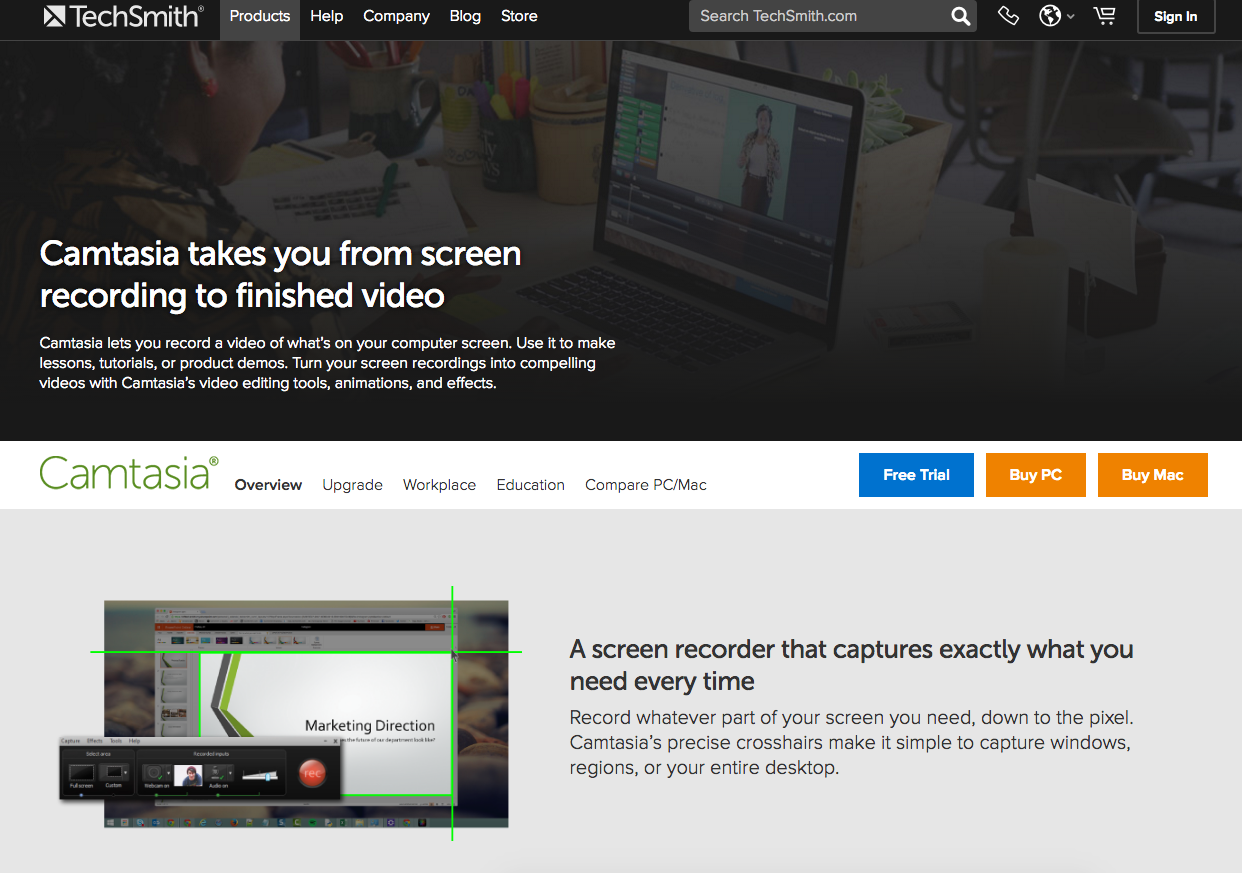 Camtasia allows you to screen record with precision, whether it's windows, regions or your entire desktop that you want to capture.
Usability Testing Tool #55: FullStory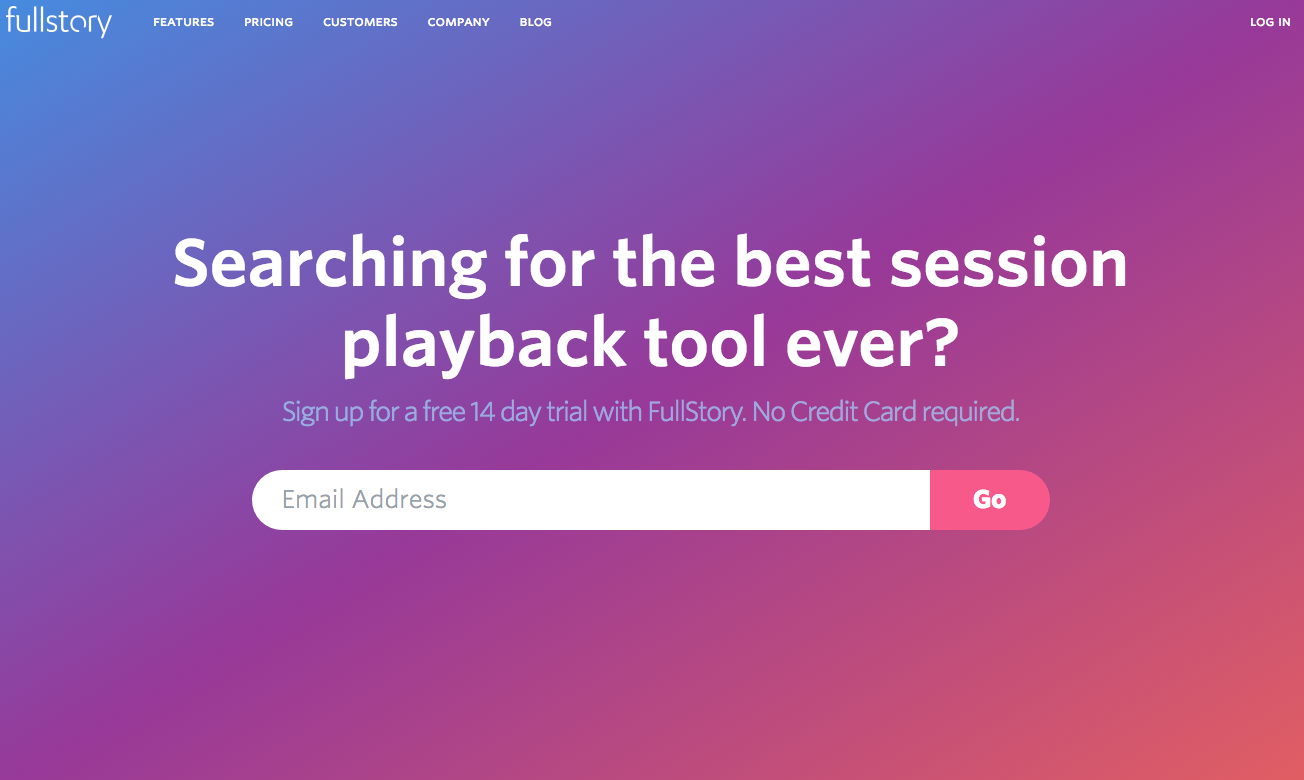 Once installed on your site or even single page app, FullStory records and provides a dashboard-full of feedback that will help you immediately fix all those not-so-ideal usability issues with your site. You can track new feature engagement, analyze campaign conversion rates and proactively seek out at-risk customers.
Prices range from $199 to $849 monthly.
A quote on their unique value proposition:
"FullStory is a pixel-perfect session playback tool that makes it easy to answer any question about your customer's online experience. One tiny script captures every click, swipe and scroll on your site – no manual event-tagging required."
Usability Testing Tool #56: Inspectlet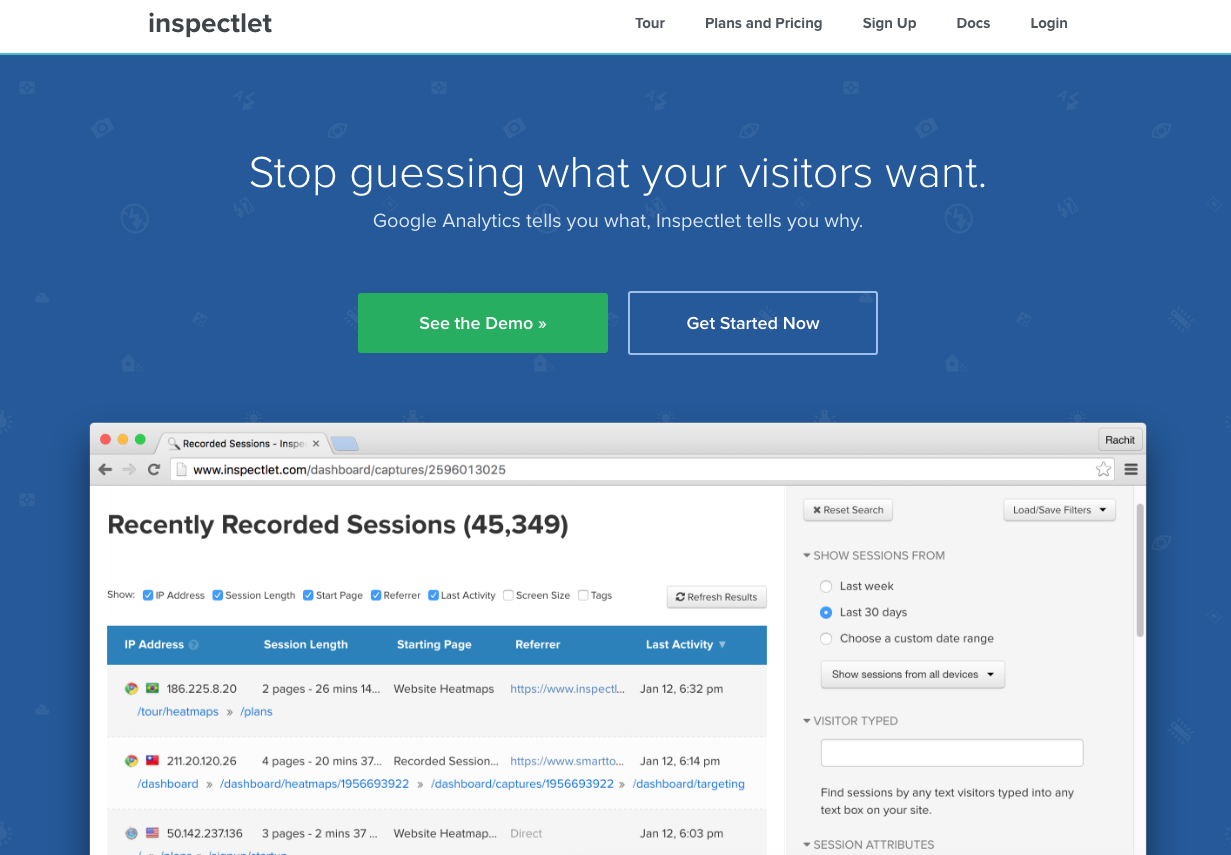 Inspectlet lets you record videos of your site visitors so you can track mouse movements, scrolling, clicking and key-pressing. Prices ranges from free to $299 monthly depending on the volume of recording sessions.
Usability Testing Tool #57: Jaco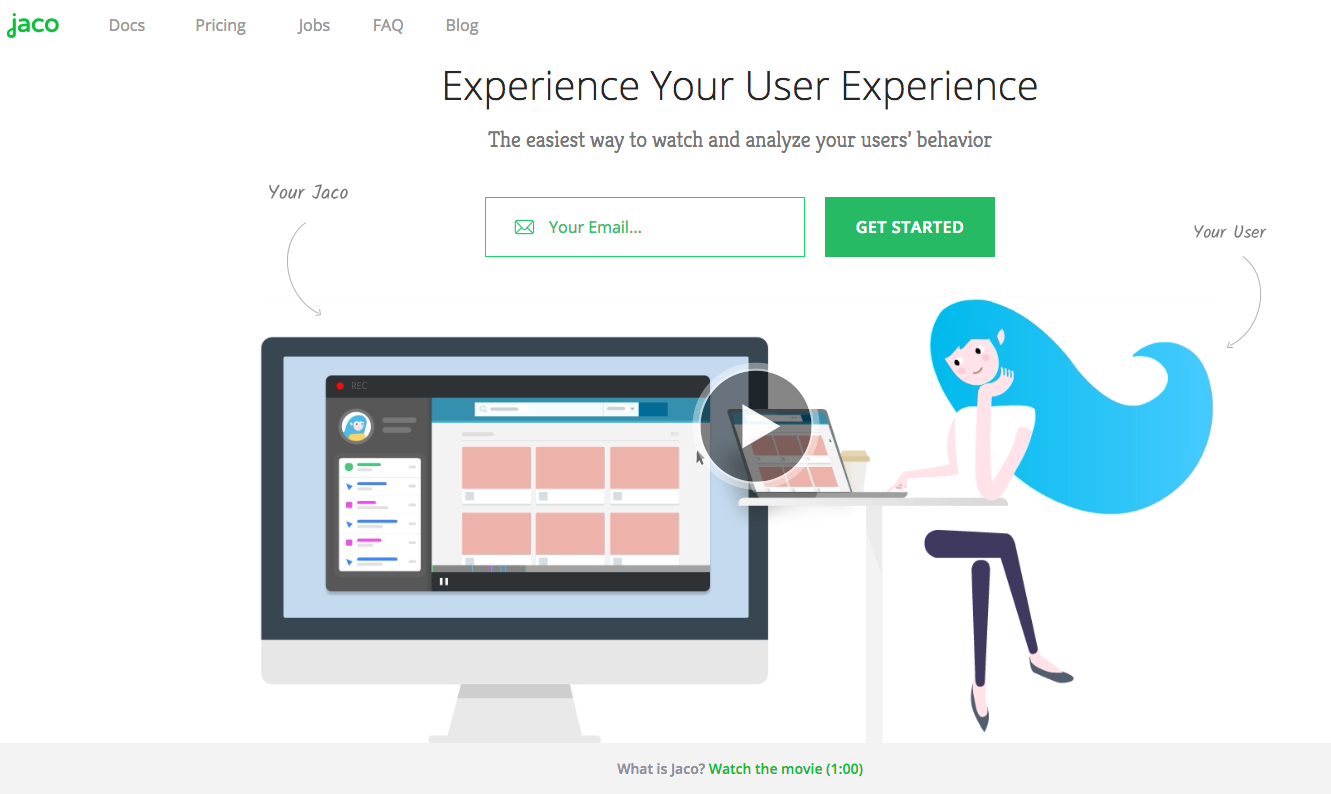 Jaco records and plays back your visitor interactions, providing advanced filter options and automatic session scoring. Pricing ranges from $39 to $349 monthly.
Usability Testing Tool #58: mediaCam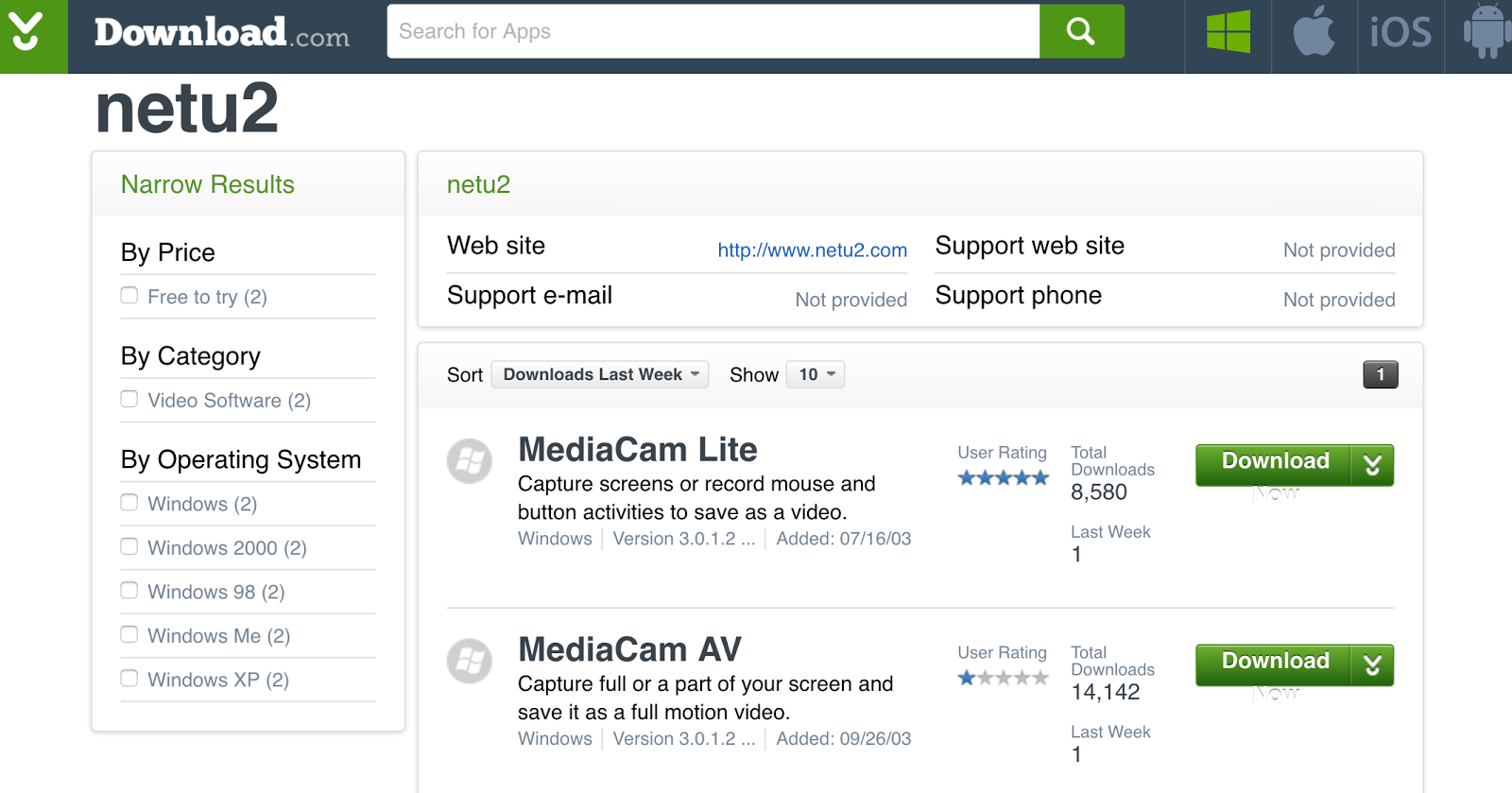 mediaCam AV captures your Windows screen desktop and saves as a full motion video. This software is free.
Usability Testing Tool #59: Mr. Tappy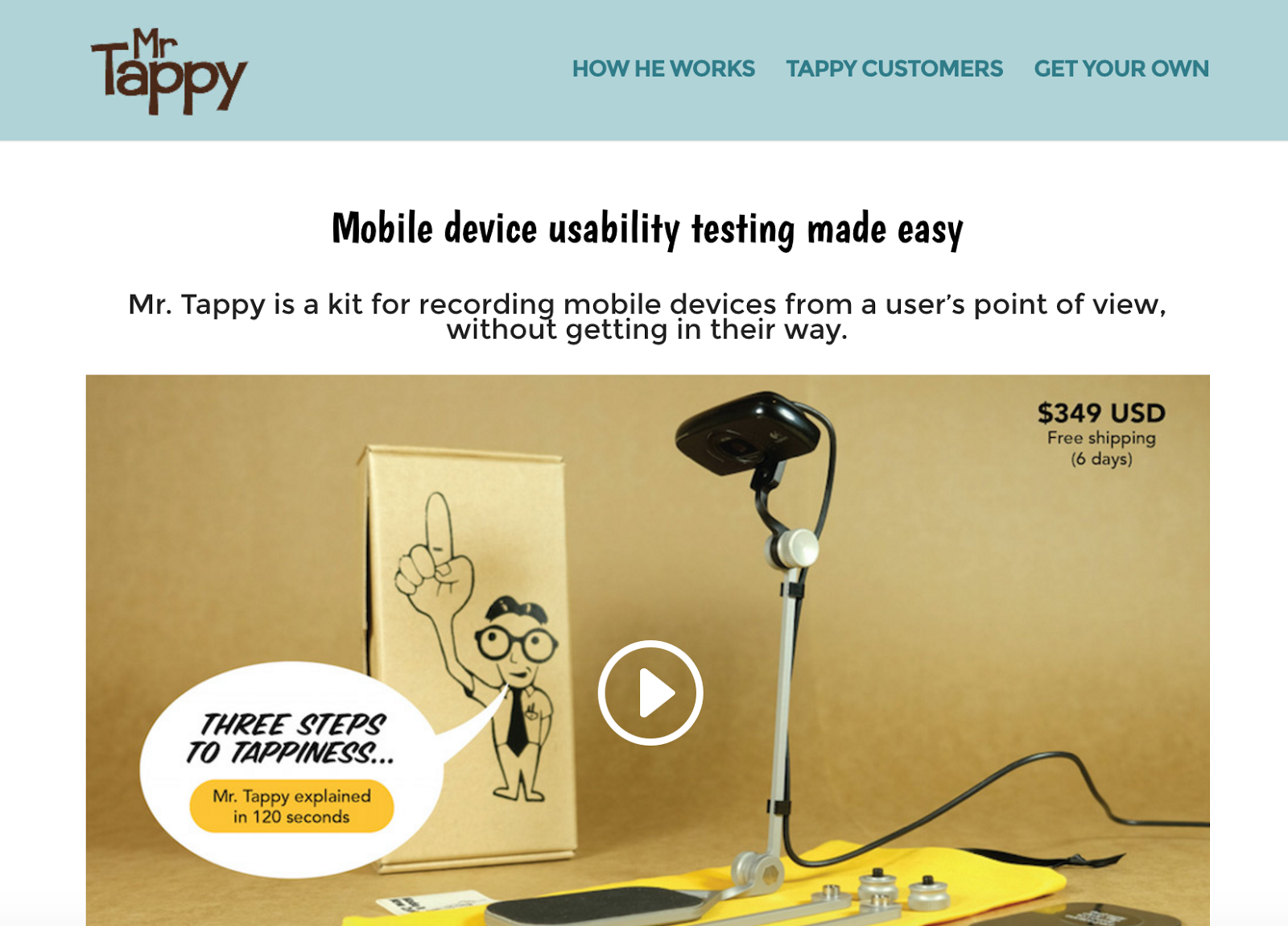 Mr. Tappy's fully adjustable camera rig records interactions and behaviors of mobile users. You can also view the facial expression of the user's face with a second camera setup, from a desktop in the same testing session for instance. Mr. Tappy goes for $349 per kit.
Usability Testing Tool #60: Reflector 2 by Air Squirrels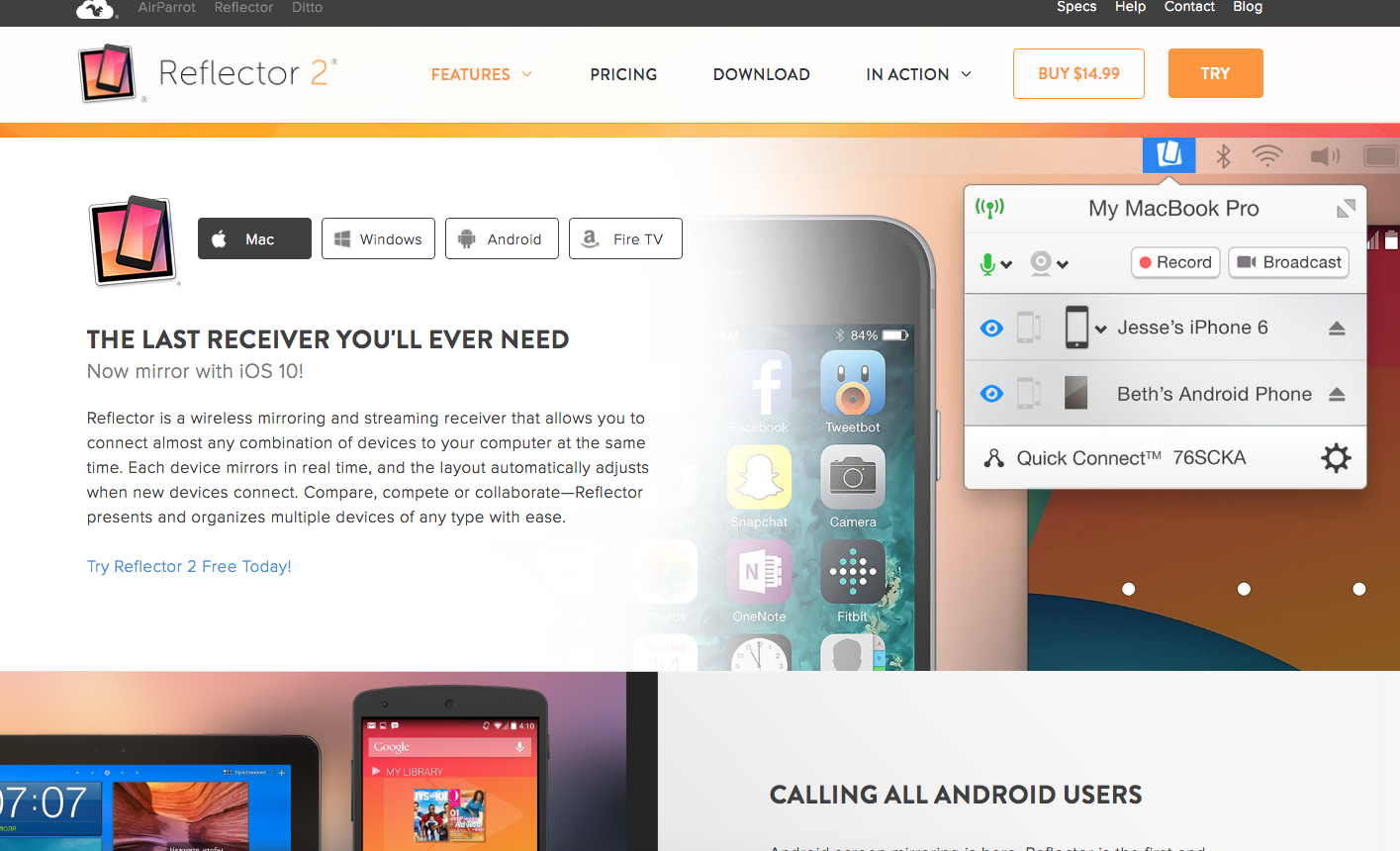 Reflector 2 is a wireless mirroring and streaming receiver that allows you to connect your desktop monitor to your mobile devices so you can record and display in real time. Pricing is $14.99 each.
Usability Testing Tool #61: ScreenFlow by Telestream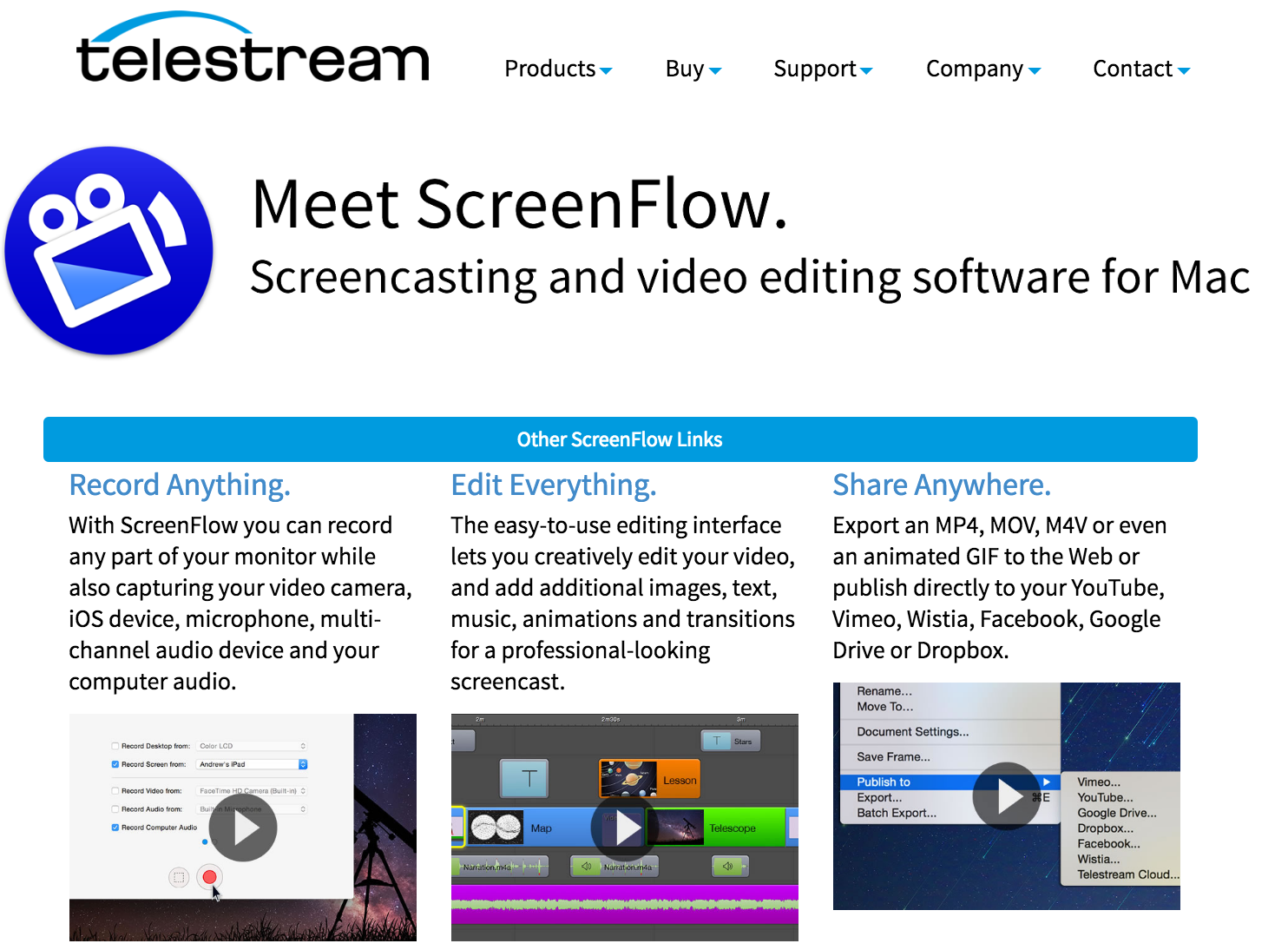 Telestream offers several desktop video transcoding solutions. ScreenFlow is their screencasting tool made for Mac, which you can purchase for $99.
Usability Testing Tool #62: SessionCam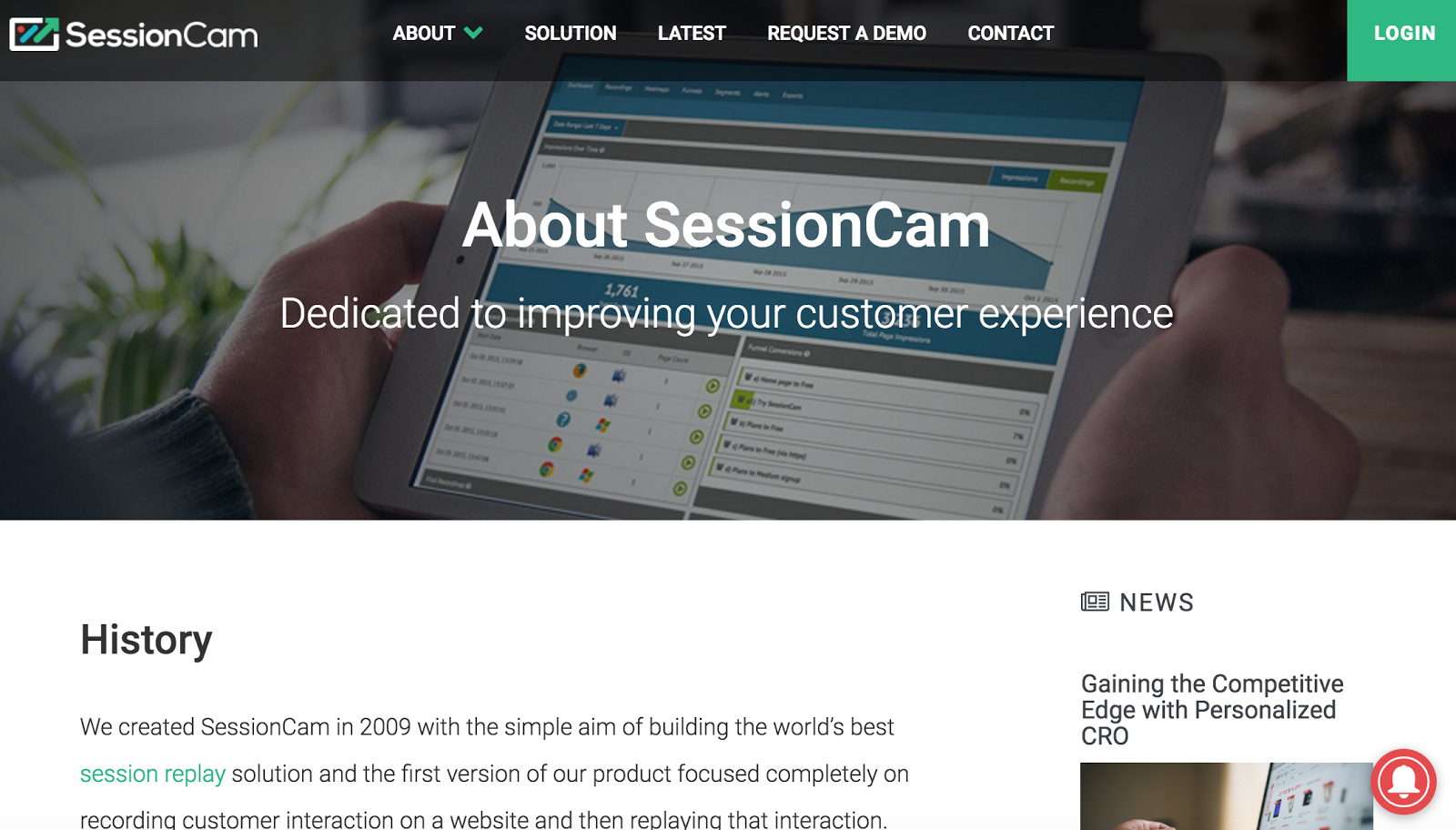 SessionCam allows to record all activity on your website and by using their machine-learning algorithm, you can figure out where people experience UX hiccups. Their features include form analytics, session replays, conversion funnel analysis and heatmaps. You can also export the data using their API.
Usability Testing Tool #63: Smartlook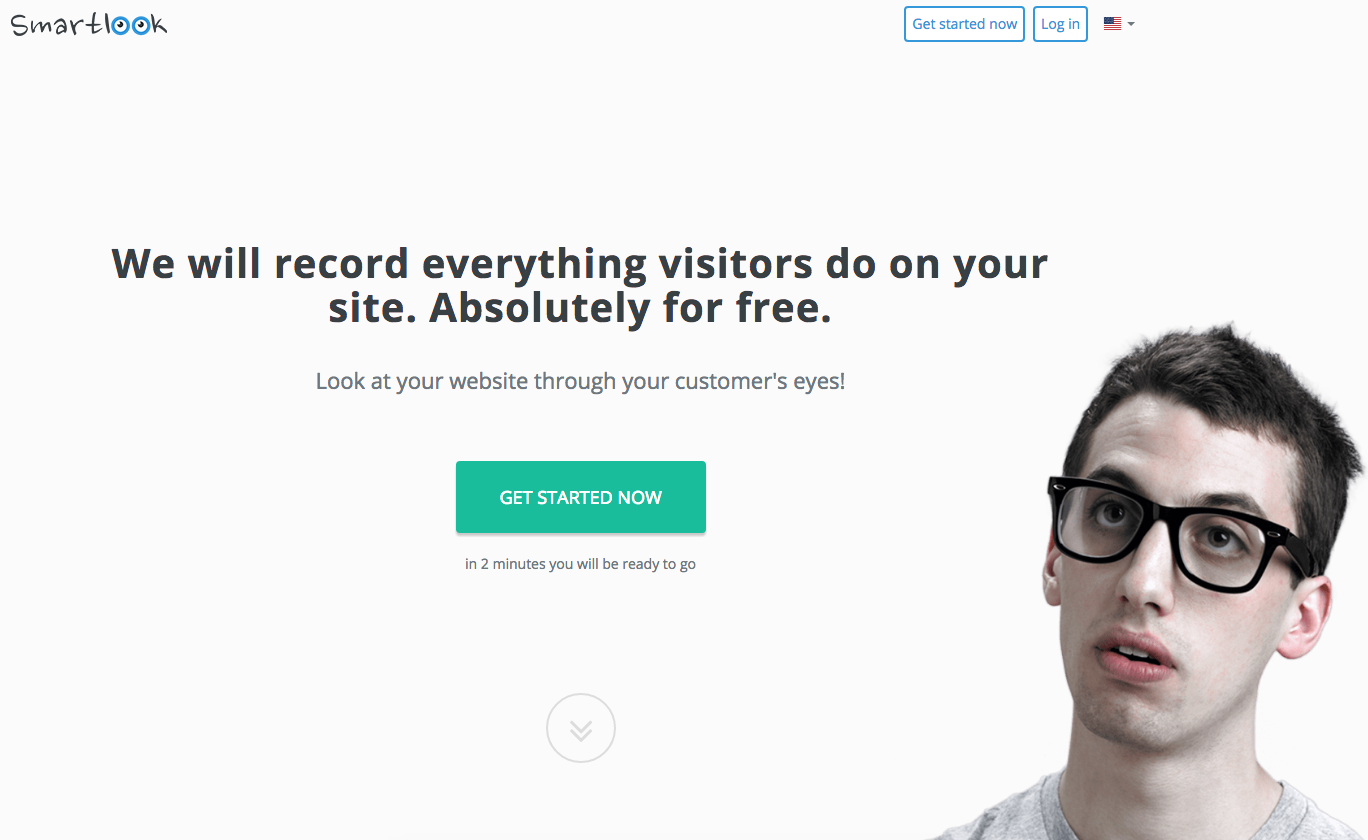 Smartlook is a free and simple tool that records your visitors behaviors on your site to help you identify three key elements: UX problems, why visitors leave, what motivated conversions.
USABILITY TESTING TOOL #64: UserBob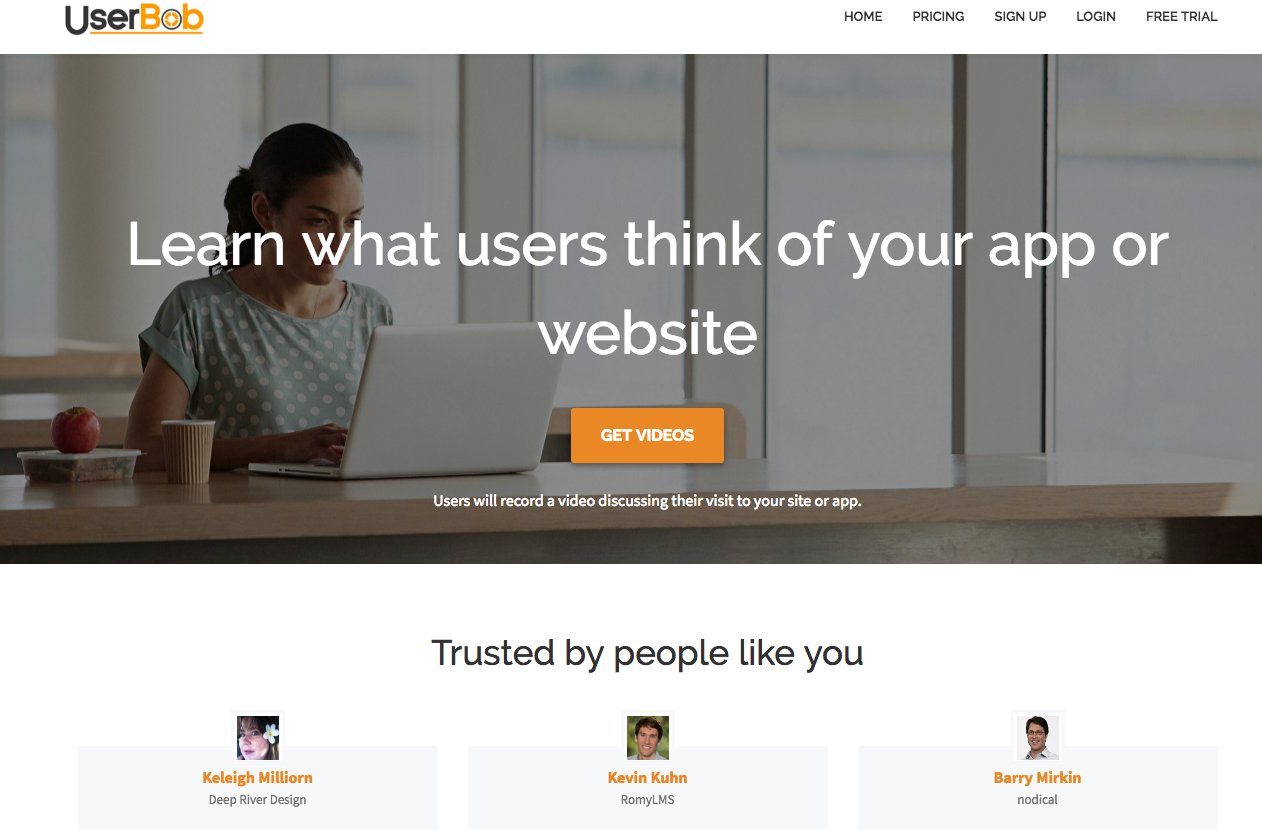 Testers that lives in the US will record their screens and voices to feed you their first impressions and/or tasks on your site or app. Pricing is $20 for 20 1-min first impression videos or $25 for five 5-min task completion videos.
Usability Testing Tool #65: UX Recorder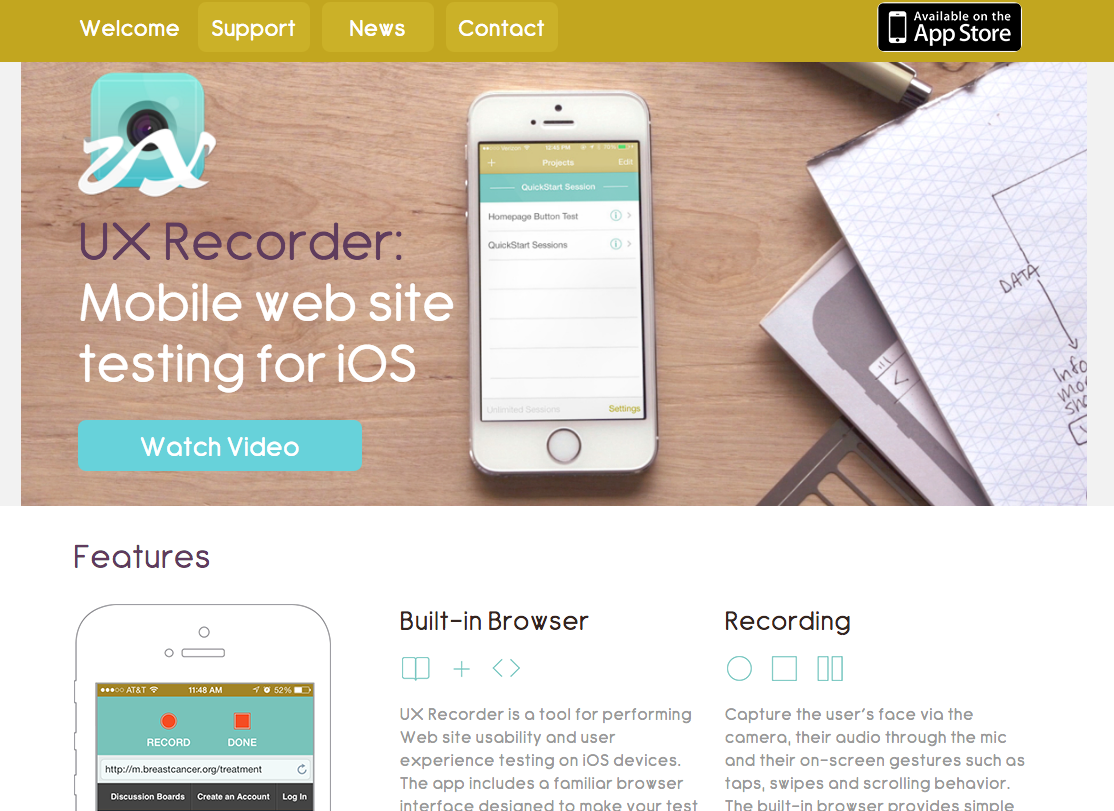 Designed for iOS devices, the UX Recorder allows you to capture the user's face and voice along with the user's gestures so you can review taps, swipes and scrolling behavior. Pricing ranges from free to $59.99 depending on number of sessions, exports, and projects.
Usability Testing Tool #66: UXTesting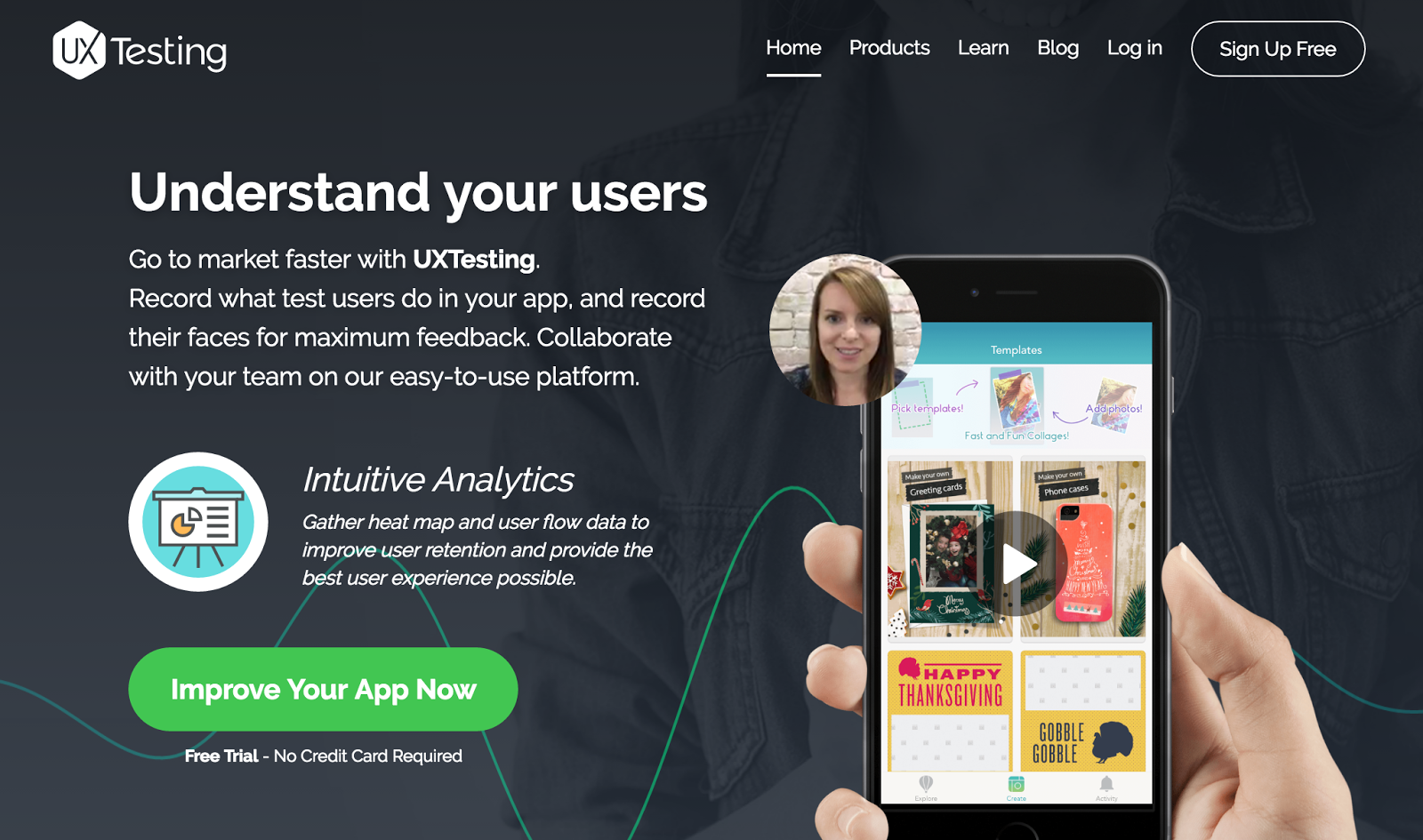 With UXTesting you can record user session and their faces. Their front camera syncs with the user's interaction via an app. You can conduct mobile testing by assigning specific tasks and conducting post-test surveys. Additional reporting comes in the form of heatmaps, user flows and crash playbacks (so you can understand what happened in the app before a crash). Sign up is free.
A quote from UXTesting's Aldrich Huang on their unique value proposition:
"The platform is dedicated to smooth out your UX research process, easily manage UX data and enable emotion analysis of real users."
Speed
Usability Testing Tool #67: Google PageSpeed Insights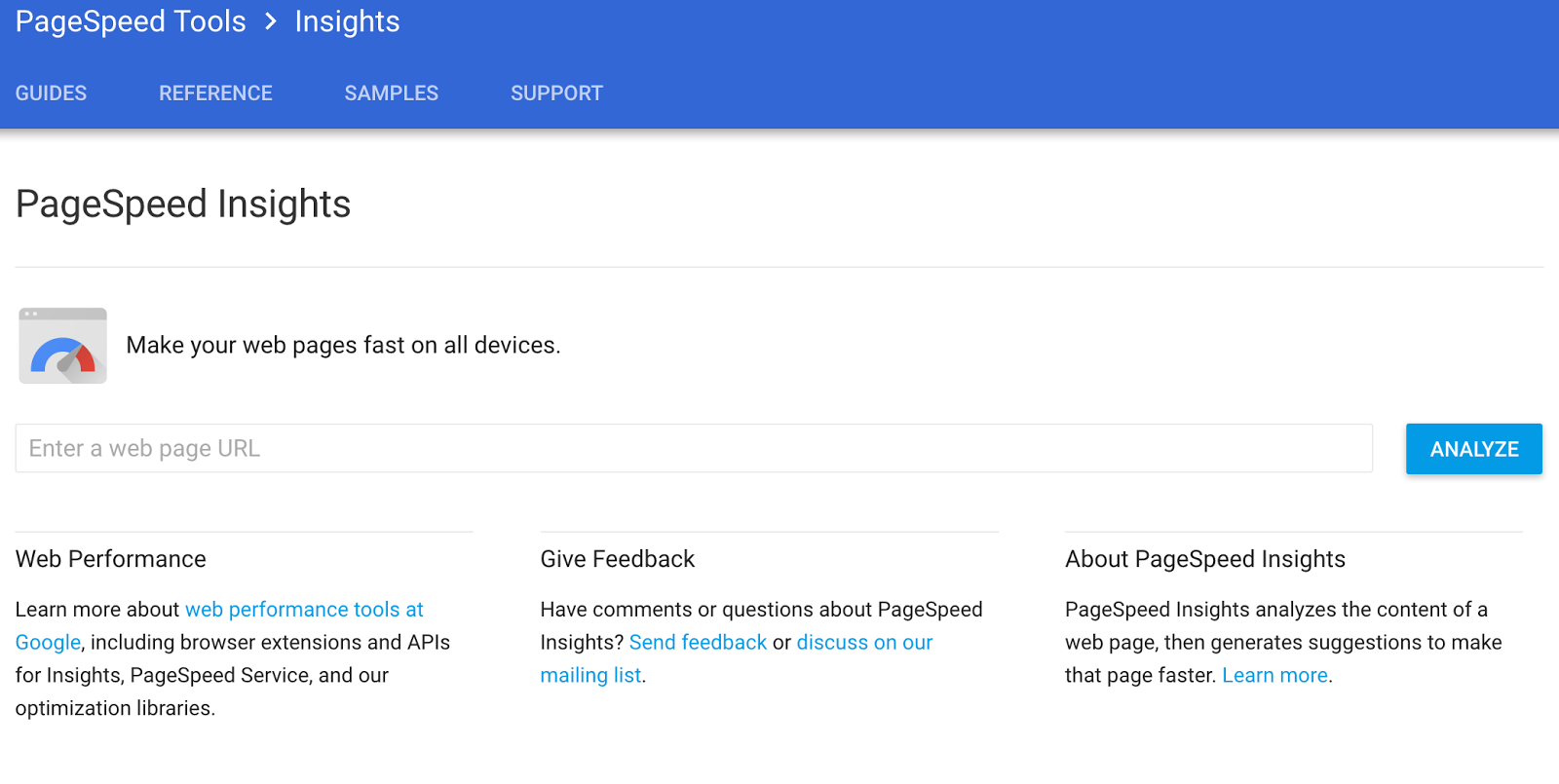 Just type in your URL and Google PageSpeed Insights will spit out reports that show you not only which rules you passed, but also which items you should consider fixing (and even how to do it). The cost for their optimization suggestions is free.
Usability Testing Tool #68: GTmetrix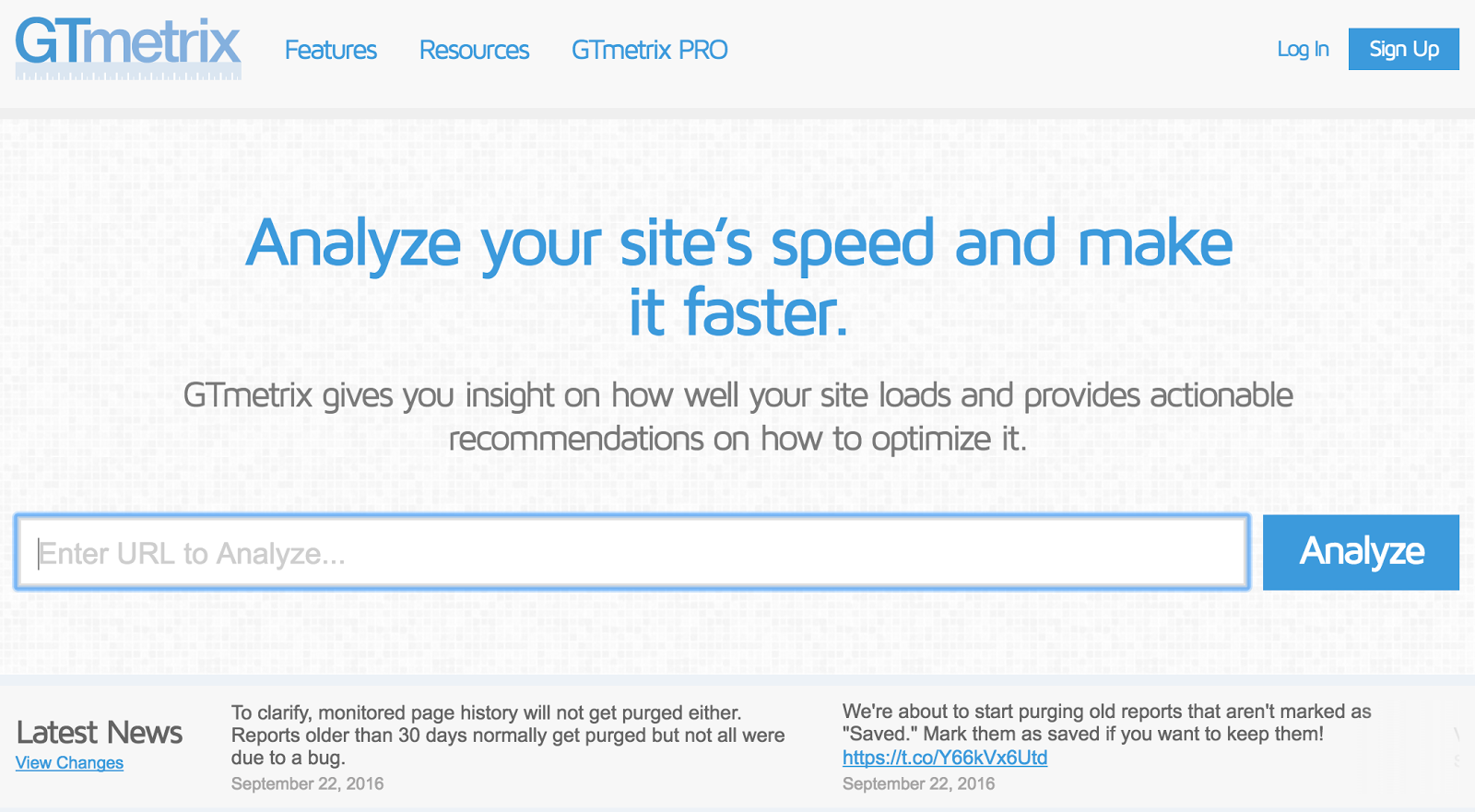 GTmetrix provides performance reports and insight on how well your site loads and points out where your bottlenecks are. You can monitor pages in several locations and event video capture. Their tools apply to mobile analysis, too. There's no cost for the PageSPeed analysis. Just type in your URL.
Features include:
PageSpeed and YSlow scores and Recommendations
Page Load Details (time, size, number of requests)
Test from 7 different regions & 3 different browsers
Waterfall, Video and Report History
Intuitive user interface
A quote on their unique value proposition:
"GTmetrix tells you how fast your website loads and how to fix speed issues. You'll get a complete view of all the crucial aspects of your website load time, and you won't need to be a hardcore developer to understand it."
Usability Testing Tool #69: Pingdom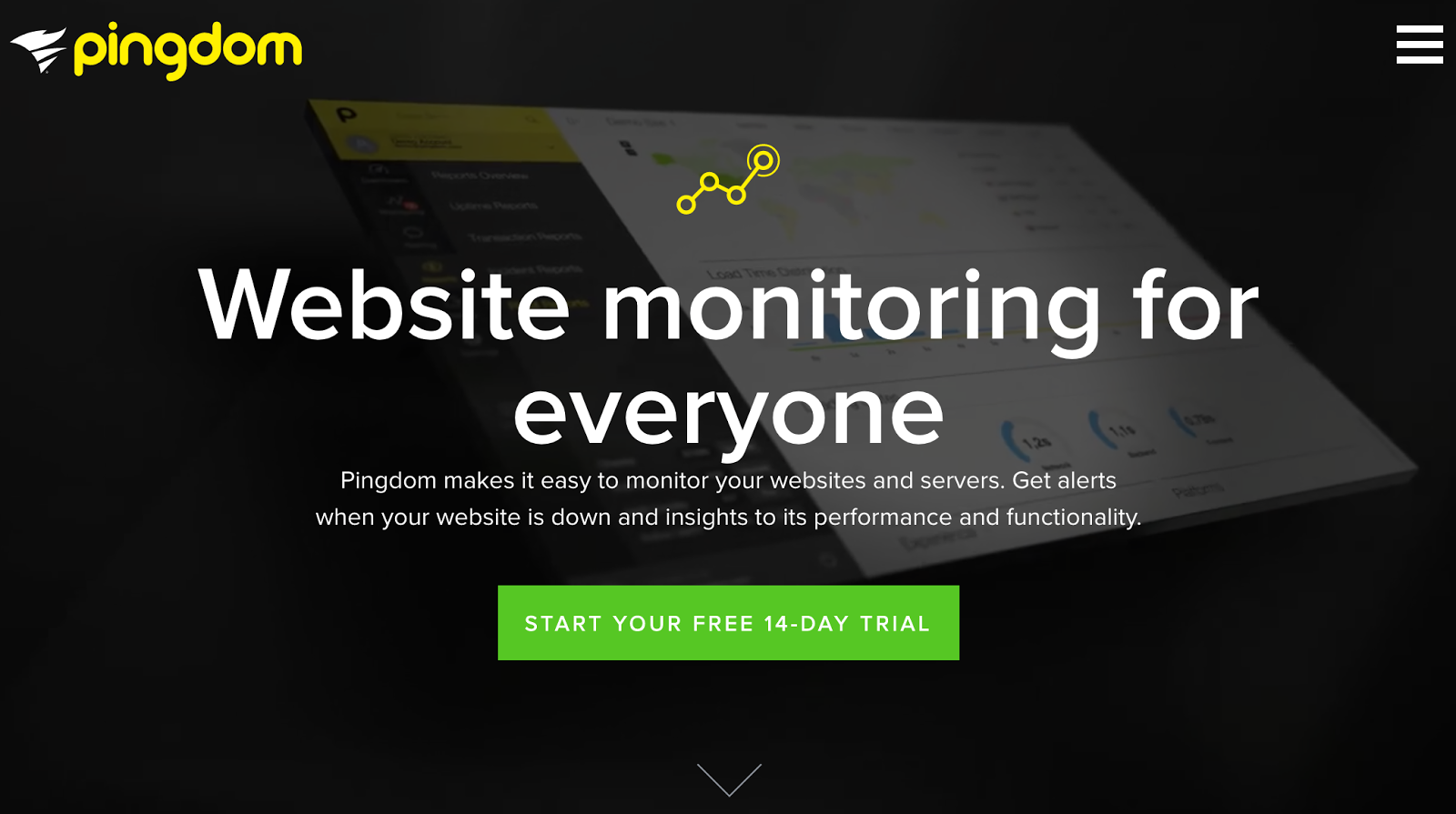 Pingdom monitors several speed related things on your sites including real-time page and load speeds and how the data relates to browser, platform and location. Pricing ranges from to $14.95 to $495 monthly.
Usability Testing Tool #70: Web Page Test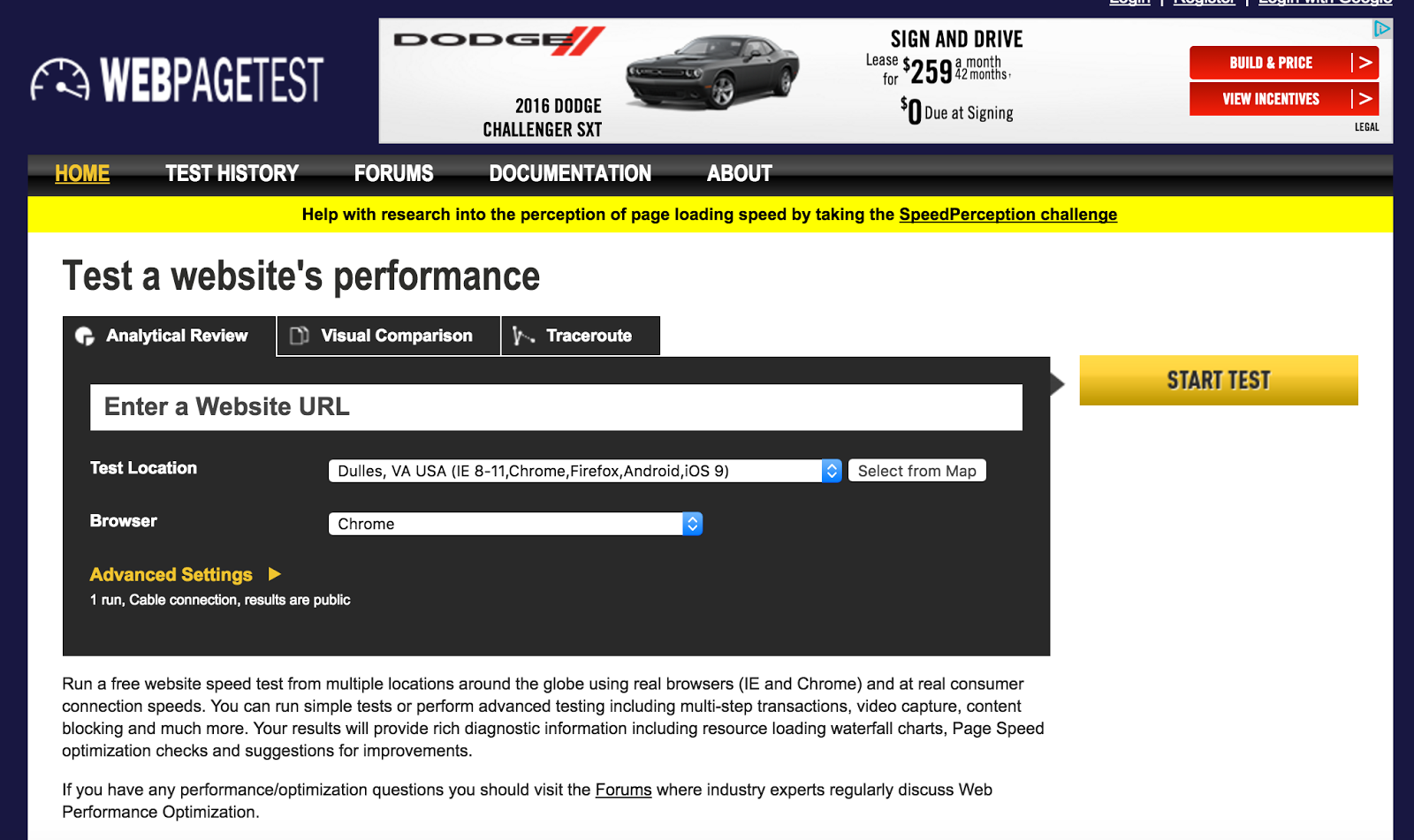 Just enter your URL, test location and browser type, and the site will run a speedtest from multiple locations using real consumer connection speeds. This one's free of charge.
Accessibility
Usability Testing Tool #71: Browsershots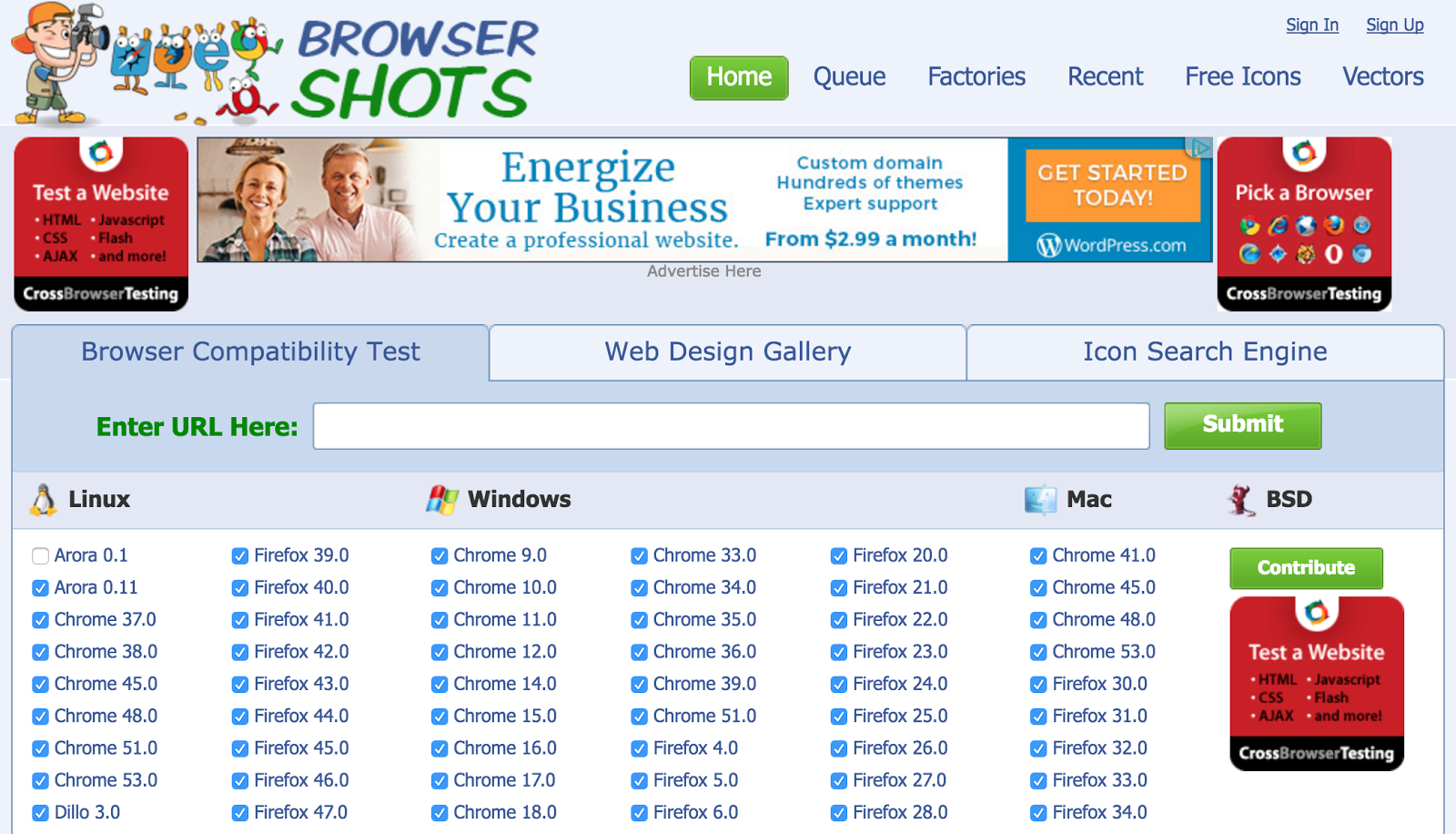 Type in your URL and Browsershots will identify which of the several browser versions are compatible or incompatible with your site. Within a certain daily limit, the cost is free.
Usability Testing Tool #72: CrossBrowser Testing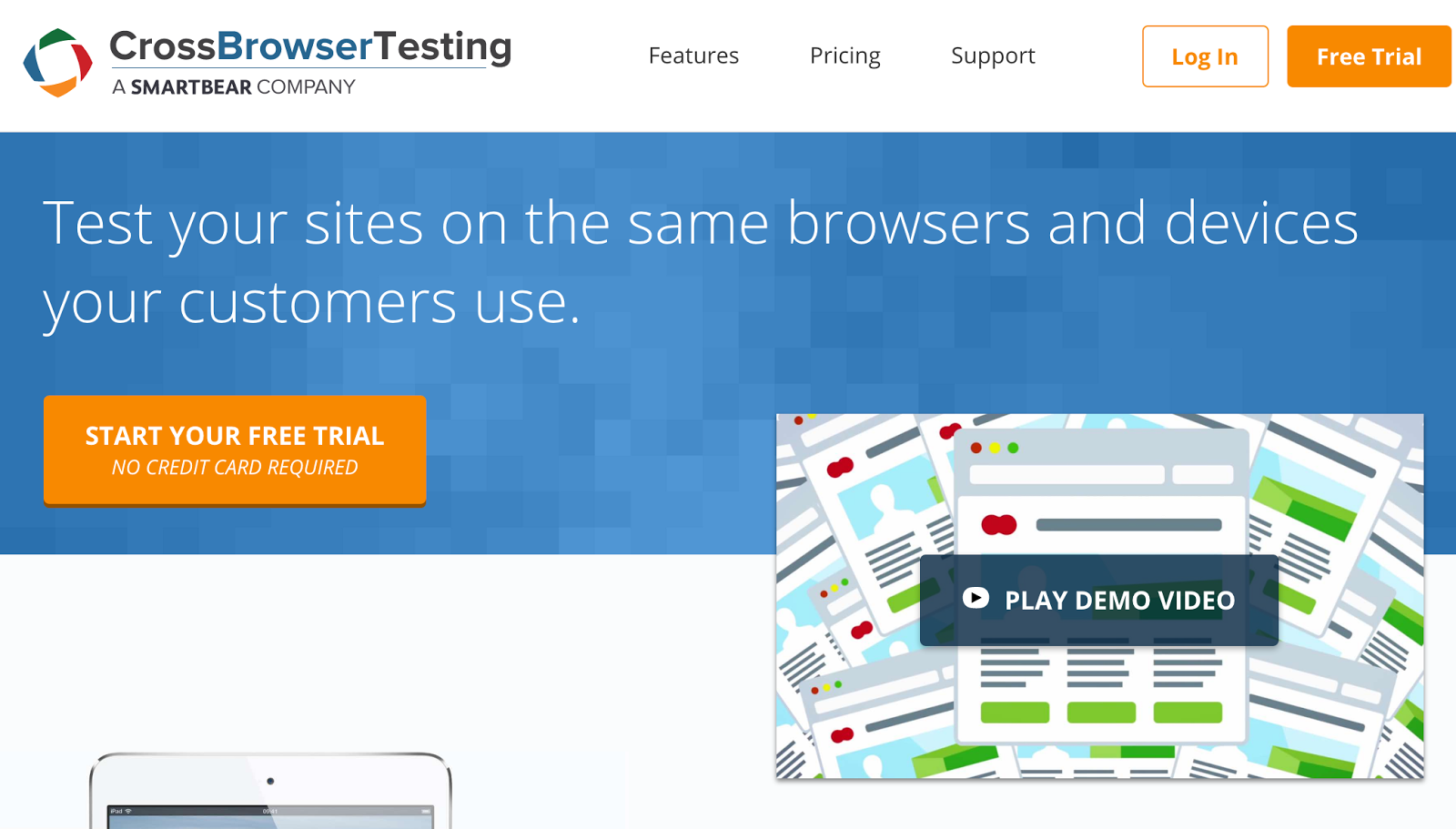 CrossBrowserTesting tests your site on over 1,500 browsers across 65+ operating systems. Pricing ranges from $29 to $199 monthly depending on volume.
Daniel Giordano of CrossBrowser Testing describes their unique value proposition:
"CrossBrowserTesting is a testing environment with over 1500 browsers and mobile devices to conduct your manual or automated testing against. Debug CSS and Javascript interactively, take automated screenshots and comparisons, and run Selenium and Appium tests on almost any device, instantly."
Usability Testing Tool #73: Google Mobile-Friendly Test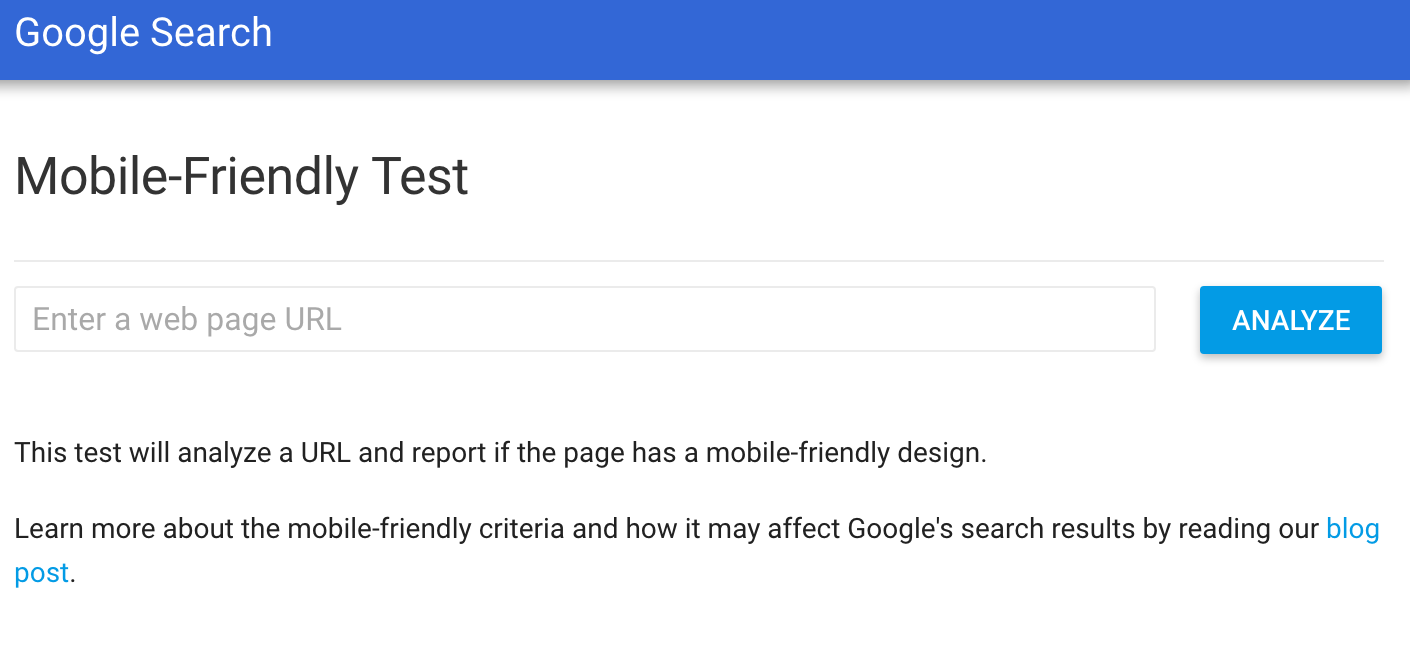 Google conveniently created a tool where you simply input your URL and receive an analysis that gauges your level of mobile friendliness.
Usability Testing Tool #74: W3C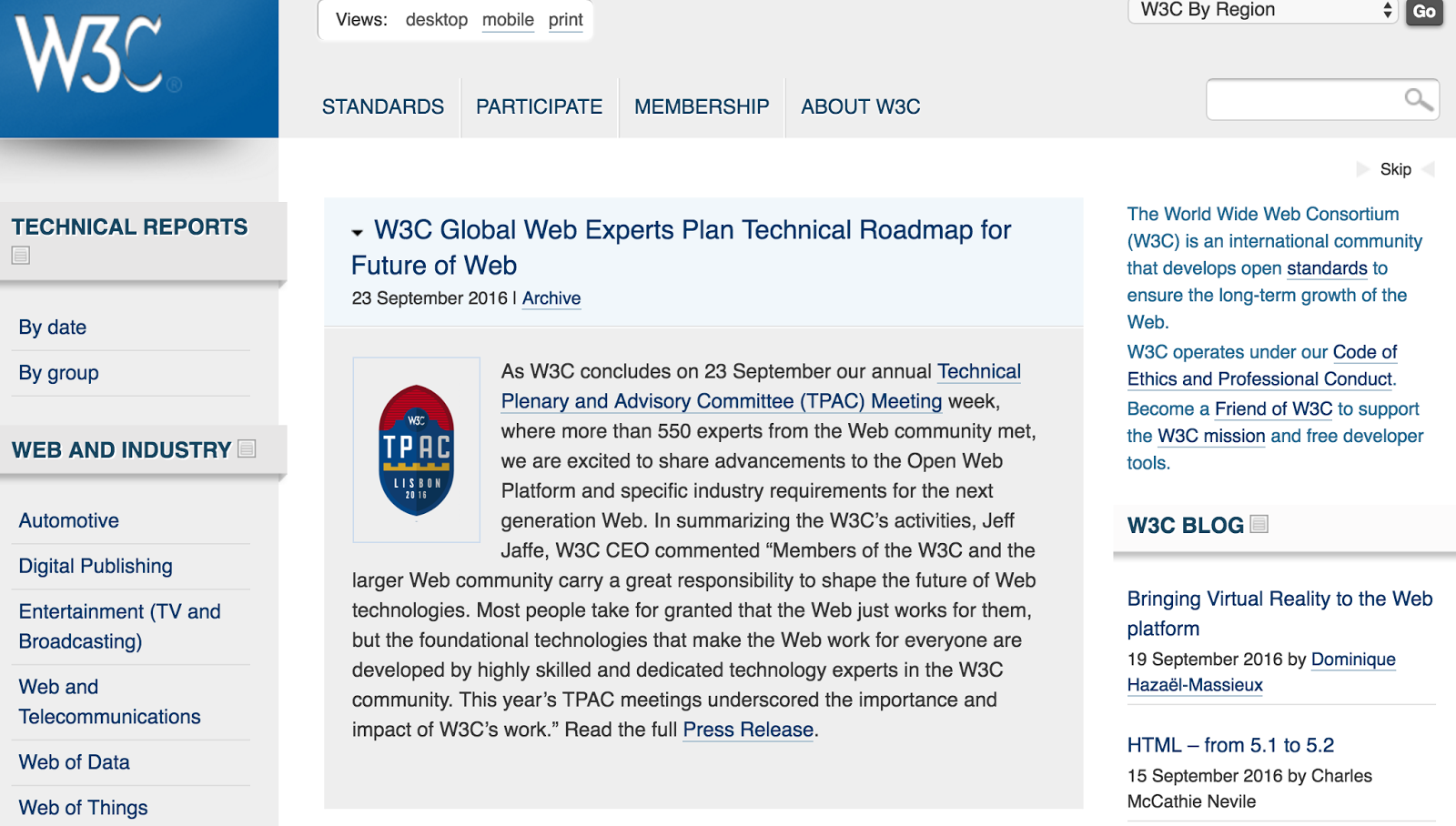 The World Wide Web Consortium (W3C) is an international community where member orgs and team members work together to develop web standards. As a byproduct, W3C does markup validation, where you simply input your URL to check validity and standards compatibility.
A quote on their unique value proposition:
"The World Wide Web Consortium (W3C) is an international community that develops open standards to ensure the long-term growth of the Web. W3C operates under our Code of Ethics and Professional Conduct. Become a Friend of W3C to support the W3C mission and free developer tools."
Readability
Usability Testing Tool #75: CheckMyColours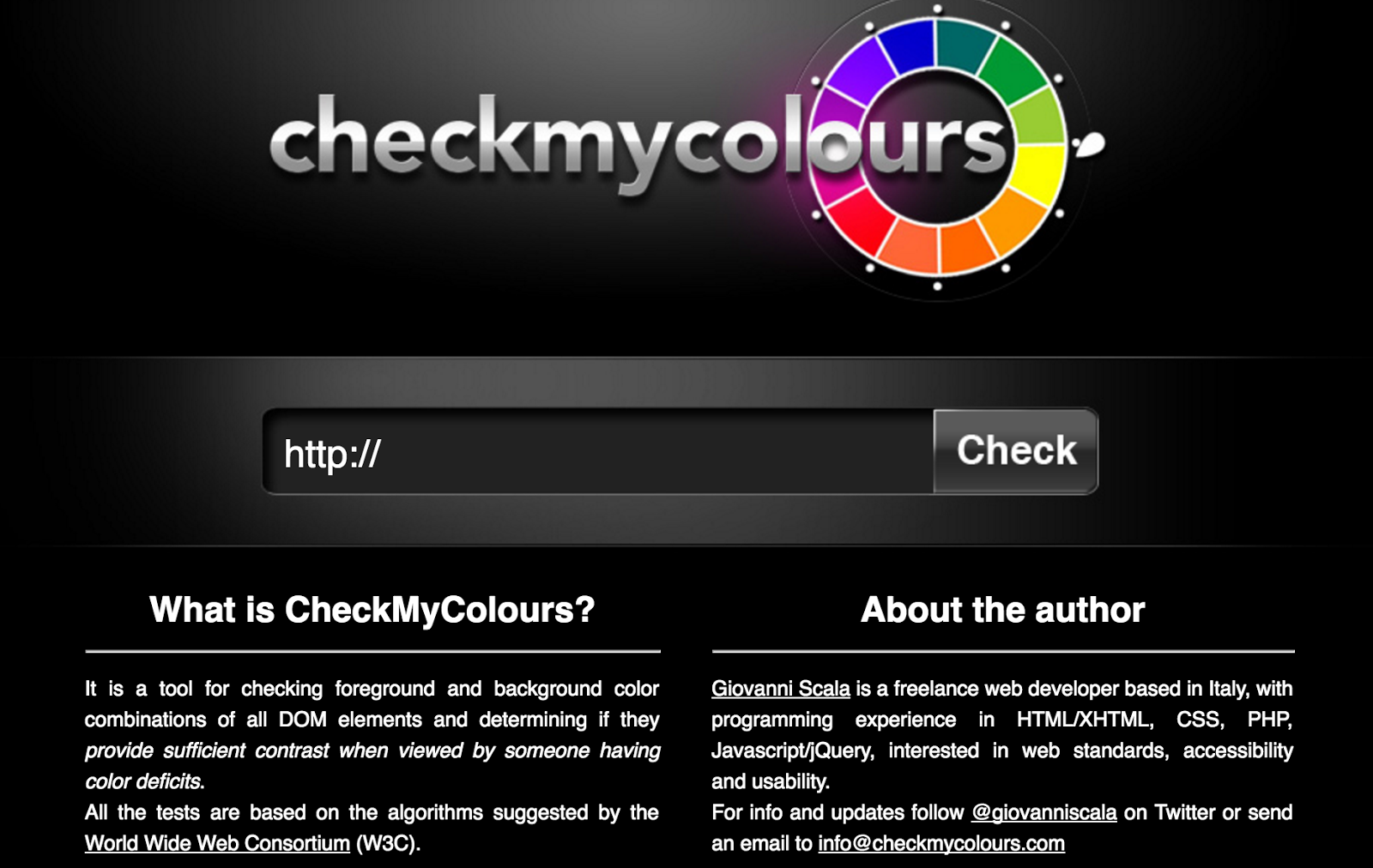 This tool will allow you to analyze the colors of your webpage to verify optimal contrasts are used in your design. To find out your site is easy on the eyes (or not), they provide stats on luminosity contrast ratio, brightness difference and color difference. The cost is free.
Usability Testing Tool #76: Juicy Studio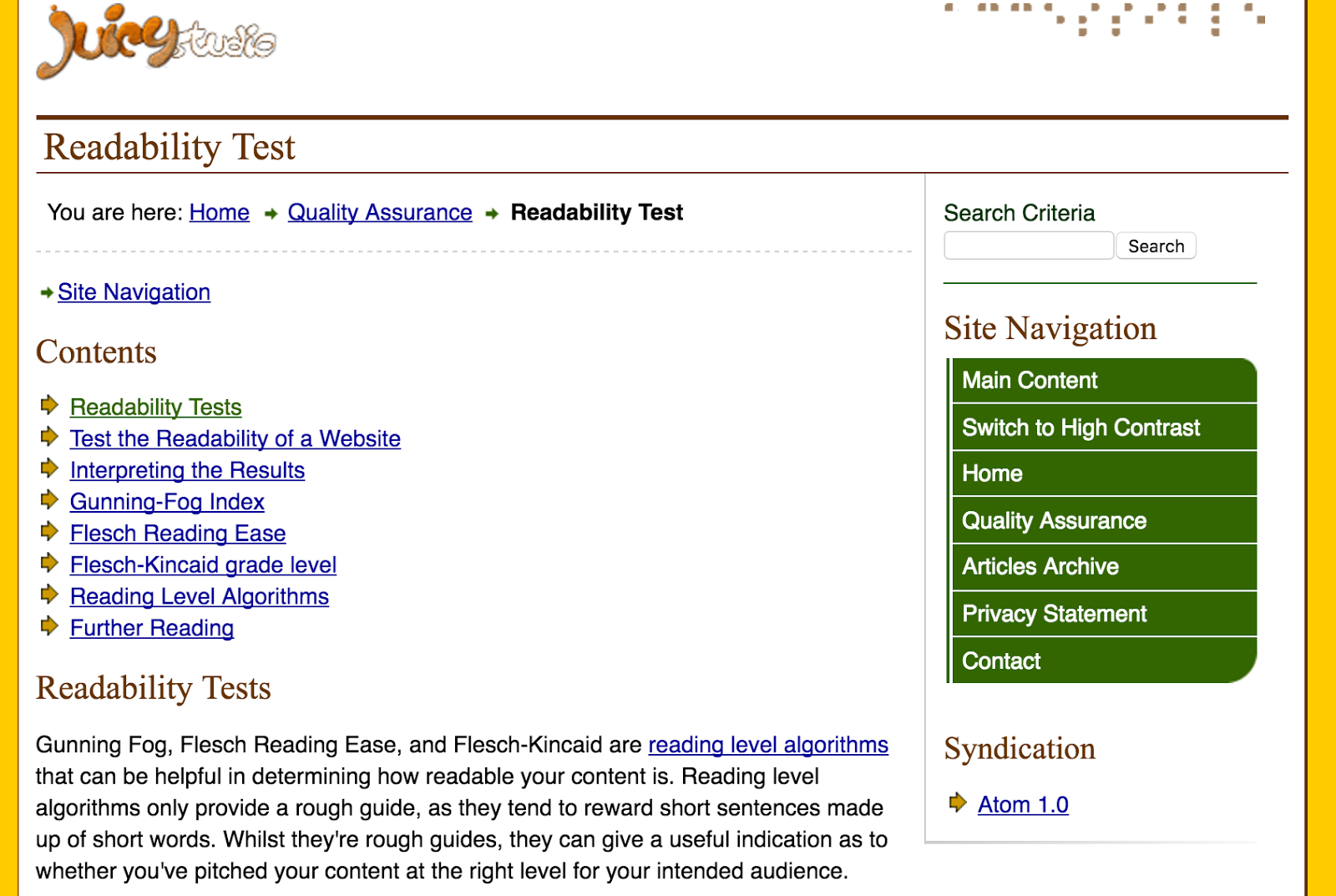 JuicyStudio uses reading level algorithms (Gunning Fog, Flesch Reading Ease, and Flesch-Kincaid to be exact) in helping you determine readability level of your website content. They also have a luminosity color contrast ratio analyzer if you have your hex color codes handy.
Recruitment
Usability Testing Tool #77: Ethnio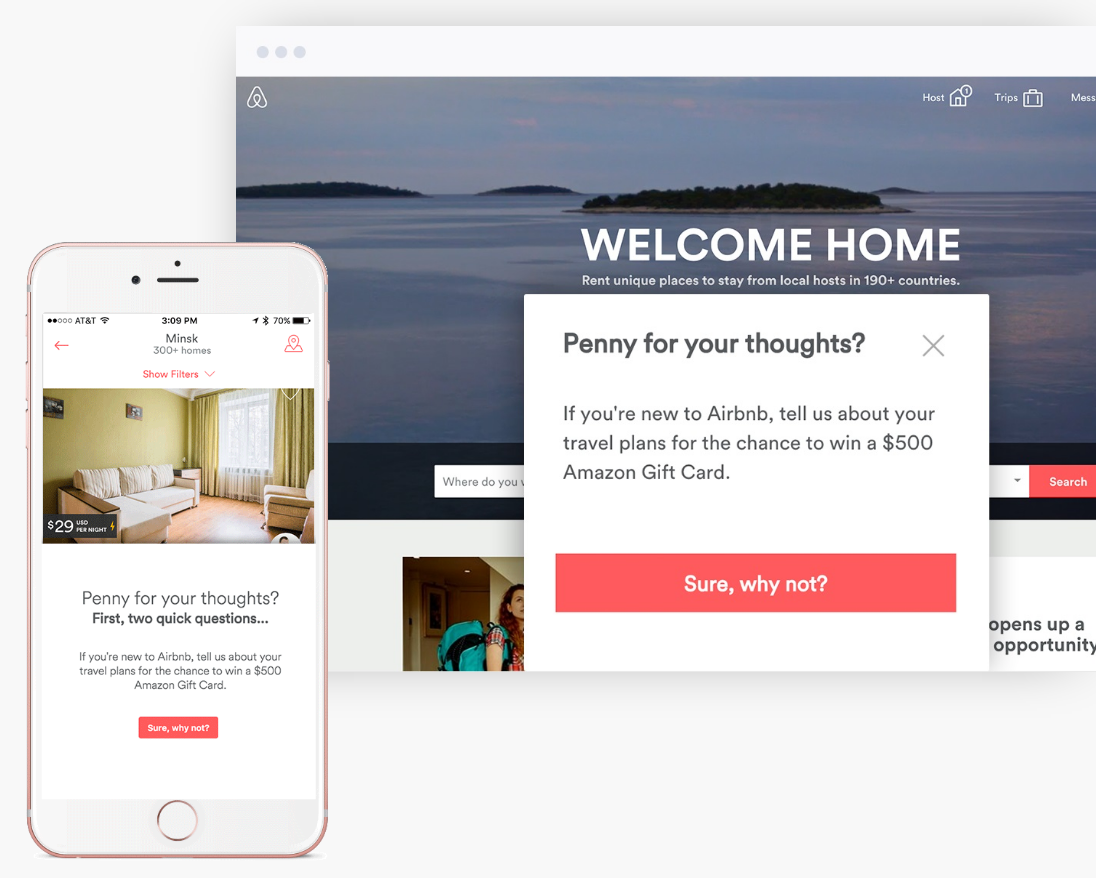 Ethnio helps you find participants for your UX research by offering intercepting tools for your website or mobile pages. You can place Ethnio JavaScript on your site or use direct link to place screeners. You can include incentives, drill down questions, branching logic, and other design elements in your screener designs. You can also integrate this into your usability testing software (i.e. any of the tools from the first section above).
Closing Thoughts
What would we do without SaaS tools?
We'd push through our massive volume of tasks more sluggishly I'm sure. And we'd score conversions at a much slower pace.
With the intense emergence of cloud-based software it feels like there's a tool for nearly everything, so take advantage of the usability tools currently out there and decide which features, price points, functions and needs are right for you.
Mix and match these usability tools to hit various angles that will increase your conversions, and in turn, your revenue stream – which means an increase in your return on investment.
So you can be like this, after running all those usability tests: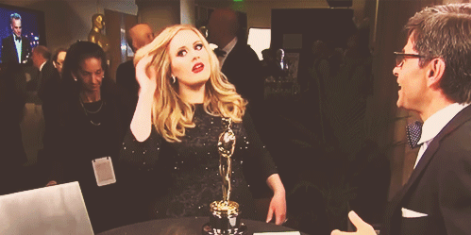 </ahref="https:>
The SaaS landscape is always changing – send me a comment if you have any recommended usability tools to add (or remove) from the list.