Call tracking is technology that allows the tracking of phone calls to be associated with Google AdWords and other digital media efforts. It's a useful way for businesses to get information from their customers, such as the source of the incoming calls (e.g. a particular landing page), locations they're calling from, duration, popular call times of day, and in some PPC efforts, the keywords associated with each call.

By using call tracking numbers for your online and offline campaigns, you'll be able to see which campaigns are more effective at bringing in calls, and ultimately, making you more money.

Benefits of Call Tracking
It's proven that phone leads have a 1,000% higher close rate than all other types of leads, with a close rate of 14.6% on average. We all know the main benefit of call tracking is finding out information about your callers, but what you do with that information is what makes call tracking truly helpful in optimizing your marketing campaigns.

You can determine the following from call tracking:
Top performing landing pages: You can either assign individual numbers to your campaigns or implement dynamic call tracking to see which landing page is bringing in the most calls. Perfect for A/B testing. You can't see it on the below screenshot, but the number at the top keeps changing dynamically.
Call sources: Most call tracking platforms allow you to track which sources the calls are coming from. In the case above, all calls came from Google Paid, but organic, Bing, and direct will also show up in most platforms.
Number of calls: Use call tracking reporting to view the number of calls and see the overall trends and patterns associated with these calls. Once you have enough data, you can compare the data that fits your goals the most.
Peak call hours: Call tracking reporting allows you to see which days of the week and time of day are bringing in the most phone calls. It's a smart idea to use this data to make time bid adjustments in Google AdWords.
Keyword: Just like setting up AdWords campaigns with the SKAG structure, the more granular you get with call tracking, the better. Implement keyword tracking to see which keywords are bringing in the highest valued calls.
Call duration: Use the call duration to find out which campaigns are generating the longest and most in-depth calls that are more likely to translate into a conversion.

The screenshot below is a quick example of information you can see from a standard call tracking platform:


Below are two screenshots that show KlientBoost taking over an account in the middle of February 2017. One of the first things we decided to do was implement call tracking. We saw an increase in conversions & decrease in CPA as soon as we did this in March of 2017. Not all of these conversions are from call tracking, but a good portion of the optimizations came from it.



This is just one example of how the benefits paid off for one of our clients.

Call Tracking Platforms
There are numerous amounts of call tracking platforms that are used for marketing, but we'll go over the pros and cons for the most common ones we use at KlientBoost for marketing success.


Based off of the chart above, the best option is CallRail. CallRail integrates well with AdWords, call recording is easy to listen to, & other options that are listed below.

Basic Setup Considerations
Although each platform has its own setup, you'll want to make sure to look into the following 6 features or integrations that will help in your tracking efforts:
Dynamic Call Tracking
Google Analytics & AdWords Integration
Keyword Parameters
Call Duration Time
Call Recording Length
Specific Source Tracking

Let's explain each one and any step-by-step processes for setup.

Dynamic Call Tracking
The best way to track calls is to implement dynamic call tracking, which can be done through CallRail, Google Forwarding Number, and other popular call tracking platforms. This allows you to assign a phone number pool of several numbers that swap out on the landing pages based on a visitor's IP address to keep tabs of different data (source, landing page, campaign, keyword, etc.).

To install dynamic call tracking, most platforms just require you to insert a simple code of Javascript that will automatically swap the phone number on your website to the number pool.

Now, sit back and watch the call data roll in.

Integrating Call Tracking with Google Analytics & AdWords
Once you start getting calls, the next step is tracking and integrating these calls with your marketing platforms. In most third-party call tracking platforms, you can do this by integrating Google Analytics with the call tracking platform of your choice and setting goals that import to Google AdWords.

Let's take CallRail, for example, and go through the steps of setting up a conversion goal:
Set a goal for first-time callers in Analytics.
Import the Goal to Google AdWords that tracks as a conversion.

This data will help you determine which campaigns, ad groups, and even which keywords are bringing in the highest amount of calls.

Keyword Parameters
It's crucial to track conversions in AdWords, but it's also important to see which keywords are associated with every call in each call tracking platform.


Just like any other UTM parameter, you can do this at the account level with the AdWords tracking template in URL options in the AdWords' Shared Library. The actual parameter will vary depending on the call tracking platform.


Call Duration Time
In most call tracking platforms, you can adjust settings to the call duration time that would be deemed as a qualified lead to avoid counting low-quality leads as conversions in AdWords. For example, you can set up a trigger to only count calls greater than 5 minutes as a conversion. This will help weed out these low quality calls and give you a clearer and more accurate picture of the data.

Here's how to do it in CallRail: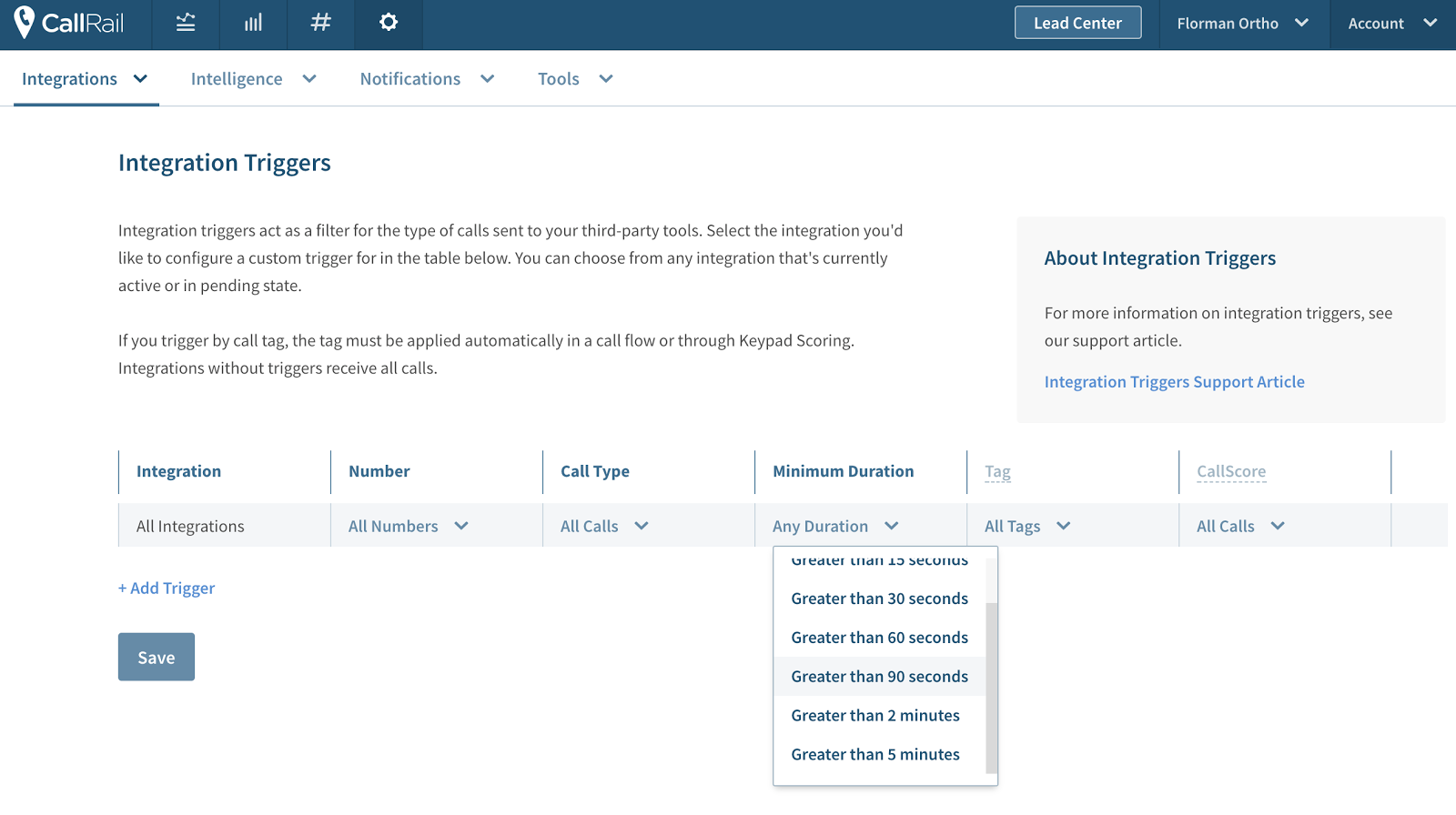 Call Recording Length
Call recording is one of the most effective training tools at your disposal. Most third-party platforms allow you to record your calls, which can help you identify areas of strength and weakness among your customer service team, as well as determine the quality of calls. With call recording, it can be easy to narrow in on trends and come up with feedback for your team.

You can see an example of this screenshot below the "5 Call Tracking Best Practices" section.

Specific Source Tracking
As of now, platforms such as Bing & Facebook don't support keyword-level conversion tracking for phone calls. The next best solution for this is to create individual phone numbers and assign them to specific sources, such as Facebook or Instagram. You can then still use that data to to compare with your spend and clicks to determine effectiveness and cost-per-call.

5 Call Tracking Best Practices
Once you have picked your platform and have the aforementioned set up, let's go over the best practices of call tracking next:
Test your calls before setting them live. In some cases, a call tracking number may be entered incorrectly or may not route to the correct phone number. Avoid this error by calling these phone numbers to ensure the call will reach the right place.
Listen to calls regularly for ad optimization & to improve account performance. It's a smart idea to use these calls as insight to what's working and what's not working.

3. If you're working with a client, make sure your clients answer their calls. A call is only good as the person who answers it on the other line. Listen to the calls for quality assurance and make sure your client is making the most of these calls.
4. Take advantage of call routing and call flows. If you have sales reps that are better at closing certain types of leads, give the first chance of closing to the employee who has the highest closing rate.
5. Dedicate specific PPC phone numbers to specific campaigns. This will allow you to see if you can generate calls before the visitor gets to your landing page.
If you find any best practices not on this list, we would love to hear about them in the comments below.

Wrap Up on Call Tracking
Utilizing call tracking numbers for your online and offline campaigns is a helpful way to see which campaigns are most effective and bringing in the most money.

Going the extra step and implementing keyword-level call tracking for your marketing campaigns provides you with insight that you get to run successful campaigns. For ideas on call-focused campaigns and strategies, visit our blog post on 35 Ways to Get More Phone Leads with PPC & CRO.

Like mentioned before, everything above is a brief summary. If you have any questions on when you should use call tracking, which type of business are best suited for call tracking, or anything else, please ask away in the comments below. 🙂