You probably think your product or offering speaks for itself—but a lot of people make decisions about your product based on what other people are saying.

According to a 2015 study from market intelligence agency Mintel, 69 percent of American consumers—and a whopping 81 percent of American consumers aged 18-34— "seek out opinions from others before purchasing."

That's social proof in a nutshell: other people's opinions.

If you can prove that other people use and are satisfied with your product or offer, you're that much closer to landing one more satisfied customer.

However, it's just as easy to do social proof wrong as it is to do it right. So let's break social proof down, step by step:
How To Do Social Proof, Fast
Do's And Don'ts Of Social Proof
How To Improve Your Social Proof
When Social Proof Goes Wrong
Types Of Social Proof You Aren't Using (But Should Be)

Are you ready? Let's start at the beginning:

How To Do Social Proof, Fast
If you want to get social proof on your site or landing pages as fast as possible, start with product reviews and testimonials.

You've got at least one person who purchased your product and liked it, right? Ask them for a review or a testimonial and feature their words on your website.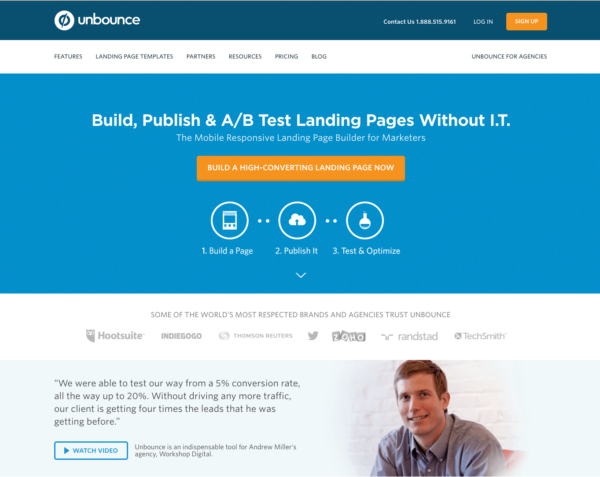 Depending on your product and your users, you may only get testimonials from "Maxine H." or "Danny B." However, if you can get the full name, company (if applicable) and headshot, your social proof starts climbing.

Why?

Because humans are attracted to pictures of other humans—especially if those humans look like us.

Don't believe me?

Data blog FiveThirtyEight analyzed the numbers on both dating site eHarmony and genetics site 23andMe and discovered that we're overwhelmingly more likely to date people who look and act like ourselves—and then, as 23andMe proved, marry them.

This attraction principle applies to marketing as much as marriage, so start adding social proof from real people who look like your ideal prospect or buyer persona. (If you're tempted to use stock photography, keep reading—we discuss that in the Do's and Don'ts section, and explain why it's a Don't.)

What else did you notice in that Unbounce screenshot? How about the list of brands and agencies that use Unbounce? Notice how they phrased it, too:

"Some of the world's most respected brands and agencies trust Unbounce."

If you work with brands, agencies, or companies, add their names and logos to your website for an additional boost of social proof.

Conversion optimization company – WiderFunnel has a case study where they ran three different tests on a brand website to see which factors improved conversion the most—and the test focusing on credibility and customer logos won, increasing aggregate conversions by 17 percent and phone conversions by 48.4 percent.

The more you can prove that real people and reputable companies use your product, the more other people (and companies) will want to join you.

Follow WiderFunnel's example and test to see how testimonials boost your conversion—and if there's a "magic number" that boosts conversion the most.

Likewise, if you've been featured in a popular blog or news site—or in The New York Times—add an "As Featured In" section and include the names and logos of the publications.

As Neil Patel wrote for QuickSprout:

"Whether it is companies I have worked for, mentions within press pieces or awards I've received, I try to showcase them all. It helps increase my conversion rates. When I removed the logos from NeilPatel.com, my conversion rate went down by 9.9%."

Don't forget to link those press logos to their relevant articles. If you don't include the link, those logos could serve as negative social proof—because people might try to click and wonder why you don't want them to read the story.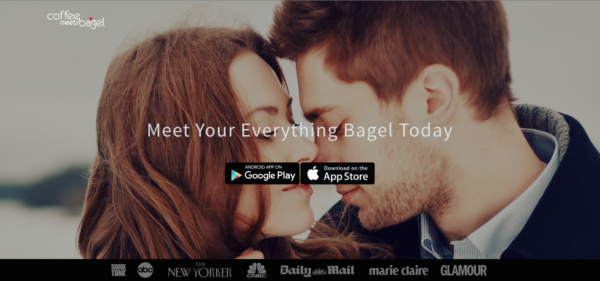 There's one more thing you need to do when you're getting started with social proof: add social share buttons. But don't do it too quickly.

Many people say that adding them to your landing page distracts and worsens the attention ratio, but as ShareThis reports,

"Extremely positive online shares generate a 9.5 percent increase in purchase intent."

In other words: the more people share your product, the more people become interested in your product—and the more you can charge.

Once you start blogging and building your community of followers, you'll also want to add social share buttons to every blog post—but that's for later.

Right now, just set up your social media accounts and see if adding those buttons have a positive impact.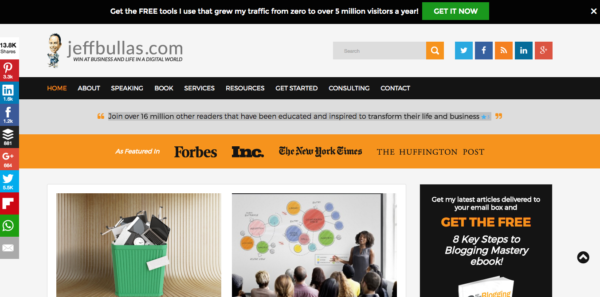 Do's And Don'ts Of Social Proof
You might be doing pretty well with your existing social proof… but you also might be making a few all-too-common mistakes.

Take a look at these do's and don'ts and see if any of them apply to you. (We hope the do's apply to you, and the don'ts… well, don't.)

DON'T just say things are good. DO tell a story describing why they're good. Recruit testimonials that tell stories or feature product reviews that tell stories. Marketing analytics company Kissmetrics explains why stories are so important to social proof:
"Think about it this way: what would persuade you more, a 5-star review or a detailed account of how a certain product was able to turn someone's business around? Both are "great" forms of social proof, but one is far more powerful than the other.


According to psychologists Christopher Chabris and Daniel Simons (authors of The Invisible Gorilla), stories are persuasive and more trustworthy than statistics because individual examples lodge in our minds, but statistics and averages do not."


Imagine if it had just read "Unbounce is an indispensable tool for my agency." The story about testing their way to a 20 percent conversion rate is a much better way of sharing this information.

DO pay attention to who's talking about you on social media—and reply if they have concerns about your product. A 2016 study from Sprout Social reveals that ignoring customers has repercussions: "36% will shame you publicly, 1 in 3 will switch to a competitor."

DON'T take too long to reply. How long do you think it takes some companies to reply to a user's tweet? Longer than you think—if the companies even bother to reply. As I wrote for The Content Strategist, citing research from Morrison Foerster:
"On Twitter, 58 percent of user criticisms go unanswered, and of those that do respond, the average company takes nine hours to get back to their customers."
Think about the people who do their research about you on Twitter and how that in and of itself is social proof.

DO ask your customers for reviews, DO automate the process, and DO follow up. How important are product reviews? Data analytics company BazaarVoice ran a case study that yielded two impressive stats:
Overall, products with reviews have a 12.5% higher conversion rate than those without.
Products with 20+ reviews have a 83.85 higher conversion than those products without reviews.

So build your automated emails to ask for the review and follow up with non-responders after they buy.

Not everyone will leave a review, of course, but it's worth the time to get as many reviews as possible.

If you DO have automated emails set up to ask for reviews, DON'T send them at the wrong time. Learn when people are most likely to read and respond to emails, because if your request for a quick review hits them when they are too busy to write it, they'll ignore or archive. (I've got another Content Strategist article about optimal email send times, so give it a read.)

DO keep everything updated—your website, your blog, your Facebook, your Twitter, your LinkedIn… If you stop posting to something, it looks like you've stopped caring (or maybe you've gone out of business), which makes the customer think you won't care about them either, which is also adds to your negative social proof.

DO put real pictures of your team members on your site. DON'T use cliched stock photography. KlientBoost founder Johnathan Dane explains why bad stock photography is negative social proof:
"Your About Us page's job is to show me who you truly are. But that multi-cultural stock photo you have of gorgeous people laughing in pant suits makes everything look fake."
In other words: when you use a stock photo of "gorgeous people laughing in pant suits," we wonder why you don't want to show us the real people who work for you — and that doesn't make you look good.

If that isn't enough to make you ditch the stock photos forever, here's a stat from my post 41 Hero Shot Secrets From High Converting Landing Pages:

"Marketing Experiments shows that using a real person associated with your product instead of a stock photo increases conversion by 35%."
How To Improve Your Social Proof
Even if you've done every single social proof tip on this list, you're not finished. It's time to go back through your social proof indicators and start making them better.

Here are seven ways you can improve your social proof and get even more people talking about your business:

1) Incentivize your employees
If you've already got employees doing social shares, ask them to do more. Jeff Bullas suggests incentivizing employee social share:

"By rewarding employees who have generated the most likes, shares, or clicks, or found the next hire for your company."

2) Add social proof to your emails
Are you including social proof in your email newsletters and marketing campaigns?

You should be. Remember that any content you create can be improved by a testimonial, a review, an influencer, or a similar source of social proof—and don't forget to include a few social buttons!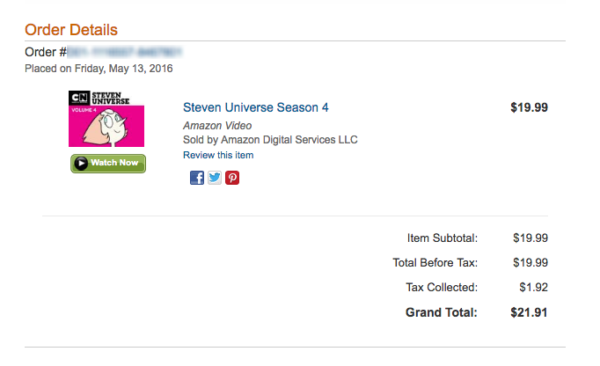 3) Get that halo
Adding influencer quotes (and headshots) gives your website an extra boost of social proof, and it also creates what's called the halo effect: If you can get a big influencer or a big "as seen on" on your landing page, you'll look better by association.

Buffer explains why:
"Influencers are well-known, so they already have established reputations. If it's a positive reputation, anything else they are involved with is seen more positively by association. This is why influencer testimonials work."
It's also why we get excited when we visit a website and read the words "as seen on The New York Times."

So reach out to influencers, get your PR team to spread the word to major news and industry sites, and see how big you can get that halo to stretch.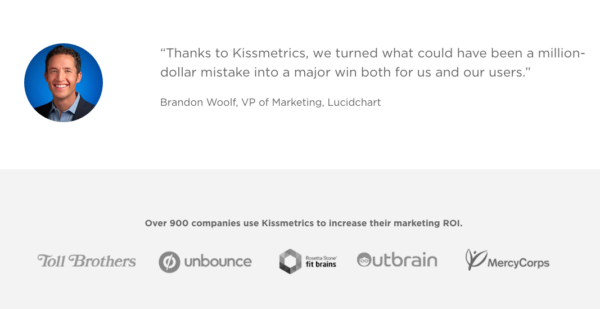 You can also take an example from KlientBoost's homepage that features social proof from influencers that hit on common FAQs that visitors might have.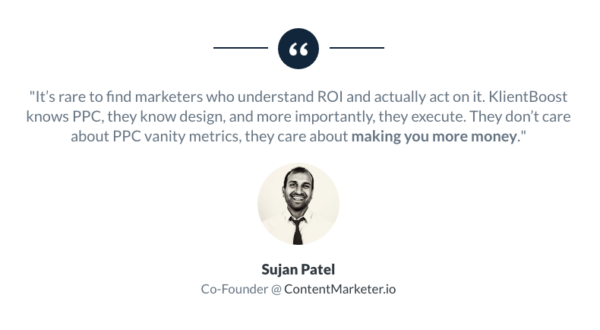 4) Display personalized content
This is where we get into Advanced Social Proof. If you can display unique content to individual visitors, you turn your prospects into their own sources of social proof—because they literally see themselves reflected in the screen.


Internet marketing company HubSpot did a 12-month case study proving that personalized CTAs improved conversion by 42 percent.

It's no surprise; after all, anyone who's read Dale Carnegie's How to Make Friends and Influence People knows the power of the personalized message.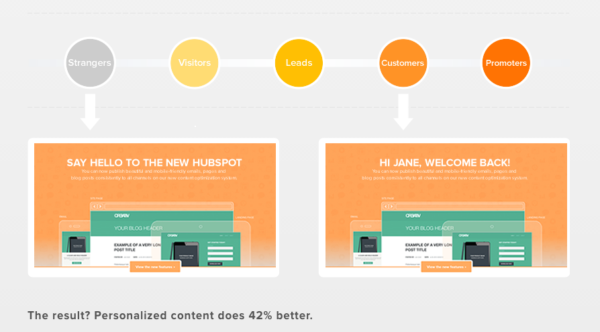 You've probably experienced this type of personalized content before; when you visit Amazon or Fitbit, for example, the sites remember your name and provide product recommendations.

Even if a prospect hasn't provided a name yet, you can still personalize content based on other factors such as the prospect's location. Multichannel personalization company Monetate has a case study illustrating that personalizing a site by location increased conversion by 42 percent and yielded a 95 percent increase in revenue per session.

5) Use implicit egotism
If you're going the personalized content route, don't just plug people's names into your CTA copy.

Use the power of implicit egotism: we're attracted to people who resemble us, so show your prospects social proof from people just like them. KlientBoost blogger Chelsea Baldwin explains how this works:

"If you've got information on your visitors about what industries they work in or what titles they hold, only show them testimonials from their same (or very similar) industry or in-office working situation.
When they see people who are just like them talking about how great you are, they're much more likely to get on board."
When Social Proof Goes Wrong
I just listed five ways to improve your social proof; now it's time for seven ways social proof goes wrong. If your social proof is doing any of these things, you need to change your strategy.

1) Telling people what you don't want them to do
If your site mentions people who are doing something you don't want your prospects to do, more of your prospects will do that very thing. You know, the one you don't want them to do.

I'll let Kissmetrics explain it:
"Psychologists Noah Goldstein and Steve Martin (authors of Yes!) observed the effects of signs posted in the Arizona Petrified Forest to prevent theft. They tested 3 different signs, one of which included negative social proof.

Their findings were shocking. The sign with the negative social proof was not only unable to reduce theft, it actually increased the likelihood that people would steal the petrified wood from the forest! In this case, the sign read:

'Many past visitors have removed the petrified wood from the park, destroying the natural state of the Petrified Forest.'

The researchers found that this sort of sign encouraged more stealing (it tripled the amount of theft) because it was evidence that many other people were already stealing from the forest. Instead of discouraging people, it made them more confident that stealing was 'okay.'"
2) Having a weak or spammy comments section
If your comment section has one comment, it's bad social proof. If your comment section is full of spam comments ("YOU can MAKE MONEY working FROM HOME!") it's bad social proof.

You either develop a strong, thoughtful comment section, or you're going to have to kill comments on your blog posts.

3) Low social media counters
Just like comments, you need a lot of tweets and likes before you have effective social proof. Remove any social media counters that don't show large numbers.

KlientBoost blogger Jacob McMillen explains why:
"If you have weak social proof, the best thing you can do is eliminate the metrics being displayed. If there is not share total being shown, your weak traffic can't be used against you. The article stands on its own merit."
4) Negative content locker participation
If you set up a content locker, make sure you follow up. Check what kind of social media posts people are making in order to open the lock to your content, and whether the social media content is primarily positive or negative.

If you're getting a lot of negative "this site is making me tweet this thing in order to read an article" posts, it's time to reconsider the content locker.

5) Giving people too many social share options
Believe it or not, too many options might have a negative effect on conversion. Neil Patel explains:

"On Quick Sprout, I only offer three social sharing options… Facebook, Twitter and Google Plus. I recently did a test where I offered five options, in which I added LinkedIn and Pinterest.

The end result was a decrease in social sharing by 29%. This just goes to show that giving people more options doesn't always help you convert more visitors into customers."
6) Buying followers
Don't do it. It wastes money and makes you look bad. Need more proof that buying followers is a terrible idea?

Facebook ad campaign company AdEspresso ran a case study: the company set up three Facebook pages, bought Facebook likes (from two different sellers) for two of the three pages, and then posted the same content to each page.

The pages with the paid likes got zero engagement.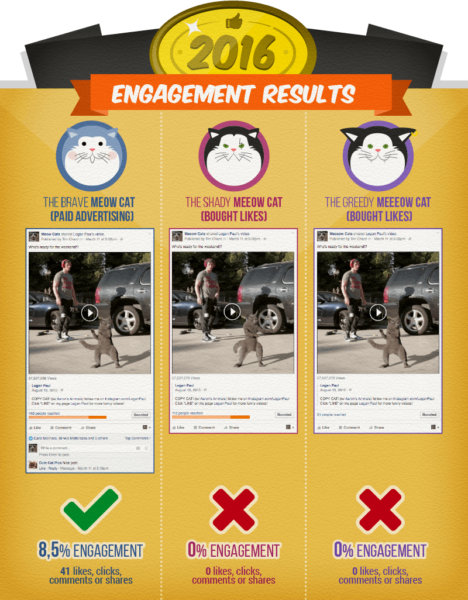 7) Spamming influencers
I know I mentioned reaching out to influencers as a way to get the Halo Effect, but that halo is going to get tarnished pretty quickly if you start spamming.

Don't be the person who goes on Twitter and starts asking every famous person you know for a retweet. Don't send four follow-up emails asking bloggers to read and share your articles.

Influencers aren't shortcuts; you have to earn their attention by creating a great product and having an authentic, personable online presence.

That last point can apply to all aspects of social proof, really; the better your product and service, the more authentic you are, and the more you invite people to participate in the conversation, the more people will want to be in conversation with you.

As the conversation grows, your fans and customers will start doing most of the talking and inviting new people to learn about your product.

Types of Social Proof You Aren't Using (But Should Be)
Okay. So you've got some product reviews and testimonials up, you've added a few brand logos and that link to the one time you were featured in Inc., and you've put social share buttons everywhere.

Now it's time to get serious about the types of social proof.

Whether you're a social proof n00b or a company with 12,000 Twitter followers, pay attention. Here are 9 types of social proof your company might not be using—but should be.

1) Your employees
Have you asked your employees to share positive news about your company on social media? Many employees do this without asking—especially if your company is a great place to work—but it doesn't hurt to ask them to signal-boost on your behalf. As marketing strategist Jeff Bullas explains:
"Employees have access to fresh and unique audiences that a marketing team has difficulty reaching, and their posts are much more likely to be considered real and trustworthy."
Even something as simple as inviting employees to participate in a company-related hashtag can help get the word out.

2) Industry influencers
When I wrote my last KlientBoost blog post, 31 Ways Your Landing Page Forms Are Bleeding Money, I interviewed Oli Gardner, co-founder of Unbounce. Why did I do that?

First, because Oli's an incredibly smart man and knows more about landing pages than the rest of us ever will.

Second, because interviewing Oli Gardner gives KlientBoost a little extra social proof.

Think of it this way—if a busy influencer takes the time to give you an interview, they must think you're worth talking to.

3) Third-party reviews
Let's let Jeff Bullas explain this one:
"Take some time to research the niche review sites in your industry – such as Yelp, TrustRadius or G2Crowd – and seek to reward the people who have reviewed your product or service.

Ask to showcase their photo, company logo, and part of their review on your website or landing page."
Getting that photo is important. A review is great, but a review with a human face attached is even better.

4) Referrals
Give your best customers discounts for connecting you to new customers. Those new customers will get the social proof they need, and you'll get people who are more likely to convert. As social media management company Buffer reports:
"One study of 10,000 accounts at a German bank revealed that customers who came from customer referrals had 16% higher lifetime value than those who came from other acquisition sources. Additionally, the customers churned 18% less."
5) Case studies
What can a good case study do for you?

Yaro Starak of Entrepreneurs Journey calls case studies "social proof highlight reels," explaining that if prospects see proof that other people got successful results after using your company, they'll be more likely to want similar results.


Write up a few case studies and make your own highlight reel.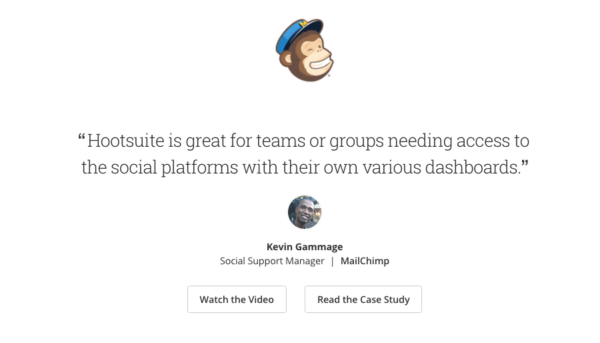 Dale Cudmore mentions that case studies are like testimonials on steroids and in fact, 70% of all marketers believe them to be effective.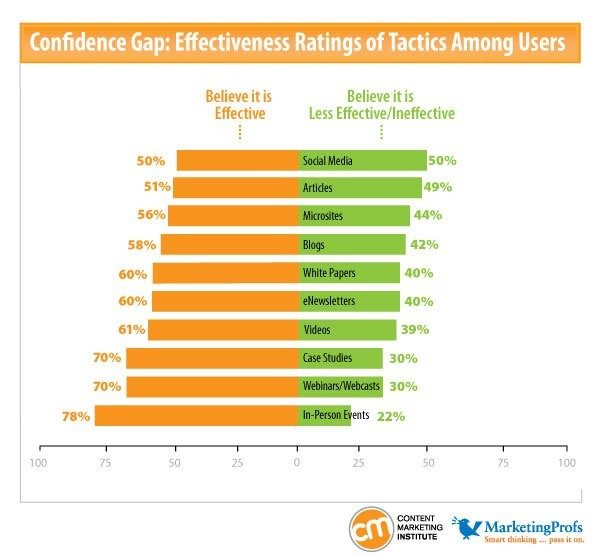 6) Info products
A case study is one example of a social proof info product, but you can also create nearly any kind of info product—tutorial, white paper, ebook—and still get the benefits of social proof.

If you're asking for an email in exchange for the info product, include a counter listing the number of people who have already claimed their info product. (More people = more social proof).

Once you've got the email and your prospect has the info product, give them a few social share buttons so they can tell everyone else they know that they just got this great tutorial/white paper/ebook/case study.

Remember, every positive share gets you closer to that 9.5 percent increase in purchase intent.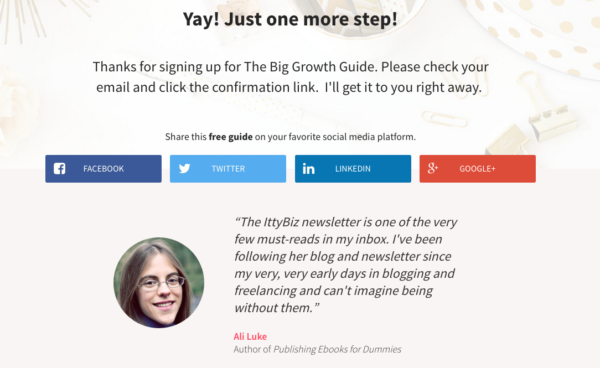 But before you do any of that, read my article How to Create Info Products That Convert Like Hotcakes. You won't get that great social share unless you've got a great info product, after all.

7) Content lockers
If you've got a piece of content that a lot of people want to read, put a lock on it. Ask readers to complete a small social share action—such as a tweet—before unlocking the content.

We've written about the power of content lockers before, and this quote from blogger and marketer Matthew Woodward is still applicable:
"This has resulted in 43,094 social shares to date, all without having to lift a finger."
This doesn't mean you have to put a lock over your all of your blog posts, of course. You can give readers the post for free and put a content locker over bonus material.




This is what you see after you start reading Woodward's Learn How to Start a Blog With These Simple Steps. If you like what you've read so far, you'll be more interested in exchanging a social share for some bonus content.

8) Counters
So I've mentioned counters a few times now. They're amazing social proof tools if you already have a large volume of people signing up, liking you on Facebook, or sharing your posts.

If that's the case, add 'em in. If not, keep the counters out of sight and work on other social proof tools until you get those numbers up.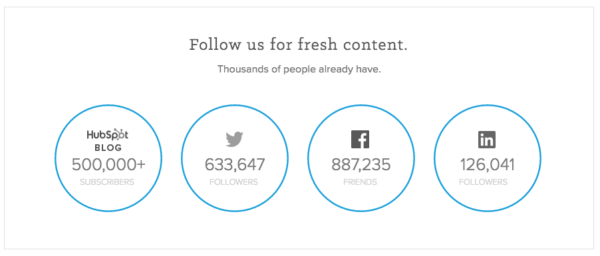 9) Your own expertise
Are you establishing yourself as an expert? Are you active on social media, and are your tweets getting retweeted? Are people reaching out to you for interviews?

You can be one of your best sources of social proof—and all you have to do is share what you know.

https://twitter.com/Hubstaff/status/732929443333832706

So, there you have it. Do your best work, use these tips, and watch your social proof, and more importantly, conversion rates grow.

What social proof tactics will you start using from this post? Sound off in the comments below 🙂


And don't forget: if you liked this post, please share it!