Everybody talks about how great email marketing is, but nobody talks about the work it takes to get to the point where, well, email marketing is great.
It isn't like building social media following or SEO ranking. You can't just start sending out emails and get the algorithm to pick it up.
Not to mention, there's (usually) not a history of emails to check out before committing (more on this later). Social media has a profile with all previous posts to freely peruse before hitting follow.
For email, all your non-email content is what captures subscribers.
So…why the heck are marketers so set on putting in the effort to build an email list at all?
There's a gazillion reasons to use email marketing.
I'll provide the most important: on average you get $42 back for every $1 invested.
With that kind of average return, email is a no-brainer. But you'll never see those types of conversions until you actually create a build an email list
We're going to give you 62 tips for list building. From B2Bs to B2Cs, small business or enterprise, starting from scratch or already started, after this you'll be well on your way to securing high-quality subscribers and an even bigger return on your investment.
What is an email list?
An email list is a group of people that have given you or your company permission to email them. An email list is also commonly referred to as subscribers.
Email marketing best practices: The do's and don't you need to know
Before beginning to even think about building a list, you have to make sure you have the basics covered. If you're not following these 10 best practices, you can say sayonara to growing any list.
First the do's
Learn consent laws – You need permission to add a user to your email list. Clear, undeniable, permission. If you don't get that permission you can be fined A LOT of money. Learn everything you need to know here.
Clarity and transparency is best – You're not helping anyone by tricking them into an email list. Be forthright about how or when they're joining a list and what to expect.
Quality > quantity – Email isn't a numbers race on who can get in an inbox the most. The content marketing within an email will always prevail.
Value over everything – If a user has nothing to gain from opening your emails, they won't.
Conversations > campaigns – There's real people behind an email. On both sides. Don't just hit send on promos all day long. Really talk to people.
Segmentation & personalization – The more relevant an email is, the happier the subscriber.
Email design isn't everything – If your copy sucks, they won't even get as far as opening it.
Do a Spring (Summer, Fall, Autumn and Winter) cleaning – If someone isn't opening your emails, stop sending them. The algorithms and data will appreciate it just as much as the subscriber.
Familiarize yourself with KPIs – If you don't know whether your emails are helping (or hurting) your top-level goals, why are you doing it?
A/B testing – It's so easy to test with emails and it'll only help you get better.
Now the don'ts
Buying a list – The reasons to NOT buy a list of emails could have their own dedicated article. Please don't. It won't be a quality audience. They won't convert. It's against the law. Their low open rates hurt your sender score. Just don't.
Email people without permission – It doesn't matter if you have a list of emails from online orders. If they only signed up for an order notification, you can't start sending them regular, weekly emails. Build a list of people that opted-in.
Sending email just to send email – If you can't come up with a good reason to send emails, you're better off not sending them at all.
Management – Don't start sending emails without using an email service provider (ESP) such as Mailchimp or Hubspot. There's even free options. They'll give you the data, make it easy to design, and most importantly, help you comply legally.
Send it & forget it – Email takes a little bit of upkeep. Somebody needs to be on the other end to check for replies (and actually respond), clean out the list, and report on KPIs to make sure people are still seeing your emails and opening them.
Ideas for how to start an email list from scratch
16. Opt-in form
It sounds so obvious that it's silly, but it's worth mentioning. Sometimes the things we overlook are the most basic. The first step to growing your email list is to create a sign-up form with a crystal clear opt-in.
People won't go out of their way to find your email or use your contact form and ask to be added. If there's no way to join, your email list will suffer.
17. Make it easy
That's the other thing about this sign-up form. The easier the form, the more sign ups you'll get. Make it easy to find, easy to answer, and technically easy for a user to fill out.
Remember though, easy doesn't have to mean less form fields. We prefer the breadcrumb technique with our forms. It involves reeling visitors in with non-personal questions before asking for the high-value info.
18. Call-to-action (CTA)
You can create the form, but if there's no CTA, the form won't do much. You can't just put a space for visitors to enter their email and hope they understand. Ask for it! Give them all the good reasons to join.
Don't just slap a "Subscriber" button on your form and call it a day. Add copy that says what your emails are all about and why they should hit the subscribe button.

19. Landing page
Alright, you've got your form, it's easy to fill out, and you've nailed a convincing CTA. These next few examples are where you put them to start really building your list.
Create a dedicated landing page. If you run ads or promote your email anywhere, this landing page is where you'd take them. It should be simple and have the sole focus of getting people to subscribe to your newsletter.
Follow landing page best practices such as removing your main navigation, sticking to simple visuals, a CTA in the header, and minimal copy to make that sign-up form really pop.
20. Pop-up forms
Speaking of popping, pop-up forms can work great for calling attention to an email signup when placed correctly.
Using pop-ups means that after a visitor completes a specified action, it would trigger a message to come up on their screen with the email CTA.
Some examples of triggers for an email pop-up would be:
Halfway through reading a blog post
View 2+ blog pages
Scroll to the bottom of the homepage
Exit intent after visiting 3+ pages
Just make sure the popup has a clear exit button in the case a visitor isn't interested. There's a wealth of software that you can install on your website to get pop-ups such as WisePops, Sleeknote, and Optimonk.
21. Footer CTA
Hopefully someone will have seen a CTA before getting here, but including a minimal email signup form in your website's footer is a must. Since the footer shows up on every single page, it's a fail-safe to make sure that no matter where anybody is on your website, they can always find the email sign-up.
If somebody makes it down that far, the intent is clear because either they scrolled through your entire webpage and/or they were searching for a sign-up. If you are loving a brand and want more of them, where do you usually look? I go straight to the footer because I know I can always find links to social and an email sign-up.
It's not the biggest growth idea, but it'll capture the ones that are looking for it.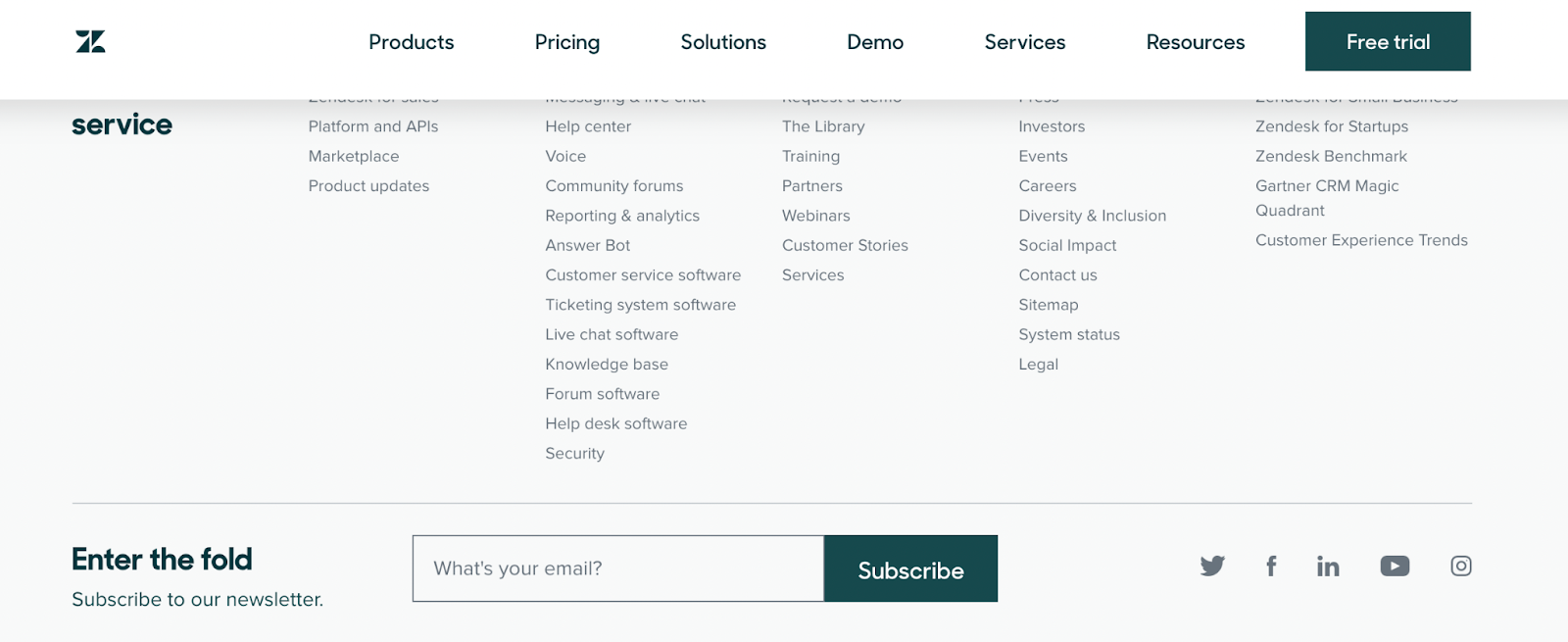 22. Website banner
Just like a popup, a website banner will bring attention to your email signup. Freshbooks has a great example.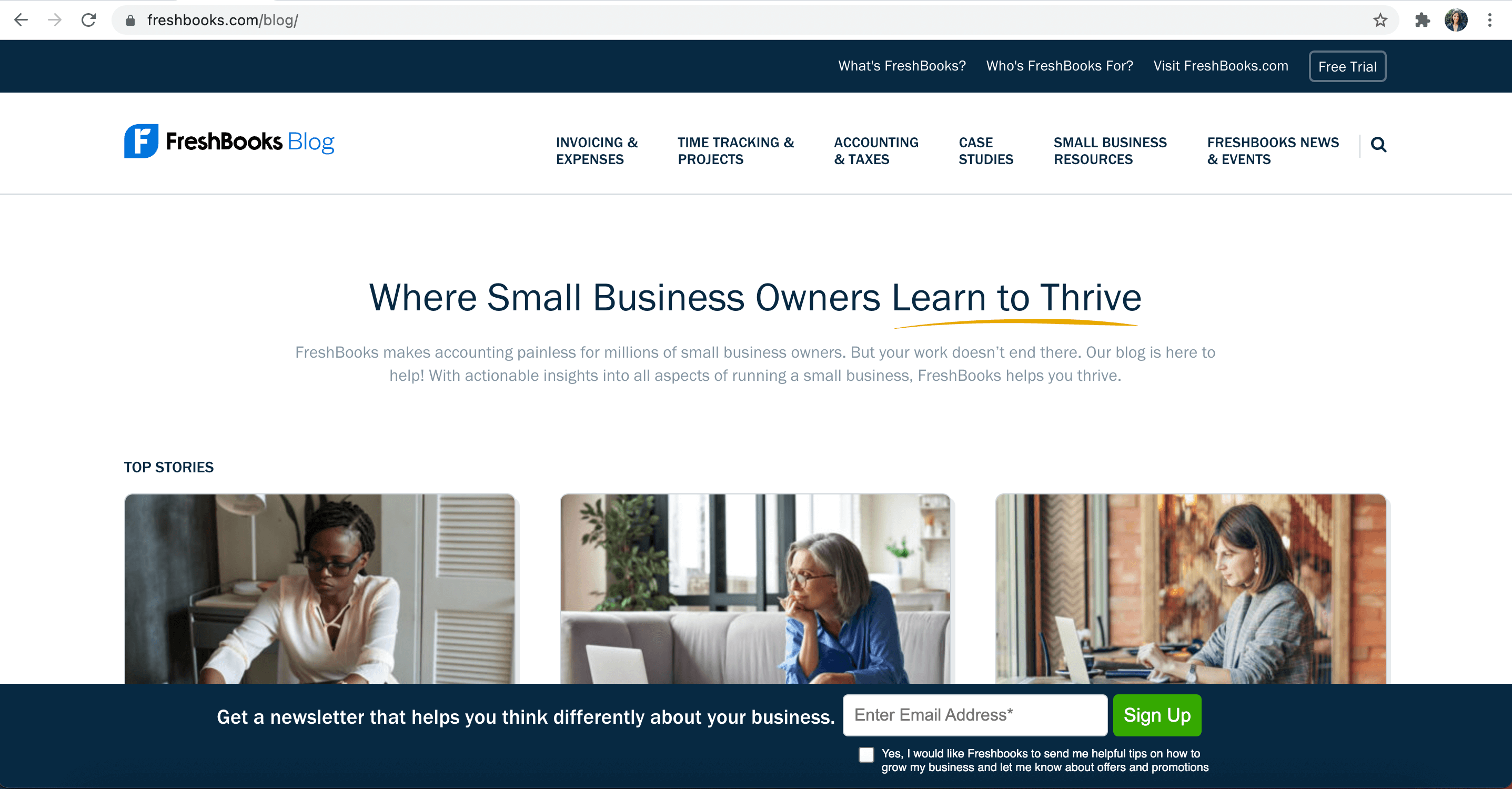 There's no banner on the homepage or product pages, but as soon as you navigate to the blog, this banner shows up. It makes sense there. To get there, you'd have to be seeking out their content which is a great time to ask for a subscription.
23. Make it valuable
We discussed including reasons to join your email list earlier on in this list, but what about giving them an offer they can't refuse?
Popup Domination nailed this. When you join their newsletter you could (theoretically) triple your subscriber rate AND get a cheat sheet on subscription rates. Sign me up.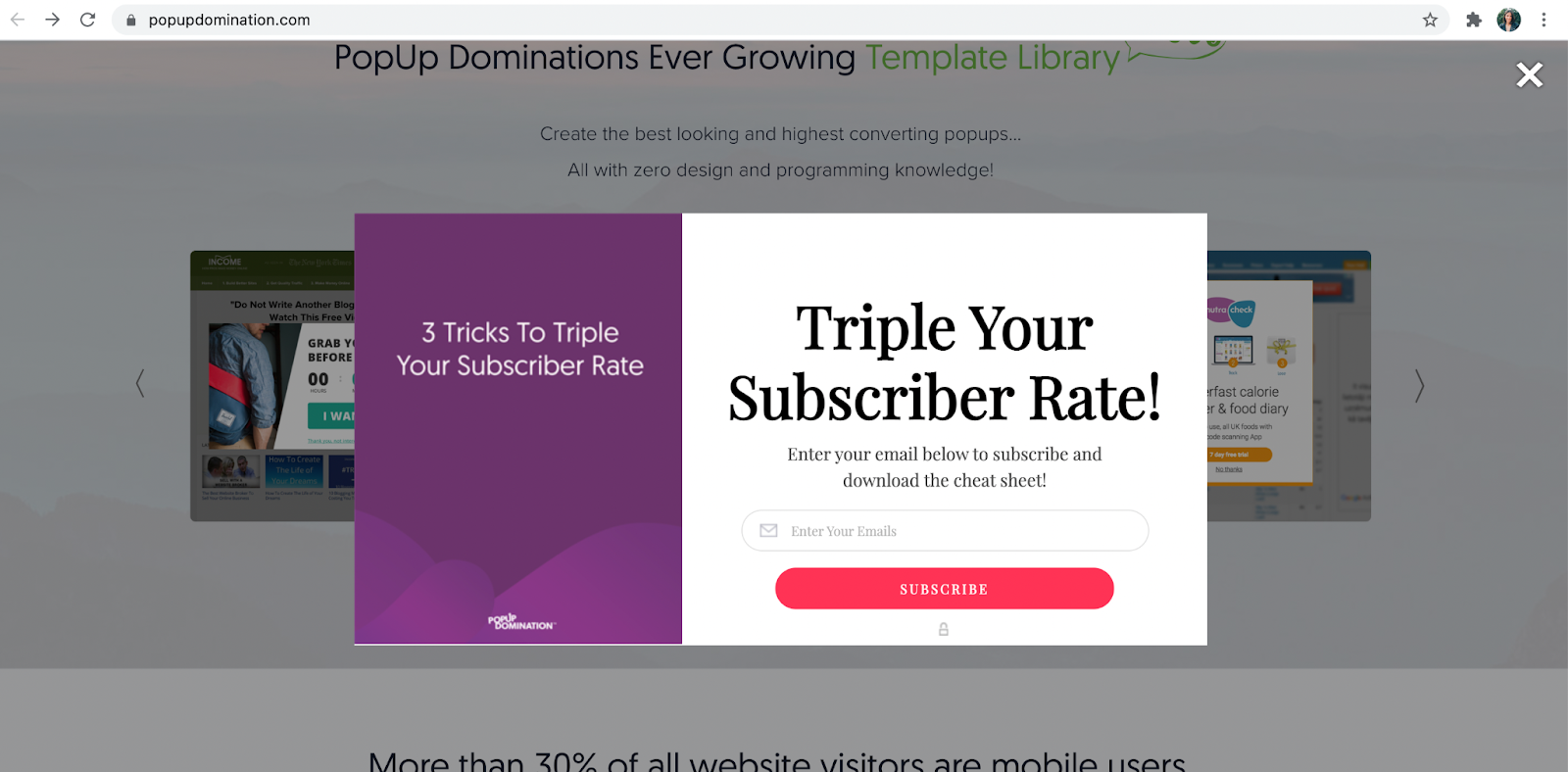 24. Make it fun
Email might be "old" compared to other digital marketing channels, but that doesn't mean it has to look and sound old. There is no email marketing rule that says everything has to be robotic.
Add personality, get creative. Really Good Emails' had me chuckling. It's bright red and they call themselves an "A Hole." Guarantee it'll convert better than any boring form ever would.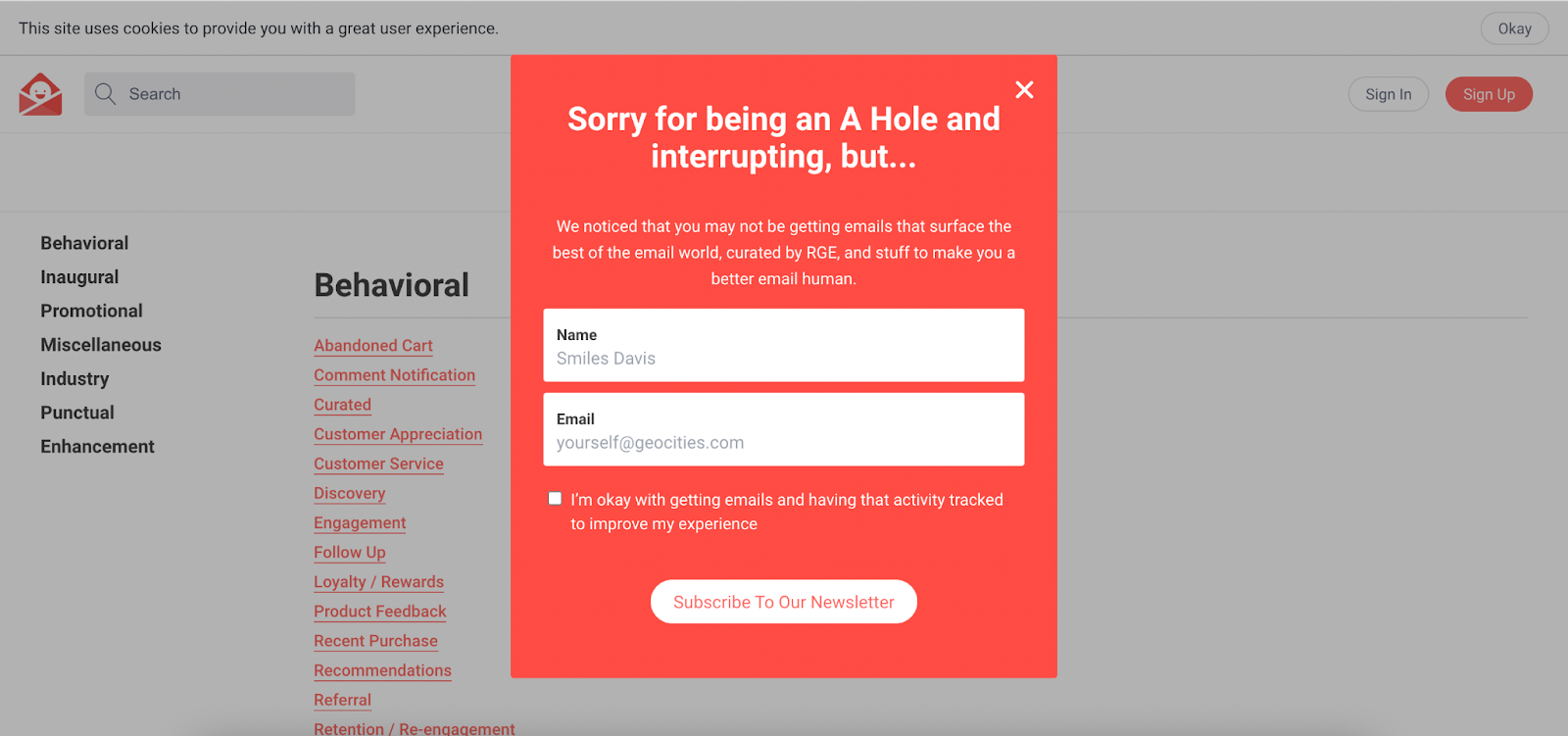 25. Give frequency options or communicate frequency
Imagine signing up for a newsletter and then getting hammered with a new email every single day. Or multiple times a week. Those new emails will crowd your inbox really quickly. They'll get annoying and you'll most likely sprint, not run, for the unsubscribe button.
By letting people know how often you'll send them an email, it creates a transparency that is appreciated and rewarded by more signups. Especially if the email is once a month or once a quarter, the step to actually sign up feels less intimidating.

The frequency doesn't have to be part of your high-value, bolded copy either. Zapier slipped it in under their form.
Off and running: Ideas to grow your current email list
26. Paid ads
The wrong way to grow your email list using paid ads: ask a cold audience for an email.
I don't want you to run over to Facebook and run a lead generation campaign to an interests-based audience that's never heard of you. You'll waste all your money.
If you want to use paid ads to build an email list the right way, try these two techniques:
Retarget website viewers that are reading your content, but haven't subscribed. You can upload a custom audience of emails to exclude from your ad sets so you're not bombarding your current subscribers.
Run ads for landing pages views using your most popular content. If other visitors are already flocking to a piece of content, it's likely that new people will enjoy it too. And if they like your content, they'll be more likely to join your email list. Put a good CTA in the middle or bottom of the content, or even as a popup that triggers once they get to the bottom.
Don't constrict your ads to one channel either. Try everything from Facebook Ads, to Google Ads, to LinkedIn Ads to find what works best for your business.
27. Giveaways
Tried and true, the giveaway. While a giveaway or contest can really ring in the emails, it can also go drastically wrong.
If you run a giveaway be sure to:
Employ a double opt-in for your sign-up using an email service provider because many people will enter contests with a fake email that you don't want on your list
Partner on the giveaway with another more established brand to reach their audience, but make sure they're relevant to your business
Send a confirmation email for every entry and welcome them to your email subscription with a little bit more info on what the email newsletter is all about as well as how often they'll receive it
28. Show previews
Another hurdle email faces is the lack of previews. For a marketing channel like social media, you can scroll through a feed to explore content before following.
As long as your emails are valuable, giving visitors a chance to preview what they're thinking about signing up for will help convince new people to join.
If you've ever visited a Substack newsletter, you've noticed that you can look through any previous newsletter before subscribing.
Stack Overflow, a question and answer website for professional and enthusiast programmers, is taking advantage of this.

When you click on "Previous issues" it takes you to a landing page that features all their past emails, cleverly called "The Overflow."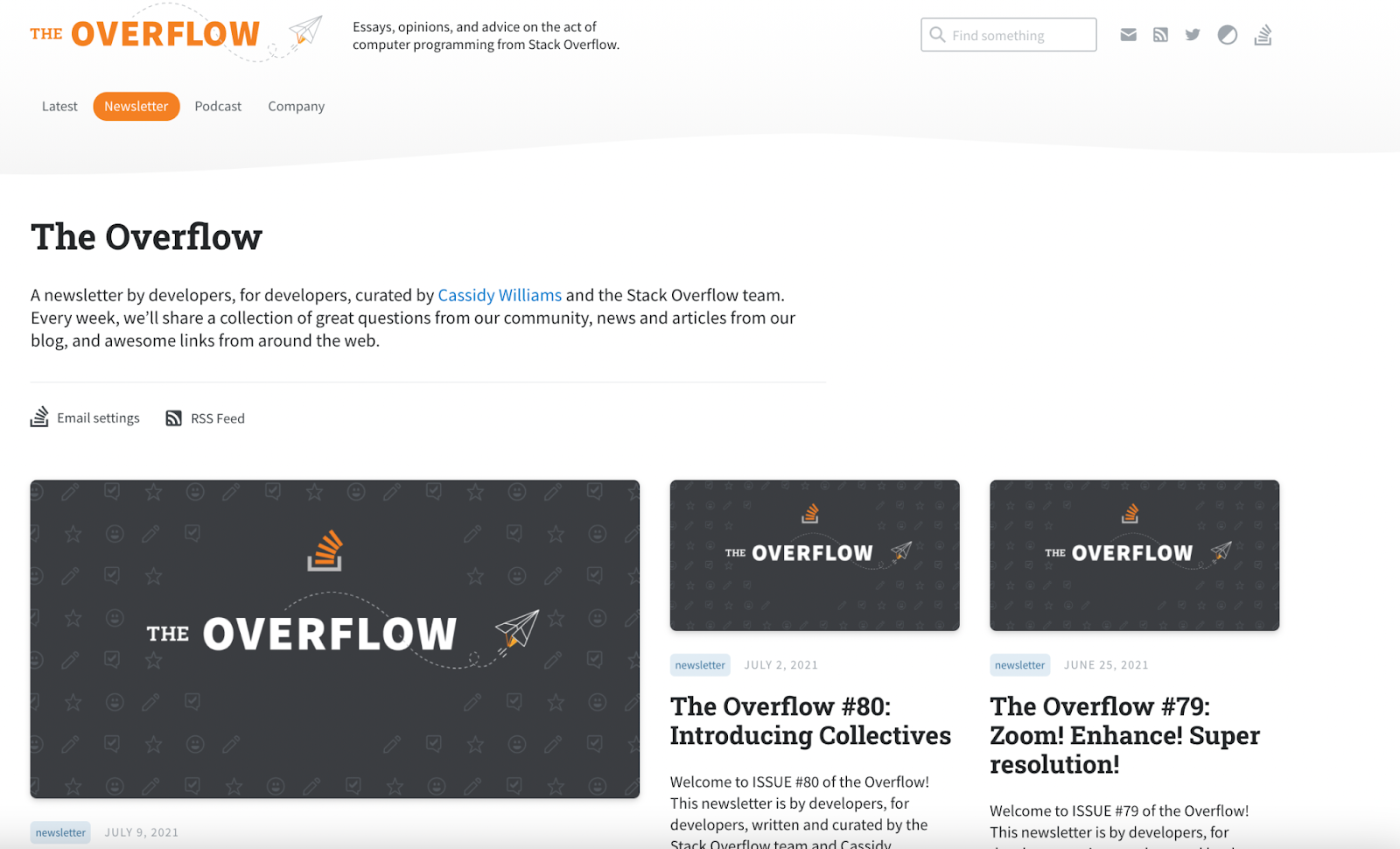 29. Offer segmentation options
Segmentation should be part of your overall marketing strategy to begin with because it helps personalize your messaging and avoid irrelevant content.
While segmentation is usually done behind the scenes, offering those types of options to the consumer will make them more likely to opt-in.
For B2C with something like retail, this could mean offering a subscription to just receive emails pertaining to women's products vs both men and women. For B2B with something like technology, it could mean only receiving updates about the software a person uses versus all the software you offer.
Hubspot is a great example of this. Since they now offer technology that spans from marketing to sales to automation, they allow you to select which emails you're interested in.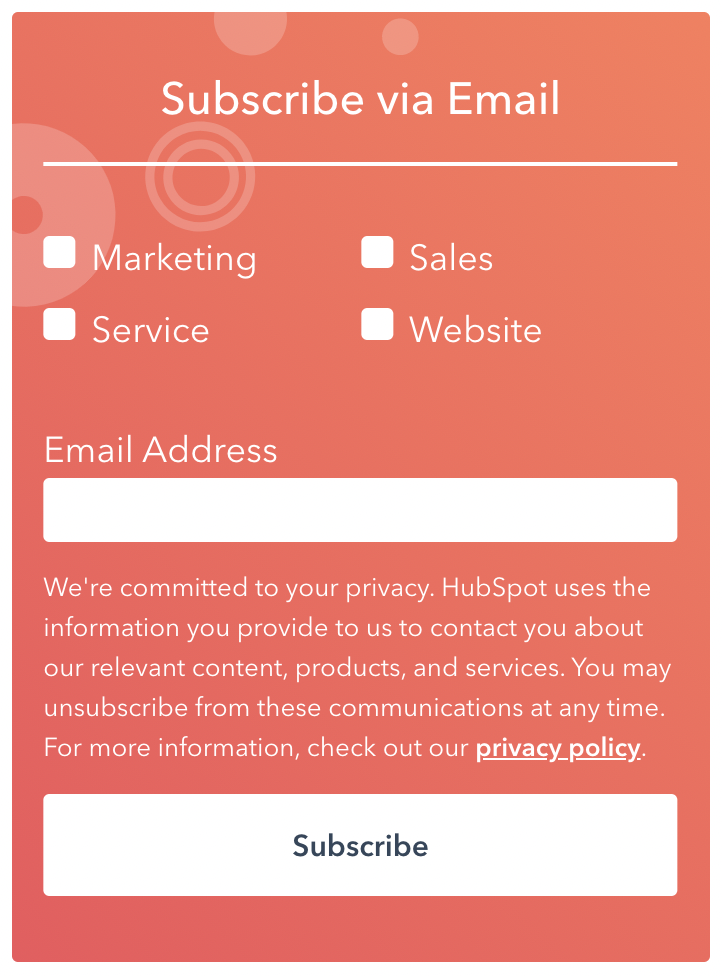 30. Referral program
92% percent of consumers around the world say they trust earned media, such as word-of-mouth or recommendations from friends and family, above all other forms of advertising.
By creating a referral program you can harness the power of word of mouth starting with your most loyal fanbase. It may not seem like a big deal if you have a small list, but the growth compounds over time.
Nobody has done this better or is a better example than Morning Brew, who are a media company. Using paid acquisition and a referral program, they've built up an email list of over 3 million subscribers. Back in 2018 they were at 1.5 million subscribers, 30% of those subscribers came via referral.
Tyler Denk, the Senior Product Lead at Morning Brew, broke down their referral program process in detail, pointing out the most important part:
When your product is good enough that people instinctively refer others without any sort of incentive, that's a strong indicator that you're ready to build a referral program.
Going back to a value-first email, if your newsletter isn't filled with good content, a referral program will never work. If you have limited resources, work on improving your content before you move onto building a referral program.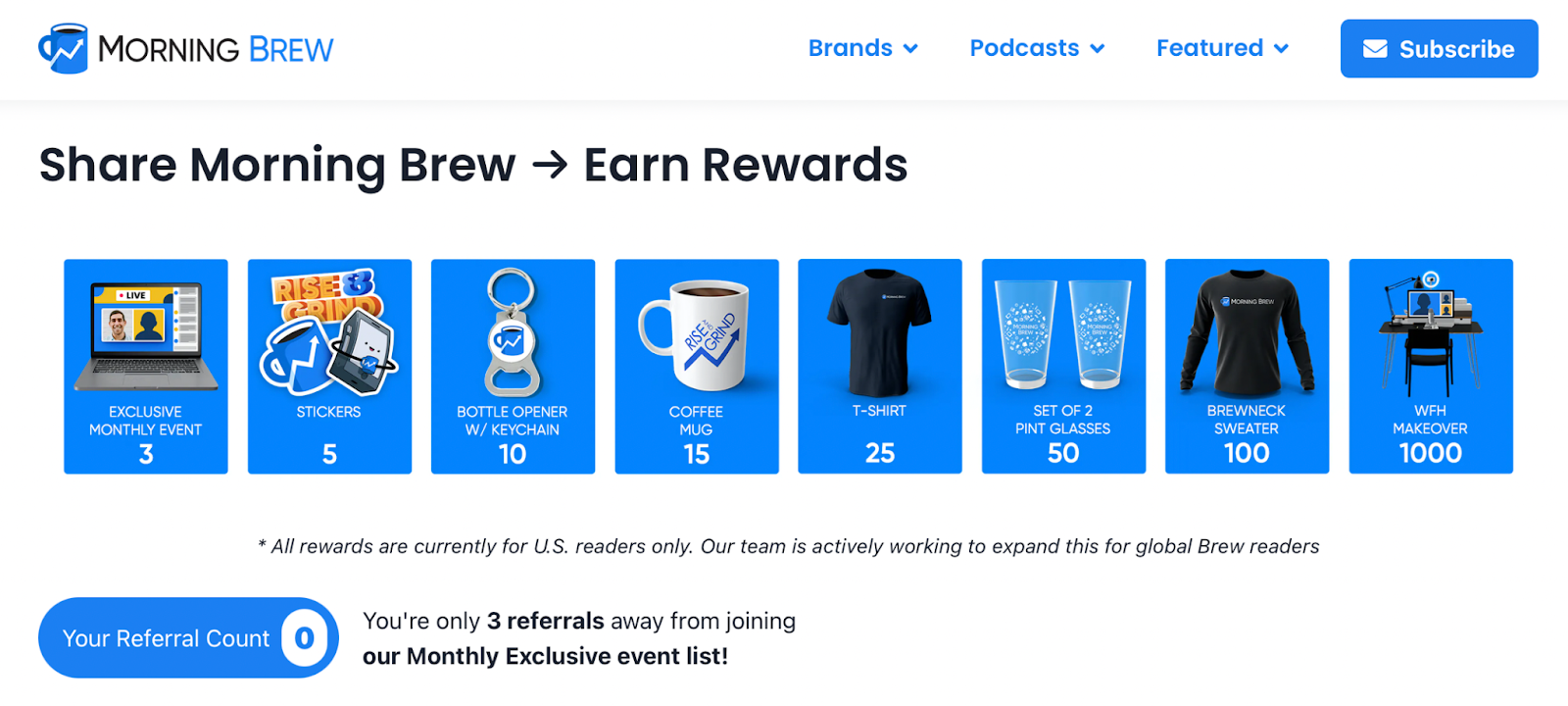 P.S. — if you want to try it out, here's my referral link. 😉 It really is a great newsletter. Plus they have some fun rewards.
31. Utilize organic social media
It's a bit of a no-brainer, but if somebody has liked your content enough to follow you on social media, they should also be keen to sign up for your newsletter.
It's all in the delivery.
What not to do: share a post asking to "join your newsletter" with a link that takes them to your homepage where they're then left to search for a form.
What you want to do: share a post with a TON of valuable information. Let your audience know that you share that valuable information every week in a newsletter along with exclusive content. Then you link them to a dedicated landing page with just a form and CTA.
32. Add it to your social media bios
You're only going to shout out your email list on social media every so often. Again, if someone is going for a follow button (right next to your bio), they want to hear what you have to say.
People won't do something unless you ask them to. While they're looking for more of your content, put your sign-up in their face. Make it easy to access.
33. Share in social media groups
1.4 billion people use Facebook Groups every month. And then there's Linkedin with its 3.1 million groups.
On social media, there's a community for every niche and industry. While many groups have promotion rules, you can often pay to get a post within a group.
A more organic way to get your email list out there though would be to have people within your team join the groups to engage with the posts. If someone is finding their engagement useful, they'll visit their profile. And if they're posting about your newsletter plus it's in your bio…say hi to a new subscriber.
34. Use industry influencers
Influencers aren't just for social media. Influencers can lead people to subscribe to a newsletter just as easily as they can get them to buy clothing.
I just subscribed to Embedded, a newsletter about internet creators and trends, because Emily Schultz posted about it on her Instagram. Emily used to run Bon Appetite's social media and I've always admired what she does, so obviously I want to know what she's reading. She posted Embedded on her story and with an easy swipe up, I was subscribed.
When you view Embedded's substack about page, it's clear that influencers are part of their strategy.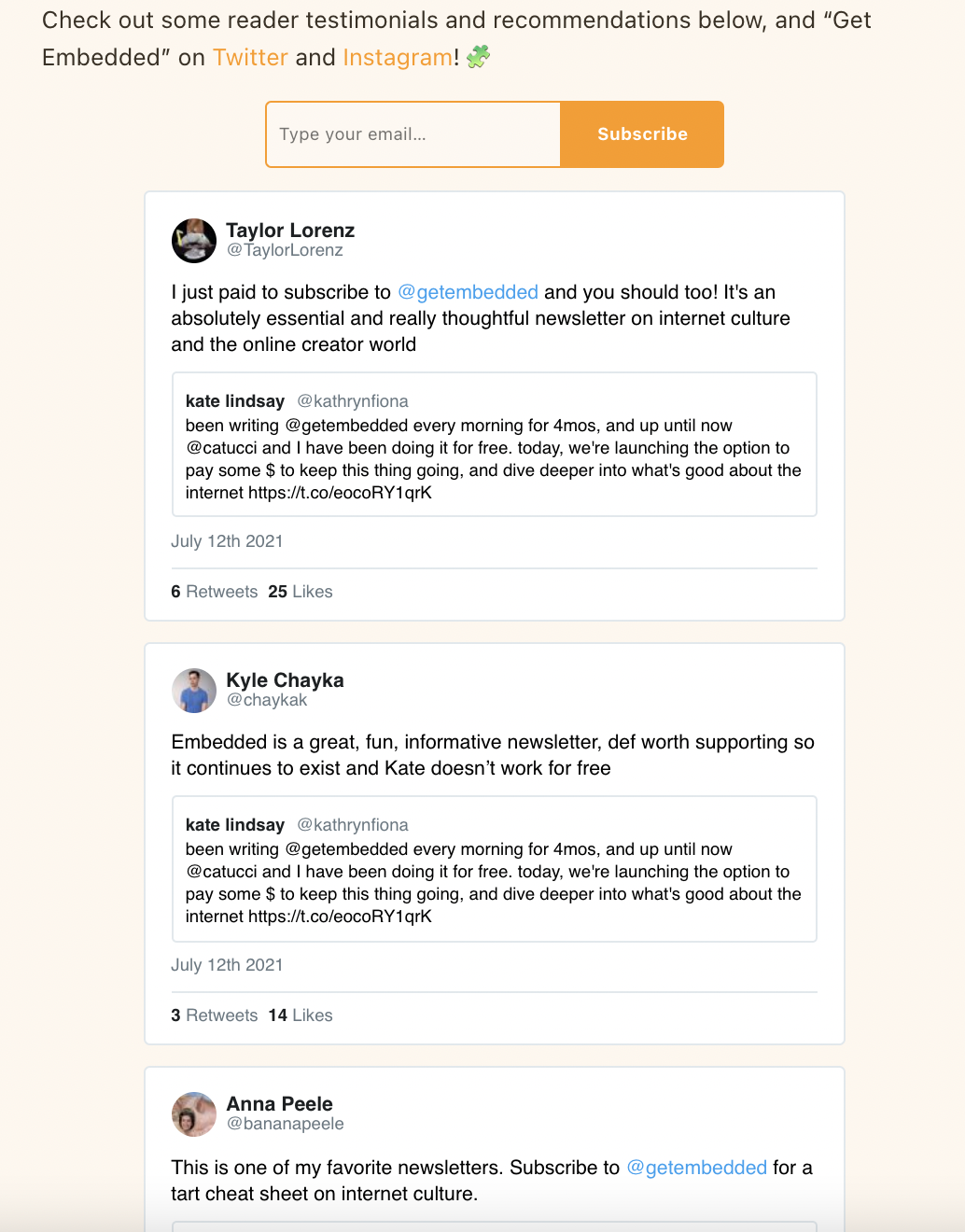 35. Guest write for a related newsletter
Finding a perfect partnership means a win-win. In this case, it would mean a non-competing, but related brand that has an established email list about the size of yours and makes great content.
They write a feature in your newsletter and you write a feature in theirs. You each get a chance to get in front of new faces with a teaser of your content.
When I used to run the email marketing for a brand that sold bikinis, this meant partnering with a brand that sold sun hats. We styled some summer looks pairing a bikini with a hat for an email (and added a contest). Both brands grew our email list by about 20% within a week.
36. Guest talk on related a podcast
In the United States, 5 out of every 10 people have listened to a podcast. Podcasts can be a powerful marketing tool. Just because it's a different channel than email, doesn't mean it's any less of a good idea to spread the word there.
If you can find a way to transfer the written value of your email to audio, start offering to share that value to any podcast that is relevant to your audience. It's like giving this new audience a teaser of the valuable information you can provide. At the end of the interview, the podcast host should provide an opportunity for you to plug your new newsletter.
37. Take advantage of FOMO
FOMO is responsible for as many as 60% of purchases, mostly within 24 hours. And all you're asking for is an email.
Even if your list is a few hundred people, adding a rough number of subscribers to an email list elicits the fear of missing out (FOMO). It also adds a layer or credibility.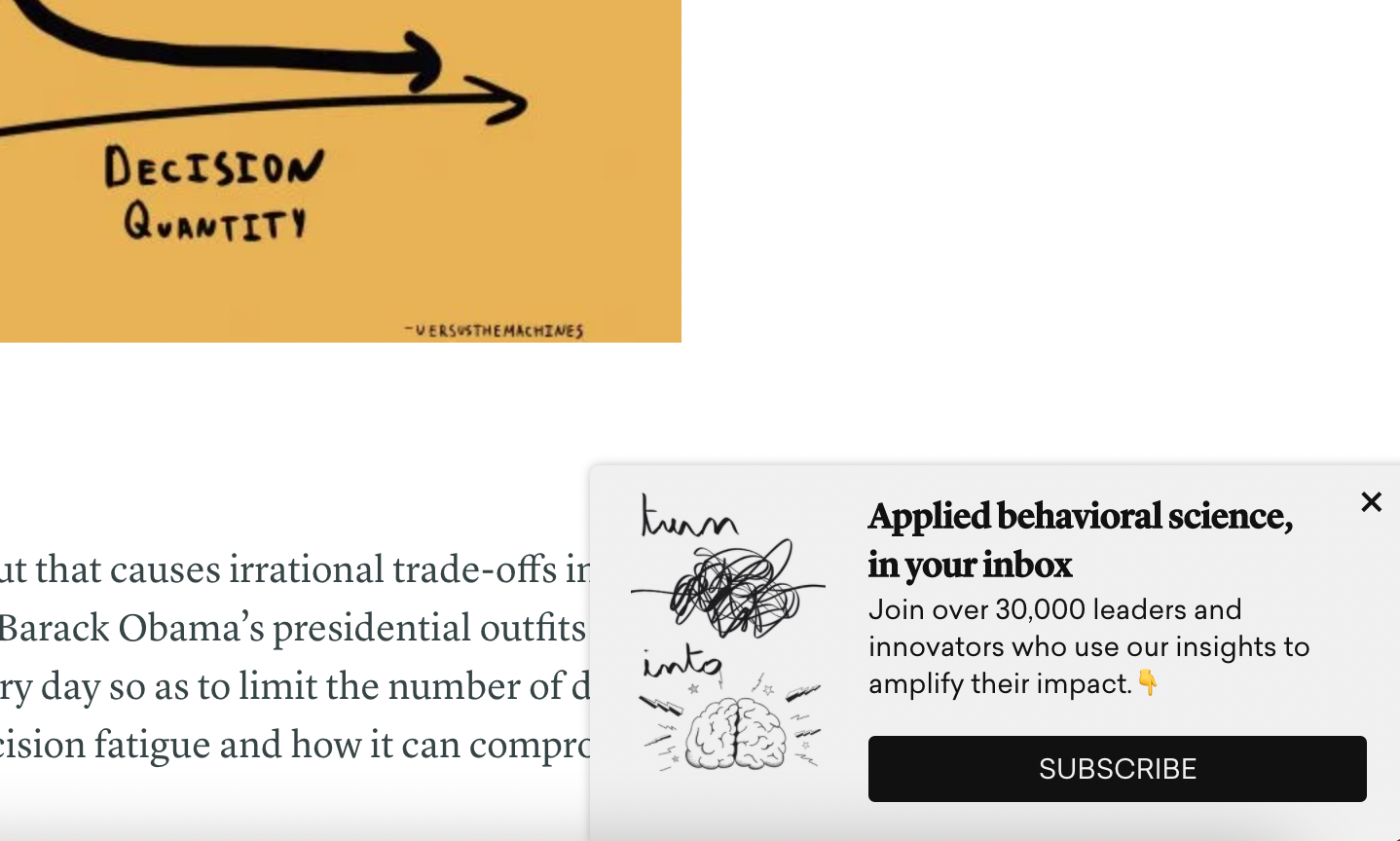 38. Put a face behind the email
Going along with the best practice of conversations vs campaigns, email is best when the people behind the screens show.
The best brands don't feel like a brand. They have personalities and talk with you, not at you. They create relationships and have emotions.
In Lessonly's case, a learning platform, they put their own CEO on email duty. Not only does this give a personal tie to the brand, but it makes subscribers feel like they also have access to the CEO when they sign up.

39. Gamify it
Gamification is a psychological trick used to multiply conversions by making what used to be boring into a fun game.
Dopamine is released when you play a game to unlock a prize or get a high score. You can trigger this response by adding interactive, engaging elements to your email sign up.
One of my favorites is OptinMonster's "Spin-To-Win" wheel.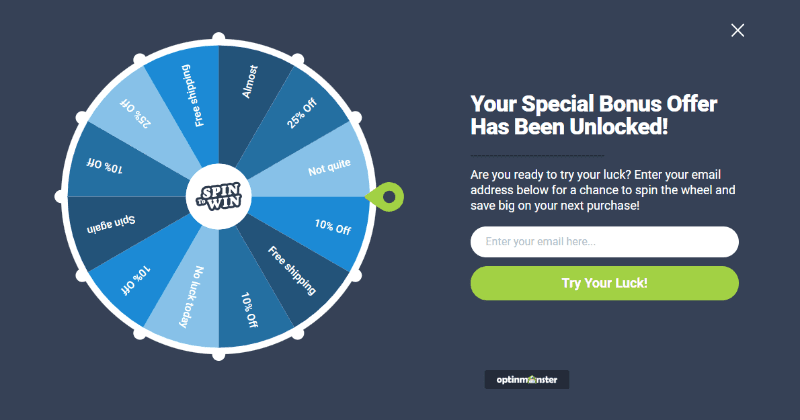 40. Create a quiz
Take gamification to the next level by creating a quiz. The benefits go both ways. You get to help a visitor find customized answers or come to a conclusion and you get their email.
The best way to merge the quiz with email growth is to only ask for their email at the end of the quiz. If they offer up their email, you will send the results.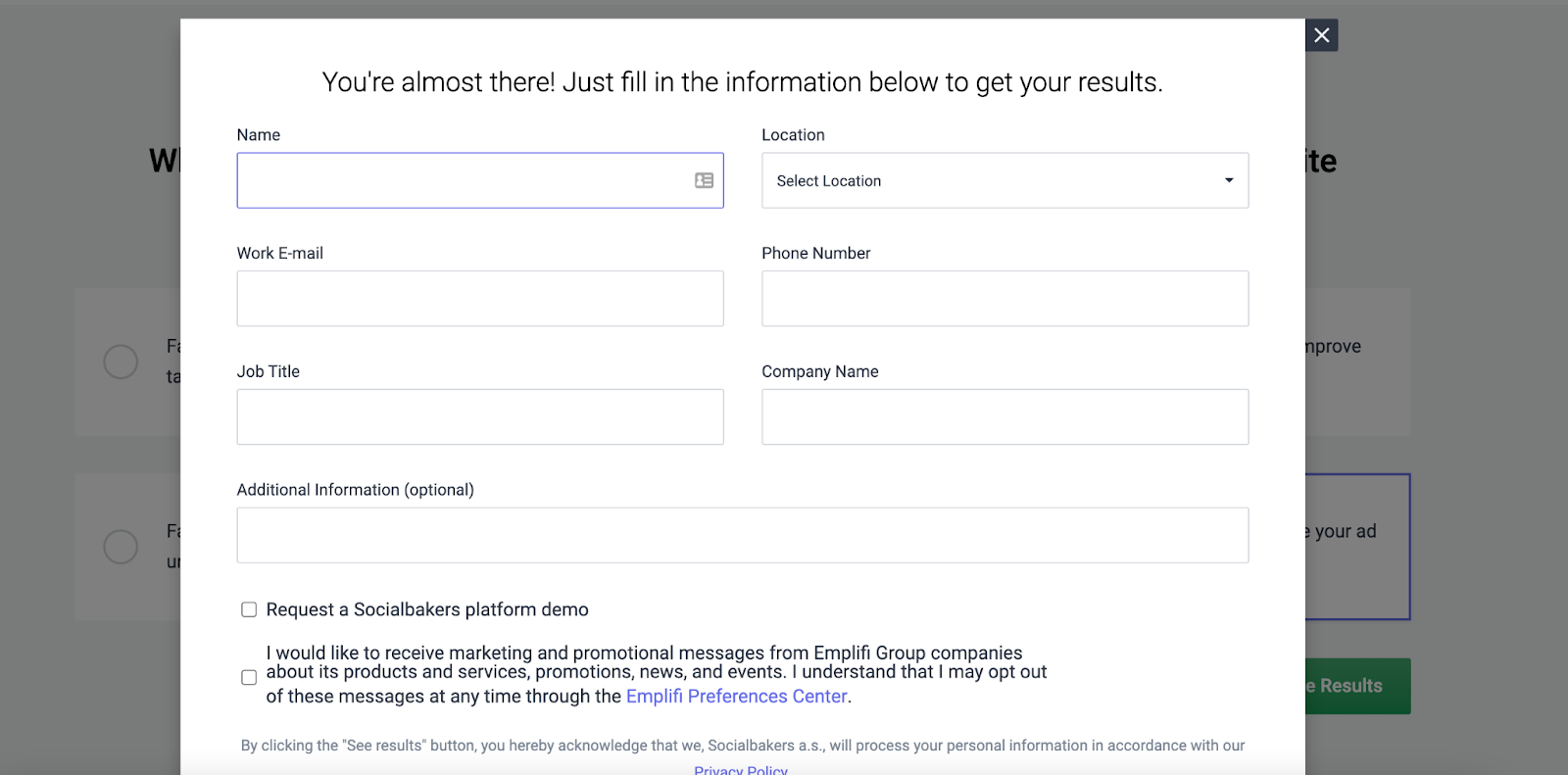 Creating a quiz doesn't have to be complicated either. Tools like Typeform offer free or cheap options to create your own personalized quiz.
That's how we do it here at KlientBoost. Truthfully, we even provide results without an email, so go for it, take some fun quizzes.
41. Advertise with the media
While it's one of the more expensive ideas on this list, advertising with other popular industry media is a good way to get your email some exposure.
Note: you don't want to promote joining your email list immediately.
The best route is to advertise your most valuable, popular content. From there, stack that content with CTAs to join your email. Once you prove you have good content, a good percentage of readers will hit subscribe.
Alternatively, you can advertise gated content such as a free ebook or checklist. The download form can include an option to sign up for your email list as well. Asking that early might still be too soon. Try including a CTA in the email that delivers the gated content or within the gated content itself.
42. Chatbot
Yep, you read this idea right, a chat bot. While we typically think of chatbots for customer service or straight lead generation, they work for email sign ups too.
The most creative (and convincing) use-case I've seen is by MobileMonkey. Their chatbot opens up asking about what you're interested in. In this case, I clicked Instagram. From there, they offer a one question quiz with a prize.
And now, you guessed it, you must provide your email in order to claim your prize. You'd also be correct if you guessed that the prize is awarded whether you answer the question wrong or right.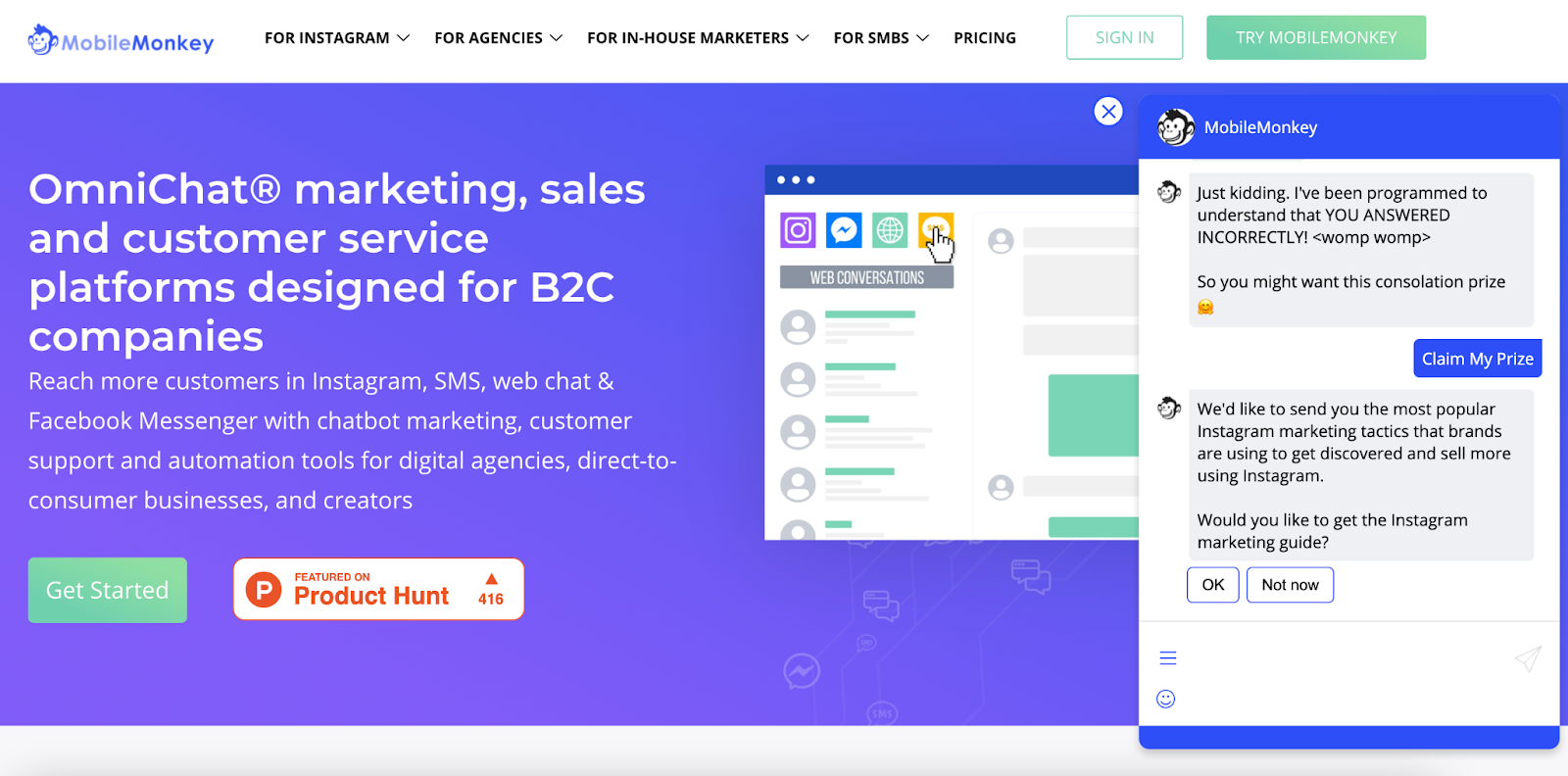 This idea works because the chat offers gamification followed by a valuable resource. The resource is also hyper-relevant to the interests of their target audience.
List building strategies for B2Bs
43. CTAs within your blog content
Most B2Bs spew out blog content with the goal of search engine optimization (SEO), forgetting that it can also be the number one convincing reason to join a newsletter.
You're spending so much time crafting valuable content that's bringing people to your website and creating a trusting relationship, establishing your brand as a thought leader.
Add a CTA to subscribe to your email list in the middle of every blog post and/or at the end so that it's there as soon as they're ready to join.
While it might feel like too much in your perspective, it shouldn't be an obnoxious, distracting CTA. The reader will glide past it until they've read enough content to deem your brand valuable enough to want it in their inbox.
44. Gated content
Gated content is the prized strategy of B2B for a reason—it works.
Not every B2B creates gated content for a reason—it takes effort.
But if something were easy to create, would it really be that valuable?
The idea is simple: exchange your high-value content for an email.
The best gated content capitalizes on the value your brand can provide. That value can be a report summarizing vetted research, a downloadable template, a complicated idea broken down into an ebook or white paper. As long as the gated content is starting with the thought of what expertise you can share, it'll work.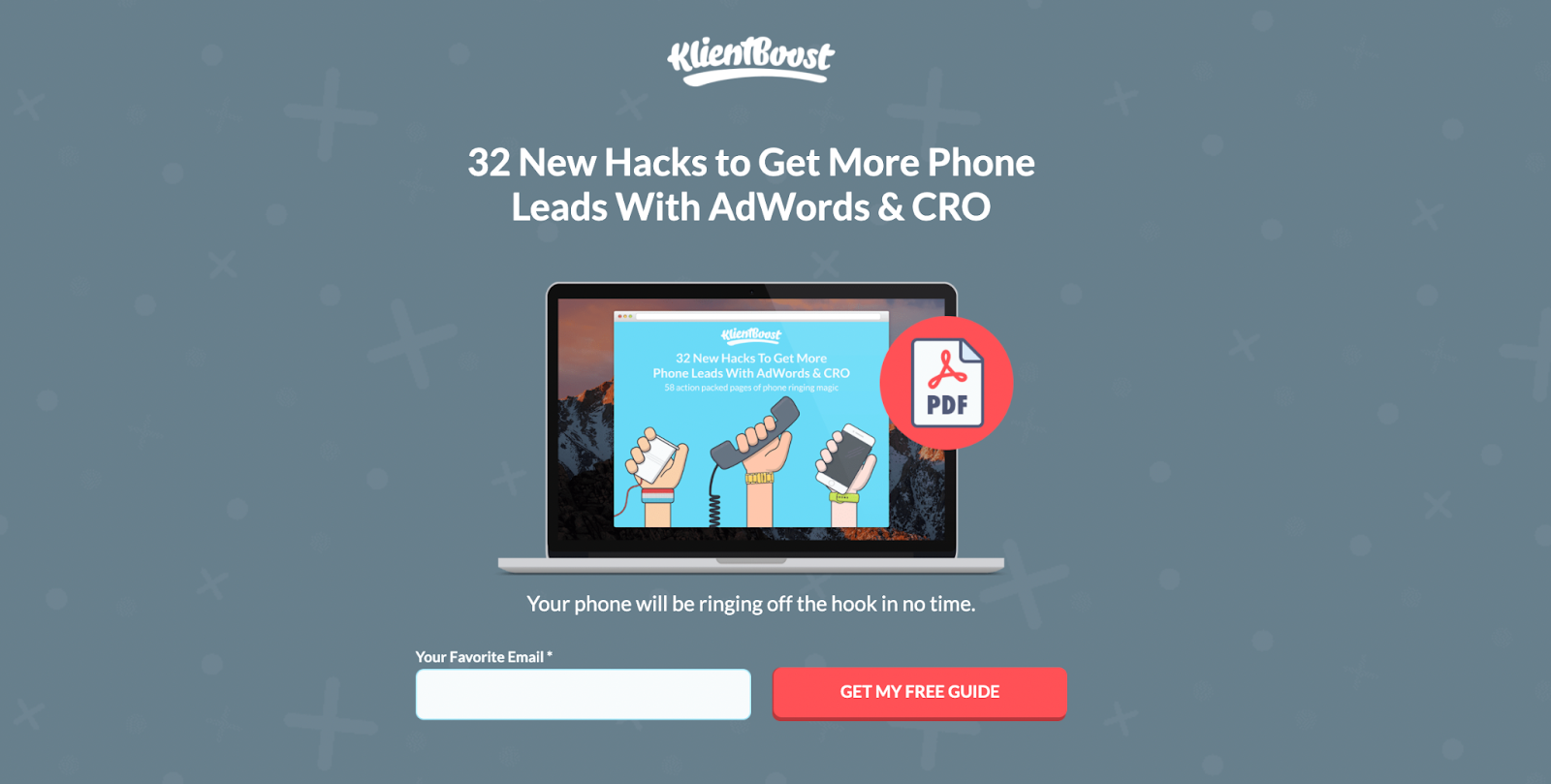 45. Webinars
Webinars are the same concept as gated content, but potentially even harder to produce.
For a successful webinar you host a live video experience where experts talk about valuable topics. The audience won't have to read through a long report and they may even get a chance to ask the experts a question themselves.
It goes without saying that the minimum "price" for a webinar needs to be an email subscription. Visitors will be more than willing to comply as long as the topic being discussed is relevant to their needs and the experts are knowledgeable.
46. Build a tool
If your business has the resources to make a fancy tool, you can start fantasizing about the amount of email list subscribers you're about to get.
It provides all the benefits that a quiz would except there's an added novelty factor to it because it's not as common as most other value-providers such as an ebook or a quiz.
Slack took to tool-building. They commissioned Forrester, the famed research and advisory company, to help them come up with data that can predict the total economic impact of slack for technical teams.
You can only get those sweet results by entering your email and business info. You best believe that their email list is stacked with some deep-funnel subscribers. It's a two-for-one special: an email list builder and a lead magnet.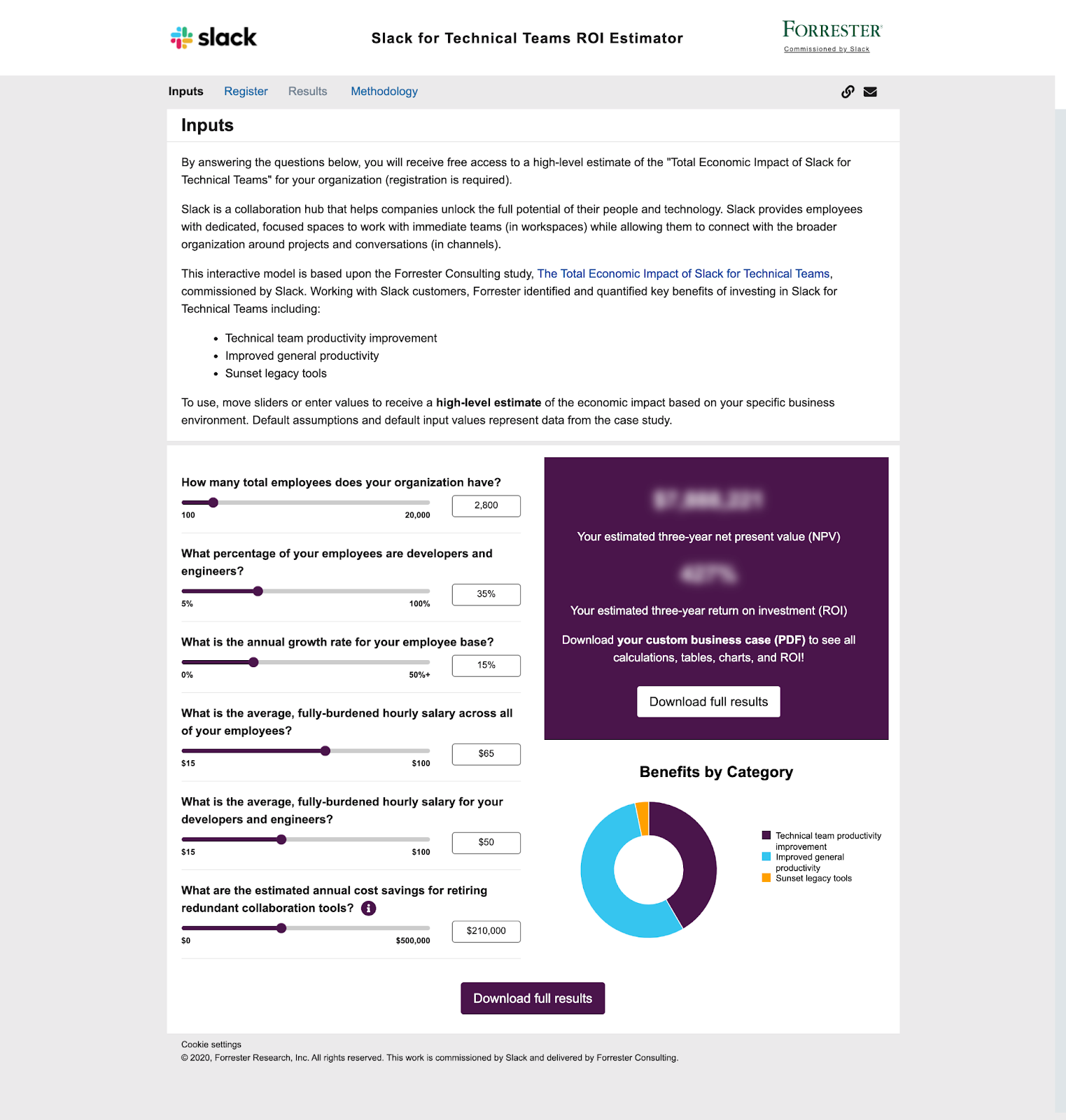 47. Collect emails at in-person events like tradeshows
The B2B dream is to be face-to-face with the target audience. When you're in person, it's easier to form a relationship because you can have an actual conversation that moves fast and takes emotional cues.
If your sales team or marketing team are offline at an event meeting your audience and creating those relationships, it's a great opportunity to capture email subscribers.
A sheet of paper where event visitors could write down their email addresses works, but it's not ideal because it leaves an opportunity for spelling errors and a delay. If you sign up for an email but get your first email from a week to a month later, you may have forgotten why, when, or how you signed up. It's happened to me more times than I care to admit.
If your business were to have an iPad where visitors could drop their email or even a scannable QR code that takes them directly to your email landing page, there's less room for delay. With email marketing automation, every new subscriber would get a welcome email immediately, meaning there's less time to forget.
48. Offer a course or short email series
Sometimes the best way to get subscriber commitment is to start small. Businesses can do this by offering a learning course or a 7-day email series.
Your email form conversion rates will be higher because there's a time limit to what they're signing up for. The good news is that if your course or series is valuable, they will continue to want your emails.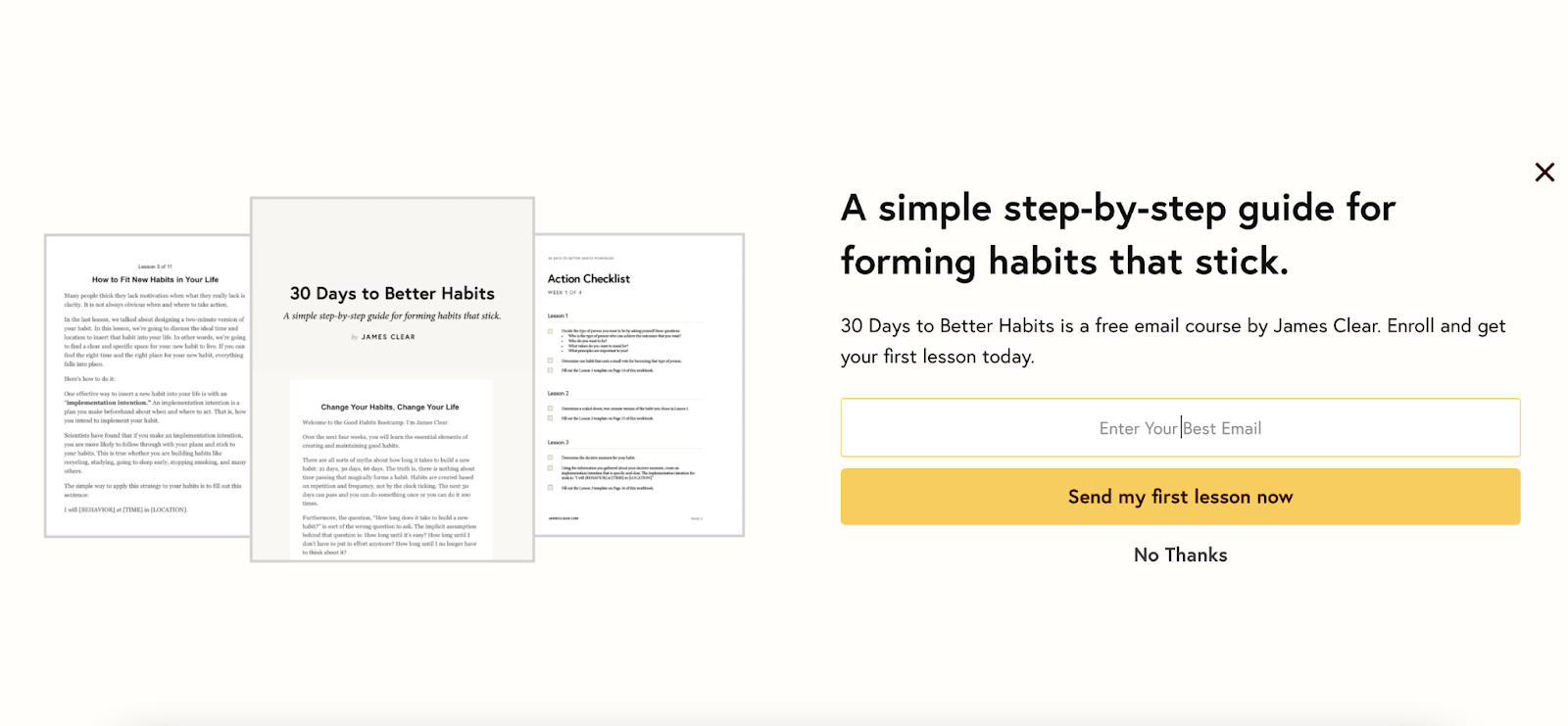 49. Offer access to all gated resources
What's better than providing your email for one piece of content? Providing your email for multiple pieces of valuable content.
If you can create an entire gated resource center full of checklists, ebooks, white papers, research, and templates, that's a big carrot to dangle in front of your website visitors.

And you know what big carrots mean? Big email lists.
50. Marketing materials
Strong relationships happen in person. I've mentioned taking advantage of in-person events by placing an email sign-up sheet or an iPad, but that only works in the moment.
By placing an email CTA on your marketing materials such as business cards, pamphlets, brochures, or product catalogs, you may be able to capture more people after the fact.
Just remember, that CTA should include an easy URL that takes them straight to the email signup landing page.
51. Email signature
We're all familiar with an email signature. Most companies provide a standard signature to be used company-wide that includes your name, your company, your phone number, maybe your address, and sometimes even social media links.
So why can't you add a newsletter CTA? Even better, take it up the funnel a notch by including a CTA to that super valuable piece of content or a gated piece of content rather than adding for an email subscription upfront. Value-first always wins.
As long as your valuable content includes CTAs to join the newsletter, your email list will grow.
52. Existing customers
When we think of email lists we automatically think about securing a brand new target audience, but you can also grow your email list with existing customers.
They might not have value right away, but there's a business case for it in terms of upselling and creating stronger relationships that lead to a higher lifetime value (LTV).
The key here is to be sure to segment existing customers from new ones so that you can make your email more relevant. They'll want to know about product or business updates, that's a given. But there's more value you can provide than that. You can tell customer success stories, highlight company happenings, alert them of new resources, or even send out something special on holidays.
Pro Tip: Work with your sales and client teams to make a newsletter signup part of the onboarding process.
List building strategies for B2Cs
53. Make it personal
We know personalization within emails is a thing, but how can we personalize before even getting the subscriber? Glad you asked.
By utilizing the breadcrumb technique, you can gather more information about your visitor before asking for an email. These questions can be non-threatening, while still making it personal.
The Farmer's Dog, a dog food company, nails this. They guide you through a short questionnaire to learn more about you and your dog.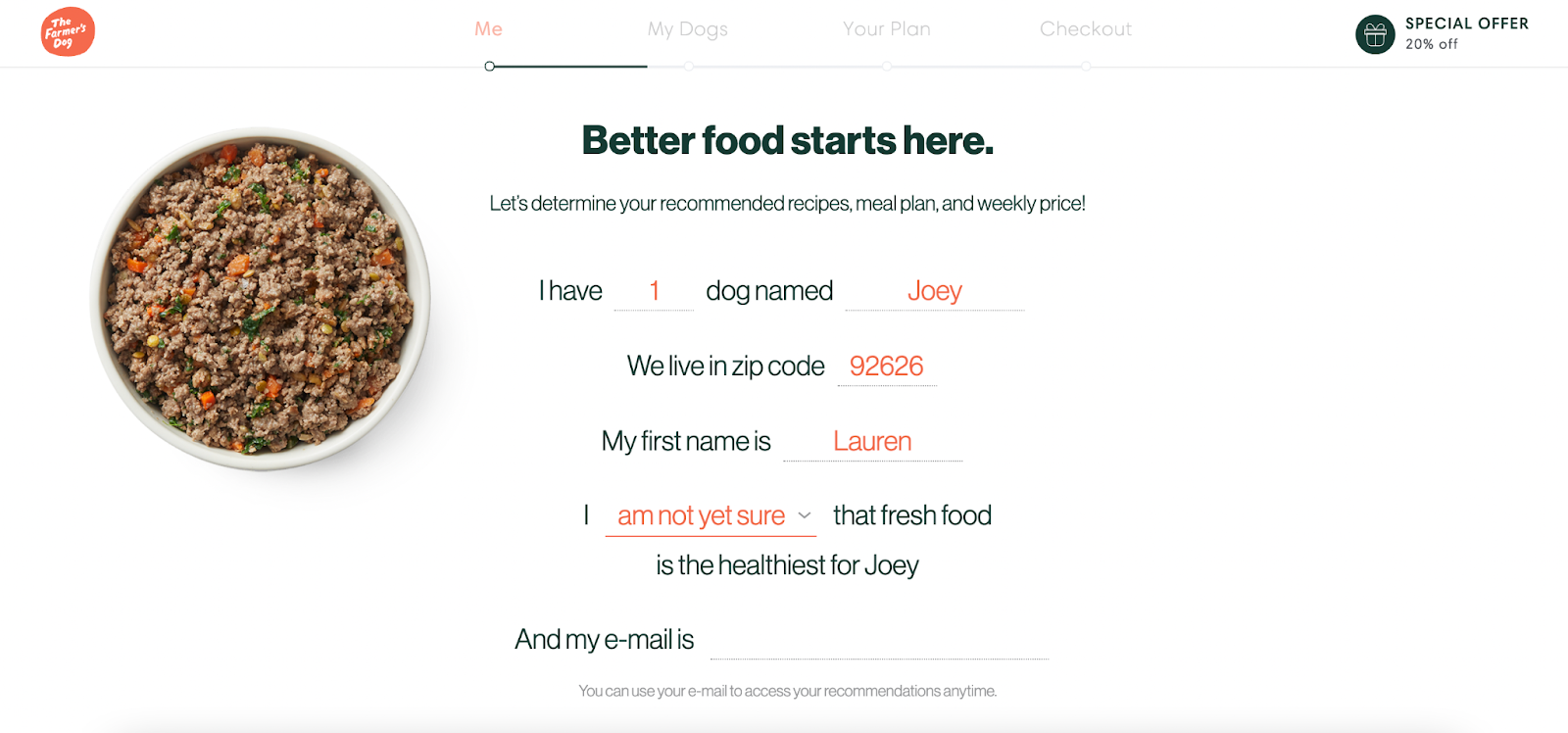 54. Coupons
Low effort, high reward. Offer a one-time coupon to new email subscribers. Not only will it convince potential customers to join your email list, but it might just be the extra nudge that they needed to fulfill a purchase.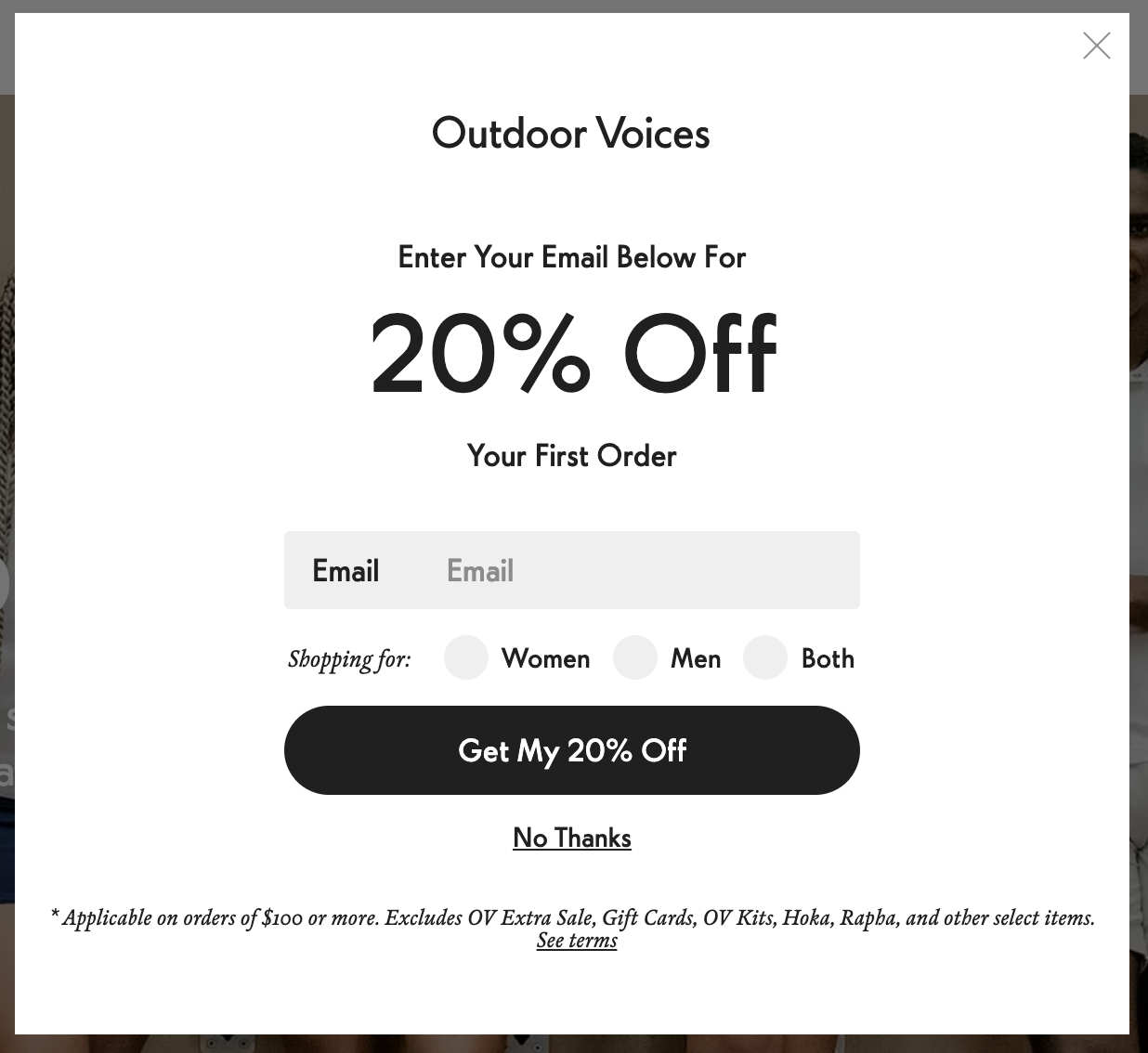 55. Exclusive sales and early access
Another low effort, high reward. Don't just offer a coupon. Tack on early access to launches and exclusive sales.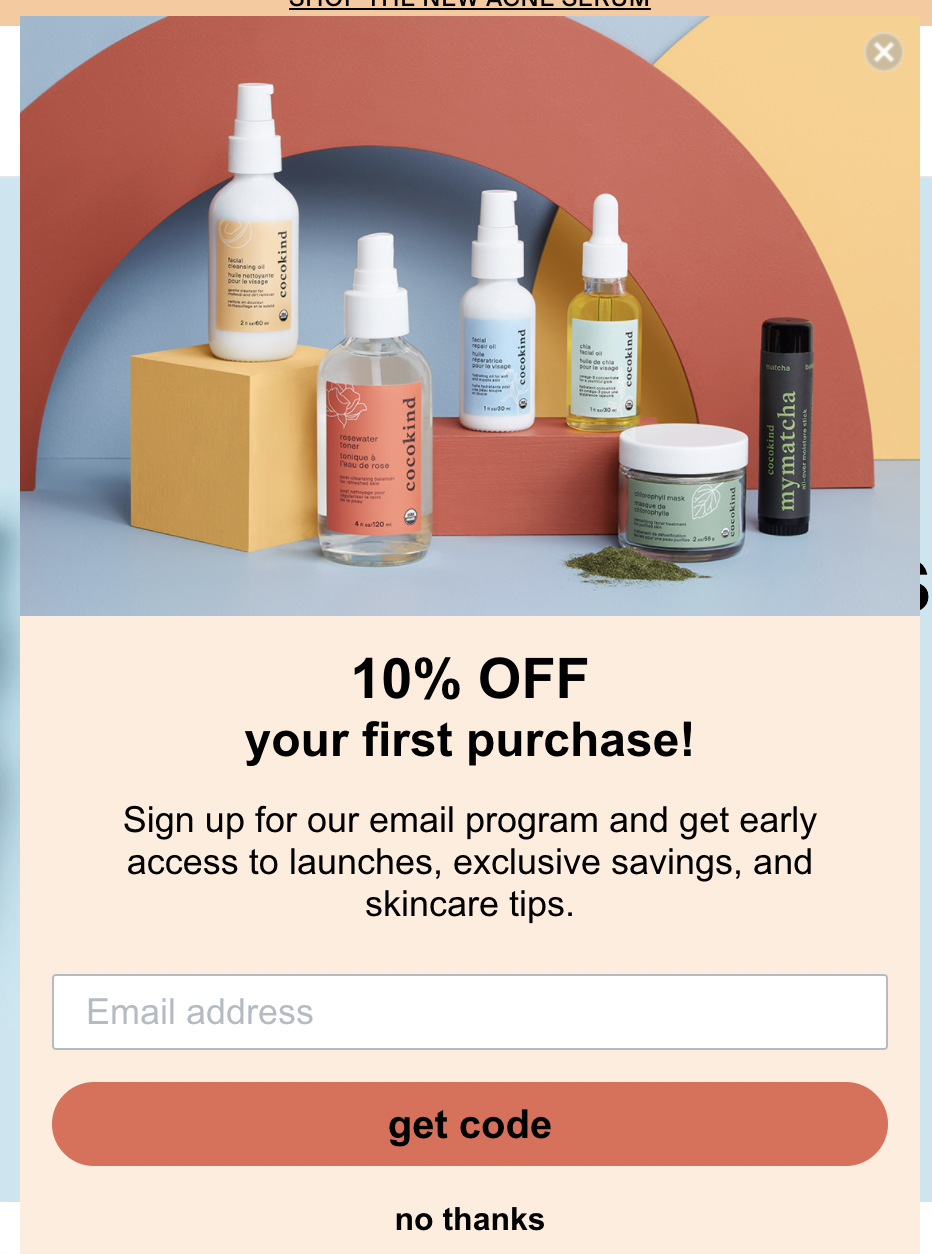 56. Free shipping
If coupons, exclusive sales, or early access don't work for your business, try a free shipping offer. Just like coupons, free shipping could also be the extra incentive for a visitor to purchase an item. Plus you get a new subscriber.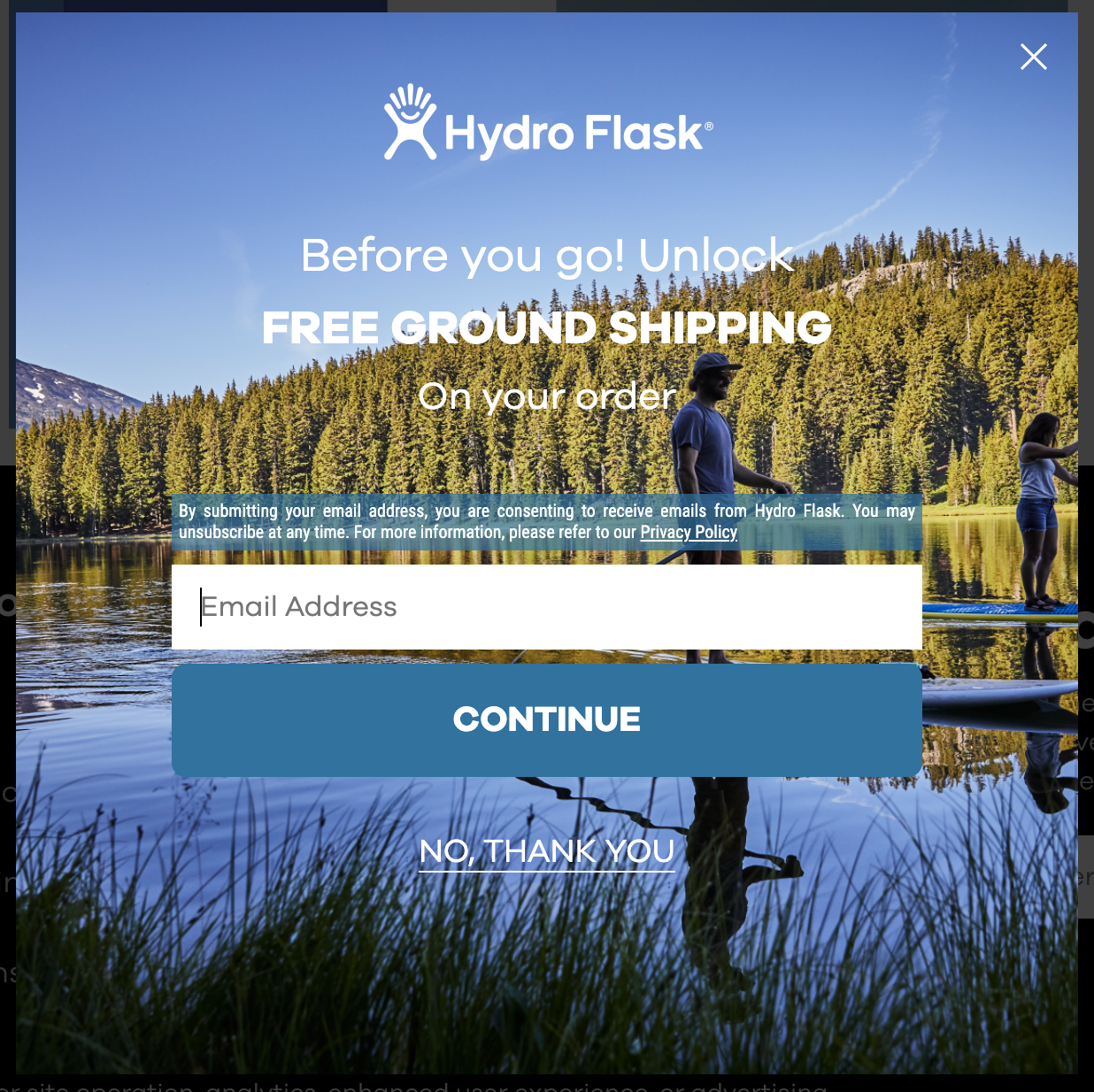 57. Gift card giveaway
Rather than a one-time contest, offer a gift card giveaway. Not only does this giveaway end up going back to your store, but it doesn't require logistics. No shipping out items, no address inquiry, and it's always in stock.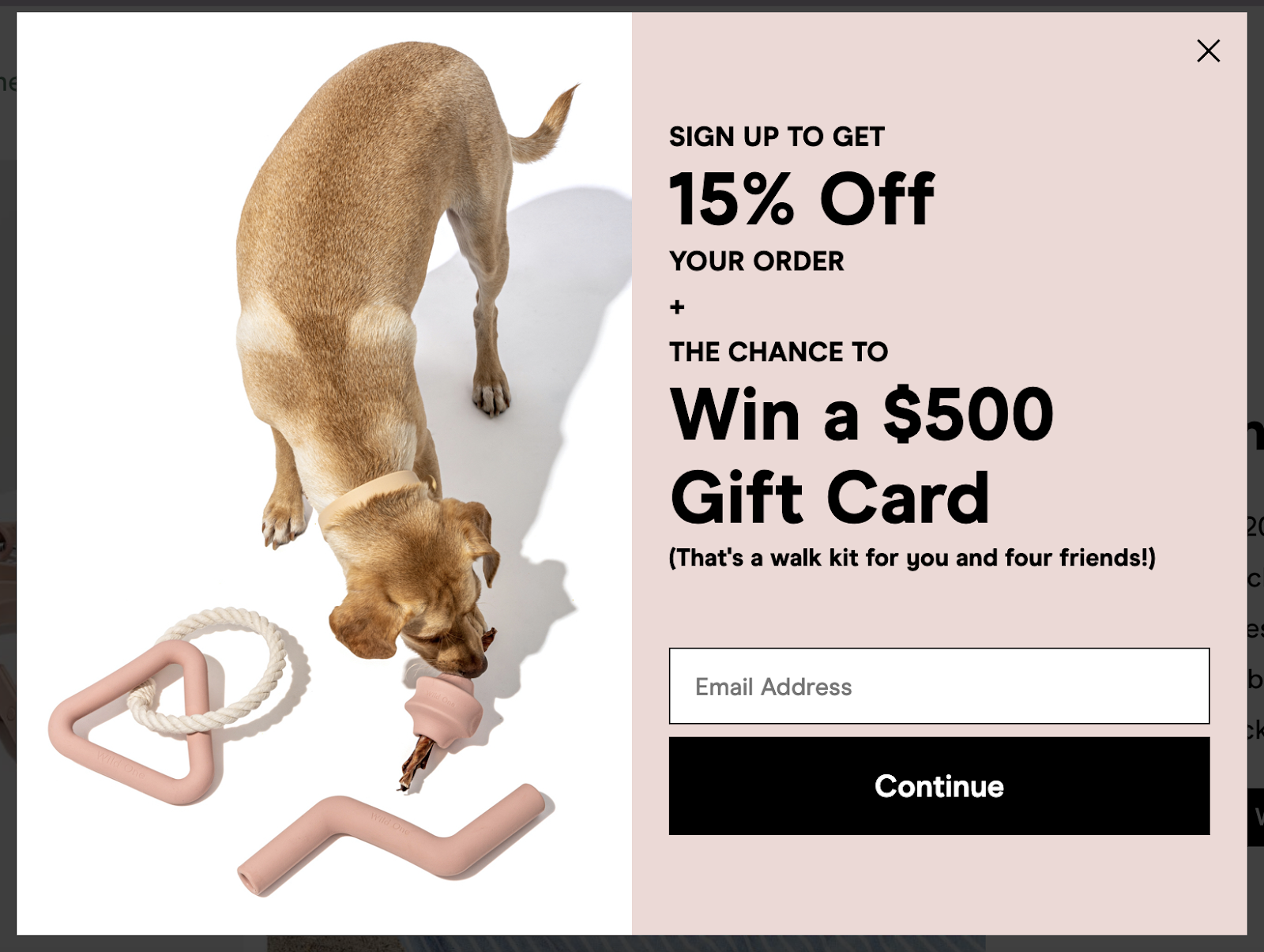 58. In-store signage
If you have a storefront, make signage for your newsletter sign up. You can offer any of the incentives I've mentioned in this article in-store too. As long as you have an email service provider, everyone should be able to receive their coupon to their email immediately and use it on a purchase same day. Then you get to keep in touch with them after that. Win-win.
59. Add an insert to shipped orders
Adding a card or sheet of paper to orders that ship out is an ideal opportunity to capture the attention from your new customers. It's your chance to keep in contact after they received what they wanted.
But if they've already received what they wanted, you've got to give a good reason to stay in contact. This is where you offer a percentage off their next order, exclusive access, or…maybe a chance to be featured in email, which leads me to my next point.
60. Share user-generated content (UGC)
It's exciting when a brand shares your content with their audience. We're used to seeing it on social media, but it makes all the sense to carry that over to your emails.
Ask customers to share your product on social and tag your brand. Let them know that you'll share it on your social channels AND email. Your customers will be more likely to sign up for your email if it also means seeing their moment in the spotlight.
Pro Tip: comment or direct message whoever you feature to let them know if they've been featured—it's a guaranteed sign-up.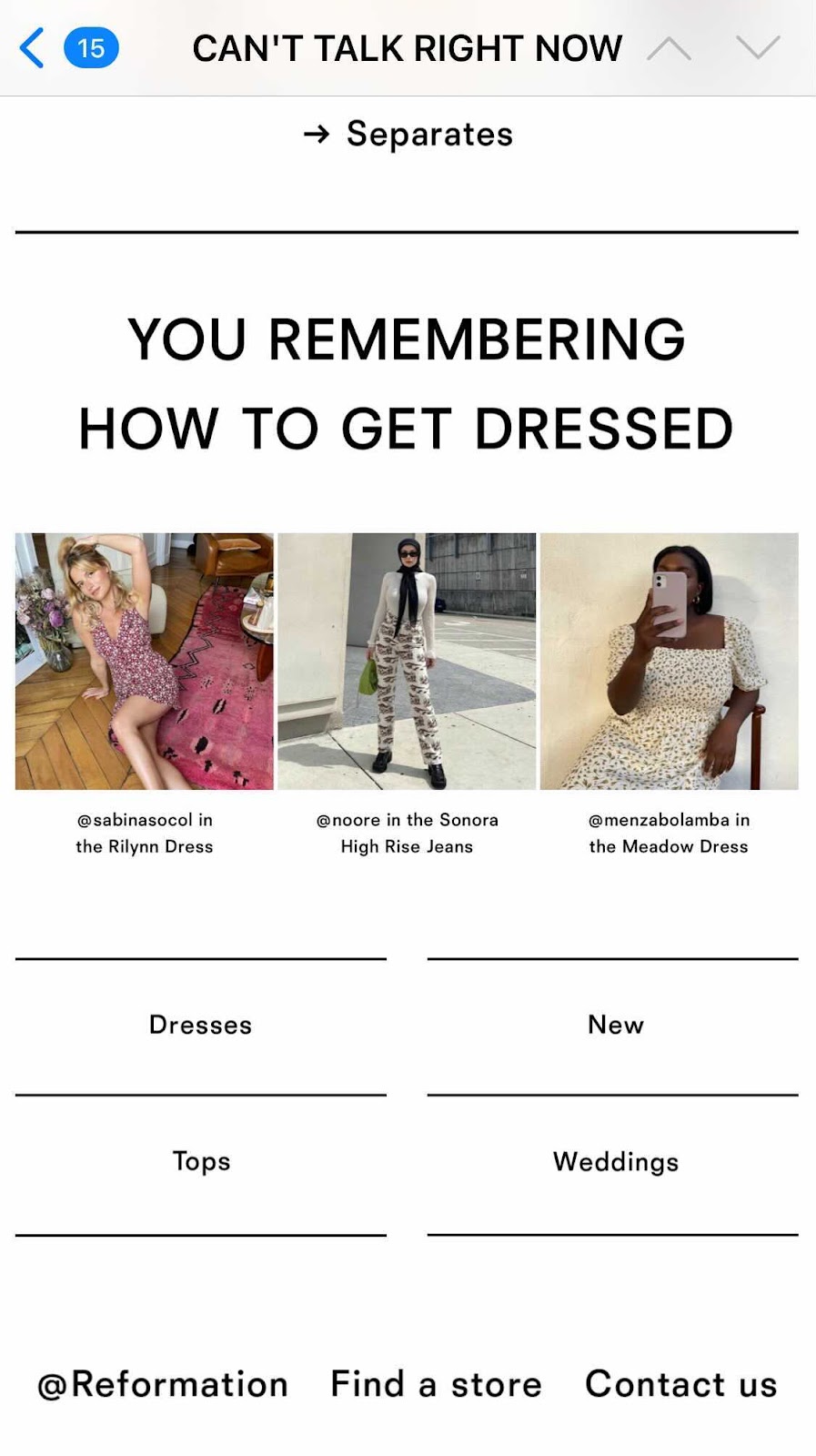 61. Add a CTA to your purchase page with an offer
A customer will already be entering their email address to get confirmation and tracking, so a newsletter signup in this case just means adding a checkbox with some copy.
Next to the checkbox, be sure to clarify what they're signing up for as well as give them the incentive to check it.
62. Birthday and/or anniversary incentives
Ask for a birthday month and year in your email sign-up form and voilà you can now offer birthday and anniversary gifts as an extra incentive for email subscribers. You can pair this idea with any idea mentioned so far just to sweeten the deal and grow your list.
Time to get building
The work to build an email list can be daunting, but the rewards are plentiful.
I may have talked a little smack about the difficulties of email list building vs other marketing channels, but really the glass is half-full. To have an email list, means having your audience at your fingertips at all times.
While there is no algorithm to help grow your audience, there's also no algorithm to kill your reach. If you have 10,000 followers on social media, they're not all going to see your posts. But if you have 10,000 email subscribers, you know that your email will get delivered to every single person's inbox.
From there, it's just a game of optimization to make sure all as many of those 10,000 subscribers are opening and engaging with the email. It's a game of tweaking the details to get the highest performance.
With consistent A/B testing, you'll have the email subscriber list you've been hoping for and the KPIs you've been dreaming of. Leave us a comment and let us know which idea ends up working the best for you.
For more email marketing tips, you might be interested in: