There's a lot that goes into creating a great email. You've got the message copy, the images, and of course, the email design.
None of that matters, of course, if the subject line of your email isn't strong enough to even get users to click and read the rest. That's true even if you have a fairly engaged email list.
Your email subject line can have a direct impact on the performance of your campaigns. In fact, it's said that 47% of recipients open an email based on the subject line alone.
If you grab a user's attention and explain why they should click, they likely will. If not, your message will get deleted or (worst case scenario) end up with users opting out or even reporting your emails as spam.
We want you to avoid having emails flagged as spam and/or ending up with lots of unsubscribes, and knowing how to write great email subject lines will make all the difference.
That's what we're here to discuss today so you can boost open rates and stand out from the crowd.
This article will provide some of the best examples of effective email subject lines, cover the best practices, and the mistakes you need to avoid to craft the perfect, open-worthy subject line.
Ready to roll?
Subscribe to our weekly newsletter for tips so good that we might put ourselves out of business.
What are email subject lines?
Email subject lines are the short lines of copy that are visible from a user's inbox next to the name of the person or brand who sent the email. In some cases, an email subject line will include small previews of what the rest of the email contains.
You can see examples from my inbox here:

Subject line examples (pretty good ones, too)
The subject line is meant to snag a user's attention, piquing their curiosity and telling them what the email is about all at once.
It's like a massive, glowing sign that announces what the rest of the email is about. And if you don't nail the subject line, your audience may never click and open the email.
They are, therefore, a crucial part of your overall email marketing strategy.
Once users click, the subject line will still be visible across the top of the full email itself, reinforcing what the message is about and potentially what action you want users to take.
You can see a great example of that in the image below: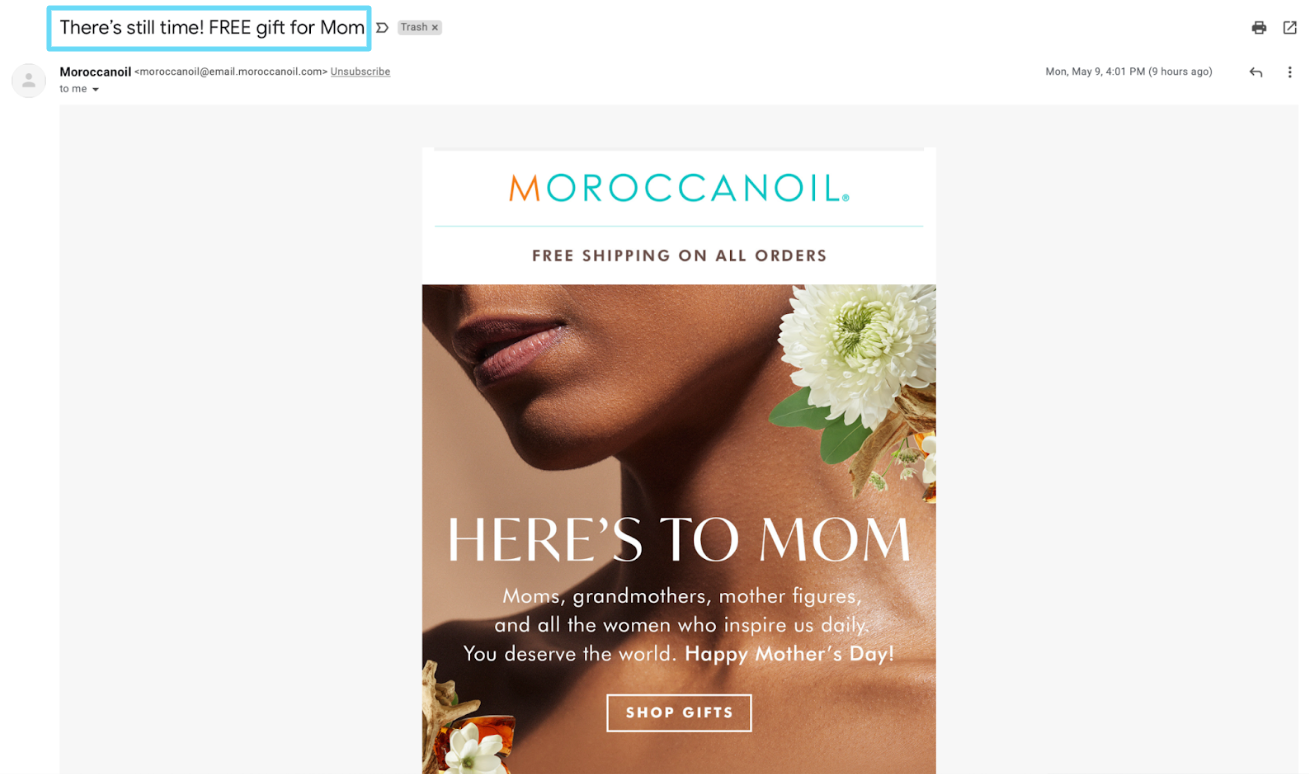 The best subject lines for every type of email (examples and templates)
There are so many different types of campaigns and messaging that brands might need to send to their email subscribers, and each one may have different subject lines depending on the case.
Luckily, we've rounded up everything you might need for most scenarios.
Let's take a look at the best subject lines for the most common types of email marketing messages and a few examples and templates to get you started.
Welcome email subject lines
Welcome email series are going to typically thank users for subscribing to an email list, making a purchase, and/or signing up for a free trial of some sort. It's essentially like an excited greeting in many cases.
These email subject lines should be short, to the point, and make it clear that you're simply welcoming new users to your subscriber list.
Here are a few basic examples and templates you can use, depending on the tone you want to go for:
We're so excited you're here, [user name]!
Hooray! You've joined our email list.
Welcome to [brand/community name]! Here's a special welcome offer just for you.
Thanks for signing up—Now take 10% off.
Here's an example that generates real excitement and uses the email subject line "Welcome to the family" to start building a strong relationship with the recipient: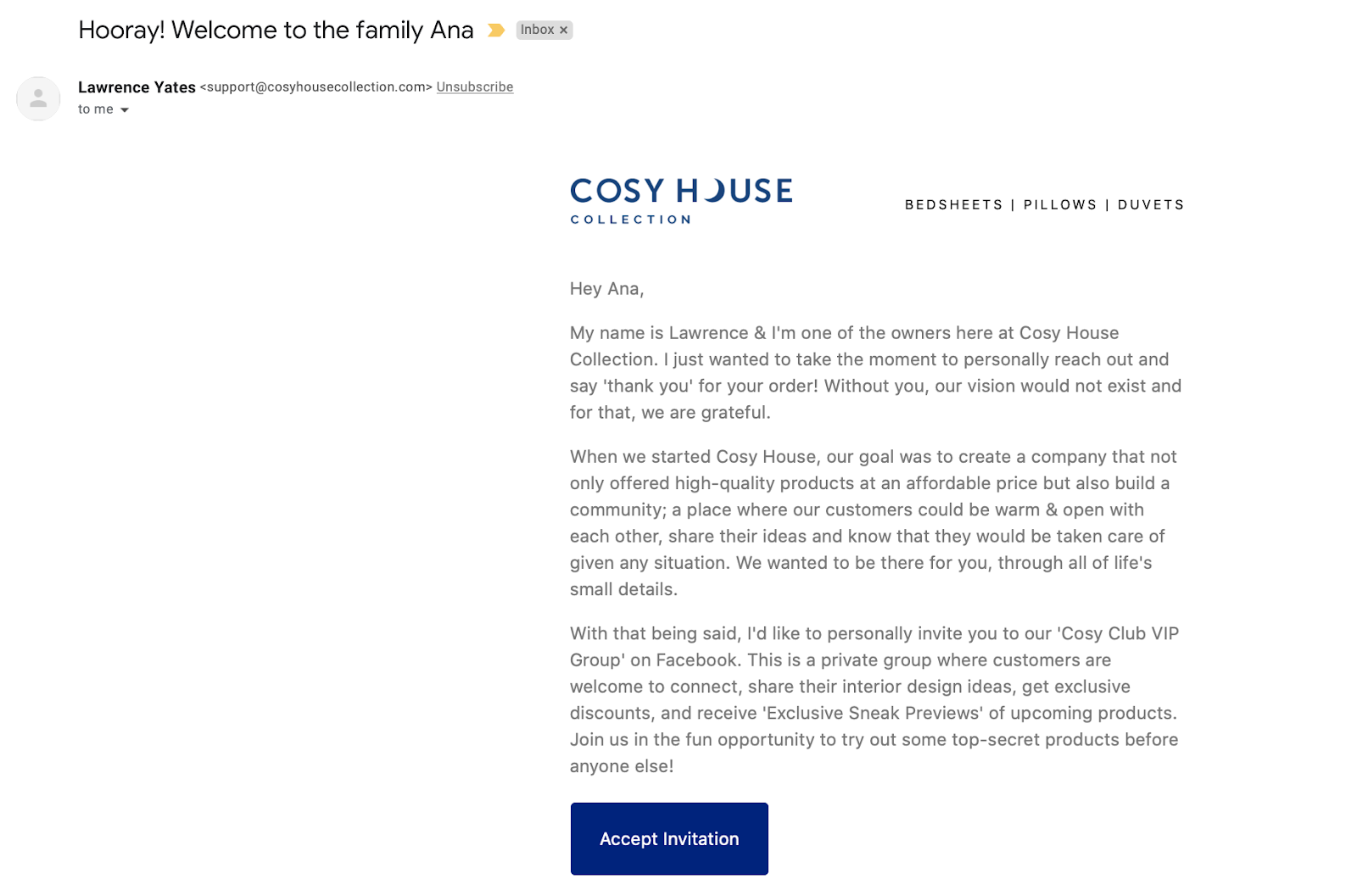 Follow-up email subject lines
Every business needs to know the art of the follow-up. It's a crucial part of business-to-customer outreach.
These can be automated messages sent out to "check in" to assess if the customer needs anything, how they feel about their purchase (and ask for a review), or if they're happy with their customer service experience.
They can also be personal emails directly from an account executive.
Either way, make it clear that you want to know what users think and hear back from them. This is a great example, keeping it simple with "So, what did you think?":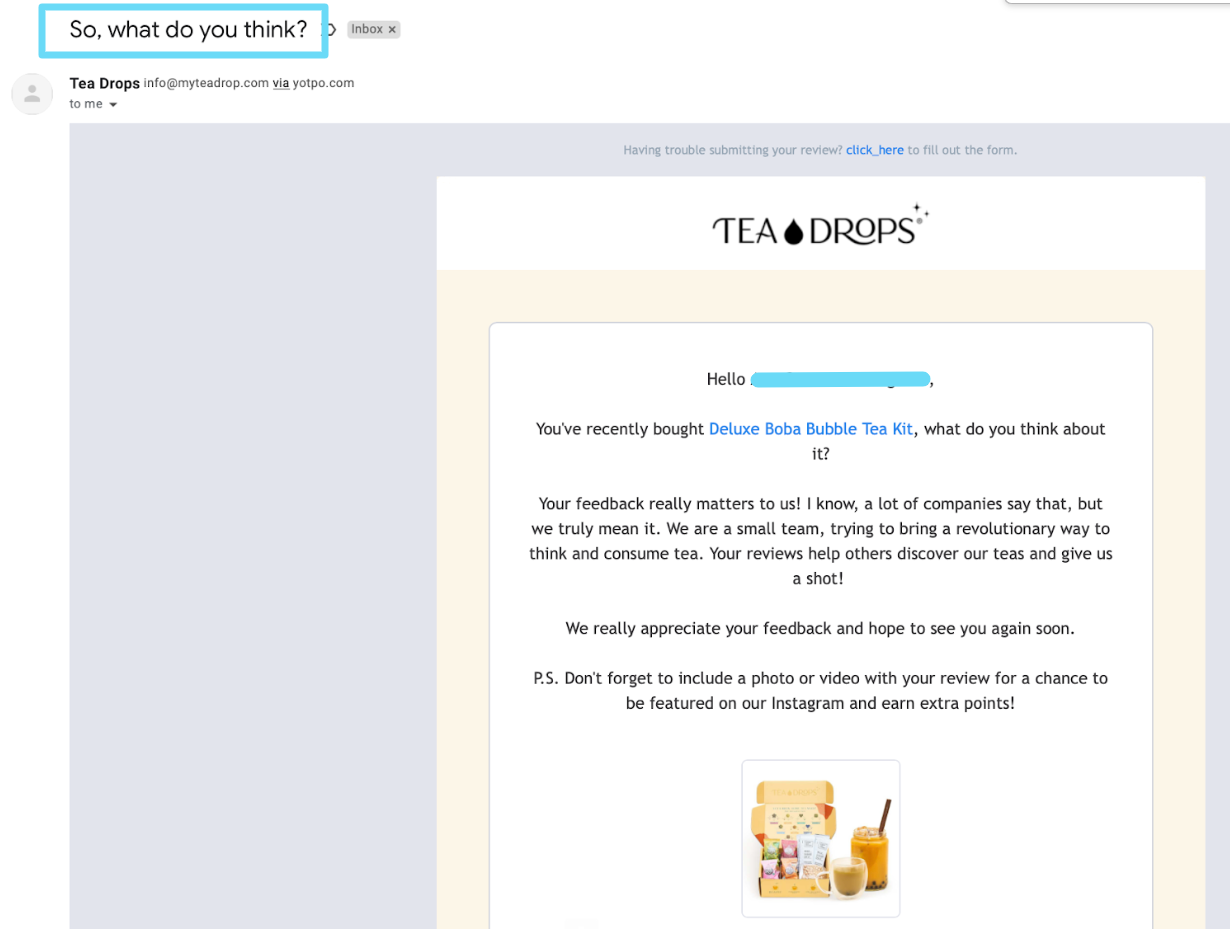 Here's another that follows up after an in-person visit and encourages the reader to take another action (turning the visit into a membership):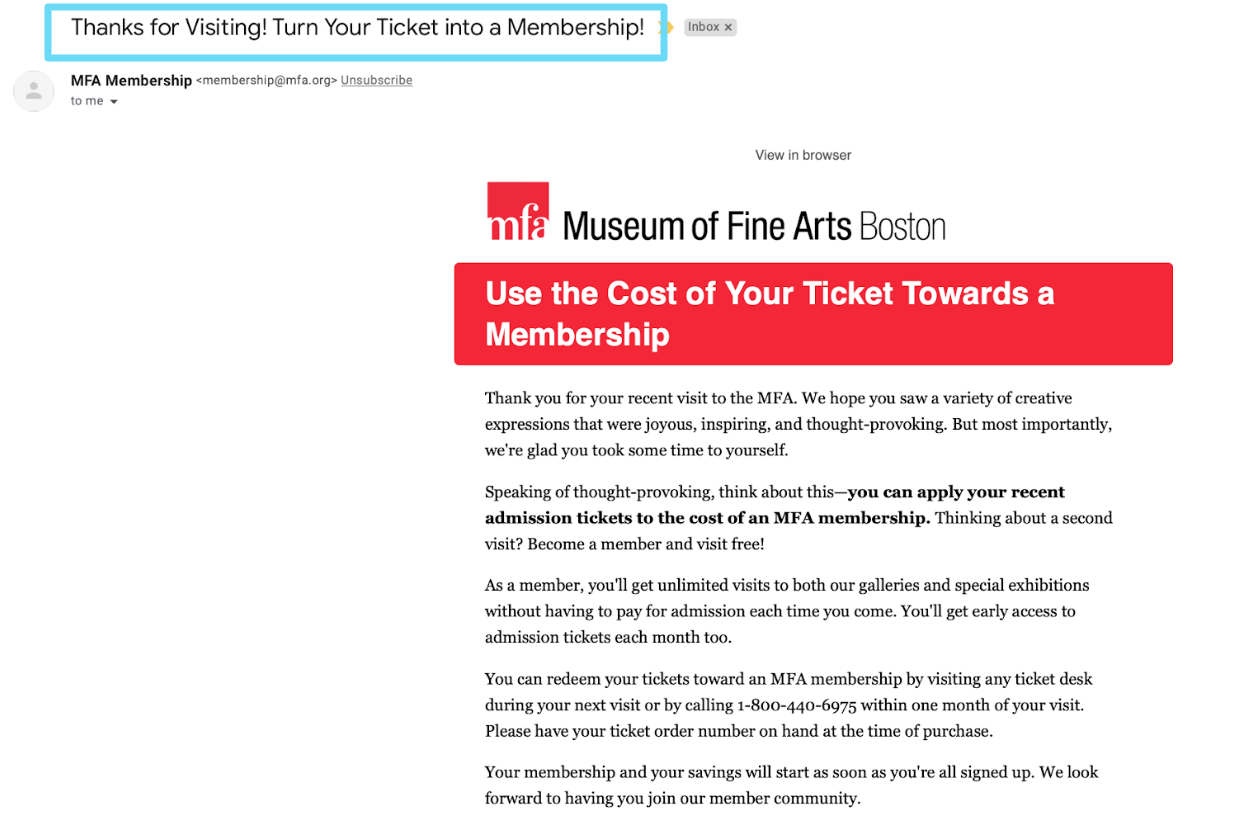 Pretty simple, eh? If you need some more inspiration, here are a few great options to take and run with:
Did you love your order? Let us know.
Need help? We're here if you do.
Thanks for shopping with us! How did we do?
We loved serving you today! Please rate your experience.
Re [customer issue headline]: Did we address your concerns?
Thanks for visiting! Come back with this 10% discount.
Abandoned cart subject lines
Abandoned cart subject lines: one of my personal favorites.
The average abandoned cart rate across all industries is around 70%, so it's imperative that we master the subject line for an abandoned cart email.
Abandoned cart emails should immediately remind users that they've left something behind and encourage them to come back and complete the purchase. (And we want to do this by instilling a sense of urgency or FOMO. 😉)
These are some of the best email subject lines to get you started:
Oh no, you left something behind! Grab it while you can.
You didn't forget about us, did you?
So close! Your items are just a click away.
You've got great taste—don't forget to check out while you still can.
Your cart is waiting for you!
Hurry! Complete checkout before your cart expires in 24 hours.
It's almost yours! Complete checkout within 24 hours for 10% off.
Here are a few shining examples of abandoned cart email subject lines that I fell for: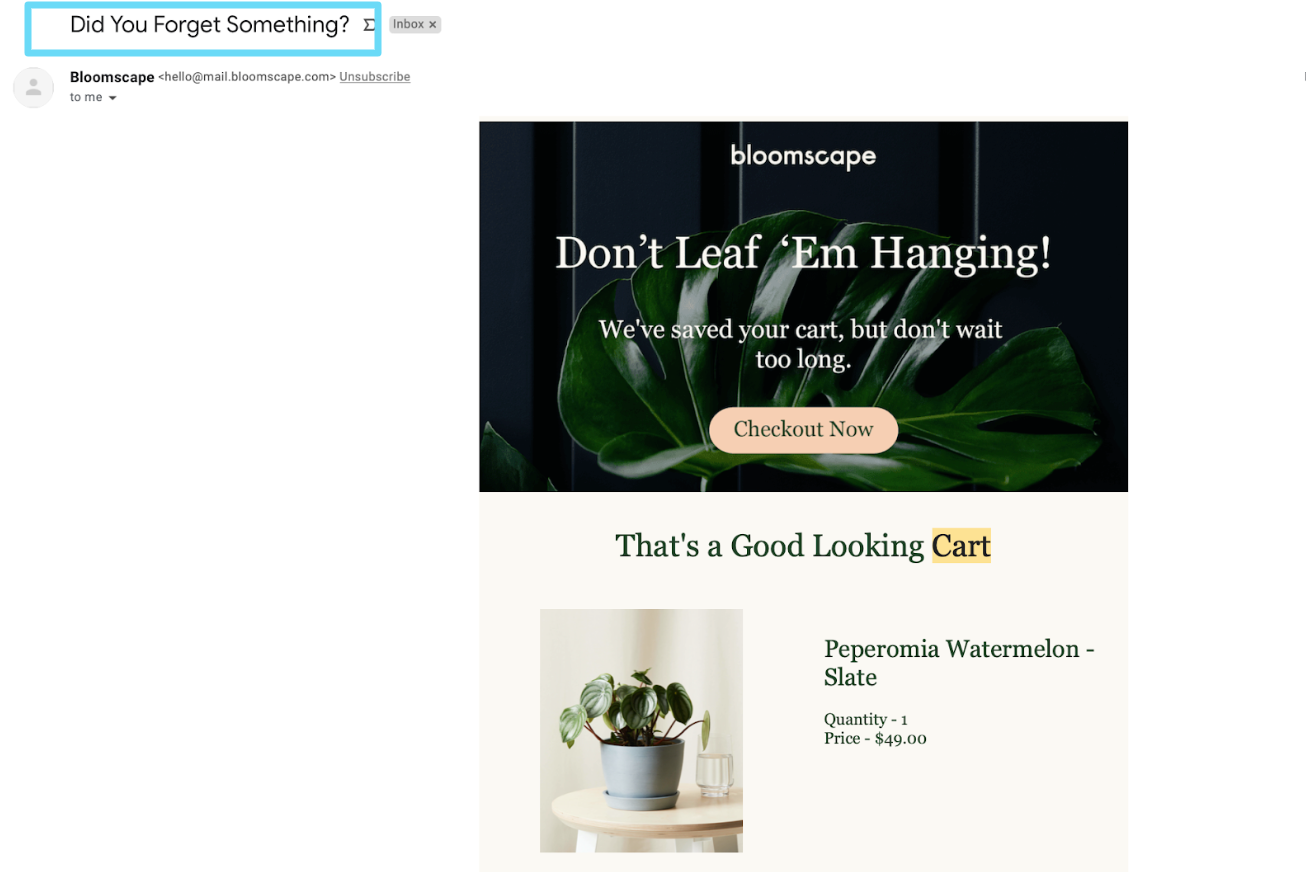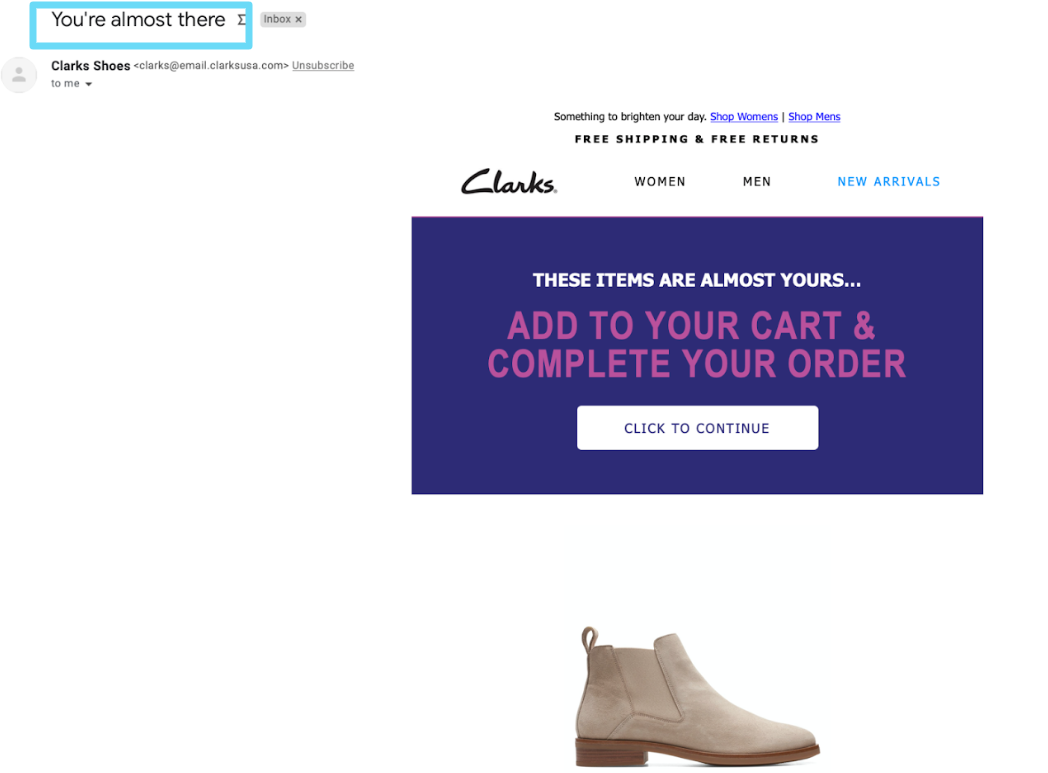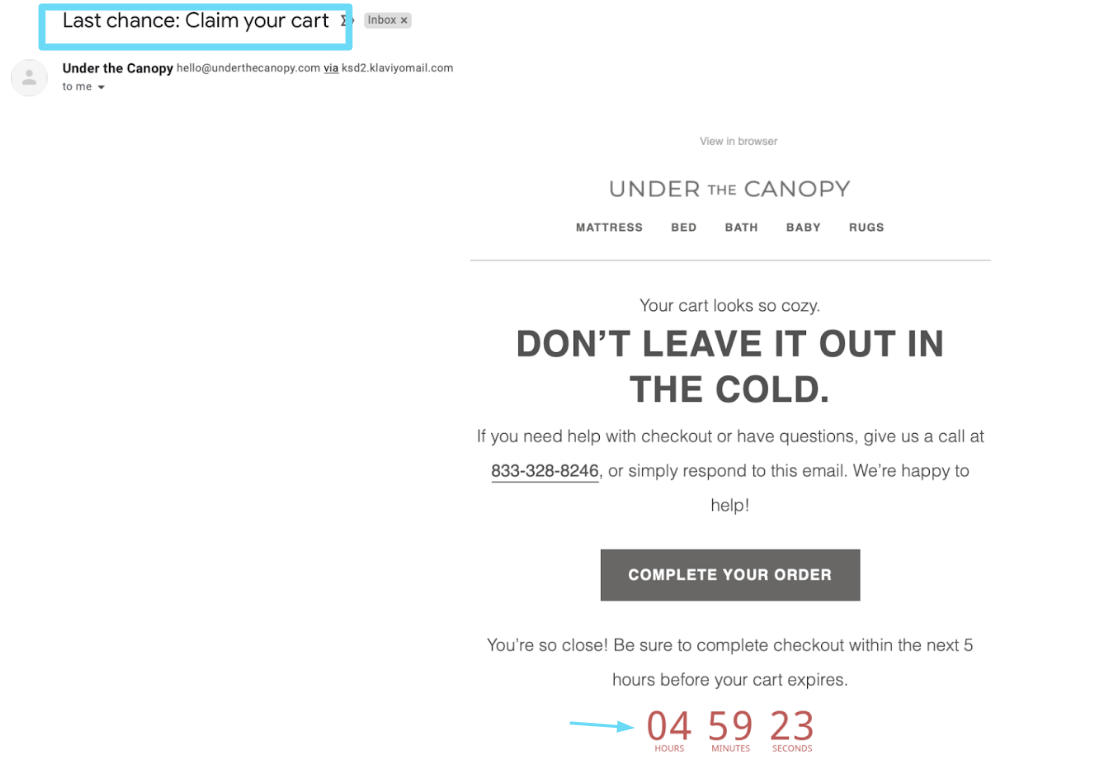 Sales & promotional email subject lines
Every marketer and copywriter out there is familiar with writing sales and promotional email subject lines. These are some of the most common and need to leverage some sort of emotion to get users to act quickly (which can be scarcity, urgency, or FOMO).
All in all, you just want to make users real excited about what's inside.
These may include discounts or sales, but they can also just be focused on highlighting a specific product to drive sales. Superlatives and social proof can be great here, like "Sold out 5x, but back in stock!" or "The best-rated 'jaw-dropping' jeans are finally back!"
Here are a few great sales and promotional email subject lines to consider:
Love freebies? Us, too. BOGO is on now.
There's a discount code inside! Open to redeem.
We're offering a special discount inside just for you.
Missed our sale? BONUS day to shop now for 20% off!
Your favorites are back in stock. Click to redeem $5 off.
Exclusive sale—Members only shop today.
Top-rated, back in stock. Get [product] before it's gone.
Back by popular demand, get your [product] while you can!
We rarely do this. Click to open your special discount.
For a limited time, get [product] for half off.
We're offering 25% off all [product category].
Here are some great examples of email subject lines that do this with both creativity and directness: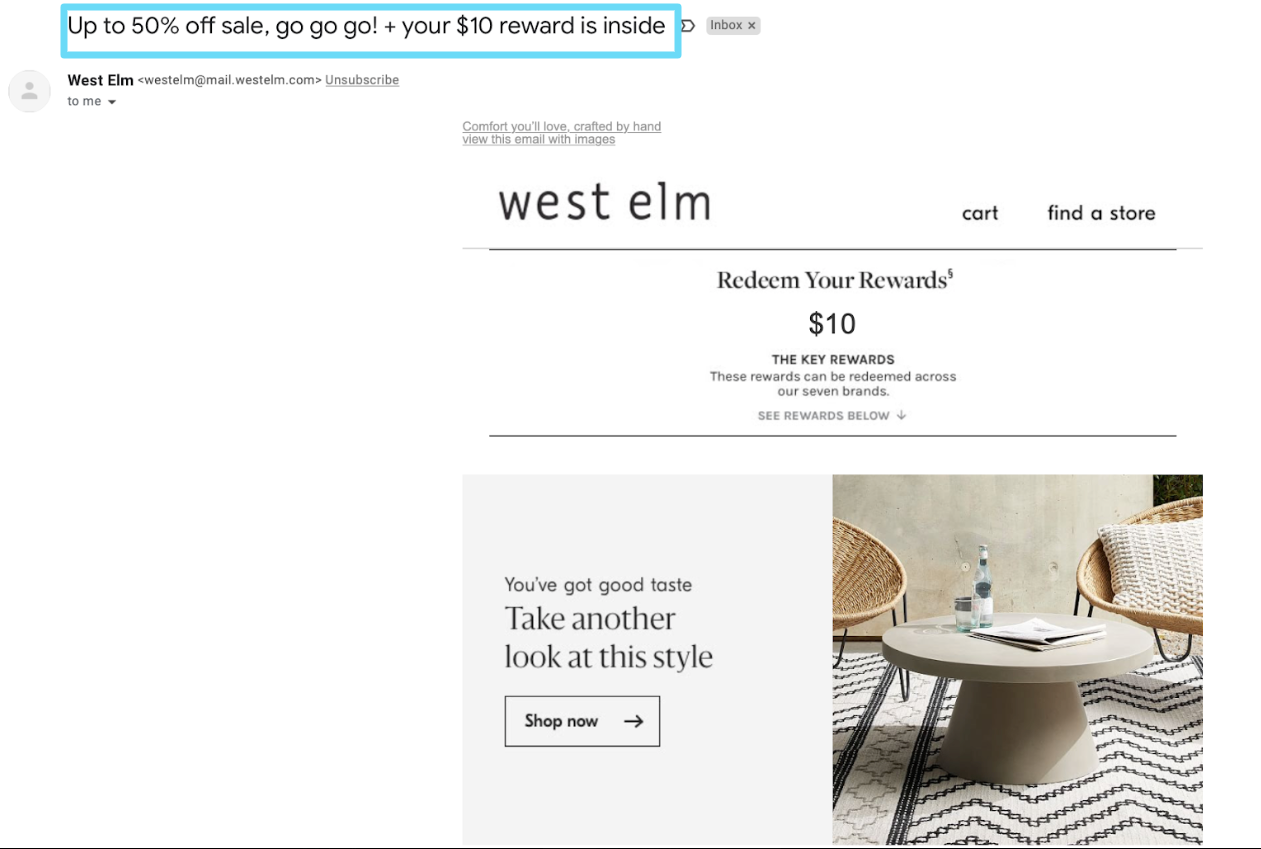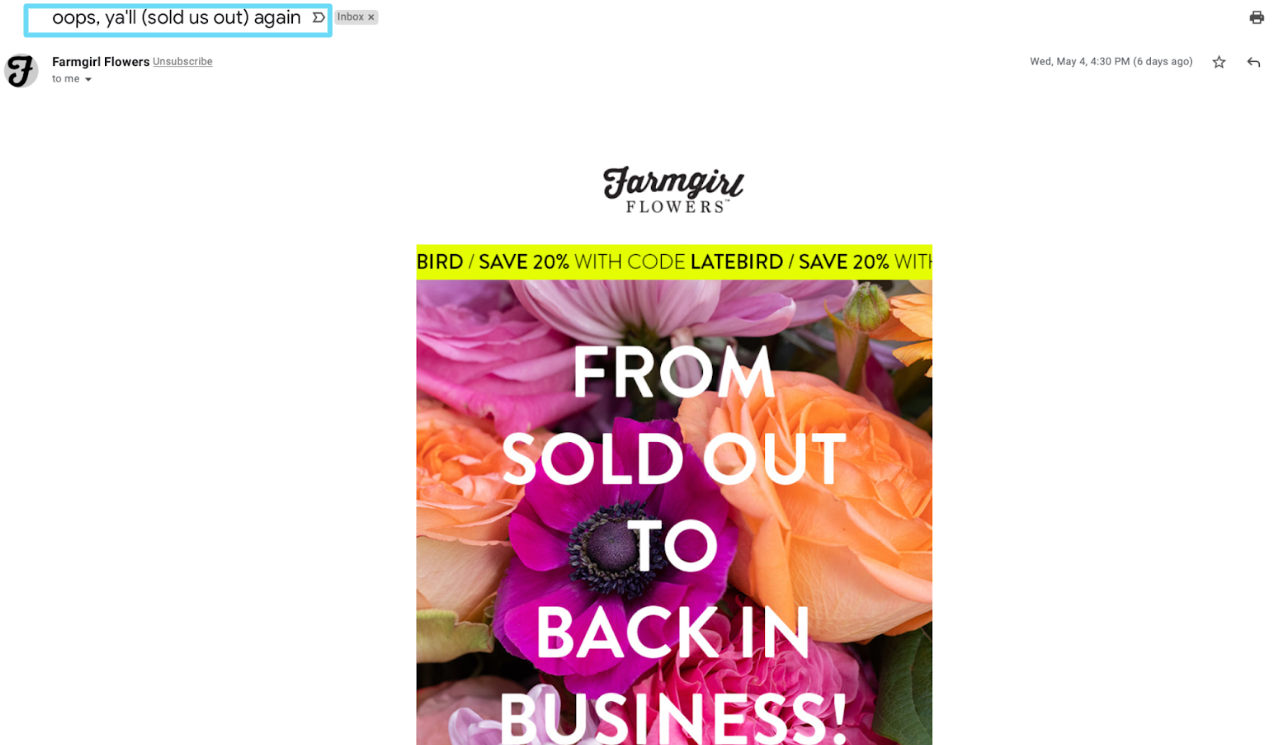 Brand & product announcement subject lines
Announcing a new product or a significant change to how your product or service will work?
It's important to make that extremely clear in the subject line so that people know why it's essential to read and so that they're motivated to do so quickly.
These subject lines can express important company updates, changes to accounts, as well as product announcements.
For example, if customers have already purchased everything they want from your previous inventory, getting them excited about a brand new product can generate a sale. And the subject line is your opportunity to do so.
Here are some relevant subject lines to consider for brand and product announcements:
Introducing [product name]! The newest kid on the block.
Pricing changes are coming. Read details here.
Confirming changes to your [brand] account.
Important updates RE: [subject] you should know.
New limited-time [product name or product type]—get it before it's gone.
We've been working on something special…
New arrivals that are destined for your closet.
Check out our newest must-haves for spring!
You'll never believe you [action: cooked/ camped/ cleaned, etc.] without this.
Big changes are coming to [brand/product name].
Major updates inside. Here's what you should know.
Something has been brewing & it's finally here.
Let's see some of these in action, shall we?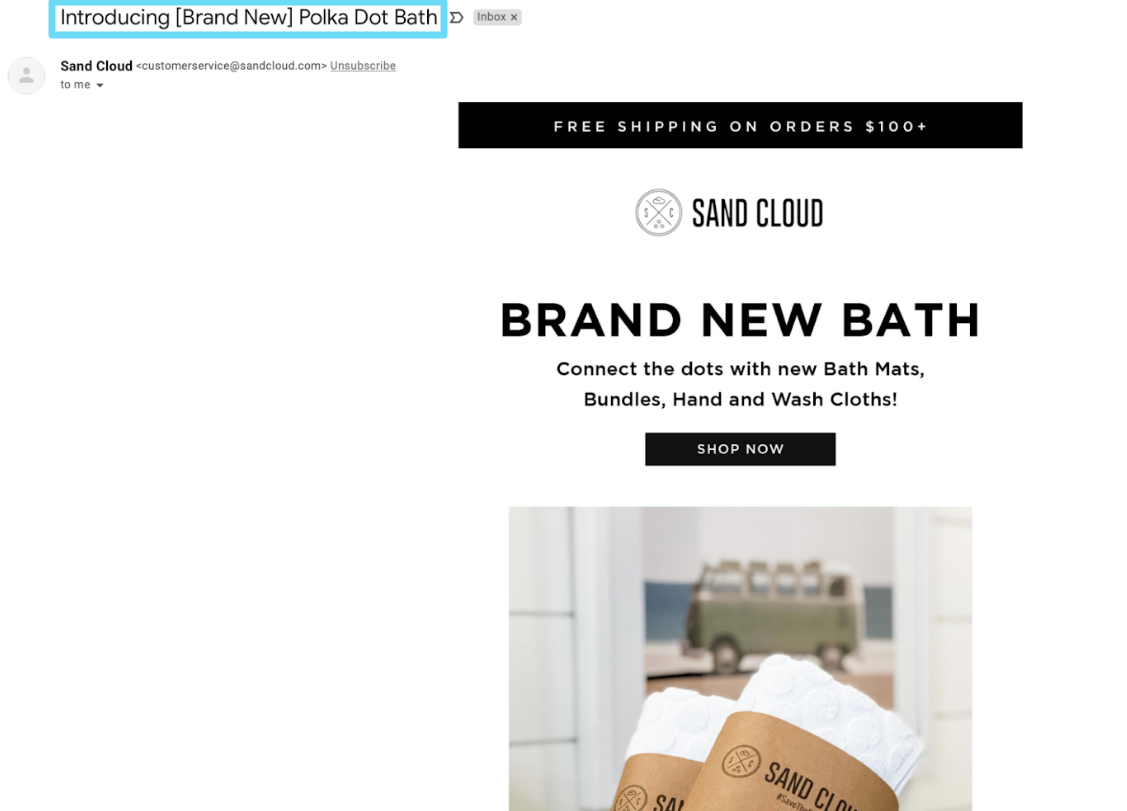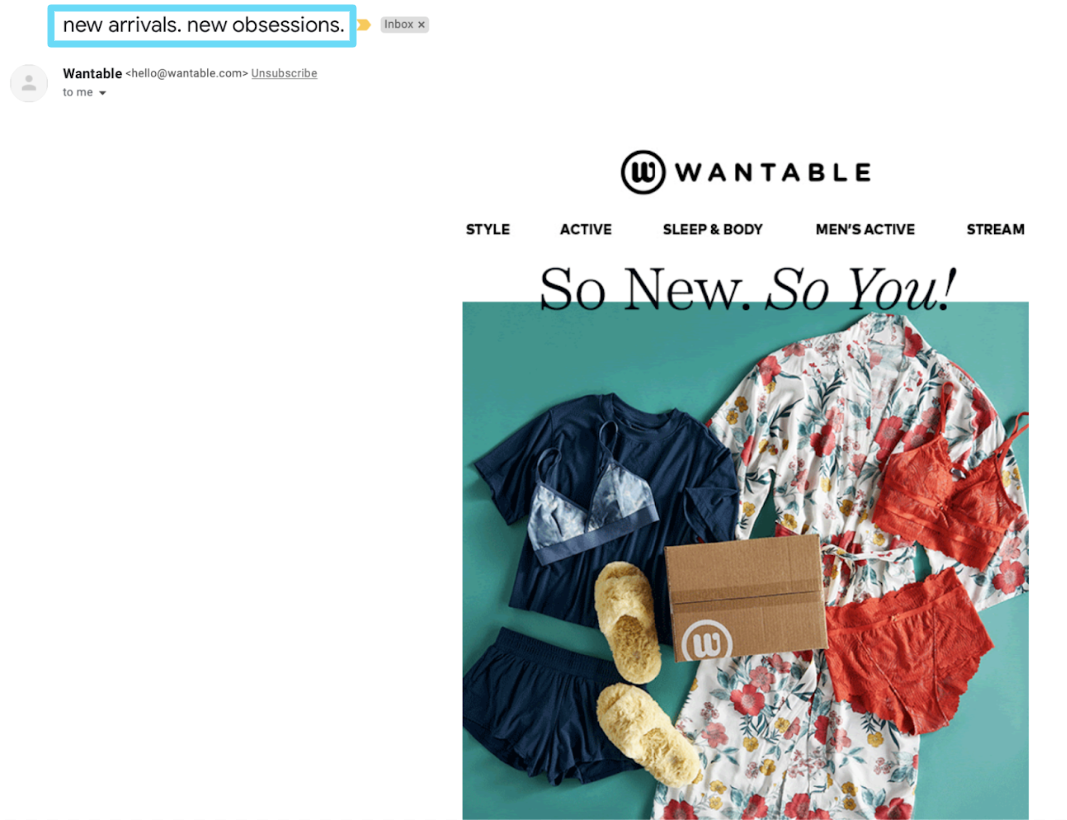 Reengagement subject lines
This is one email type that's often forgotten about—but it shouldn't be.
Reengagement campaigns can target users who haven't opened emails or purchased in a while and strategically hit them with an offer or message that will bring them back to you.
Here are just a few examples to get the gears turning:
It's been a while—Take 10% on us.
It's not the same without you…
We miss you—Feel the same?
Running low? It's time to make your next purchase.
Are you still here? Here's 25% off your next purchase.
Below are two fantastic examples of what this might look like: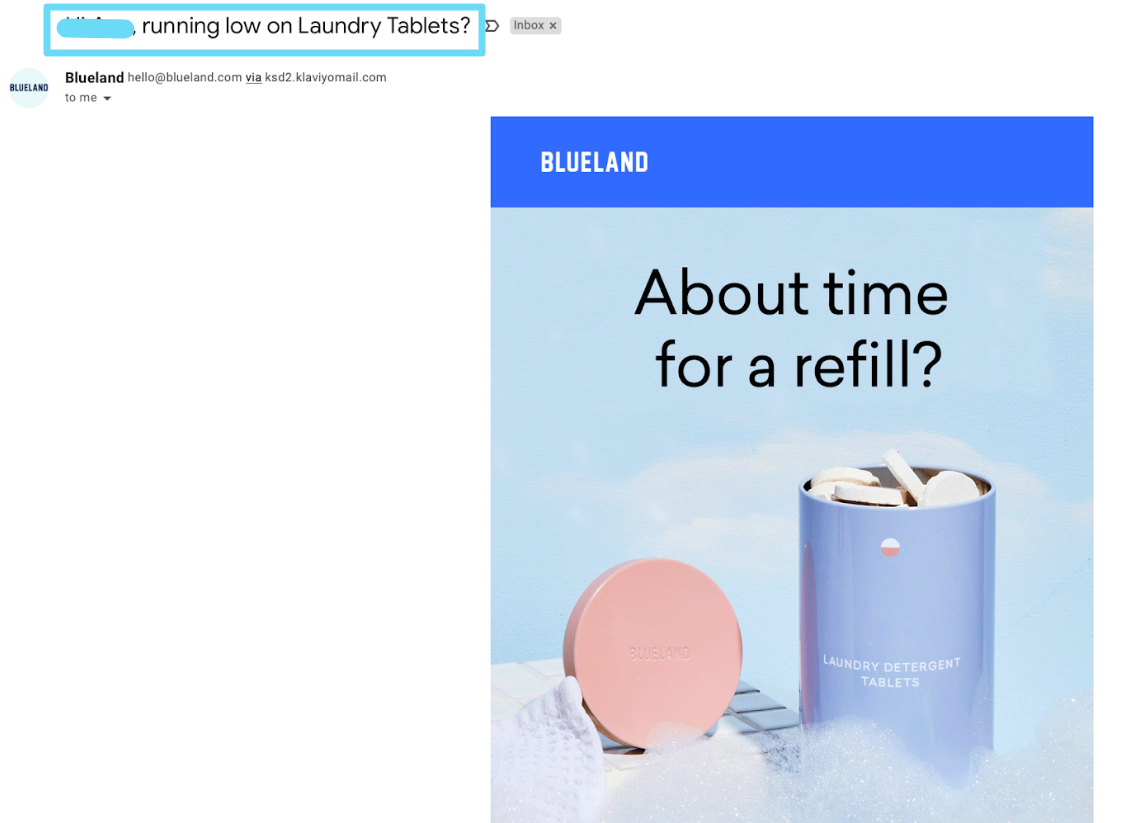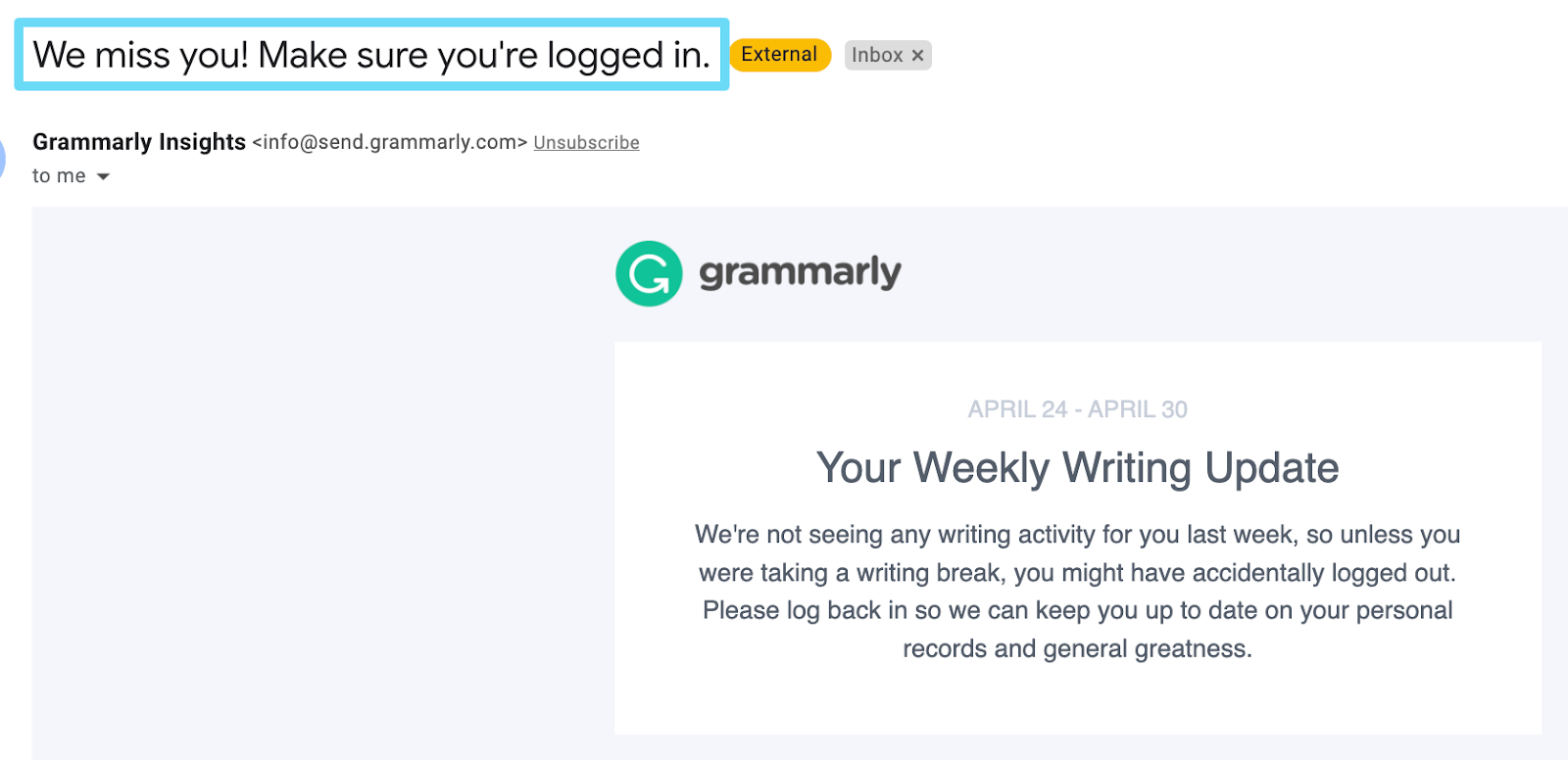 7 email subject lines best practices
To maximize your email open rates and resulting clicks, we've got a few copywriting best practices that can help get you started.
You'll notice some of these are in the email subject line examples we've already shared above (that's because they're good examples 😉 ), but we've got a few more for you.
1. Be creative
Really want to pique users' curiosity? Don't be afraid to get creative and make it fun.
This can be tossing in a pun or straight-up coming up with a nearly-clickbait headline.
This example from Reformation is fantastic, reading "IGNORE YOUR THERAPIST." That's a must-open email headline because it's totally out of left-field, and it encourages you to "look back."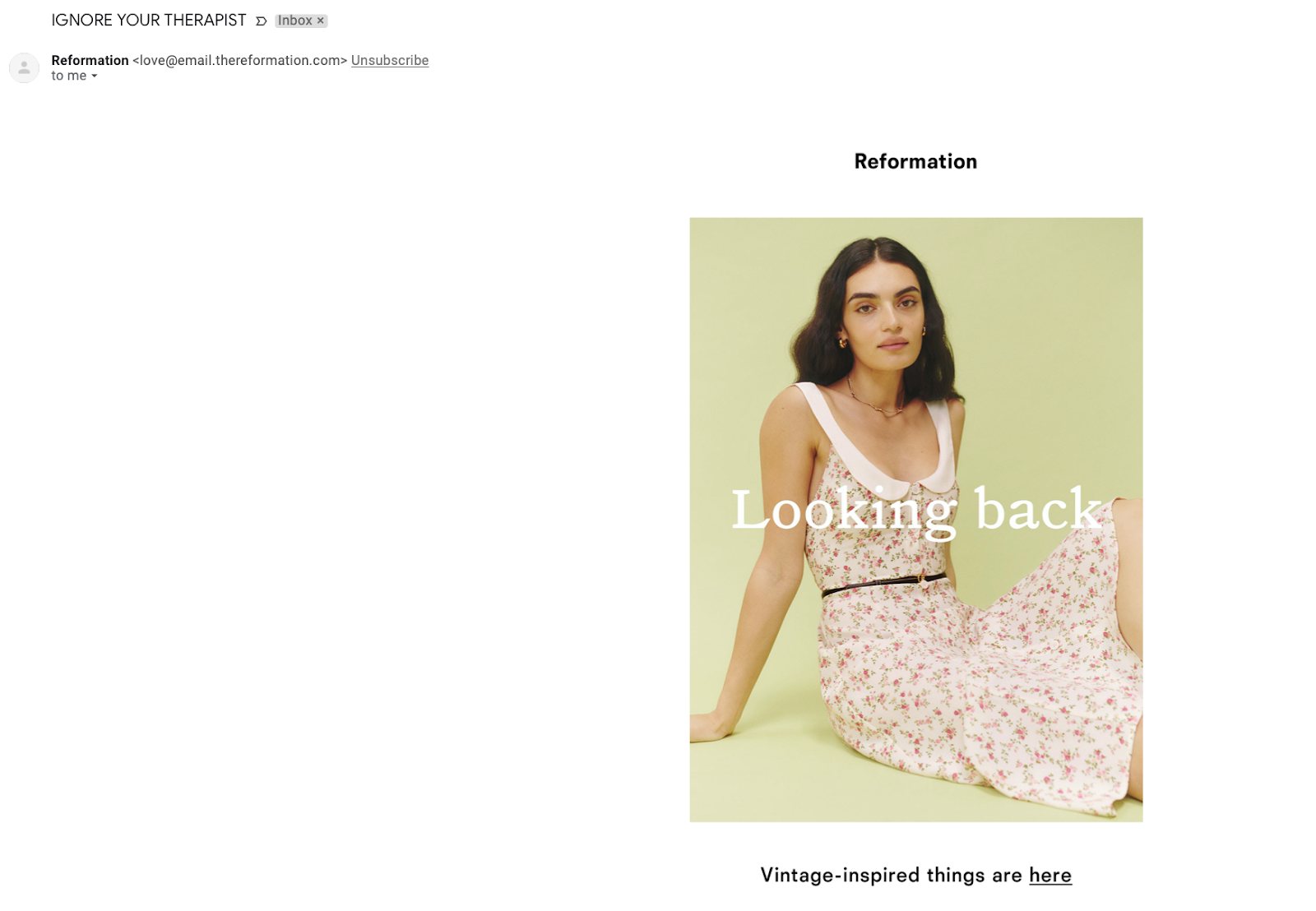 Keep in mind: Gimmicky headlines only work here and there (the appeal can wear off), but be creative and see what gets you clicks.
2. Personalize subject lines
A personalized subject line is a surefire way to increase your open rates. It makes the message feel super relevant to the reader and grabs their attention.
And keep in mind, you don't even have to use the customer's name.
For example, brands like Chewy or Rover will include one of our three dogs' names in email subject lines, as you can see here: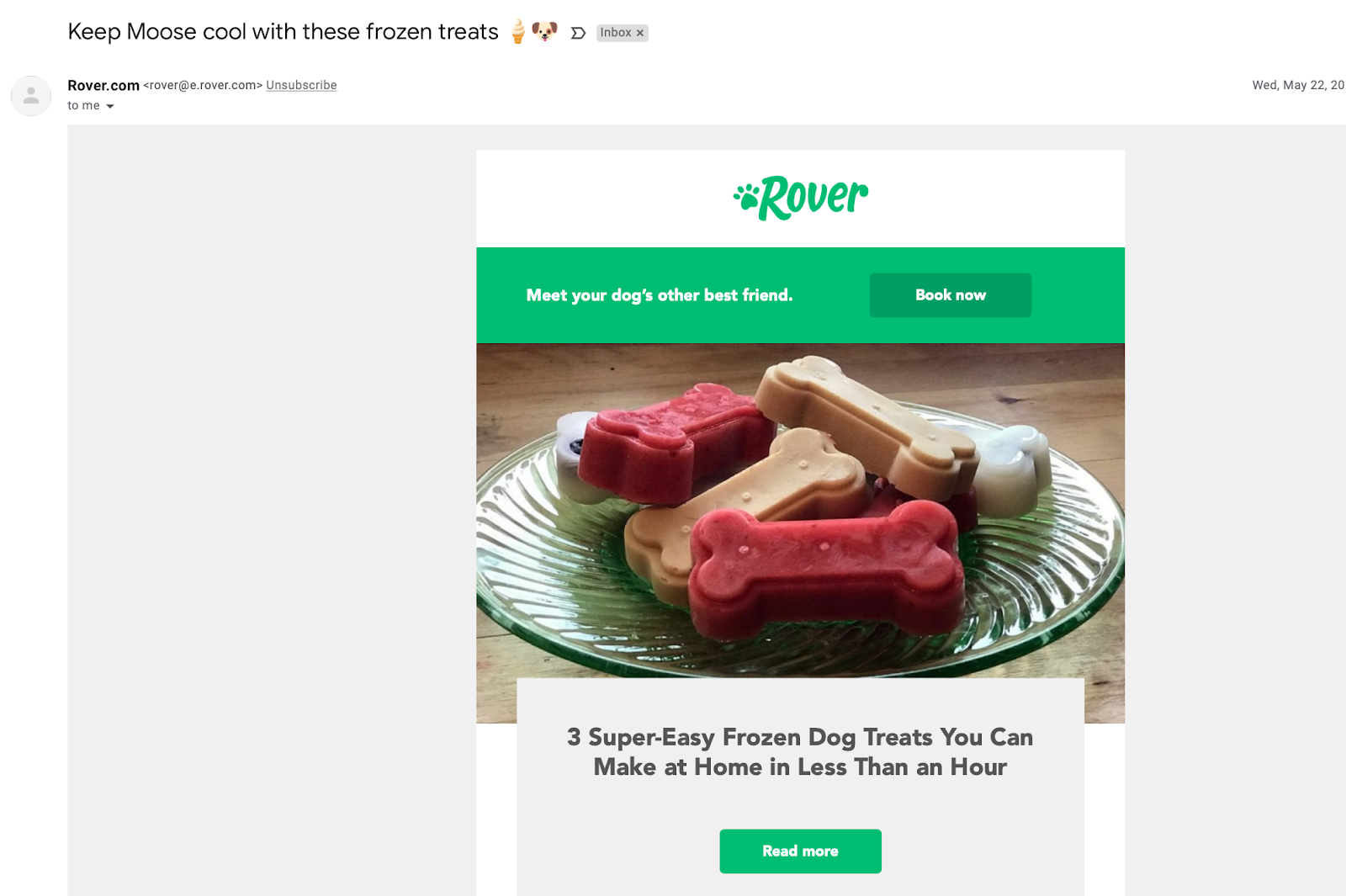 3. Limit exclamation points
This one is hard for me because I'm what my friends describe as "excessively enthusiastic," but my copy does not need to match that energy.
Exclamation points are fine to incorporate, but not multiple times in every subject line. It may be best to use them sparingly. Otherwise, they'll come off as super spammy and may just land you in a spam folder.
Ask yourself if you would open any of these:
Limited-time sale just for you!!!!!!!!!!!!!!
Yay!!! Our annual webinar is here!!!!!!!!!!
We're glad you're here! Thanks for joining! Here's a coupon! Welcome!
Yeah, probably not.
4. Leverage FOMO, scarcity, & urgency
If you want higher open rates, this is the way to do it.
FOMO is the fear of missing out, and you can create that feeling by combining an adjective like "new," "best-selling," or "top-rated" with either urgency or scarcity elements.
Urgency is the rush to buy something now—like a sale only lasting 24 hours.
Scarcity is the impression (real or not) that there's a limited resource that won't be around long or that it's your last chance to purchase.
Urgency and scarcity work well together (e.g., the sale is only today, so I need to act fast before the product is gone)—to create FOMO.
You can also use exclusivity (like "members only") to really hammer these points in while building loyalty.
5. AVOID ALL CAPS
Good email subject lines have strong enough copy to work on their own; they don't rely on SCREAMING AT READERS to get results.
All caps can feel spammy and, honestly, a little overwhelming.
Skip this tactic.
6. Keep it short
Email marketing campaigns must be optimized for mobile devices.
That's crucial since 81% of emails today are opened on mobile devices.
As a result, the best thing you can do is to keep the subject line short and to the point, using formatting like periods or em dashes to break them up if needed.
Stick to a max of 8 or 9 simple words (leave the SAT vocab out of it 99% of the time), and include no more than 60 characters max.
7. Experiment with emojis
Want to come up with catchy email subject lines that stand out? Emojis can be a good way to go. 😄
Not every brand or every subject line needs to use emoticons, but they can go a long way to reinforce your messages.
Whether it's a flower business adding a rose emoji next to an announcement for Valentine's day or a siren to "alert" users to new products like the example below, this is a good way to create different subject lines that feel unique.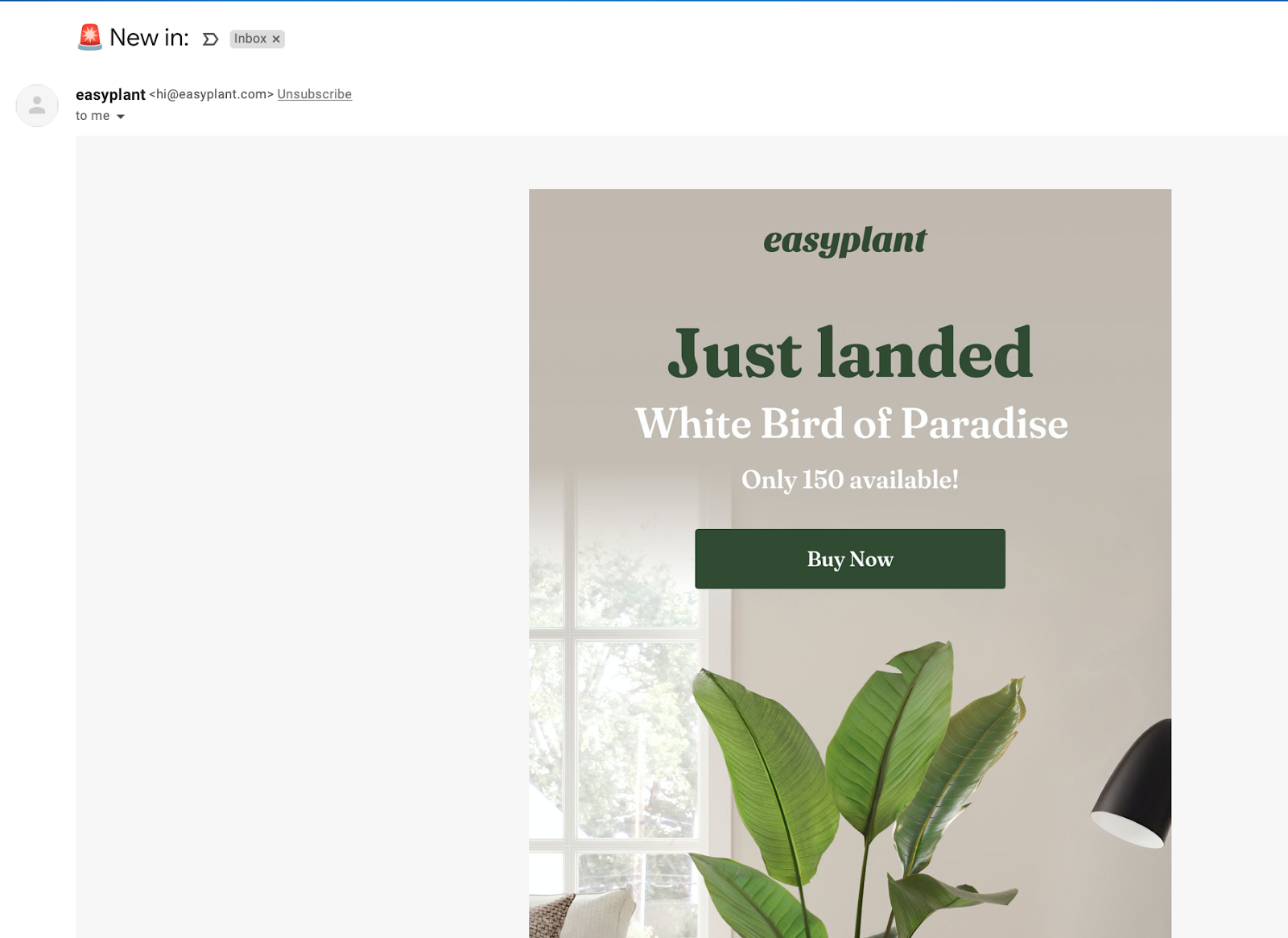 The email subject line mistakes to avoid
Want to make sure your emails are getting the open rates and click-through rates they deserve? Take care to avoid these common email subject line mistakes that can derail your efforts:
Using "RE: URGENT" email subject lines when you aren't replying to anything and when it's not urgent. It just ends up annoying readers and can get you unsubscribed from quickly.
Trying too hard to be funny and crossing the line into being mean. Sounds unbelievable, but I've seen brands try to be witty or edgy and they come across like mean girls from high school. Snarkiness should only be used by a skilled copywriter and only for some brands.
Failing to split test. There are plenty of tools out there that let you split test different elements of your email campaigns, including the subject copy.
ActiveCampaign is a good one and Mailchimp is another, but many email marketing software offers automation-based A/B testing that makes the process easy.
Final thoughts on email subject lines
Email marketing and subject lines can have a huge impact on your brand's relationship with its customers and its overall revenue, so it's important to take the time to get it right.
You can't excel if your email open rates are abysmal because of weak subject lines.
If you're struggling with email subject lines, make sure you're A/B testing different options to see what your specific audience responds to most and optimize accordingly.
Know that you can always get support from agencies or copywriters skilled in the area.
You know… just like us. 😉