An organized and optimized Google Merchant Center is the backbone of every successful Google Shopping campaign. For a simple definition, you can consider the GMC a comprehensive dashboard for all your product information.
According to Google themselves:
Google Merchant Center is a tool which helps you to upload your product data and make it available for Shopping Ads and other Google services.
But what exactly makes up this tool? How does it work, and what are the real, tangible benefits of using it?
This blog post will cover everything you need to know about the Google Merchant Center as well as how to set up and manage your GMC account.
We'll even walk you through over a dozen tactics for optimizing the performance of your Google Shopping Feed to make sure you maximize your returns.
Let's get started, shall we?
What Is The Google Merchant Center?
As I mentioned before, the Google Merchant Center is a comprehensive dashboard for all your product data.
It serves as your operating platform for uploading, managing, and optimizing your product information to better inform users and search engine crawlers.
The Google Merchant Center is where you can both upload new product data as well as edit existing product information.
The more accurate and relevant your products' data and descriptions, the better they should perform as individual ads in the Google Shopping Feed.
Your ordinary PPC search campaigns managed through the Google Ads platform show these ads on the URL: https://www.google.com
Well, the GMC is where you manage ads for any products showing on the URL: https://www.google.com/shopping
The Benefits Of A Consolidated Product Dashboard
One of the biggest perks of having all your product information in one place is organization. Or, to be clear, the potential for organization…
But, beyond simple organization, there are three very specific benefits of the Google Merchant Center that make it such a powerful tool for Google eCommerce marketers.
Uploading customized excel sheets for product data
Ability to edit existing product data for updates, etc
Natural integration with other Google marketing services
The first would seem rather obvious, but I assure you it isn't.
I'll dive deeper into this later on in the post, as you'll see that most of our tactics for optimizing your Google Shopping performance start with optimizing your excel sheets pre-upload.
But, for now, I can say that the GMC offers a wide enough array of product descriptors that you can customize your excel sheets fairly aggressively.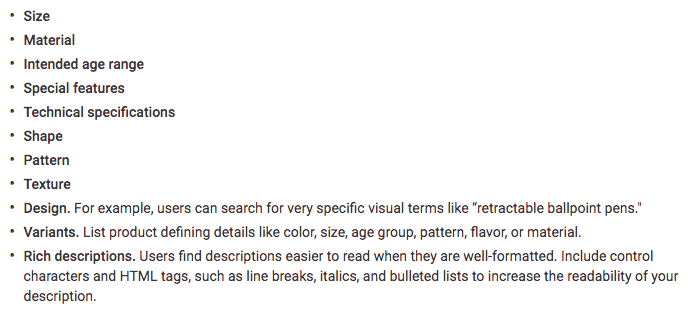 Just a few Google Merchant Center product descriptors – image source
And the more detail you include in your product spreadsheets, the easier it will be not only to filter through your sheets to find products but optimize for winners and losers as well.
The second benefit of the GMC is that it allows you to edit existing products that are still running on the Shopping Feed.
This means that if you want to retroactively optimize any of your products you can still do so.
It also means that the Google Merchant Center allows you to edit more than just the product data in your campaigns, but the bids as well to actively manage your advertising strategies.
And believe me, we have more than our fair share to share with you later on in this post regarding advertising strategies…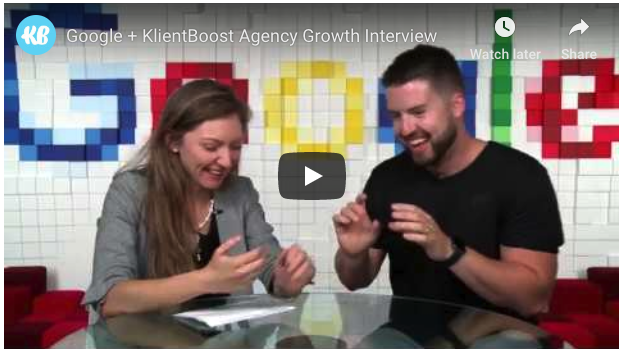 We may know a thing or two about Google… – image source
Lastly, let's not forget that Google Merchant Center is first and foremost a Google service. Which means that it naturally integrates with other Google advertising platforms such as Google Ads and the Display Network.
This, in turn, means that your Google Merchant Center campaigns don't have to stop after you've optimized your Shopping Feed.
This is where the grand world of eCommerce remarketing and omnichannel advertising really blows wide open.
The more hats you can wear as an agency or account manager, the better.
So now that we know the benefits of using a tool as powerful as the Google Merchant Center, let's get cracking on how to get set up.
Setting Up Your Google Merchant Center Account
For starters, you're going to need to have at least one active Google account to set yourself up on the GMC.
You can link multiple accounts to the same GMC account if you have multiple AMs and managers later on down the road, of course.
You'll also need a verified business within the Google My Business platform to sell your eCommerce products.
Make sure that the product data you use within the Google Merchant Center is prepared in a compatible format such as an XML or TXT built from an excel spreadsheet.
NOTE: In some cases, it's possible for you to transfer existing product data directly from another eCommerce platform.
However, using your own excel sheets gives you a lot more flexibility in regards to optimizing your product data pre-upload. There's no guaranteeing your excel sheets will transfer over with the same organization if your jumping from platform to platform.
If you have your Google account, verified Google My Business, and some well-built product spreadsheets, you should be ready to get started with the Google Merchant Center.
Linking Google Merchant Center To Google Ads
You'll have to initiate the link between your GMC and Google Ads accounts from the Google Merchant Center.
It's a pretty straight forward process. First, you click on the three-dot menu and click "account linking"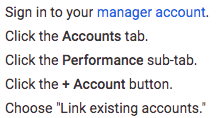 Not too tough so far, right? – image source
Then select "Google Ads" and insert the Customer ID of the Google Ads account you want to link to your Google Merchant Center.

You can find your Customer ID at the top of any Google Ads account – image source
Then just click "link" and you're good to go.
Keep in mind you'll still have to approve the link from the Google Ads side of things. You do this by clicking the gear icon and clicking the "view account" button under the "linked accounts" tab.
Then just choose to "approve" or "reject" the link.
With your Google Merchant Center and your Google Ads account linked, you can now feed your product data into your search campaigns and product listing ads.
You can also link your Google Merchant Center to multiple Google Ads Customer IDs, just in case you're looking to diversify your campaign management.
Linking Google Merchant Center To Google Analytics
Regardless of how many Google Ads accounts you choose to link your Google Merchant Center to, you're going to want to connect your GMC account to Google Analytics.
Now, when it comes to empowering your Google Merchant Center data with Google Analytics tracking, things can get a little complicated.
On one hand, all you really need is to connect your Google Ads account to Google Analytics.
As long as your GMC is connected to the Google Ads account you should see your incoming shopping traffic come through in Google Analytics.
But this is where stuff can get sticky.
The main issue with Google Merchant Center tracking is that the traffic coming in from shopping campaigns gets jumbled up with the ordinary search traffic.
You can fix this with a few possible solutions.
For starters, you can use a custom filter within Google Analytics to help distinguish the source URL "google.com" from "google.com/shopping".
This filter process can get pretty complex, but you can check out this link from the geniuses over at Moz to walk you through anything you need.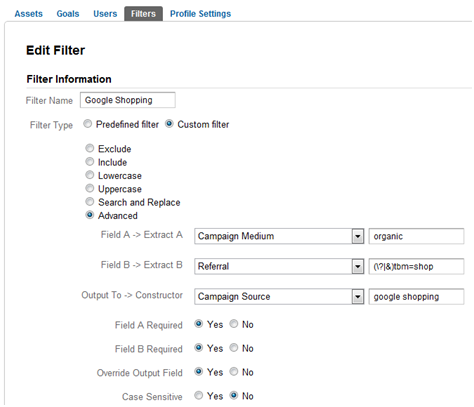 Make sure you segment your traffic cleanly – image source
So long as you can clearly identify your Google shopping traffic from any other sources, you should be all set to start running and optimizing your Shopping Campaigns.
Managing Your Google Merchant Center
*Phew*
Now that's a lot of setup. But now that that's all handled we can get started working on the actual management of your Google Merchant Center.
In this next section, I'll walk you through how to add new products to your Merchant Center as well as update existing products and all the fancy spreadsheet work in between.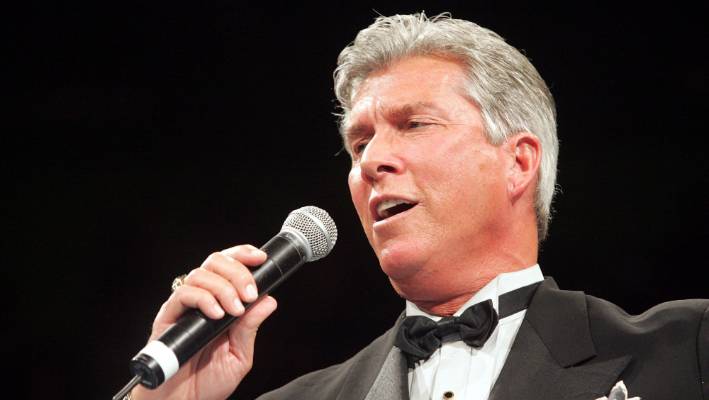 Let's get ready to rumble, folks. – image source
Now here comes the fun part. And by "fun part," I mean "money making part" 😉.
Adding New Products
I mentioned earlier in this post that one of the biggest benefits of the Google Merchant Center is the customizability that google excel sheets allow you to use to organize your product feeds.
However, it can also get pretty complicated the more customized you try to make your sheets.
But, as HubSpot says:
Fortunately, Google Merchant Center allows you to upload straight from their own, pre-designed Google spreadsheet template, making it incredibly easy.
To get started, go to "Products" within the Google Merchant Center and select "Feeds."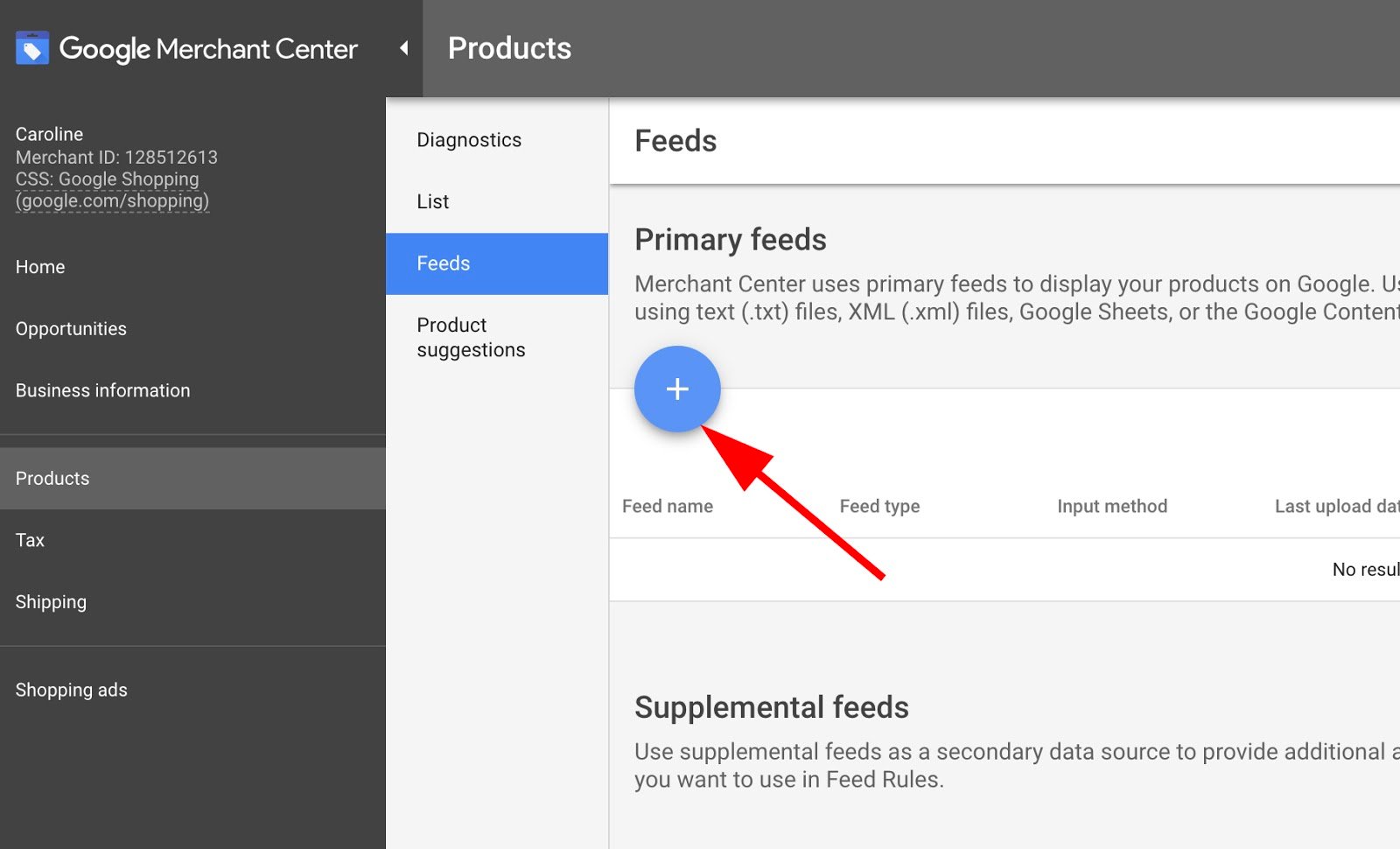 There's a nice blue button so finding it is easy – image source
Then you simply fill out the necessary product feed information like the specific country you want to sell your products in as well as the language.
Then you have to name this specific Shopping Feed and select the input method you're going with.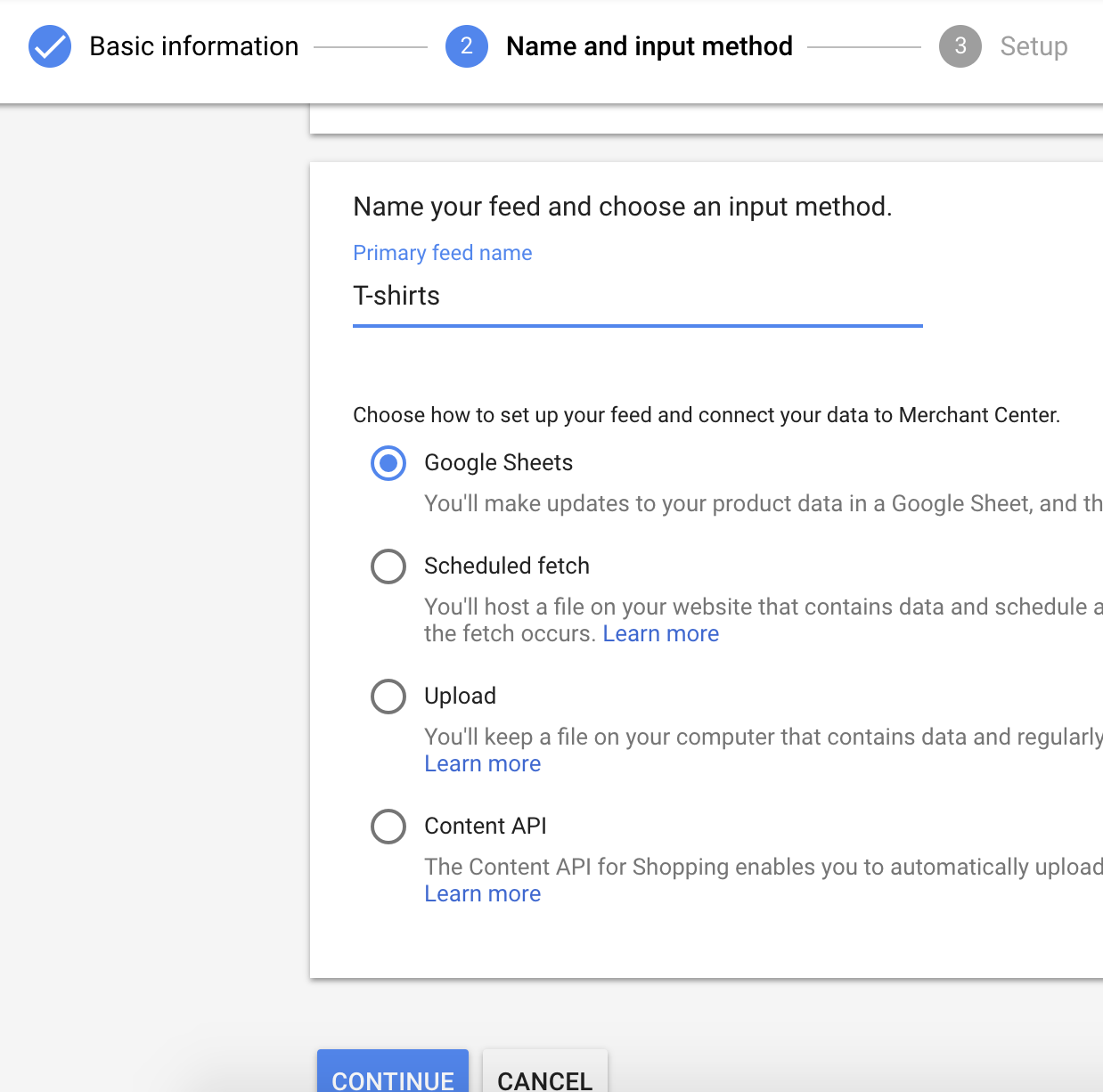 Here are the options you have to choose from
In the screenshot above you can see that you have "Google Sheets," "Schedule fetch," "Upload," and "Content API" to choose from.
But for the sake of this post, I'll be focusing on Google Sheets uploads as this method offers the most granular control over your product feed.
Now let's talk about exactly where that granular control comes from.
Uploading Spreadsheets To The GMC
When you choose to upload Google sheets to the Google Merchant Center you can either use ordinary Google Sheets or you can use the Google Merchant Cent's template.

Here's what the template looks like
You can either build your own Google spreadsheet and select to upload that directly to the GMC. Otherwise, you'll need to select "Generate a new Google spreadsheet from a template."
Either way, you'll have to make sure that you fill out all the correct product info in your spreadsheet, such as:
product ID
title
description
link
condition
price
availability
materials
size/dimensions
etc…
The more data and the more relevant information you include in these spreadsheets, the better you'll be able to filter your data, organize your campaigns, and in the end optimize your performance.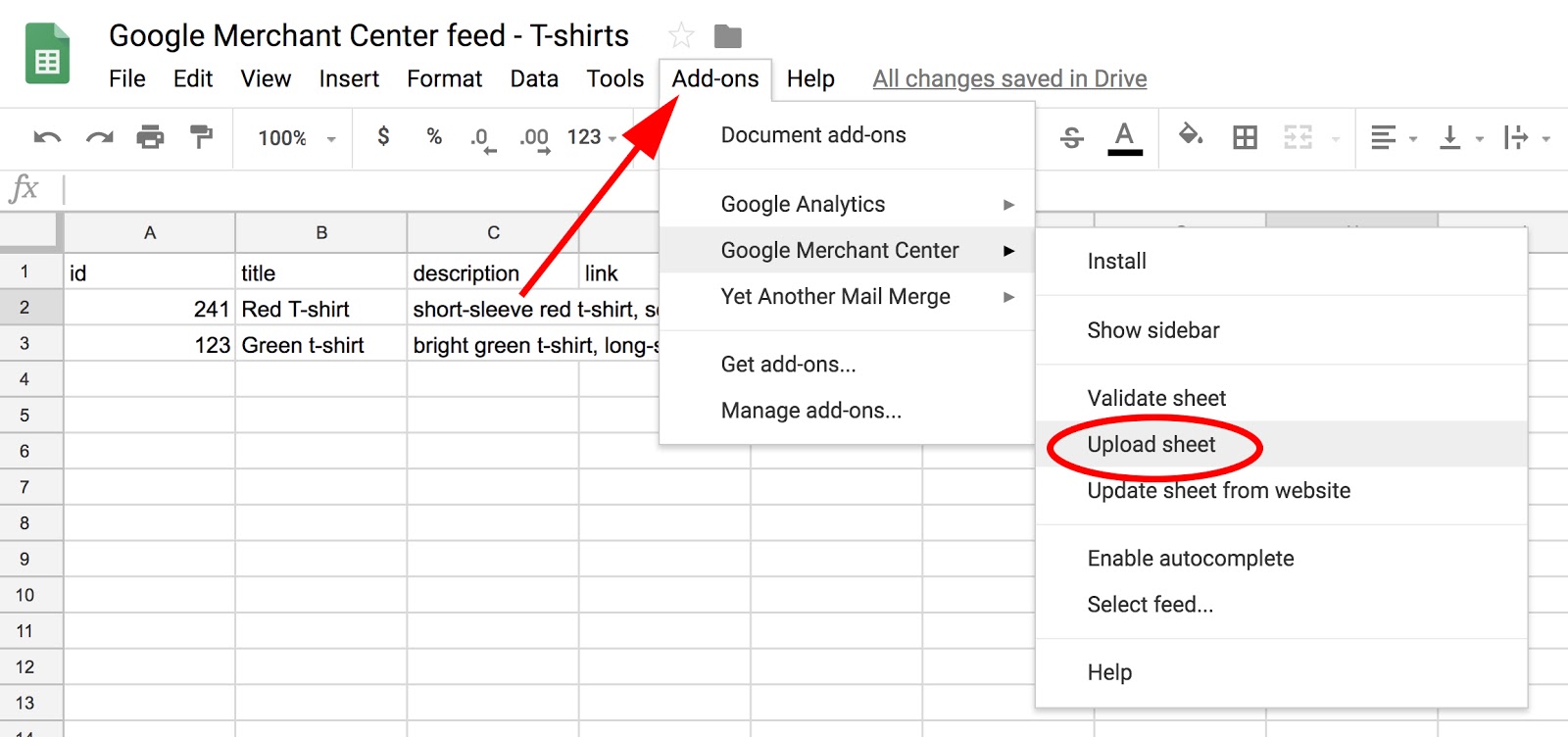 Here's an example of a GMC templated google sheet
Google has some helpful data specification guidelines to help keep you up to date on what all of these fields mean and how to make the most of them.
But, once you're ready to import your data, go to "Add-Ons" in your Google Sheet menu. Then click "Google Merchant Center" in the drop-down and, finally, select "Upload sheet."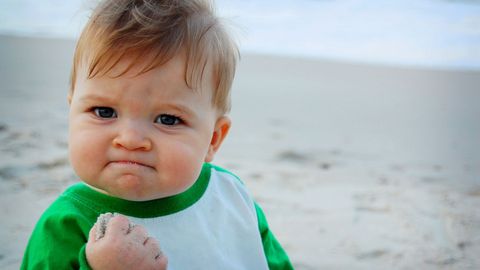 And that's it. You're good to go – image source
Now, of course, not everyone is going to be uploading Google spreadsheets into brand new Google Merchant Accounts. Some eCommerce marketers will choose to transfer data from existing eCommerce platforms.
So, regardless of where you're product info is coming from, let's take a look at how to edit what's already in your Google Merchant Center.
Making Changes To Your Product Feed
You don't need to upload brand new spreadsheets every time you want to edit or update your product information. And, for certain eCommerce retailers, that's a big deal when you're looking at monthly or even weekly product list updates.
Thankfully, the Google Merchant Center also offers the option of "supplemental feeds" that you can use to add on to your already existing shopping feeds.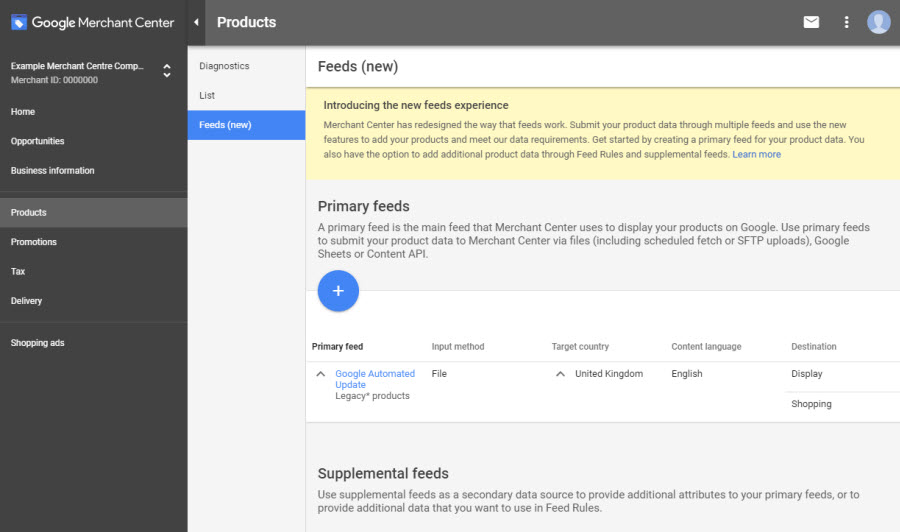 These supplemental feeds are pretty easy to find – image source
All you have to do is find "supplemental feeds" in the "feeds" section of the GMC and add a new rule to your feed to update your product info or introduce a new filter.
This, as I said, is why the Google Merchant Center is such a powerful tool for digital retailers.
If you can master the above 3 sections, hopefully with some help from the below 19 tips 😉, then nothing can stand in your way of true eCommerce success.
19 Tips For Optimizing Your Google Shopping Feed
We've covered everything you need to know about the Google Merchant Center by this point.
But now it's time to let you in on the secrets that ever digital advertiser and retailer want to know.
The real tips behind turning your Google Shopping campaign from "operational" to "optimized."
1) Optimize Product Data In Spreadsheet Pre-Upload
We've already talked at length about the different points at which you can upload and edit your product data, respectively.
But just because you can edit your product feeds from within the Google Merchant Center doesn't mean you should.
It's far easier to maintain a customized organization within your own Google Sheets than it is to force your own data into the Google Merchant Center template.
Or, even worse, is investing frustrating and tedious hours combing back through your existing product feed to edit and enhance your product data.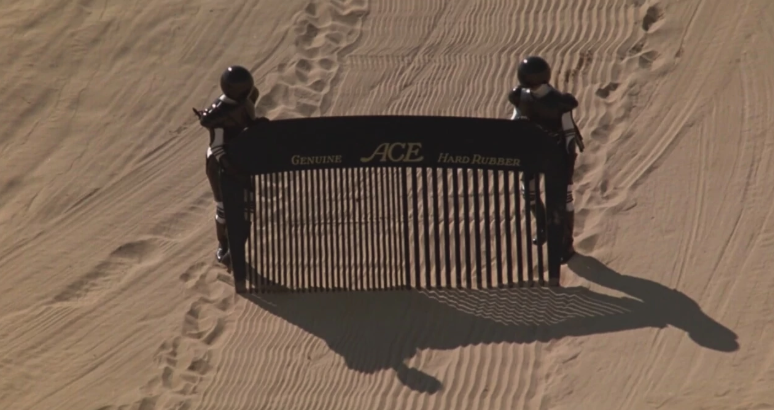 Nobody enjoys that level of minutia… – image source
So be proactive about it. Make sure your product feeds are organized, cleaned, and filled with any and all necessary product information you may need. That way, you have most of the helpful optimization legwork done before you ever upload your spreadsheet.
2) Include Category And Brand In Your Product Title
You want your keywords in the forefront of any paid ad you're running across the Google Search Network. So it would make sense that you want that same logic to apply to your Google Shopping campaigns.
You can create a rule within your Feed Optimization Tool that will automatically edit your product titles to include fields like brand and category.
This way you can turn an ordinary product title such as this: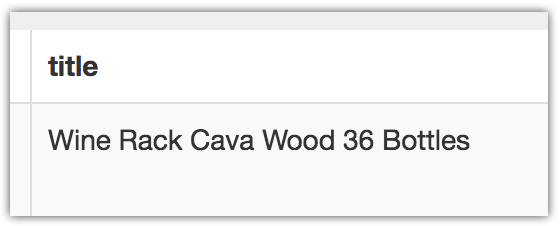 Screenshot courtesy of Savvyrevenue – image source
And highlight the brand name and product type like the screenshot below:

See what I mean?
Now, before you get too worried about the dangers of automated rules handling your product titles, keep this in mind:
Just like most digital advertising campaigns, the more segmented your Google Shopping product feeds are, the more targeted, relevant, and ultimately successful your product listing ads should be.
At the very least you can count on the fact that your campaigns should be segmented by brand name. Which means that adding in the custom rule for adding the brand name to your product titles is a no brainer.
And, since we are the originators of the Single Product Ad Groups theory, you'll probably believe that we like to segment pretty aggressively here.
This means that isolating your campaigns down to the category level is an easy decision as well in most cases.
3) Add Specific Product Info Like Size, Materials, Etc
Another quick but effective tip is to make sure that your spreadsheets include custom columns for any product information you may want to include in your shopping ads or descriptions.
This can include a long list of potential fields, but the more you add the more your potential customers will know about your products.
Here are a few things you should consider including in your spreadsheets:
age range
gender (if applicable)
color
size
material
And don't be afraid to add some of these aspects directly into your product title. If you are going for a targeted eCommerce approach that may be exactly what your ads need to boost their CTR.
Keep in mind this is still all before you upload them to the Google Merchant Center.
The more prep work before the smoother your campaigns will run in the long term.
4) Don't Forget To Keep Product Titles Simple
Just because you want to have a lot of product information readily available in your shopping feed doesn't mean you need to cram it all into the title.
Make sure that your product titles are still simple and easy to read. You want search engine shoppers to find what they're looking for at a glance.
The last thing you want is to have half your potential customers glazing over your product ads because they couldn't be bothered to read such a long, boring title.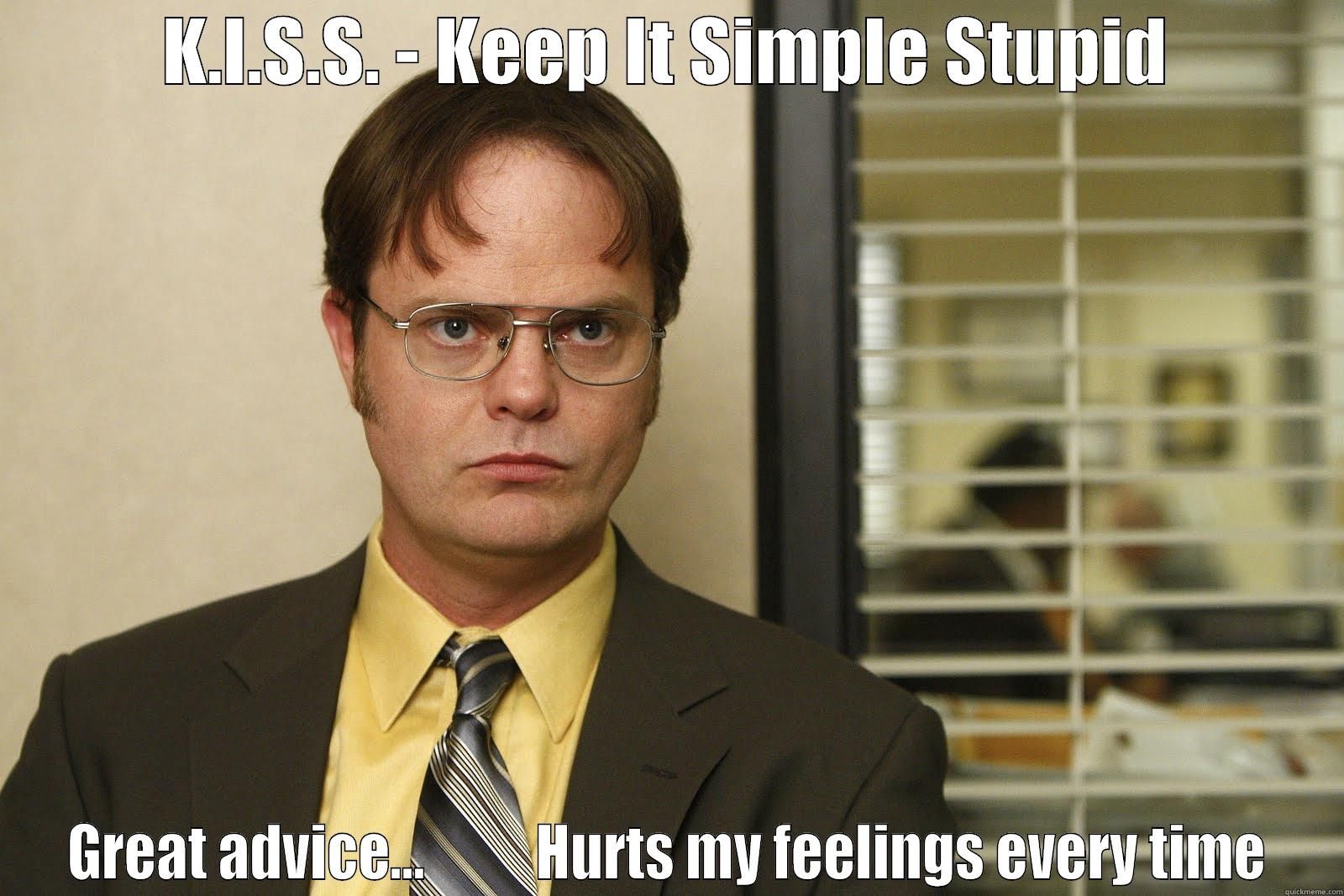 "K.I.S.S." words to live by… – image source
5) Find The Perfect Category For Your Google Product
You know how keyword research and targeting matters a lot in ordinary PPC search marketing?
Well, the same goes for choosing which category to place your products in.
Not only do you want to target categories with high search volume and purchase rates, but you want to make sure that you're placing your products in front of relevant eyes.
Now, if you want to see the entire list of Google Product Categories, you can go ahead and download the excel doc by clicking here.
But besides that, I'll leave the picking and choosing to you.
6) Don't Be Afraid To Dive Deep Into Category Segments
Of course, choosing a category doesn't stop there. With every level of segmentation, another layer of possible segmentation opens up.
In this case, it's sub categories.
I'll leave the basic dive down into subcategories to you. But for the most part, all you need to know is that – as always – the more refined you can make your audience of potential customers, the more successful your Google Shopping ads will be.
7) Build Your Spreadsheets For Scalability
This is a tactic in and of itself as well as a benefit of properly performing another tactic on this list.
The better you organize and clean up your spreadsheets before uploading them to the Google Merchant Center, the easier it will be to scale your product feed later on.
Smooth transitions are very underrated in the search advertising world. If you can ensure your campaigns scale smoothly and steadily, it's nearly always worth the investment.
But that's just coming from an agency who's done a fair bit of scaling ourselves.
8) Populate Fields Without Data In Your Spreadsheets
This one is a no-brainer. But I don't want to be caught skipping over any important details.
Make sure that you take a second, third, and maybe even a fourth pass over your spreadsheets before uploading to make sure that you've filled in any cells without data.
One of the main reasons for using all this product data is to make filtering and searching through your product feed easier.
So, if you're hunting for a specific product by material and it happens to be the one you left that cell blank for in your spreadsheet, well…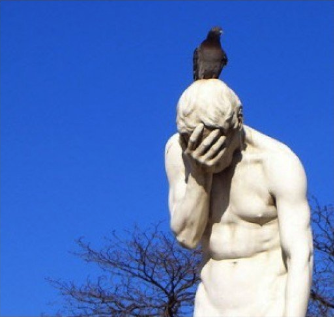 The word facepalm does come to mind… – image source
9) Maximize Your Product Data With As Many Fields As Possible
I've been stressing this through the blog post thus far but haven't explicitly stated it as a tactic – which it is.
The more product data you include in your spreadsheets the more customizable you'll be able to make your Google Shopping Ads, the easier it will be to filter through your product feed to edit/adjust things, and the more useful information you'll be giving users to find relevant products to help solve their problems.
Now, that last one is a biggie, but I'll get to why exactly impressing users is so important in just a little bit.
10) Clean Your Spreadsheets
This can somewhat be paired up with our first tip for optimizing your Google Shopping Feed. But it's worth emphasizing in its own right.
Cleaning up your data while it's still in the spreadsheet (pre-upload) form can save you a lot of time and headaches later on down the road.
Keep in mind that while you're still working within a Google sheet, you have far more visibility and access to each cell within your sheet.
Both navigating through a single sheet compared to clicking through countless product categories, ads, and descriptions alone can save you hours on end.
Don't set yourself up for a long session of Spring cleaning later on if you don't have to. Take your time and clean up your data sheets before they ever touch your Google Merchant Center, it's well worth it.
11) Hint: Find And Replace Can Save A Lot Of Time
Here's a digital marketing confession: I didn't know about the "Control-F" function on the keyboard until I had been working as a Content Marketer for almost a year!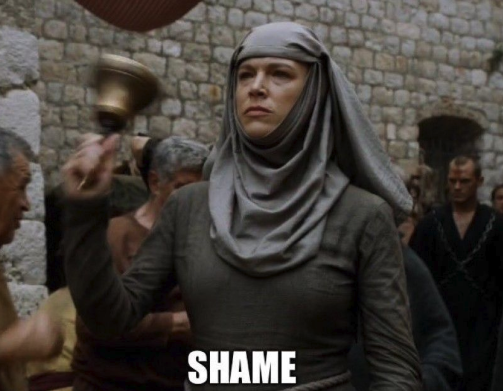 Shame…Shame…Shame…- image source
Imagine trying to calculate the keyword density of a blog post while manually counting each mention of your primary and long tail keywords by keeping tallies on sticky notes.
Yeah…that was me.
So don't be silly like me and have a facepalm-sized-mark on your forehead till the end of time.
Use the "Control-F" function to find and replace any typos you may have or any products you want removed from or edited within your product feed.
12) Add GTINs To All Of Your Products
I should start off by explaining what exactly a GTIN is.
The GTIN, or Global Trade Item Number, is a unique number that helps Google identify and distinguish your individual products.
You can usually locate the GTIN on the barcode of the product.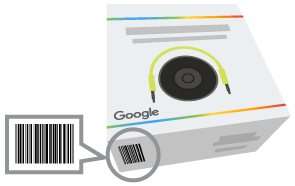 Here's an example image, courtesy of Google themselves – image source
If not, you should probably reach out to the manufacturer to nail down your GTIN as you'll inevitably start to see some errors pop up in your Google Merchant Center account if you aren't using GTINs to distinguish your individual products.
According to Google, the GTIN is required for all Google Shopping products. Which can make it tough because not all products actually have a GTIN.
Some things that don't always come with a GTIN include:
Vintage or antique products
Replacement products or products
Custom-made products
Single store brand products
Books released before ISBN
If this is the case for your Google Shopping campaign, you'll have to double check that all your products include the brand name and the mpn field from the Google data guidelines. That should keep your GMC account error-free.
13) Optimize Your Product Images
This tactic finds itself into every eCommerce blog post. And for good reason.
We're visual shoppers as much as we are visual learners. So taking the time to make sure that you're using some high-quality product images, with the right pixel ratio and a nice, complete view of your product on display or in use is more than worth your time.
If you're looking for some help with image optimization for your products you can read this helpful article for some more specific tips on Google PLA images.
14) Optimize Your Low Hanging Fruit
You won't be able to set your Google Merchant Center account so well that it performs perfectly once you launch it. Every campaign needs optimization. And before that, it needs to be monitored, tracked, and analyzed
After you've let your campaign run for a while and can see clearly what your front runners are and where your paint points are stinging most, this tactic becomes quite powerful.
This is a tactic that we like to employ across all our campaigns here at KlientBoost, eCommerce or otherwise.
By choosing to optimize low-hanging fruit first instead of going for the big overhauls from the get-go you can work incrementally forward with steady, needle-moving wins while you build the bigger tests in the background.
This way you're never left sitting on your hands waiting for a new test to launch or results to come back.
15) Maximize Bids On High-Value Products, Minimize On Low Returns
If you didn't quite understand the gist of this tactic from the header alone, allow me to elaborate.
By increasing the bids on your more successful ads you can increase their visibility on the Google Shopping Network. Ergo, you can increase the number of users that see your best ads.
On the other hand, by lowering your bids for your losing ad campaigns, you can lower the number of users that see your…less than best work.
This is not just to avoid some embarrassment, but also to eliminate wasteful budget burn.
By putting more money behind your best selling products you effectively increase the efficacy of that campaign while also increasing your return on investment because that campaign drives more conversions and revenue than others, to begin with.
16) Make Sure Your "Price Drop" Is Legit
Many Google Shopping advertisers will try to suggest bonuses or price drops to boost click-through-rates and sales for any product that may be stagnating in performance.
While this is a great tactic to try, don't think that you can just put a "discount" or "price drop" tag on any item and expect users to start clicking on it nonstop.
The Google Merchant Center is smarter than that.
Make sure that you're actual price has been up and running for a long enough time period before you enter your price drop, otherwise you won't actually get the price_drop tag from the GMC and nothing will be shown to your users.
17) Use Product Feed Management Tools To Maximize Your ROAS
There are plenty of Product Feed Management tools for you to take advantage of to better manage, audit, and adjust your Google Shopping campaigns. Below are just a few for you to consider, courtesy of Acquisio: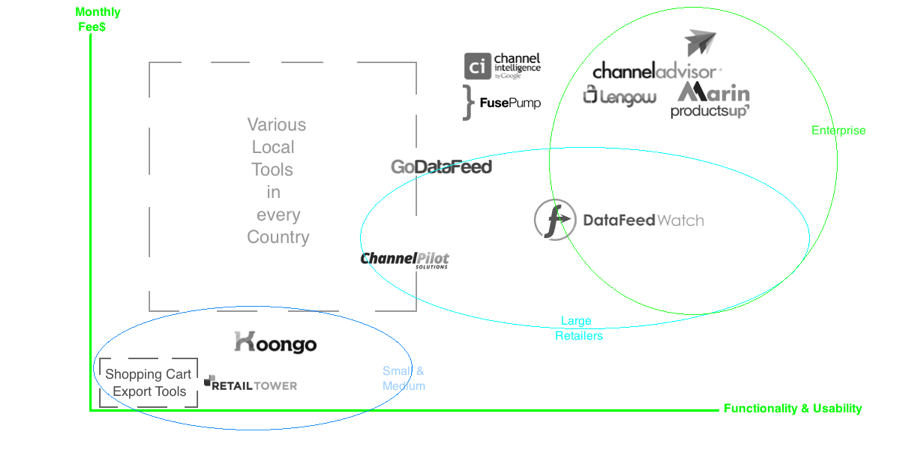 They organized their recommendations into a helpful chart – image source
This feeds send data to Google, Facebook, Amazon, and other advertising platforms so you, the manager, have a more holistic view of your campaigns and can fix errors and test specific variables with more confidence and detail.
If you're looking to do any cross-channel advertising or are managing a Google Merchant Account of any significant size, a Product Feed Management tool is really a must.
Adding one more management tool to your optimization tool belt shouldn't be too much of a hassle for any eCommerce advertiser, after all.
18) Remember: Impressing Users Impresses Google
Remember what I said about impressing users?
Well, if the header directly above this sentence doesn't give it away, the next sentence certainly will:
Whether it's marketing, advertising, sales, search network, display network, shopping, or video, you can build the list till Kingdom Come, impressing users impresses Google on any platform. Simple as that.
The more relevant clicks, engagement, and – ultimately – sales you generate, the more Google will begin to recognize your GMC account as generating high-quality ads.
And remember, this is a pay-to-play arena, which means that Google is getting a little cash in its pocket for every click on your ads.
So the more clicks your ads generate (from happy users), the happier Google will be.
19) Enhance Your Data Feed With Gross Margin Data
As eCommerce advertisers, I think it's safe to assume that anyone reading this post is a firm believer in data.
So are the people over at Datafeedwatch, who have written quite a few great pieces on merging multiple data feeds to enhance the overall picture of your shopping campaigns' performance.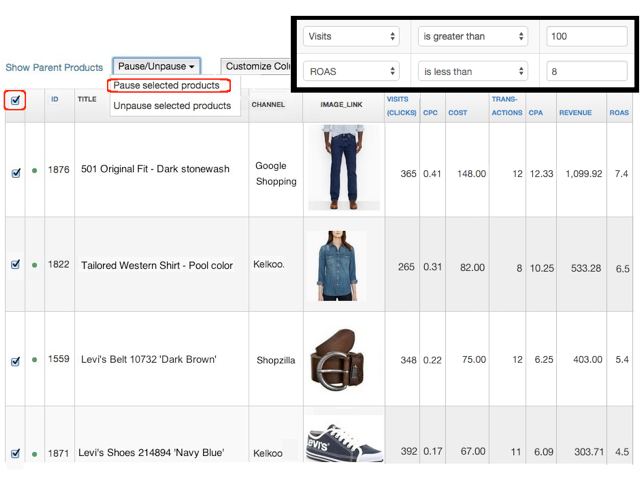 Here's one of their examples – image source
Enhancing your understanding of your campaign performance by integrating data such as gross margins, PIM, and other sales and revenue KPIs, you can truly start to see the global performance of which categories, which products, and which ads are generating you the most money.
These are the big winners that you need to boost.
Conclusion: Start Selling On Google The Right Way
And so, from setup and management to optimization and tracking, we've covered everything I have to offer you on the Google Merchant Center.
I hope you've enjoyed our long journey together. And, even more so, I hope you're ready to do battle with the competition in any Google Shopping arena.
Now that you know how to make the most of the Google Merchant Center to maximize your Google Shopping Campaigns, you can start to expand your strategies to remarketing, RLSA, and even other eCommerce platforms like Amazon and the like.
So, what are you waiting for? Go get 'em!