This is part two of a two part blog series. To read the first part, click here.
When it comes to finding a PPC agency that you'll love to work with and gets you results, you have to be diligent on the homework you do before reaching out.
This post (along with it's earlier sibling, part one) will give you everything you need to know, questions to ask, and things to avoid, so that you can grow your company by outsourcing your PPC to an agency you trust.
These ideas come from experience and what I've learned talking to numerous potential clients and the headaches they've dealt with.
Below are points 7-12. Enjoy!
7) Check Out the Employees

LinkedIn is awesome to do some spot checking when it comes to seeing who the PPC management company has hired.
You don't just want to randomly get an account manager assigned to you. You want to know who your account manager will be before getting started.
Ask who your account manager will be before signing up, so you can see how long they've done PPC or worked in the PPC field through LinkedIn.
If the PPC agency you're thinking of hiring has a ton of straight-out-of-schoolers who were once interns, then let them know that you don't want any junior person to work on your AdWords account, but one with more experience.

The PPC agency would be straight up silly to make a fuzz about that.
On a side note – it's sometimes necessary for PPC agencies to have interns and junior level people in hopes they turn into strong account managers one day. Just don't allow them to learn on your dime.
Why does Katy Perry look like she about to serve you the next Hot Dog on a Stick pic.twitter.com/UOhqufFNKP

— Sergio Cardoso (@sergio__cardoso) February 2, 2015
Exceptions can of course be made if Katy Perry is your new account manager.
8) No Confidence or Excitement

One of the biggest things you'll have to deal with when working with a PPC agency is the fluctuations of confidence you have in them.
The sales process will usually leave you on a high of excitement because you feel like everything's clicking and that the goals you have are reasonable and they've given you the strategies to hit them.
But then this happens:
You're then handed off to your account manager who stumbles in their words and doesn't clearly articulate what the action plan is. You lose confidence in their abilities and start thinking "Crap, crap, crap! I'm screwed!"
To avoid this, make sure you bring in the account manager on the sales calls so you can get to know them and feel confident that they're the person responsible for growing your company.
The last thing you want to when you're about to hire a PPC agency is feel lethargic in your decision.
It's up to the PPC agency to give you that confidence throughout your entire relationship to then also retain you.
9) Not Answering Your Questions

Even though you may not know everything about PPC, it's important that you test the potential PPC agency with questions that are hard to answer.
Common "what if" questions are great to test the sales reps knowledge on PPC and if they're able to give you the right answers.
If you've already worked with other PPC agencies, then you already know why you left the previous ones. Use those frustration points to generate questions for the next PPC agency. You know exactly what you want to avoid and not replicate.
You'll often find that many sales reps are not the ones who will be your account manager (which is understandable), but that what they tell you or promise you is not being communicated to the account manager who will actually be working with you.
Here are questions you can ask that will hit them hard:
– What happens when we don't hit the goals we set together?
– Will I have ownership of everything?
– If I'm not happy with my account manager, can I get a new one?
– If we hit the goals we set, then what happens next?
Here are the answers you should be looking for:
– Nothing is guaranteed, but we will show you progress and effort to hit your goals..
– Yes.
– Yes.
– We set new ones and keep improving performance.
10) Contracts

Sometimes a SEM agency has such a great track record that they can easily require contracts.
That's because the biggest headaches to them are when brand new clients sign up and then decide to cancel after a few weeks.
It's important for you to know that contracts are not just there to lock you in and for the PPC agency to relax and put your AdWords account on autopilot. Sometimes a contract is there to have the commitment from you, knowing that you are invested and want this to work.
On the other hand, contracts can also be a huge turn off because you have no idea on the actual results. Will it be a complete bust and waste of money? Most likely unfortunately.
If the PPC agency you want to work with does require contracts, ask them if you can go the first two months contract-free, and if it's a pleasant experience, then sign the contract.
That should give the agency plenty of time to make things happen for you.
Having no idea on how fast the PPC agency can hit your goals and a lot of other unknowns, should give you plenty of reason to tread lightly before committing to something longterm. And the PPC agency should be able to agree to that.
11) Not Having a Strategy

Believe it or not, a lot of PPC advertisers within different industries will have the same PPC strategies. Your "debt relief company" will have the same strategy as a "lawn moving service". Disagree? Let me explain:
Target keywords that are relevant to the service or product you offer

Create landing pages that are message matched to the keywords and ads

Split test landing pages, ads, keywords, and bids
The tactics between the two businesses will differ, but the PPC strategy will be the same. If you're prospective PPC agency can't give you a clear cut strategy that's simple and easy to understand, then don't work with them.
Simply saying that they'll get you on Oprah (which is actually possible with PPC. Also known as Oprah.com) won't be enough to hit your goals.
Before picking a PPC agency to work with, they should be able to outline a clear strategy and initial focus for you. That strategy should revolve around the goals you set with a time table to hit them.
If you feel comfortable and confident in the strategy and the time it takes to hit your goals, then go for it.



12) Don't Hire Someone Too Big

If you've ever considered using a large local media advertiser like Yellow Pages, Dex, ReachLocal, Yodle, etc to handle your PPC, then please proceed to jump of a cliff.
It's not that a PPC agency of that size can't get you results.
But it's that these type of companies will give you a cookie cutter template of a PPC account, an awful and boring landing page (see screenshot below), and take away access to your AdWords account. Doesn't sound that great right?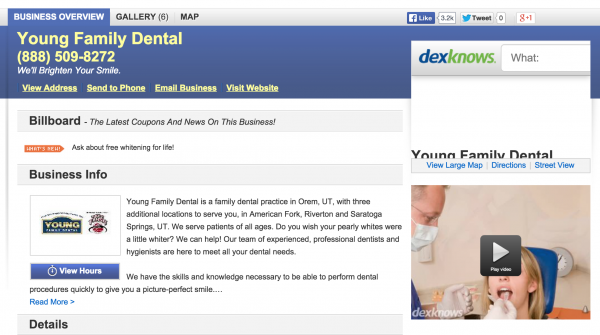 What's even worse is that a large media company like Dex actually gives all their customers the same landing page, no matter their industry. Here are just a few examples:
http://osmondstevewddsmsd.com/
http://youngfamilydentalinc.com/
http://mystonehavendental.com/
http://lehidentalcenter.com/
http://crawfordleishmandentalgroup.com/
http://rescuerooterslc.com/
http://utahrestoration.net/
http://ktechplumbing.net/
http://tripletheatingcooling.com/
http://macplumbing.net/
http://rootmaster-springvilleut.com/
As you can see, all of those advertisers have the same landing page design.
But what's even crazier is that they're all geographic competitors. Not the best look Dex.

Notice how all the favicons are the same too. This is what we call the "Dex Jackpot".
Here's what's really funny though – Dex Media writes blog posts on how to make better landing pages, yet they never follow their own advice.
Not only do these large media companies have a tremendously high churn rate when it comes to customer retention, but churn psyche imprints in their account managers heads, so that when you come on board as a new customer, they already know they'll lose you within a couple of months.
You've obviously heard of the saying – "You get what you pay for", so don't waste your own time or money on an automated software solution from a big PPC agency that's swamped with small business customers.
Although I'm sure there are some advertisers that are very happy with the results, my guess is that the majority are not.
Bad experiences are far too frequent when a PPC agency tries to scale too fast by acquiring new clients and fails to deliver to their current ones.
Here's What You Need to Do Next

So now that you know what things to avoid when it comes to finding the perfect PPC agency, here are some questions you need to ask yourself before starting your search:
– What are my goals?
– What is my max cost per conversion and volume of conversions per month?
– What are my timelines to reach those goals?
– How often do I want reporting?
What does success look like to you?
The worst thing you can do is come without expectations, and just tell the PPC agency to "have at it!"
To make sure you get what you want, figuring out what your own closing rate is on the leads you get and what it costs you to acquire a sale is of uber importance.
Without those numbers, you're a blind bat, and the PPC agency you work with won't know any better than you because you see the whole picture, they don't.
So there you have it. You're now fully equipped with what you need to look out for and what you need to ask before hiring a PPC agency.
What are some of your own personal experiences with PPC agencies that you could add to this list?
Please let us know and share in the comments below.