What's the 'hottest' lead type of 2015?
Landing page form leads

Email leads

Social media leads

Phone leads
If you answered '4', you are correct!



According to Jason Wells from LogMyCalls:

[Tweet "Inbound phone calls are 10-15x more likely to convert than inbound web leads @logmycalls"]

This statistic, alone, can do some serious damage to your competitors. Do more quality phone leads and less wishy-washy form leads tickle your fancy?

Yes, yes I thought so.

Chances are, you're spending part of your marketing budget on Google AdWords, in hopes of driving more traffic to your website and boosting conversions.

Make Google AdWords work for you. Make 'em do a little dance and send you phenomenal phone leads; all you have to do is say 'Thank You'.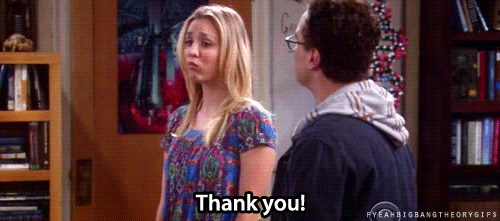 Thank you sir, can I have another? – GIF source
Nobody likes wasting money; especially these seven authors who have mastered the talent of utilizing Google AdWords for generating 'hot' phone leads from their PPC advertising.

Maybe you missed these articles over the past couple of months, or maybe you didn't know how to utilize Google AdWords to boost your quality phone leads.

Whatever your reason for landing on this top 8 post, I'm glad you're here.

Let's get you some sales.

8 Articles to help you boost phone leads with Google AdWords & CRO
---

Our very own Johnathan Dane wrote a two-part series (hold your horses, part two is coming…) for Econsultancy with 26 ways to optimize your PPC campaigns to incentivize phone leads.

[Tweet "Higher CTR means more clicks, & more clicks mean more potential phone calls @johnathandane"]
In this article, Johnathan provides 13 pretty outside the box ideas for utilizing your Google AdWords account for directing phone leads.

From displaying your phone number in the URL of your desktop ad, to specific phone conversion numbers for optimized tracking, Johnathan covers it all.



Which number do I call?! – image source
I promise you haven't thought of most of these ideas. Which is why you should click your 'bookmark' button right now, and hold your breath until we reach 'Part Two'.

Totally kidding, please stop holding your breath now.


Why are mobile optimized ads extremely beneficial for boosting call volume for your business?

Jason provides an in-depth analysis of mobile users, and what exactly they are looking for when sifting through search engines. He tells you what makes them press that 'call' button for more information.

When you see form fills vs. phone call optimized landing pages side-by-side, it all makes so much more sense. Thanks Jason, you totally killed it!

As Wells details in this Conversion Scientist article, mobile advertisements produce calls, and calls from mobile advertisements produce conversions. Sounds like a combination concocted in PPC heaven, doesn't it?


Converting leads to sales is largely dependent on relationships, right? Well, a relationship doesn't happen overnight. First you must court, then you must continue to court until you've reached an agreement to be exclusive.

Shane breaks down the relationship between a general mobile user, and your AdWords ad. How do you make his heart skip a beat for your product? How do you give him every tool so he has no need to even look elsewhere? He can just press 'call now' and get out his checkbook.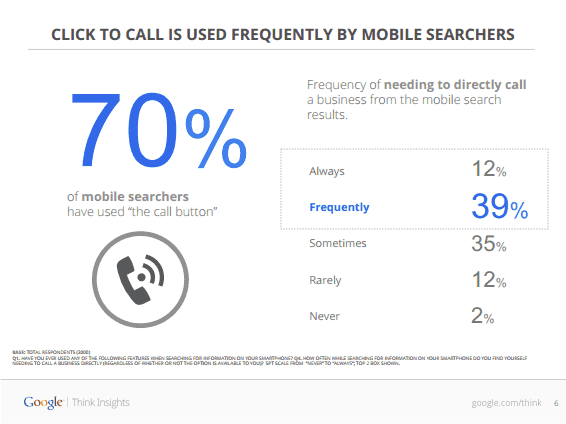 Mobile users do call businesses – image source
Call incentives, vanity numbers, and clickable numbers are three of many tools in the Search Engine Journal toolbox.

This article is a perfect step-by-step guide for optimizing your mobile landing pages.

He keeps the process simple with only three steps for seriously crushing every single one of your active AdWords mobile accounts.


Instant access, just press call – image source
With a three-pillar structure, and lots of examples of best practices, Tommy provides a comprehensive guide for utilizing landing pages to get the results you want: to gather phone callers with high purchase intent.

Now that you have a general structure for boosting your phone leads via your landing pages, how to do you track the effectiveness of these page 'tweaks'?

Tommy explains Google Adwords' offline conversions tool, giving you with the most useful strategy for marketing to-date.

[Tweet "Over 1/2 of respondents said they always need instant access to the business they're searching for @conversionxl"]

Mobile users are the hottest users to date "with an overall engagement rate of 83%" and a whole heck of a lot of excitement about the products and services you're offering.

Think mobile ads are useful, now?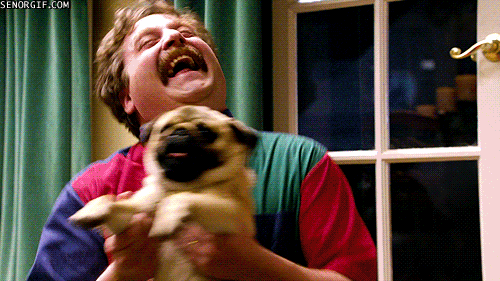 It may not be the best idea to 'shake' your dog – GIF source
Bonus: if you're a visual person, as I am, the surplus of kick-butt examples are super helpful for giving you real-life examples of the perfect mobile ad.

5. Use These Surprising Web Tactics To Get More Phone Leads [Podcast] with Brian Massey and Joey Harvey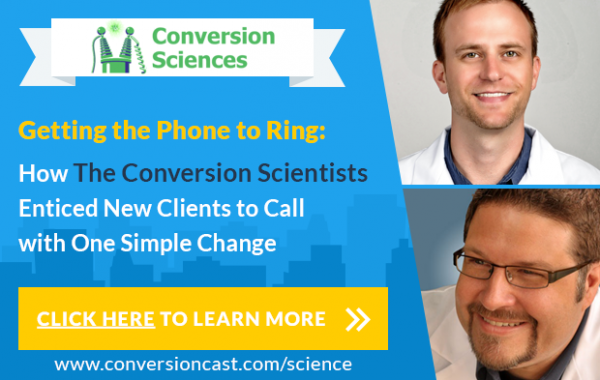 Killer podcast from the Conversion Scientists – image source
This 20 minute podcast by the Conversion Scientists is a very useful resource for both present and future use.

These guys really understand the science and user psychology behind what works and what doesn't work on your landing pages, ads, and CTAs.

I mean, they wear lab coats. What more can you ask from your conversion scientists? Short answer: nothing.

These conversion scientists used split testing to determine the effectiveness of a variety of landing page options; the results are pretty dang crazy.

Hint: they increased phone call conversions by nearly 20% with just one simple addition and a whole heck of a lot of trial and error.


If you were holding your breath since part one of Johnathan's two-part series, you can officially let it out…

As promised, Johnathan includes 13 more ideas for boosting phone leads with Google AdWords. I didn't think it was possible, but these 13 are even better than the previous 13.

This time, he delves into the psychological triggers of optimizing your landing pages. What makes people trust a brand enough to take the next step?



Tactic for building trust on your landing page – image source
After reading this two-part series, you'll have a headful of knowledge and a handful of tools for making edits to your AdWords accounts management and landing pages.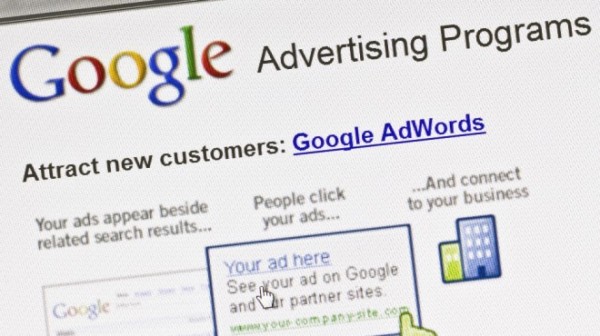 Attract new customers – image source
If you are new to the AdWords world, this Small Biz Trends article is a great starter.

Some of these search engine marketing buzzwords may feel a bit overwhelming at times, and it's easy to get lost in the shuffle. Fortunately, Brady provides the clarification you need and maybe even long for.

With so many options, setting up your call extensions might be quite a hassle. Brady dissects each phone number option of the ad call extension, and gives you an in-depth description of what it means and how it will benefit your business.

This article will give you the confidence you need to adjust your ad extensions as you wish. That's a pretty big responsibility, that I believe you are perfectly ready for after reading this article.


So you've listed your phone number in your Google AdWords ad, now what?

Do you just wait for the calls?

You shouldn't be waiting too long, since according to Google research and as stated by Richard: "70% of all mobile searchers have called a business directly from search ads."

But, while you're waiting, Richard gives you five great tips for best preparing your sales team for tracking, recording, and communicating with these overwhelmingly hot leads.

Plus, if you were wondering how click-to-call ads worked on social media ads, they are gold. Pure gold.

Example: Mountain Dew. They received 3,500 phone calls from their Twitter ad; and you thought Twitter was mostly spam… Psh!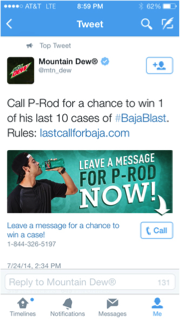 Mountain Dew's Click-to-Call ad on Twitter – image source
Preparing yourself for the future is always a good idea. So make Dumas' post into a checklist if you want to improve your performance.

Now Get to Work!
---

If you pay close attention to the details of these eight articles, and you implement as many strategies as possible, you will see results that are bound to make your heart very happy.

[Tweet "Patience, persistence and perspiration make an unbeatable combination for success -Napoleon Hill"]

Sometimes, it's not about working harder, it's about working smarter.

You don't need to allocate more money for your AdWords budget, nor do you have to expand your selection of first-tier, high priced keywords. Work smarter by adding little tweaks to your mobile ads, your landing pages, and your CTAs.

Remember when I said: "Make Google AdWords work for you"? Well, It may take a little elbow grease at the start, but utilizing the tips and tricks provided by these seven bloggers will allow you to sit back, relax, and watch your phone leads roll on in with minimal effort.

You're totally ready to boost your conversions and build your business' success. Now, get to work you smarty-pants!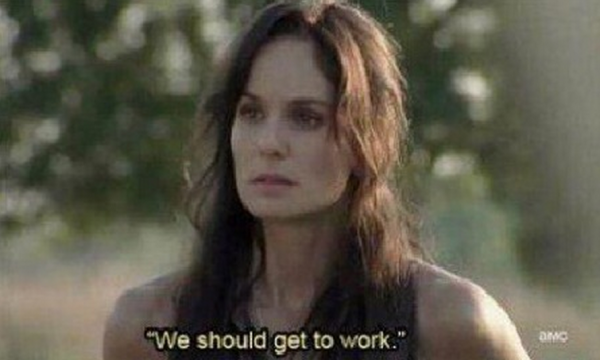 Well, if Lori thinks so – GIF source
Did I miss a great article? Share your favorite post with me, and what you found useful throughout the article.