If you're here, it's because you know you lose hundreds of thousands of dollars every day to your competitors.
Prospects don't know you exist.
What's worse, neither does Google (or Bing).
But you can change that in a matter of days to months with an SEO strategy (Search Engine Optimization), a handful of SEO tools, a small chunk of your content marketing budget, and a hells yes attitude.
Before you know it, your competitors will see you climbing up the SERP ladder (search engine results pages), hot on their heels to take your place on Google's visibility stage—the coveted first page of SERP.
When you tackle SEO, do so with gusto, and make every decision knowing that customers want two things:
A solution for their problem
The easiest way to solve it.
It's not just that they need to fix something. It's that they want to spend the least amount of time fixing it.
People take the easy route, so make yourself the easy route.
If you stand in your potential customers' shoes, here's how they see things:
They want a list of options to show up in SERP when they google their problem. Make sure you're on that list.
They want an obvious link to stand out. Make your snippet sparkle.
They want to click that link, like what they see on the landing page, and buy their worries away. Make sure your SEO is in bed with your CRO (more on that later).
There are hundreds of SEO tools that get that job done.
Not surprisingly, a lot of them aren't worth using, or they look like they were designed in 1988.
We're going to do better than that.
The good news is, you only need a handful of powerful SEO tools to keep your SEO work sensational.
We've scrubbed the corners of the internet and put our top 50 picks right here—with one giant caveat: we dedicated an entire post to SEO keyword research tools, and you'll find every tool worth its keyword salt over there.
In this post, we'll focus on all the other SEO tools and what they do.
What do SEO tools do?
Search engine optimization tools prepare your content to pass Google's algorithm criteria so it ranks well on SERP.
SEO tools optimize four different things:
Content (for Google, social media, WordPress, etc.)
Technical SEO issues (page speed, code errors, redirects)
Links (backlinks and link building)
Keywords (covered in-depth here)
Optimizing these four things has a lovely side effect: visibility.
Visibility today depends on SEO (search engine optimization).
Get SEO right, and you make money. Making money is funner than losing it, so we take SEO seriously. Taking SEO seriously means using SEO tools to get you on the playing field (like a streaker running naked in front of thousands of fans).
Let's start by taking a quick look at the why behind the what because it's good to know the landscape before you build a house on it.
Why is SEO even a thing?
4.66 billion people around the world today use the internet. That's 60% percent of the global population. 9 out of 10 of those 6 out of 10 people surf over 1.2 billion websites (and counting) with their phones every day.
That's why SEO is a thing.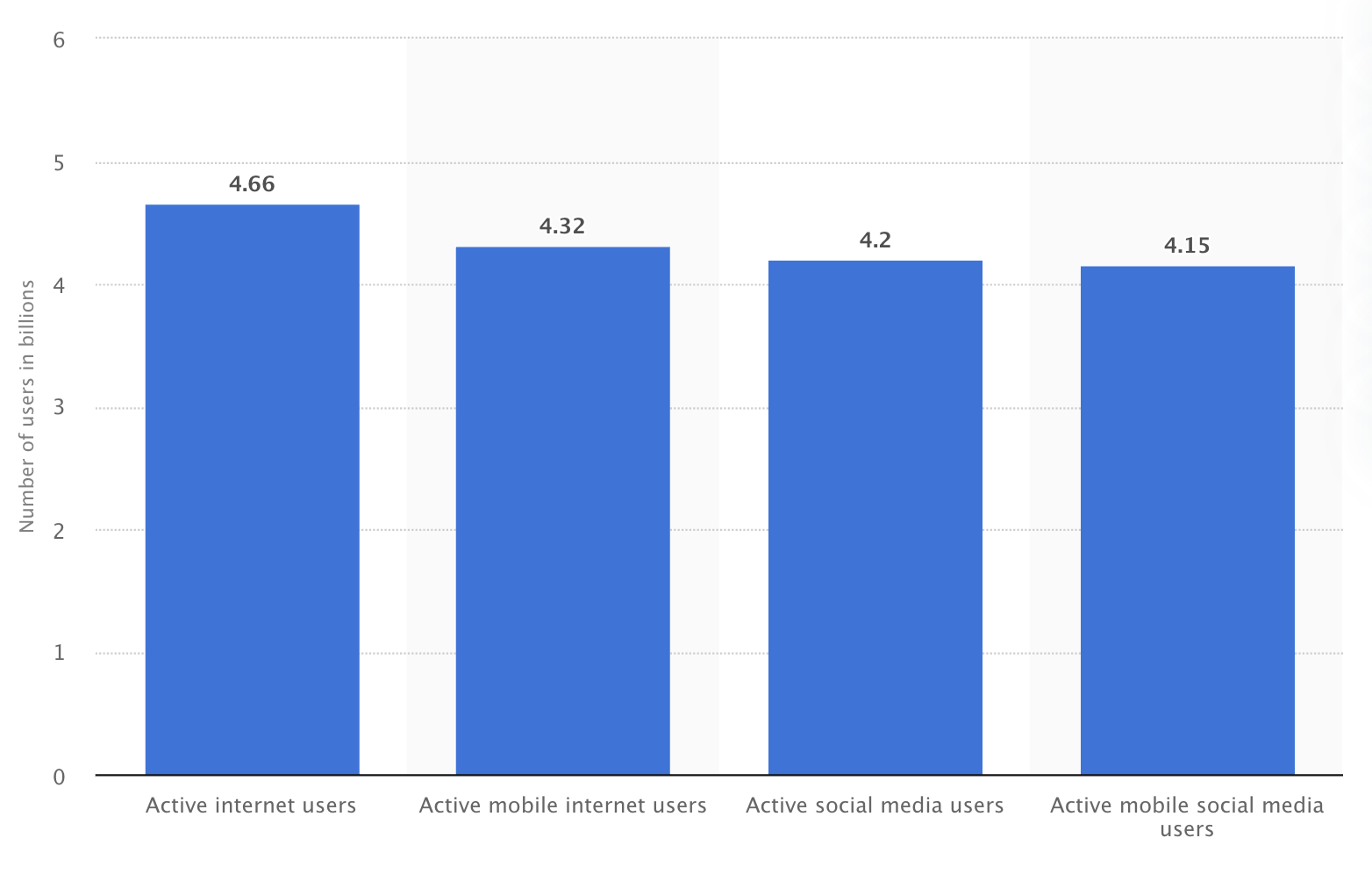 Without SEO to steer organic search traffic and paid traffic your way, how would you ever get your page to show up on a handful of the 4.66 billion phones worldwide? How would you let people who need what you have know about your cool stuff and ultimately buy it?
You wouldn't.
Your landing page or blog post would be buried behind billions of other pages.
But SEO is a magical digital marketing gem that narrows the playing field.
And SEO tools make that gem sparkle.
But which tools?
Well, you're welcome for making that part easy because we've listed 50 of the best SEO tools right here in one spot.
Some are paid, most have free trials, and a few are completely free SEO tools.
So if you're stressed out about SEO tools, go ahead and remove your shoulders from your ears. This sort of thing is fun once you get the swing of using apps to get some eyeballs on your stuff.
It's a strategy that gets you a bigger ROI if you make the right choices.
SEO is like playing Risk
Think of SEO like playing Risk, "The Game of Strategic Conquest." You have a limited number of infantrymen and cavalry you can place on the board. You place your men (keywords) and, in some places, you also place cavalry (PPC bids).
You might segment your forces (Single Keyword Ad Groups) to increase your odds of winning the battle for that particular country (search term).
Some battles will eat away at your troops (high CTR without ROAS) and you'll retreat and regroup to fight another battle when the terrain is more favorable (better CRO).
You're always looking for the high ground (the best optimization) so you don't get outflanked, just like you're always vying for the right customers to click your links over your competitors' links (outrank them).
You maneuver to align your offer with customer queries FOR TOTAL WORLD DOMINATION.
SEO and PPC
There are two sides to the conversion universe.
When it comes to SEO, you do the research once but you apply the results to both sides: SEO and PPC (otherwise referred to as organic and paid marketing).
Organic SEO (Search Engine Optimization) focuses on driving the needle up over time with valuable content. It's free, but you won't see dividends for months.
Paid SEM (Search Engine Marketing) focuses on an immediate payback by bidding on keywords that drive ad campaigns. Every click (CPC) costs money, but you know pretty fast if you won a return on your ad spend (ROAS).
SEO and PPC blend together in a magnificent marketing melée that results in a higher overall ROI than if the whole were separated from its two parts.
Whichever universe pays your salary, anyone with a serious game face pulls data from multiple tools to see the bigger SEO picture (and the smaller SEO corners).
If your blog posts and landing page copy aren't in line with the keywords you're trying to rank for, your efforts won't be as effective as they could be.
People find you in search because of your SEO. But people share your stuff because they adore your content.
Once you have a solid SEO strategy, the work of making sure your content is optimized isn't that hard.
There are apps/tools for that.
There are also tools that link your content to other great content and tools that track how your SEO is performing—including your video SEO.
First, we'll start with the all-in-one tools that cover almost everything. These are powerful tools if you have the budget.
Then we'll look at some single-purpose SEO tool dynamos.
As we go, we'll round out our list with freemium and lesser-known alternatives.
At the end, we'll look at dashboards and reporting tools.
Get your game face on.
Content optimization and tracking tools
These SEO tools look at the technical aspects of your site: on-page optimization, page speed, page rank tracking, duplicate content, missing page elements (like robots.txt file, XML sitemaps, no/follow, no/indexing etc.). But they also analyze how you're doing versus your competitors and how you're doing socially.
The technical fixes improve your SEO performance which boosts your rank so you're seen more and shared more often (than your competitors).
These tools will tell you if your traffic has dropped and what long-tail keywords or backlinks might get more visitors.
Let's start with the big guys.
All-in-one SEO Tools
If you want one big, beautiful, comprehensive, does-it-all SEO tool—sorry, but that doesn't exist. There are, however, a solid handful of SEO tools that cover almost everything, making it easy to put your trust in one tool and then answer the little question marks with specialized outlier tools.
The all-in-ones show overall SEO health. They start by crawling your site to perform a full SEO audit. The crawler looks for technical SEO issues like javascript errors, broken links, 404 pages, redirects, duplicates, bloated image file sizes, improper metadata (titles, meta descriptions, headers, canonicals, alt tags that are missing or too long or too short), and much, much more.
Here are the SEO tools that get 90% of the job done and deserve first consideration:

Why is Ahrefs a favorite? It does everything right, that's why.
Its user interface and user experience are clean, comprehensive, and clickable. It covers the basics like site audit (SEO technical issues) and site explorer (backlinks and keyword ranking). But then, unlike many comprehensive SEO marketing tools, Ahrefs Webmaster Tools tells you how to fix each issue.
It goes beyond the graphs of Google Search Console, giving page-level insight and things like SERP snapshots with competitive data. Itemized issues are ranked by importance (and color-coded) so you can click into every part of it and find actionable advice tips. Plus, it's a completely free SEO tool.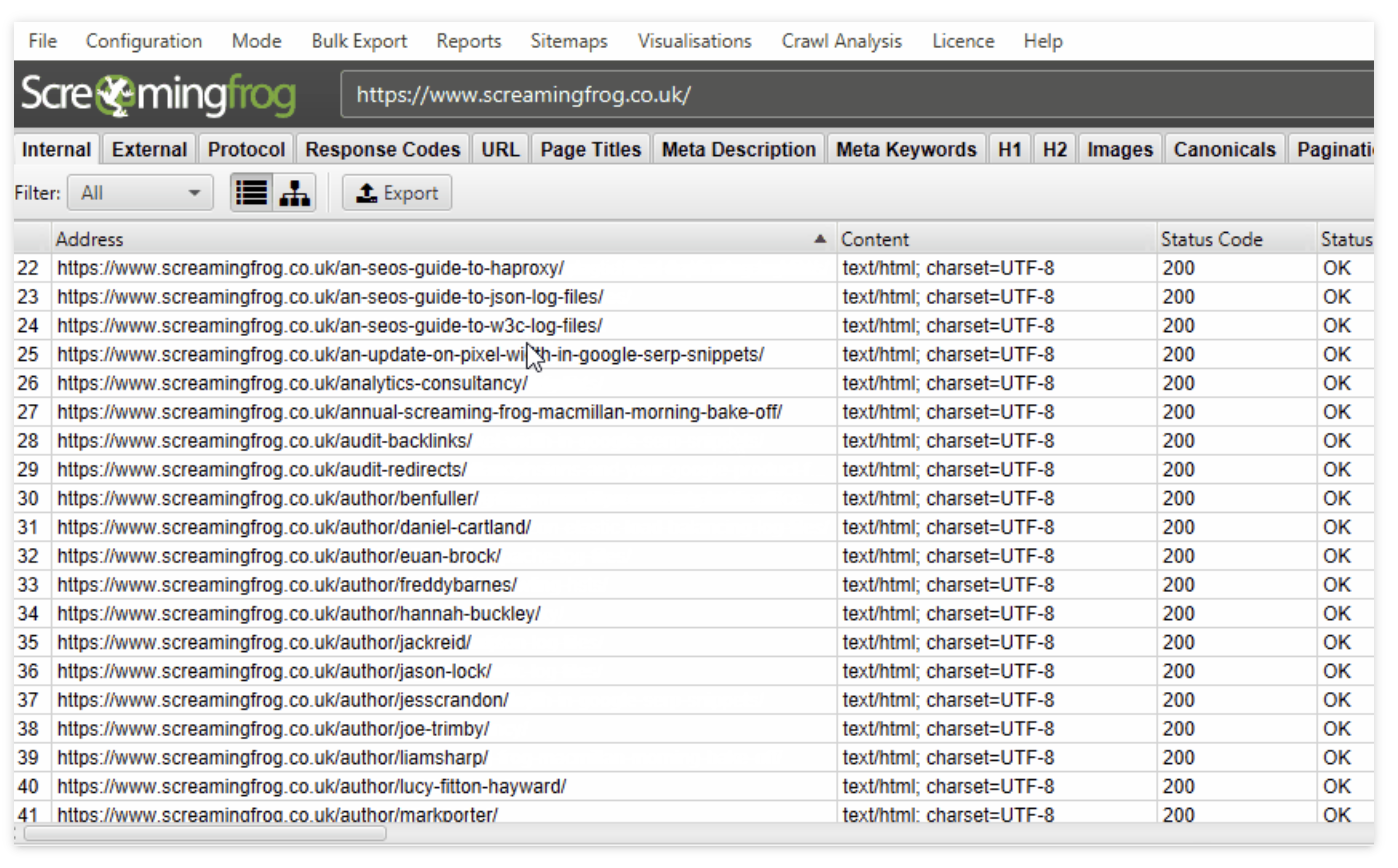 An ugly workhorse, Screaming Frog's spider tool is trusted across the internet, and it's a free SEO tool up to a 500 URL crawl limit or paid without limits at an affordable $200 USD/year.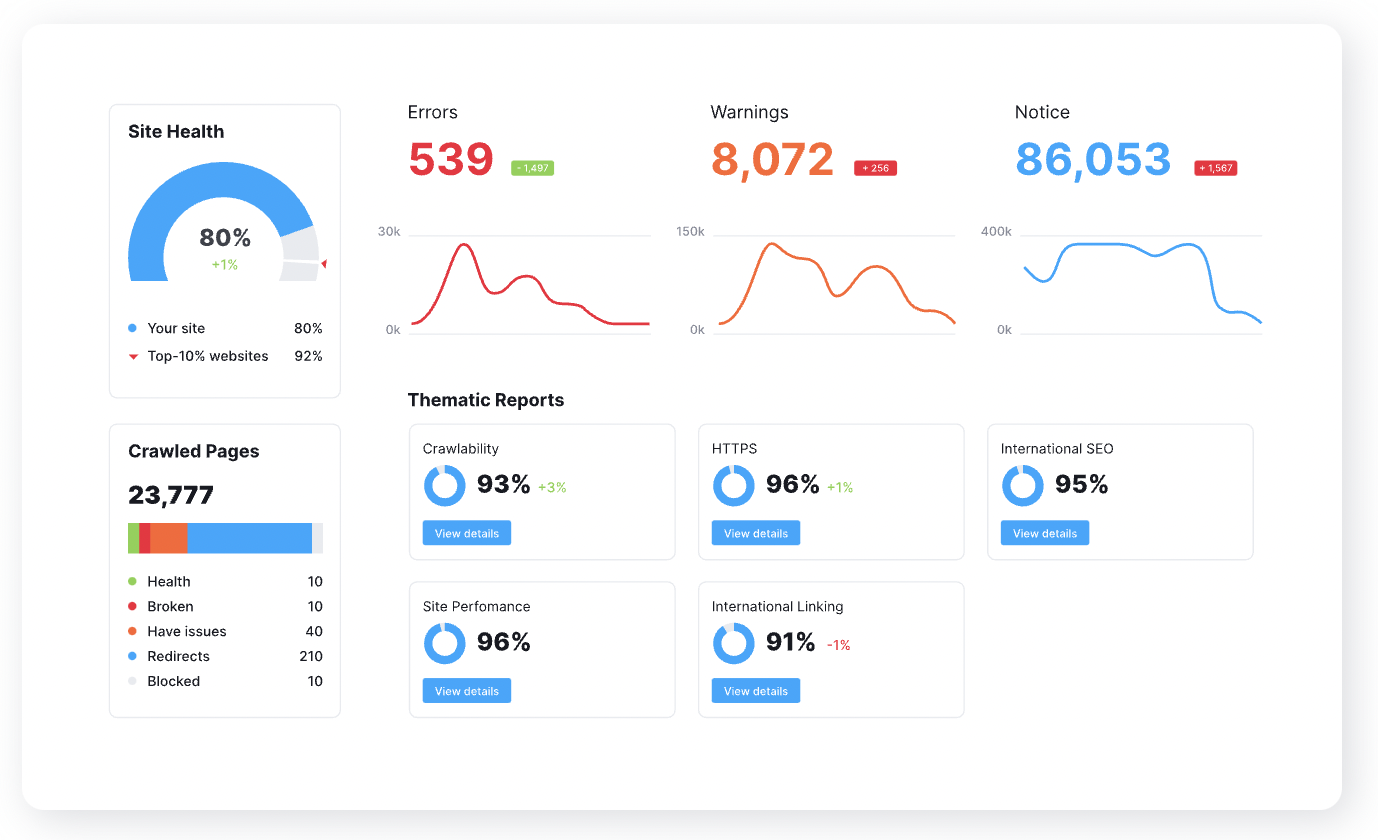 If you're already familiar with Semrush, you can't go wrong with the industry-standard SEO Toolkit. Paid after a free trial, professional and powerful, but pricey at $120/month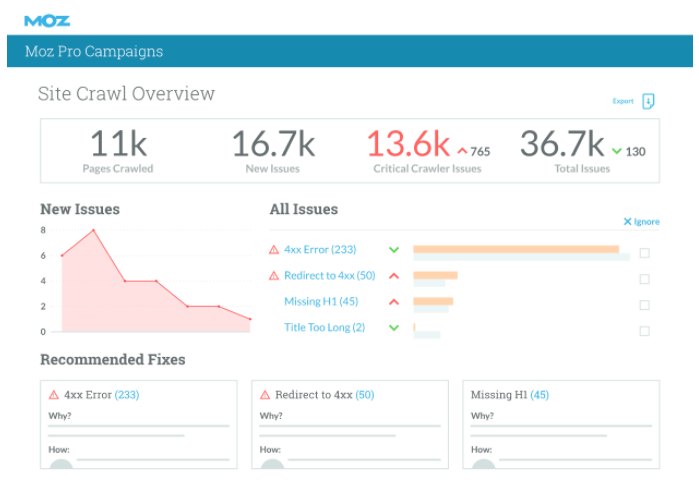 A long-time industry standard, Moz Pro is easy to use, and it packages with white-label features. Plus, the adorable handlebar moustache-famous Rand Fishkin helps you out with how-to videos and whiteboard Fridays. But, it has hard limits on its free stuff, and it costs more than comparable tools.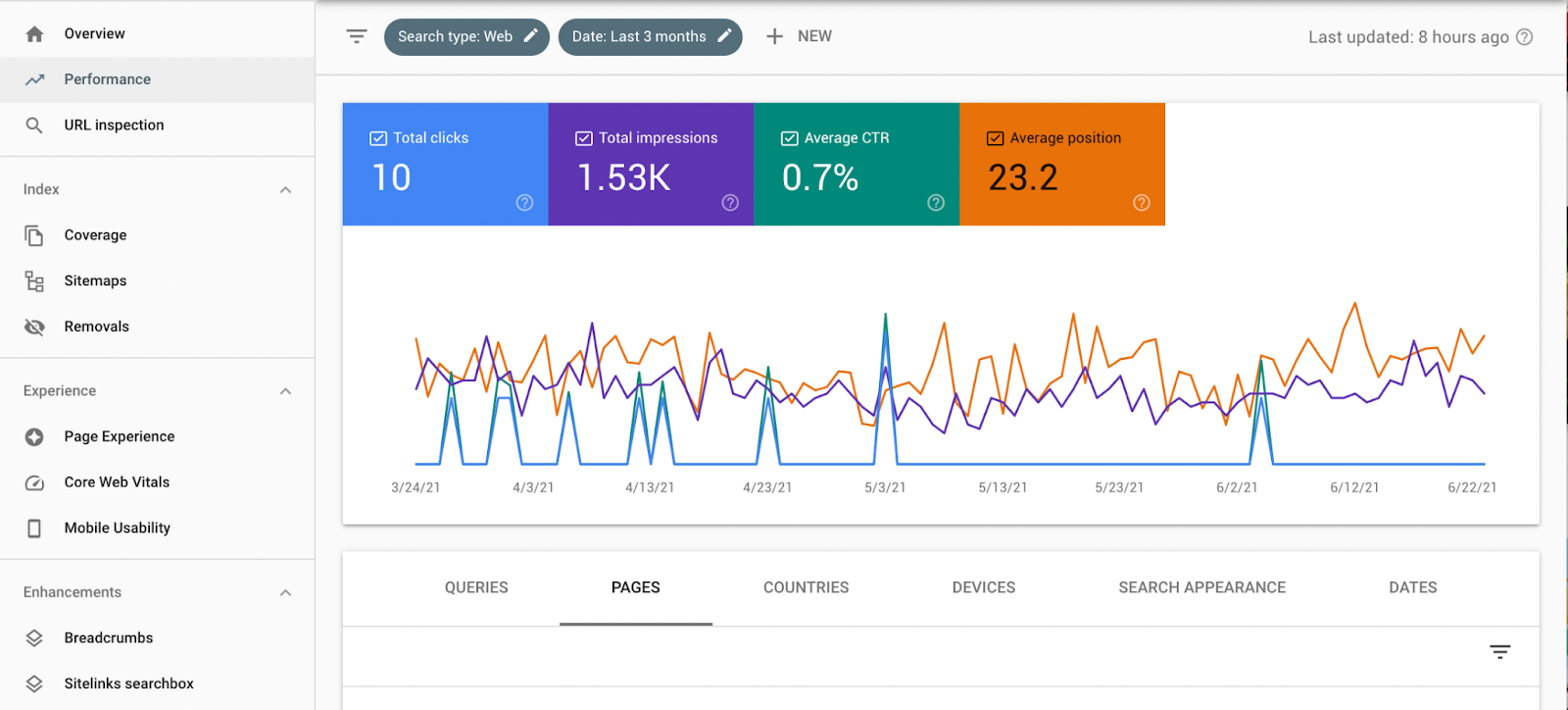 This is a must-have tool for search result stats, reports, issues, and performance monitoring in Google Search results. Associate your Google Analytics account to the Search Console for actionable insights—if you know how to read them. If you don't, 👆 Ahrefs Wordmaster Tools is up there 👆.
Growthbar gets a crazy high 4.9/5 review on G2 with a 10/10 for ease of use and a 10/10 for support. Not a bad way to gain popularity as a relative newbie in the SEO toolbar game. The design is straightforward and clean, and Growthbar touts itself as the first end-to-end SEO tool to use OpenAI GPT-3 (the largest language model ever created).
Used by thousands of companies (like Monday.com and Square), this one impresses with a free trial and monthly plan as low as $29/mo.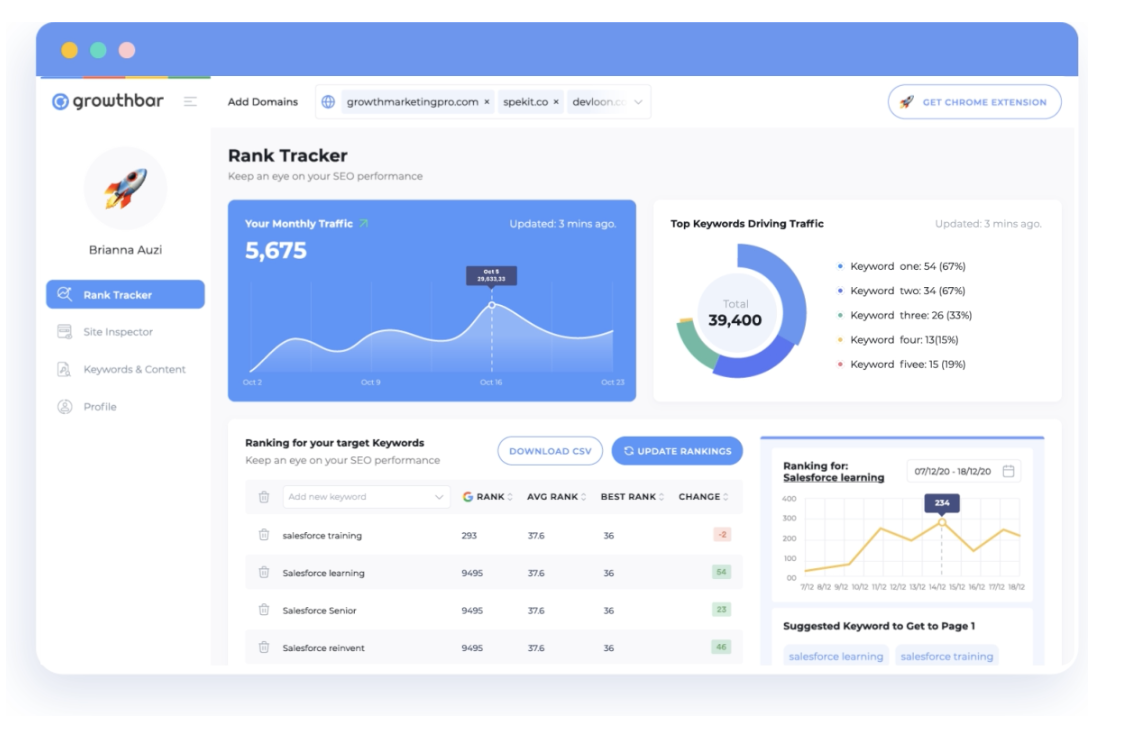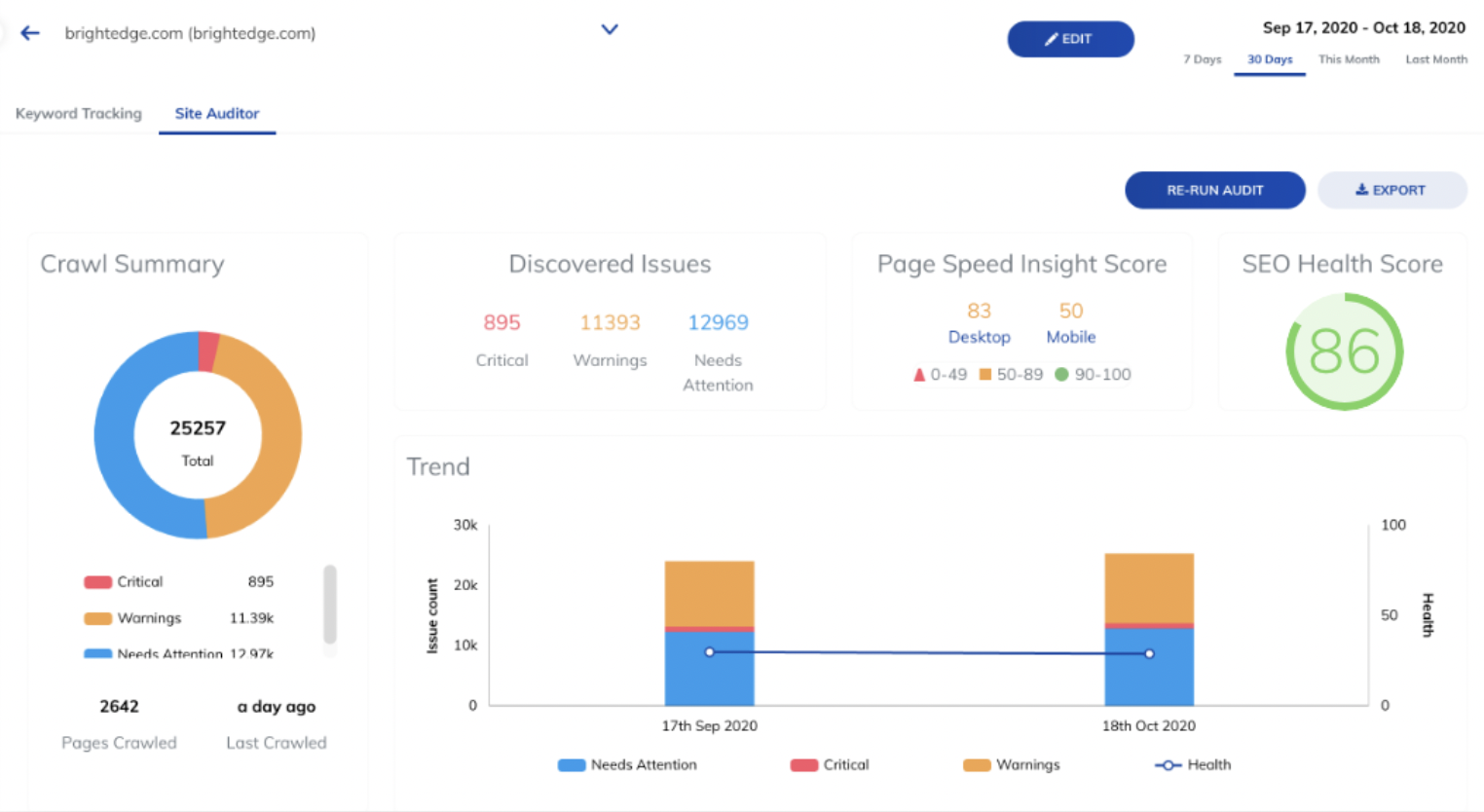 Free for one website then affordable scaled plans, Raven is gaining traction in the all-in-one SEO marketplace.
A no-fuss all-in-one SEO tool with a friendly interface, tons of social proof from high-falutin' companies (like Mashable, Search Engine Journal, and Inc), and a great 5/5 rating on G2, which named SE Ranking one of the "top 100 fastest growing products of 2021."
This is a good option for small budget-friendly businesses at only $18 a month for up to 10 websites (and a two-week trial period).
Something cool: get 60% off if you go for weekly rank checking instead of daily.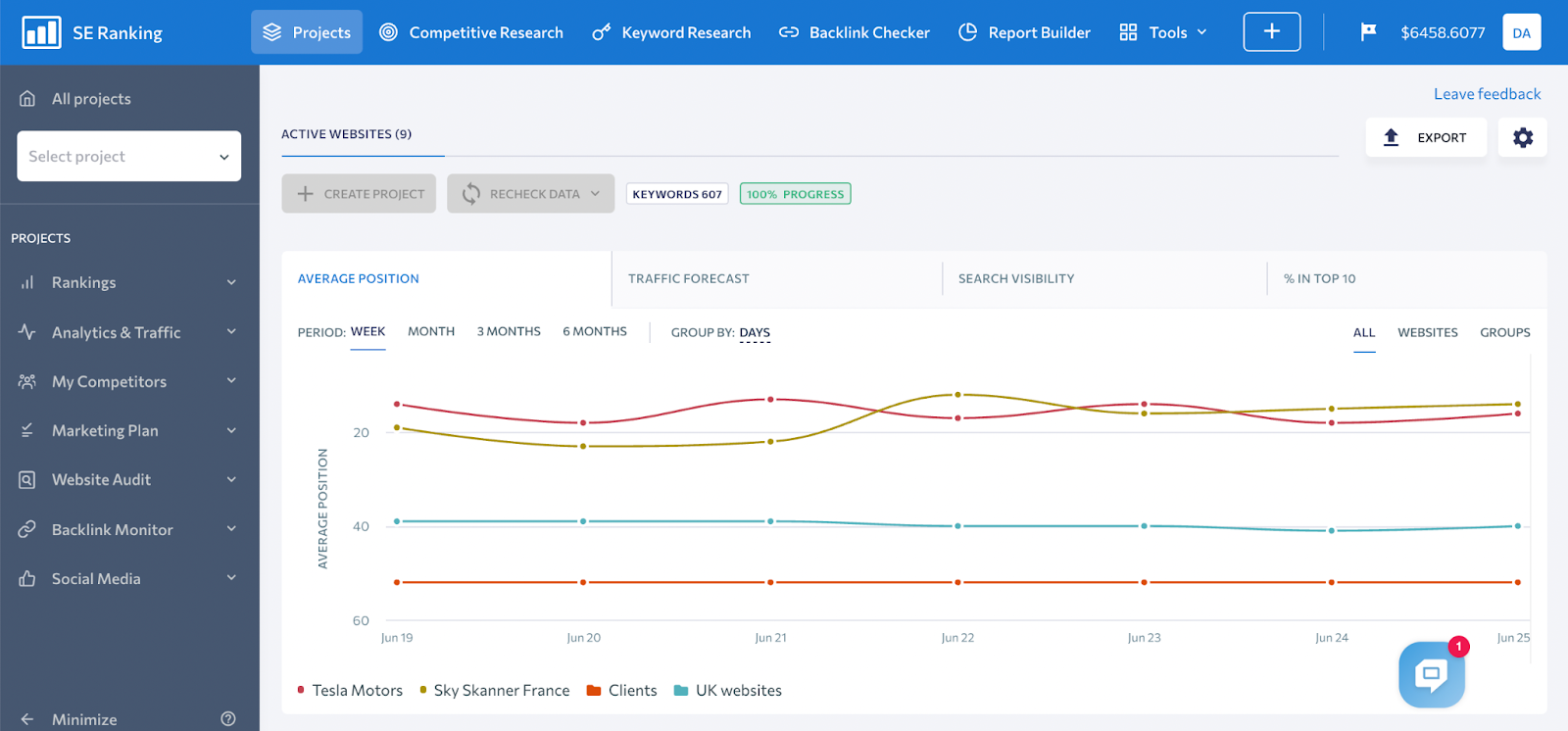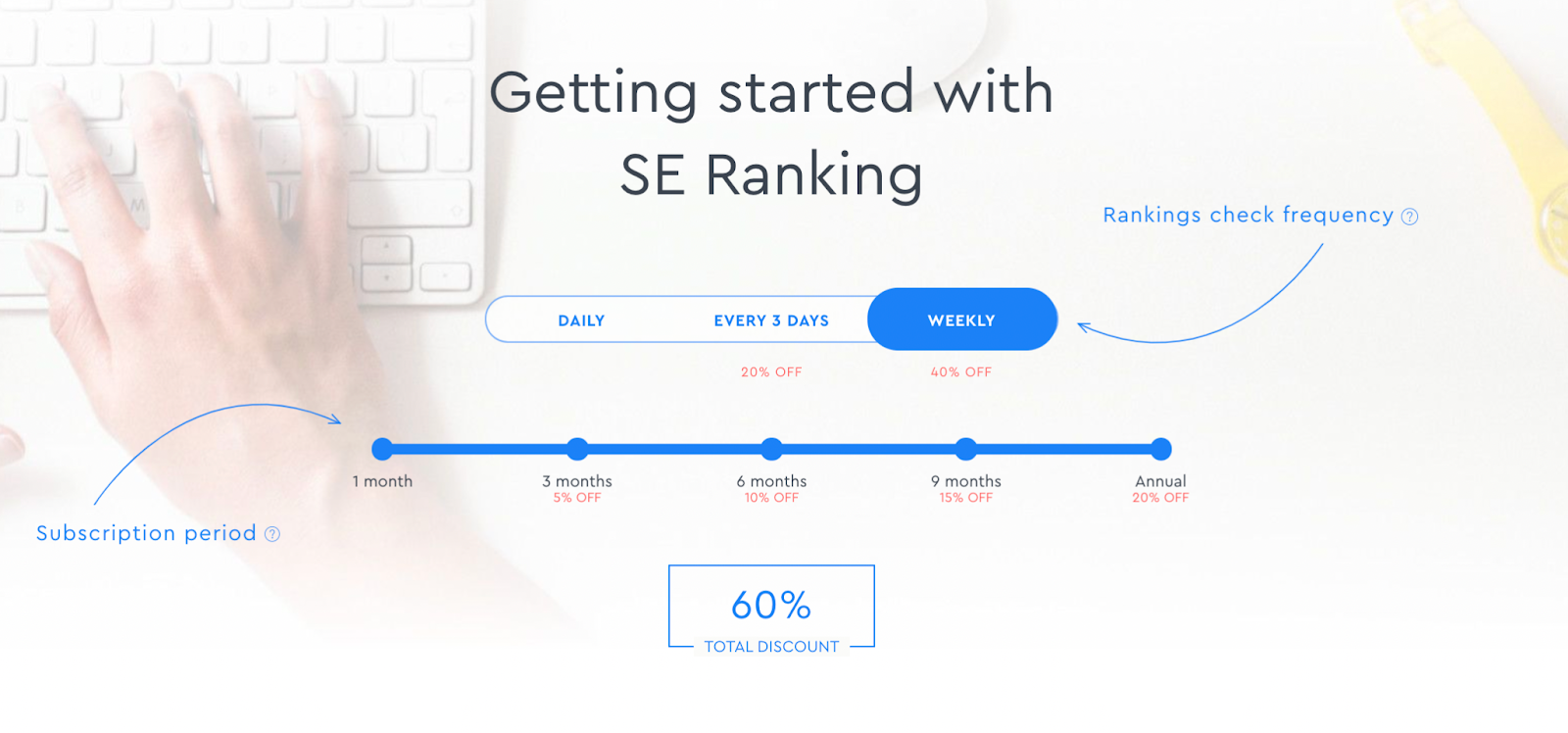 Honorable all-in-one SEO tool mentions (worth checking out):
11. Link Assistant (formerly SEO PowerSuite)
Single-purpose SEO tools
The broad, at-a-glance, whoa nelly overviews you get from the all-in-one SEO tools are incredible. But sometimes you want information they don't show (like latent semantic keywords, speed insights, toolbars, and video optimizations).
Take a look at these singular purpose only-do-this SEO keyword tools. Sprinkle them into your projections and fill those gaps.
Content optimization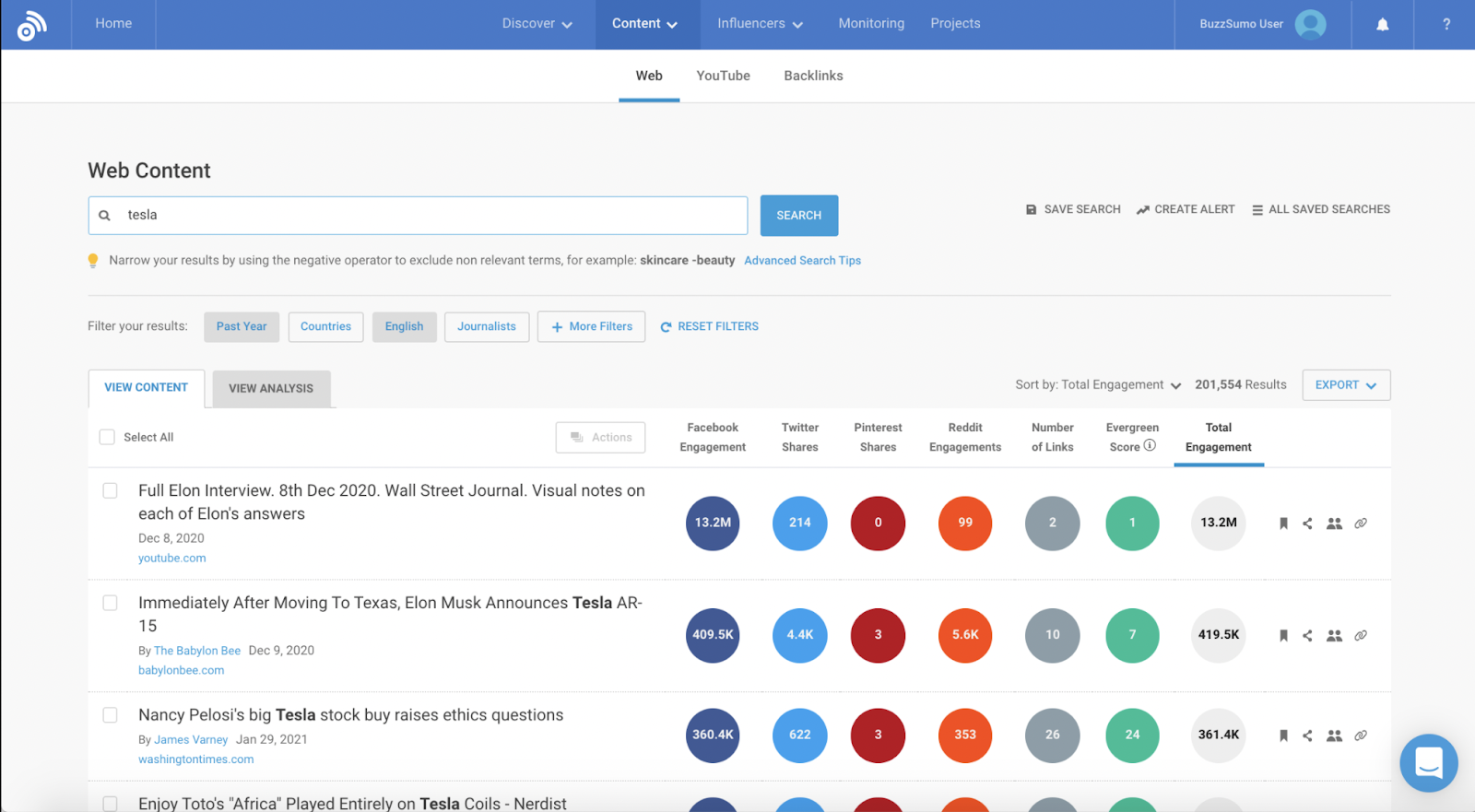 Find the content across the internet that performs the best so you can copy what the social influencers are doing, write about interesting topics, see what questions are trending, and reach out for backlinks from referring domains.
You have to do it. Structured data markup (schema) tells Google what your content is about. But if you're not a raw coder, it's not easy. That's why Google created this free SEO tool with fields that build schema markup the right way without making you sweat or hire a schema markup professional.
Simply enter your URL, tag your data, and copy the HTML code.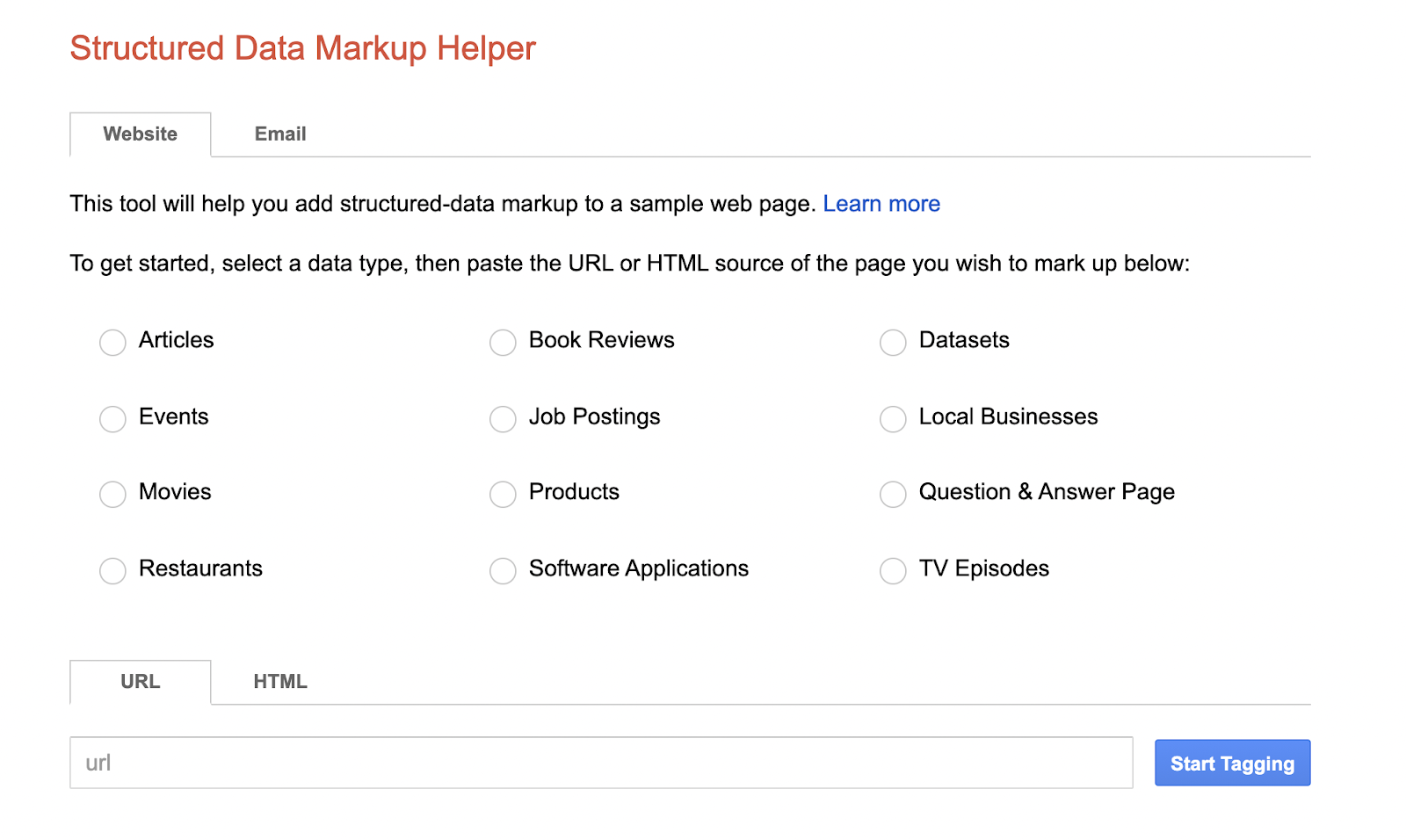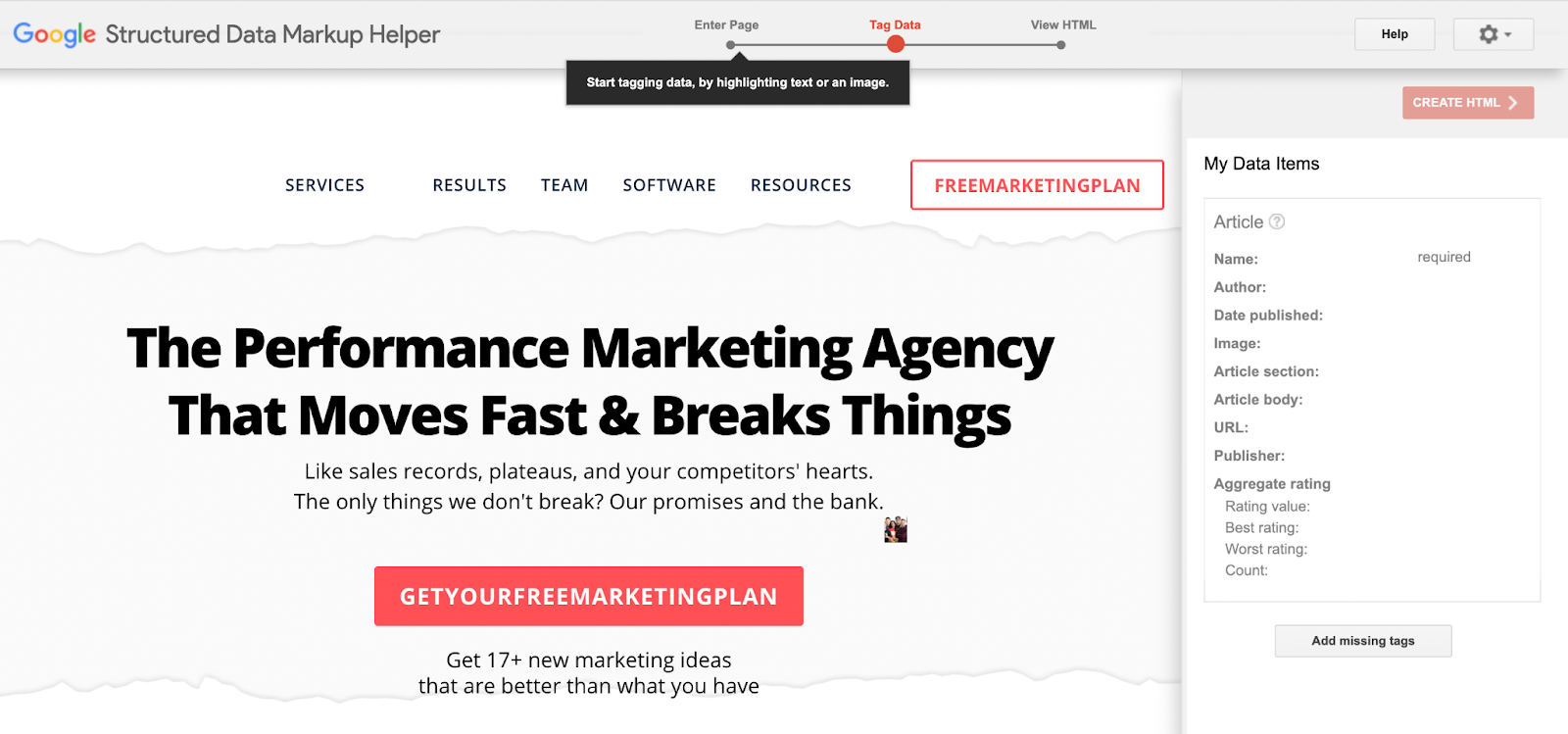 17. LSI
LSI keywords (latent semantic keywords) are related keywords that help search engine crawlers (Google's algorithm) understand your content. Adding them to your content optimizes your SERP (search engine results) rankings.
But what LSI keywords should you use? Use the free LSI tool Keys4Up to find out.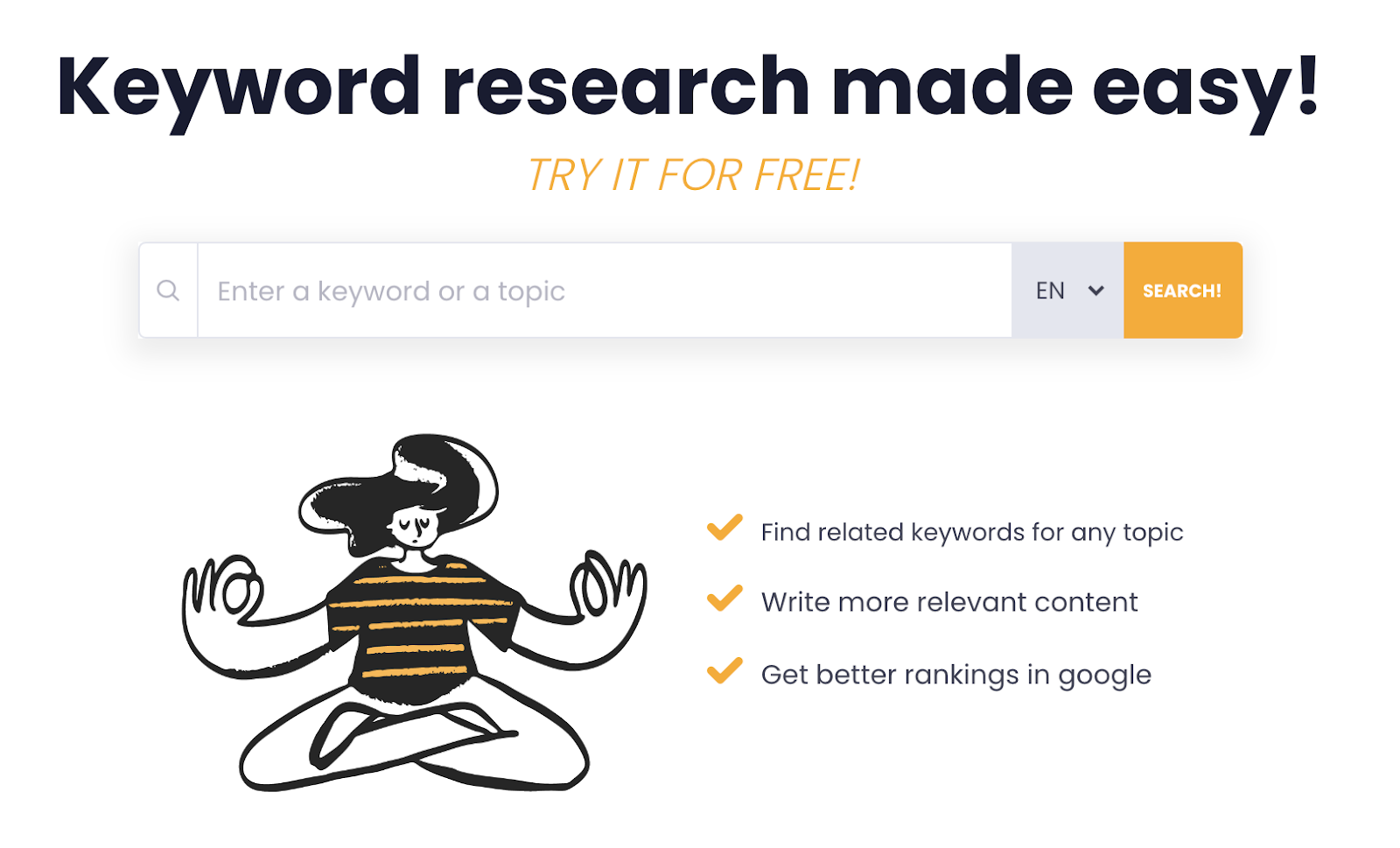 Oh yeah. This one's a beauty—we use it here at KlientBoost.
Plunk in a long tail keyword and click on the Competitors tab. Clearscope lists the top competing websites for that keyword and grades them from A+ to F. Check out the A+ sites.
Click on the Relevant Terms tab to see powerful secondary keyword suggestions ranked by importance out of ten. Click on the Keywords tab to see search volume for related keywords as well as competition and cost per click (CPC).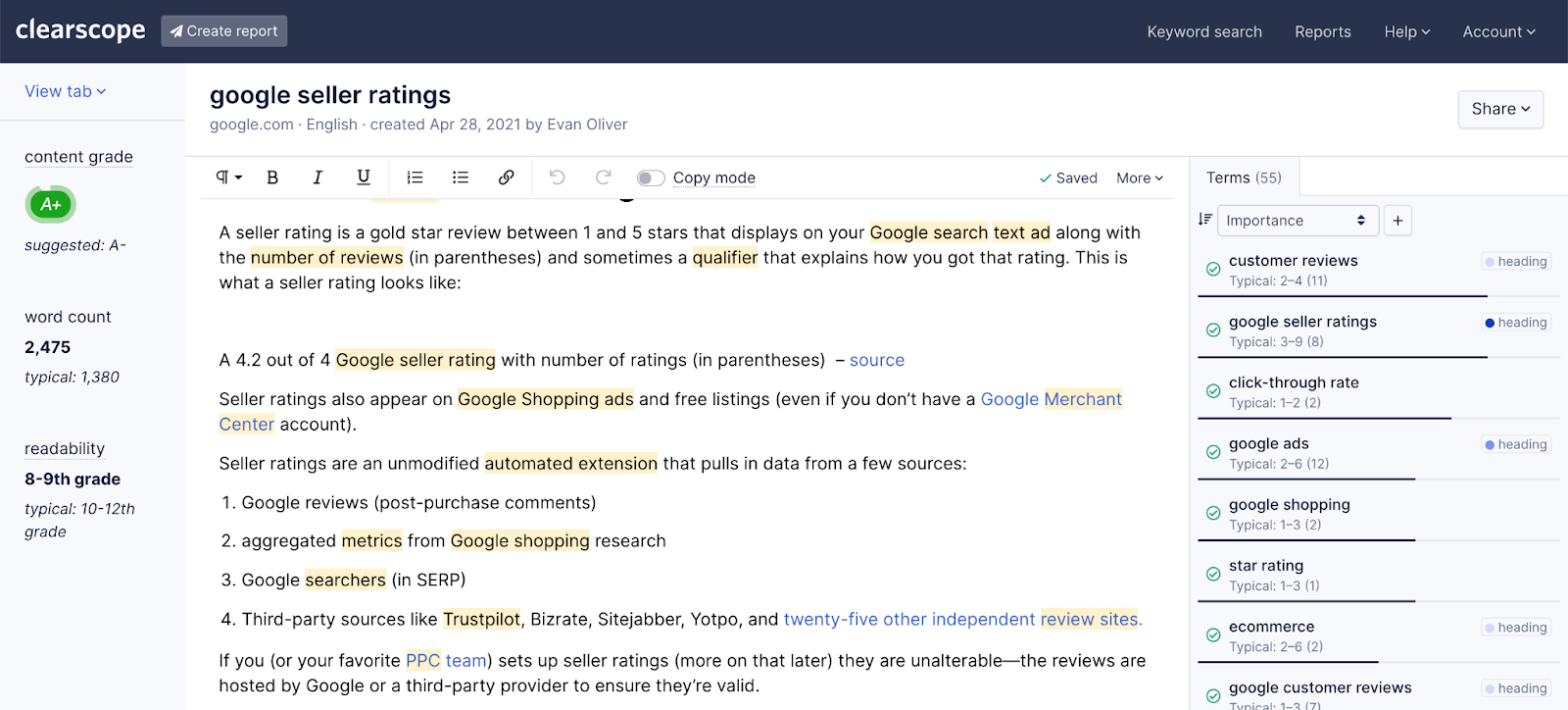 But where Clearscope really sings is the Optimize button. Paste your article in the editor. Your content is graded for readability and typical length for that keyword (on the left). See that list of fifty or so terms on the right? Those are the terms the top competing sites have in their posts. As you sprinkle those into your post, your content grade improves. Shoot for an A+ (we do).
WordPress SEO optimization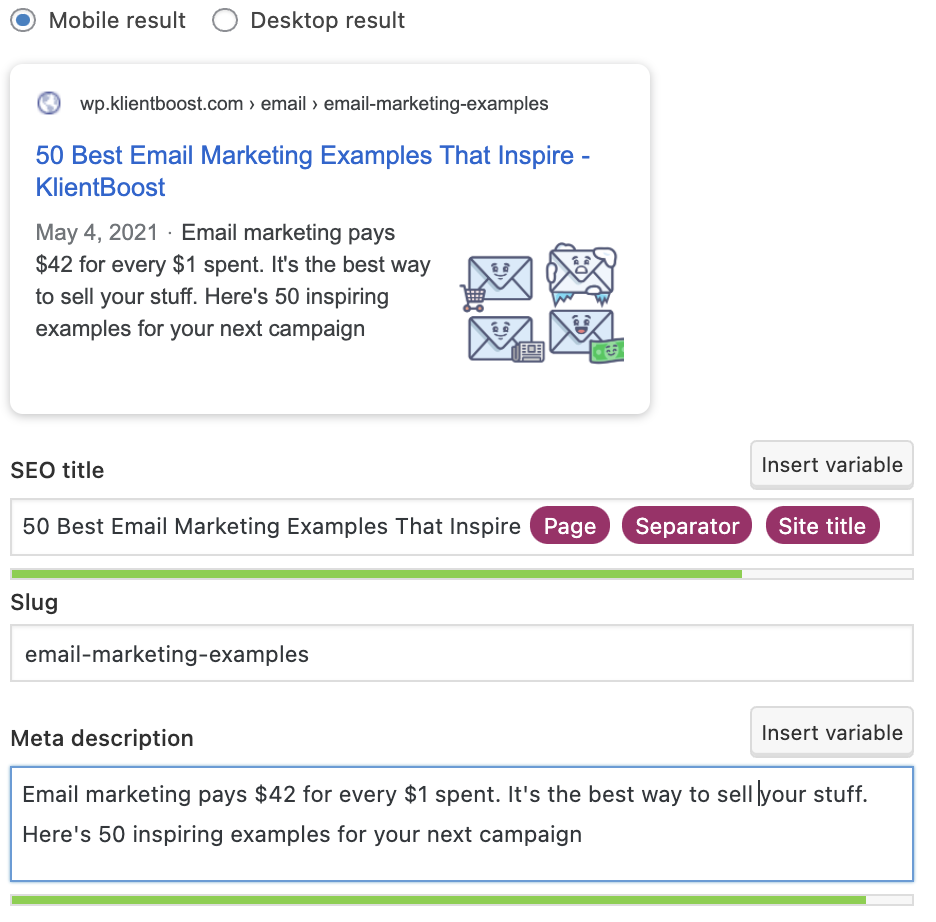 This plugin is for the 64 million WordPress users out there. Yoast is the #1 rated WordPress SEO plugin with over 5 million installs that makes sure your posts have titles, meta descriptions, proper slugs, and more (if you upgrade).
Alternative WordPress SEO plugins:
Special mention:
24. Title & Description Pixel Checker by To The Web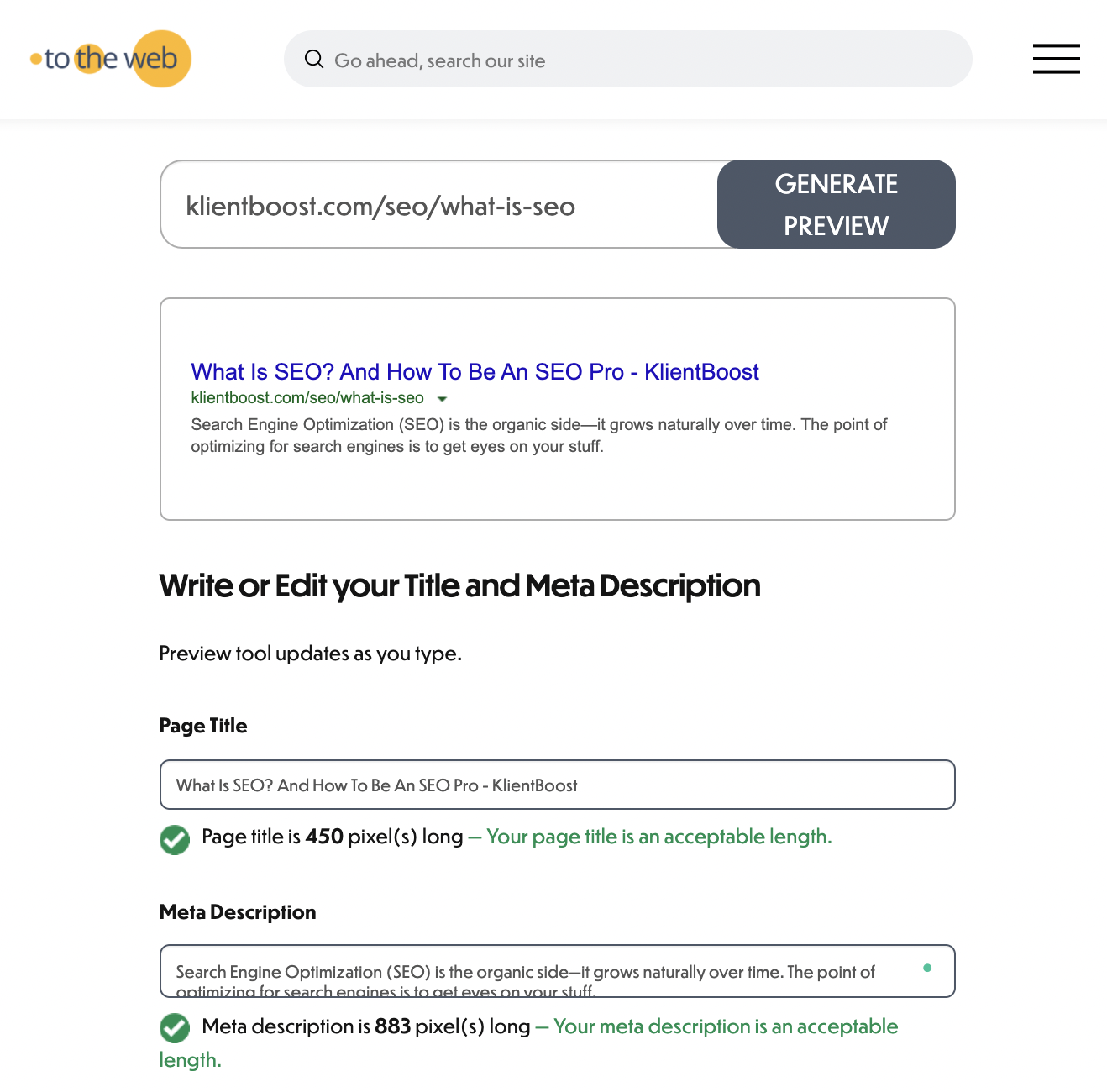 Maybe you don't use WordPress or don't have Yoast? That's okay. This handy SEO tool tests your SERP snippet title and meta description length to make sure they're under the character limit. It also provides a Google snippet preview.
Page Speed
Enter your page URL and see how long your page takes to load on desktop and mobile. Don't underestimate this one. Speed really matters for SEO rank.
Page Speed Insights shows you what's slowing down your site. Depending on the speed bumps, you might need to hire a developer to get things up to speed.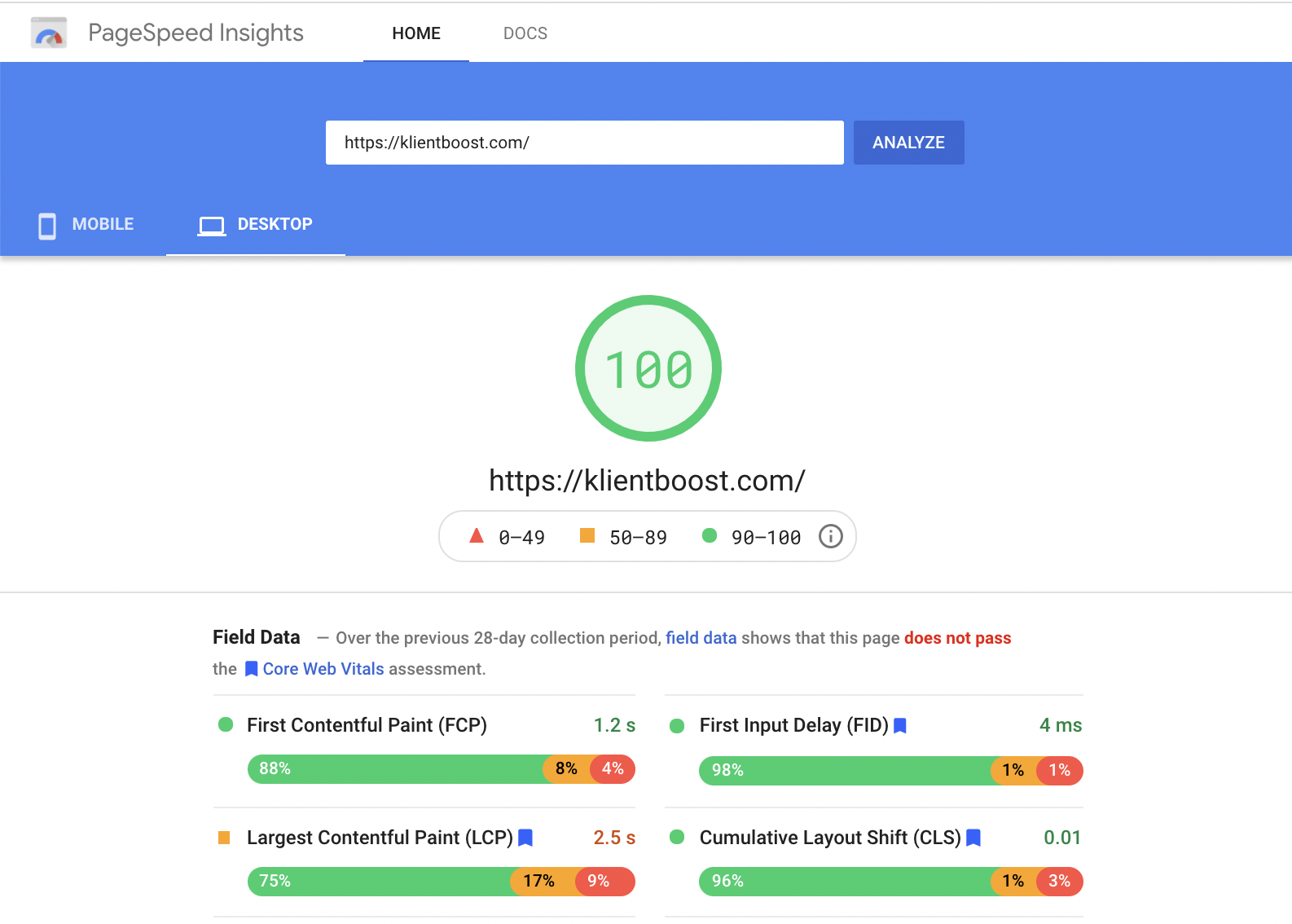 Alternative SEO speed tools:
SEO Chrome Extensions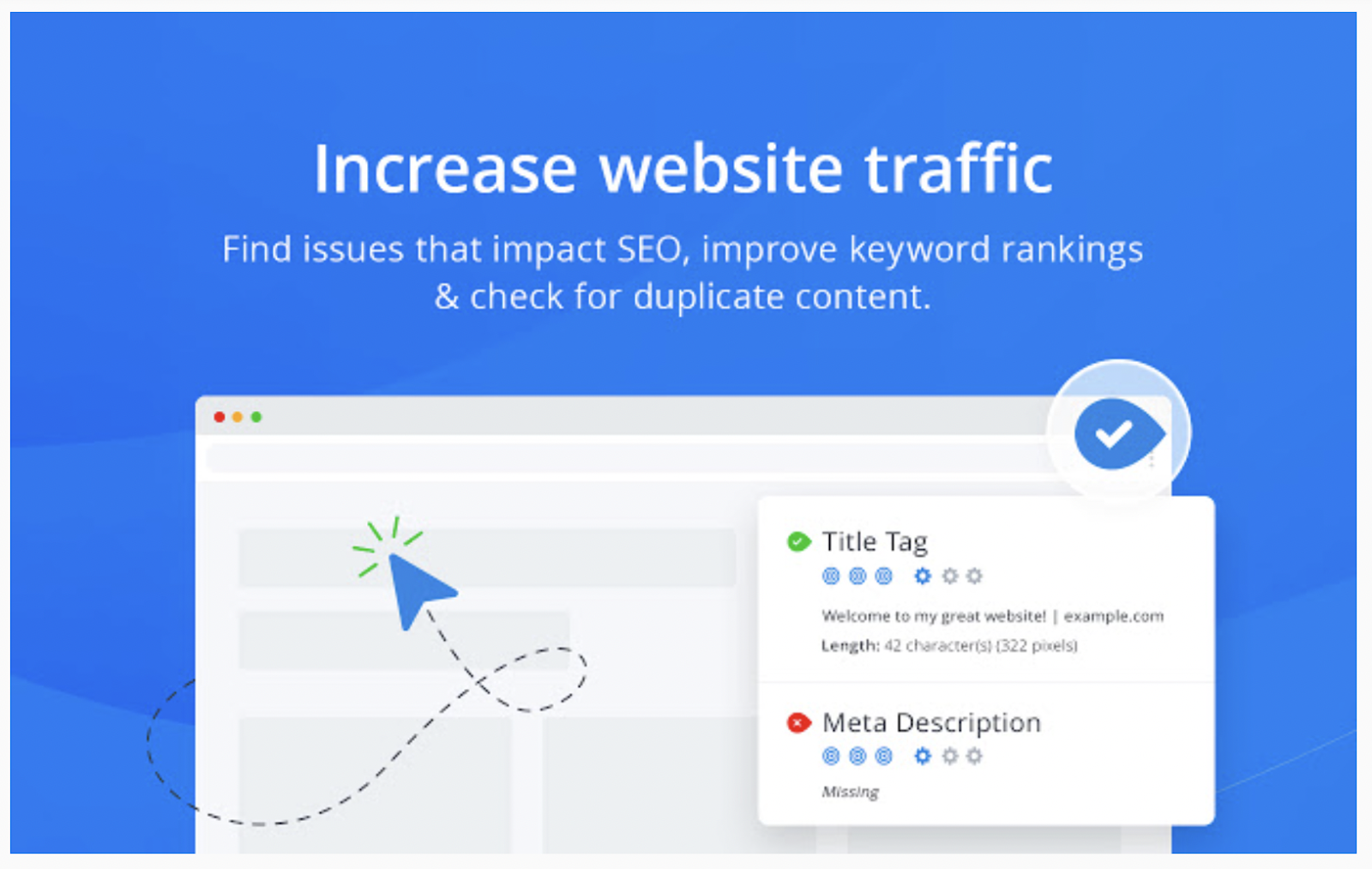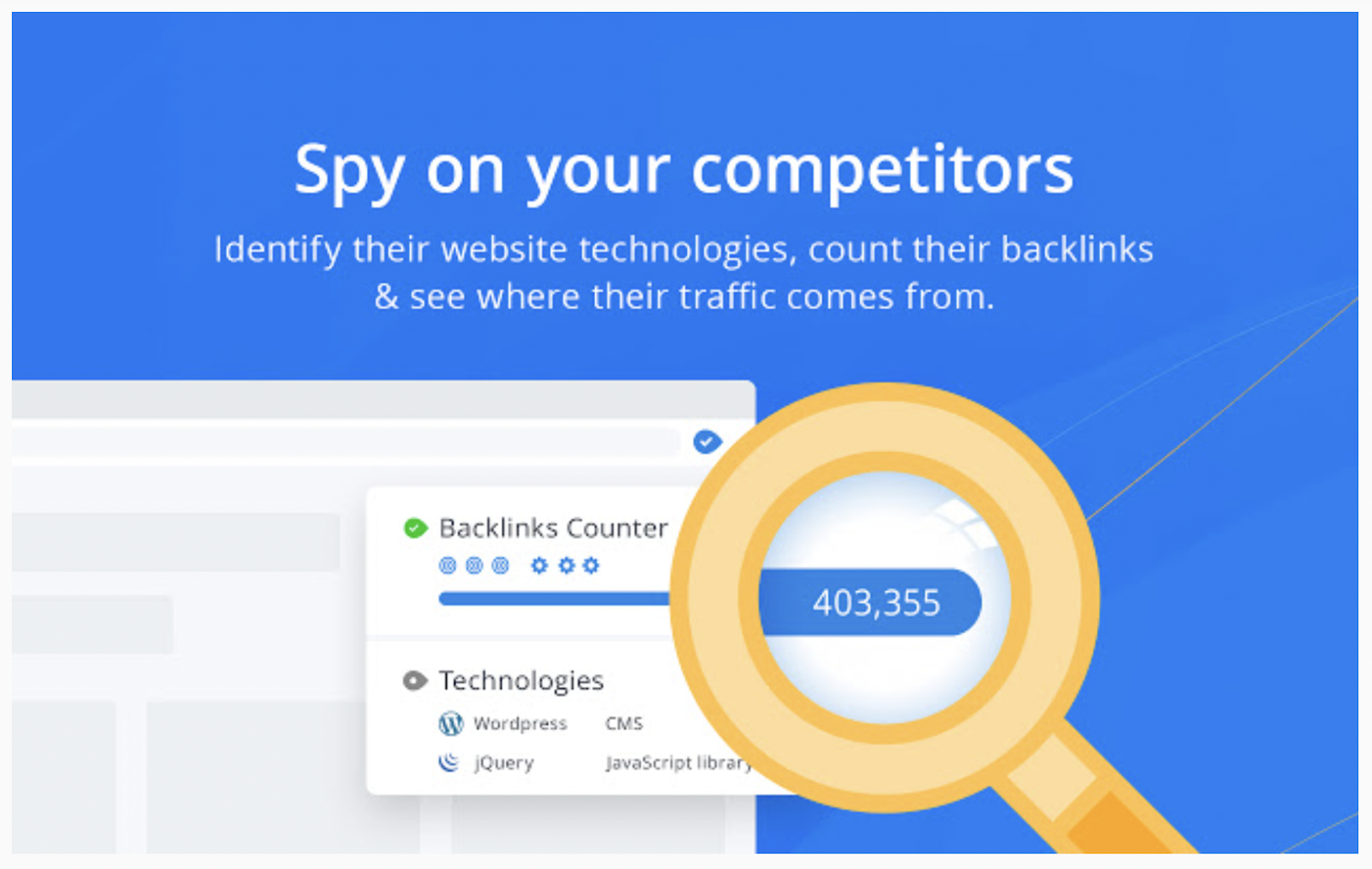 A free SEO Analysis Tool, install WooRank Chrome extension and see where your competitors get their traffic, how many backlinks they have, and what keywords they rank for.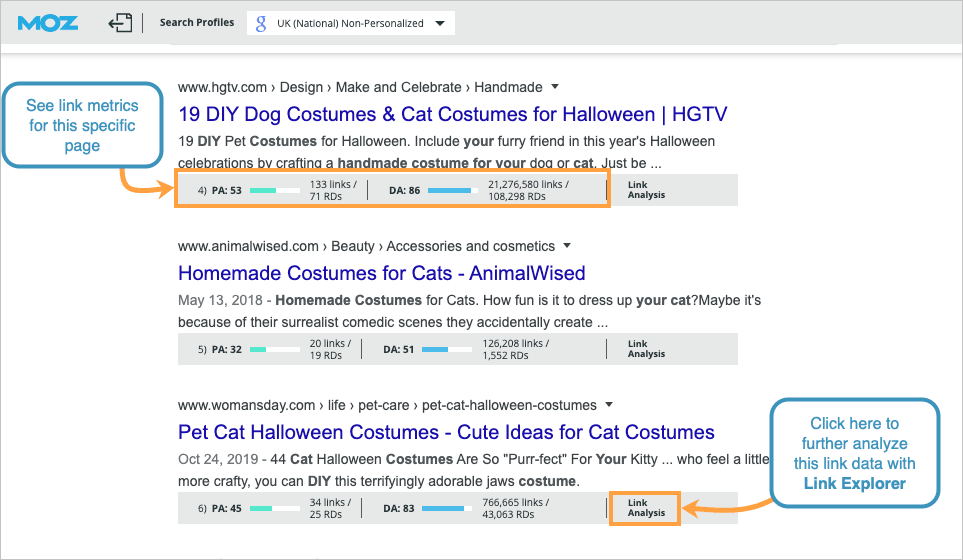 Connect your free Moz account to the Chrome plugin, and get a sneak peek into critical link metrics like on-Page SEO Authority (PA) and Domain Authority (DA) for any page on the internet. Compare SEO metrics across webpages when you're in SERP and take advantage of the highlighted elements (like keywords and schema markup).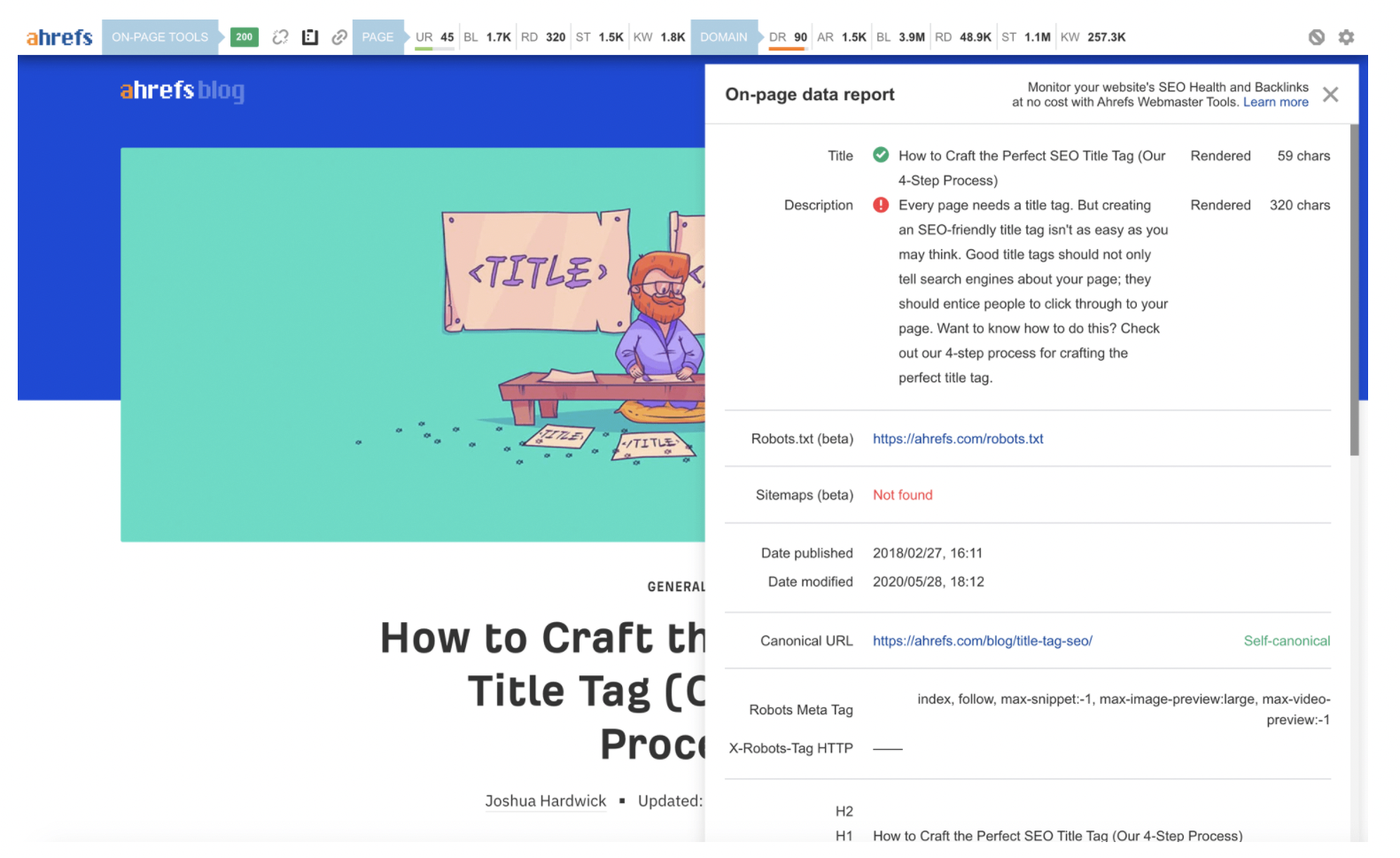 A free extension for Chrome and Firefox that pops up an on-page SEO report with title/meta description checker, broken link checker, SERP score, keyword difficulty, monthly search volume etc.
If you use Ahrefs, install the toolbar. 😊
Link tools
What sites link to yours (and your competitors)? Check your inbound and outbound links with these link tools.
With this backlink checker tool, you get ten free link queries along with up to 50 rows of inbound link data. Enter a URL to see backlinks, most valuable pages, linking domains, and anchor text. Increase your link scores by reaching out to high domain authority (DA) sites and asking them to link to you. Also, get rid of the spam links pointing to you.
Worthy mention Link tools:
Scraper Tools
Scraping tools find out what topics are trending in your industry, so you develop content that ranks higher in Search Engine Results Pages (SERPs). What questions do people enter in the Google search bar? What are similar questions? What do searchers also ask related to those search queries? Use these SEO tools to find that out:
Video SEO tools
Video SEO optimizes your video to rank high on search engine results pages. Video gets its own special set of SEO tools because of YouTube.
YouTube is an enormous search engine that gets over 2 billion monthly watchers (MAUs) who watch over 1 billion hours of video every day (70% of which is from a smartphone).
A few more stats that prove the value of video:
The number of channels that earn six figures grows 40% y/y.
The number of channels with over 1 million subscribers grew by more than 65% y/y.
YouTube, on mobile alone, reaches more people in the US (mostly between the ages of 18-34) than any TV network.
YouTube is where to be. But if you don't know how to create video, getting started can be daunting. That's why YouTube Director has partnerships with creative platforms to help businesses like yours create video ads. Identify your budget, describe your offer, select a turnaround time, and pick from 16 video production partners.
Then OPTIMIZE those videos with any of these video SEO tools:
An absolutely free SEO tool, your first stop is Youtube Analytics. It looks a lot like Google Analytics. That's because Google owns YouTube and the analytics are pretty darn powerful.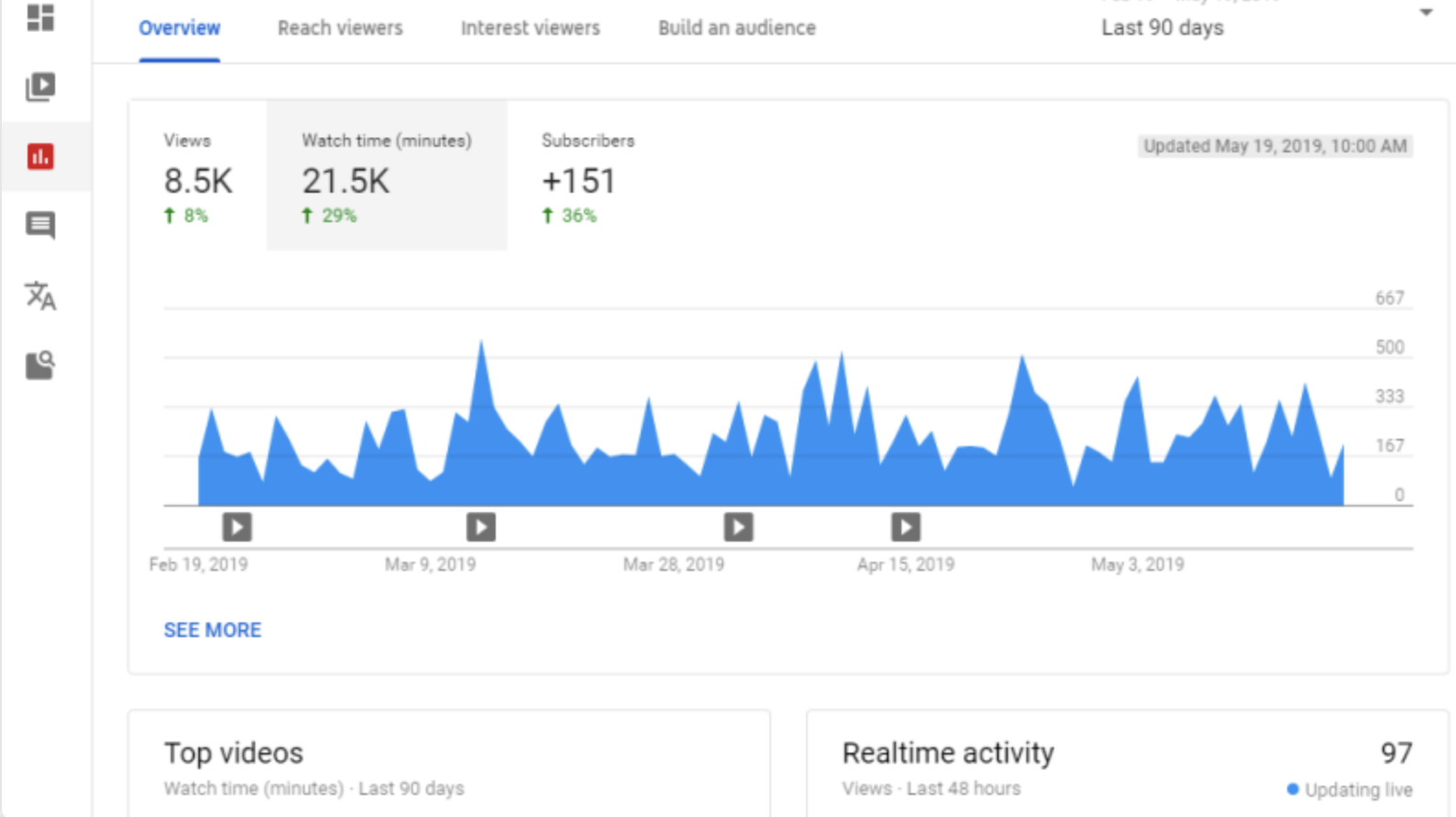 Get an overview of:
Reach
Total Views/Unique viewers
Impressions—how many times your video thumbnails show to viewers
Impressions CTR—how often viewers watched a video after seeing an impression.
Engagement
watch time in hours
average watch duration
Audience
returning viewers
unique viewers
subscribers
Know what content and topics you should produce and turn that content into profitable customer acquisition on YouTube, Google, and social media. Vudini uses AI-powered Video SEO to get your videos more subscribers so you can make more sales with in-video conversion tools.
With Vudini, you set a strong thumbnail image to get better CTR (in video, the thumbnail is more important than the title tag) and an added transcript for silent mode. Ten campaigns at $500 a month.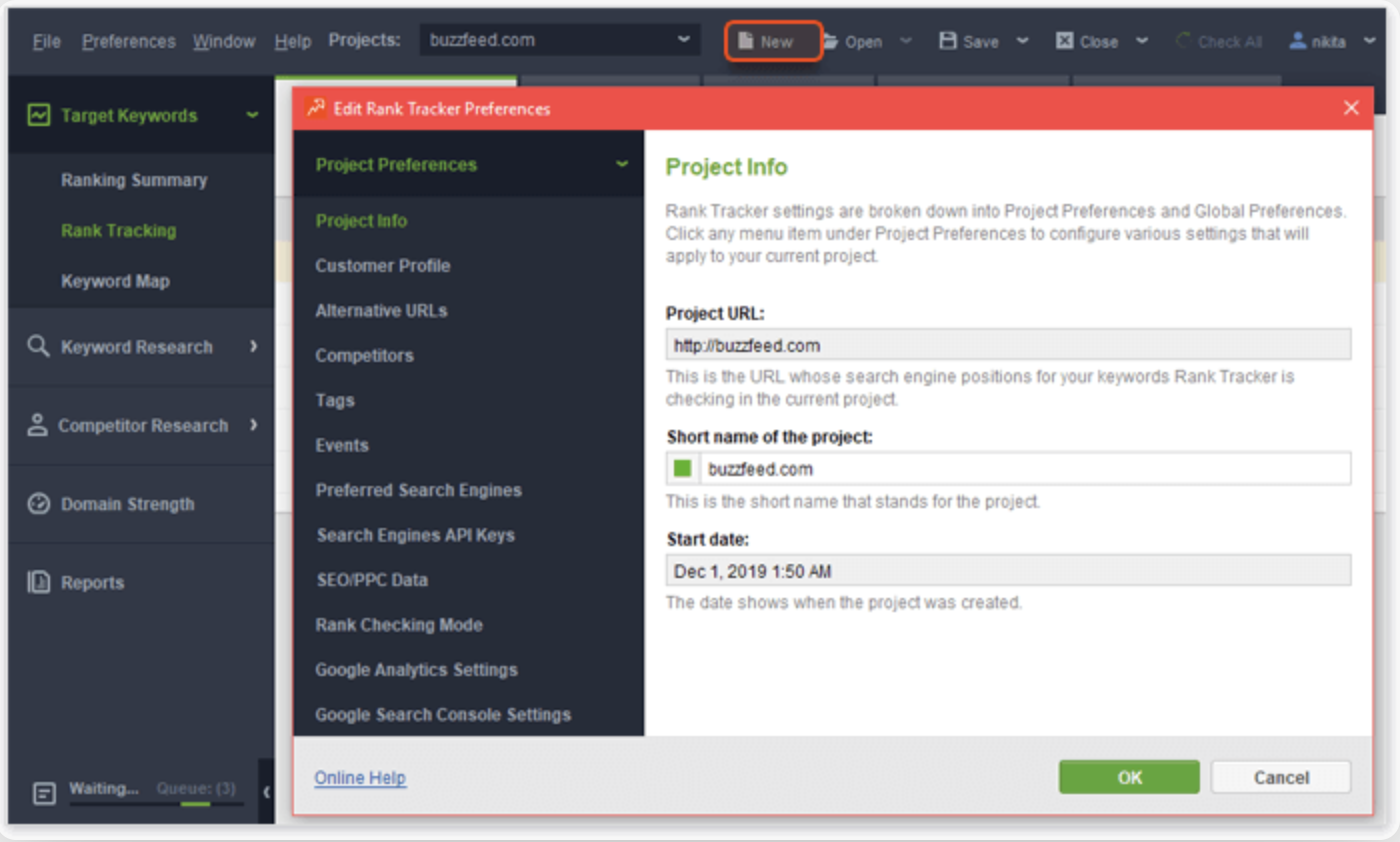 Rank Tracker pulls keyword ideas from YouTube's keyword suggestions and highlights vital metrics, such as search volume, expected visits, competition, etc.
TubeBuddy is a free browser extension that integrates directly into YouTube. It provides keyword data, video metadata, video rank, and A/B testing to help you run your channel. This tool is a feature-rich Youtube video optimizer.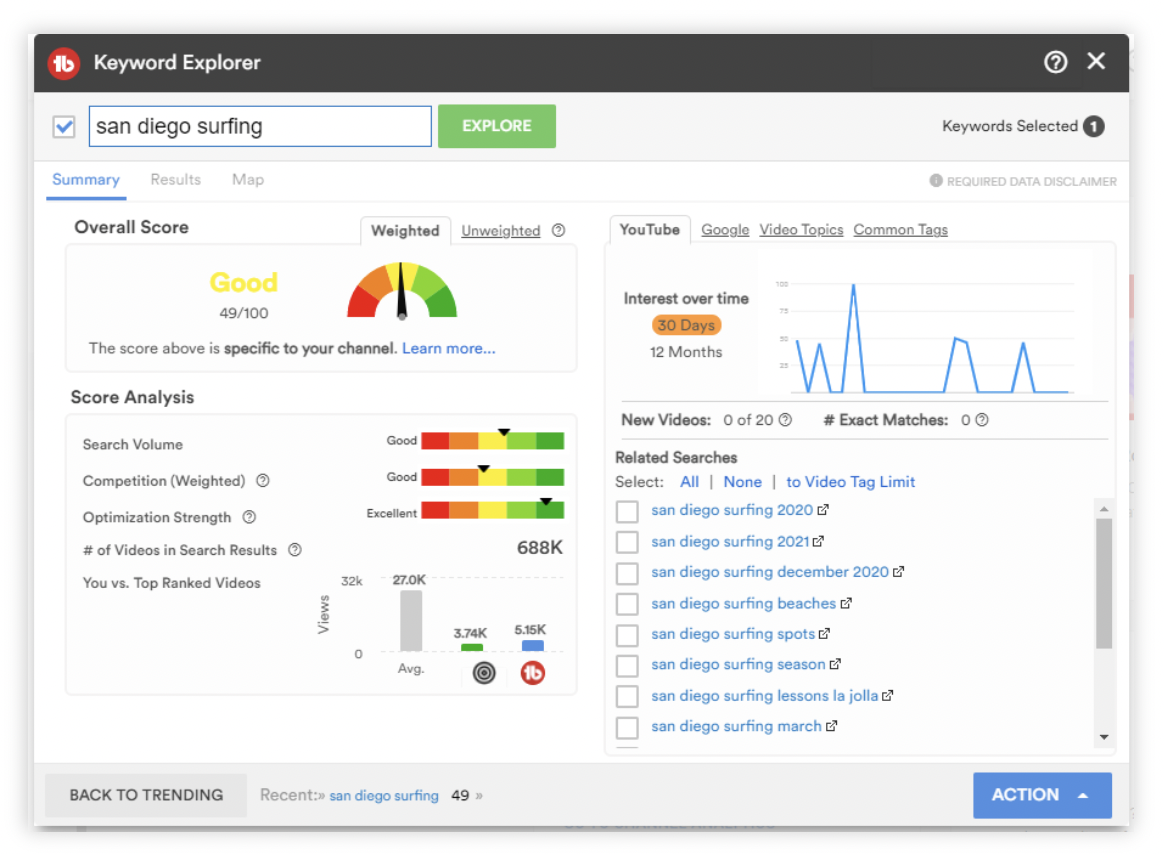 TubeBuddy aligns with YouTube's Best Practices to optimize titles, descriptions, tags, annotations, cards and more. It also points out opportunities and sends you brand alerts when people mention you on YouTube.
Once integrated into YouTube, the tool provides valuable insights into all the YouTube videos that you open. Maximize your organic reach by fetching any videos' tags, and save tons of time you'd spend looking for the best fits within the 500-character limit.
It's free with limitations. Paid plans are low at $9/month.
Another full-feature SEO video tool, Tubics gets your videos more views from idea generation to A/B thumbnail testing to analytics to tag generation.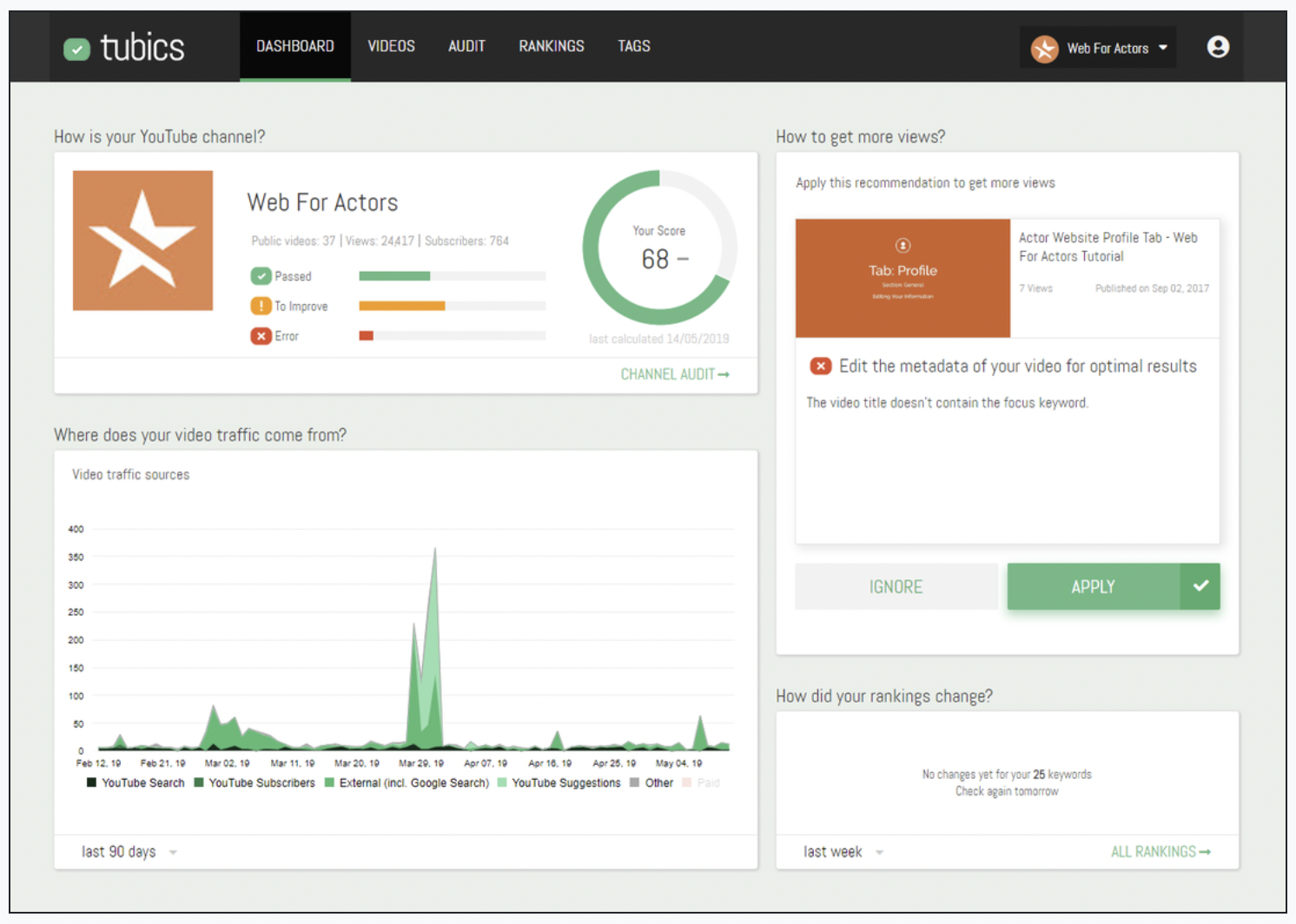 Tubics has a healthy user base from some big-name companies like Samsung and Loreal, and it walks you through your SEO journey with a step-by-step SEO checklist. Take advantage of the well-produced "How to" video SEO tutorials. Enterprise-level only pricing at $790/mo.
See how your competitors' videos are performing. The "Most Viewed" feature identifies YouTube's best-performing videos.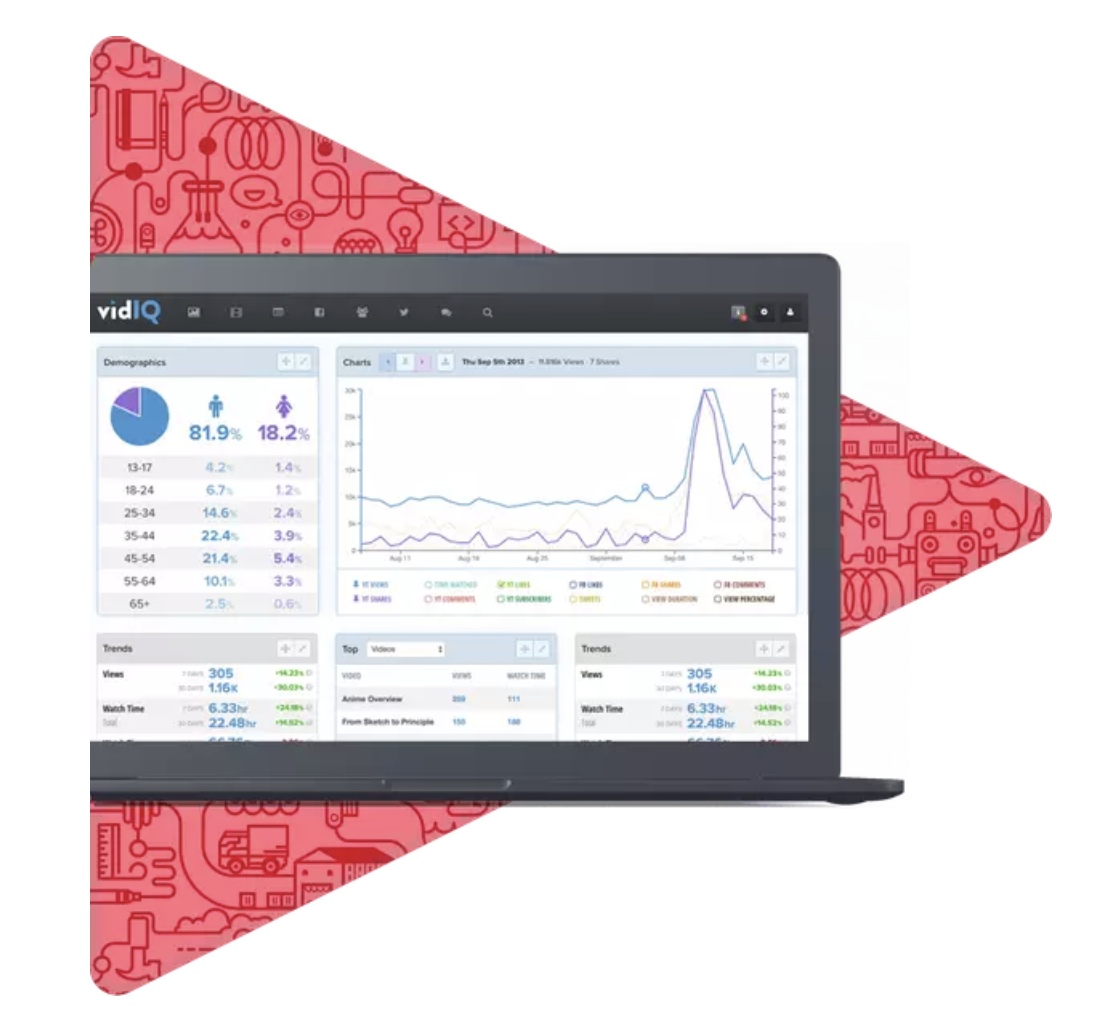 Free insights boost your tube views. VidIQ has video analytics, tagging, performance comparisons, and subscriber data.
Free or paid starting at $7.50 a month
Enter the topic of your Youtube video and RapidTags generates SEO-based tags to grow your channel quicker.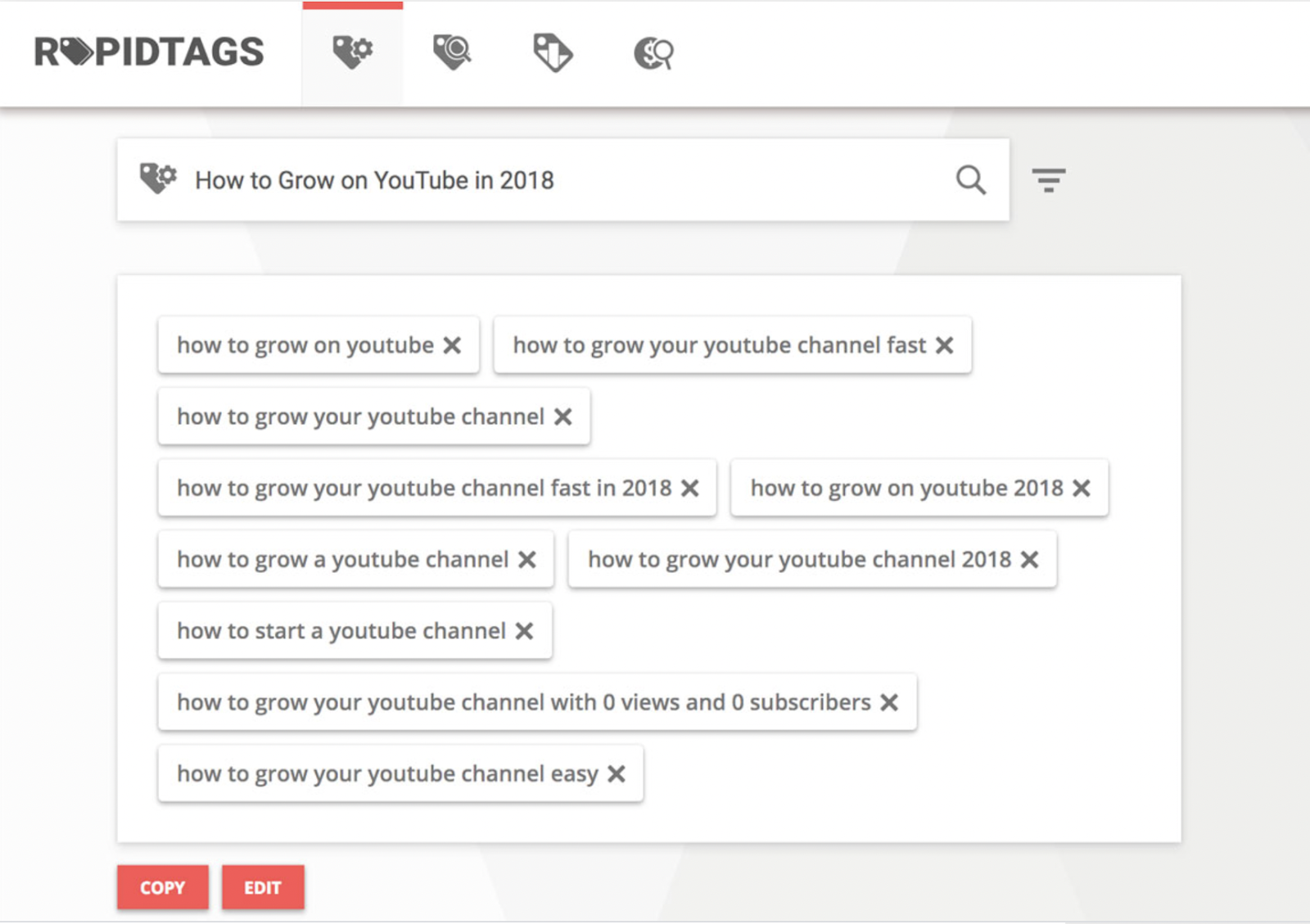 Dashboard Data Visualization SEO Tools
These tools report all your SEO work beautifully. SEO dashboards put your SEO-based data into one central hub and displays it into visual graphs, scorecards, and performance trends.
The best part?
You can customize these dashboards to show your preferred key performance indicators (KPIs). Use these tools to monitor your progress, deep-dive the underperformers, focus more resources where you're getting the most engagement, and make better decisions for the next month or quarter.
Totally free, this SEO tool puts your Google data (from Google Analytics, Google Ads, Google BigQuery etc.) in one spot on interactive dashboards and nicely-designed reports so you can unlock opportunities and make smart decisions.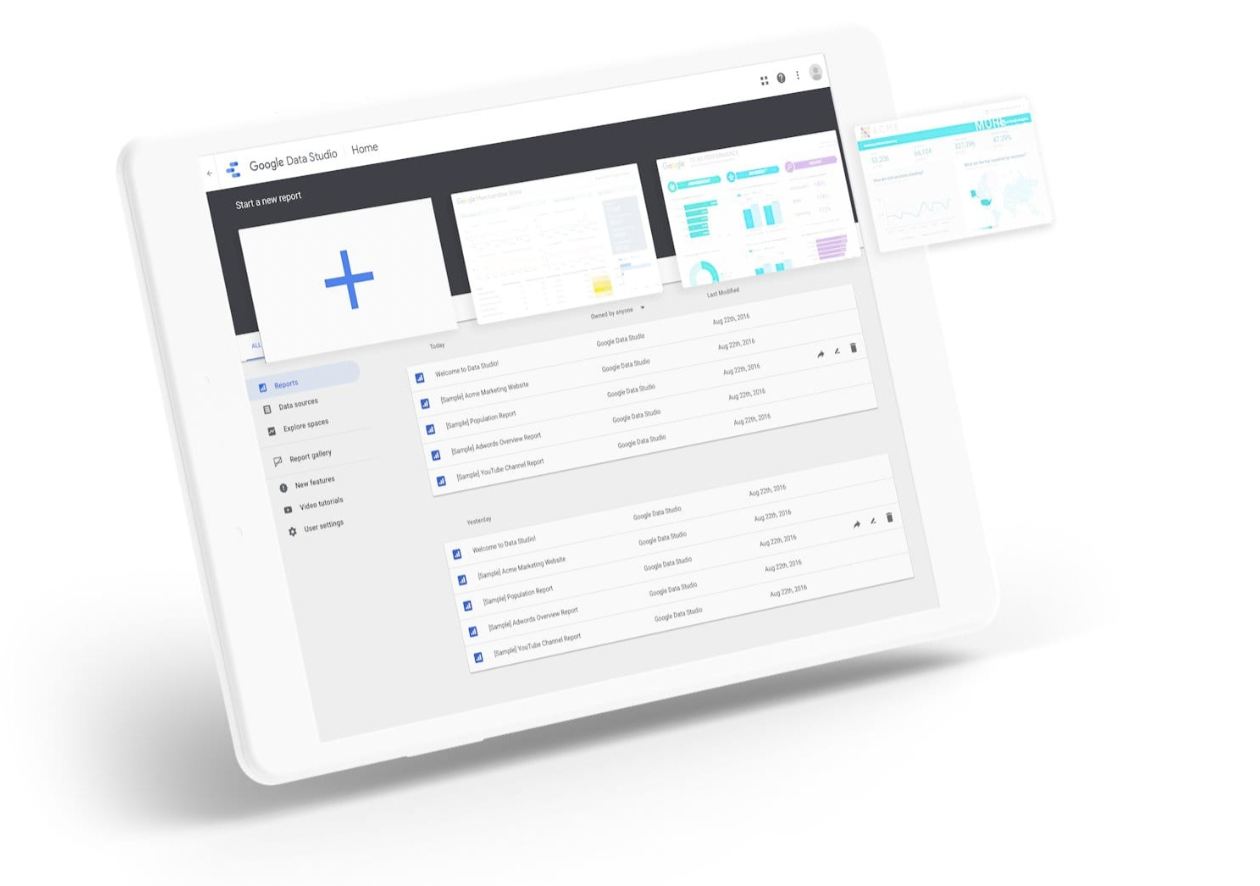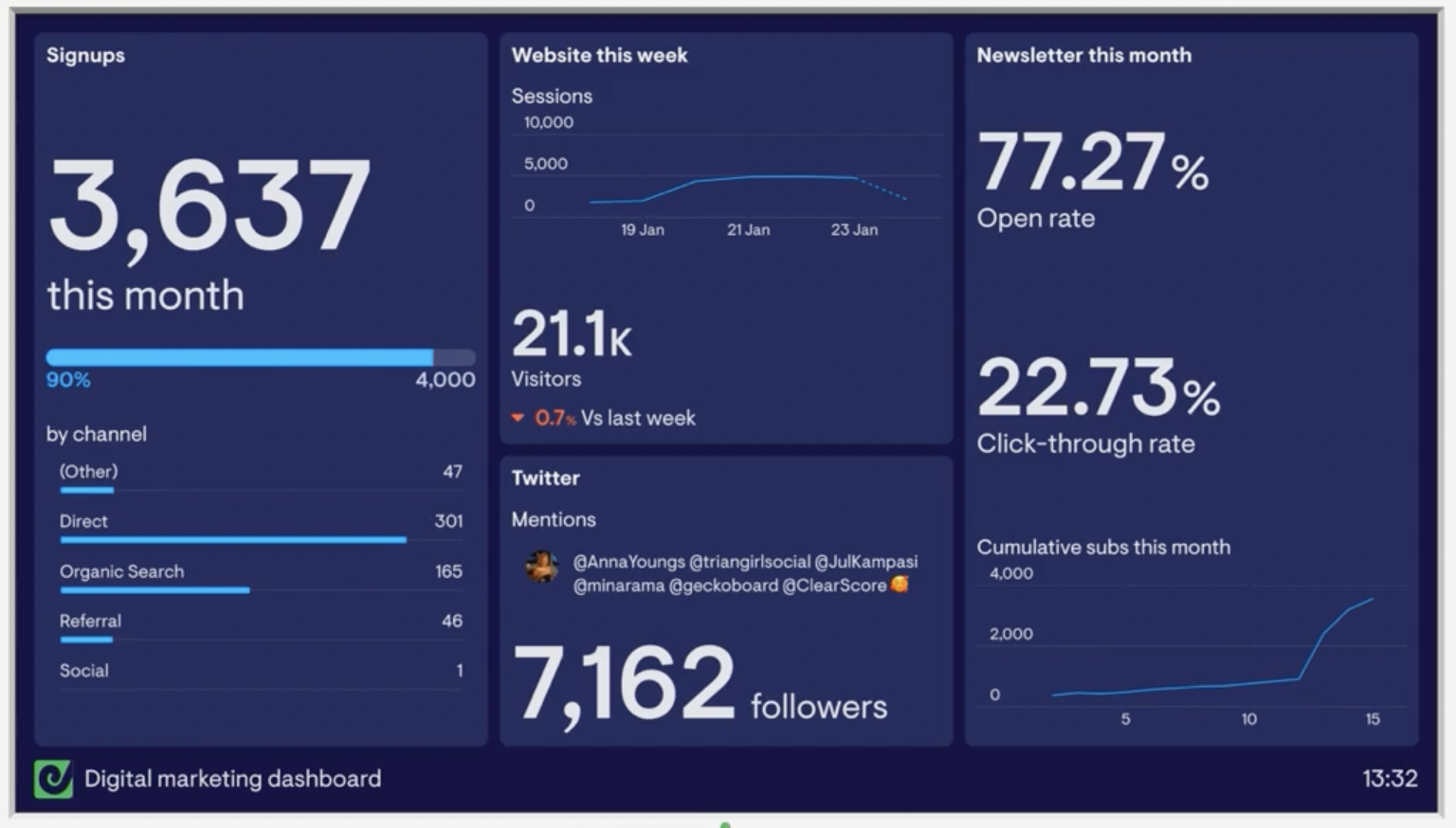 With over 60 data integrations (including Slack so you can share what's going on with your team), Geckoboard's UI is the best in the biz (even on mobile). Sign up, add your widgets, and get excited about your new control hub trusted by big-name companies (including Buzzsumo). Starting at $25/mo.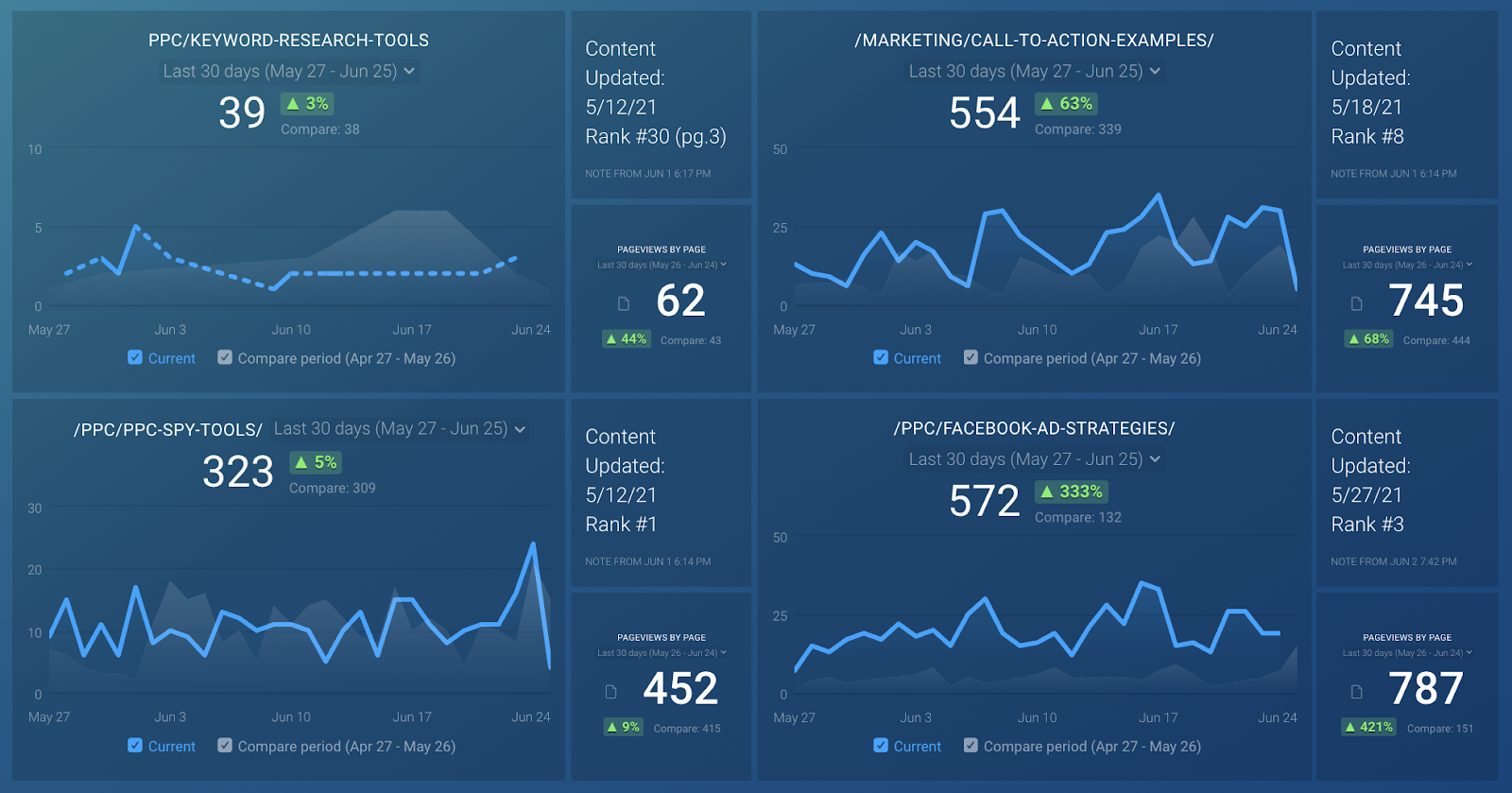 Databox is for companies or marketers who want to monitor client performance. It has a comprehensive list of customizable integrations and over 15,000 bigwig users. Starting at $89/mo, it's 3x more expensive than Geckoboard. Is it worth the extra cost? Free trial both to find out.
Special mention SEO dashboard: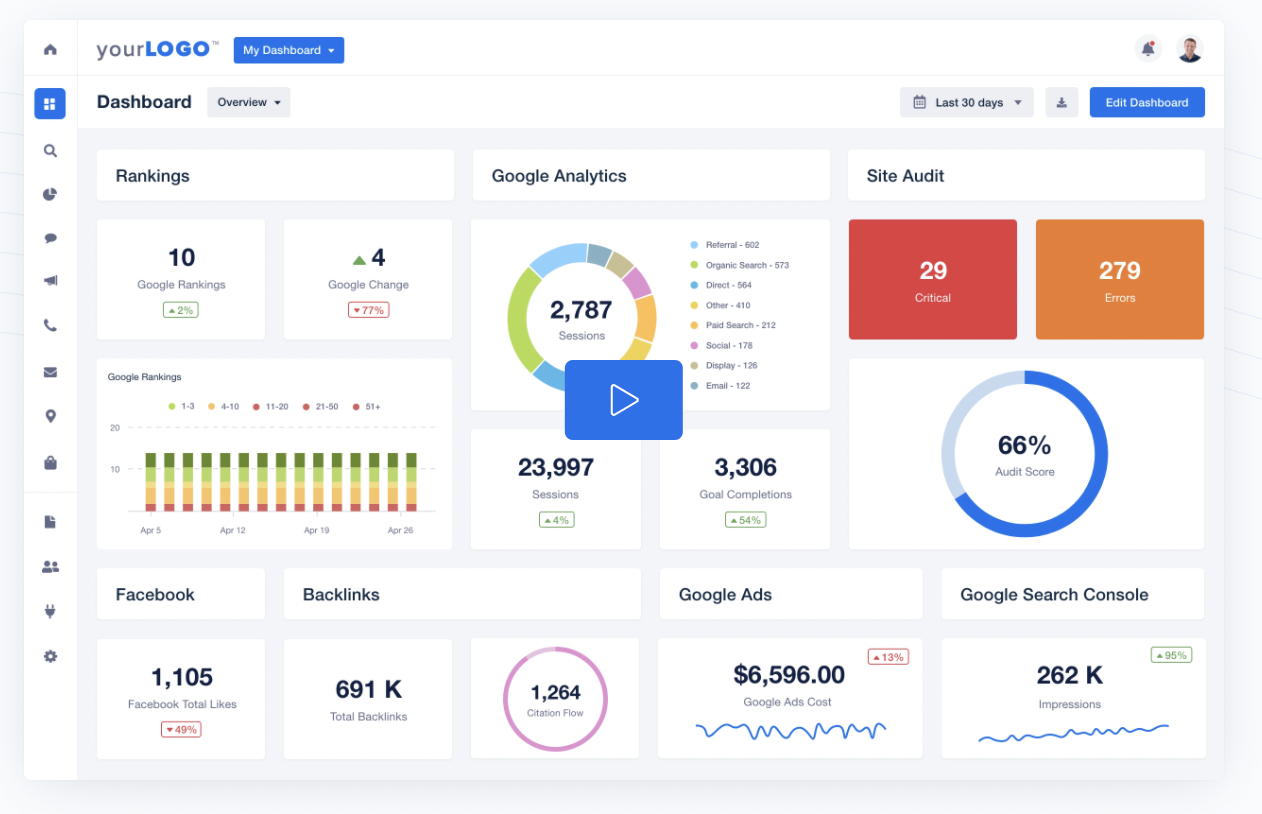 Targeting agencies who track client SEO progress, this is a white-label app that integrates over 60 marketing channels, has a completely customizable dashboard, and automates reporting. Starting at $199/mo, with reporting for up to five client companies.
The why, what, and how of SEO tools
Optimization never ends—SEO will always require regular tweaks. SEO tools provide and track valuable data. Notifications tell you how healthy your website is so that Google keeps showing you the love to appear before customers who need you and want to pay you money to help them.
Why you need them
You need SEO tools because optimization is the only way you'll outrank your competition, showing up on the first page of SERP like a sparkly diamond that gets click value.
Everything is for that click.
What you do with them
Spend money on the all-in-ones and tuck some free tools in your kit. Use them to optimize your content, the technical stuff under the page, your link strategy reaching off your pages, and your videos.
How you make more money
Understand that every business today needs an online presence optimized for search engines (SEO).
Create an SEO toolset from the comprehensive list above.
Use those tools to optimize what's not working so your customers see you more often than they see your competitors, click your stuff, and become customers.
If you don't fix those red flashing SEO beacons, you don't show up when people search for you.
So fix them.
This is a competition, and you're in it to win it.
What's next?
CRO comes after SEO.
SEO gets prospects to your page, but CRO gets them in your funnel—hooray! You've got what you need to nail part one. Now see what you can do about part two, Conversion Rate Optimization, because that conversion funnel turns prospects into customers.
Did I miss a top tool in your SEO arsenal?
Share it!