The first organic result of a search query wins 28% of all clicks in 2021.
That's pretty much a third. Spots two and three of the organic results capture the next 37% of all clicks.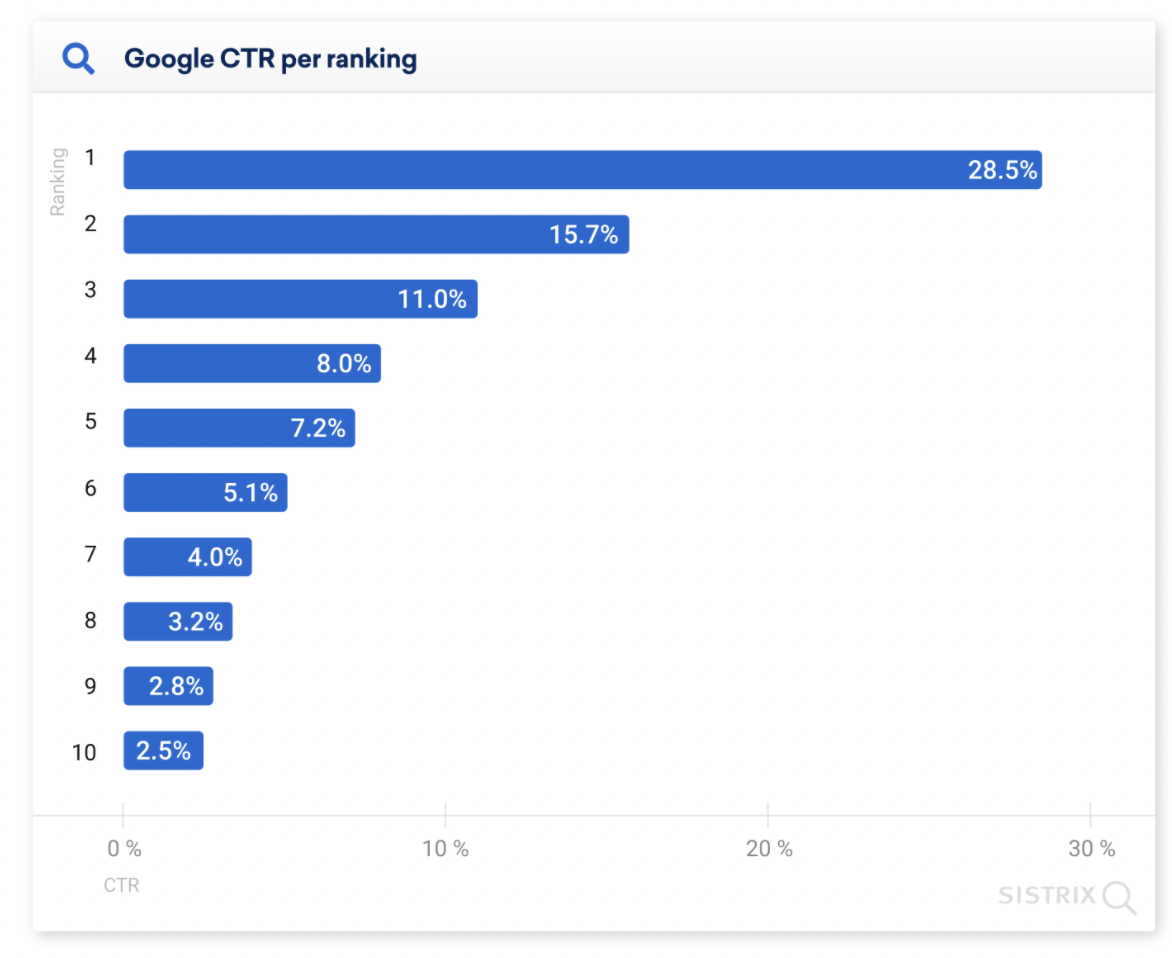 The goal used to be landing on page one of SERP (Search Engine Results Pages). It still is, but there's a new goal when it comes to keyword planning for 2021:
Aim to land in one of the coveted top three spots (or win the featured snippet) because 65% of all clicks go to the top three search results in SERP.
By the time you get to the bottom of page one, your click chances drop to under 3%—the bar is high.
But is it too high?
Should you drop your ice cream cone on the pavement and rollerskate home deflated and sobbing?
Yes, if you aren't up for the fun challenge.
But no is the real answer.
Because if you take a minute, you'll realize that you have an opportunity to hit those top-three spots for hundreds of different search results.
Getting in the top three spots for just one of those search results pulls traffic to your page. And that's when, if you've done your CRO right, your customers will start exploring, downloading, liking, and sharing.
That's money; that's two scoops on your sugar waffle cone.
You don't need to win 100% of the time.
You need to win a couple of SERP top-threes and layout your best conversion welcome mat.
Lucky for you, there are hundreds of keywords out there that are just right for your company, in your industry, in your niche, wherever your customers are in the world.
In this post, we'll give you 30 tools that do a spot-on job of flagging your unique money-making keywords so you can work them into your pages, titles, and metas and make search engines fall in love with you.
There are so 👏 many 👏 ways 👏 to come at it.
In 2021, the problem is knowing which apps to use because there's so much choice.
We've narrowed that choice down to a lovingly curated list of 30 keyword research tools worth their salt.
Know this before you read another word:
Few businesses actually put in the time and research necessary to create exhaustive keyword lists and act on them. So build a list. Then act on it. That will put you way out in front.
By the end of this article, you will
Understand the buyer's cycle to modify your keywords along their journey
Discover what your competitors are targeting
See where the keyword gaps exist between your competitors
Fall in love with long-tail keywords
Make powerful lists of semantically related keywords
Know what questions are pulling the most clicks.
Follow trends and get alerts.
Never underestimate the value of free tools ever again.
Remember, the average joe doesn't need thousands of results that an upgraded tool provides—you can design your strategy on the powerful sneak-peek insights the free versions offer.
In the same way, the biggest keyword is rarely the best.
Look to the lesser-known, smaller-bid, adequate traffic long-tail versions that have so much potential.
That's hooray for the masses.
It's time to take off your roller skates and put on your work clothes.
We've done the dirty work for you.
All you need to do is spend 10 minutes scanning our curated list of thirty keyword research tools that make mining keywords a calculated art.
Every single one of these tools provides value in slightly different ways.
We break down that value with pictures and easy-to-read blurbs. When you find one you love, add it to your bookmarks bar—build a powerful keyword research tool kit that saves time and weeds out the budget drainers.
Once you have a solid kit of keywords you want to rank for, the actual work of making sure your pages are optimized for those keywords (SEO) isn't that hard.
The challenge is to find those sparkly keywords that blow past your competition.
Challenge accepted.
Low competition keywords and outbidding competitors
A good content strategy shouldn't strictly focus on finding marginal traffic volume/low-competition keywords. In the same way, a good PPC campaign isn't strictly about out-bidding your competitors on keywords. Those things scratch the surface.
You must lead your own army; do your own keyword research.
Always chasing competitors for PPC means you could miss out on golden opportunities to optimize your budget.
Dig deeper. Look for those keywords you haven't even thought of yet.
If you discover a long-tail version of a shorter keyword phrase that gets frequent bids, that means you've found a less competitive (and likely lower-priced) phrase to bid on.
Air horn.
Keyword research makes sure you're not leaving out important keyword sets:
"I recently did some [keyword research] models for a company spending $20+ million on paid [search ads] and 40% of their products were not represented in the keyword set," Bill Hunt said in an interview with Search Engine Watch.
Ugh. Don't spend millions (or thousands, or even hundreds) on ads that don't draw traffic for half your products, okay?
There are dozens of keyword research apps out there revving their analytical engines. Pick your faves and take your keyword research to the next level.
We're going to help you with that.
As a top SEM Agency, we use the best mutherforking keyword research tools this side of Kaffeklubben to generate over $1.25 million in Monthly Recurring Revenue (MRR).
It's your turn to get a piece of that pie.
Grab some coffee. Here we go.
30 Keyword Research Tools That'll Help You Dominate the Competition Fast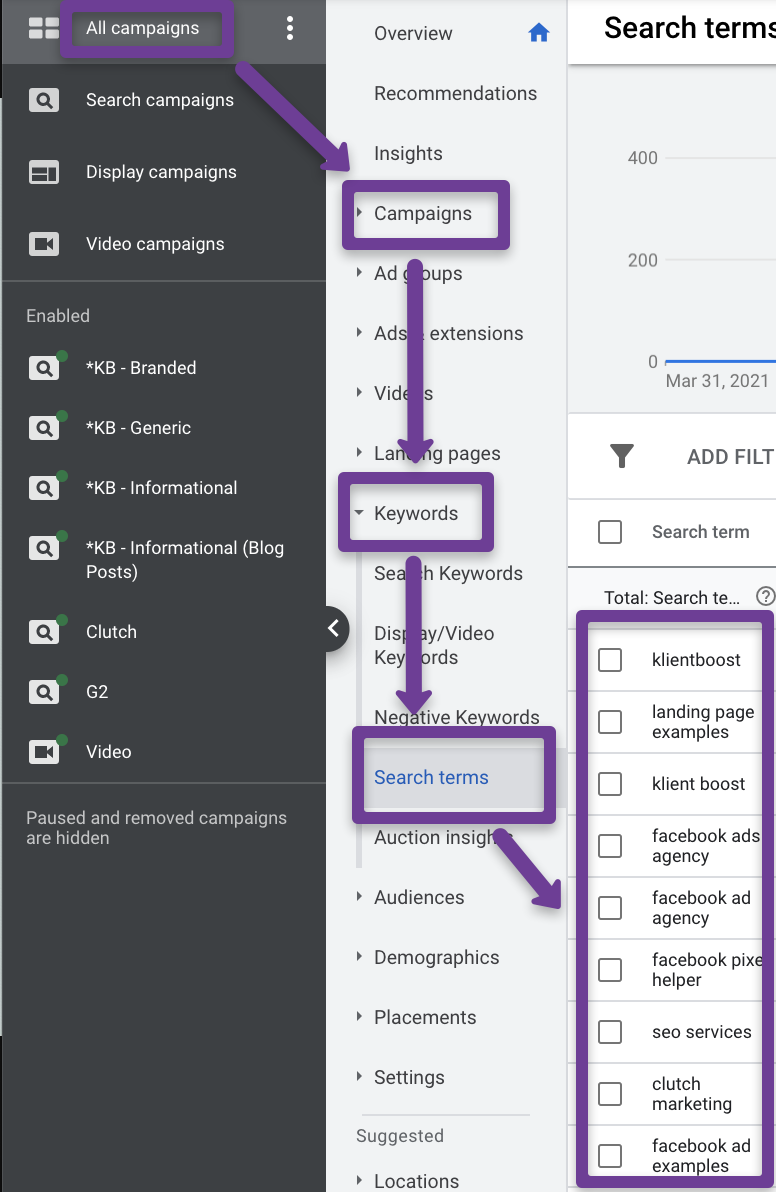 This is the big one.
We've already mentioned the importance of uncovering search terms to improve your SEO-centric content. But this is the place where you go to find those things.
Search terms are the words and phrases people type into search engines. They trigger your ads for display and, hopefully, lead to clicks. The clicks cost money, but each one can send you a qualified, ready-to-buy visitor.
You can find these search terms easily. Go into the "Campaigns" section of your Google Ads account and click on the "Keywords" tab.
Select which keywords you want to investigate, and click the "Search terms" button to see your list.
You'll see a list of all the terms people typed into Google to trigger your ads and prompt a click out of them.
Some will be irrelevant phrases (that you add to your negative keyword list). But you may also uncover phrases you haven't thought about bidding on before, or realize there's a gaping hole in your on-site content that you need to fill. Either way, you'll have a better chance of leading prospects through your funnel and toward conversions.
To see search terms, set your keywords to broad match rather than phrase match or exact match. It might reduce the ROI of your budget in the meantime, but if you pay close attention to the search queries and act on them properly, that short loss in ROI could be a good investment.
This is not the simplest tool, but it's a great one to jump start adding keywords for a new product or service. Google Keyword Planner is accessible with any Google Ads account. Log in. You have two options. We'll focus on the first: Discover new keywords.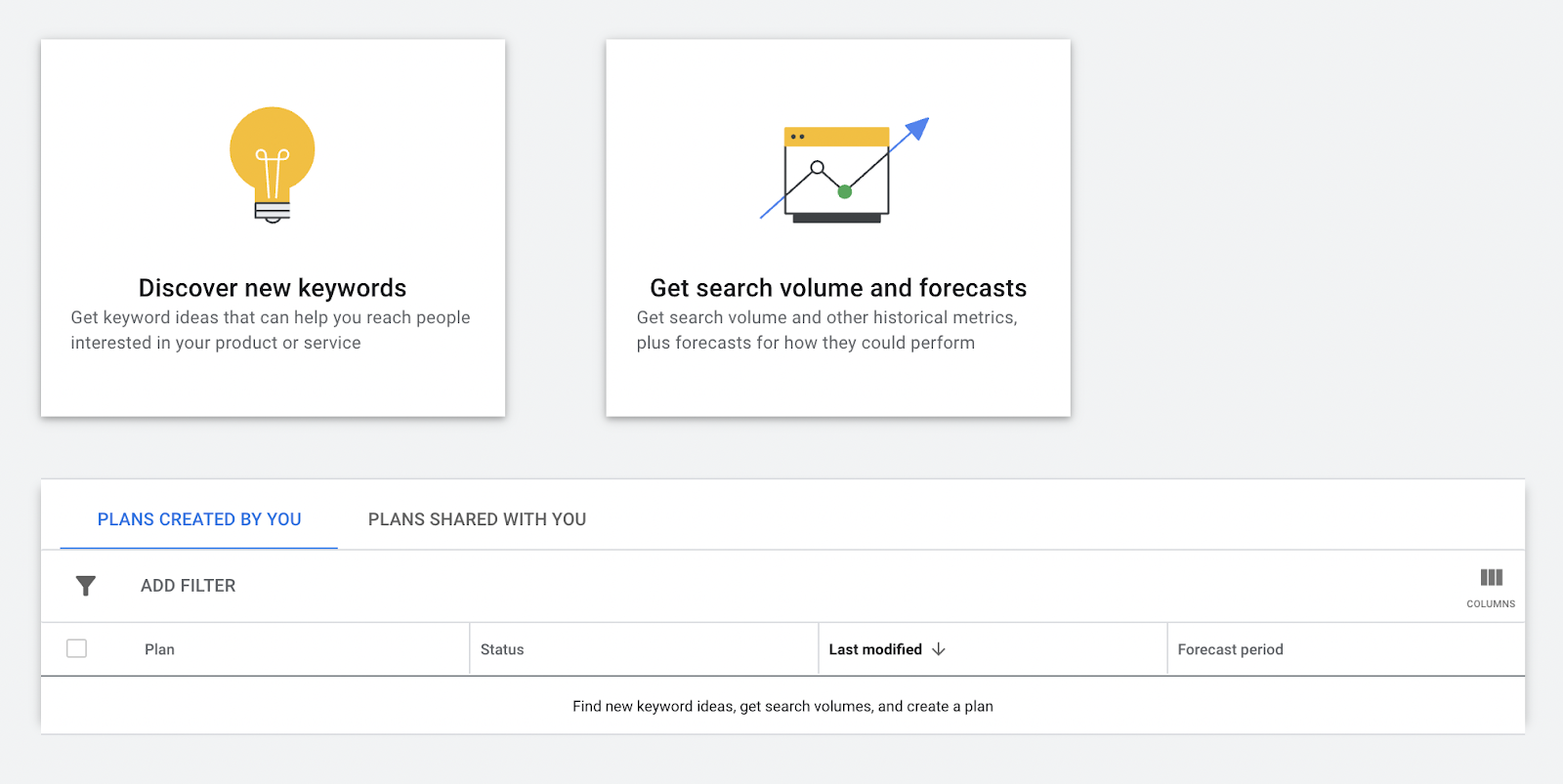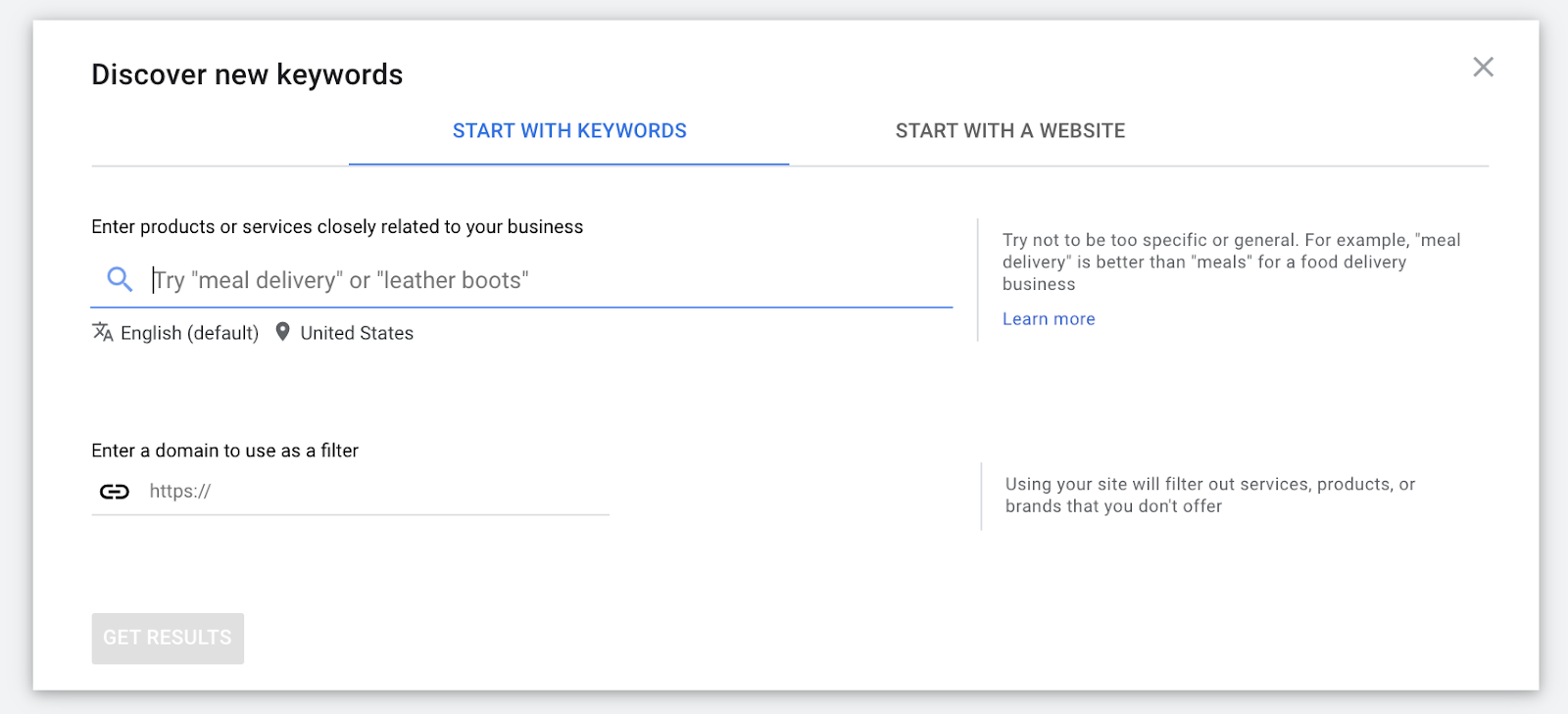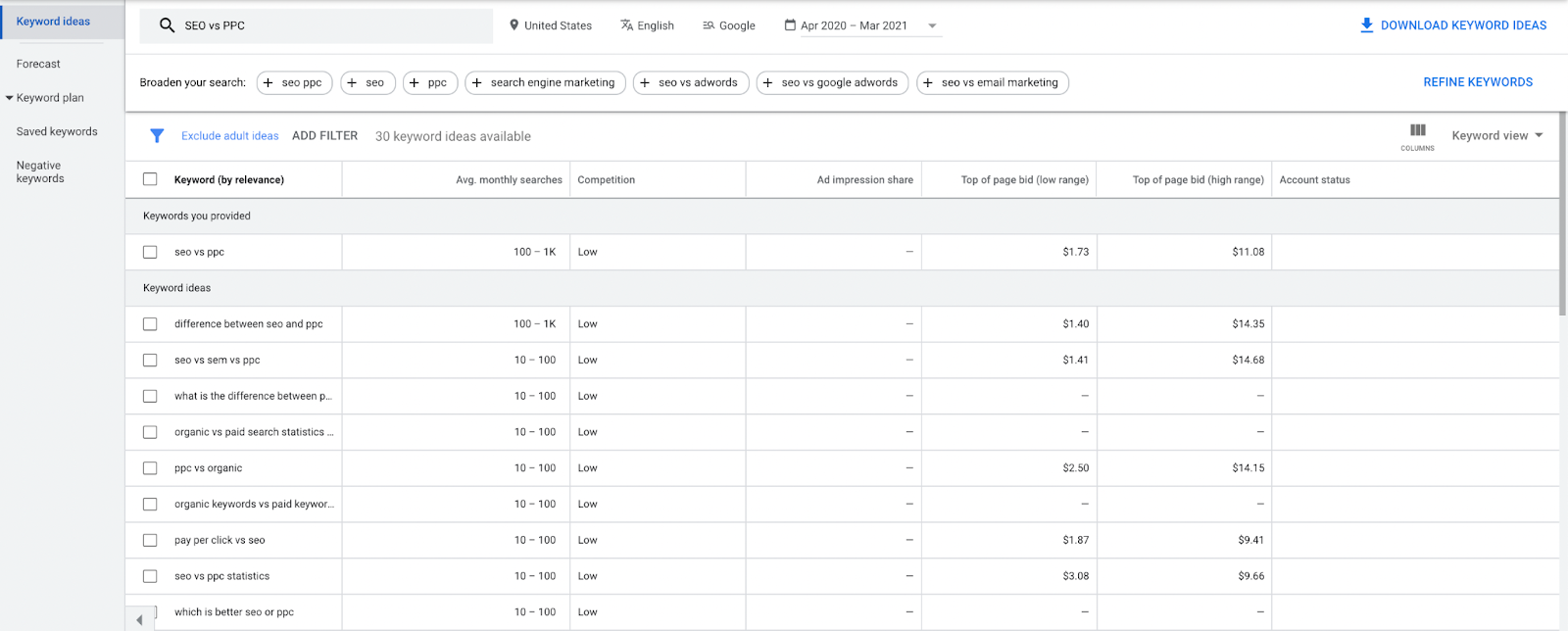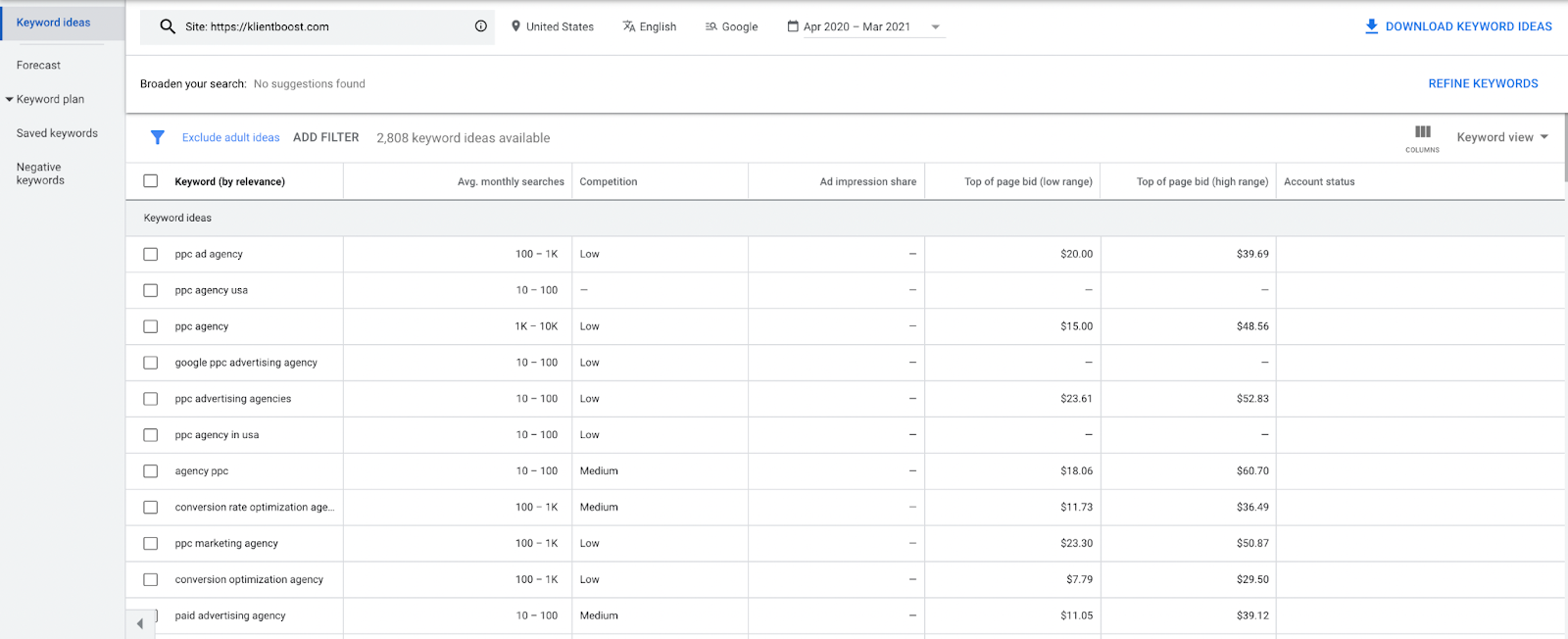 Narrow down which keywords to include with filters.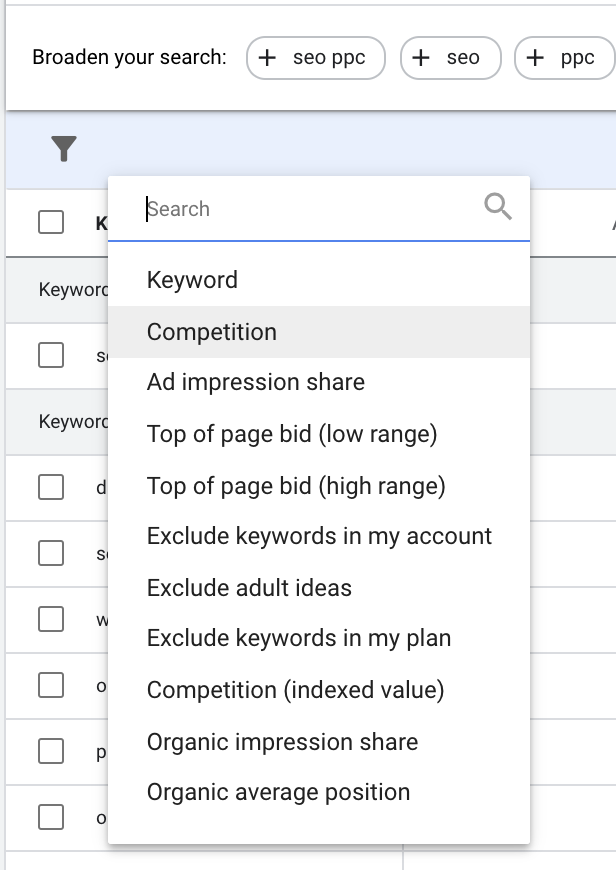 Google gives you average monthly search volume, competition, and how much you should bid and spend on a PPC Google Ads campaigns. Group keywords, change location and date ranges and download keyword ideas.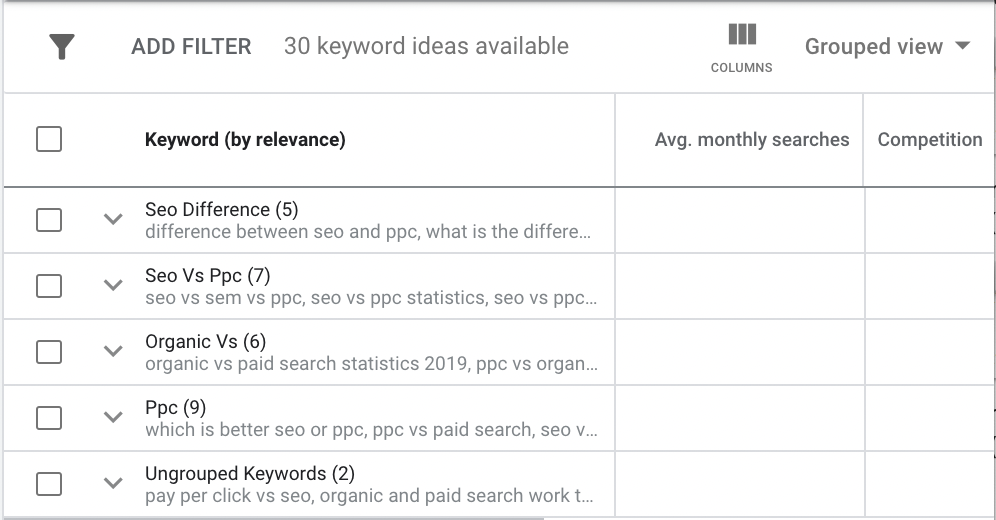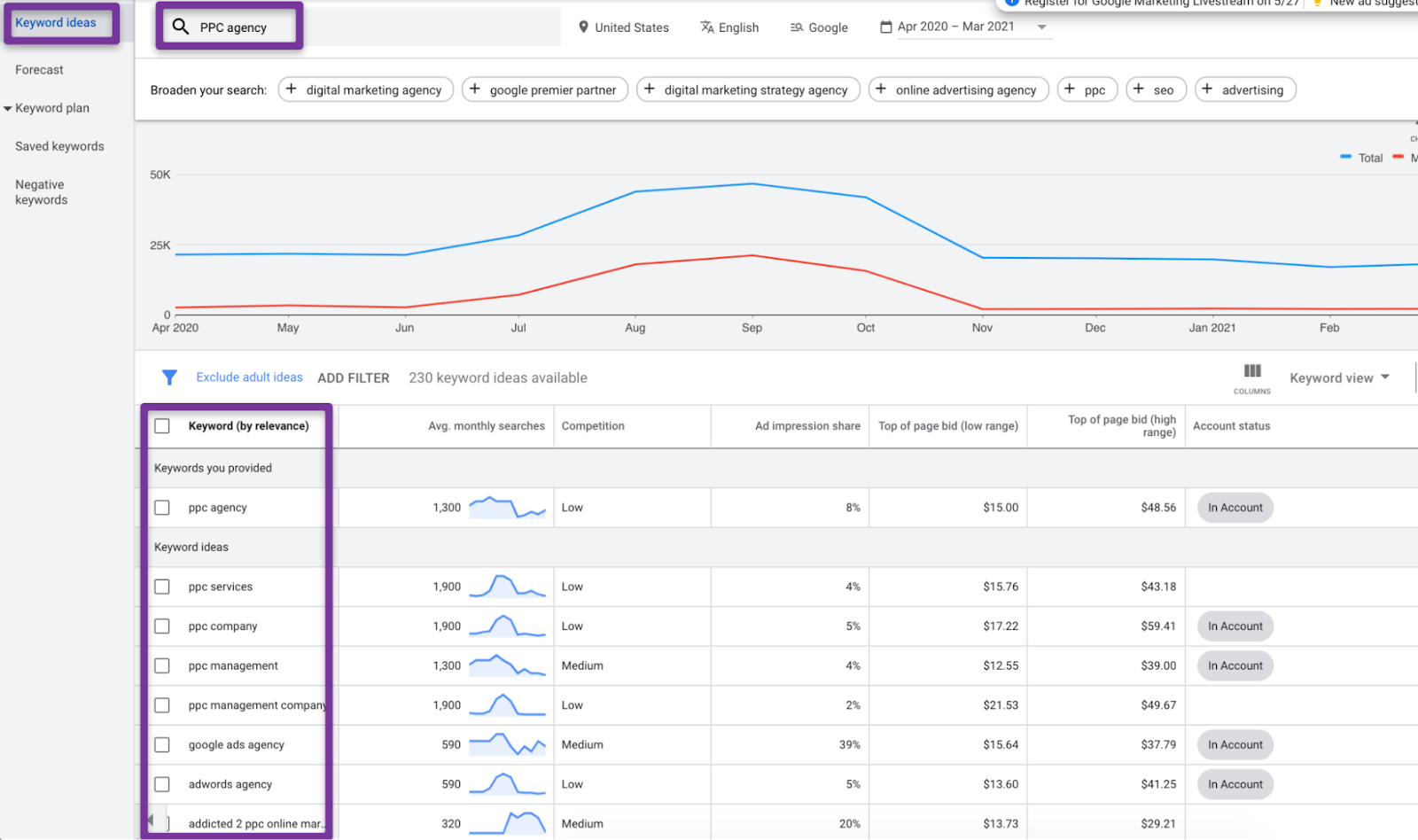 There's a lot to this keyword research tool beyond the scope of this overview. But if this tool rings your bell, check out Backlinko's in-depth Keyword Planner guide.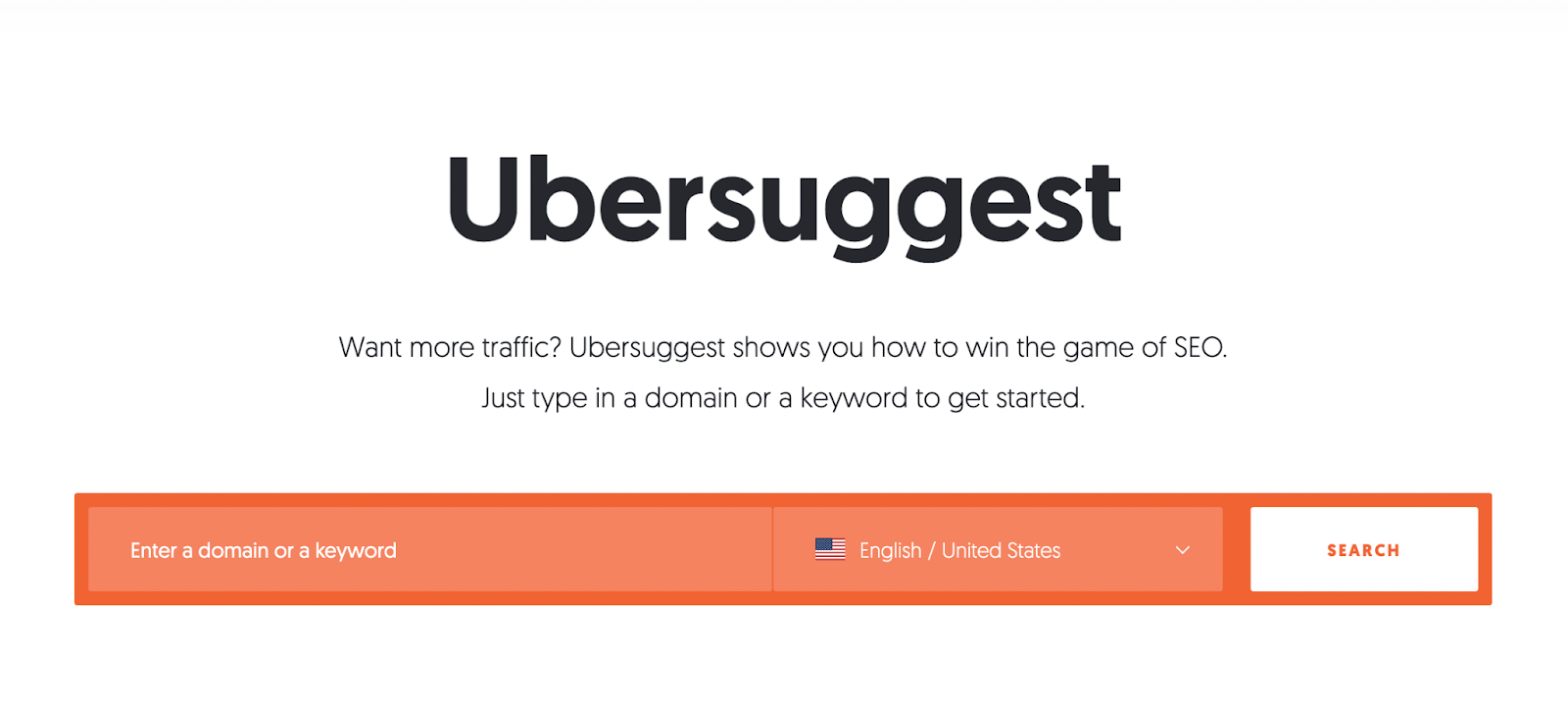 UberSuggest is one of the easiest keyword research tools on the planet. It has a dead-simple user interface. Nice. And what I mean by that is that so much information is shown right off the initial search without having to drill down.
The first screen lets you do one thing: Enter a domain or a keyword.
From there, an exhaustive list of potential terms appears along with a done-for-you analysis of keyword overview, top SEO pages, keyword suggestions, content ideas, and backlink data.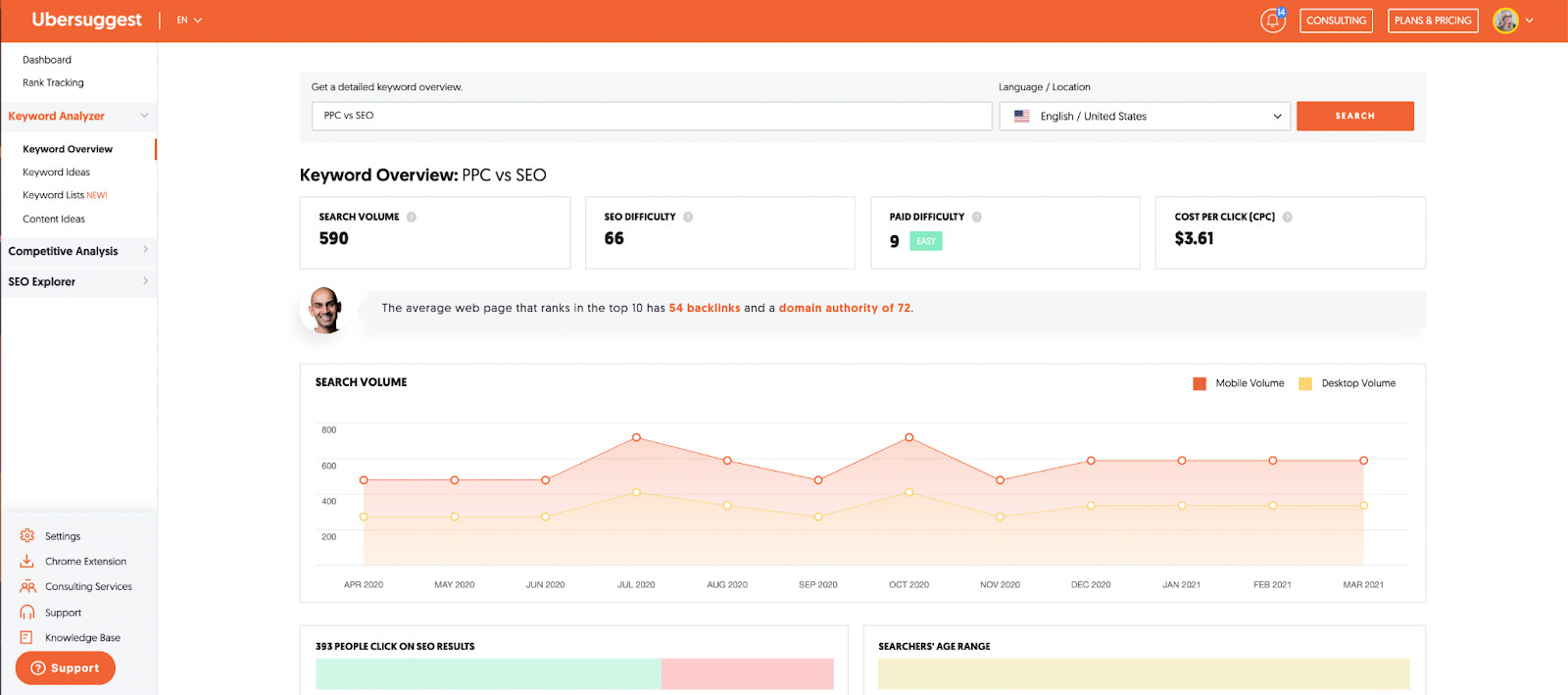 As a newbie, the left sidebar puts all my options right there without knowing a lot about those things. The keyword overview bar is really helpful.

I know right away how much volume my keyword gets and whether it will be difficult to win these clicks (and what I'll need to do to compete with the average webpage that ranks for it).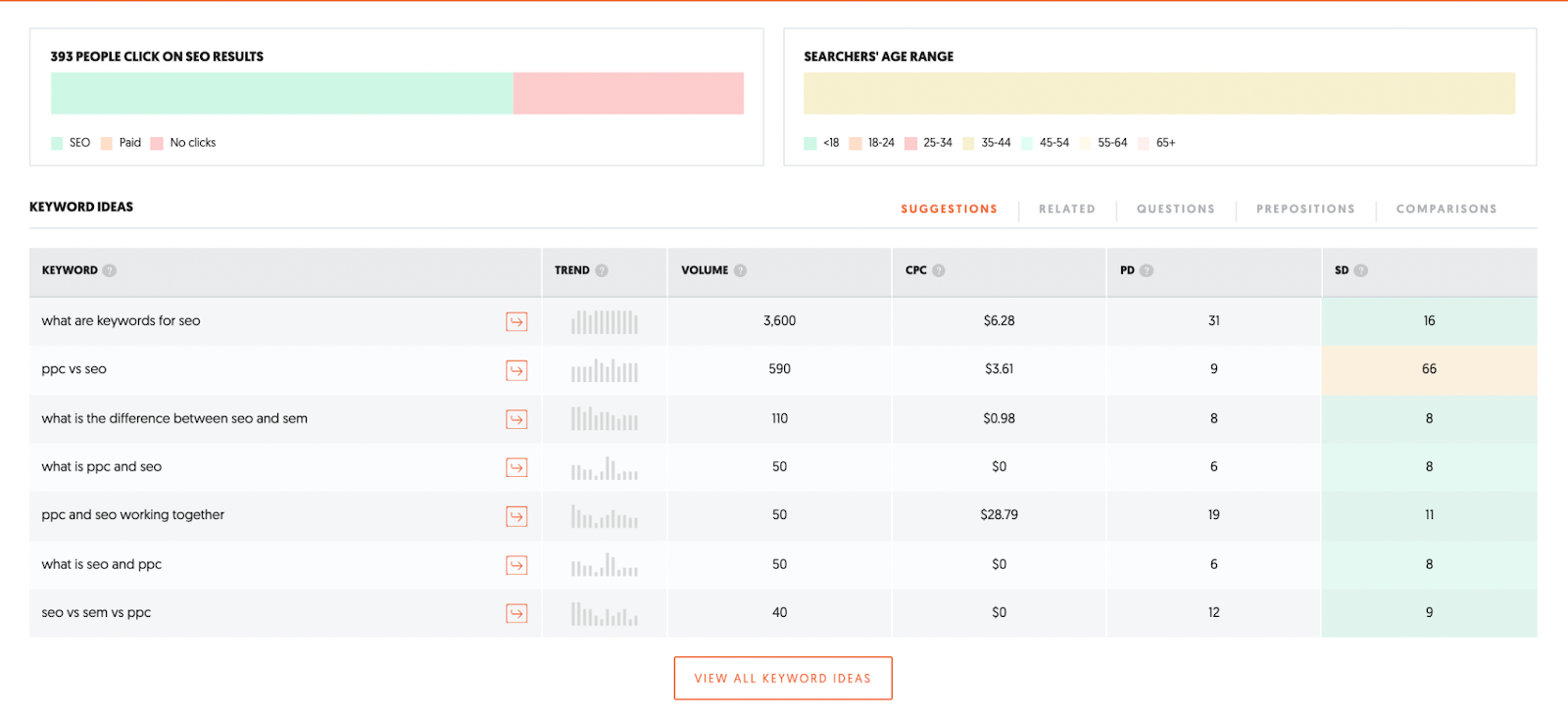 If I do drill down by clicking on a keyword that looks good to me, Ubersuggest gives me more suggestions, related keywords, questions asked in Google search and more. I can filter by any of the columns, and I have color coding to guide my decisions.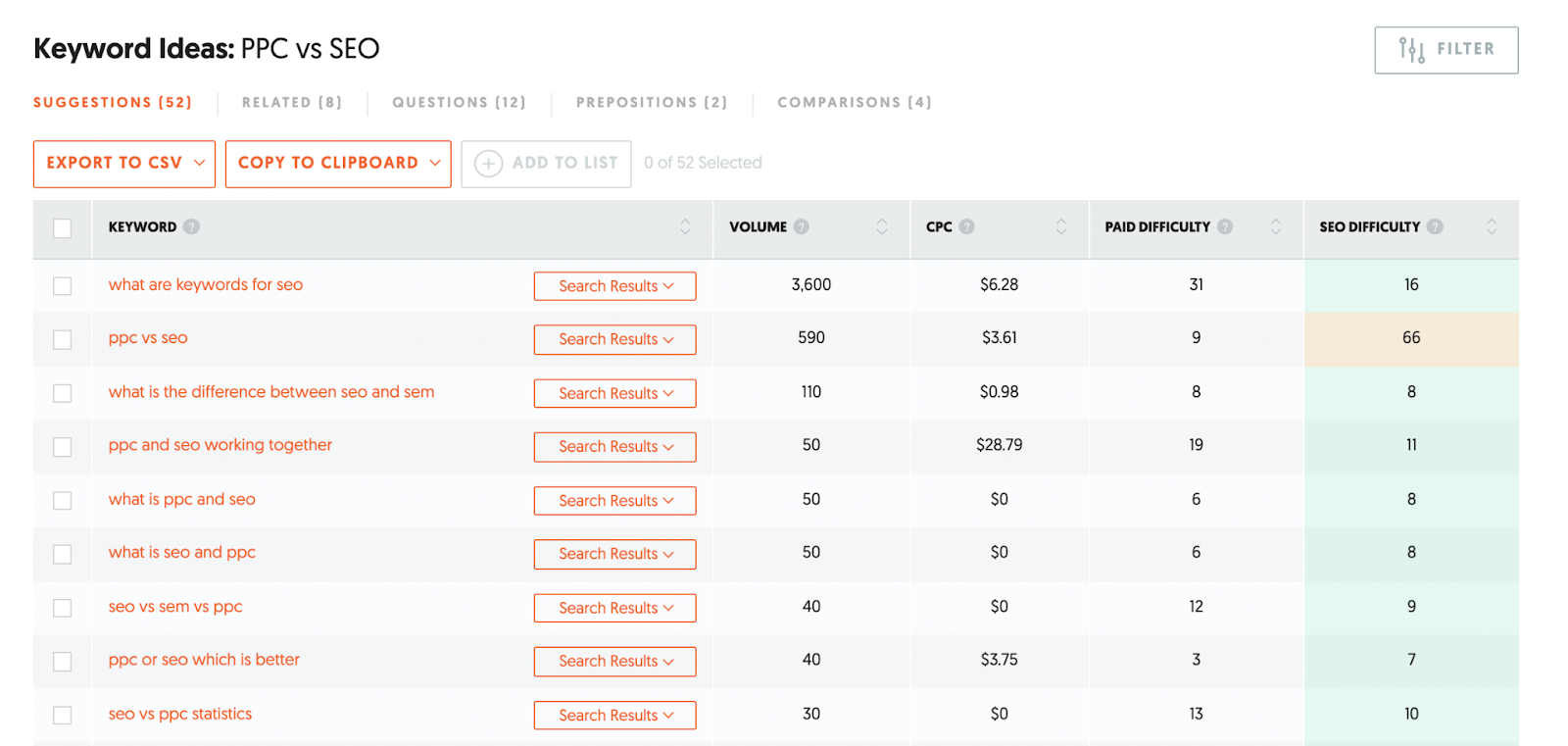 This keyword research tool is a one-and-done gem designed beautifully. At every step, the options you should explore appear for you, guiding you toward the best result. With the free version, you'll get enough keyword information to get started. If you love this keyword research tool, try out the free 7-day trial or buy a lifetime membership for 90% off the annual subscription cost.
The one downside? Neil Patel's bald branding all over the place. You'll either find this adds a personal touch, or you'll find it creepy/annoying.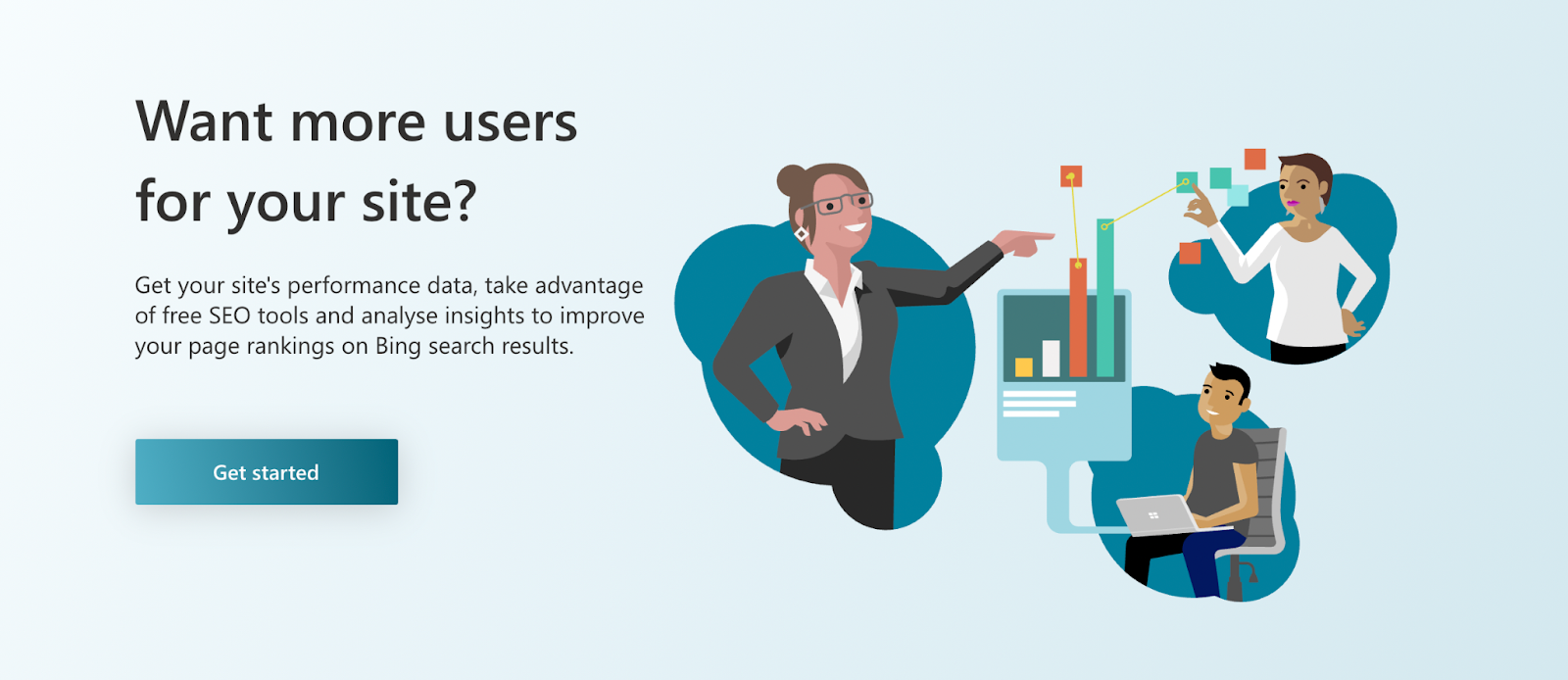 Like Google, Microsoft Ads (formerly Bing) has its own keyword research tools to help people running ads on the Bing search engine make smart choices about which keywords to bid on.
Something cool: Microsoft Ads' data is based on organic search—nothing paid.
Once you create an account and sign in, the tool is straightforward. It's similar to Google's Keyword Planner if you have experience using that. You can import your data from Google Search Console and skip .xml verification set up—efficient.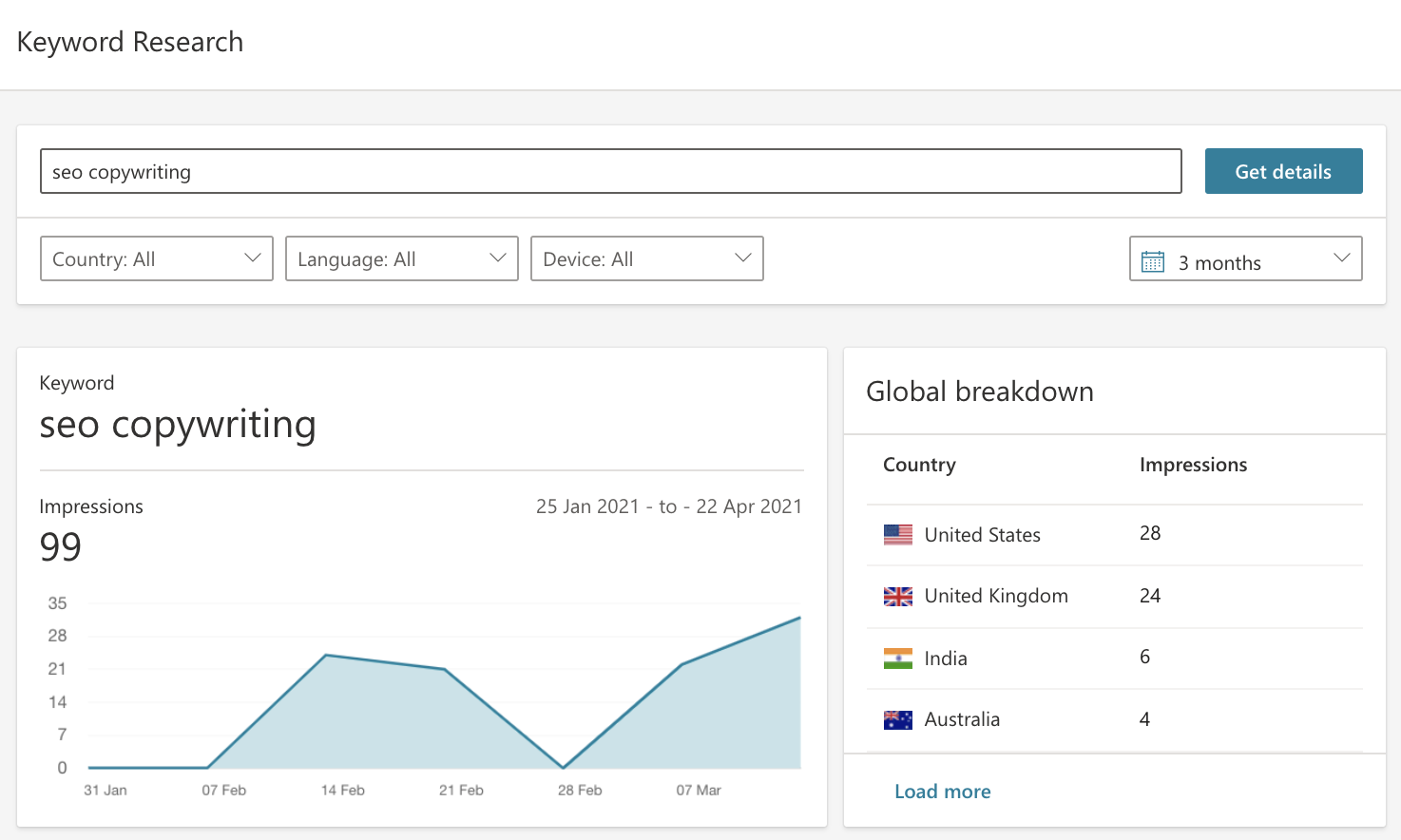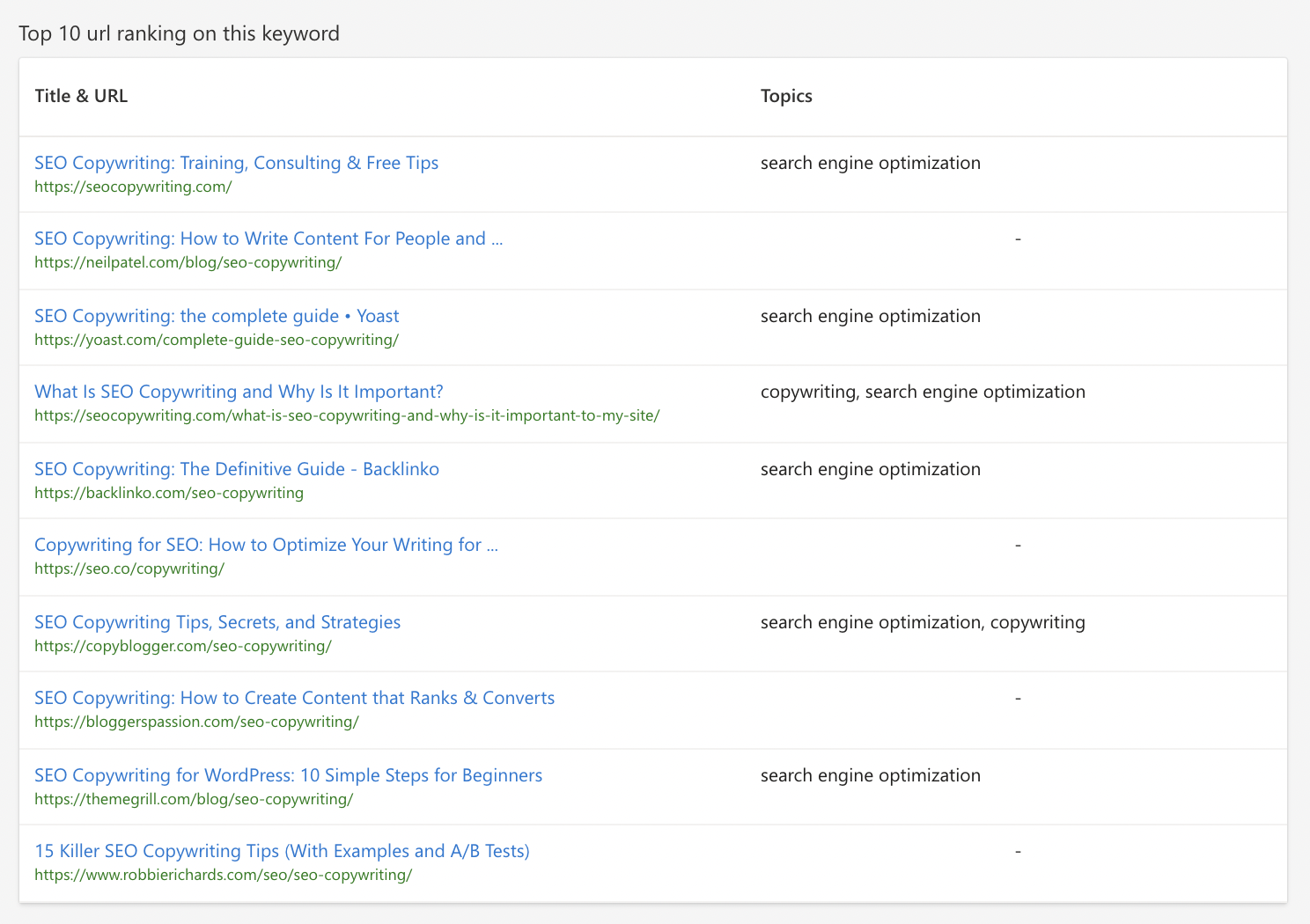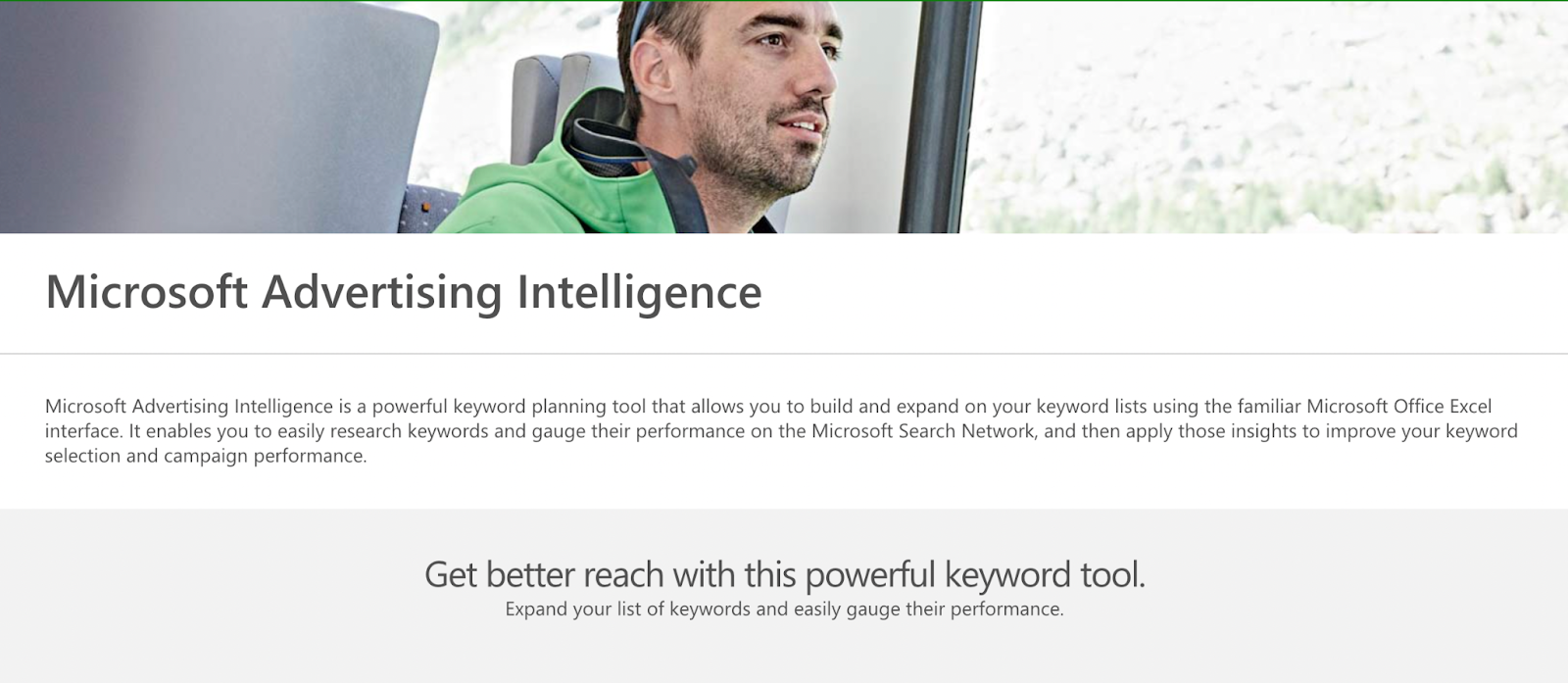 Beyond their online interface for keyword research, Microsoft Ads Intelligence is a downloadable desktop tool that expands on your keyword lists (better reach) and integrates with Excel. It's specifically designed to help you optimize your PPC performance within the Bing ad network.
Download your keyword campaign to get started. Microsoft Ads Intelligence will eliminate duplicates and perform keyword expansions (suggesting new keywords) based on your current list, so you make smart choices about which keywords to bid on.
6. Google Chrome Hack
Okay, this one almost didn't make this list because it's not really a tool. It is, however, a handy keyword research tactic that might be the best way to directly spy on your competitor's keyword strategy.
All you have to do is go to your competitor's web page. Right-click, and select "View Page Source."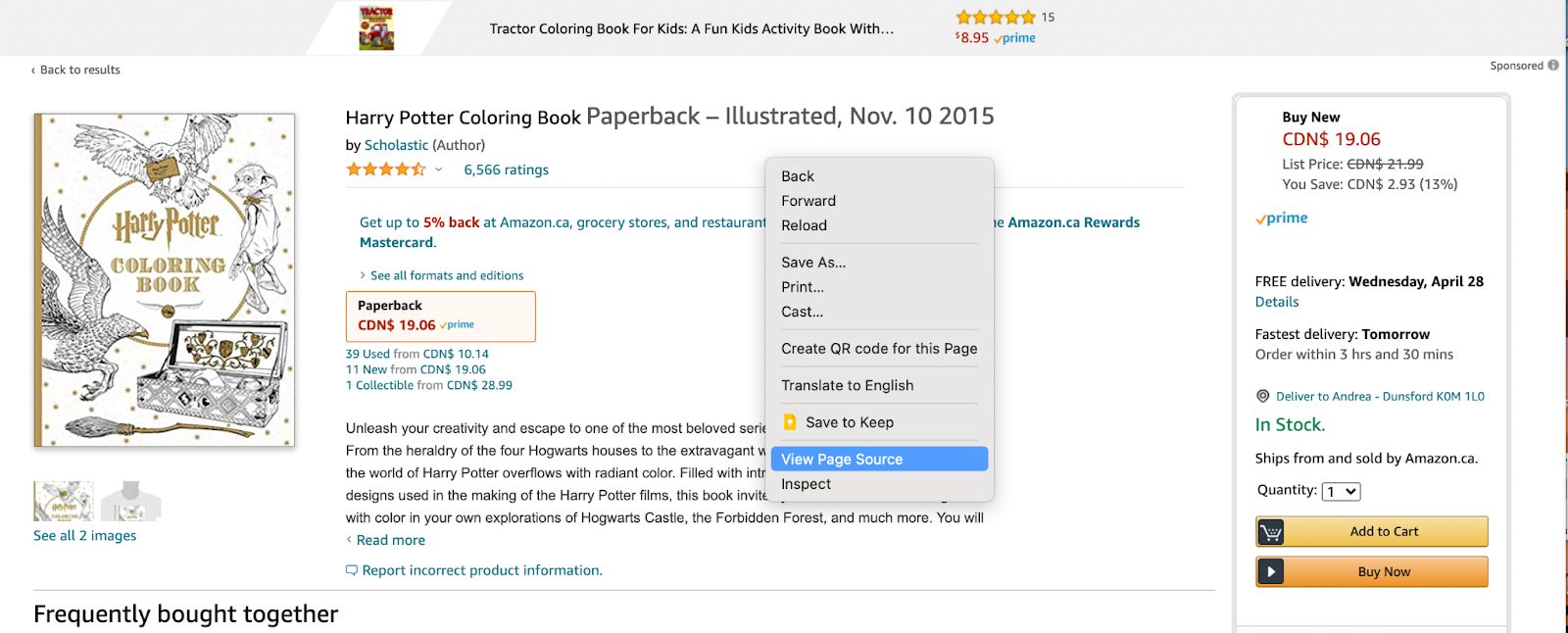 When you do that, a new tab will open up with loads of code.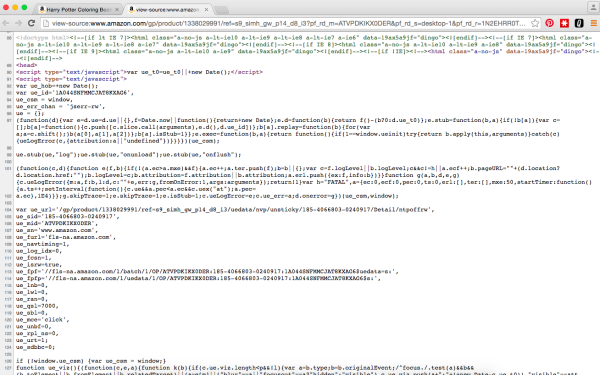 This is where the magic happens. Click "Command+F" to find what you're looking for.
What are you looking for?
Hierarchy tags like "title," "H1," "H2" and "keyword."

View page source, then look for keywords and hierarchy tags. Easy.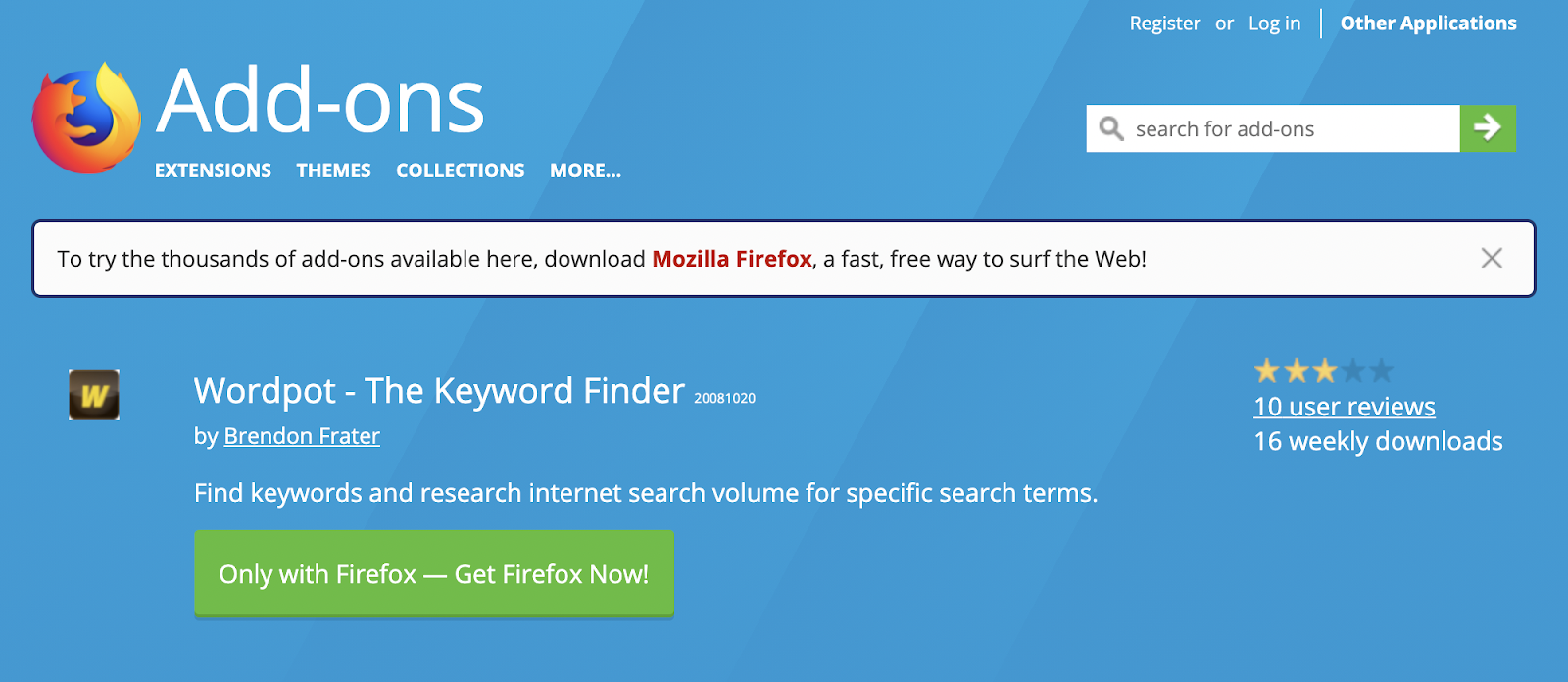 Wordpot is a Firefox-specific add-on that shows you search volumes for the search terms you're interested in. Simply type in a search term, and it shows you other relevant terms and their traffic. Nothing overly fancy, but sometimes simple tools provide simple insight.

Serpstat shows the top Google results for your keyword, including the URL that wins the featured snippet if there is one.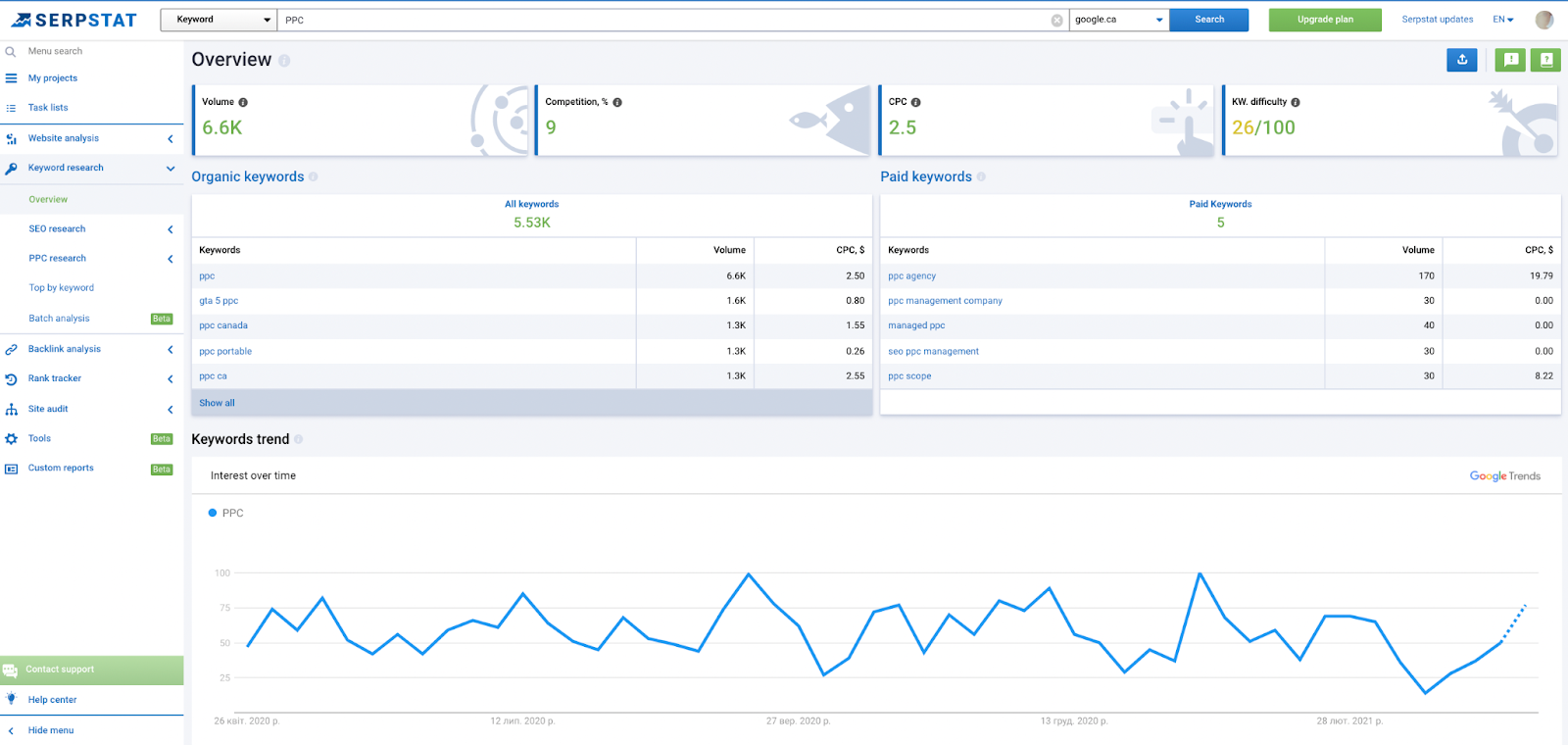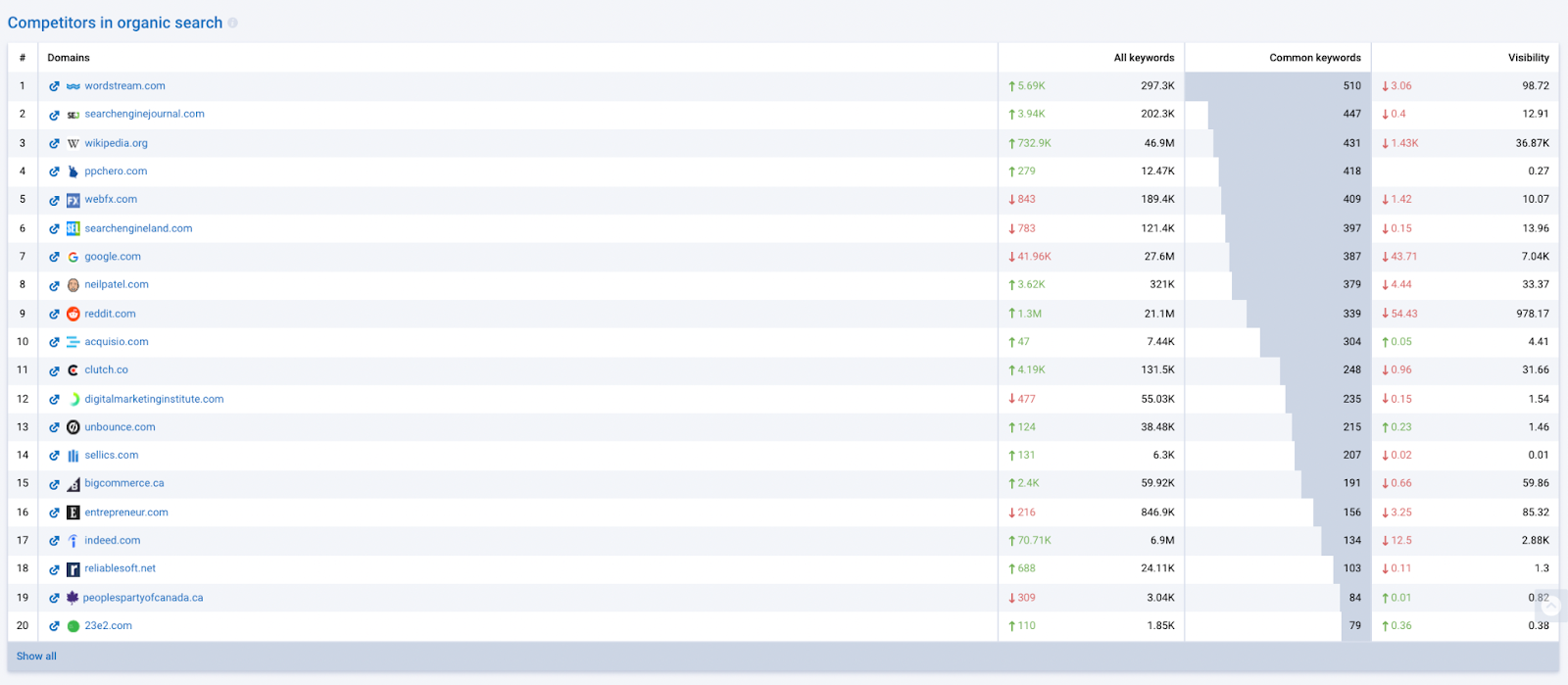 Also visually-handy is a graph that shows competing domain proximity based on semantic structure. The vertical axis measures recall (queries that rank in the top 20 for that keyword), and the horizontal axis plots precision (domain relevance for that query).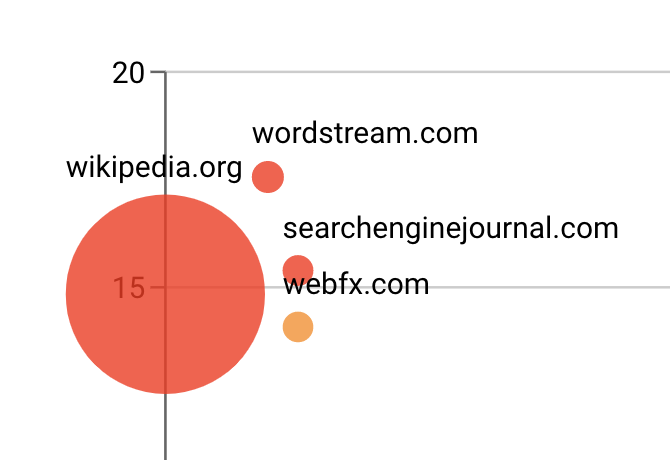 Lastly, click on competing ad links to get your own keyword bidding ideas.

Google Alerts is a keyword tool that's more inbound than outbound. That means the good stuff comes right to you instead of you going out looking for it.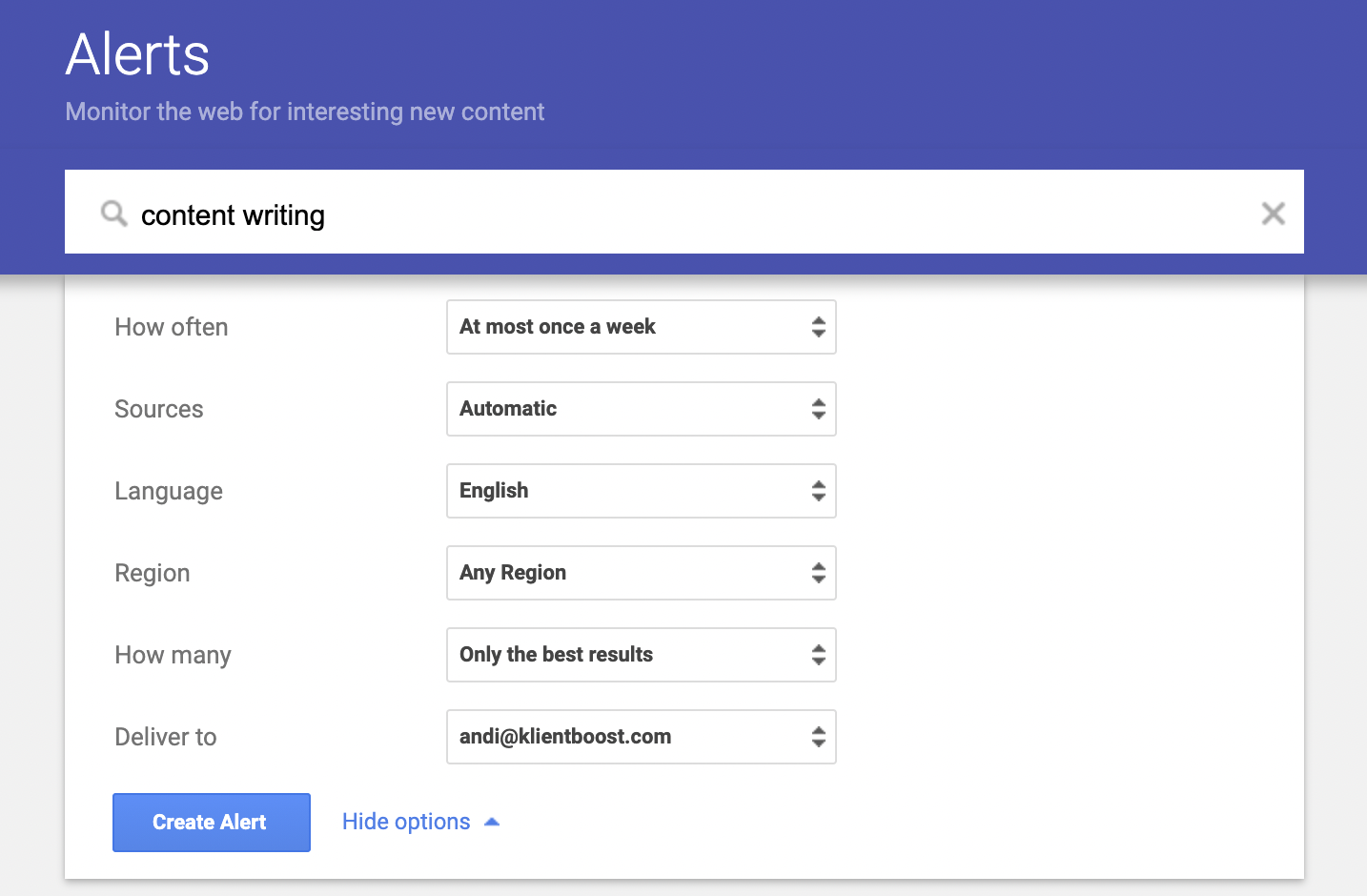 Sign up for Google Alerts. Enter your alert keywords, source preference, and desired frequency. Google will deliver the most significant news in your niche to your inbox.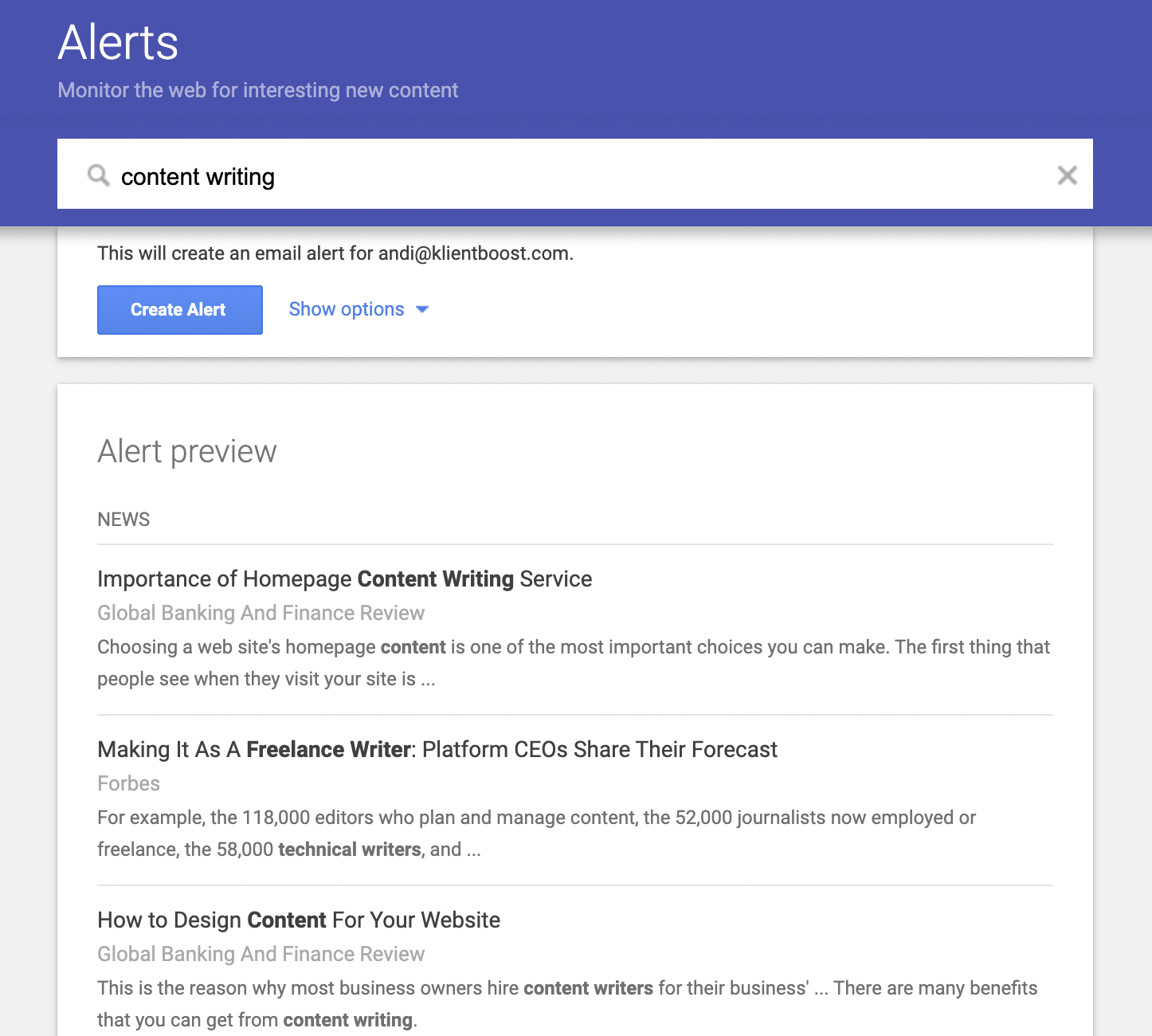 Staying on top of trends (keywords and other things) informs the offers you provide your audience.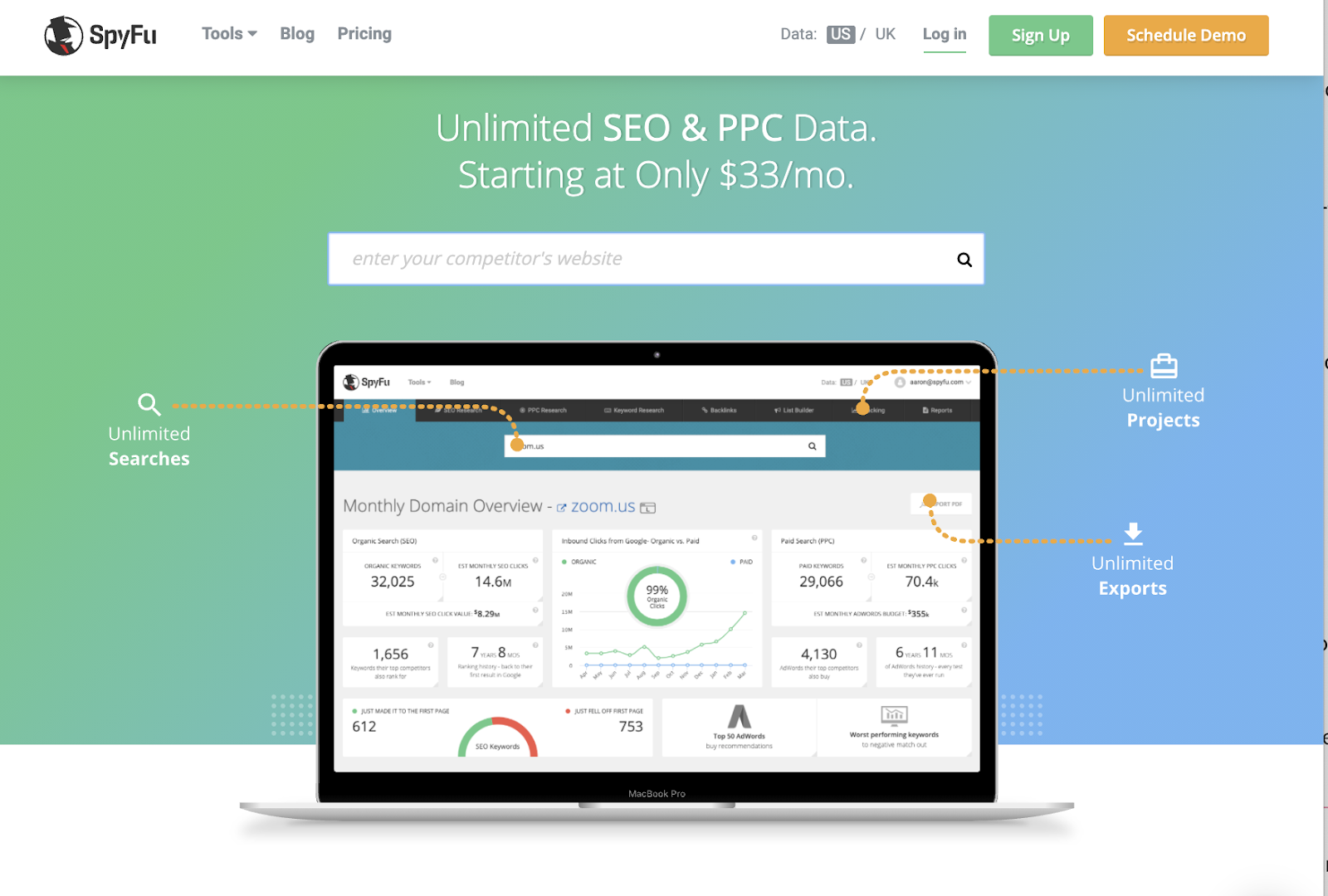 The makers of SpyFu might have been actual spies at one point.
This program is legit.
Oh, how SpyFu wins a bunch of points.
If the overwhelming options at Google Keywords Planner make you pause, and you don't want personal branding asking you to become a loyal member for life at every turn (ubersuggest), SpyFu is the everything-you-need-in-one-shot tool for you.
SpyFu finds keywords your competitors are using and then points out…
every place they've shown up on Google
every keyword they ever purchased on Google Ads
every word they rank for organically
every ad variation they ever used… going back 14 years.
Maybe it's playing a little dirty, maybe it's not. (I mean, this is the internet, after all. All bets are off.)
And it's super easy to use: enter your competitor's domain in the search bar and watch as SpyFu generates a long and lightbulb-sparking report (that you can export as a PDF):
Monthly domain overview
Top Google Ads buy recommendations
Competition
Competitor shared keywords
Top keywords
Top pages
Google Ads history
Organic ranking history
The toolbar on the left links you to each section.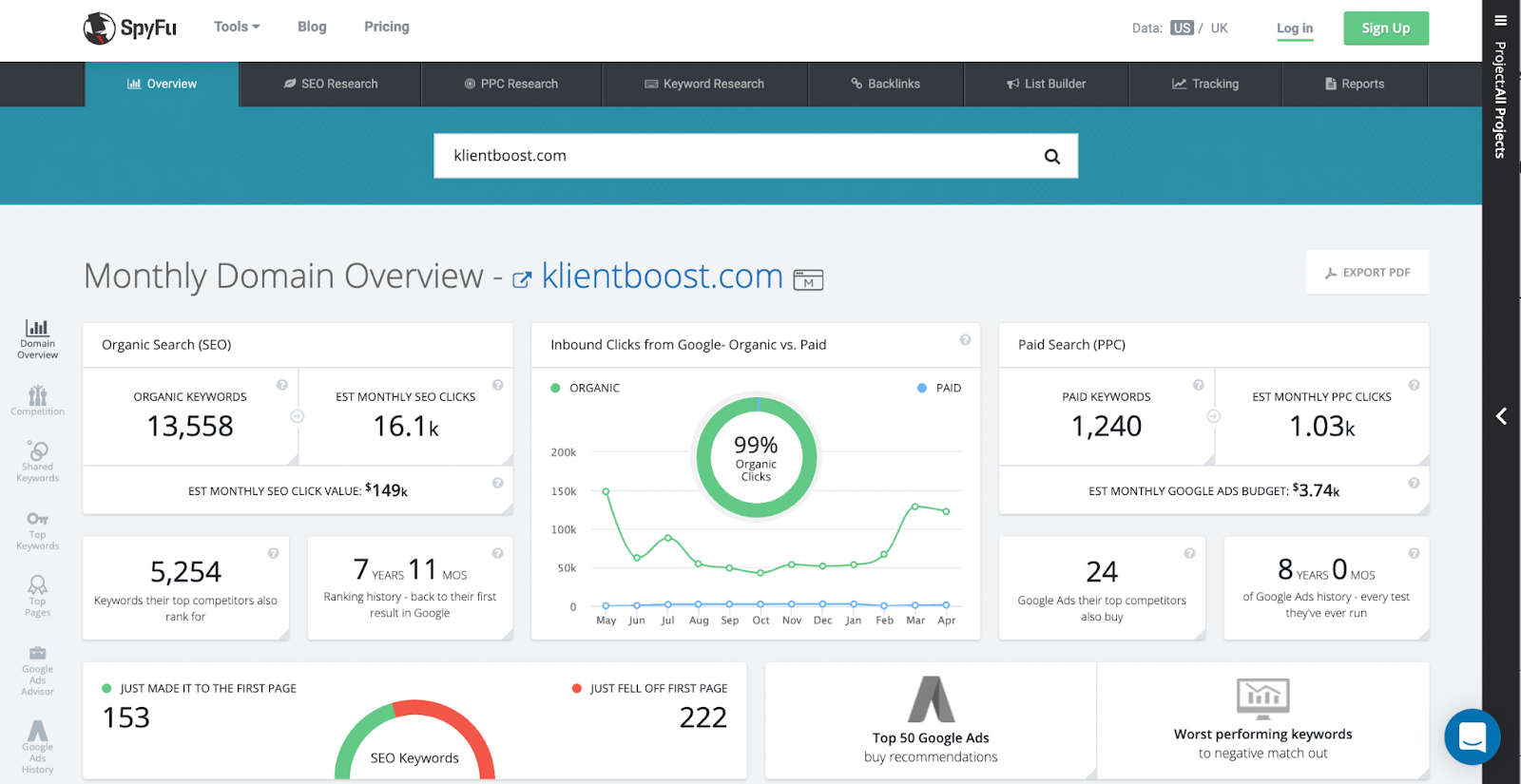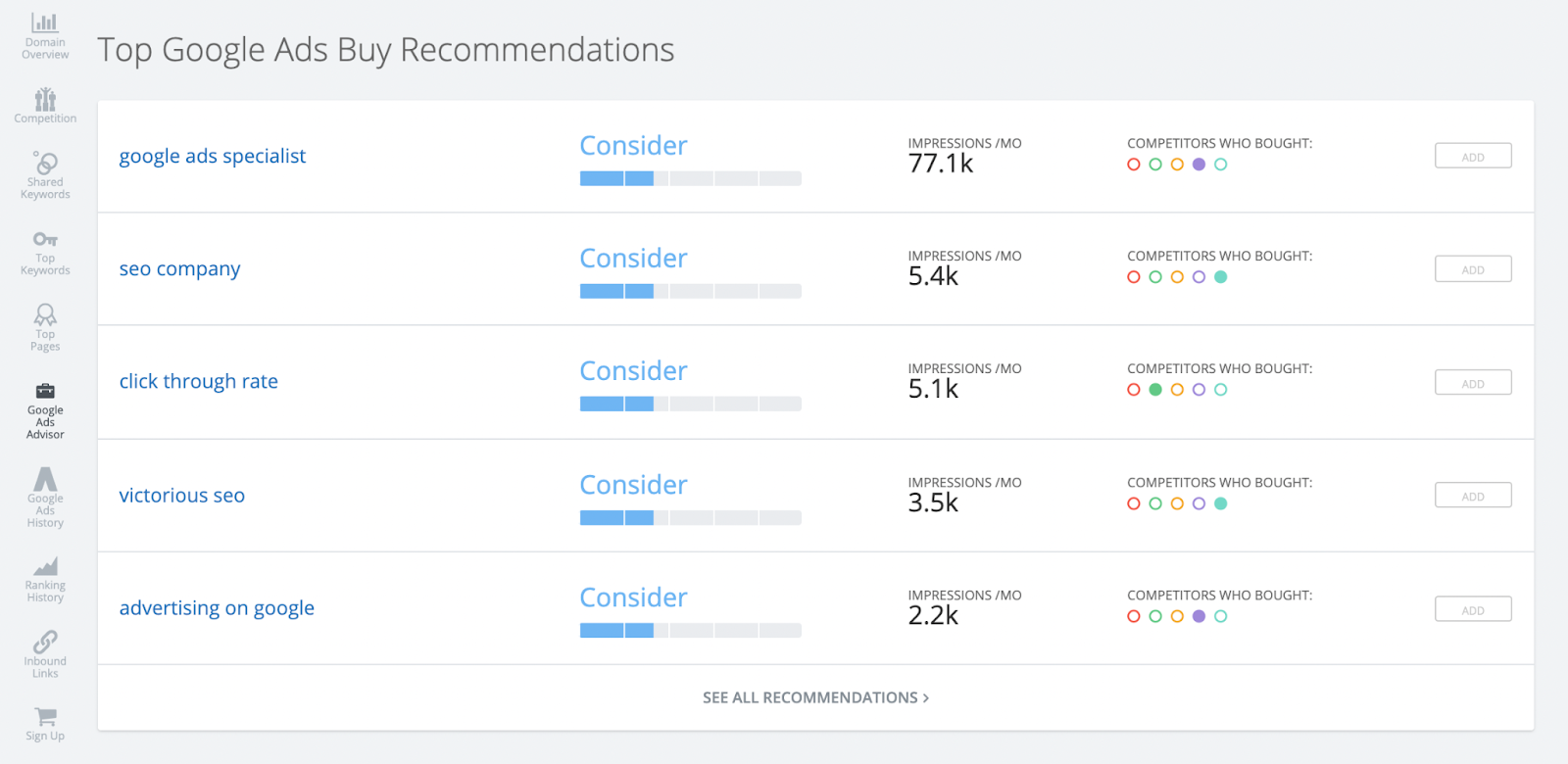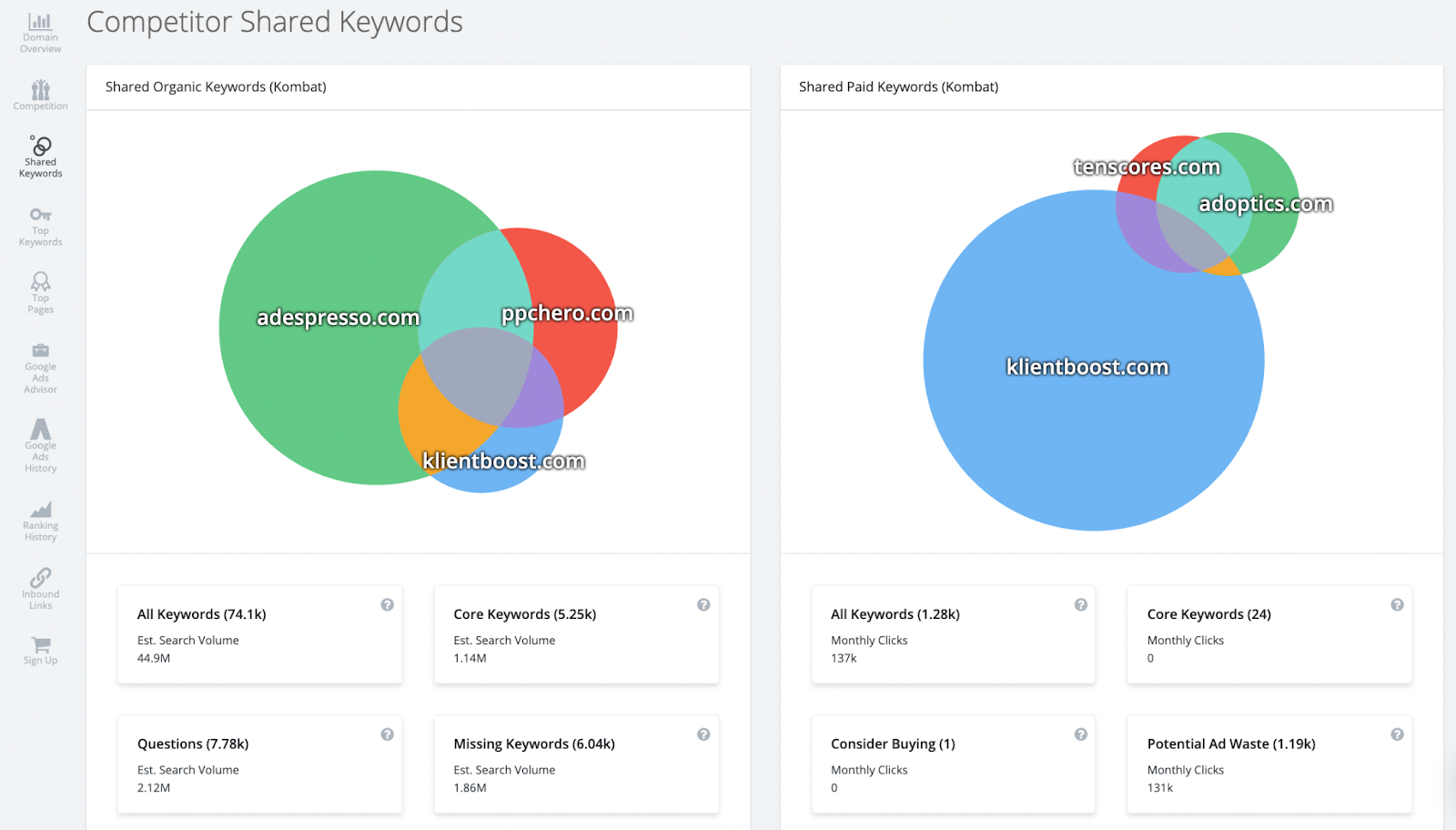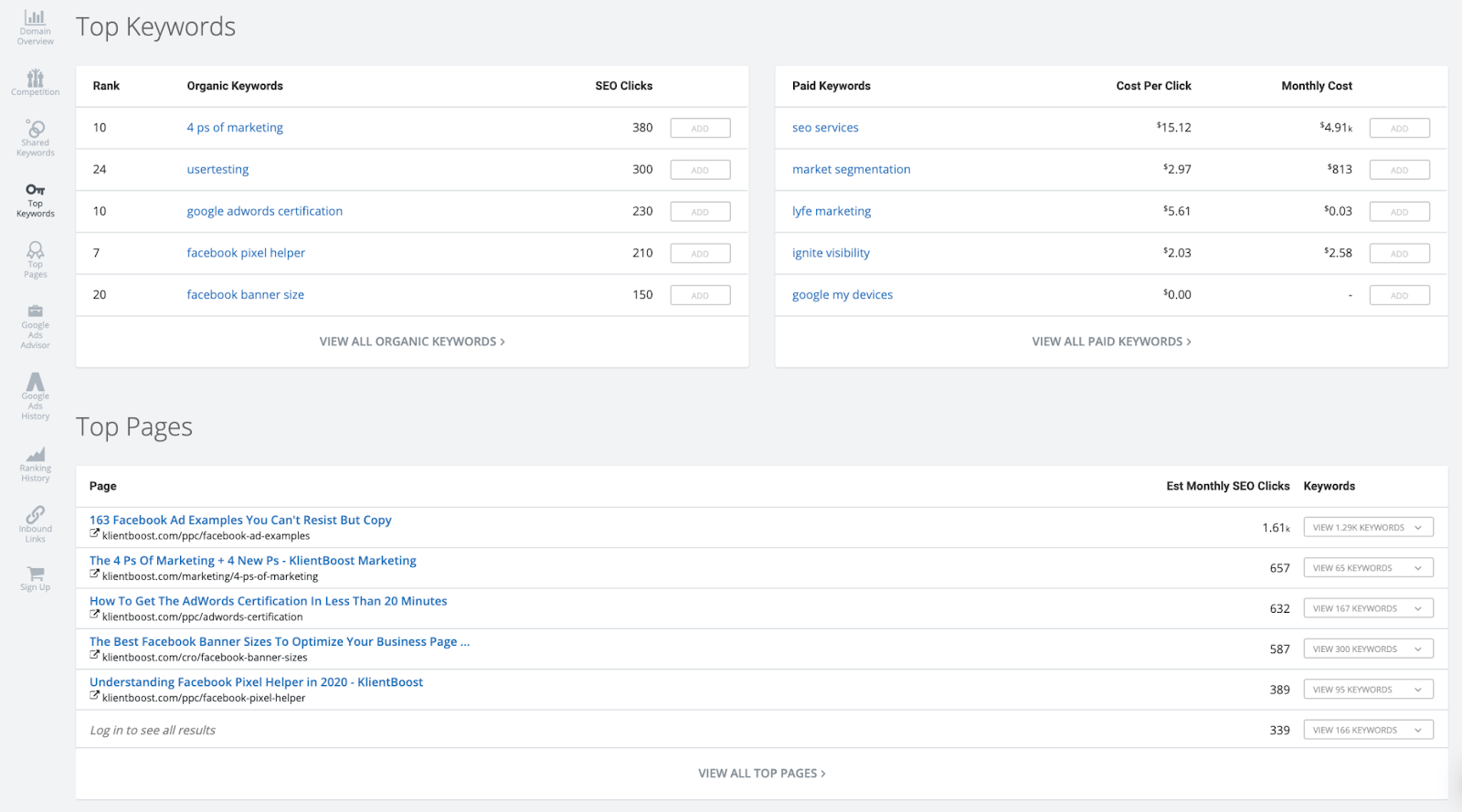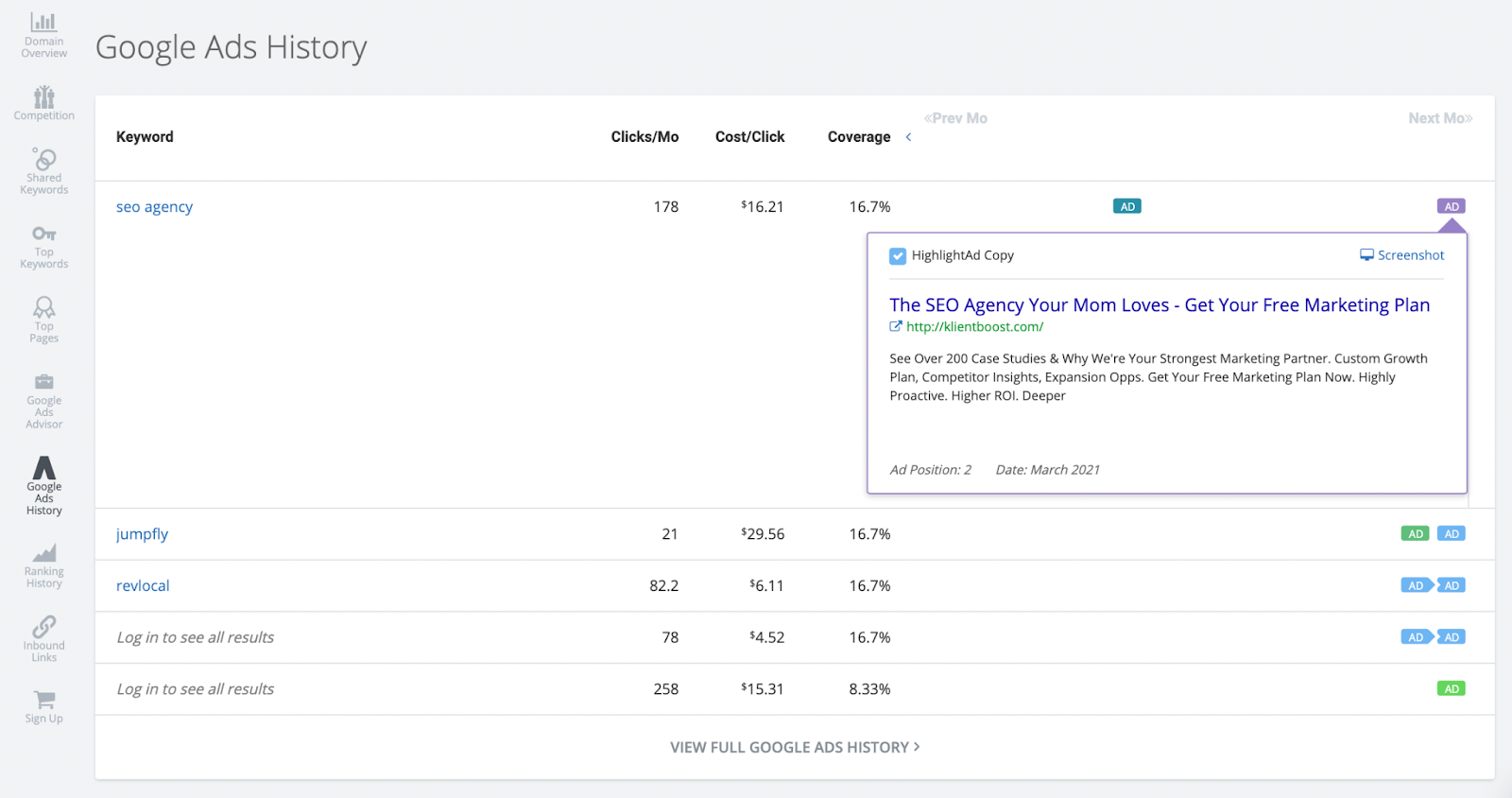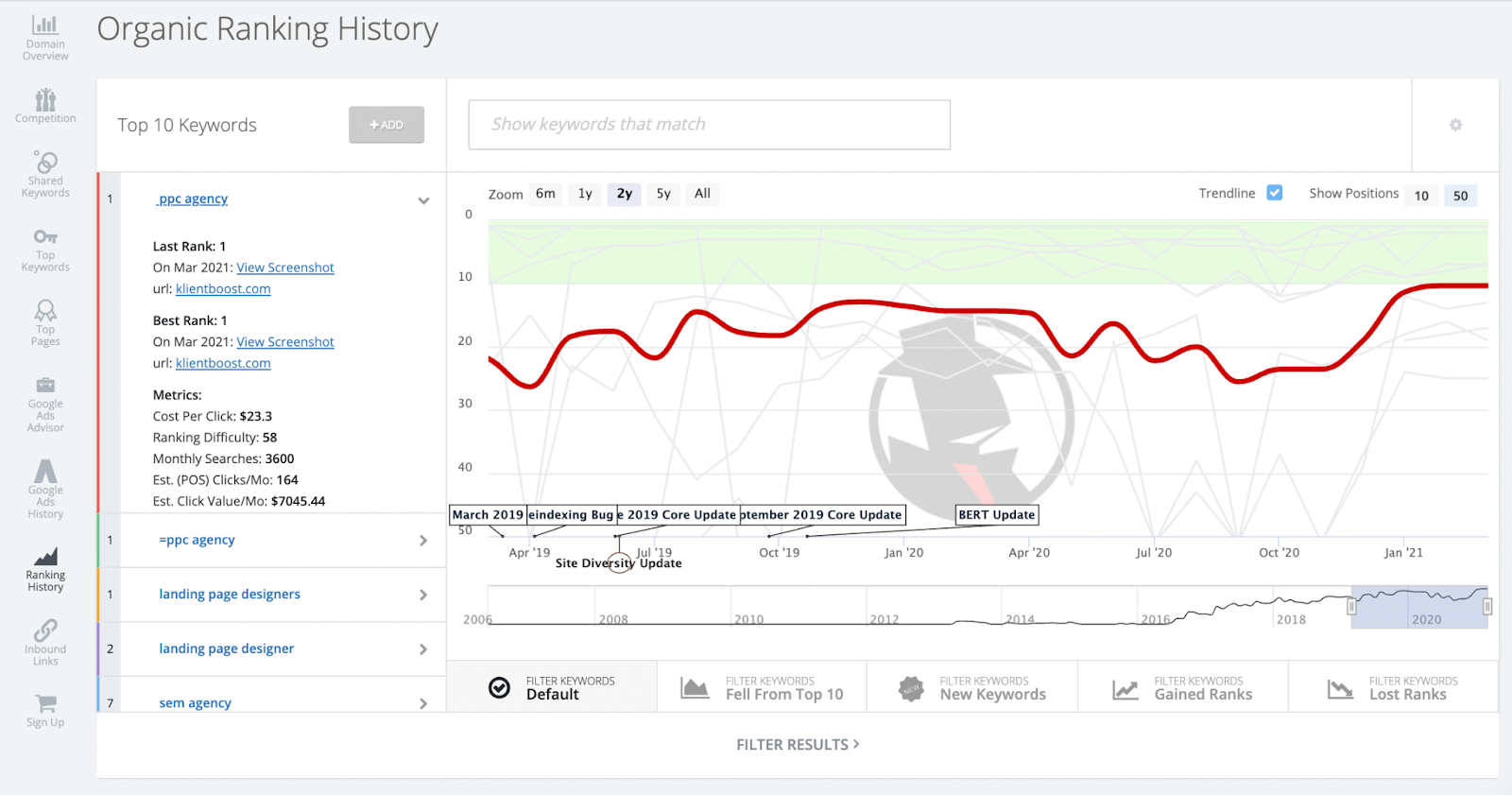 You'll have to sign up for a paid plan to get all of SpyFu's results (starting at $33 a month). But you can get unlimited searches and results for as low as $49 per month, which shouldn't break your budget. And you can save all projects.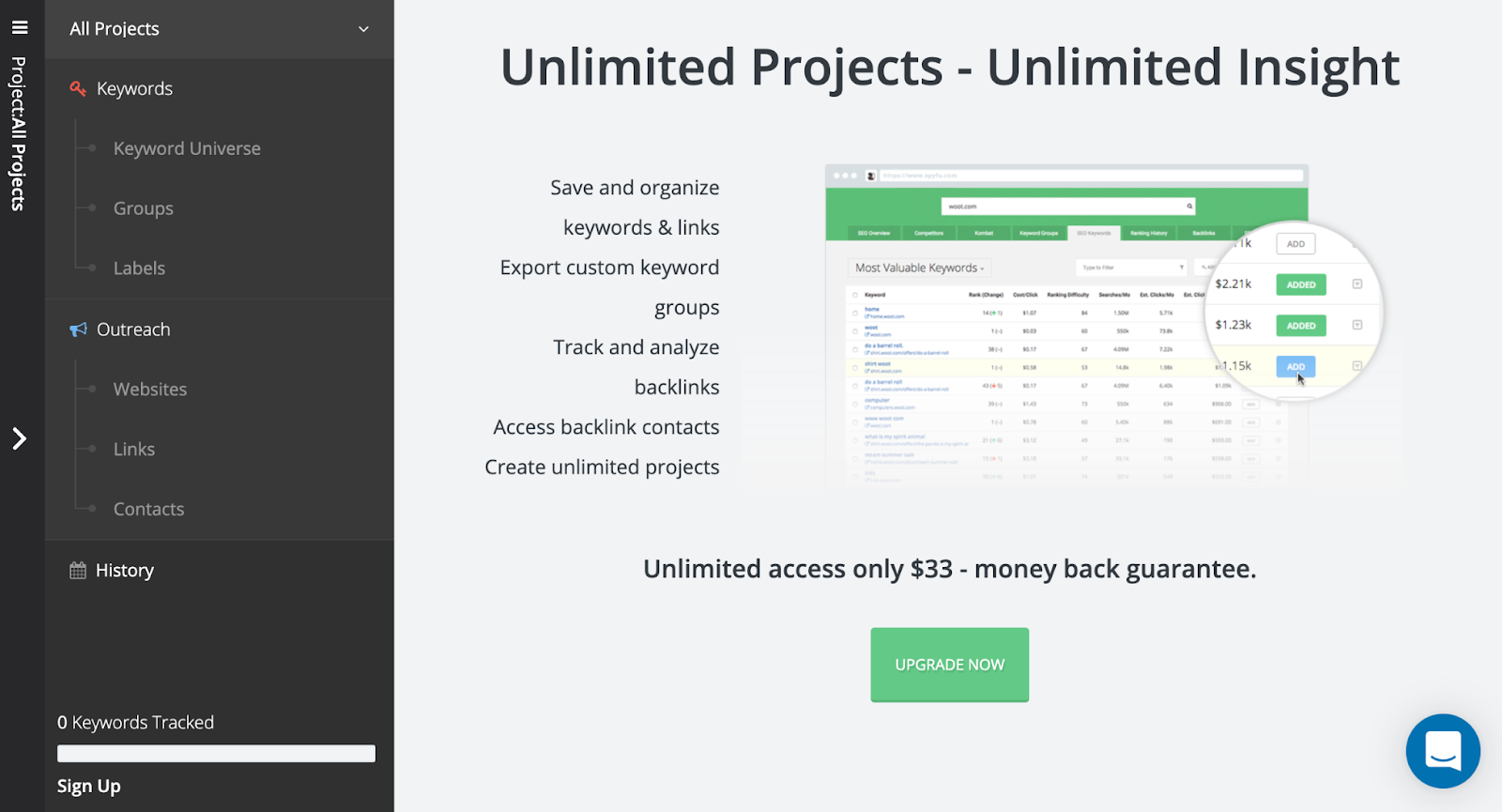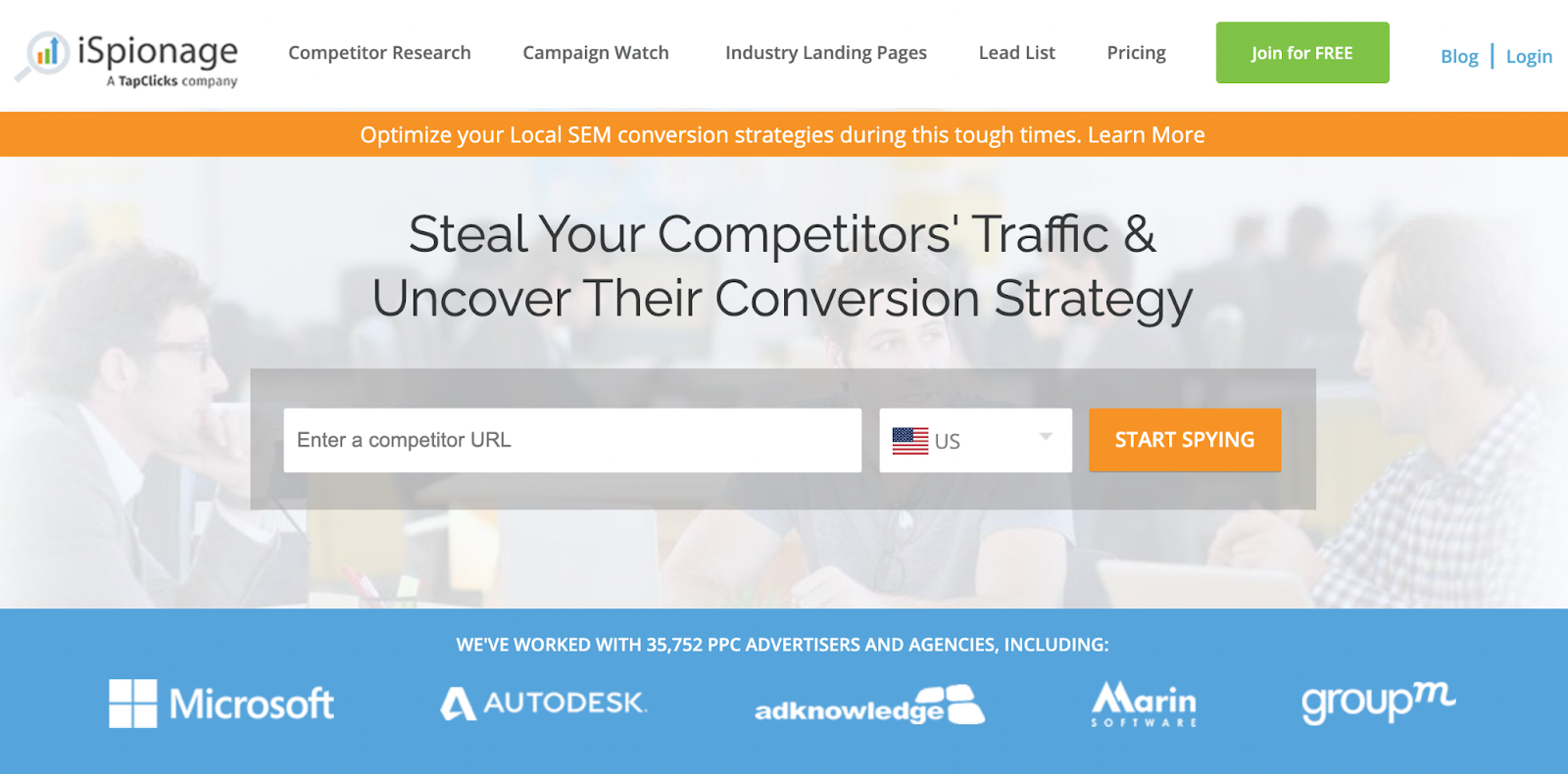 As far as aesthetics goes, iSpionage isn't winning any minimalist awards on the home page—1998 called and it wants its ghosted stock image of businesspeople back. That said, function over form as they say (and it gets much cleaner inside; redemption).
This is another tool where you can get your hands dirty with information on exactly what your competition is doing—we learn by observing, right? iSpionage thinks so and proudly shouts it with its hero shot UVP: Steal Your Competitors' Traffic & Uncover Their Conversion Strategy.
All the cool kids are doing it.
iSpionage dives deep into extensive keyword research that compares the overlap between advertisers (past & present) campaign keywords and your campaigns. It's especially handy if you're trying to build out a PPC campaign but don't know where to start.
Start by clicking on either SEO or PPC tabs at the top and then scroll down to your heart's content.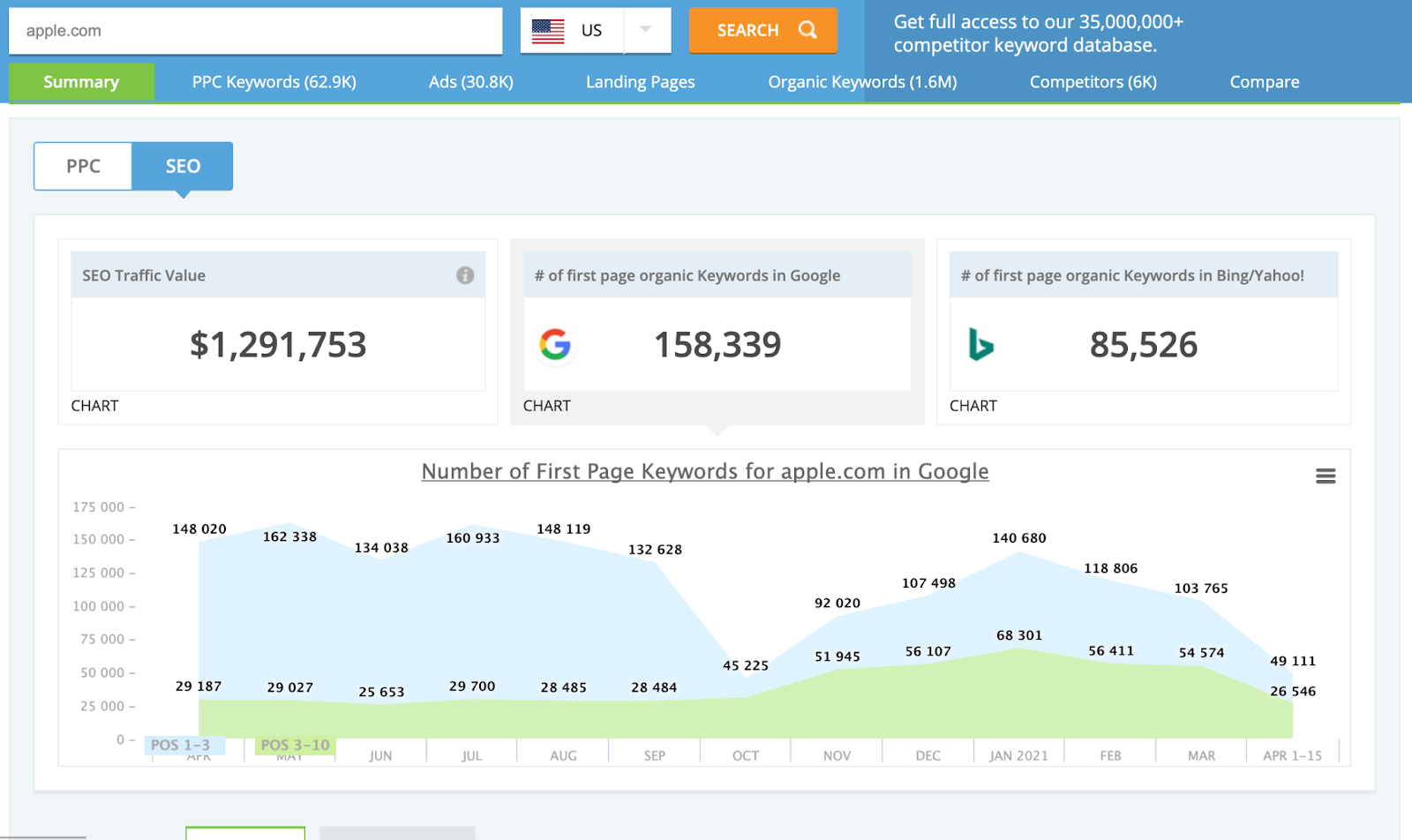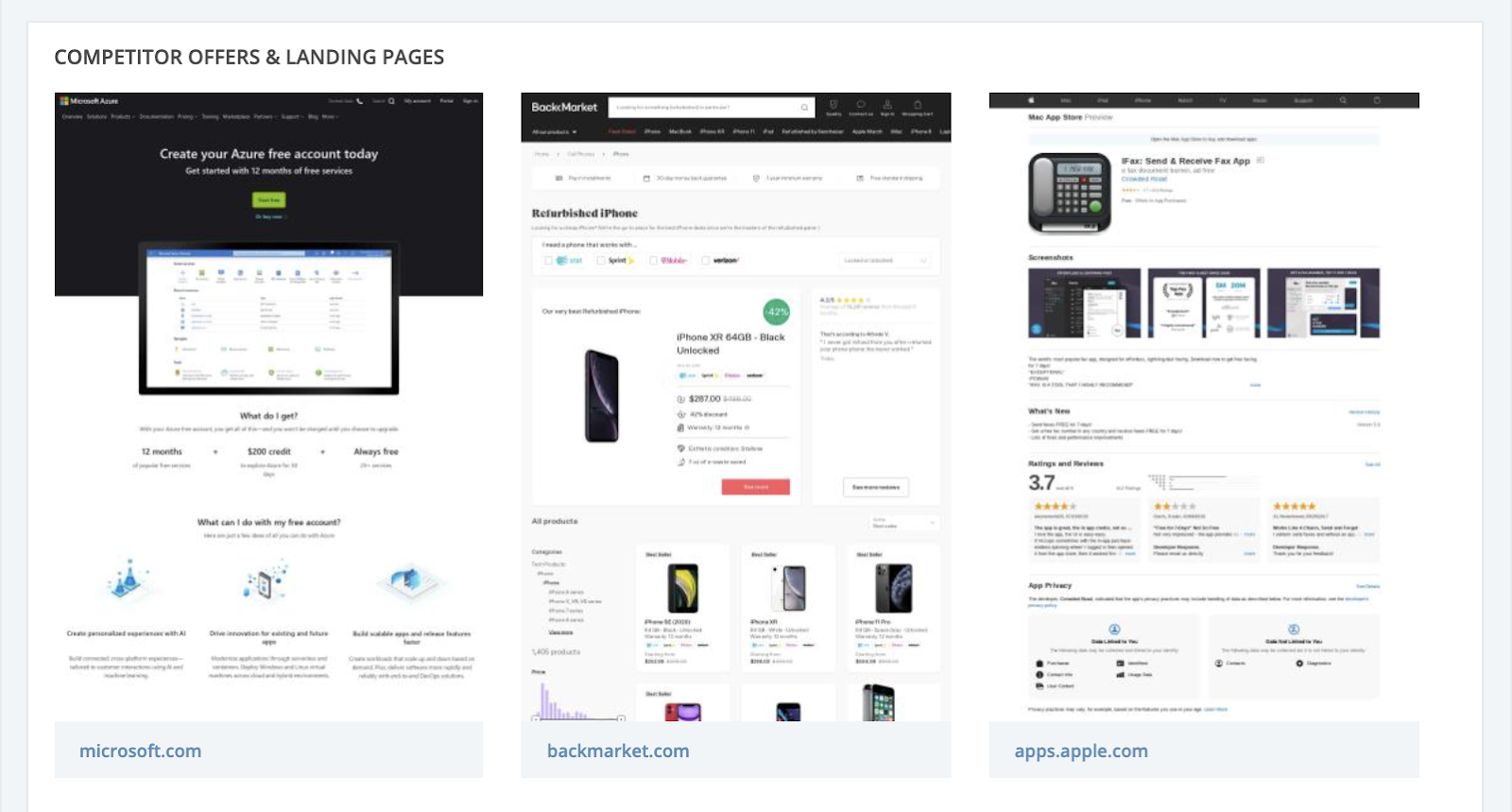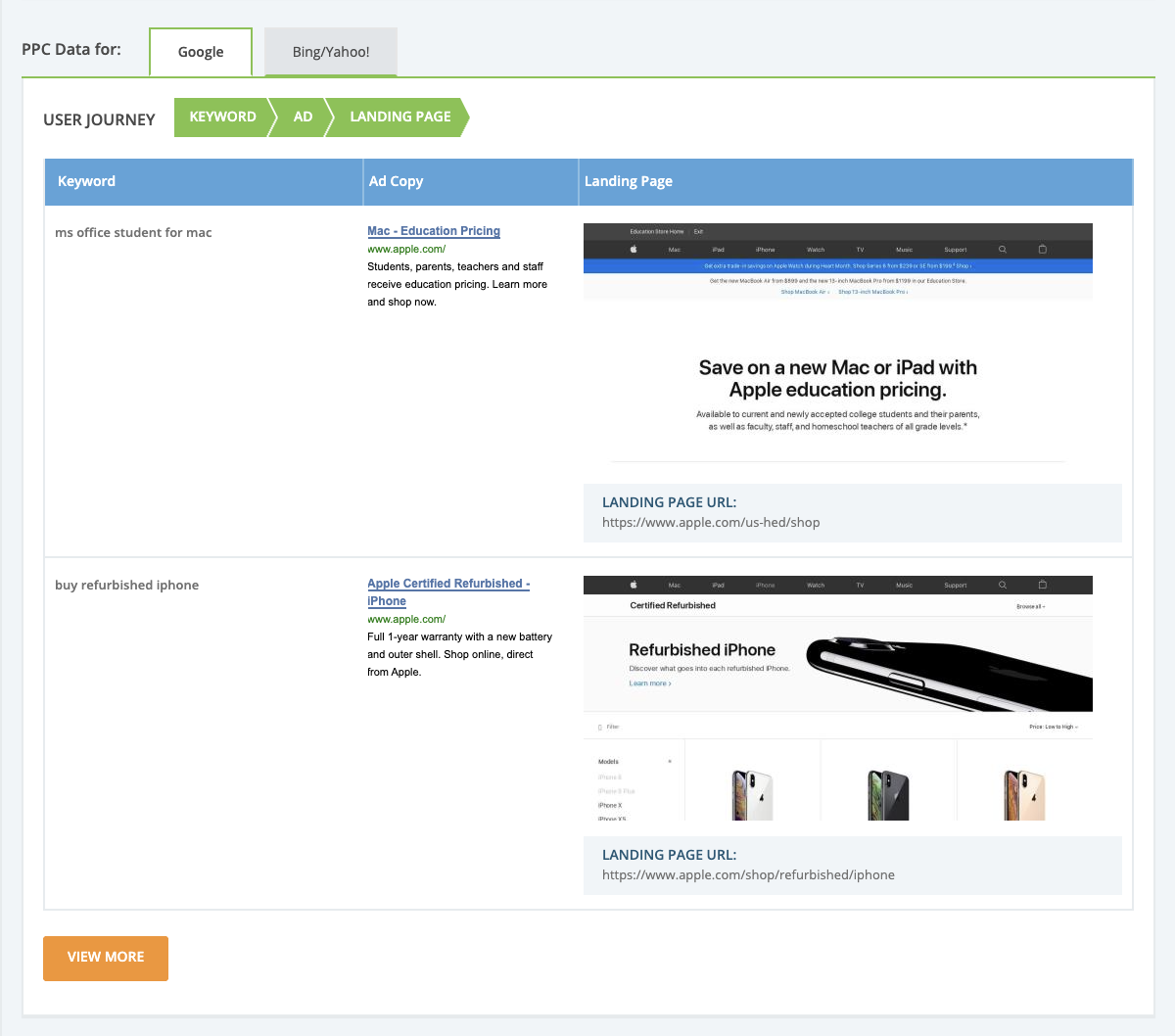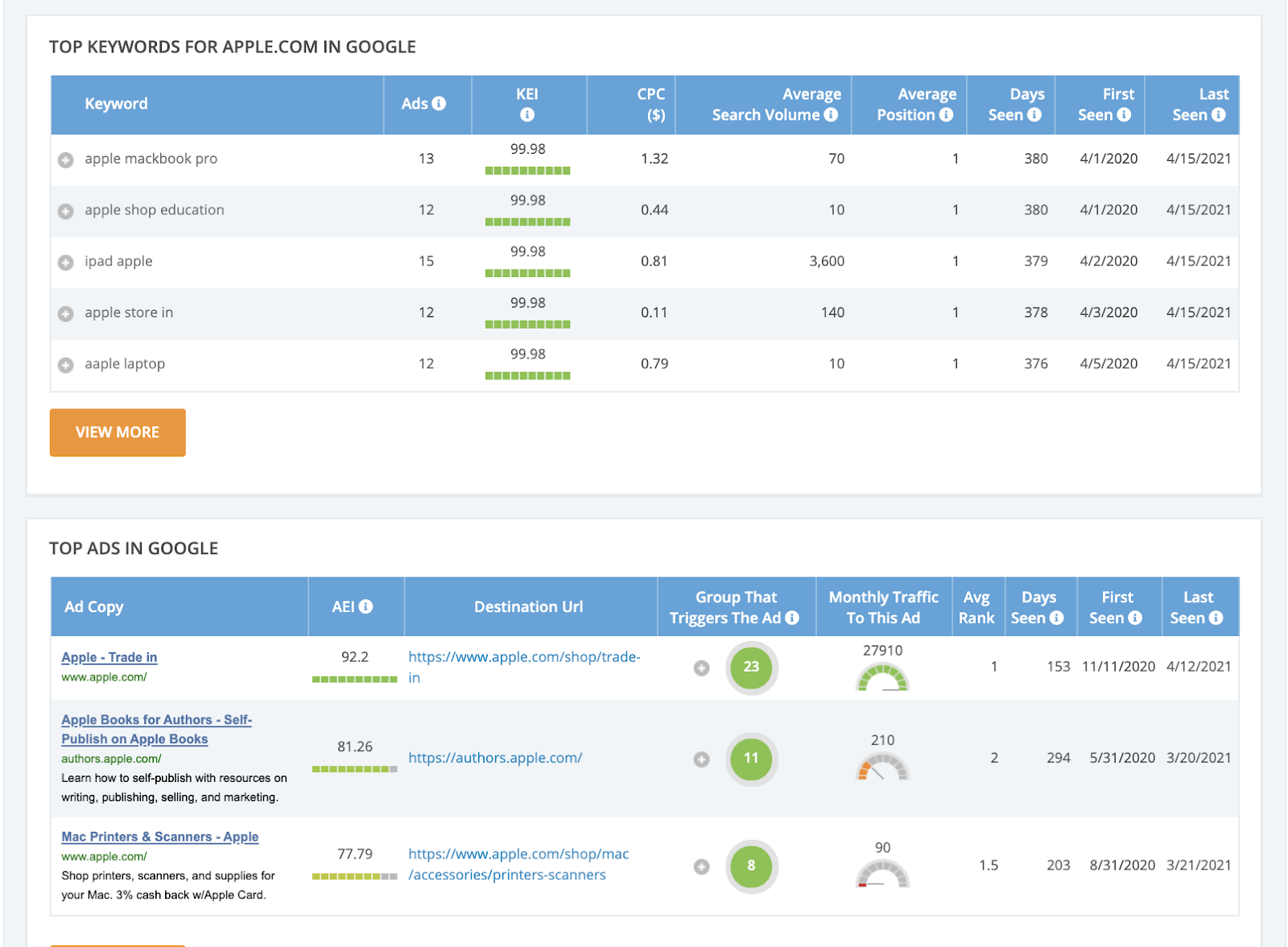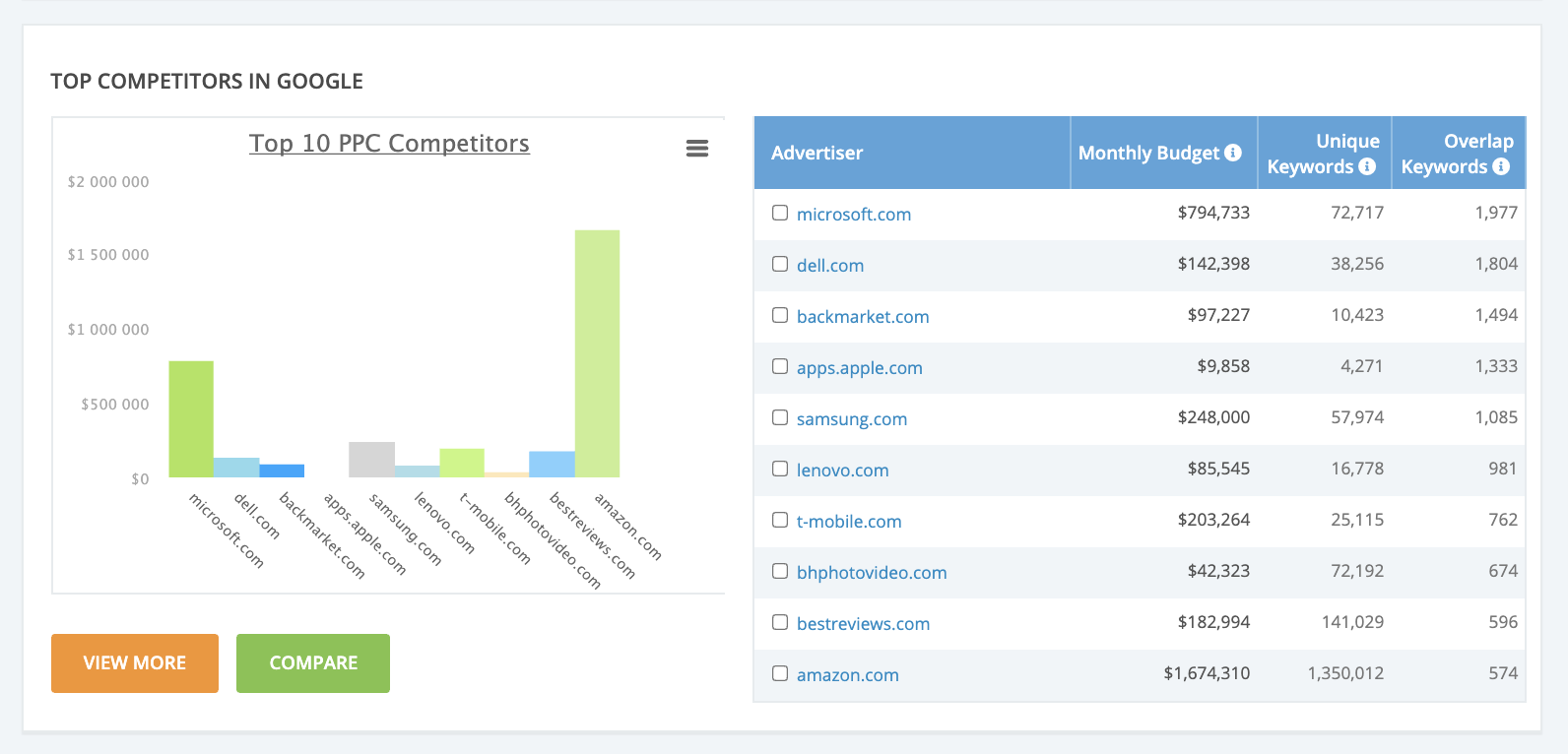 This tool also tracks your competitors' landing pages, notifying you when a change appears on the page they're sending their ad traffic to. iSpionage gives you ideas on landing page optimization tricks for your target audience as well. It's pretty comprehensive, and the competitor landing page snapshots are particularly awesome.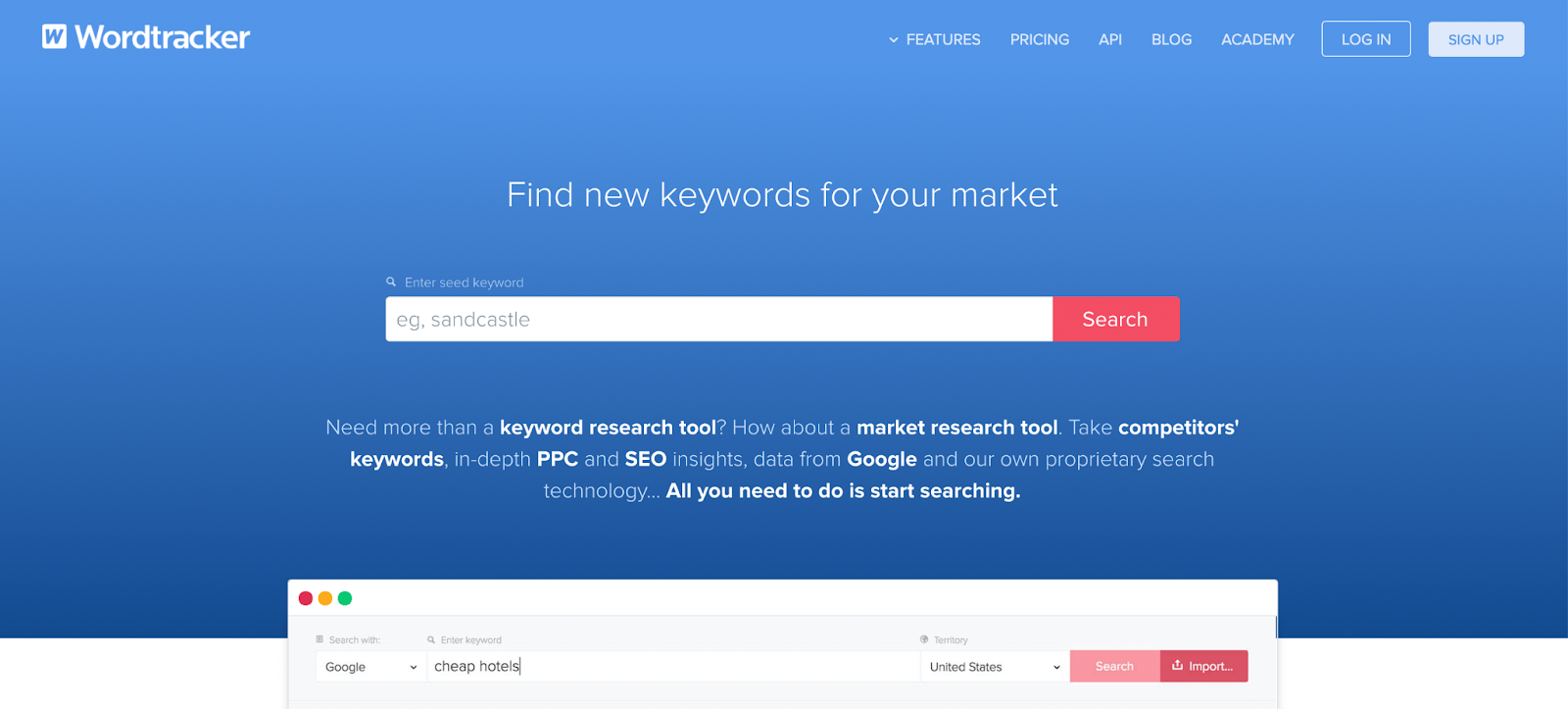 Wordtracker does more than show you simplified pieces of keyword data like search volume and competition; it focuses on optimization insights around traffic quality and profits based on the keywords you target.
What makes WordTracker different from Google Keywords Planner? This: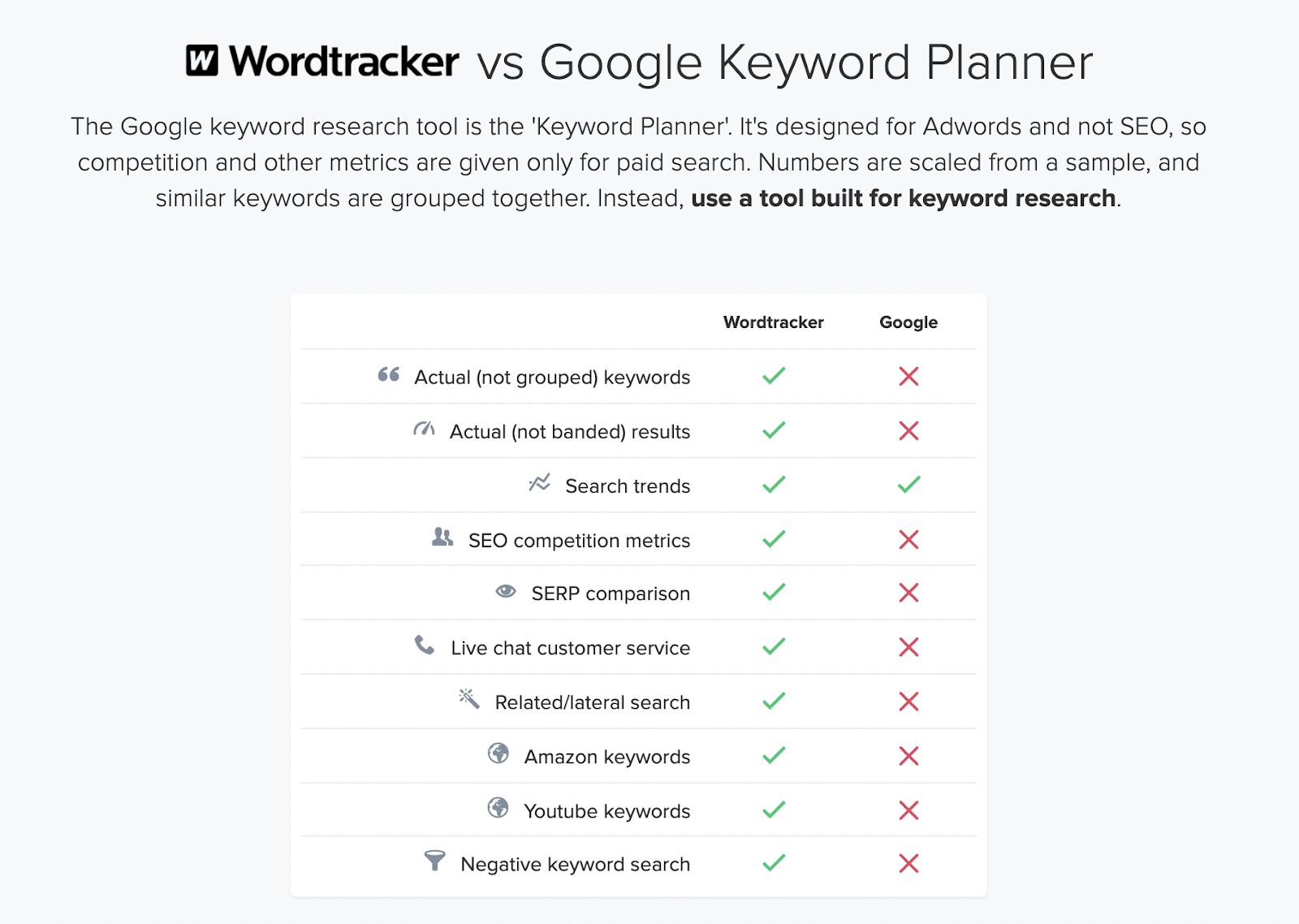 Enter a keyword to see what kind of related terms there are in relation to traffic volume. Suggestions on the left. The ability to include and exclude keywords on the right. Save your lists or export them. Peasy.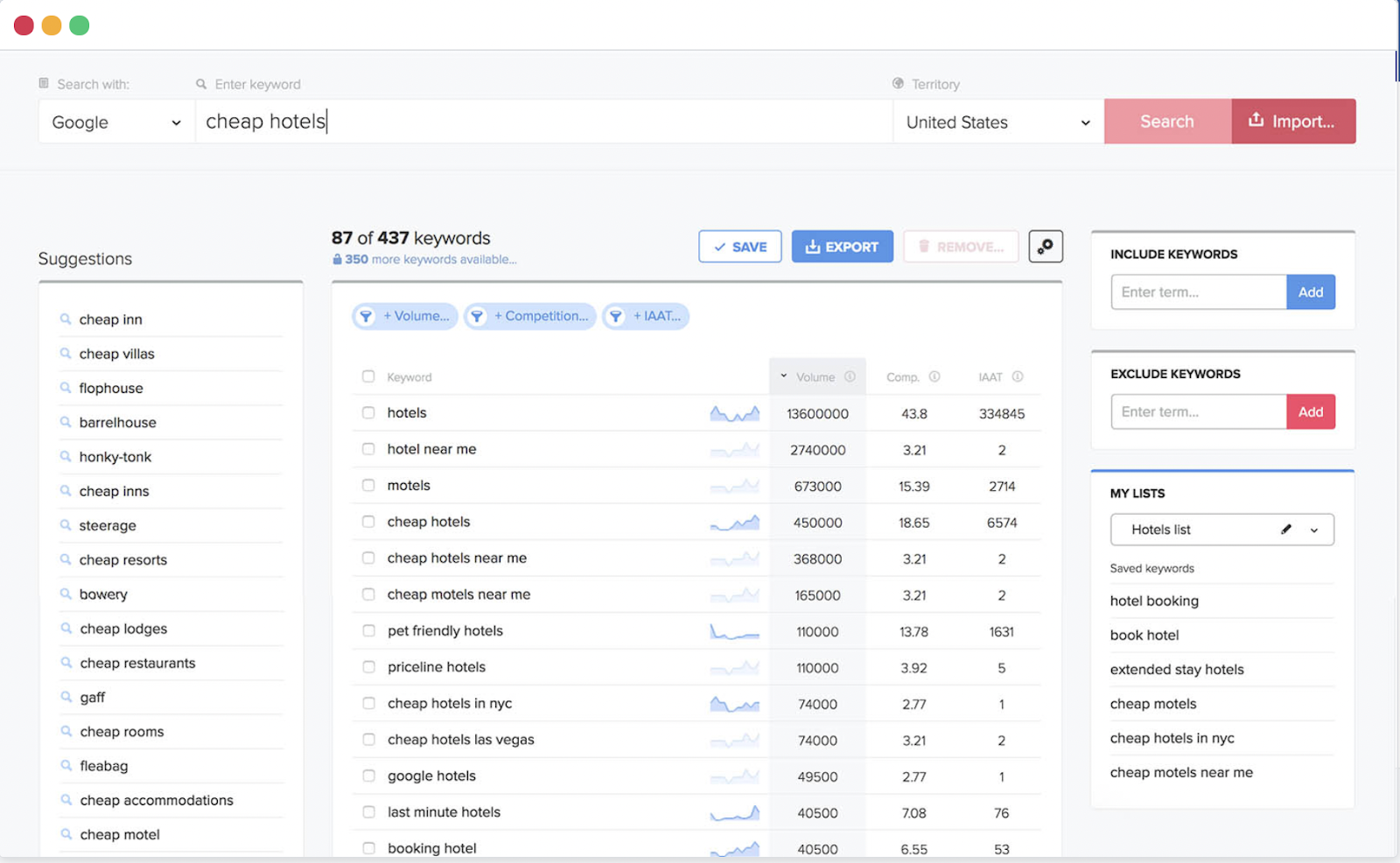 Beyond this basic information (which is still valuable), it's a paid tool. But there's a 7-day free trial to dive in and check out the entire suite.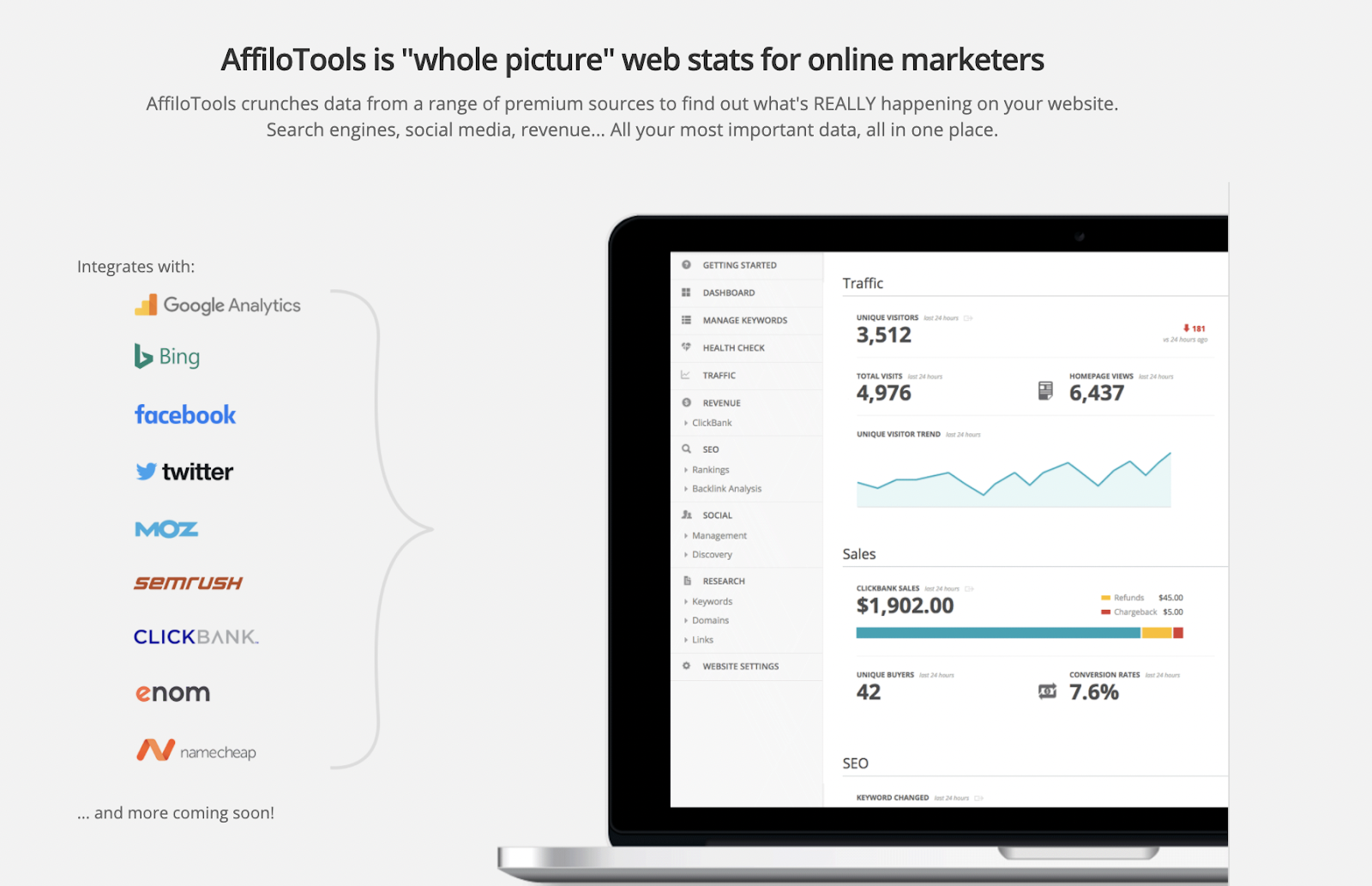 AffiloTools is a compiler. It crunches data from premium sources accumulating results on one screen. Search engines, social media, keyword research tools— all your most crucial data (ranking, sales, SEO assessment) in one place.
It stacks your real rankings against your real traffic data along with sales and social stats (not averages and estimates) from different search engines in different regions (not just the USA), so you can see the most valuable keywords—plotted on visually appealing graphs.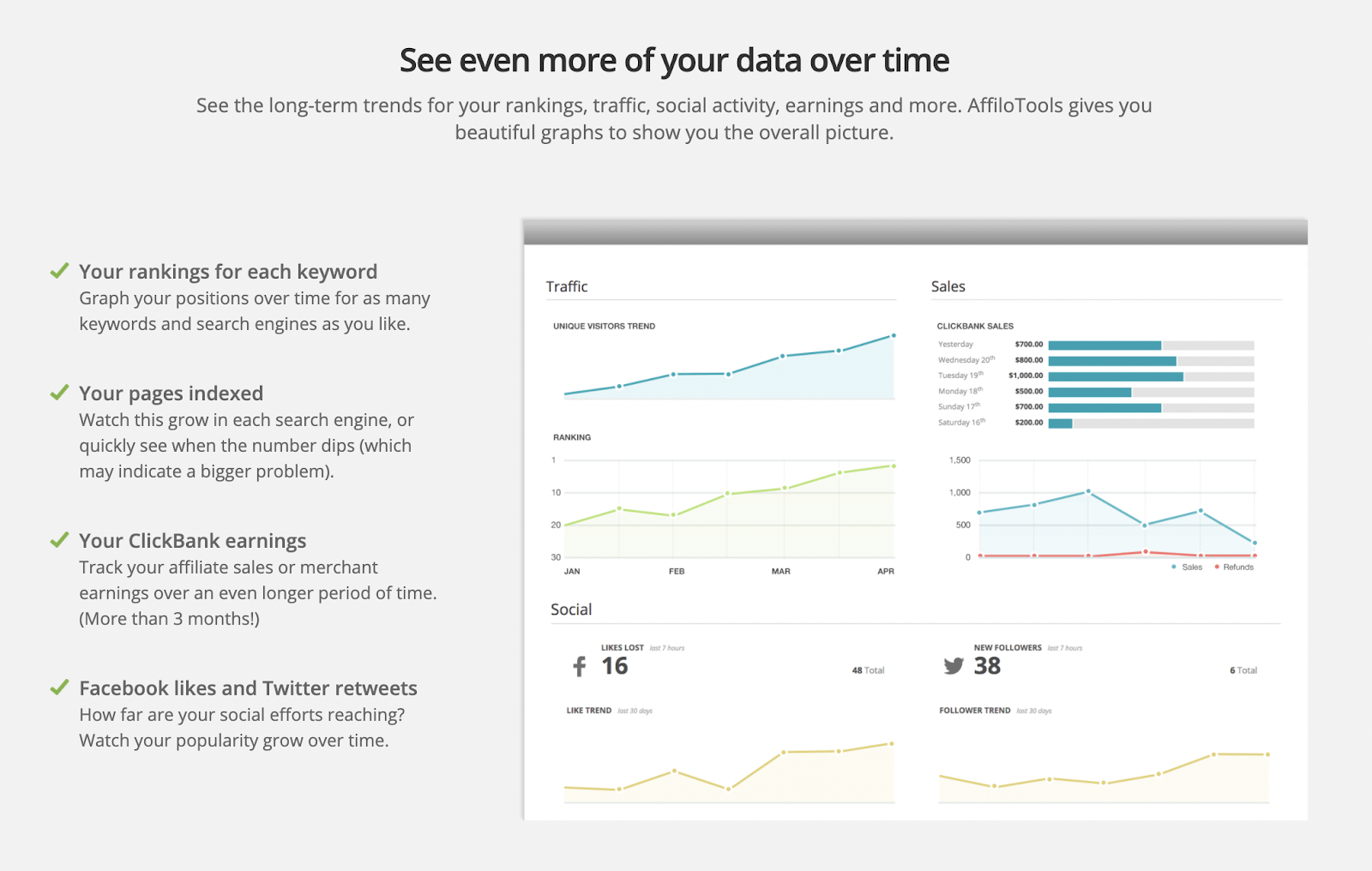 But beyond that, AffiloTools checks the health of your website points out high-quality sites in your niche for backlinking opportunities, and tracks which keywords you're losing out on to the competition. With this knowledge, prioritize adding keywords to your campaign lists and building out others via on-page content and higher bidding.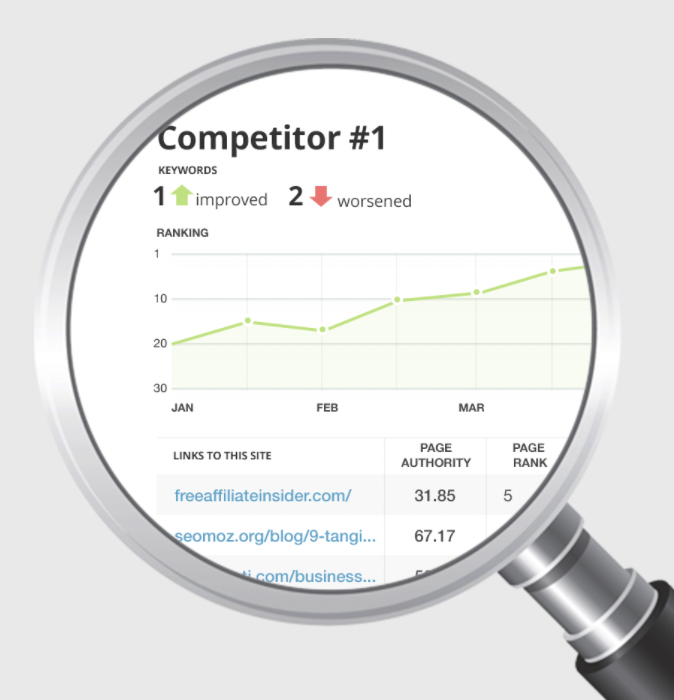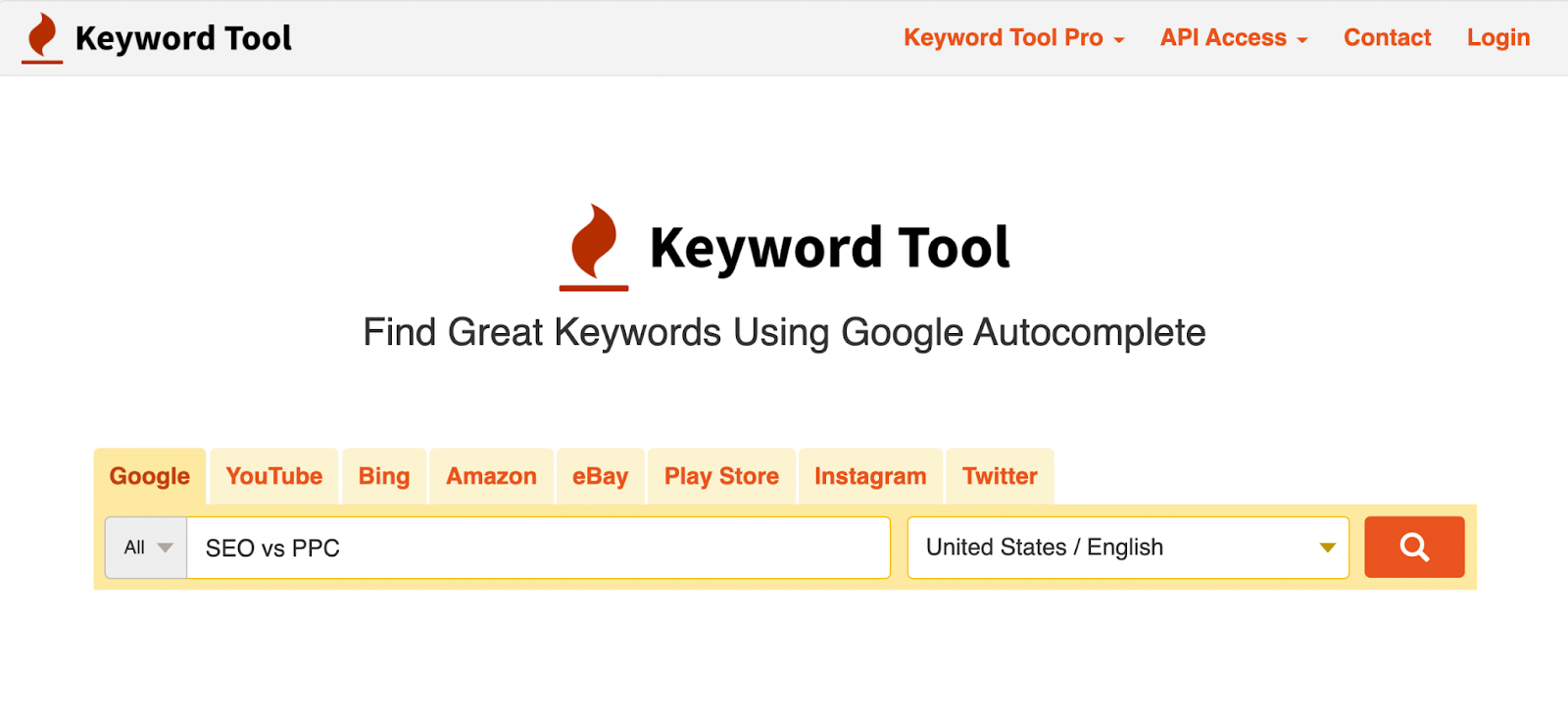 A keyword scraper that takes Google Autocomplete to a new level. Where Google Autocomplete shows you ten similar search terms people enter into the search bar, Keyword Tool extends that list to twenty for free and provides eight different networks to maximize the value.
Click on the different networks to see how the autocomplete keywords change.
If you upgrade, you'll also see search volume, cost per click, and competition level metrics.
Keyword Tool provides different keywords based on network. Get suggestions for keywords that will be profitable for you… even if they aren't for Google.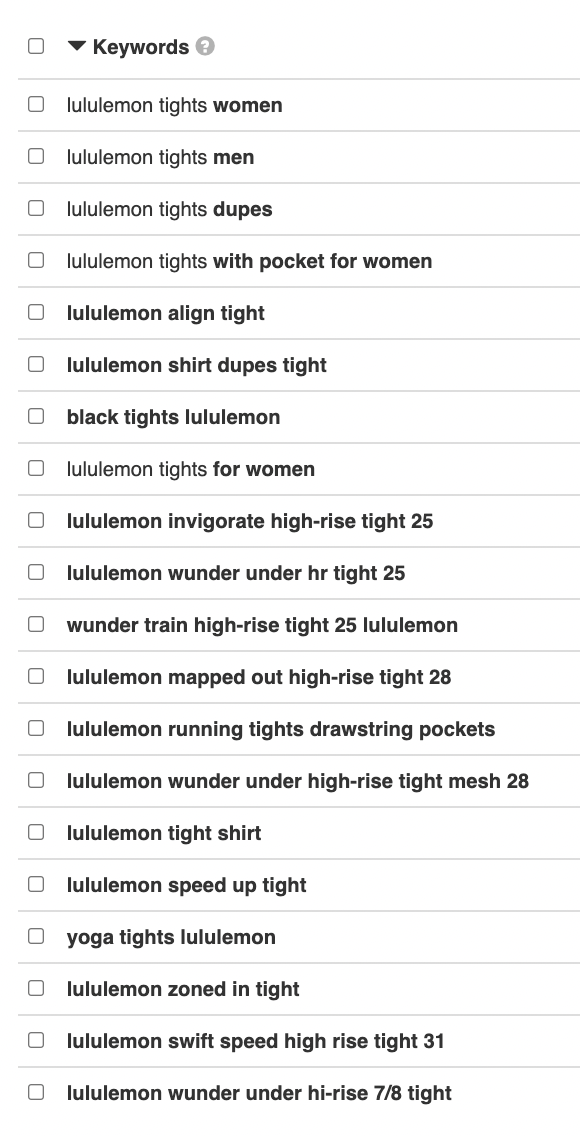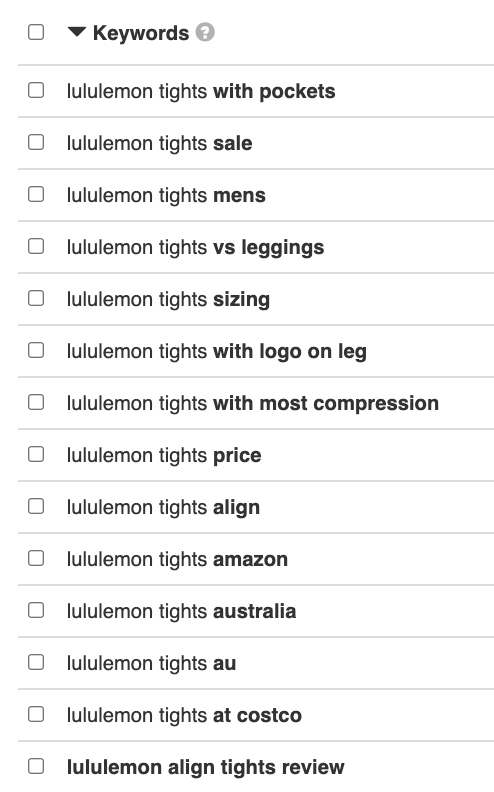 Is it comprehensive?
Depends on what you're after. If you want to scan a sturdy handful of different traffic sources for what's popular, this tool is great.
If you want in-depth insight…use a different tool?
Not according to the Keyword Tool.
Keyword Tool claims it's better than Google Keyword Planner or any other keyword research tool out there.
That's quite a flex, right? But if you're concerned with Google rankings, they use Google Autocomplete. This means you see more long-tail, spot-on keywords relevant to what your target audience is searching for.
Does that advance your SEO more than Google Keyword Planner? Well, since Google Keyword Planner is directed at pay per click (PPC) and keeping the money makers churning so that Google makes money, Keyword Tool claims Google will purposefully hide some long-tail keywords that could be profitable for you but not for Google.
Touché, Keyword Tool.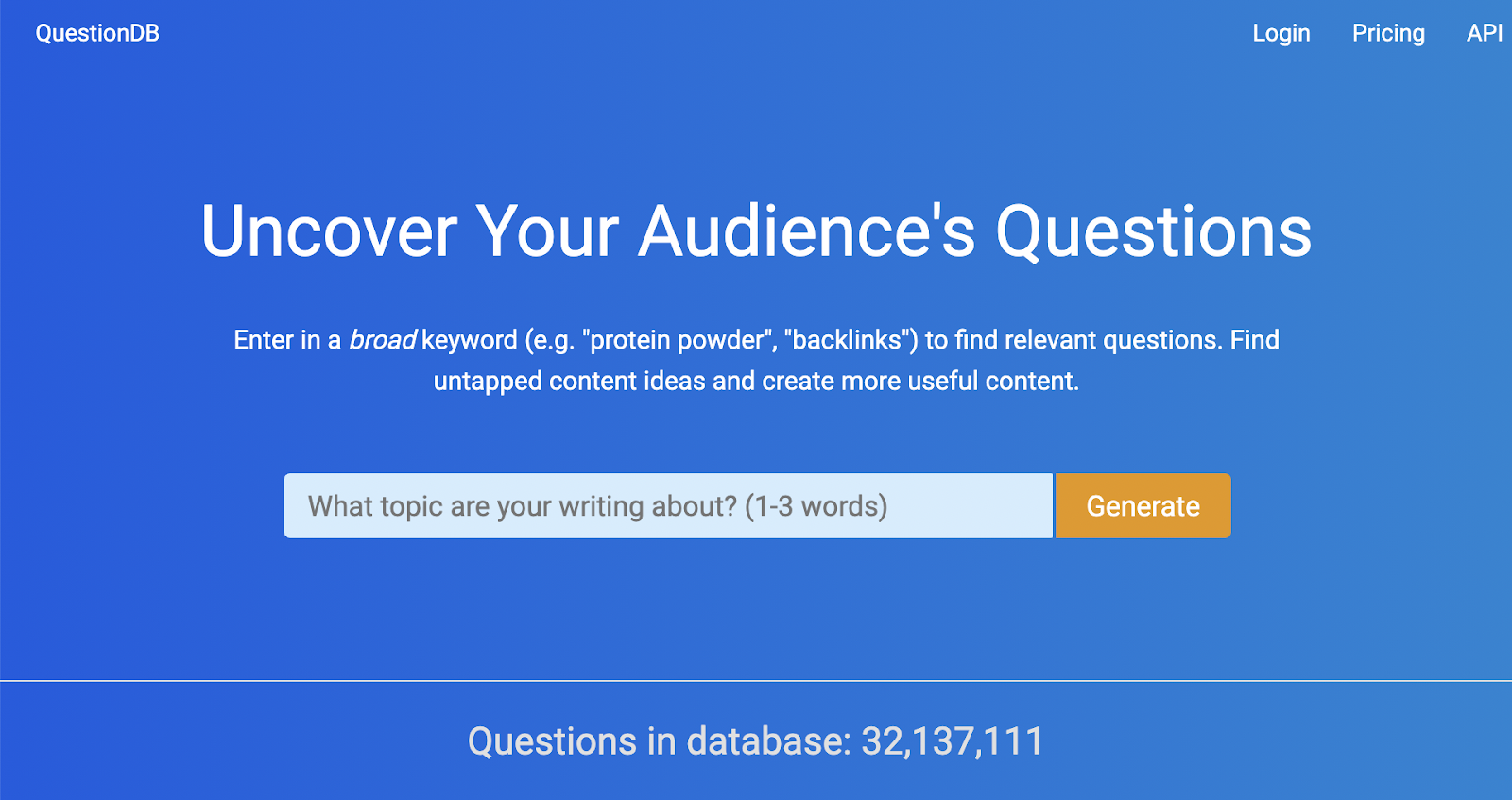 Simple. Search for a general keyword at QuestionDB and 50 questions on that keyword appear (in the free version, or up to 500 if you upgrade).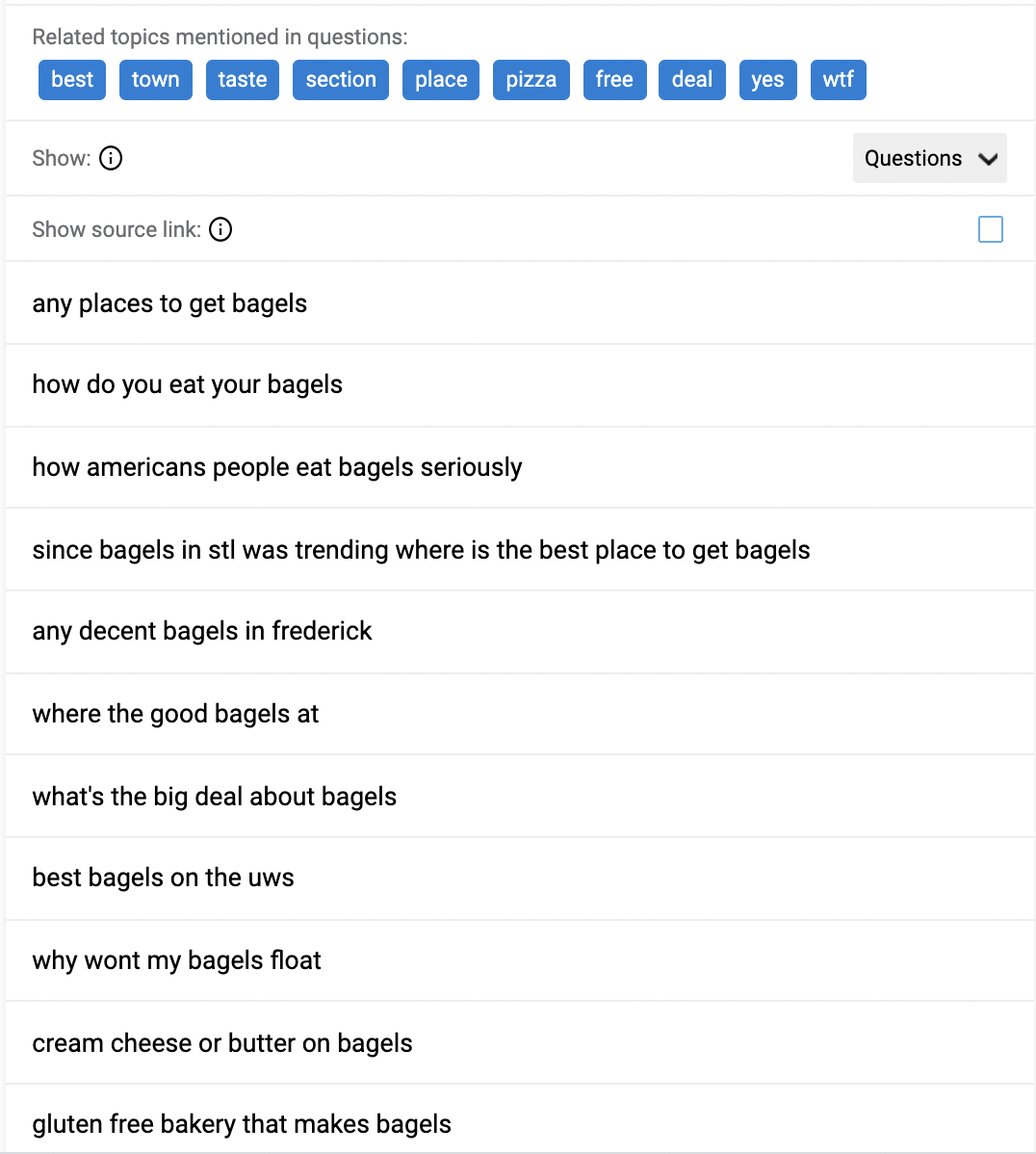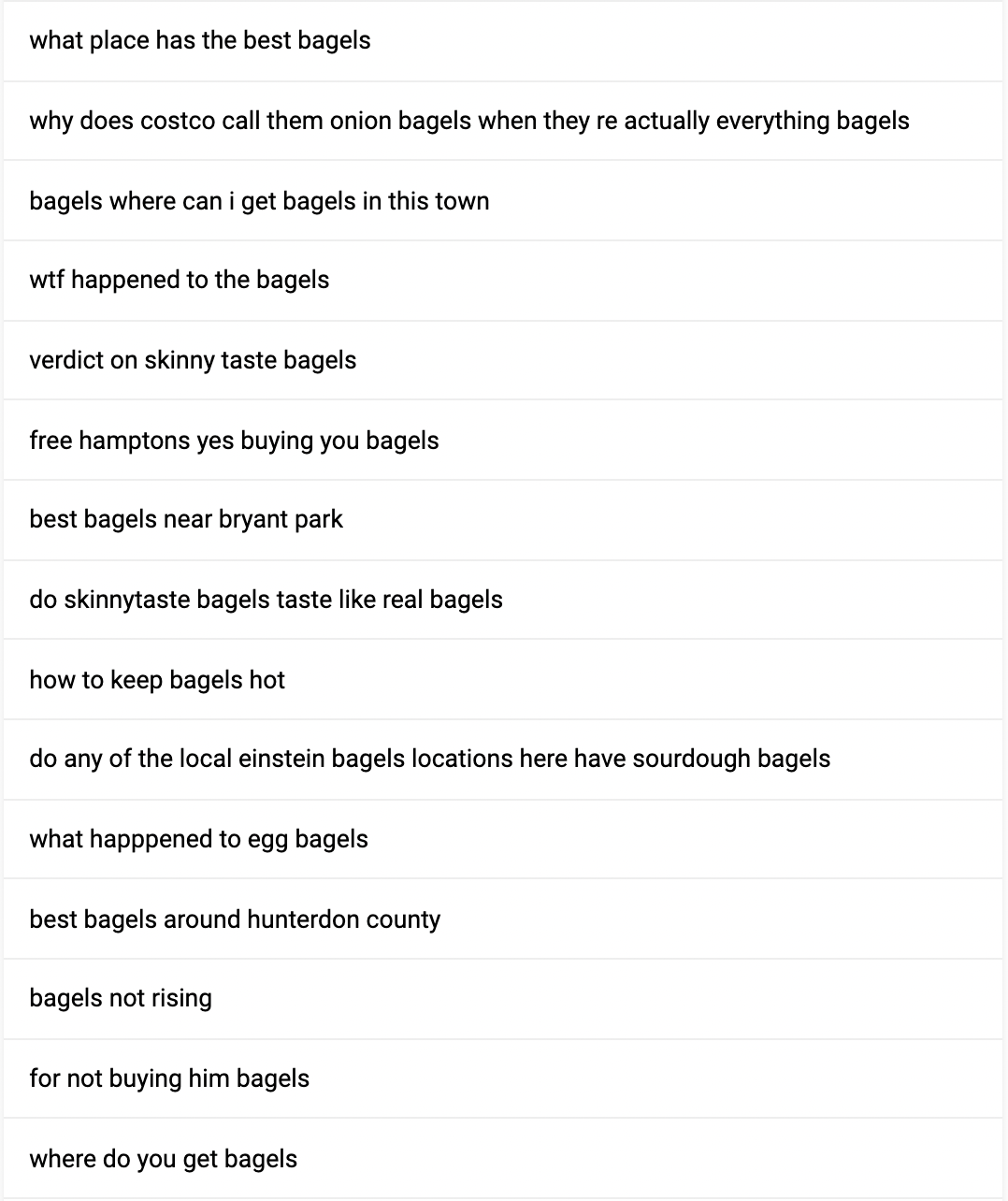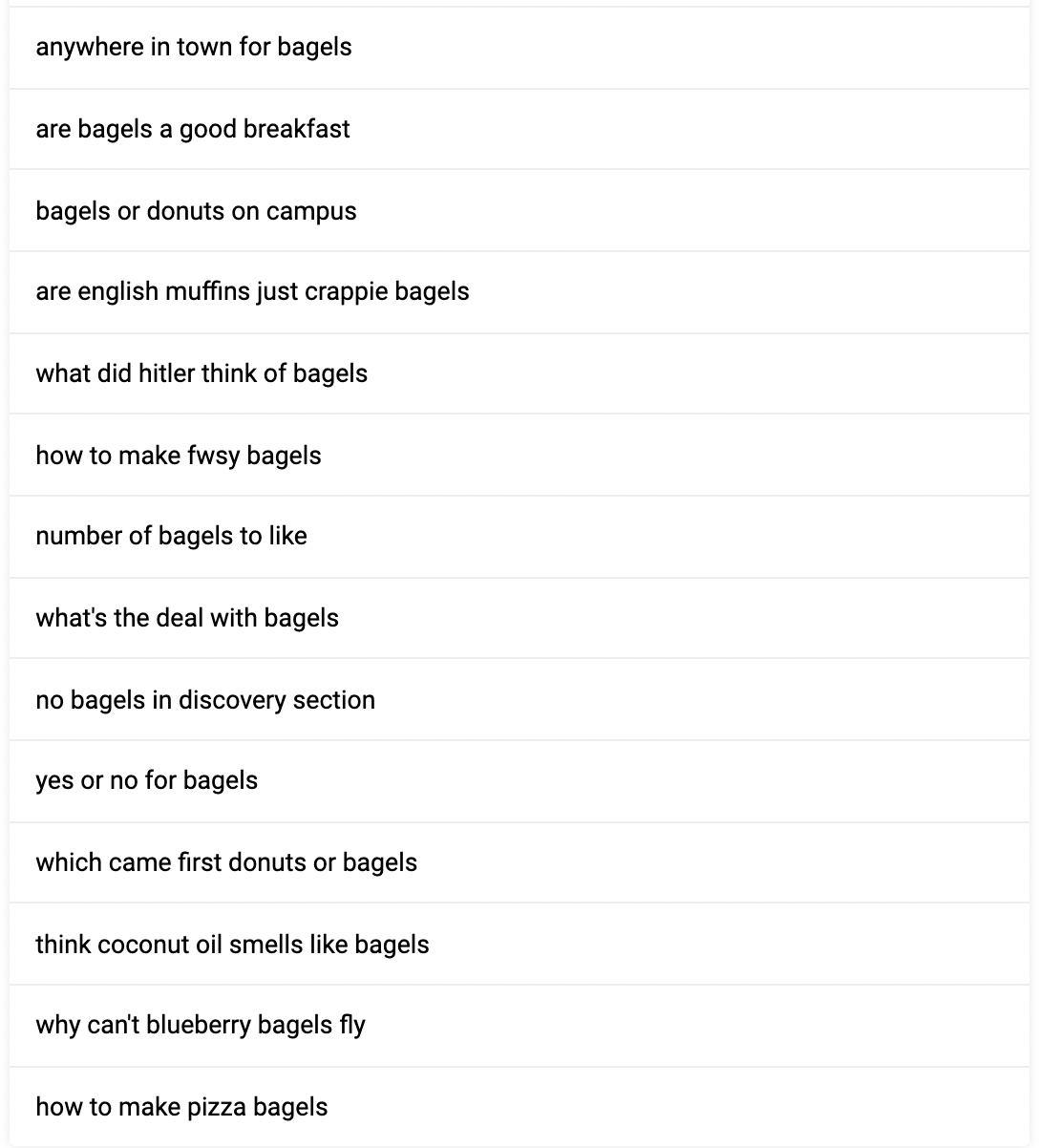 Similar to Answer The Public, this is a question-focused keyword research tool, fuelling blog topic ideas. Quick, free, and powerful (questions are pulled from Reddit) for writers and marketers trying to grow a blog.

Ah yes, ahrefs.
One of the grandpappies. It digs deep, but its clean interface and "chunked" visuals make it less intimidating than other keyword research tools (like Google Keyword Planner, for example). It's powerful enough that many pros use it as their go-to. But ahrefs isn't snobby.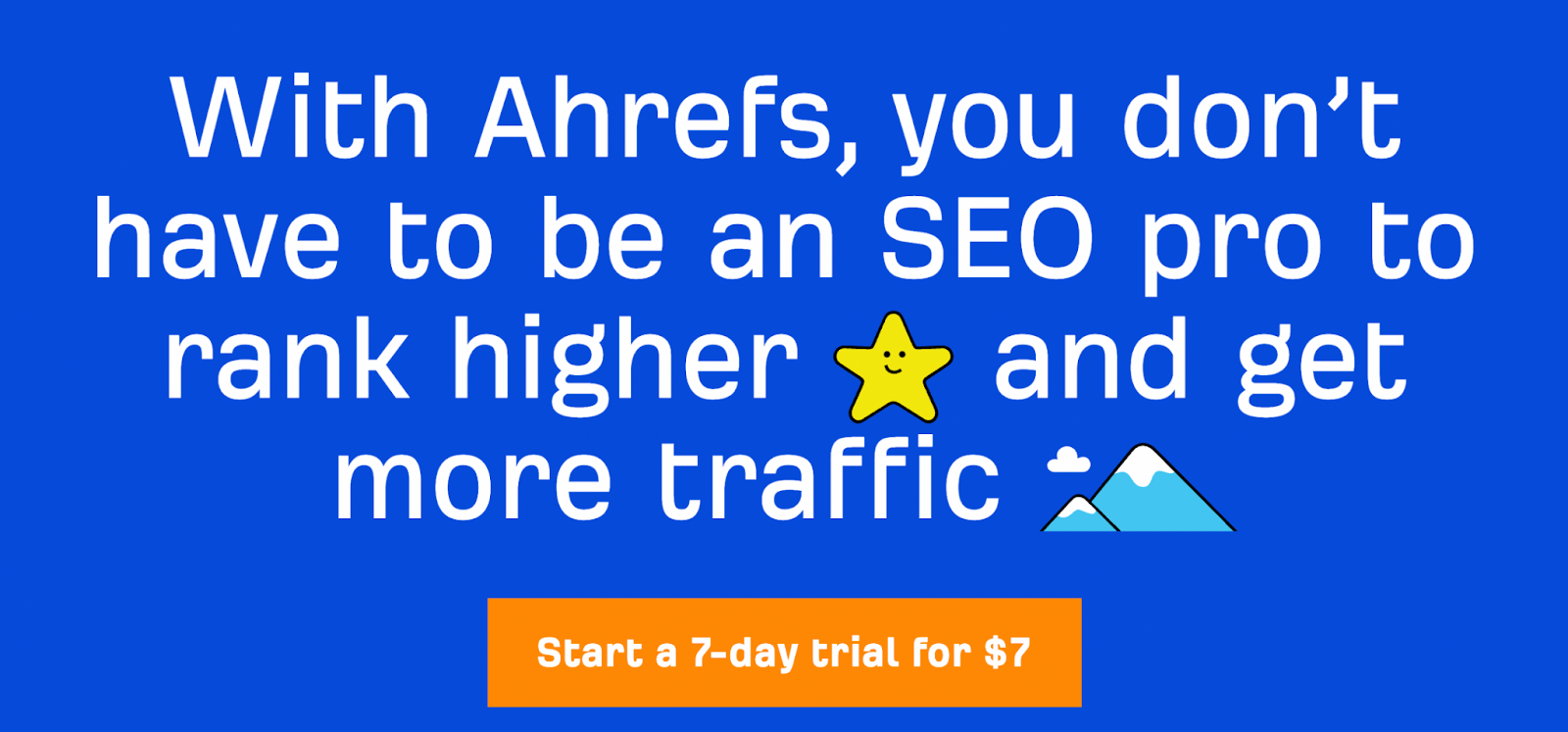 The expected information is there in graph form. But right from the home page, the ahref's parent topic feature does its users a favor: it says, "Hey, guess what? If you're gung-ho to target that keyword, you should target it this way for maximum search potential." Variations can make a big difference. So, for example, if you think you want to target "best dog food for puppies," ahrefs will tell you if "best puppy kibble" would do better.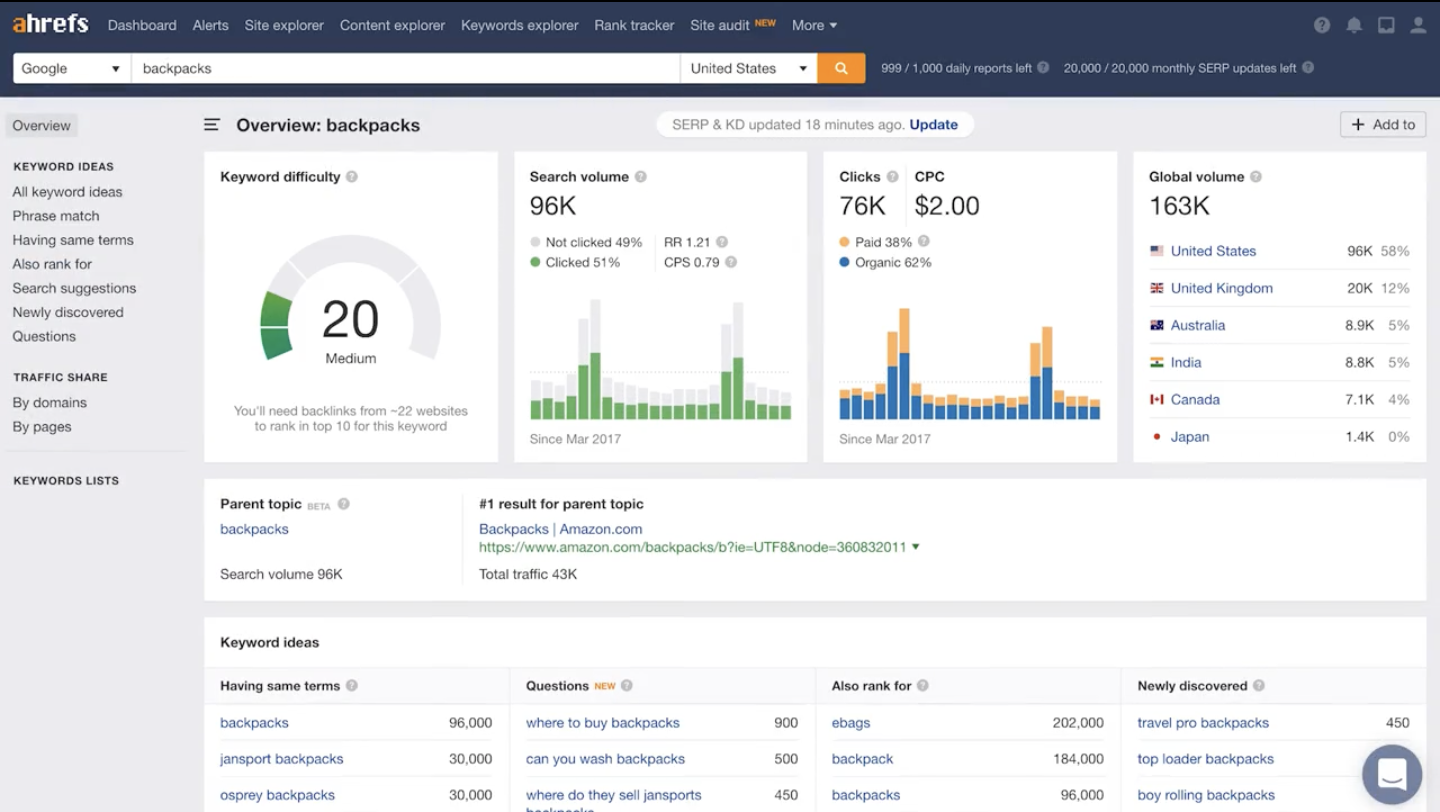 The left menu lays out each option and displays results graphically. Set filters for phrase match to find the sweet spot. See how many backlinks you'll need to rank in the top ten for that keyword and get a visual color-coded cue from green (easy/medium) to red (super difficult).
It really is one of the most complete keyword research tools you can use. But you pay for that. The lite plan is $99 a month. That's not as much as some of the tools (like SEMrush at $140 a month), but it's enough.
Kudos goes to ahrefs for facing the ahrefs vs SEMrush debate head-on. A good read that highlights 8 Things That Only Ahrefs Can Do.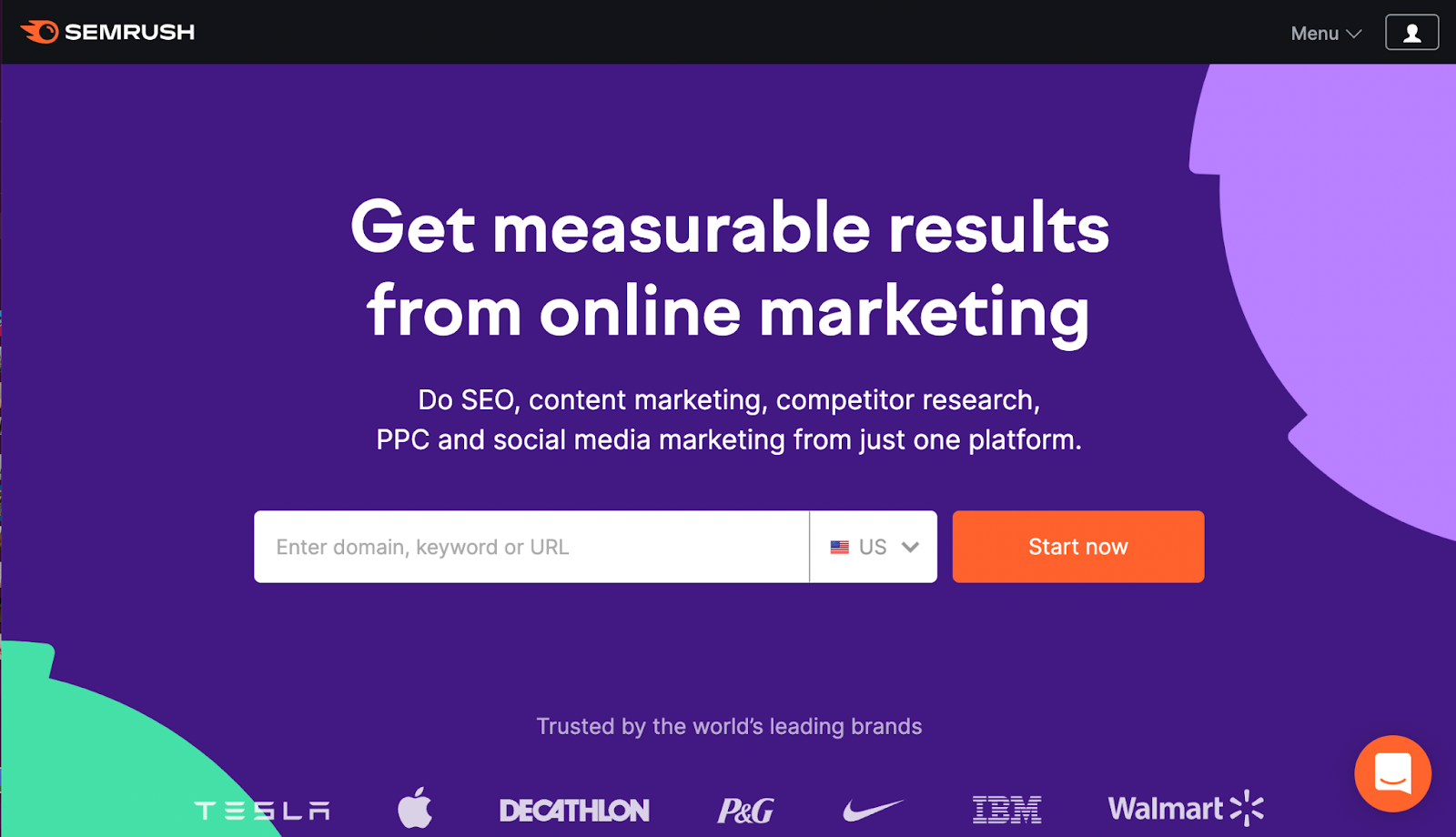 SEMrush is another popular SEO tool. It does a great job of displaying competitor information in an easy-to-understand format.
It also shows you the top organic keywords a competitor ranks for, their top paid keywords, and their main competitors in organic and paid search.
(You know, just in case you want to stay on top of your competitor's competitors.)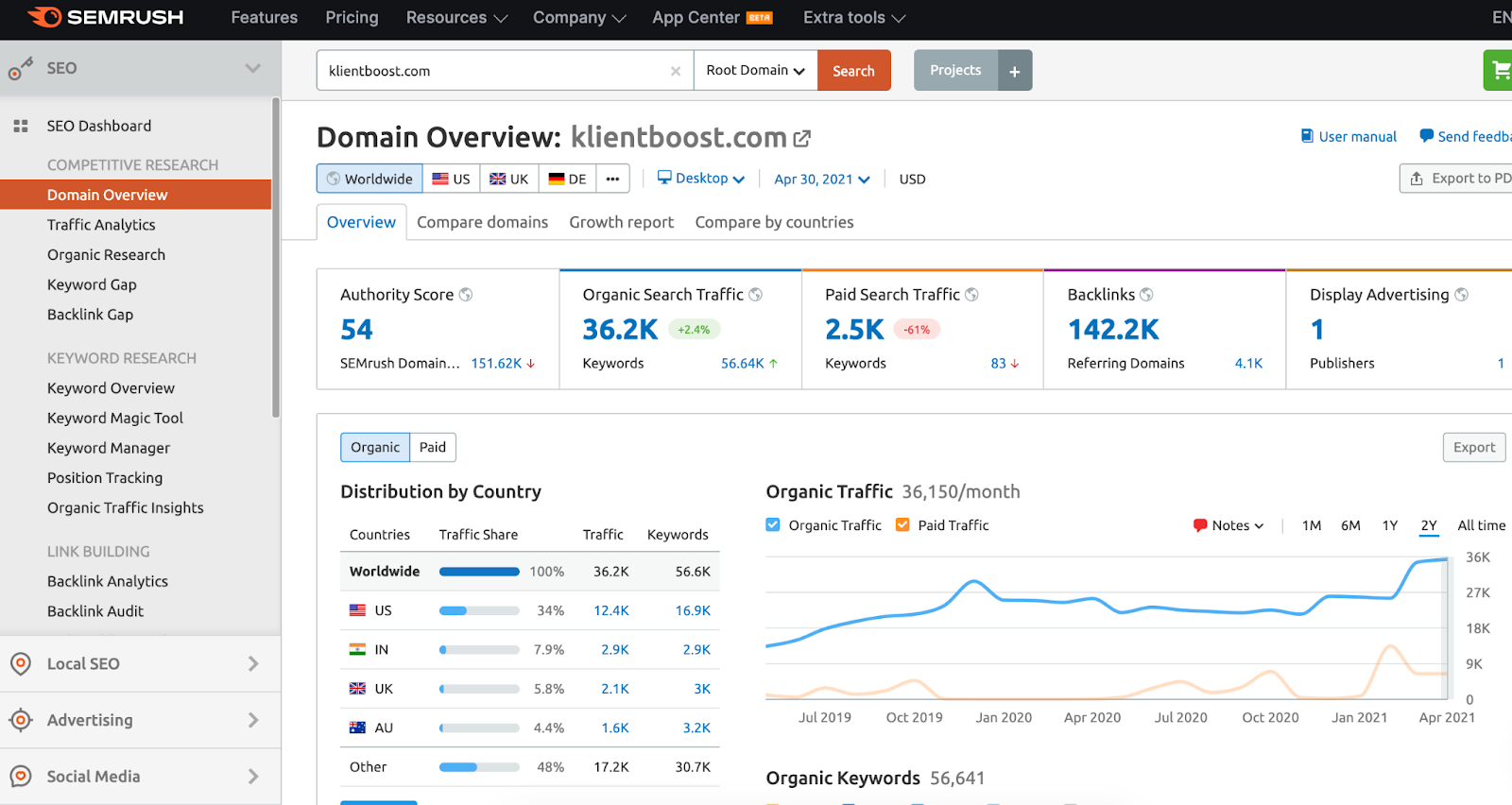 See what kind of keyword competition you're up against so you can plan your own strategy most effectively.
The organic keywords features displays your competitors' top 5 ranking keywords—cool. Another handy feature is the Google docs add-on that highlights the focus keyword and semantically-related keywords for a blog article as you write.
But the most powerful function in SEMrush? The keyword magic tool.
What's so magical about it?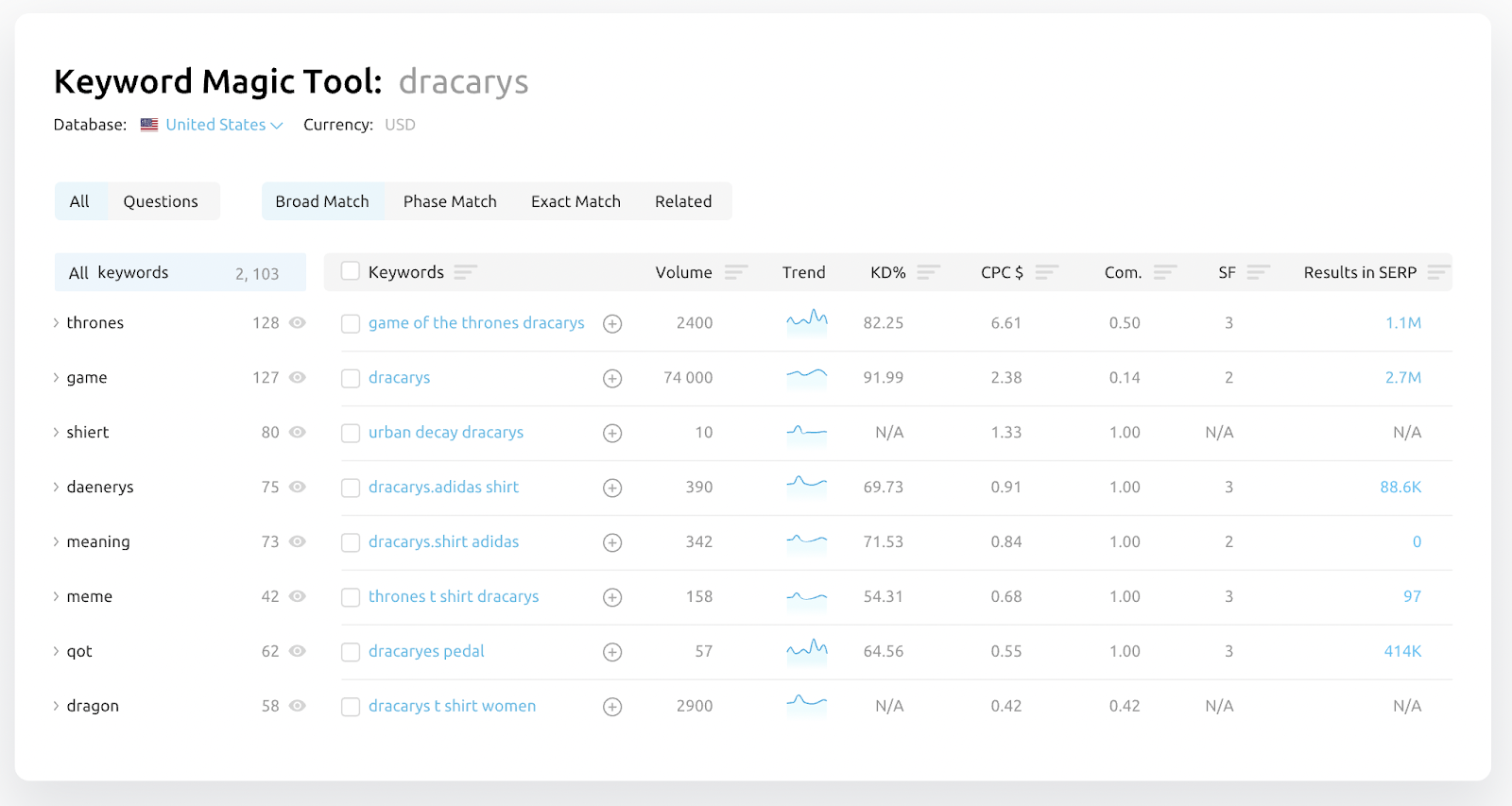 It suggests keywords from a database of 800+ million terms. That means you won't be high and dry if you're looking at niche subtopics. Tons of keyword ideas with tons of metrics attached to them (like difficulty, volume and recent trends).
Starting at $140 a month, it ain't cheap. But it might be the most comprehensive keyword research tool out there if only the biggest and best will do. Is $40 a month better than ahrefs? Doesn't look like it according to unbiased reviews—there's some serious debate out there. It has more, but you have to dig for it. If that's your style, pay the money and get digging.
18. Adding Buy Cycle-Specific Modifiers
Another not-a-tool handy trick to have up your sleeve when you want to drive more traffic to a product is to add cycle-specific modifiers to your ads (that target the different stages of the buyer's journey).
These modifiers drive people to content relevant to their stage in the buying cycle: learn, shop, buy, use.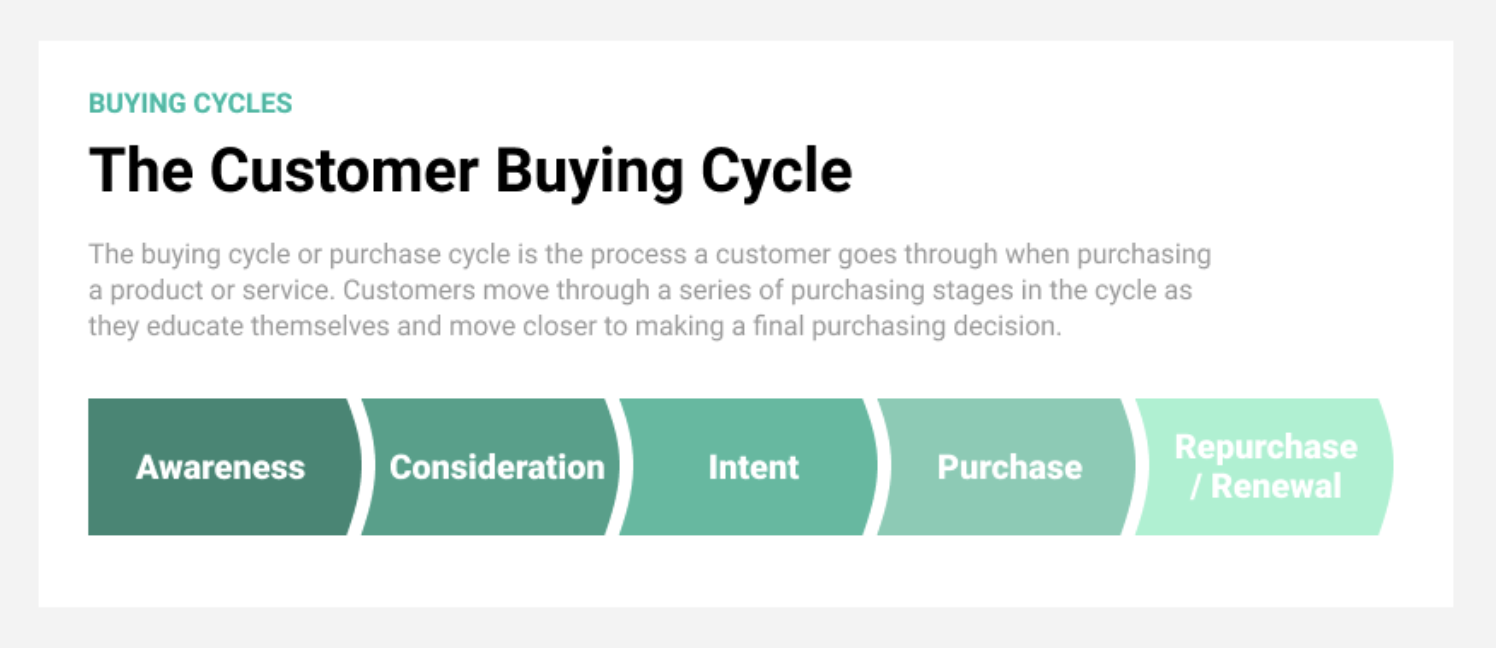 Let's say you have a website that sells smartphones, for example. You might want to target people searching for "best phones" (a broad, top-of-the-funnel search).
But when you take buy cycle modifiers into consideration, you can identify searches like "best phones for long battery life" or "best phones around water" as users early in their purchasing process.
Go a little bit further down, and you can add something like "best android phones for…" to target middle-of-the-funnel searches.
Next, you can get even more specific by targeting people at the bottom of the funnel who are using phrases like "best deal on Samsung Galaxy," indicating an intent to buy.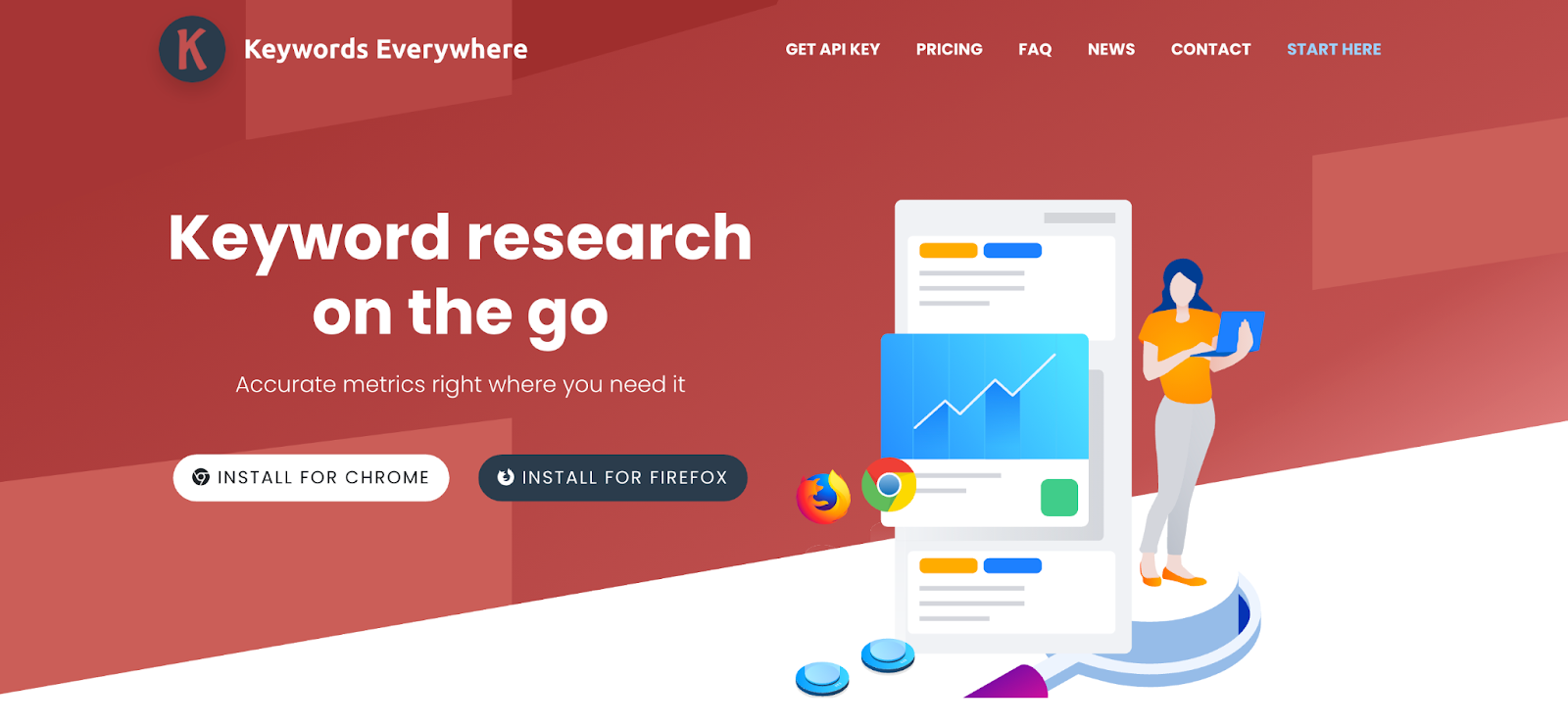 Keywords Everywhere is a browser add-on for Chrome or Firefox. You don't have to go anywhere or do anything because your keyword research follows you around—everywhere. You'll see monthly search volume, CPC, competition data, and trends of long-tail keywords appear right under the Google search bar.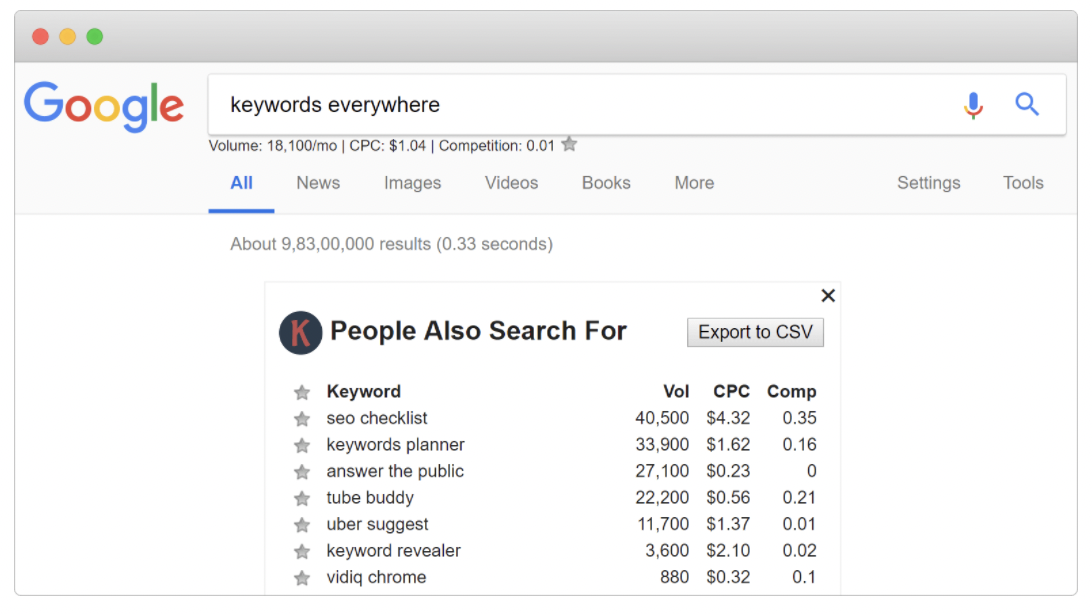 Keywords Everywhere also pulls the "People Also Search For" and "Related" keywords from Google & Bing and shows them to you with the volume metrics right inside a lot of search pages: Google, Bing, YouTube, Amazon, Etsy, eBay and more.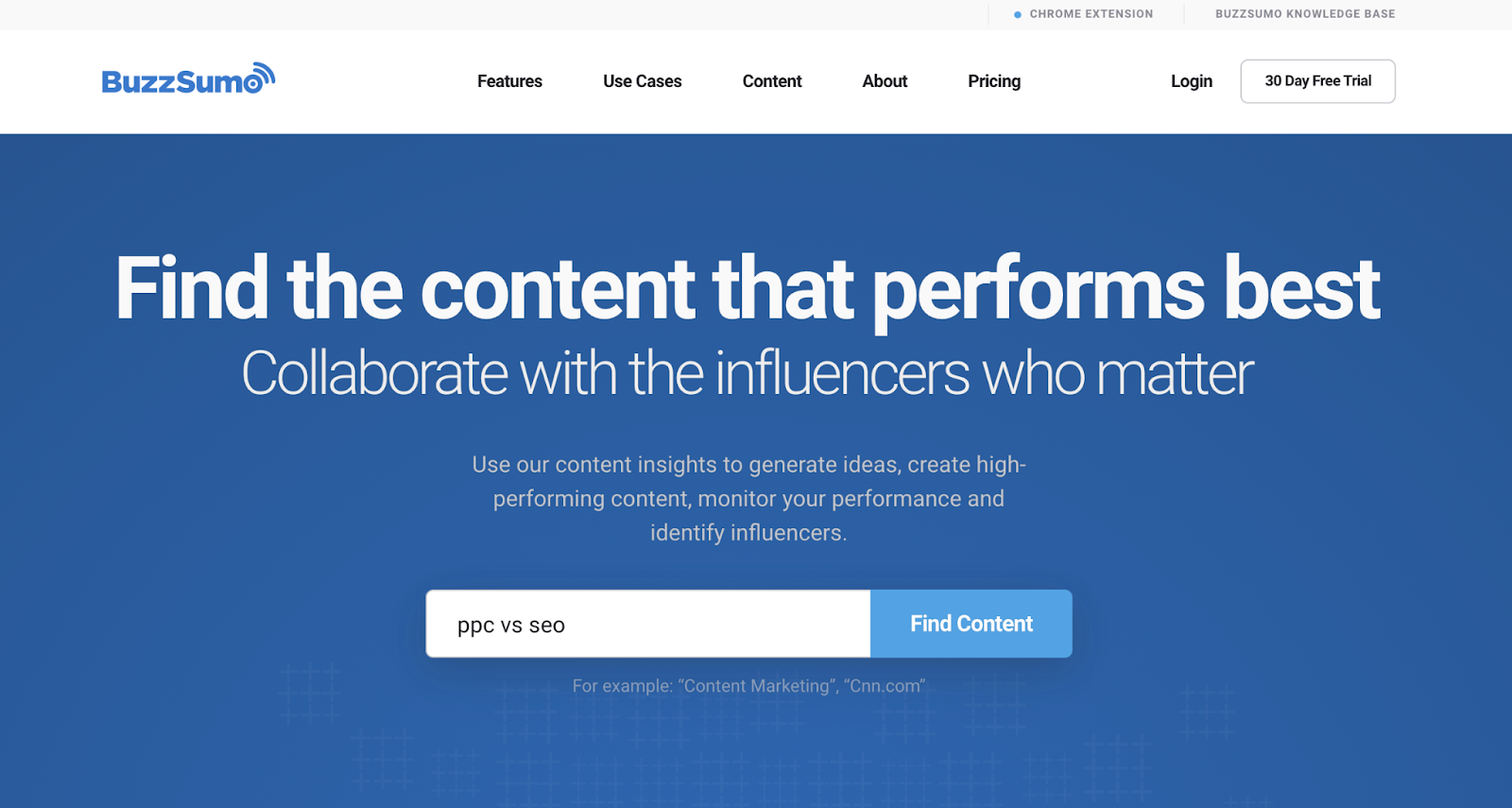 Buzzsumo is more about finding high-performing content in your niche than direct, specific, long-tail keywords to mine for optimization.
But it's still incredibly helpful from a keyword research point of view.
When you see which topics in your niche are getting the most attention, you can get new ideas on how to shift the SEO side of your content marketing campaigns.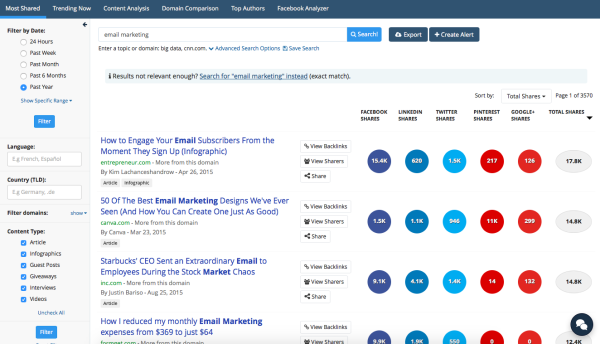 By searching "email marketing," for example, I was able to see which pieces on that topic had the most shares and what kind of approach they had to the topic at hand.
With an account, I'd be able to see information like the top authors in that content area, full content analyses, and domain comparisons for sites publishing on that topic. You can install a Chrome browser extension as well.
Long Tail Pro focuses on the specific keywords that make up 70% of search engine traffic—the long-tail keywords. Long Tail keywords are less competitive keywords that turn into high-converting online traffic regardless of niche.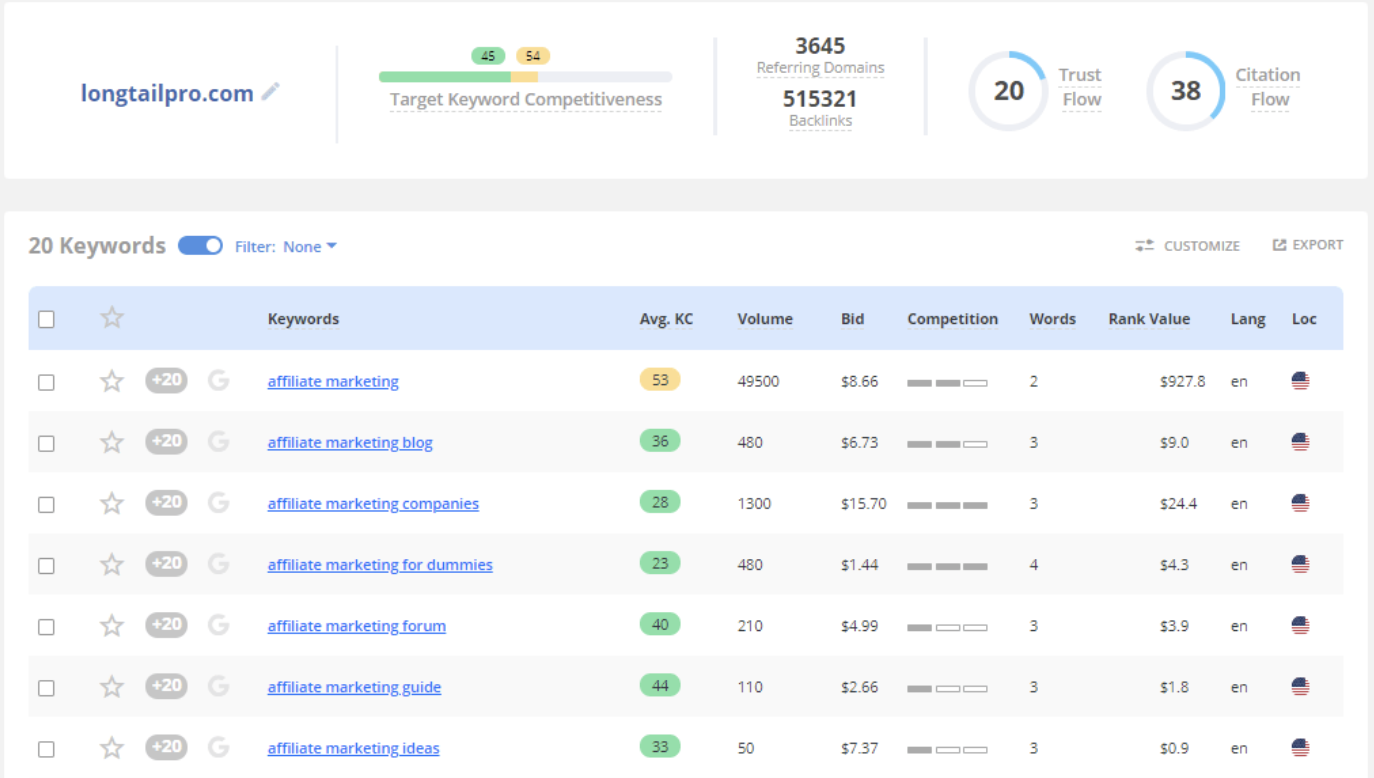 LongTail Pro (LTP) measures keyword difficulty differently. Whereas other tools label keywords as low, medium, or high, LTP calculates difficulty on a scale of 0 to 100.
Simply enter your seed keywords, scan the list of recommended keywords, run a competitor analysis and determine profitability and rank.
They also have features to refine the list of profitable keywords for your site: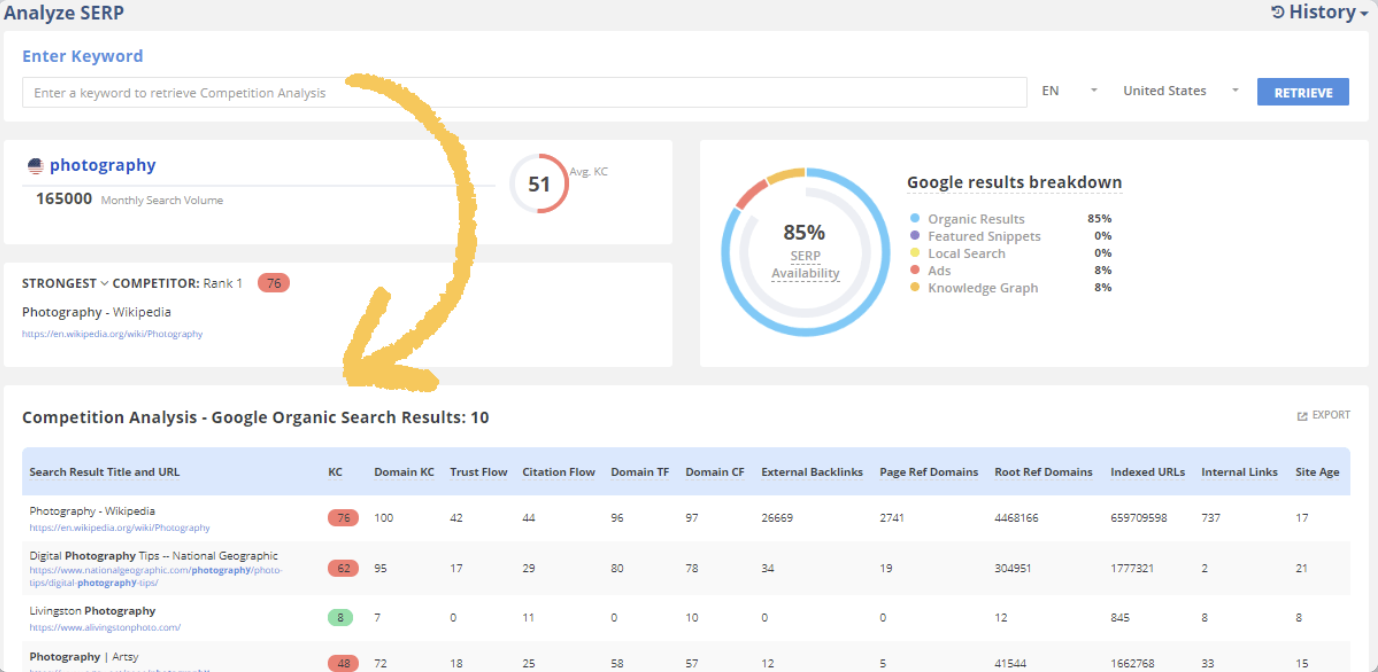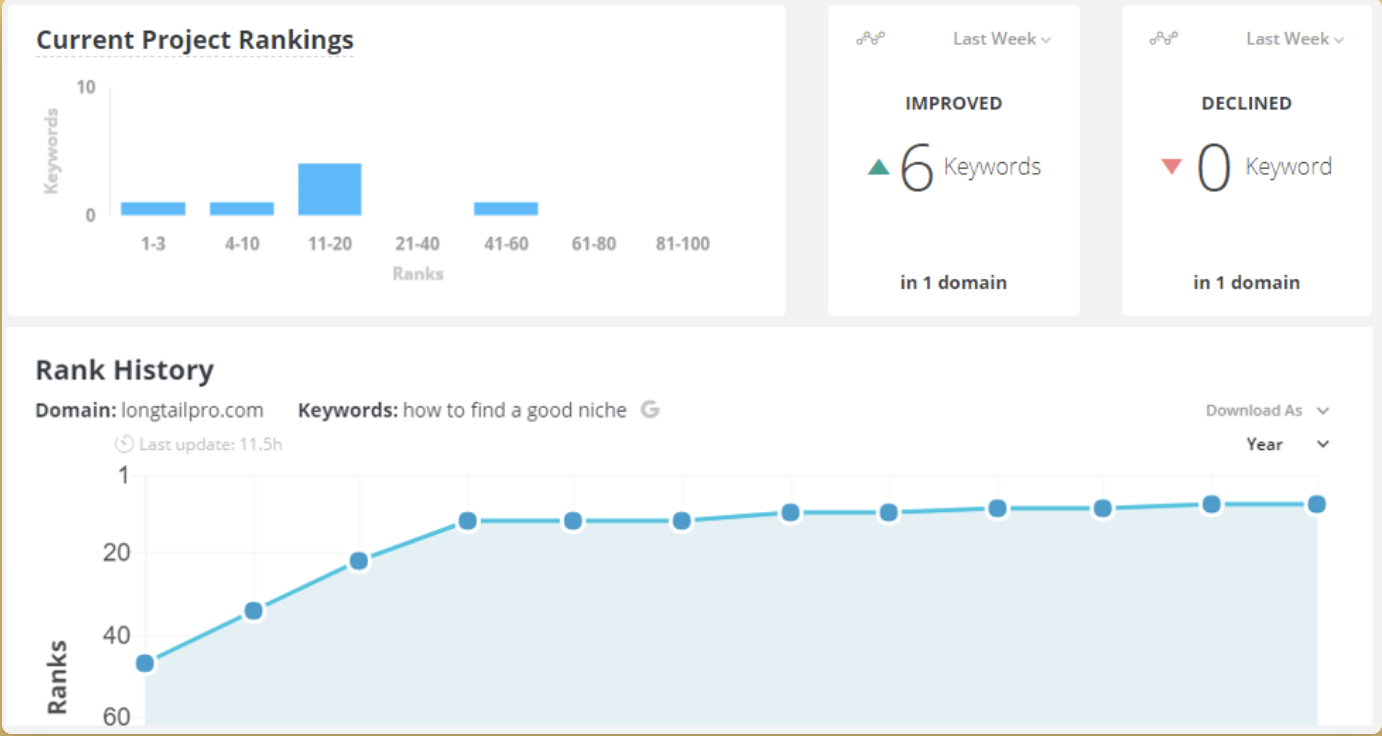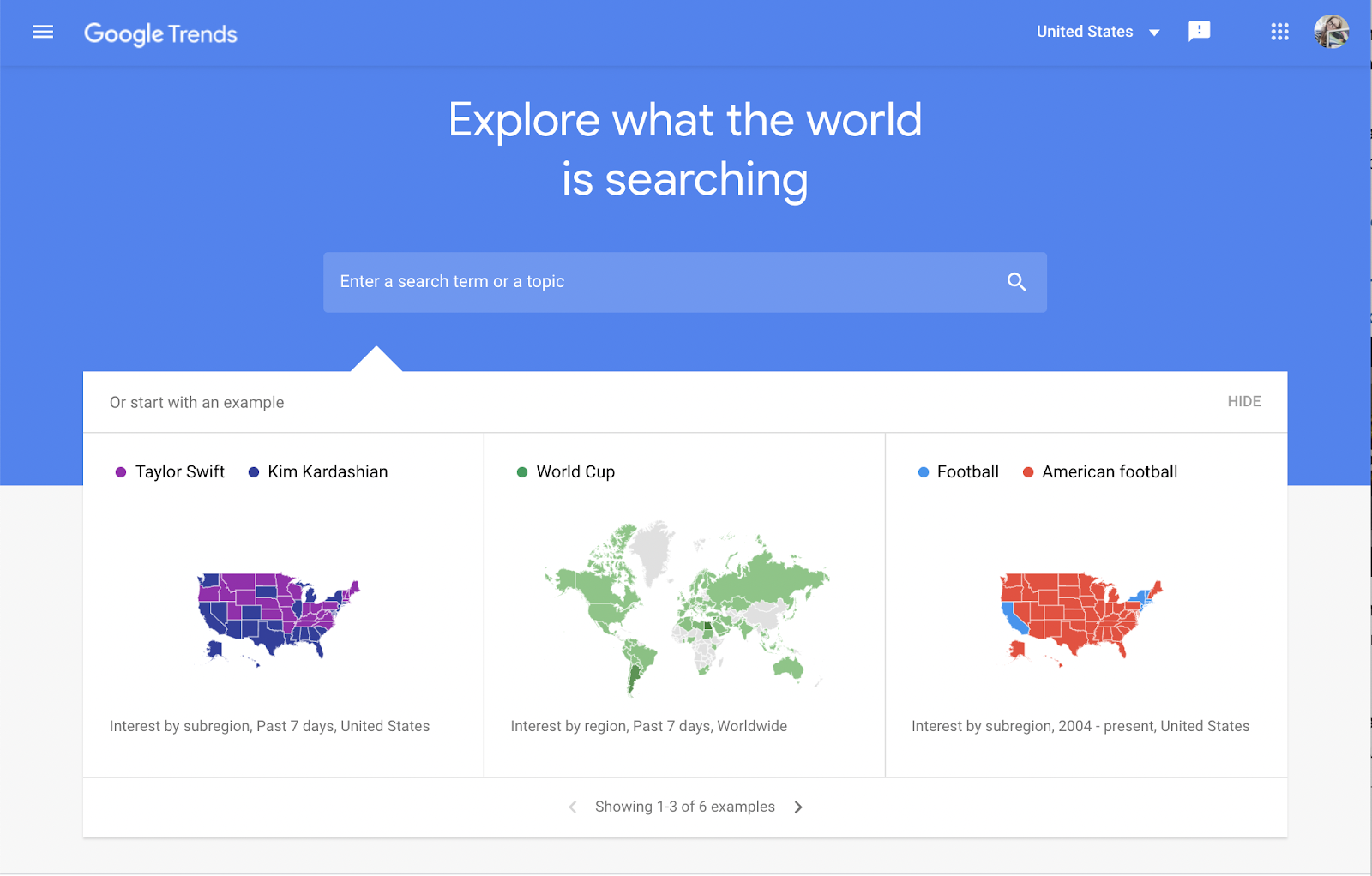 Google Trends shows how interest in a keyword has increased and decreased over time, regional interests, and related searches. On the main page, you can glance the latest stories and insights trending around the globe.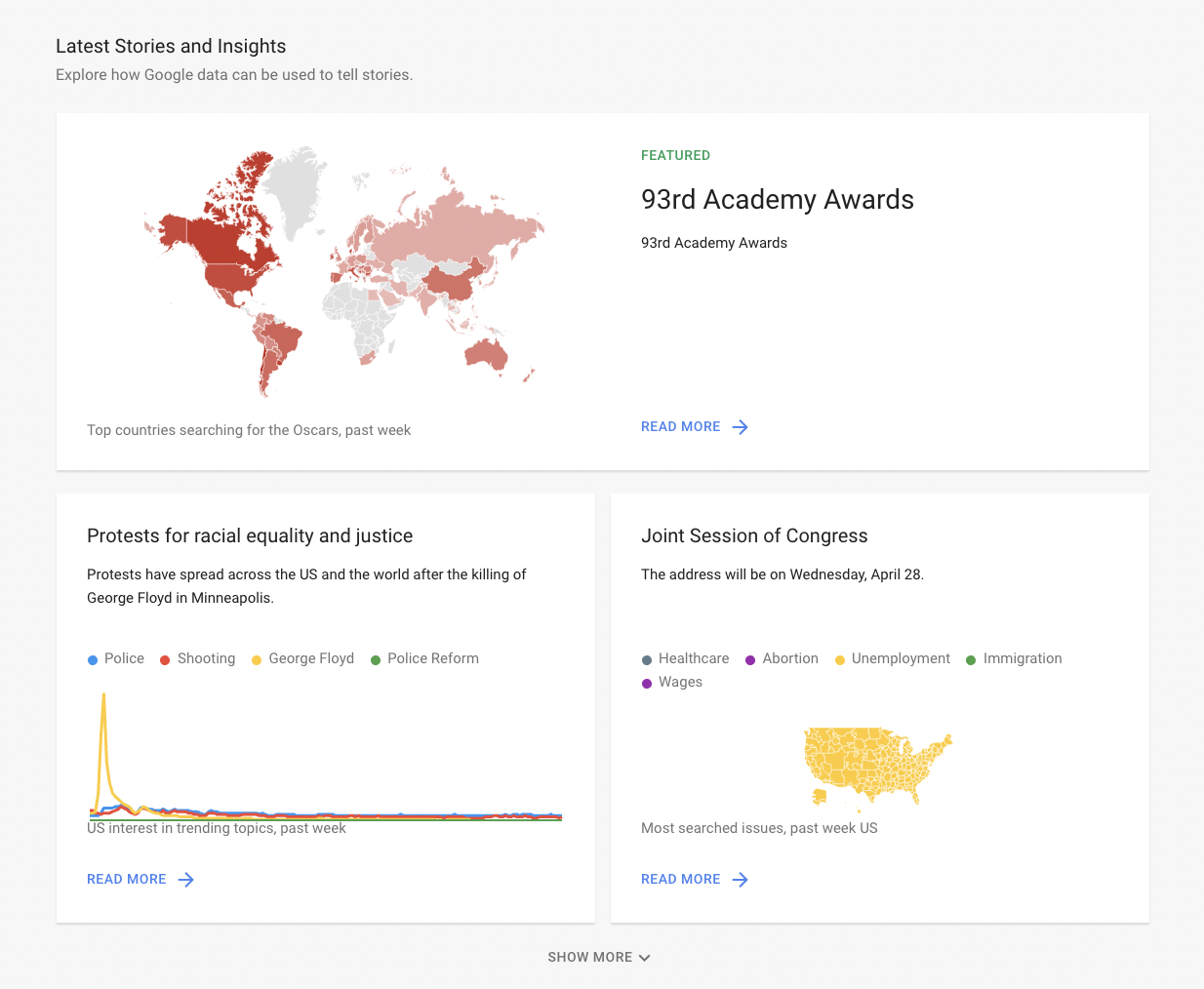 Recently trending is hit and miss for your industry, but in the below example, iOS 14.5 would be worth a read.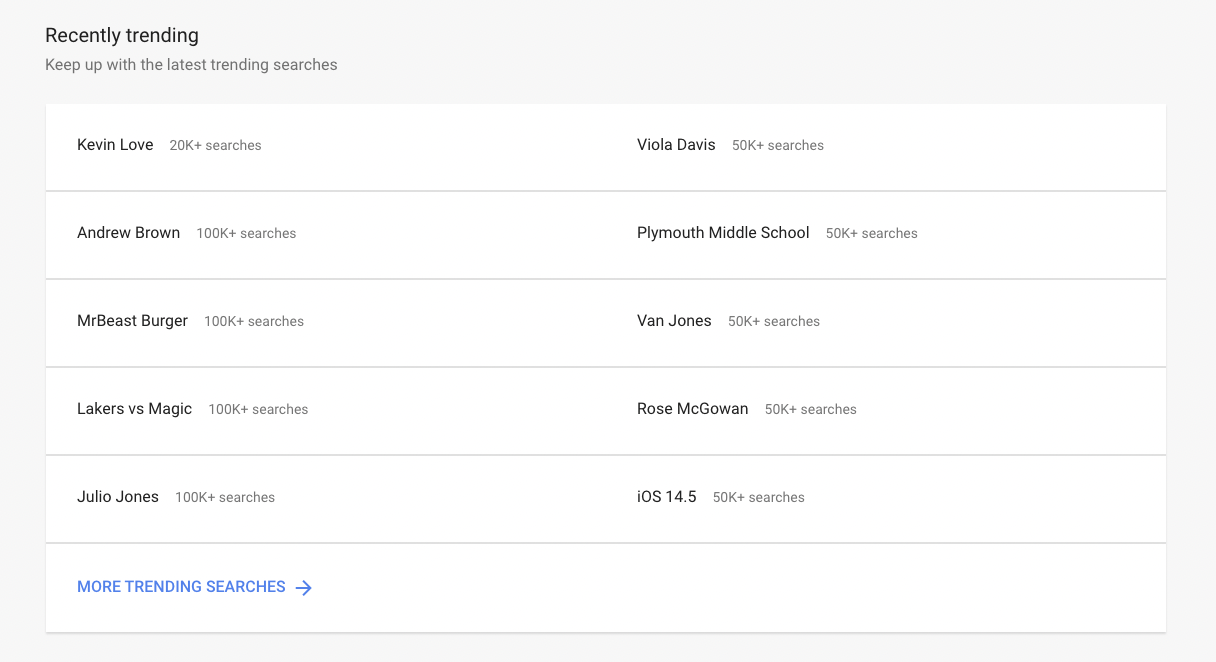 Enter a general search term and see what's trending. You can see interest in that keyword over time, interest by subregion, related keyword topics, and related queries.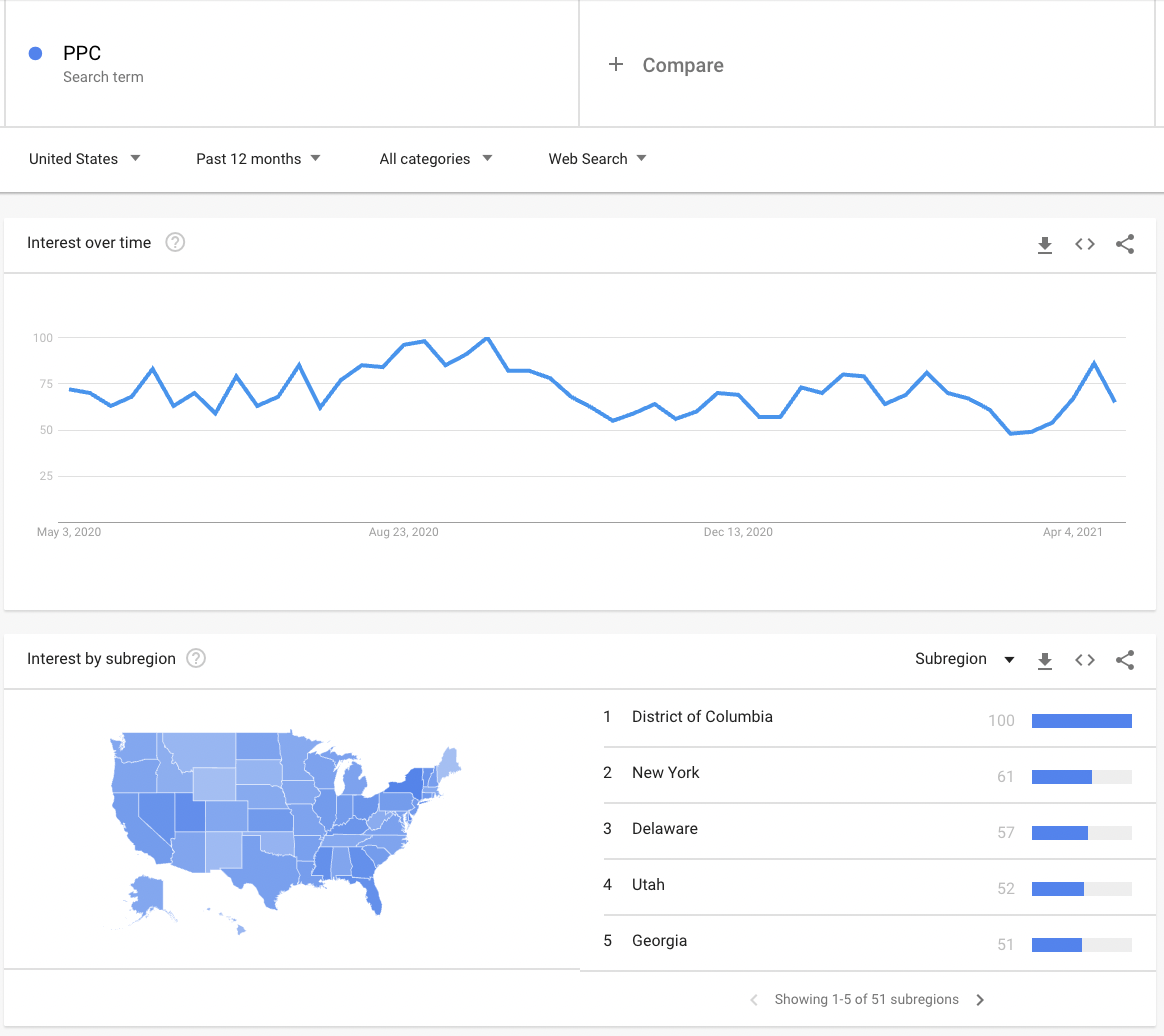 For example, searching for "PPC" shows that it is trending at a stable rate over time and that the related query 'PPC campaign management services" might be worth going after. Click on that query to see the breakout.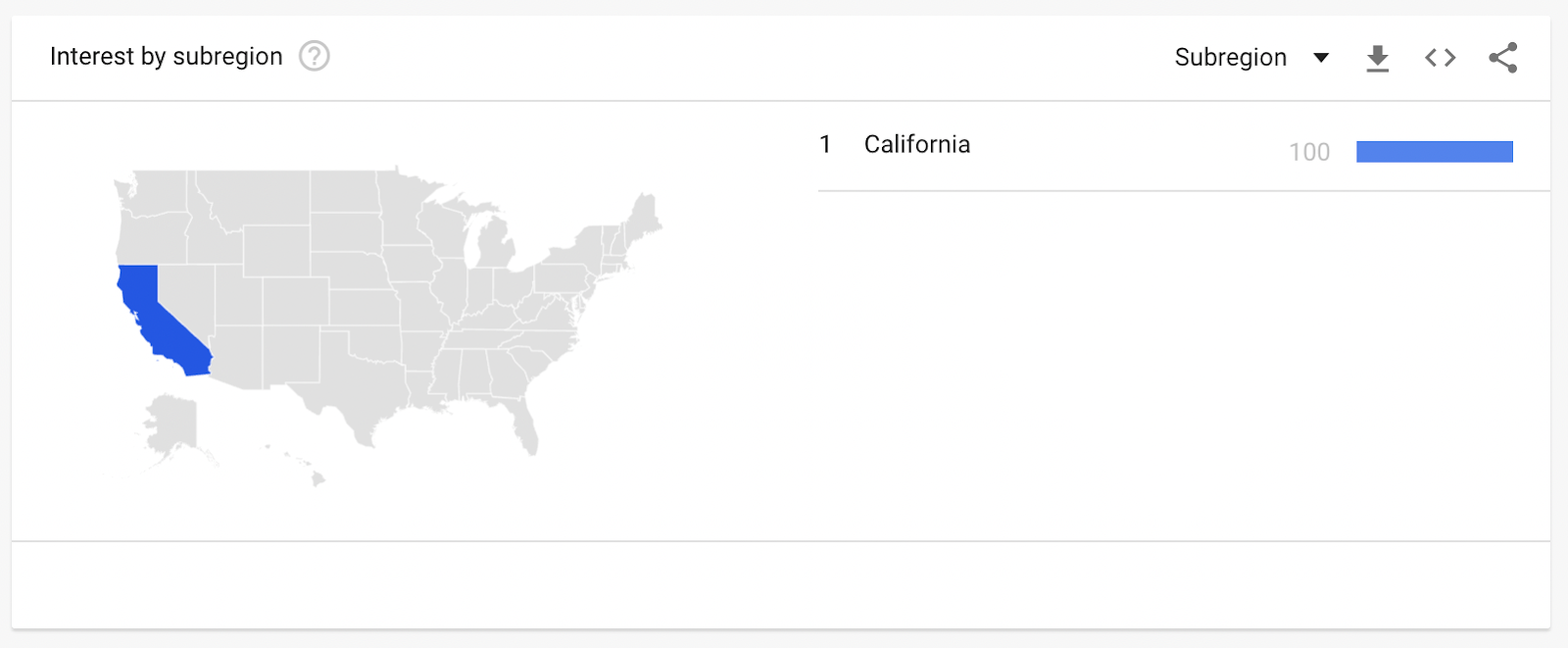 Turns out, advertising PPC campaign management services might be worthwhile in California.
Google Trends is one of those keyword research tools you use right off the start.

Are you interested in long-tail keywords that no one else is trying to rank for? KWFinder helps find these low-competition opportunities so you can start generating traffic right away.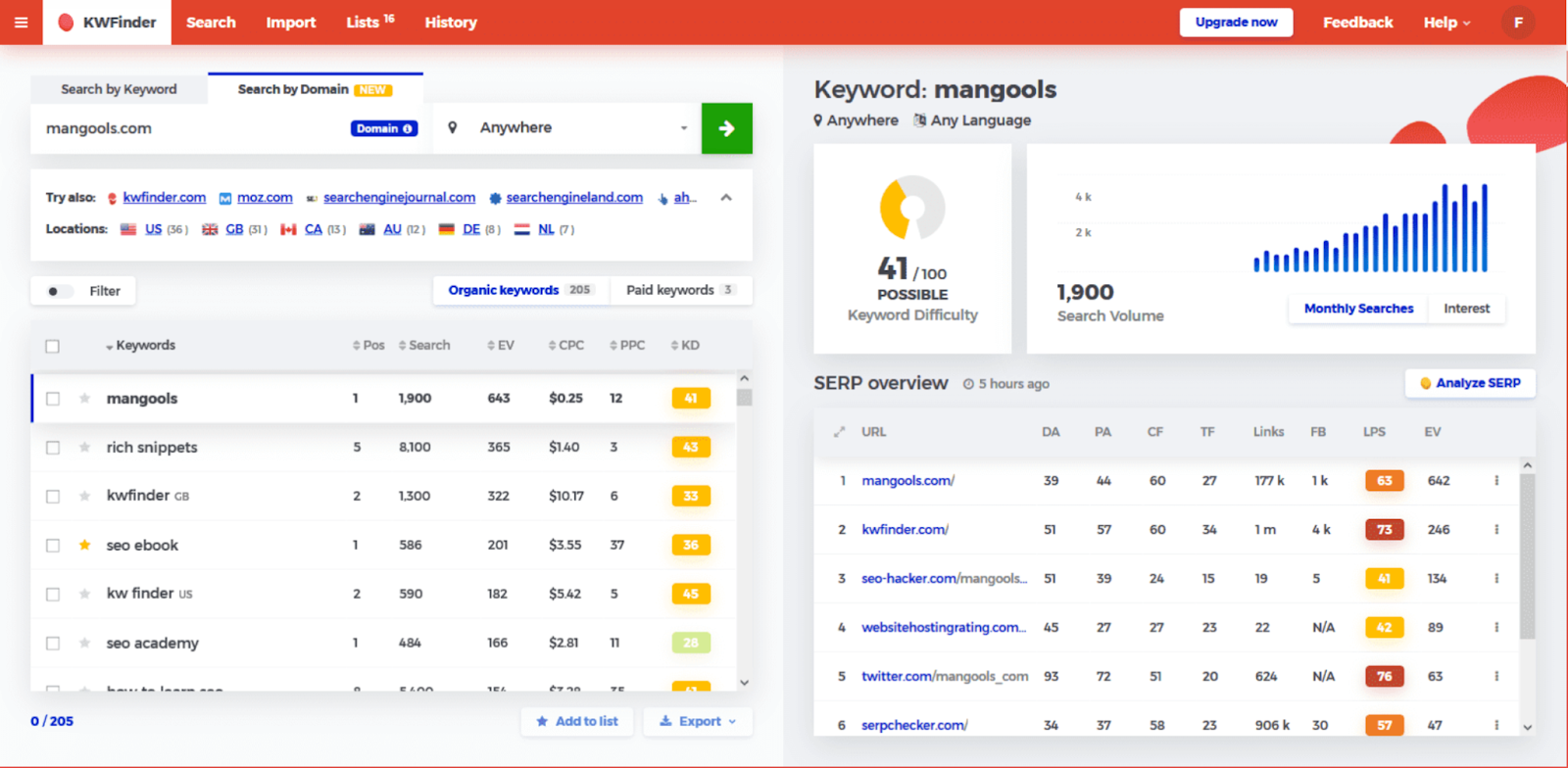 The numbers in the right-hand column show KD (keyword difficulty). That's how difficult it is to rank for a given keyword (the lower the number, the easier it is).
Based on the first five results, it seems like there's a lot of opportunities to rank for these keywords, even though there's a lot of competing business out there.
But here's a differentiator: design aesthetics and social proof. Does the user interface matter to you as much as the strength of the engine underneath that pretty face? If yes, Mangools KWFinder is an excellent investment at $29 per month (with a free 10-day trial).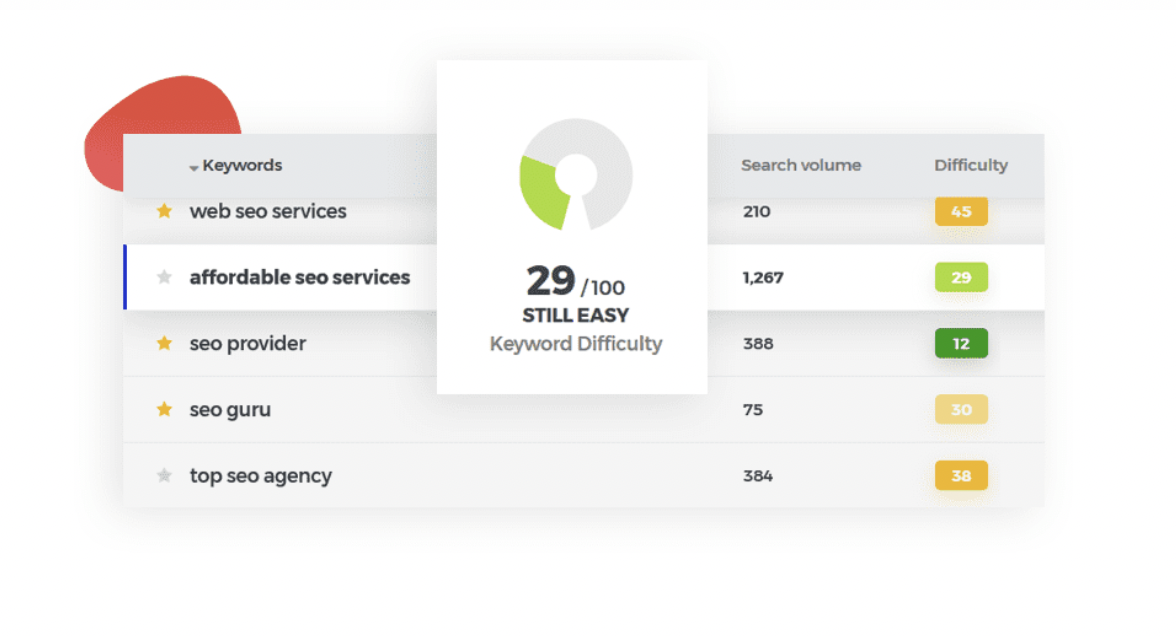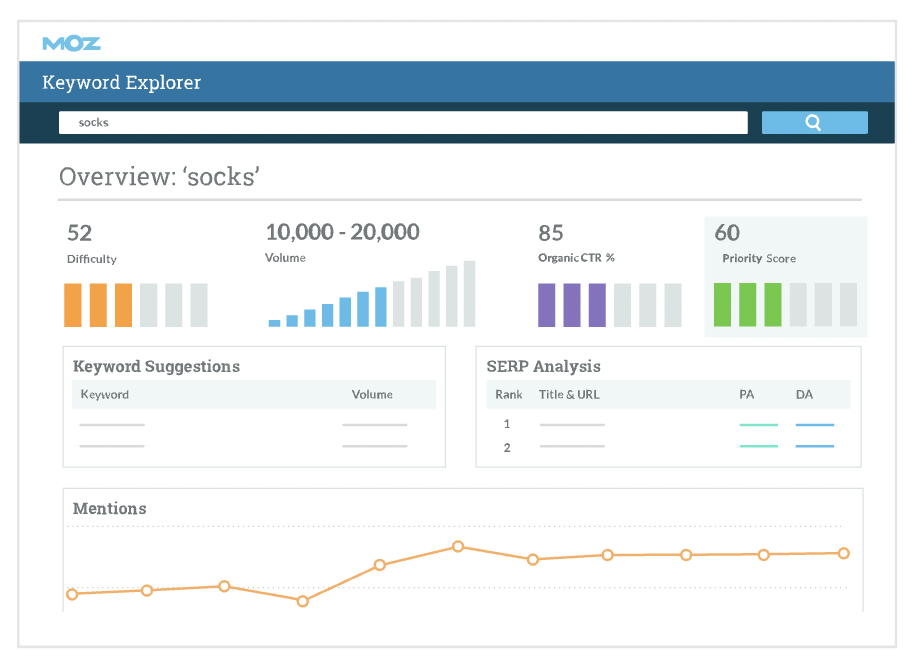 Another grandpappy. The Moz Keyword Explorer gives you everything you need in a tiny, paid dashboard: how difficult it is to rank for a keyword in the SERP (search engine results page), volume, organic CTR, and keyword suggestions. See for yourself who and what you're up against.
Moz's spiel is accuracy.
Moz claims to help you by leveraging the largest, most accurate, vetted search keyword database. You can get the top 10 search engine results for a keyword or phrase, as well as its search volume. Moz also provides competitive metrics to show how much work it'll take to reach a top 10 spot.


Sign up, enter your keywords, and Moz gives you a comprehensive keyword analysis. That simple.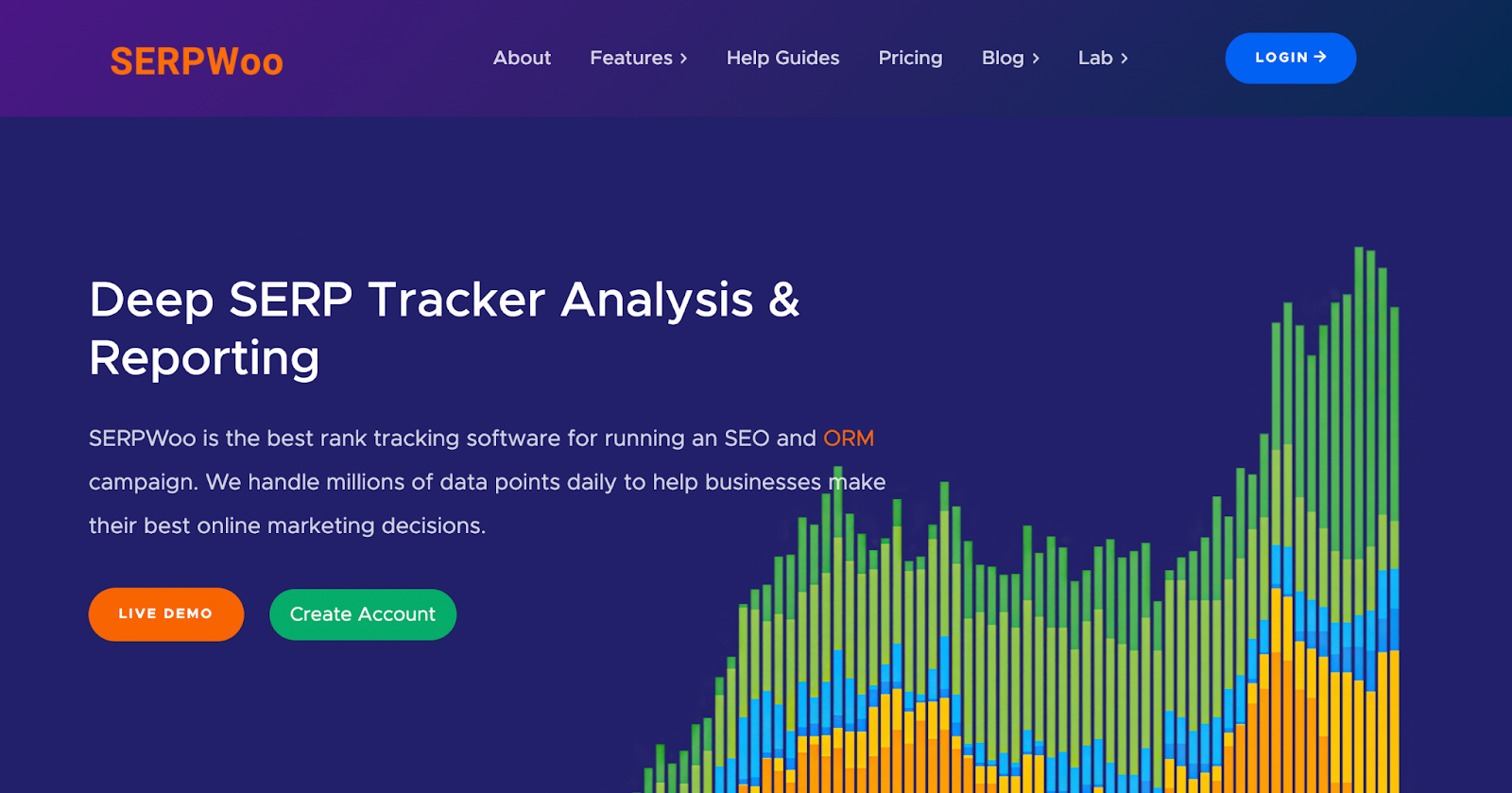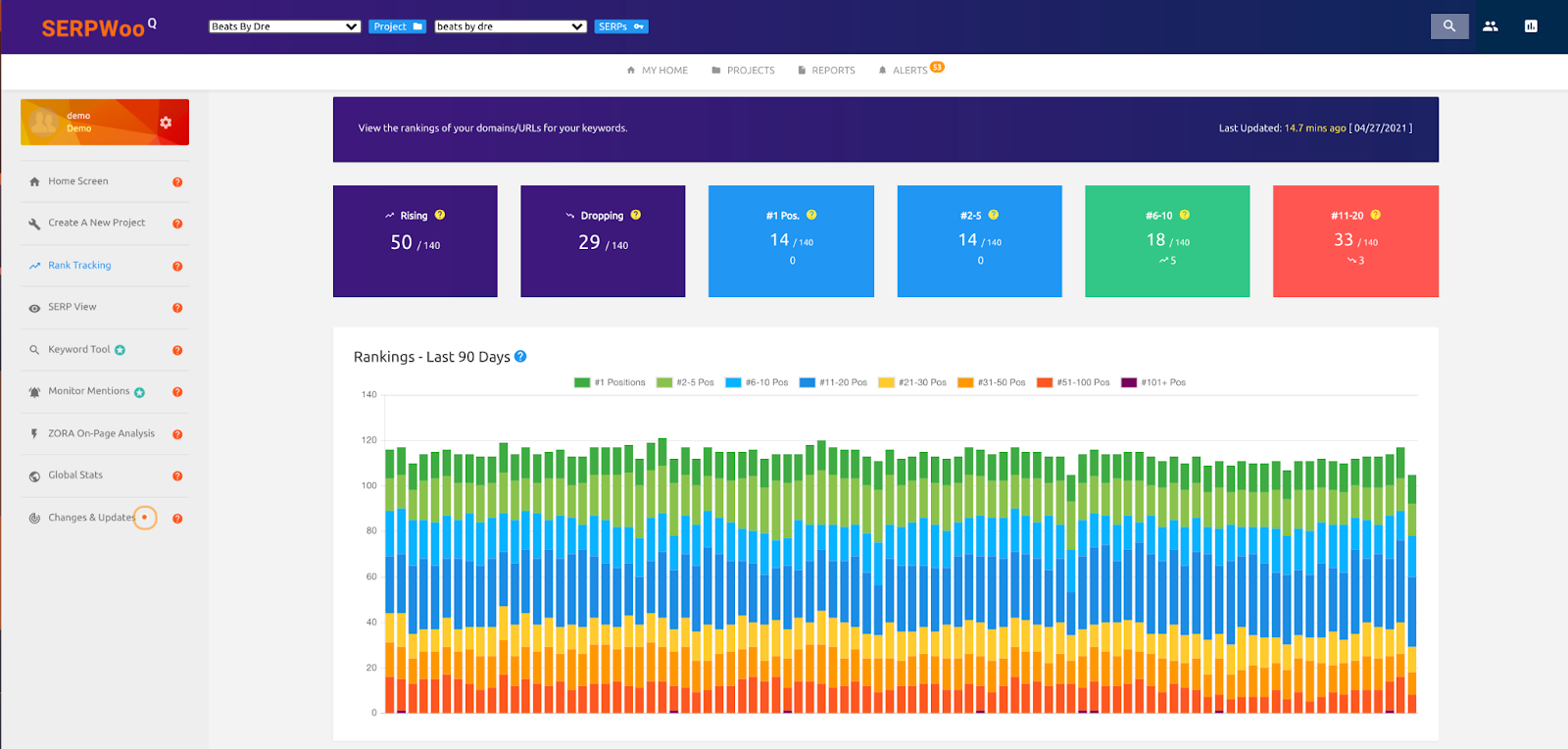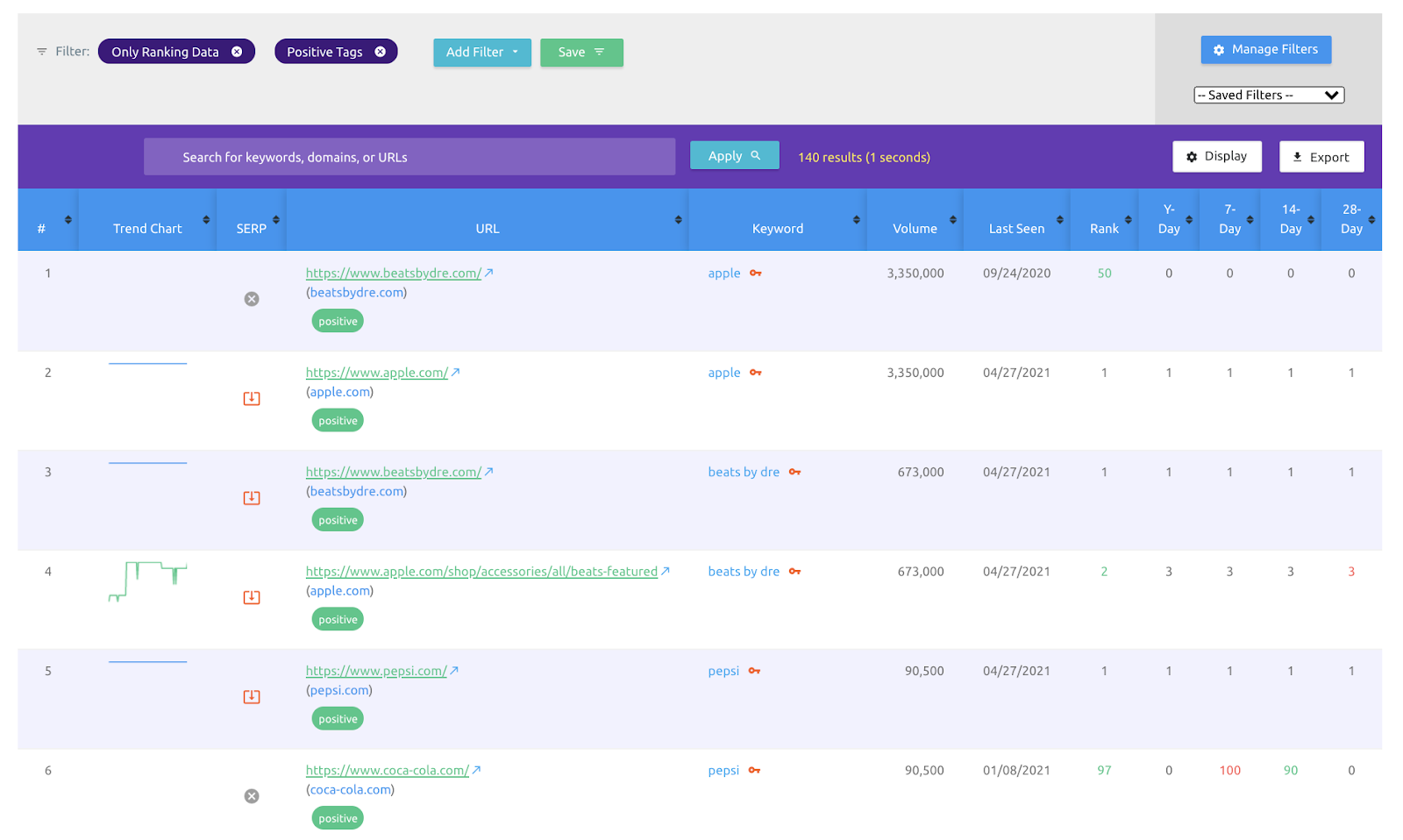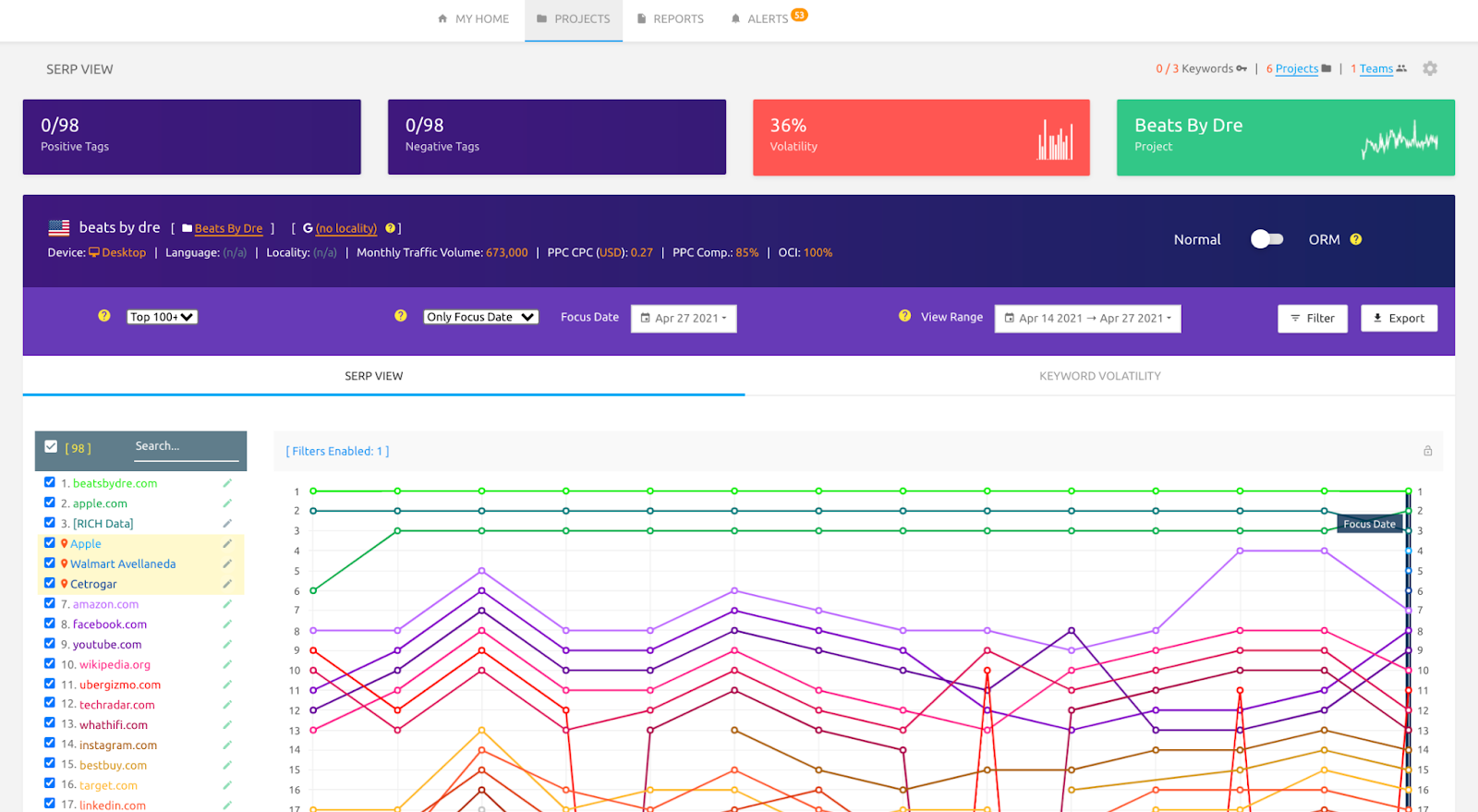 All the lines you see are different websites and how their rankings for the given keyword have changed in the date range chosen. Beyond that, SERPWoo shows you how many days a site has ranked for the keyword you entered, the range of positions it's held in SERP, its Majestic and Alexa score, MOZ scores, and the number of backlinks.
In other words, SERPWoo lets you size up the competition in just one glance.
Compare how different domains rank against each other in search engines and get a full domain SERP analysis on your own domain or a competitor's.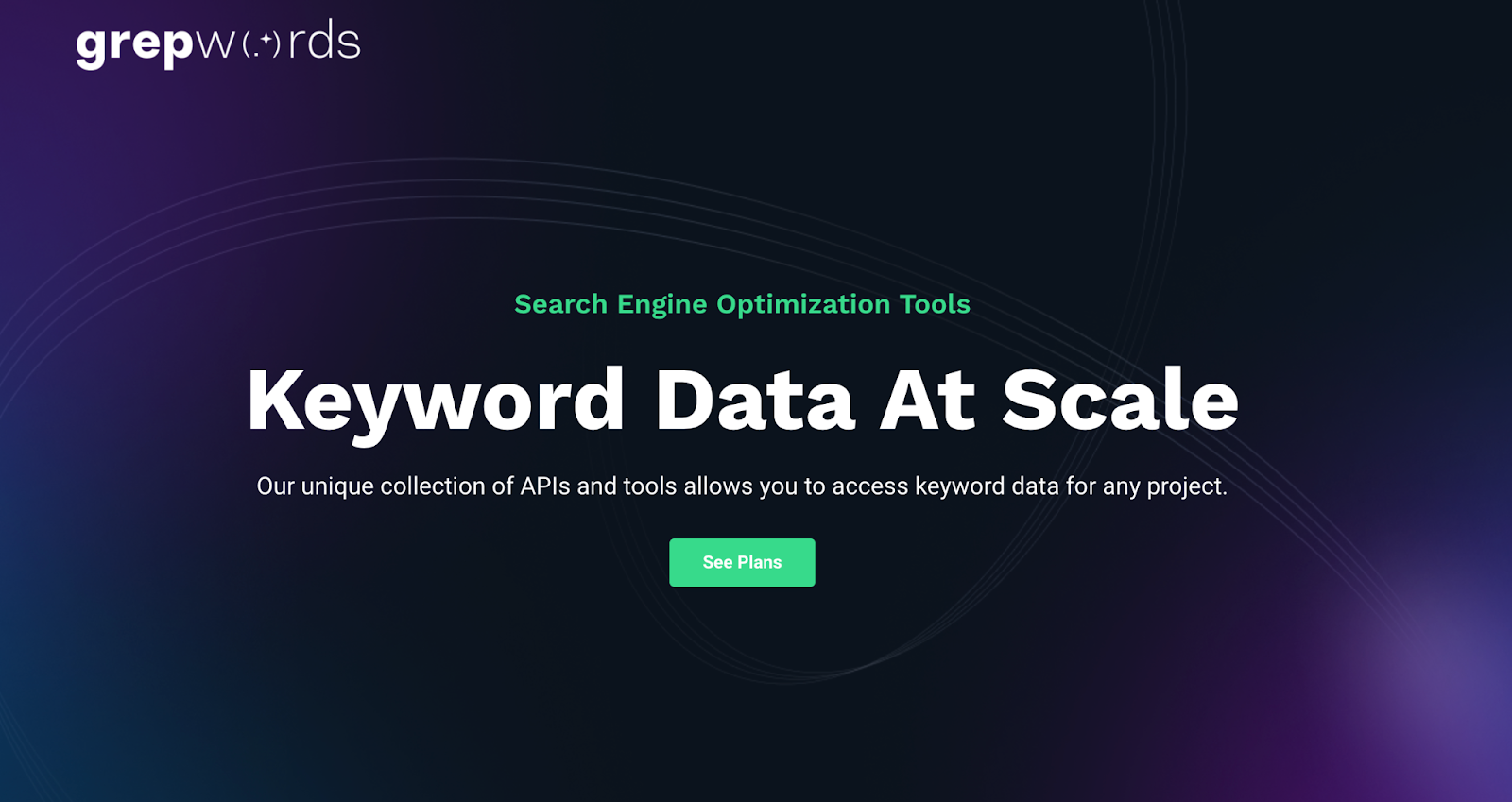 It also gives you different browser plugins so you can gather keyword intelligence while you're researching your competition (instead of shifting back and forth between screens to do so).
Grepwords doesn't offer a free demo version or show you what the interface looks like. User experience on their home page leaves much to be desired—no social proof. And the value proposition is missing.
SECockpit helps over 30,000 users cut through the clutter and find the keywords that will be most profitable for them in seconds.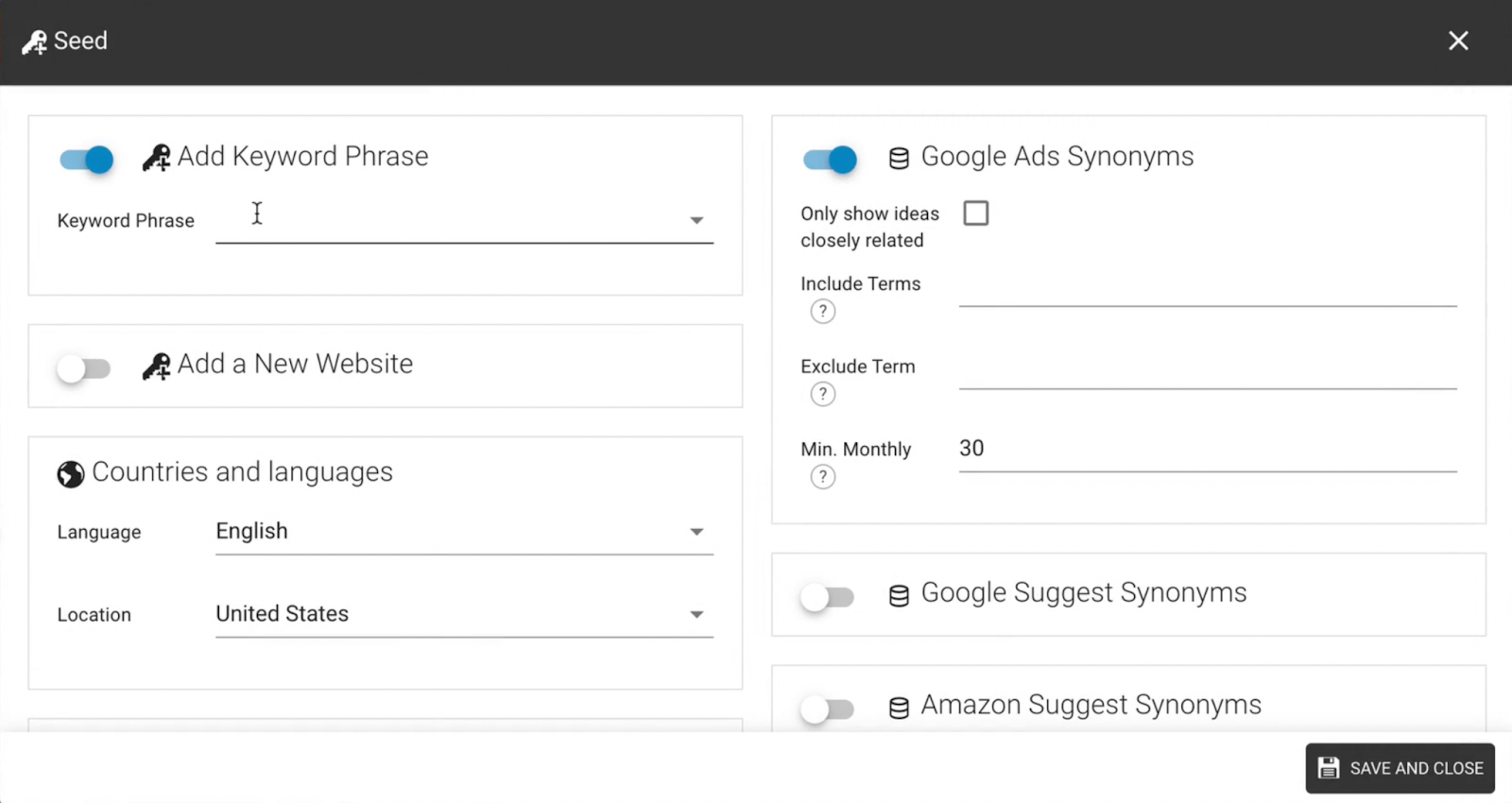 Once you input a keyword phrase into their search function, you see something like this: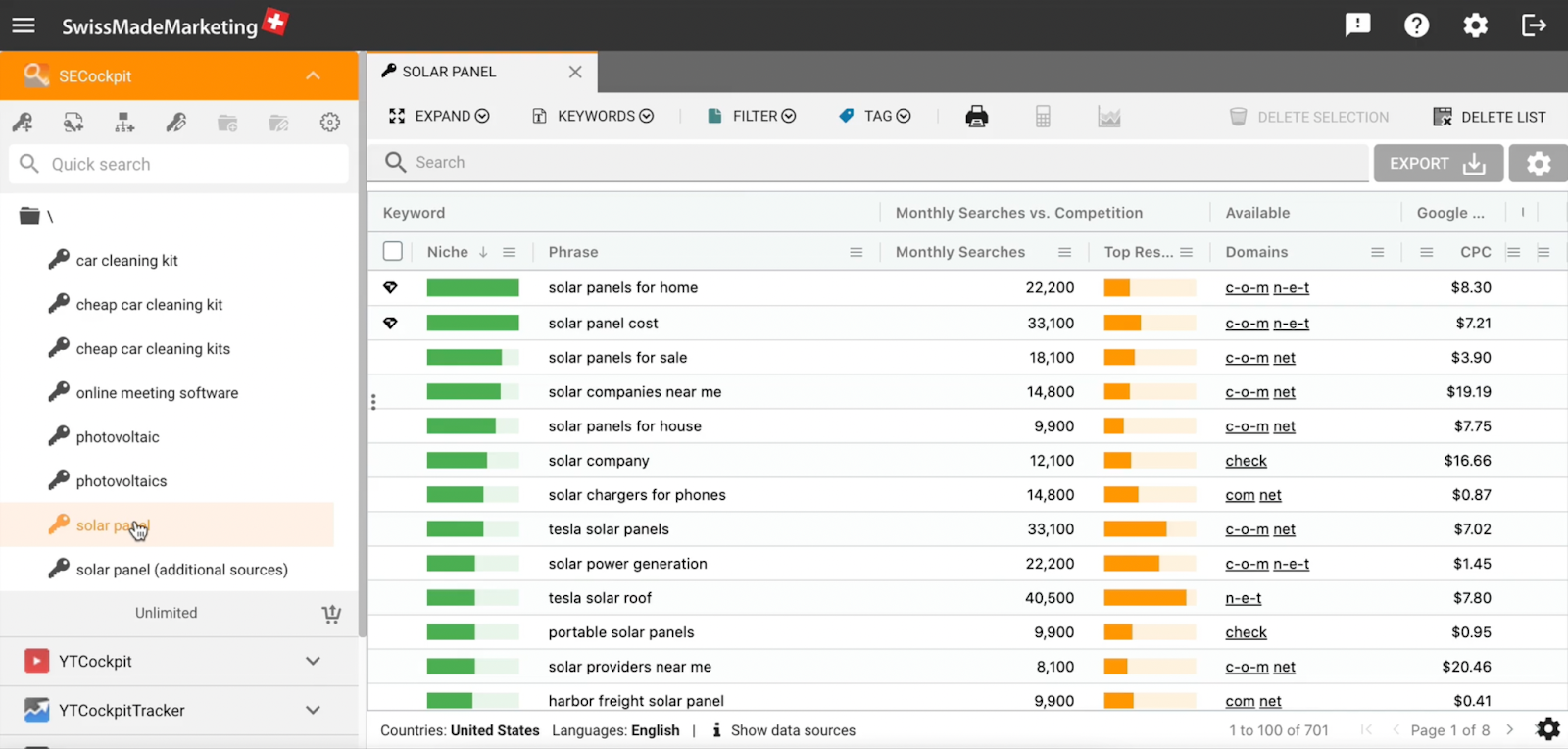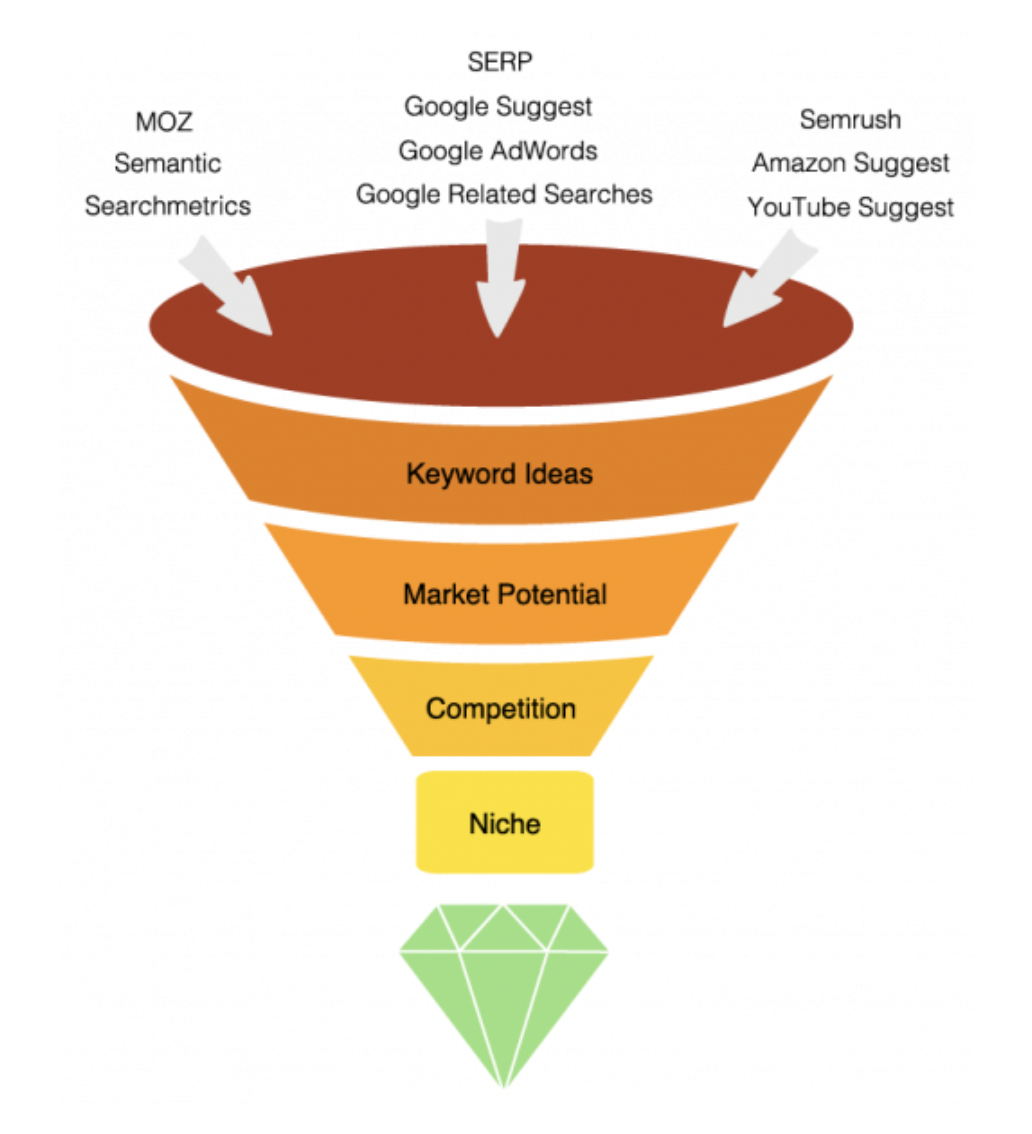 SECockpit is a data source accumulator.

You're allowed to search by any of the ranking factors in the spreadsheet, but the "Niche" value is particularly useful. The keywords with the highest search volume and lowest SEO difficulty (therefore those easiest to rank for) get the highest niche scores.
Rather than focusing on the numbers of just keywords, BrightEdge helps businesses focus on content marketing as a whole, but in a way that boils down to raw data and pure numbers.
This lets marketers connect their content efforts directly with ROI, showing them immediately what works and what doesn't.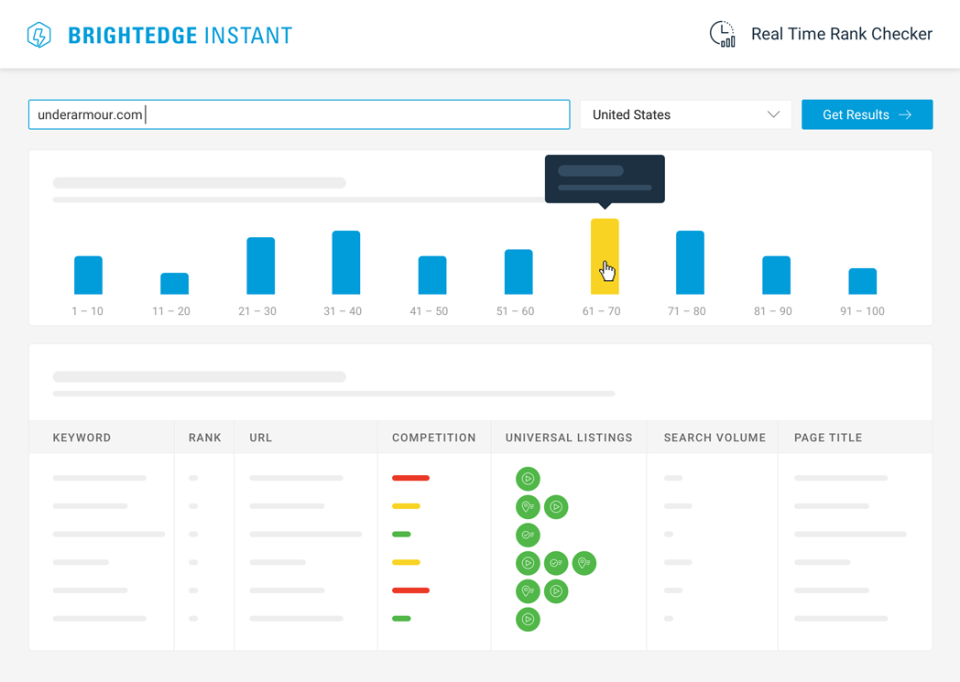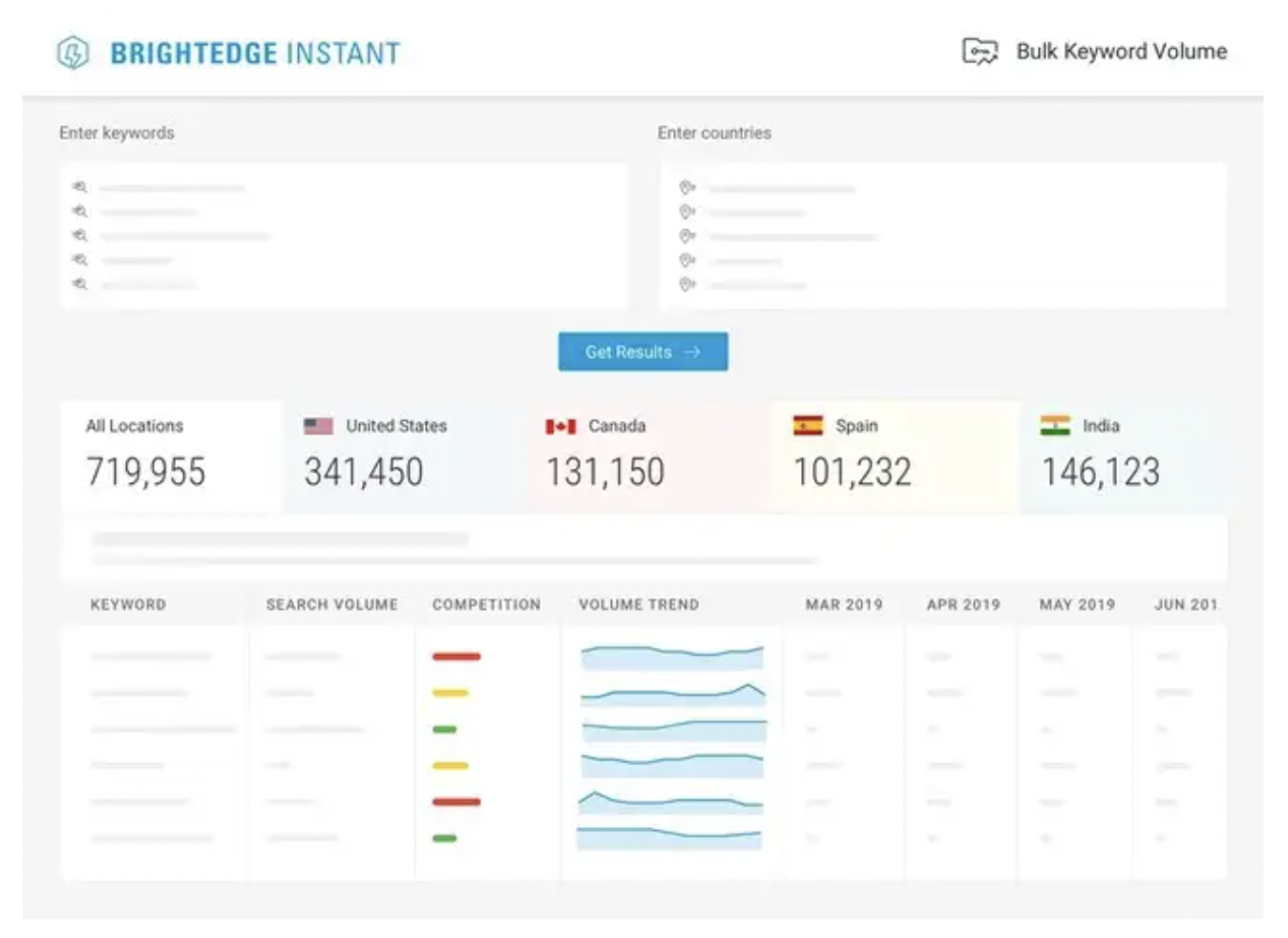 Keyword-wise, BrightEdge shows you what pages you're ranking on to find areas for improvement.
For example, let's say you've got a handful of results on page two. You might just be a few optimization tweaks from getting to page one and a lot more organic traffic.
Super simple and super ugly, Soovle does everything wrong when it comes to design. The serif fonts, blurry logos, minuscule search field—the primary focus of the page—and misappropriation of white space make minimalists cry great big Scandinavian tears every time traffic lands there.
Soovle is where UI (user interface) principles come to die.


If you can get beyond the egregious disregard for design integrity, Soovle's gig is as simple as it gets. Enter a keyword in the undersized search bar, and Soovle suggests keywords from multiple sources (Answers, Google, YouTube, Bing, Yahoo, Amazon, and Wikipedia).
At an ugly glance, see what people search for around the keyword you entered at each of these networks. Click the pixelated encyclopedia icon in the top left to save your searches. Then go shower that clutter off your soul.
Completely free.
And ew.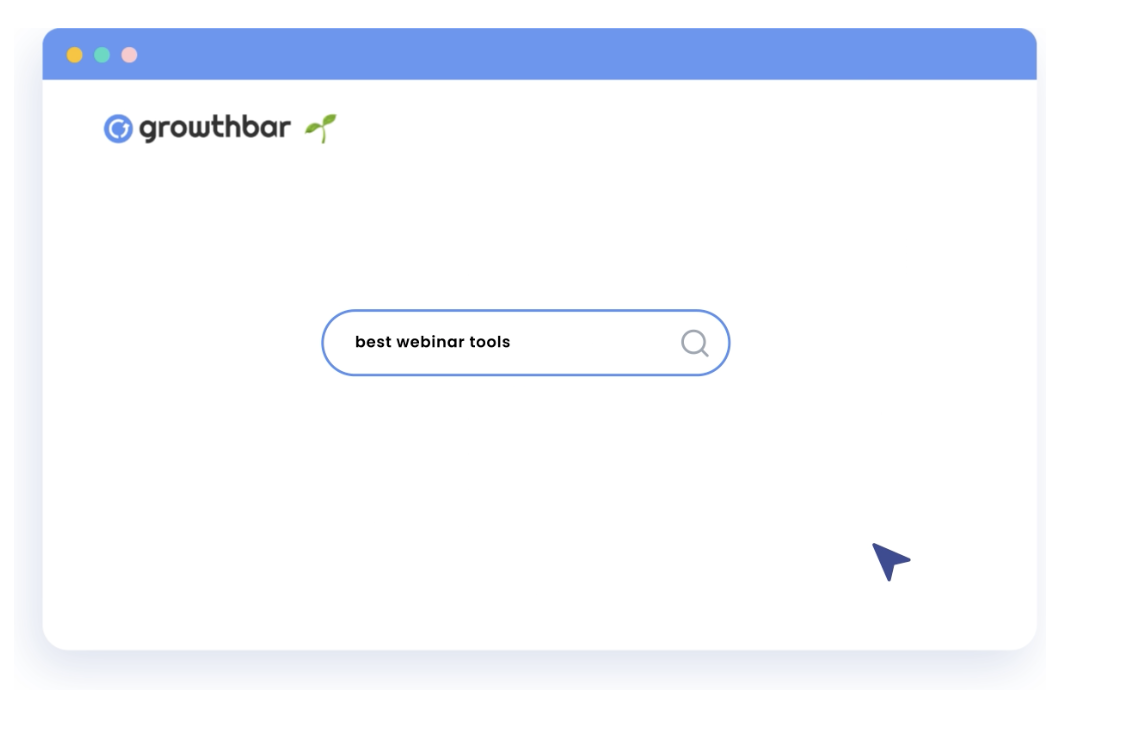 Simple. Enter a keyword in the uncluttered minimal search bar.
An uncluttered, clean interface and this one is new-ish (and gets kudos from HubSpot). It has a dashing Unique Value Proposition (UVP): Smarter 🧠 SEO Than Your Competitors; All-in-one, intuitive, for marketers & bloggers.
It reaches pros, but it looks like it was built for newbies.

Growthbar promises to pull gems from billions of keywords and backlinks, stripping down SEO to the stuff that matters so you can create content in one click without the overwhelm.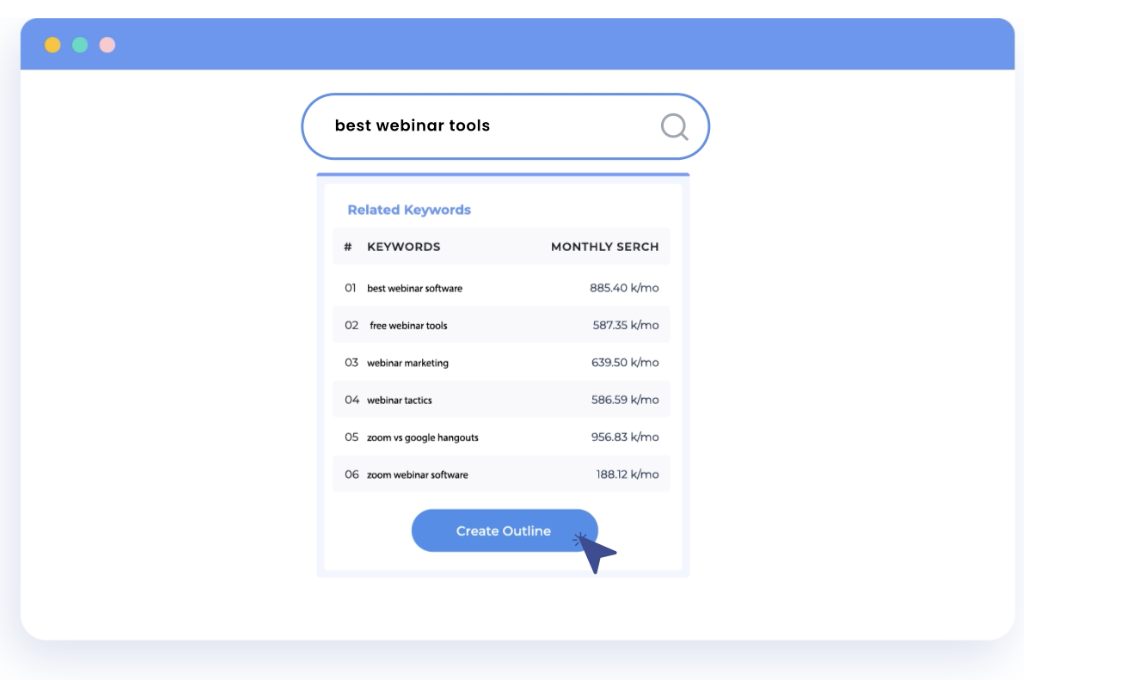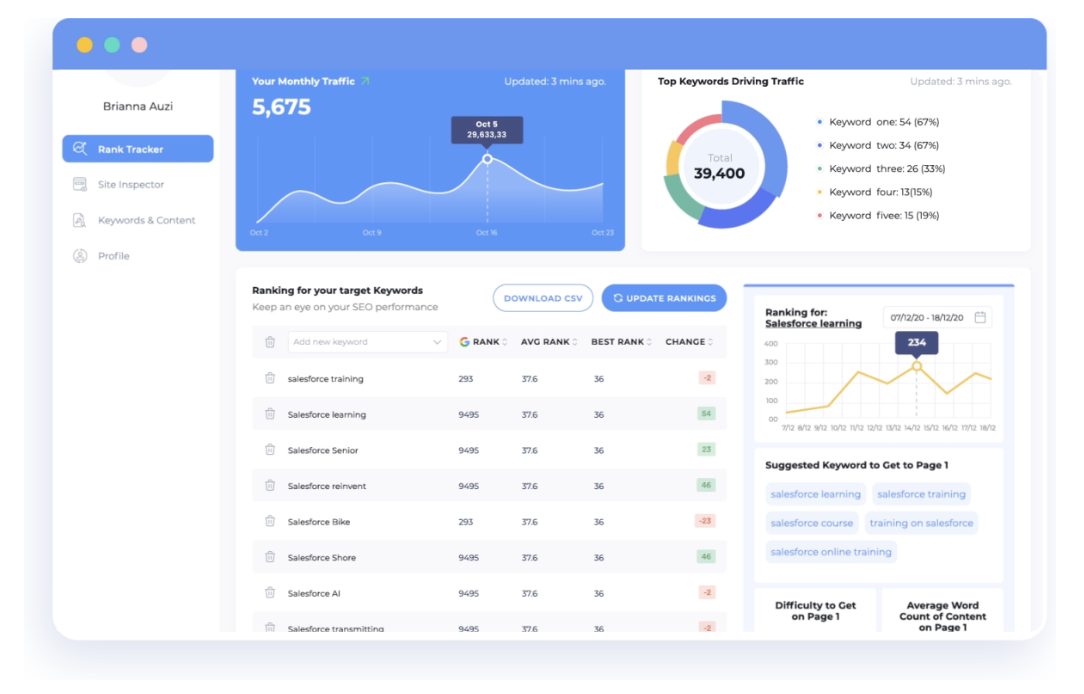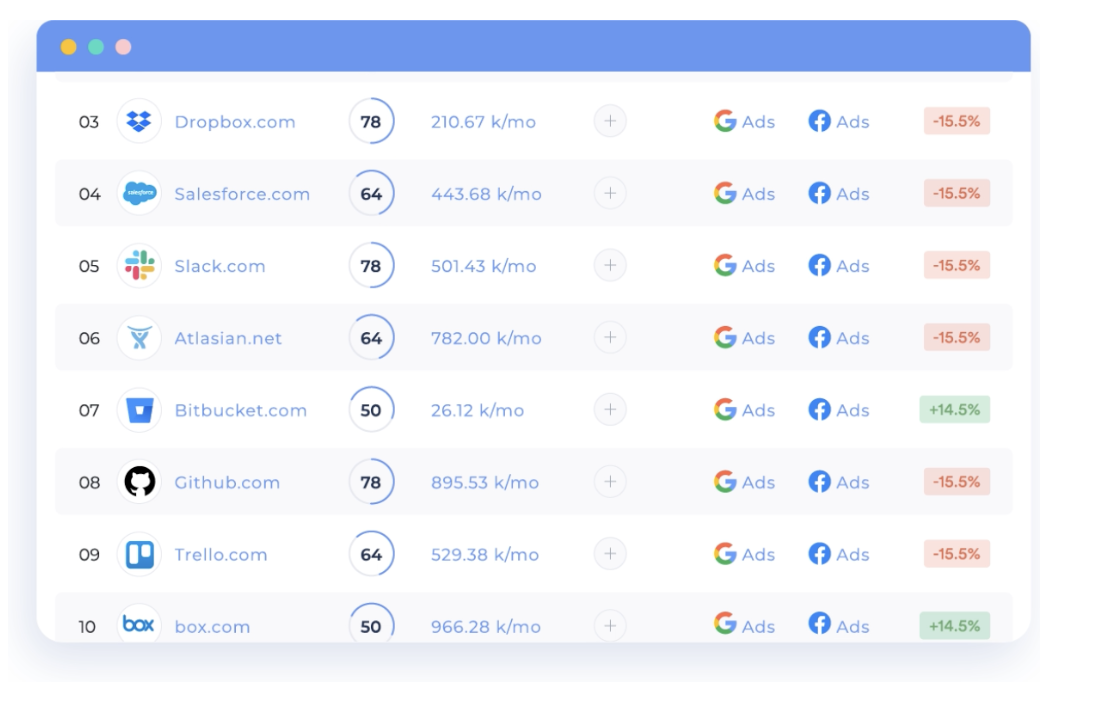 Growthbar positions itself as the keyword research tool Built for Growth 🌱. Clever. I want to grow. And I want to be spoon fed a little.
And just as I'm entering my info to sign up for the free trial, I also see that Growthbar plants trees—the only keyword search tool on our list that charges after the green movement.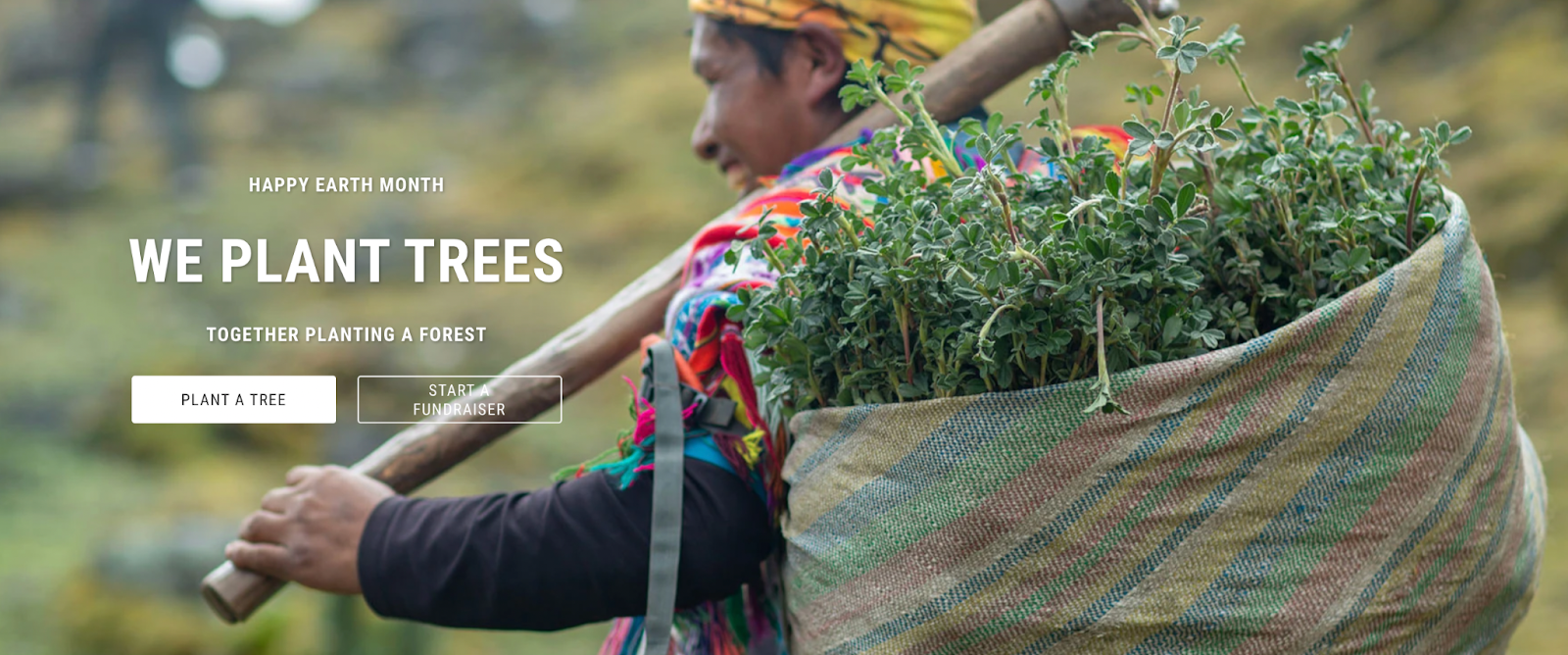 Bravo, Growthbar.
This is the end. And now…
Pick One Keyword Research Tool and Get Started Already
Which keyword research tool is the best one?
Answer: whichever one bonged your bell.
What's your favorite color? Your favorite food? To each their own for good reason.
Here's the truth about keyword research tools: This data is readily available.
The 30 tools we dissected above simply package it up in slightly different ways. Some feed it to you with a single spoon. Some dress it up charcuterie-style and play music in the background. Whatever fits your style, man.
If you're a minimalist, go with Growthbar or KWFinder.
If you're a math-minded analyst, put some money down on SEMrush or Moz Keyword Explorer and cross-reference with Google Keyword Planner.
Coming at your keywords from different angles is the thing.
Don't pick just one.
Pick a few and see if they agree with each other—or, better, disagree with each other.
The heavy lifting is done for you in the tools themselves.
Sip your coffee, click a few buttons, set a few filters, and mine powerful results without ever touching a line of code. The code is built-in, and the results compile in seconds. The guesswork is gone and that gives you more time to analyze results, fine-tune, and make mo' money.
Though the work can be mentally draining, you've already trudged through the brunt of it with us.
Did two or three tools in this list speak your language?
Take those and grind it out. Take the opportunity to improve your content and PPC strategy with higher-quality keywords.
Find them and take action. Take that risk.
Sitting back puts you in the company of everyone else. Rise above that. Or, as Hunter S. Thompson said, "Buy the ticket. Take the ride."
Picking "wrong" is okay.
Don't worry about it. If you get it right first try, be happy—be excited even.
And if you swing a bit wide, guess what? You learned something. Wisdom isn't such a bad door prize. Take what you learned with you when you walk up to the plate next inning.
Pick your keyword. Take a breath. Make your bid.
What's your go-to keyword research tool when you need keyword insight?
Did we leave a great keyword research tool out?
Let us know. 🙂