You're here because you heard all the noise a few years ago about how video was going to revolutionize content marketing—so you got on that train and made some videos.
That's awesome.
But 87% of your competitors also got on that train and they're building more tracks every day.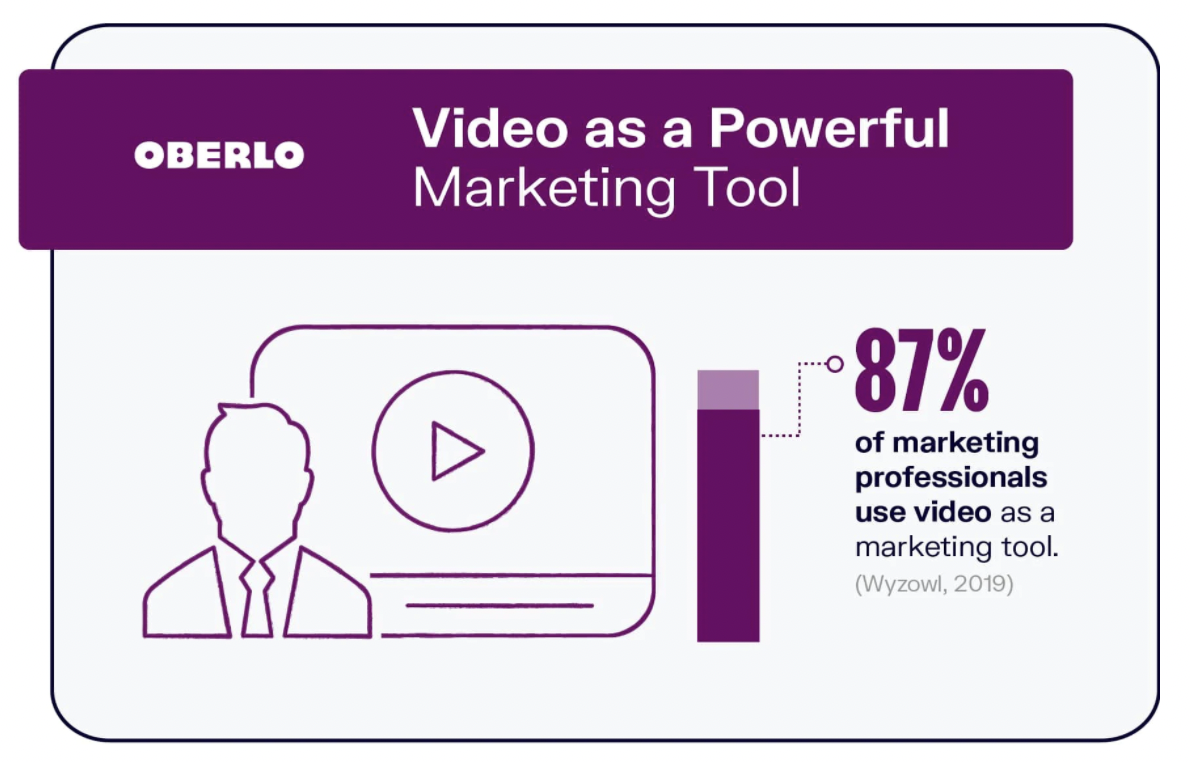 You need to stand out.
But how do you get your stuff to the top of the YouTube charts?
With YouTube SEO, that's how.
You need to optimize your video content for search engines.
Yes, it's grunt work, but doing YouTube SEO helps Google appreciate what you've got. And that's one of two ways your customers will ever get to appreciate your work (the second way is with YouTube Ads).
On the organic side, you want Google to show your videos. Without Google, your vids will be vanquished to the vulnerable valleys of the vast video vault.
And that's vexing.
But you can change that with an SEO strategy (Search Engine Optimization) that focuses on video, a handful of YouTube SEO tools, a few dollars from your content marketing budget, and some dig-deep-and-grab-that-prize-yo determination.
By the end of this post, you'll know
what YouTube SEO is all about
why YouTube SEO makes the difference between watched and not watched
how the algorithm ranks videos
why your videos can't suck
You'll also learn about
YouTube SEO tips and tools that crank up your views
YouTube Ads
The Creator Academy
Know what time it is? It's time to roll the tape.
Aaaaand….. ACTION.
In a perfect world, you're #1 on the YouTube list
The reason you plod through search engine optimization is because you want your video to be one of the top video links in the list when someone looks for what you do.
You produced a video and you don't want that effort to go to waste. You want your prospects to watch it.
You produced it to educate your customers on some of the ways you can solve their pain points.
But you don't get to put that bandaid on if your competitors have better-looking bandages.
YouTube SEO is the critical visibility differentiator.
Ahrefs increased its YouTube views by over 400% in less than 8 months for some super competitive keywords (like "SEO" and "SEO Tips").
You can too.
That's the beautiful thing about YouTube; anyone, regardless of subscriber base, in any industry across the board, can rank at the top by entertaining and engaging—in only a few months.
We'll walk you through how to get from no views to lots of views in record time, starting with defining what YouTube SEO is.
What is YouTube SEO?
YouTube SEO is optimization you do for YouTube. SEO stands for Search Engine Optimization, and YouTube is a social media platform that centers around user-shared video.
So YouTube SEO is how you optimize your customer-focused videos on your YouTube channel to rank high on YouTube's search engine results page (SERP) for targeted search queries.
As a wonderful side effect, YouTube SEO also creates the opportunity to rank outside of YouTube on SERPs like Google Search and Bing (Microsoft search).
Why is YouTube SEO even a thing?
4.66 billion people around the world today use the internet. That's 60% percent of the planet's population. Roughly half of them are looking for answers to their questions on YouTube.
YouTube is the second largest search engine on the planet (Google is the largest). It gets over 2 billion monthly watchers (MAUs) who watch over 1 billion hours of video every day (70% of which is from a smartphone).
That's why YouTube SEO is a thing. There are billions of people there with dollar bills. You want some of that action.
Crazy YouTube stats that prove you should do YouTube SEO
Video is valuable. But don't take our word for it. Look at these rock-solid stats:
The number of channels with over 1 million subscribers grows by more than 65% year over year
The number of small- and medium-sized businesses advertising on YouTube has doubled over the past two years
Viewers watch more than 4 billion hours of video every month (that's about 1 hour every day — mostly watched on mobile)
An estimated 500 hours of video content are uploaded to YouTube every passing minute
The number of channels that earn six figures grows 40% year over year
The number of channels earning five figures per year on YouTube grew more than 50% y/y
On mobile alone, YouTube, reaches more people in the US than any TV network
Most YouTube watchers are between the ages of 18-34
So, yeeeah. YouTube is fire.
It's been popular since it launched at the end of 2005. In the almost two decades since, it has improved video quality and interactivity, continuously striving to show relevant videos to avid fans.
It's definitely a network you want your stuff on. And if your stuff is on there, you want it to show up on the first page when someone searches for it.
How does YouTube rank videos?
This one is super simple: YouTube uses its algorithm to rank your videos.
YouTube's algorithm
YouTube describes its algorithm as a "sophisticated real-time feedback loop that matches each viewer to the videos they're most likely to watch."
How does it do that?
For each video, the algorithm evaluates
Title
Thumbnails
Descriptions
Viewer interaction (like, dislike, comments)
What they watch
What they don't watch
How much time they spend watching
'Not interested' feedback
The algorithm's goal is to show videos viewers want to watch. It also tries to get viewers to keep watching more of what they like (this is called audience retention).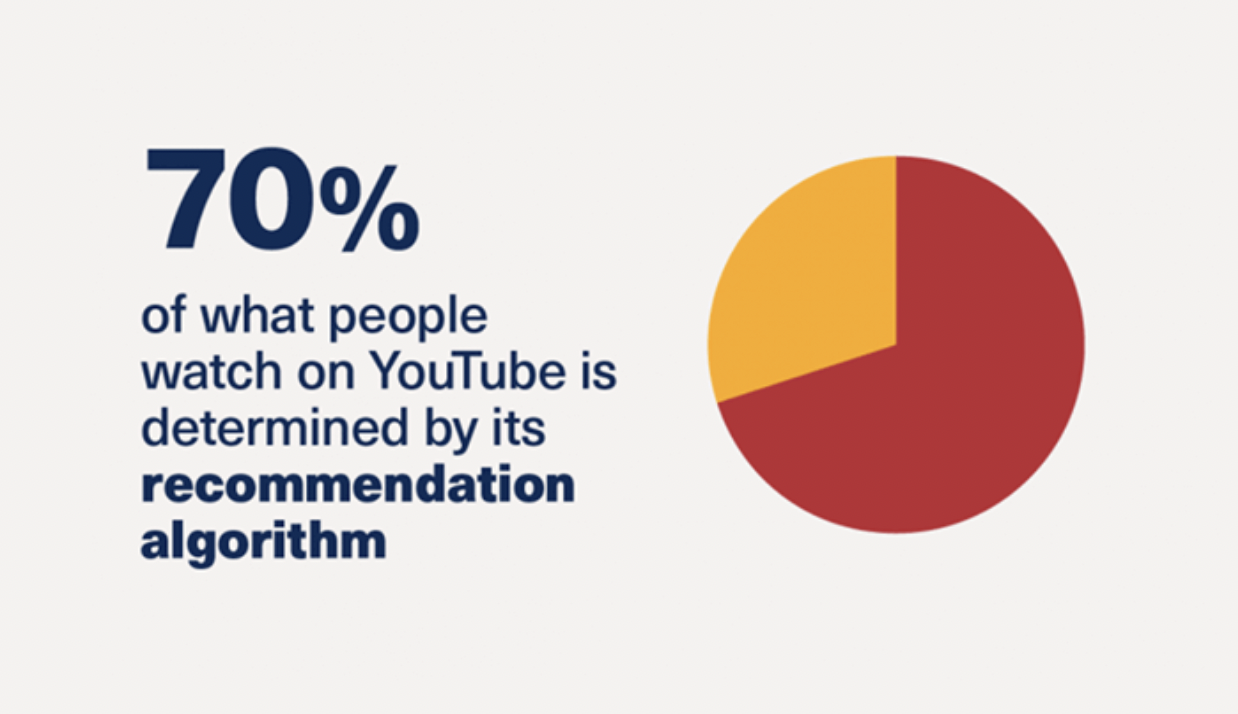 So your goal is to get the algorithm to like your video by getting your audience to like your video—because YouTube picks up on that and shows it to more people.
And not only like your video, but like it so much they watch it right through to the end. Do that and YouTube shines a spotlight on you.
The first three YouTube ranking factors in that list above are things you control (title, thumbnails, and description).
Everything else relies on your audience.
Great keywords, video titles, video descriptions, and thumbnails
Keywords
Just like Google SERP, you want a title that grabs attention and contains your focus keyphrase (your best YouTube keyword). So step one is doing a good job of keyword research. There are keyword research tools for that.
The good news is that Google owns YouTube so you can use the Google Keyword Planner (your first video SEO tool) to find relevant keywords for your video (and video tags). Or, you can use Ahref's keyword explorer because it's awesome too (tool #2).
Title
Keep your title to 60 characters or less, and make it catchy. Include your target keyword near the front and make sure your video matches your title (relevancy).
Description
YouTube suggests really going to town on your description. Unlike meta descriptions for blog articles (which max out at a length of 920 pixels), when it comes to describing your video on YouTube, write 1-2 paragraphs. And don't forget to include your social media links.
Video thumbnails
In video, the thumbnail is more important than the title tag. Video thumbnails show viewers a still snapshot of your video as they browse YouTube. This is your billboard, so don't screw it up.
Upload your video and then upload your thumbnail (don't let YouTube automatically generate one). Canva is our favorite tool for thumbnails.
Recap: Create a grabbing title, pick an intriguing thumbnail, and describe it in a way that makes viewers curious to watch what's inside.
That's how you tackle YouTube SEO best.
The rest of it depends on how your audience interacts with your video.
Oh, hey. Well, looky there. Isn't that a perfect segue into the next SEO-related tidbit about video quality.
Your videos can't suck
Before we start talking about how to optimize your videos, let's get one thing straight: no amount of SEO is going to work if your videos are terrible.
If you've made bad videos already (be honest with yourself), or if you're just getting started but you don't have an in-house production department, YouTube's Playbook can help you create compelling, high-quality, super-watchable videos.
17 YouTube SEO tips
There are quite a few things you can do to start getting views and click-throughs. Start with this list:
Use YouTube Analytics (one of the tools listed below) to discover popular queries people use to find your channel
Use those search terms for new videos (add them to your titles and descriptions)
Write meaty descriptions up to 1-2 paragraphs long
Use target keywords and related keywords as your tags
Add closed caption copy (subtitles)
Add cards for time codes to make jumping through the video easier
Use end screens to ask viewers to subscribe and watch another video
When you have a group of videos, put them in a series and create a series playlist to keep them in order for a better viewing experience and to keep viewers watching
Take advantage of YouTube's Translation tools to reach an international audience
Check the 'trending' tab for topics that appeal to users and fit your value proposition within your niche (also look at Google Trends)
Upload on a consistent basis
Keep viewers engaged and ask them to watch your other videos. The algorithm doesn't have things like backlinks to determine engagement, so Audience Retention is key.
Create both long videos and short videos to keep people watching to increase your chance that more of your content surfaces
Make more of what works to get more watch time (and a higher click-through rate)
Don't make content that violates YouTube policies (title videos accurately, don't use spammy tags, and use relevant thumbnails)
Promote your video on Quora to get more views (by answering questions related to your keyword)
Embed your videos on your landing pages to get more views
There are a handful of YouTube SEO tools that get these tips done and make your SEO work sensational.
10 YouTube SEO tools
Search engine video optimization tools prepare your content to pass YouTube's algorithm criteria so it ranks well on YouTube's SERP.
Video optimization has a lovely side effect: visibility.
Get YouTube SEO right, and you get more views. More views taps YouTube's algorithm on the shoulder and your video is surfaced to more viewers. That's brand awareness right there.
There's a reason why YouTube SEO tools exist: they make optimizing easier.
So—you're welcome 😊—here are ten of the best SEO tools right here in one spot. Some are downright expensive, others have affordable monthly subscriptions, most have free trials, and a few are completely free.
If you want more eyes on your videos, see what a YouTube SEO tool can do for your rank and your return on investment.
Let's check out a select list:
We already mentioned 1. Google Keyword Planner and 2. Ahrefs Keyword Explorer above. These tools kickstart your campaign by nailing your best keywords. The rest of these tools take care of your thumbnails, video metadata, analytics, testing—a lot of stuff.
Dive in.
Good ol' Canva is there for you if you want to make quick and pretty work of your video thumbnail. "Make it impossible for your audience to scroll past your YouTube thumbnail without having a click and a look."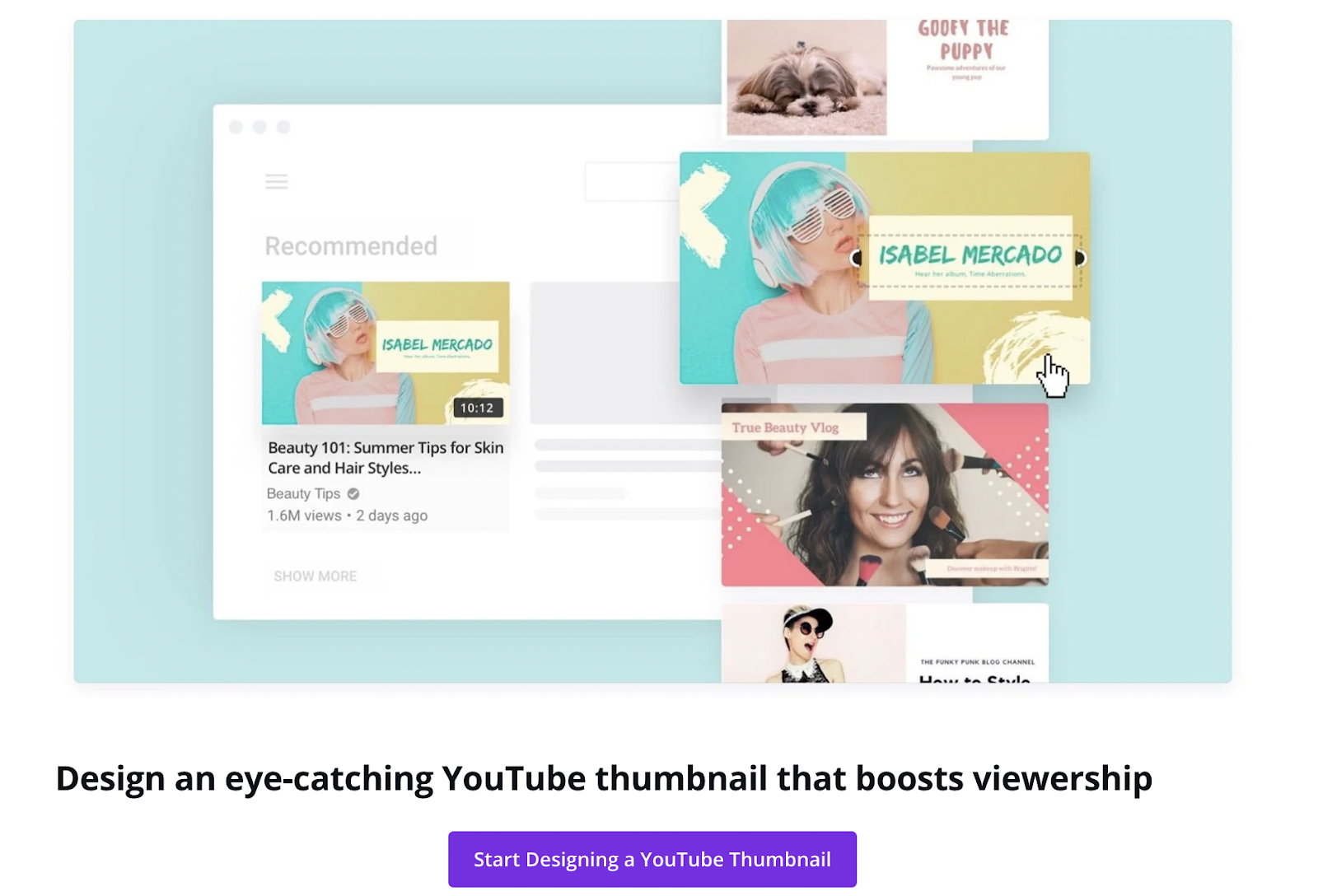 Take your thumbnail snapshot then add text and design elements to it (or create a clean-cut thumbnail design for a synchronized playlist or channel).
Free or paid plans.
A 100% free video SEO tool, Youtube Analytics is indispensable. It looks a lot like Google Analytics (no surprise considering YouTube is Google) and the analytics are powerful.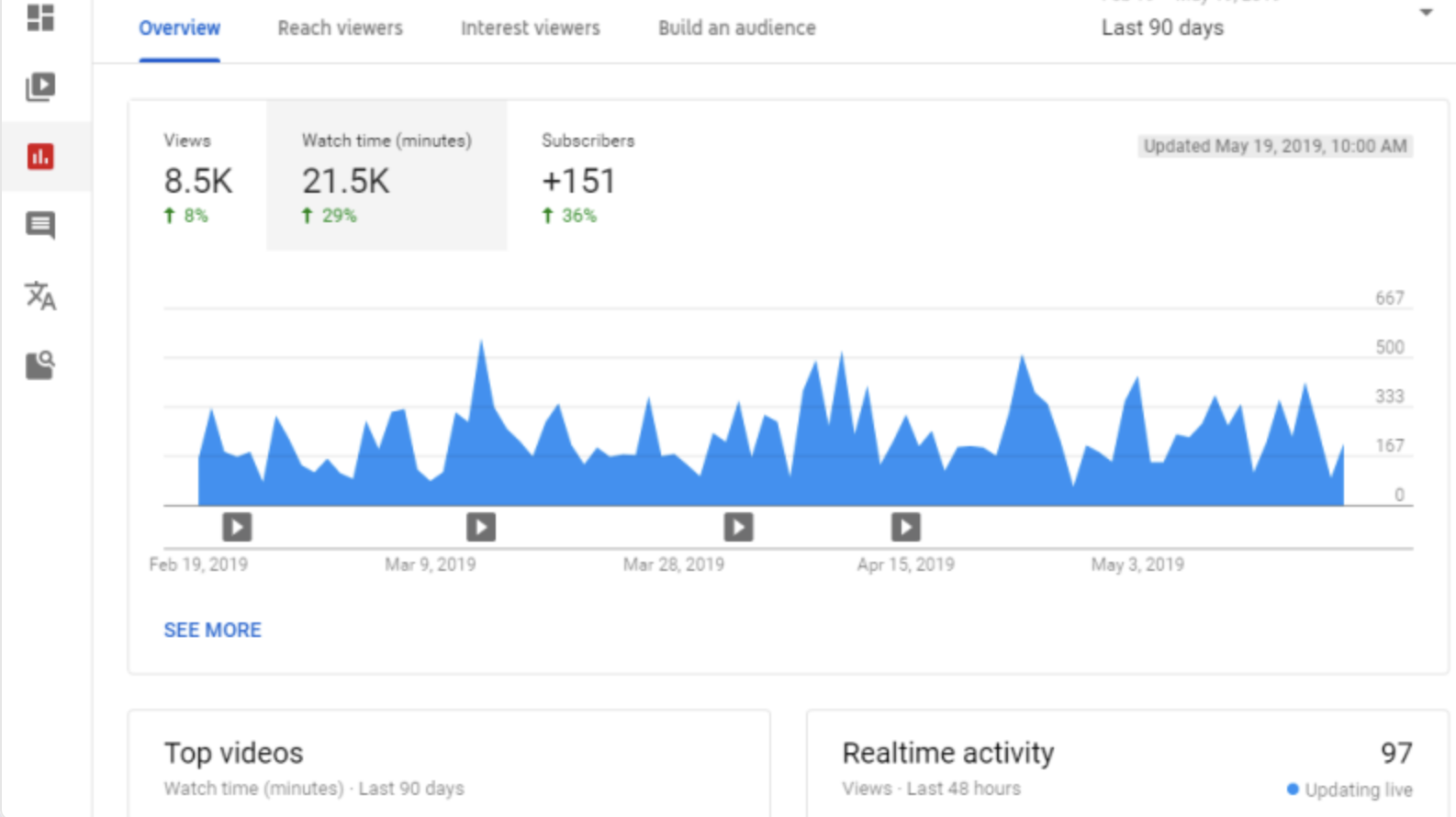 With YouTube Analytics you can track your reach, engagement, and audience.
Reach
Total Views/Unique viewers
Impressions—how many times your video thumbnails show to viewers
Impressions CTR—how often viewers watched a video after seeing an impression.
Engagement
watch time in hours
average watch duration
Audience
returning viewers
unique viewers
subscribers
TubeBuddy is a free Chrome extension that integrates directly into YouTube. It shows keyword data, video metadata, video rank, and A/B testing to help you run your channel.
This tool is a feature-rich Youtube video optimizer.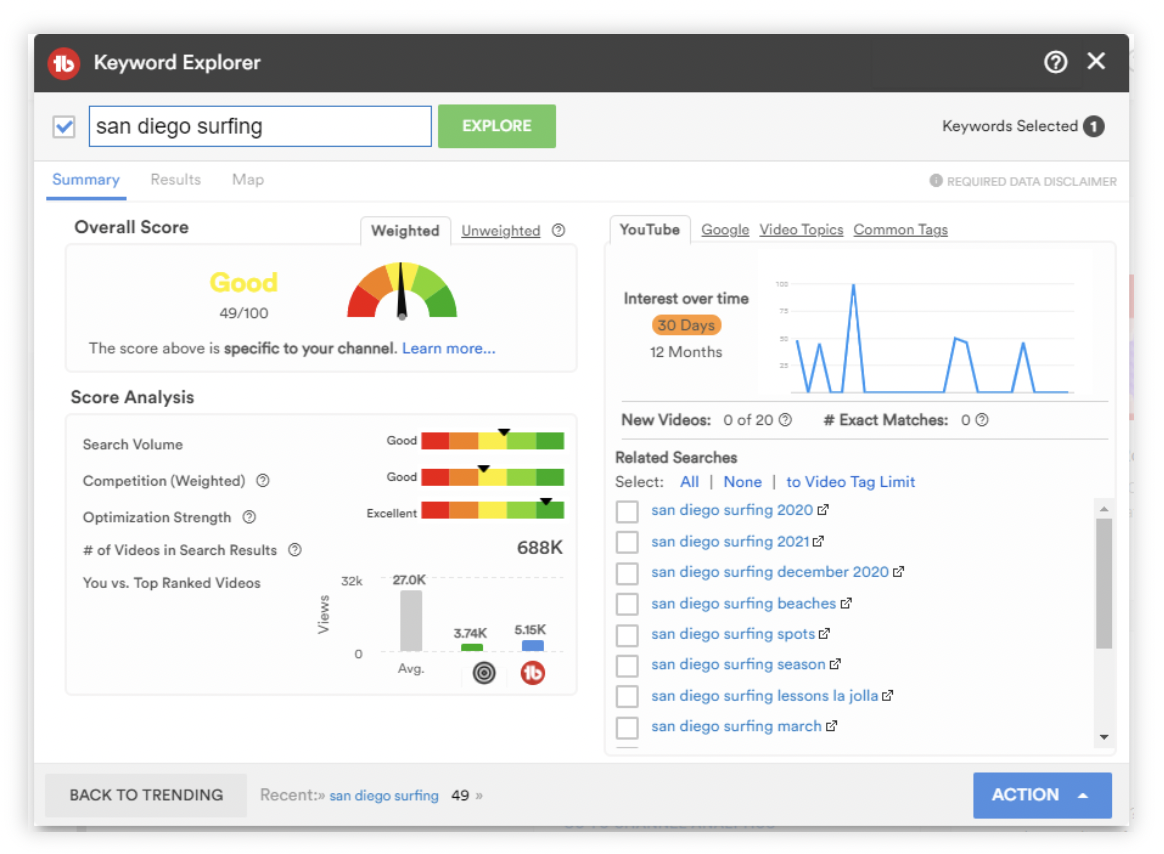 TubeBuddy aligns with YouTube's video best practices to optimize titles, descriptions, tags, annotations, and cards. It also points out opportunities and sends brand alerts when a viewer mentions you on YouTube.
Once integrated into YouTube, the tool provides valuable insights into all the YouTube videos you open. Maximize your organic reach by fetching any video's tags, and save tons of time you'd spend looking for the best fits within the 500-character limit.
It's free with limitations. Paid plans are low at $9/month.
Know what content and topics you should produce and turn that content into profitable customer acquisition on YouTube, Google, and social media.
Vudini uses AI-powered video SEO to get your videos more subscribers so you can make more sales with in-video conversion tools.
With Vudini, you set a strong thumbnail image to get a better click-through rate (CTR) and a closed caption transcript for silent mode—which is important for skimmers.
Ten campaigns at $500 per month.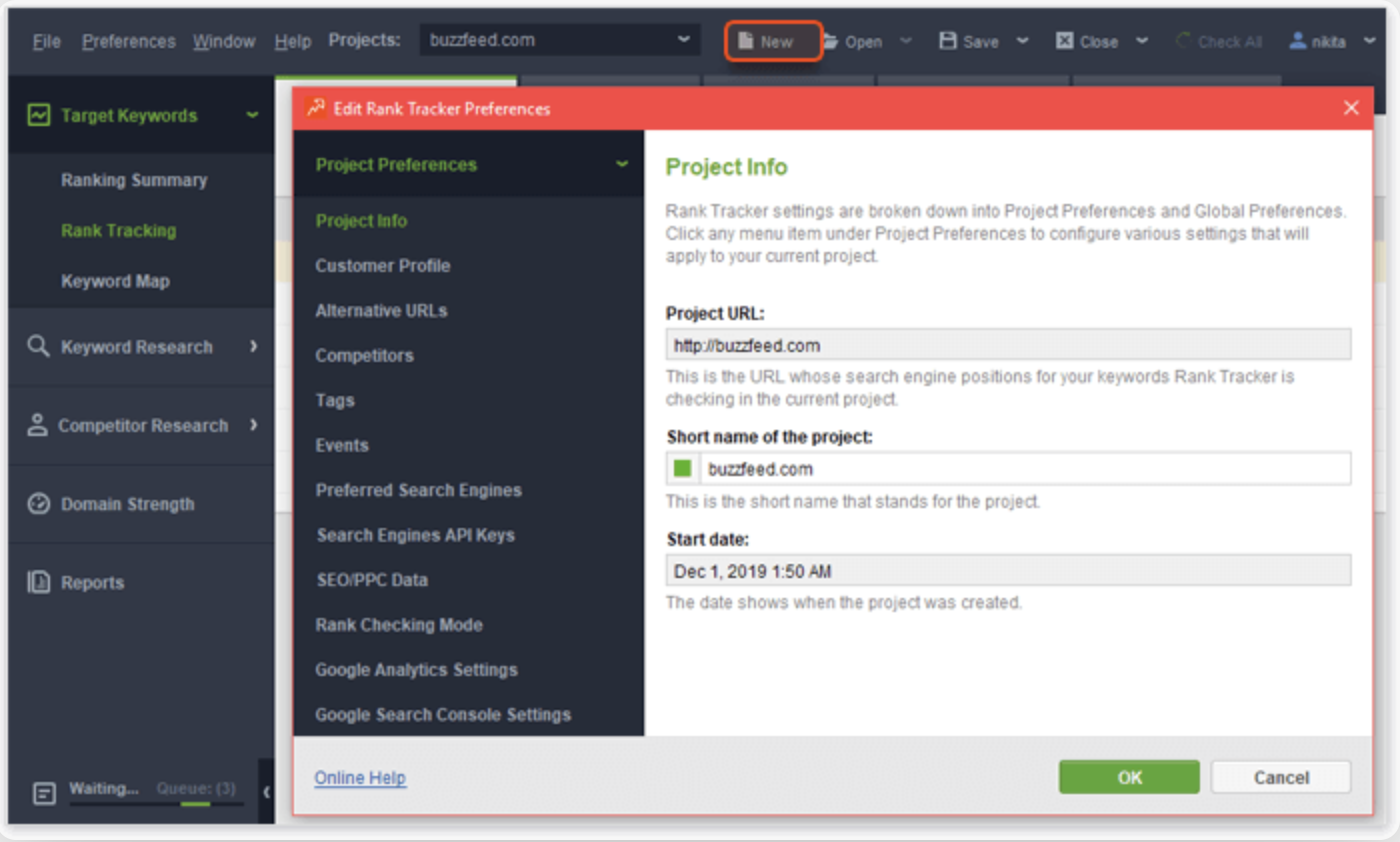 Rank Tracker takes keyword ideas from YouTube's keyword suggestions and highlights metrics like search volume, expected visits, competition, etc.
Another full-feature SEO video tool, Tubics gets your videos more views from generating ideas to A/B thumbnail testing to analytics to tag generation.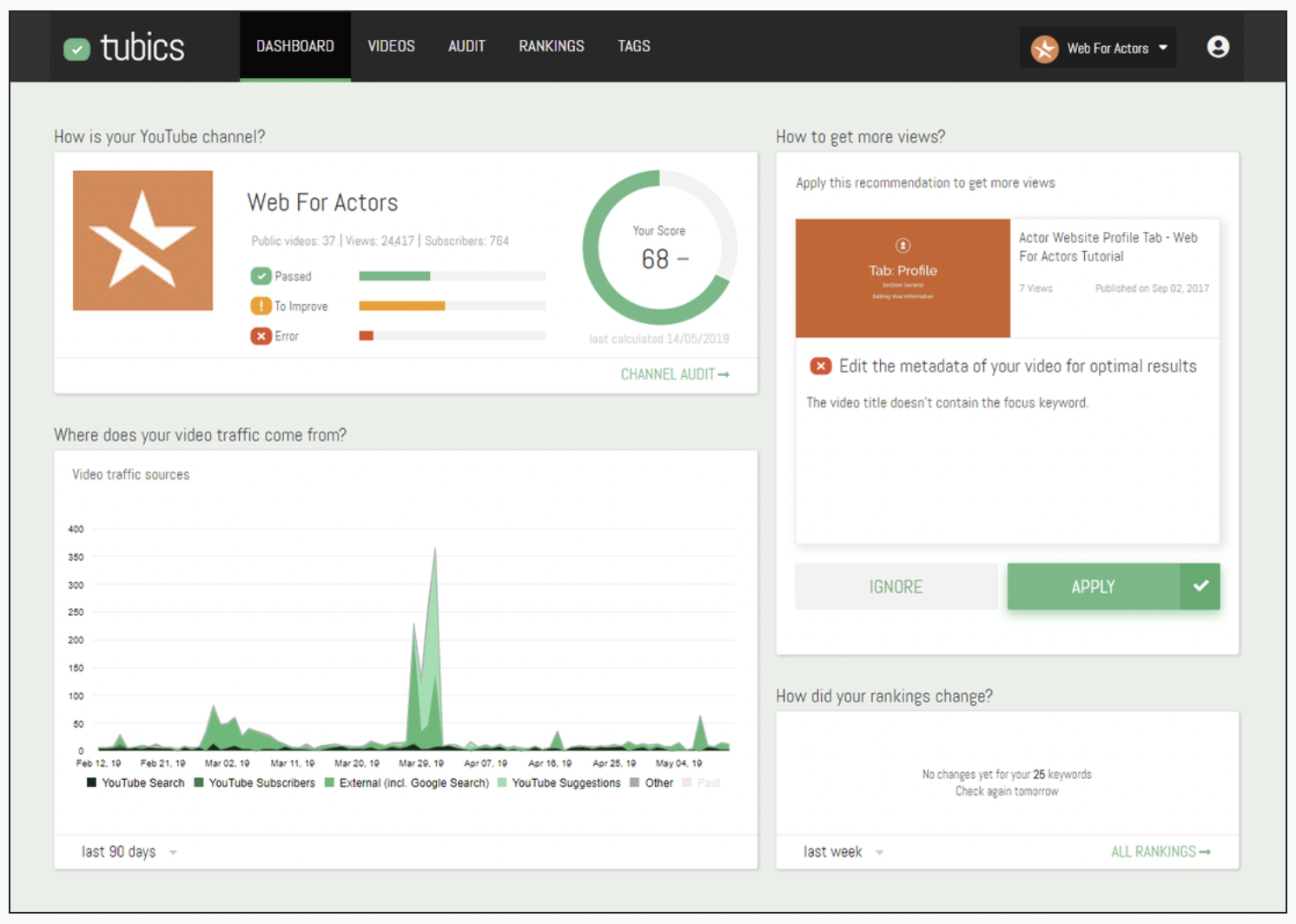 Tubics has a healthy user base from some big-name companies like Samsung and L'Oréal, and it walks you through your SEO journey with a step-by-step SEO checklist.
Take advantage of the well-produced "How to" video SEO tutorials. Enterprise-level only pricing at $790/mo.
See how your competitors' videos perform. The "Most Viewed" feature identifies YouTube's best-performing videos.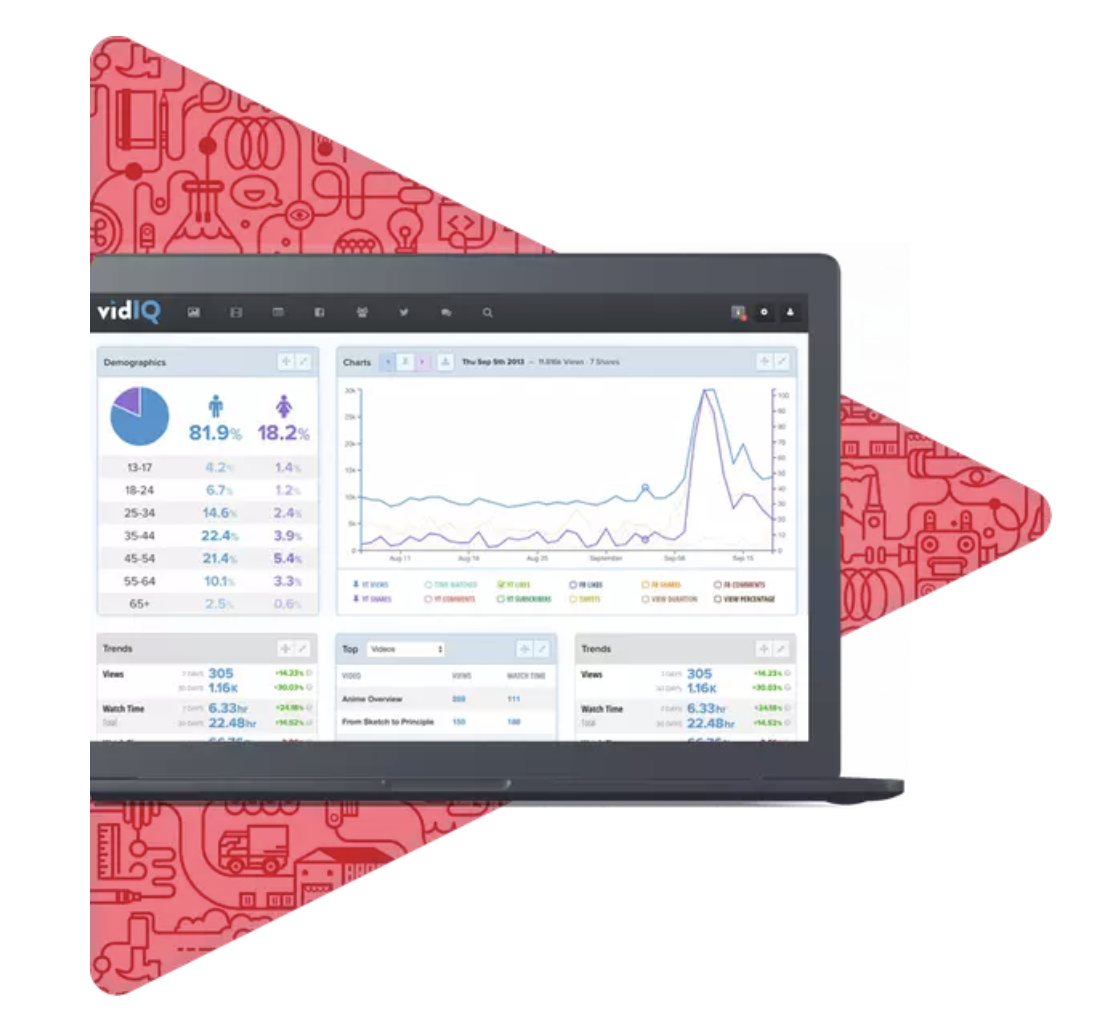 Free insights boost your tube views. VidIQ has video analytics, tagging, performance comparisons, and subscriber data.
Free or paid starting at only $7.50 a month.
Enter the topic of your Youtube video and RapidTags generates SEO-based tags to grow your channel quicker.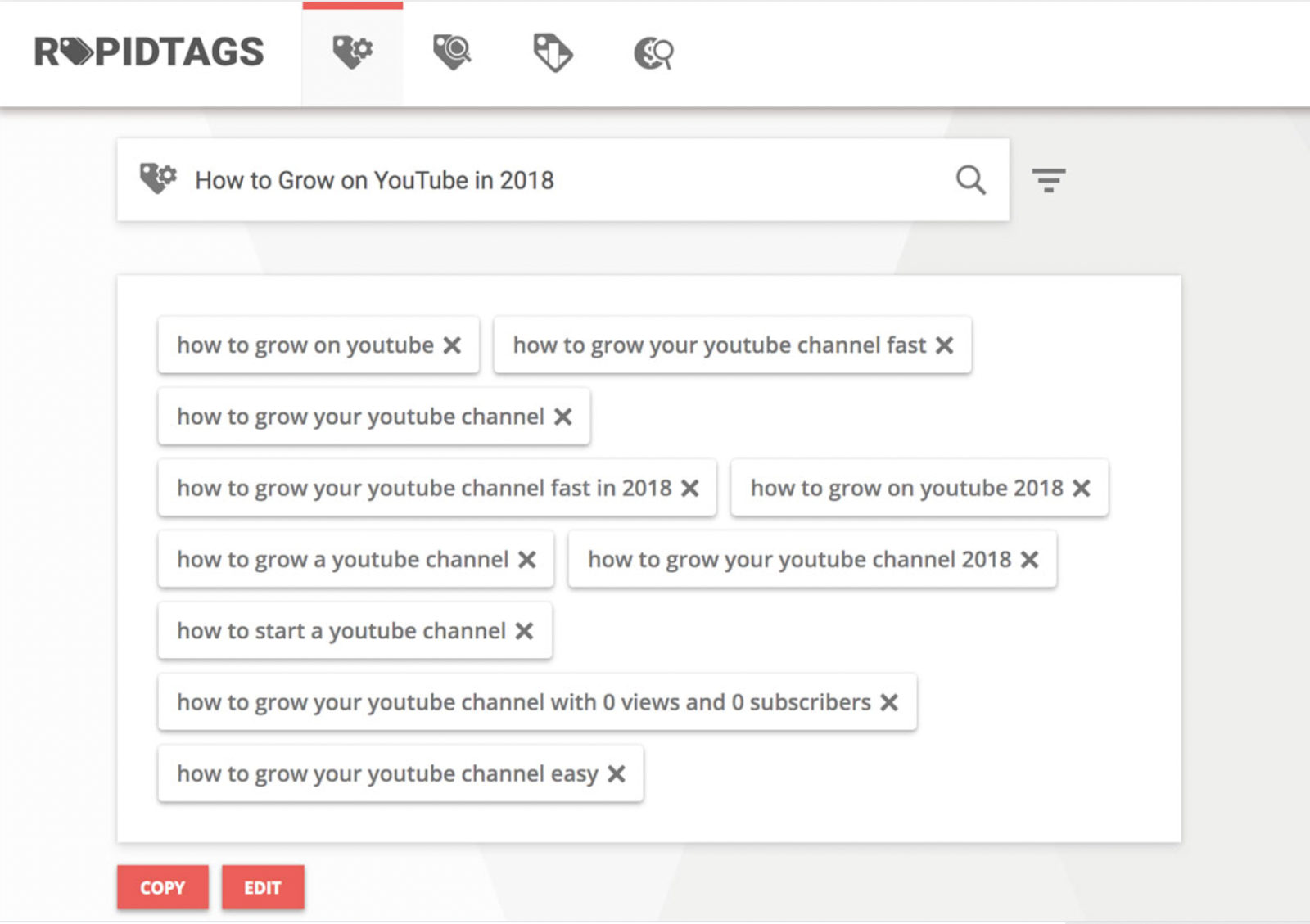 Simple but powerful.
Next step: YouTube Ads
There are two sides to every conversion: SEO and PPC (organic and paid ads).
Organic YouTube SEO plays the long game with valuable, engaging content that creates audience retention and positive interaction.
Paid YouTube ads create short-term exposure by bidding on keywords that drive video views.
SEO boosts visibility organically. Ads boost visibility immediately.
People find you using the YouTube search bar when your SEO is tight, but viewers share your videos and click on your ads because they like your video content.
Exposure is the important prize.
If you're thinking about ads to complement your video SEO work, you're in luck because YouTube makes it easy.
YouTube Ads partners with video producers to help digital marketers bring brand stories to life—either from scratch or by repurposing existing content. Create amazing video assets that get your ad campaign off to a great start.
Adding YouTube video ads to your marketing strategy can net a 2X to 8.5X better return on ad spend, driving awareness (at an average lift of 17%), purchase intent, and sales.
You can target based on location, age, or interests, and you only pay when a viewer watches more than 30 seconds or clicks through. Not a bad deal.
YouTube's built-in analytics gives marketers a dashboard to see how video ads perform.
The why, what, and how of YouTube SEO
Why
YouTube video marketing is ultimately about creating a great user experience for YouTubers.
What
You only get that chance if you produce great content and optimize it to the moon. That optimization never ends—SEO will always require regular tweaks.
How
SEO best practices and SEO tools track valuable data that lead to better video results. Notifications tell you how healthy your video is so that YouTube (and Google) keeps showing you the video ranking love. That's an exciting cycle that gets your video in front of customers who need you and want to pay you money to fix their problems.
This is an SEO competition, and you're in it to win it.
Winning looks like being at the top of the list. Or, one better: being the popular videos on the YouTube home screen. Or, aim for the sky: going viral.
Go for that gold.
What's next?
Optimizing your videos is an all-the-time thing because you should be posting consistently, watching your analytics dashboard, and making changes based on views and interaction.
To see the tips mentioned IRL check out our KlientBoost YouTube channel.
Or, if you're looking for more info on YouTube ads, you won't want to miss our 123-Point Guide to YouTube Advertising.
This post is a great start, but YouTube offers an entire YouTube Creator Academy that covers everything from quickstart guides to production tips to getting discovered to building and connecting with your community.
Check out the Academy's learning toolkits and creator resources and level up your YouTube SEO game.
That's it.
Aaaaaannnd CUT.