You know that feeling when you think your Google Ads campaign is working—but you don't have the right data to connect the dots?
A successful Google Ads campaign goes way beyond ad clicks or impressions. When you want to get leads, sales, and other conversions, you need to know what happens post-click.
In this article, we'll cover everything you need to know about Google Ads conversion tracking, including why you need it, how to set it up, and tips for fixing common issues.
Get brand new Google ad strategies straight to your inbox every week. 23,739 people already are!
What is Google Ads conversion tracking?
Google Ads conversion tracking monitors the actions that users take after engaging with your ads. This free, built-in Google Ads tool is essential for understanding and optimizing the value your campaigns generate.

But it's important to note that Google can't guess which results you want to track. You have to identify the conversions that are valuable to your business and set up each one in your Google Ads account—unless you use Shopify. If you've set up Shopify's Google channel, the plugin automatically adds and tracks ecommerce conversions in Google Ads.
Why should I track Google Ads conversions?
If you're serious about creating Google ad campaigns, tracking conversions is critical. Let's look at some of the biggest benefits this tool offers.
Improve reporting
Users don't always click on an ad and convert immediately—or on the same device. With this tracking tool, you can see conversions across devices and browsers for more detailed reporting.
Simplify optimization
Conversion tracking helps you see which campaigns, ad groups, and ads drive the outcomes you want. Using this performance data, you can optimize your Google ads and get more value.
Access smart bidding
You can get more control over your campaigns with Google Ads' advanced smart bidding strategies. To access options like Maximize Conversions and Target CPA (Cost Per Action), you have to enable conversion tracking.
5 Types of conversions to track with Google Ads
Google Ads divides conversions into five distinct categories. Each type of conversion can take place throughout your funnel.
1. Website actions
Website conversions include subscriptions, sales, and other lower-funnel events. You can also track upper-funnel conversion events like webpage views and adds to cart.
2. App installs
If you're advertising a mobile app, you can track installs and purchases. Google Ads supports both Android and iOS app conversion tracking.
3. Phone calls
If your company captures leads or processes orders over the phone, you can track calls. Google Ads supports tracking calls that come directly from ads and those that come indirectly from your website.
4. Local actions
Does your business have a physical location? You can track conversion actions related to your local ads, such as searching for directions, viewing a menu, and visiting a store.
5. Offline actions
Do your most valuable conversions happen on site rather than online? You can import offline conversions using integrations like Zapier, Salesforce, and HubSpot.
Does your website or app use analytics to track goals and transactions? You can set up Google Analytics and link it with your ad account for seamless conversion tracking.
How to set up conversion tracking in Google Ads
Setting up Google Ads conversion tracking takes just a few minutes. Start by opening your Google Ads account and clicking on the Tools & Settings icon in the upper right corner. From the Measurement menu, select Conversions. Then click the blue plus sign in the upper left corner and use the guidelines below to complete setup for the relevant conversion source.

Website
Pick the event you want to track, such as a purchase, contact form submission, or page view. Choose a conversion value, which may be the same (1) for every lead or a unique dollar amount for every checkout.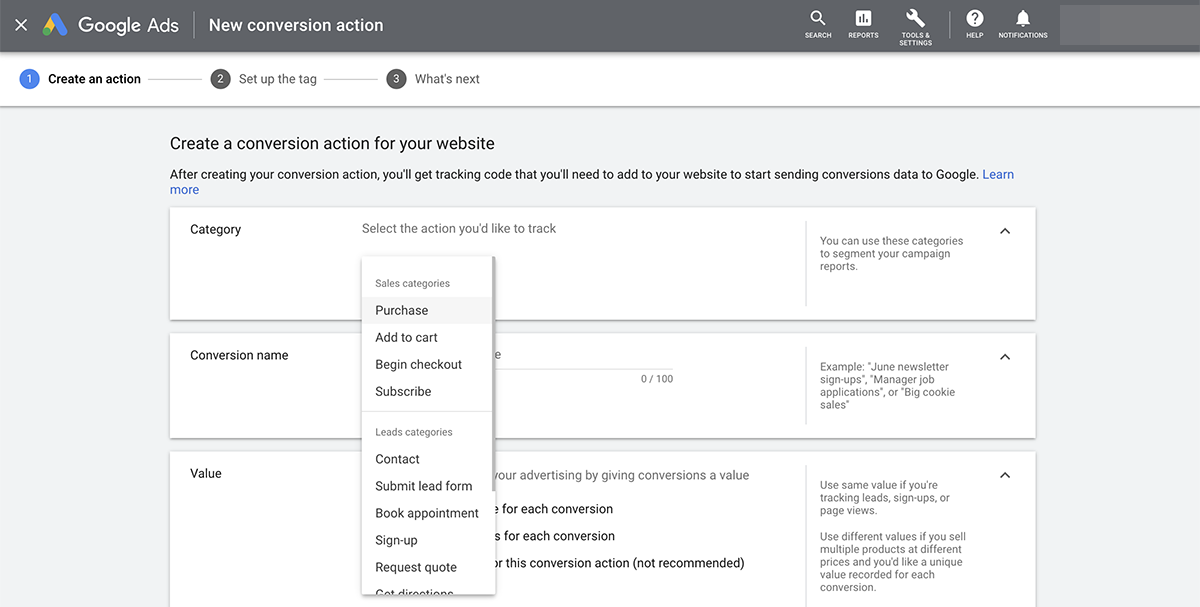 Decide whether you want to track only the first conversion for every user or if you want to count each individual purchase. Then choose a click-through conversion window and a view-through conversion window and select an attribution model.
Next, Google Ads generates tracking code. Follow the provided instructions to add a conversion ID to Google Tag Manager or install it directly on your website. Note that placing it on your website usually requires adding both a global site tag and a code snippet for the event.
App
Choose whether you want to use a Google Analytics 4 property, Google Play, or third-party analytics to track mobile app installs, purchases, or other in-app actions. Then connect your app or import your analytics-based event.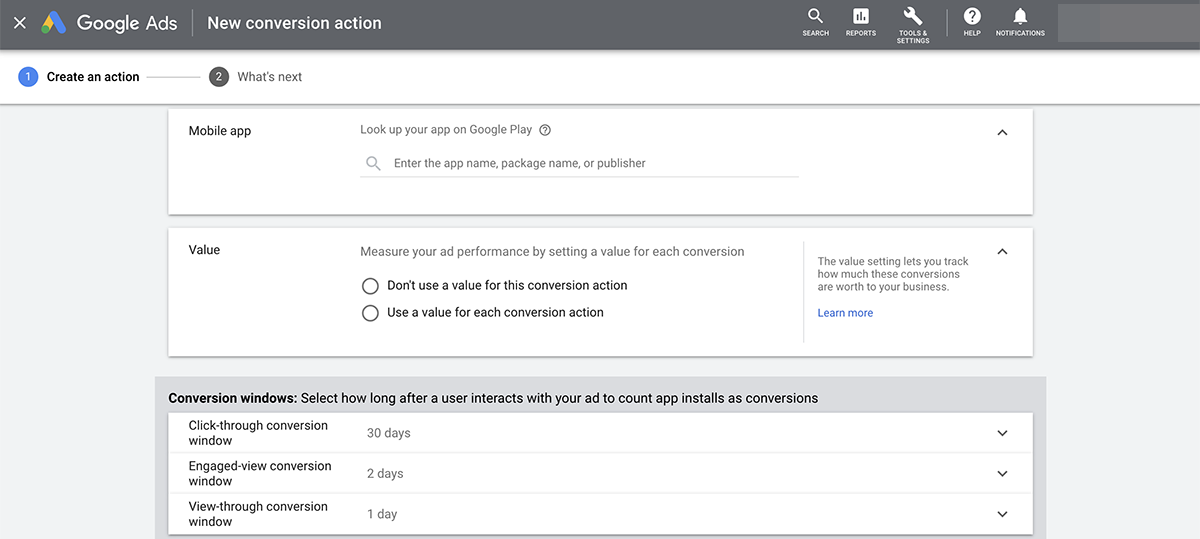 Like the website setup above, app tracking requires you to set a conversion value and choose click-through, engaged-view, and view-through windows. You can go with the default settings as long as they match typical user behavior.
Phone
Start by selecting the phone call source. You can pick from ad extensions, phone numbers on your website, or clicks on your mobile site phone number. Then enter the business phone number to track.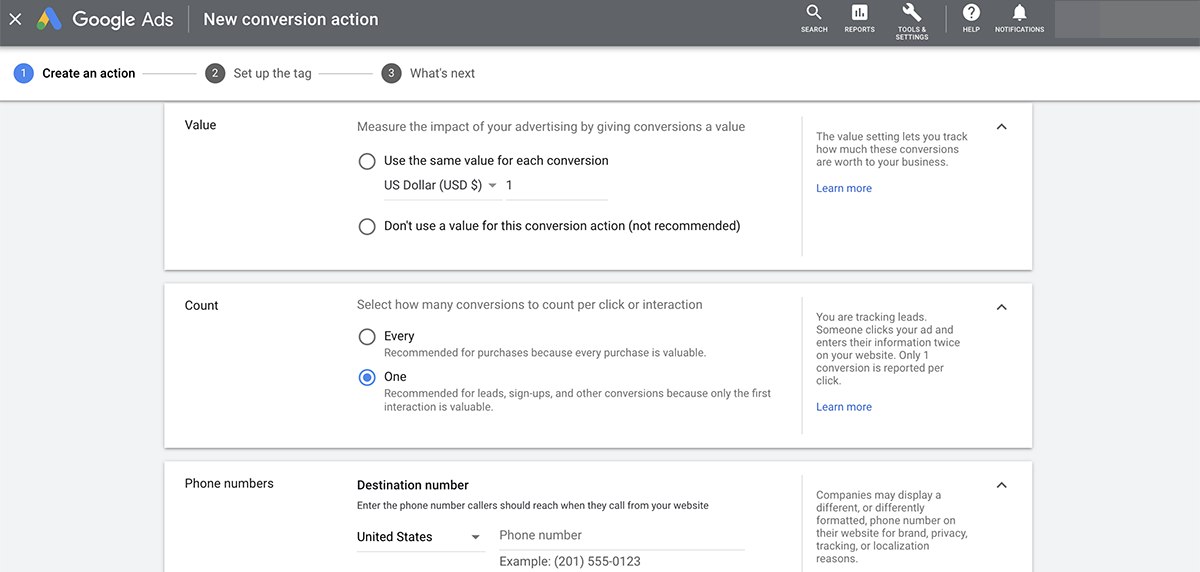 Similar to the website and app setup, call conversions require a value, a counting process, and a time window. You can fine-tune these settings as you gather more data about your ads and customers.
Import
Select the data source that you want to link to Google Ads, such as Google Analytics, Salesforce, or a third-party analytics or customer relationship management (CRM) tool. Then click on the goal or transaction to import and adjust the rest of the value and attribution settings.
Even if you don't plan to import this data immediately, it's a good idea to link Google Analytics to Google Ads. Connecting your accounts simplifies remarketing and gives you more helpful conversion data to work with.
Application Programming Interface (API)
For a more complex tracking setup, you can use the Google Ads API. This option lets you track all conversions, from your website to offline.
Tips for troubleshooting Google Ads conversion tracking
Your ad account should begin tracking within 24 hours of setup. It's easy to tell if the process is working—and it doesn't require a complete Google Ads audit. First, go to the Campaigns tab in your Google Ads account and check the Conversions column. If the number of conversions is greater than zero, your account is tracking successfully.
If your campaign metrics don't show any conversions yet, click on Tools & Settings and select Conversions under the Measurement menu. Look for Recording Conversions in the tracking status column.

If the status doesn't show Recording Conversions, tracking may not be working properly. Here's how to address some common errors:
Unverified: No one has completed the conversion yet. Click the blue button to test out using Tag Assistant.
No Recent Conversions: No one has completed the conversion in a week or more. Double-check the setup and confirm your ads link to a tagged landing page.
Tag Inactive: The tag has been removed from the landing page or isn't working properly. Reinstall the conversion tracking tag to resume monitoring correctly.
Ultimately, conversion tracking requires just a few minutes of setup in exchange for a ton of valuable information. Take a look at our glossary of Google ad terms to continue leveling up your knowledge and your campaigns.