People go to Google to search for stuff. When they search for what you sell, you want them to see your site link. Then you want them to click on it. Those are two very important parts to getting more traffic.
Getting someone to click on your link is its own science. But showing up in the list of choices on Google SERP (Search Engine Results Page) is the crucial first step.
That's what we focus on in this post: nailing your keywords using Google Keyword Planner.
Make no mistake: the right keywords turn Google searchers into valuable customers. And you need the right keyword tool to find the right keywords.
Build your keyword foundation the right way and your Search Network campaigns will be successful. And once you've laid this foundation, you will continue to expand into the skies with traffic forecasts and historical statistics.
Campaign performance depends on budget, how you bid, your product itself, your CRO (conversion rate optimization), and even customer behavior in your industry.
But today, we start at square one: adding the right keywords to your kit. With Google Keyword Planner, you wield a powerful tool that unveils the most sought-after popular keywords and potential keywords for your search campaign success. It's your trusted tool for mining the gold of organic search and optimizing your PPC keywords.
At the end of this article, you will have a set of powerful keywords in hand. You'll also know how to
read your search volume
forecast and report on performance
check out the competition
tweak your keywords based on impressions and bids
make things easy with a chrome extension hack
The day waits for no one.
Jump in.
Get brand new Google ad strategies straight to your inbox every week. 23,739 people already are!
What is Google Keyword Planner?
Google Keyword Planner is a free online keyword research tool used for paid (Pay-Per-Click) and unpaid (organic SEO) marketing. With it, you find potential keywords, get keyword insights, and perform keyword forecasts. It is the tool you need to get started and when it comes to keywords, starting off the right way is key.
Why use Google Keyword Planner (GKP)?
1. It's a completely free tool
With so many different tools to choose from, why not choose one that'll save you the big bucks?
A lot of keyword research tools are paid with annoying monthly subscriptions, so finding a powerful tool that'll save you money while being insightful is an opportunity you can't pass up.
There are also free keyword research tools out there but they don't have GKP's powerful engine.
2. Dual purpose
As mentioned above, the Google Keyword Planner can be used for both PPC and SEO marketing purposes. PPC stands for Pay-Per-Click and that covers the paid ads side of digital marketing. SEO stands for Search Engine Optimization, and that's the organic side of marketing that happens when someone enters search terms into a search engine like Google or Bing.
What's nice about using this SEO tool is that, although you do need a Google Ads account to access the tool, you don't need to spend any money on ads to pluck out all the prizes the tool has to offer.
3. Competitor insights
Hooray. Put on your spy hats and steal the sparkly gems. You can enter your top competitors' URLs straight into the tool (we'll get to that) and see what keywords they're bidding on. Do they look like they're worth adding to your search campaign accounts?
If yes, steal them.
Chances are they've done some deep research to get those and you will give them a winky thanks as you piggyback on their work.
4. Easily create Google Ads campaigns
Here's an overlooked feature: How easy is it to add relevant keywords to your "keywords plan?" With some tools, it's not so easy. But with GKP, it only takes one click. See a keyword, add it to your accounts, and start getting results. Boop.
In the search box of Google Keyword Planner, you can enter your seed keywords and discover popular keywords, potential keywords, and even negative keywords to enhance your search campaign. This makes it a powerful tool for optimizing your SEO and PPC keyword strategy. 
So, don't waste time on irrelevant keywords; focus on the ones that matter, including brand-related keywords that can drive organic traffic and boost your search trend. Organic traffic is the lifeblood of successful digital marketing, and Google Keyword Planner is the key to
A walk-through of the Google Keyword Planner
Log in or register for Google Ads (no money required)
Make your starter keyword list
Make a list of keywords that describe what you do. What's your company's product or service?
This is not the time to get creative; keep it simple.
Pretend to describe your product/service to someone who knows nothing about the company. Start with popular keywords you think are ideal Google search queries that online users will enter into the search bar to find your company.
You're now ready to put those into Google Keyword Planner.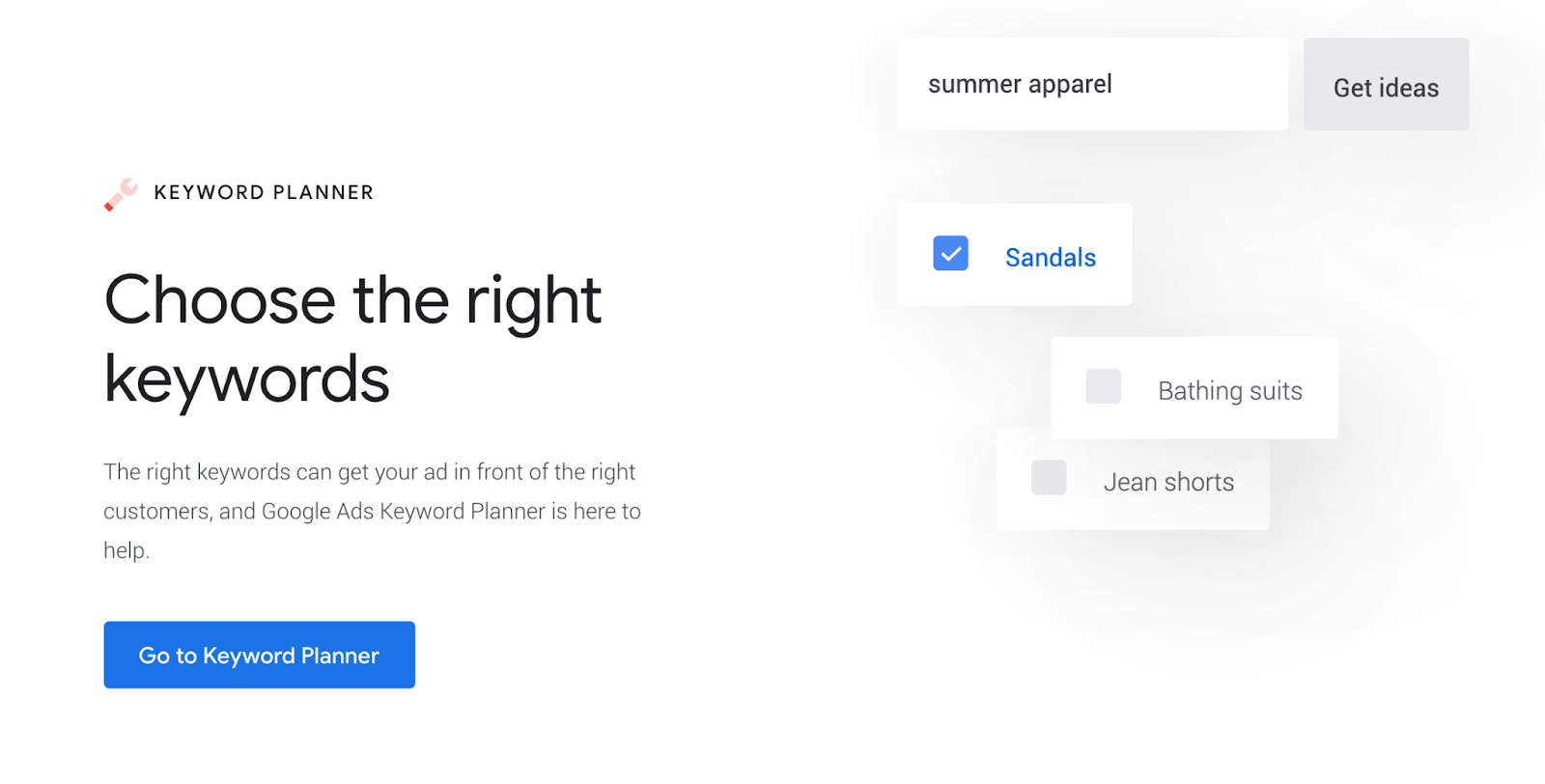 If you're in Google Ads (formerly Google Adwords), the Keyword Planner is part of the "Tools" tab. See that little wrench in the top right?

You'll find the Keyword Planner button under the "Planning" section on the left.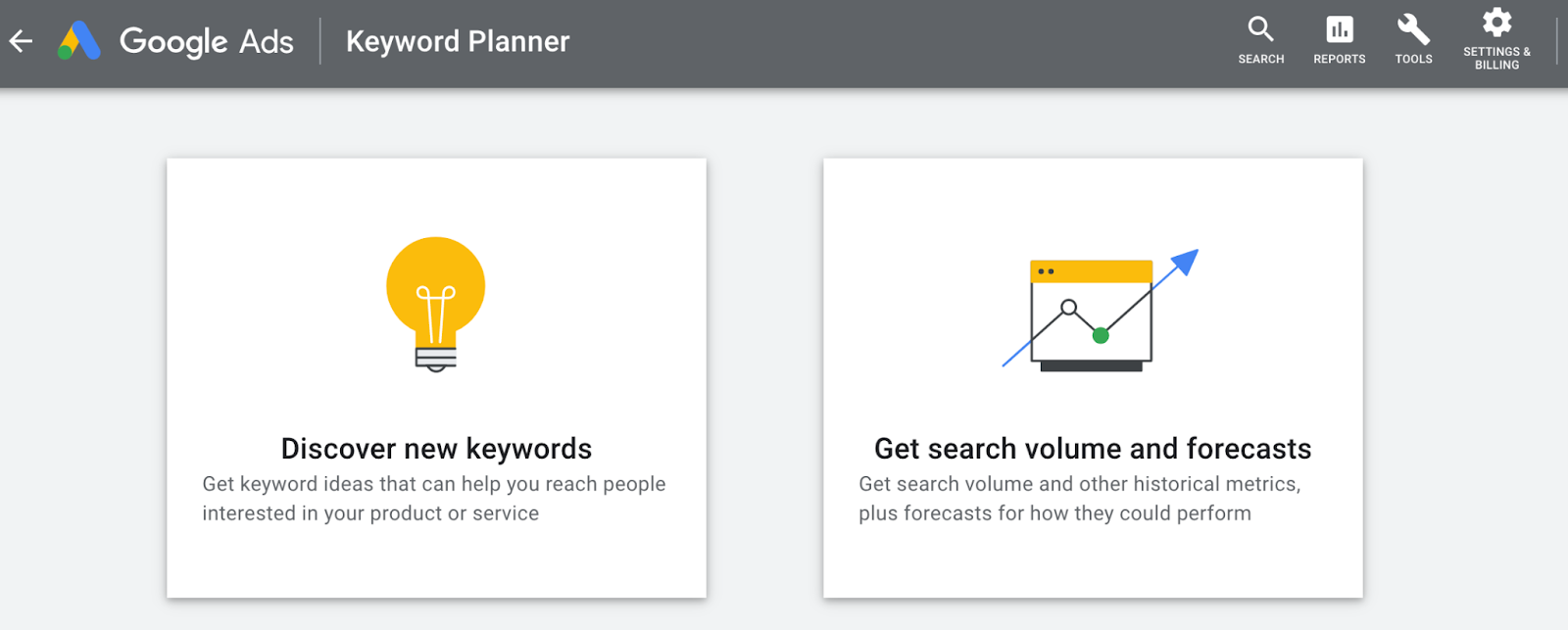 Click on Discover new keywords (we'll talk about option 2 later).
Find new keywords
If you're brand new to Google Ads, start entering that list of keywords you created earlier. If you're an experienced marketer, input some already known search terms to find new related keyword suggestions.
This box allows you to enter seed keywords (the main root keywords), phrases (long-tail keywords), or URLs to begin your research.

Click on "Get Started" to see the Keyword Plan (results) page. We'll go over the plan page right after we touch on the second feature that Google Keyword Planner gives you: search volume and forecasts.
Get search volume and forecasts
This feature of the tool is useful if you already have a list of words that you'd like to see the search volume data for. It won't necessarily generate more keywords for you to add to your SEO or PPC campaigns, but it will give some valuable trending insights that could come in handy.
Plus you can input as many word/phrases as you'd like with the bulk insert option.

Click "Get Started" to take you to the Keyword Plan pages for this set.
Reports and data
The two features will direct you to two different Keyword Plan pages that look similar but serve different functions.
Find new keywords plan page
This is where you'll discover new keywords to add to your Google Ads account campaigns.

Date adjustments
Adjust the date in the top right to focus on any range you want to report on. It comes with default times like last month or the last 12 months as well as a custom date option.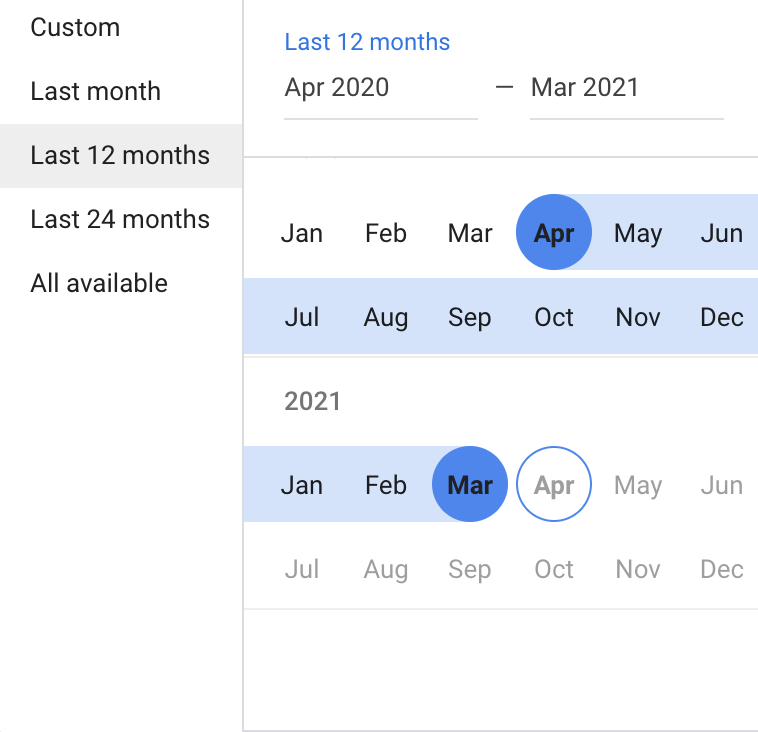 Plan settings
If you're thinking about researching other areas to expand your reach, you can adjust the location to get new insights.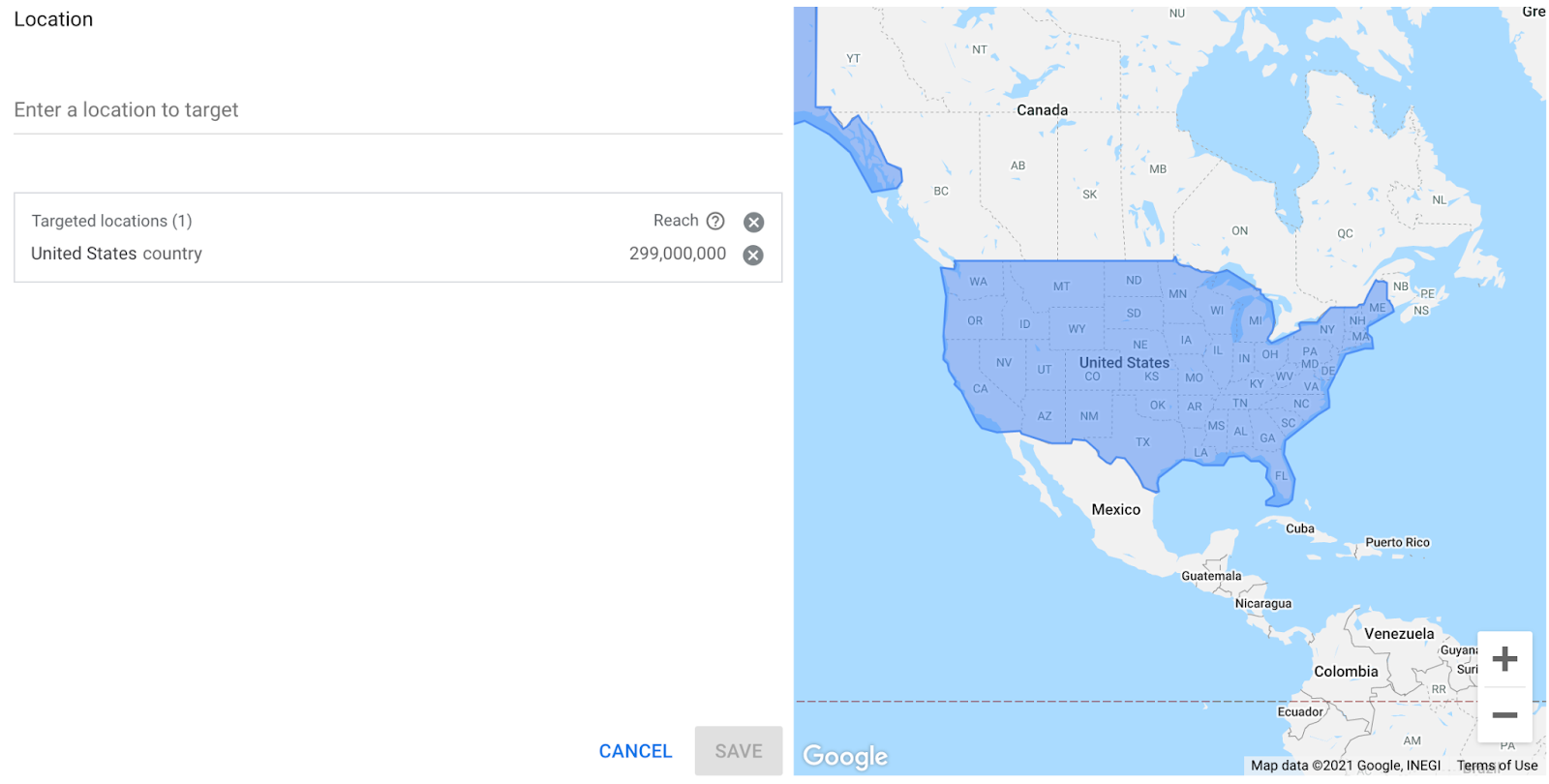 Simply click on the pencil icon, search for the city that you'd like to see results for and save the settings. The same process would apply for the other settings, "Language" and "Search Networks".
Bar graph
This bar graph automatically shows up on the Keyword Planner page. It shows the average monthly search volume from the keywords you inputted within a date range.

You can change the date range at the top right-hand corner if need be. You can hover your cursor on top of the bars to see the exact average number for each month.
A cool addition to this chart is the dropdown menu at the top left of the bar graph that gives you more trends to do your research on.
Keyword search volume trends
Breakdown by platforms
Location-based breakdowns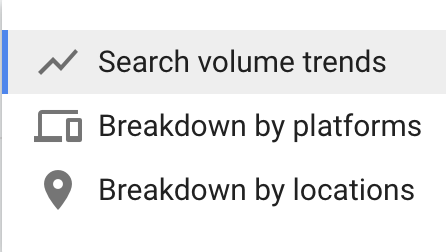 Breakdown by device
If you're curious about which device to target, take a look at the device metric. In this example, it looks like the mobile devices have the win.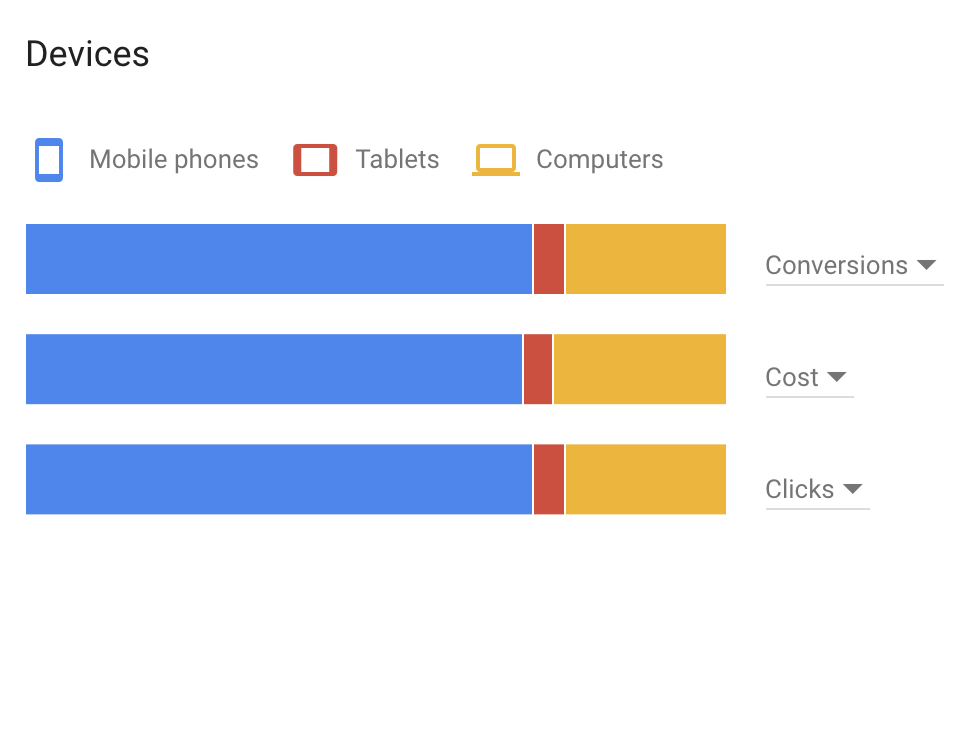 Breakdown by location
All businesses have a targeted location that they want to focus on. But that doesn't mean there aren't opportunities elsewhere. Break things down by country, state, or city and see if there are unexplored areas that show demand for your product.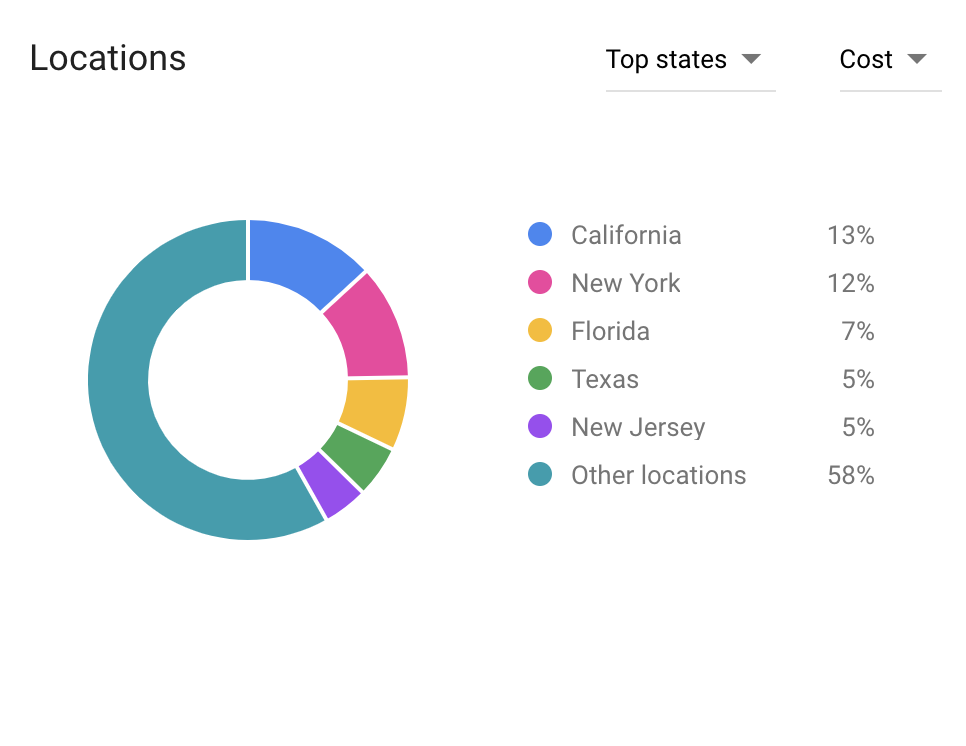 Find keyword ideas
Ok, now the fun begins. This is where all the magic happens.

You'll see the keywords you provided at the top. In this example, I entered "vegan ice cream" and "non-dairy ice cream."
Underneath, check out the list of keyword ideas. Any strike you as being smart keywords to target? Check off those boxes and save them to your keyword plan.
Add to plan
Add potential keywords to your Google Ads Keyword Plan by checking off the boxes to the left of the keywords. Select "Add keyword to create plan" on the blue navigation bar that pops up. Now they're part of your campaign.

Once you've added all the keywords to your plan,click on "Plan Overview" to see the keywords you've added and their expected performance.

Average monthly searches
You'll see average monthly searches, which is important when thinking about how often the keyword is being searched to get as many impressions as you possibly can. You wouldn't want to include a keyword with extremely low monthly search volume.

Average monthly searches and competition
Competition
As far as competition goes, the more a search term is being searched, the higher the competition. Competitors will most likely bid on popular keywords that have higher search volumes, making it a "high" competition keyword.
Ad impression share
The ad impression share column shows your current impression for that keyword (how many times it appeared). You'll notice that the column is blank; you'll only see results after your Google Ads account triggers ads for that specific search term.
Top of page bids
If you buy ads, the Top of page bid estimate shows what it will cost you for your CPC bid to appear at the top of the first page of search results when a search query exactly matches your keyword. There's a high range and a low range.
If you're bidding below this range, your ad may still appear but it might not show at the top of the page.
Quality score has a lot to do with this metric.
Google will also take into account competition from other advertisers.
Keep in mind that your bids come with no guarantee. Sometimes you won't appear in position one even if you fall in the range of the bid estimate.
Google's algorithm is a mystery to marketers.
Get search volume and forecasts plan page
Forecasts are nifty. See the estimated cost of performance (conversions) for saved keywords based on specific dates according to a set budget.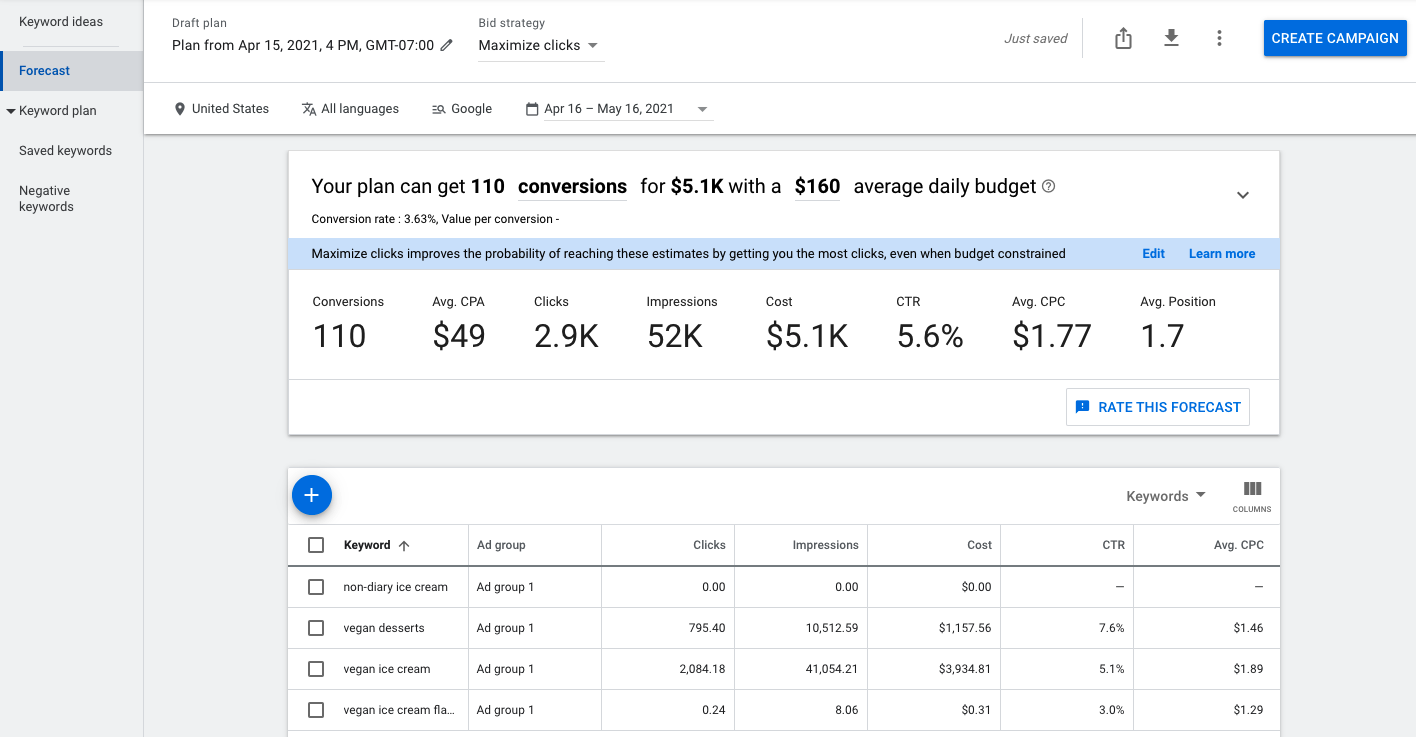 Metrics include the number of conversions, average CPA, clicks, impressions, cost, average CPC, and average position. All very valuable metrics to consider when researching future search trends and performance.
Though this all seems pretty simple, there are some things to consider here. None of this is guaranteed. These are extremely general results. Just because these results point to performance, doesn't mean that it will happen.
Google will evaluate your quality score and these estimated results don't take that into account. It's possible that your performance may be much worse or even better based on other quality score factors.
For example, conversion rates are based on landing page optimizations. If you have the right keywords but your landing page isn't optimized properly, that could heavily affect performance.

Take note that the conversion rate may not be right for your particular business. Change the conversion rate to the most realistic number possible. This way you'll get a more accurate performance forecast.
The "Keyword Everywhere" hack
What If I told you that a Google chrome extension could give you more insights on top of the ideas that Google's Keyword Planner provides?
Well you can. And you should. The extension is called Keywords Everywhere.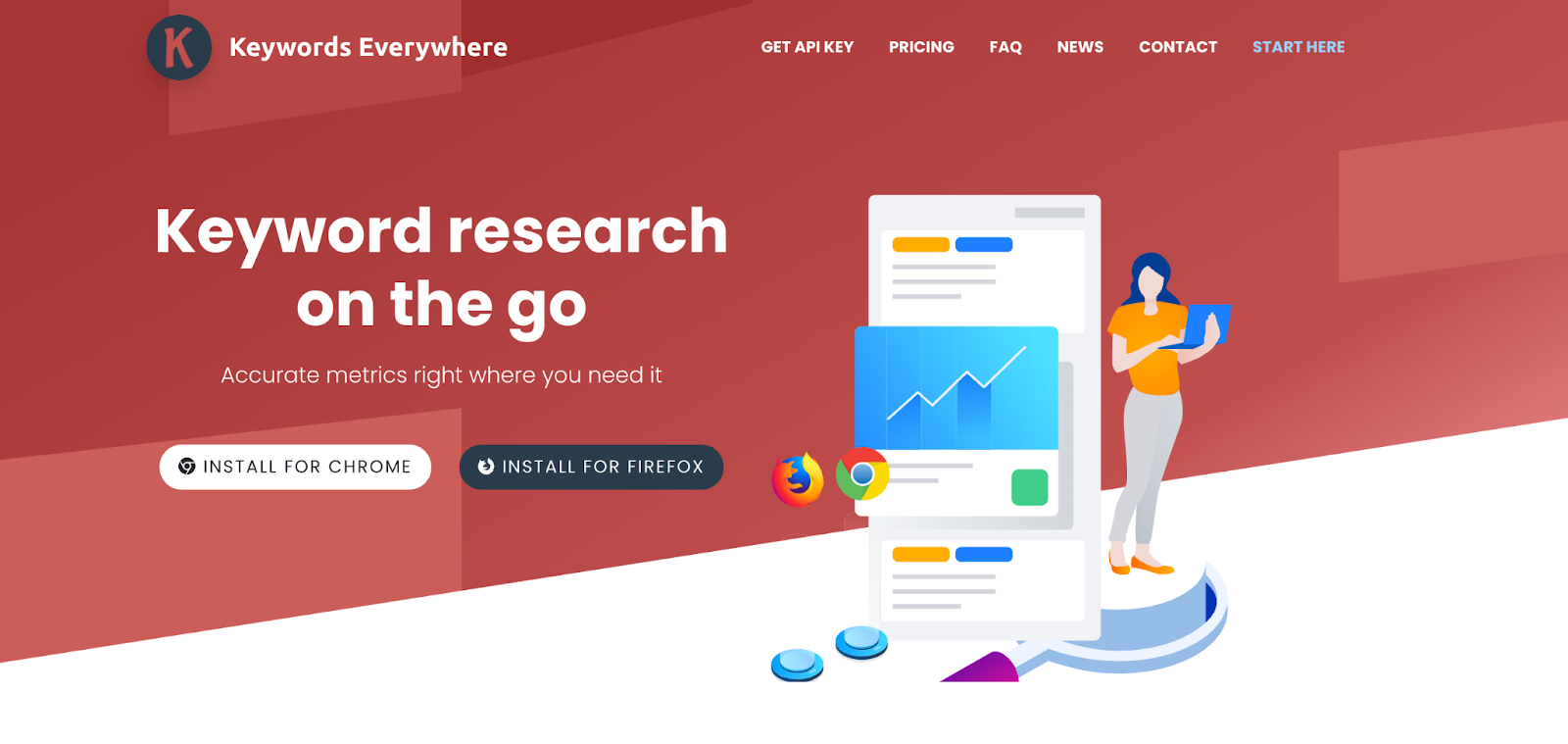 Click here to set it up.
Keywords Everywhere includes three different metrics that'll appear on your Google Keyword Planner interface:
Volume
One problem with Google Keyword Planner for new advertisers is the lack of average search volume insights. Remember that new Google Ads accounts have no previous history to base search volume on. Keyword Everywhere shows you monthly volume so you'll have an idea of the traffic for that particular keyword.
CPC
This is the estimated bid (cost-per-click) advertisers are paying for a click on a specific keyword. Keep in mind this is an estimate; Google ultimately takes a lot of factors into consideration. There aren't any guarantees that the bid Keywords Everywhere suggests will churn out amazing results.
Competition
Although Google's Keyword Planner shows high, medium, or low competition, Keywords Everywhere gives you this metric with a numerical value. Gauge the number of advertisers that are bidding on any given keyword. The keyword is valued from 0 to 1. The lower values mean lower competition.
Okay sure this all sounds great, but how does it help you gauge whether a keyword is worth adding to your Google Ads strategy?
You wouldn't want an irrelevant keyword that has an extremely high search volume number with a low competition value. That probably means the keyword is too general and could lead to low-quality traffic. It's all about finding that sweet spot.
Look for potential keywords that have some traffic volume along with some competition. Keywords with some competition mean you're right in the game.
Overall, Keywords Everywhere adds extra value for new marketers and for your keyword strategy.
Caution: Unfortunately, the most granular location targeting is by country. If you need to target cities or states, this Chrome extension won't be able to help you.
Wrap up on Google Keyword Planner
Clapping time.
You've got the basics down. The starting point is to find out what your audience is searching for so you can build your growth strategy around those search terms.
Doing that right means using a keyword tool with a powerful engine like the Google Keyword Planner.
You're now ready to further your research, find new keyword ideas, and expand on your strategy to get more results.
Use the Google Keyword Planner to find unknown potential supported by stats and data. Make sure each keyword coincides with your campaign structure (I recommend SKAGS, but that's a whole other ballgame) to increase your chances of getting that click.
Our founder, Johnathan Dane, sums it up nicely:
"Find new root keywords that you can extract, that you're currently not getting impressions for, that you currently aren't bidding on. Put those into your account and see your impression, click, and conversion volume go up as well."
Yeehaw.
So saddle up, partner, and ride forth into the digital frontier with the Google Keyword Planner as your trusty steed. The vast landscape of online marketing awaits, and armed with this powerful tool, you're ready to conquer it one keyword at a time.
Have any questions or comments? Leave them below this post.