Editor's Note: This post has been updated with new links, content, and examples for our super-savvy readers. 😉
Original Publication Date: January 19, 2016
Creating a high-converting landing page can be complicated.
There's a ton of conflicting information and ideas out there, and there are lots of "successful" landing page examples that look nothing like each other.
Instead of attempting to give you some sort of typical "perfect landing page" advice, we're going to be realistic and present 34 unique landing page examples that are brilliant for a variety of reasons.
We'll tell you why they're successful and give you the tools and resources to copy their success.
If you've been seeking landing page inspiration or a one-stop-shop for crafting your own high-converting landing page, you've come to the right place.
Let's dive in.
Landing Page Examples Part 1: Homepages
Your homepage is one of, if not the most important page on your website.
We'll start by looking at several websites with exceptional homepages.
1) Gumroad Is Ugly, And I Like It
Somehow, Gumroad manages to be a prototype of a landing page despite the ludicrously ugly design (but that's subjective, right?).
I mean, look at this thing.
We have a range of unattractive grays combined with a man-ish looking stick-figure that's less adorable and more "get that off my screen". Throw in some… snow? confetti? ashes from a nuclear bomb? … and I'm left with confusing feelings as soon as I land on this page.
And I love it! As it turns out, a lot of ugly sites are kicking butt online.
Gumroad's homepage is a case study in why great design is overrated.
They accomplish exactly what they need to within the hero shot:
What GumRoad Gets Right
The initial value proposition is laser-focused, identifying exactly who the target audience is and starting with the benefit. (They haven't even explained the "how" yet.)
The target market is refined further in the subheading, which also incorporates social proof. You aren't just joining "creators", you are joining "17,000 writers, filmmakers, musicians, software developers, bloggers, and more."
Finally, they explain the "how" via a second value proposition just above the fold: "An all-in-one solution to sell your work and grow your audience."
Moving down the page, Gumroad shows us a dashboard screenshot with a scroll-into-view image of how the front-end would look on a smartphone. While I think a steady JPEG would have worked better here, the important thing is that visitors are getting to see an actual view of the product. Software and SaaS can be tricky for viewers to evaluate. Having a dashboard look is a great way to help viewers wrap their head around your offer.
I think what most impresses me about Gumroad's landing page is that they really go all-in on their target market – Creators.
Many businesses worry about excluding certain segments of possible customers. Gumroad's payment processing could work for many types of online business, and yet they have chosen to really zero-in on solo or small-team creators. This focus is clear in every element of the page copy, and it has paid off massively for them.
2) IMPRESS Is Beautiful
In stark contrast to Gumroad's ugly brilliance, we have IMPRESS, a web design agency marketing itself as your choice for standing head and shoulders above the crowd.
Anyone can make a WordPress website look great. But not everyone can build the type of creative, immaculately designed landing page examples we see in the IMPRESS portfolio. That's the pitch, and they have the landing page to back it up.
IMPRESS starts their pitch by clarifying that they are combining beauty and results-driven design. And best of all, they provide a definitive timeline in which you can expect to receive your custom site.
"Delivered in 30 days."
For those unfamiliar with hiring developers or web designers, delayed delivery and missed deadlines are a big problem. IMPRESS has made 30-day delivery a part of their value proposition, and they let you know about it the moment you arrive on-page.
Moving down the page, we see a number of key elements:
Show, don't tell: IMPRESS demos website features that you can use on your page, rather than simply talking about them. Want sliders? Here's a slider talking about our sliders.
Clean, clean, clean: Everything about this landing page is clean, modern, and speaks to the "high-end" design IMPRESS promises to deliver. While ugly is great for Gumroad, it doesn't work for a web design agency.
Easily viewable portfolio: I can't tell you how many creative sites have their portfolios buried or only viewable via a hopelessly buggy interface. IMPRESS displays their previous work loud and proud and makes it all incredibly easy to view and appreciate.
As a CRO specialist and copywriter, what amazes me most about IMPRESS is that they deliver exactly what they promise — beautiful yet results-driven web design.
Finding designers who understand marketing is incredibly challenging, which is why IMPRESS's spot-on copy and focus on benefits is so … *cough* … impressive.
Resource Link:
To get some beautiful graphics of your own at cheap rates, try 99designs.
3) Groove Is Simple & Effective, Just Like Their Product
I'm all about getting right to the point. That's why I love Groove's homepage. After achieving $50,000 monthly revenue, the following redesign increased conversions by 100%.
Just like their product, Groove's home landing page is designed to concisely accomplish a simple purpose. It introduces new visitors to the SaaS company via a delightful explainer video.
Groove does some amazing things with this page:
Their opening value proposition establishes a bit of personality with words like "awesome" and "delight", while simultaneously communicating exactly what Groove does.
Instead of leading with features and "hows", like so many software businesses do, Groove communicates the benefits potential customers are looking for: easy-to-use software that helps them make their customers happy. If you don't feel like watching the brief video, scrolling down the page gives you a basic rundown of all the key features, communicated with that same, personable copy.
And don't forget the CTA! Groove does a fantastic job of keeping a high-contrast CTA button on-screen around 70% of the time via 3 different buttons.
As you'll notice throughout these landing page examples, it's crucial to give visitors an immediate option for conversion at all times. Groove does a good job of this, although I'd probably recommend locking the top navigation menu in place so the "Sign Up Free" button is visible 100% of the time.
Resource Link:
If you'd like to create your own explainer video, Moovly has a free option to do just that.
4) Mark Manson "Doesn't Suck"
Here's the thing about personal development advice online.
It sucks. Bad.
Why? Because for every one good article, there are at least 19 watered down and recycled versions of articles that were interesting a long time ago but have since been beaten into a squishy, over-generalized pulp.
And so, here comes Mark Manson. Mark says he gives personal development advice that "doesn't suck". And you know what? He's right.
Let me start with a disclaimer. Mark and I have similar design tastes.
So when I say this landing page is the best landing page I've ever seen, I'm a bit biased.
But biased or not, Mark does some brilliant things on his landing page that all of us should learn from.
5 Brilliant Components of The Best Landing Page I've Ever Seen
He tells you that his writing "doesn't suck". That's important. Otherwise, I'd be pretty sure that it sucked.
He creates a compelling curiosity gap with this line – "Some people say I'm an idiot. Other people say I saved their life. Read on and decide for yourself." Now I really want to know whether his writing sucks or not.
He gives visitors an option to subscribe immediately above the fold. This is important, because even if users don't immediately subscribe, I've found that giving them the option to subscribe at the beginning makes them more likely to subscribe later on, possibly via a popup or opt-in offer.
For those who aren't ready to immediately begin reading, this landing page follows up the hero shot by breaking things down into four topical areas. This gives readers an opportunity to combine an interest in Mark with interest in a specific topic that appeals to them and is the perfect follow up.
Finally, the page finishes with a feed of the most recent articles and a final CTA inviting visitors to see all Mark's posts.
Each step down the page is a prime opportunity for visitors to move forward, and getting people to move forward is what a great landing page is all about.
Resource Link:
For graphics-based web development like you see here, check out this guide to hiring a graphic designer.
5) Unbounce Knows About Landing Pages
If there's one company that should have the best landing page examples ever, it's Unbounce. Their business is software that builds landing pages, after all.
And just as you'd expect, their homepage nails it on all counts.
Stating a benefit makes for a great headline. Promising to help users avoid a problem also makes for a great headline.
And Unbounce combines the two.
5 Takeaways From Unbounce's Landing Page
Get this benefit without this problem. Get the ability to create landing pages without having to be an IT professional. "Build, Publish & A/B Test Landing Pages Without I.T."
Additionally, notice the high contrast between the blue background and the orange CTA button. Higher contrast increases conversions.
Notice how they simplify their process into three easy steps. The more you can help readers grasp exactly what you're offering, the better your page will convert.
As Kissmetrics puts it:
"Icons help give users a point of reference – particularly when navigating a site or when scrolling and scanning over a page."
But be careful with those icons. Only use them as an addition to your navigation, not as a replacement.
Unbounce immediately follows up their value proposition with social proof. They highlight well-known brands they've worked with and display a glowing testimonial detailing an account, complete with hard numbers, on how effective Unbounce was at increasing conversions for the client.
Instead of spending a lot of time saying how, they show how, with a selection of 200+ templates for visitors to view. As I've mentioned before, showing is far more effective than telling, and Unbounce has been doing this long enough to understand exactly what converts.
Finally, after touching on several more features, Unbounce finishes with a splash of personality and a crystal-clear CTA.
Job well done.
Resource Link:
To learn how to write great headlines, check out Copyblogger's free ebook, Magnetic Headlines.
6) Gravity Payments Is Trustworthy & Focused On You
Different strategies work for different audiences. The key to success isn't necessarily emulating a template formula.
This is why I want to highlight Gravity Payments.
Their homepage subtly accomplishes two things that almost no one ever manages to achieve with a landing page.
It speaks clearly and directly to the target audience.
It builds a meaningful sense of trust, which can increase conversions.
Imagine you're a small, brick & mortar business owner. You are dealing with a high volume of low-margin transactions, getting gutted by credit card companies, and having difficulty getting your voice heard.
Gravity Payments is targeting you. Specifically you. They started their business with you in mind, and despite the wide range of people who need processing services, they are only talking to you.
"We reduce the costs and headaches of accepting credit card payments by providing low-cost solutions, transparent pricing, and the best customer service."
They are the "Credit Card Processing Trusted Most by Community Businesses".
Exclusivity Builds Trust
When you address a specific and unique group of people like Gravity Payments does with small business owners, the exclusive nature of your words builds trust. Gravity Payments does a truly exceptional job at this, coordinating laser-targeted copy with relevant images.
The hero shot follow-up section is a bit wordy, and I would change the formatting and condense the copy, but those are just marginal details when you've already captured trust.
This section is followed up by an expression of the company's core values, focusing again on trust and then follows up this section with perfect testimonials like this:
"Gravity Payments really cares about my needs. With large banks, I felt like a small fish that didn't matter to them."
Trust, trust, trust. If you can build trust, everything else is just details.
Resource Link:
For an academic look at the value proposition, check out this free ebook.
7) KlientBoost Is Talking About You
Sounding off for the home team, I wanted to mention KlientBoost's homepage, because it does a few things exceptionally well.
There are a number of great elements here.
First, there's a unique design that grabs attention and stays consistent throughout the landing page. The rocket, night sky, and clouds are simple, pleasing to the eye, and add an artistic element to the page that isn't common for sites in the marketing industry.
Second, and most importantly, they talk repeatedly about "You".
YOUR PPC performance is about to get a serious lift.
YOU'LL make more money.
YOU'LL grow very fast.
While the copy isn't necessarily life-changing, it doesn't have to be. The words put the focus on the client, and that's the most important thing your copy can do.

8) ConvertKit Is Niche Focused
You may have noticed that I've focused repeatedly on landing page examples that zero in on a specific audience.
This is what a great landing page is all about. Focus.
And this is why ConvertKit has been gaining so much traction recently. They are focusing on professional bloggers who need and understand the functionality their software provides.
What I love about ConvertKit's homepage:
It starts by saying who it's for and then immediately shows a brief video taking readers through the highlights. Videos can be extremely effective, but you need to give viewers a reason to watch. ConvertKit does this by isolating their audience of "professional bloggers".
ConvertKit delivers on their promise with a range of blogger-focused features other email service providers don't offer.
9) SumoMe Is Already Addressing Your Objections
Everyone has objections to any given sales pitch. There are reasons "why not".
The key is a classic sales technique — address and dismiss those objections BEFORE the customer brings them up or even thinks about them.
If the customer brings up an objection first, anything you say will be unconvincing. If you bring it up first, however, it's just another problem your fantastic product can solve.
SumoMe is a suite of traffic generating tools that can quickly and easily be installed on any website. And before you ask, yes, they work on any website.
You don't see many landing page examples covering objections in the hero shot. This helps put visitors at ease, giving them confidence that whatever they spend their time reading over the next few minutes will be applicable to them.
Landing Page Examples Part 2: Lead Magnets, Guides, eBooks & More
Squeeze or opt-in pages are designed to get email addresses.
Email converts higher than any other channel, with an average ROI of $44 per dollar spent.
Many online businesses today focus on capturing email subscribers first and then converting those subscribers to customers via email marketing. The following landing page examples are effective ways of grabbing those emails.
10) Social Triggers Is Derek Halpern
Derek Halpern is a fairly well-known name in the online marketing world. But unlike most "gurus", a large part of his success can be attributed to his personality and sense of humor.
He's the successful guy that doesn't take himself too seriously. And his homepage is basically a lead magnet buffet.
What we see in this landing page is that Social Triggers is Derek Halpern. In all honesty, "social triggers" is a mostly meaningless blog name.
The site, the brand, the marketing, and the product all revolve around Derek's personality. And this isn't an accident.
Personalities sell far better than companies. People follow people — thought leaders, dynamic communicators, insightful experts, etc. And Derek's landing page builds on this by depicting a larger-than-life personality who doesn't take himself too seriously.
Derek's page doesn't just showcase the personality that made him successful. It gets right to brass tacks with four free opt-in offers, each appealing to a different segment of Derek's target readership.
By following these offers with relevant articles and social proof, Derek hits all the right notes of an effective landing page.
This page is a fantastic case study in communicating personality, and every business should be tapping into the power of personality.
11) Noah Kagan Is Successful And You Can Be Too
In my opinion, Noah Kagan has one of the most iconic squeeze pages on the web. This is in part because he's one of the few guys who doesn't redo his web design every year. But it's also because he's a master at email list building.
Noah's opt-in page promises to deliver the expertise he's gained starting two multi-million dollar businesses in exchange for your email address.
It's a simple layout. Headline. Email collection. Description.
He follows it up with two testimonials that establish him as the type of guy you'd like to chill with and hire to build your business at the same time. Then he presents an invitation to read the blog.
There's not a lot to this page, and that's precisely the point. And if simplicity works for Noah Kagan, it can work for you too.
Resource Link:
Noah's company, SumoMe, has made it possible to replicate this exact look via Welcome Mat. Teachable used Welcome Mat to increase signups by 70%.
12) Michael Hyatt Wants To Show You His Popup
Many landing page examples, especially opt-in pages, use popups to influence visitors into becoming subscribers.
Popups brings readers to an immediate point of action. Either opt-in or opt-out.
While most pages are courteous, allowing you to browse for several minutes before calling in the popups, Michael Hyatt whacks you over the head with his popup within seconds of arriving on his page.
He really wants you to see his popup.
Why would he use this popup technique? Here are a couple of reasons:
Michael's popup focuses heavily on the benefits he's offering and increases the perceived value by claiming these materials cannot be purchased, because they are ONLY offered to email subscribers. People love exclusive offers.
The final sentence is a very personal and direct appeal to the reader: "Stop putting the rest of your life on hold. Reclaim the margin you need to thrive. Sign up now!
Popups increase signups in nearly every case study because they allow you to get your message directly in front of the reader.
"Using exit-intent popups on only single posts and not site wide on every page they saw an increase of sign-ups by 600%."
There is zero chance to miss the popup, since it appears right in their line of sight.
If you think your audience will respond to an in-your-face approach, popups are a great way to increase conversions on an opt-in page.
Resource Link:
To quickly install your own pop-ups at no charge, use SumoMe's Listbuilder plugin.
13) Bryan Harris Is Just Like You
Bryan Harris has become one of the web's premier thought-leaders on the subject of email list building.
Accordingly, you'd expect his email opt-in page to be fantastic, and it really is:
"Want More Email Subscribers?" Great, sign up here.
Notice that if you don't subscribe, you are immediately shown social proof and then given the option to make a more specific selection on what you need help with.
If this basic, straightforward intro doesn't do it for you, Bryan then goes more in-depth, discussing his personal frustrations, talking about how he was able to overcome common problems, and then inviting you to join him on the journey.
14) Jon Morrow Will Help You Write For HuffPost
Jon Morrow is one of the most successful bloggers in existence. His networks of blogs command millions of readers, hundreds of thousands of subscribers, and millions in sales.
Here's one of his favorite opt-in pages:
That's it. That's the whole thing. Either you want to read this guide on writing for HuffPost… or you don't.
This type of page works because it has a very compelling offer. Most people have heard of HuffPost, and many think of it as a magical standard for becoming a recognized writer (even though that's bull****).
The key here is that to continue, you have to subscribe. There is no other option. And with a compelling offer like this, Jon is getting around a 50% conversion rate.
Resource Link:
Check out this list of great lead magnets for your squeeze pages.
Landing Page Examples Part 3: Lead Capture
Lead capture pages are designed to get targeted leads without offering some form of downloadable content in exchange.
15) Neil Patel Is Finally Selling You Stuff
For several years, Neil Patel has generated insane amounts of great marketing content via several blogs. I'm convinced ghostwriters are doing it all, but he's probably just a machine.
Neil recently turned the home page of his eponymous blog into an opt-in page for an introductory webinar that funnels viewers into his new marketing training course.
And frankly, after so much free content, I'm pretty excited that he's finally selling me stuff.
Let's break down this page.
He establishes expertise by referring to four multi-million dollar businesses (and effectively two-upping Noah Kagan — 0% chance that's a coincidence).
Neil promises a free bonus before even getting to the particulars of the webinar.
He touches on four key insights businesses are looking to acquire that will be addressed during the webinar.
He claims spots are limited, giving the event a feeling of exclusivity.
This is an easily repeatable model, but the problem is that you don't have the same name recognition as Neil Patel.
But that's okay. You'll just want to add some additional social proof and use data to establish expertise.
16) KISSmetrics Gets Your Eyes On Their Webinars
KISSmetrics made webinars a massive part of their content marketing strategy for years. It seemed like there was a new webinar pitched in their sidebar every week or so.
Webinars are a great way to collect targeted leads on specific topics of interest.
And signing up for those webinars looks like this:
There are a few reasons I love this page, even though at first glance it might seem rather generic.
While it's not formatted very differently than other webinar squeeze pages, it is far cleaner and sleeker than the typical webinar registration page. There's no clutter. You have your signup form. Your description. Your experts. There are no extra colors, little text boxes, dropdowns, random text, etc. It's just the information you need.
The colors are vivid and high contrast and the images are vibrant.
The copy is prominent and focused on the user benefits.
Resource Link:
Finding free templates is easy, but you won't always get the clean, modern look we see in KISSmetrics' landing page examples. Sometimes it's worth spending a few bucks.
In that case, try this list of more than 1,000 WordPress themes that will give you amazing landing pages for under $20.
17) Brian Dean Makes Every Post A Lead Page
You can't get everyone interested in clicking-through to your lead-capture page. It's much easier to get them to a blog post, especially when that blog post offers exceptional content.
This is why Brian Dean creates massive guides and how-tos instead of regular blog posts. He turns each one into a subtle lead capture page by pitching strategically placed downloads and offers throughout the page.
This is typically referred to as a "content upgrade" and it's become the new standard in content marketing and lead capture.
18) Buffer Runs A Giveaway
Giveaways are a fantastic strategy for increasing your subscriber list. Buffer is one of many companies to use this optimized squeeze page for their giveaway.
Offering a great incentive is always a solid strategy for getting subscribers, but it's also important to make entry into the sweepstakes easy. For example, this page:
Makes signing up simple
Clearly displays the prize
Puts everything above the fold
Rewards users for sharing the contest
Resource Link:
Buffer is using KingSumo Giveaways, which you can also use to instantly create a similar giveaway squeeze page.
19) Quicken Loans Gets Straight To The Point
This two step landing page allows Quicken Loans' visitors to get exactly what they need in a hurry.
You can go through the multi-step landing page getting very specific or you can call immediately.
Also, notice the contrasting CTA buttons with simple copy that directs visitors through the right funnel.
20) BodyBuilding Will Give You 10% Off
Discounts aren't as effective, especially in a commodities market where prices are relatively fixed.
BodyBuilding.com has become the online leader in fitness information and supplement sales. And it's in large part because of their highly effective email marketing campaigns.
They get subscribers into that list using pages like the following:
While this page offers a good deal, there is more visual clutter than I typically prefer. Its copy is spot-on, meshing the audience's desire to transform with the tools needed to do so.
Landing Page Examples Part 4: Product Sales
What's the point of all those emails if you can't sell a product, right? Well, here are 10 outstanding examples of product sales landing pages.
21) Michael Hyatt Sells A Lot of Books
We showed you how Michael Hyatt uses popups earlier, but I wanted to show you one of his landing pages too.
It doesn't use a special design of any sort.
He is literally just using a standard WordPress page, and he's doing very well with it.
Michael does a few things really well on this page.
For starters, he focuses on the problem first. You want to get your voice heard, but there's too much noise. That frustration resonates with a lot of people. When you're selling a product, you aren't trying to add a function; you are trying to solve an existing problem.
Another major point is the sidebar. Do you see that? He has 27 testimonials in the sidebar. 27!!! That means every time you glance right while you read through the sales pitch, you're seeing a new comment on how great that product is.
According to Crazy Egg, adding 20 or more reviews to your site can increase conversions by 83.85%.
That's powerful stuff.
22) Freshbooks Personalizes Referral Sales
As I mentioned before, much of today's selling is done via email rather than directly through a product sales landing page.
But a strategy that is even more effective than email is referrals. Freshbooks uses a custom landing page generator to personalize the landing page based on who is referring them.
Referrals establish major trust. Including the referrer's name taps into that trust immediately, which is why this is such an effective landing page.
Resource Link:
Referrals capitalize on the power of persuasion. Learn more here to use the power of persuasion for your business.
23) StudioPress Gives You All The Themes
Just like referrals are a fantastic way to increase sales, selling to your existing customers is another great way to increase sales.
By offering an "Everything We'll Ever Make" package to existing customers, StudioPress capitalizes on this concept at every turn.
Bundling is a powerful way to increase sales. Notice how the normal price is very clearly displayed and marked out in favor of the discounted rate.
24) Tony Robbins Wants You At His Conference
I wanted to point out Tony Robbins page as a great example of an incredibly effective landing page that isn't hampered by a dated design.
Let's look at the progression.
Create "YOUR" breakthrough
Engaging video
Testimonials from famous people
Pricing options
Over-the-top Satisfaction/Refund guarantee
Nothing is left to chance here. Tony Robbins' team removes any risk involved in attending his event, and bolsters it with repeated testimonials and promises of a "life changing" experience.
25) MacBook Pros Are Pretty
I've mentioned "focus" many times in this article, and while it usually applies to the customer you are targeting, it can also apply to your own strengths and weaknesses.
Let's take the Apple MacBook, for example.
People love Apple products because they look amazing. That is what sets them apart from the competition.
So when we look at this landing page, design and beauty are what we see and what we read about.
We don't see specifications and performance details highlighted. We don't see the price discussed. Apple can't and doesn't even attempt to compete in these areas.
They focus instead on the only thing they are amazing at. Beautiful hardware.
Resource Link:
To insure your graphics-driven page is loading quickly, use Pingdom's free site speed checker.
26) John McIntyre Is Using Long-Form Sales Pages
Sales pages have mostly moved away from the long-form sales pitch. But that doesn't mean a longer page can't be effective.
John McIntyre has created a great long-form sales page for his Mastermind group.
This page has some great elements to it.
It starts with an autoplay video of John explaining the product. While this tactic can be hit or miss, John does a good job of getting right to business. (Plus it only takes one click to pause the video.)
Next, the page goes through a whole host of benefits, focusing on the most important motivation for email marketing: increasing revenue.
Finally, it finishes with video testimonials. I hardly ever see video testimonials, but here they communicate that people like this product so much, they were willing to record a video of themselves talking about it. That's powerful.
27) "Serious Bloggers Only"
Are you a serious blogger?
That's such a loaded question. It's such a loaded phrase. Serious Bloggers Only. Yeesh.
And in staying with the theme of the long-form sales page, Jon Morrow takes us on a solid 10 minute read in this landing page.
It's all there. Benefits. Social proof. Frustrations. Promises. Etc.
Jon's opt-in pages average conversion rates as high as 50%. He knows what he's doing.
Resource Link:
The free landing page templates available here will let you create your own version of this page.
28) Dollar Shave Club Just Took Your Money
On top of creating one of the greatest Super Bowl commercials of all time, Dollar Shave Club's landing page combines fantastic design with humorous copy.
They even provide a visual of the exact product you'll be receiving in the mail.
It's not long, but it's effective. If you can create a great video to kick off your landing page, you're already halfway there.
Unbounce found that on average, great explainer videos increase conversions by 20%.
Resource Link:
For WordPress themes that have great landing page, check out this list.
29) Craft Coffee Won't Break Your Bank
There are a lot of coffee drinkers around.
In fact, more than half of you reading this have a cup of coffee on your desk right now.
In this competitive (and caffinated) marketplace, Craft Coffee's subscription sales page hits all the right notes.
They start with a perfectly descriptive headline:
"Brew Better Coffee. Pay Grocery Store Prices."
This is followed up with a visual "How It Works" and a prominent Satisfaction Guarantee.
Guarantees can have a major impact on your conversion rate. One online watch seller improved conversions by 41% simply by adding a guarantee.
I'd recommend including some extra testimonials early on the page, but there are some fantastic ones included further down on the landing page.
Overall, this is a great example of a sales landing page.
30) Etsy Has Something You Can't Find Anywhere Else
Most of our examples focus on a single product, which is the most effective way to use a landing page. Fewer options almost always convert better.
That said, let's look at how a landing page can influence an eCommerce platform.
Etsy does a great job with this:
When you land on the homepage, you are told immediately what Etsy is all about and what it's customers are all about.
"Shop directly from people around the world. Discover items you can't find anywhere else"
This sets the tone for the products being presented below. This isn't a corporate brand or a person attempting to build an empire. This is a shop for people with a value for the unique.
Resource Link:
For better headlines, take CoSchedule's Headline Analyzer for a spin.
31) GetResponse Integrates With Stuff You're Already Using
Some of the fastest-growing businesses are the ones that simply hitch their ride to a fast-moving train. If you can offer a supplemental service to something that tons of people are using, you can piggyback on their success.
In the crowded landing page designer market, GetResponse boldly connects their product to four platforms virtually everyone is using already.
Integration with these platforms isn't challenging. Many services offer it, but few tell you about it. When a potential customer sees that your product is designed to work with the tools they're already using, you've just taken a big leap forward toward conversion.
Resource Link:
GetResponse offer a fairly lengthy free trial if you've ever wanted to try out a landing page builder.
32) Lyft Highlights Direct Value
When you arrive at Lyft's Become a Driver landing page, there are two things you can do quickly and easily: (1) create your driving profile and (2) calculate how much you can make.
From the start, they emphasize the audience that has already made a decision to apply, without ignoring those that simply want more information about how Lyft works for drivers.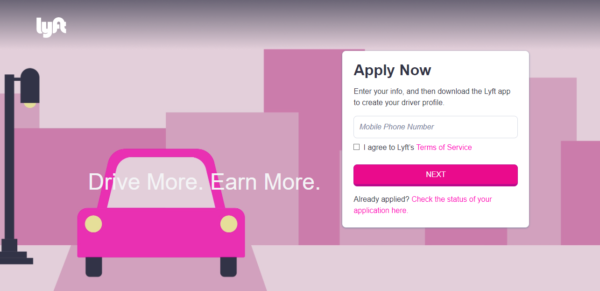 The image is a simple car with the words "Drive more. Earn more".
The copy is short enough that everyone will read it, but it also leaves out enough to make you want to learn more. The bottom of the page includes FAQs, just in case the user is still unsure.
This allows you to understand exactly what the service offers without needing to visit another page. They also include the insurance protection to help reassure potential drivers that they'll be covered.
The landing page has everything that it needs to let you know exactly what the service is and how to sign up, but my favorite part is by far the calculator. You can enter how many hours you want to drive and your city, and it gives you an estimate of how much you can make a week.
Showing people the money they can make from driving is a strategic way to draw them in for more information.
33) TextMagic Shows Exactly What You'll Get
There are few things that people like as much as "free". TextMagic knows that and doesn't make you hunt around for their offer.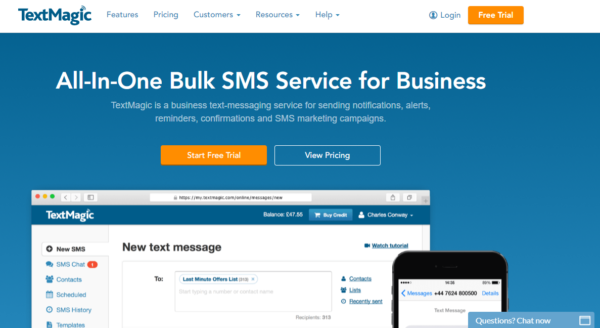 To help make it even better, however, they effectively use their page to show visitors four reasons to jump on their offer:
Examples: A picture is worth a 1,000 words, and TextMagic puts this concept into practice on their landing page. A large image right under their free trial offer shows exactly the type of service their company provides. You don't have to guess about what they do or what their solution's interface looks like, because you see it right away.
Contrasting Colors: To draw attention to their free offer, they use an orange button, which is a nice contrasting color to the blue background and white fields throughout the page.
Simple Statistics: It's hard to argue with "50,000+ happy users". Not only does TextMagic include the stat, but then they include several positive reviews with links to the respective case studies from their clients.
Clear Directions: If you want to get started it's as easy as 1, 2, 3. The simple steps are included at the bottom of the page, followed only by another offer for the free trial.
It's important for a business to clearly communicate what they do and why their potential customer should care.
34) Final Uses Video to Engage
For our final landing page example, Final uses a short video on their landing page to tell you everything you need to know.
For those that don't want to read through a bunch of text to understand what they're offering, a video is a perfect match. It's hard not to enjoy the dry sarcastic humor as you watch.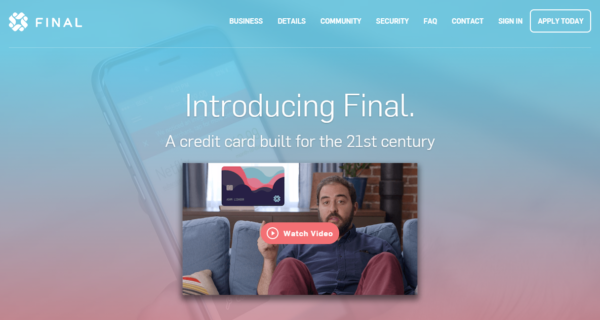 But, since some people automatically skip over videos, Final breaks it down into bite-size pieces of text throughout the rest of the page.
First, the landing page is not inundated with graphics and information.
Instead, the page uses a nice balance of text, image, and white space to keep your eyes moving along. You can tell that everything was strategically chosen to be part of the page and serves a purpose.
Under the video, they include the logos of new stations and other sites that they have been featured on. This helps build credibility with the reader before they get too far into the page.
Then, they follow this up with reviews at the bottom of the page, so landing page visitors are getting word of mouth recommendations from Final's customer base.
The landing page isn't overly fancy, but it has exactly what it needs. Final communicates their message clearly through both text and video.
What's Next…
If your goal was to get inspiration from different landing page examples, then I hope you have a treasure trove of ideas to get started.
With the many different landing pages out there, it's vital to have an arsenal of testing ideas ready to go with insights you can steal from others.
After reading this post, what kind of landing page will you be creating?