If you had a similar grade school experience like myself (before Google and Wikipedia), you probably had to use a dictionary every now and then to look up words or terms.

It was frustrating and slow.

And there were way too many words to look up for it to feel like it was an effective use of your time.

[Tweet "Read these 103 lead magnet ideas to test for more conversions"]

But today, we're changing that.

One of the common things we see with our clients is that they don't match their offers with the PPC channels they're using (more on that later).

And this ultimately hurts their performance.

This is why here at KlientBoost, we've created an easy, customized A to Z dictionary list that's tailored to explain the different landing page lead magnets you can use to attract more leads or convert more visitors for your SaaS business.


Best Ways to Use Landing Page Lead Magnets
For starters, let's go over what landing page lead magnets actually are.

Essentially a lead magnet is a call to action (CTA) that you want the visitor to act upon. If you do it right, the lead magnet is something the visitor is interested in and is willing to perform an action for, that's valuable to you, the advertiser.

There are tons of different lead magnets you can offer, which we'll go over shortly with our landing page lead magnet A to Z dictionary list.

But how important is using the correct call to action?


As Unbounce states in their post about essential elements of a winning landing page, it's important to keep it simple and easy to understand for your visitor.

That way, they know exactly what the offer is, and if they're interested enough, they'll choose to act on it by wanting to get your lead magnet.

Sometimes, visitors can be more hesitant though and may not be ready to convert with the lead magnet you chose to use.

Chances are, they're just finding out that your company exists or they don't know much about it.

To get these visitors to convert, you want to match their conversion intent with the threat of your landing page lead magnet.

Breakdown of the Lead Magnet Temperature Scale
The landing page lead magnet you use depends on where your traffic is coming from.

If your ultimate goal is to turn visitors into paying customers, then you understand that not all visitors that click on your banner ad have their wallet open and ready to pay.

This is because visitors from the AdWords Display Network (as an example) usually enter your marketing funnel at the top (they're cold), while people who are searching for what you have to offer are more ready to buy (they're hotter).

Let's break down the different placement options, intensity of offers, and how both relate to the PPC Channel Temperature Scale pictured below.


As you can see, the colder your traffic, the smaller the intensity of your lead magnet should be.

From our experience, we've found that there are certain types of lead magnets that work better with different types of PPC channels.


If you want to review more information from the presentation Johnathan, our CEO, gave when he spoke about The PPC Thermometer, check out this recap of the Elite Camp 2016 in Estonia.

To help you understand the variance of the different placement options and intensity of an offer, I want you to visualize an interaction you might have with an actual human being.
Level 1:
Lead magnets presented on the AdWords Display Network or via direct targeting on Facebook are more of a smile-in-passing kind of interaction with your visitors. This would be something simple and require the least amount of interaction with your company.

It's like a little flirt.

Level 2:
Lead magnets that come up while watching a video or through a retargeted Facebook audience, is like a wave from your neighbour across the street.

This would require slightly more effort and a bit more interaction with your company.

They know who you are and what you do. But they're not really sure if they like you yet.

Level 3:
Lastly, lead magnets that appear on search networks are for visitors with high intent to interact with your company, similar to approaching a familiar face that you hug right away.

They know you're a good time.


What you want you to avoid doing is coming on too strong with a lead magnet that has too high of a threat level and scaring the visitor away.

The last thing you want to do is make your customer feel pressured.

Ever had a significant other bring up moving in together and you hadn't even thought of the idea of moving in together?

Did you feel like you just wanted to run out the door and never come back just so you could avoid confronting the issue that you weren't ready for that kind of commitment yet?

Your visitors can feel this way too.

That's why it's important not to make them feel like you're their only option, but to show them why you're their best option.

And you can do that by split testing these landing page lead magnets.

So, without further adoo..
The ABCs of Landing Page Lead Magnets – Dictionary Style
is for Access, Advice, Apps, Assessment, Audio Version, & Audit

Access: By having a CTA that states you're giving your visitor "access" to something they don't have yet, or better yet, need. It creates intrigue.

Could it be access to another lead magnet, like a course? That's for you to decide.

Advice: Who doesn't love advice?

I mean, sure, I always get annoyed of that one friend's mom's nephew's dog, but his recommendations on going on more walks has really done my health well.

Point is, offer advice, when you can, how Oprah gives away free homes. It makes you look helpful, friendly, and knowledgeable. It also gets visitors to ask questions.

And it's something we use with our Intercom auto messages.


Works really well 🙂

Apps: Hey, did you know, there's an app for that?

Having a mobile application is a great way to reach visitors or users who prefer it. This might even be your only landing page lead magnet if that's your only goal – to get more app downloads.

You can even use Google's or Facebook's dedicated app install campaigns to bypass a landing page altogether, but that's for another post.

Assessment: An assessment can be offered two ways: Self serving, or service provided.

A reason an interested visitor might complete an assessment on their own is to see if they're ready to partake in the full services you offer.

Secondly, an assessment your company would provide for them would be to look at how they or their business would benefit from what your company can provide for them.

Audio Version: Even if your visitor is capable of reading, they might not want to.

Offering an audio version of items like a PDF, Checklist, Report, Case Study and especially an eBook can help you become audio-friendly to that market segment of interested customers.

I find it beneficial to listen to the audio version of a case study, while I read along, because it's like a double whammy of learning and reviewing the information.

Audit: Let's be real. Numbers can be scary, especially $$$ numbers.

An audit should be a financial account or financial campaign inspection you offer for free or at a reduced price. In case the audit is the first time this visitor is interacting with your services, you won't want to mark them up full price.

Give them a little test of how great you are with numbers, and then let them know how you can help them improve their numbers, for a price obviously.

It's one of the things we do here at KlientBoost with our primary CTA, a free proposal.

is for BOGO, Bonus, & Brochures
BOGO: Did you say Buy One Get One?!

I went to 7-11 today with a co-worker and I was planning on getting a soda, but it was BOGO slurpees, so when he got a slurpee what do you think happened?

I got a soda.

Kidding, I got a slurpee.

A BOGO is a perfect offer for getting an interested visitor to try your product or service out with a friend, or a returning customer gets a two-fer!

Bonus: Sometimes the bonus material is even better than what the visitor originally converted for.

It might happen that a visitor is on the fence about whether or not they want to spend the money on a specific product or service. Or convert on something that doesn't require them to pay.

Offering a bonus can be enough to add some extra value to their purchase. You often find these types of up-sells or side-sells as an exit intent (which we'll go over soon).

Brochure: Make sure it's pretty, but make sure it has key points and branding imagery too.

More importantly, it should be free. It's your chance to brag about your company and why you're so cool.

Make sure to take some time and design a nice layout that allows you to accentuate what your company can offer, and more importantly, how it's beneficial to the visitor.

You'll find that a lot of colleges and universities have brochures as their main lead magnets. And they can be digital or physical.


is for Calculator, Calendar, Case Study, Charts, Chat, Cheat Sheet, Checklist, Clearance, Consultation, Contest, Coupon, & Course
Calculator: There's going to be a day when ebooks and guides have saturated our minds to no end.

The bar is going to continually be raised for us to think of new ways to entice visitors. One of the best examples I've seen of this is Nat Eliason's Runway Calculator.

Nat knows his audience well and created a spreadsheet calculator for people wanting to travel the world and be entrepreneurial at the same time.

Calendar: We all have busy lives and a calendar is an easy, friendly tool we can use to stay focused.

Offering a free calendar that comes with important webinar, events, and upcoming sales dates, already on it will help your visitors track their own activities and stay in tune with yours.

It could also be a content calendar template as an example.

Case Study: These kinds of reports provide a front to back, inside and out, review of a problem, the recommendations, what solution was used, and what the results were.


Working with USC Credit Union, we were able to produce the above results and can now use this case study to showcase to other prospective clients.

Charts: Pre-made charts, or stat charts are a great tool for visitors who are doing research.

Similar to diagrams, charts could be a more X and Y axis focused visual help for them to solve a problem that you can help with.

Chat: Online chat is an way for a customer to have questions answered without having to have an awkward phone conversation. And more importantly, it allows the visitor to stay anonymous.

Usually online chats will pop up automatically, but if the customer isn't interested in chatting they don't have to participate. The nice thing is that it doesn't require any super personal information.

If you're like me, you'd rather use an online chat instead of calling or taking the time to go into the store until you're really ready to buy what you're looking for.

I recently asked Taylor at Jeromes a quick question about where I could find Queen bed frames that came with drawers for storage.


They were quick, to the point, and polite. I'll keep the options I saw at Jerome's in mind as I compare other brands and prices.

Cheat Sheet: Similar to a Calendar, a cheat sheet is a friendly tool to offer a visitor that they can use on a repeated basis.

A cheat sheet will help them feel like they're getting quick answers and skipping the hard work. If they like it, they might come back to you for further assistance.

Checklist: Checklists are a simple, easy piece of information you can offer to your visitors for free that can be useful to them immediately.

It's best to break down your checklist into categories and keep it clean so it's easy for your visitors to follow along with.

Clearance: Clearance is can be gold to your visitors as everyone always want to get a deal.

Maybe your landing page lead magnet is around a clearance coupon they can use to bring into your store.

Competitive Intel: Are you marketing to marketers like we are?

Then change up your lead magnet to help your visitors with intel around their competitors that they can use to their advantage.

It's one of the reasons why our PPC Spy Tools post has been so popular. People want to know what their competitors are doing.

Contest: Contests are a great offer to have, that are featured around social media channels.

Have the offer featured on your landing page that allows visitors to share some of your content or a photo on their accounts. This could help you, by having your visitors spread the word of your business and your offer.

Wishpond has a tool that allows you to run social contests.


Consultation: This is an offer for hot traffic.

When a visitor is putting in the effort to have formal contact with you, you can bet that they're pretty interested in your company and potentially working with you.

Coupon: Coupons are a great way to encourage shoppers to come to your store instead of a competitor's store.

When you typically think of coupons, you think of your grocery store or department store. Most of these places send out printed booklets or buy ad space in weekly newspapers.

You can also put your coupons online as digital offers and give your visitor the option to print them out, use them online, or in store.

Course: Want to consistently bring value to your prospects over time? Then consider creating a course in audio, email, or visual format.

Many SaaS companies that are great at content marketing have used this to their advantage. Just look at HubSpot's Academy or Unbounce's Landing Page Course.

is for Demo, Diagram, Discount, Download, & DVD
Demo: This offer type is similar to one you'll see later on called a trial offer.

Demos usually give your customer a chance to become familiar with the product or service by watching a live demo, or experiencing a demo of the product or program.

This is mostly used for SaaS companies, but can also be used for service based companies that want to showcase what they can offer.

Diagram: Want to explain something complex in a easier-to-digest visual form? Then diagrams can be of great use to your visitors.


Discount: Pura Vida is a pro at this offer.


If I'm already on their website and this comes up, chances are I'm going to think less and buy more with the discount.

Wouldn't you?

Download: This is a lead magnet you can use in conjunction with other lead magnets.

Having a downloadable version of the material means the visitor can save it or take it on the go for later.

DVD: Good thing we're not talking about VHS here, because even though DVDs are starting to get old, many advertisers still use them as lead magnets as a "free + shipping offer".

If your target audience would be interested in a DVD collection (or even a single DVD), then this could be a lead magnet worth testing.

is for Early Bird, eBook, Email Course, & Exclusive
Early Bird: As they say, "the early bird gets the worm."

Create a limited time offer that's featured with a new product or access to a service your company has available.

This will spark your visitors into action if they know it won't be around for long.

But be careful, fake scarcity has a way of backfiring sometimes.

eBook: Want a free eBook from an SEO superstar?


Brian Dean uses an exit intent popup with the lead magnet of an eBook. It's something we do for select blog posts and also have other eBooks on our resources page.

Email Course: Offering an email course or a subscription to your blog can be a great way to get visitors into your funnel.

That's not to say you shouldn't continue to implement it as part of your marketing campaign and customer outreach, but make sure what you're offering is worth the inbox notification.

This is an offer that can apply to colder traffic: for customers that want to go at their own pace.

Exclusive: Offer an exclusive item in exchange for signing up for more exclusive offers.


Chances are pretty high that if you're visitor is already buying an item, and you give them the option to signup by email and they'll receive a second of that item for free, they'll most likely sign up.

It's a win win.

is for Flyers & Free Anything
Flyers: A flyer is a fun way to share your message across networks or throughout your email campaigns. It can also be a way for your visitors to download and print to use for future reference.

This type of lead magnet is becoming more and more outdated, but could be interesting to test if you have an older demographic that you're targeitng.

Free Anything: If I took advantage of how much free stuff I see at events or online I'd probably make it in the Guinness Book of World Records as a hoarder.

But my friends won't let me go down that hole.

When they're not looking I do take advantage though.

What can you give away that's valuable and free?

is for Generator, Gifographics, Gifts, Give, & Guide
Generator: Although you might have templates, offer visitors the option of generating their own version of what they're looking for.

That might be an Excel template with functions and rules where they can plug and play themselves.

Gifographics: These are the vamped up version of an infographic.

Use gifographics to make your information or supporting evidence more visually stimulating and entertaining.

Here's our gifographic example of the PPC Food Pyramid: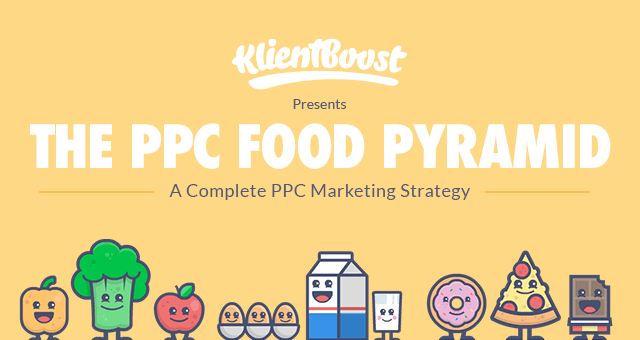 Gifts: A great lead magnet could be another offer, pitched like a gift.

This often happens with gift baskets, or items the customer can gift to someone in return for a small incentive gift for themselves.

Maybe your lead magnet goes straight for the jugular and asks your visitors to give a gift in the form of another lead magnet.

Give: Speaking of giving, offer your visitors the option to give to others.

If your organization accepts donations for causes, advice on forums, or some other way that allows your visitors to get involved, let them do so with this lead magnet.

Guide: Ever needed to know how to do something?

Your visitors probably do too at times. Whether you offer this for free or for a small fee, try to point out key features of what the guide includes and how it can be beneficial for them if they download it.

is for Hacks, Help, & How-to
Hacks: Hacks can be your offer for something entertaining, or something serious.

Hacks are usually shortcuts that are quicker to implement. For us here at KlientBoost, we could offer up some hacks around PPC or landing pages that allow our visitors to get the results they're hoping for, faster.

Help: Are you an emergency service provider like a plumber or flood repair? Having your lead magnet be around someone requesting immediate help, could be beneficial.

The quicker and more efficient their concerns are given solutions, the more helpful you are to them.

How-To: I wouldn't be useful in the kitchen if it weren't for "how-to" articles for recipes.

One of my favourite resources for "how-to" recipes is The Kitchn.

Want to learn how-to make your own mozzarella cheese? The Kitchn has your recipe waiting for you.

What How-To breakdown can you create for your visitors to convert?

is for Industry Stats, Infographic, & Interview
Industry Stats: Offer your visitors information on industry stats.

In their eyes, this helps make you look like a reliable source for information or even a thought leader if you're the primary source of the original research.

Search Engine Land has a library dedicated to SEM industry stats.

Infographic: Infographics are ways to make data easier to digest when presented in visual format.


Kissmetrics has some cool infographics about technology, business trends, social media and more that provide up to date and easy to follow data.

Your visitors could be interested in something similar.

Interview: Offer your visitors a recording of an interview your company was featured on. Or maybe even better, a person you interviewed.
This is a low threat way for them to get to know you and become familiar with you before making contact.
is for Johnathan Dane
Johnathan Dane: He's a mythical creature known as a unicorn that brings experience and a touch of magic to PPC campaigns and landing pages.

He's also our CEO and I literally couldn't find anything with J, other than jigsaw puzzles, and that would be a stretch.

is for Keys
Keys: Offer your landing page visitors the keys to success, whatever that might be for them.

If you're giving your visitors the keys to remove their problems, then you could be in for a treat.

Just remember to give them a lead magnet that is valuable to them first, not you.

is for Limited Time, Lists, Live, Locked Content, & Loyalty Programs
Limited Time: There's nothing like putting a time limit on an offer to make people act fast.

Try associating the offer with a countdown timer to help visitors be clearly aware of the fact that the offer WILL NOT last.

Another piece of this offer to keep in mind, is don't offer it too often, or it will lose its push. Which is why you should always be true with your actual scarcity.

Lists: I love lists because they help me keep track of everything, and they're easy to scan (just like this blog post).

My head is filled with lists and finding a pre-made list or a tool that helps me keep track of lists for various projects or responsibilities are awesome.

Live: Offer present-time interaction opportunities with interested visitors.

Radio stations, news stations, sports networks, etc often do this for listeners and watchers so that they feel they're apart of the excitement.

You can now do it with Facebook Live, an actual webinar, or Periscope and Meerkat.

Locked Content: Keep this offer for hotter traffic that's already confirmed they like what you have.

Also known as gated content, this is what you should do with all your landing page lead magnets so you can track your progress.

Loyalty Programs: Customers love loyalty programs, especially if they shop regularly from your company.

Customers who know what they want, and want it from you, definitely want to be rewarded for giving you their business.


i

s for Map, Members Only, Mini, Mind Map, & More
Map: Want to make it more fun and interactive for your visitors to hit their goals?

Create a map that takes them through one thing at a time until they've reached their end goal. This is similar to a course that has chapters.

Members Only: Ever thoughts of upgrading from "exclusive offers" to offer memberships on our landing pages?

Maybe your business isn't set up for memberships, but if you have the right traffic temperatures, you can drop people right into this as your call to action.

Victoria Secret offers a credit card membership called the Angel card.

While this is a specific credit card, similar to that of a Macy's credit card, or United Airlines credit card, it essentially embodies all of the privileges of a paid membership.

Offering a membership means constant benefits and rewards for the member's participation.

Mini: Mini versions of products are a great way to offer your visitors a taste of what you have.

Mini versions are easier, require less commitment, and still serve the purpose of the main ability the product has.

We sometimes set up our clients with a one time growth package that allows them to run their PPC campaigns and landing pages.

Mind Map: Remember those spider web brain storm charts we all did in 5th grade?

They're back, and the adult version is called a mind map.

Offering these for material sources that have a ton of information can be a sweet bit of relief for your readers.


More (Different): Already got your visitors to convert on a lead magnet?

Then why not offer them something more threatening (that's further down your marketing funnel) as their next step?

Let's say someone already downloaded your eBook, then why not try to get them to convert for a webinar, and then after they do that, get them to do a demo or consultation?

is for Newsletter, No, & Now
Newsletter: Weekly updates that get sent out are great ways for your visitors to stay up to date with what's happening with your news or on your blog.

Our newsletter at KlientBoost keeps our peeps up to date with all our latest blog posts, upcoming webinars, and other news.

No: A good trick you can use as a sort of anti-offer is "No, I don't want your help" instead of just an "x" in a pop up offer.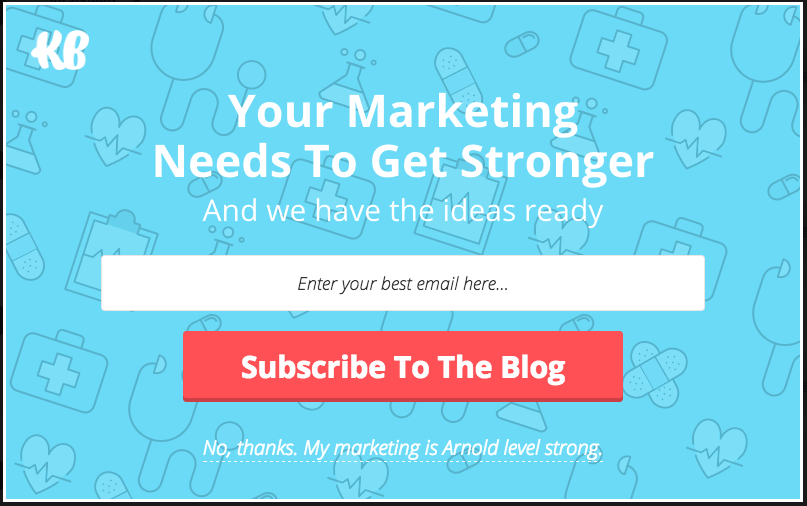 The goal here will be to guilt people into accepting something they don't want to, in hopes that they sign up for your lead magnet.

Now: Many times, your visitors don't know what happens after they click on your landing page call to action button.

Your might want to test your call to action copy to tell the visitor how fast they get what you're promising.

is for Openings, Opinions, Optimizers, & Original Data
Openings: Having a grand opening soon or are you allowing visitors to convert via a waiting list like Edgar does?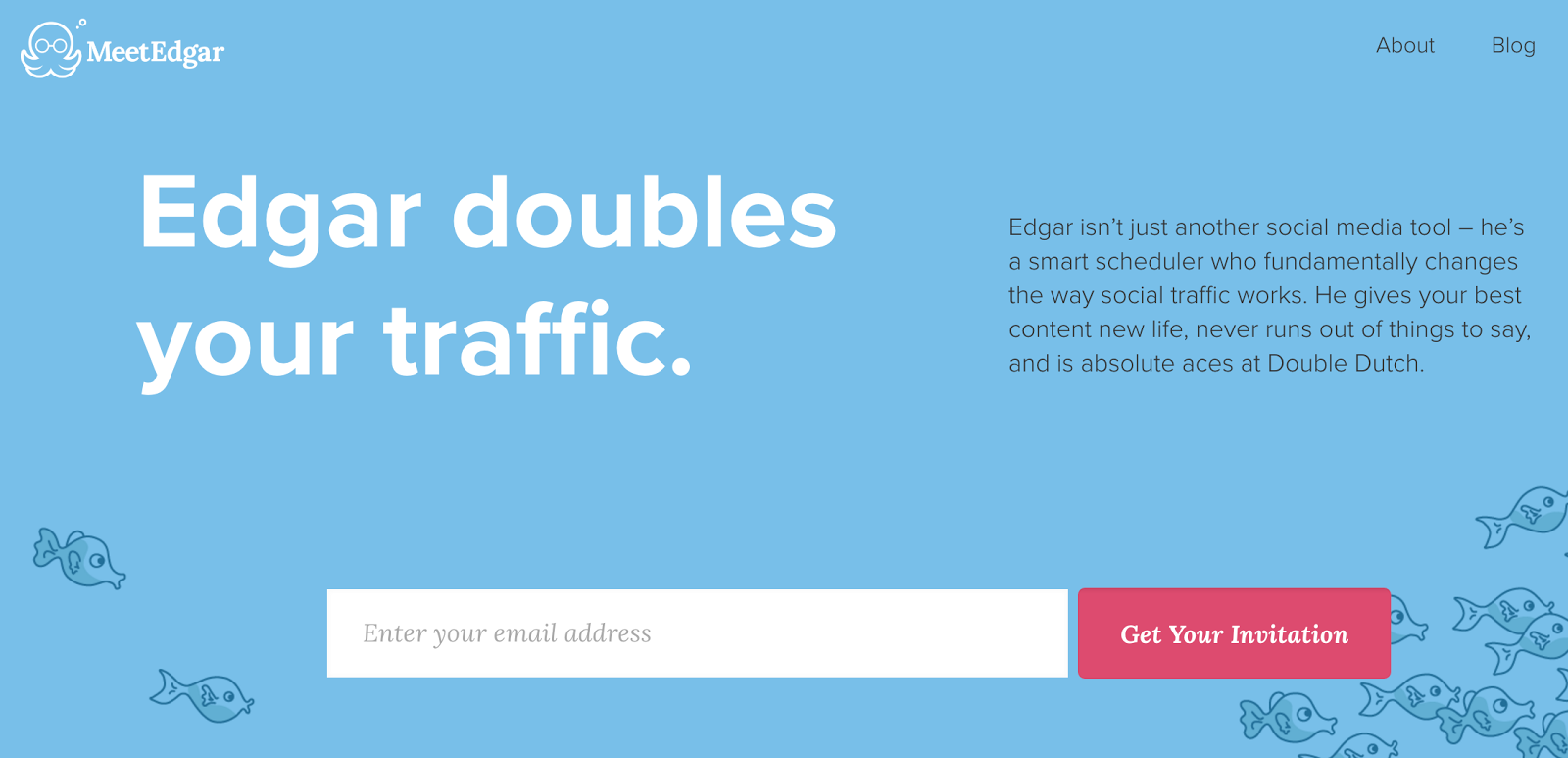 Can you feel the anticipation?

Offer special treatment if they sign up to attend the grand opening or release from your landing page.

Opinions: While visitors may not feel ready to participate in formal contact with you, they might be interested in offering their opinions.

Having comment boxes or feedback CTA buttons are a smart offer to engage your visitor in a non-invasive, low threat form and still allow them to feel like they're apart of something.

This ties back to our Intercom auto message earlier.

Optimizers: Whatever industry you're in, there's an optimizer.

Offer a tool or at least a basic version of it to your online visitors to improve their performance in what your offer/service provides.

Then, they can either purchase the full version or pay you to optimize their plans, strategies, campaigns, etc. for them.

Original Data: Primary source and original data is much more valuable when it's accurate and newly found evidence.

Whether its numerical stats, or research you've put in the hard work to do, your visitors care that it comes from you.

And because it's new, you stand the chance of becoming more of a thought leader.

i

s for PDF, Plugin, Podcast, Poll, Poster, PowerPoint, & Predictions
PDF: This type of document is pretty common, but still a useful keepsake to offer.

If a visitor really liked a blog post or found that it gave solutions to their issues, they'll probably want to keep a copy of it to reference later.

You can take any piece of written content and turn it into a white paper or eBook that's in PDF form that they will want to download.

Plug-In: Plug-ins are software tools that add features to your already installed programs or web browsers.

Offering a useful plug-in tool can give your visitors confidence that they can depend on creates a bond.

Even better, if your business is the plug-in itself, like Hypothes.is has theirs as a tool so users can "annotate with anyone, anywhere," visitors will definitely depend on the tool and come to care about the other services you offer.

Same thing with Unbounce's Dejargonator Chrome extension.

Podcast: Offer special podcasts with visitors in exchange for their email address.

Make it a better deal than what they'll find on iTunes/Stitcher so they feel the need to initiate that connection with you.

Poll: Offer polls throughout your pages, and advertise that you have them weekly.

Polls are fun, even a bit addictive. I love the anticipation of finding out if what I voted for won, or didn't.

Even if it's about something silly like which macaroni & cheese shapes taste the best.

It's obviously Scooby Doo. Don't try to tell me anything different.

You can also use this poll as original data for another offer.

Poster: Ever like something so much, you wouldn't mind seeing it on your wall every day?


This is one I'd have to purchase, but what if you offered your landing page visitors a free downloadable version of a poster that they could print out?

If it's up on their wall, and it reminds them of you everyday, who do you think they'll be thinking about when they need what your company actually offers?

PowerPoint: Or if you're a Mac user, Keynote.

I've seen offers like this that act like a template for the visitor to use themselves. It could be for a proposal or pitch, or even a presentation.

Predictions: In the case of simple research of predictions, curiosity did not kill the cat.

Visitors are already on your landing page because they're curious about what predictions you, as an expert in your industry, has about future trends or upcoming changes.

If all it takes is an input of their email to take you up on your offer to learn about your predictions for the future of the high waisted shorts trend or the GDP of foreign countries and their relative stock trends, they'll give you their email address.

So whatever your spidey senses are telling you, just make sure to back it up with available proof.

This is something Motley Fool does quite often with their ads:

is for Quiz & Quote
Quiz: A quiz is a great pre-formatted activity to offer your landing page visitors.


Offering your visitors a quiz that will help them find a solution to their problem, is a sure way to start interacting with them.

They'll feel like they're getting answers from a trusted source, and the cherry on top with a quiz like Neutrogena's personalized routine is that it will offer suggestions of which products to get.

If you'd rather take the email end-game approach, ask for their email in exchange for their quiz results.

Quote: "Love is when you cease hesitating." ― Frédéric Beigbeder

If your visitors are avid readers or researchers, they'll probably be interested in receiving a "quote of the day" email.

Goodreads, an online book review and commentary website, offers the feature of a daily quote.

With a free email subscription you can receive your daily quote and their monthly newsletter.

is for Rebate, Report, Resource List, Roundups, & Rulebook
Rebate: Online rebate programs are great because everything gets handled and once your customer sends in the rebate, they get money back.

Usually rebates are offered as a compensation for purchasing a more expensive model of a product.

Many times, energy saving appliances will have rebate programs available because the customer is doing their part to lower their energy usage.

Report: Just like rules, free reports probably get a little boring after awhile because there's so many of them.

If you're going to offer a free report, make sure to do your research and have it focus on valuable information that isn't being released by your competitors.

Resource List: Do your prospects want to learn something?

Then a list of resources could be a great way to condense everything they need to focus on to a few resources.

This helps you to become the thought leader even further as you're telling them what makes sense and what doesn't.

Roundups: A roundup is easy for content marketers because they initiate the roundup by requesting content from experts on the chosen topic, and then tie it all together with a pretty bow.

Visitors who might not be familiar with you yet, but are familiar with the influencers you're having contribute, would definitely be interested in following along.

Could you turn that into a gated lead magnet? Definitely.

Rulebook: Rules usually aren't fun, but they're definitely useful if the visitor is struggling with applying professional structure to something they want to accomplish.

Offering a rulebook in exchange for an email address means you've not only delivered some instant assistance to your landing page visitor, but also gives you the chance to offer assistance the future with more tools.

is for Scripts, Slideshare, Spreadsheet, Stickers, Summary, Survey, Sweepstakes, & Swipe File
Scripts: Ever totally failed at a sales call or an interview?

This is where a script may have come in handy.

The reader should know that they should tweak the script so it still allows them to be themselves, but a script is a great starting place for getting your footing when you keep putting your foot in your mouth.

It could even be a script for an AdWords account.

SlideShare: Slides are great because they're compacted information with the main points and can be visually appealing.

SlideShares are awesome because it's easy to build off of already published material and offer it in a concise format of slides.

Spreadsheet: Pre-made templates for spreadsheet data are great for visitors who need a guide to track their information, but might not know what all to include.

Offering a free template can help your landing page visitor out real quick, and then the rest of the work is up to them to fill it out with their specific needs.

Stickers: One of the main things that earned us an invite to come back and speak at Unbouce's Call To Action Conference, was Shane's and Johnathan's master plan to give all attendees a sticker set that accompanied the presentation.


Just like companies use T-shirts as their lead magnet, why not try something cheaper and potentially more fun?

Summary: Have you ever been to a conference where they took notes for you? It's magical.

For this lead magnet, you can help your visitors get to their end goal faster by summarizing key points around one of your courses to give as a cheat-sheet to them.

Survey: Let your visitors know you're interested in hearing their feedback and that you're willing to adjust your webpage layout, customer service experience, or other elements to better suit their needs.

An exit survey is key placement for feedback, because it gives the visitor one last chance to interact with you.

You can also use a survey to get a visitor's email address in order to give them the results of the survey.

Sweepstakes: Want to run a Sweepstakes contest?

Our friends over at Wishpond make it easy to do across social media channels with their apps!


Remember the contest offer we mentioned earlier?

They have apps for other styles of contests too that all help with social promotion.

Swipe File: A swipe file is your storage place for ideas you aren't ready to use yet.

Kind of like a board on Pinterest, it's where you keep inspiration for future projects, assignments, ads, posts, and well everything else you're working on constantly.

This is where you can offer up your swipe file to your visitors.

For example, we can offer up a swipe file of Facebook ads to our visitors since we want to convert visitors into Facebook ad clients.

is for Template, Timelines, Tips, Toolkit, Trial, T-shirt, & Tutorial
Template: As mentioned about spreadsheets, pre-made templates for anything can be a favorite thing in the eyes of your visitor.

Flyer templates, data templates, and financial analysis report templates are all template examples that help worried visitors take deep breaths.

Timelines: As much as I love learning about history, I'd be lost without timeline supplements.

And as much as I owe credit to Whittier College for my knowledge so far of Business Administration and Management, I also owe credit to business project timelines.

Timelines offer a layout of goals and expectations for the future.

Whether the one you offer your visitors is quite simple or further in depth, it's still a piece of sourceful information they can refer back to and make sure progress is on track.

For example, we could offer a timeline for a sequential retargeting campaign.

Tips: There's bound to still be some trial and error when it comes to someone's first time doing something.

But tips are always comforting tidbits of advice that help struggling people see the light at the end of the tunnel.

Offer tips in a PDF that's relative to your industry or better ways to use your company's products and get the most out of them.

Toolkit: If somethings done right, it's got to be done with the right tools.

Toolkits offer a bundle of tools necessary for the customer to get done what they need, and to do it efficiently.


This Testing Toolkit from Optimizely helps you test different departments and segments of your organization and its strategies to improve internally for better organizational performance.

Trial: Trials are commonly found with SaaS businesses and can be great lead magnet to convert trials into customers.

Offer a limited trial if your product is a solution to a re-occurring need, and when the second time comes around that they need the solution, they'll trust your product to actually pay for it.

T-Shirt: I could probably fill a whole Goodwill store with the amount of free t-shirts I have from participating in a volunteer program or signing up for something.

The reason I don't though is because I actually probably wear those t-shirts more than any shirt I've ever paid for.

They're comfy, they're simple, and I won't get judged about where I bought it from because… I didn't buy it.

T-shirts are free advertising. Compare the cost of the shirt to how many times a wearer like me would wear it and think about the brand equity you could be building.

Tutorial: How does a freshman in high school have lips like Kylie Jenner you ask?

Makeup tutorials.

Now, for those of you who don't wear makeup or don't care about makeup tutorials, that's okay.

There are tutorials for almost anything.

Those of you offering products or tools, could also be offering tutorials as a lead magnet.

is for Upgrade
Upgrade: If your landing page visitors know you well enough to already have a model of your product or form of your service, you should be offering them something better. You should be offering them an upgrade.

Also considered an upsell, you can use your Thank You/confirmation page as an upgrade opportunity or remarket to a group of prospects that should take the next step in your funnel.

is for Video & Vouchers
Video: Videos are often valued higher than text or audio versions of any material because it makes more sense when the visitor can see all the details, and essentially see the post or material in action.

While videos do take more resources to create, a video course or even a single video can be a great lead magnet to use with your landing page.

Vouchers: If someone types in "car wash vouchers" and your ad comes up, it should take them to a landing page that only has one CTA: a downloadable or printable car wash voucher.

The visitor gets what they want (the voucher for a car wash), you get the conversion of the visitor coming to your car wash facility, and given that you make it look shiny and new, they'll come back, converting into a legitimate sale and maybe a future life time value that you like.

is for Wanted, Webinar, White Paper, & Workshop
Wanted: Sometimes, the biggest challenge a company faces is hiring the right people.

You can use your PPC ads and landing page in conjunction with the "Wanted" lead magnet.

Here's how Indeed does it with their Twitter ad:


And dollars are part of this lead magnet too 🙂

Webinar: Webinars are perfect solutions for visitors who can't make it to actual seminars.

Offering a webinar gives your visitors a chance to be a part of the excitement with all of the high value information you'll still be giving out, and they can participate in the Q&A session.

Make sure to record the webinars you complete so that visitors who missed it can still receive the link in the future.

Neil Patel dedicates his entire homepage for his webinar.



White Paper: Typically a B2B styled report that is made up of a fewer amount of pages compared to an eBook.

White papers are essentially reports done by one business and given to another in plans to provide proof (hope) of why the receiver should become a customer.

Workshop: I didn't enjoy the school "Acing the ACT" workshops I involuntarily was signed up for when I was in high school, but I have to admit those sessions probably helped my scores.

As someone who can't understand how to hack standardized tests for their life, the workshops I participated in really helped lay out different response strategies, provided a mentor to work with, and had helpful testing techniques.

Offering workshops on something that a tutorial or checklist won't be enough to provide a solution for are a key conversion opportunity for businesses.

is for X Marks the Spot
X Marks the Spot: Use the X on a treasure map as your lead magnet indicator as if your visitor is looking for something specific.

Similar to landing page attention ratio, this type of call to action can't get any more straightforward than this one letter.

is for Yeses & Yo-Yos
Yeses: Use a yes phrase as your CTA button to signify the want of the solution. Remember the Neil Patel webinar example?


Placing a fun phrase that equals yes as the CTA button to a download, purchase, etc. could be a more intriguing approach to use.

Yo-yos: Just like t-shirts, yo-yos can be great give aways.

Don't deny your visitors their inner child.

Offer yo-yos.

I'm running out of ideas for X, Y, and Z.

is for Zoo Tickets
Zoo Tickets: Near and dear to my heart is the San Diego Zoo and one of their lead magnets being zoo tickets.

This offer is quite literal as only zoos would find this offer applicable, so if you do marketing for zoos, then you're probably already selling tickets.

The San Diego Zoo's website offers a page where you can purchase zoo tickets in advance.

For those of you with the San Diego Zoo special experience packages on your bucket list, buy tickets before because discounts are available online.

Look at that, the SD Zoo combining two offers for the same purpose.

Closing Thoughts
Did you see any lead magnets that I missed?

There's always some extra blank pages at the end of a book. We'd love for you to comment other offers to add to our dictionary!