Your ads are running. Your audience is clicking. They are getting to that spiffy landing page you designed and...
BOOM.
They are leaving 💔
We've all been there. You thought your landing page was top-notch, the best of the best when it comes to all you've read about what makes a B2B landing page convert.
But all the other articles tell you to keep it simple. Keep it, dare we say, boring...
That's because somewhere along the way B2B marketing got a bad rep. That it's not fun. That it's uptight and limited.
But the reputation is wrong.
Boring white papers, 8-step forms asking for every piece of personal information, and cheesy staged photos are officially a thing of the past.
Think there's no way to get creative with project management tools, survey hosts, or SEO software?
Think again.
Get brand new landing page strategies straight to your inbox every week. 23,739 people already are!
What is a landing page?
Technically a lot of pages are "landing pages," but for the purpose of this article, I'm focusing on landing pages that were created for a specific purpose. Marketers make them with one goal in mind, making them more focused than something such as a homepage or your average campaign page. Landing pages are focused on making sh*t happen. B2B lead generation. Email subscribers. Demo signups. Trial opt-ins. Conversions.
Why should I use a landing page?
Everything comes down to the user experience.
The easier the visitor can find the information they need, the more likely they are to convert.
Visitors often leave web pages in 10-20 seconds. By only displaying the most relevant information in a landing page, you're making sure that the user sees what they want to see in the first few seconds. This results in longer time on page, and of course, more conversions.
Landing pages are particularly helpful when it comes to B2B advertising. B2C can typically take people to a product or campaign page that features everything they need. Since the B2B sales cycle can be so long, there are many phases a visitor goes through that require different types of content.
From basic brand awareness visitors that only want to read your thought leadership, to mid-funnel visitors that just want to learn what solutions your product or service provides, to bottom-funnel visitors that just want a fast-track to setting up a trial.
With B2B advertising, it's always best to set up campaigns targeting different parts of that sales cycle. From there, since you'll know exactly what ad a visitor saw prior to getting to the page, you'll know where they are in their journey.
Rather than throwing a slew of information their way, you can customize the offer, copy, and visuals on a landing page to be exactly what the visitor wants and needs. No more, no less.
Landing pages (opens in a new tab) are a very smart tool to use for your PPC (opens in a new tab) or even email because they help keep the focus on the intended action—as long as you're following the best practices.
7 B2B landing page best practices
There's a lot that can go into a landing page from top to bottom. After successfully (opens in a new tab) creating landing pages for multiple clients, we've identified a few best practices (opens in a new tab) we believe every good landing page needs:
Ditch the top navigation. Keep visitors focused on the reason you want them there.
One clear call-to-action (CTA). Ok fine, sometimes two works, but there still has to be one clear, preferred action. It should be, at a minimum, above the fold and at the bottom of the page.
Strong copy. All the way through. And make sure your headline and subheader communicate your business' Unique Value Proposition (UVP) (opens in a new tab)
Hero image and visuals. We're not saying they need to be fancy, but come on, no one wants to read a page full of only text.
Benefits and features. You are trying to inspire action after all, so don't forget to communicate the why.
Social proof. FOMO is real.
Journey awareness. A good landing page tailors the CTA, the copy, and the visuals to where the visitor should be in the sales funnel.

32 B2B landing page examples
Why it's good: I was searching for "digital asset management system" and came across a PPC ad with the copy "DAM Comparison Guide - See How Bynder Stacks Up." The copy nails exactly what their target audience would be looking for at this point in the journey—options. They're only in the research phase. Bynder recognizes that and puts value before sales. The landing page is simple and clear and, most importantly, puts the visitor's needs first.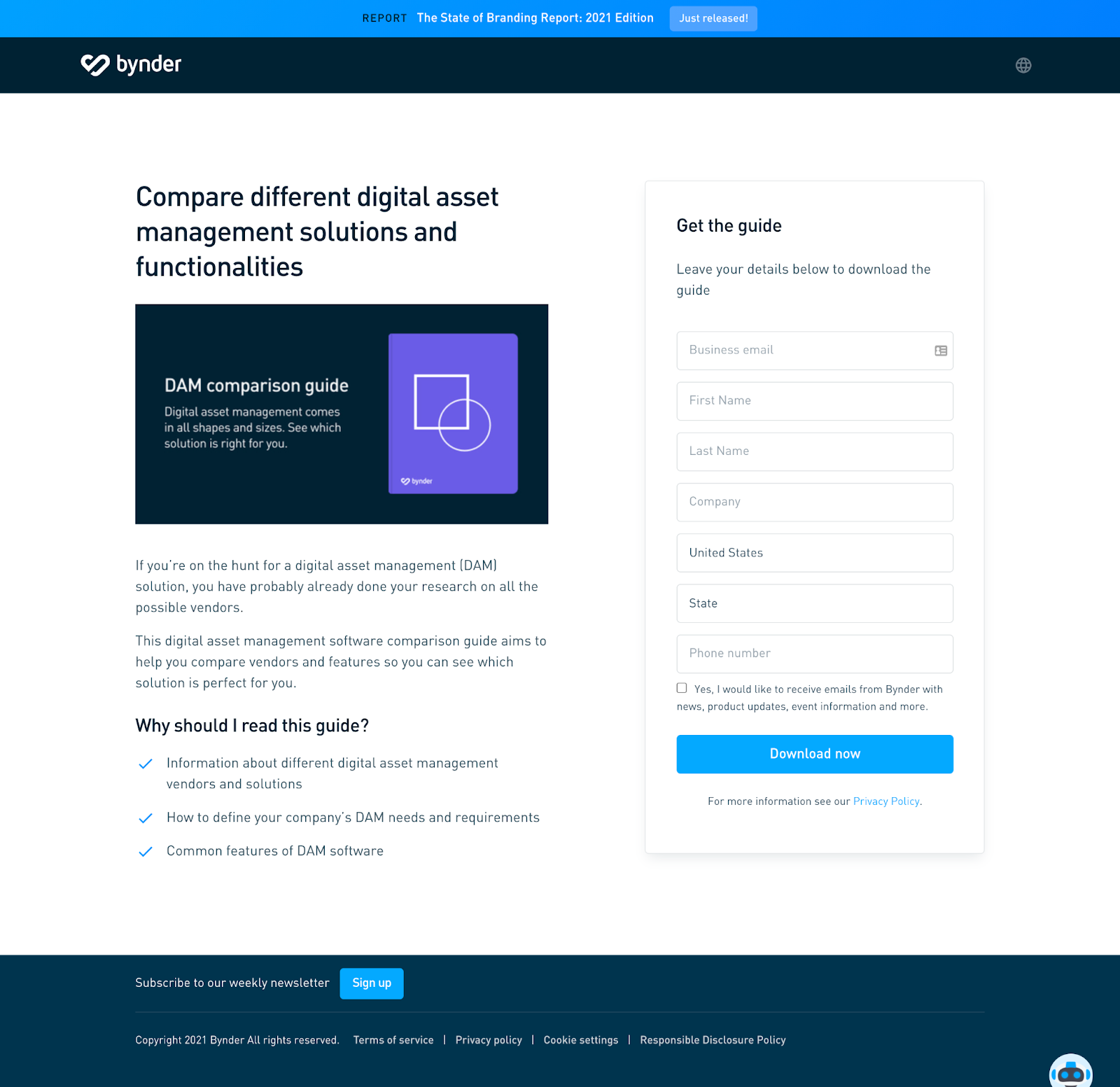 This example uses one of our favorite techniques here at KlientBoost, the Breadcrumb technique (opens in a new tab). Rather than asking for personal information like a phone number or email upfront, they ask for non-identifying or non-invasive info first. It helps to get the visitor hooked and engaging. Once a visitor answers a series of non-identifying info, they then present the full form.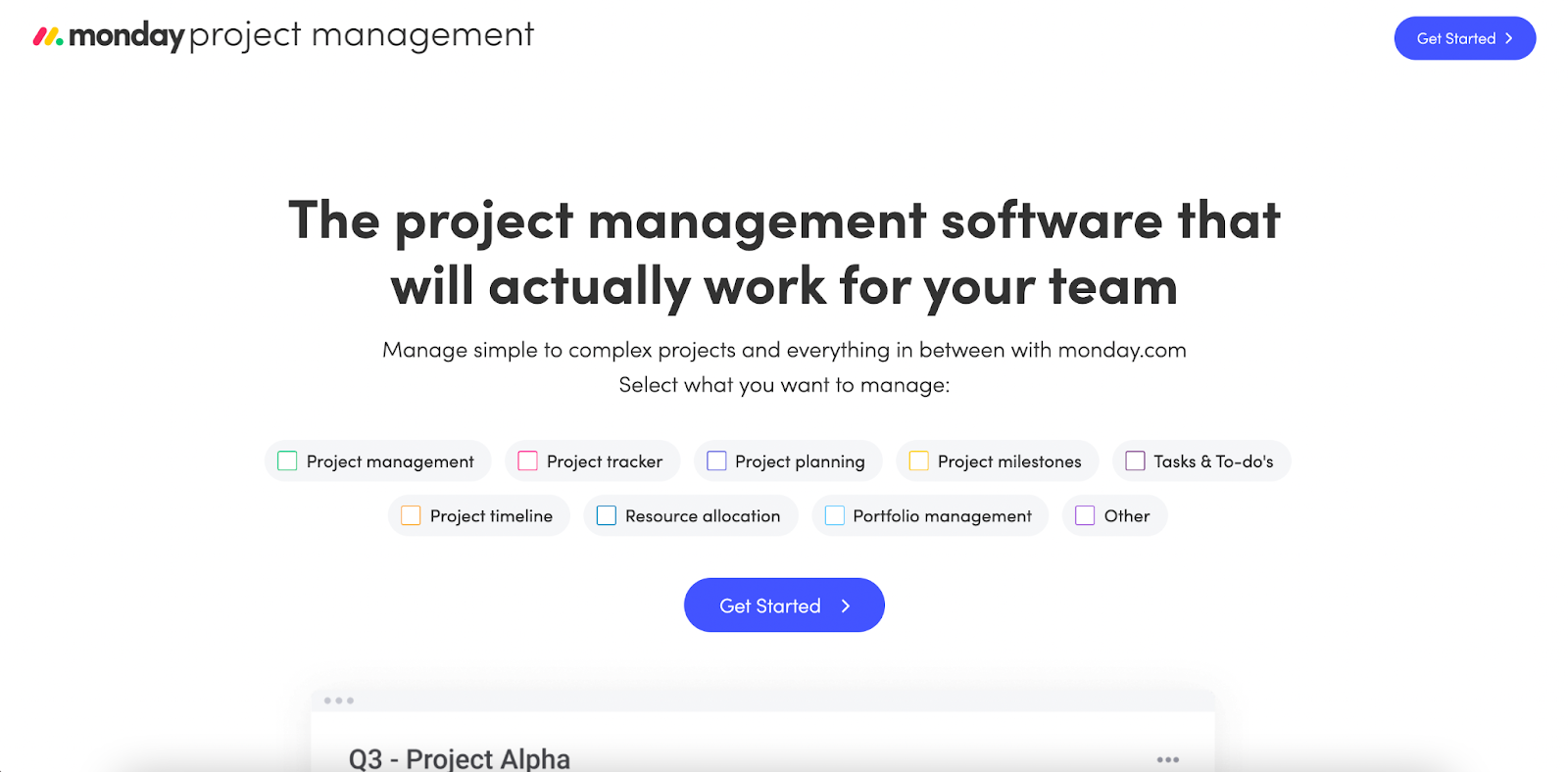 Monday.com then does something else pretty genius—they give you a little taste of what you can get. Right behind the form field you can clearly see the software which makes filling out the form even more tempting.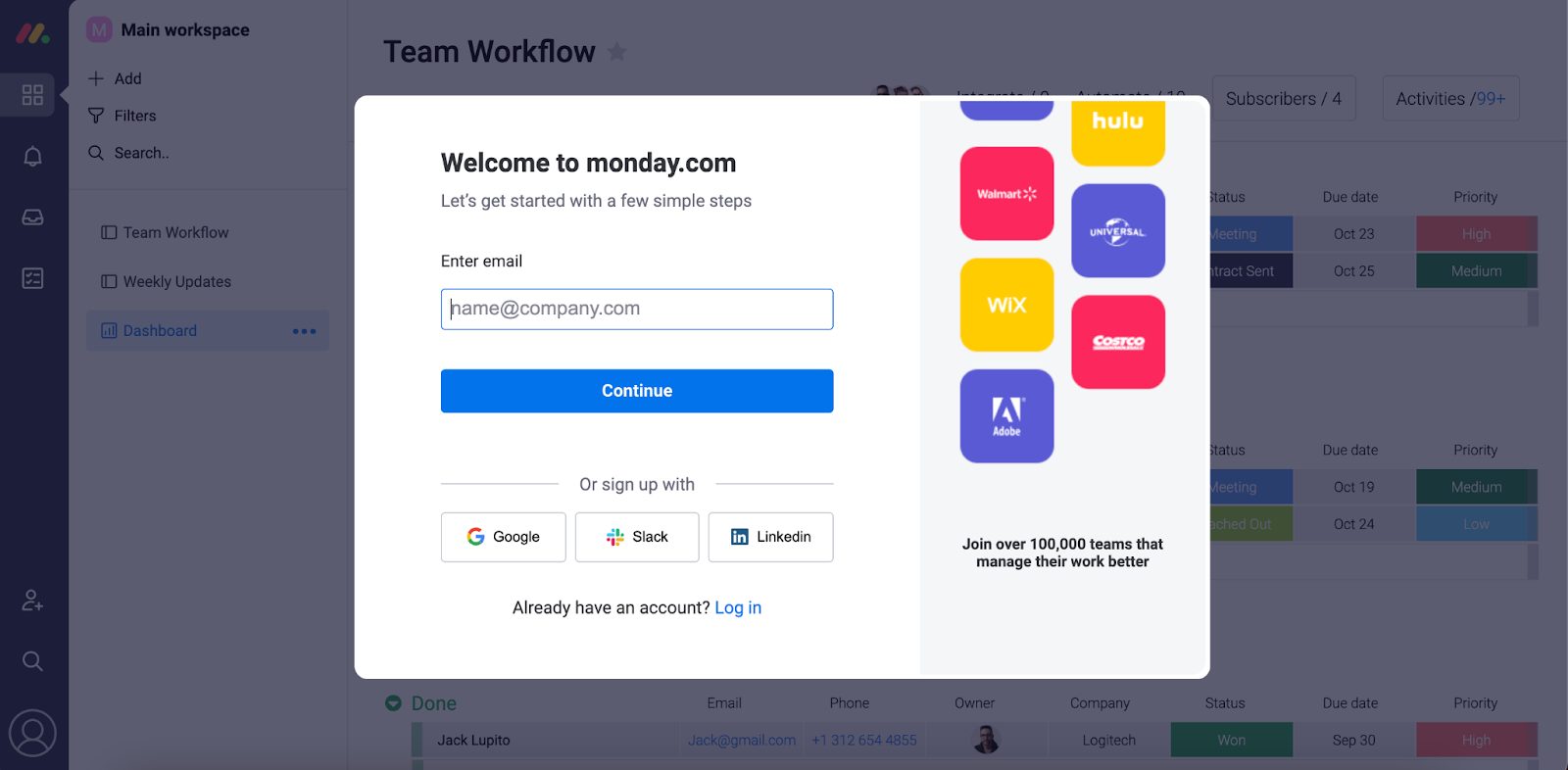 Simplicity + good design + functionality = *chef's kiss*
This landing page checks all the boxes. From one simple call-to-action (CTA) to strong copy communicating their Unique Value Prop (UVP) in the header to explaining the product to the social proof and testimonials.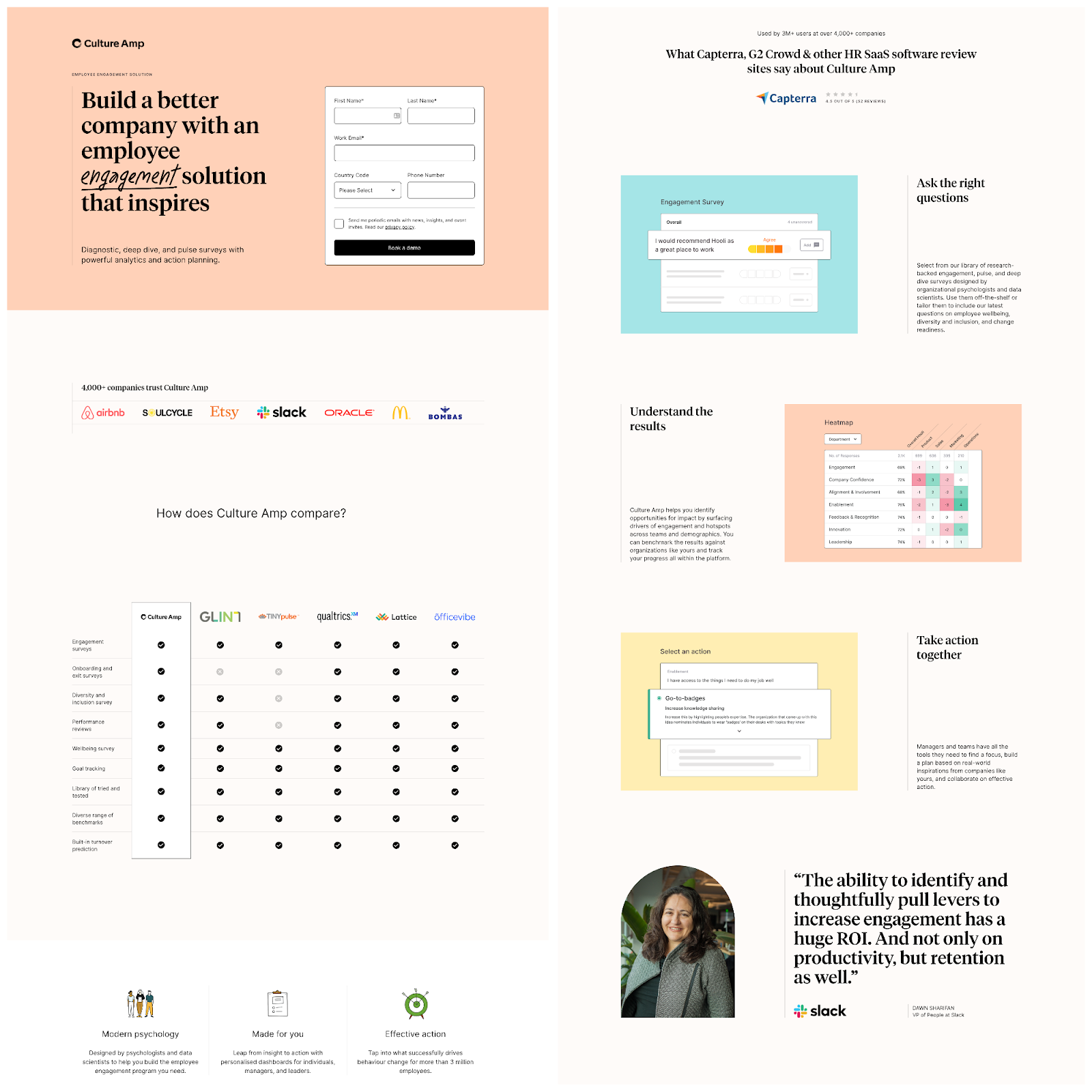 They even included a little bonus, my favorite part, the competition comparison.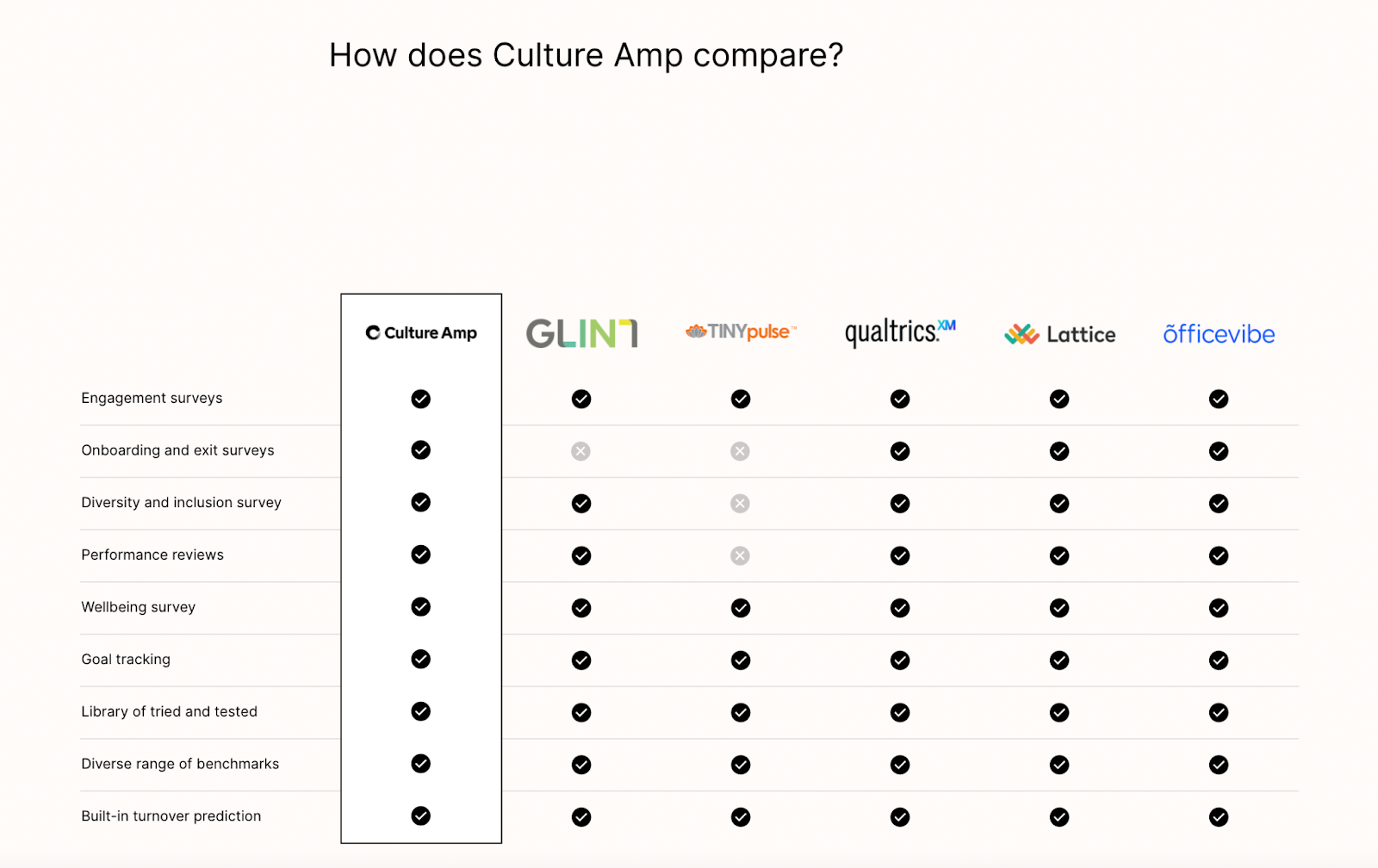 This one is as simple as it gets. While it could be considered a little too simple, it helps to emphasize the copy in the header, "Email marketing campaigns made simple." Keeping things minimal helps visually portray the simple nature of the product right from the get-go.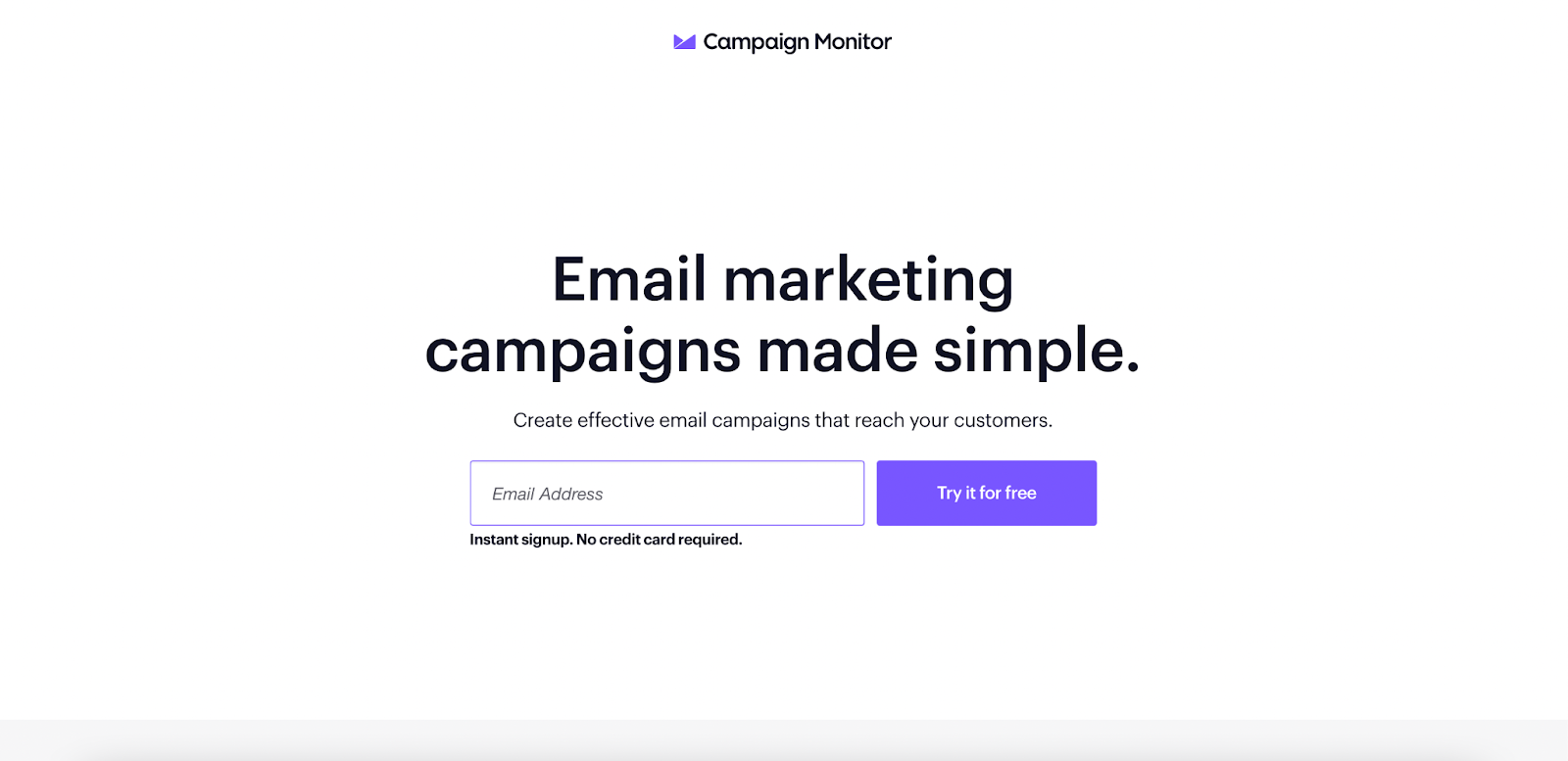 Thankfully they do provide all the info a visitor needs below the fold and they enabled a sticky bar at the top so the call to action button is always in clear view.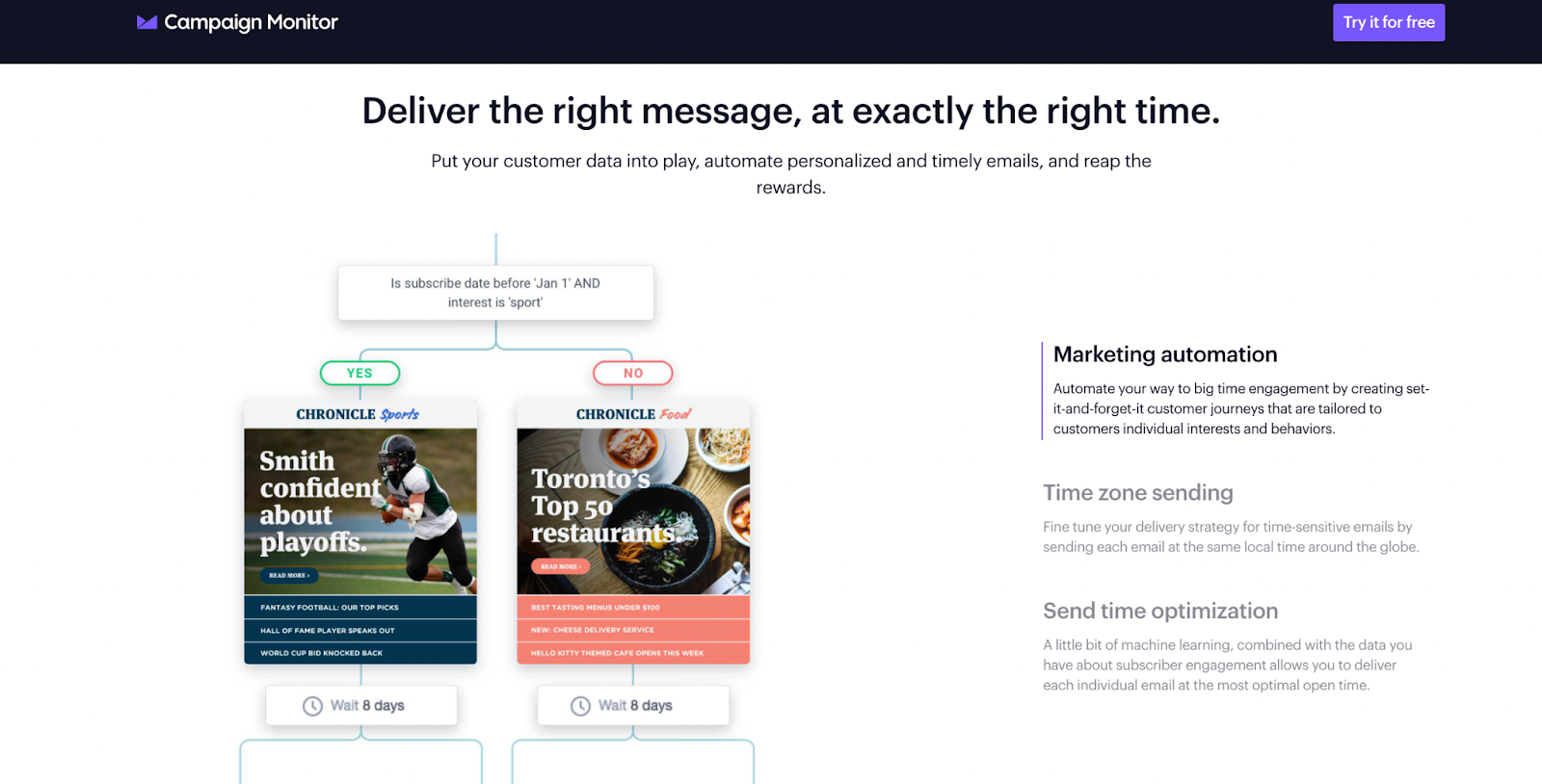 I actually think this landing page isn't anything special. In fact, it could use some work. Especially in the lead form department. But, this landing page did utilize an exit-intent popup (opens in a new tab) really well.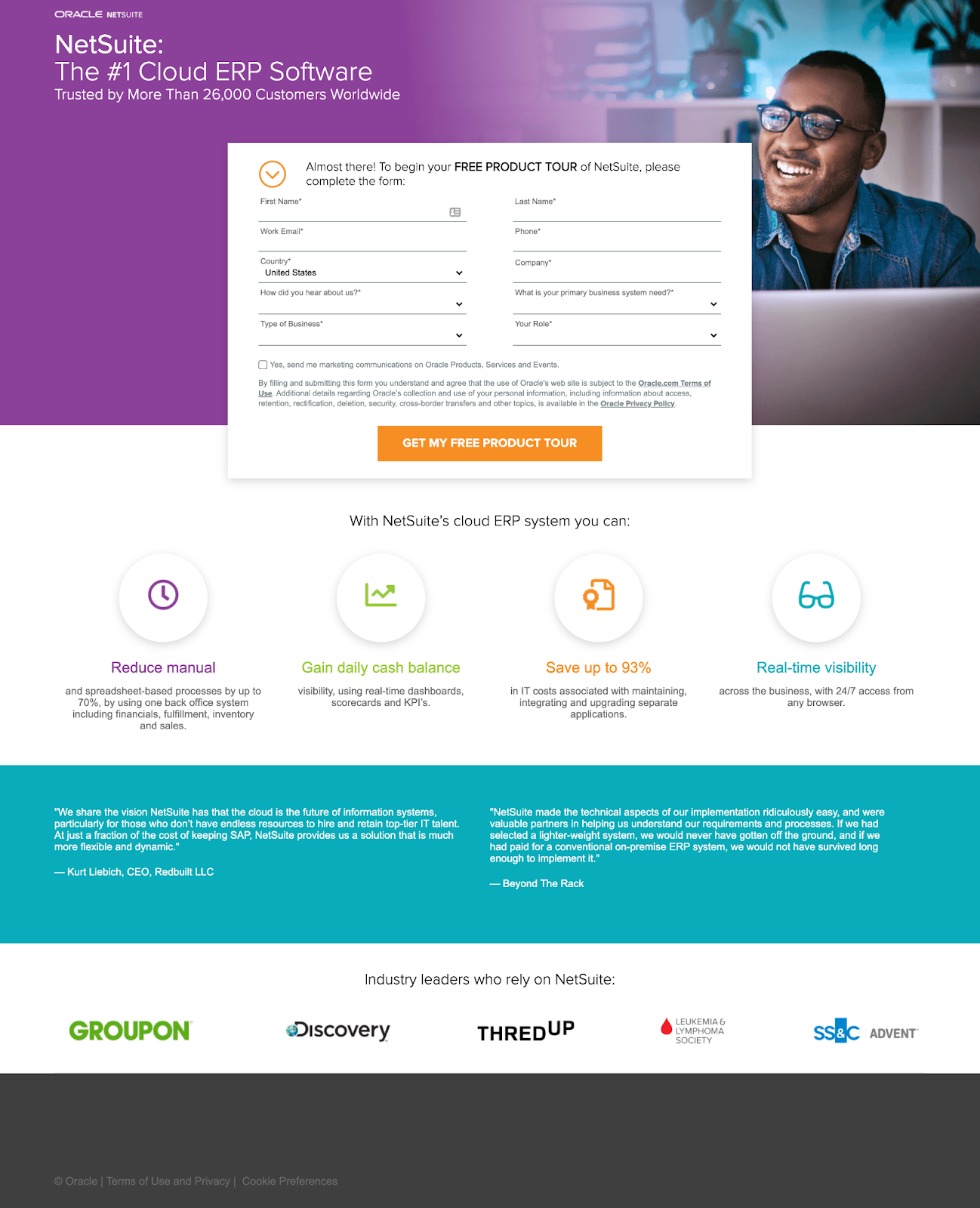 This exit intent helps to capture the visitors who ended up on the landing page, but weren't ready to give their information for a product demo yet. Netsuite perfectly timed their value offer of free resources.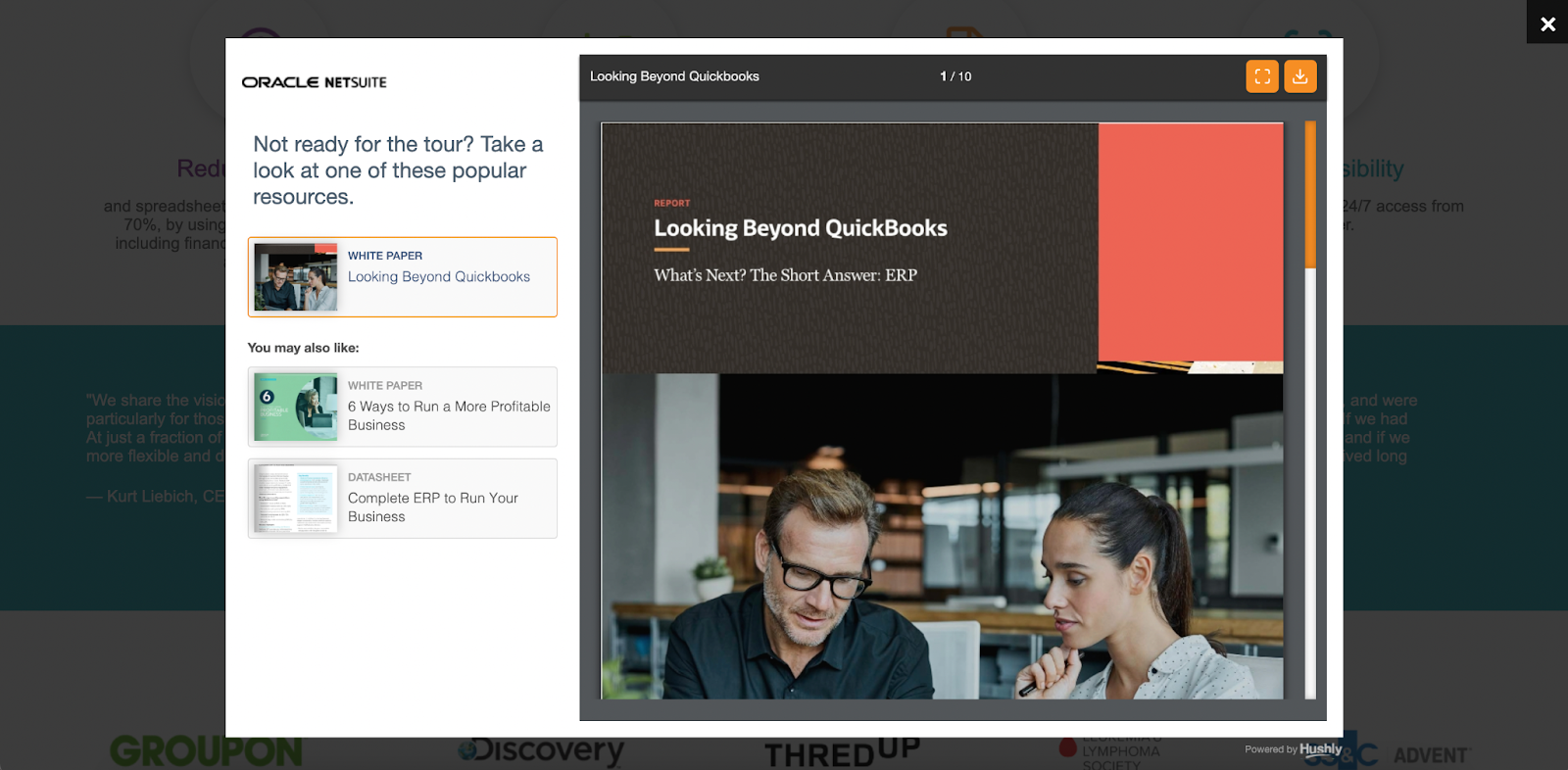 Loomly has two big things going from them when it comes to this B2B Landing Page. First, they directly call out the competitor that they know is showing up first in all "social scheduling" searches. I love the directness.
Second, they're using precise numbers. It's not a "free trial," it's a "15 Day Trial." They don't want you to just click play on a random video, they want to show what Loomly can do for your team in 90 seconds.
Columbia University's Malia Mason and her colleagues conducted a study that showed using exact numbers is more persuasive than rounded numbers. Exact figures provide a stronger sense of credibility when it comes to presenting or discussing data.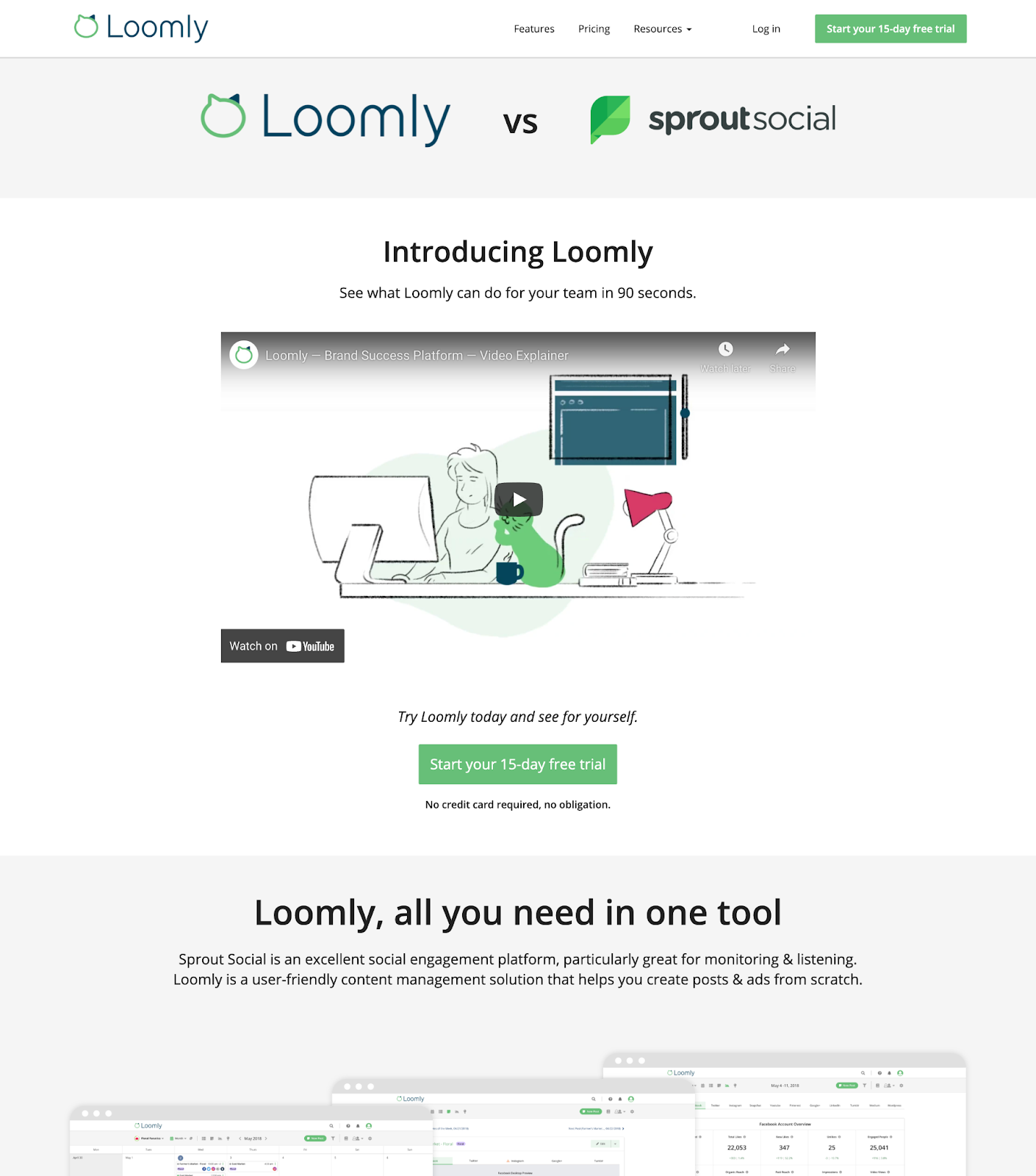 Example 7 - Oribi
Engagement? Check
Sassy CTA button? Check.
Clear Value Prop? Check.
Eye-catching video? Check.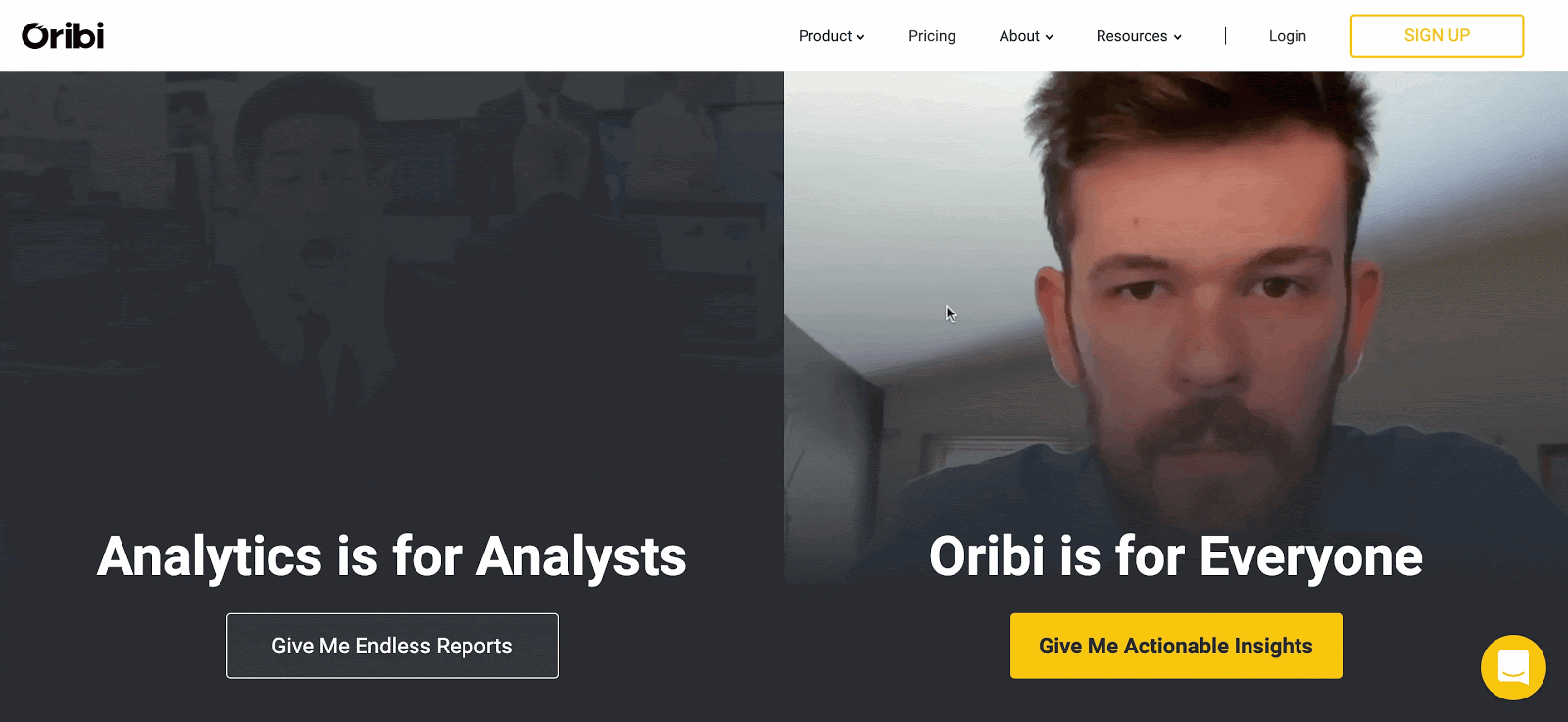 Once you press the "Give Me Actionable Insights" CTA button, Oribi leaves breadcrumbs (our favorite technique, mentioned earlier). There's no way you don't want to fill out the rest of the form fields at this point.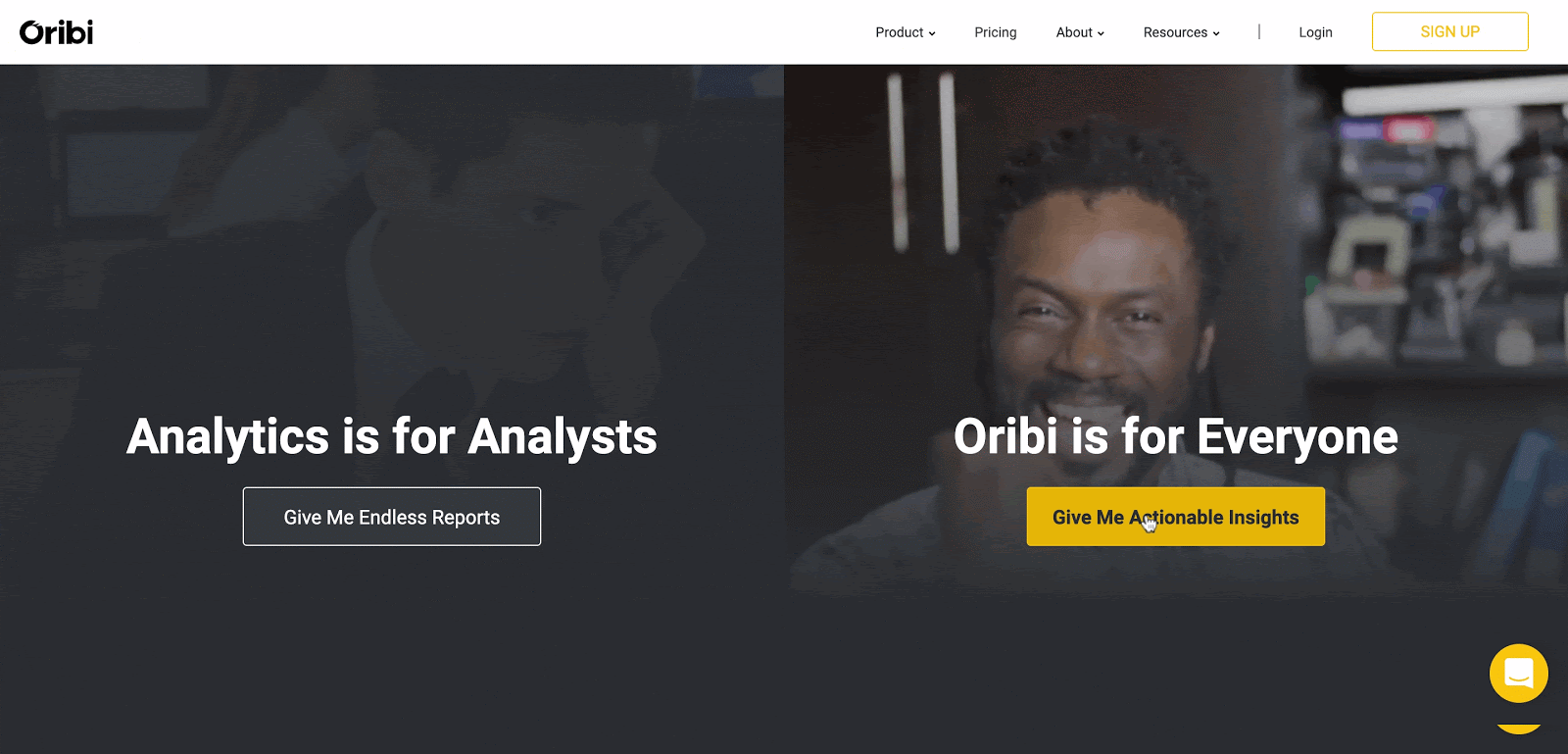 Above the fold is crystal clear, as it should be. You know exactly where the eye will go to focus because of the design and the use of one CTA. Scrolling down gets you to another simple CTA with a small animation that also helps lead the eye through. Further below you get a preview of the product and its features, some convincing case studies filled with actual results, and last but not least, a strong CTA to end it.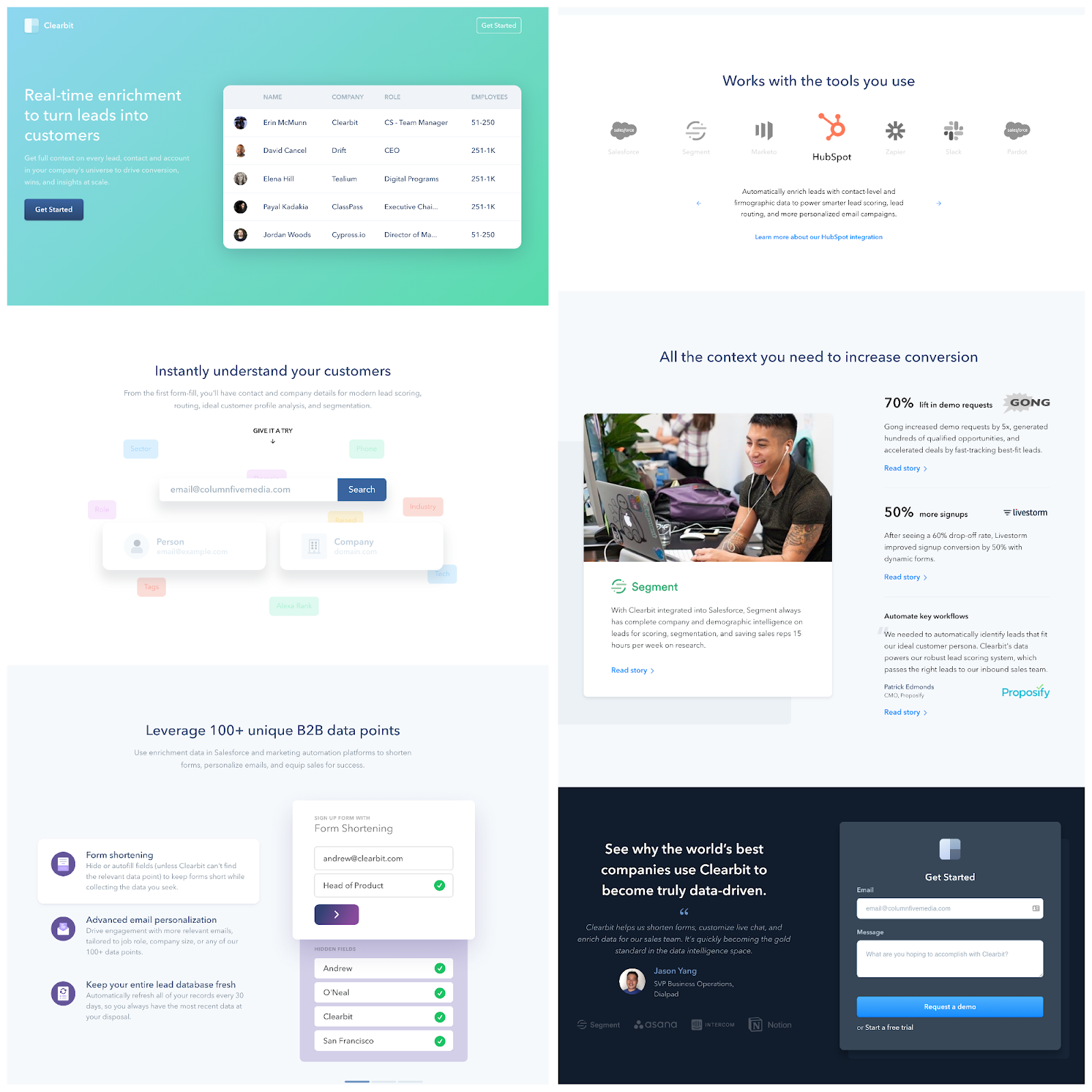 Above the fold, when you click the CTA, a popup shows asking for info and includes a little instruction on when you can expect a response.
Since the response may take a few hours, I appreciate that they put a second CTA only on the popup to "Start My Free Trial" which will keep those potential customers looking for ASAP answers to stick around.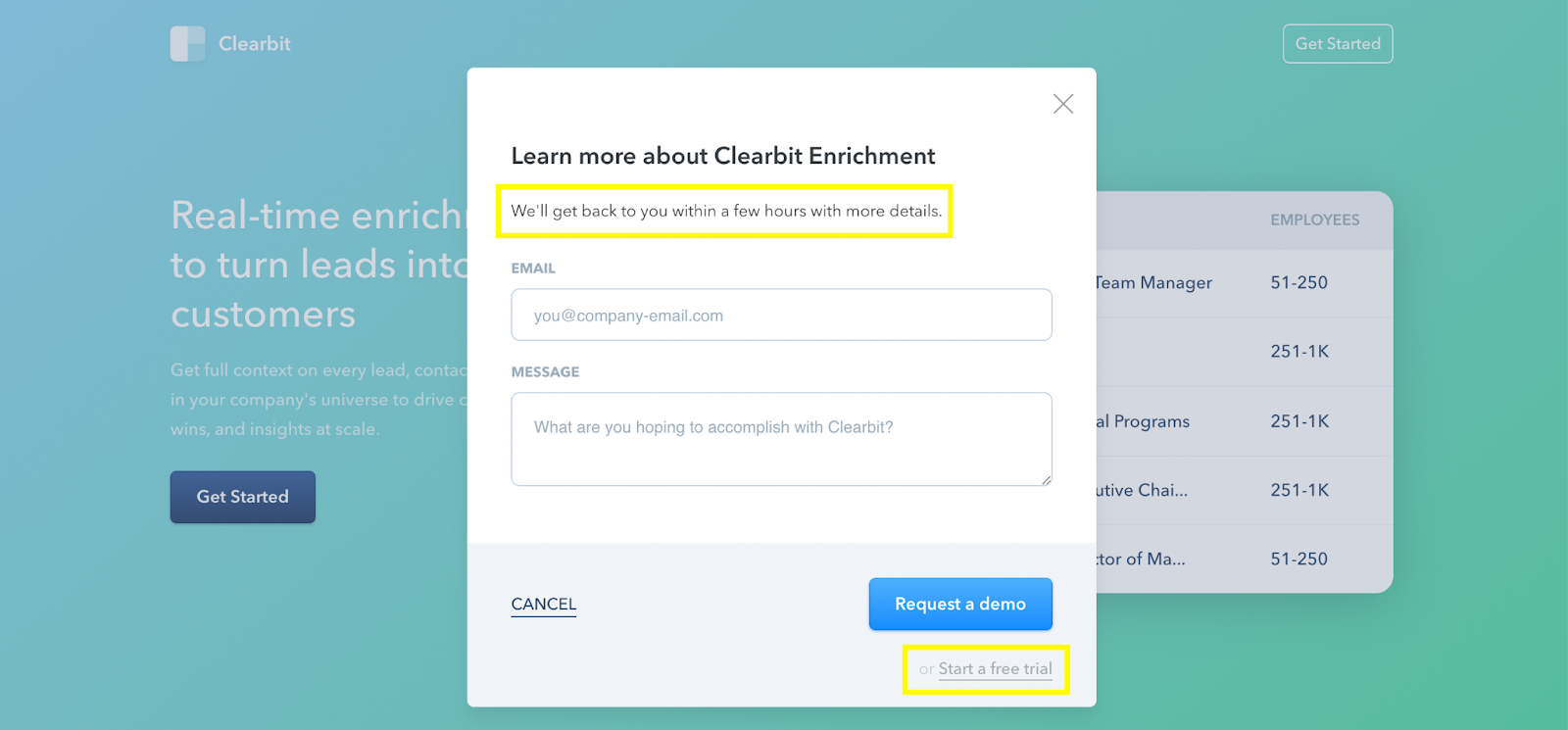 For a visitor, what's better than a free product demo? A free product demo that doesn't require you to leave the page OR enter your email. Since the product is straightforward, Typeform can hook visitors quickly by putting an example of exactly what the visitor wants to see right in front of their faces.
Typeform nailed this B2B landing page. Even though their forms cater to a wide variety of uses and business, they matched the content and copy to match the visitors that will find it through searches about lead generation and email capture.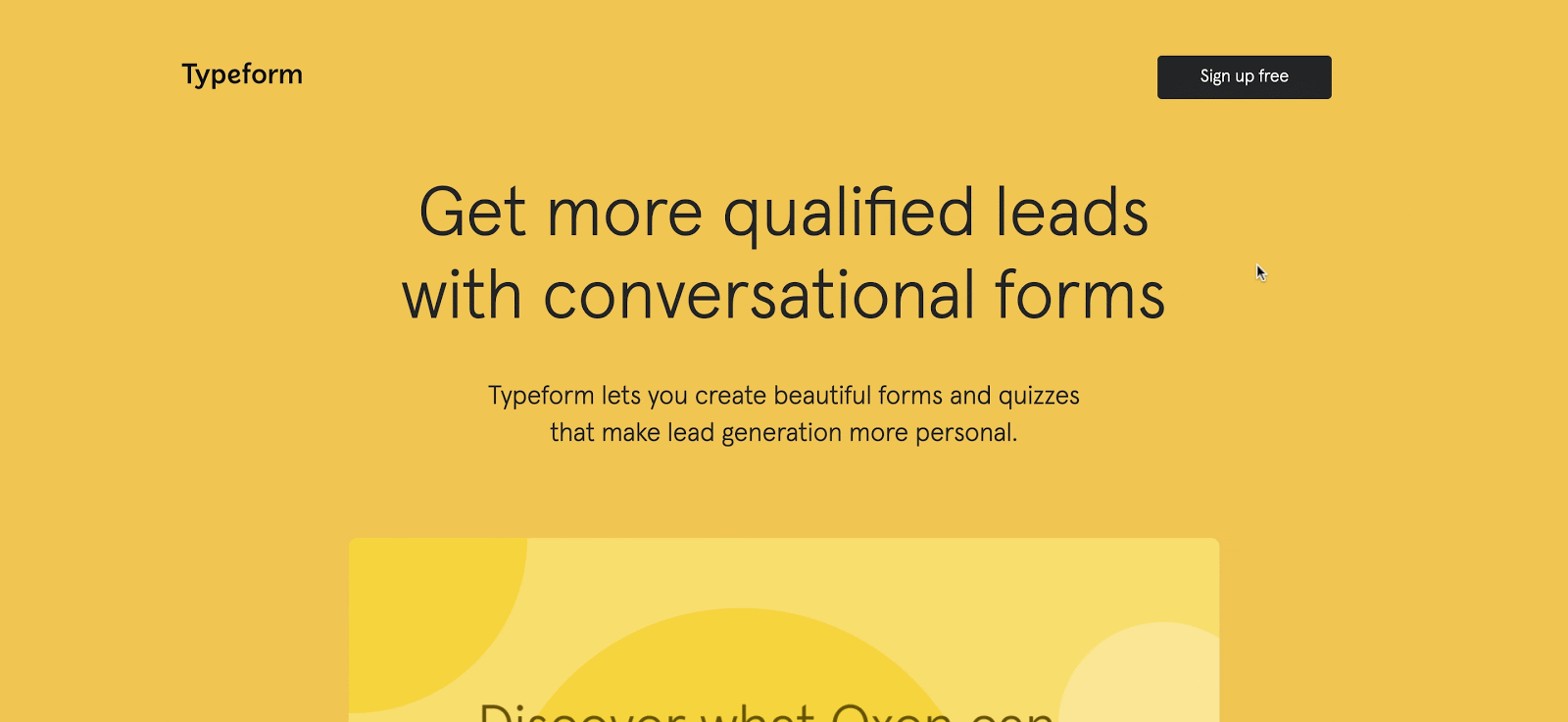 If the free demo doesn't do it for a visitor, Typeform gives it one last shot with an exit-intent popup. By introducing the person who wrote the copy on the page and giving them a name, the popup pulls on the heart strings of the visitor a little more.
The personal touch is the pièce de résistance. You don't want to offend Rich, do you?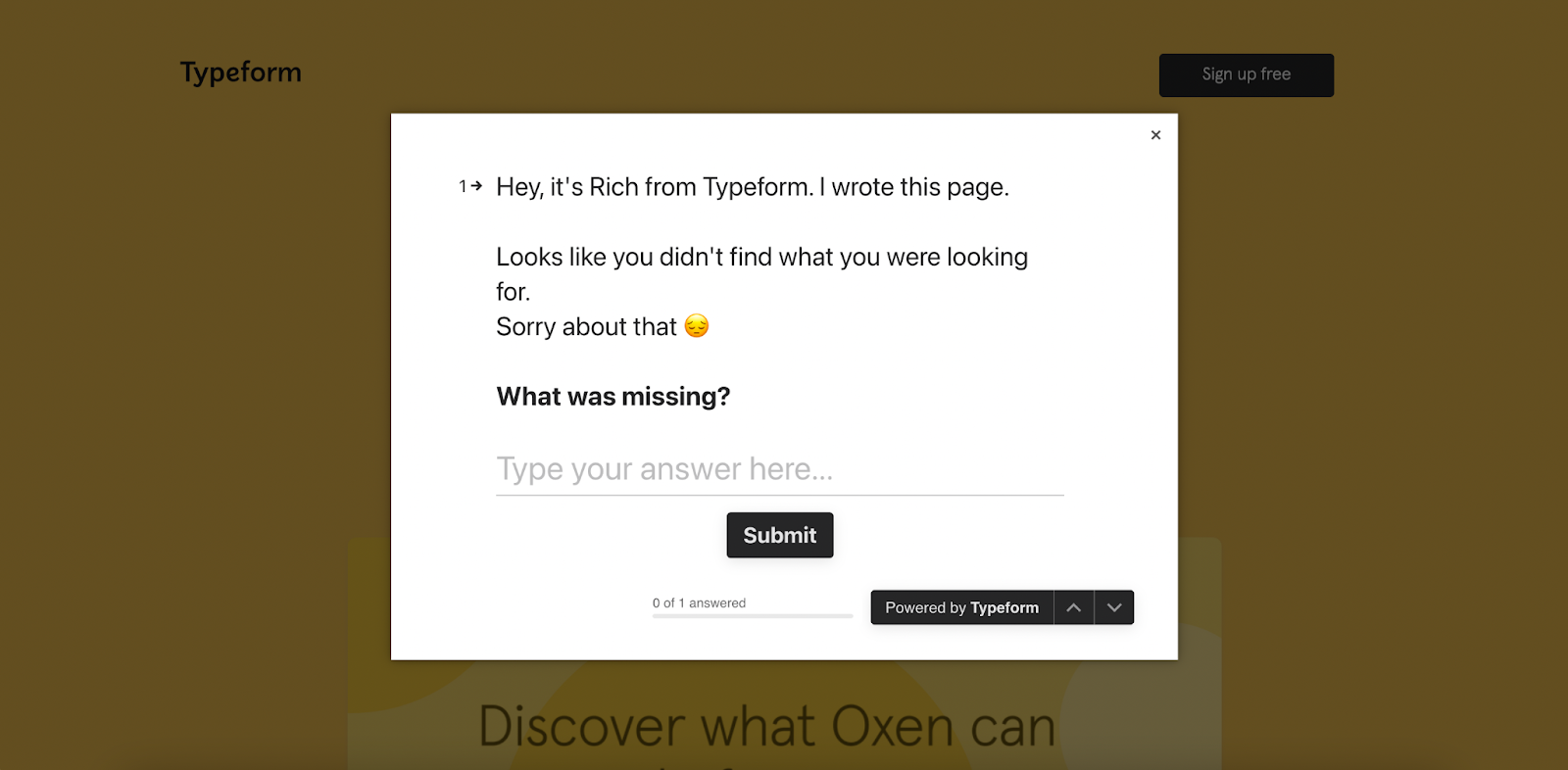 Straight to business. Samsara will capture visitors with their CTA. We're all used to seeing "Start My Trial" or "Request a Demo," but aren't we all just worried if we can even afford the tool? Why book a demo for a tool that won't fit within your budget?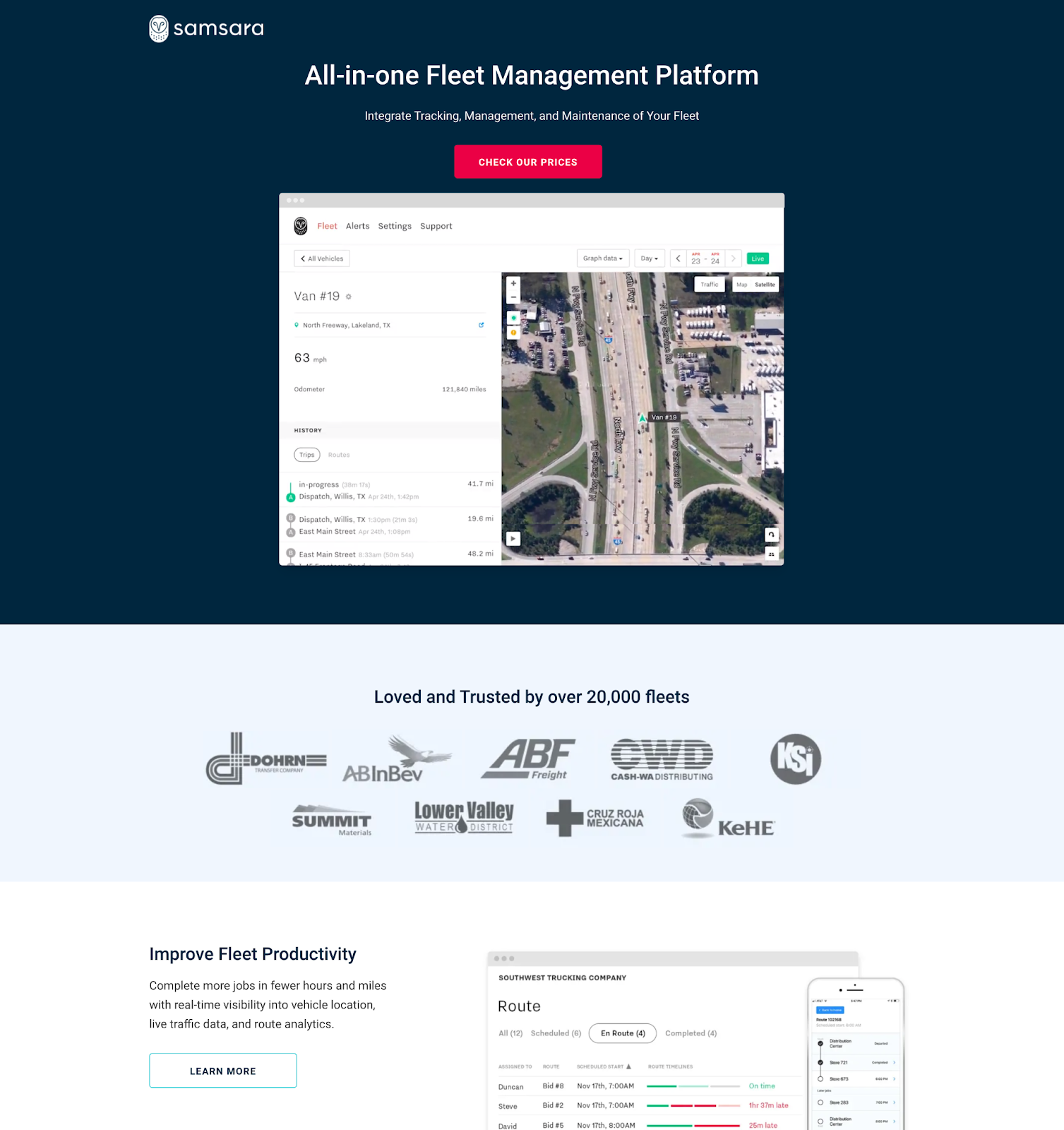 Bonus for Samsara though. Getting a click for pricing information signals high buy-intent which will be gold, fueling all your retargeting campaigns. 💰💰💰 In the end, the CTA may talk about prices, but Samsara serves up a breadcrumb technique (opens in a new tab). They'll send you the personalized prices...after they learn more about your business.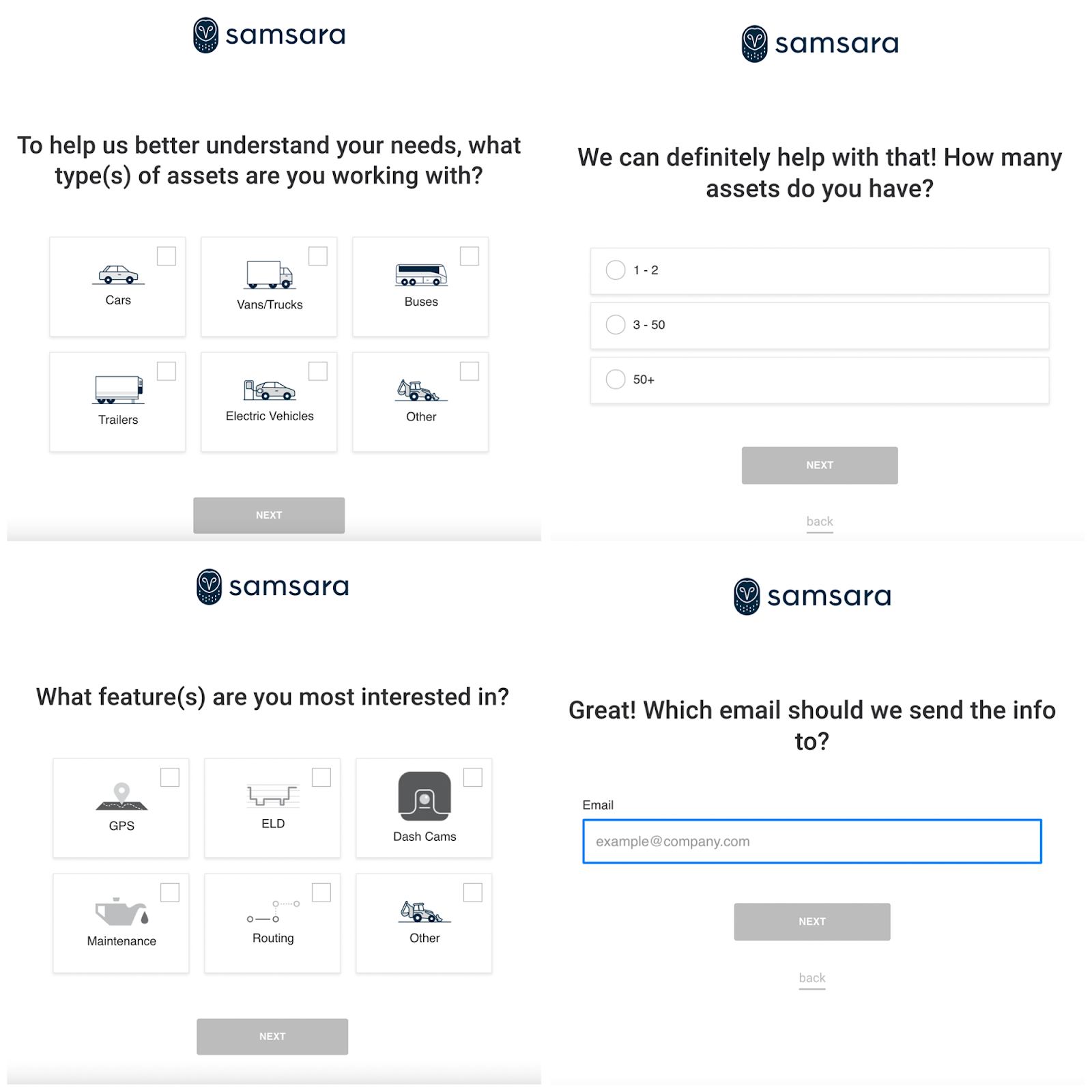 Example 11 - Oscar
The top three selling points for this B2B landing page:
The UVP in the header speaks to the fear a visitor is most likely feeling, evoking emotion to build trust right off the bat.
The CTA notes a personalization option. By providing info, the visitor will get a quote that is unique to their situation.
Using precise numbers, Oscar addresses the competition straight on with a side-by-side comparison.
The beautiful, simple but warm design gets an honorary mention as well.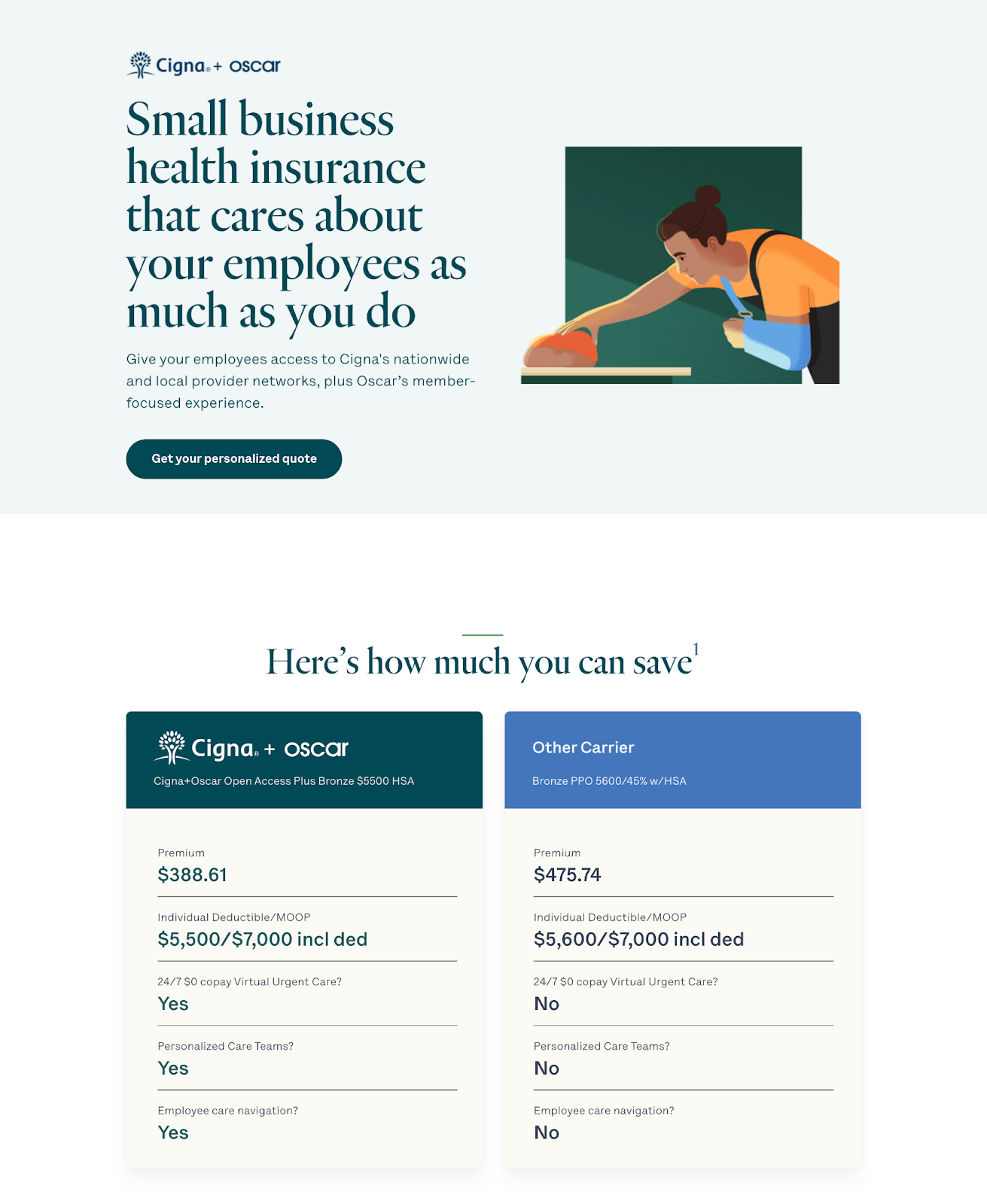 There's one other intentional move they made here. Next to their lead generation form at the bottom of the page, they include an illustration of a card or paper that matches the placeholder info in the form fields. By doing this, Oscar is giving emphasis to the quote the visitor will receive. It shows how it will be personalized and makes it feel like more a tangible object, making it more significant.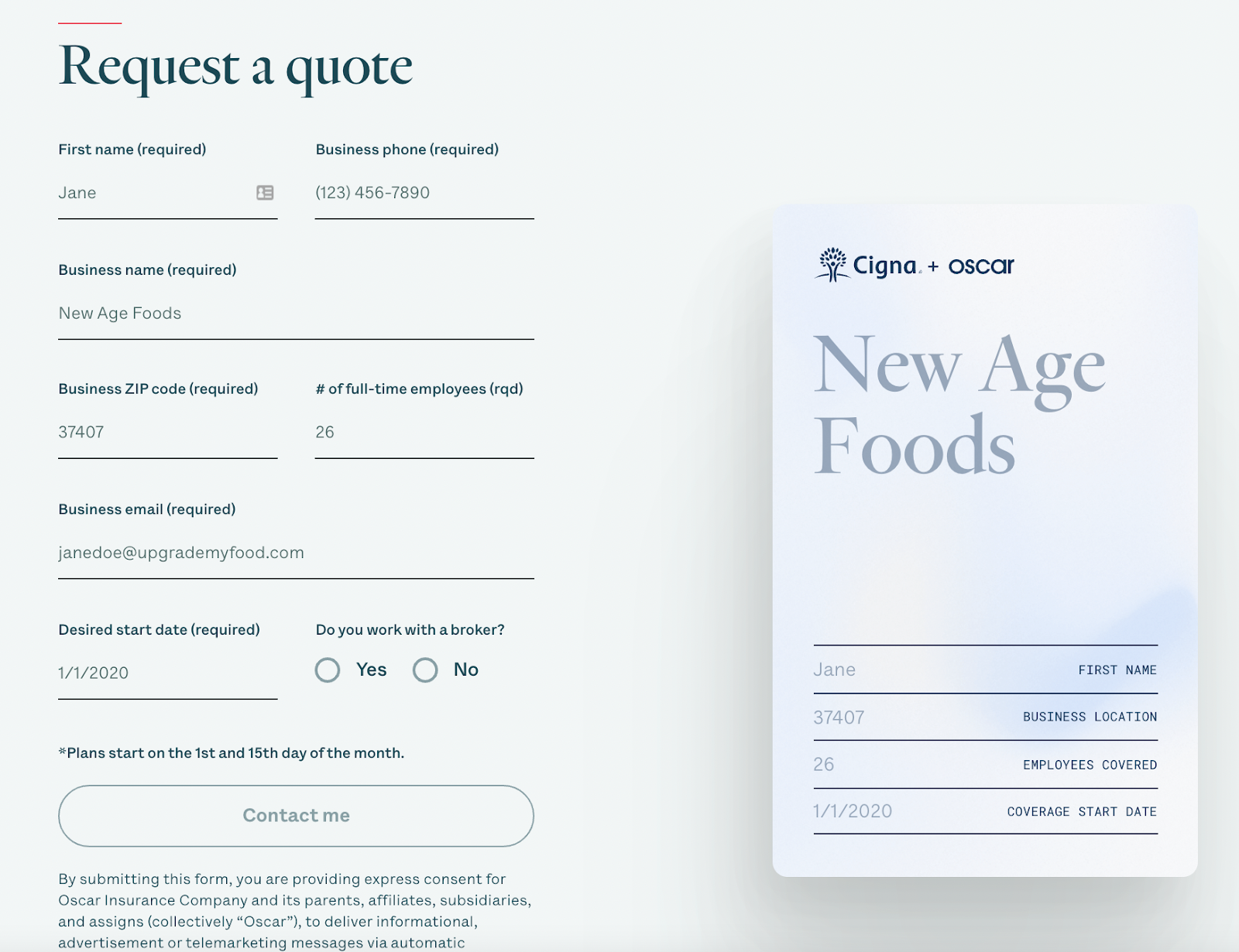 No mercy from HappyFox. They have a landing page designed specifically for the competition.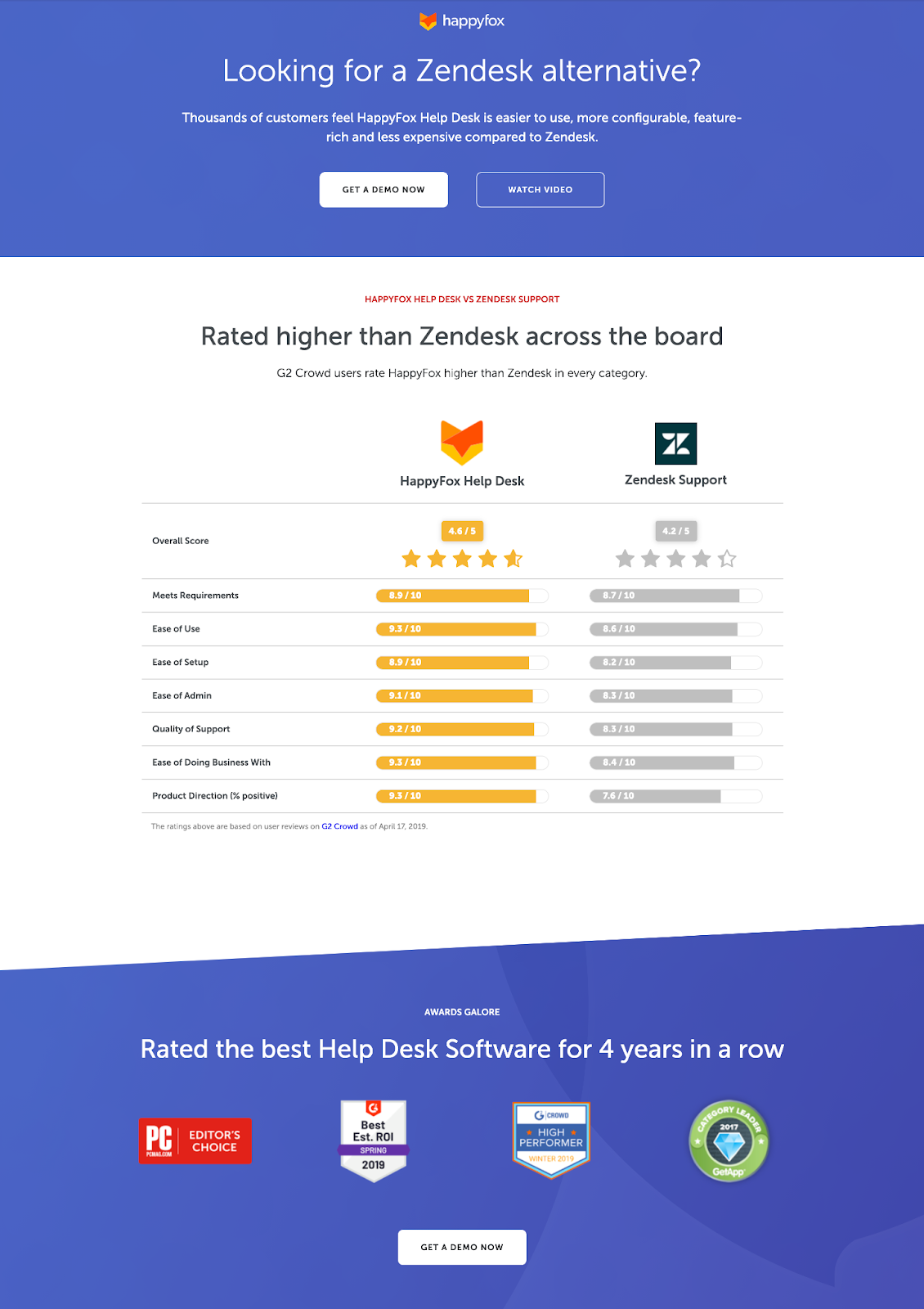 Not only does the copy directly call out the competitor a visitor would be searching for, but the side-by-side comparison helps to visually hammer the point home.
Example 13 - Clover
Clover utilizes a smart chat bot to direct the conversation where they want. Although the chatbot distracts from the main CTA, it still directs visitors the same way. The chatbot uses the breadcrumb technique, but without a form. It reels in visitors by getting the conversation started without any personalized info.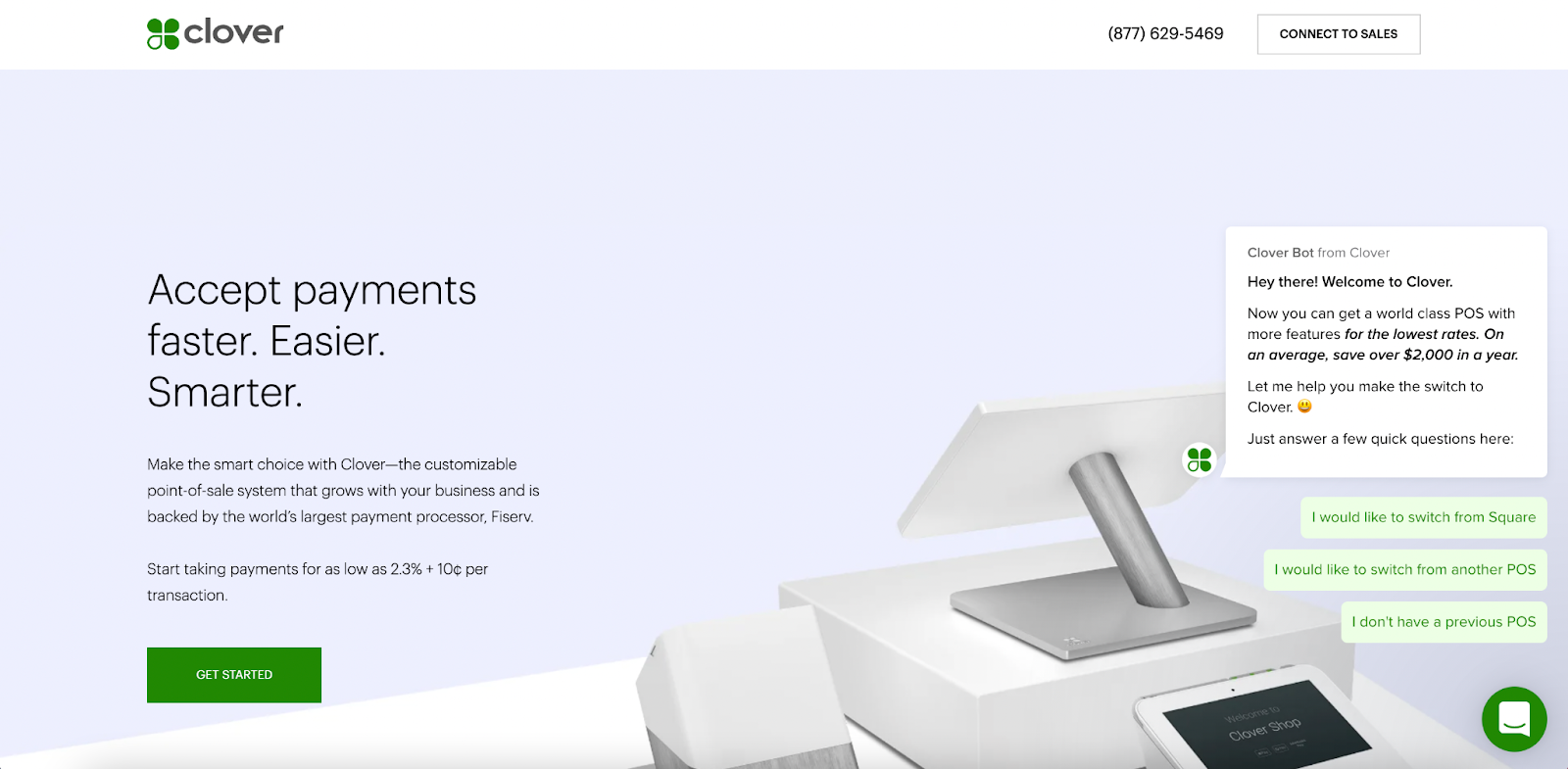 Clover also got the social proof in with a customer success story. Claps all around for that. We love a good customer success story AND a video that doesn't autoplay (opens in a new tab).
Example 14 - Oberlo
Oberlo's B2B landing page doesn't look like your typical B2B page—and that's a great thing. The bold font and bright colors capture attention right off the bat.
Special shoutout to the social proof right under the fold as well. The "people like you" copy makes the proof feel more personalized. The cherry on top is the added detail of having literal screenshots from social media too. It lends to the genuine feel of it.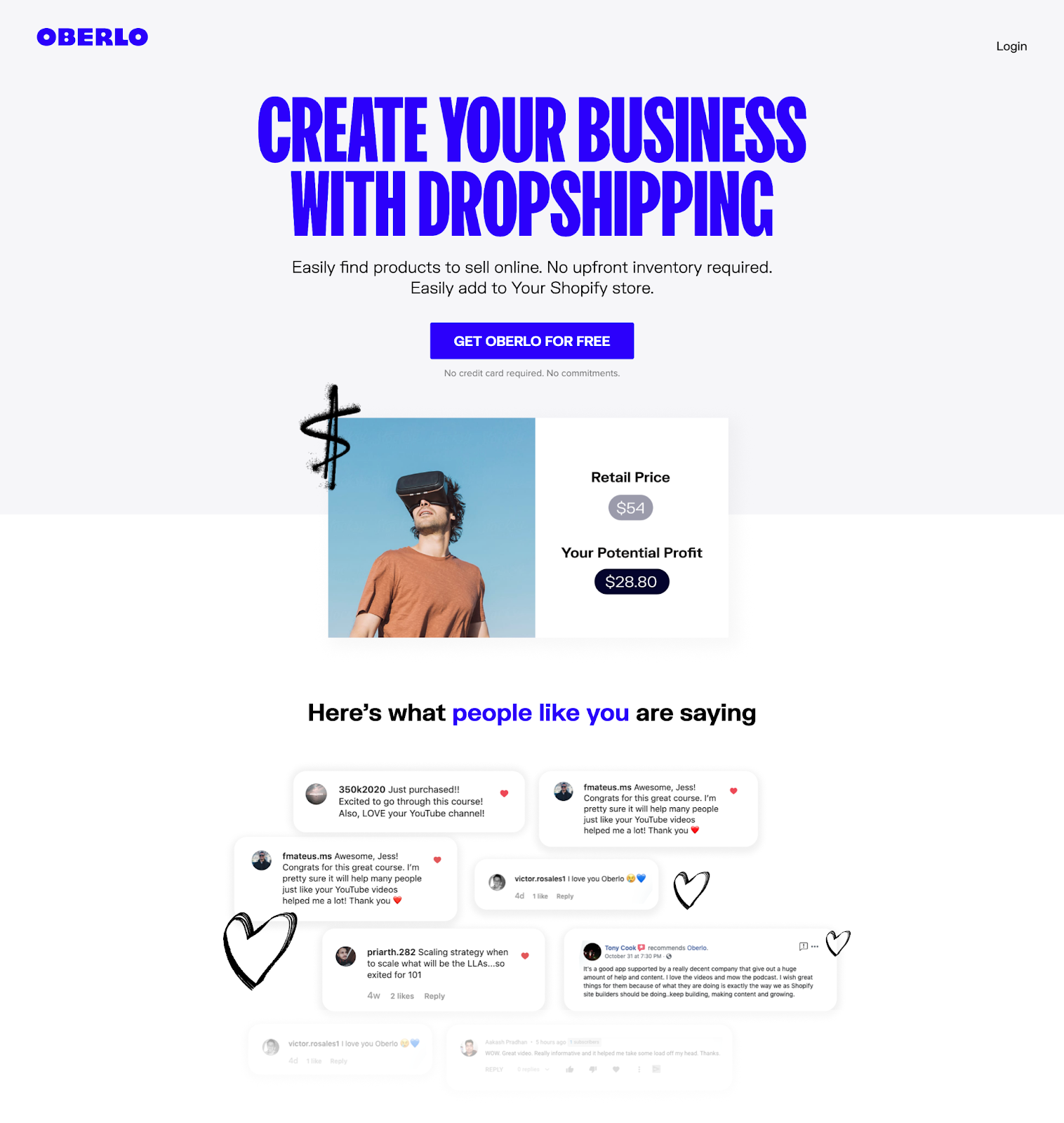 Using visuals, Oberlo succinctly leaves visitors with easy-to-understand bullets on exactly how the platform works and why they should use it.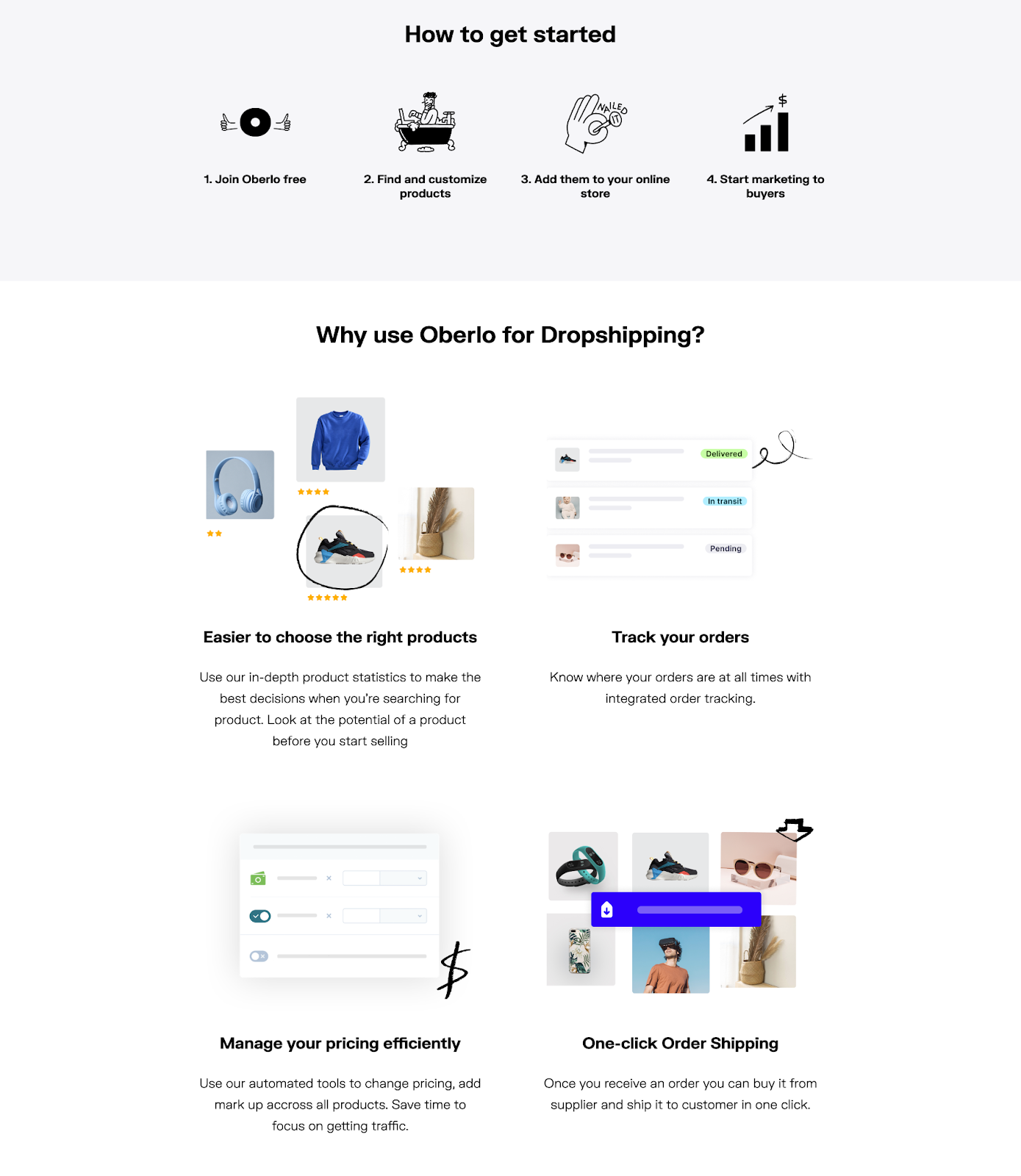 They had me at "Free." And then they really got me with the 12 month offer. There are competitor services that offer free base-level accounts on the landing page, but none appear to be even close to this offer.
Microsoft Azure does a great job of laying out all the services you can get for free and what the offer entails.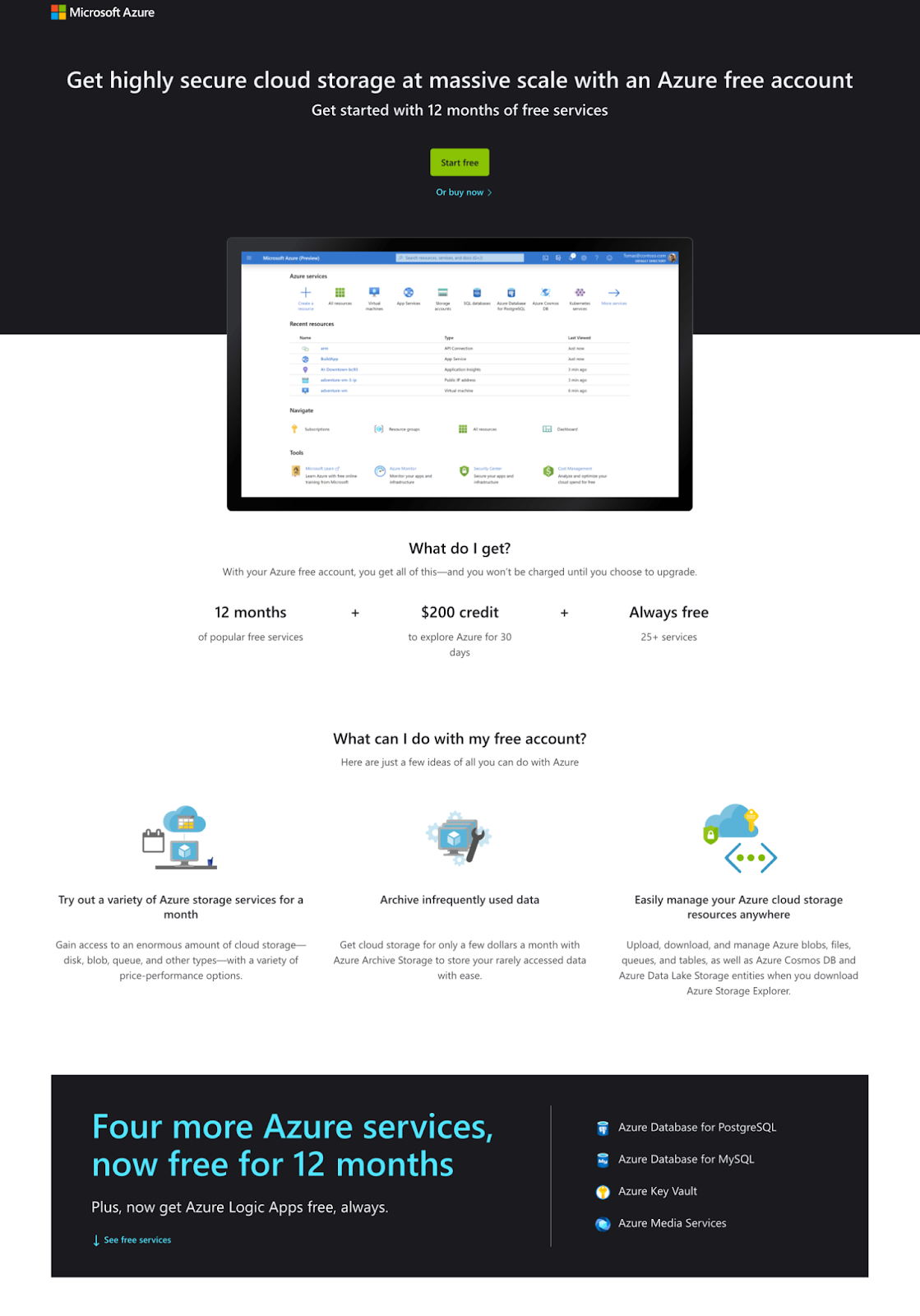 Allhands uses bright colors and fun illustrations which makes so much sense for the product they're pushing. It's a software that helps bring energy to big team meetings. Of course the landing page has to bring that energy too.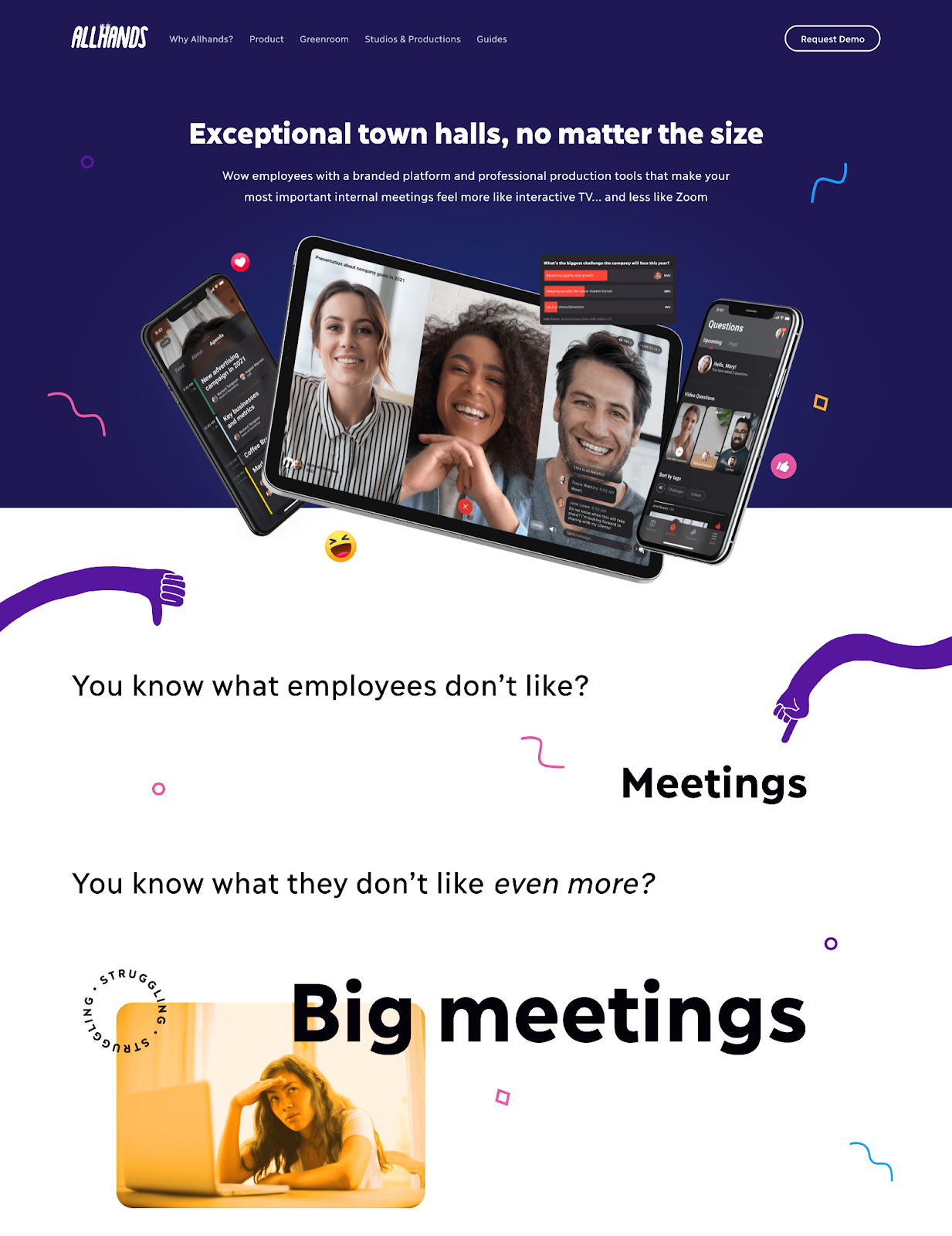 Even if it may take up a lot of space, the copywriting below the fold stops scrollers in their digital tracks. It makes them feel like yeah, Allhands really gets it.
Of course, good design is nothing without the best practices and basic functionality. They still provide the facts and figures to help a visitor learn about the product and decide if it's right for them. And you know there's a CTA accompanying every piece of the landing page.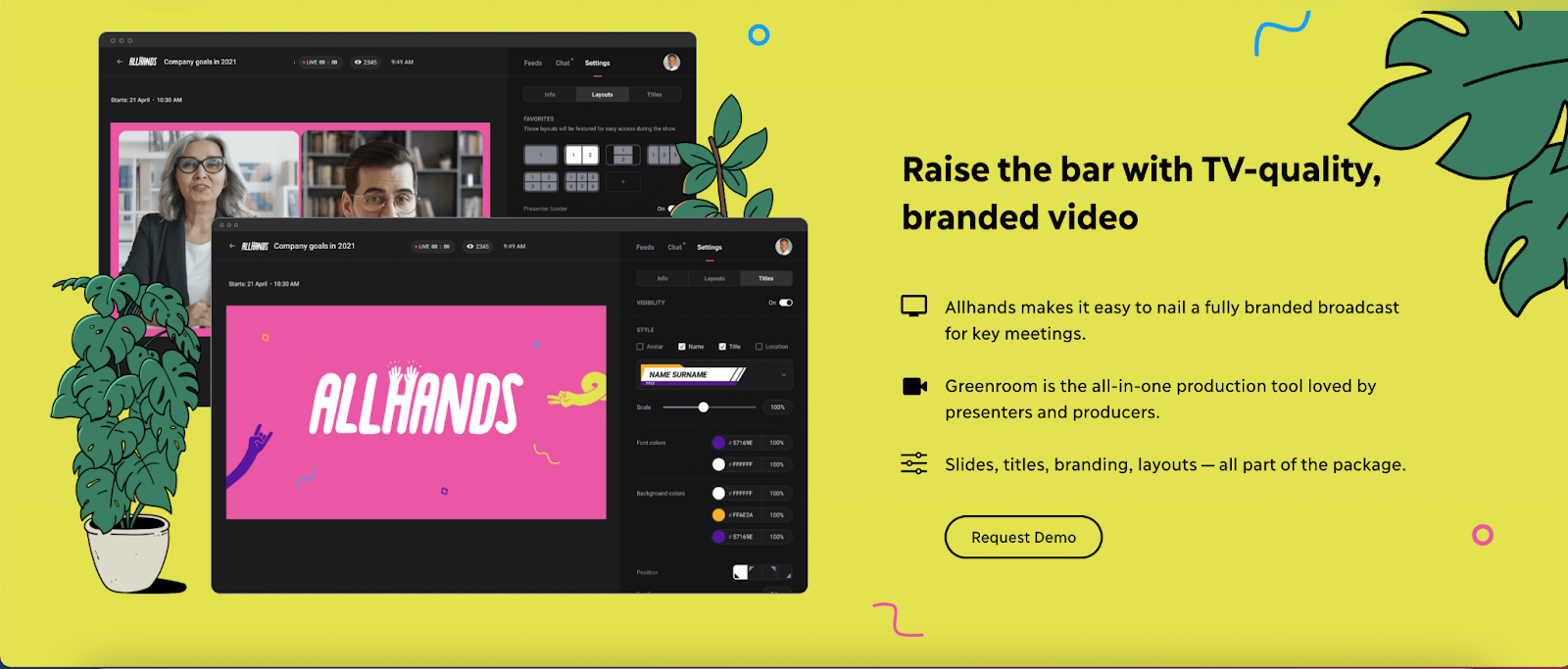 Had to include a screenshot of how the fun branding also made it to the form.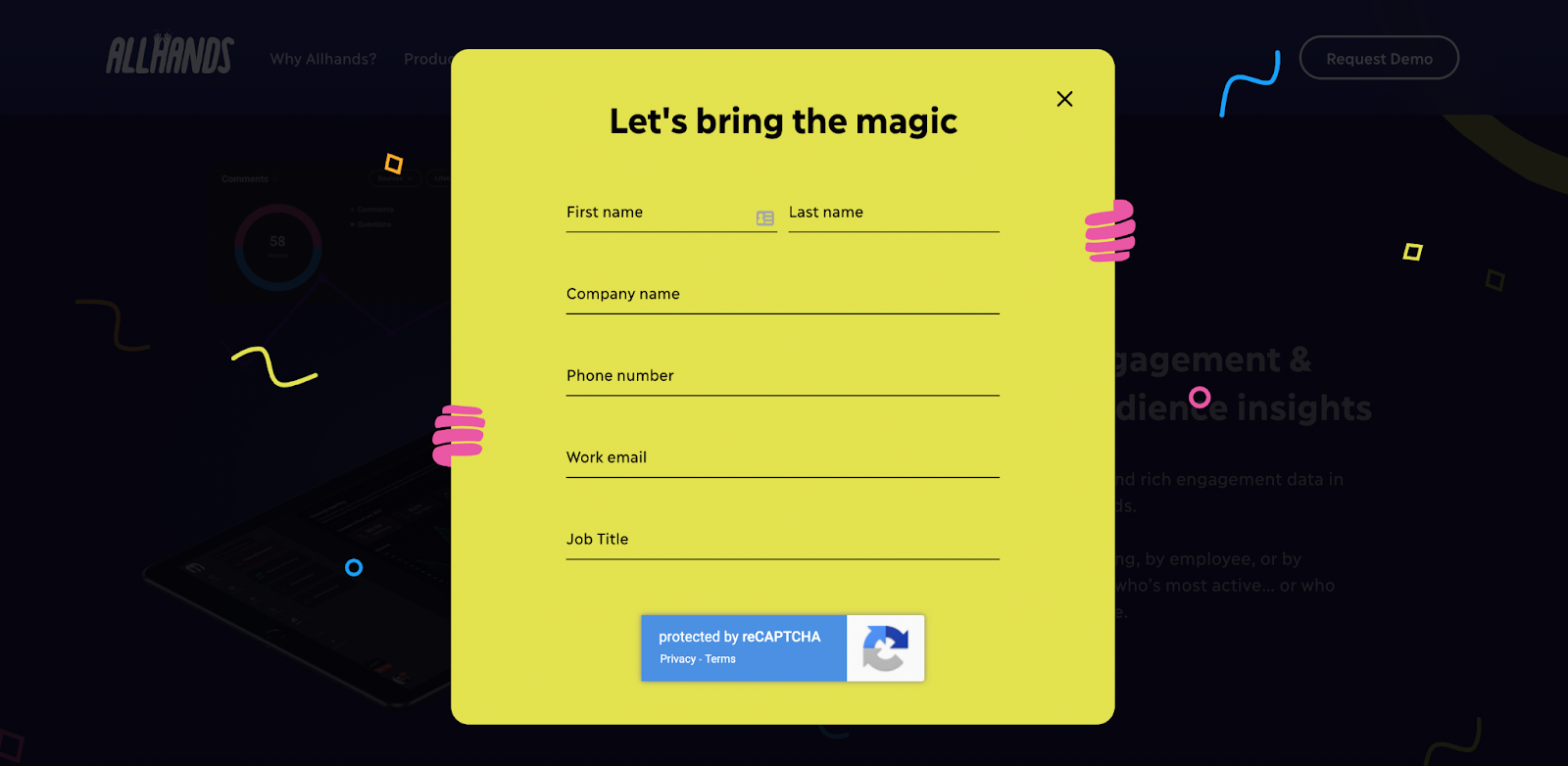 Every example so far has focused heavily on the B2B products or services being sold. Fortanix, a data security platform, took a different approach. They partnered with reputable research company, Gartner to produce a report on Encryption. Fortanix provides info on all the lessons visitors will learn within the report in addition to listing out 5 high-level key takeaways.
By providing value and expert information, they are establishing themselves as a thought leader in the data security space. The thought leadership then does the selling for them. It's a long-term play, but a good play nonetheless.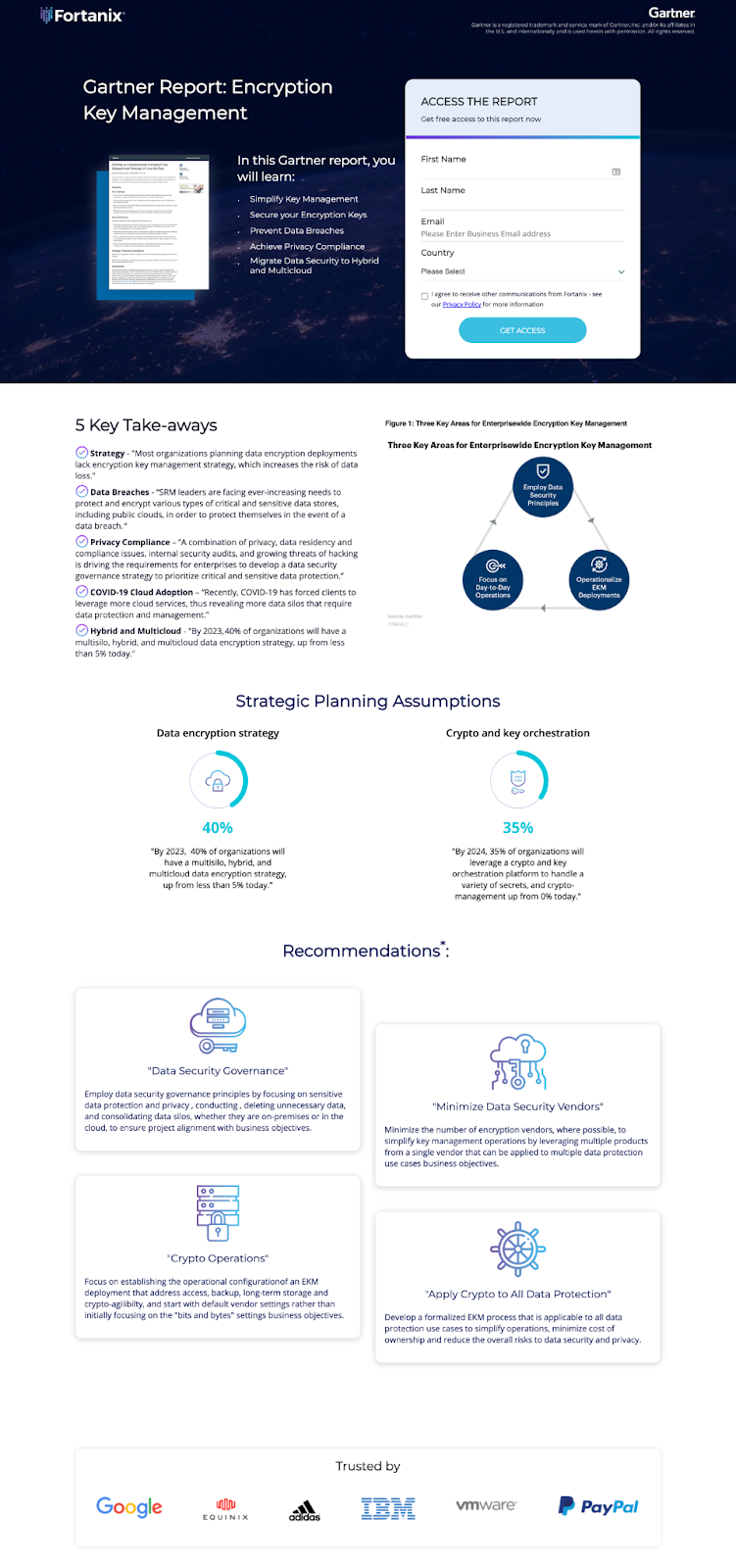 To be frank, Evisort's landing page is nothing special, but one part is an idea worth copying. Their CTA at the bottom of the page says to "Take the Evisort Contract Challenge!"
It's a good example of how using out-of-the-box copywriting can upgrade your CTA. This copy in particular helps to gamify the conversion and grab the attention of a visitor.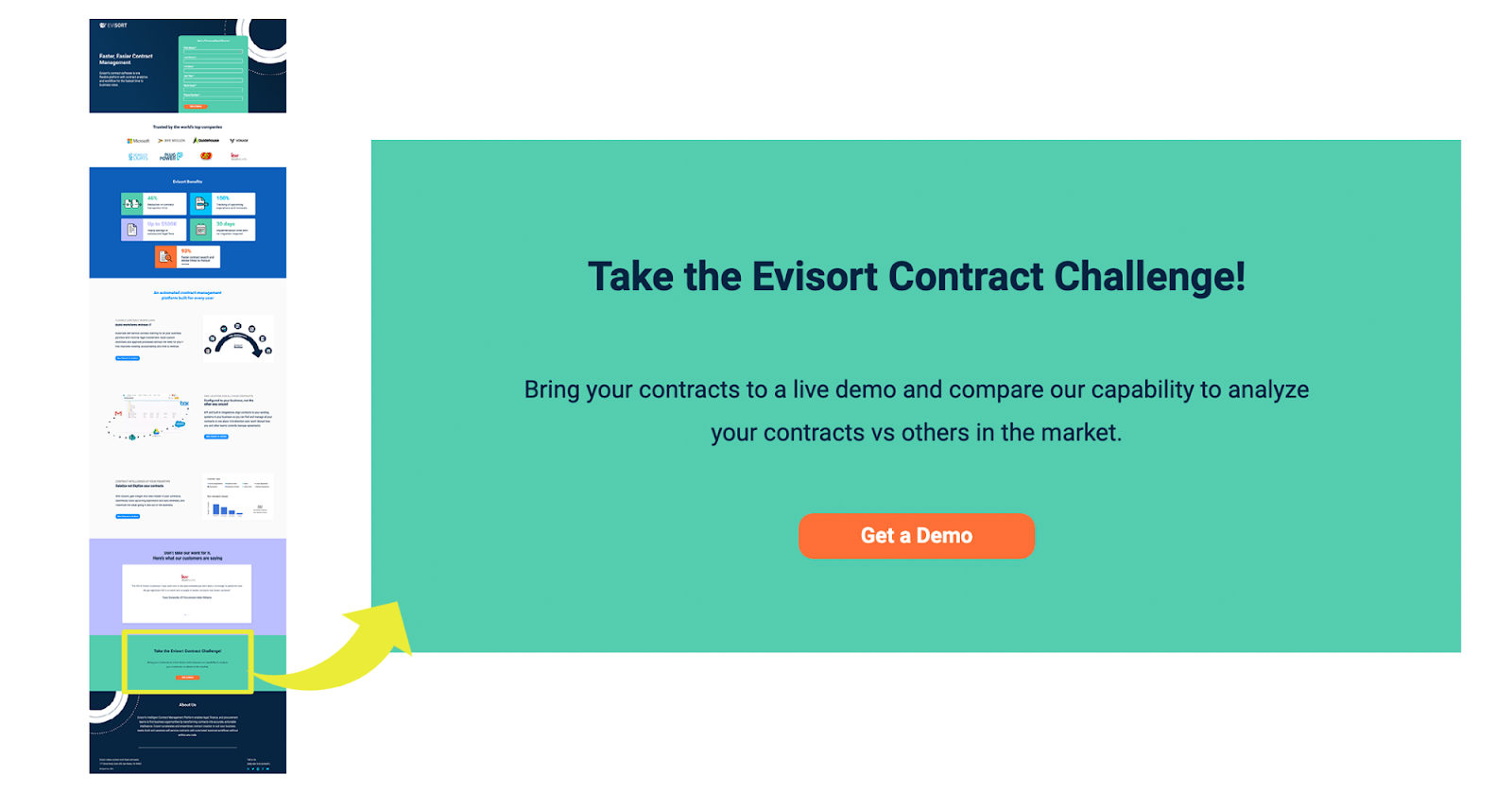 Example 19 - Scoro
Personalization over everything.
Scoro's genius was apparent once I found them through multiple different keywords and realized that the copy above the fold changes depending on what I was looking for. Since they service a variety of industries, they're able to personalize the landing page through that.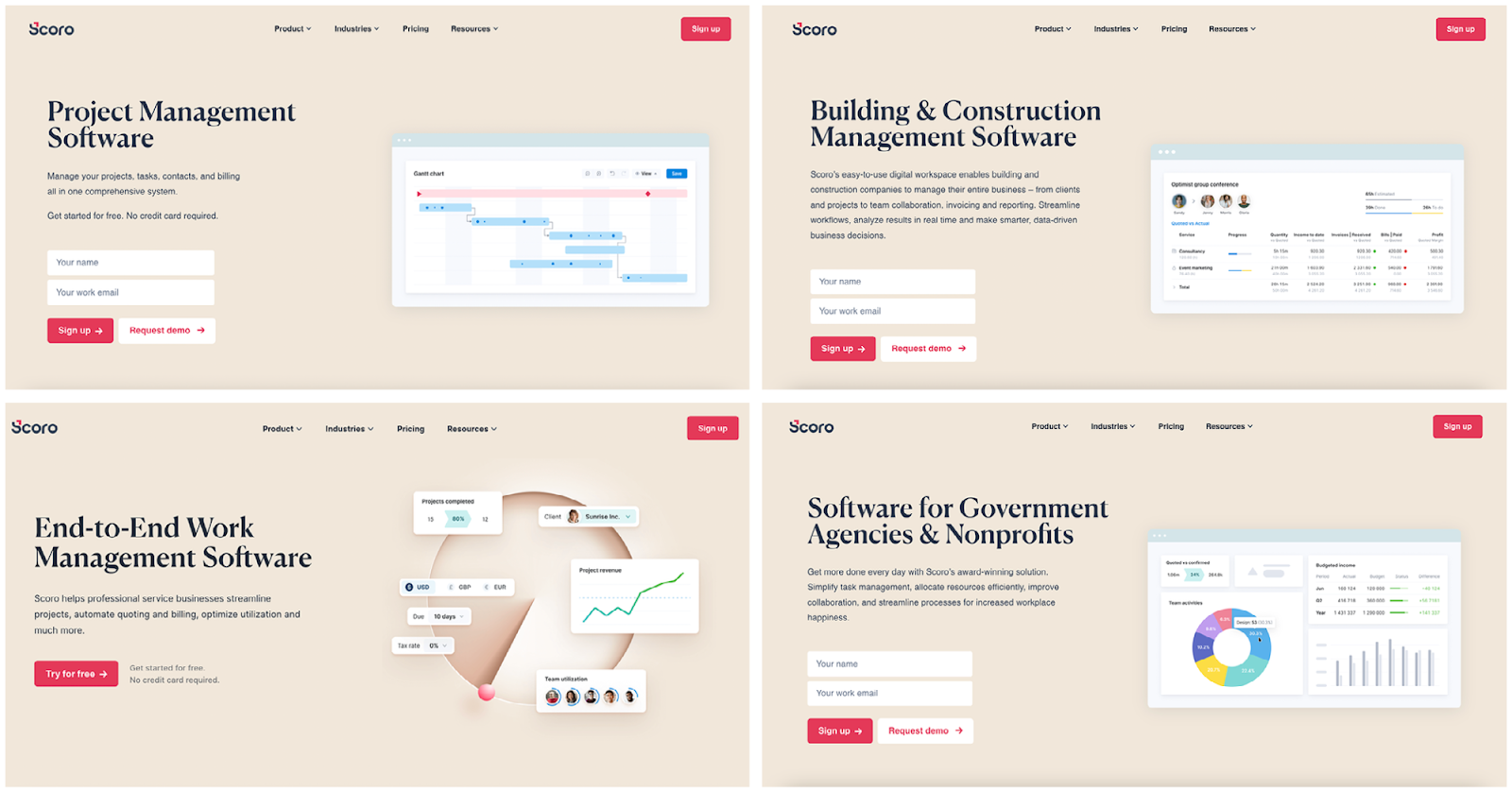 Below the fold did differ from search to search, but always contained the necessary components. From social proof to product descriptions, to comparisons, to more CTAs. Scoro knows what's up.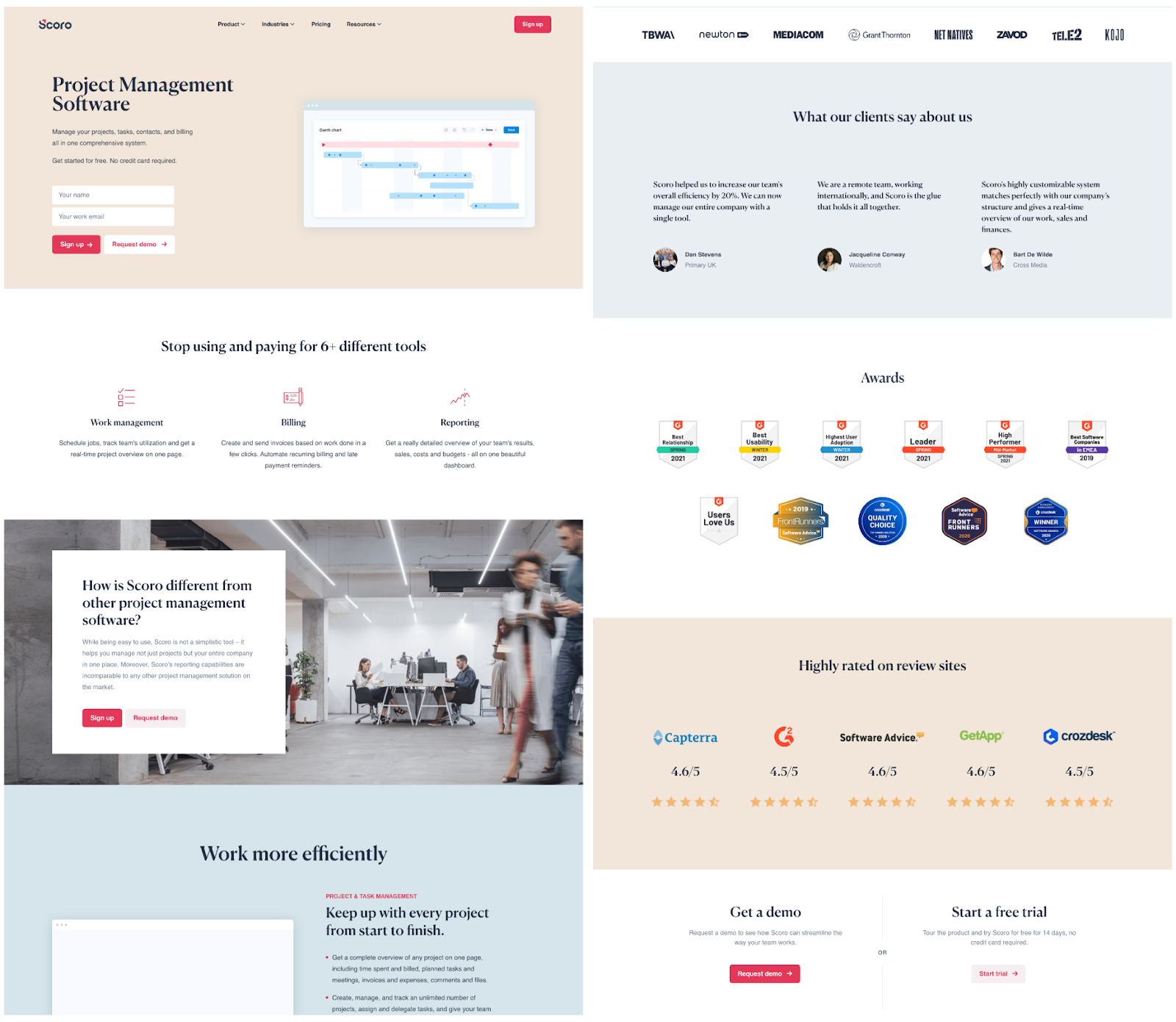 HelloSign did everything right. A simple (opens in a new tab), but powerful UVP above the fold, very precise number results, customer testimonials, all the product info you need, and (of course) a CTA to end it.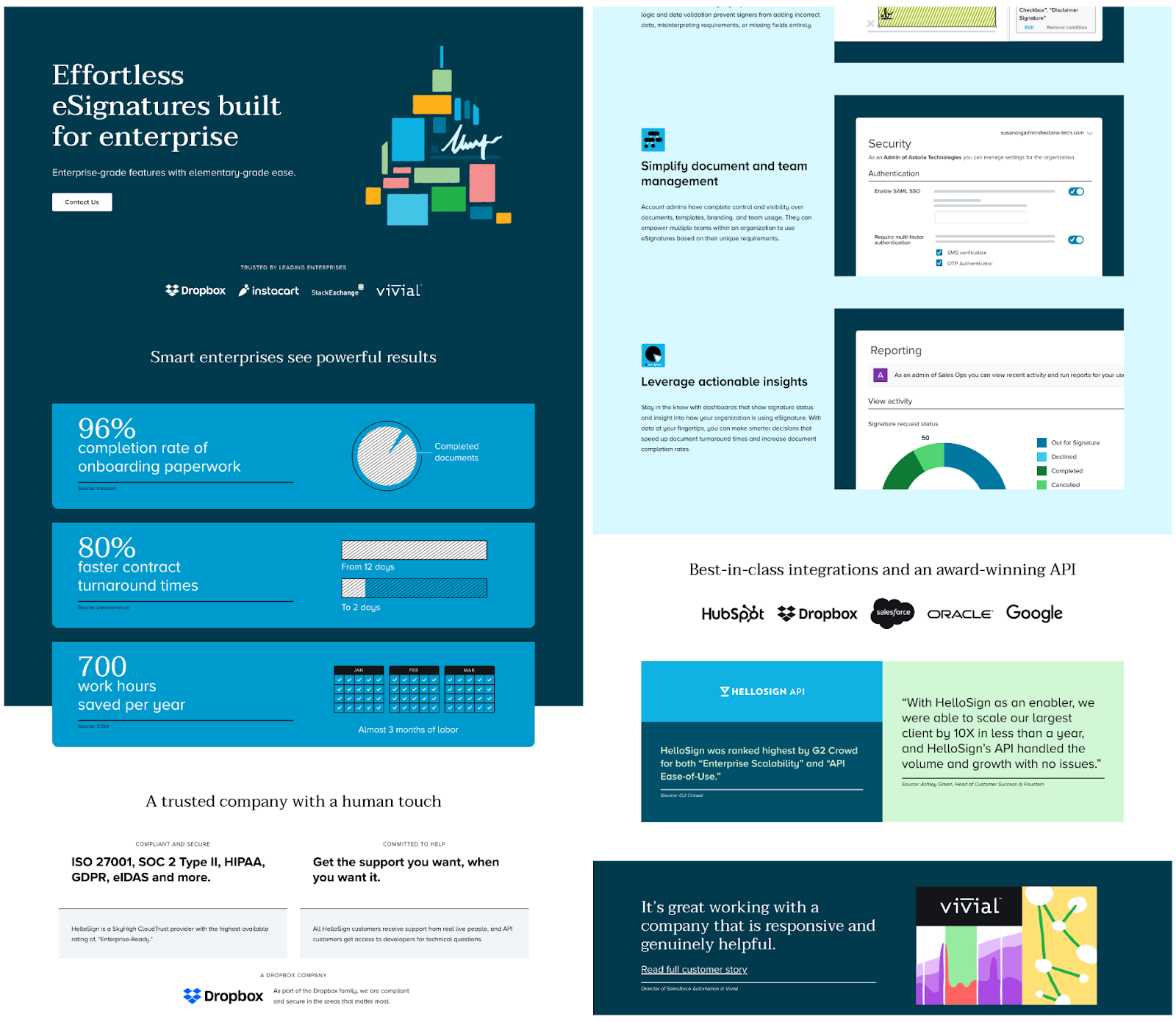 From a zoomed out view, HelloSign's landing page looks solid, but the quantitative facts just below the fold deserve a shoutout. They speak directly to the problems that the software solves. Rather than saying why you should use HelloSign, they use the numbers to give a very precise view of how much they're helping to solve problems.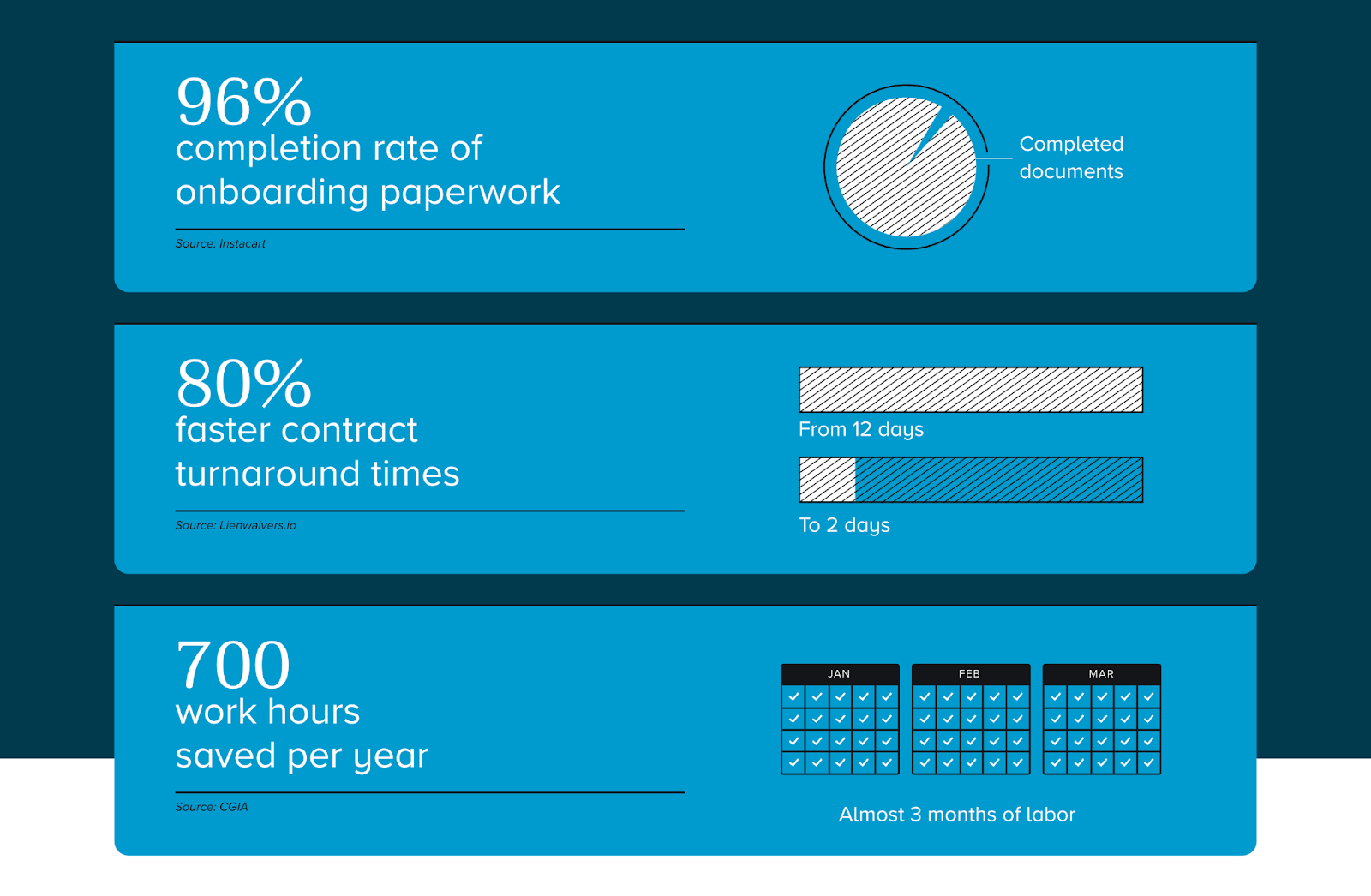 Resultably has a very solid B2B landing page. The product benefits are easily identified, the visuals help guide the eye down the page, and they even snuck in some social proof.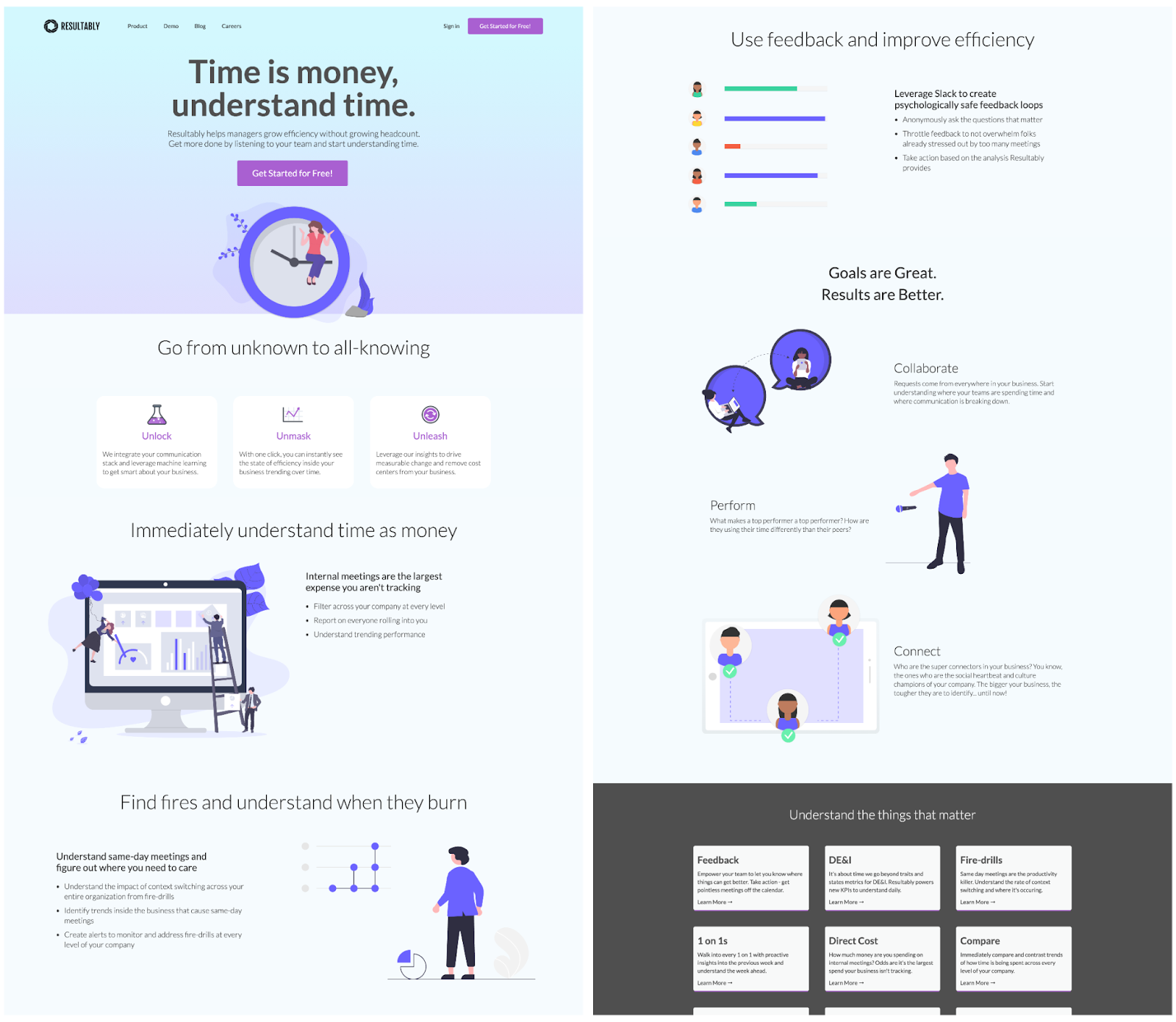 The highlight though is an embedded scheduler at the bottom of the page. Embedding a scheduler eliminates unnecessary steps for the visitor and allows them to get moving on the process in minutes. Easier for them and it even helps out the Resultably team, too.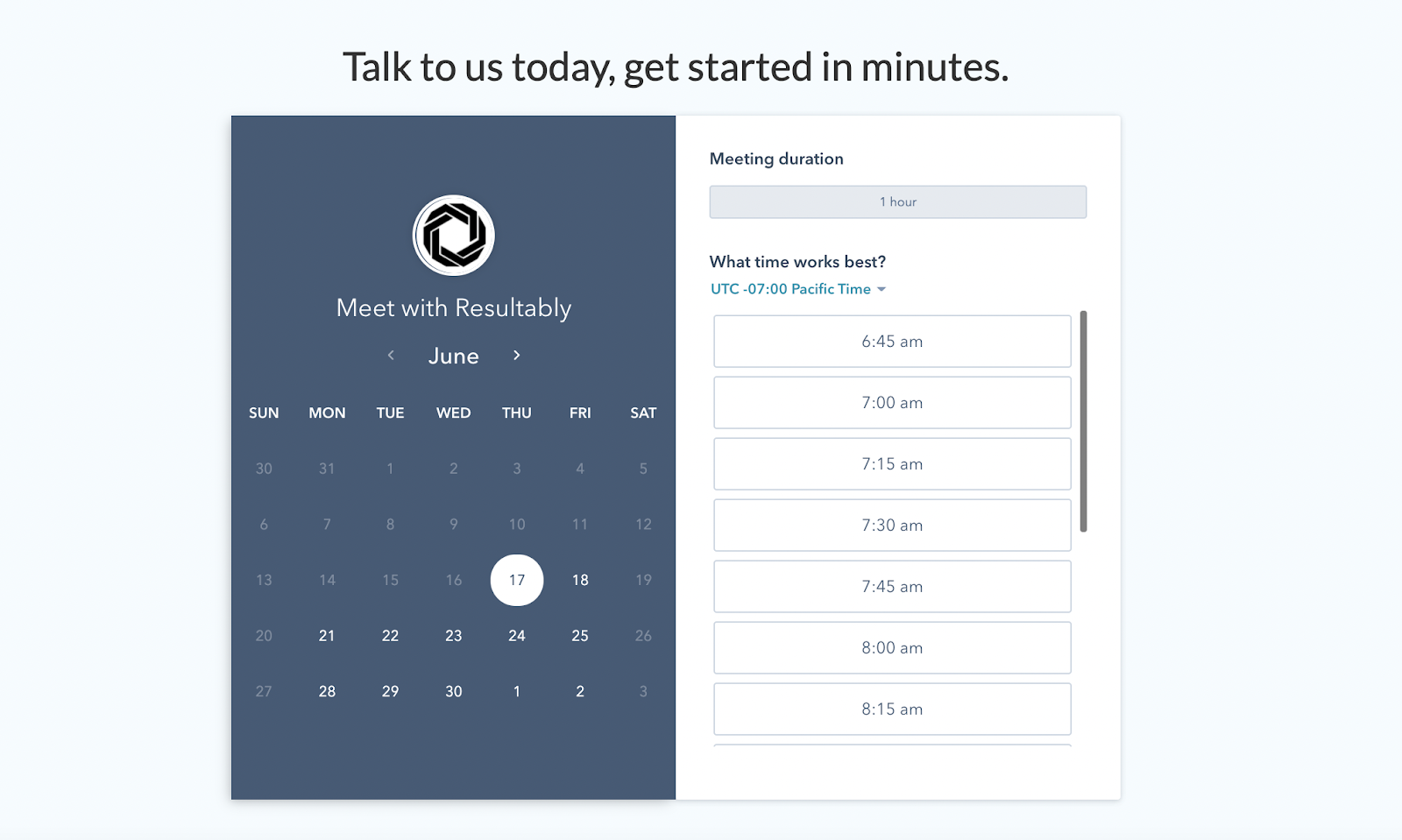 One note on the scheduler, though. An hour-long meeting is a very long duration. That could be a turn off for many visitors. 15-30 minutes is a more approachable duration that could help bring up conversion rates.
Another great example of how a landing page can target direct competitors. This landing page calls out Tray.io's competitor, Zapier. The curves in the design of the page naturally takes your eyes down to read through the product benefits.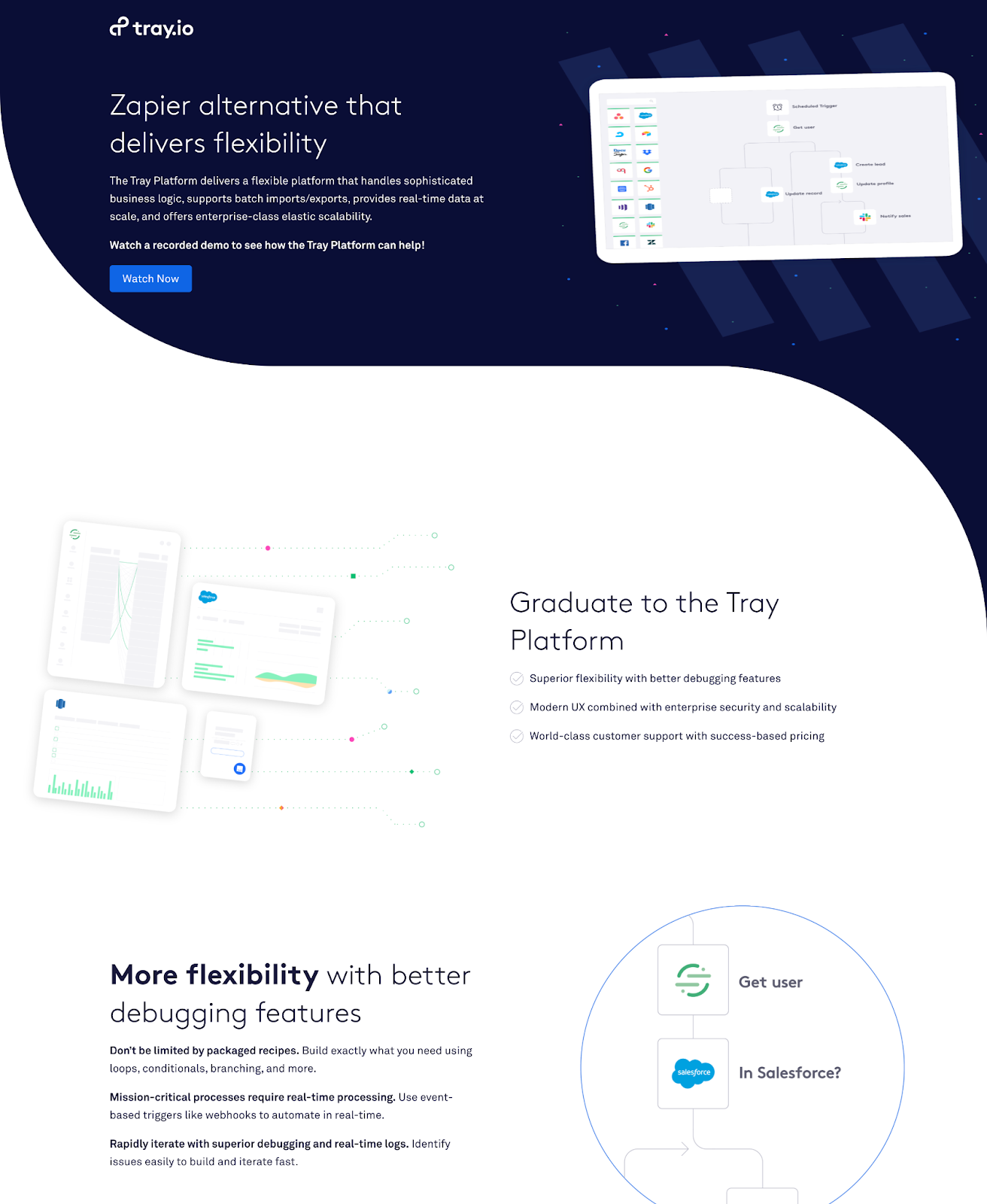 This is another example that offered a unique option in their lead generation form. While most softwares only offer a live demo, Tray.io gives options. For those who don't want a 1:1 demo, they can select a live demo (with a group) or they can watch a recorded demo.
Giving the visitor this choice, gives them the power to select what they're comfortable with. Regardless, Tray.io captures their info and it's a win-win. While I'm sure Tray.io would rather get the lead on a live phone call, there's a big benefit to meeting the consumer where they're at.
As long as they're sending amazing recorded demos and hosting engaging live demos, leads should still be converting further and further into the funnel (opens in a new tab).
Example 23 - Gusto
Sometimes less is more. And with this Gusto example, it's definitely more.
The research phase of finding a new business or product on the internet can be overwhelming. So much info to read, reviews to go through, use-cases to consider. Gusto makes it easier for the visitor by giving them less to focus on and focusing on one engagement that can help the visitor (and Gusto) figure out if their product can help.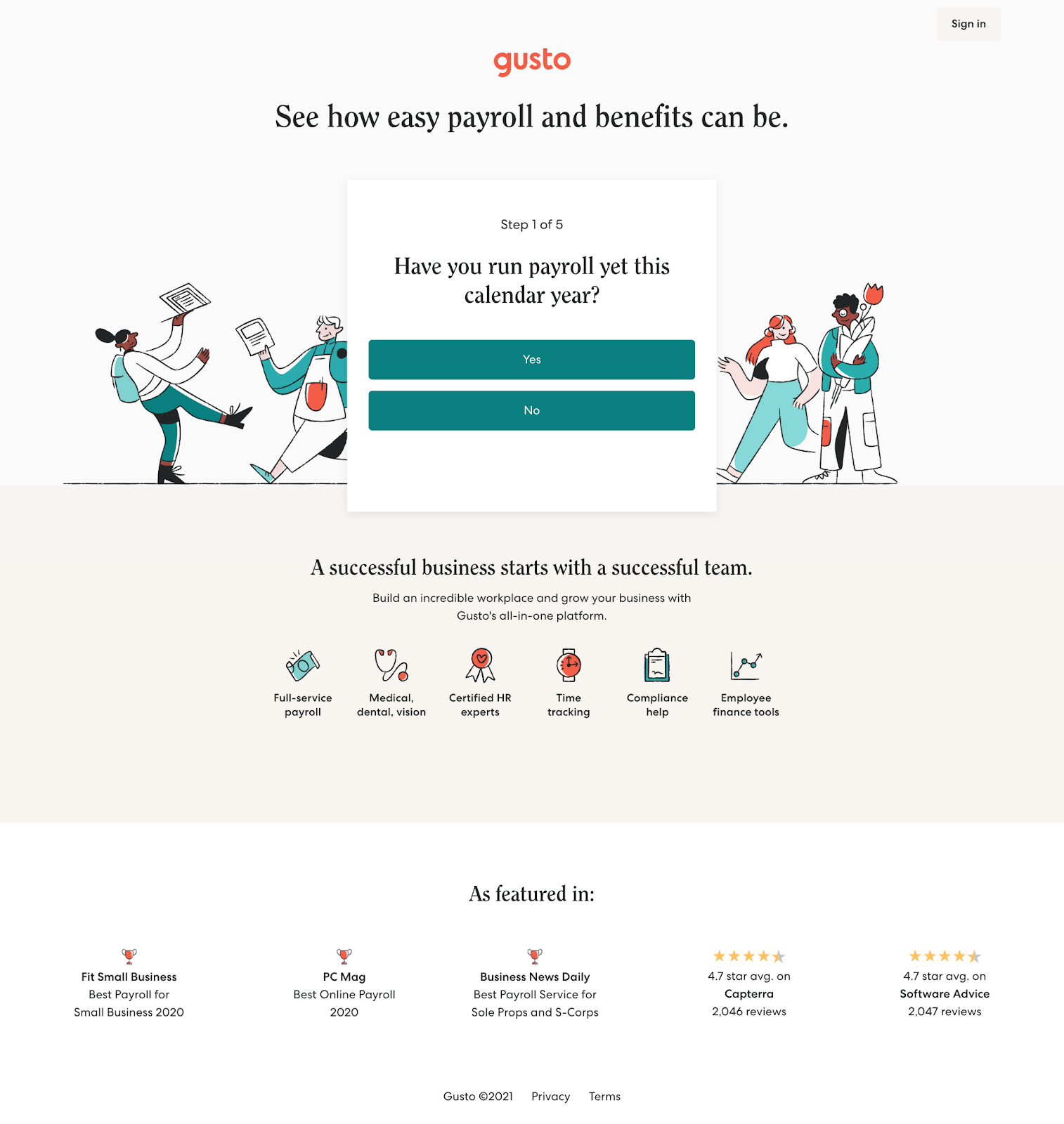 The form asks a series of non-personal questions to gather more information about your business and situation. At the end, they confirm whether it's a match or not. It's only at this point that they ask for your info.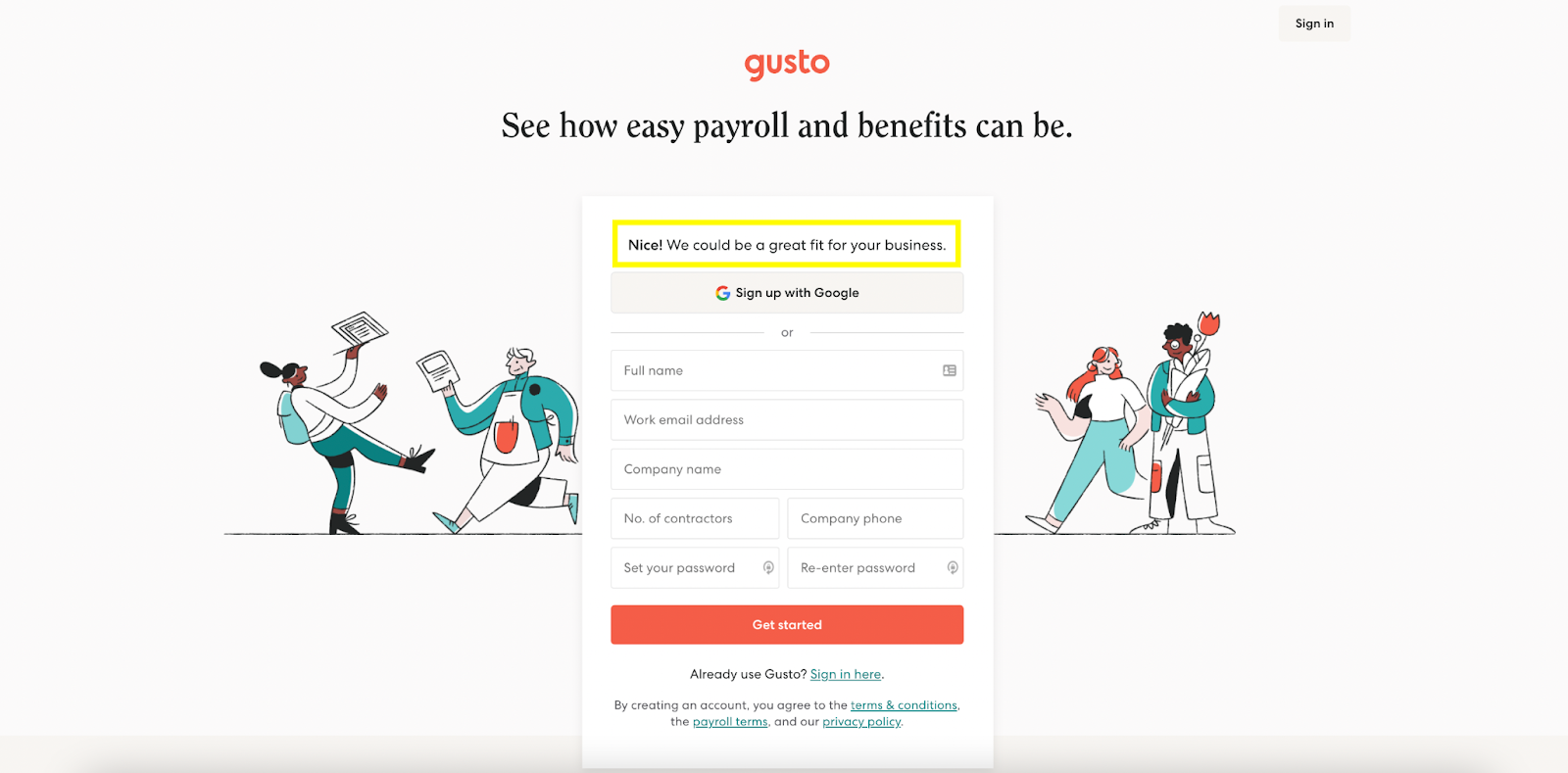 Even though they're not providing a ton of info, they still include a short section of social proof that makes you want to keep going through the process.
Example 24 - Moz
In the spirit of less is more, let's take a look at this B2B landing page example from Moz. It includes more than Gusto, but still only refines the page to a few sections. Despite the length, Moz manages to communicate a lot about the product, mainly using a video (opens in a new tab) as its hero image.
In the video Moz Founder, Rand Fishkin, helps figure out if Moz is right for you. Just another reminder that there's always a way to rephrase copy to put the user first.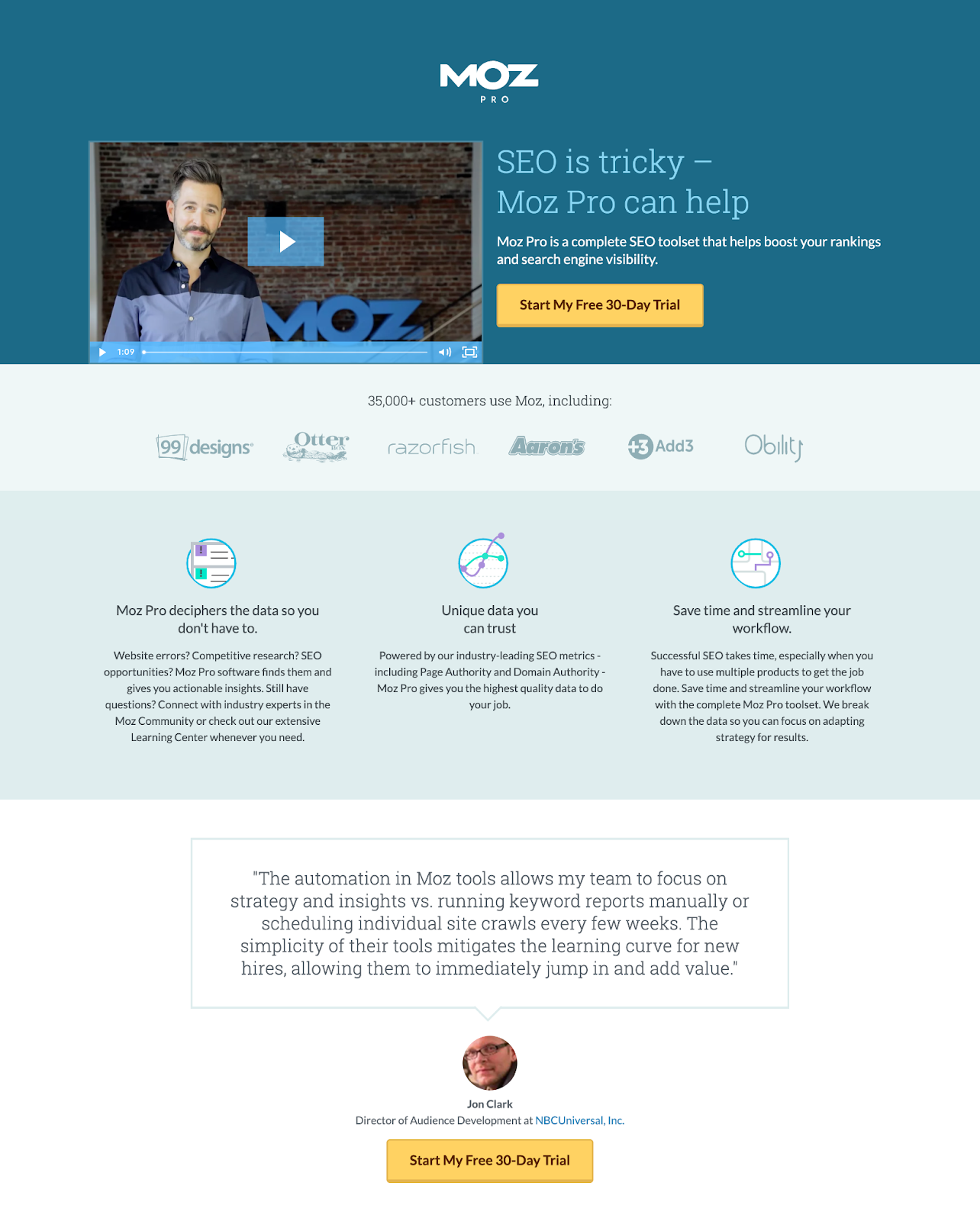 Example 25 - Vimeo
I think you'll either love or hate this example. I've been looking at B2B landing pages for hours. When I came across this one I legitimately stopped and laughed. I had to keep scrolling.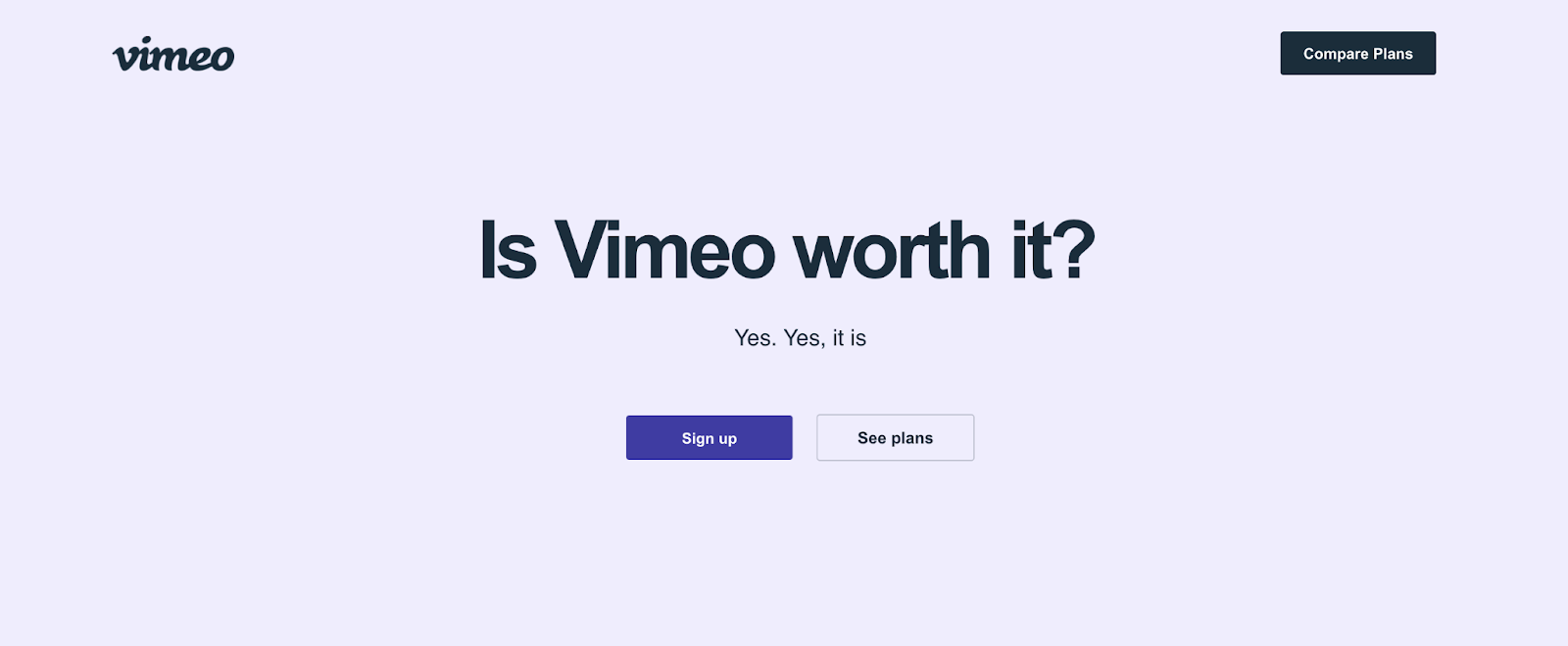 When looking up video hosting and marketing tools, there's a good chance you could stumble across this. You're in your research phase. You've heard of Vimeo and you just have a couple questions.
Vimeo answered them all. Bluntly.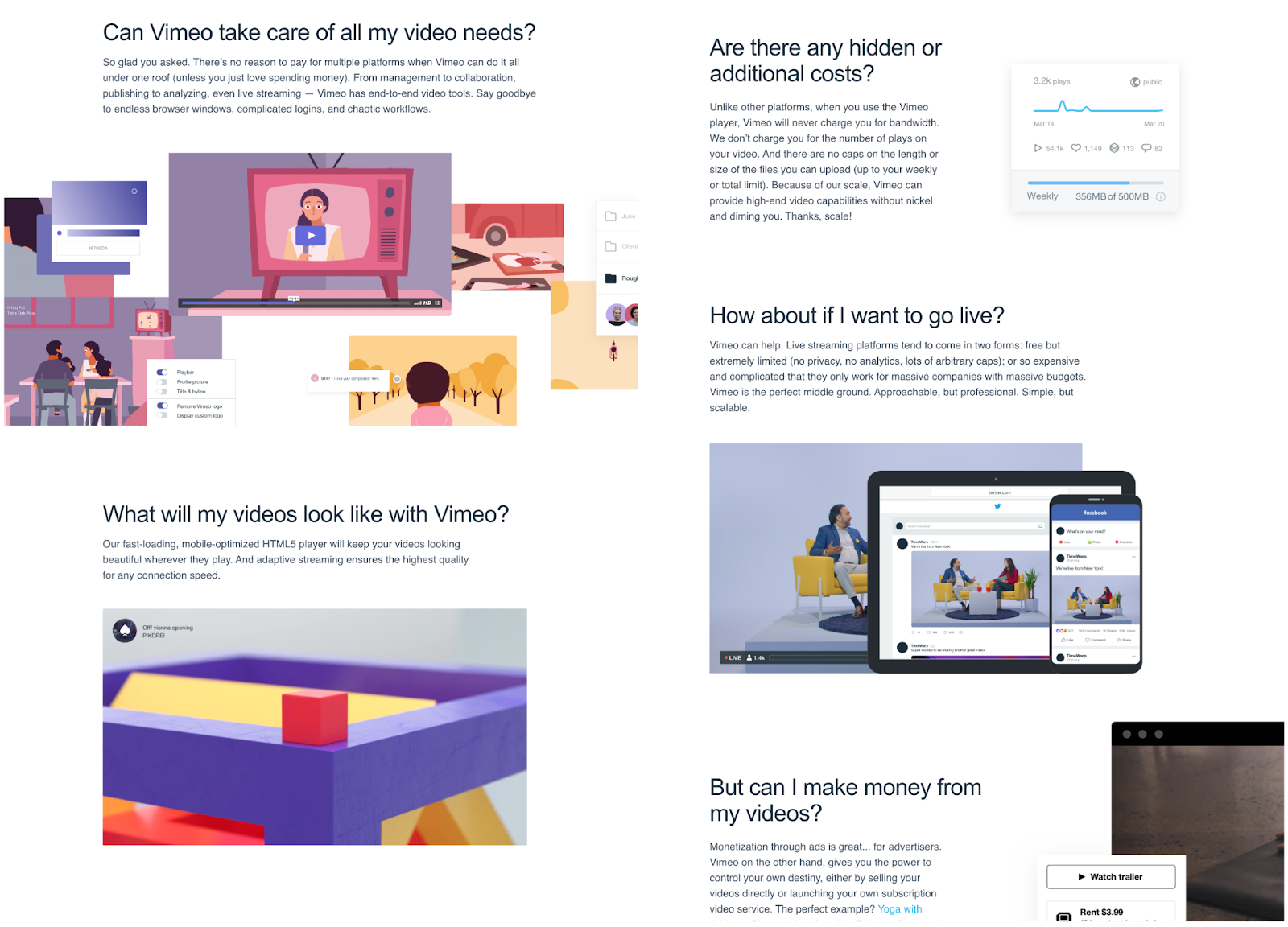 We're not saying it's the best...but it's one that can help get you thinking outside the box. It can pay to do something different than what everyone else does.
Quickbooks made a smart move by offering a great deal and adding urgency to it. Paired with an explainer video (bonus points for showing exactly how short the video is to encourage more visitors to watch) and a couple specific number-based facts, Quickbooks is in it to win it.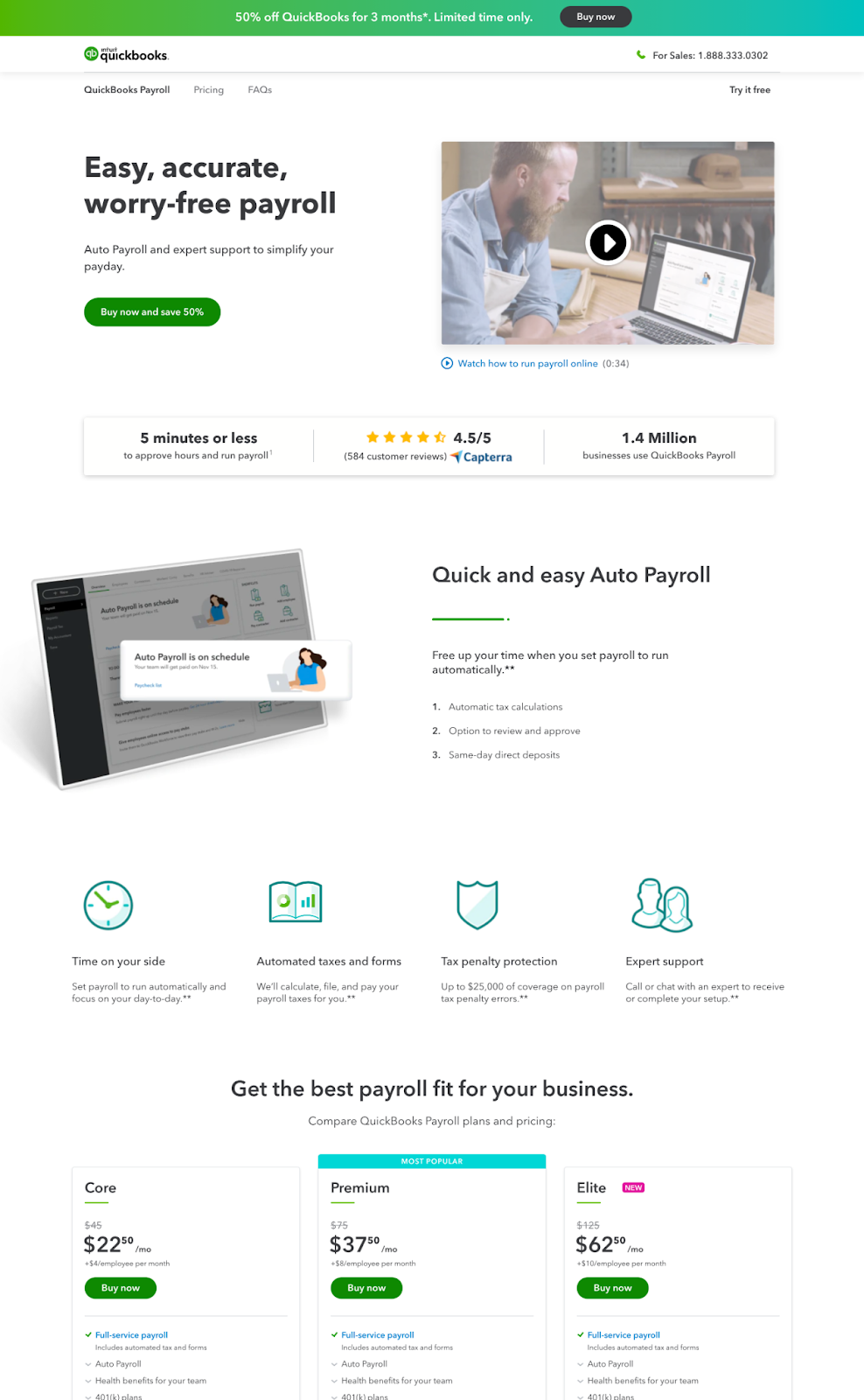 Above the fold is perfect simplicity. Semrush communicates what they're all about and placed a centered, bright orange CTA right where the visitor will notice it.
In addition, they provide three kinds of social proof, product features, impressive facts, and then end it with a strong CTA. The "your peers" copy above the reviews section was a smart touch, too. It makes the reviews more personal. Two thumbs up.

Dynamic Yield kept it focused. Rather than a few paragraphs of copy, they broke down the bullet list of reasons to use their product. Bolding specific words allows for easy skimming.
Their social proof consists of displaying big brands that already use their product and noting a few awards.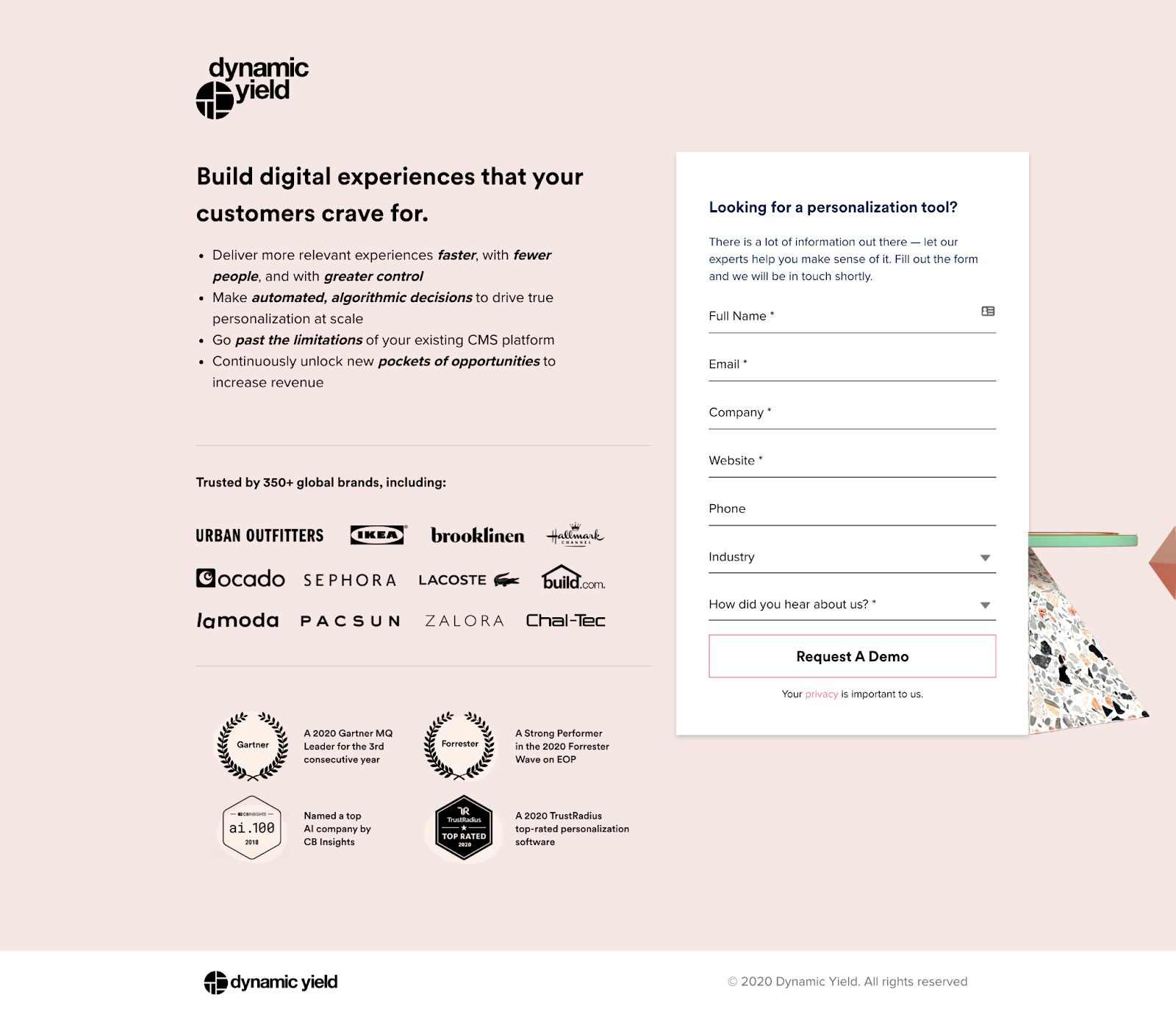 EditorX by Wix is a website builder meant for designers and agencies. They have steady competition, so coming out of the gate with a bold statement is a must. This landing page accomplishes that. They claim to be the future of web design.
The rest of the landing page is dedicated to pointing out the features that distinguish it from competitors such as custom breakpoints and advanced responsive layouts.

The choice to use "Start Creating" as their CTA vs "Sign Up" was also a good choice. The copy helps to communicate that you can get started as soon as you sign up. No waiting involved.
If you're looking for website or landing page design tools, you're bound to come across Unbounce also. While EditorX's landing page communicates specific features in a beautiful way, Unbounce might get more conversions because they focus on the product benefits.
Then they hit you with social proof, information on how the tool will help with actual results, on top of amazing product features. Still not ready or convinced? They provide a second CTA to browse a template gallery for anyone who needs to see more.
By the time you get to the bottom, you're ready to join the 15,000 other brands that use Unbounce or at least try their free 14-day trial.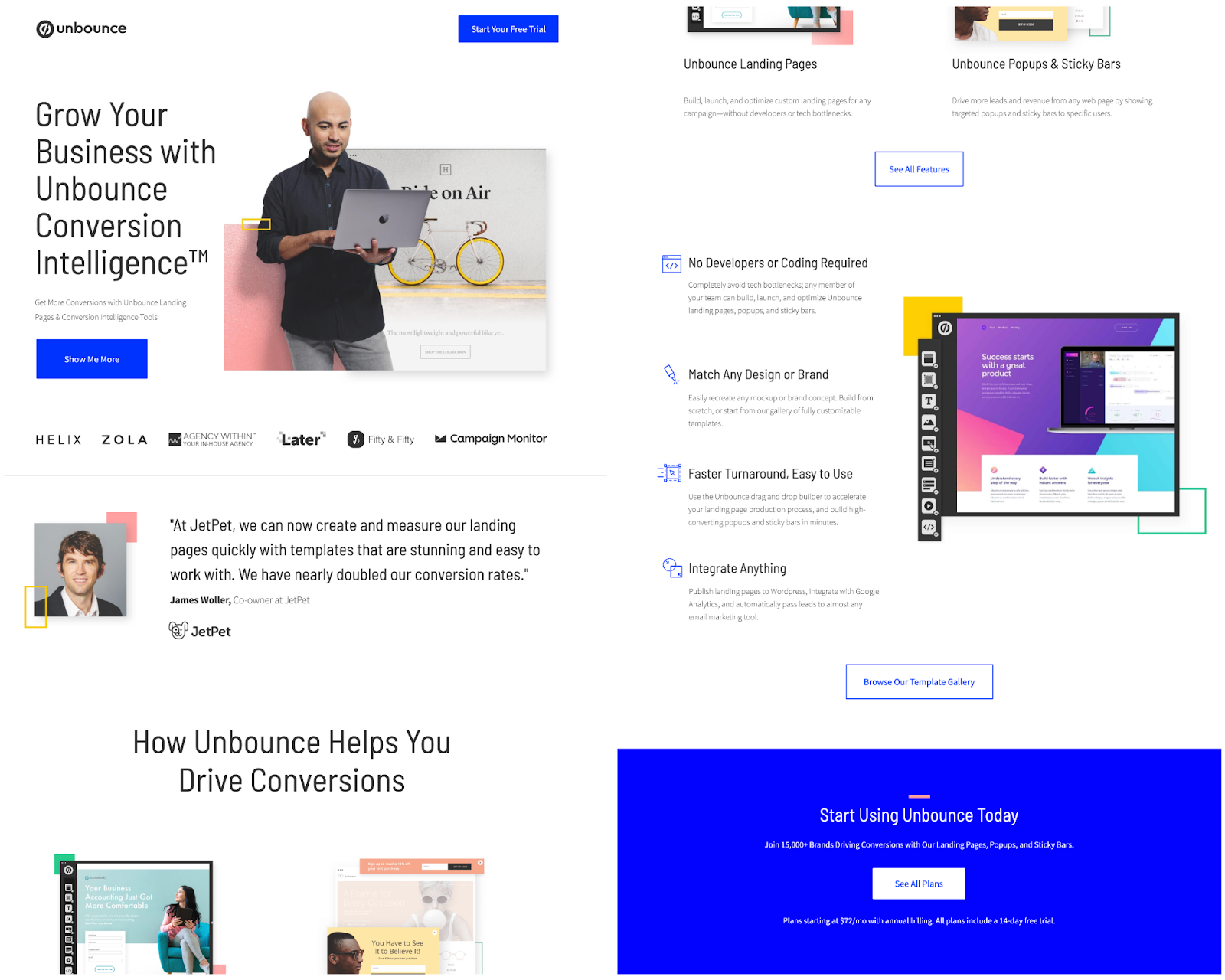 Yellow Messenger manages to stick out from the crowd. Through good design and bright colors, they help make an unexciting service seem more fun. To be fair though, they are called "Yellow" Messenger, so they kind of had to use yellow on the page.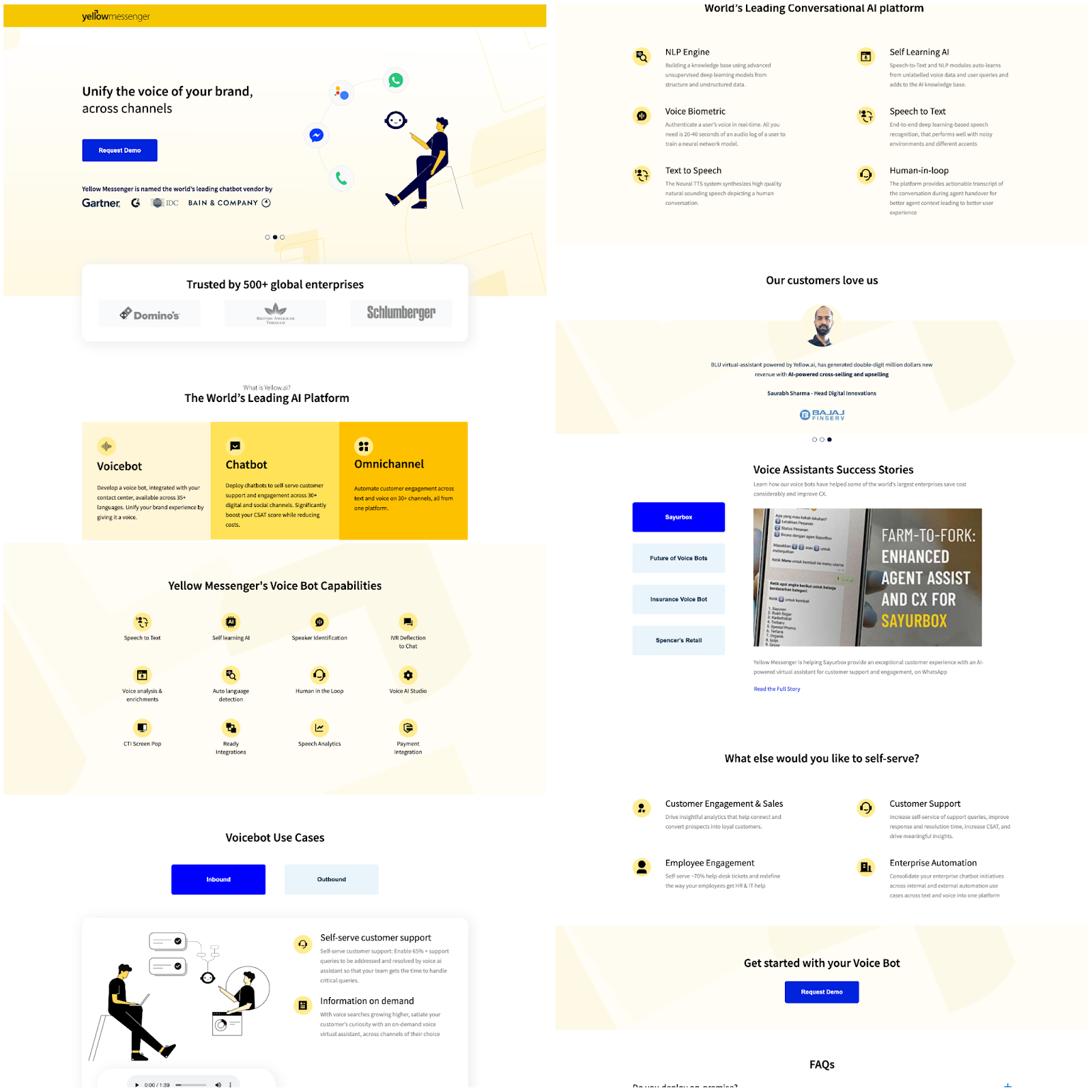 A rotating carousel upon landing makes sure that you catch their top three selling points.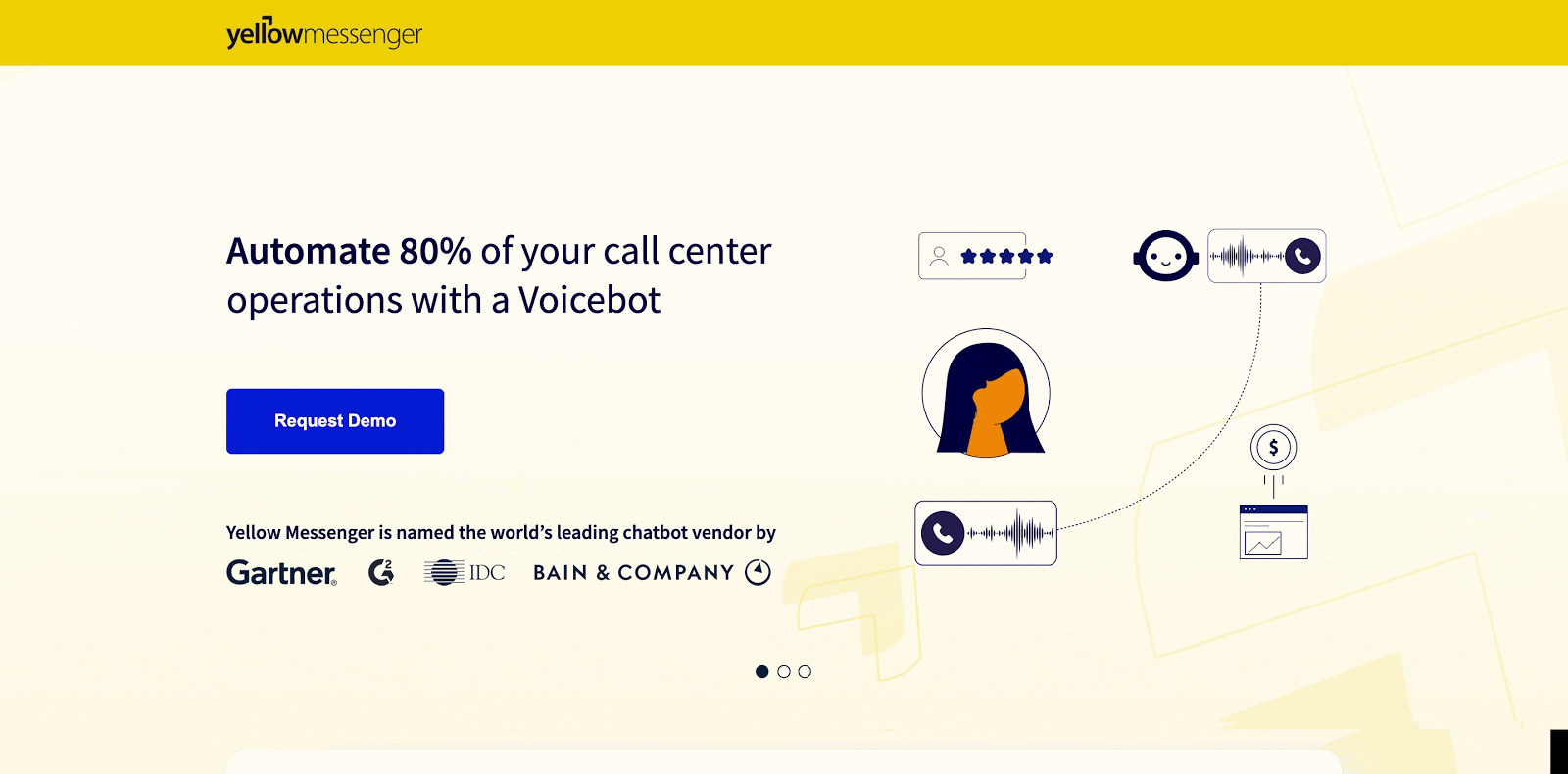 Another helpful section focuses on the two main use cases they see for their software: inbound and outbound. The ability to toggle between the two keeps visitors engaged with the page. They also embedded two audio samples into the page so visitors can easily sample the voicebot without giving away an email or leaving the page.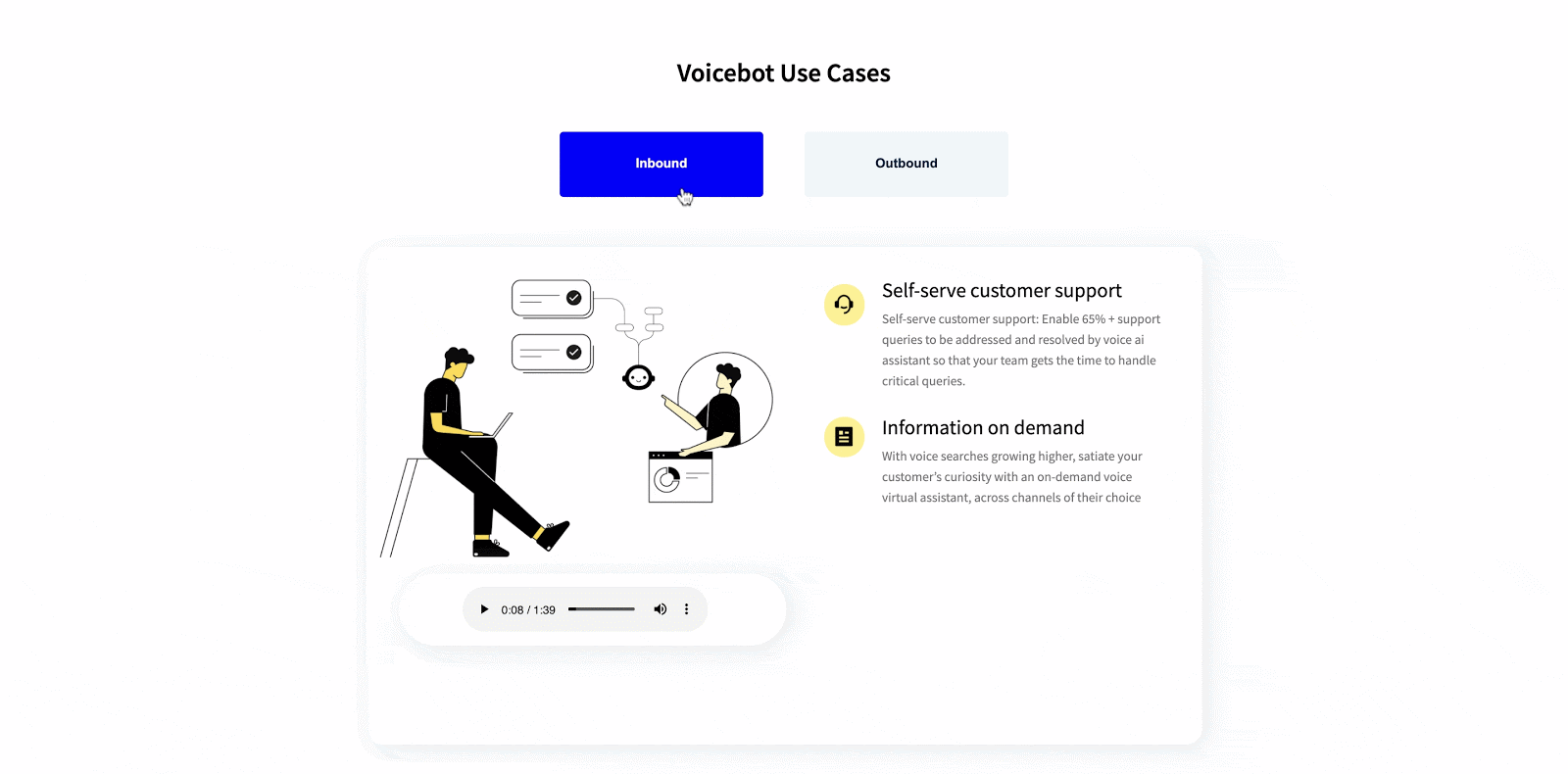 Example 32 - Notion
Notion is getting their lead generation on. Right off the bat, visitors get a clean landing page with no main nav, a clear CTA, and helpful imagery. They embedded gifs that give a quick show of the features and outline everything the tool offers.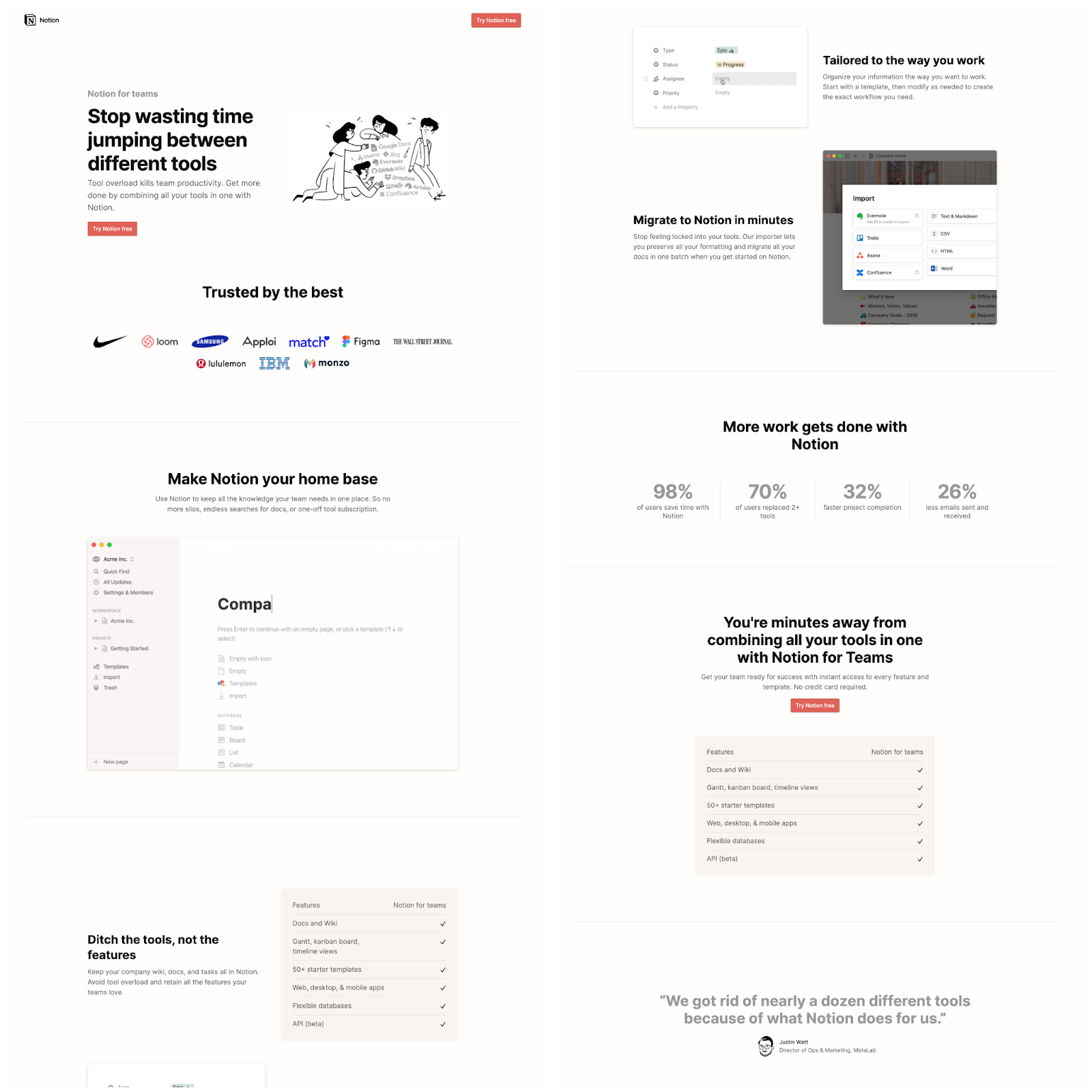 The real selling point is in the numbers.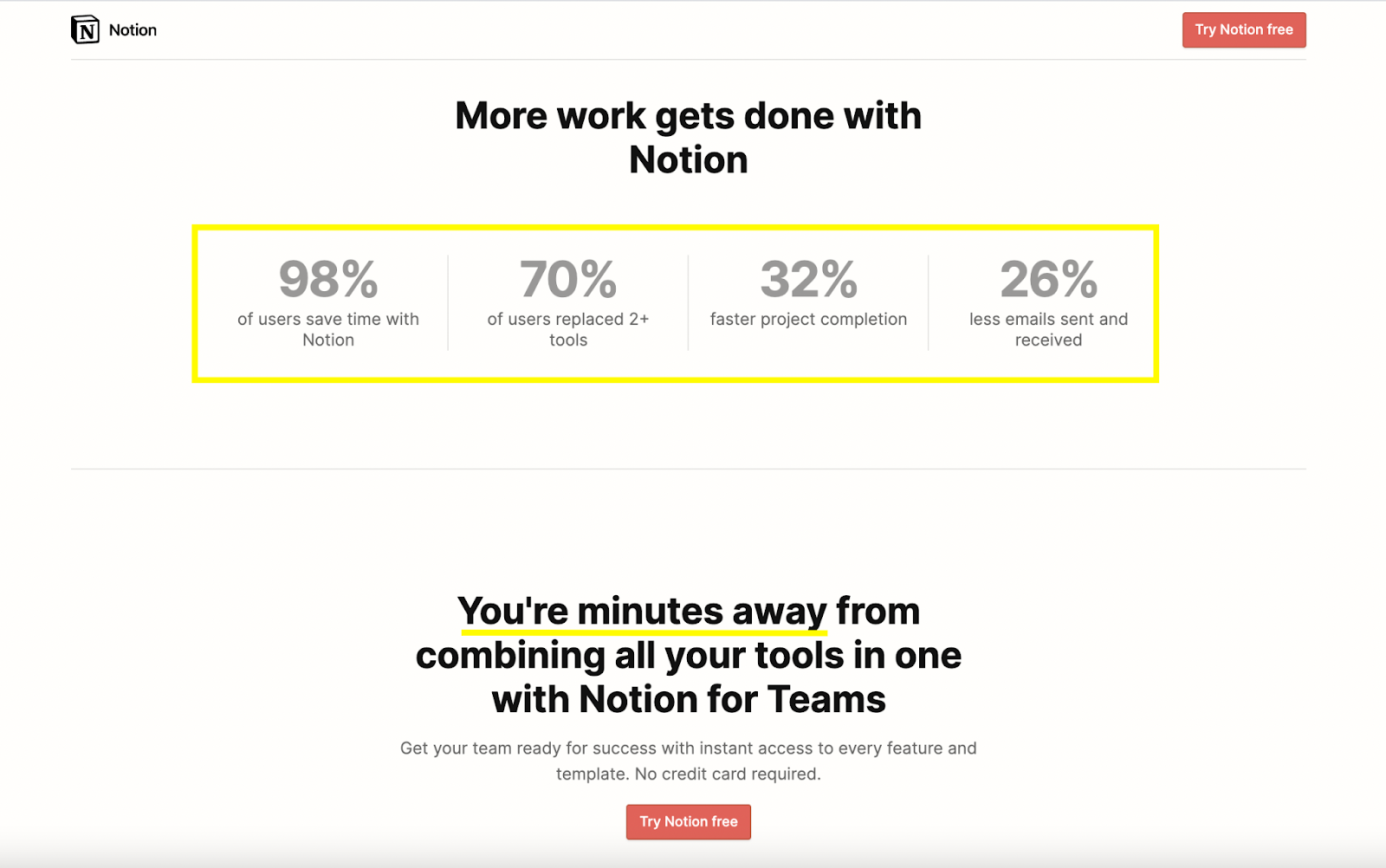 It's impressive to see exact results that their customers experience. Then they flow right into the CTA that says they're only minutes away from getting those results too. No waiting for a demo or scheduling a meeting, you just rock-n-roll.
B2B landing pages wrap up
Are you convinced? B2B doesn't have to be boring or stale. There are more and more B2B companies breaking the norm.
It doesn't matter how "boring" your company may seem. Today we've seen examples from, saas brands like e-signature software, to health insurance to data security that are slaying the landing page game.
No matter your business' industry, size, or background, follow the best practices (opens in a new tab) and you'll see conversion rates higher than you've ever seen before. Take these examples to your higher ups and let them know that the game has changed. Challenge the mundane.
If you're not already inspired by these B2B marketing (opens in a new tab) examples, check out the top performing landing pages (opens in a new tab) we've created for our clients or get tips from the Conversion Rate Optimization (CRO) experts (opens in a new tab) on how to get more conversions on your landing pages.
Most importantly, show us what you come up with or please share any fun ones that you've come across in the comments below.