Not that I'm into men or anything. But this is pretty sweet. (image source)
Google just announced that the AdWords enhanced sitelinks are now allowed to take up more space on the SERP with two additional description lines!
This is what they look like:
And you create them within the same function as creating or editing current sitelinks: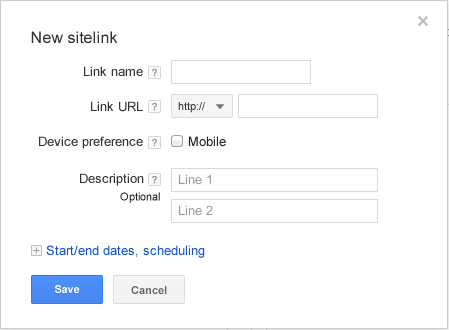 As you can see, the new AdWords enhanced sitelinks are a clear push for the paid listings to take up more space than they've done before. 
It's kinda like not working out, and then WOAH! "I have a new sixpack (or four pack) of sitelinks."
We saw the new image extensions announced just two weeks ago, in which the #1 paid search spot will now be able to add images to their text ads. You can opt in for the beta here.
Google stated that throughout their testing, users exposed to the new ripped abs eh… sitelinks, saw higher relevancy, more usefulness, and higher click-through-rates.
While text ads on Google.com becoming increasingly competitive, it's important for potential buyers to be able to make better and more informed decisions prior to the click.
So does this mean that ads without the new AdWords enhanced sitelinks feature will see a drop in CTR compared to ads that do utilize them? My guess is yes. Simply because any improvement in real estate quite often translate into higher click-through-rates.
With the new AdWords enhanced sitelinks, potential visitors are now able to go directly and deeper into your site by clicking directly on the sitelink that seems most relevant to them.
And with this new functionality, you'll have two extra lines of description with 35 characters each! (As much as the description lines on regular text ads).
The policy for the new sitelinks are the same as before:
They can't violate the

duplicate sitelink terms.

New keyword insertion is allowed.

Sitelink text cannot be the same as other sitelink text within the same campaign/ad group.

The sitelinks will show up as twins or quadruplets.
It goes without saying that these new enhanced sitelinks are only available to advertisers who have upgraded their campaigns from legacy to enhanced.
So if you haven't already upgraded, consider this your opportunistic and wonderful wake up call that is played on the an xylophone.