Can Facebook marketing help you acquire more customers at scale?
Let's take a look at some stats:
Facebook is the biggest social network worldwide
It has roughly 2.8 billion monthly active users and has brought in around $27.2 billion in ad revenue
Facebook users spend an average of 19.5 hours using the platform every month
78% of American consumers have discovered retail products via Facebook
86% of U.S. marketers are using Facebook for advertising
So marketing on Facebook is worth every bit of your time and money.
Facebook isn't just a platform where your dad posts embarrassing comments on your pictures—it's also where audiences create meaningful connections with businesses.
In fact, Facebook should be the first—or one of the first—platform to use for your social media marketing campaigns. With a laser-focused Facebook marketing strategy (and preferably turning off your dad's comments), you'll have more leads, sales, and revenue.
In this KlientBoost guide, we'll explain Facebook marketing in more detail, along with some effective tips and tactics to help you maximize results.
What is Facebook marketing?
Facebook marketing makes it easier for businesses to reach and target current and potential customers through highly-targeted ad creatives and messages. Think of it as a catch-all term that offers different mediums to show off products and services on Facebook, such as:
Facebook Ads
Business Pages
Facebook Marketplace
Facebook Groups
Why does Facebook make sense for marketing?
The beauty of digital marketing is you can select from a diverse range of channels to communicate with your audience: social media, messengers, emails, SMS, search engines, among others. But Facebook clearly stands out for a myriad of reasons:
Offers global coverage to over 2.5 billion users daily
Lets you tailor your promotions to a specific audience based on gender, age, interest, location, jobs—or any demographical or behavioral data users willingly share with the platform
Makes organic reach possible by sharing materials that bring value to your target audience, allowing you to build relationships organically
Integrates with other marketing channels, including email marketing, search engine marketing, Facebook messenger ads, and mobile marketing, to increase your brand outreach
Facebook marketing—when used smartly—opens up many opportunities that can help you achieve your marketing objectives.
Benefits of Facebook marketing for your brand
Let's dive deeper into the advantages of using Facebook in your marketing strategy.
Boosted "high-quality" website traffic
Facebook lets you drive your target audience directly to your website. But the biggest advantage here is these people are likely higher-quality leads than users who land organically on your website.
Why? Because your Facebook audience already knows your company and has a genuine interest in trying out your product or service. Facebook also generates a full-size image of your web page (if it has one) that can help attract more attention.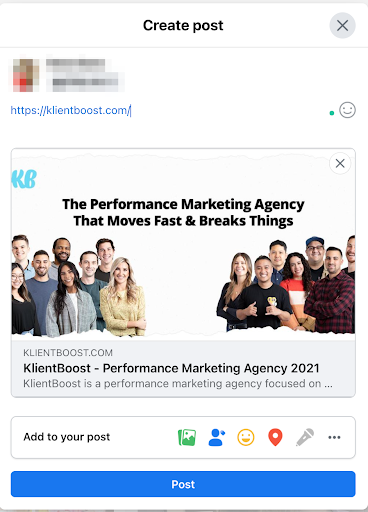 Precise targeting
With Facebook, you can deeply segment your audience. But it doesn't end there: you can take an even closer look at the broad targeting categories.
For example, within demographic targeting, you can select an audience with a specific income, relationship status, education level, or job. You can set up your Facebook marketing campaigns to look for customers after considering their precise interests (their preferred hobbies, shopping habits, hobbies), as well as purchase behaviors, device usage, and intent.
Customer support
Phone calls are a thing of the past. People today prefer connecting with brands through social media. You can create a chatbot for Facebook Messenger to communicate with customers using popular queries (keywords). This can include "price," "payment options," "purchase," or "delivery."
That said, you'll still have to develop a scenario-based on user FAQs and write the answers. Your chatbot can then imitate real conversations, automating routine tasks and giving your support team ample time to focus on complicated issues.
Ad format variety
You can showcase your products from the best angles since Facebook supports a variety of ad formats. You can use both text and visual formats—whatever works best to boost your product—as well as produce stories, make carousels and slideshows, or link products to the corresponding pages. We'll discuss this in more detail later in the article.
Greater SEO appeal
There is a popular opinion that the shares, comments, and likes you get on social media influence search rankings.
Google sees greater social media engagement as genuine interest among people and prioritizes such content over others. Although there's no exact proof backing this claim, we shouldn't be quick to dismiss it either.
First things first: you'll need a Facebook page
Before you start devising Facebook advertising strategies, you'll have to set up a Facebook business page.
A Facebook business page is necessary to create content, share contact information, build a product catalog, link to your website, communicate with current and potential customers… basically, a lot of important things.
If you have a busy schedule and a limited budget, you'll be happy to know it's absolutely free and hardly takes a few minutes. But if you have some extra money, you can also use paid marketing strategies like Facebook ads and sponsored posts.
Here's how you set up a Facebook business page:
Make sure you're logged in to your personal account
Head over to facebook.com/pages/create. Don't worry, your personal information won't appear on your business page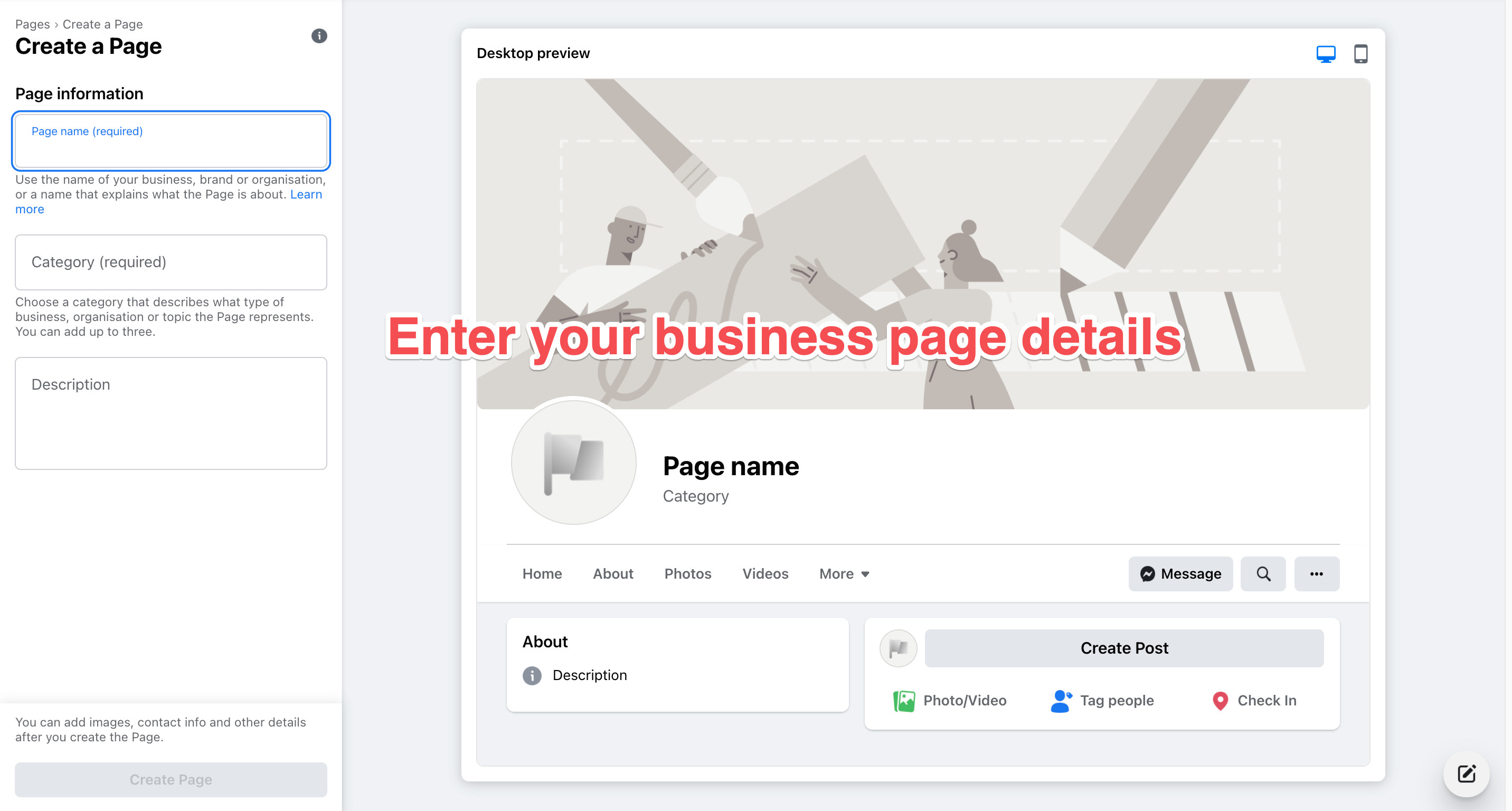 Select the type of Facebook page you want: business/brand or community/public figure
Type in your business details
Upload your profile picture and cover photo
Click on Edit Page Info, and fill in your business description, contact information, and other relevant details
Click on Create Page @Username to create your vanity URL to make it easier for people to find you on Facebook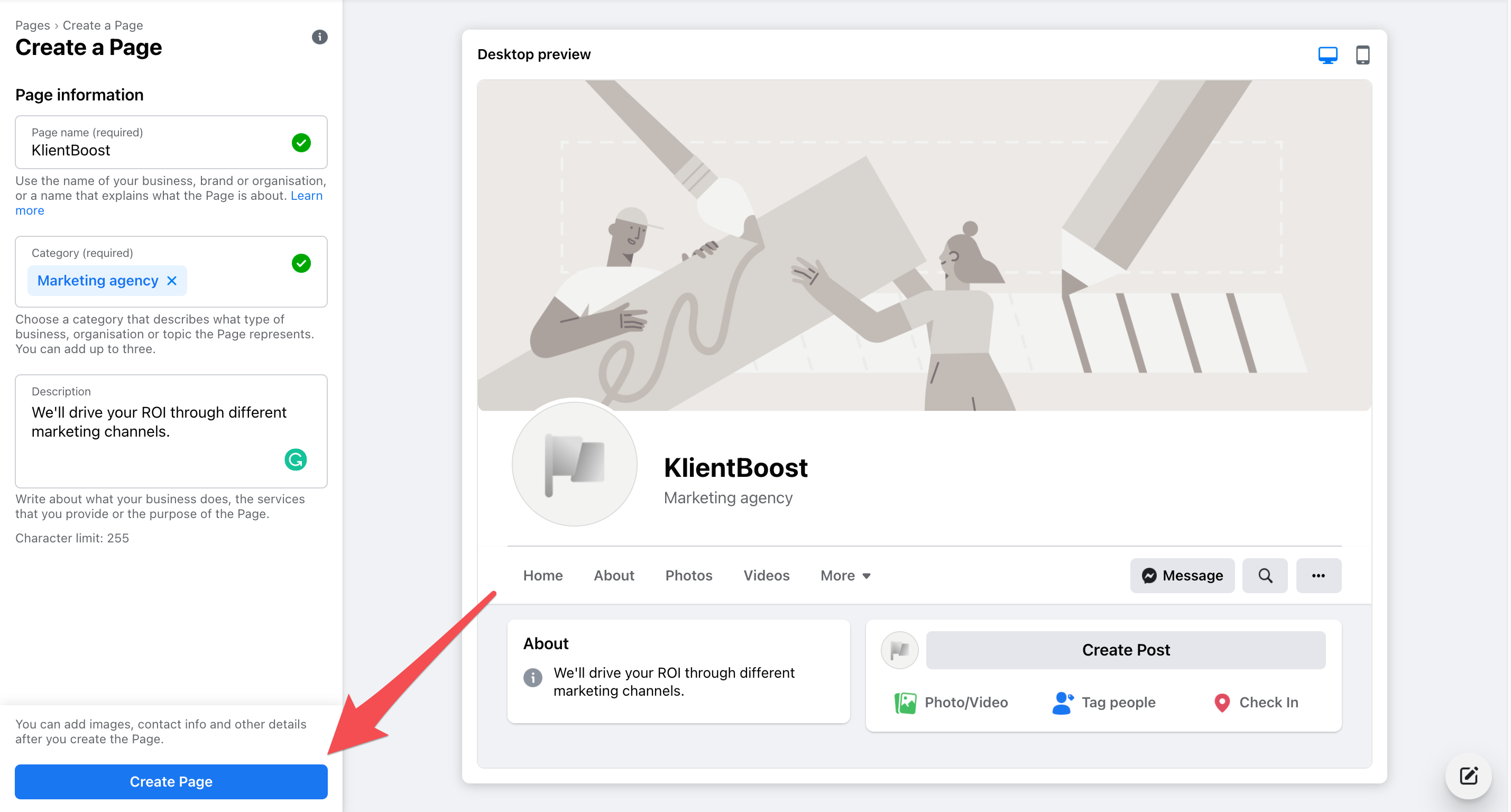 Select Add a Button under your cover photo to set up a call to action. We recommend sticking to tried-and-tested CTAs like "Contact Us" or "Shop"
Congratulations, you now have your brand-new Facebook business page ready.
In case you want more detailed help, you can see our full tutorial on how to create a Facebook business page to run ads here.
Facebook algorithm: the unpredictable yet very critical aspect of Facebook
There was a time when Facebook displayed posts in News Feeds in a reverse-chronological order, where the most recent posts appeared at the very top. But as more businesses and people started joining and posting on the platform, it became harder for users to go through every single post.
So Facebook decided to come up with a solution that made the lives of marketers slightly more difficult: the Facebook algorithm.
The Facebook algorithm is a unique system that determines how the posts will appear on a user's News Feed. The algorithm uses various factors to decide how relevant a post or ad might be to each user and then accordingly shows them the most relevant ads at the top of their News Feed.
The only catch? The Facebook algorithm is hard to predict and always changing, making it hard to keep up. As a result, not everyone who likes your Facebook page will see all your posts. In fact, your Facebook page might probably be reaching out to 5% (or lower) of your Facebook fans.
When developing Facebook marketing strategies, your top priority should be to post content that your target audience cares about and willingly interacts with.
The different types of Facebook posts
At this stage, you have a Facebook page set up. Now let's review the different types of Facebook posts you can use to create content.
Facebook status post
Facebook status posts are all text. No photos, videos, or links. Only words.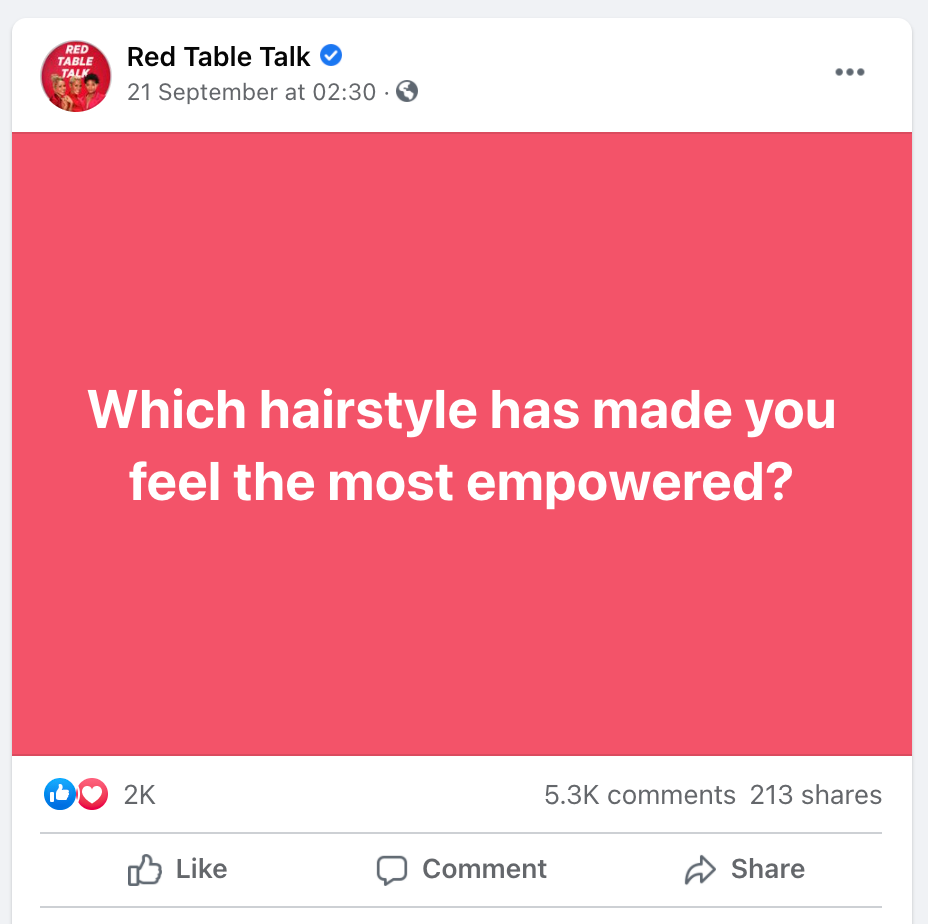 Status posts are great for sparking conversation. You can ask a question or feedback to connect with your audience. But if your goal is to drive traffic to your website or boost sales, these posts won't cut it.
You see, the Facebook algorithm doesn't like these direct, boring posts and limits their reach in the news feed. We only recommend status posts for sharing important information, like about your opening hours or ticket availability.
Facebook photo post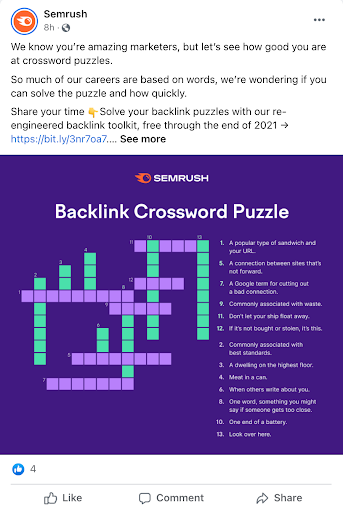 Adding a relevant and eye-catching photo (think an illustration or infographic) to your status post will immediately boost your engagement, making it more likely to catch a potential customer's attention.
Facebook video post
If there's anything more engaging than Facebook photo posts, it's Facebook video posts.
Your videos can be short and sweet or long and artfully short with a narrative—whatever you think would appeal best to your target audience. For instance, many brands use explainer videos to educate the viewer about their products or services.
The video starts playing automatically in the news feed, catching the user's attention faster. Moreover, people tend to react, comment, and share videos more, which further boosts engagement rates.
Linked content post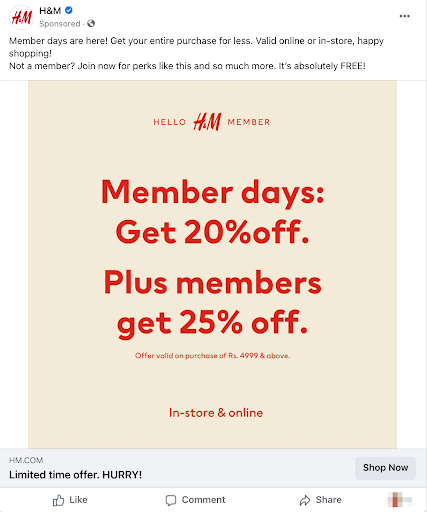 Linked posts share a URL with your followers. You simply paste a link into the composition box, and a preview of the website will pop up automatically on the user's screen.
If you decide to use this post, make sure your web image and meta description are compelling and enticing so the user clicks on it right away. You don't have to link to your website always, though. You can share content from other sources, such as an interesting thought leadership piece about the industry or a tips and tricks guide.
Be sure to add a few words of your own to the post before you click 'Publish' to give your readers a takeaway or some context about the post.
Facebook Live video post
If pre-recorded videos aren't your thing, you can try dabbling with Facebook Live.
Facebook Live video is a live broadcast that streams directly on your Facebook page. It lets you connect with your followers intimately and authentically. You can use it for conducting Q&As, product demos, or behind-the-scenes tours.
Even Facebook users love watching Facebook Live videos. Case in point: In 2020, Facebook Live viewership increased by 50%.
Facebook stories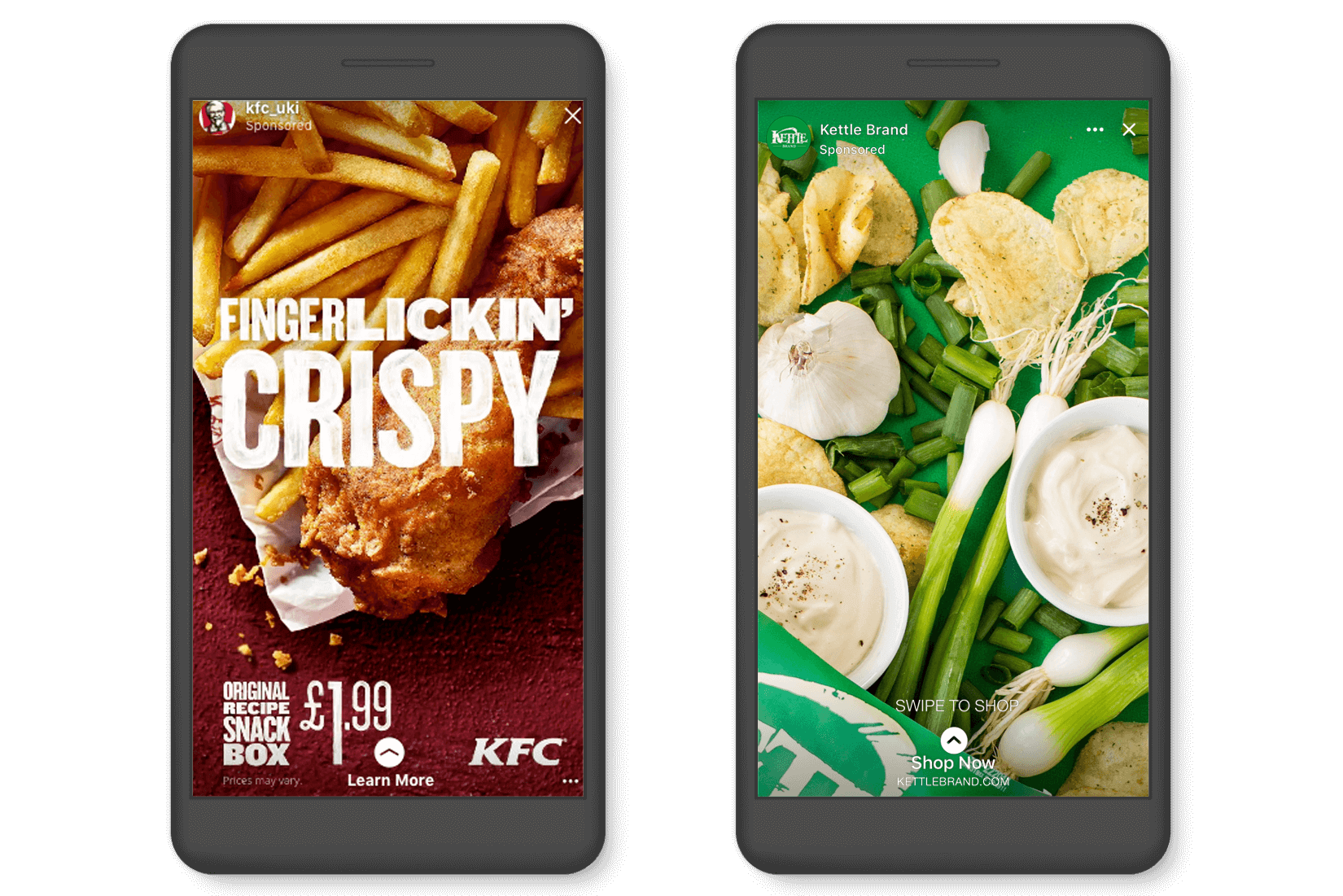 Facebook stories are basically Instagram stories that are either photos or short video posts presented in the vertical format that disappear after 24 hours. While photos only last for five seconds, your videos can be up to 20 seconds long.
The best thing about Facebook stories is they're placed right at the top of the news feed, meaning they are immune to the unpredictable Facebook algorithm. Easy to see why more than half a billion people view Facebook stories daily.
Yes, billion.
Pinned post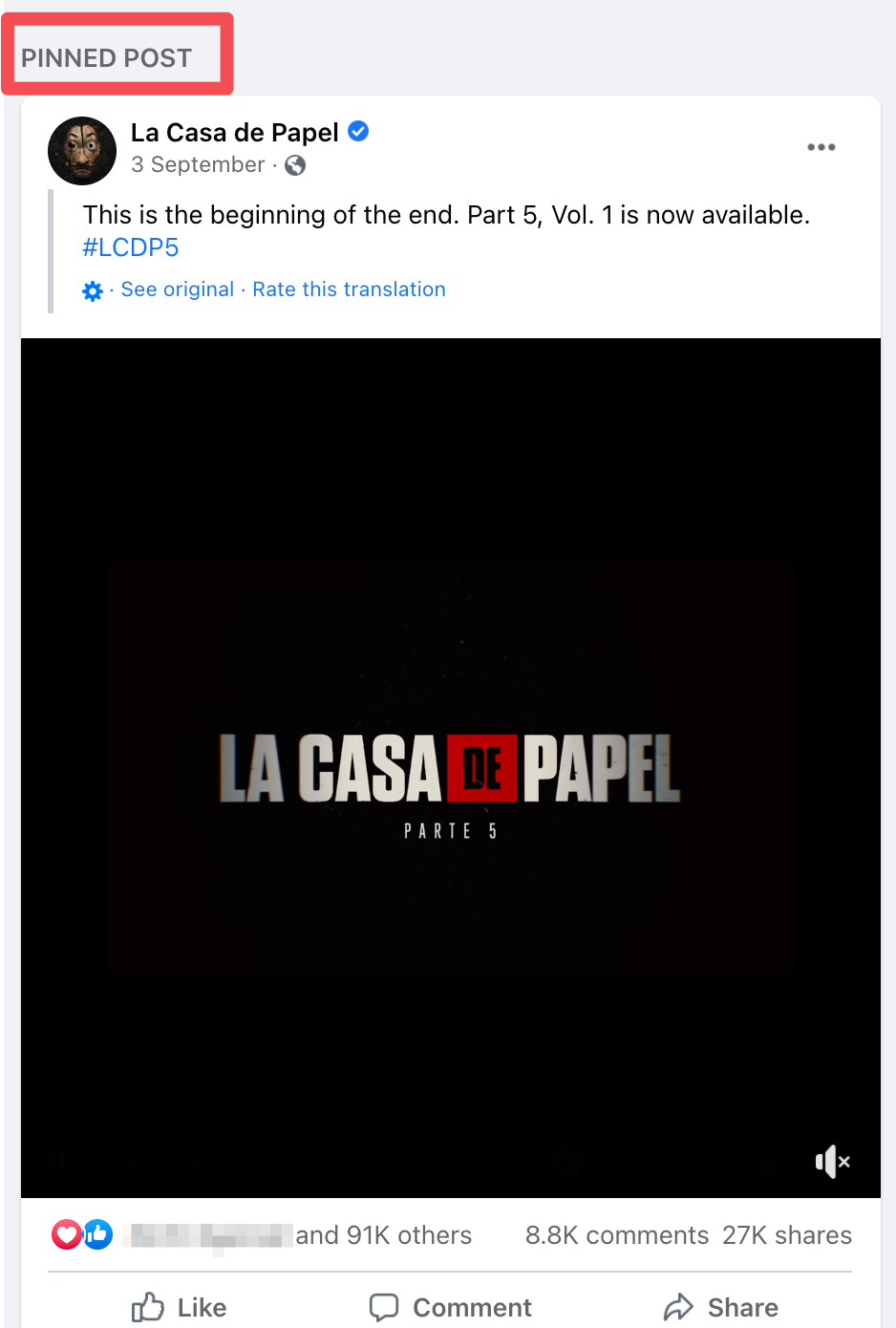 A pinned post is any regular Facebook post that is "pinned" at the top of your Facebook page, making it the very first thing people see when they visit your page.
After you've created a post—whether it's a text post, video post, or a poll—click on the three dots on the right-hand corner. You'll see the option to 'Pin Post.' You can tell whenever a post is pinned because it'll literally say 'Pinned Post' above it.
Facebook watch party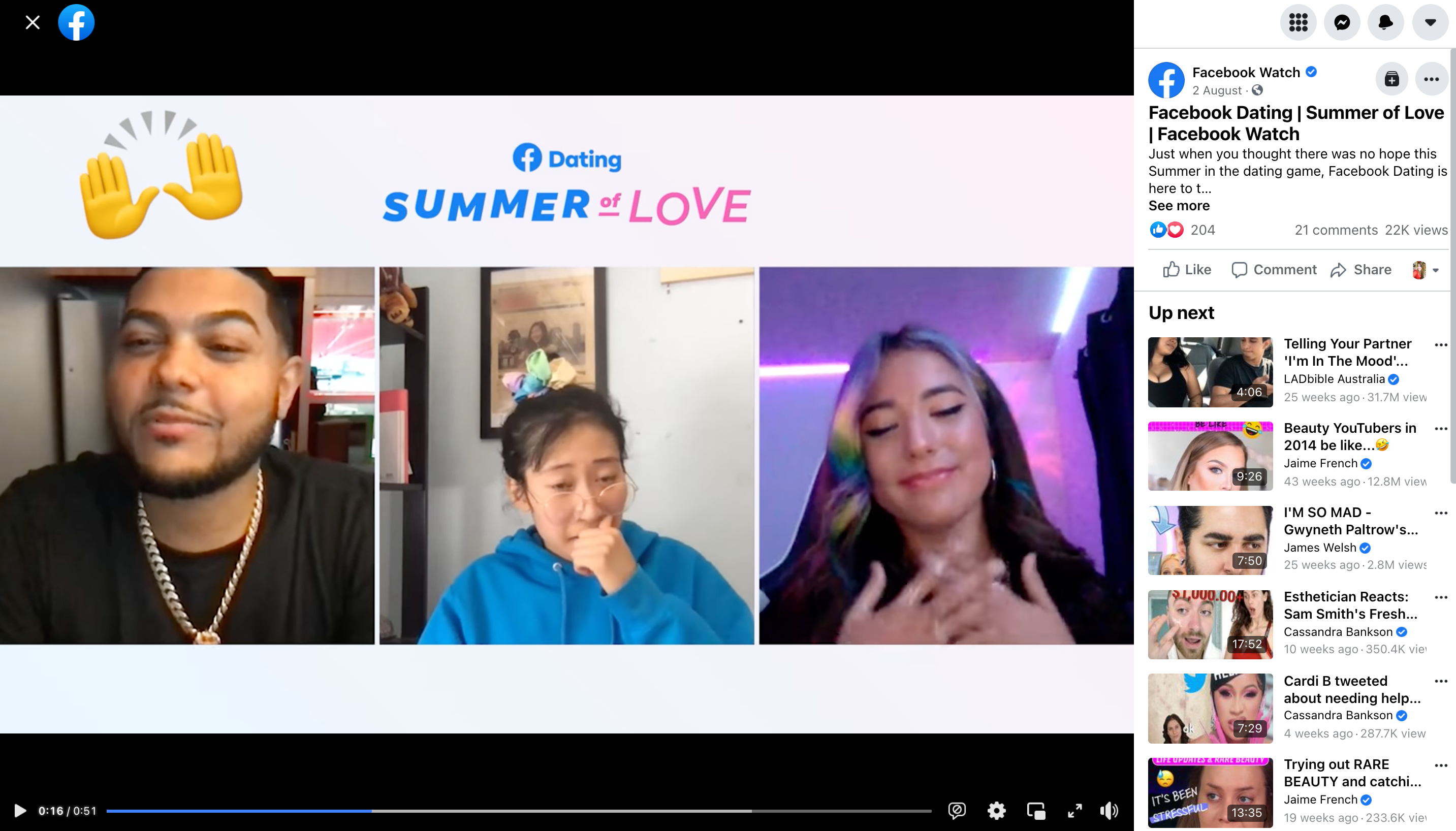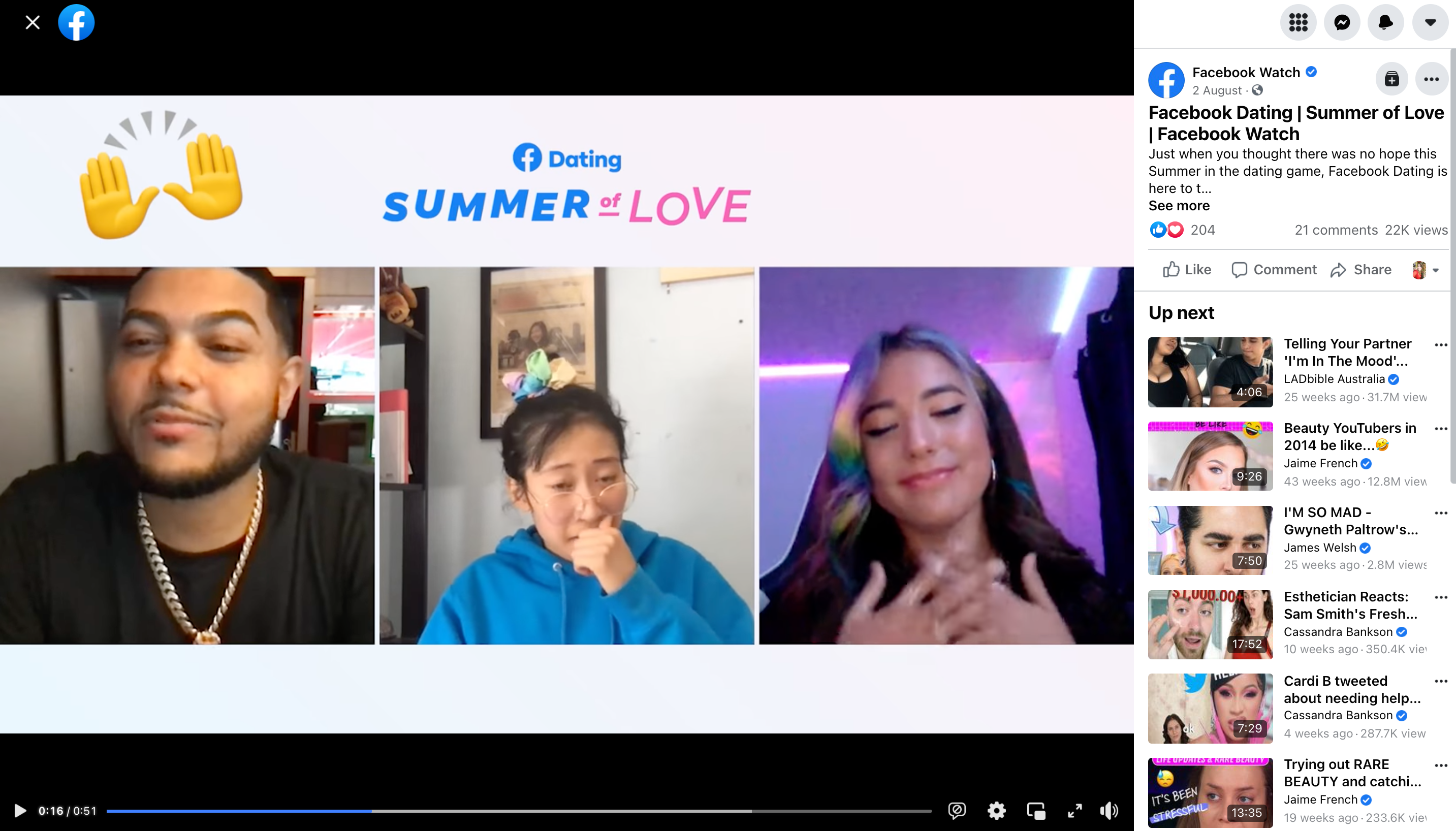 Watch parties are a fun and interactive way to experience a public video screening in real-time together with your fans and followers. Many brands use this type of post to build buzz for a new product launch or a world premiere of a music video.
Watch parties don't have to be complicated too. You can make a standard video and turn it into an event.
How to choose the perfect type of Facebook post
Typically, you should consider your social media strategy and goals when deciding what style of posts to make. But it's a process that requires some experimenting.
Each Facebook post type has its own benefits and sparks engagement in different ways. You have to try out different combinations, and keep an eye on your analytics to understand what's clicking with your audience and what isn't.
Posting content that's already performing well on other channels is always a good starting point. For instance, if you have an Instagram post that's got several hundred likes, share it on Facebook as well.
Also, don't forget to look at what your competition is doing. Keep track of what people are saying about their marketing efforts. Observing is learning, after all.
How to create a successful Facebook marketing strategy
Finally, to the fun part.
The key to a successful Facebook marketing strategy is understanding what and when to post. Below, we'll show you a step-by-step rundown of how to create an effective Facebook marketing strategy that catches your audience's attention and drives them to take immediate action.
Heads Up: Some of these steps may get a little elaborate. But successful marketing does take a little sweat sometimes. Let's work it.
Step 1: Identify and define your target audience
To connect with your audience effectively and gain their trust, you have to understand who you're talking to. You must know important stuff like their pain points, things they like to see, things they don't, etc.
Answer the questions below to know who your target audience is:
What is the average age range of your target audience?
Where do they live?
What kind of jobs do they have?
How much money do they have to spare?
What are their unique challenges?
How and when do they use Facebook?
Answering these questions correctly will help you understand the general demographic of your Facebook users—who is using the platform and how does that connect to your target audience.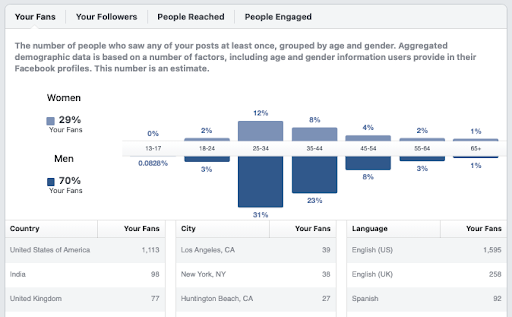 You can also use Facebook's free, in-built Audience Insights tool to dive deeper into the nitty-gritty details about your prospective customers. This includes their:
Page Likes
Age
Gender
Top Cities and Countries
Location
Interests
Don't try to rush this step. You need a clear idea of who you're trying to reach to create content that can effectively reach them.
Step 2: Decide your marketing goals
Think about what success looks like for your brand? And no, we don't mean the number of likes or shares you want.
Your Facebook marketing goals should be tied to your business objectives. Each goal should focus on actions that impact your bottom line, such as increasing conversions on your website, generating more high-quality leads, improving customer service, and so on.
After deciding your goals, map out specific, measurable ways to get there. We highly recommend using popular goal-setting frameworks like SMART goals.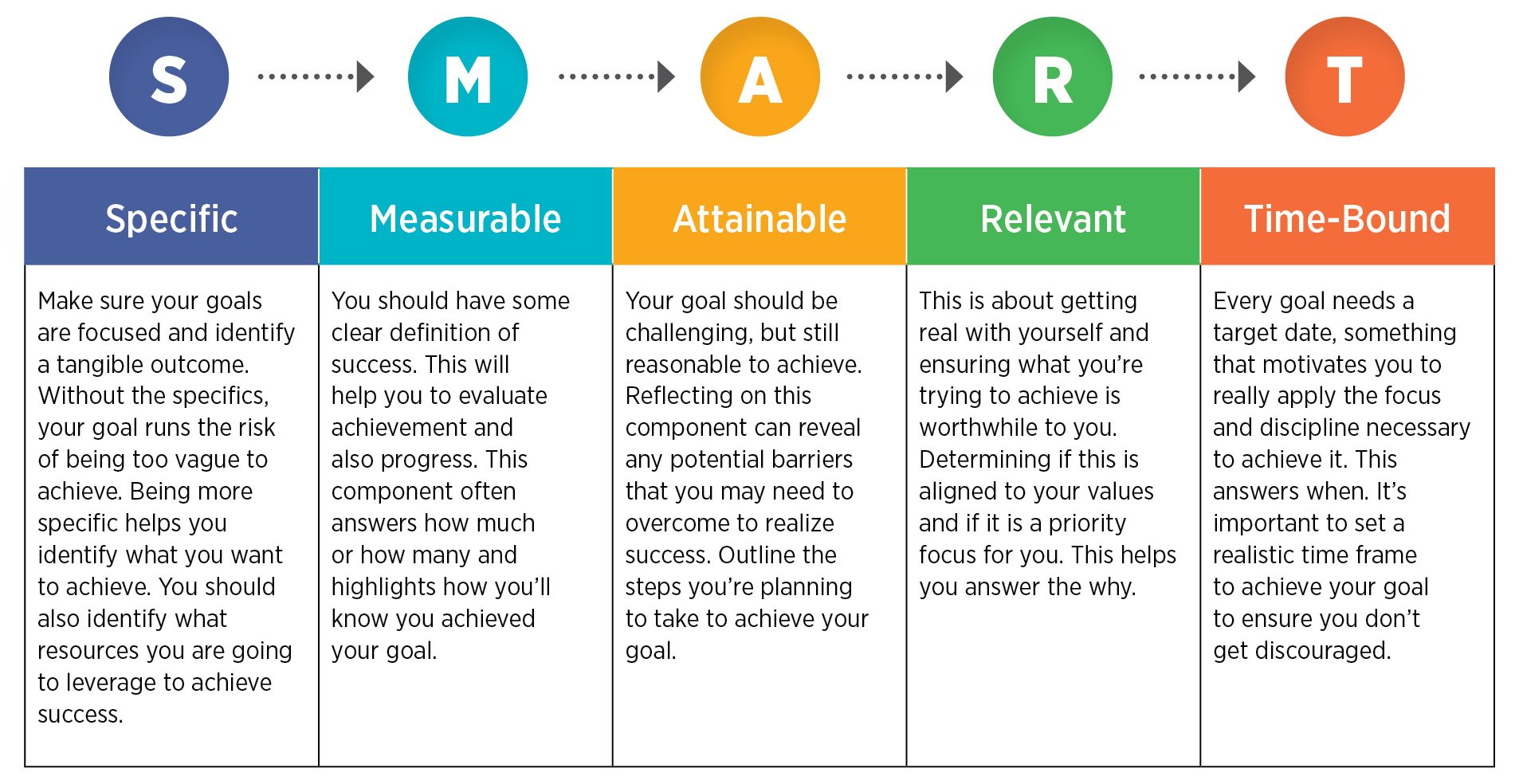 Remember, every ad, post, or comment you make on Facebook should ultimately service your goals. Consider creating a Facebook mission statement or a style guide to create a consistent look, feel, and voice for all your content.
Step 3: Plan your content mix
At this stage, you know your target audience and your goals. Now it's time to plan your content.
Planning a good content strategy involves trial and error, but your main motive is to offer content that balances promotional material with value. Your content should provide value and help you build relationships with your target customers.
A good rule of thumb is to swap vanity for value.
We recommend using the "80-20" rule, where 80% of your posts should be informative, educational, and entertaining, and 20% should focus on brand promotion. Basically, your posts shouldn't all talk about how amazing your company and your products or services are. Toot your own trumpet, but space it out.
Alternatively, you can use the social media rule of thirds.
Under this school of thought, one-third of your content should share ideas and stories, one-third should involve personal interactions with your followers, and the remaining one-third should promote your business.
Create a content mix that your audience enjoys regularly. This will ultimately make them more open-minded towards hearing about your products and services. Even Facebook punishes brands that are too "salesy." The algorithm prefers meaningful and engaging content over too much self-promotion.
Step 4: Figure out the best time to post your content
Take a look at Page Insights to determine when your target audience engages most with your content. Or you can use Sprout Social's findings to set up your posting schedule according to which:
Wednesday, between 11 AM and 1 PM is the best time to post content
The best day to post content is Wednesday
Posting on weekdays from 9 AM to 3 PM ensures the most consistent engagement
Sunday sees the least amount of engagement, making it the worst day to post content
Posting content early morning and between 7 AM and after 5 PM every day brings the lowest engagement
After deciding your content mix, create a content calendar to keep your frequency organized. Be sure to post consistently if you want results.
Step 5: Optimize your Facebook page for greater engagement
If you want to achieve your Facebook marketing goals, you need to take care of two things:
Get people to your Facebook business page
Compel them to interact and engage with your content once we get there
An excellent way to drive traffic to your Facebook page is through cross-promotion.
For instance, you can drive people already interacting with you on other social media platforms to your Facebook page. A good tip here would be to link to your page in your email signature and newsletter. You can also add the page link to your company's Instagram and Twitter bios or incorporate Facebook Like and Share buttons on your website or blog.
As for getting more views, likes, and followers, you'll need to make your content more shareable. Responsiveness can also be a real game-changer here. Reply to every message and comment, update content, and answer questions, among other things to engage with your followers.
Step 6: Use other Facebook tools and features to boost engagement
With Facebook, you can go beyond posts and comments. The platform offers many ways to engage with customers.
Facebook Groups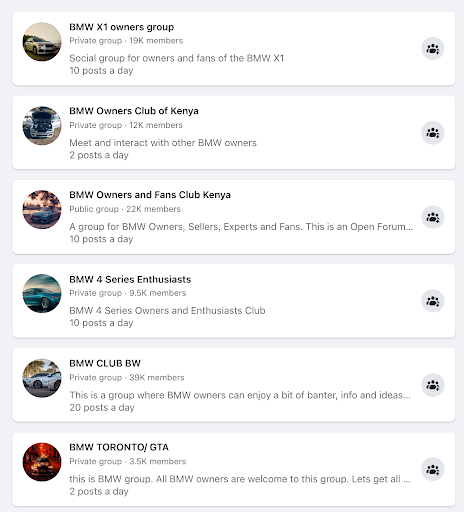 Facebook groups are digital spaces for people to share information and ideas, and hopefully, a shared passion for your offerings.
You can use these to showcase your expertise and provide value to your loyal customers, with bonus content or exclusive deals that are just for "members." Many brands use Facebook groups to drive engagement, build trust, and secure loyalty.
Facebook Business Manager
According to Facebook, the Facebook business manager tool is "a one-stop-shop to manage business tools, business assets, and imply access to these assets."
It lets you manage your organic and paid Facebook posts—all from a single dashboard. You can work effectively with team members and outside contractors and agencies without having to give up control.
To understand how to get started with the tool in more detail, be sure to check out our Facebook Business Manager guide.
Facebook Messenger Bot
Facebook users exchange over 20 billion messages with businesses through Messenger every month.
Now, 20 billion is a massive number, and not using it will result in you missing out on some major sales opportunities.
But just setting up Facebook Messenger isn't going to cut it. You also have to be prompt and responsive to customer messages. In fact, Facebook found users expect businesses to respond almost immediately. No pressure, right?
Luckily, there's a super effective solution to this problem: Chatbots. These automated response tools can help you reply promptly to interested customers. What's more, these are super easy to set up. Here's a detailed guide to set up and customize your very own chatbot on Facebook.
Step 7: Leverage the power of Facebook ads and Facebook pixel
Here's a shocker: most pages reach about 6% of their total fans—even less on certain occasions.
Not everything you post on your Facebook page will reach your followers because the Facebook algorithm prioritizes posts from friends and family. So your content will need a little boost in the form of Facebook ads from time to time.
Similar to traditional advertising, Facebook ads are content you pay to share with a specific, targeted audience. They help you to get your brand out in front of the right people while simultaneously building brand awareness, traffic, and engagement.
If paid campaigns don't fit your budget right now, you can use the free Facebook pixel tool.
Facebook pixel is a simple piece of code that you place on your website. It lets you:
Create highly targeted custom audiences for future Facebook ad campaigns
Track conversions taking place through Facebook
Remarket your product or service to people who have already visited your website
Facebook pixel starts working immediately after you place it on your website. Whenever you're ready to advertise, you'll have powerful information and insights available at your fingertips.
Using our seven-step guide will surely set you up for success. But creating a highly effective Facebook marketing strategy is only half the battle—you'll also need to know whether your efforts are paying off and if your strategy needs a bit of tweaking.
Measure the success of your Facebook marketing strategy with Facebook analytics
Facebook marketing isn't a set-it-and-forget-it situation. It needs to be up-to-date with the latest trends and, therefore, needs regular maintenance.
Through tracking and measuring, you can understand what's working for your campaigns and what isn't. It'll give you access to valuable insights that can help you implement the necessary tweaks and changes to make your marketing campaigns even more successful.
How you ask? Facebook Insights.
Facebook Page Insights is an excellent tool to track Facebook audience engagement. It lets you monitor useful metrics, such as:
Page views and page likes
Followers
Ads
Reach
Actions on page
Post
Branded content
Events
Videos
Stories
People
Messages
API
Post details
Facebook reactions
You can determine which type of posts resonate best with your audience, as well as whether your current content mix is working.
Facebook marketing recap
So that's it—that's all you need to know to create and implement engaging and successful Facebook marketing campaigns.
If you don't want all those brainstorming and strategizing to go to waste, you'll have to keep track of analytics. A good starting point is to set up Facebook Pixel to optimize your marketing activities and improve your connection with your audience.
Trust us, even the seemingly small tweaks can make the world of a difference when it comes to Facebook marketing.