Why should you bother with B2B Marketing?
This one's easy to answer: The B2B market in the US will grow 10% every year until it topples $1.8 trillion by 2023.
Next question.
But seriously, even if that figure wasn't so gosh-darned enormous, you would give B2B marketing the time of day because businesses out there need what your business sells.
Without a solid online marketing strategy, all those customers you could gain won't even know you exist.
All those delightful dollars will go to your competitors as your company slides down that ugly slope toward sub-mediocre because your marketing engine doesn't work.
Working for a sub-mediocre company feels like sleeping in the same clothes you wore yesterday, waking up frumpy, and standing pantsless in the kitchen filtering your coffee through paper towels.
Designing a brilliant B2B Marketing strategy keeps your clothes and your coffee professionally pressed.
It's time to get your sh*t together, put some fuel in the B2B marketing engine, garner some serious praise, and grab a tidy promotion.
Your peers will look to you for guidance, and you'll bask in that sunshiny self-actualization aboard your brand new yacht anchored in Bora Bora.
Snap.
The underlay of that daydream starts with your marketing plan.
Stick with me and you'll understand what B2B marketing is, how it works, and how it's different from B2C marketing. We'll look at examples, plan your marketing channels, break down best practices, balance content creativity with budget, and end everything with a handy checklist.
Get brand new marketing strategies straight to your inbox. 23,739 people already are!
What is B2B marketing?
B2B stands for Business-to-Business marketing and it's a strategy that covers everything you do to get other businesses to buy from your business. It's how your business promotes itself to sell stuff to other companies that need your stuff.
When your B2B marketing strategy works, your target businesses will know two things:
You exist
Your product has the most value for their ROI
B2B marketing is one full half of the digital marketing world today.
B2B is not B2C
The other half of digital marketing is called B2C marketing (Business-to-Consumers), and that's when businesses promote their goods directly to individual shoppers (without using a go-between).
Amazon is the penultimate platform B2C businesses use to promote their products to purchasers (consumers). If that's what your company does, you're in the wrong article; pop over to our B2C post and learn how to perfectly prune your marketing team's plan to get people (not businesses) to buy your stuff.
Not sure? Take a look at these B2B marketing examples:
B2B marketing examples (businesses that sell to other businesses)
SaaS companies (Software as a Service):
Businesses need software for everything today:
Paperless workflow software that tracks business processes (BPO) from the mailroom to accounting (like Application Xtender)
Customer Relationship Management (CRM) software (like Salesforce)
Social media scheduling (like Buffer)
Team collaboration apps (like Slack)
Project Management tools (like Asana)
If you sell enterprise software, your customers are businesses.
Marketing Agencies
So weird, right? We're a marketing agency talking about marketing using ourselves as an example of a business that sells services to other businesses. Shoulder shrug 🤷‍♀️
Marketing agencies make other companies money by taking their brands online and showing them off.
From startups to business goliaths, marketing agencies improve landing pages, increase conversion rates, boost search rankings, and get more new customers and clients into buyer journey funnels. 
There are minimum retainers involved that aren't generally affordable by individual consumers. The strategy is long-term, and the decision to fork over cash to get your company in front of more customers is based on due diligence, cost-benefit and comparative analyses, and expected ROI.
B2B businesses ultimately sell to people
Buhhhht what? Didn't we just say that businesses selling to people is called B2C?
Yes.
Don't confuse the different types of people.
Businesses don't buy from businesses.
People in buyer positions buy from people in sales positions.
B2B marketing targets purchasers who buy on behalf of their business (they don't buy a B2B product or service for themselves).
That makes the business the customer.
B2B customers look at
their company's needs
their potential ROI
your level of industry expertise
your reputation
Business buyers are driven by profit margins. They evaluate purchase decisions based on
logic
informative content
long-term solutions (which usually involve a longer B2B sales cycle and approval from decision-makers)
ongoing business-to-business relationships
B2C customers, on the other hand, look for deals, coupons, and fun incentives. They are more likely to make purchases on a whim (because they don't need approval) and suffer buyer's remorse from emotional buys. Cost is lower, and buying is quick and easy—it's easier to buy a t-shirt than a SaaS solution.
Keep that in mind when you design your B2B marketing strategy (we're getting to that).
Before we get to that, let's figure out how it works.
How B2B marketing works
As a B2B marketer, your target audience will be business execs and procurement officers. The marketing process is complex, the price tag is high, and the graphs change month by month over years.
A big part of your strategy involves creating confidence in your target buyer's decision to pick you.
That confidence comes from covering all your bases, following best practices to drive the highest ROI, and getting intimate with your buyers' journey.
The buyer journey in a nutshell
Awareness
The buyer realizes they have a problem they need to fix. They start by labeling this problem and add some question marks they know they need to answer.
They don't know how to do that yet.
That's why, as a company that can solve that problem, you put some effort into getting seen by pumping out brand awareness marketing material (blogs, social media posts, etc.)
The buyer does some research online with a Google search and a social media search. As the marketer, you want to pop up on their screen because you've tailored your awareness-stage material to their buyer profile (their needs, industry, customer demographics, etc.).
You know their pain point and, when they google it, your website appears on page one of SERP (search engine results pages) with a killer meta description that sells your link.
Do that (along with targeted search ads and display ads), and the customer will check you out (click your link). This is where your content must speak their language, build some trust, and elevate your brand as a top contender.
Consideration stage
The buyer has clearly defined their problem and has investigated what companies out there can solve it. They've got a small list, and you're on it. They are considering you, which means they are comparing you to the competition.
This stage takes the longest time (as much as a few months to a year).
There's a lot of money on the line, and the decision must be a careful one. You know this, and that's why you've honed your lead-nurturing strategy.
Your social posts are spectacular, your testimonials are terrific, your webinars are wonderful, and your live events instill a sense of confidence in your expert ability.
This is typically when your sales team engages for detailed clarification—and this is when your case studies help make that sale.
Decision stage
The research legwork is done and it's time for the buyer to review options and decide on a winner.
Reach out with a free assessment, audit, consultation, demos, or free trial. Personalize the heck out of it and treat the buyer as the long-term customer who will add money to your piggybank year over year and drum up more business for you by referral because you continue to delight them beyond expectation.
Happy B2B customers become loyal brand ambassadors, product evangelists, and raving reviewers.
That's the buyer journey.
Now how do you do every step of it right so you're in their mind at the start and in their faces at the end?
What B2B best practices drive the highest ROI?
There are only two things you need to execute a brilliant B2B marketing strategy and turn prospects into purchasers:
The where (your communication channels)
The what (how you deliver your message)
Pick your marketing channels to reach your audience
Where do your potential customers hang out? Connect with them there. Are they offline (probably not so much anymore) or online (most likely)?
Channel #1: Social media + ads
Where are your target businesses active socially?
Facebook? LinkedIn? Twitter? YouTube?
Find that out so you can target them with ads.
But also figure that out because they'll look for you on their social media platform. HubSpot points out that 75% of B2B buyers and 84% of C-Level execs use social media to investigate businesses they're thinking of buying from.
If your target audience communicates heavily on Facebook, direct your dollars into some focussed B2B Facebook ads. If LinkedIn is where your customers engage… you got it: spend money on B2B LinkedIn ads.
Do you see them on more than one social channel? There's a good chance you do.
What about YouTube?
B2B video content is popular right now, and businesses are focussing on it. Consider getting on YouTube with quality video. You can reuse that video on your website and take snippets of that video to post on Instagram or Tiktok (if that's where your targets are).
Plan on a multichannel social media marketing approach and spread your budget around for max exposure.
And don't forget Google.
It's always a good idea to invest in a B2B Google Advertising pay-per-click ad campaign.
Next, ask yourself what happens when a prospect sees your stuff on social media. Hopefully, they click on it. Where do they go?
To your website.
Channel #2: Website
Your website is the face of your company.
It's where you educate (with your blogs), convince (with your testimonials and reviews), collect email addresses (with your amazing offers and downloadables), showcase your products and services (with demos), and sell your stuff.
After they've engaged in some way on your website and you've connected, switch gears and turn on your email efforts.
Channel #3: Email Marketing
Email marketing is crazy-effective. Don't knock it just because your kids do.
It has a bonkers-high ROI and is widely regarded as one of the best ways to sell your stuff.
That's why you work so hard on lead generation—so you can hit them up later with a nurture sequence loaded with special offers, new product announcements, and personalized messages that build your rapport and caretake your long-term relationship.
Now that you've figured out where to reach your audience (your channel), it's time to figure out your message.
Nail your message with B2B content marketing
The stakes are high in B2B. Stakeholders do their research just as you do yours.
Businesses looking for solutions want to know about every aspect of your product/service and your competitors' products and services before they pick the best one.
Your B2B marketing efforts prove your expertise, educate your customers, and inform the decision-makers who make the purchasing decision (usually after they've consulted with your account managers and sales reps).
But know this: Two-thirds of the buyer's journey is complete in the marketing stage before sales gets involved.
That's because the world is digital and information previously only available via direct contact is now readily available digitally.
Marketing is more important than ever, and sellers must wait to get a shot at influencing customer decisions.
Gartner underscores how B2B buyers do 83% of their own research, wading through the information that B2B marketing efforts provide before they meet with a narrowed list of potential suppliers.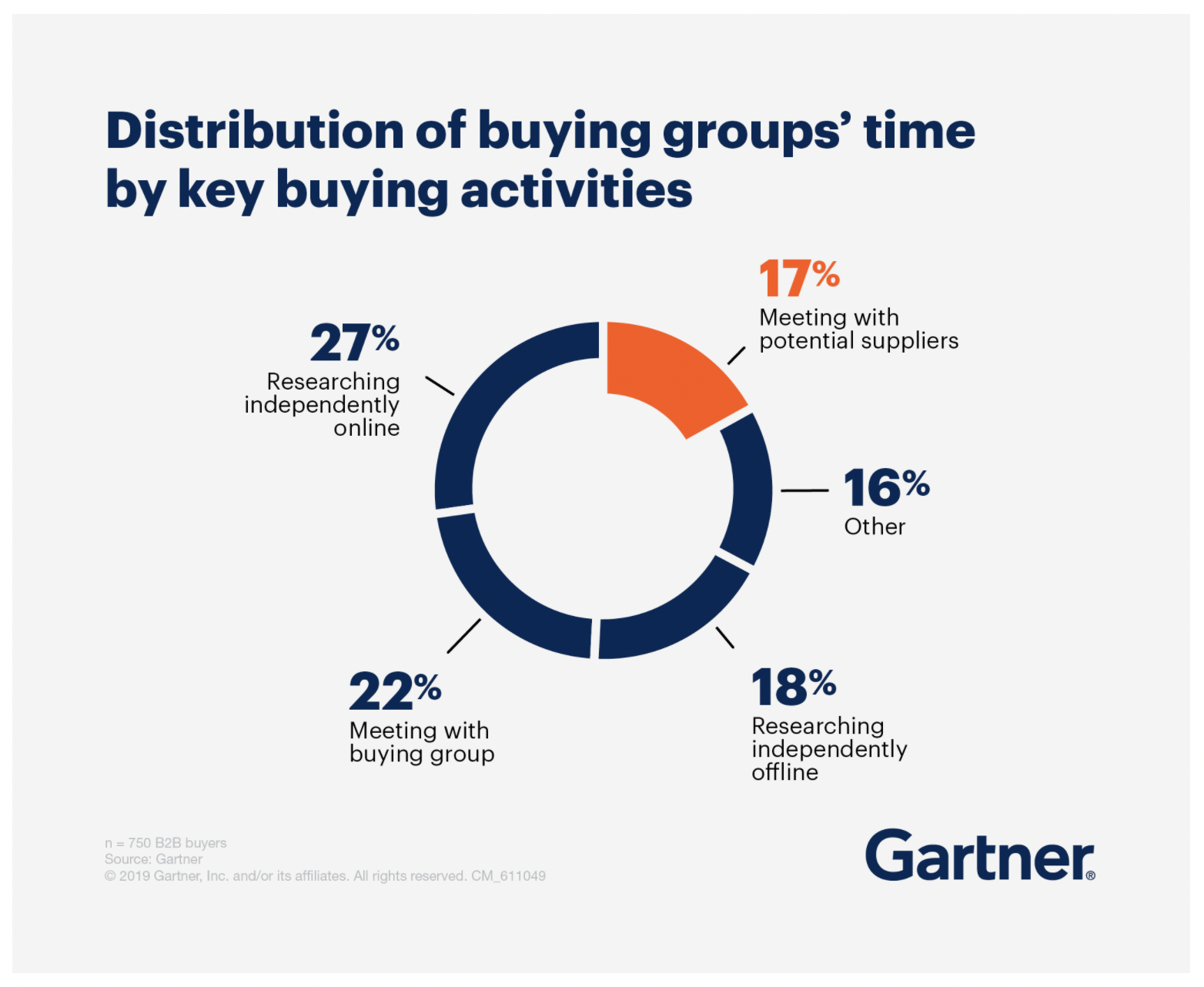 So how do you stand out and get picked?
By writing and designing compelling, persuasive content for your ads, and your website, and your emails.
That content addresses your prospects' challenges and paints a clear picture of how your business will improve their bottom line.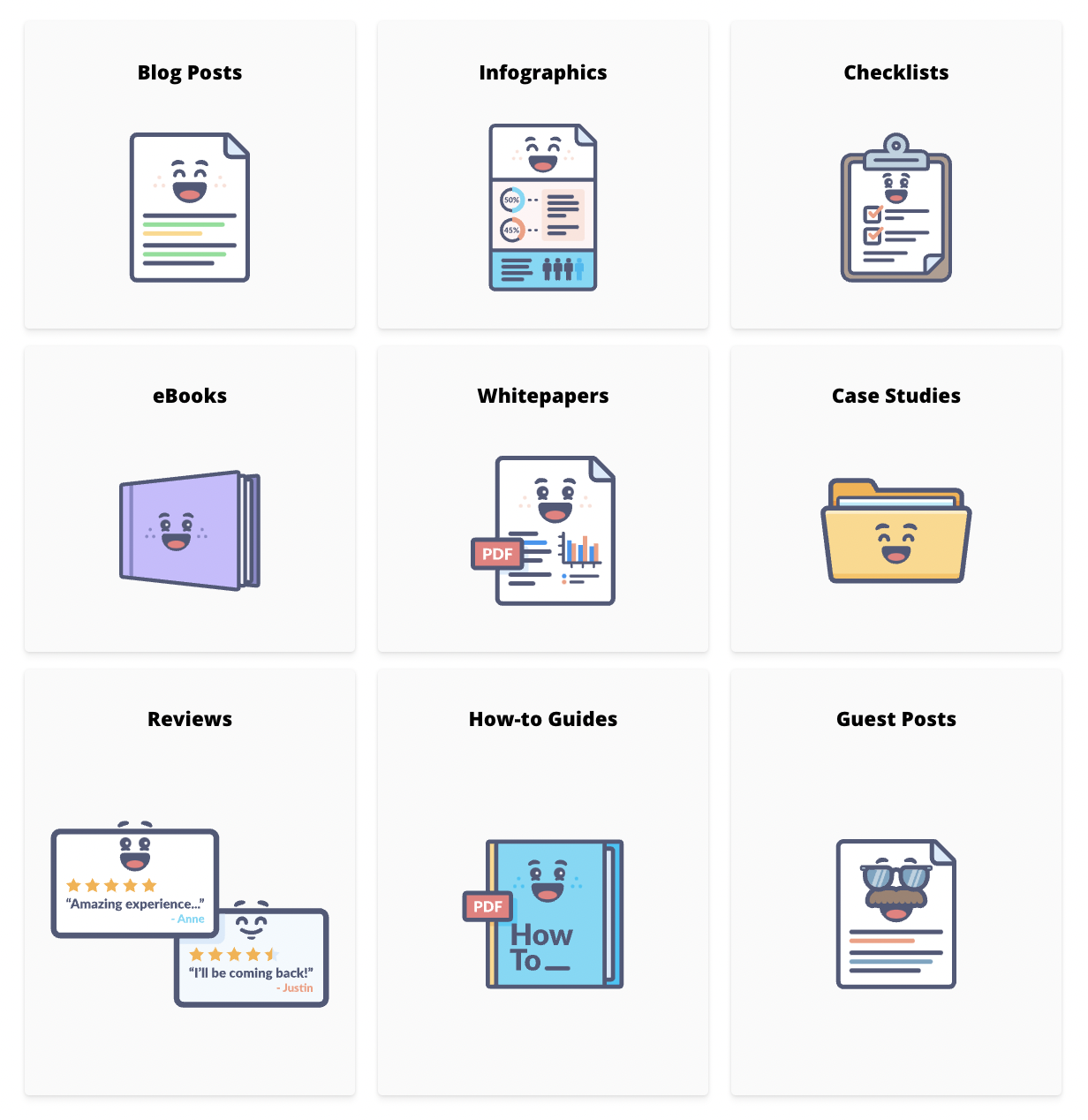 Content marketing is about interaction, not the hard sell.
It answers a question or makes things clearer for the researcher. It grows confidence in your ability as a brand to take care of their brand.
As you polish your persuasiveness, also pay attention to the appropriateness of platform and tone.
Don't post a funny tweet, for example, if none of your clients engage with your tweets. Maybe humor doesn't resonate with your particular prospects? Maybe Twitter isn't one of their social channels.
Focus on increasing the effectiveness of your messaging in the right places in the right way.
Whatever content type you produce, the entire purpose of your message is to get your customers to engage.
Here's why: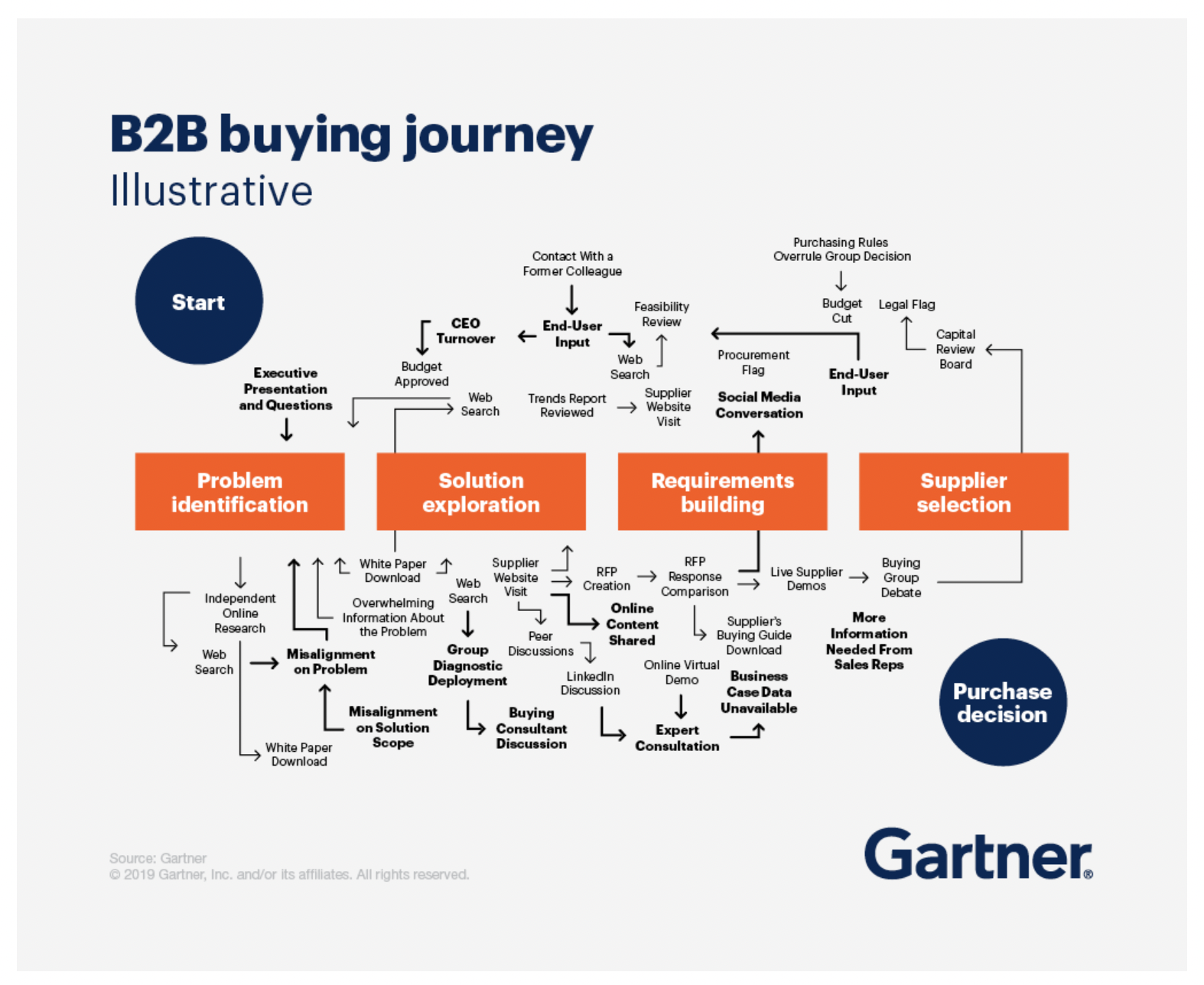 Buyers dig deep and spend time evaluating
what their problem is
the available solutions
and the supplier who best fits the bill
That means that you, the supplier, must put a lot of energy into designing content that makes it easy for the buyer to pick you.
This is the hard part.
It requires that you do 👏 your 👏 research 👏 to simplify the buyers' purchase process and address obstacles.
Brilliant B2B marketing strategies start with research
You can't hope to generate more leads, improve the quality of those leads, and bring in new business if you don't do your research in the super important pre-game.
As with so many things, the prep work determines the success of the end project.
Quickstart your research by asking these ten questions:
B2B strategy: creativity meets budget
You've pegged your channels, you've done your research, and now you're ready to roll.
Focus on your content marketing strategy.
This is where you map out how you'll market what you've got to businesses you've pinpointed need your stuff.
This means striking a balance between the creative side that makes you stand out from your competitors and the budget you have to get that creativity out there.
Types of content marketing
Blogs
Publish articles consistently to build credibility and educate potential customers (about their problem, the way to fix it, and why they should choose you to do that fixing).
eBooks
eBooks and white papers are a good way to communicate technical data on industry topics. They are also a proven way to get high-quality targeted leads into the top of your funnel.
Infographics
A picture is worth a thousand words when a thousand words are needed to describe something. Visual content puts everything in one spot and doesn't demand a lot from the user. It's a much-loved content type for social media because it tells a visual story quickly.
Podcasts
Speaking of patience, non-readers are good listeners. Podcasts are hugely popular because they play as you drive or workout or make lunch or check your emails. B2B marketers access a different audience with podcasts, extending their reach beyond their traditional audience.
Videos
Video adds a human face to B2B content. Where a humorous tweet may fall flat, a humorous message coming from the face of someone who represents a company you're starting to like might sail on video. Video says a lot in easy-to-digest chunks across many channels.
It gives you A LOT of room to get creative, too (if your budget lets you).
Be the best you can be in B2B
You're not the only business out there trying to win business from other businesses. What makes you different from all the other B2B companies out there you're competing against?
Why will your targets pick you?
That's what you need to answer in step one. Then you promote that answer using all the marketing tactics outlined above.
That process never ends.
Try something, test it, optimize it (or dump it), put more focus where results are positive and less emphasis where the graph dips down.
You're ready to run an effective B2B marketing campaign and measure your performance across all of your channels using a smorgasbord of content at every stage of the marketing funnel.
Let's summarize your B2B marketing checklist:
Speak to the buyer of the business you're targeting
Create content they'll appreciate
Decide where you'll put that content to get that appreciation (channels)
Put some money down on B2B ad campaigns
Measure your performance (metrics)
Optimize based on results
When you start out, you're simply trying to get your small piece of the pie. But, after a while, when your marketing efforts start to compound and the industry starts talking about you (you've gained brand ambassadors), you become a thought leader.
When that happens—when you run B2B marketing campaigns so well that you (and your company) become a respected influencer—watch out.
Ask for that promotion and start watching a different market for your yacht.