Whether you're in the field of SEO or SEM, or simply playing Words With Friends, a keyword research tool is a vital part in the strength of your online marketing and advertising efforts.
Everything on the web begins with a search. A query comprised of words that will place your beautiful site in front of eyes gleaming with curiosity.

The competition is tough. Like, American Gladiator tough. You have to get your potential customer from point A (search box) to point B (your site) without having them devoured by your competitors.

But it's all good. You'll soon discover some pretty great and new ideas for getting quality keywords that you can bank on. So first, let's look at the important ideas behind keyword research.

When you're selecting keywords, try to understand the persons intent behind that keyword. Stay away from single worded keywords, as those are sometimes very hard to gauge the intent of. Once you start having 2-worded keywords and continue to grow more long tail, the intent behind the searcher becomes more and more important and obvious.

"The shorter the keyword, the higher the potential impressions. The longer the keyword, the lower the potential impressions."

Longer tail keywords have a higher conversion rate likelihood than short tail. And this is simply due to the fact that as searchers begin with an idea, they start out very broad. They're in the research phase. They gather relevant information pertaining to their issue, and as time stretches, so do their keywords. Just picture that analogy in your mind right now.

Specificity increases and cycles are traveled through. The searcher begins to narrow down and focus on the topic at a more granular level, and longer tail keywords are now more prominent in your search query reports.
FreshKey – $20 (well worth the moolah)
You've heard of the Google Instant right? It's the auto suggestion feature that happens automatically once you start typing words into Google. Well FreshKey, a handy little piece of software, not only shows you related terms from the drop down, but it continues to pull data from beyond the regular top 5 related terms you see on Google.

Not only is this great for keyword research, but it also allows you get negative keywords that are popular among searchers.
Bing Ads Intelligence Tool
This tool allows you to gather keyword information based off the Yahoo! Bing Network. Some features that are listed directly from Bing Ads include:
Quickly and easily build out lists of suggested keywords and develop informed keyword strategies based on actual Bing and Yahoo! network data, including: relevance, volume, cost history, demographic and geographic.

Leverage actual historic and forecasted monthly queries to optimize your keyword campaigns based on what potential customers are actually doing, and spend more on what works and less on what doesn't.

Tailor your bidding strategy based on pricing data for keyword-specific metrics such as clicks, impressions, position, click-through rate and cost per click.

Leverage a growing collection of pre-designed Keyword Research Templates that take you straight to the data story you want to see.

Bonus Tip You can also extract keywords directly from competitor websites by logging into Bing Ads and clicking on "Tools" in the top right. After that you select "Research Keywords" and get busy with typing in competitor URLs.
Search Query Reports
So you're probably already aware of search query reports, but keyword research isn't a one time deal. That's why search query reports are great to continue the refinement of the keywords you are using. Nothing lasts forever, popularities fade, and so do search queries. But Shar Pei puppies are forever. Sorry Hasselhoff.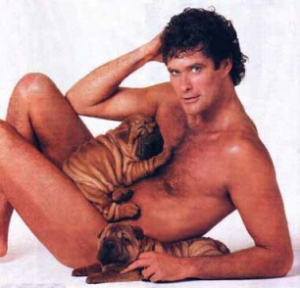 This applies a great deal to PPC and search engine marketing. These reports are found within AdWords and Bing Ads and they tell you exactly what people typed in to trigger your ad.

Set a date range large enough to see each keywords frequency. You can toggle between highest clicks and highest impressions, quickly starting from the most popular keywords to the least.

Here's how to access that in AdWords
Make sure you are on the "Keywords" tab within your account, campaign, or ad group.

Then select the "Keyword details" button below the blue graph, and click "All"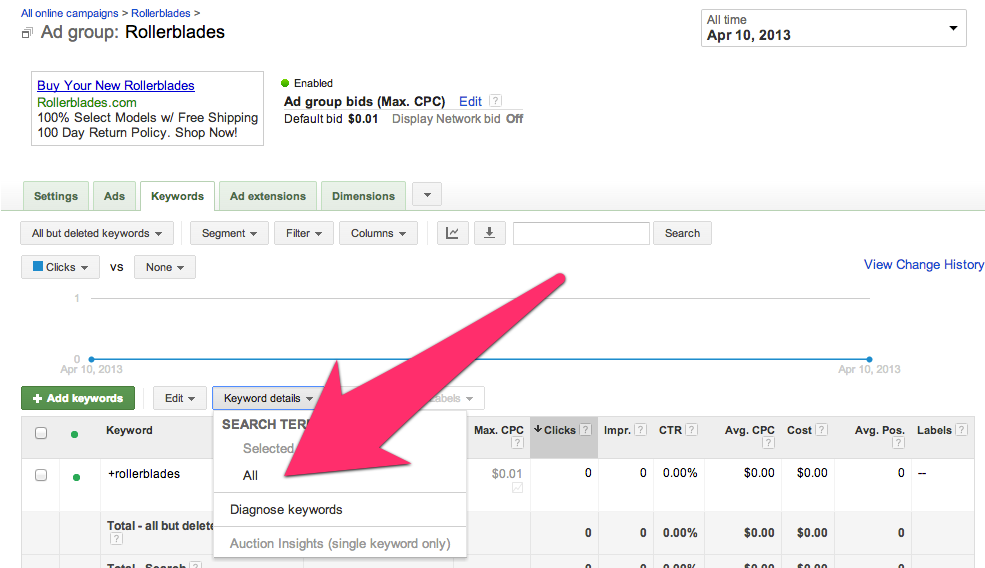 Here's how to access that in Bing Ads
Click on "Reports" at the top of your dashboard.




Then make sure you set the setting to "Search Query" in the drop down.


And there you have it! Got any other neat keyword research ninja stealth tricks? Then let us know in the comments!
But they have to be ninja stealth.