Your new blueprint for Pay-Per-Click and SEO research. The Keyword Planner.
With the constant changes to the Google AdWords management landscape, it shouldn't come as a surprise to advertisers that the online marketing space moves very quickly. With the recent release of enhanced campaigns, a new, more effective tool has seen the light of day. The Keyword Planner.

As of right now, if you want to do keyword research and also test the traffic estimation of those keywords, you'd have to do it with two separate tools. Those would be the Keyword Tool and the Traffic Estimator. Luckily for us, we get to have those to combined into one fancy tool.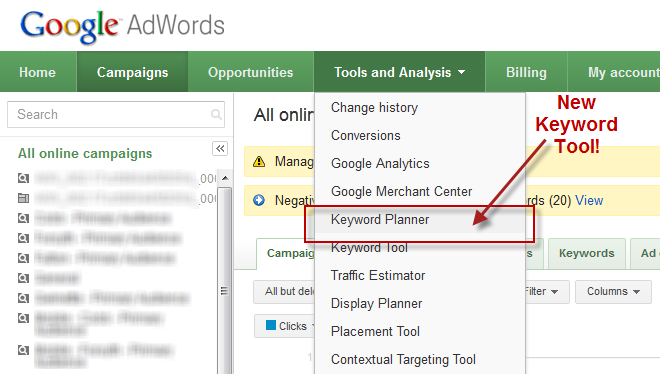 But please be aware, the traffic estimation and estimated cost per clicks are gathered from slightly older data that might not necessarily be relevant to you. Also, the estimated cost per clicks are taken from the most competitive top placements. Again, take this with a grain of salt as you'll be surprised that it might be less expensive than you've imagined.

An extra feature that Google is throwing in are their new Flexible Bid Strategies. Here you'll be able to set specific bid adjustments as percentage decreases or increases at the campaign, ad group, and keywords level. You can then also determine specific "Top of Page" bids and "First Page" bids. You unfortunately won't be able to set specific ad rank bids like you once were able to, but this still gives back some control to the advertisers. Hallelujah!

Now, if you're looking for it within your AdWords interface, don't be alarmed if you can't find it. At this moment the new Keyword Planner has only been released to about 5% of all AdWords accounts as a beta test. It should roll out to other accounts once Google has fixed any flaws that they might find, but no date has been given yet.

Another new and very neat feature Google has released is the Display Planner (see below). With this tool, you're able to tell the system what your customers are interested in, and then give it your landing page. It will then scan your landing page and find relevant keywords, interests, topics, placements (websites), and demographics for you to pursue. You'll find it under your "Tools and Analysis" tab.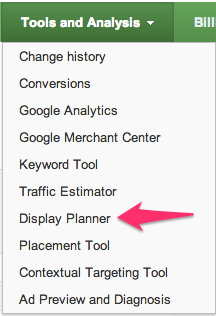 As always however, you need to make sure that you review those recommended placements before you okay the system to advertise on them. You'll quickly find out whether it's accurate or not.