We figure that you'd be in your suit, with your paper, looking like a cat, reading this article. (image source)

The art of headline writing is a craft that many websites often neglect. And while writing headlines that convert well isn't that tough, you need to make sure you know what you're doing.

This is a post about other posts on writing headlines that convert. It's quite brilliant actually, and you should feel like a man (or woman) with a plan after reading what's been written.

What I've done, is research the top 10 articles on writing headlines that convert well and given them to you in these sexy, easy, bite sized versions. These are the ones I like the best.

Forget everything you know about headline writing (which might not be much given that you're reading this).

Peter Koechley puts together a nice tale on how Upworthy creates 25 different headlines for their content and then A/B split tests them. Going from zero to 9 million unique visitors in just 11 months!

Here are the key takeaways: Overpromise and then overdeliver. Create curiousty. Telegraph emotion. And don't write for your audience, write for their friends.

How about that headline though? I smell National Enquirer (and I just wasted 20 minutes of my life there, damn).

Who would've ever thought that adding one word (one!) would increase sales by 90%?!

Movexa, a joint-supplement company did this dead simple a/b test to their landing page and the results were ridiculous.

Showing us that clarity, often trumps persuasion. Talk about writing headlines that convert (the easy way!).

These 10 questions allow you to narrow down your focus to better understand what constitutes a powerful headline.

Matt Thompson does a great job at explaining how your headline would look out of context from your site.

Is it still as compelling and informative when the headline is seen in the search results, on Twitter, or in someones Facebook news feed?

According to Barry Feldman, there's only one objective of a headline. To inspire the reader to read the next line.

And with a strong addiction to foreplay (verbal foreplay that is), Barry uses psychology and the Ziegarnik Effect to make you want to finish what you've started. Talk about writing headlines that convert, the scientific way!

Did you know that 8 out 10 people will read your headline, but only 2 out of those 10 will continue to read the rest?  

Every part of what you write has exactly one purpose, to get the person to read the next sentence.

Check out this 11 part series on exactly the subject of writing headlines that convert.

If there's a guy who would know a thing or two about writing headlines that convert, it would be Neil Patel.

If you don't know who Neil Patel is, it's about time you do.

Neil Patel is a marketing genius that has helped companies like Amazon, AOL, GM, & HP grow their revenue with his marketing intelligence.

Check out his article on headline writing and see if sub-headings, ad matching, and comparisons can help lift your conversion rates.

By keeping it simple and using words as magic carpets, Jeff shows us how headlines can be an all embodied journey.

You headlines can either be intellectual, empathetic, or spiritual depending on your market and what you're writing about.

Check out this free emotional marketing value headline analyzer and split test your headline variations to see what scores you get and also learn what to do and how to write headlines that convert.

Here's the score for this headline: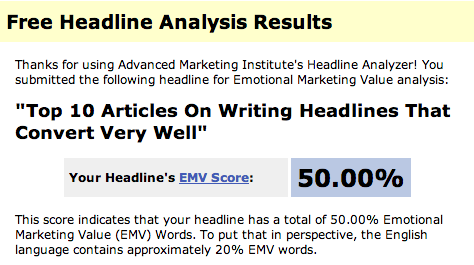 Could I have done better? Absolutely.
It should be no surprise by now that I'm a huge fan of Unbounce, and also their content.

Joanna Wiebe from Copyhackers explains exactly what needs to be in a headline, like title case, eye rest, and sub head sentence case. 

Sound complex? Just take these 5 formulas without starting from scratch and start testing some today.

If you're goal is to create a valuable headline for your landing page or just your blog post, Blogussion has got your back.

By writing headlines that leave the reader wanting more, asking a question, or delivering a promise, Blogussion gives you 5 quick techniques that will give you insight into writing headlines that convert.

You need powerful headlines for a lot of things: Party invitations, memes, speeches, YouTube titles, and more importantly, landing pages.

But did you know you could use testimonials to create powerful headlines, and that you should avoid "pot luck headlines"?

Take a look at this 9 part blog post that goes SUPER deep into the details.