A case study is a reference potential new clients use to see the impact you've had on your current and past clients.
Just as a good work reference helps you get a job, a poor one usually means you'll get passed over for another candidate.
The same thing happens online.
When you sell a product or service, your prospects are out there comparing your brand to your competitors; they're interviewing you—and they're skeptical.
A good case study or, even better, a giant vault of amazing case studies, is a vital piece of your marketing strategy because compelling case studies use happy customers (and their results) to sing your praises.
Qualitative, real-life success stories build trust.
They answer the open-ended questions that your target audience asks, making them one of the best types of social proof for your sales team (along with white papers).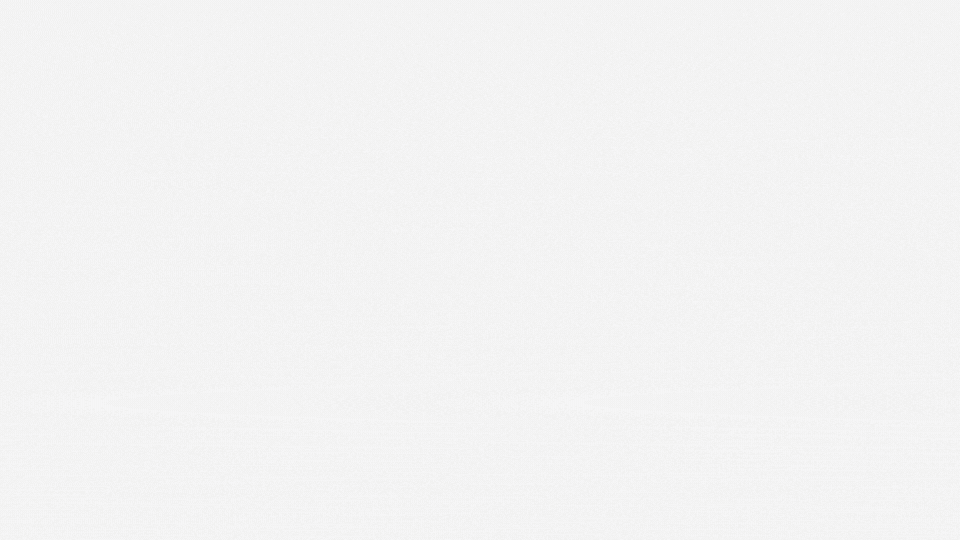 A 2021 Edelman study revealed that 61% of people trust companies more than they trust NGOs, government agencies, traditional media, social media, or search engines. That makes business case studies a valuable marketing and sales commodity.
Consumers who trust a company will buy from that company and recommend that company. But before a potential customer becomes a customer, they want references from former and current happy customers.
Testimonials are good references, but case studies are better because they quantify the kudos.
Trust us, you want to start building your case study arsenal today.
We'll show you how to do that in this post, from client permission to research questions to statistics to templates to revisions.
Follow six key steps to build your case studies from start to finish—and take a good look at all of the inspiring examples we provide.
👆You should totally copy them.
Subscribe to our weekly newsletter for tips so good that we might put ourselves out of business.
What is a case study?
"One of the best ways to prove your worth is through a compelling case study… [T]hey are so compelling that they are the fifth most commonly used type of content used by marketers."

— HubSpot
A case study is a templated testimonial on roids ☺️
It tells a client's story in a way that other potential clients can relate to. The story describes a problem, the fix, and the result (just like any good story has a plot, climax, and denouement).
The primary purpose of a case study is to showcase excellent results that nudge potential clients to convert because that social proof gives them the confidence they sometimes need to choose you.
Case studies should be easy to read, factual, numbers-based, graphical, and inspirational.
Not just anyone can lean on a case study to build trust; you have to have actual success stories to create them. That's where the confidence in your service or product comes from.
Bottom line: Case studies prove that what you did for others will work for them too.
We love 🥰 case studies at KlientBoost because we appreciate their amazing value when it comes to conversions. We have more published case studies than any other marketing team on the planet (and you can filter through them here or here).
How do you create a case study?
To some degree, how you design your case study is up to you based on your industry and design skills. But we'll save you from doing a ton of marketing case study research and tell you what copy and design elements should be on there.
We'll even share our template:
Case study example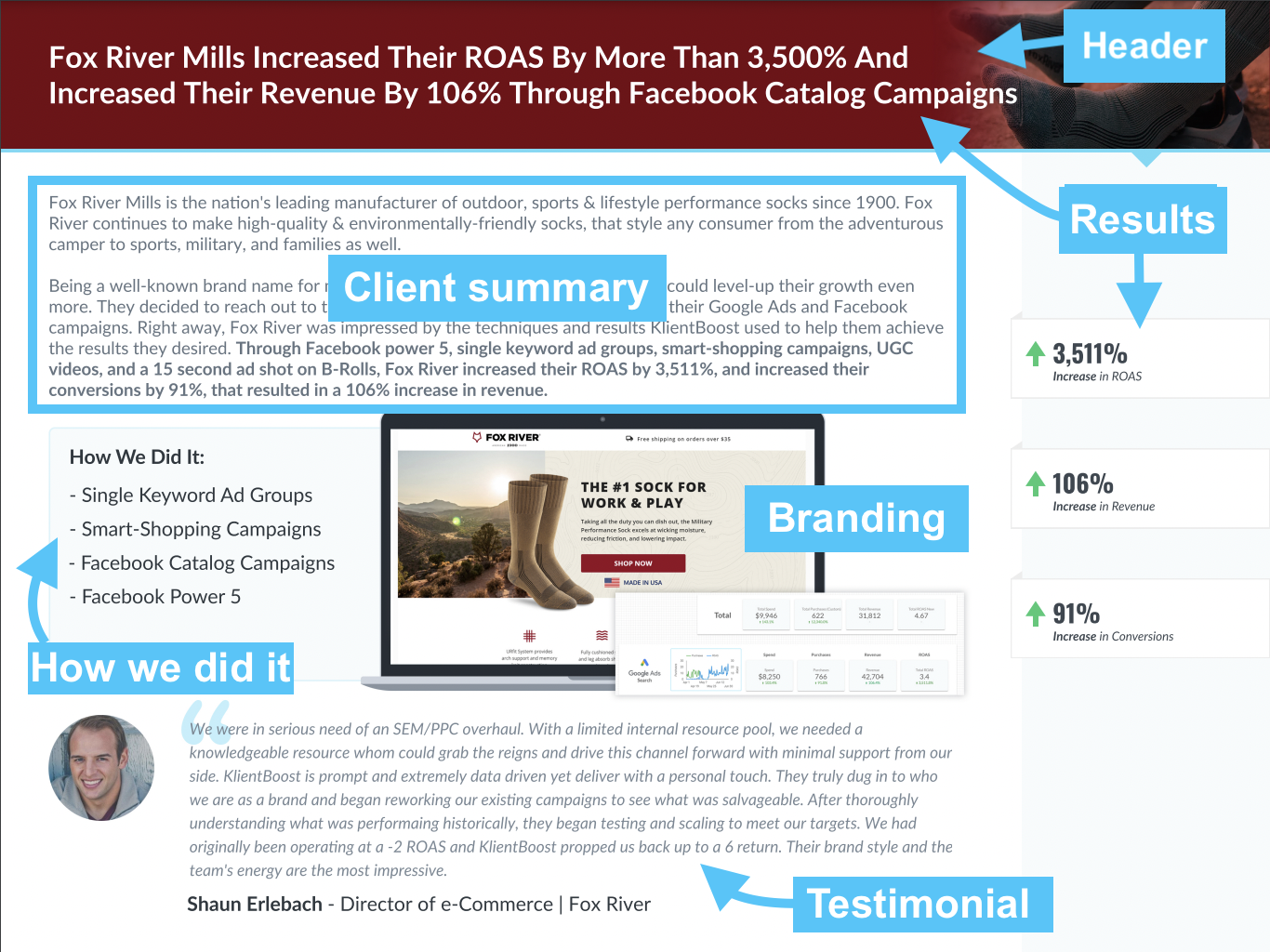 Top of the page:
We use the client's branded color along the top with a headline that includes 1-2 results and one technique used to achieve those results. We write an executive summary to introduce the client, describe who they are, what they do, and why they came to us.
Middle of the page:
We bullet point what tools we used and what approach we took to fix that problem on the left side of the page. We feature their website or product in the middle of the page for visual engagement, and we share their results on the right side.
For our industry, the kind of results we share are
% ↑ in ROAS (return on ad spend)
% ↑ in revenue
% ↑ in conversions
% ↑ in CTR (click-through rate)
% ↑ in impressions
% ↑ in organic traffic
% ↓ in cost per conversion
% ↓ in CPC (cost per click)
% ↓ in CPA (cost per acquisition)
But your client results will be specific to your business.
The bottom of the page:
Reserve the bottom of the page for the client testimonial. This part of the case study is so important. It's straight from the client's mouth, and it often conveys how much they enjoyed the human element of their results—the campaign managers and account managers who had their back throughout their campaign.
If a potential client reads (or watches, if they're looking at one of our video testimonials) that they expect frequent feedback and prompt replies, that's good to know. And if they discover that clients love how we go the extra mile to proactively address gaps and that we're transparent, collaborative, and friendly… that sure doesn't hurt our chances of converting them into a customer down the road.
In one page, every bit of information any company could want is skimmable, visual, and human.
Potential clients get a good sense of what to expect from us if they pick us as their digital PPC agency and how the communication (the relationship) will go while we're working hard to get them to their goals.
Case study benefits
Case studies direct a positive spotlight on how you solved the problems of your former customers. They're the closest your customers can get to word of mouth without actually talking with one of your current or past customers.
"People read reviews and decide what to buy based on them. Some 88% say they trust online reviews as much as personal recommendations, and 39% read reviews on a regular basis"

—CXL
Case studies are client reviews. They come from a real person (not "John from Canada") and describe an authentic experience. One benefit is that your happy customers sell your services for you, influencing potential customers' buying decisions.
Perhaps the biggest benefit of a case study is that they're very effective when it comes to accelerating leads hanging out somewhere near the middle and bottom of your conversion funnel.
But the benefits extend beyond boosting conversion rates in the short term.
Case studies shine a spotlight inward on what can be done better. Happy customers will gush about how you helped them, but they'll also talk candidly with you about where things could have been better (as you interview them for their specific case study).
Take that advice and do things better. Case studies are great for external social proof and internal scrutiny.
The better you understand your customers, the more you can tailor your future work to attract more of them and really blow them away with your product.
Who needs case studies?
Not every business or agency needs case studies.
As a general rule: The more uncertainty there is for a prospective customer, the more case studies you need.
If you sell cheap plastic spatulas, there's little uncertainty around how your product works or what results it will produce. You don't need a case study to sell a $4 food flipper (a few testimonials will do the trick).
Case studies become much more important if you sell a complex product that could be open to interpretation, like B2B consulting services or a SaaS solution. Put your happy customers up on stage to remove uncertainty and provide that purchase comfort that drives up your conversion rate.
Case studies answer all these questions for prospects:
Will this work for us?
Can we trust this company?
Did it work for others?
Is it worth the investment?
What kind of results can we expect?
How did they achieve those results?
How long before we see those results?
How many case studies do you need?
How much uncertainty do your prospects have?
The higher the price tag, usually, the higher the uncertainty.
The more case studies the better to remove that uncertainty.
How many can you publish?
That depends on how many clients you've helped already and whether or not your request for permission to write one about their particular case is granted.
If you have the capacity, write a case study for every successful client case, covering a range of company sizes in different niches. The idea is to relate to new potential clients, and the more case studies you have, the higher the chances one (or a handful) will resonate strongly with them.
And if you have the chops to create video case studies, even better—pick the type of case study that works best for what you do.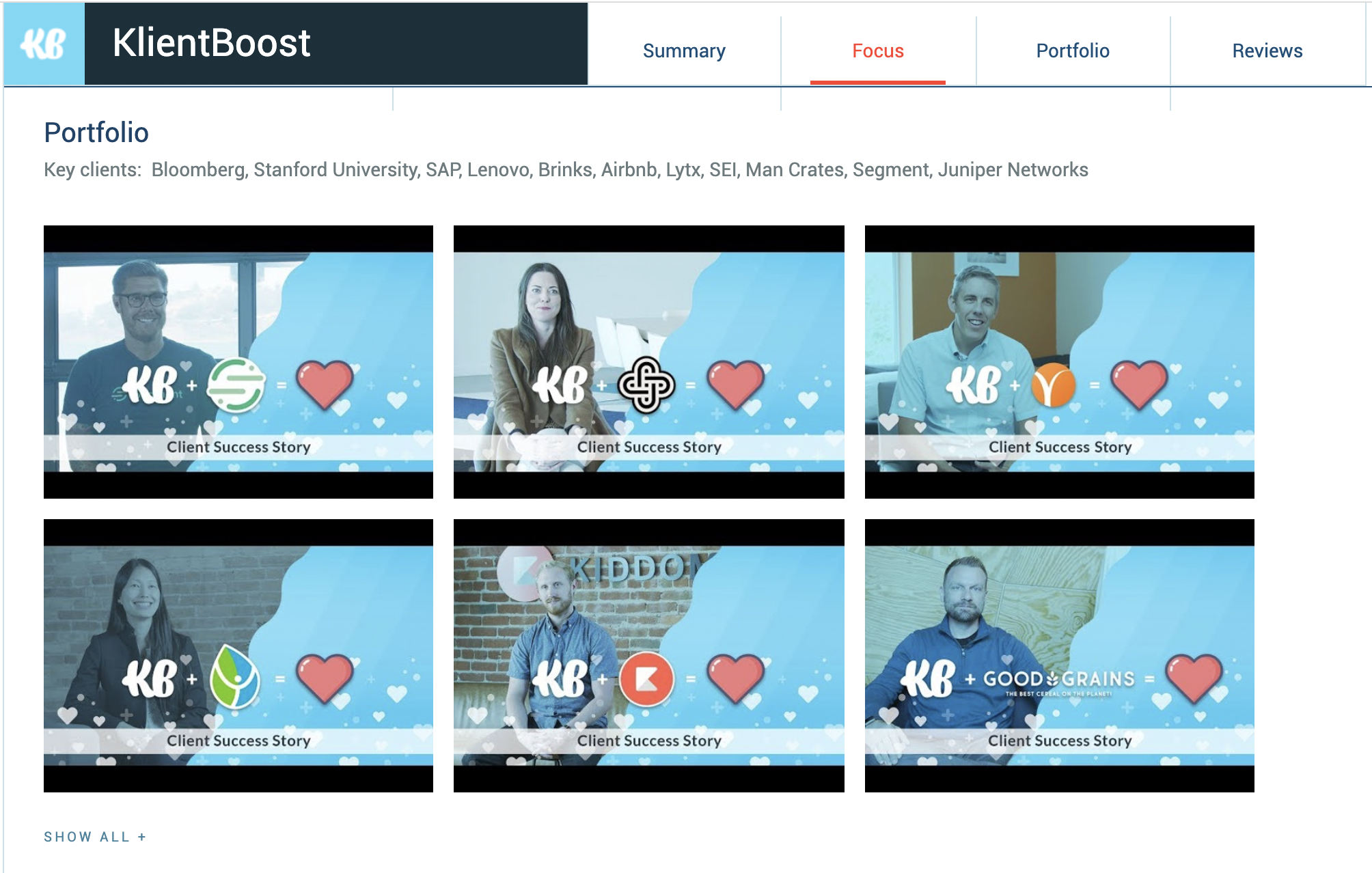 If you're a videographer, a vlogger, a gaming company, or you're a mainstream YouTuber, a video case study will be expected by your audience.
If you run a successful podcast, consider creating your case studies in audio format.
Written case studies are great because they fit on a single page and are easy to digest. But video and audio ask even less of the potential client as they can visualize and listen to how their experience with you will turn into a similar success.
Keep in mind that creating case studies isn't a one-off project. It's an ongoing part of your marketing strategy.
Research them, write them (or film them or record them), then track which case studies affect your conversion rate the most using your preferred analytics tool (Google Analytics, KISSMetrics, etc.).
How to make a case study that converts new customers in 6 steps
Not all case studies are created equal. The best ones follow a consistent formula and include elements designed to enhance readability and attract attention.
There are six parts to all high-converting case studies.
1. A results-driven descriptive header
The headline is the curtain that opens on stage. It must be brief, enticing, and informative to grab the reader's attention.
In our headlines, we add 1-2 results and mention one technique that we used to get those results.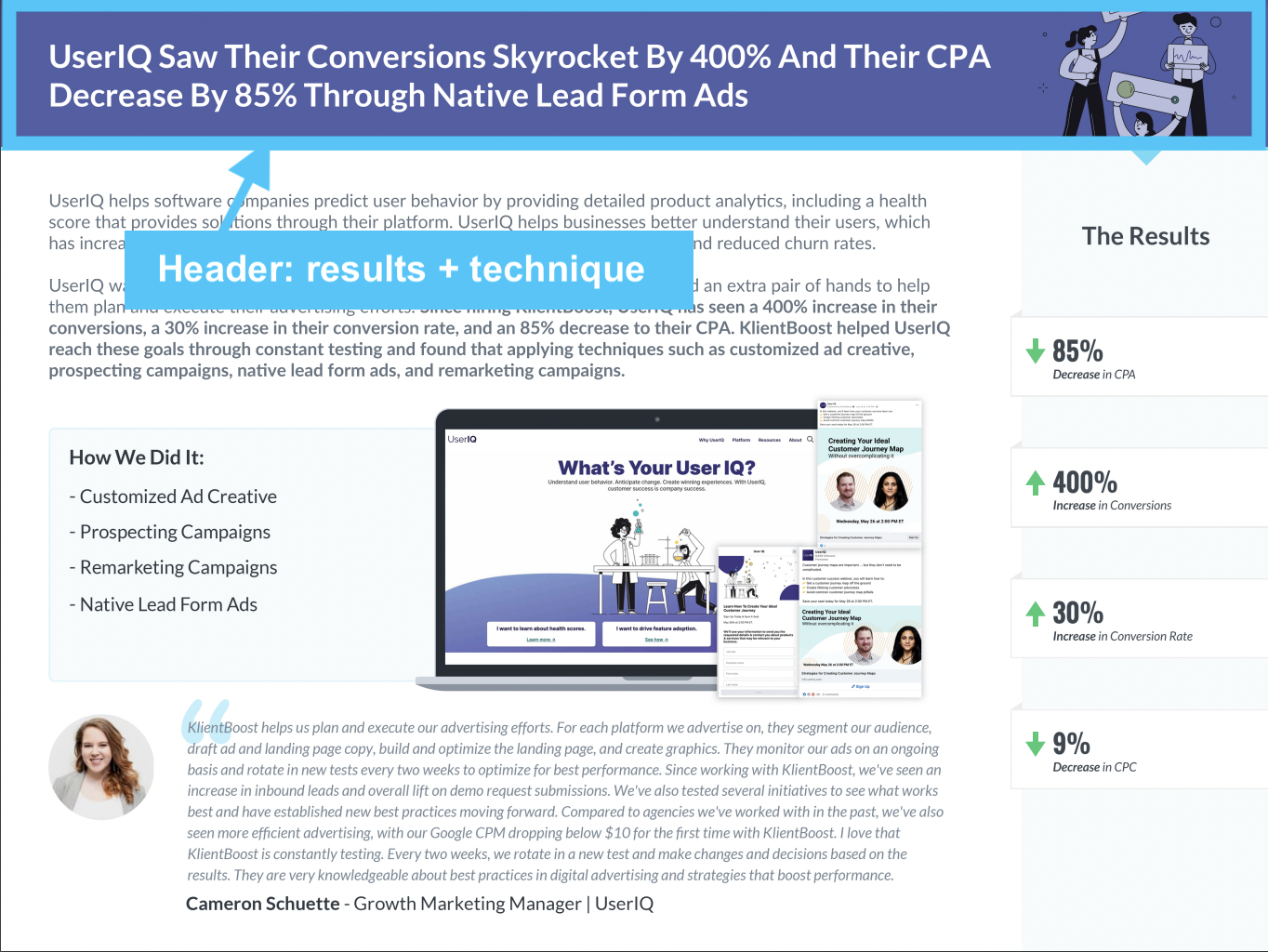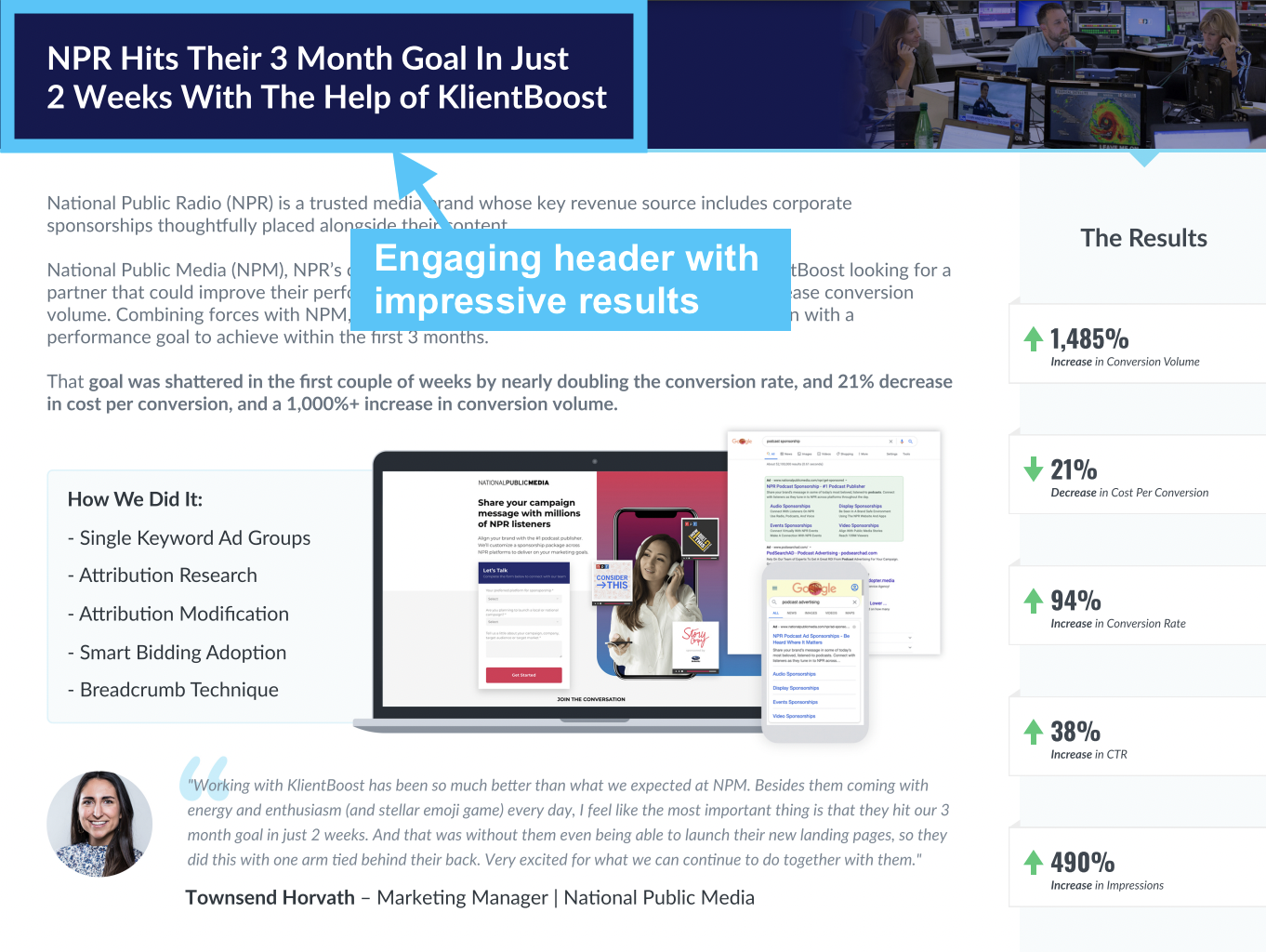 Over time, you will likely publish several case studies. Differentiate them enough that, despite the same case study format, they are unique to the client and interesting in their own way.
Include percentages, sales numbers, or any other metrics that convey success.
Your headline should have three things:
Name of the customer
Benefit/result: How your customer benefited from your product
Method: How you achieved those results
2. A concise summary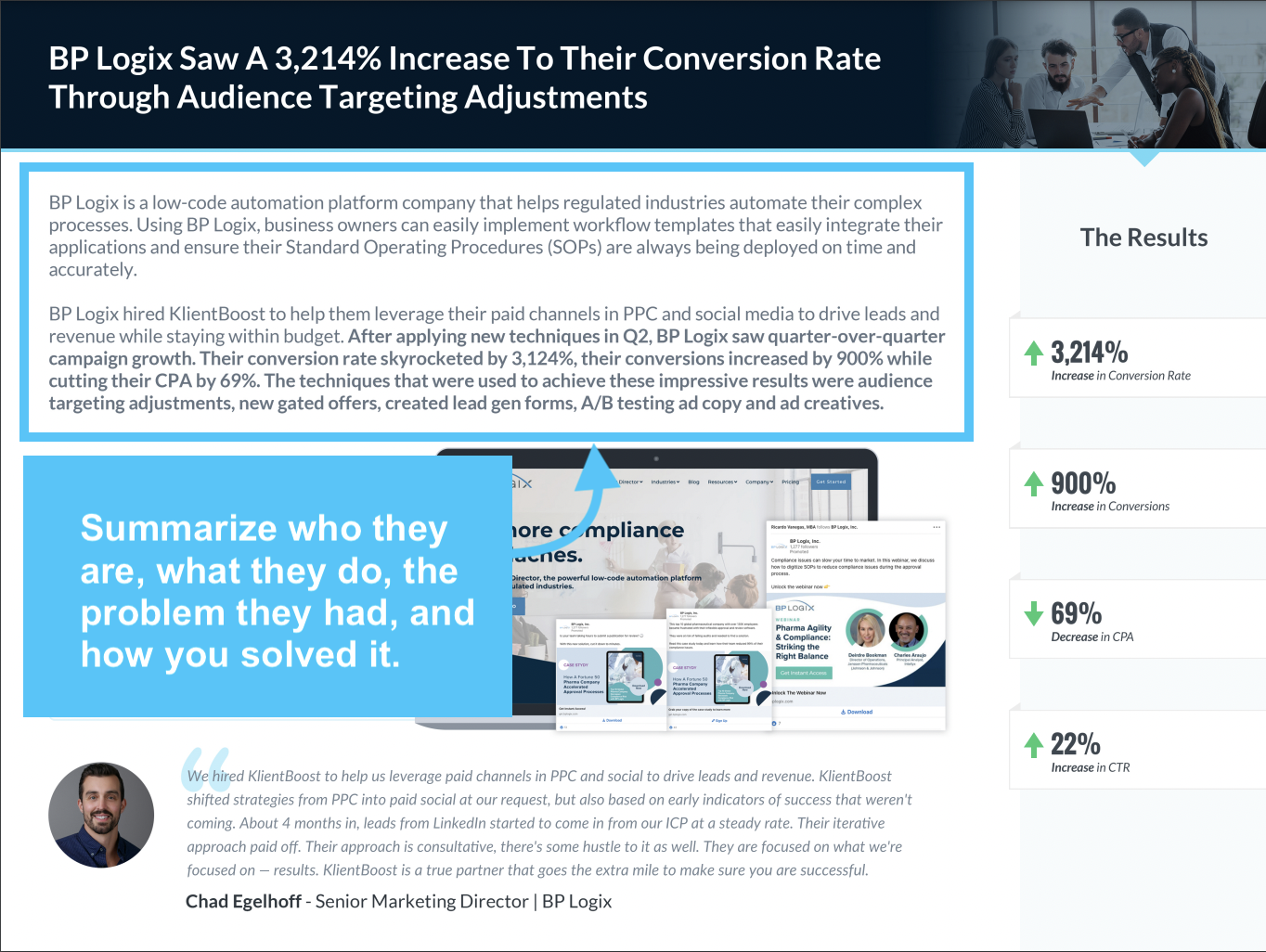 The opening section is your executive summary. It should describe your client, identify their main problem, and explain how you tackled that problem with amazing results.
Take the time to weave in some background information on what industry your customer is in, what they provide, and how they operate. Dedicate 2-3 sentences around the result-oriented techniques you used to achieve the results.
3. Explain how you resolved the issue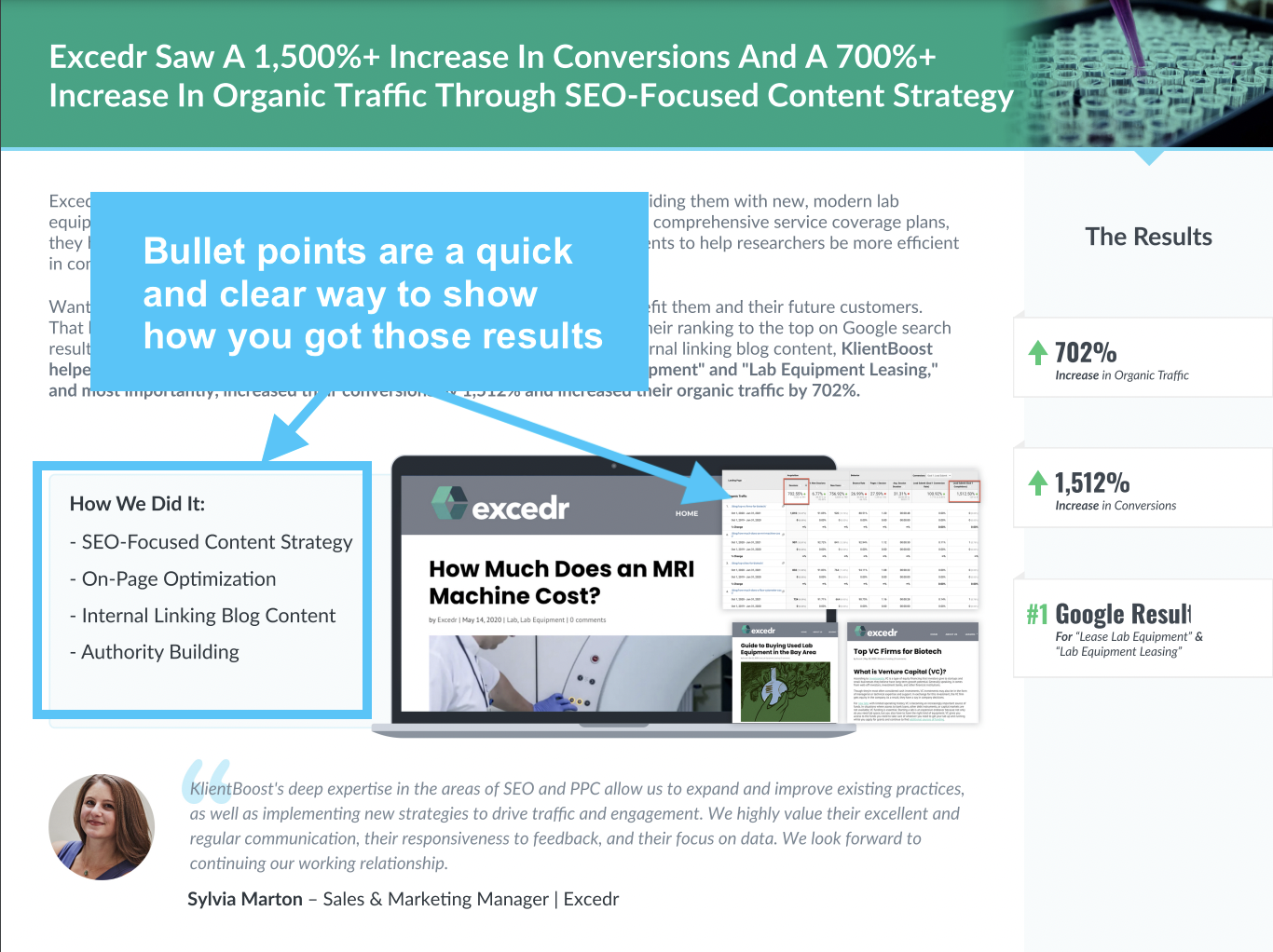 Perhaps the biggest confidence booster to potential clients is how you worked your magic. This is the thing that, if they knew how to do it, would mean they wouldn't need you. But they don't know how to fix their problem, and they want to pay you to do that for them.
So give them a sneak peek into your methodology with bullet points and screenshots.
4. Highlight the success
With any great story, you need a climax; and the results are it. Show the successes clearly—and use numbers.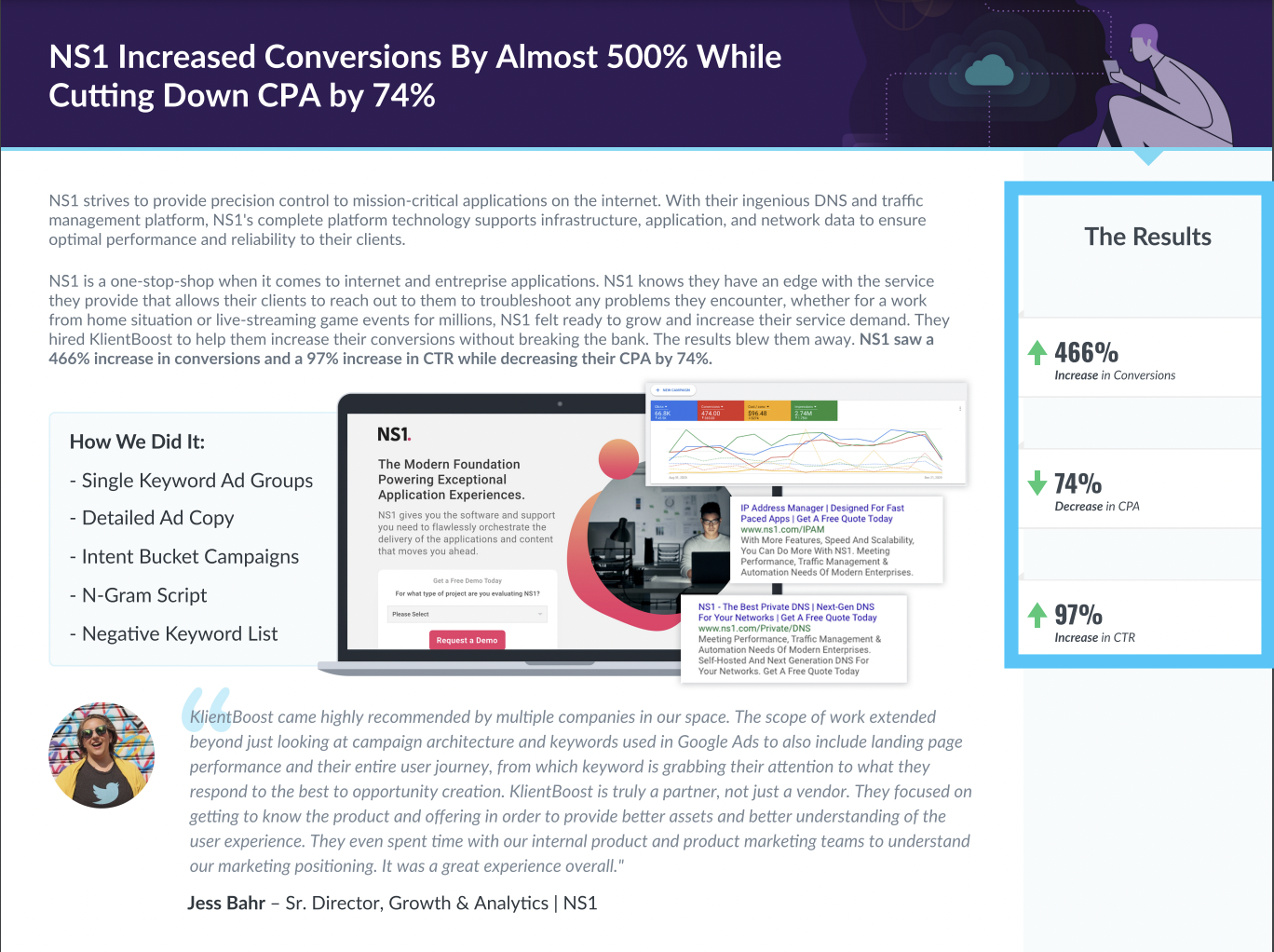 5. Testimonial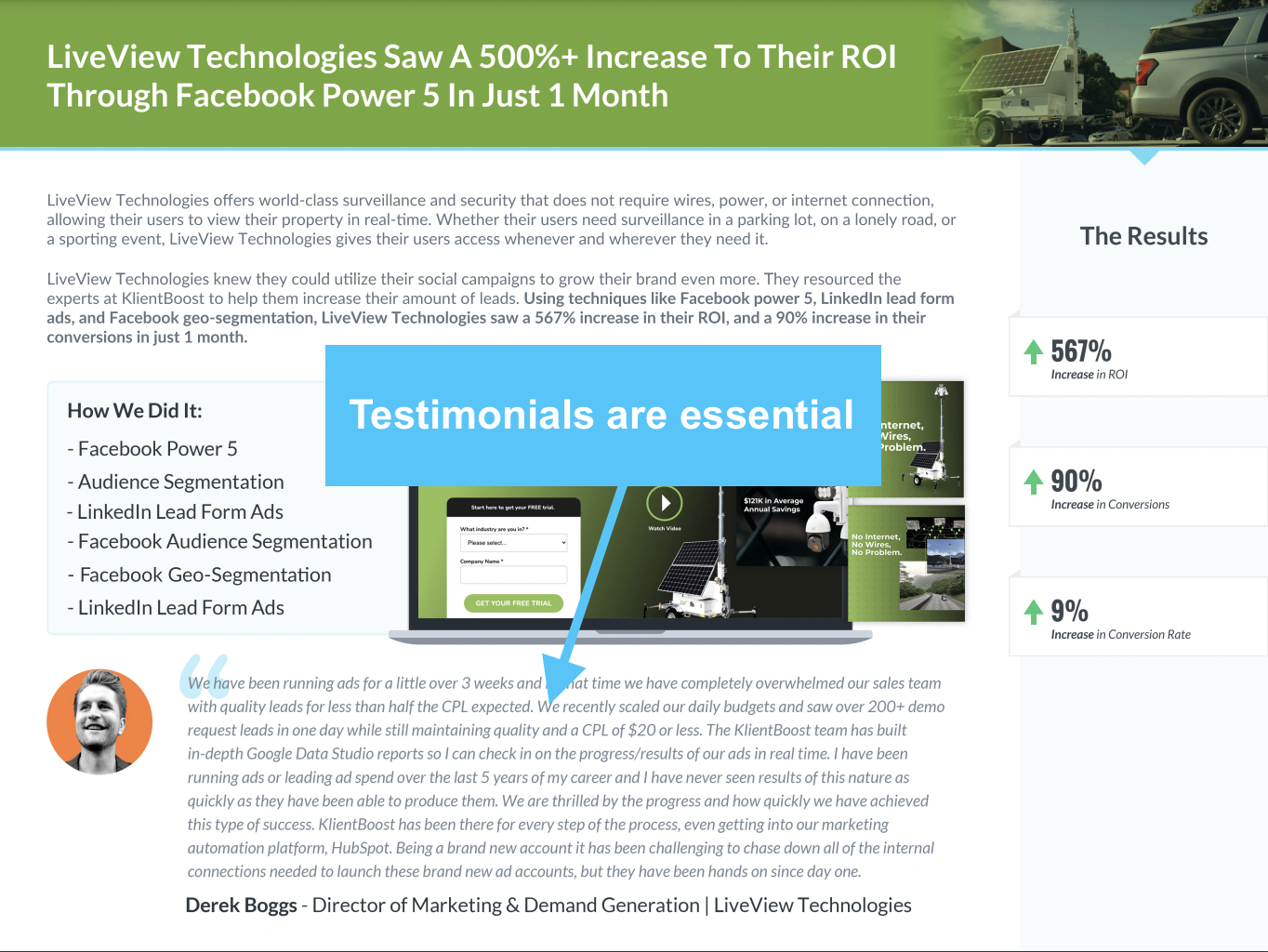 Ask your happy customer for a testimonial that's conversational. Give them some guidance here, or you'll end up with a lot of adjectives and not a lot of pointed substance.
Ask them to touch on:
where they used to be (the situation that kicked off their decision to hire you)
why they were unhappy
how they found you
what you did for them
how that made them happy
what they thought about your people (the human element)
For their signature, include a picture of their face, name, title, and company name to connect the reader to the person behind the story.
6. Branding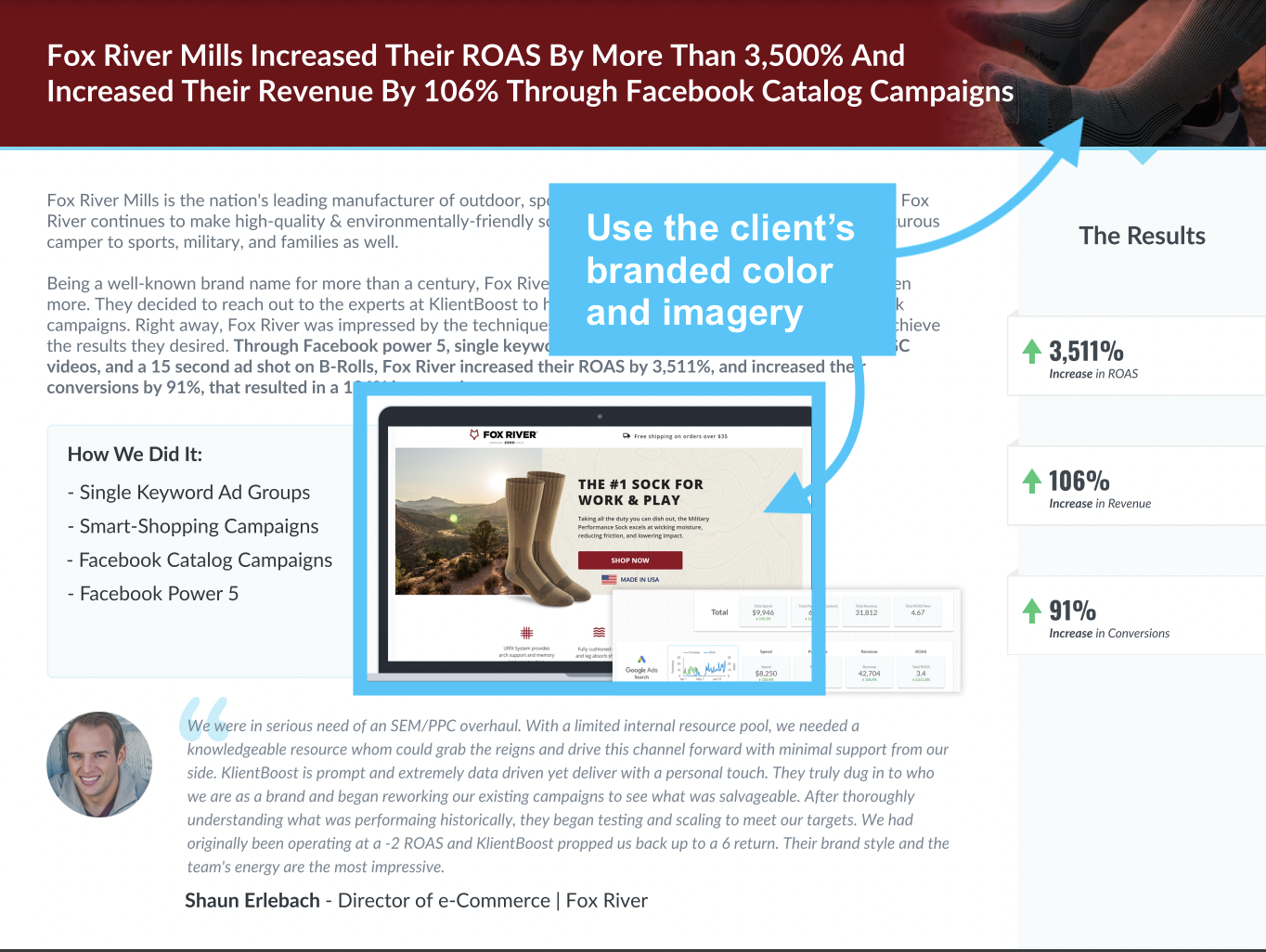 You follow the same successful format for each case study, but you create separation by using the client's branding.
Their imagery makes their company relatable at a glance to others who might not know who they are. In the example above, Fox River Mills makes socks, and that's conveyed immediately in the middle of the page with a screenshot of their home page.
Branded colors and images connect the reader with individual brands, making them recognizable as they cruise through your vault of case studies.
That's how you put a case study together 👆
But the mechanical part comes after permission is granted to make the case study in the first place.
Here's how you get a case study off the ground 👇
How to get client permission to make a case study
Case studies are an ongoing part of your marketing strategy. That means there should be a system in place that covers everything from contacting the client about making a case study, to writing it, to designing it, to publishing it, to analyzing its success.
If you treat case studies like random side projects, they won't get done—at least not well.
So here's four steps that describe how you approach the pre-game:
1. Identify good candidates early
Not every new customer is a good candidate for a case study. If you already have a case study with similar results in an almost identical company, or if a customer is too unique, you might not build a case study around them. More of the same doesn't sell, and potential customers want to relate to their story.
The best candidates
are well-known in a specific industry
represent a common customer problem
experienced over-the-top results thanks to your solution
2. Timing is key
Good customer relationship management is essential, full stop. But when it comes to case studies, the best time to ask if a client would like to be featured in a case study is right after a measurable result.
Don't propose a case study right after they sign on with you. Most will pass and feel that you're intrusive (similar to a pop-up ad).
Instead, start by working with them to achieve maximum success with your product. Build a trusting relationship over time.
Let them track the impact your product makes on their bottom line. When that impact is all strong and glowy, ask them if you can brag about it. Chances are good at that stage of your relationship that your fans will be happy to advocate for you.
3. Pair the ask with their benefits
Don't approach case study participation as a favor to them. Case studies are mutually beneficial. Point out the benefits to them when you ask about doing one.
You will get a great case study to move conversions through the funnel and improve sales, but your customer will get exposure.
You will feature them on your website, but you can also feature them in published trade magazine articles or blogs. This could lead to partnerships for them or speaking opportunities.
Plus, a case study gives them bragging rights.
4. Establish expectations
Make sure, on top of the explained benefits, you clearly outline what they should expect. Namely, that it's not much work for them, and there's not much risk involved.
Maybe the client doesn't really know what a case study is. Tell them how great it is for both of you, talk about the benefits, and address any objections.
Walk them through how it will go:
Time: you'll speak with each key member of their team for about 20-30 minutes on average. Typically you'll only need to interview 1-3 people to get all the information you need
Control: give them full approval. Some companies will have a legal department that wants to control any press mentions
Work: all the legwork (content creation, design, research, approval) is handled by you
Scope: explain to your customer that the case study will be their story, not yours. A case study isn't about the features of your product, it's the benefits they produce for a customer.
How to make a case study that converts
Case studies are an incredibly powerful content marketing tool that significantly impacts your conversion rates—if you package that value up the right way.
Make it concise, easy to read, and nicely designed.
Show your audience you're the best solution to solve their problems because you've already done it with dozens (or hundreds) of other clients. Give potential clients a good feeling that they can expect the same sort of awesome results.
You can hire freelance writers who specialize in case studies, or make them yourself to keep expenses down.
The sooner you get case studies up online, the sooner you can advertise the benefits of your services, push more potential clients through the conversion funnel, and give your sales team powerful tools to sell.
Want to learn more about different types of social proof and where you should put it? That's next.