Maybe it's a bit dramatic to say your landing page is the end-all be-all of all your online marketing and advertising efforts, but it's kind of true.

The ultimate goal of marketing, after all, is to get a conversion.

And since the entire purpose of a landing page is to boil all of your online marketing efforts down into a point of conversion, it's something you want to pay attention to.

But, with the endless amount of advice out there on optimizing landing pages for conversion and A/B testing this and that just for the sake of a few more percentage points, the task of creating a decent landing page can be insanely daunting for a lazy marketer.

Now, I'm not calling you lazy.

I know you work your ass off and have a million things to juggle, and just one of those is getting a decent landing page up and running.

But with laziness as the ultimate mother of invention, why not take advantage of the awesome landing page tools that have been created to help your lazy marketing counterparts do a halfway decent job?

Heck, by combining one of these tools for lazy marketing with your zeal for your job, you'd be practically unstoppable in generating new leads for your company.

What You'll Learn
Which tools make creating conversion-ready landing pages super easy
Different added features of the tools so you can make the best decision for your needs
Why marketers like you love these tools
1) Unbounce
Ok, what could possibly be easier than drag-and-drop templates that requires zero knowledge of any kind of code and don't require IT support to make the page live?

Plus, the landing page templates are automatically made to be responsive, so you don't even have to worry about testing and adjusting your website for a mobile screen—because you already know it's going to look good.

The 60+ templates Unbounce provides are ready to use straight out of the box, even if you don't want to spend time customizing them (though I'd definitely recommend that little bit of extra effort).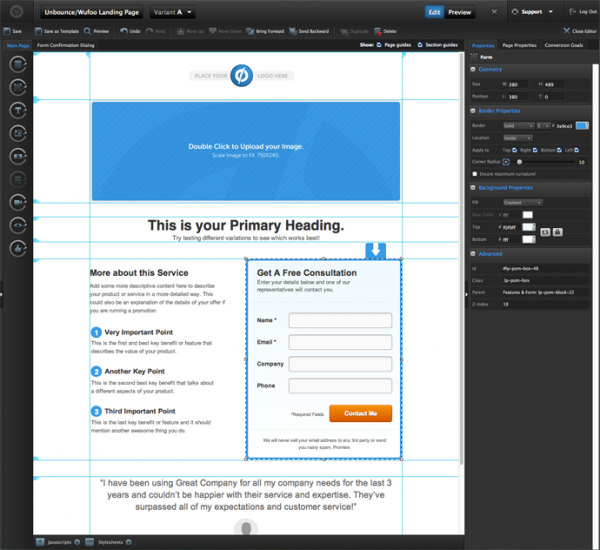 "I am short on time and low on patience,"
says serial entrepreneur and advisor Raghu Havaldar.
"I want to build things quickly (esp. small in scope), try it out, and refine. I want the tool to support my need for functionality and speed. Unbounce does not fail to impress."

2) Instapage – The Easiest?
Instapage claims their landing page builder is the easiest to use and customize, and they even let you try it for free to prove it to you.

I'm not going to go so far to make the claim that they are in fact the easiest, but if they let you design and publish one page totally free to prove it, I'm willing to bet their tool isn't exactly hard to use.

And with impressive numbers like helping 55,000 business get more than 16 million conversions, they're obviously doing something right.

On their landing page, they also claim that their tool will help you get it right on the first try—none of those constant iterations so common with developing new pages or doing a website re-design.

They also make integration with your email provider and social media accounts super easy.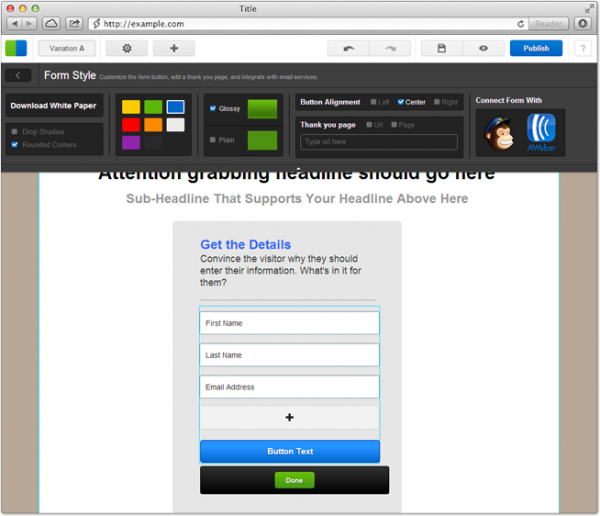 "Once I signed up I had a good looking lead generation page published in one hour with [email] leads going directly to the broker,"
said Jon Harver of Authority Website Income.
"Within 24 hours of starting the process of looking at more direct monetization strategies, I had a working lead page up, and in the last week, I made more from the site than I had in the previous three months!"
3) HubSpot Landing Pages
Alright, so to be fair, this tool isn't for the laziest lazy marketer, but for what it lets you do in personalization and increasing conversions, I'd say the tiny extra bit of work required is well worth it.

First and foremost, HubSpot is a software designed for marketers to help them optimize their online inbound marketing efforts and generate more leads.

Based on this, they've also developed a landing page tool that lets you do all the awesome things they've noticed will help skyrocket your conversion rates—and one of those things is personalization.

This tool, which is also a drag and drop builder that doesn't require any knowledge of code, lets you personalize each visitors's experience of the exact same page, driving higher conversions.

Depending on how a visitor has interacted with your site before, the content can change.

Since not everyone comes to your website for the exact same reason, these adaptive landing pages with smart content displays (that you choose) make your business seem more like a perfect perfect fit for what they're looking for.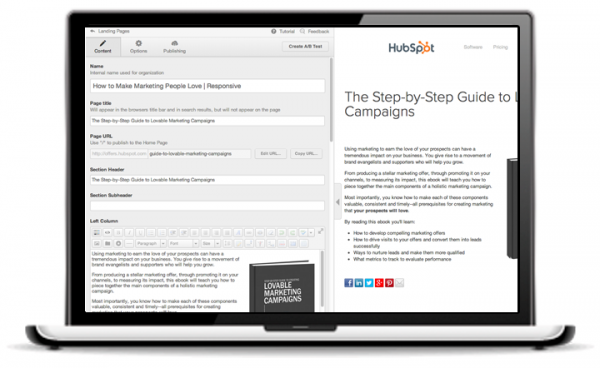 "Our company is in the second year (renewal) with Hubspot,"
says Ryan Howard, VP of Business Development at VeriFirst.

"The clear track record of increased visits-to-leads-to-customers in the first 12 months made it a simple decision to renew."

4) LeadPages
"Turn your idea into a published landing page in less than five minutes."

If that's not the perfect promise for a lazy marketer who needs to get a landing page up and running, I don't know what is.

But LeadPages goes beyond just slapping up a simple landing page.

It actually concentrates on the extra things here and there that will really optimize that landing page for conversions—like popups and one-click opt-ins.

Their templates work for almost any industry (so it's virtually fool-proof), and it has a built-in A/B testing tool and statistics—just in case you're feeling extra ambitious.

Further, instead of having to use a third party tool to manage lead magnet downloads, you can do it directly in LeadPages, saving you some headache, and time.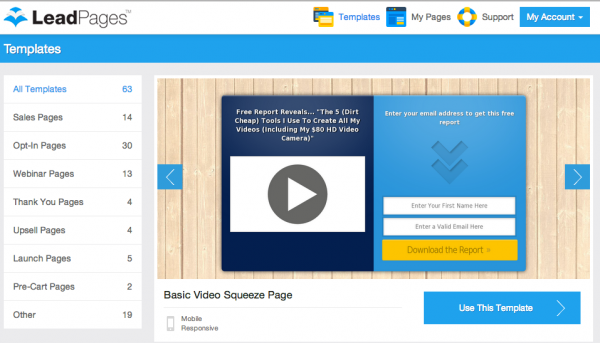 John Lee Dumas of EntrepreneurOnFire was particularly impressed with the vast functionality and ease of LeadPages templates.
"What we loved about the Live Page template is that we could accomplish several things at once—without spending a lot of money on a webinar service like GoToMeeting or GoToWebinar."
5) Lander
This is a landing page tool that was actually built by designers, so you know the end result is going to look good—even if you're the guy who's color blind and can't draw a stick figure.

The tool is set up in an easy drag-and-drop model, and your subscription buys you an unlimited amount of responsive landing pages.

One thing that's cool about Lander is that it has a countdown widget you can add to your landing page to create a sense of urgency to boost more conversions.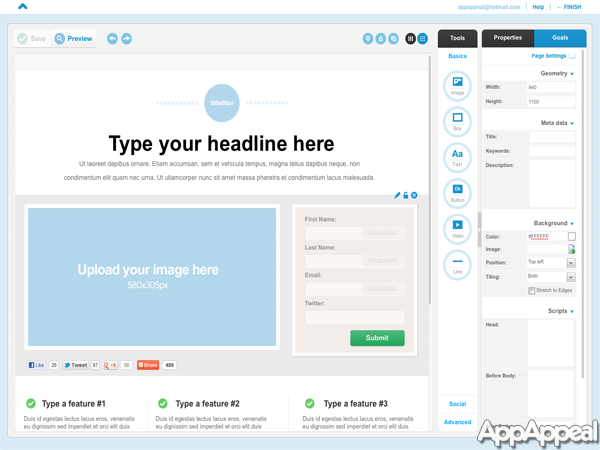 "I've increased conversion rates from 19% to 43% thanks to A/B testing and it takes us around 3 hours total to set up a simple page for a client,"
says Andrew Apanov, CEO of Dotted Music.

6) LaunchRock
Recommended by Neil Patel, LaunchRock creates some of the most basic landing pages out there (think of the old 'coming soon' pages) while still collecting emails to build your list.

Most of the time, it won't even be long enough of a page to scroll.

All you need to put on this page is the most basic info about your product, service or event, and let the email capture form do its work.

It's completely free, which is great, but the "price" you pay is that you may or may not have to know a little bit of code to get the page looking exactly like you want it to.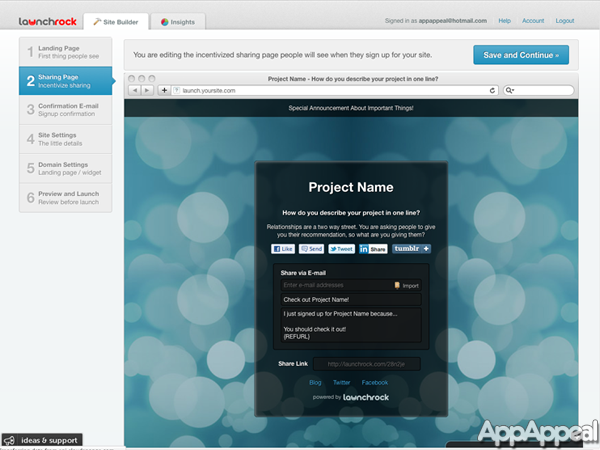 "LaunchRock also includes some interesting social features that encourage users to share the page,"
says Neil.
"For example, get X people to sign up, and you'll get Y. It also includes basic analytics."
7) i-on Interactive
This is another tool that lets you pick an awesome, proven-to-work template and customize it to your business without needing any coding or design skills.

But on top of that, i-on Interactive specializes in interactive content. And we all know how well interactive content drives brand engagement, then loyalty, then conversions, right?

The interactive content can be a cost calculator, a cheesy personality quiz, or an infographic designed to help your visitors learn more about the content you're presenting.

At first, interactive content might seem like it'll take forever and a day to conceptualize, write, and implement, but i-on Interactive says their tools help you shave days to weeks off of your project time, depending on how in-depth you want to go with it.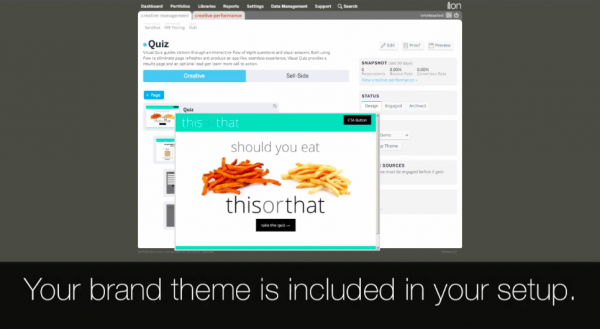 "You don't have to be a coder to be able to use the platform,"
says Melissa White, a Paid Search Specialist at Conversion Partners.
"You don't have to be extremely experienced to understand. It's all very easy to use."
Turn a New Landing Page From a Week-Long Task to a Few Hours of Work
There's no rule that says creating or redesigning a landing page has to be something so hard and frustrating it makes you want to pull out every last strand of hair on your head (not that I've been there or anything…)

Fortunately, for the love of marketing and helping marketers do their jobs, these super-simple landing page tools help us turn a complex, mammoth of a task into a tiny, easy-to-complete, to-do list item you can get done before lunch.

Have you ever used any of these landing page tools? Want to discover some more?

Which one did you use and what did you think of it? Are there any must-haves you look for in a landing page tool beyond being easy and fast to use?