A "real life" Facebook Custom Audience example…
Imagine you have a pile of flyers and you're trying to get the message out about a sale happening at your kids clothing boutique.
People are walking by in huge crowds, but you only have 50 flyers printed. You want to use those 50 flyers wisely.
You're not going to hand them to just anybody, right? You're going to look for people walking with children. Maybe spot somebody pulling up in a minivan that probably has stickers sporadically stuck on the back windows and toys spilling out.
Facebook Custom Audiences gives you the ability to do the same thing, only it's all digital.
And just like you don't want to hand out your 50 flyers to everyone passing by, you also don't want to waste your Facebook ad spend spewing your message to everyone and anyone.
Facebook Custom Audience is the best way to narrow down your ad targeting to the most relevant audience. In this article we will help you learn what they are, how to make them, and how to use them effectively.
This article is especially important because the Facebook audience you choose to target can have a huge impact on your ad cost.
In a recent analysis of Facebook ad statistics, AdEspresso found that the cost-per-click of Facebook PPC campaigns can vary by as much as 1000% depending on the audience you're targeting.
For example, there's a huge difference between the most expensive and least expensive countries. When combined with differences in age, gender, interests, income, etc., the results from targeting specific audiences vary tremendously.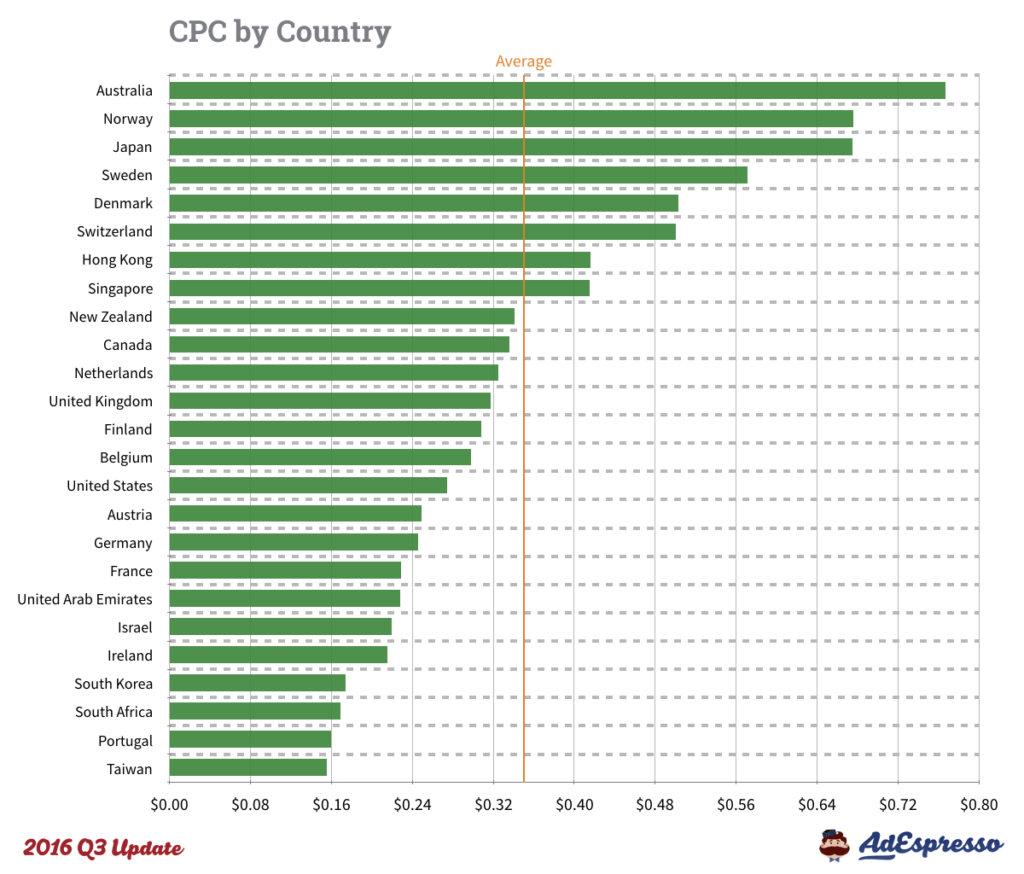 But there's more to this story.
When Scoro (the company I work for) went beyond the standard interest-based targeting in our company, we saw a huge decrease in cost-per-conversion.
By using Facebook Custom Audiences, we were able to retarget our website visitors, blog readers, and many other audience groups that were already warmed up to our brand.
Side note: did you know that the average CTR of retargeting ads is 10x higher than that of regular display ads?
It's true. And setting up custom Facebook audiences for retargeting was probably the highest-ROI hours I've put in in the past six months.
At Scoro, we ran one campaign to retarget users who had already visited our project-related landing pages, and another campaign for people interested in project management who live in the UK using a Facebook Saved Audience.
The retargeting campaign brought in 600% more conversions with the same ad budget.
This is just one example. And if you're not using Facebook Custom Audiences yet, there's massive potential in Facebook advertising just waiting to be tapped.
By the end of this guide, you'll be able to set up high-conversion retargeting campaigns today.
What is a Facebook Custom Audience?
If you're new to Facebook advertising, you might be overwhelmed by the audience options in the Ads Manager.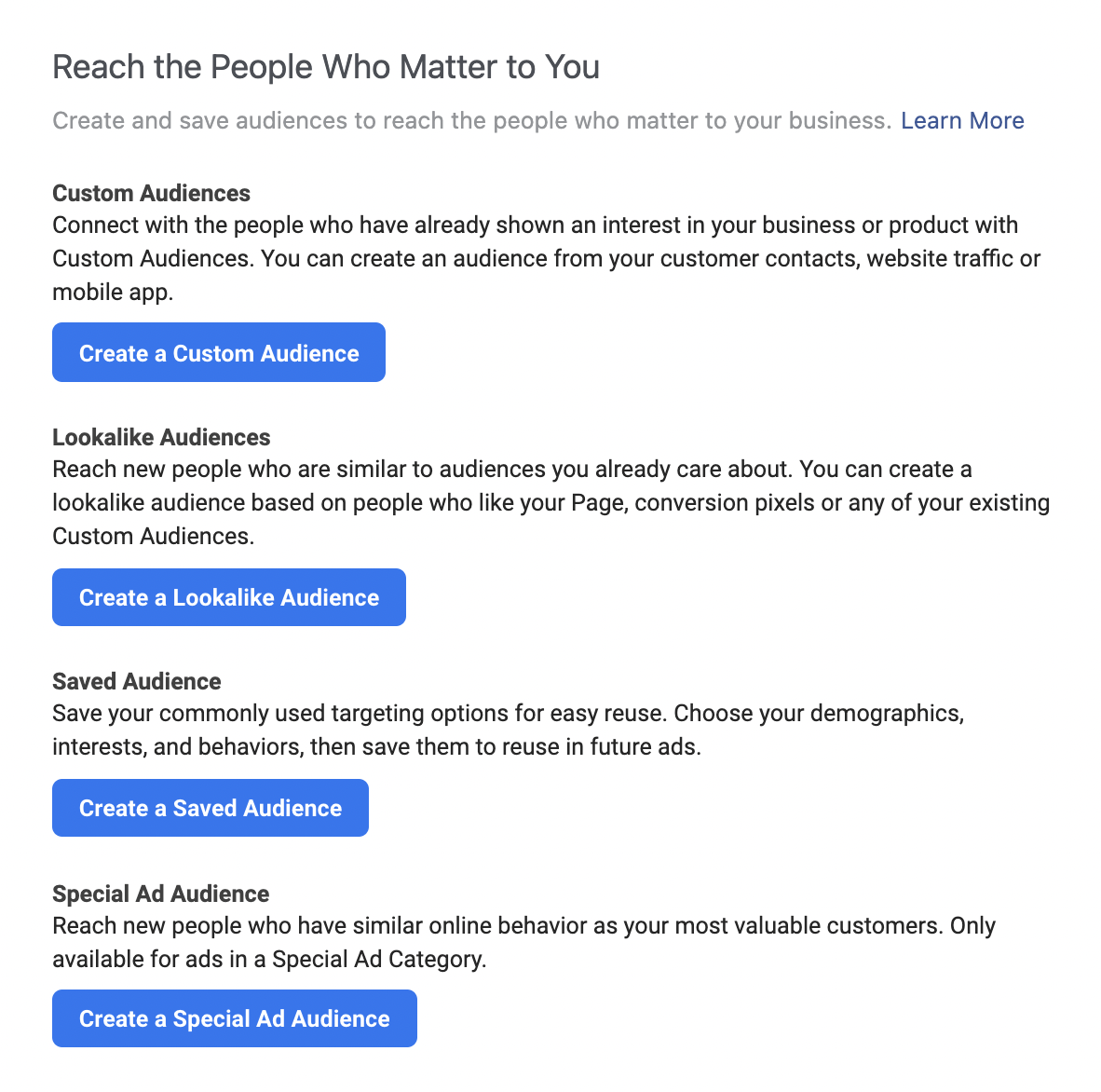 Ah, that's easy. There are just four of them…
Or are there?
When you click on the "Custom Audience", a new window with more options pops up.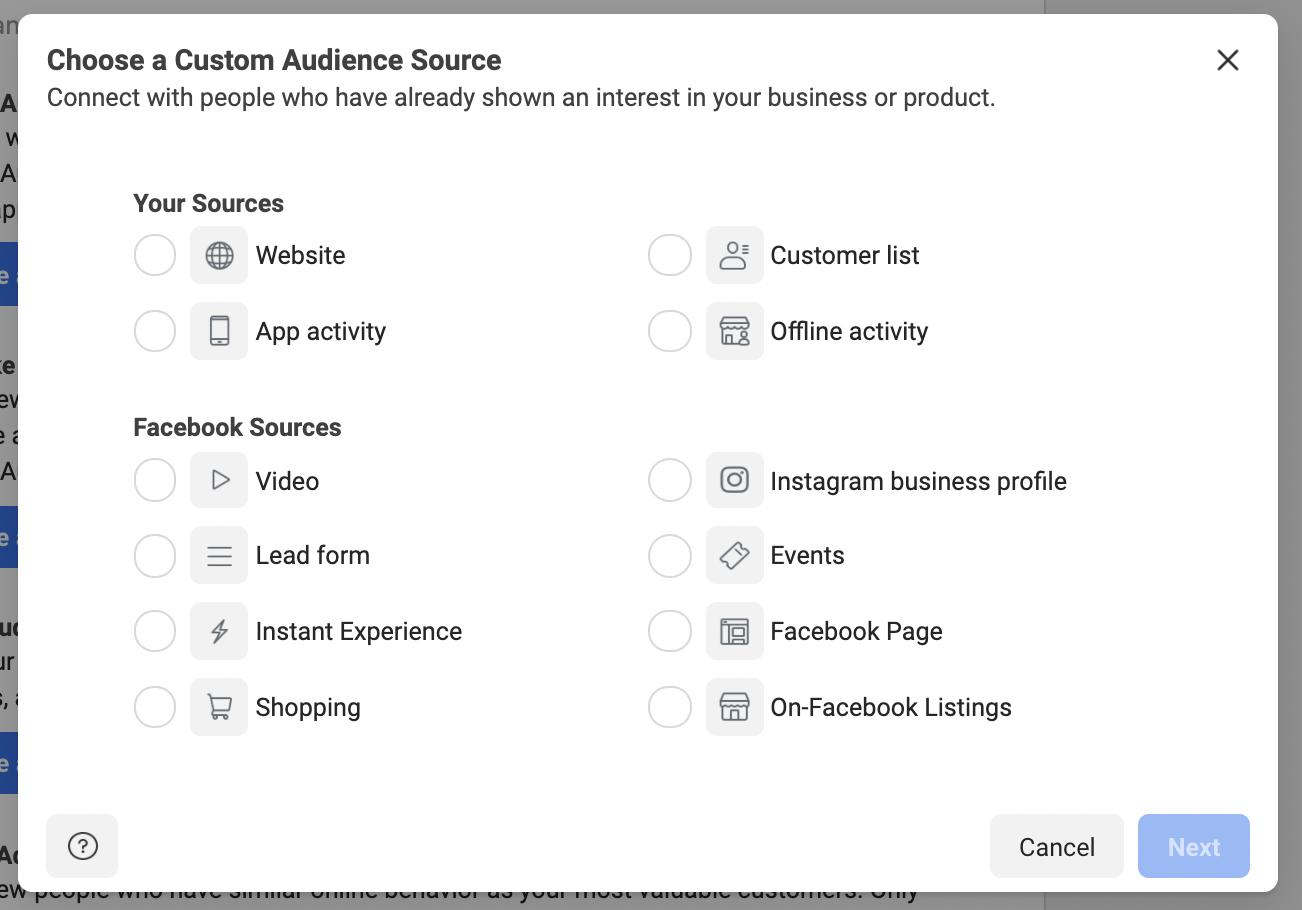 Which of these options should you pick?
They all look like they could help increase your conversion rates and lower CPC…
You get the idea. Without a guide, Facebook Custom Audiences can be quite overwhelming.
Let's start from scratch to paint a clear picture of Facebook's audience targeting options.
Types of Facebook audiences
There are four main types of Facebook audiences:
Saved Audience
Lookalike Audience
Custom Audience
Special Ad Audience
Most people use Saved Audiences to create their first Facebook ad campaigns. You can define these audiences by location, age, gender, used devices, income level, interests, etc.
They're great for starting out, but your ads are probably going to appear in front of a lot of uninterested people.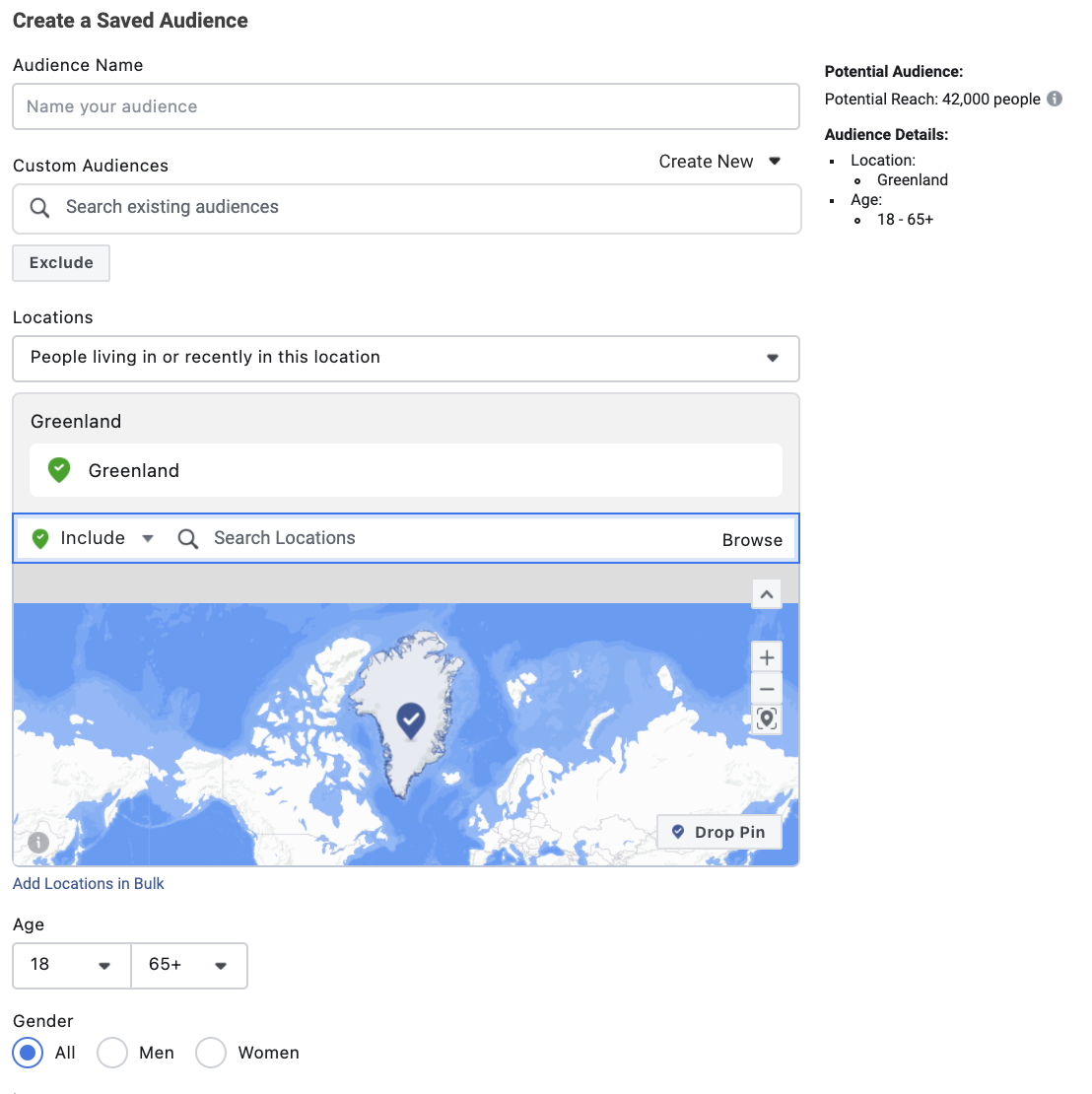 Lookalike Audiences help you reach new people who are likely to be interested in your offer because they're similar to your existing customers or website visitors. Lookalike audiences are created based on page visits, Facebook Pixels or Custom Audiences. Hooh… That's pretty meta, right?
Think of Lookalike Audience members as clones of your current retargeting audience who simply haven't heard about you before. However, these people do exhibit the same demographics or browsing behaviors as your original audience.
Lookalike Audiences can help you get more conversions at a lower price, but we'll get back to that later.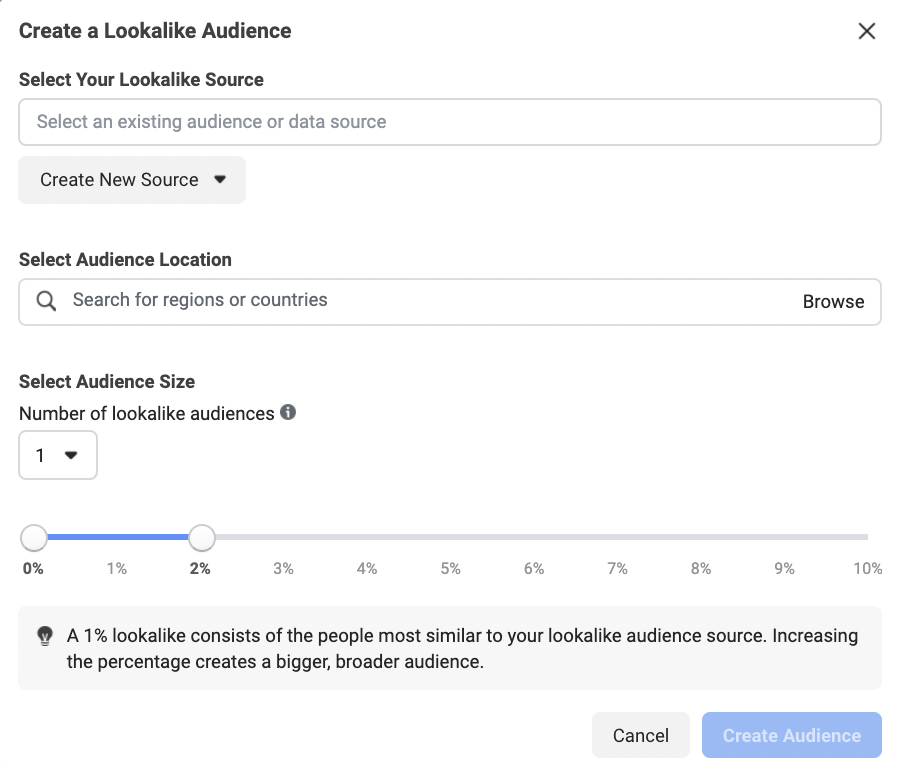 A Custom Audience uses data from the Facebook Pixel on your website/landing page. You can also create a Custom Audience from a third-party source of customer data, like email lists from your CRM.
These people are already engaging with your website or brand, which means targeting them can seriously boost your ROI.
Why does Facebook Custom Audience targeting work so well?
Remember the beginning of the article where I mentioned that using Facebook Custom Audiences amassed us a fortune?
And when you were thinking "YES PLEASE"…
Well, I must confess that using Facebook Custom Audiences didn't make me a millionaire. But retargeting definitely helped us to get new leads for an incredibly low cost.
In our case, retargeting website visitors with Facebook Custom Audience targeting got us conversions for over 500% lower costs compared to our other Facebook campaigns.
In another example, AdEspresso ran a 10-day Facebook ad campaign targeting Custom Audiences made of past 30-day website visitors.
As soon as someone visited AdEspresso's website, they entered the campaign and started seeing ads for various eBooks. The goal of the campaign?
To get people's contact information in exchange for the eBook and funnel them into a lead nurturing cycle.

As you can see, the average cost-per-lead was around $4. To be exact, the average cost-per-lead across all their Facebook retargeting ads was $3.48.
You too can use Custom Audiences and get leads at a lower cost.
To understand why Facebook Custom Audiences work like a fairy grandmother had just whipped her magic wand, you've got to understand the difference between cold and warm traffic.
Cold vs. hot audiences in Facebook Advertising
Before we start talking about traffic temperature, we need to address a common question.
Why aren't my website visitors or ad audiences becoming paying customers?
(Research indicates that as much as 98% of B2B website traffic doesn't convert or sign up for any offers, so it's a very common question.)
KlientBoost wrote a great in-depth article on this topic already, so I'll keep it short and get to the point.
With Facebook advertising, you have multiple audiences with different conversion intent and interest levels in your product/offer.
At one end of the spectrum is your "cold" audience — people who have never heard of your brand before.
And if you take good care of them and nurture them with high-quality content and other perks, their ice-cold hearts start to gradually melt…
Ok, let's not get too dramatic here.
But you get the idea: the more you nurture a cold audience and familiarize them with your brand, the warmer they'll get.
And that's when the right advertising channels and ad messages come to play.
You need to match the conversion intent and advertising channels to target potential customers at the right moment.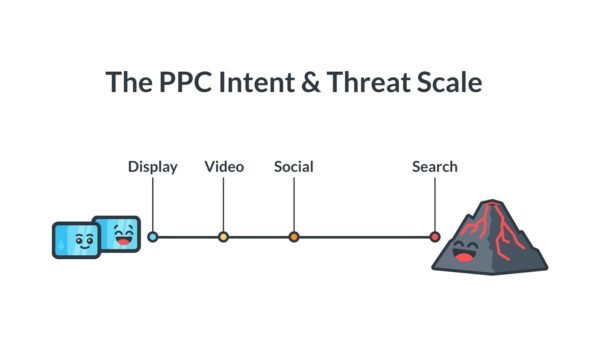 As you can see, the audience for your social media ads falls somewhere between two extremes: people indifferent to your product and diehard fans.
Don't Burn Your Ice Cubes
To engage and convert these audiences, your Facebook ad message needs to match the temperature of the audience.
For example, if someone just purchased your product and you start showing them retargeting ads for the exact product they just bought, they're likely to be turned off and not return.
In contrast, if you ask a cold lead to buy your product, why would they say yes? (Unless you offer an irresistible discount, which will bankrupt you eventually.)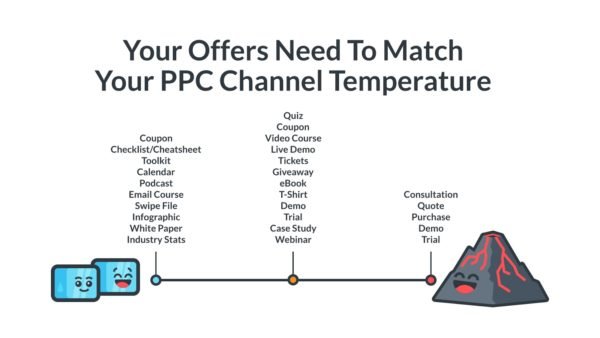 In Facebook advertising land, "ice cubes" are usually the people you're targeting through a Saved Audience of interests, demographics, etc. They probably haven't ever heard of you.
Asking those people to pay for your product the first time they see your offer is not a very effective way to acquire leads or clients. You'll waste a ton of money.
A lot of new advertisers get burned by using their PPC campaigns to chase these "ice cubes". They think a single CTA/offer will work regardless of the audience — or at least they're hoping so.
Using Facebook Custom Audiences, you'll be able to reach the audience on the warmer side of the scale.
Who's On The Warm Side Of The Scale?
"Warm" leads have visited your website or engaged with your branded content. Compared to ice cubes, they have a much higher potential to sign up for an offer or buy your product.
This potential makes them a lot more likely to click on your ad and complete the conversion on the landing page.
The reason we saw a huge increase in our ad campaigns' conversion rate was that we started targeting warm audiences instead of cold ones.
We had been relying on Facebook's Saved Audiences to deliver our ads to potential buyers. But switching to smaller, super targeted Custom Audiences made all the difference.
There are multiple types of Facebook Custom Audiences, and it's up to you to find the most suitable ones for reaching your goals.
Here are all the types of Custom Audiences that you can select based on your advertising goals.
Creating Facebook Custom Audiences
There are five different options to create a Custom Audience:
Customer list
Website (specific website visitors, converters, non-converters)
App activity
Offline activity
Facebook sources
Let's have a closer look at each of them.
If you're already familiar with Custom Audience types, scroll down for eight solid gold retargeting ideas. You don't want to miss those!
Creating A Facebook Custom Audience From Customer Lists
This type of Facebook Customer List Custom Audience is based on your existing customer files, e.g. lists of email accounts, phone numbers or app IDs.
You already know that the people subscribed to your email newsletters are interested in your content and offers. So why not nudge them to become paying customers?
Step-By-Step Guide To Create Your Facebook Custom Audience:
1. Go to Facebook Business Manager and click Audiences in the left drop-down menu. (If you don't have a Business Manager yet, I highly recommend you create one.)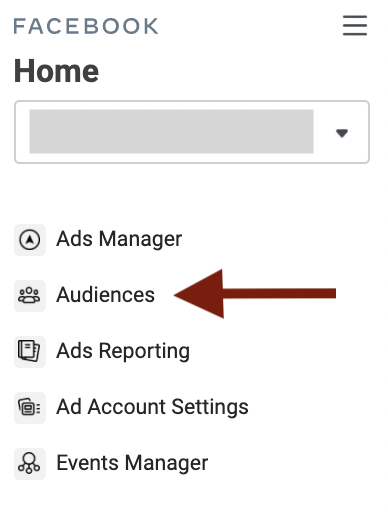 2. From the options, select "Create a Custom Audience".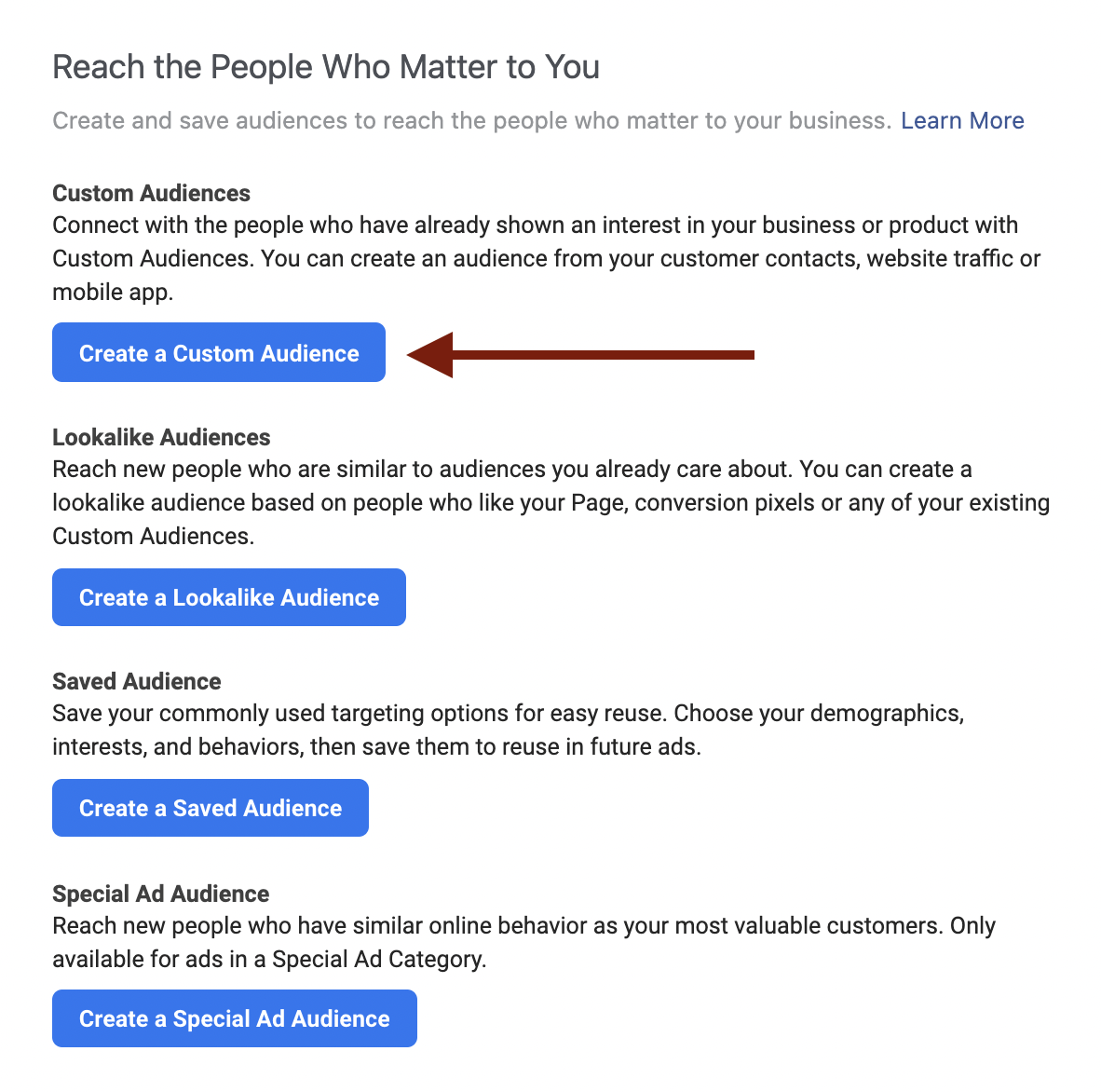 3. Select the "Customer List" option.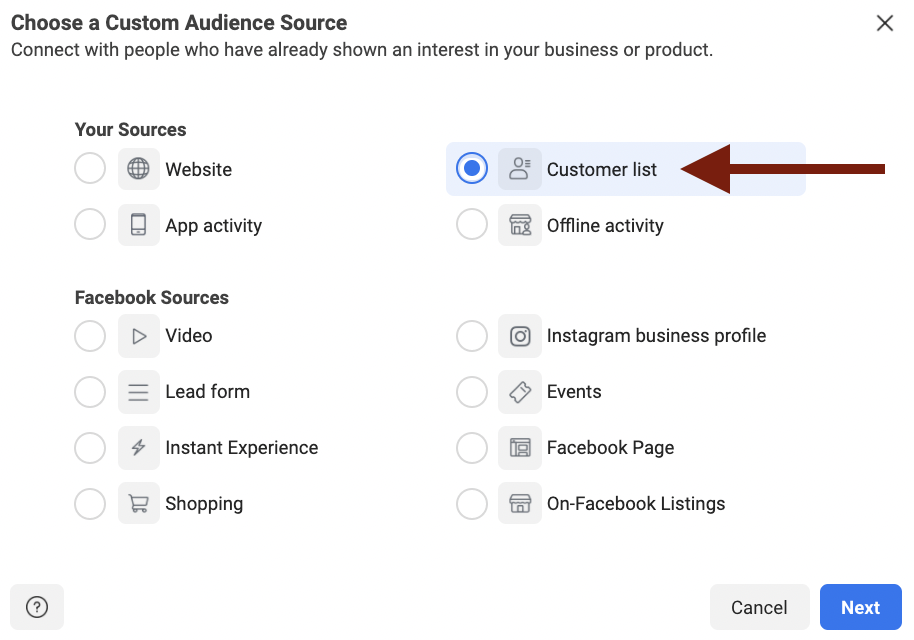 4. Choose whether you'd like to import contacts from Mailchimp or upload a customer list.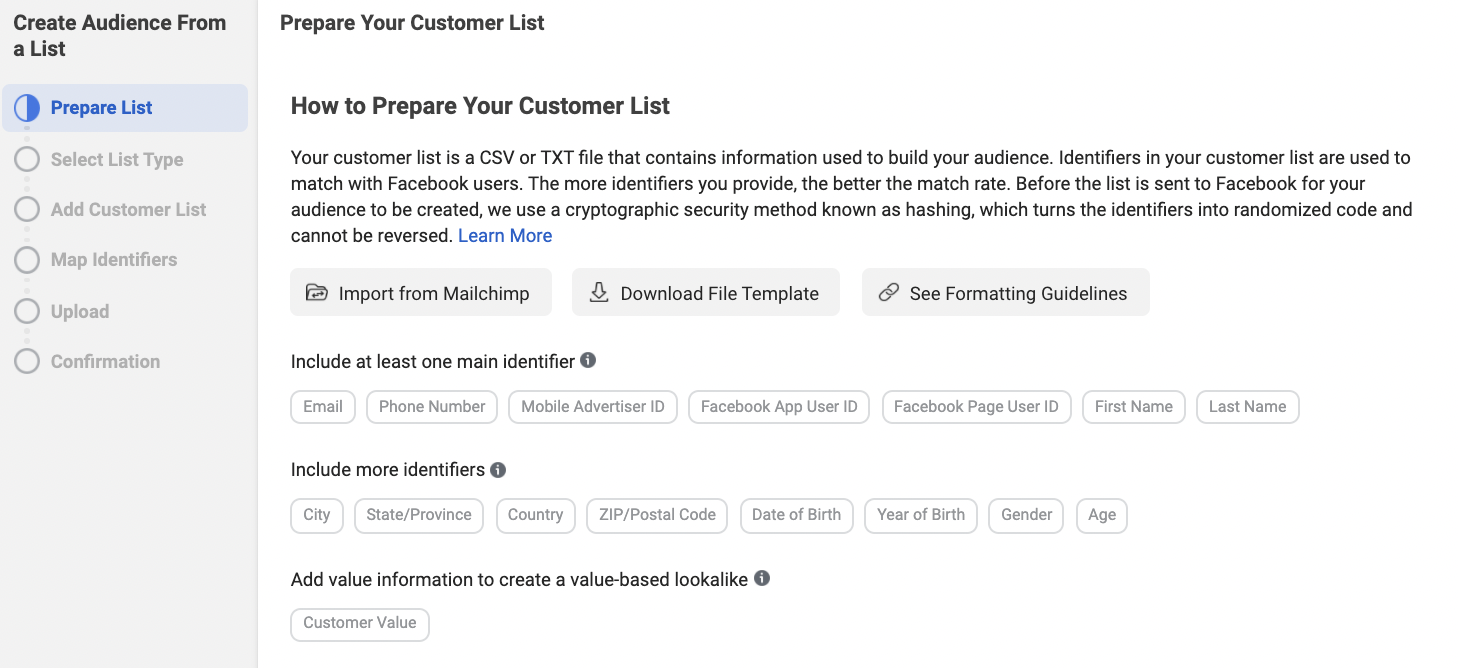 The next step will ask if your list includes a column for Customer Value.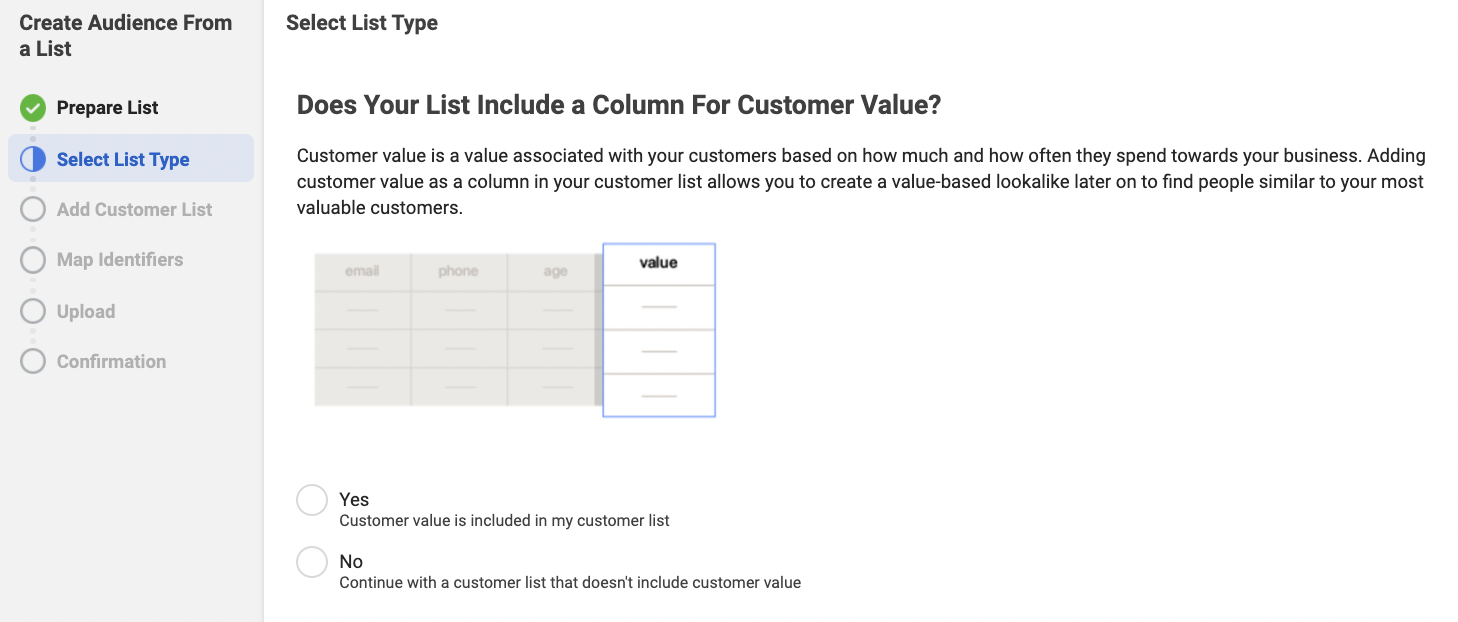 To move onto the next step, you'll have to check a box to agree to accept the Custom Audience Terms.

If the file is formatted correctly, you'll be able to select Next at the bottom right of the window.
5. Map the identifier. Facebook may automatically be able to label identifiers, but it will give you an opportunity to change the label or add additional identifiers that weren't able to be automatically picked up.
There are 15 different identifiers to choose from, the most frequently used ones being:
Email
Phone number
Mobile advertiser ID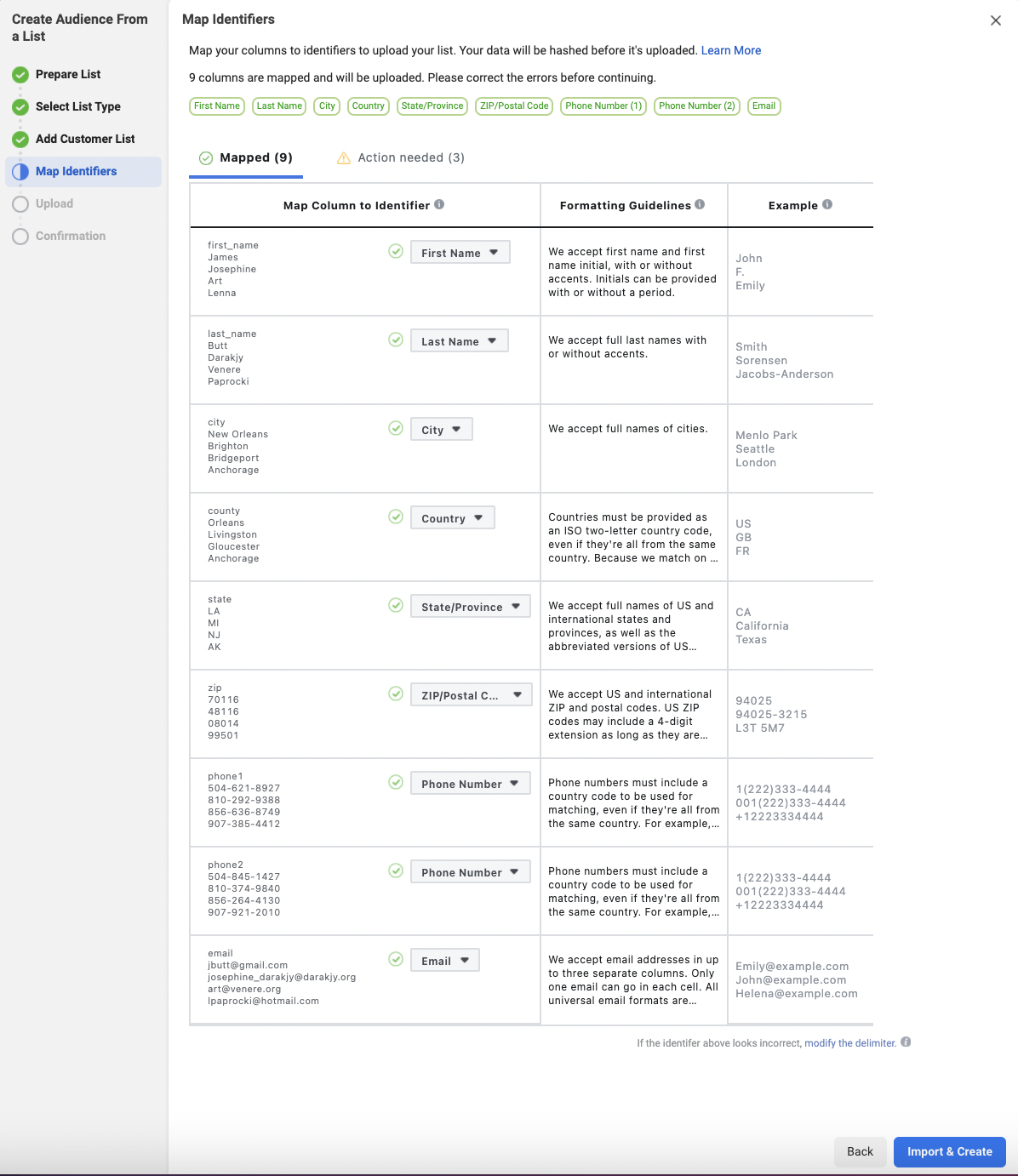 6. Press upload and your custom audience will begin to populate.

Depending on how big your list is, the audience may take a few minutes to populate. Once you're ready to use it, you'll see "Ready" with a green circle in the Availability column.
For an in-depth technical guide on creating Facebook audiences from customer files, check out this Facebook article.
Finally, if you need to clean up your customer data before importing it, here's Facebook's guide to help you.
Creating Facebook Custom Audiences From Past Website Traffic
Want to target people who have previously visited your website? If so, this Custom Audience is the one to use.
To create audiences based on your website traffic, you'll need to install Facebook Pixel first. You also need the Pixel for tracking conversions, so there's a good chance you have it set up already.
Step 1 – Create a Facebook pixel.
Go to your Events Manager.
Click Connect Data Sources and select Web.
Add your Pixel Name
Enter your website URL and check for easy setup options.
Click Continue
Step 2 – Add the Facebook pixel to your website
There are 3 different ways to setup your pixel on your website:
You can manually add the code between the <head> tags on each web page, or in your website template to install it on your entire website
Use a partner integration (such as Google Tag Manager)
Or email instructions to whoever manages your website
Each ad account gets only one Pixel code.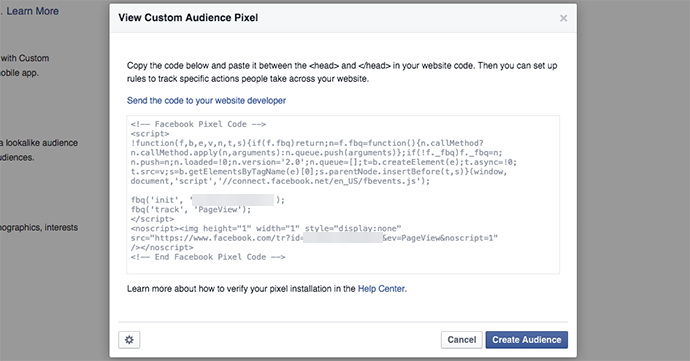 Once you've installed the Facebook Pixel on your website, you'll be able to track standard events taken on your website such as adding to cart or making a purchase. The Event Setup Tool allows you to create these website custom audiences without needing to add any code.
You can easily set up tracking for seventeen different standard events using the Event Setup Tool:

Note: The page view event is included as part of your pixel base code.
For an in-depth guide on installing Facebook Pixel to your website, take a look at Facebook's Pixel implementation guidelines.
After you've set up the Facebook Pixel, you can use it to track your ad campaigns' results and create new Custom Audiences for retargeting.
Steps To Create A Custom Audience Based On Website Traffic
1. Go to Facebook Business Manager and choose Audiences.
2. Click" Create Audience" in the top left corner.
3. Select "Custom Audience". (Scroll up to see the visual directions for points 1-3.)
4. Select the "Website" option from the list.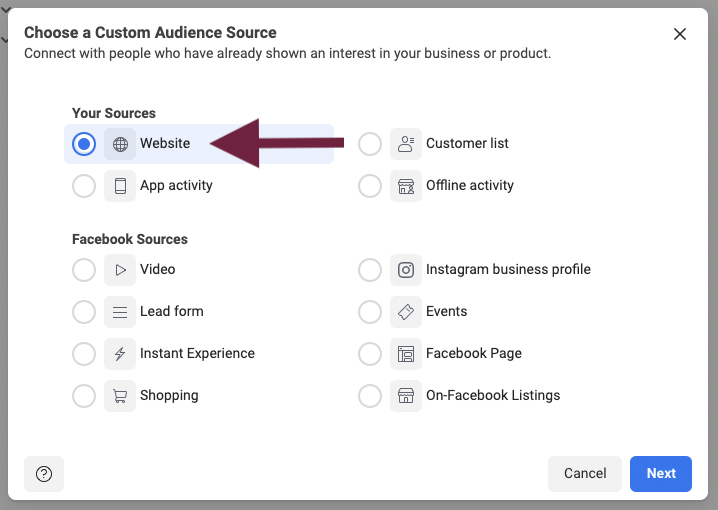 5. Select the parameters.
You can choose between multiple targeting options:
All website visitors
People who visited specific web pages
Visitors by time spent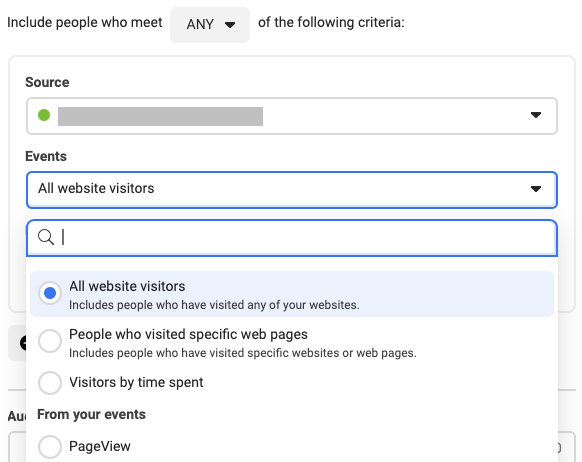 Further down it will allow you to get more granular so that you can also include and/or exclude specific web pages.
6. Give your Custom Audience a name and click on the "Create Audience" button.
Facebook Custom Audiences based on website traffic are a treasure chest of retargeting opportunities. Keep reading to see various use cases and how to create high-ROI ad campaigns.
IMPORTANT: Don't forget to exclude audience segments for razor-sharp targeting.
Steps To Create A Custom Audience Based On Offline Activity
1. Go to Facebook Business Manager and choose Audiences.
2. Click" Create Custom Audience" on the top.
3. Select "Offline activity".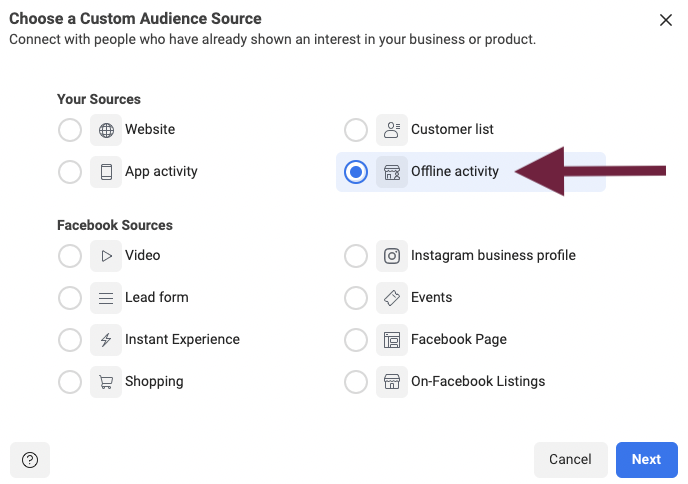 4. Choose the source. (Offline sources must be set up separately.)
5. Name your audience and create.
Here's Facebook's official guide for using Offline Events to Create Custom Audiences.
Creating a Facebook Custom Audience Based On App Activity
If you have an iOS or Android app, you can target people based on the actions they take in your mobile app.
Here's how to set up a Custom Audience based on app activity:
1. Register your app and set up app events to reach specific users.
The event can be one of 14 predefined events such as "added to cart" in a commerce app or "level achieved" in a game. Or if you wish, you can also set up your own custom events.
2. Go to Facebook Business Manager and choose Audiences.
3. Click "Create Audience" in the top left corner.
4. Select "Custom Audience".
5. Select "App Activity" from the list of targeting options.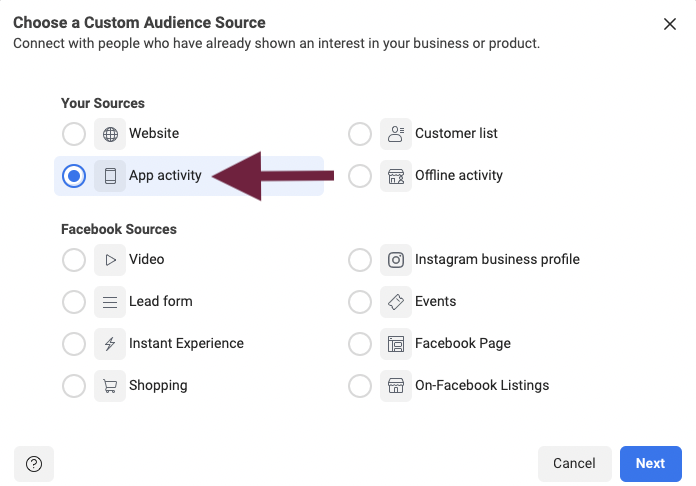 6. Name your audience and select the app you want to create a Custom Audience from. Make sure you have the ad account rights to the app you want to use.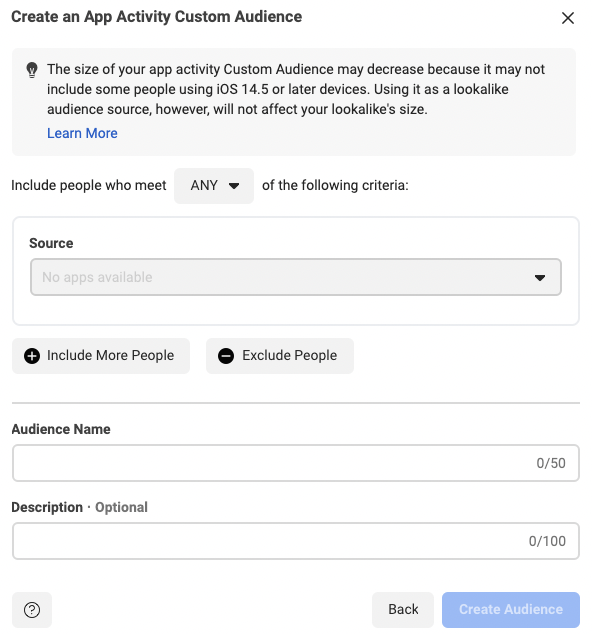 7. Define actions: target people who have taken specific actions in your app by choosing between the events you have previously set up.
8. Choose the timeframe you'd like to retarget.
For example, you can choose a purchase event you're measuring and specify "In The Last 30 days" to reach people who have completed a purchase event in the past 30 days.
Here's Facebook's official guide for creating Custom Audiences based on app activity.
Creating a Facebook Custom Audience Based On Facebook Engagement
An Engagement Custom Audience is made up of people who have engaged with your content on Facebook.
"Engagement" refers to specific actions, like spending time viewing your videos or opening your lead form or instant experience.
To create a Facebook Custom Audience based on engagement, follow these steps:
1. Go to Facebook Business Manager and choose Audiences.
2. Click" Create Audience" in the top left corner.
3. Select "Custom Audience".
4. Select which type of Facebook engagement you'd like to retarget in your ad campaigns.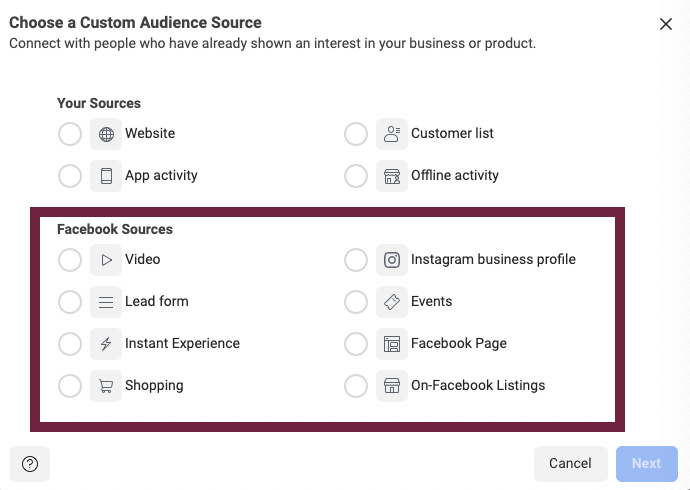 Here's Facebook's official guide for creating Custom Audiences based on Engagement.
We'll get to specific retargeting opportunities in the next section of this article where you'll get lots of new ideas to take your Facebook ad campaigns to a whole new level.
Eight Ideas For Advanced Retargeting With Facebook Custom Audiences
Now that you're familiar with the four types of Facebook Custom Audiences and how to create them, it's time to dive into best practices.
Up next, you'll find eight expert-level Custom Audiences that are perfect for high-ROI Facebook retargeting campaigns.
1. Retarget All Past Website Visitors
If you could only create one Facebook Custom Audience for retargeting with Facebook ads, this would be it.
The people who have visited your website might be a vague group with different intents and expectations, but they're a great place to start retargeting.
Target your past website visitors with a Facebook offer that reminds them of your brand. This offer shouldn't be too different from the core value proposition on your homepage or landing page.
For example, Plotly's home page reads: "Visualize Data, Together" and it continues by explaining that Plotly is a data intelligence platform.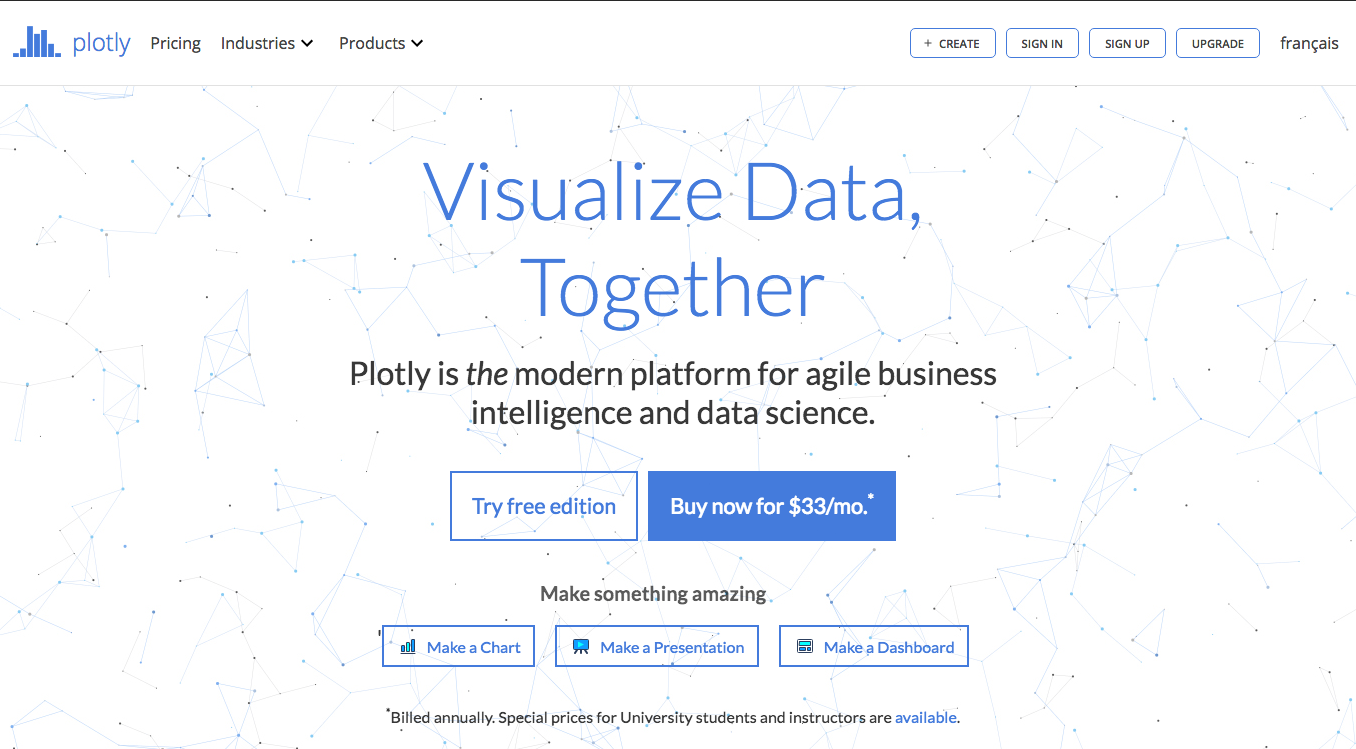 Their Facebook ad repeats the same message in different words, seizing an opportunity to restate their unique value proposition (UVP).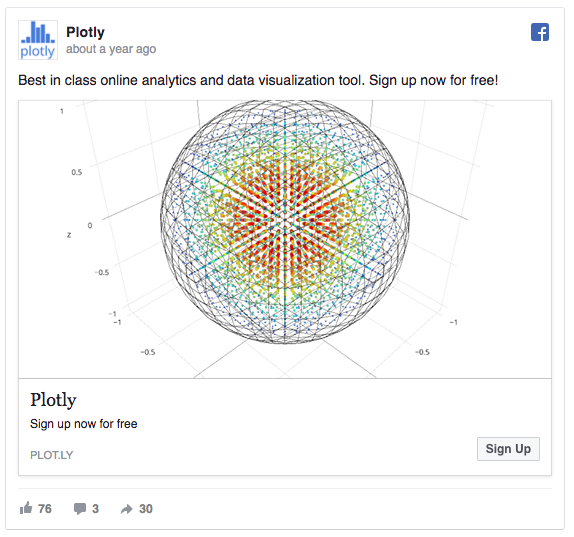 Retargeting your website visitors is also a great starting point for A/B testing several value propositions. You'll be able to determine which appeals are the most effective for your potential buyers.
Just don't wander too far from the initial offer on your website.
How To Create A Facebook Retargeting Audience Of Past Website Visitors
To create a Custom Audience of all people visiting your site, go to the Audience Manager, select "Custom Audience" and click on "Website Traffic" (scroll up for a step-by-step visual guide).
You can retarget people who visited your website ranging in timeframes from one to 180 days.
Choosing the right time period can be tricky depending on the length of your sales cycle. We like to keep our retargeting campaigns in the frame of 30 or 60 days since the last visit, so our audience won't get tired of seeing our ads and the offer is still relevant to them.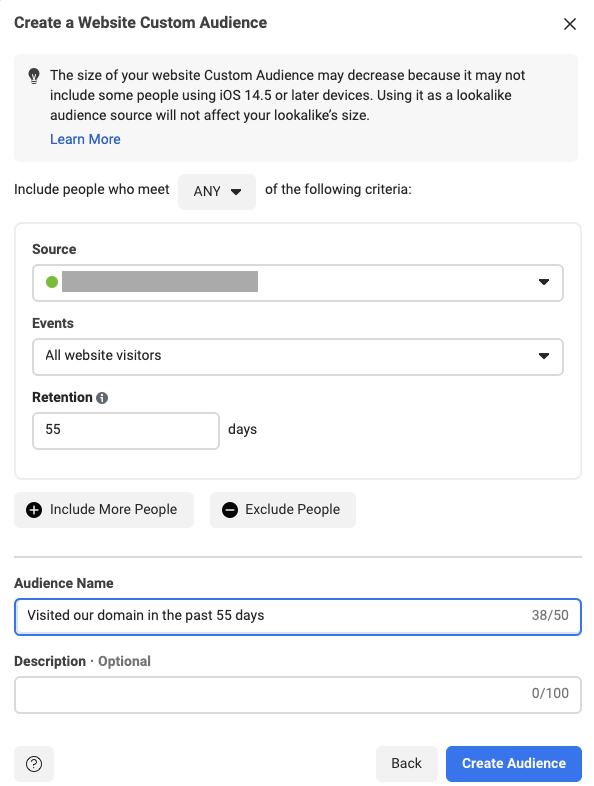 Remember that people who have only been to your website or landing page once might not be warmed up to your offers yet.
Consider offering a free course or eBook instead of asking them to make a purchase right away. Look at this Facebook retargeting campaign as a way of building brand awareness and trust, while still focusing on the direct response conversion.
Here's an example of an Unbounce Facebook ad promoting an eBook. I saw this ad because I visited their website in the past (or a specific landing page, can't tell for sure).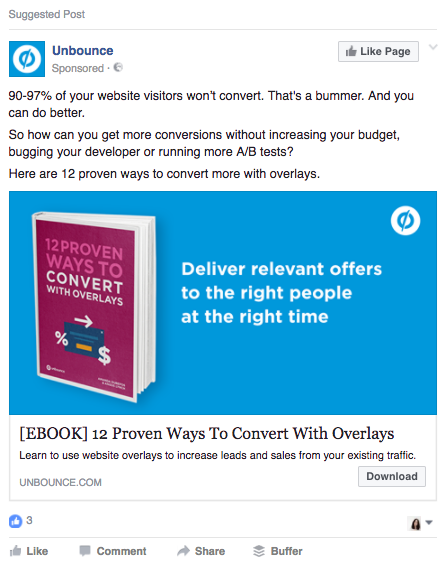 Best Practices For Retargeting All Past Website Visitors With Facebook Ads:
Use a shorter time frame (30-60 days) to keep your offer relevant.
Don't ask for a huge commitment from people who have only been to your site once.
Keep your UVP message close to the one on your home page.
Offer value instead of asking people to buy (share eBooks, guides, etc.)
2. Retarget People Who Visited Specific Landing Pages
Not all landing page visitors convert on their first visit.
You're probably paying a high price for the people who come to your landing pages via pay-per-click ads. Not retargeting them with additional offers can waste a sales opportunity retroactively.
There's also a good chance that you can catch your visitors' attention by setting up retargeting campaigns.
In fact, on average, 26% of customers will return to a website because of retargeting ads.
Benefits Of Retargeting Users Who Have Visited Specific Landing Pages:
They're familiar with your brand.
They're interested in a particular product or use case.
You can promote landing page-specific offers relevant to a small audience.
For example, our SaaS product at Scoro has a popular use case: project management software.
We created several landing pages related to project management that get both organic and paid traffic.
Our Facebook ads campaign targeted a Custom Audience that had visited some of our project management-related landing pages in the past 60 days.
This retargeting campaign focused on project management since we knew that people were interested.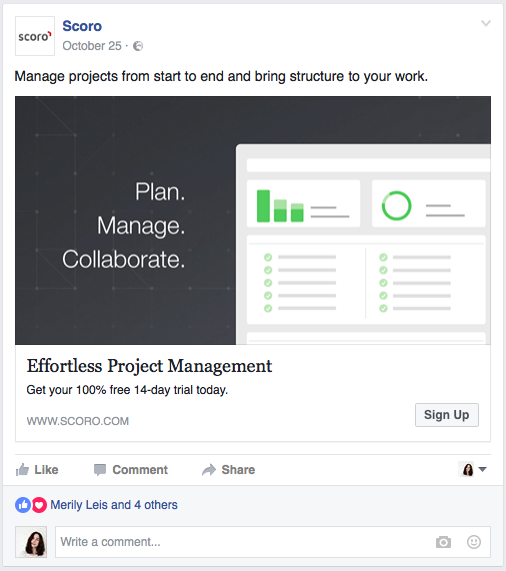 While the audience was fairly small (about 2K people), it brought us 12 leads in 20 days.
When multiplied by the number of retargeting campaigns we're running on Facebook, that's a pretty amazing lead generation machine.

Here's another example from Intercom.
Their product has multiple target groups from support teams to marketing teams.
The ad below specifically targets marketing teams and could serve as a retargeting ad for people who have visited their landing page focusing on email marketing.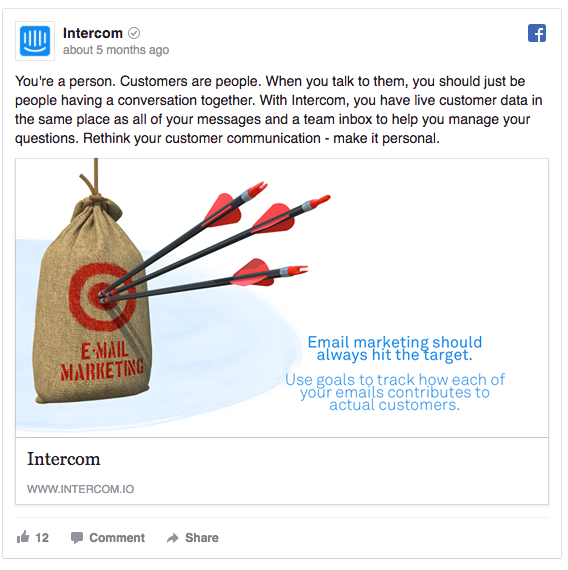 Tips For Retargeting Facebook Custom Audiences That Have Visited Specific Landing Pages
When retargeting to Facebook Custom Audiences that have visited specific landing pages, be more specific with your offer.
Show an easy-to-see benefit and be clear about the next step you'd like people to take, e.g. by using the "Sign Up" call-to-action button in your ads.
And while the general rule is to keep your ad frequency below 3-5 points, you can exceed that with retargeting ads.
We've even seen a continuous flow of results from Facebook retargeting ad campaigns with ad frequencies over 10 points.

As you look at the retargeting campaign's CTR and CPC results graph, you'll see that the cost-per-click only increased at the very end of the campaign, when the ad frequency got over 15 points.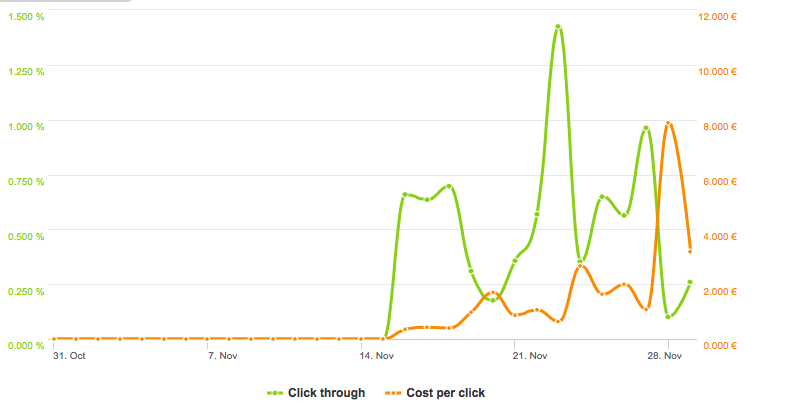 Check on your retargeting campaigns regularly to identify the moment when people get tired of your ads and stop engaging with them. Then it's time to hit the "Pause" button or try new visuals to fight ad fatigue.
How To Create A Facebook Custom Audience For Retargeting Landing Page Visitors:
Go to the Facebook Audience Manager and add a new Custom Audience based on website traffic.
Select the option to target people who have visited specific web pages.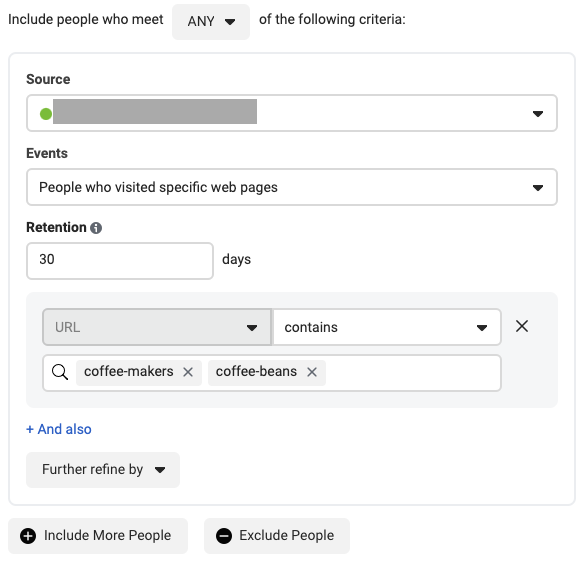 But what about the people who visited your landing pages and converted?
You wouldn't want to show them any more ads with the same offer, right? (There's another retargeting campaign for converters that we'll get to later in this article.)
To exclude people who have already made a purchase or taken other actions on your landing page, use the exclusion option.
Exclude all the people who have visited your post-conversion page, e.g. the purchase confirmation or thank you page.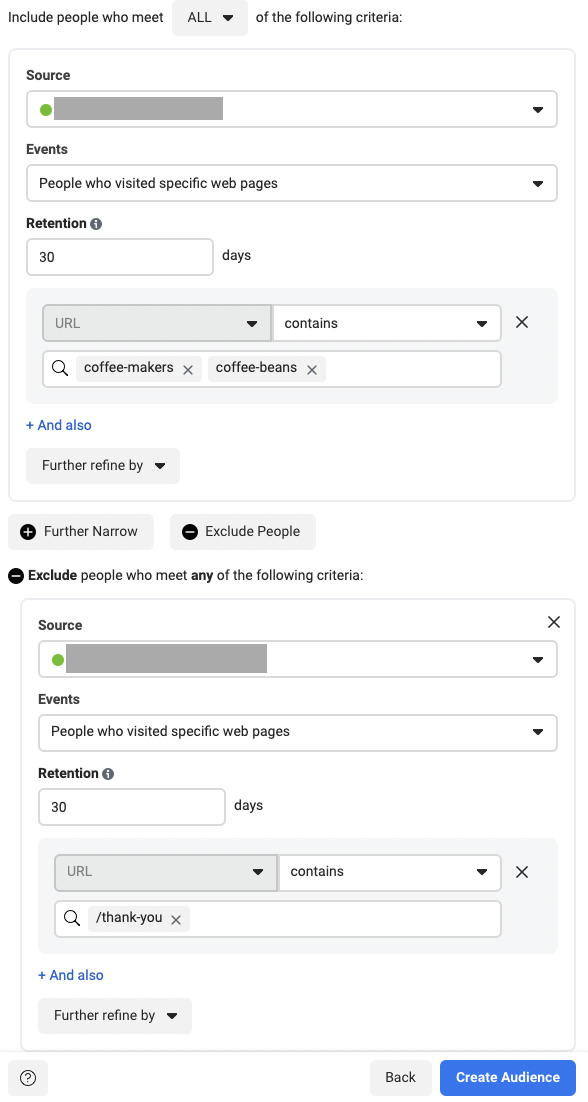 After creating the audience, give Facebook a few hours to collect data and then proceed with the campaign setup.
Best Practices For Retargeting Landing Page Visitors With Facebook Ads:
Make your offer specific to particular landing pages.
Have an arsenal of different offers to test.
Be clear about what you want the prospect to do.
Let your ad frequency reach higher than usual (up to 15 points).
Keep your eye on the results to know when it's time for a pause/change.
Don't forget to exclude the people who already converted.
3. Retarget Your Blog Readers For Higher Engagement
Here's a story about how you can lose your potential fans and blog readers:
People Google a question about a specific problem that you know how to solve.
They find one of your blog articles and read it through.
After reading your post, they still don't have the answer they wanted.
They click their browser's "close tab" button and never return to your blog ever again.
Naturally, you'd like to avoid this kind of grim storyline and turn all blog visitors into BFFs (Best Fans Forever). And by masterfully retargeting your blog readers, you can.
Benefits of Paying For Facebook Content Distribution
You might ask: Why should I pay for content distribution on Facebook if I can simply publish a post and just reach my followers?
It's a fair question, but Facebook has been actively working to keep branded content out of organic News Feed results for quite a while now.
In July 2016, Facebook announced that they're making the News Feed more friend and family-centric, reducing the reach of branded content organic reach significantly.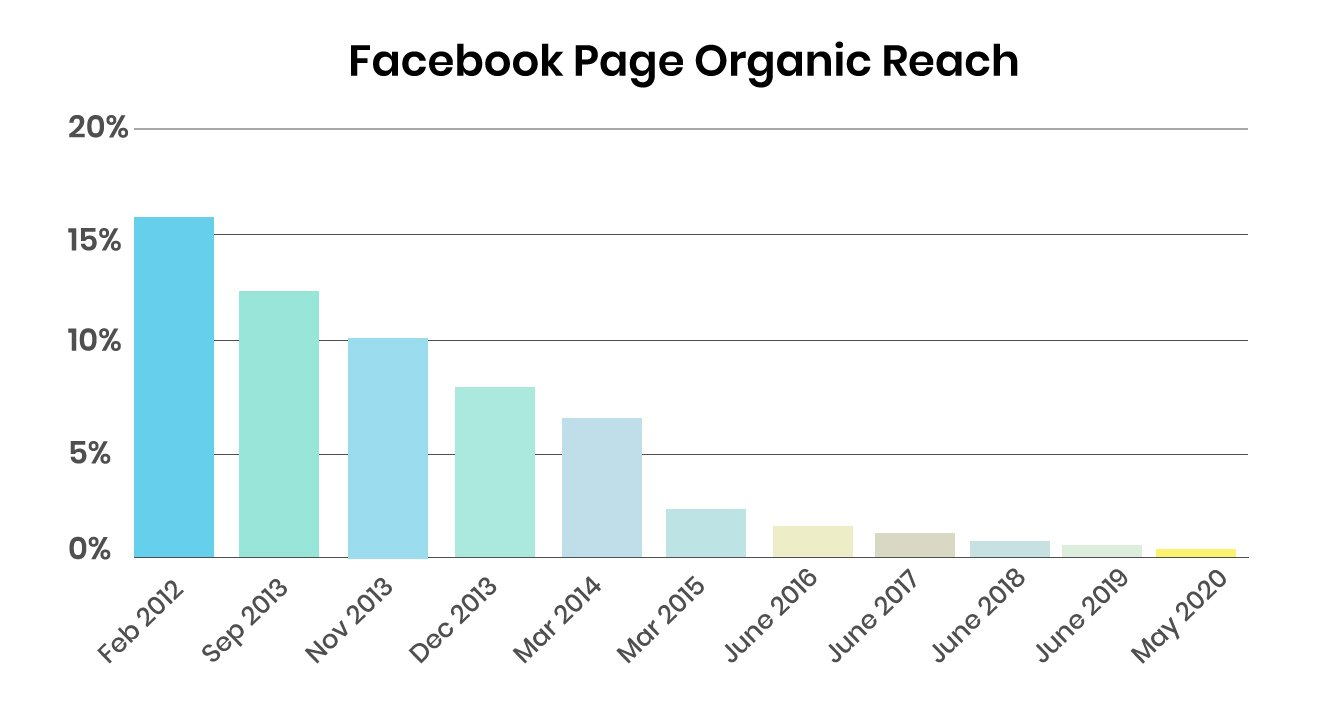 Facebook doubled down on this policy with an update in 2018 that lowers the priority of Pages content to make user News Feeds "more about connecting with people and less about consuming media in isolation."
So while I won't say you can't reach Facebook users organically, you should know that it's an uphill battle that might not generate effective results. Which is why you should consider paid content promotion.
Make Yourself Known: Paid Content Promotion
If you want your blog readers to find your shared articles and content on Facebook, you need to boost posts and promote your blog content with ads.
The easiest way to retarget your blog readers is by creating a large Custom Audience of all the people who visit your blog's domain.
When we boosted a Facebook post to a cold interest-based audience, our cost-per-clicks were up to 120% higher than a similar post promoted to our blog readers. (The results were based on multiple campaigns with variations in content and ad copy, but the trend strongly favored Custom Audiences.)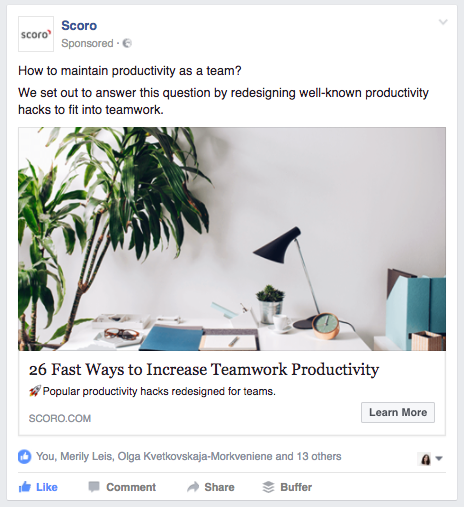 If your blog covers a wide range of topics (e.g. HubSpot has two separate blogs for marketers and salespeople), you can create different Facebook Custom Audiences based on specific blog topics.
If 30% of your blog content is about cats in space, for example, create a Facebook Custom Audience of blog readers who have read your cats in space articles.
Using retargeting to promote your blog posts across Facebook contributes to higher click-through rates as the audience is already interested in the topic.
Tip: If you've published an article that is likely to gain traction or perform well organically, use Facebook as an A/B testing tool for finding the perfect headline. This can help your post generate more clicks and improve engagement metrics.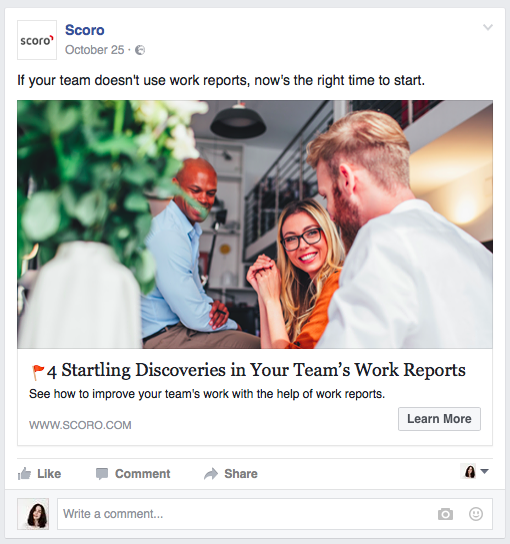 How To Set Up A Custom Audience Of Your Blog Visitors
Open Facebook Audience Manager and add a new Custom Audience based on website traffic.
Select the option to target people who have visited specific web pages.
To target all the people who've visited your blog in the past, add your blog's domain URLs.
For retargeting people who've visited specific blog articles, insert specific article links. Don't forget to exclude people who have already read the article you're promoting.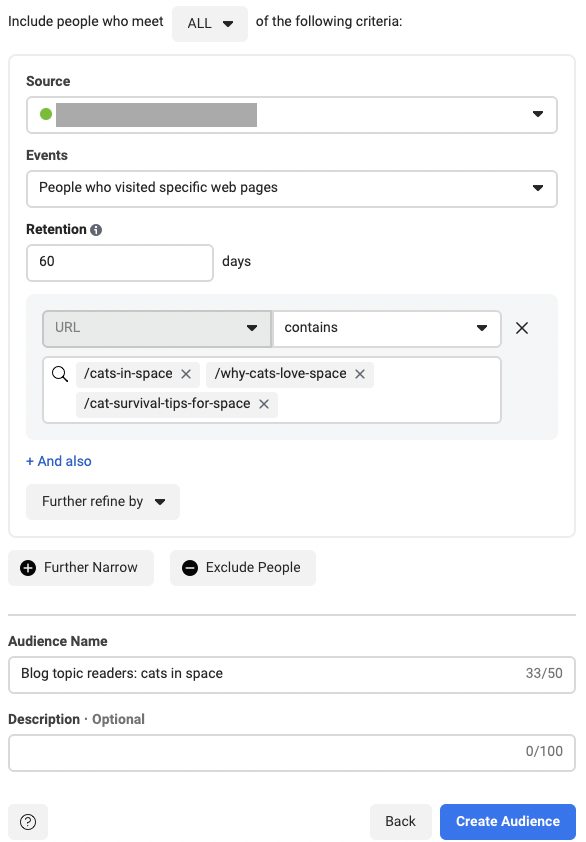 After you've set up the Custom Audience, leave Facebook to gather data and start working on your ad design and copywriting.
Here's a guide with 50 Facebook ad tips for creating irresistible ad copy and designing ad visuals that can lead to greater performance.
Best Practices For Retargeting Blog Visitors With Facebook Custom Audiences:
Keep your blog readers engaged by promoting great content on Facebook.
Use Facebook boosted posts or create new ad campaigns to amplify your blog's reach.
Create multiple audiences of people interested in particular topics.
Use Facebook as an A/B testing tool for finding perfect headlines.
Don't forget to exclude the people who have already read/downloaded your promoted content.
But here's the most important part. Once people have clicked through and consumed your blog post, you can create a new retargeting audience based around how many seconds they've been on the blog post.
This is called "time on site" retargeting.
If a visitor who came from Facebook spends 30+ seconds on your blog post, then you should consider giving them the next offer that increases "the ask" of what you're wanting them to do.
This could be a new offer of an eBook that requires them to give you their email address.
4. Retarget New And Past Converters
Most marketers stop marketing as soon as someone becomes a client or makes a purchase.
Guess they haven't heard the saying "a buyer, is a buyer, is a buyer."
According to research by Adobe, 41% of revenue in the US comes from repeat customers.
And the average revenue per visit for repeat purchasers in the US is 497% higher than regular shoppers.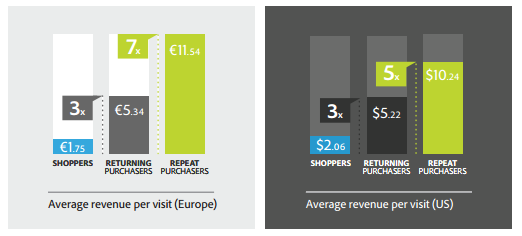 There's major potential in retargeting your existing customers. By setting up the right Facebook Custom Audiences and developing a retargeting strategy, you can significantly boost your sales numbers.
Post-Conversion Retargeting Idea #1: Cross-Sell And Upsell
You don't need to be an eCommerce brand to use Facebook ads for upselling or cross-selling.
If you can track the conversions on your home page, there's always a potential for attracting further sales with Facebook ads.
By setting up a Custom Audience of the people who have visited your thank-you page, you can retarget this audience with upselling opportunities.
If someone buys coffee beans from you, for example, you can upsell with an irresistible kettle offer.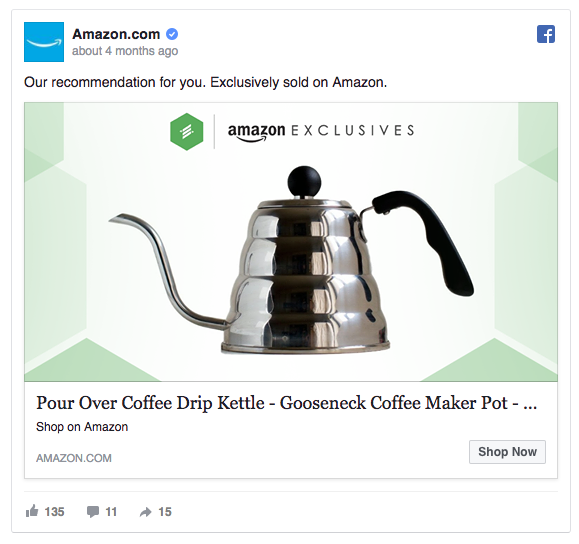 Or if you've just sold someone a suitcase, they might also be interested in buying other travel products or gadgets.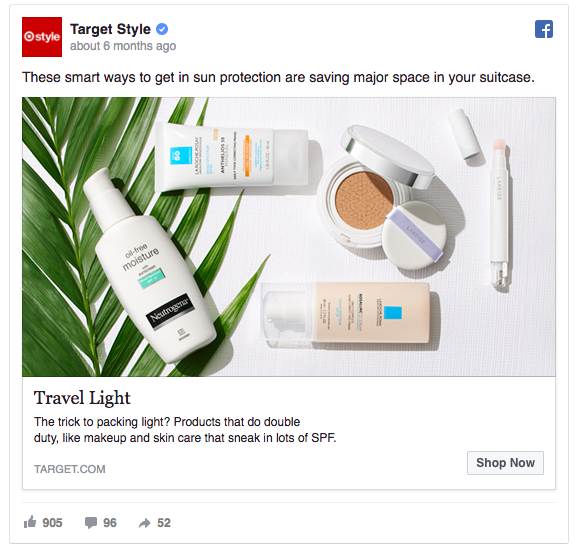 If visitors downloaded your top of funnel eBook, you can guide them further down the conversion funnel by upselling your upcoming webinar.
Post-Conversion Retargeting Idea #2: Educate Your Audience
If you're selling a fairly complex product (for example, software) or would like to educate your audience about your brand and product lineup, Facebook Custom Audiences can help.
For example, after someone signs up for your product, you can create ads that promote helpful guides for beginners.
Litmus offers a guide for email optimization and troubleshooting that helps users succeed when using their new tool.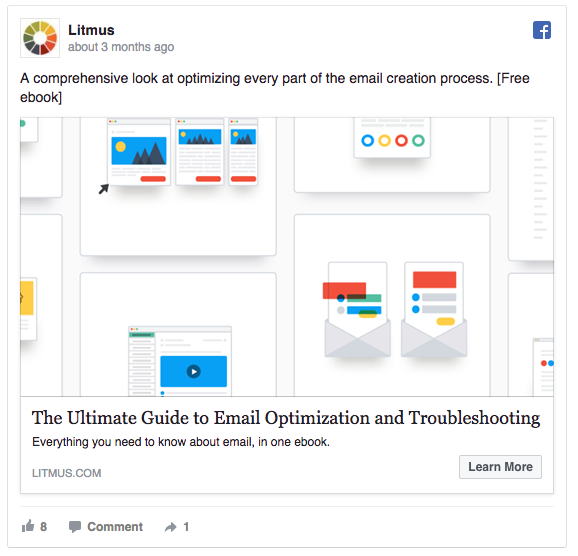 Tip: Pair your retargeting Facebook campaigns with an email onboarding program to deliver the guides to people when they need it most. If you care about retention, that is 🙂
How To Set Up A Facebook Custom Audience Of Converters And Customers:
Depending on your business (SaaS, eCommerce, agency, etc.), the way you track website conversions can vary drastically.
As we mentioned above, the easiest way to set up a Custom Audience of converters is with a thank you page.
1. Go to the Facebook Audience Manager and add a new Custom Audience based on website traffic.
2. Select the option to target people who have visited specific web pages.
3. Target people who have visited your confirmation/conversion/thank you page.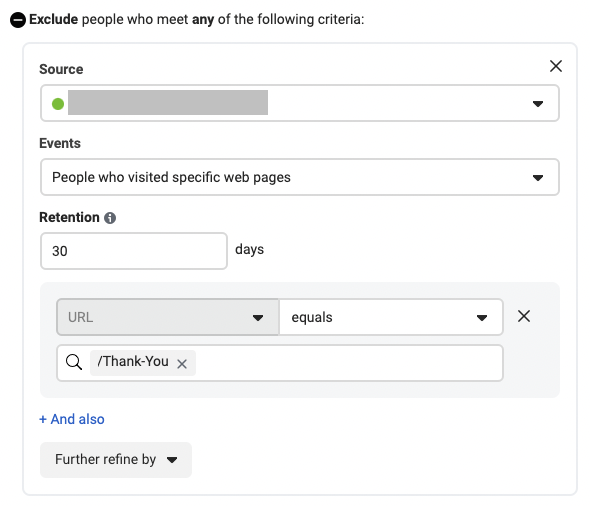 You can also set up custom conversions to track exact events that people take on your website.
We won't get into event tracking specifics in this guide, as that is an advanced tactic for particular use cases. (You can find Facebook's guide to custom conversions here.)
After you go to the Audiences page in the Facebook Ads Manager, you'll see the new Custom Audience in the list alongside others.
Also, if you see an "Audience too small" notification, give Facebook a couple of hours to collect more data and check again.

Best Practices For Post-Conversion Retargeting With Facebook Custom Audiences:
Use retargeting ads for upselling, cross-selling and educating your buyers.
Promote related items to the one the person already converted on.
Offer to buy more for a discounted price.
Promote guides to help people get started with your product.
Combine Facebook ads with other marketing channels for greater impact.
5. Retarget Your Newsletter Subscribers
There are very few brands left on Earth who don't use email marketing to some extent. After all, you need to get important messages to your customers somehow.
Newsletter subscribers break down into two groups: active readers engaging with your emails and inactive users that haven't opened your emails in months.
If you've got lots of inactive subscribers, here's some good news:
MailChimp's analysis of 60 million e-commerce purchases and 40 million email addresses from retailers showed that one inactive subscriber is still worth 32% of an active subscriber.
Further, inactive email subscribers who don't engage with your brand as much as active fans are still 26% more likely to make a follow-up purchase than non-subscribers.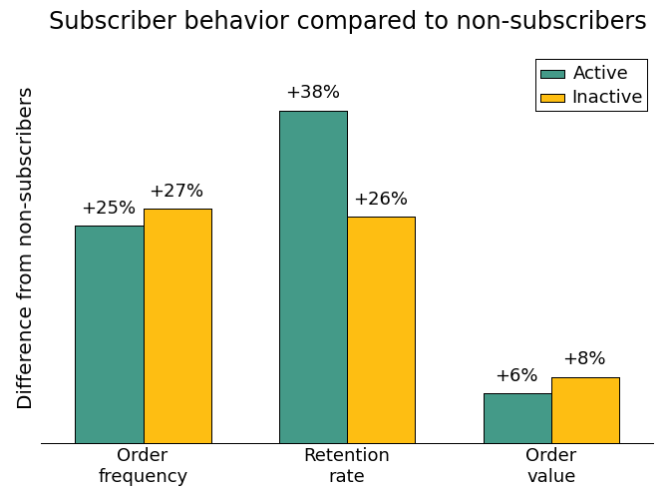 Active readers always lose interest for a reason. Maybe they don't perceive value in your newsletters anymore. Maybe you send too often. Or maybe they just don't have time to read.
By using Facebook Custom Audiences, you can set up retargeting campaigns to renew valuable customer relationships with various newsletter subscriber segments.
Tips For Retargeting Newsletter Subscribers With Facebook Custom Audiences
Resist the temptation to bombard all of your newsletter subscribers with a request to buy something. Instead, create an ad that will share valuable advice and bring them back through consistent nudges.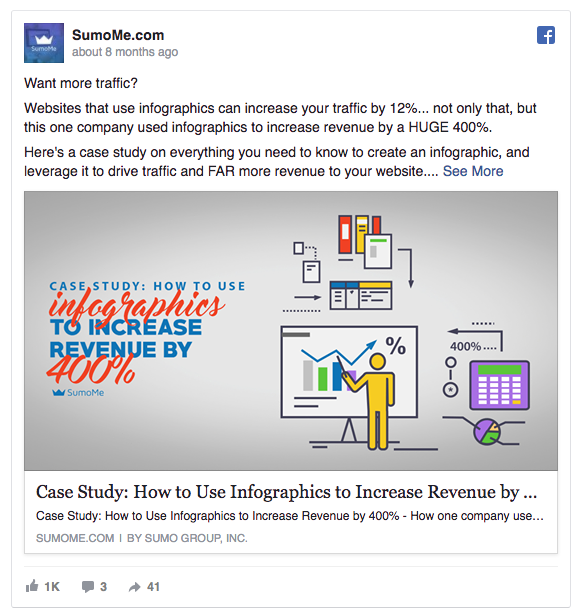 If you use an email marketing tool, look for patterns in email opens.
Maybe one particular segment is interested in your eBooks. Or another group of subscribers only clicks on original research articles.
Use these insights to craft multiple retargeting campaigns relevant to specific user segments (with Custom Audiences for each subscriber segment).
If you aren't sure how to segment your audience by interests, you can differentiate them by activity levels. In this case, use an offer that's relevant to a large set of people.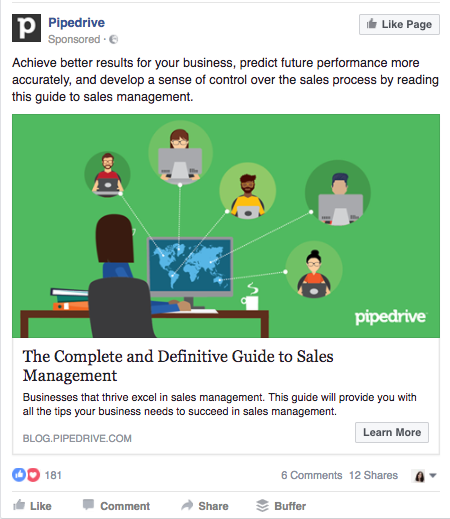 You can also create a Facebook Custom Audience with your email subscribers and add an extra layer of targeting by defining their location, age, interests, etc., when setting up the campaign.
Finally, in addition to newsletter readers, you should try retargeting the people who never open your emails.
After reading your fascinating blog post or downloading your eBook, they're more likely to read your next post.
How To Create A Facebook Custom Audience Of Newsletter Subscribers:
1. Go to Facebook Business Manager and find Audiences.
2. From Audience, select "Custom Audience" and "Customer List". (Go back to the first chapters of this article for step-by-step visual guide.)
3. Choose whether you'd like to add a customer list or import contacts from MailChimp.
4. To upload your customer file, export it from your email marketing tool and import it into Facebook as a .txt or .csv file.

You can further specify Custom Audiences by interests in the campaign setup phase.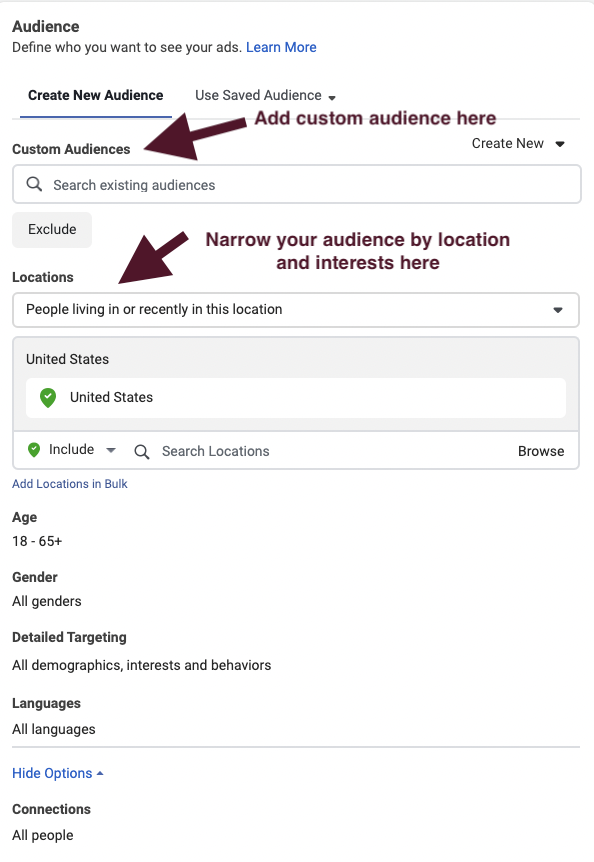 Best Practices For Retargeting Newsletter Subscribers:
Use this method to revive inactive relationships.
Amplify your content's reach across your subscriber's personal network.
Share relevant educational content after you've segmented your list.
Segment newsletter subscribers to create highly targeted ad campaigns.
If you can't segment email lists, narrow audiences by location, interests, etc. when you set the campaign up on Facebook.
6. Retarget Free Trial And Freemium Users
Do you sell products that have a free trial period?
According to Totango, you can only expect about 15-20% of your free trial users to actually become paying customers.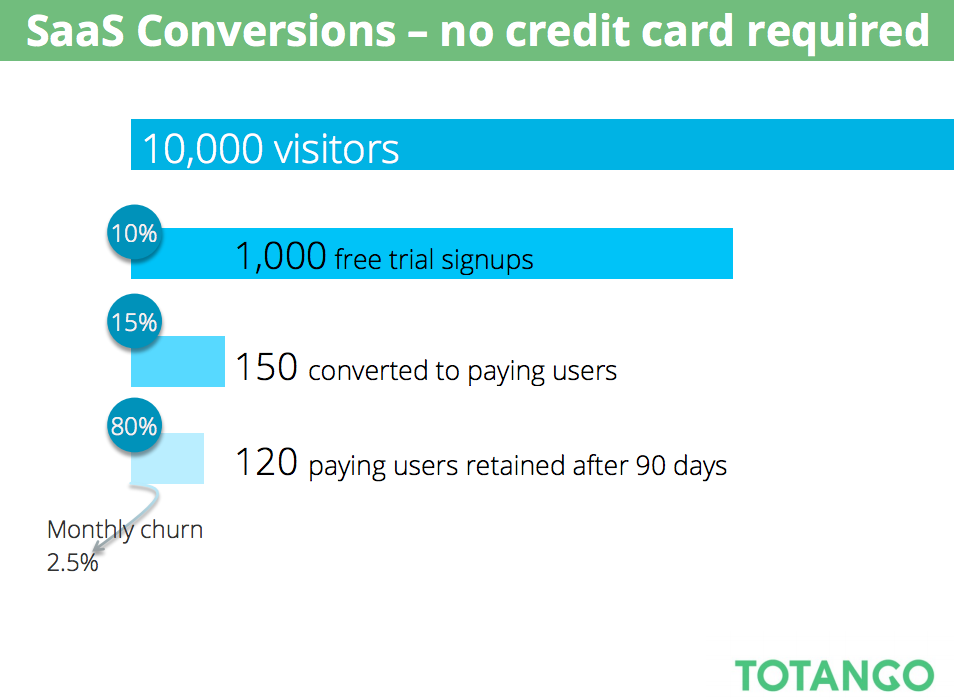 Even if you're best in class, that means you're only getting 200 paying users from every 1,000 free trial opt-ins.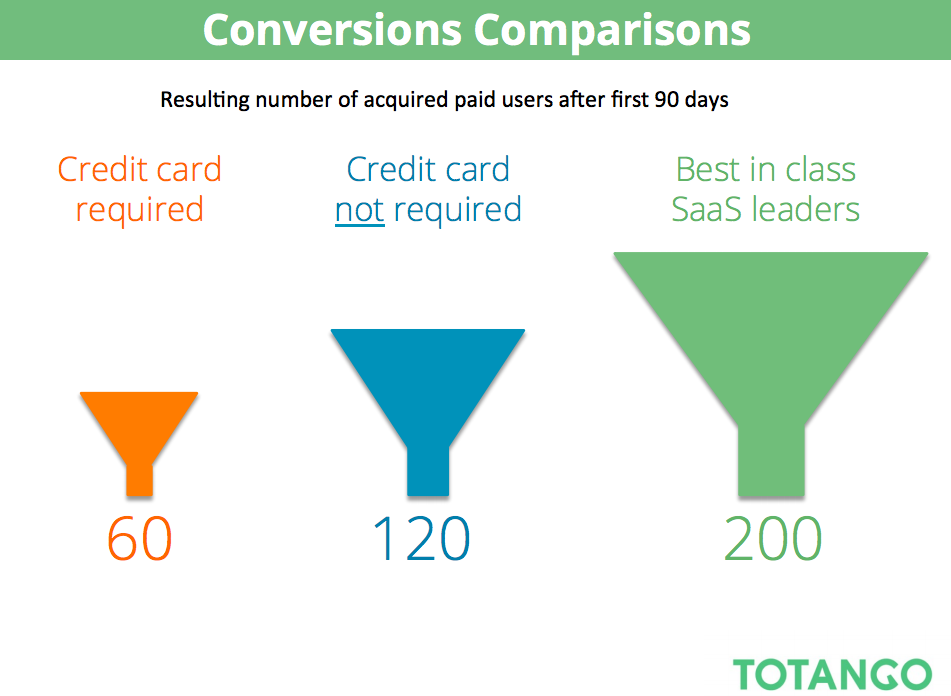 Retargeting your trial users is 10x more effective than retargeting all website visitors. It's not an opportunity you should ignore.
During a free trial, your goal is to get users to engage with your product and to see how it can benefit them. You want to give them enough value so they eventually want to sign up for the paid version of your product.
In other words, you need to "activate" your users to get them to actually start using the product.
The activation point depends on your product, but it could be connecting a social media account, uploading data, or inviting friends to join.
Benefits of Retargeting A Facebook Custom Audience Of Free Trial Users
By creating a Custom Audience of free trial or freemium users, you can use Facebook ads to deliver different types of reminders:
Share facts and numbers about your product's benefits.
Use convincing messages to overcome people's objections.
Share case studies of similar users.
Share guides to getting started.
Promote a free demo with one of your salespeople.
Promote premium features included in the paid version.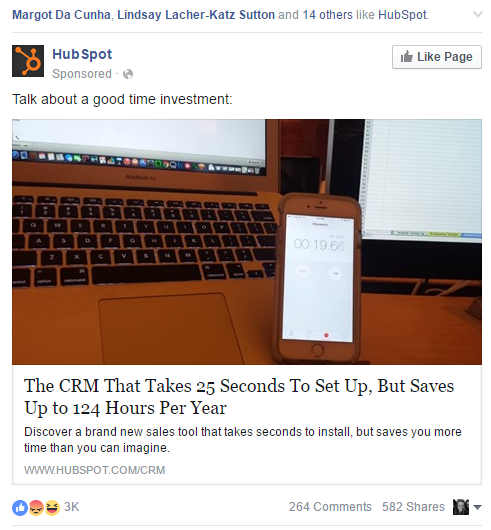 Tip: In addition to free trial users, you can retarget people who already had a free trial but didn't convert.
For example, run a campaign reminding of your product 6 months after the person's trial period ended. In the messaging, offer another free trial period or reactivate passive freemium users.
How To Create A Facebook Custom Audience Of Free Trial And Freemium Users:
The easiest way to create an audience of free trial users is by using a specific thank you page link.
Set up a dedicated thank you page that appears after a free trial signup. Next, go to Facebook Audience Manager and create a new Custom Audience based on your website traffic to that URL.
Depending on the length of your free trial period, set the date range to X+1 days: 15 days for a 2-week trial, 31 days for a 30-day trial, etc.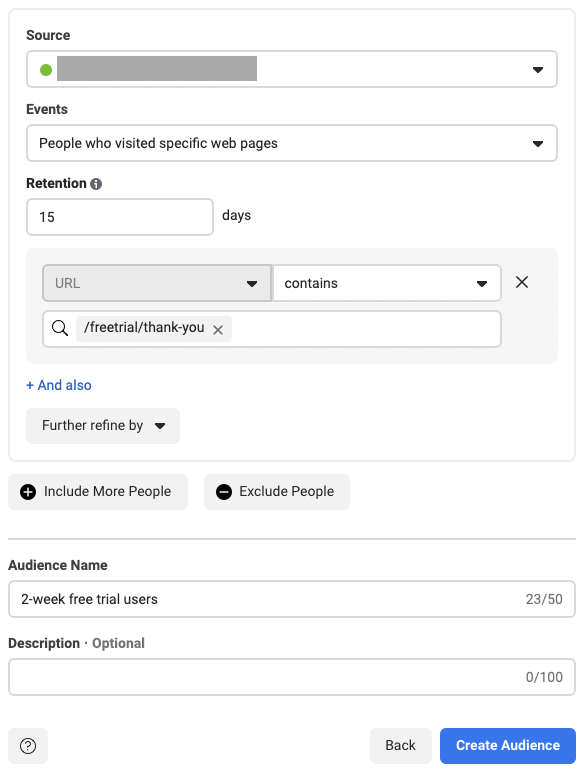 You'll want to stop showing ads to people who sign up for a paying version of your product as well.
Create another Custom Audience of people that have set up a payment profile. Set up in-app tracking and use the "Add payment info" parameter to track conversions from free trials to paying users. Check out Facebook's Pixel guide for more information.
Best Practices For Retargeting To Free Trial And Freemium Users:
Use retargeting to communicate your product's benefits to trial users.
Offer helpful content, e.g. guides.
Share case studies and overcome possible objections.
Exclude people who have set up a payment profile.
7. Target Facebook Lookalike Audiences To Reach Brand New Prospects
We all wish that we could double our sales margins by cloning our best customers.
But we're not living in a Westworld-style universe (yet). Fortunately, there's only one copy of each of us.
Facebook Lookalike Audiences can get you pretty close to cloning your favorite customers. These audiences have Facebook profiles with similar interests and activity patterns as your existing customers or website visitors.
Lookalike audience targeting is based on the idea that Facebook profiles of people who are very similar to your existing users are also likely to convert.
According to Facebook, an online travel site saw 70% lower cost per action when using Lookalike Audiences.
Create a Custom Audience of the past website converters to reach more potential customers with Facebook campaigns.
Tips For Reaching Facebook Lookalike Audiences
Remember that Lookalike Audiences include people who have never heard of you, so it's not exactly retargeting. Test offers at various threat levels to find what works best.
Also, asking people to sign up for a product they've never seen or heard of before is a "rush" tactic that rarely works.
Warm up your Lookalike Audiences by giving them engaging and useful content. After that, follow up with more straightforward offers like a free trial.
For example, this Facebook ad by Clanbeat introduces people to the world of motivating employees.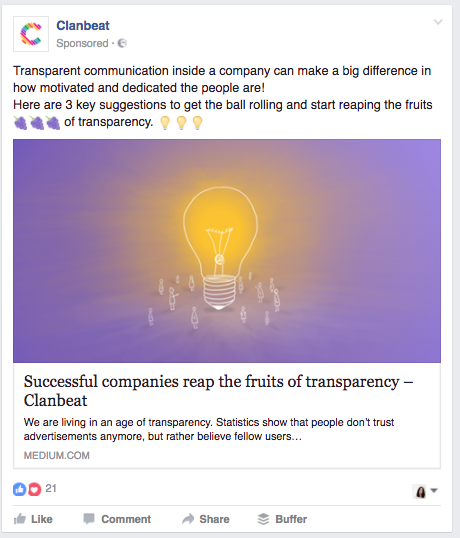 When Lookalike Audience members click on the ad, you can create a Custom Audience of article readers. Move them into a second retargeting phase by promoting something that shows a higher level of engagement and conversion intent, such as an eBook.
If you plan to create a multi-step marketing funnel, make sure your audience sizes are big enough for each step of your conversion funnel.
How To Create A Facebook Lookalike Audience Similar To Existing Customers:
First, you need to create a Custom Audience of your existing customers or converters.
Start by opening Facebook Audience Manager and creating a Custom Audience based on website traffic. Target people who landed on your thank you page.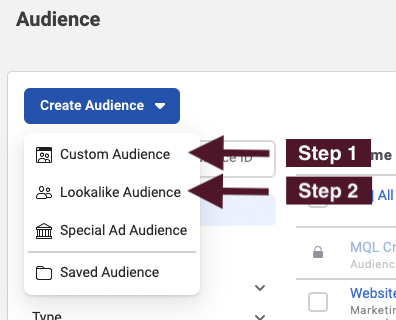 Next, create a Lookalike Audience based on the Custom Audience you just created.
The scale of 1-10 shows the percentage of the targeted country's Facebook users that most resemble your Custom Audience.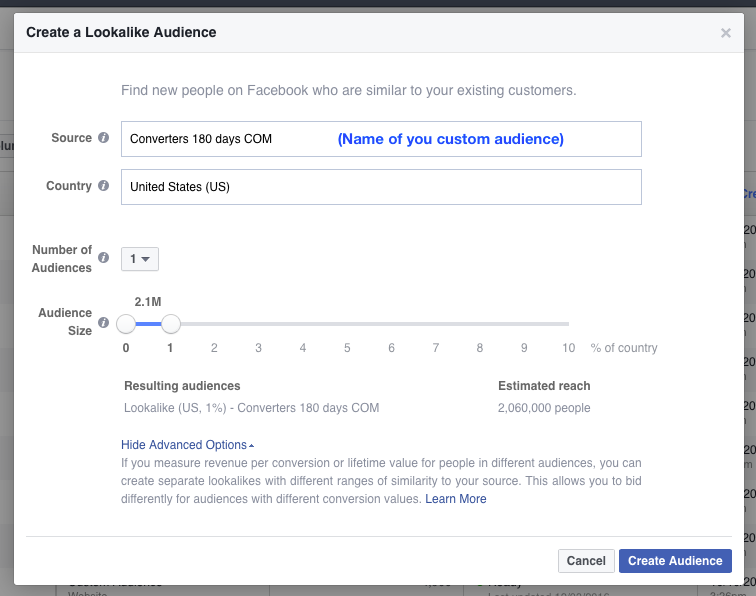 If your Lookalike Audience is too large (hundreds of thousands of people), narrow it with interest-based targeting when setting up an ad campaign. Or set the campaign's goal to "Conversions" so that Facebook can do the optimization for you.
Best Practices For Using Facebook Lookalike Audiences:
Create a Lookalike Audience that resembles your paying customers
Remember that these people have never heard of your product
Test offers with various threat levels
Create a multi-step marketing funnel
8. Retarget Users Who Engaged With Your Facebook Content
If you regularly share branded content and videos on Facebook, you (hopefully) get tons of engagement in the form of views, likes, and shares.
Unfortunately, most marketers have no idea what to do with these engagement metrics.
To help you get more out of your post engagements, Facebook added an option to target anyone who engaged with your content on their platform.
For example, you can remarket to people who have watched at least 25% of the video you posted on Facebook. Or target people who opened your Instant Experience ad.
Notice that it says "videos" instead of "video", meaning that you can select multiple videos at once.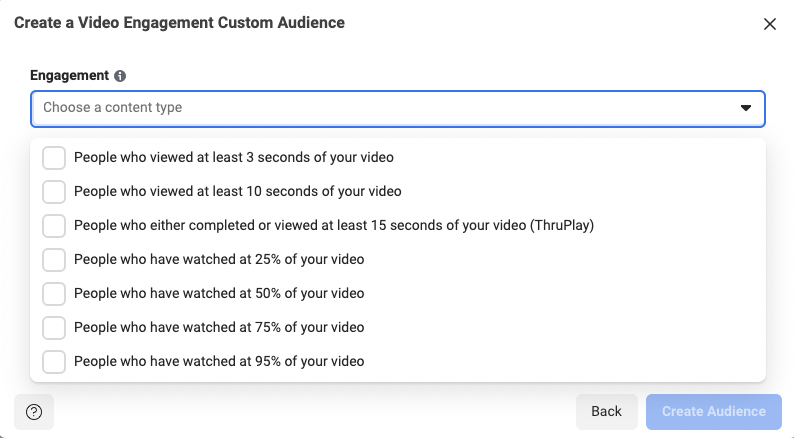 For example, you could match retargeting ads with inspiring video content, just like Nike has.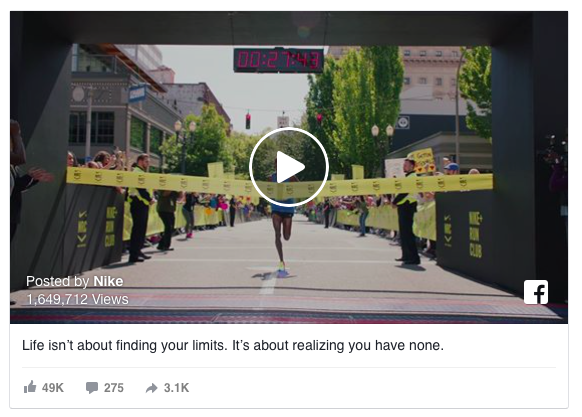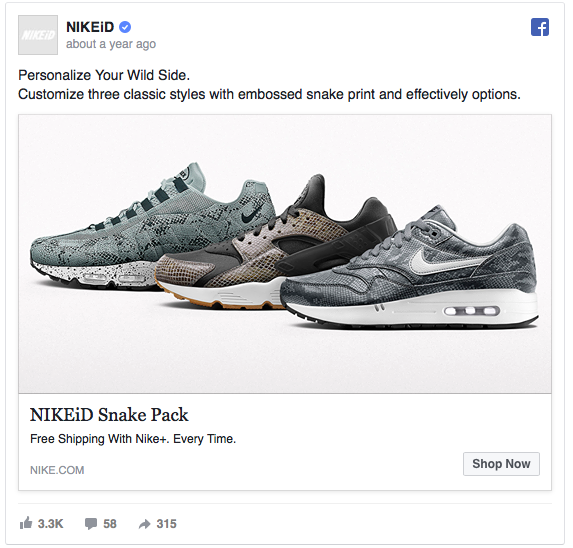 Facebook also has a tool for retargeting people who have engaged with your Facebook page.
Your targeting options can include: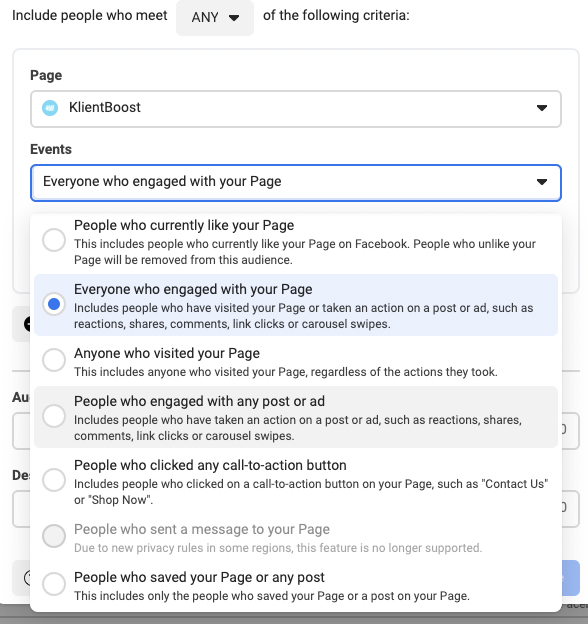 These additional retargeting options let you reach people who engaged with your Facebook page. This means that they're already familiar with your brand, and maybe even your products.
How To Create A Custom Audience Based On Facebook Engagement
1. Go to Facebook Audience Manager and create a Custom Audience.
2. It will display all the Facebook Sources available to you.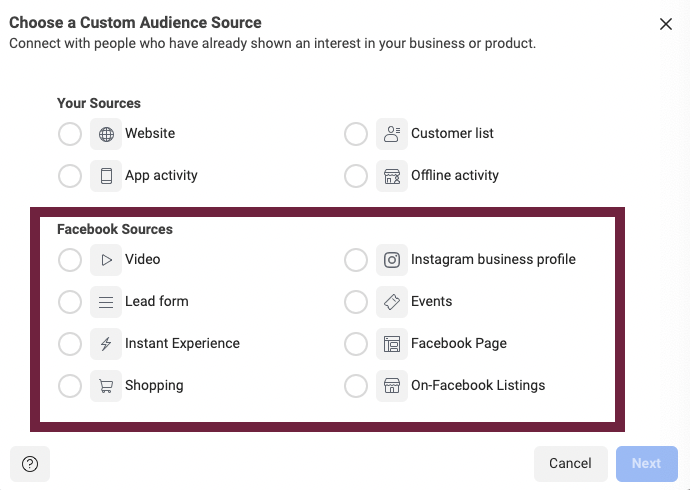 Then, you can retarget audiences who have engaged with your Facebook videos, lead ads, events or your brand's Facebook and Instagram pages.
Best Practices For Retargeting To Engagement Custom Audiences:
Attract people's attention with interesting visual content.
Target people who have viewed your videos up to a certain point.
Keep the topics of your videos and retargeting ads aligned.
Target people who have engaged with your Page post or ad.
Let's Wrap Up
At the end of the day, Custom Audiences is your best interest and Facebook's. NOBODY wants to see ads all day for something that's not relevant to them. Facebook gives you a whole slew of options to customize your audience down to the smallest details.
Gone are the days of blasting a message out to everybody, wasting your precious dollars. If you're willing to spend the time, you can customize your audience to get your message to the exact people that want to hear it, exactly when they should be hearing it.
I hope that you're able to try a few of the ideas suggested in this post to customize your audiences.
Don't be afraid to metaphorically put yourself on the sidewalk with only your 50 flyers as you start creating custom audiences. Get picky with it. The more granular, the better. Your audience will thank you, too.
If you feel like we missed something, let us know. We'll do our best to update and improve this guide regularly. And if you want to learn about other types of retargeting campaigns, then read our guide here.