You've heard this a million times:
If you're not conducting landing page split testing on your designs, you could be missing out on higher conversion rates.
But what do high conversion rates get you?
More cash in your pocket and more freedom to grow your business right?
Now, there are hundreds of ways to go about landing page split testing - I've put together nine of them with some potentially uncommon takeaways, and each test is based on a successful case study.
Here are 9 possible ways to increase your landing page conversion rates, sign ups, and revenue:
1) Test Including Both a "Free Trial" and "Buy Now" Button
When software companies are debating their offering, they often have to decide whether or not to offer a free trial.
Not only that, they have to decide whether or not to offer both a free trial and the purchase option on the same page, because it's possible that the free trial could detract from direct sales.
In the case of GetResponse, they were able increase free trial sign ups by 158.6% by adding a free trial button to their home page.


But what happened to direct sales through the "Buy Now" button?
The free trial button did not have a negative effect on paid signups. Paid signups stayed level, while free trials skyrocketed.
The Takeaway: Sometimes, a test that might seem like it would obviously hurt your results, might actually help them. 
2) Include Statistics and Answer Common Questions
You know your product or service inside and out. You know exactly how it helps people and what it does.
Unfortunately, that may not be as clear-cut to your potential customers as it is to you.
If you've got a product or service that introduces something new or revolutionary to a market, that lack of common knowledge could cut back your conversions.
Luckily, there are two things people understand very well:
Statistics

Frequently Asked Questions
Kiva is a non-profit organization that lets people lend $25 to help alleviate poverty around the world.
During focus groups, Conversion Voodoo found that people were confused about how the money is transferred if they will actually see real-world results from their loan, and if they can trust Kiva.
So they added statistics, social proof, and frequently asked questions to the sales page:
They addressed these concerns head-on, and increased conversions by +11.5% at over 95% confidence.
A great way for you to do research prior to launching a new landing page tests is understand what questions the sales/support team often get.
These questions could be conversion objections that you should answer with your landing page split testing. 
3) Invest in Quality Design
CloudSponge was dissatisfied with their web design and felt like it was time for an upgrade.
They decided to go for a crowdsourced option through 99designs (not usually what you consider high quality).
You get to provide an overview of the design you like, choose a price you're willing to pay, and 99designs sends it into their "marketplace".
Here, over 1 million designers decide whether they want to submit a design and compete for the prize (the price you set).
Doing this gave CloudSponge a wide range of options to choose from that fit their needs.
Here's their old design:

And the design they chose: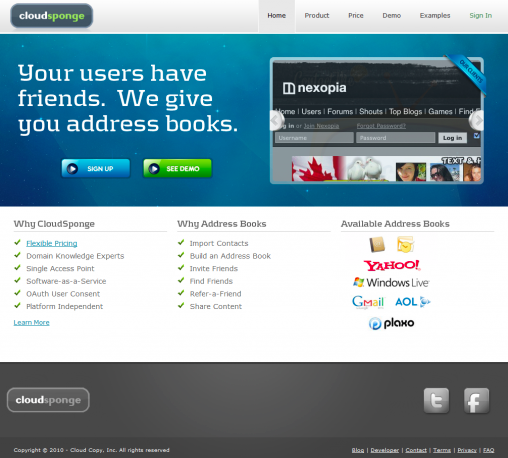 This design showcases a few key improvements:
The headline is more direct.

They offer their demo video more prominently.

The benefits of signing up for CloudSponge are much more readable.

Overall, the design is modern and high quality, making it a more trustworthy site.
This design increased conversions by over 33%. 
4)

Write a Clear Call To Action
If I've learned anything from copywriting, it's that you don't want to leave any room for guesswork when trying to convince people to buy your products.
Your prospects should know exactly what you want them to do and when you want them to do it. In other words, your call to action should be clear and direct to remove any potential confusion.
Fab, an online hub for design enthusiasts to buy and sell apparel, wanted to test whether their current "Add To Cart" button was doing its job or if a better solution was out there.
Here is the original:
As you can see, it's simply a cart symbol with a plus sign.
Although the symbol might be intuitive, some visitors were confused as to whether that button would let them add the item to their cart straight from the catalog pages.
Here is the winning button: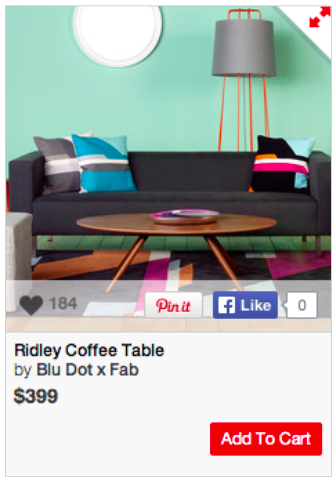 This button makes it clear that if you click it the item will go directly into your cart. No guesswork.
This split test resulted in a 49% increase in "Add To Cart" clicks. 

5)

Include Testimonials and Test Their Positioning
Testimonials give proof that not only are you saying your product or service is great, but previous customers are saying it as well.
Because of their persuasive power, you will be hard-pressed to find a landing page that doesn't include testimonials or reviews. However, simply including them on the page may not be enough. Their position on the page could also influence your conversion rate.
When creating a landing page for an ebook on ContentVerve, Michael Aagaard wanted to test whether placement of his testimonials would impact downloads.
Michael included four testimonials. Here's the control:
And the treatment: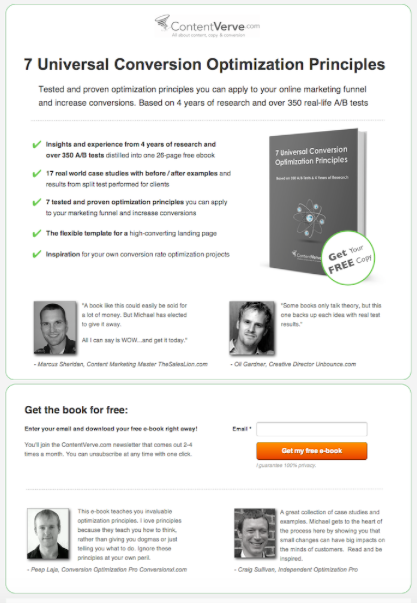 For the treatment, Michael placed two of his testimonials higher on the page and closer to the ebook image. The theory is that people who are not familiar with ContentVerve would be more likely to read them and get convinced to download.
This variation got 64.53% more ebook downloads.
The Takeaway: Don't forget how your social proof placement can influence how visitors perceive the value of your products and services. 
6) Install Live Chat on Your Landing Pages
Many people are naturally skeptical of making purchase decisions over the Internet.
There are security issues to consider

Potential buyers might have questions that were unanswered by your landing page

They might simply need someone to talk them through the buying process
Issues like these become barriers to making the final purchase. Luckily, there's a way for prospects to speak to a representative from your business (and work through any concerns they might have) directly from the landing page.
This service is called live chat.
Live chat creates a box in the corner of your site that allows visitors to speak directly to someone from your business.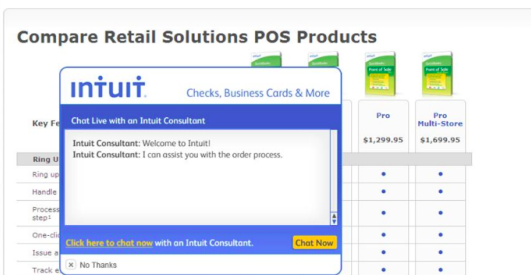 For example, Intuit included live chat boxes in four different areas of their website. This allowed anyone who had unanswered questions or concerns to talk to a real person, as if they were at a store.
Here are some of Intuit's pages with Live Chat and their corresponding increases in conversion rate:
Checkout — 20% increase in conversions
Product comparison page — 211% increase in sales
Lead generation page — 190% increase in conversions
You can read the full case study and watch the webinar here. 
7)

Overcome Potential Customer Objections
The more you know about your customers, the more you understand about what makes them buy and not buy.
When people choose not to buy, it's often because an objection compelled them to keep their wallets shut:
They didn't feel comfortable with the price

They didn't think their information was safe

They weren't sure whether other people were happy with the product after purchase

Etc.
If you understand common objections like these from your customers, you can overcome them in your landing pages (and increase conversion rates).
Conversion Rate Experts helped daFlores, Latin America's largest network of florists, make two tiny adjustments to increase their conversions in a big way.
First, they identified as many customer objections as they could. They did this through surveys, talking to the customer support team, emails, and a tool called ClickTale to analyze on-site interaction.
Identifying these objections helped Conversion Rate Experts make two small adjustments that had large impacts.
The first involved urgency:
To the category pages, they added a clock with text that read "Order in the next "X" hours for delivery today."
This created a feeling of urgency to order, AND it communicated that daFlores offers same-day delivery.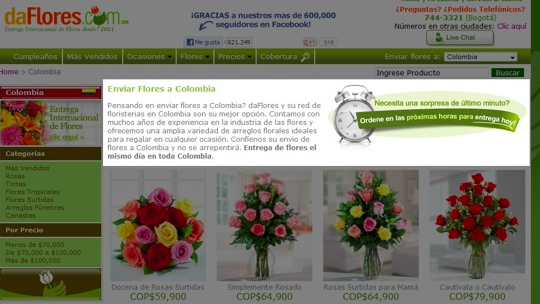 This single add-on resulted in a 27% increase in orders.
The second involved credibility and social proof:
In their investigation, Conversion Rate Experts found that some new visitors were concerned because they had never heard of daFlores before.
daFlores has over 600,000 likes on Facebook. The only thing was, this fact wasn't showing as prominently as it could be on their site to help overcome these objections.
So they added an arrow pointing to their likes, with text that says "Thanks to our 600,000+ Facebook fans."
This tiny addition increased sales 44%.
By doing their research beforehand, Conversion Rate Experts was able to identify subtle psychological objections that could be overcome to make a big difference in daFlores' business.
You can read the full case study here. 
8) Remove a Field (And Pay Attention to User Experience)
This case's results might make it an outlier, but it does communicate the importance of user experience to your conversion rates.
Here's the punch line:
Expedia was able to increase their site profit by $12M a year by dropping the "Company Name" field in this form: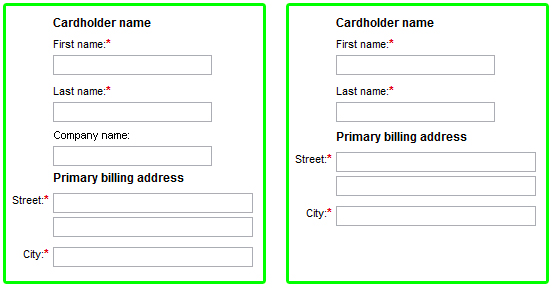 Do you think this happened because "less choices = higher conversions"?
That may be part of it, but try again.
Here's why this test was so effective:
Visitors got confused seeing the "Company" field. They thought they should include their bank name.
This lead to them input their bank's address into the billing fields, which lead to failed transactions and people abandoning the process.
That one field was costing Expedia $12M a year.
The Takeaway: Pay close attention to user experience and the functionality of your landing pages.
9) Test Absolutely Everything (And Earn $1,000,000)
Conversion Rate Experts put together a massive case study showing how they helped Moz increase their revenue by $1,000,000 a year in just four months.
This essentially helped Moz transition from a membership site to a full-blown web app.
There were three phases in this process:
Analyzing the business and designing a more effective landing page

Testing the offer

Improving lifetime customer value (LCV) and retention
This case study shows how split testing is a process. It's a process of getting to know your customers and using that knowledge to create higher converting landing pages.
Let's break it down:
Phase 1 — Analyzing the business and designing the landing page
Here are the methods they used to analyze the business:
They asked paying members what they liked about Moz's service, what compelled them to sign up, and how they would describe the service to a friend.

They asked free trial members different questions, including what would make them sign up for the service, which tools they liked the most versus the least, and what their most time-consuming SEO tasks were.

They asked paying customers who had canceled why they canceled and what would bring them back.

They had Rand Fishkin, the founder of Moz, do a mock face-to-face sales pitch of the service. This helped narrow down key aspects that were in Rand's head but missing from the website.

Finally, Conversion Rate Experts became the customer and used the service.
They took all of this knowledge and created what they call "wireframe" pages, which are quick prototypes of the landing page. People were then invited to test the pages and provide feedback.
Here's what one wireframe page looked like: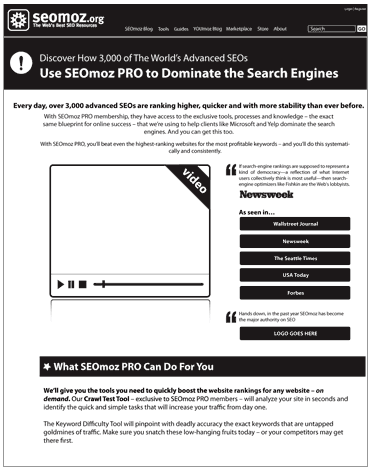 When they arrived at a version they were confident in, they split tested it against the current one. This immediately increased sales of Moz's PRO membership by 52%.
Based on their initial analysis of the business, here's how they tweaked that landing page to get those results:
They made the landing page much longer, to communicate the best of the best from Rand's presentation.
They changed the headline to communicate more curiosity.
Original Headline:
"Improve your traffic and rankings with an SEOmoz PRO Membership!"
New Headline:
"When eBay, Disney and Marriott need SEO help, here's what they do…"
They explained specifically what customers would get at each level of the service. Their analysis showed that some customers weren't aware of each tool they would get with a paid membership.
They solved this with an easy-to-read chart: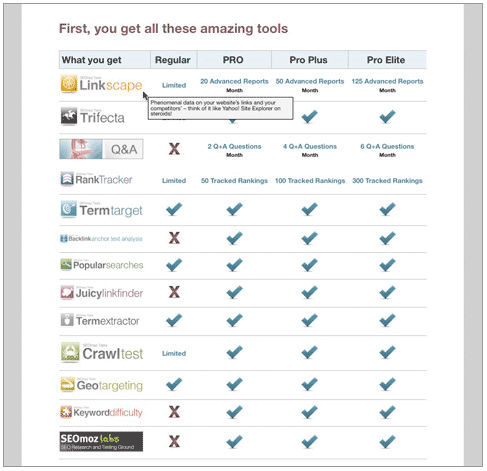 They showcased more of Moz's world-famous clients (who they had taken for granted). Moz was so used to having these clients, they forgot how impressive it would be for regular customers to know about.
They also embedded the video of Rand explaining the benefits of Moz.
This all lead to the 52% conversion rate improvement of the landing page.
But phase 2 is where they took care of the offer.
Phase 2 — Testing the offer (call to action)
To Moz's free trial subscribers, they offered a 30-day full membership for just $1. This lowered the "risk bar" and allowed these people to take Moz's tools for a test drive.
To the people who didn't accept the $1 offer, they asked them why they didn't accept it. This uncovered that many people felt there was a hidden catch. Conversion Rate Experts addressed this in another email to help remove the barrier.
This got enough people to try out Moz's paid service. Now they just had to keep them.
Phase 3 — Improving lifetime customer value and retention
They added a "quick start" guide to give new customers an easy way to get involved with the service and get results.
This involved ten things new subscribers could do to increase their search engine rankings as quickly as possible.
In the end, all three of these phases lead to a 170% increase in conversion rate over four months and generated more than $1,000,000 in additional revenue.
The testing, probing, and prodding was much less about testing one individual component of a landing page at a time.
It was about looking at split testing within the framework of the entire business, and creating a well-oiled business plan around conversion rate optimization.
To Wrap It Up
While all of these tests were successful, these exact split tests can't guarantee increased conversions for your landing pages.
They are ideas for what you can test based on the successful tests of other people.
In the end (like we saw with the Moz case study), successful testing comes down to a system you follow to maximize the possibility of achieving increased conversions.
What we challenge you to do is develop your own system -- your own system of A/B testing.
Because what do high conversions get you?
That's right.
More cash in your pocket and more freedom to grow your business.