Launching a new brand with PPC or paid advertising isn't easy. And in a pay-to-play arena such as pay-per-click, it's important that you don't spend too much time working through the learning curve in order to avoid budget burn and maximize your profits/returns as fast as possible.
But, of course, in an industry built on split testing and incremental optimization, launching your campaign(s) and immediately seeing success isn't always the case.
If only there were a way to instantly start off on the right foot...
As a Senior Account Manager here at KlientBoost I've worked with dozens of companies in their first year of business as well as some of the largest SaaS companies and educational institutions. It's with all that experience, that I've cracked the code.
As the digital advertising world expands to new platforms our strategy can't only be to bid on broad match or phrase match keywords and run search ads on various search engines such as Google Adwords or Bing Ads. We need to be more creative and reach the customer on a multitude of platforms especially when launching a new PPC brand. So, let me take you through my personal 7 step system to scaling a brand from scratch.
Let's get going.
Get brand new PPC strategies straight to your inbox every week. 23,739 people already are!
Doing Your Brand Homework
When entering the digital marketing world, one of the most important factors in driving success starts with the brand image. When most people think of brand image they think of it as a logo. But it's more than that.
Brand image is the potential consumers' perception of the product.
Let's take a look at a company that combines 3 of my favorite things: coffee, America, and giving back to our first responders. The Black Rifle Coffee Company is a veteran-owned coffee company that sells high-quality coffee and donates a portion of their sales back to veterans, law enforcement, and first responders. Based on that sentence alone, I'm sure you already have an idea in your head about what their brand and products might look like.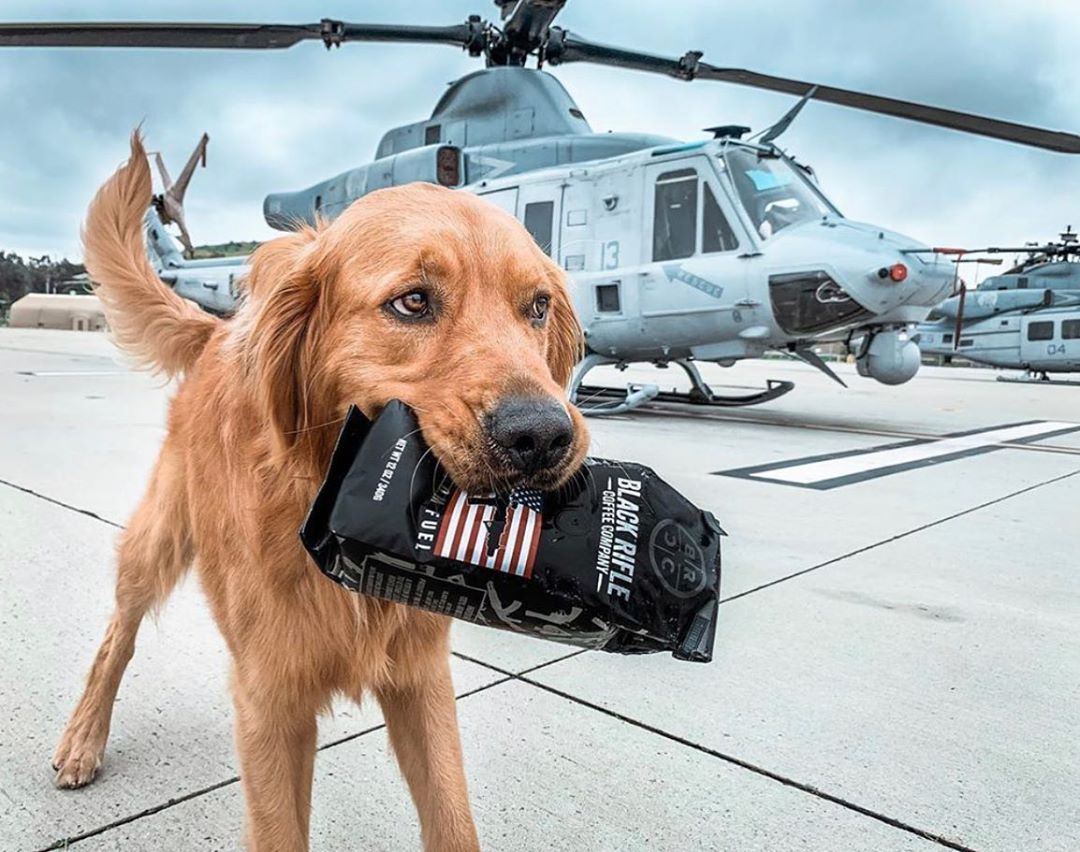 They launched their social media accounts in 2014 and have since grown a loyal following nearing 1.6 million. Now, that didn't happen overnight but it did happen by knowing their target audience and having a clear brand image and strategy. Who they are as a company is very clear across all channels, organic and paid.
Keep this in mind as we dive deeper into the paid digital advertising side of marketing.
Building Your New Brand
Now how do you go incorporating your brand image into your paid advertising? Well, that's where this blog post gets really juicy.
The main focus of your digital advertising strategy should be centered around the company's unique value proposition or UVP. Your unique value proposition also known as a unique selling proposition (USP), your UVP is a clear statement that describes the benefit of your offer, how you solve your customer's needs, and what distinguishes you from the competition.
This UVP should define the backbone of your advertising strategy and be consistent from the impression to the recognition stage.
The benefits you offer, how you solve your customer's needs, and what distinguishes you from the competition are the key to getting consumers turned into customers. In order to get consumers to convert we need to position the company, homepage, ads, and landing pages to answer their questions so they have no doubt that this is the company they want to use.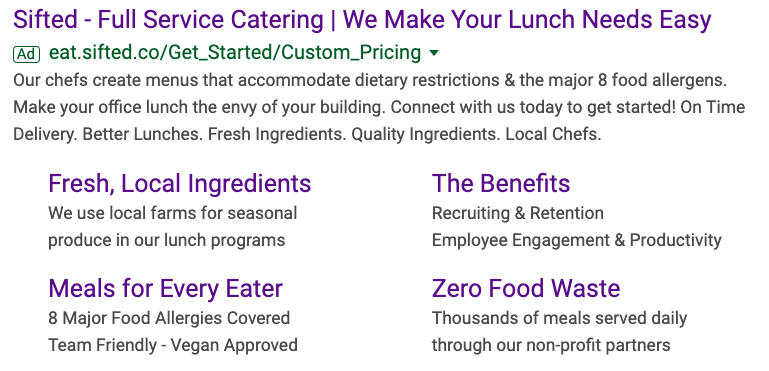 It's important to note that just because we create ads, landing pages, and a couple of campaigns, doesn't mean that leads and orders are going to come bursting through the door on day one. Just like building a business, nurturing consumers down the funnel takes time too.
We're starting from the very beginning and launching a new brand with PPC here - so we'll be working towards nurturing people to that final stage to make a purchase or become a paying customer. But we need to focus on the mini-goals and micro conversions to get to that point because not every person is going to buy a product or commit to a contract for a service after the first interaction with an ad.

Those mini-goals could include:
Interactions, click-through rate (CTR), website traffic, add to carts, email opt-in, content downloads, or webinar participants.
With new brands, it may take a bit longer to establish the trust in your audiences necessary to fill that funnel up to the brim. But given enough time and enough testing and optimization, soon enough you'll be able to capitalize on how you've grown this new brand from scratch and scaled it into a PPC conversion machine.
The 7 Steps To Scaling A Brand From Scratch
It's not easy to start from nothing in the PPC world (where the size of your ad budget can make or break your campaigns). But that doesn't make it impossible.
See how you can launch your new brand with PPC and burst out of the starting blocks successfully.
1. Strategy
Too many companies to count have come to us with the assumption that slapping together a marketing strategy consisting of a branded, non-branded, and remarketing campaign trio will instantly bring in leads and purchases for a new product or service.
That might work for a company that is well known and established both online and off, but for new brands, that's not always the case. That's why us marketers need to create a strategy around a full-funnel. Check out the marketing funnel below, for example: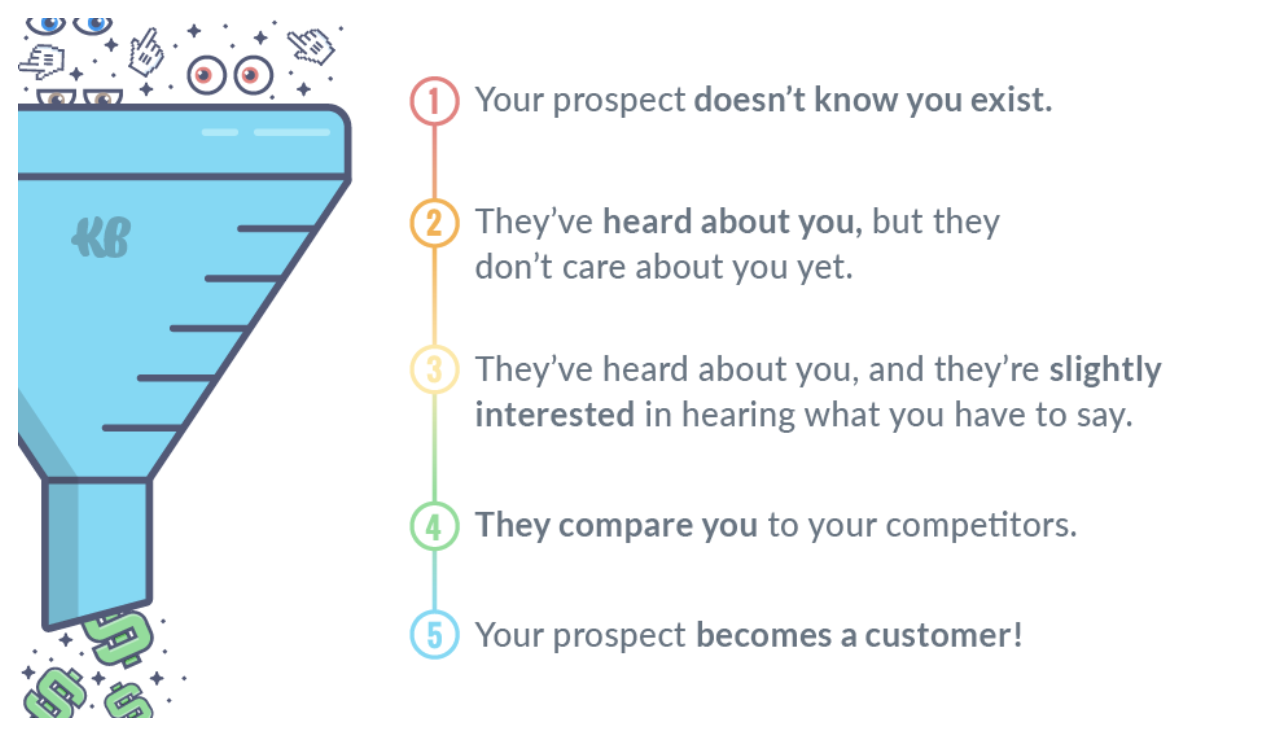 As you can see at the top we have a large market that doesn't know the brand exists at all but through marketing, we can nurture these potential customers down the funnel and turn them into paying customers.
But it's a process. You don't get to skip steps 2-4 and expect your customers to randomly appear at number 5, money in hand.
2. Asset Creation
With each part of the funnel being so unique and carrying with it a different user mindset, you need to create different campaigns, with a war chest of ads.
For each stage of the funnel, it's important to have a different offer or ad copy message. For a lead generation business, having offers such as a free trial, brochure download, free webinar, guide, information kit, or a whitepaper can help nurture leads down the funnel.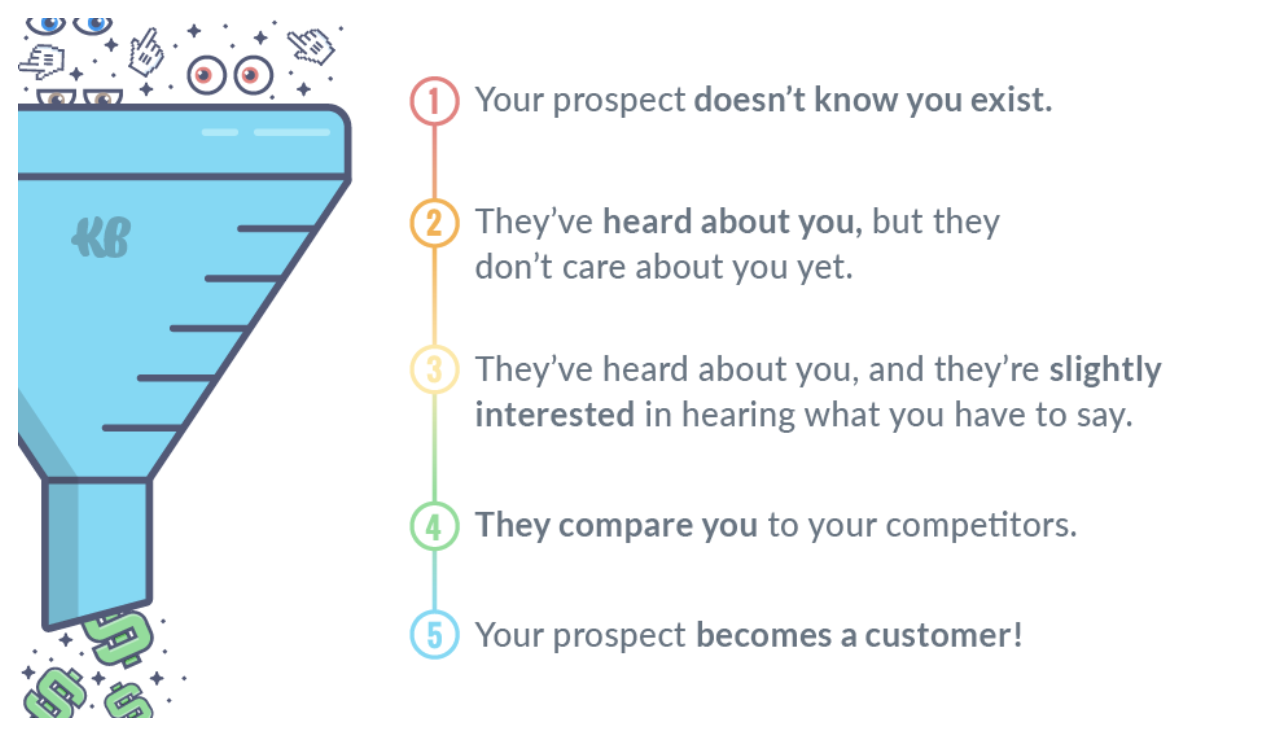 For eCommerce clients, content offerings are a bit more tricky because we're trying to make the sale as soon as possible. Aside from providing information and answering the questions, a customer might have in order to make the sale, here are a few suggested offerings to get products into the hands of consumers faster:
Discount on first order
Giveaway
Free shipping
Flash sale
Referral code
Discount on subscription
The list goes on as long as you can imagine
All of these offerings lower the threat level of making a purchase that may have held the consumer back before. The lower you can get the threat level/friction level, the better chances you'll have at conversion.
3. Picking Platforms
Picking the right platform mix is one of the most crucial steps in launching a new brand with PPC. The great part about digital marketing in the 21st century is the abundance of platforms available to market on. However, you don't need to advertise on every platform in order to be successful.
For reference, here is a list of platforms I typically choose from:
Now, I'm sure there were a few digital advertising platforms on that list that you wouldn't have thought to market on right off the bat, but depending on the business, industry, and target market, they might make perfect sense.
Typically the platforms I like to start with are Google Ads and Facebook for most of my clients. Depending on the business and target market, I might add Pinterest, LinkedIn, Twitter, Capterra, Snapchat, or TikTok.
If I were to run ads on all platforms, here's a quick rundown of what campaigns I'd run (dependent on company):
Google - Branded / Non-Branded / Remarketing
Bing - Branded / Non-Branded / Remarketing
Facebook - Instagram - Prospecting / Remarketing / Re-Engagement
Pinterest - Prospecting / Remarketing
LinkedIn - Remarketing
Twitter - Prospecting / remarketing
Capterra - Prospecting
Snapchat - Prospecting / Remarketing
TikTok - Prospecting / Remarketing
This isn't a picture-perfect recipe for success. But in most cases when launching a new brand in PPC some combination of the above should get you started in the right direction. :)
The recipe I create for my clients depends on Google Ads search volume and demand. If there is demand, we could launch on Google Ads alone or with a combination of the above categories. Most likely there won't be a high demand for branded search keywords on Google so that is where we work to create that demand on other platforms.
I would launch a prospecting, re-engagement, and remarketing campaign on Facebook to create a "buzz" for the business and leverage branded and non-branded search campaigns on Google.
When you create a non-branded search campaign on Google Ads be mindful of the PPC keywords and match types you choose. An exact match keyword will most likely spend less than a broad match or a broad match modified keyword. This is where your ad spend comes into play. We'll dive more into that later.
Make sure your PPC ads provide a clear brand image and highlight your UVP. Take a look at this PPC ad from Black Rifle Coffee Company, they use their ad to provide clear messaging and highlight: the ease of ordering, free shipping, veteran-owned, and giving back to first responders.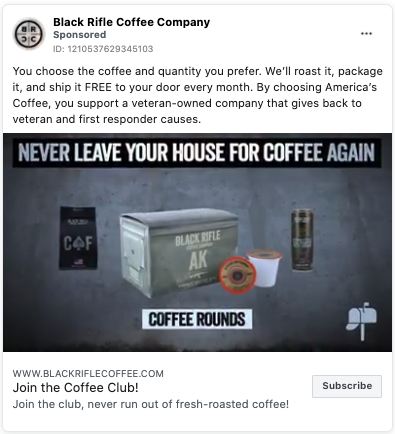 4. The Campaign Build
Here's where the fun begins -- the campaign build.
For each platform, each campaign should play a different role in the marketing funnel.
Let's start with Google first.
I keep my Google ad campaigns to a minimum to begin with. I run a branded campaign that uses our SKAG technique or the new and improved version of Keyword Tapering where we utilize single keyword ad groups. In addition to that, I run a remarketing campaign utilizing display ads to target all website visitors excluding people who have already converted on Google's Display Network.
The ad copy is one of the most important pieces to this puzzle so when I craft my copy I make sure to do my research. I'll start by doing keyword research, look into search terms (if there are any), and look into Google Analytics to see which pages have the most organic traffic to pull copy inspiration from.
l create my ad copy to be specific to the keyword we are bidding on and use my headline 2 highlighting the UVP of the business and my headline 3 stating a clear call to action. I use my descriptions and ad extensions to answer the question they might have and drive home the major reasons they should choose the company.
The reason I don't like to start out with a non-branded campaign or a competitor's campaign in Google Ads is due to the competitive landscape of Google and the cost per click or cpc for each keyword. Established competitors are already bidding on the non-branded keywords and likely have deeper pockets to justify having higher CPAs for non-branded and competitor terms.
Depending on the campaign budgets and the CPC, for some campaigns, you may only receive 10 clicks per day with a limited budget. If you receive many clicks with a low conversion rate CPAs will soar.
Typically when a new brand is starting out, there isn't always excess money in the bank to be able to support the highly competitive landscape of non-branded and competitor keywords. It's always best to make the most of what you have in the beginning. If you have the budget it's important to assess the market/search volume and test high intent - broad keywords.
I like to use Facebook as my main platform and driver of sales and leads when I'm scaling a brand from scratch. This allows us to create brand awareness to our target customers while pushing our campaign goals of product sales or leads.
I set all of my campaigns up using Facebook's Power 5 to ensure they will run most optimally with Facebook's Algorithm. From there I will set up a prospecting campaign, a remarketing campaign, a re-engagement campaign, and a DPA or dynamic product ad campaign for eCommerce businesses.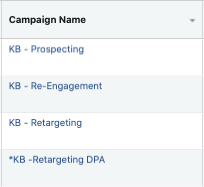 I set up each campaign to have specific ads and copy for each stage of the funnel that the campaigns target. My prospecting campaign will have more informative ad copy that describes the product or service and the UVP. My re-engagement campaign will have different ads that are slightly more specific about the product or service explaining the benefits.
The remarketing campaign has another set of images and copy geared around "don't forget your free demo", "don't forget about the products in your cart" or "enjoy 10% off".
I make sure to dark post ads in one campaign ad set to the other ad sets to ensure the social proof builds faster and improves the overall performance of campaigns.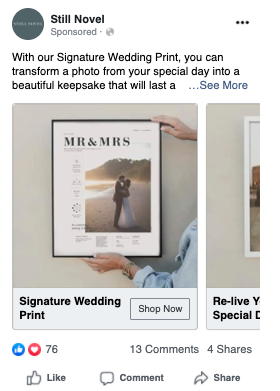 I can't stress enough how important it is in the early stages (and all stages really) to get people to consume the product or service you offer so they can see the value, fall in love, and become brand ambassadors for you. Not in the sense of being Instagram influencers talking about your products (although that would be great advertising) but in the sense of writing a review for you or talking to their friends, coworkers, or colleges about the product.
They will start to create a natural buzz and get more people interested. And just as dark posting puts a bit of the social proof behind your advertising brand, some real-life social proof will put even more fuel in your conversion engine. When we can use that real-life social proof and create testimonial ads to incorporate into our marketing efforts. Checkout Marketing 360 for great examples of testimonial ads that will show your prospective customers you're worth it.
5. Launching Your PPC Campaign
Once you have all campaigns built it's time to enable the campaigns and get your initial data.
Typically with this setup what we will see is most of the traffic and interactions will come from Facebook. Initially, we tend to see some consumers convert in the early stages of ads running but a majority might be slow to convert -- and that's expected.
That's why we did our due diligence and created a marketing funnel that will nurture the initial leads into paying customers.
The prospecting campaign is working at the very top of the funnel gathering a broad audience who would have a potential interest in the product/services.
As more people have begun visiting the website, that will populate into audiences for website visitors. It's important to create audiences for website visitors and for people who have converted.
When creating remarketing campaigns, I set my audience to target website visitors from the past 30 days and exclude people who have converted on our marketing goal. That audience will start to receive remarketing ads on both Facebook and the Google Display Network and will be nurtured down the funnel into the consideration phase.
6. Branded Demand Generation
Once potential customers are in the consideration phase, if they haven't converted yet, they will now start to actively search for your brand, and Google ads traffic should start to increase. It's important to make sure the ads are optimally built with the proper site links and CTAs to ensure they can have avenues to get their questions answered from the initial impression of the ad.
From there, it's all a matter of well prioritized PPC split testing and landing page optimization to start improving your performance.
7. Campaign Upkeep
The upkeep of the campaigns is one of the most important things you can do to ensure the success of your campaigns moving forward.
Here is where the heavy optimization process comes into play on Google. This is where we keep a close eye on search terms and add negative keywords to the ad groups or campaigns.
Initially, the Facebook campaigns might not receive much traffic in terms of clicks to the website. In that instance, you need to pivot your prospecting campaign to optimize for traffic to get more people to the website.
This should help increase your remarketing audience and allow your remarketing campaigns to run smoother. For eCommerce businesses, once you see more people completing micro-conversions such as view content or add to carts you can change the ad set setting's conversion event to the unique stages of the micro conversions. For lead gen businesses, I take a slightly different approach. In my prospecting campaign, I direct users to a "request a demo" or a "get a quote" page where they submit their information.
I place a Hotjar poll on the landing page asking specific questions as to why they are not making a purchase or requesting a demo such as if they need more information, need information on pricing, would like to see case studies or would like to learn more about the product. Another tactic I use is an exit intent pop off that has a content offer such as a guide, information kit, case study, or a webinar to give them more information and help answer more questions they might have before they leave the page.
Here are a few example stages:
View Content
Customize Product
Initiate Checkout
Add to Cart
Purchase
On top of the usual campaign upkeep, updating ads to combat ad fatigue is also key to maintaining a successful launch of any new brand in PPC. Using new imagery and messaging is the key. But beyond that, using more than one ad message in your creatives is also important.
We like to refer to this as having a fully stocked Warchest of Ads.
What should your war chest include?
Well, every type of offer or info that your potential lead/customer might be interested in, such as:
Benefits
Features
User Testimonials
Main FAQs (frequently asked questions)
and Competitor Comparisons
Taking the winning set of ad copy/creatives and testing new headlines will help continue to drive the needle on the paid search side. Other than that it's a matter of optimizing your bid adjustments and keeping your Google Ads and other ad platforms nice and tidy.
Key Takeaways
If you're looking to launch a new brand with PPC it's important to remember the stability that creating a full-funnel strategy can bring to scaling a brand from scratch. A solid PPC strategy across multiple platforms will help you drive sales and lead gen at scale given enough time and enough care.
And, if your funnel is well built, it will also help you get in front of your target market without having to join the competitive landscape of non-branded and competitor keywords on Google Ads/Bing ads.
Have you tried scaling a brand from scratch before? Did you struggle with having the campaigns take off? Or did you receive results that we're incredible?
I'd love to hear your experience with scaling a brand from scratch with digital advertising below.