Editor's Note: This post has been updated with new links and fresh content. 🙂
Original Publication Date: November 12, 2015
Let's talk about something that PPC marketers love to hate, almost as much as popups.
Landing page videos.
Like popups, visitors swear they hate it when businesses throw a video in their face. But what if a video on your landing page meant an 80% increase in conversions?
You'd say that must be a lie, right?
The thing is, visitors don't hate videos as much as they claim. They just hate bad practices, like autoplay or videos that drone on forever with flashy promises before getting to the point.


Because the reality remains, that watching a video actually means that your visitors go away from your site with more information than they ever would if all they did was skim through your text.
So, yes, using video is a good thing.
But only if you follow the holy and mighty commandments that will protect you from landing page shame and low conversions.
The first of which is…

1) Do. Not. Autoplay. (Or Thou Shalt Be Smited!)
Is your goal to get people to bounce off your page in record time, even before you've had the chance to get them to your call to action?
Because this is the best way to do it.
Think about it for a second. How annoying is it when you're innocently searching for some information online and all of a sudden you hear this voice coming out of nowhere so you've got to scramble around to find where it's coming from so you can stop it and just keep reading in peace?
The answer: really freaking annoying.
The thing is, if you've got a prominent video, a pleasant site design, and promising lead-in text, the visitor will want to watch your video to get the information you're offering. All you have to do is not force it on them.
(Because apparently we're all control freaks who hate surprises.)

2) Animation > Live Film
When you use animation, you've got total control. You can decide what the screen will look like, the facial expressions of your "person", applicable background noise, and the timing of every component.
(You know, all the little things that can take a video from awkward to awesome.)
It also helps you explain complicated concepts more easily because you can transition from a character to an explainer-type screen and back again.
Also, according to Maneesh Garg of Broadcast2World, animation converts much better than live video. So there's that argument.
"Animation is simply more conducive to helping your target audience understand your brand, product, or idea," Garg said in an interview with Unbounce, "which is why explainer videos are so successful."

3) Make Your Video The Main Design Element
Speaking of drawing, your landing page should be centered on your video so users' eyes are drawn to what you want them to see.
One of the easiest ways to do this is to simplify your page. Only include elements necessary for explanation and conversion. A bit of text, a clickable play icon over the video, a call to action, and maybe even an arrow pointing directly to the video itself should do it.
Further, since the video is the main page element, play around with proportions and size so it fills the space, but isn't too large for mobile screens or shrunken browser windows.
In this example, AirBnB's goal is to for you to look at properties to rent, so they have CTAs on the page before the video. Once you see the video, however, the CTA is clear and the design elements make it obvious that you're meant to watch.

4) Keep 'Em Short
When people are researching online, they want quick answers. With so much data on short attention spans, you didn't need me to tell you that.
Still, there's a tendency among a lot of landing page video users to over-explain every single element of their product in the first video their visitors see.
And guess what, ladies and gentlemen?
This is a big turn off.
A good rule of thumb is to make your videos 90 seconds or less, and to only cover the most important selling points. You know, the ones that brought your visitors to your page in the first place.
You can get more in-depth with your features further into your sales funnel, showing longer videos if you want to. But the point of a landing page design is to get them to the first "Yes!", and that's not going to happen with 20+ minutes of feature descriptions.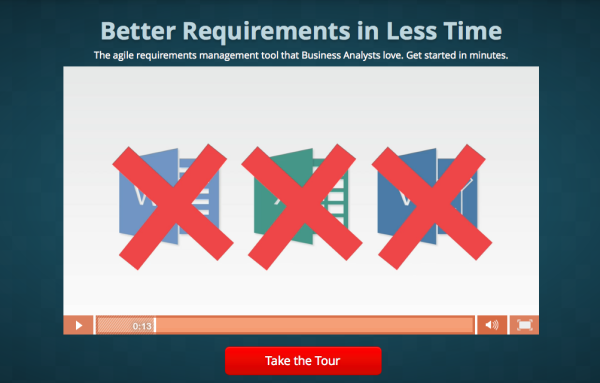 Your serious customers will invest 20 minutes in those feature explanations once you've convinced them that you're serious about meeting their needs, but not before.

5) Show the Video Timer
For goodness' sakes, tell people how much time your video requires upfront.
It's as simple as not hiding the progress bar at the bottom that shows the video's total and remaining time.
You've probably watched enough online videos to get that not knowing how long a video is is the worst. Will it take 50 seconds, 5 minutes, or 55 minutes of your time? Who knows?
Without that progress bar, people may assume the worst. They might think you'll waste three hours making spammy, sales-y promises before you ever get to what you've got to offer.
There's a good chance they'll also think you're pushing a sub-par product.
So just stay away from those preconceived notions altogether. Leave the timer alone.

6) Show Different Videos to Different Visitor Types
Before turning a lead into a sale, you'll probably have to connect with decision makers ranging from CEOs to department managers. You might even be closing deals with both types simultaneously, especially if you're in the SaaS or B2B markets.
The thing is, department managers and CEOs care about different things and have very different outlooks on business operations.
If you have the data to identify your customers' place on the decision-making spectrum, however, you can tailor your landing page videos to address their specific concerns.
Even if you have no idea what position your visitors hold within their companies, you can still tag them with information — like how they found you or what kind of content they look at on your site.
For example, let's say "Kara" is constantly reading your content marketing posts, but "Joe" can't get enough of your PPC management advice. You want to offer both of them the same product and the same free trial, but you'd be most effective if you highlighted content marketing benefits in your "Kara" video and PPC benefits in your video for "Joe".

7) Put A CTA Outside (But Close To) Your Video
No matter how good and short your video is, some people just aren't going to feel like watching it. And that's fine.
Maybe they don't have headphones. Maybe they've already seen your video and came back to the page after clicking a retargeting ad. Maybe they've already heard rave reviews and want to get their hands on a free trial ASAP.
Point is, there are lots of legitimate reasons visitors may want to skip your video.
So while you should always have a CTA in your video, it's equally important to have one on your landing page outside the video. Because I know you don't want to miss out on even the smallest 0.0001% of conversions.


Dollar Shave Club, one of those insanely hip direct-mail razor companies, put a CTA right next to their video for people who want to get down to business right away.
8) Spell Out Your Value & Inspire Confidence
If your landing page video is an esoteric tutorial on accessing product settings or a 15-minute features and functions explainer, no one's going to get very excited for your offer. (In fact, they might bounce in less time than it took you to look up "esoteric.")
Instead, use these precious few seconds of attention to explicitly explain the value you're offering and show how it applies to a real situation.
Hint: Showing real numbers and results helps. A lot.


GradeLeap helps parents help their children get organized and do better in school.
Part of the video's script says, "Your children are smart. But being smart simply isn't enough to guarantee success in school. Developing solid, organized study habits are needed as well."
And if GradeLeap wanted to push wary parents over the edge? They could tell you the average grade improvements from students using the site, or increased test score averages.

9) Make It Look Like A Million Bucks
Just like web design, copywriting, and SEO, video production can be done on the cheap.
But your video needs to be high quality to convey a sense of value. That's pretty much all there is to it.
Because if you don't demonstrate value and quality, and your video is the first thing a visitor sees, your product won't seem worth your visitors' time. And you won't get the conversions you need to sustain your marketing efforts.
Production quality means that you need to get a scriptwriter, storyboarder, and a title designer. You'll also need to film in HD (if you don't use animation) with professional audio equipment (because your built-in laptop microphone won't cut it.)

Go Forth & Create Videos (As I Have Commanded Thee)
I'll admit it — the vast majority of these commandments are pretty easy to follow.
A lot easier than some of the other commandments out there, anyway. (How am I not supposed to covet my neighbor's stuff when he wins a free trip around the world?)
Still, we've all seen businesses who insist that they're above the rules and do videos their own way. And as much as we'd like to forget how awkward those videos were, they're seared into our brains.
So be a good little church girl and follow these commandments already.


You'll frustrate far fewer visitors, and your conversion rates will thank you.
P.S. Did you like what you read here? Gained some insight?

Tweet and share this post with your peeps to spread the wealth.